Often overshadowed by its big sister Tokyo, Osaka is an incredible city with a thriving arts scene in Japan.
Conveniently located near Japan's ancient capitals, Kyoto and Nara, Osaka is the gateway to the most historical and culturally significant areas in Japan, as well as being a great place to stay for a few days to learn more about Japanese culture and food.
Best of all, it's much more affordable than other cities in Japan, so you can have a great time without breaking the bank.
That said, like many Japanese cities, it can be overwhelming when deciding on where to stay in Osaka.
That's why I created this Osaka area guide. I've covered the coolest places to stay in Osaka, Japan and our top neighbourhood picks, complete with reviews on our favourite hostels, hotels, and Osaka Airbnb apartments.
So whether you're travelling to Japan just for fun or with the whole family to visit the theme parts, I've got you covered. With this guide in hand, it won't be hard to find the best place to stay in Osaka for your chosen flavour.
Looking for a specific place to stay? Below I have listed my top picks for the best Osaka accommodation options.
For more ideas, check out our roundup of the best Airbnbs in Osaka!
This private three-bedroom apartment in central Osaka can accommodate up to 12 people! One bedroom has a double bed and a single bed, another has a sofa bed, and the other has Japanese-style tatami mats.
It has a modern and well-equipped kitchen with a dining table and chairs, separate toilet and bathroom, a washing machine, a living area, outdoor space, Wi-Fi, and four free bicycles for you to use to explore. With so much space and so many amenities, it's perfect for anyone travelling to Japan in, say, the summer of 2021… hmm…
Make your Osaka stay a memorable one with the best hostel in Osaka! A fun and new Osaka hostel close to Kyobashi station and Namba station, Hostel Bushi offers a comfortable sleep and cultural experiences within the heart of the city. Relax in the Japanese traditional baths, try on suits of armour, and admire the quirky military-themed designs.
There are mixed and female-only dorms and private twin rooms. There's a BBQ on the terrace and a shared kitchen if you want to make your own meals, and the sociable common room is a great place to meet other travellers.
Other plus points include free Wi-Fi, laundry facilities, friendly members of staff, a hot tub, hairdryers, a large work desk, and privacy curtains on the dorm beds.
Located in Minami, Hotel Amaterrace Yosuga is surrounded by top-notch restaurants, shops, and bars. The hotel rooms are spacious and stylish, with a seating area, a desk, and a kitchenette (fridge, microwave, kettle).
All rooms have a private bathroom with a hairdryer and free toiletries and some rooms have a balcony too. Daily housekeeping services ensure everywhere is kept clean and tidy while the laundry facilities and luggage storage make for nice extra bonuses. It's our pick of the best hotel in Osaka for your visit!
There are also some great Osaka homestays in case you fancy a truly local experience.
FIRST TIME IN OSAKA
FIRST TIME IN OSAKA
Umeda
Umeda (also known as Kita) is one of the main tourist areas of Osaka, with numerous attractions as well as leisure and dining options and nightlife. Umeda is the best place to stay in Osaka for first-timers.
ON A BUDGET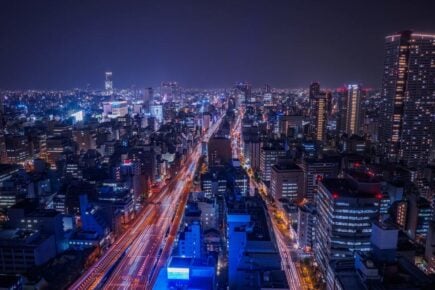 ON A BUDGET
Honmachi
Honmachi is one of Osaka's cheapest neighbourhoods to stay in. It may not have many attractions but it's within walking distance of both Kita (Umeda) and Minami.
NIGHTLIFE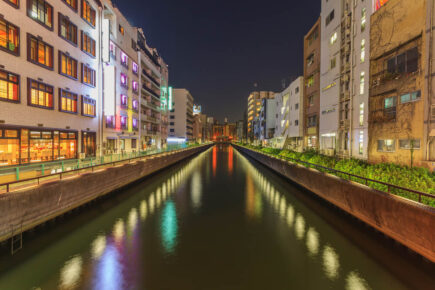 NIGHTLIFE
Namba
As the liveliest part of the city, Minami (also known as Namba) is the best are to stay in Osaka for nightlife. There are many restaurants and a huge number of bars.
COOLEST PLACE TO STAY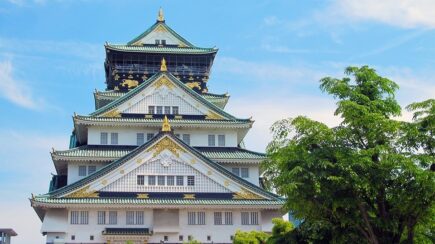 COOLEST PLACE TO STAY
Osaka Castle
One of the coolest neighbourhoods to stay in Osaka, the area near Osaka Castle is full of character and history. It might not be conventionally hip and cool.
FOR FAMILIES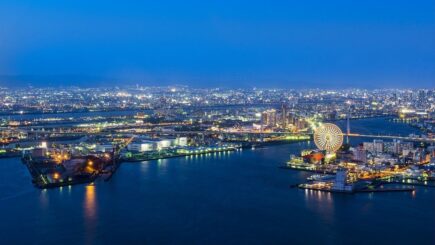 FOR FAMILIES
Osaka Bay
Osaka Bay is a top place for people looking to enjoy the city's more modern attractions and have heaps of fun. It's also a pretty cool area and the best place to stay in Osaka for families!
Your Osaka itinerary will probably be spread out across the city. Osaka is a large city and many of its neighbourhoods have places of interest for visitors.
Regardless of which of Osaka's neighbourhoods you choose to stay in, you'll be needing to make use of the extremely serviceable (it's Japan) public transportation. Regardless, it's still optimal to choose the best location in Osaka to stay in based on the purpose of your trip.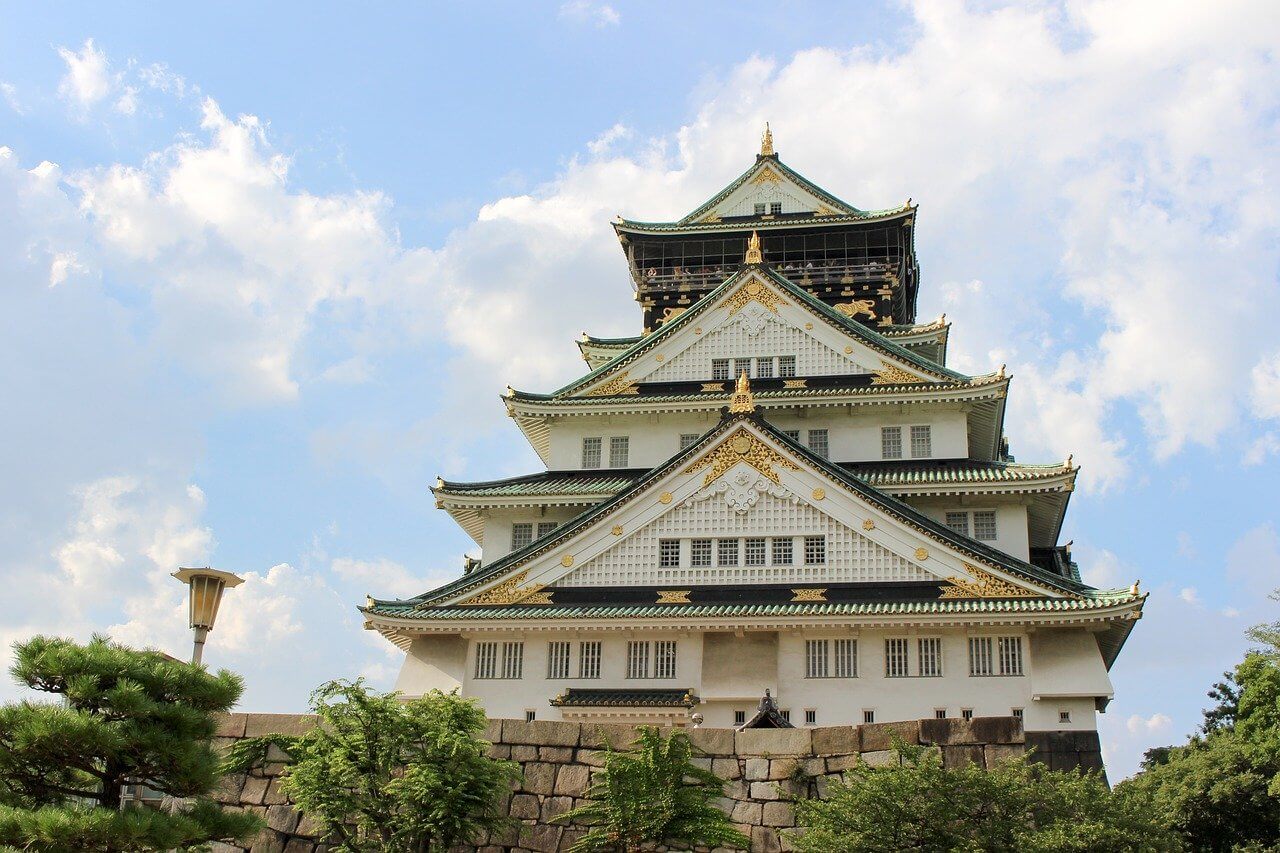 Umeda (also known as Kita) is a major transportation hub with numerous places to shop, eat, drink, and sleep as well as interesting attractions. It is the most central part of the city and is perfect for reaching the Dotonbori for a night out.
Osaka Bay offers some of the best deals on accommodations; you may not find the cheapest stay here, but you'll get more for your money. For families, this is the best area to stay in as it's close to the theme parks such as Universal Studios and you can find many budget hotels.
You can also stay close to one of Osaka's most iconic sites: Osaka Castle. If you're planning to use Osaka as a base for exploring the wider area, Shin-Osaka is ideal as you can catch the bullet train from here to Kyoto, Nara, and beyond. The wider area, within Osaka prefecture but outside of the city, also has good accommodations.
Although a fairly quiet area, Honmachi offers a good selection of eateries and leisure options and is also one of the cheapest neighbourhoods to stay in Osaka. It's located a little way out of the center of Osaka in a residential area, but this is also a charming and traditional neighborhood.
Try and stay close to the Midosuji metro line; it goes to almost all parts of the city and will make exploring Osaka a lot more convenient!
Some other notable areas to stay in are Chiyoda, another fairly quiet but central part of Osaka; Minami which is another of Osaka's main transportation areas, and the neighbourhood that is famous for its pulsating night scene and a huge array of restaurants. Tennoji is an up-and-coming area with a family-friendly vibe and some cool temples in the area.
Now that you've been introduced to the top neighborhoods to stay in, let's explore my top five neighbourhoods in Osaka and the awesome things you can do there!
What is the One Item Every Traveller NEEDS???
There is one item every traveller NEEDS. Some travellers don't even know they need it, but those travellers need it more than anyone.
What is this forgotten essential of the backpacker-life? SPOILERS! Guess you'll just have to click the button to find out. 😉
Find Out What It Is!
5 Best Neighbourhoods to Stay in Osaka
I've mentioned that Osaka is huge and attractions are fairly spread out. Do you want the best Osaka neighbourhood for nightlife? Looking for the best area in Osaka for a family trip? Maybe you're just an el cheapo in Japan?
If you're not sure what area should you choose for your stay in Osaka, then I have listed all the highlights of my top five areas below.
Umeda (also known as Kita) is one of the main tourist areas of Osaka, with numerous attractions as well as leisure and dining options and nightlife. It's also an ideal location for exploring other parts of Osaka, thanks to its excellent public transportation connections. Some of Osaka's cheaper places to stay can be found here too.
Because it is so central to the main tourist areas, this is also where to stay in Osaka for one night if you're running low on time. It's surely the best place to stay in Osaka for your first visit too; its prime location makes exploring Osaka.
Book this entire apartment with two bedrooms (accommodating up to six people) and choose between traditional Japanese-style sleeping, on tatami mats, or in western-style beds. There's a comfy Japanese living room, a kitchen, and a dining area. Floor-to-ceiling windows let plenty of light in and there's a balcony too. Pocket Wi-Fi is provided. It's one of the best places to stay in Osaka Japan.
If you need to stay near Shin Osaka Station, then Umeda is a good location to stay in Osaka. So, check out this fabulous Osaka homestay! This traditional Japanese tatami room provides a truly authentic experience. If you've had a long day exploring, you can come back to prepare a meal in the fully equipped. Though the house used to be a traditional Japanese restaurant and sake brewery, this 110-year-old family home has been kitted out with modern appliances, especially the bathroom which has all the high-tech gadgets.
With a comfortable TV lounge, a rooftop terrace, vending machines that sell beer, and a shared kitchen, this is a great Kita hostel for sociable travellers looking to meet other people and have a comfortable base from which to explore Osaka. There are mixed and female-only dorms as well as private rooms for two and three.
A stylish mid-range Kita hotel, Sonezaki Luxe has spacious en-suite rooms with a TV, desk, complimentary toiletries, adequate storage space, a kettle, and a fridge. The hotel also provides luggage storage services and free Wi-Fi. Just 600 metres from the station, it's in a prime location in Osaka with many bars and restaurants close to hand.
Top Things to do in Umeda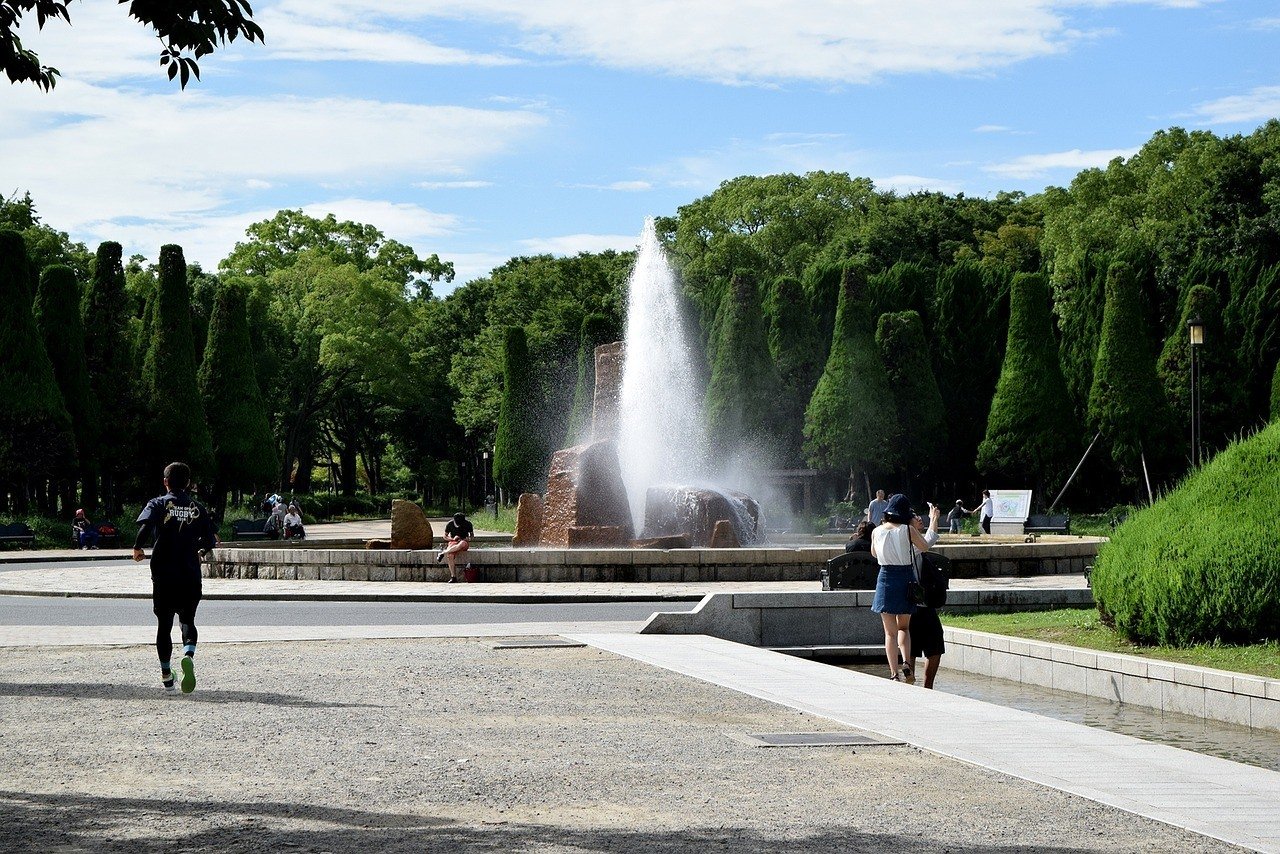 – Enjoy some retail therapy at Tenjinbashi-suji shopping street, the longest shopping arcade in Osaka and home to a variety of stores as well as many places to eat.
– Have a thrilling time with a ride on the Ferris Wheel at the top of the Hep Five Complex; the views of Osaka are amazing!
– Soak up the glorious sights and fragrances of the colourful flower-filled Umekita Garden.
– Pore over the collections at the small but interesting National Museum of Art, Osaka.
– Take the children to Kids Plaza Osaka, an interactive science centre and gigantic play area rolled into one awesome package.
– Visit local temples like Joshin-ji and Taiyu-ji
– Learn more about the city's history at Osaka Museum of Housing and Living, home to a replica of a shopping street from the Edo era.
– Take a relaxing stroll around the peaceful Nakanoshima-koen Park.
– Marvel at the soaring Umeda Sky Building and then head to the observatory for sweeping city views.
– Buy tickets for a performance at Umeda Arts Theatre.
– Spend an evening hopping between the area's many bars.
Is This the Best Travel Pack EVER???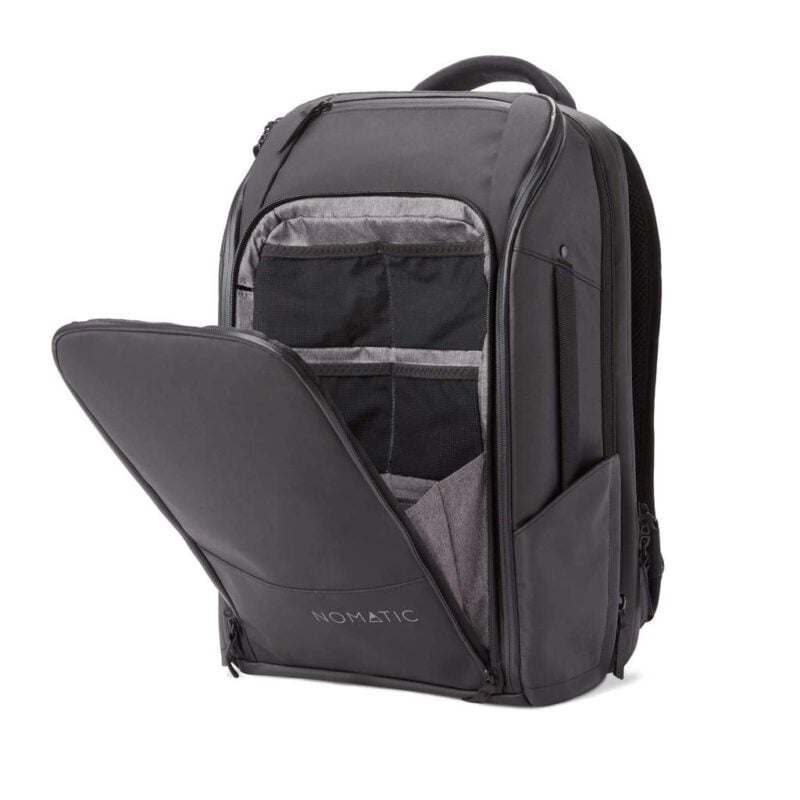 Looking for budget accommodation in Osaka? Honmachi is one of Osaka's cheapest neighbourhoods to stay in and is recommended for where to stay in Osaka on a budget.
It may not have many attractions but it's within walking distance of both Kita (Umeda) and Minami, and there's a good selection of restaurants. It's definitely a good place to stay in Osaka for budget backpackers.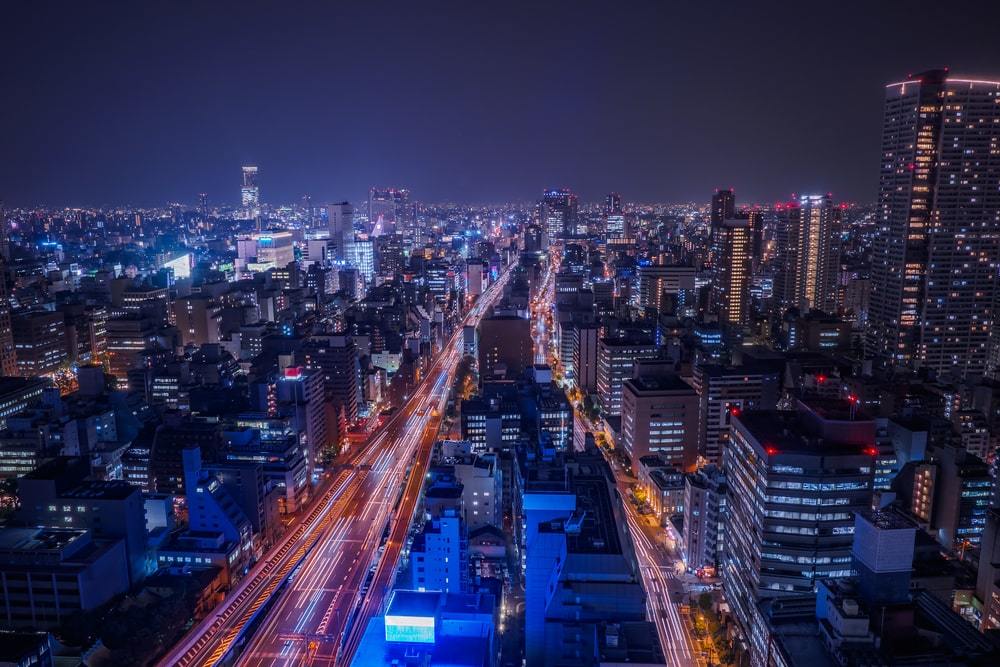 Sleeping up to six people, this traditional guest house offers two bedrooms with tatami mats divided by a Fusuma, which can be opened up to provide more space. There are many delightful features throughout the home and you're sure to feel as though you're having an authentic Japanese stay when you book here. The home has a kitchen, though you'll find plenty of restaurants within walking distance of the property.
Best Hostel in Honmachi: Roots Hostel
A sociable home from home in Osaka, meet lots of new people, have a comfortable stay, and save money with a stay at Roots Hostel. There are mixed and ladies-only dorms and private rooms for two and four. The onsite bar/café is convenient and the hostel also has luggage storage and laundry facilities. Access is by keycard and there's 24-hour security.
It's amongst the best budget hostels in Osaka and a place to stay for anyone wanting to get a bit lively at a good price.
The spacious air-conditioned rooms are light and airy, thanks to the large windows. The feeling of comfort is enhanced by the carpeted floors, soft beds, and private bathrooms. Breakfast is available for an additional fee and there's an onsite restaurant. Soothe your body and mind in the hot spring bath after each day of sightseeing to feel fully refreshed.
Top Things to do in Honmachi
– Try the delicacy of unagi (eel) at the relaxed Yoshitora restaurant.
– Unwind in the attractive Utsubo-Koen Park, complete with a fountain, statues, and playground. In the spring, it's a great place to admire cherry blossoms.
– Visit local shrines like Ikasuri Shrine, Namba Shrine, and Hibuse Pottery Shrine.
– Look for the small and easy-to-miss Basho Shuen no Chi Monument at the roadside.
– Observe local culture at Hongan-ji Temple.
– Have a top-class meal at the Michelin-starred Hajime French restaurant, often said to be one of the best restaurants in all of Osaka.
– Experience a local tea ceremony.
– Admire the works in Christie Art and Gallery.
– Have fun and take lots of cool pictures at Kimono Experience Shop Wasobi.
– Learn new things at Osaka Science and Technology Museum.
Wondering Where To Stay in Osaka? You can do worse than this. As the liveliest part of the city, Minami (also known as Namba) is the best area to stay in Osaka for nightlife!
There are many restaurants and a huge number of bars. It's also a bustling commercial district with shops and malls aplenty. It's the best location to stay in Osaka if you want to hit the town anend some dough!
Furthermore, it's one of the city's major transportation hubs. If you're wondering where is the best place to stay in Namba, read on!
Sleeping up to three people, this stylish and modern Airbnb in Japan has two single beds and a fold-down sofa bed in the same room. There's a small kitchen and a dining table with chairs. It's just a short walk from the station and there are many restaurants and shops close to hand.
It's an excellent location in Osaka for getting out and exploring the vibrancy the city has to offer!
Home Hostel Osaka has a choice of two and four-person private rooms as well as mixed and single-gender dormitories. The pod-like beds have privacy curtains, individual power outlets, and reading lights.
Bathrooms have hairdryers, and free Wi-Fi is available. There's a shared kitchen and you can socialise in the cafe. Bikes are available to rent.
The attractive, air-conditioned, and sound-proofed rooms at Sarasa Hotel Nipponbashi ensure you have a great night's sleep. Rooms have a desk and TV. Some rooms have a separate seating area too.
Rooms are available to sleep between one and six people. The hotel has a restaurant too.
Top Things to Do in Namba (Minami)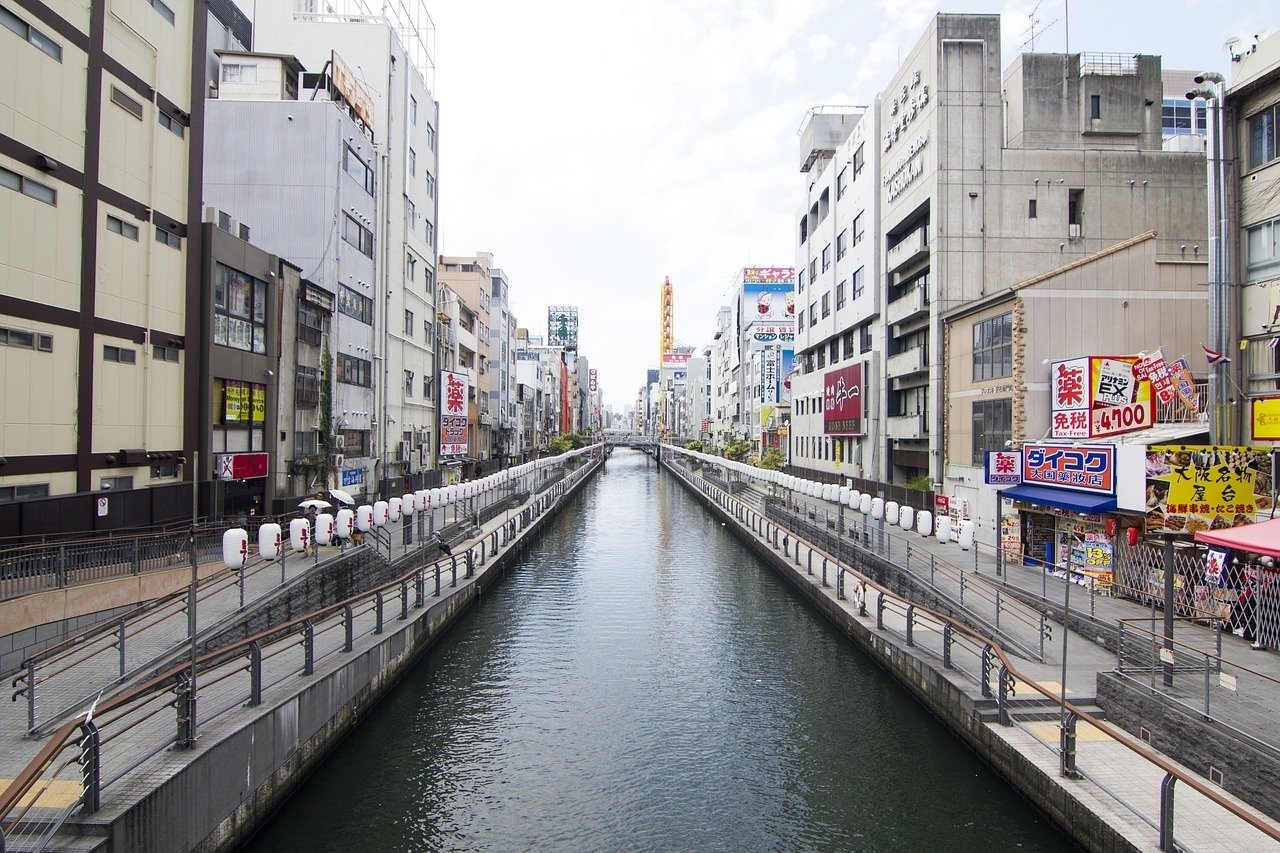 – Pass through the gaping mouth at the entrance to Namba Yasaka Shrine and learn more about local spirituality.
– Travel back to the Edo era at Hozenji Yokocho temple.
– Upgrade your electronics at Den Den Town.
– Shop 'til you drop along the glitzy Shinsaibashi-suji.
– Combine shopping and nature at the stunning Namba Parks, a mall with cliffs, trees, ponds, waterfalls, and thousands of plants.
– Browse independent stores and boutiques in Amerikamura, a place where Japanese and western cultures meet.
– Watch a terrific performance at National Bunraku Theater.
– Be dazzled by flashing lights and have lots of fun in the entertainment area of Dotonbori.
– Eat your fill of delicious and affordable street food.
– Have a good laugh as you watch a comedy show at Namba Grand Kagetsu Theater.
– Take a cruise along the Tonbori River.
– Hop from bar to bar in the evenings and experience the area's energetic night scene.
The Future of the SIM Card is HERE!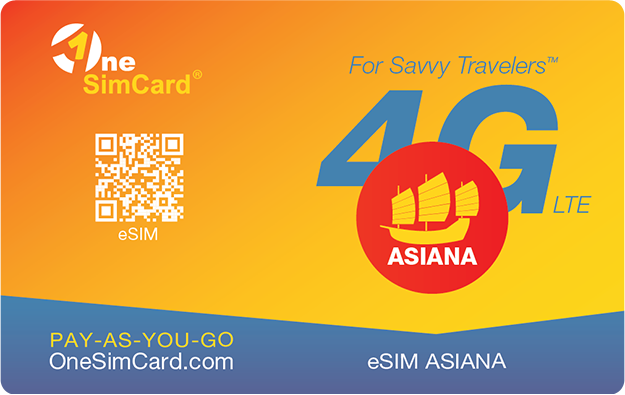 A new country, a new contract, a new piece of plastic – booooring. Instead, buy an eSIM!
An eSIM works just like an app: you buy it, you download it, and BOOM! You're connected. It's just that easy.
Is your phone eSIM ready? Read about how e-Sims work or click below to see one of the top eSIM providers on the market and ditch the plastic.
Buy an eSIM!
One of the coolest neighbourhoods to stay in Osaka, the area near Osaka Castle is full of character and history. It might not be conventionally hip and cool, but you'll find plenty to keep you occupied. Plus, it's easy to travel to other areas by metro or – if you're feeling active – you can even walk.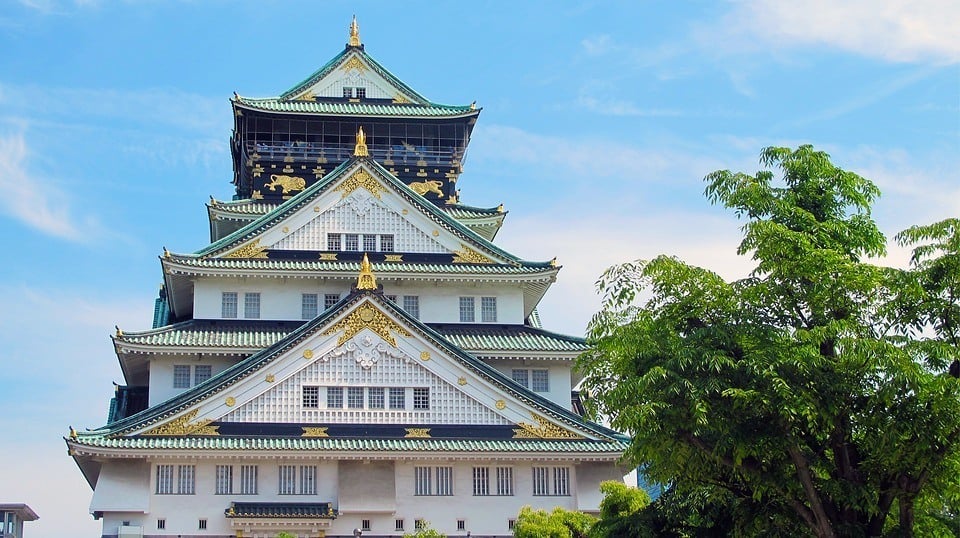 If you fancy staying close to the Osaka Castle area in a top-floor apartment that combines traditional and modern in a neat little package, this one-bedroom apartment is difficult to beat. There is one double bed in the bedroom, plus a sofa bed squeezing in up to four people.
The major draw of this modern and stylish pad is the incredible central Osaka location, as it's only a ten-minute walk to Osaka Castle. The toilet and shower are separate and the apartment has a kitchen with all the essentials.
Stay a five-minute stroll from the castle in a high-tech hostel full of luxury amenities and high-tech design features. The dorms are large but the pod-style beds, complete with a light and power outlet, as well as a space for your luggage. For digital nomads, there is a spacious common area and workspace. Other features: laundry facilities, common area, kitchen.
The Western-style rooms are en-suite and have conveniences like a fridge, TV, kettle, phone, Wi-Fi, and hairdryer. The hotel's restaurant serves a buffet breakfast each morning for an extra fee.
Guests can arrange a relaxing massage too. The reception is open around the clock and there are rooms that are suitable for wheelchair users.
Top Things to Do in Osaka Castle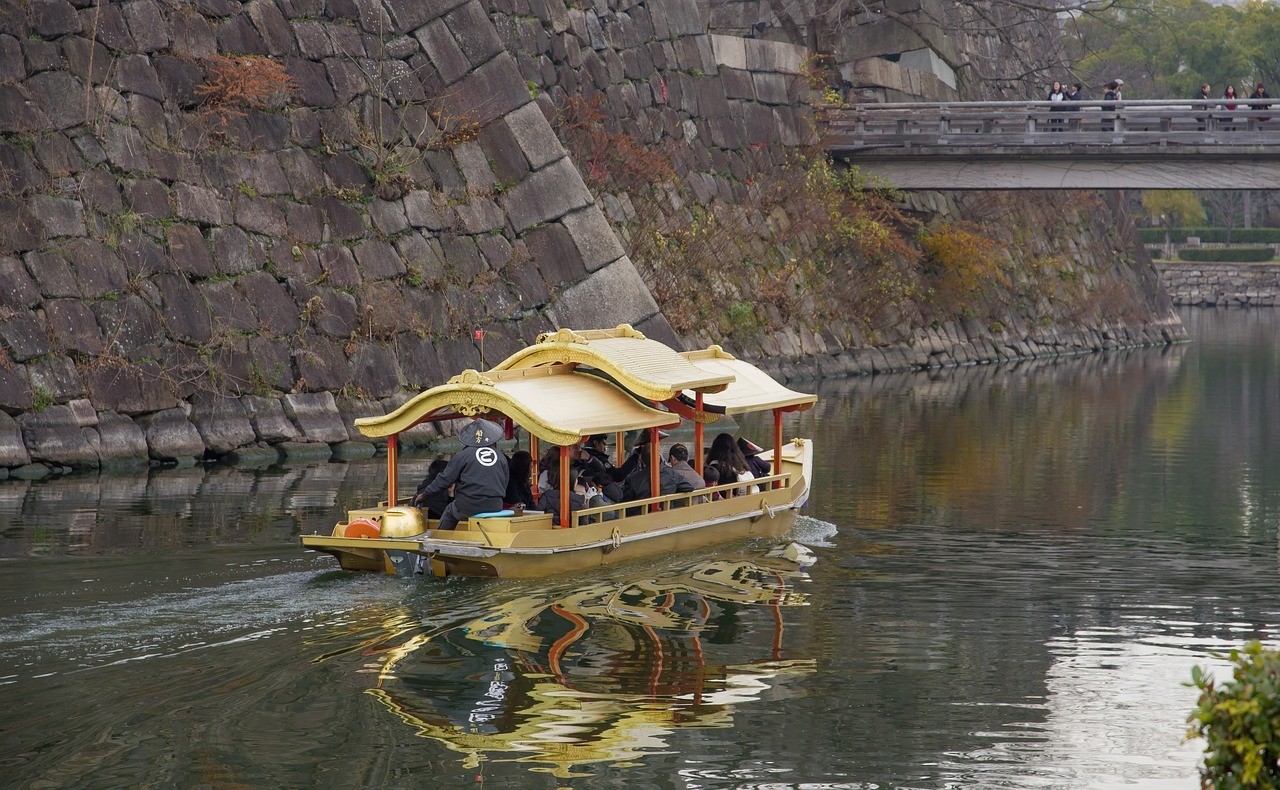 – Tour the large and striking Osaka Castle; the original castle was built in the late 1500s and reconstructed in the 1990s and it is one of Osaka's primary tourist destinations.
– Wander through the beautiful Osaka Castle Park, often filled with street performers and a terrific place to see stunning cherry blossom in the springtime.
– Uncover more about Osaka's past at the Osaka Museum of History.
– Immerse yourself in spirituality at Hokoku Shrine.
– See how coins and medals are made at the Mint Museum and admire the many cherry blossom trees that flourish here in season.
– Visit the historic Tamatsukuri Inari Shrine.
– Sink your teeth into eel (unagi) at Nishihara restaurant.
– Catch a show at Theater Brava.
– Learn how Osaka was destroyed during WWII and see why peace is so important for the world in general at the Osaka International Peace Center.
– Step into the world of Japanese TV at Japan Broadcasting Corporation BK Plaza.
Osaka Bay is a top location to stay in Osaka for people looking to enjoy the city's more modern attractions and have heaps of fun. It's also a really cool place to stay in Osaka! There are theme parks, museums, plentiful restaurants, and many shops.
There are accommodations on the mainland, dotted through modern developments, or you could opt for a stay on one of the artificial islands. It's a popular area for both international and Japanese tourists, and you'll find lots of home comforts to keep all members of the family more than happy.
Up to seven people can stay here, making it a top choice for families and friends looking to stay in the Osaka Bay area. There are three large bedrooms, plus an additional sleeping area with Japanese-style tatami mats. It's modern, clean and neat. The bay is perhaps the best neighbourhood to stay in Osaka for families because of its close proximity to Osaka Aquarium and Universal Studios Japan.
There's a dining table, a small kitchen, and a contemporary bathroom. If you're looking for all western comforts with some traditional touches, this will be the place for you.
Best Hostel in Osaka Bay: Hostel Jin
Offering a blend of Japanese and western styles and comforts, Hostel Jin has dorms with bunk beds (complete with curtains for privacy), tatami rooms, and private rooms in different sizes. It has an onsite bar-café, laundry facilities, a shared kitchen, and an outdoor terrace. It's also close to the train line.
Close to a train station, Hotel She has an onsite restaurant and bar as well as a communal kitchen and an outdoor terrace where you can relax. The retro record players are novel, complete with a selection of tunes on vinyl to rent or buy. Rooms are en-suite with a TV.
Top Things to Do in Osaka Bay
– Spend a day (or longer) at the popular Universal Studios theme park, complete with rides, shows, and other attractions based on well-known movies like Jaws, Spiderman, Shrek, and Jurassic Park.
– Discover the many delights of the underwater world at the enormous Osaka Aquarium, home to many species of fish and other aquatic life.
– Enjoy diverse shopping at Tempozan Harbor Village.
– Soak up the views from the top of the Tempozan Ferris Wheel; the night-time vistas are especially magical.
– Travel back to the Edo period at the reconstructed themed food street of Naniwa Kuishinbo, located within Tempozan mall.
– Observe an array of interesting feathered creatures at Nanko Bird Sanctuary on Sakishima Island.
– Ride to the 55th-floor observation deck of Cosmo Tower.
– See Mount Tempozan, the smallest mountain in Japan.
– Enjoy some retail therapy at the Asia Pacific Trade Center.
FAQ about Finding a Place to Stay in Osaka
Here's what people usually ask us about the areas of Osaka and where to stay.
Don't Forget Travel Insurance for Osaka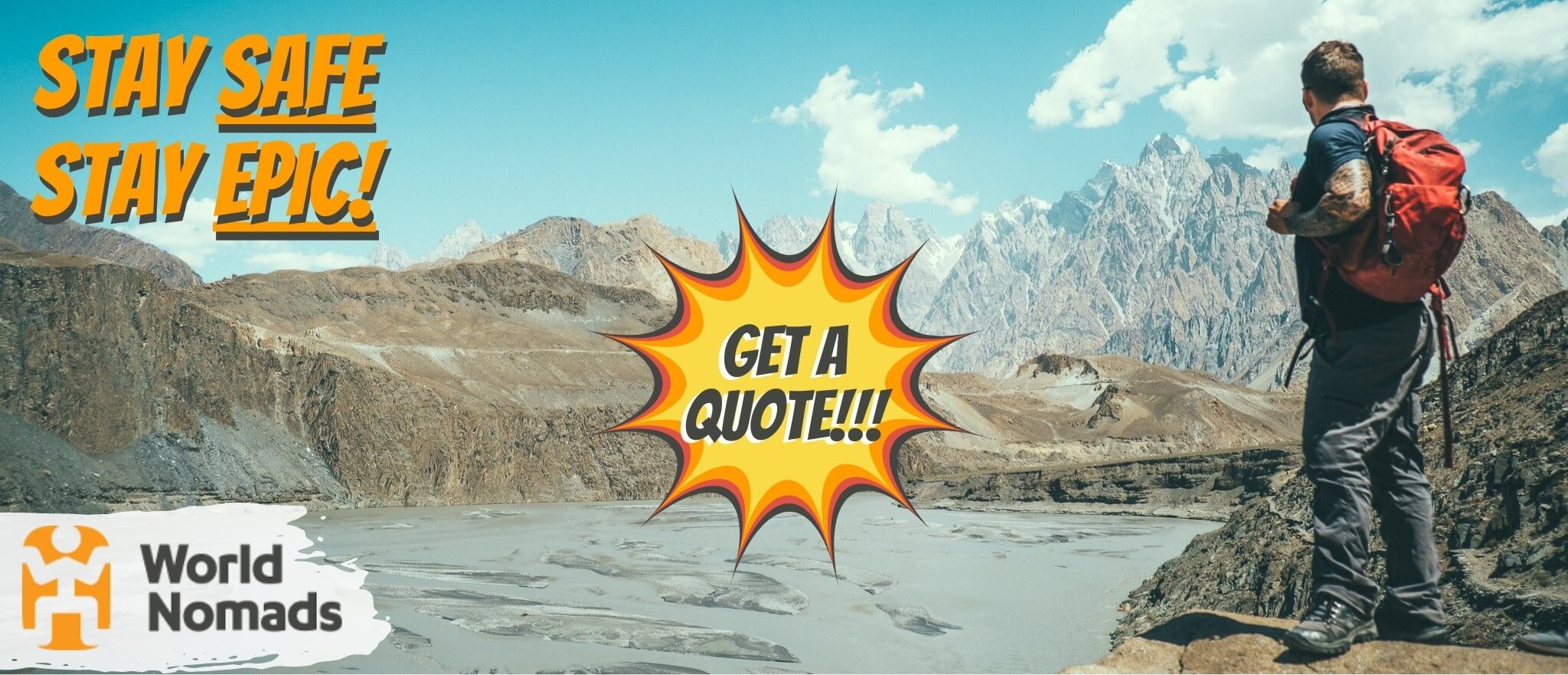 It's good to get lost sometimes, but it's also good not to get too lost. There are people that want you home in one piece.
There's one travel insurance provider The Broke Backpacker trusts for all his wildest shenanigans… World Nomads!
Click the button below to get a quote on your insurance or read our in-depth review of World Nomads' coverage. And then… let the shenanigans begin. 😉
Final Thoughts on Where to Stay in Osaka
Osaka is one of the coolest cities in Japan! There are so many unique things to do in Osaka, like feast yourself at street food stalls and 5-star restaurants, drink coffee at the original cat café, indulge in some of the best green tea in the world, and watch a puppet show at Bunraku! (Osaka is the home of the distinctive Japanese art of puppetry, which dates back to the 1600s.)
This guide was written to help you pick the best place to stay in Osaka based on your travel style! And remember, if you can't decide where to stay in Osaka, stay in Umeda (Kita) neighbourhood for convenience, and Namba for the nightlife.
For a quick reference of the best accommodation to stay in Osaka, our favourite hostel in Osaka isHome Hostel Osaka and our favourite hotel is Hotel Amaterrace Yosuga in Namba (Minami).
That's it, folks! Japan is excellent – truly a magical place -and Osaka is too. Think of it this way Tokyo is the big brother mega-metropolis ('mega' is underselling it). Kyoto is the middle-child old cultural capital concerned with the ways of old… and Osaka?
Osaka is the little bro, influenced by all the American TV it watched growing up. It's got a real penchant for standing out with its eclectic nightlife and its desire to just do things a bit different than the other destinations in Japan. And so, by now, you should hopefully know exactly where to stay in Osaka.
Enjoy!
Do you own an awesome hostel, hotel or apartment? Want to be featured in our list? Email [email protected] to find out how.
---
Thanks for reading – that was fun! 😀
We bring you epic FREE content!
Find out how YOU can help support us.
We're a big site with a big team and this job isn't always easy. But we do it because we love it – we love providing epic and free content. We love the knowledge that our content keeps you adventuring. We don't ask for money, but if you'd like to find out how you can help the site in more organic ways, click the button below.
Thank you for your support 🙂
---
Bye for now, but not forever!
If you want MORE top-tier Broke Backpacker content like this, then sign up for our weekly newsletter below to get the latest and greatest!
And for transparency's sake, please know that some of the links in our content are affiliate links. That means that if you book your accommodation, buy your gear, or sort your insurance through our link, we earn a small commission (at no extra cost to you). That said, we only link to the gear we trust and never recommend services we don't believe are up to scratch. Again, thank you!