Every city has its selling point (except maybe Hull, which truthfully is a shithole).
Osaka fuses a concoction of outlandish modern architecture with ancient Japanese history, a disparate culture, and enough manga to bury Dumbo.
With prices strategically lower than other Japanese cities, Osaka lures backpackers like a Czech party hostel, but is far cleaner.  The city is nestled between Kyoto and Nara, and a couple of nights misspent here will bring you closer to Japanese culture, food, and history.
Finding out where to stay in Osaka is not without its difficulties, however, as the city acts as a sprawling mess all over Japan's floor. Luckily, this guide has been written to stop you from slipping on it, and I will be giving you helpful nudges for the entire ride.
So let's get stuck into finding you a place to stay in Osaka!
Not too fussed about where to stay in Osaka? I've listed my top 3 picks of the best places money can buy below!
Taking tourism to a new level, this wizarding-themed stay is cosy, comfortable, and homely. Located in the central Naniwa ward, it is within easy reach of the Daikokucho metro station1. A perfect place to crash after experiencing the craziness of the city, there is a kitchen, free wifi, and an elevator for disabled access.
STOP. This hostel is the bee's knees. With a downstairs bar, comfortable beds, friendly strangers, and two charming felines, this hostel is unbeatable. A top choice for those backpacking Japan, the hosts are just lovely, and everything you could possibly need at a hostel is included (Yes, female-only dorms). Okay, maybe that was a bit of an oversell, but this Hostel is genuinely fantastic…
Hotel She gets my pick as the best Osaka hotel. With stylish and modern rooms, this three-star establishment will make sure all your needs are met during your stay. With an amazing onsite bar and a tasty oriental restaurant, you will be kept on top form for as long as you remain.
Osaka has an extremely built-up city centre, which is busy, chaotic, and noisy. This is where the fun happens (and where'll you find several of the most awesome places in Osaka)! But it is also not very restful. Choosing a place that balances entertainment with tranquillity will make your time in Osaka much easier.
Regardless of which of Osaka's neighborhoods you choose to stay in, you'll be needing to make use of the extremely serviceable public transportation (it's Japan). First port of call: the subway. To take you slightly further afield, the Osaka loop train line will spirit you between districts. Buses are a thing too.
Kita is a major transportation hub with numerous places to shop, eat, drink, and sleep as well as interesting attractions. It is the most central part of the city and is perfect for reaching the Dotonbori area2 for a night out. Trains from the Osaka station connect it well to other parts of Japan.
Osaka Bay offers some of the best deals on accommodations; you may not find the cheapest stay here, but you'll get more for your money. For families, this is the best area to stay in as it's close to the theme parks (such as Universal Studios Japan) and you can pick up a few budget hotels or a classy Osaka Airbnb.
You can also stay near one of Osaka's most iconic sites: the Osaka Castle. If you're planning to use Osaka as a base for exploring the wider area, Shin-Osaka is ideal as you can catch the bullet train from here to Kyoto, Nara, and beyond. The JR Shin-Osaka station is well-known in the area and can whizz you from one end of Japan to the other pretty darn quickly.
Although a fairly quiet area, Honmachi offers a good selection of eateries and leisure options. It is also one of the cheapest neighborhoods in Osaka. It's located a little way out of the centre in a more residential area, but the neighbourhood is charming.
Top Tip: Try and stay close to the Midosuji subway line3; it goes to almost all parts of the city and will make exploring Osaka a lot more convenient!
Chiyoda is a fairly quiet part of central Osaka, notable for both government and finance buildings. Its relevant location makes it perfect for those wanting to work or travel around downtown Osaka.
Then there is Namba, which is another of Osaka's main transportation areas, famous for its pulsating music scene and array of restaurants. There is a concentration of great Osaka hostels in this area, which is worth taking advantage of as a backpacker. Tennoji is an up-and-coming area with a family-friendly vibe and cool temples in the area.
Let's explore my top five neighborhoods in Osaka!
Osaka is huge and the attractions are fairly spread out (which is why public transport is a crucial lubricant for even the best Osaka itinerary). There is a huge diversity in the atmosphere of separate districts, but whether you are looking for a family-friendly hotel or a collection of disastrous blow-out party nights, the goods are about to be delivered.
Read on for our top 5 neighborhoods!
1. Kita – Best Area in Osaka for First-Timers
Kita is one of the main tourist areas in central Osaka, with a collection of attractions, dining options and nightlife. It's also an ideal location for exploring other parts of Osaka, thanks to its excellent public transportation connections. Some of Osaka's best cheap places to stay can be found here too.
Because it is so central to the main tourist areas, I'd recommend staying here even if you can only fit in a single night. It's surely the best place to stay in Osaka for your first visit; a prime location makes exploring any city straightforward.
Whilst this apartment hasn't got much to rave about, it does nail the essentials. Both super close to the Midosuji subway line and perfectly placed for getting stuck into central Osaka action on foot, this flat is a perfect base for explorations. With a dining table, functional kitchenette, washing machine and super fast wifi, you are sure to have a relaxing time. It's cheap too!
Best Hotels in Kita:
A stylish mid-range Kita hotel, Sonezaki Luxe has spacious en-suite rooms with a TV, desk, complimentary toiletries, adequate storage space, a kettle, and a fridge. The hotel also provides luggage storage services and free Wi-Fi. Located within easy walking distance of the Osaka station, it's in a prime location.
Boasting a fit garden and four classy stars, this hotel puts luxury into perspective. With spacious rooms and a central location only a short walk from many of Osaka's top tourist spots, staying here guarantees a comfortable experience. A fat buffet breakfast will help you get off to a great start too!
Top Attractions & Things to Do in Kita
Enjoy some retail therapy at Tenjinbashi-suji shopping street4, the longest shopping arcade in Osaka and home to a variety of stores as well as many places to eat.
Have a thrilling time with a ride on the Ferris Wheel at the top of the Hep Five Complex; the views of Osaka are amazing!
Soak up the glorious sights and fragrances of the colourful flower-filled Umekita Garden. Pore over the collections at the small but interesting National Museum of Art, Osaka.
Take the children to Kids Plaza Osaka, an interactive science centre and gigantic play area rolled into one awesome package.
Get adventurous and explore the Mount Koya settlement. Steeped in history, this mountain village is a fantastic day trip out of Osaka.
Learn more about the city's history at the Osaka Museum of Housing and Living, home to a replica of a shopping street from the Edo era.
Take a relaxing stroll around the peaceful Nakanoshima-Koen Park.
Marvel at the soaring Umeda Sky Building and then head to the observatory for sweeping city views.
Buy tickets for a performance at Umeda Arts Theatre.
If you're short on travel time, try a Kyoto day tour. You can fit in some of the best ancient Japanese highlights without wasting a minute!
2. Honmachi – Where to Stay in Osaka on a Budget
Looking for budget accommodation in central Osaka? Honmachi is one of Osaka's cheapest neighborhoods, and isn't far out of the tourist mainstream! With great connections, you won't have to sacrifice much to reduce the cost of an Osaka stay.
It may not have many attractions but it's within walking distance of both Kita and Minami, and there's a good selection of restaurants. It's definitely a good place to stay in Osaka for budget backpackers (although I still back the Mad Cat hostel).
Only 3 minutes from the Honmachi subway, this flat will make you feel like you are taking part in a (surprisingly comfortable) dystopian film. Perfect for sightseeing in the Namba/Shinsaibashi areas on foot, there is space for up to 8 guests. The apartment has a lift, air conditioning, TV, and free wifi.
Best Hostel in Honmachi: Roots Hostel
A sociable home away from home in Osaka, meet lots of new people, have a comfortable stay, and save money with a stay at Roots Hostel. The onsite bar/café is convenient and the hostel also has luggage storage and laundry facilities. Access is by keycard and there's 24-hour security.
It's amongst the best budget hostels in Osaka and a place to stay for anyone wanting to get a bit lively at a good price.
The spacious air-conditioned rooms are light and airy, thanks to the large windows. The feeling of comfort is enhanced by the carpeted floors, soft beds, and private bathrooms. Breakfast is available for an additional fee and there's an onsite restaurant. Soothe your body and mind in the hot spring bath after each day of sightseeing to feel fully refreshed.
Top Attractions & Things to Do in Honmachi
Try the delicacy of unagi (eel) at the relaxed Yoshitora restaurant.
Unwind in the attractive Utsubo-Koen Park5, complete with a fountain, statues, and playground. In the spring, it's a great place to admire cherry blossoms (during cherry blossom season).
Visit local shrines like Ikasuri Shrine, Namba Shrine, and Hibuse Pottery Shrine.
Look for the small and easy-to-miss Basho Shuen no Chi Monument at the roadside.
Observe local culture at Hongan-ji Temple.
Have a top-class meal at the Michelin-starred Hajime French restaurant, often said to be one of the best restaurants in all of Osaka.
Experience a local tea ceremony.
Admire the works in Christie Art and Gallery.
Have fun and take lots of cool pictures at Kimono Experience Shop Wasobi.
Learn new things at Osaka Science and Technology Museum.
3. Namba (Minami) Neighbourhood – Best Area in Osaka for Nightlife
Fuckin' yeah, let's get loose (ethically). As the liveliest part of the city, Namba is the best area to stay in Osaka for nightlife. With clubs that pop better than bubble wrap, this is where you want to come to experience the fun side of the city, and is one the best places to stay in Japan.
There is an abundance of delicious restaurants and a huge range of bars. It's also a bustling commercial district with shops and malls aplenty. If you want to hit the town and part with some dough, it's the best!
Furthermore, it's one of the city's major transportation hubs. So if you're looking to do some tourism at the same time, this is the district to do it in!
This flat is surprisingly light and airy for its size. With an open loft-style design for the second double bed, this is a great place to stay if you are prepared to get cosy with your friends and family. The stay comes with city skyline views, a modern kitchen, a washing machine, and an elevator. It within walking distance of access to the Midosuji subway line.
Best Hostel in Namba (Minami): The Stay Osaka
The Stay is technically a hostel chain, but that doesn't mean that any of its buildings compromise on fun and a social atmosphere. With an onsite bar, comfy lounge area, and a variety of rooms available, your time can be spent worrying about what to do rather than where to stay. Shinsaibashi subway station is only a short walk away.
The attractive, air-conditioned, and sound-proofed rooms at Sarasa Hotel Nipponbashi ensure you have a great night's sleep. Rooms have a desk and TV. Some rooms have a separate seating area too.
Rooms are available to sleep between one and six people. The hotel has a restaurant too.
Top Attractions & Things to Do in Namba (Minami)
Pass through the gaping mouth at the entrance to Namba Yasaka Shrine and learn more about local spirituality.
Travel back to the Edo era at Hozenji Yokocho temple.
Upgrade your electronics at Den Den Town.
Shop 'til you drop along the glitzy Shinsaibashi-suji.
Combine shopping and nature at the stunning Namba Parks, a mall with cliffs, trees, ponds, waterfalls, and thousands of plants.
Browse independent stores and boutiques in Amerikamura, a place where Japanese and western cultures meet.
Watch a terrific performance at National Bunraku Theater.
Be dazzled by flashing lights and have lots of fun in the entertainment area of Dotonbori.
Eat your fill of delicious and affordable street food.
Have a good laugh as you watch a comedy show at Namba Grand Kagetsu Theater.
Take a cruise along the Tonbori River.
Hop from bar to bar in the evenings and experience the area's energetic night scene.
4. Osaka Castle Neighbourhood – Coolest Place to Stay in Osaka
One of the coolest neighborhoods to stay in central Osaka, the Osaka castle area is full of character and history. It might not be conventionally hip and cool, but you'll find plenty to keep you occupied. Plus, it's easy to travel to other areas by metro or – if you're feeling active – your own feet (wowwwww).
The area is dominated by Osaka Castle park, which makes it feel more spacious and open than other parts of the city. Because it is primarily a tourist hotspot, prices can be a little inflated, even for an already costly Japan. That doesn't mean that it can't be kept in check by sharp money vision though!
With artistically modern furnishings, this new apartment boasts a balcony with awesome Osaka views. The kitchen is workable, and there is a flatscreen for indulging that precious downtime. The Osaka Castle Park is only a short walk away too!
Stay a five-minute stroll from the castle in a high-tech hostel full of luxury amenities and high-tech design features. The dorms are large but the pod-style beds, complete with a light and power outlet, as well as a space for your luggage. For digital nomads, there is a spacious common area and workspace. Other features: laundry facilities, common area, kitchen.
The Western-style rooms are en-suite and have conveniences like a fridge, TV, kettle, phone, Wi-Fi, and hairdryer. The hotel's restaurant serves a buffet breakfast each morning for an extra fee.
Guests can arrange a relaxing massage too. The reception is open around the clock and there are rooms that are suitable for wheelchair users. This is one of the best luxury hotels in the Osaka Castle area!
Top Attractions & Things to Do in Osaka Castle
Tour the large and striking Osaka Castle; the original castle was built in the late 1500s and reconstructed in the 1990s and it is one of Osaka's primary tourist destinations.
Wander through the beautiful Osaka Castle Park, often filled with street performers and a terrific place to see stunning cherry blossom in the springtime.
Uncover more about Osaka's past at the Osaka Museum of History.
Immerse yourself in spirituality at Hokoku Shrine.
See how coins and medals are made at the Mint Museum and admire the many cherry blossom trees that flourish here in season.
Visit the historic Tamatsukuri Inari Shrine.
Sink your teeth into eel (unagi) at Nishihara restaurant.
Catch a show at Theater Brava.
Learn how Osaka was destroyed during WWII and see why peace is so important for the world in general at the Osaka International Peace Center.
Step into the world of Japanese TV at Japan Broadcasting Corporation BK Plaza.
5. Osaka Bay Neighbourhood – Where to Stay in Osaka for Families
The Osaka Bay area is a top location to stay in Osaka for people looking to enjoy the city's more modern attractions and take part in some organised fun. It's also really cool! There are theme parks, museums, restaurants, and a ton of gift shops.
You can choose between staying on the mainland or putting yourself up on one of Osaka's extraordinary artificial islands. There are great places to stay on both! It's a popular area for both international and Japanese tourists, and you'll find lots of home comforts to keep all members of the family happy.
Up to seven people can stay here, making it a top choice for families and friends looking to stay in the Osaka Bay area. There are three large bedrooms, plus an additional sleeping area with Japanese-style tatami mats. It's modern, clean and neat. The bay is perhaps the best neighbourhood to stay in Osaka for families because of its close proximity to Osaka Aquarium and Universal Studios Japan.
There's a dining table, a small kitchen, and a contemporary bathroom. If you're looking for all western comforts with some traditional touches, this will be the place for you.
With close proximity to Universal Studios Japan, J-hoppers is a comfy place to stay near the bay. There is relatively straightforward access to the aquarium via ferry, and the hostel has a shared kitchen, communal PCs, and free wifi. Female dorm rooms are available, and there is a nice common room area too!
Close to the Bentencho train station, Hotel She has an onsite restaurant/bar as well as an outdoor terrace where you can relax. The retro record players are novel, complete with a selection of tunes on vinyl to rent or buy. Rooms are en-suite with a TV, and there is sensationally stylish modern decor.
Top Attractions & Things to Do in Osaka Bay
Get your ticket for the popular Universal Studios Japan theme park, complete with rides, shows, and other attractions based on well-known movies like Jaws, Spiderman, Shrek, and Jurassic Park.
The Universal city walk Osaka is a gift shop on some serious steroid-based medication, so take a look at some of the amazing stuff they have there!
Discover the many delights of the underwater world at the enormous Osaka Aquarium, home to many species of fish and other aquatic life.
Enjoy diverse shopping at Tempozan Harbor Village.
Soak up the views from the top of the Tempozan Ferris Wheel; the night-time vistas are especially magical.
Travel back to the Edo period at the reconstructed themed food street of Naniwa Kuishinbo, located within Tempozan mall.
Observe an array of interesting feathered creatures at Nanko Bird Sanctuary on Sakishima Island.
Ride to the 55th-floor observation deck of Cosmo Tower.
See Mount Tempozan, the smallest mountain in Japan.
Enjoy some retail therapy at the Asia Pacific Trade Center.
Here's what people usually ask us about Osaka and where to stay.
ALWAYS sort out your backpacker insurance before your trip. There's plenty to choose from in that department, but a good place to start is Safety Wing.
They offer month-to-month payments, no lock-in contracts, and require absolutely no itineraries: that's the exact kind of insurance long-term travellers and digital nomads need.
SafetyWing is cheap, easy, and admin-free: just sign up lickety-split so you can get back to it!
Click the button below to learn more about SafetyWing's setup or read our insider review for the full tasty scoop.
Osaka is one of the coolest cities in Japan! There are so many unique things to do in Osaka, like feast yourself at street food stalls and 5-star restaurants, drink coffee at the original cat café, indulge in some of the best green tea in the world, and watch a puppet show at Bunraku! (Osaka is the home of the distinctive Japanese art of puppetry, which dates back to the 1600s.)
This guide was written to help you pick the best place to stay in Osaka based on your travel style! And remember, if you can't decide where to stay in Osaka, stay in the Kita neighbourhood for convenience, and Namba for the nightlife.
The Summer Sonic festival is one of the best festivals in Japan and attracts thousands of fans every year. If you are looking to visit during autumn, keep an eye out for this awesome muck up!
That's it, folks! Japan is excellent – truly a magical place -and Osaka is too. Think of it this way: Tokyo is the big brother mega-metropolis ('mega' is underselling it). Kyoto is the middle-child old cultural capital concerned with the ways of old… and Osaka?
Osaka is the little bro, influenced by all the American TV it watched growing up. It's got a real penchant for standing out with its eclectic nightlife and its desire to do things a bit differently from the other destinations in Japan. And so, by now, you should hopefully know exactly where to stay in Osaka.
Enjoy!
Do you own an awesome hostel, hotel or apartment? Want to be featured in our list? Email [email protected] to find out how.
---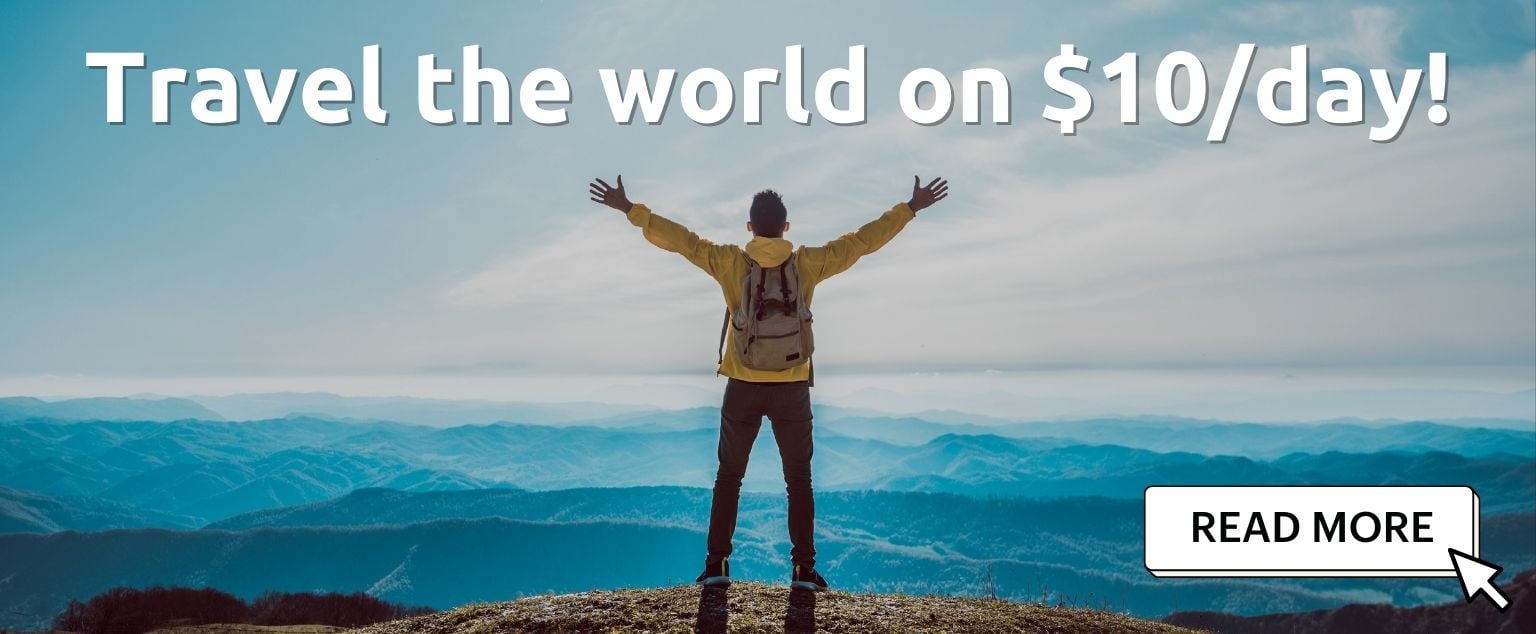 And for transparency's sake, please know that some of the links in our content are affiliate links. That means that if you book your accommodation, buy your gear, or sort your insurance through our link, we earn a small commission (at no extra cost to you). That said, we only link to the gear we trust and never recommend services we don't believe are up to scratch. Again, thank you!
Sources
"Daikokucho?Osaka Metro." Edited by Osaka Metro, Osaka Metro, subway.osakametro.co.jp/en/station_guide/Y/y16/.
Lambe, Michael. "Dotonbori Area: The Bright Heart of Osaka – Osaka Station." Osaka Station, www.osakastation.com/dotonbori-area-the-bright-heart-of-osaka/.
Experience, Japan. "Midosuji Line Osaka ????." Midosuji Line Osaka | Japan Rail Pass, 12 Sept. 2013, www.japan-rail-pass.com/plan-your-trip/travel-by-train/train-in-japan/midosuji-line.
"Tenjinbashisuji Shopping Street | Tourist Attractions and Experiences | OSAKA-INFO." OSAKA INFO, osaka-info.jp/en/spot/tenjimbashisuji-shopping-street/.
Experience, Japan. "Utsubo Park Osaka | Japan Experience." Japan Experience, 27 June 2007, www.japan-experience.com/all-about-japan/osaka/parks-gardens/utsubo-park-osaka.