Most people who visit Japan go to Tokyo, Kyoto, maybe Hiroshima, and then head home, thinking they've seen everything they need to see in this country.
But following this itinerary means that you'll miss out on the unique flavor and charm of cities that are a little off the beaten path like Osaka Japan.
Osaka has amazing and unique food, a great nightlife, and some of the best castles in the country, all ready and waiting for you to explore. So, when you're looking for places to visit in Osaka, you'll be spoiled for choice.
Information on Osaka's charms can be a little harder to find than it is for the larger cities, which is why some travelers don't make it part of their trip to Japan.
But that's why I created this ultimate guide to everything you'll want to see and do on your Osaka itinerary.
Don't tuck into that Okonomiyaki just yet. You're going to need to know where to stay in this dazzling city first. Be sure to check out where to stay in Osaka to get the full scoop on the best areas and accommodation and see what strikes your fancy!
#1 – Shinsekai
Why it's so awesome: This neighborhood is the best place to feel the real heart and vibe of the city.
Shinsekai has a strong attachment to the past and the shops and streets seem to overflow with these feelings of nostalgia. You'll see countless retro shop displays as you wander through the streets and probably pick up some really unusual souvenirs.
What to do there: This is a great place to wander and just see what you find. Make sure you always have your camera with you during your travels, because some of the retro shop displays look amazing in selfies.
And if you want a high up view of the neighborhood, head down to Tsutenkaku Tower where you can overlook the streets. You can't miss this building; it looks like the Eiffel Tower and is one of the most visited hotspots in Osaka Japan. Why not find one of Osaka's best Airbnb's and make Shinsekai your base for a while!
#2 – Universal Studios Japan – Awesome place to visit in Osaka with kids!
Why it's so awesome: Universal Studios is one of the most popular amusement parks in Japan and offers 9 zones of fun including Jurassic Park, Waterworld, Universal Wonderland, Amity Village, Minion Park, and The Wizarding World of Harry Potter.
It's the perfect place to take the kids or to go with a group of friends for a day of childlike fun.
What to do there: While you're in Universal Studios, make sure you check out the different zones. This will probably take you all day (at least), so don't book anything else for that day except maybe a rest at the end of it. There is also a Wizarding World of Harry Potter amusement park that is also a must-see attraction!
The merchandise at this park is also extremely popular, so keep an eye out for your favorite characters like Hello Kitty or Minions!
#3 – The Umeda Sky Building – A great place to see in Osaka if you love architecture
Why it's so awesome: This building is renowned throughout the world for its design, shape, and structure. The most stunning feature is the observatory on the observation deck, often known as the Floating Garden Observatory. The floating garden observatory offers 360 views of the city, which are especially amazing at night.
What to do there: Take your camera and visit the tower in the afternoon or at night. The city looks amazing during the day of course, but there's nothing that can beat the sight of the sun setting over it, or the night sky blanketing all those lights.
Take the time to check out the design of the Floating Garden and the building too, because it's amazing and incredibly unique too.
#4 – Dotonbori
Why it's so awesome: Dotonbori is in the Minami area and is extremely popular amongst tourists. This neighborhood pulls out all the stops for tourists, which means that you'll see some famous shop displays, flashing neon lights, and a plethora of restaurants and cafes to tempt your tastebuds.
What to do there: This area is a great place to shop, so make sure you put on comfortable shoes and take your cards with you.
And when you get bored with that, the food is absolutely amazing, so take a street food tour or just explore on your own if you're feeling adventurous. There's always something going on in this area, so if you need to fill a few hours then just show up and see what's on!
#5 – Osaka Castle – Possibly one of the most important places to visit in Osaka
Why it's so awesome: Osaka Castle is one of the most important and beautiful in all of Japan. It's also historically important as it represents the Azuchi-Momoyama period during the 16th century. It was built in 1583 by Hideyoshi Toyotomi, a Japanese warlord who worked to unify the country and is a legend in Japanese history.
What to do there: Osaka Castle is open to the public, so make sure you take the tour or show up and explore on your own. The area is surrounded by a vibrant neighborhood and some amazing street food, so make sure you take your time in this area when you're exploring Osaka. And if you're in the city during cherry blossom season, you absolutely must not miss seeing this iconic sight from the lush, beautiful grounds of Osaka Castle.
#6 – Hozenji – One of the most religious places to see in Osaka
Why it's so awesome: When you travel in Osaka, you'll probably need a break every now and then, particularly while you're in the busy Dotonbori district.
And this temple is the perfect chance for you to take that break. It's a quiet, contemplative escape from the streets with lanterns and moss-covered statues. In fact, walking into this temple is a lot like stepping back to a simpler time.
What to do there: While you're in Dotonbori, make sure you stop by the temple. You can enjoy the quiet space and pray to the god of protection Fudomyoo to ensure that you're safe during your trip. And once you're done, head to Hozenji Yokocho, a connecting cobbled street filled with bars and places to eat.
#7 – Amemura
Why it's so awesome: Amemura is a lot like the Harajuku district in Japan, which is why it's one of the most popular places to visit in Osaka. It's filled with young people who wear the latest fashions and sometimes even completely rebel against fashion completely.
To support that quirky lifestyle, this area is filled with fashion boutiques and thrift stores as well as the best bars and restaurants in the city. You may even find some of Osaka's best hostels here too.
What to do there: This is a great place to grab a bench or seat and people watch. You'll see a full spectrum of people in this area, from businesspeople in suits to young people in full costumes. But don't stop there. Wander through the shops and look for something unique to take home with you and then have a meal in one of the many great restaurants. And after, you can hit a bar and see where the night takes you.
#8 – Nambayasaka Shrine – An unknown (but awesome!) place to see in Osaka!
Why it's so awesome: If you're tired of the usual stately, quiet shrines in Japan, then this one will give you a shock. The Nambayasaka shrine is visually striking, with a stage that's shaped like a lion's head complete with bared teeth.
In fact, it looks more like the entrance to an amusement park ride than to a shrine! This shrine is also a little off the beaten path, so you shouldn't have to compete with the crowds to get a great picture.
What to do there: This shrine is the perfect place for an unusual and amusing picture of your trip to Osaka. So, make sure that your camera is charged and go nuts standing in the growling mouth of the lion.
#9 – The National Bunraku Theater
Why it's so awesome: Osaka is incredibly modern, but it's still managed to hold onto some traditions and this puppet show is a great example of that. Puppet shows started out in the Edo Period and today they're a popular draw amongst tourists. The puppets are huge, usually controlled by up to three people, and tell myths and legends from the 17th and 18th centuries.
What to do there: Before you arrive in Osaka, find out what shows are on and book your ticket. It makes for a great night out and an intense insight to the culture and history of the city and the country you're traveling in. And make sure you get the English translation if you don't speak enough Japanese to follow the show.
#10 – Den Den Town – A great place in Osaka if you love to shop!
Why it's so awesome: This neighborhood is actually called Nipponbashi, but most of the time it's known as Den Den town, which literally means electric town. This is the technology central Osaka and you'll be able to pick up every kind of device and electronic good you can imagine in this area. It also specializes in anime, manga, and cosplay, so if you love this side of Japanese culture, you'll find plenty to do in Den Den Town.
What to do there: If you need anything electronic then the prices in this area are affordable and the range is truly staggering. But you'll want to visit this area for more than just the computers. Make sure you check out the arcades, maid cafes and other entertainment options. Just be careful because some of them can be a bit risqué!
#11 – The Tower of the Sun
Why it's so awesome: This quirky art display was created in the 1970s in honor of the World Expo, which was held in Osaka. It's a creature with three faces, all pointing in different directions, and makes for fun and quirky photos.
What to do there: Take your camera along with you and get some great selfies next to this Osaka must-see. The statue is 70 meters high and is one of the more unusual Osaka tourist attractions.
#12 – The National Museum of Ethnology
Why it's so awesome: You can't truly understand a place if you don't understand its history and this museum seeks to encourage a better understanding of the entire world. Through costumes, masks, ceramics, and vehicles it shows how the world's cultures influence each other in integral and sometimes very obvious ways.
What to do there: This is a fascinating education on the history of Japan and the world as a whole, so put aside a couple of hours to explore it. There are several interactive exhibits, so make sure you check them out as well. The music room is especially popular, as you can play a range of world music and see how the different styles are the same and how they're different.
#13 – Spa World
Why it's so awesome: Osaka is one of the largest cities in the world which means that it contains a lot of people crammed into a relatively small area. Because of this, it gets swelteringly hot and stressful. That's why this park should be on your Osaka itinerary. It's the perfect place to relax, cool down, and enjoy something that's just plain fun.
What to do there: Spa World is a water park that includes steamy baths with an around-the-world theme. There's an Asian and European side and they alternate between admitting men or women by month so you won't know what to expect until you get there.
There are 7 baths in these sections, so make sure you try them all. And if you're a little shy about the idea of bathing in public, get used to it because it's a big part of Japanese culture and something you'll probably need to do throughout your trip.
#14 – Shinsaibashi – Cool place to see in Osaka with friends!
Why it's so awesome: No matter what you need while you're in Osaka, you'll be able to find it in this area. Shinsaibashi has numerous shopping malls and boutiques. This includes the famous Shinsaibashi-suji, which is a 600m long shopping arcade that contains hundreds of shops and boutiques.
What to do there: You can't travel to Osaka without doing some serious shopping and there are so many options for that in this area that you'll be spoiled for choice. Check out the boutiques and designer labels in this area but also spend some time exploring the sheer variety of shops. You'll see drug stores and various shops as well as some great restaurants and cafes where you can relax and enjoy your spoils!
#15 – Kamigata Ukiyoe Museum – A great place to visit in Osaka if you are alone/traveling solo
Why it's so awesome: you might be forgiven for thinking that Osaka is all high rises and shopping, but it also has a long history and intricate art scene. This museum is one of the best places to visit in Osaka if you're interested in learning about the art of ukiyoe, a type of traditional Japanese printing.
What to do there: Traditional Japanese artwork is painstaking and austerely beautiful and ukiyoe is no exception. It's a form of printing the uses blocks of wood and the museum itself is located in a lovely and traditional Japanese house that's worth checking out on its own.
#16 – The Osaka Museum of Housing and Living – One of the most underrated places to see in Osaka
Why it's so awesome: This museum is one of the most popular in the city and you could spend hours exploring the displays and dreaming about the past. It contains replicas of structures from the Edo Period, which spanned the 17th to the 19th centuries. Most of these buildings didn't survive to the present day of course but learning about what the city used to look like is an eye-opening experience.
Why it's so awesome: If you're interested in history, then this is a great place to start your education in Japanese history. It will give you a detailed idea of what life used to be like for people in Osaka. And if you really want to get into the spirit of the museum, you can dress up in a Japanese kimono and really be part of the experience!
#17 – Abeno Harukas
Why it's so awesome: If you want to take pictures of the city from on high then this is the best location to do this. This building is one of the most recognizable and popular landmarks in Osaka and is the tallest building in all of Japan at the same time. The views from the observation deck are simply spectacular and worth the trip.
What to do there: Go to the observation deck first. If you can, visit at night or at sunset for the most amazing views of the city. Afterwards, you can explore the building. There's a charming café on the fifth floor if you want a snack or a coffee, and you can also explore the shops, restaurants, and museums contained in the rest of the building.
#18 – The Tempozan Ferris Wheel
Why it's so awesome: This Ferris wheel is the perfect place to take in all of Osaka as well as the view over the water. It was once the tallest in the world but has since been overtaken by other wheels. That doesn't take anything away from the amazing views and experience of seeing Osaka City from this vantage point though.
What to do there: The best time to take a ride on this Ferris wheel is at night. The views during the day, particularly on clear days, are spectacular, but at night the wheel is lit up and the sight of the city's lights are something you'll remember for the rest of your life.
If you're travelling with kids, the Legoland discovery center is right across from the Ferris wheel and is super cool to visit!
#19 – Osaka International Peace Center – A fascinating educational place to visit in Osaka
Why it's so awesome: Walking around Osaka International Peace Center, you could forget that it was almost razed to the ground during the Second World War.
That war had a heavy toll on every country involved and this memorial remembers that and acts as a warning against the same behavior in the future as well.
Some of the galleries are quite dark and dedicated to the bombings during the Second World War, so prepare yourself before you go exploring.
What to do there: One of the most important things about traveling is the fact that it encourages you to see things through other perspectives. These galleries are a chance for you to see the Second World War through this unique perspective and to more fully understand the toll it took on the entire world.
Get insured for your trip to Osaka!
ALWAYS sort out your backpacker insurance before your trip. There's plenty to choose from in that department, but a good place to start is Safety Wing.
They offer month-to-month payments, no lock-in contracts, and require absolutely no itineraries: that's the exact kind of insurance long-term travellers and digital nomads need.
SafetyWing is cheap, easy, and admin-free: just sign up lickety-split so you can get back to it!
Click the button below to learn more about SafetyWing's setup or read our insider review for the full tasty scoop.
Find out what people want to know about the best places to visit in Osaka City.
Final Thoughts on the Coolest Places to Visit in Osaka City
When you travel to Osaka, you'll find yourself immersed in a whole different side of Japan. Osaka locals famously talk differently to other parts of the country and eat a whole range of different dishes as well.
And there is a wide range of historic, beautiful, architectural, or just plain fun places to visit in Osaka as well.
So, the next time you're heading to Japan, consider adding this city to your itinerary, and the best way to do that is with my guide to all the best things to see and do!
---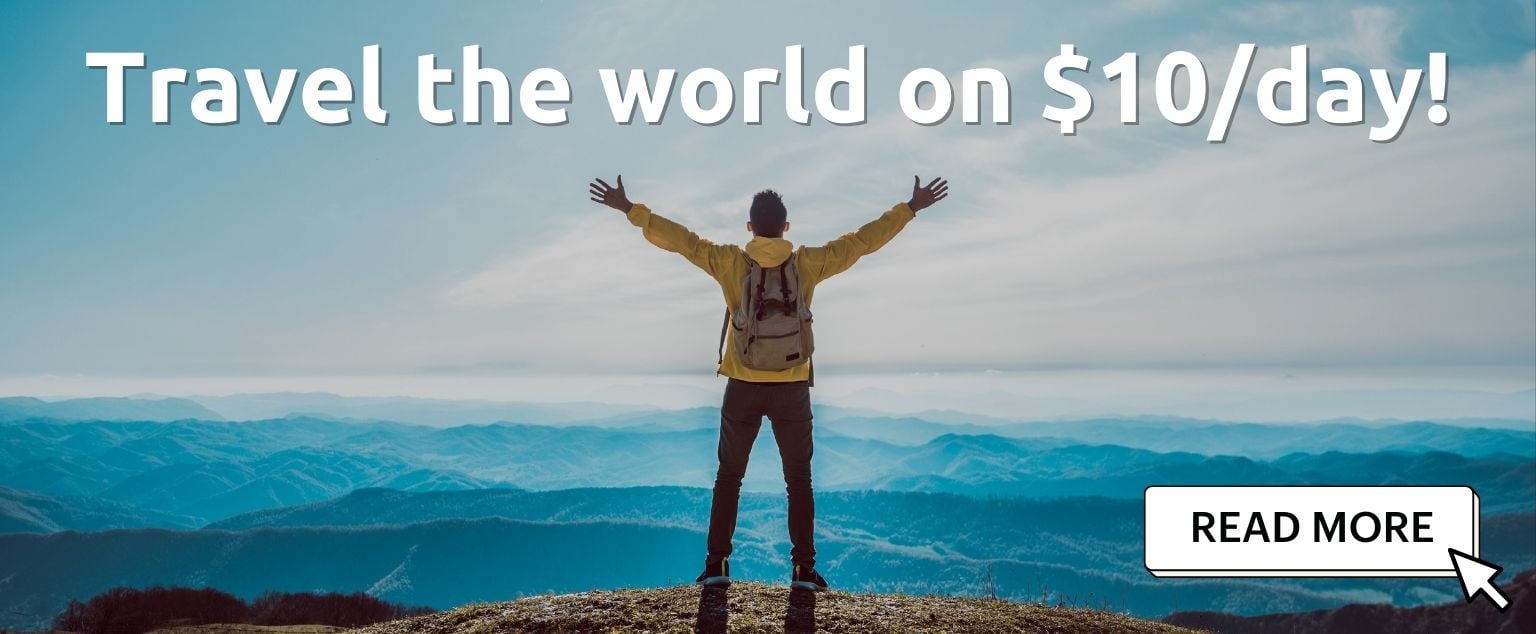 And for transparency's sake, please know that some of the links in our content are affiliate links. That means that if you book your accommodation, buy your gear, or sort your insurance through our link, we earn a small commission (at no extra cost to you). That said, we only link to the gear we trust and never recommend services we don't believe are up to scratch. Again, thank you!