Japan is one of the world's best places to visit for an extravaganza of fascinating museums, sprawling parks, and truly quirky attractions. If you're looking to get lost for a while along bustling streets, uncover a wealth of history, or sample some of the tastiest food in Japan, Osaka should be at the very top of your list!
Find yourself on the trip of a lifetime as you explore Osaka's finest attractions, and whether you're spending a day or a week in Japan's food capital, you'll never be at a loss for things to do.
Take a look at this Osaka itinerary and then plan out your own ultimate trip to one of Japan's liveliest and quirkiest cities!
Osaka's history, culture, foodie scene, and entertainment district make Osaka a truly memorable city! It has something for every traveler, from world-class theme parks to incredible museums and street food stalls, you'll never run out of things to do in Osaka!
Whether you're spending one day in Osaka or 3 days in Osaka, there are some phenomenal options jostling for a spot on your list! I'd personally suggest taking at least two-three full days to explore the city. If you want to see all of the important landmarks you might be able to fit everything into 24 hours, but you'll miss out on some of the cool and quirky sites that make Osaka so famous. If you can, do set more time aside.
In this 3 day Osaka itinerary, you'll find each day is packed with action, culture, history, and adventure. You won't have to rush from A to B though because I've sorted everything by proximity. Of course, you can change it up as much as you want. Add stops, swap things around, or even skip some places. Use this itinerary as inspiration to get the most out of your trip!
3 Day Osaka Itinerary Overview
As Japan's third-largest city, Osaka is filled to the brim with places to see. It's quite a widespread city with excellent transport options so there is also a wide variety of great places to stay in Osaka.
The Osaka Castle area is also an ideal place to stay as it is jam-packed with Osaka landmarks and great hotels! There are also some lovely Airbnbs in Osaka.
There are so many exciting things to do in Osaka that it's pretty hard to go wrong. As long as you're near a train station and a great place to eat, Osaka is a goldmine of things to do!
With its epic location inside a retired toy store, the Hostel Mitsuwaya Osaka makes the perfect budget accommodation. Nestled in the beating heart of Osaka, but with an atmosphere of tranquillity, this safe and fun hostel will make your trip to Osaka even better. Rent one of their bicycles and head out to explore the city from this centrally located spot!
This private three-bedroom apartment in central Osaka can accommodate up to 12 people! One bedroom has a double bed and a single bed, another has a sofa bed, and the other has Japanese-style tatami mats.
It has a modern and well-equipped kitchen with a dining table and chairs, separate toilet and bathroom, a washing machine, a living area, outdoor space, Wi-Fi, and four free bicycles for you to use to explore.
Best Budget Hotel in Osaka – Ayana House
Enjoy this immaculate and well-maintained apartment as your home-away-from-home while you're in Osaka. Just a stone's throw away from exciting Dotonbori and Shin-Imamiya Station, for easy access to the best of Osaka's attractions, Ayana House is the ideal place to stay on your holiday!
To experience true Japanese hospitality and an unbeatable view of Osaka's skyline, check in at one of Osaka's finest luxury hotels. Why pass up the chance of an in-room massage and impeccable facilities when you can have it all, and an amazing view to boot! Make the Mitsui Garden Hotel your accommodation of choice, and with its central location, all you need to do is step out the front door to discover the sights of Osaka!
Osaka is an energetic city full of fun places to visit and with an amazing landscape, all the way from Osaka Bay to the lush outskirts of the city. No matter what you're looking for, from nearby spots to explore to the more outlandish features, finding your ideal Osaka trip itinerary is beyond easy.
There are so many things to do in Osaka that you will feel spoiled for choice. Let's dive into our 3 days in Osaka itinerary. Starting with day one…
9AM – National Museum of Art, Osaka (NMAO)
Take a walk through the hallowed halls of Osaka's art world beneath the terra firma on the fantastical Nakanoshima Island!
Begin your unique artistic experience at the stunning silver gates, which welcome you into the museum. The gates are shaped like bamboo, and were inspired by the vitality of bamboo, which paints a picture of the growth of contemporary art in Japan!
The National Museum of Art has a fantastic collection of significant international and Japanese works, which have been carefully selected over 30 years. Enjoy a meander through the 3 stories of art from across the years including works by prominent artists Cezanne, Picasso and Ernst. You can also enjoy the stunning post-war pieces by Foujita, Ikemura, Ishiuchi, and Kuniyoshi.
Begin your Osaka travels with this eclectic museum experience that literally takes you deeper!
Cost – 430 yen ($4) per adult, 130 yen ($2) for university students, free for high school students and over-65-year-olds.
Getting there: Take the nearest subway station to Higobashi Station via the Yotsubashi Subway Line. From here it's a 5-10 minute walk.
How long should I spend there: Around 1-2 hours should be enough, depending on how much you love art.
10.30AM – Namba Parks
Namba Parks is a shopping complex with the ultimate difference. The mall itself is packed to the rafters with fun stores and hidden basement eateries, but it is the stunning range of rooftop parks that make it an oasis in the middle of bustling Osaka!
The building has a unique location in the footprint of Osaka's old baseball stadium and with its 8 levels of tree groves, rock formations, and waterfalls, Namba Parks is 100% worth a visit. Take in views of the cityscape as you traverse the unbelievable rooftop environment!
As you climb over canyons and enjoy the trickling sound of a stream, the parks make for a surreal experience. There are terraces to sit on and enjoy the view, and you can even search for a vegetable garden or two.
As a lush patch of green in Osaka's neon-infused streets, the parks are connected directly to the street so commuters and tourists can pass through easily and enjoy a taste of nature!
Cost – Entrance is free!
Getting there: Take the subway to Nankai Station, and from there you can enter the parks by the Central and South exits.
How long should I spend there: 1-2 hours should suffice.
11.30AM – Tempozan Ferris Wheel
For a gondola with a view, head for a ride on the Tempozan Ferris Wheel in Osaka's Harbour Village. Gaze out over Osaka Bay as you take a 360 degree trip round Tempozan's giant Ferris wheel!
The brightly colored attraction makes quite a feature on Osaka's landscape, with its unique role as the local weather vane. The Ferris wheel shines different colors to represent the day's weather, including a bright orange for sunshine, green for cloudy weather, and blue means it'll rain.
The giant bay-side attraction used to hold the title for the tallest Ferris wheel in the world when it opened in 1997, and you can see why at an impressive height of 112.5 meters! You can use your view from the top to scope out other amazing Osaka features for the day with Mount Ikoma, Universal Studios Japan, the Mount Rokko and the Akashi Kaiky Bridge visible from your pod in the sky.
For the brave among you, there's also the opportunity to pick one of the Ferris wheel's transparent gondolas!
Insider Tip: While you're in the area, head over to Mt Tempo, Japan's smallest mountain, which sits at 4.5 meters high.
Cost – 800 yen ($8).
Getting there: Take the subway to Osakako Station via the Chuo Line.
How long should I spend there: No more than an hour.
1:00PM – The Original Pancake House
For today's lunch spot, we're heading to The Original Pancake House. In a mall full of delicious options, this is by far the best place to eat! From the uber-popular Dutch Baby to the simple and sweet coconut pancake, the Namba Parks OG pancakes are a great way to refuel for the day!
2.00PM – Osaka Aquarium Kaiyukan
If you're looking to experience one of the most incredible aquariums in the world, Japan has your answer!
The Osaka Aquarium Kaiyukan is designed to take visitors on a journey through the Pacific Ocean, with amazing exhibits which give you an informative and unbelievable look into this aquatic world.
Take a journey around the Pacific Rim as you enjoy the exhibits and features, each designed with a classic creative Japanese style. Begin your travels into this labyrinth of blue as you enter through the Fish Underpass – Aqua Gate, a walk-through tunnel with sea life on every side!
Then, experience every creature from river fish of the Japanese Forest to the adorable tufted puffin of the Aleutian Islands. The aquarium's main attraction is the Pacific Ocean exhibit, with 14 surrounding aquatic exhibits arranged to match their position on the Pacific Rim!
One of the aquarium's most spectacular features is the jellyfish exhibit, which gives you the feeling of staring into an aquatic galaxy, amongst the mystical sway of the jellyfish. There are even Japanese spider crabs!
Finish off your first day in Osaka with this trip through the waters of the Pacific, then as night falls, stay for more fun as the Night Aquarium comes to life!
Cost – 2300 yen ($21) for over-16s, 2000 yen ($18) for over-60s, 1200 yen ($11) for children between 7 and 15 years old, 600 yen ($6) for 4 to 5-year-olds, children under 3 enter for free.
Getting there: Take the subway to Osakako Station and walk for 5 minutes from there.
How long should I spend there: 2-3 hours should be enough time to see it all.
7:00PM – National Bunraku Theatre
Enjoy the fantastical stylings of Osaka's National Bunraku Theatre as you take in a show or explore the memorable theatre itself.
The theatre was opened to protect and further the precious traditional art form of Bunraku. Performers tell emotive stories through the intricate movements of the giant wooden-headed puppets they operate. Bunraku began as a rare form of entertainment for the general public, and the theatre is carrying on that tradition!
The theatre is a jack of all trades in its efforts to preserve the art form as it houses a training institution and a fascinating archive of historical materials. The building is a work of art and history itself as it forms a mix of tradition and modernity while characterizing key elements of Edo era of Japanese architecture.
Enjoy a memorable experience of one of Japan's classic performance forms, the perfect addition to your Osaka trip!
Cost – Varies per performance but the exhibition hall is free.
Getting there: Take the subway to Nippombashi Station and walk from there.
How long should I spend there: depending on the show.
For our second day in Osaka, I will be including the more historic and cultural attractions in the city, such as Osaka Castle and the Dotonbori, the nightlife district in Osaka.
9.00AM – Osaka Castle Park
Make the perfect start to your second day in Osaka on a visit to the Osaka Castle Park, a lush landscape full of history and stunning natural beauty!
The park's defining feature is the stunning Osaka Castle, which sits regally amongst the trees and surrounded by an impressive moat! You can explore the castle corridors and discover ancient weaponry as well as unmissable artwork along the walls. The castle is also home to a museum with an array of historical artifacts and fascinating digital exhibits recounting the castle's history, including a virtual reality diorama depicting the Summer War of Osaka.
The castle's architecture is also a fascinating piece of Edo history with 13 remarkable features, including the Otemon Gates and Sengan Turret, which are treasured cultural landmarks in Osaka. Then, head up to the 8th-floor observation deck with a spectacular panoramic view of the park, Osaka Bay, and all the way to Mount Ikoma. Don't forget to view the incredible stone wall remnants, which are said to be made up of 1 million stones!
You can take a boat ride around the moat-like a royal of old, or explore the endless fields that surround it. If you're visiting in springtime, enjoy the pale beauty of 600 cherry trees, and discover the many alcoves dotted around the park including Nishinomaru Garden or the Grove of Remembrance!
Cost – 600 yen ($6), under-15s enter for free.
Getting there: Take the JR Loop Line to Tanimachi Yonchome Station and walk from there.
How long should you stay: around 1.5 hours should be enough.
11.30AM – Mint Museum
Experience the life inside a money box at Osaka's Mint Museum, a great addition to your 3-day itinerary for Osaka. Inside an old power plant, sits the fascinating world of mint (or coin making), which is dedicated to introducing the work of the Japan Mint to the world!
Explore the museum's 3 floors which give a history of the Osaka Mint Bureau, offer a look inside the coin minting process, and tell the history of coinage from its origins in ancient China to modern-day Japan.
Visit the memorable Experience Corner where you can test your abilities by lifting various coin bags and a hefty senryo-bako chest! Pay a visit to the Mint Shop (not to buy herbs) but to pick up some fun souvenir medallions, paperweights, or commemorative coin collections.
The 3rd floor houses a spectacular coin collection ranging from true antiques to more contemporary collections, including some niche Star Wars designs!
The museum's 300 cherry trees are also open for viewing for one week each spring when the trees are formed into a glorious tunnel, and beautifully illuminated at night!
Cost – It's free!
Getting there: From Osaka Station, take the JR Osaka Loop Line to Sakuranomiya Station and walk from there.
How long should you stay: Tours usually last around 90 minutes.
1:00PM – Lunch at the Garden Oriental
For a tasty lunch with great ambiance, head for the Garden Oriental Osaka. Choose from well-priced set menus with tasty options such as the marinated seafood platter or a lighter fare from their cafe, and enjoy your meal in a tranquil Japanese garden.
2.00PM – Umeda Sky Building, An AMAZING Floating Garden Observatory
At the top of Osaka's spectacular Umeda Sky Building, you will find Kuchu Teien. The incredible Floating Garden Observatory offers some of the best views in Osaka from its spot on the 39th floor!
The viewing platform sits on the bridge connecting the 2 glass towers of the building, with a roof that is perfectly shaped to give visitors an unobstructed 360-degree view of the city, and you can even spot Awaji Island in the distance!
The Umeda Sky Building's atrium-like attic is pretty spectacular, but their basement is also worth a visit! The building sits over an underground market of traditional Japanese restaurants, which is a nod to Osaka in the early 20th century.
Whether you're heading to new heights or enjoying the hidden street market, the Umeda Sky Building hits the spot!
Cost – 1500 yen ($14) per adult, 700 yen ($7) for children between 4 and 12 years old.
Getting there: Take the nearest subway station to Osaka Station City or and Umeda Station and walk for 10 minutes through an underground passage in Osaka Station.
How long should I spend there: 1-2 hours should be enough time to take some photos and enjoy to views.
3.00PM – Osaka Museum of History
If you're looking to discover Osaka's truly ancient history, the Osaka Museum of History is where you want to be!
Begin your journey through time on the museum's 10th floor, which houses a full-size recreation of the inside of the Naniwanomiya Palace. Then, take a stroll through exhibits portraying different eras in Osaka's history, which become more and more contemporary as you reach ground level.
You will arrive when Osaka served as Japan's first capital and complete your journey during the early Showa Period, with each moment in time captured through amazing visually-intricate exhibits!
With a design that offers visitors an incredible multi-layered experience of the city's 1350-year history, the museum is any history buff's dream! Engage with life-size models and scale replicas, as well as storied photographs and films, which dive deeply into Osaka's past.
Cost – 600 yen ($6) per adult, 400 yen ($4) for high school and university students, younger students and over-65s enter for free.
Getting there: Take the subway to Tanimachi Yonchome Station on the Tanimachi or Chuo subway lines and then walk for 5 minutes.
How long should I spend there: around 2 hours should be enough.
7.00PM – Dotonbori
Experience one of Osaka's prime nightlife hubs, which is ablaze with activity, neon lights and good food to eat!
Take a stroll across Ebisubashi Bridge and snap a pic of the iconic Glico running man from his spot on one of Dotonbori's many shimmering facades. Meandering along the river walk is one of the best ways to see the sights and get a taste of the area.
While Osaka is the 'nation's kitchen', Dotonbori is Osaka's own foodie paradise, with endless eateries that stay open well after midnight! You can also take in a show at the Osaka Shochikuza, a traditional kabuki theater, with amazing performances full of comedic flair and stunning physicality.
The canal is a stunning feature in downtown Osaka, and sailing down the waterways of Dotonbori makes an amazing end to your 2 days in Osaka!
Cost – Canal boat ride is 900 yen ($9) for 12 years old and up, 400 yen ($4) for children between 6 and 12 years old.
Getting there: Take the subway to JR Namba Station using your japan rail pass on the Yamatoji line, then walk for 5 minutes.
How long should I spend there: You could spend all night here if that's what you are after! If you just want to see the sites, 1-2 hours should be enough.
If you've found yourself in the amazing position of filling up 3 days in Osaka (or more), we've compiled the very best of Osaka attractions and tours for you to enjoy. This is the perfect 3-day itinerary for a short trip to Osaka!
Expo '70 Commemorative Park
The former site of the National Museum of Art, Osaka.
Features a 300-meter long wooden canopy walkway.
Home of the National Museum of Ethnology.
Enjoy a day at the site of the 1970 World Fair (or Expo '70), which has become a lush landscape filled with gardens, museums and a ton of entertainment options!
One of the most famous sculptures seated on the lawn is the Tower of the Sun, a majestic piece of art, which has become a major feature in the park. The tower has 3 faces, the Golden Mask which stares skyward represents the future, the front Face of the Sun represents the present, and the Black Sun face represents the past. The tower is an original piece from the Expo '70 and sits regally in the Natural and Cultural Gardens, which are sprinkled with artworks, seasonal flower displays and beautiful woods to explore!
The park is also the home of 5000 cherry trees, which make for a spectacular sight when they're in full bloom! If you happen to be visiting Japan in spring and cherry blossom season, it's a deliciously romantic Osaka honeymoon itinerary spot.
You can also enjoy the shimmering ponds at Expo '70 including the 'Dream Pond' boating spot and Shinji-ike pond, named after its Kanji heart character. Or, if you're looking for an extra taste of Japanese culture, walk around the Japanese Folk Crafts Museum, which displays fine ceramics, textiles, and crafts from across Japan.
Expo '70 is an amazing way to spend the day in a space filled with history, natural beauty, and endless photo opportunities!
Universal Studios Japan
Home to the backward roller coaster: Hollywood Dream – The Ride (Backdrop).
The JR Yumesaki Line trains, which takes you to the park, are all painted with Universal themes so there's no chance of missing them.
You can visit the Wizarding World of Harry Potter.
On the edge of Osaka Bay awaits Universal Studios Japan, one of 4 action-packed Universal theme parks across the world. The fun park is like an island of its own with an amazing selection of attractions and rides!
The 9 zones across the park include the animated world of Hollywood where you can pay a visit to Shrek in 4D as well as the Universal Wonderland where you can fly with Snoopy or whizz round in a giant cupcake. Head for Amity Village for a thrilling experience on the iconic Jaws ride, then journey on to another classic location – Jurassic Park, home to the Flying Dinosaur, a roller coaster that takes you upside down!
If you've ever wondered what it's like to turn into a minion (and who hasn't), you'll enjoy the Despicable Me Minion Mayhem ride at Minion Park!
Momofuku Ando Instant Ramen Museum
A Noodle Museum where you can make your own noodles!
Discover more about one of the world's most underrated food industries.
Enjoy quizzes and hands-on exhibits.
One of the most unique places to visit in Osaka is hands down, the Momofuku Ando Instant Ramen Museum. For everyone from noodle enthusiasts to the curious traveler, this museum is full of fascinating exhibits and interactive features. It's got everything you never knew you needed in a museum (and it just happens to be very interesting too)!
If you are backpacking, then subsisting on a diet of Ramen noodles is one way to reduce your costs in Japan. So it only makes sense to come here for a better understanding!
The exhibits take you all the way from his experiments in a shed, to the interactive theater in a giant cup of noodles, where you can see anecdotes from his journey to success play out like a film. Discover the fascinating development of instant noodles in post-war Japan and how it has grown today, including the company's creation of NASA noodles which can be eaten easily in space. Enjoy a stroll through the instant noodle tunnel, with approximately 800 product packages lining the walls.
For 300 yen ($3), you can also make your own noodle flavor and packaging at the My CUPNOODLES Factory.
Enjoy this unique Osaka attraction as you discover a piece of Japan's past not often mentioned in the history books!
Hattori Ryokuchi Park
Has an outdoor concert hall.
Has a collection of ponds and pools formed by the meeting of 2 rivers.
During the summer, there's an outdoor kabuki theater.
The Hattori Ryokuchi Park more than lives up to its name meaning 'green ground'. Explore the interwoven landscape of bamboo gardens, flower gardens, and fields on a trip to one of Osaka's stunning parks.
There is also an unbelievable arboretum which grows approximately 120 species of herbs, which fill your senses, and 700 species of camellia, a beautiful Japanese flower that represents the arrival of spring.
Explore the giant forested park, there is a labyrinth of waterways including more than 10 ponds, a swimming pools, and a fishing pond. You can also go for an exhilarating horse ride through the park!
One of the park's defining features is the surreal Open-Air Museum of Old Japanese Farmhouses with examples of rural architecture from across Japan including Gassho-zukuri, Magari-ya, and Takakura.
Osaka Food Tour
Find your new go-to Japanese dish.
Get tips on the best way to order your meals in Osaka.
Get to know Osaka's streets from a local perspective.
Being the food haven that it is, you can't visit Osaka without tasting just about every dish on offer. The best way to do that? Go on an Osaka food tour!
Get an in-depth look at the cuisine and history of Dotonbori while you go beyond the main street and find the hidden gems of Osaka's food world!
Get a taste of kushikatsu, a classic Japanese dish of deep-fried meat and vegetables on a skewer. Discover the Michelin-rated street food of Osaka, including takoyaki, which are delicious dough balls usually filled with octopus, tempura pieces, pickled ginger, and green onion.
Then finish your night with an electric vibe and tasty offerings at Izakaya, a popular local pub. Enjoy traditional local cuisine like sukiyaki (thinly sliced beef simmered in vegetables, soy sauce, sugar, and mirin), accompanied by a drink of craft beer or Nihonshu (rice wine).
Experience the atmosphere and flavors of downtown Osaka while you spend a night out on the town!
The best time to visit Osaka is anytime! The temperature in the city is often pleasant and much less prone to extreme weather patterns, like typhoons and epic rainstorms. Winters are chilly but not freezing and snow only falls on rare occasions.
If anything, Osaka is only frustrating to visit during certain times of the year when Japanese people are on holiday. For example, during Golden Week and when the Cherry Blossoms are blooming the streets will be much more crowded and prices will be noticeably higher.
Otherwise, visiting Osaka is great whenever. If you can plan a trip around the shoulder months (March, October), you'll get to enjoy the best weather and the best prices for that matter. It's a win-win for an awesome Osaka itinerary!
It's no surprise that Osaka City is pretty big with loads of interesting sites to see. Luckily, you can find a super well-developed public transport network spread throughout all parts of the city. The public transport here also makes taking one of the many day trips from Osaka super easy too.
The subway lines and bullet trains are the lifeblood of traveling through Osaka. Some of the best places to stay are the main stops on the Midosuji subway line, which runs from north to south across the city. These include:
Shin Osaka Station
Kita, Minami
Central Osaka
Tennoji Station.
Osaka is divided into 24 wards, with 2 major hubs: Kita (in the north) and Minami (in the south). Kita, which is also known as Umeda, is a bustling area with a ton of attractions and restaurants to visit! If you're traveling from another popular Japanese destination, Kyoto, you will arrive in Kita.
In the south of Osaka, you'll find Minami (Namba), which is a vibrant cityscape full of fantastic eateries and eclectic Japanese attractions, including the Don Quixote superstore which has a 77-meter-high Ferris wheel perched on top!
The subway network in Osaka is also super easy to navigate. Like Tokyo, it runs on a color and number system, which makes it easy to work out where to go. The JR Loop line, otherwise known as the Osaka loop line, connects Osaka Station to all the main attractions in the city center such as Osaka Castle, JR Osaka Namba Station, Ohatsu Tenjin Shrine and Tenjinbashisuji Shopping Street. On this line, you can use your japan rail pass, but on other metro lines you will need to buy a ticket.
You will find subway stations in almost all areas in Osaka. You can get a prepaid Icoca card, which can be used on any form of transport in Osaka. However, I would not recommend buses as they are slower and don't reach the tourist areas as easily as the subway.
Taxis are also reasonably affordable in Osaka. The average price of a taxi is about Y660 for the first 2km, and then Y80 per 296 meters after that. Taxi drivers in Osaka are also kind and safe. Uber and Lyft are also operational in Osaka and but are rarely used as the taxis are so cheap.
As the third-largest city in Japan and with the population to prove, Osaka's bustling streets are usually filled with everyone from locals to travelers from all around the globe.
Despite the busy city streets, Japan is one of the safest countries in the world, and the overall crime risk is low. However, traveling anywhere, and specifically internationally means taking useful safety precautions. Pickpocketing can be a possibility, particularly in the Shinsekai area, so it's best to keep an eye on your belongings.
In certain areas such as Shinsekai Tobita Shinchi, drink-spiking can be a problem in bars and nightclubs. Remember to watch your own drink being poured, keep your thumb over any open bottles, and don't leave your drink unattended.
There are also certain areas such as Kamagasaki, where crime is more prevalent. It is best to avoid these areas when you are alone or at night. So, make sure to follow these tips before visiting:
Be particularly vigilant in touristy areas like the Shinsekai area.
Public transport is also a hotspot for petty crime, so hold tight to your belongings for any journeys you take.
It is generally quite safe to walk around popular areas at night, but keep an eye out for dodgy characters.
Keeping safe while you're traveling is always a top priority so make sure you keep an eye on your belongings as you move from place to place, and be vigilant as you cross the roads in busy traffic. It's also a good idea to know emergency numbers (119 in Osaka) for the city you're visiting. Have a safe trip to Osaka!
Get Insurance Before Smashing Out Your Osaka Itinerary!
World Nomads' mission is to support and encourage travellers to explore their boundaries. They offer simple & flexible travel insurance, and safety advice to help you travel confidently.
They've been doing it since 2002 – protecting, connecting, and inspiring independent travellers just like you.
Get a quote below or read our in-depth review!
World Nomads provides travel insurance for travelers in over 100 countries. As an affiliate, we receive a fee when you get a quote from World Nomads using this link. We do not represent World Nomads. This is information only and not a recommendation to buy travel insurance.
Find out what people want to know when planning their Osaka itinerary.
Have yourself the trip of a lifetime in Osaka, a place of epic dining, rooftop nature parks, and enough historical landmarks to make any history buff swoon! Whether you're spending a weekend in Osaka or planning an epic Osaka itinerary (one week and counting), you'll find something for everyone!
Continuin on and travelling in Japan? Check out our backpacking Japan travel guide for more insider tips. And make sure you pack right for Japan!
Get lost in the unique and vibrant atmosphere of Osaka, the 'big apple' of Japan – a city that never sleeps (because there's just too much to see)!
---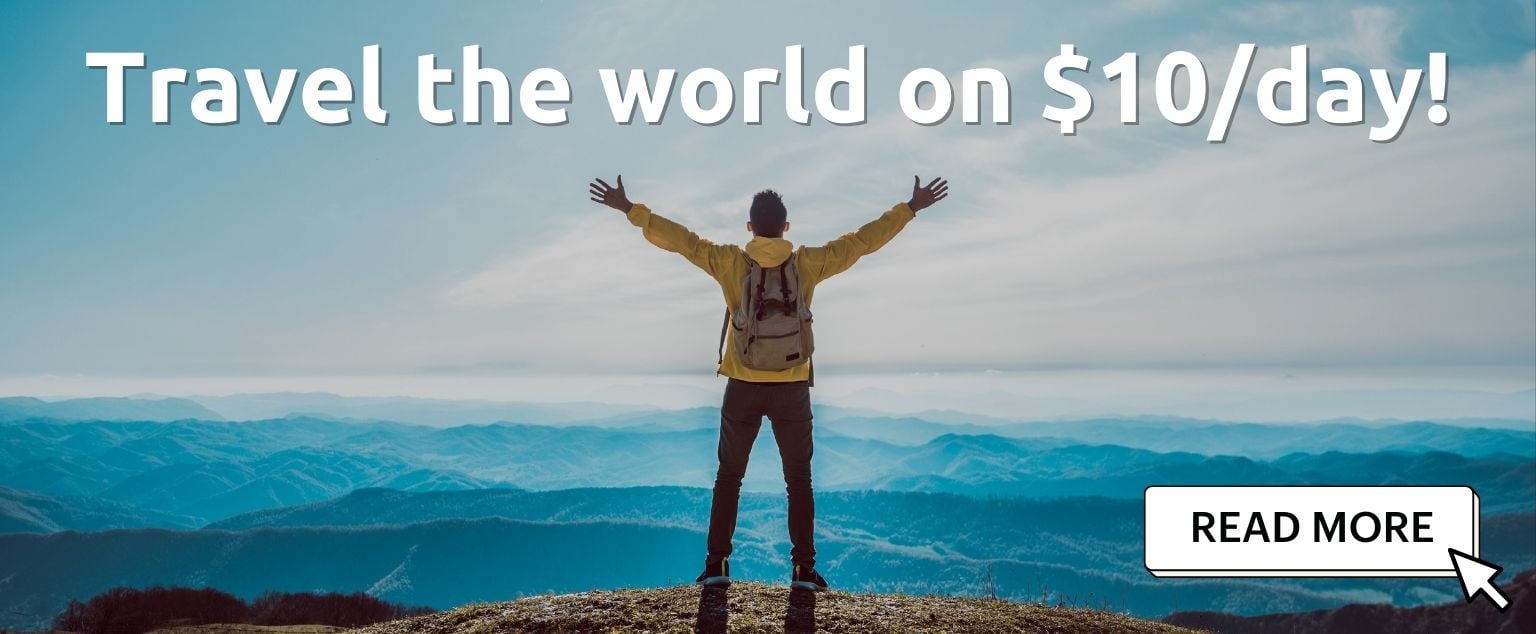 And for transparency's sake, please know that some of the links in our content are affiliate links. That means that if you book your accommodation, buy your gear, or sort your insurance through our link, we earn a small commission (at no extra cost to you). That said, we only link to the gear we trust and never recommend services we don't believe are up to scratch. Again, thank you!