Is Japan expensive…?
Yes! And also no… Did that answer your question? Probably not… maybe we should dive a little deeper then?
Japan is top-tier! I know because I spent 4-and-a-half months there. From the enigmatic forests of the north to the old-world majesty of the south, Japan is filled with a unique beauty that you won't find elsewhere in the world.
But rumours persist that Japan is expensive to visit and, as with many rumours, there is an element of truth in that. Japan is a dream of many budget backpackers but also their white whale; the cost of a trip to Japan is enough to scare off many would-be-wandering ramen-drenched ronin.
But who listens to rumours anyway? Travel smart, travel slow, and travel cheap in Japan and you'll find it's no less explorable than anywhere else. You'll definitely find some tasty (oh, man, so tasty) secrets too!
Japan (and the Japanese) are kind to a destitute *sasurai. With the TBB tools-of-the-trade, and this expert guide to travelling Japan on a budget, you're going to have a truly magical experience. Because Japan is magical.

Do You Want to Travel FOREVER??
Pop your email in below to get a FREE copy of 'How to Travel the World on $10 a Day!'.
So, How Much Does a Trip to Japan Cost on Average?
For your trip costs for Japan, we're covering the main expenses of any traveller:
Somewhere to sleep
Something to eat
A way to get around
Something to do (booze, tours, smokables, Disneyland: whatever floats your boat)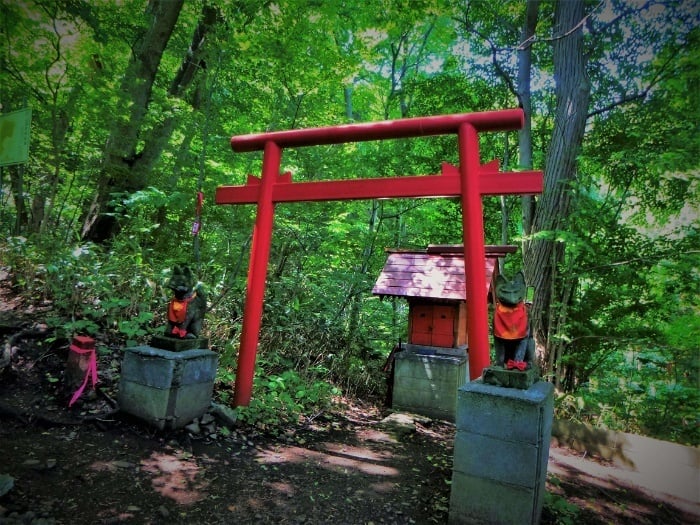 Now is your friendly neighbourhood reminder that costs for Japan are always subject to change. Now is also where I'd like to mention that my budget trip to Japan was during one of the, let's say, crustiest phases of my travels… Not everyone is going to want to go to the lengths I did to keep their daily expenses in Japan so low.
For this article, all numerations will be given in USD. Japan's currency is the Japanese Yen (JPY) and as of December 2019, 1 USD = 109.5 JPY.
Next up, to continue deciphering that elusive question of "Is Japan expensive?", we're gonna take a look at some general ballpark estimates for the costs of travelling in Japan.
2 Weeks in Japan Trip Costs
Expenses
Estimated Daily Cost
(Bare Minimum to Absolute Maximum)
Estimated Total Cost
(Bare Minimum to Absolute Maximum)
Average Airfare
$703
$703
Accommodation
$15-120
$210-1680
Transportation
$15-60
$210-840
Food
$7-75
$98-1050
Alcohol
$2-30
$28-420
Attractions
$4-120
$56-1680
Total (Excluding Airfare):
$43-405
$602-5670
A Reasoable Average
$70-250
$1500-3000
Cost of Flights to Japan
ESTIMATED EXPENSE: $700 for a round trip ticket
The first real hit to your travel budget is going to be the flight prices to Japan. How much does it cost to fly to Japan? Well, I'd say that kinda depends on where you're coming from.
Flights to Japan from the USA, UK, and Australia are all priced differently and all fluctuate based upon the time of year. For example, flights to Tokyo from London are cheapest in May while flights from Sydney to Tokyo are cheapest in November (because Australians hate the cold).
Using Skyscanner and their tools, I was able to find some average roundtrip flight prices to Japan. REMEMBER: these are averages – prices are always subject to change:
LA to Tokyo: 700-900 USD
London to Tokyo: 460-610 GBP
Sydney to Tokyo: 715-1005 AUD
Vancouver to Tokyo: 915-1175 CAD
Is the cost of a flight to Japan looking kind of daunting? Maybe, you can nab a sweet deal or maybe you can just undermine the airlines completely by grabbing an error fare! (Don't worry; they've got it coming for all those times they banged my elbows with that bastard food trolley.)
Oh, and since we're on the topic, the busiest international airport in Japan (and also the cheapest airport to fly into Japan) is Haneda (HND) in Tokyo followed closely by Narita (NRT) which is also in Tokyo. Tokyo is big.
Price of Accommodation in Japan
ESTIMATED EXPENSE: $15-120/day
Once you've worn the initial cost to travel to Japan, you'll next be looking at places to sleep. For sleeping costs, there are expensive places and then there are cheap places to stay in Japan. A lot of it depends on where in Japan you stay. Tokyo is very costly but smaller towns have some reasonably priced beds.
We'll get to a few Nihon-specific eccentricities of accommodation types as well, but first let's look at the basics of where you'll be staying: hostels, hotels, and apartments. Accommodation is going to be a key component of managing the eternally burning "Is Japan expensive" question marker, so ikou-yo!
Hostels in Japan
Hostels in Japan are going to be among the cheapest places to stay in and a very necessary crutch to mitigating the blow of how expensive Japan is (or can be). Expect all the ebbs and flows of hostel life but with slightly calmer vibes: a few more bowing "hai"s and a tad fewer nights of debauched backpacker tales (well, except maybe in Hakuba and Osaka).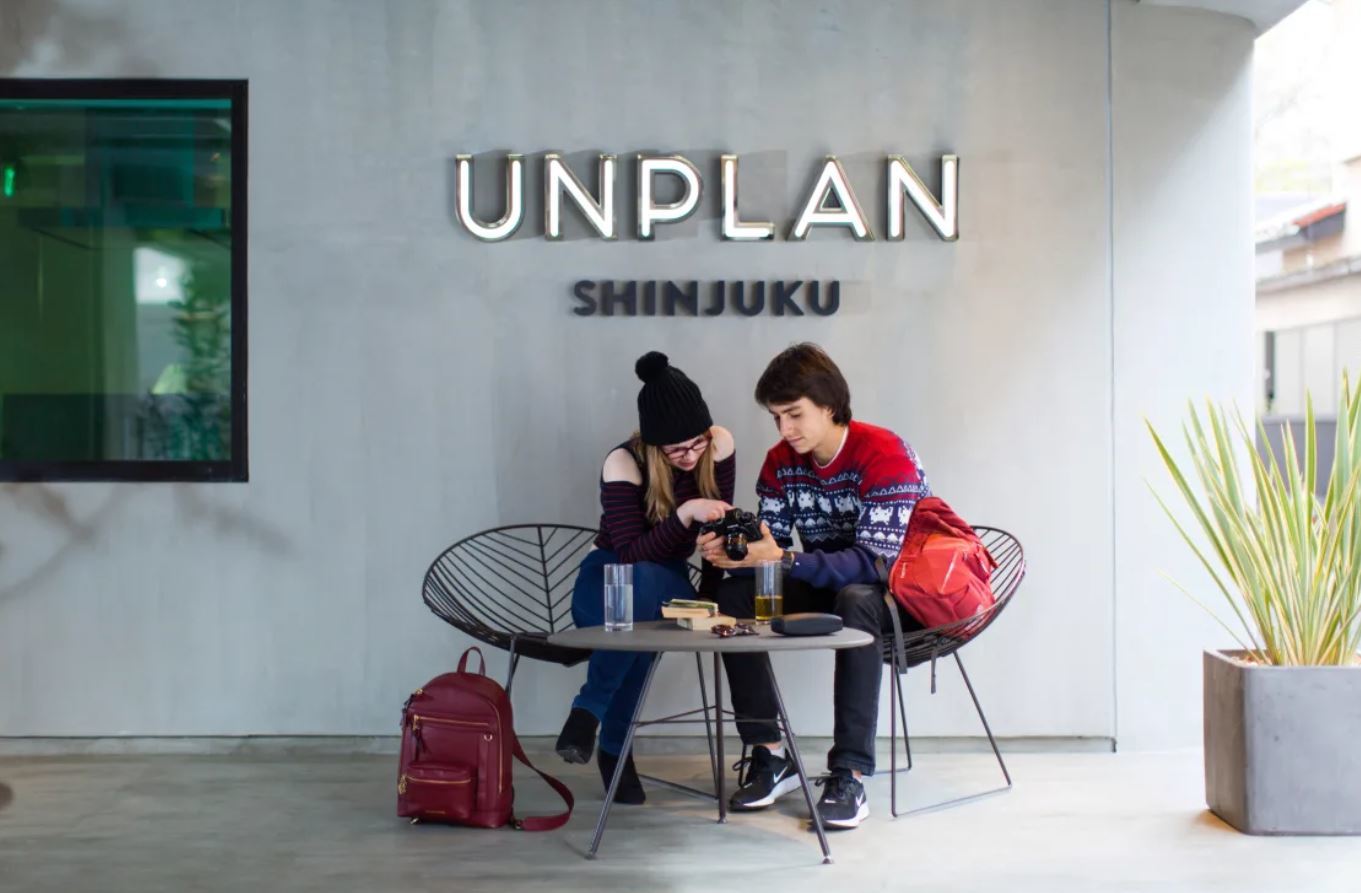 The average hostel in Japan will cost around $15-$30. You can find still find hostels on the lower end of that spectrum in the bigger cities like Tokyo and Kyoto, but it's largely dependent on the area you choose to stay in. To learn more, we have a whole host of stellar coverage on the best hostels in Japan that you can peruse (at your discretion):
Outside of that, I've chosen my top three picks for hostels – each for a place you're almost definitely going to visit in Japan:
UNPLAN Shinjuku – Look, straight-up, there are cheaper hostels in Tokyo but this was is right in there and walking distance from a lot of the nightclubs.
Air Osaka – This place has cats so it's an instant recommendation from me! Filled with art and more nature-y vibes, it's a nice departure from the usual hostel setup.
Backpackers Hostel K's House – Dude… cheap! Is Japan expensive? Not with places like this. Yasui-yo!
Apartments in Japan
How does an apartment with an outlook of the esteemed Fuji-San sound? Or a loft in the powdery winter-scape of Sapporo? (Pack. Warm. Clothes.)
Apartments are excellent and always worth the consideration when travelling, especially longterm.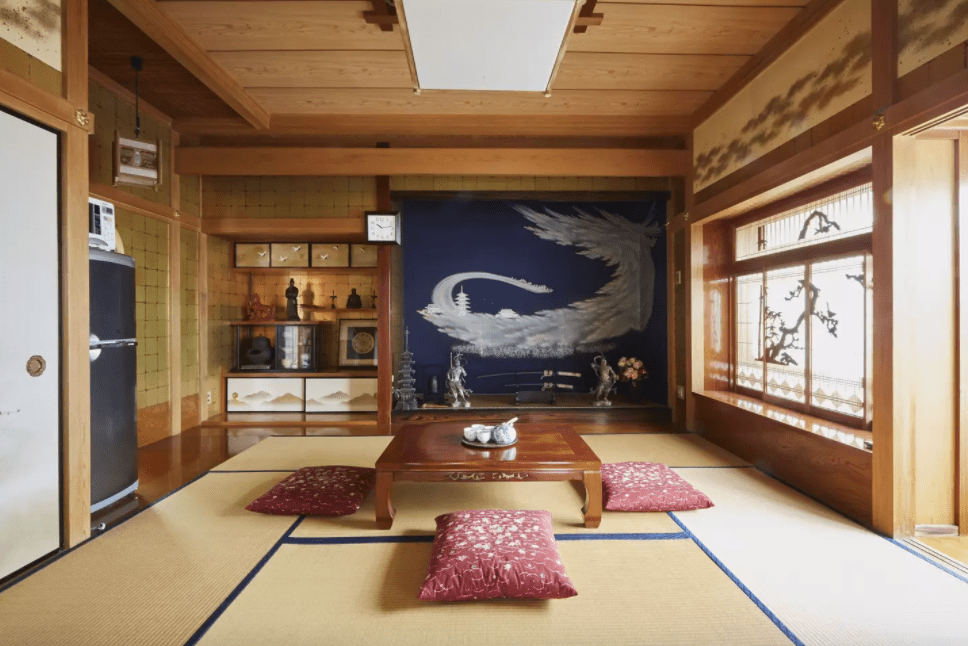 Enter Airbnbs in Japan. Airbnb is an excellent way to find apartments in Japan; a more private space for some more personal time. Pick a cheap place in a cheap neighbourhood, cook your own food, and live a minimalist life, and you'll soon find that it's an awesome way to keep your prices in Japan down.
Airbnb prices in Japan vary WILDLY depending on the apartment and location, but you can usually find a good one for around $70-$100/night. However, there are definitely cheaper places around if you're willing to get a bit grungier (grungier by Japan's standards, anyway).
Here are a few choices of Airbnbs in Japan. Again, same setup:
Hotels in Japan
Hotels in Japan, on the other hand, are gonna cripple your budget. There are some budget options for sure, but the cost of visiting Japan is going to creep up real quick if you're exclusively enjoying the luxury of a hotel room every night.
So why stay in a hotel? I dunno… maybe you're sick of bunking in a room with 9 other humans (remember that 9 humans equals 18 feet and 180 other stanky-dank toes). Maybe exploring Japan on a budget gets exhausting and you just want a room to yourself?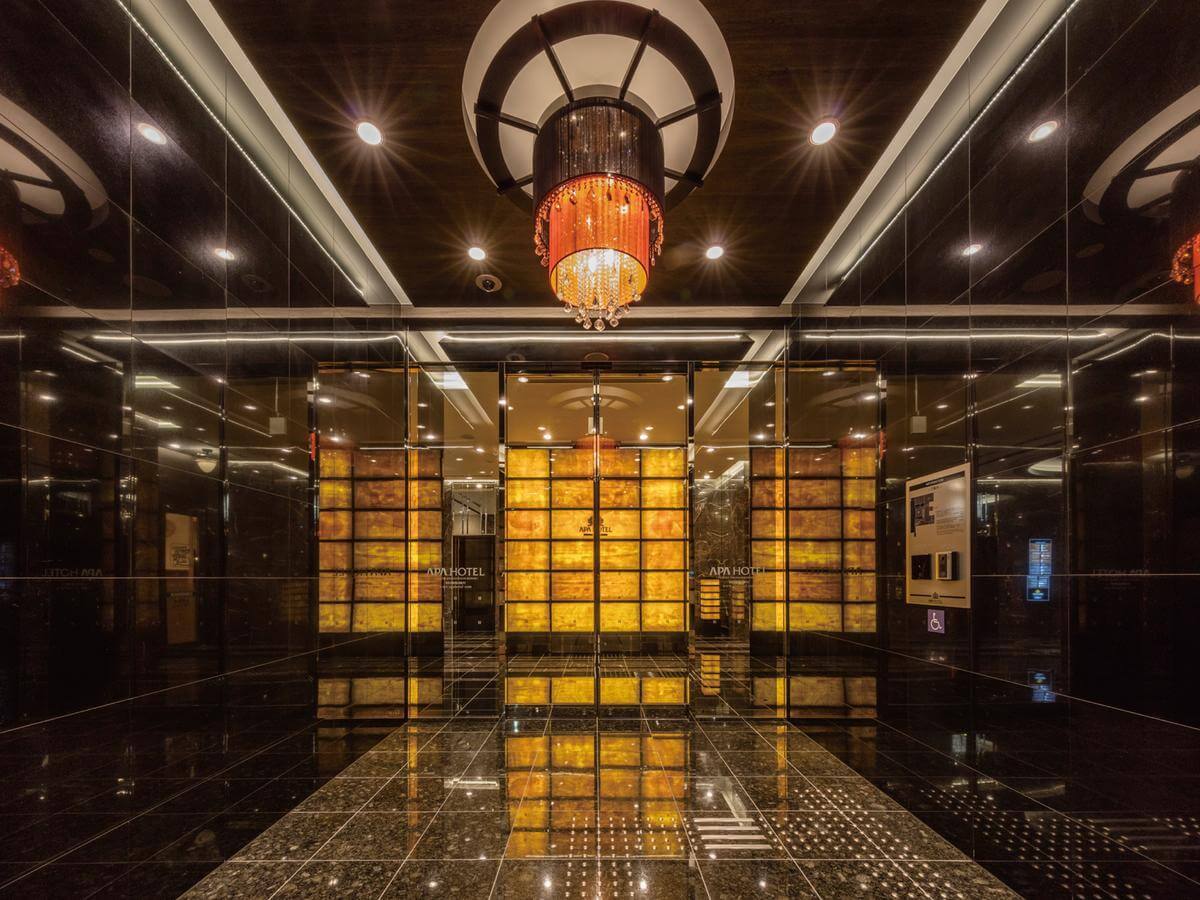 You can find a decent mid-range hotel room in Japan for around $120/night. Nicer hotels will probably cost closer to $175/night and there are budget hotels that hover closer to $90/night too. Staying further away from the city centre generally means prices are better as well.
So, for when the cheap places to stay in Japan get old, here are some choices for some more luxurious accommodation! Setup is the same: Tokyo, Osaka, and Kyoto.
Unique Accommodations in Japan
Remember those Nihon-specific eccentricities I mentioned? Well, now we're talking about them. They'll either offer you a cheap alternative or a not-so-cheap alternative to the other accommodations in Japan, but either way, you should still check them out! Because this is Japan and Japan is crazy!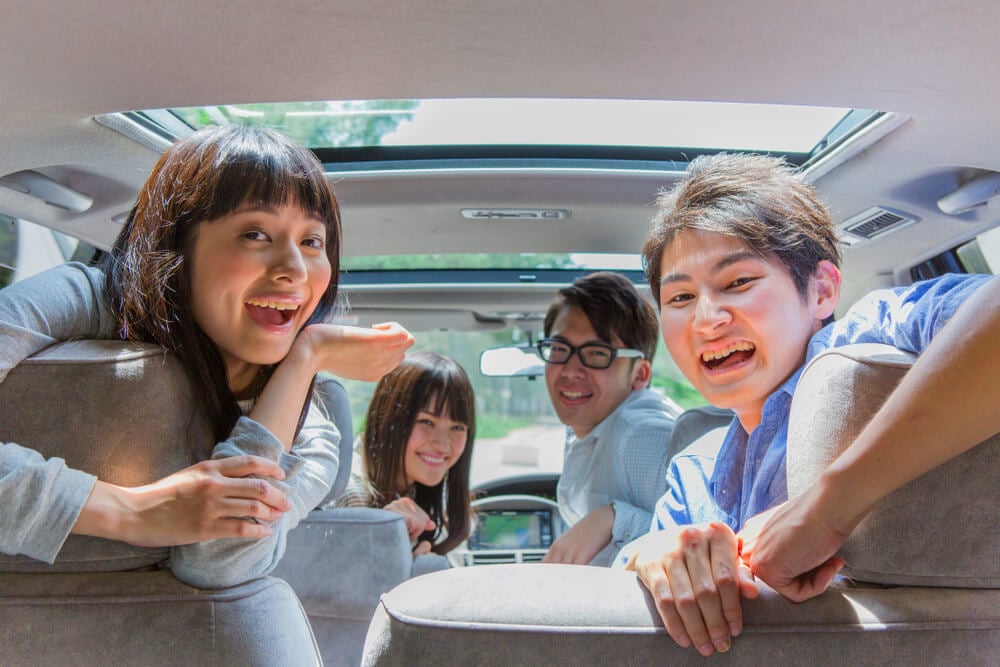 Manga Kissa (Manga Cafe) – These are super cool. Cheaper than most hostels, they're 24-hour cafes (kind of cafes) exclusively dedicated to reading manga. They'll often come equipped with things for an overnight stay like a shower, cubicle, snacks, drinks, whatever!
There's no affiliated-kickback-linking-platform for Manga Kissa: it's all walk-ins. Keep an eye out for Media Cafe Popeye though. They're a fairly sizable chain and a good choice for a cheap sleep!
Capsule Hotel – They're common in the big cities and around in the smaller one. The name kinda says it all: instead of a room, you're given a private space-pod (they're not actually called space-pods but I'm calling it a space-pod). Cheaper than a hotel; prices are usually comparable to a hostel.
Here's a nice budget choice of a capsule hotel in Tokyo (in Shinjuku) so you can see what the fuss is all about.
Ryokan – Ryokan are not cheap. They are, however, some of the finest traditional Japanese ambience you'll be able to find. Tatami floors, futons soft as duckling butts, traditional Japanese meals, and, of course, onsen!
Here's a ryokan in Kyoto worth checking out. You can get cheaper ryokan for sure but this one is for the full splurge experience.
Is This the Best Backpack EVER???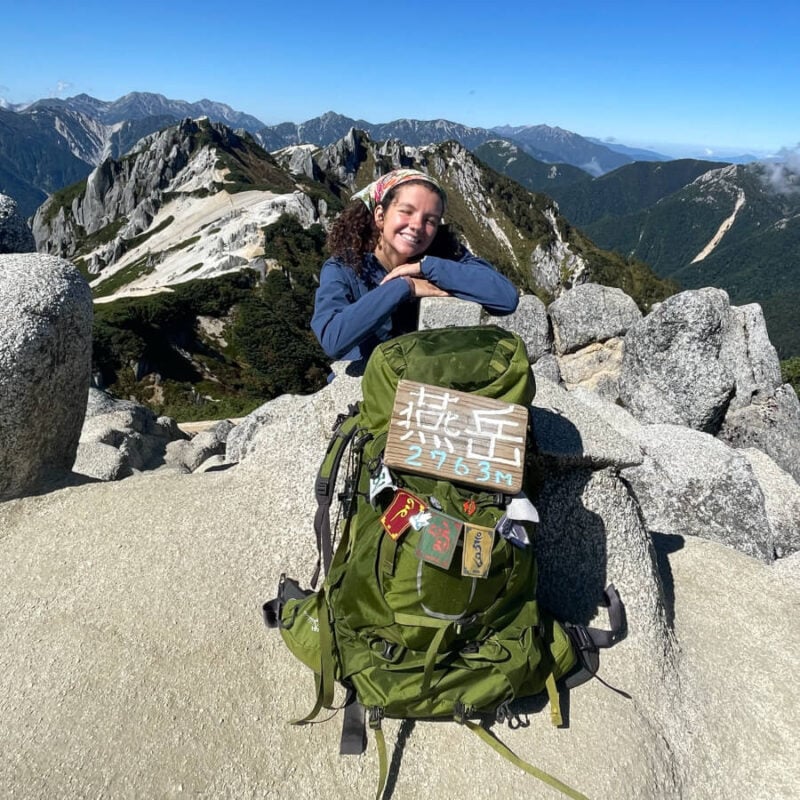 Cost of Transport in Japan
ESTIMATED EXPENSE: $15-60/day
Usually for any country, I'd say the accommodation is the thing that will hurt your budget the most but that isn't entirely true in Japan. Transportation prices in Japan hurt.
For other choices of transport in Japan, there are buses and they are cheaper but they still ain't cheap. You could also rent transportation and you'd find that, between the exorbitant tolls on the expressways and high cost of fuel, that the cost to travel to Japan is still going to keep you crying into your pillow at night (and that's not a great way to spend a holiday).
Never fear though – there are always ways of saving money in Japan! There is still a way out and light at the end of this train tunnel…
Train Travel in Japan
The trains in Japan are brilliant – no doubt! From the most basic carriages up to the notoriously sexy bullet trains (shinkansen), they all come with that squeaky-clean outer facade that Japan is so famous for. Efficient, comfortable, and with nary a delay to be had, they're a true testament to 21st-century public transportation systems.
What's the kicker? Well, you probably saw this coming but… train travel in Japan is expensive. Ohh, momma! I could not have stayed in Japan for 4-and-a-half months if I'd been catching the train everywhere.
Still, the trains are the absolute best way to get around Japan (and an experience in their own right). That's why there's this wonderful little thing for tourists that saves you a crapton of money and called it's called the JR Pass!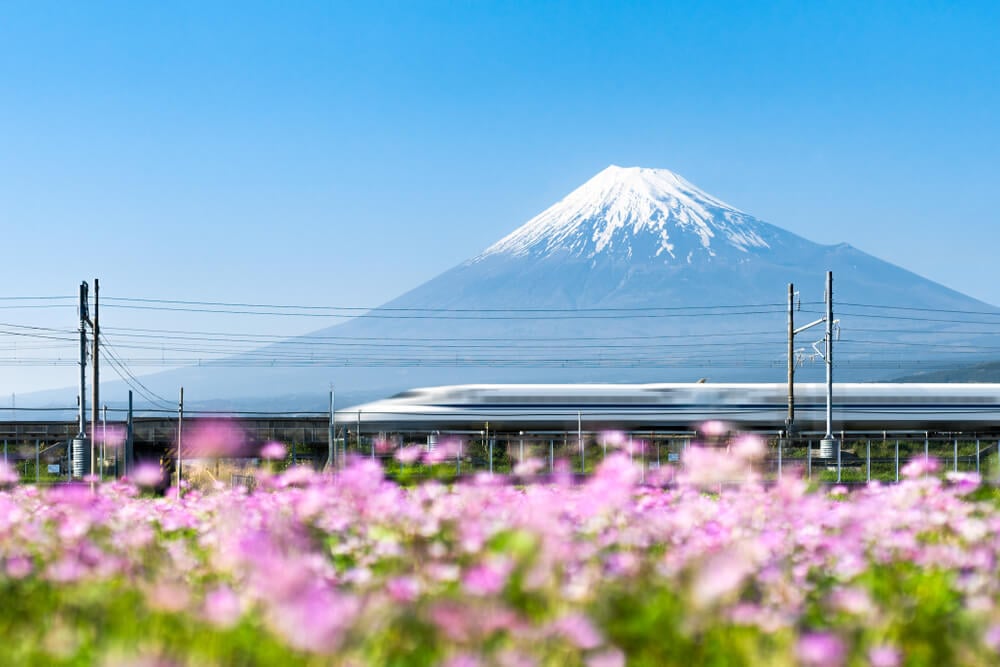 Bar a few extra train lines, the JR Pass gets you free travel on trains in Japan once you're past the original cost-of-entry for the card. You can buy it for 7-days, 14-days, or 21-days and it's actually a crazy good deal.
Considering the 7-day card costs about the same as a round trip from Tokyo to Kyoto alone, this one is a no-brainer if you're going to be hot potato-ing around Japan for a couple of weeks.
Here's the prices of the JR Pass:
7-day JR Pass: $269
14-day JR Pass: $430
21-day JR Pass: $549
Bus Travel in Japan
Well, nothing can quite hold a candle to Japan's train network, but don't go expecting the buses to commit seppuku quite yet! Look, it's Japan: the buses are still spectacular, they're just not as good as the train… by sheer virtue of being a bus.
Bus travel in Japan is expensive still, for the most part, but cheaper than the trains… at least on a ticket-to-ticket comparison basis. Attempting to utilise them over outright purchasing the JR Pass is still a bad idea for your daily expenses in Japan, however.
Except, bonus tip for sexy people! (Psst, that's you). The JR Pass still covers a whole bunch (not all) of the local JR buses in Japan.
If you're looking for a cheap way to ride those overnight long-hauls, the Japan Bus Pass provides another alternative. It functions much the same albeit on the Willer Express buses and at a cheaper rate than the JR Pass but I would still say that, overall, the JR Pass is a much better deal.
Here are the prices of the Japan Bus Pass:
3-day pass: $116
5-day pass: $140
Intercity Travel in Japan
Getting around Japan's urban sprawls is another story. It's never too pricey and it's always easy (except for the occasional language barriers with those damn kanji signs).
A lot of the major-major cities in Japan (as opposed to the major cities which are pretty much all cities in Japan) have a bang-up metro system. Easy to use, cheap, and super efficient!
Then you've got the buses too. As I said, the JR Pass will get you free rides on a lot of local buses, but even without that, it's still pretty cheap.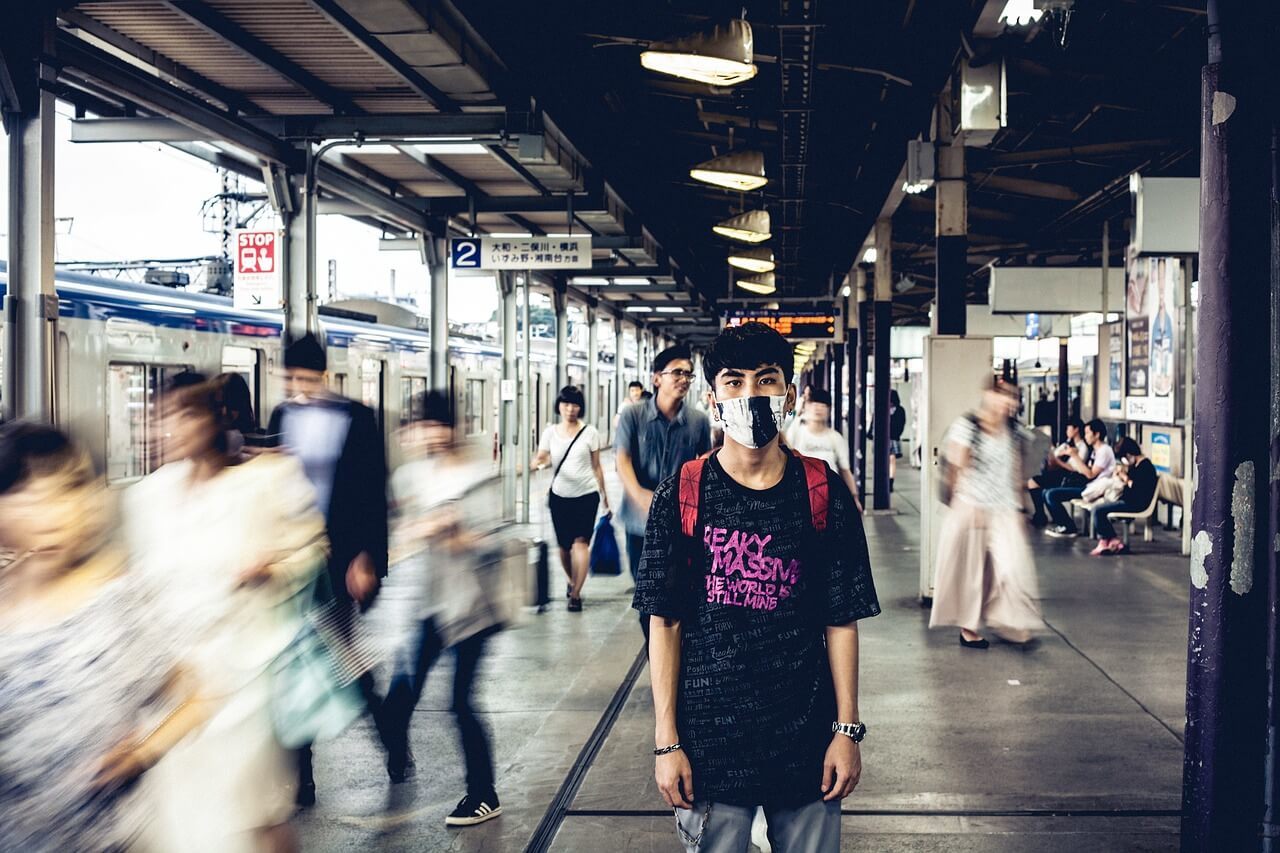 That's pretty much everything of note. Japan is pretty standard in this fare (heh) and the spending money you take per day for Japan can stretch pretty far if you're just living a simple means in the city.
For the different types of intercity travel in Japan, you're looking at:
Metro Lines (Where applicable)
Buses
Local Trains
Uber
Taxis
Renting a Car in Japan
Is Japan expensive if you rent a car? Ohhh, lordy-lord, are you trying to give me stress-induced coma? Yes, renting a car in Japan is expensive.
Because:
The rental costs in Japan are high starting at around $45 per day for a sub-compact car. The bigger you get, the more expensive it will be.
The insurance costs are… well… also high, but usually covered in the rental cost and, yeah, it's mandatory, of course. It's Japan.
The fuel prices in Japan are… also expensive! Currently (and this is wildly subjective to change) it's hovering around $1.30 per litre.
Also, I previously mentioned the tolls on the expressways. You can try and avoid them to the best of your ability (and you'll probably see a lot more of Japan this way), but they are the fastest way to traverse the country. For a point of reference, Tokyo to Kyoto is going to run you $95ish… eek.
So, is it worth renting a car in Japan? I don't think so. Sure, you'll have a much higher scope of exploration in your hands (and feet), but it doesn't exactly pair well with budget travel in Japan.
Visiting Japan? Don't risk having to sit on the floor or change your itinerary because you missed the last ticket at the station! Find the best transport, best time and the best fare with 12Go. And why not use what you've saved to treat yourself to something nice upon arrival?
It only takes 2 minutes! Book your transport on 12Go now and guarantee your seat easily.
Cost of Food in Japan
ESTIMATED EXPENSE: $7-75/day
Is Japan expensive to visit? Yeah, it definitely can be, if you approach it with the all-inclusive holiday mindset.
But the cost of travelling in Japan doesn't have to be so high. We're travellers! Once we escape those pesky systems like buying fuel and paying taxes, you'll find a neat surprise.
The food prices in Japan are actually pretty reasonable. And that's seriously awesome because the food in Japan is so good! Like, holy mother of sushi trains, I die every time.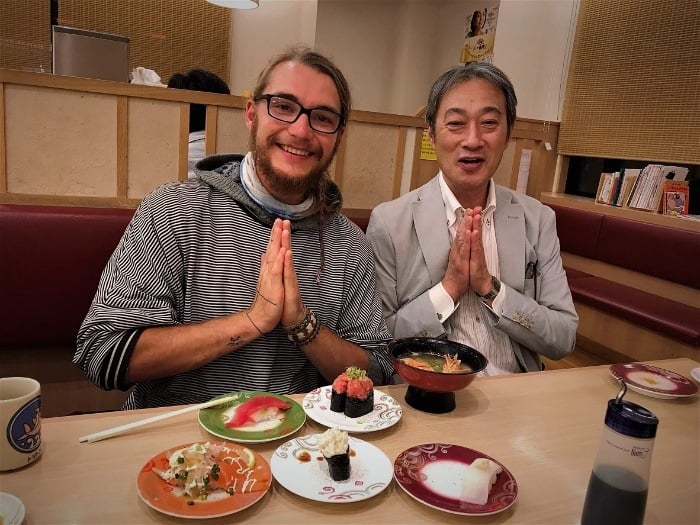 From the snacks to the sweets: mochi, anybody? To bento banquets to sushi spreads. Soba slurped surreptitiously; magnanimous miso and terrific takoyaki; delicious donburi diddles my fiddles…
Sorry, did I go overboard? I was just in PURE ECSTASY.
Eating all of the food could be expensive in Japan, yeah. But that's if you eat out all the time. But there's no need to because there's one golden, surefire way to save on the cost of food in Japan…
Where to Eat Cheaply in Japan
Introducing, the one. The only. The legendary…
KONBINI!
A konbini is a convenience store and it's your foolproof method to eating cheap in Japan. 7/11, Lawson, FamilyMart, Seicomart (only in Hokkaido): they all have cheap food to enjoy. From pre-packed bento, to instant noodles you can make on-site (the konbini has everything), and all manner of other student-grade delicacies, you'll find it all there super cheap.
For some ideas of konbini food prices in Japan:
Instant noodles: $1-3 (You're looking for Peyang Yakisoba. It'll change your life.)
Bento: $4-8
Bolied egg (for protein in the instant noodles): $1
Riceballs: $1-2
And it's so good too! They may just be pre-cooked treats and instant noodles but it's the best damn instant noodles you will ever consume – guaranteed!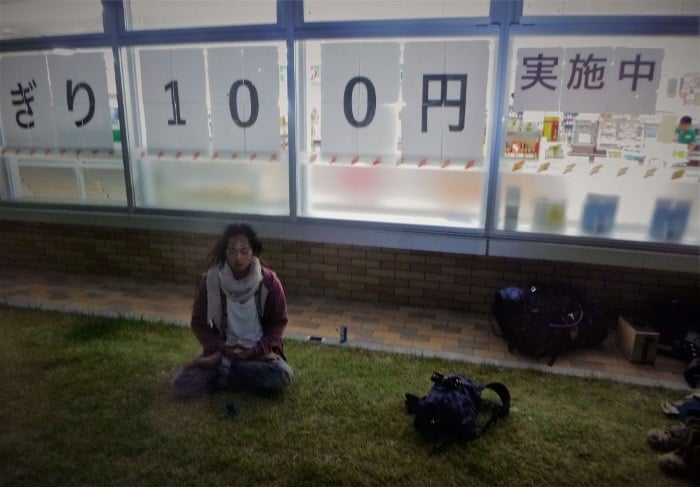 Outside of that, there are a few other ways to save on food prices in Japan:
Supermarkets – Keep an eye out for AEON in particular (big pink sign; you can't miss it). You'll find things cheaper there than even at the konbini.
Cook for yourself – Kind of goes without saying but you'll save a lot. On a vegetarian diet, especially. Noodles, Japanese produce… tofu, in particular, is monstrously cheap (and healthy). It was reasonable for me to cook a healthy (vego) noodle stirfry for less than $5.
Ramen bars – But you're looking for the steaming hole-in-the-walls (yes, Japan has these too). Cheap ramen and often with a cheap refill – $5-10.
Coco Ichibanya – A chain restaurant serving Japan-style curry at budget prices (around $8) right across the islands. Japanese curry and rice ain't anything like Sri Lanka's but it's just as good!
Price of Alcohol in Japan
ESTIMATED EXPENSE: $2-30/day
Getting hammered is also equally cheap in Japan! Haven't you heard? The Scots be damned, Japan is all about that raging alcoholism!
Partying in Japan is another story. Hitting up bars, pubs, host and hostess clubs (how devilish) will always run you up a tidy sum (the latter in particular). Accessibility to alcohol, however, is still incredibly cheap and easy: just check the reverent konbini… Hell, there are even vending machines serving shots!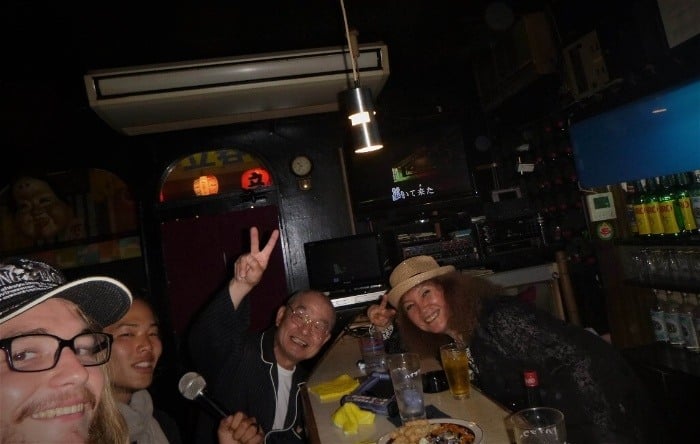 What kind of beverages are you aiming to consume:
Beer – It's plenty cheap in Japan. Aim for the beer brewed in Japan: Kirin, Sapporo, and Asahi. You can get a can of beer at the supermarket/konbini for about $2 and this will run up to about $10 in the fanciest of bars
Nihonshu – What we call sake in the West (sake literally means alcohol in Japan). You can get expensive nihonshu and then you can get cheap nihonshu. You can also get extremely cheap nihonshu that comes in a giant milk carton! This is my top pick for nihonshu.
Shochu – Similiar to nihonshu but it's stronger and it's distilled. Does the same job but at twice the speed!
For the prices of nihonshu and shochu, it's the same as the West. You can get absolute swill for a pittance or you pay a lot more for something you'd only serve when trying to impress a potential suitor. Aim for an inexpensive bottle of nihonshu for around $7-10 and expect a little pricer for shochu.
Cost of Attractions in Japan
ESTIMATED EXPENSE: $4-120/day
I mean, Japan is a pretty spectacular set of islands and there is a lot to experience. How ham you intend on going with these activities is going to affect how much money you bring to Japan (and ultimately spend).
First up, there are the historical highlights in Japan: temples, shrines, castles, and other cultural yum-yums. Shrines generally are free. Most of the other exquisitely beautiful things to see in Japan will hover around the $4.50 mark and rarely ever exceed $9.
Of course, Japan has built itself up as a country full of quirky things to do. From go-karting in the streets of Tokyo (around $60-70) to $9-an-hour night outs in karaoke booths (that goes well with that Japanese-brand alcoholism) to the maid cafes… actually maybe scratch that last one.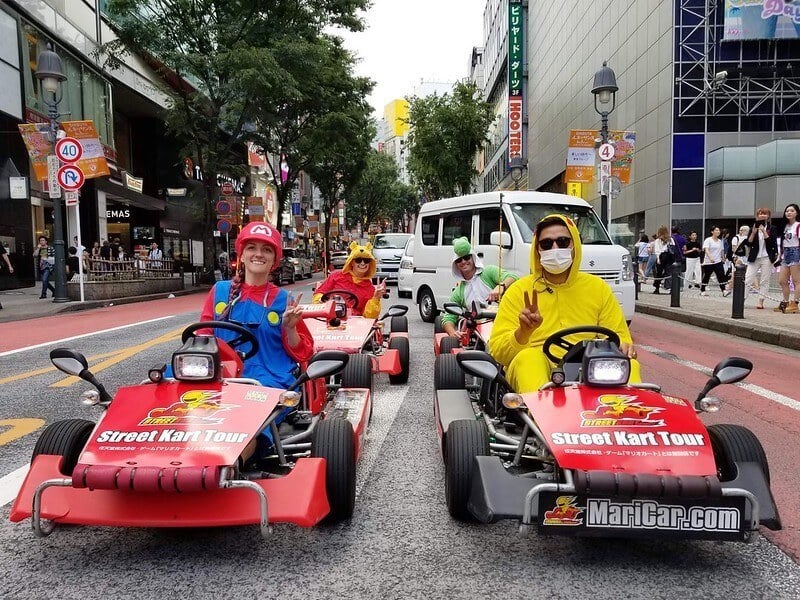 Either way, these things are never fiendishly overpriced but they are priced accordingly to an affluent first-world country. There's no way around the costs either. If you're travelling in Japan cheaply, you'll just have to be choosy about what you get up to.
Failing that, there are onsen. The famous Japanese bathhouses where you get your kit off and go melt away life's problems. There are expensive ones but a cheap local onsen can run you as little as $4…
And they're the best!
The Future of the SIM Card is HERE!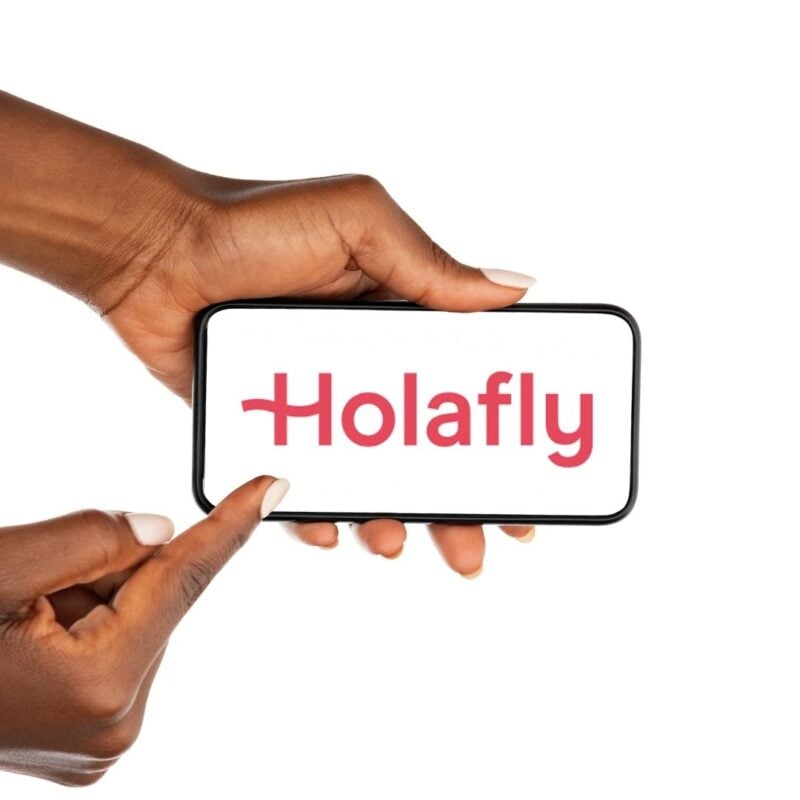 A new country, a new contract, a new piece of plastic – booooring. Instead, buy an eSIM!
An eSIM works just like an app: you buy it, you download it, and BOOM! You're connected. It's just that easy.
Is your phone eSIM ready? Read about how e-Sims work or click below to see one of the top eSIM providers on the market and ditch the plastic.
Grab an eSIM!
Additional Costs of Travel in Japan
That right there is a pretty good indicator of how much it costs to go to Japan. But it's still good to remember that things happen when you travel.
Phones get stolen… well, phones don't get stolen in Japan but maybe at least misplaced. Losing your JR Pass is a big hit though. Try not to do that.
What's my point? Just set aside some rainy-day money in your Japan travel budget lest the proverbial faecal matter hits the metaphorical ceiling fan.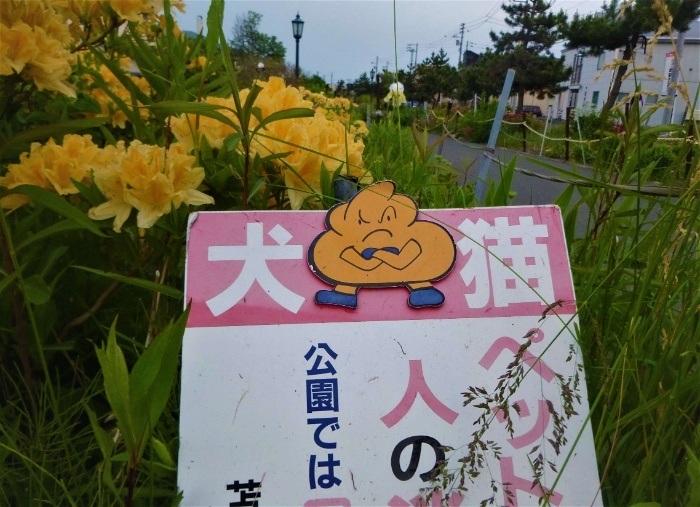 And, if everything goes exactly to plan, and there are no hidden expenditures in your Japan vacation cost, you can treat yourself to one last banquet and food coma at the end of the trip!
Tipping in Japan
Na, it's definitely not a thing. In fact, it's super weird to even try tipping in Japan. Leave that custom at home; they may grossly misinterpret your intentions.
On the off-chance that you do decide to tip (maybe like a tour guide or something), put it inside an envelope. Money exchanges like that are (outside of regular payments) are always put inside envelopes. It's a cultural thing.
Get Travel Insurance for Japan
ALWAYS sort out your backpacker insurance before your trip. There's plenty to choose from in that department, but a good place to start is Safety Wing.
They offer month-to-month payments, no lock-in contracts, and require absolutely no itineraries: that's the exact kind of insurance long-term travellers and digital nomads need.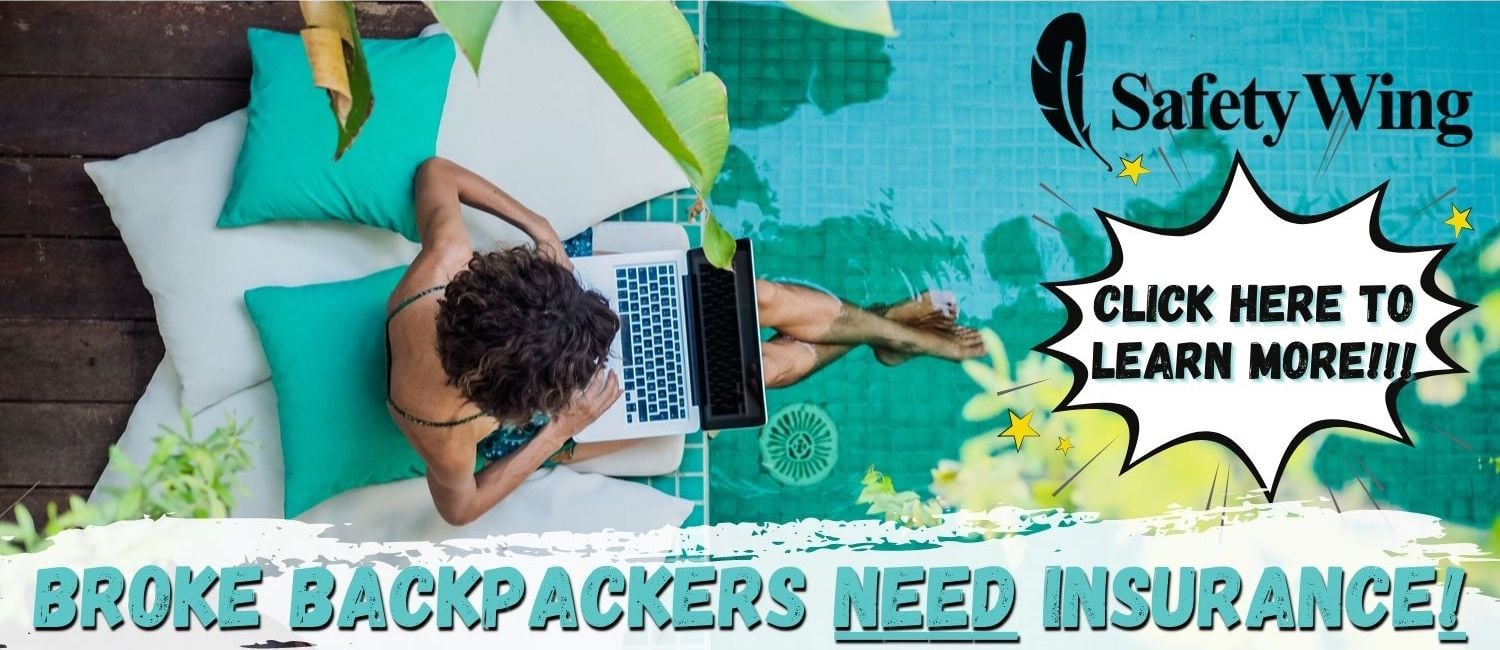 SafetyWing is cheap, easy, and admin-free: just sign up lickety-split so you can get back to it!
Click the button below to learn more about SafetyWing's setup or read our insider review for the full tasty scoop.
Some Final Tips for Saving Money in Japan
Ahh, my happy place. Living like a dog – the broke backpacking life.
Japan is very kind to an intrepid explorer, especially one who shows good intentions and a true interest in Japan. If you're fully committed to the broke backpacker game as I was, it is even possible to get by on less than $10 a day!
Here are some tips on saving money in Japan:

Our GREATEST Travel Secrets…
Pop your email here & get the original Broke Backpacker Bible for FREE.
So is Japan Expensive, in Fact?
I still think the answer is yes and no. Japan is expensive if you approach with a holiday mindset. A 21-day JR Pass, combined with 21-days of sleeping in nice rooms and eating at nice restaurants, with a 3-day pass to Disneyland somewhere in the middle is gonna hurt.
Japan is not expensive, however, if it's another budget backpacking extravaganza! Japan is both an incredibly friendly country as well as a kind country to a grungy yet good-hearted sasurai.
Keep your transportation and sleeping costs low and show some sincerity for Japan – and Japanese people – and you'll find a whole new world opens up to you. And it'll be an absolutely spectacular adventure too! Japan still holds a very dear place in my heart even when it feels like so many lifetimes ago.
In summary, how much would a trip to Japan cost? I dunno, that's up to you. But…
Is Japan expensive?
No. It definitely doesn't have to be. Even if you only follow a few of the money-saving suggestions in this guide, you'll still get to visit Japan for a reasonable amount…
Let's say, hmm, $700-1000/week for the comfortable backpacker lifestyle (including the JR Pass and all that jazz but flights are separate) or $1500-2000/week for a mediated holiday vibe. But if you wanna get truly crusty, well… that's a whole other post.
Matane!
---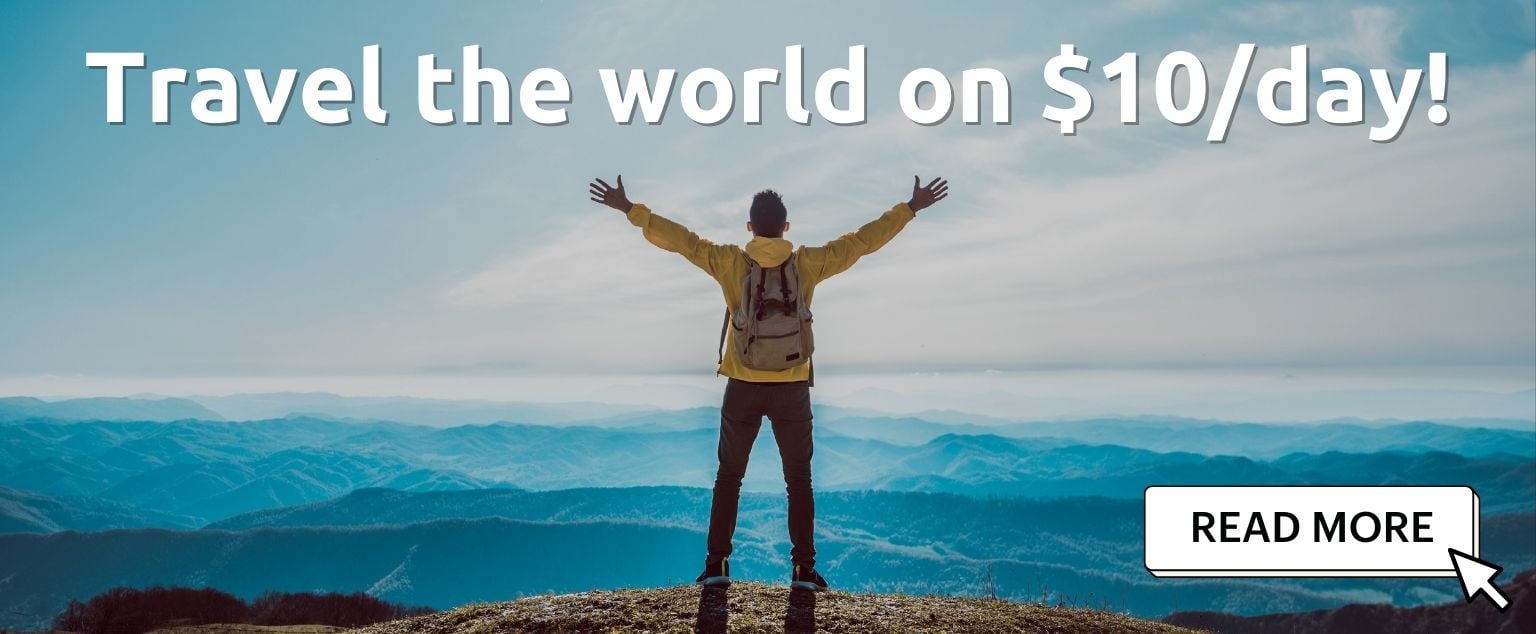 And for transparency's sake, please know that some of the links in our content are affiliate links. That means that if you book your accommodation, buy your gear, or sort your insurance through our link, we earn a small commission (at no extra cost to you). That said, we only link to the gear we trust and never recommend services we don't believe are up to scratch. Again, thank you!