Tokyo is a city of superlatives. It's one of the biggest metropolitan areas on earth and indisputably one of the coolest places in the world. From Pokémon cafes to ancient temples, to Michelin star restaurants, there's something here for every type of traveller. It's impossible to be bored in the Japanese capital!
But where do you stay in such a huge city? Well, it is quite expensive, so if you don't fancy a hotel, an Airbnb in Tokyo is a good option. And there's a whole lot of choice too. Get right in among the bright lights of Shinjuku and Shibuya, or stay in a traditional home with a Japanese family. All of these are possible when searching for rentals in Tokyo!
To help you out, we've looked through the best Airbnbs in Tokyo and come up with an extensive list. We've found things that suit different budgets, travel styles, and tastes. Hopefully, you'll find something that is one of the highlights of your stay in Tokyo!
In a Hurry? Here's Where to Stay in Tokyo for One Night
Is this amazing Tokyo Airbnb booked for your dates? We've got your back with our other favorite properties below!
Quick Answer: These are the Top 5 Airbnbs in Tokyo
OVERALL BEST VALUE AIRBNB IN TOKYO

OVERALL BEST VALUE AIRBNB IN TOKYO

Shinjuku Simple Private Double

Price

$

Guest

2

>

Free Wifi

>

Bright and welcoming

Price

$

Guest

2

>

Free Wifi

>

Bright and welcoming

Check Best Price

BEST HOMESTAY IN TOKYO

BEST HOMESTAY IN TOKYO

Homestay with a Japanese teacher

Price

$$

Guest

3

>

Free pocket wifi

>

Practice your Japanese!

Price

$$

Guest

3

>

Free pocket wifi

>

Practice your Japanese!

Check Best Price

BEST AIRBNB FOR COUPLES IN TOKYO

BEST AIRBNB FOR COUPLES IN TOKYO

Modern Apartment with Queen Bed

Price

$$

Guest

2

>

Fully equipped kitchen

>

Ryokan style room

Price

$$

Guest

2

>

Fully equipped kitchen

>

Ryokan style room

Check Best Price

BEST AIRBNB FOR FAMILIES

BEST AIRBNB FOR FAMILIES

Modern house with tepee

Price

$$$

Guest

6

>

Equipped kitchen

>

Cosy and welcoming

Price

$$$

Guest

6

>

Equipped kitchen

>

Cosy and welcoming

Check Best Price

BEST LUXURY AIRBNB IN TOKYO

BEST LUXURY AIRBNB IN TOKYO

Stunning home in central Tokyo

Price

$$$$

Guest

8

>

Free breakfast

>

Rooftop Garden

Price

$$$$

Guest

8

>

Free breakfast

>

Rooftop Garden

Check Best Price
What to expect from Airbnbs in Tokyo
Traveling to Japan and Tokyo is a unique experience. Japan's most popular city is calling backpackers, people on holiday and business people from all over the world. Since over 11% of Japan's population lives in the capital city, it can be a bit of a struggle to find good accommodations. Locals often live in tiny spaces, which requires a lot of creativity to make it into a home.
However, Airbnb provides you with great options that range from dorms in hostels to entire villas. To make sure you're prepared for your trip to Tokyo, we've listed up the most commonly found Airbnb's, and a little explanation so you know exactly what to expect.
View this post on Instagram
Hostels – cheap and in the best locations
Hostels! They exist everywhere around the world, no matter where you go, and Tokyo's hostels are pretty much the best. They're typically found a bit closer to the central area where lots of hot spots, nightlife and shopping options are located.
Tokyo is a wealthy city, and you can experience that even in shared dorms. Whether it's a bunk bed or a private capsule, in most cases you'll find an extremely clean space with a comfy bed and quality amenities. Of course, there are always one or two exceptions, but we can generally say that travellers are extremely happy with what they're getting for their money.
Speaking of money, booking a hostel is also a great option to not empty your pockets completely.
Private rooms – privacy and peace guaranteed!
Tokyo's private rooms are on the same price range as lots of hostels, but most of them don't offer you as much.
Since Tokyo is a busy and highly populated city, big spaces are expensive and rare to find. Private rooms are usually cosy but very bright to make the room look a bit bigger. Japan's standards of hygiene and cleanliness are very high. These standards are found in Airbnbs too.
You can usually find this type of accommodation throughout the whole city, no matter if you're closer or further away from the city centre. Perfect for travellers that enjoy proper privacy and don't mind spending a bit more money for that comfort, the private room option is always a great escape from the busy streets and packed metros. Make sure to check the description to look for private bathrooms and other handy amenities you might need during your stay.
This is probably the most commonly found Airbnb in Tokyo. Whether you're far away from the city centre (prices are usually cheaper here too) or right in the middle of the busy streets, entire apartments are a perfect go-to for every traveller. But there are some things you have to keep in mind.
Tokyo is busy. And when we say busy, we mean busy!
There are so many people living in this city that it affects the living situation a lot. The term "Entire Apartment" is completely true, however, it might not be as big as you would expect. Since space and rent are expensive, most apartments are minimalistic, cosy and usually don't have more than one room. That doesn't mean that it's not nice to live there. These Airbnbs are incredibly clean and set up in the most efficient way.
Booking an entire apartment, you can expect a high-quality place, which might be small in some cases (there are exceptions of course). To make sure you don't get an unpleasant surprise when checking in, read the details and description, and reach out to your host if you have any questions.
Why Stay in an Airbnb?
Local Experience
Airbnb gives travelers the opportunity to have an authentic experience of living like a local. Whether you are staying in a private apartment or with a family in their own home, this allows to see how locals live, their decor, and even taste some home-cooked meals. Experience the unique Japanese style and some charming little homes.
There are few other ways short-term travelers can get into the homes and lives of locals, but this is a great way of making connections, contributing to the local economy and building relationships while traveling. Who knows? Next time you might be staying as a friend and not a paying guest! (No promises though). Whichever area of Tokyo you stay in, you'll get the local experience.
Affordability
No matter your budget, Airbnb has a place for you to stay – from entire apartments to single rooms, houseboats, and even castles. Don't split up into two to three hotel rooms. Airbnb accommodates large groups, making you feel more at home when your whole group gets to stay together. Finding the right pace for your stay in Tokyo is going to be a breeze!
This is a great way to save money by paying by the night, rather than per person. Some rentals have more than one bedroom or a pull-out couch, futon or trundle bed. Hosts also provide a nice set of sheets, a good quality comforter as well as extra pillows and blankets.
Safety
Worried about your host? Airbnb sorts out its top hosts by calling them "super hosts". Superhosts are generally very helpful and their places have every amenity you can possibly need during your stay in addition to being clean and comfortable!
The review system on Airbnb is remarkably transparent. After every stay, visitors are encouraged to post reviews that are used to determine who earns the title of "super host". You can filter out your settings when searching for a place to look at "super host" only accommodations. Airbnb also has a 24/7 emergency line with someone waiting to assist you by sending a driver to pick you up in an emergency or even booking you a hotel.
The Top 15 Airbnbs in Tokyo
$
2 guests
Free Wifi
Bright and welcoming
Want a compact, modern, and inexpensive apartment in one of the hottest neighbourhoods in Tokyo? Look no further than this cool private double room. It is an entire flat, not part of somebody's home, and there's even a very small kitchen if you want to prepare simple dishes.
If you'd rather eat out, it's right in Shinjuku, where there are plenty of options around you from super cheap to Michelin star. This is a great place to use as a base if you're heading on day trips – as Shinjuku station is not only the busiest hub in Japan but the entire world!
$
4 guests
Excellent location
Traditional futon beds
If you're looking for an even cheaper Airbnb in Tokyo, you're unlikely to get an entire flat for that. However, if you're happy with a private room then here's another one close to Shinjuku station that provides great value.
The essentials are included too – so don't think you have to head out and get towels, toilet paper, or soap! The room can comfortably fit 4 futon beds, so if you share this with three friends, you'll be able to drive the price right down. It may not be flashy, but you don't get much better value for money than this!
Akihabara Studio | Perfect short term rental for digital nomads
$
2 guests
Laptop-friendly workspace
Friendly and helpful host
Digital nomads may love working in cafes, but in a city as expensive as Tokyo, that's not always possible. Luckily, this is one of the best Airbnbs in Tokyo for working, as it's got fast wifi and a space to work. There's even a microwave so you can eat here late into the night!
Also, it's in one of the coolest neighbourhoods in town. Akihabara is Tokyo's technology hub. So, in the unlikely event of wifi cutting out in the flat, you won't have far to go to find somewhere to work!
$
2 guests
Kitchen facilities
Great location
Sometimes, after a long period of travelling in hostels and hotels, you need a break and your own space. We've found this cool and traditional style room so you can get some peace, quiet, and relaxation for a couple of nights. This is one of the more affordable rooms in Tokyo so it shouldn't impact too much on your budget! It's also in one of the best districts for nightlife, eating out, and attractions – Shinjuku. So, if you do want some company you don't have far to go to find it!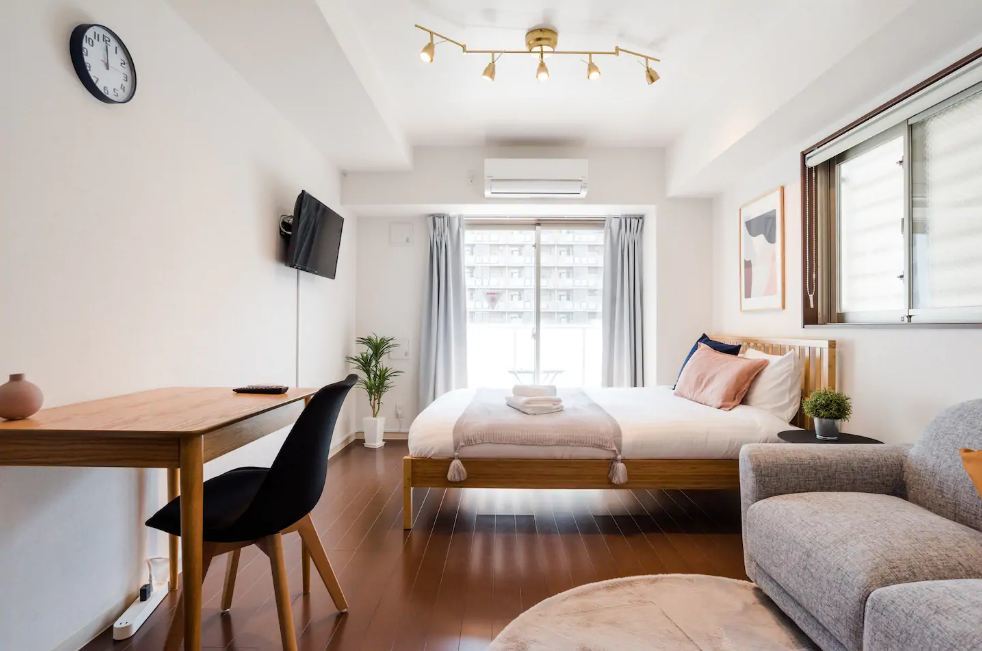 $$
2 guests
Modern nordic design
Incredibly clean
This Airbnb might be a simple flat, but it's absolutely perfect for solo travellers or couples. Bright and designed in a nordic style, you'll feel like you're closer to home than you actually. It's the perfect place to relax when you get a little bit homesick or when you've had a busy day exploring and just want a little peace and quiet. There are all convenient amenities that you could ask for, as well as a little balcony. Previous guests absolutely loved their stay and pointed out how spotless this home is.
$$$
2 + 2 guests
Small kitchen
Balcony with coffee table
Shinjuku is one of the best nightlife areas in the Japanese capital. However, Roppongi isn't far behind it when it comes to cool nightspots. This is the best Tokyo Airbnb in that part of town. It's not nice being hungover, but if you're going to be – well, you may as well wake up in a softly lit apartment in a comfy double bed, right?
There's a kitchen for lining your stomach the night before or whipping up something greasy the morning after.
$$
2 guests
Fully equipped kitchen
Ryokan style room
Looking for a romantic and traditional Airbnb in Tokyo? This might be what you're looking for. It's based on the traditional Japanese ryokan inns, which are a great way to immerse yourself in the country's culture.
This calming room is a lovely place to come back to at the end of a day of sightseeing. Wall paintings and ornaments conjure an image of old Japan with a contemporary twist. The queen bed is big enough for couples either to spread out or get close!
$$
3 guests
Free pocket wifi
Practice your Japanese!
Not only does this awesome Tokyo Airbnb give you the opportunity to stay with a local family, but you can brush up on your Japanese skills too! You're even offered a casual Japanese evening meal for each day of your stay.
This Tokyo homestay states that they don't just want to welcome you as a guest, but as a friend. And they've made a lot of friends in recent years! Booking this is your chance to have a true authentic Tokyo experience and find a place you might eventually come back to.
$
4 guests
Private living room
In a toy museum
And now for a really quirky homestay in Tokyo! Nakano is a little further out, but it's still just 15 minutes from Shinjuku Station.
And, you'll get to say you've stayed in a Japanese Toy Museum!
Admire the models of Godzilla, Lego, and classic cars in this unique space. The practical stuff has been thought of too – there's wifi, aircon, and a laptop-friendly workspace too. Don't miss this cool and unusual short term rental in Tokyo!
$$$
3 guests
Kitchen and dining room
Cool loft bedroom
If you're a fan of industrial chic, this will be the best Airbnb in Tokyo for you. The cool design combines concrete and glass panels to give the impression of a modern and contemporary studio. In fact, it was designed by a famous Japanese architect!
There are a lot of great restaurants in Tokyo, but if you stay here you've also got the option of rustling up something in the kitchen and enjoying it with views of the fast-paced city life outside.
$$$$
8 guests
Free breakfast
Rooftop Garden
If money's no object, check out this awesome Tokyo Airbnb. Explore all 4 bedrooms, the roof garden, and all 5 stories of this awesome accommodation which was designed by a famous Japanese architect. When you've spent a good few hours getting to know this incredible Tokyo home, get a delivery from a nearby sushi restaurant and spread out across the open plan dining room. Then watch the city lights until the early hours from that amazing rooftop garden. An unforgettable property!
*cough* Invite me! *cough*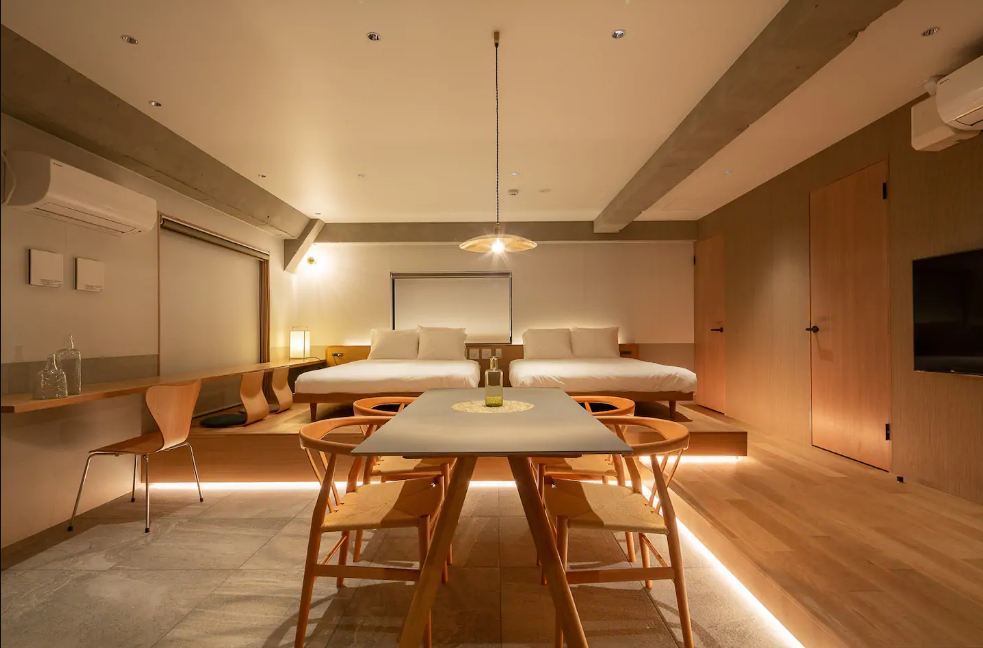 $$$
7 guests
amazing location
charming design
With simplicity at its finest, this studio is designed with an eye for detail. The Airbnb has a very luxurious vibe to it, with big balcony windows and warm lights shining from underneath the bed at night. Perfect for a group of friends, you can fit up to 7 people in this studio, however, it might get a bit cramped. While it's definitely looking like a luxury home, it's actually quite affordable, especially when you're not travelling alone and you decide to split the bill at the end.
$$$
6 guests
Equipped kitchen
Cosy and welcoming
Want a fun short term rental in Tokyo for the whole family? Try this place. It's geared towards families of all ages. As well as two comfy beds for mum and dad, there's a bunk bed if you're travelling with young children and even a tepee. Older kids will be pleased that they don't have to share a bathroom with mum and dad. It's right in Shinjuku too, so it's not a long walk to find some of Tokyo's coolest family-friendly activities!
$$$
4 guests
Bright and spacious
Small kitchen
For small families, this Airbnb is the perfect choice. Accommodating up to 4 people and located close to public transport options in a very safe neighborhood of Tokyo, you'll love the stay here. There are 1 massive double bed and two typical Japanese futons (perfect for kids). Keep in mind that this is a spacious studio, but apart from the bathroom, there's no other room.
$$$
4 guests
Extra sofa bed for up to 5
Cute balcony
Have you ever wanted to wake up with a few mates and look down over Tokyo? Even if you haven't, you probably do now. This 6th-floor flat overlooks Korean Town – a neighbourhood of Shinjuku where you can get, yep, you guessed it, great Korean food! There are 4 beds across 3 rooms, and although the apartment is compact, there's ample space for everyone. There's even a sofa bed you can roll out for a 5th guest!
$
3 guests
charming design
incredibly welcoming and comfortable
This Airbnb will make you feel like you're back at home. We can assure that it's more than comfortable. All previous guests have praised the cleanliness and welcoming charm. The location couldn't be better, with main public transport lines within less than 3min walking distance. If you're looking for a place where you can relax in private, this is the right one!
$$$
4 guests
Fully Equipped Kitchen
Traditional Japanese bedroom
Yes, we know. Lots of the best Airbnbs in Tokyo are in Shinjuku. But that's because it's the coolest area with the most going on. So, another apartment there can't hurt, right?! Well certainly not one like this.
This traditional style Japanese room comes with tatami mats and futon style beds. It's a good option if you're two couples travelling together. For friends – it's probably better if there are just two of you. Either way, it's one of the cutest and comfiest Tokyo apartments. And you're right near the train station – great for day trips!
$
2 guests
Short walk to Shinjuku Station
King bed
Another Shinjuku apartment? Okay, we promise this is the last one. This is a great choice if you're on a budget, and the price will be minimal if split between 3 guests. Even though the price is so low, you still get wifi, kitchen facilities, and some toiletries included.
And we haven't even got to the location yet – it's slap bang in the middle between Shinjuku Station and Golden Gai. You don't get much more convenient than that. In fact, the only problem will be fighting over who gets the king bed and who ends up on the sofa if there are 3 guests!
$
2 guests
Near Shibuya Crossing
Optional extra futon bed
You've seen Lost in Translation and that famous diagonal crosswalk? Even if you haven't, it's one of the most popular sights in Tokyo, and staying nearby means you can visit any time of the day. Top tip – it's particularly cool at night.
Shibuya is one of the best shopping districts, and this is one of the best Tokyo apartments in it! Leave a message for your host on the chalkboard wall and those who come to visit this awesome pad after you leave!
What to Pack for your Tokyo Airbnb
Our Broke Backpacker editors have put together a shortlist of their Airbnb essentials, which you can find here.
1. Active Roots Toiletry Bag: To prevent the loss of your toothpaste in the depths of your bag, you should get a hold of the Active Roots Toiletry Bag. With large compartments, see-through and enclosed sections, you can have all of your stuff in the right spot, easy to find and accessible at all times.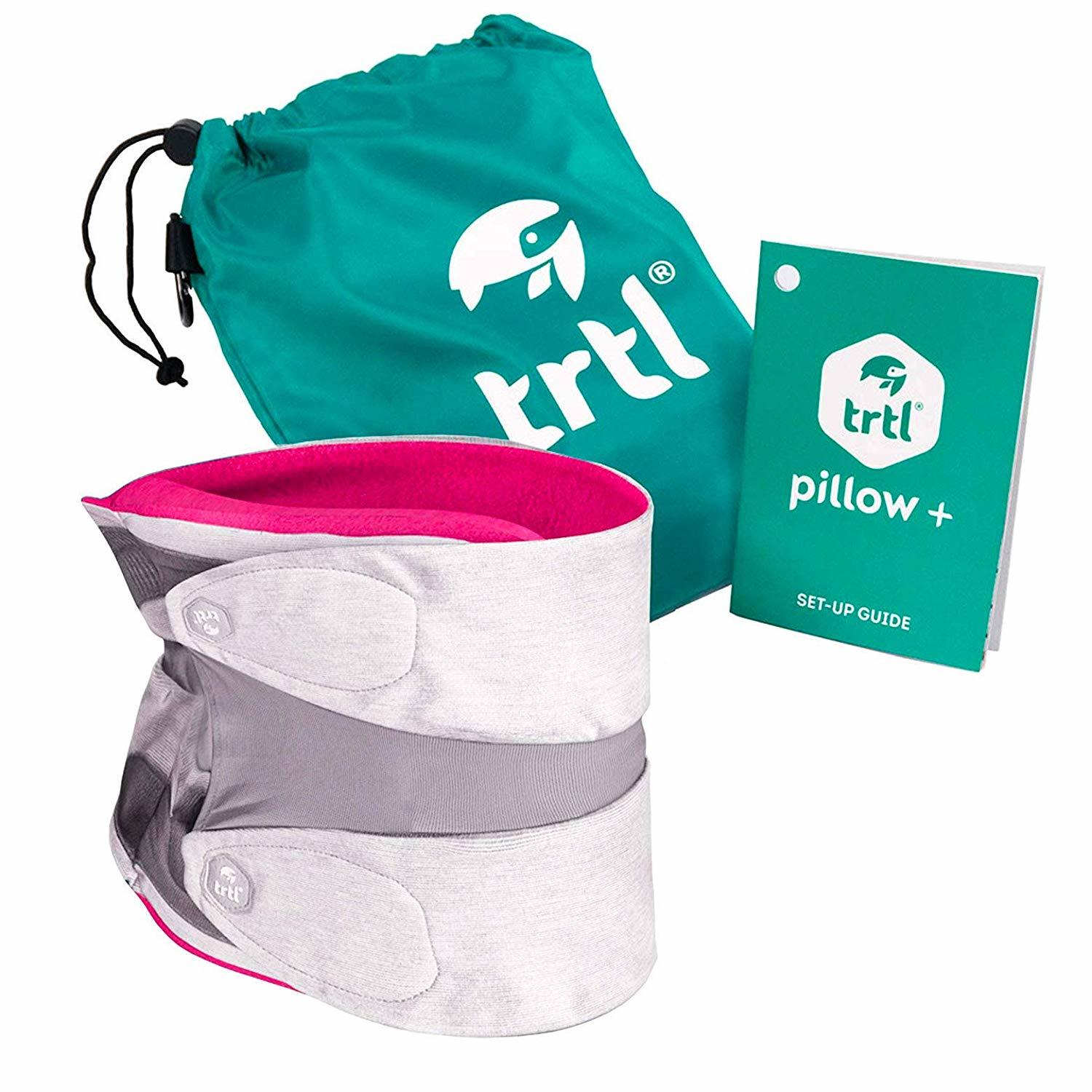 2. TRTL Travel Pillow: I don't have anything to make long-haul flights or bus rides any shorter. But…. The TRTL Travel Pillow will give your neck and head so much support that you'll actually be able to get some proper rest. The ergonomic design, with its adjustable interior support, is absolutely unique and was scientifically engineered to keep you comfy and safe. Including a step-by-step guide and a waterproof bag, you'll never travel without this pillow again.
3. Active Roots Water Bottle: Most Airbnbs provide potable (drinkable) water. Have a bottle to fill up so you can take that water on your rambles instead of buying disposable plastic bottles. The Active Roots Water Bottle is great for travellers who are aware of plastic pollution and want to reduce their single-use plastic consumption – no need to buy drinks from the supermarket anymore. The stainless-steel material will keep your drinks cold or hot for up to 24 hours. Stay hydrated throughout your entire holiday with this cool bottle!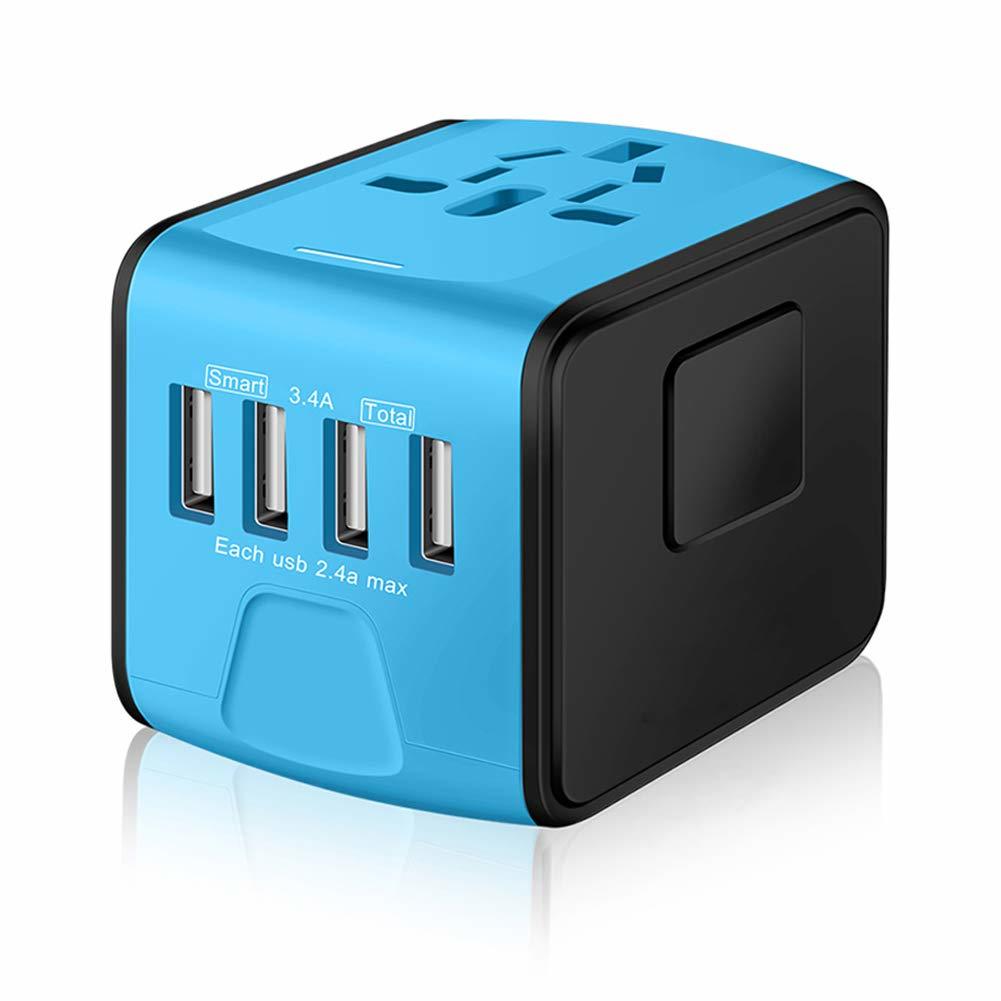 4. Universal Travel Adapter: Don't land in a new country without the right adapter to charge your devices. This can be a logistical nightmare as your phone runs out of juice but you still need to plot a course to your rental. This universal travel adapter covers 150 countries, and you'll always be able to charge your phone (and 4 more devices simultaneously), no matter where you are in the world.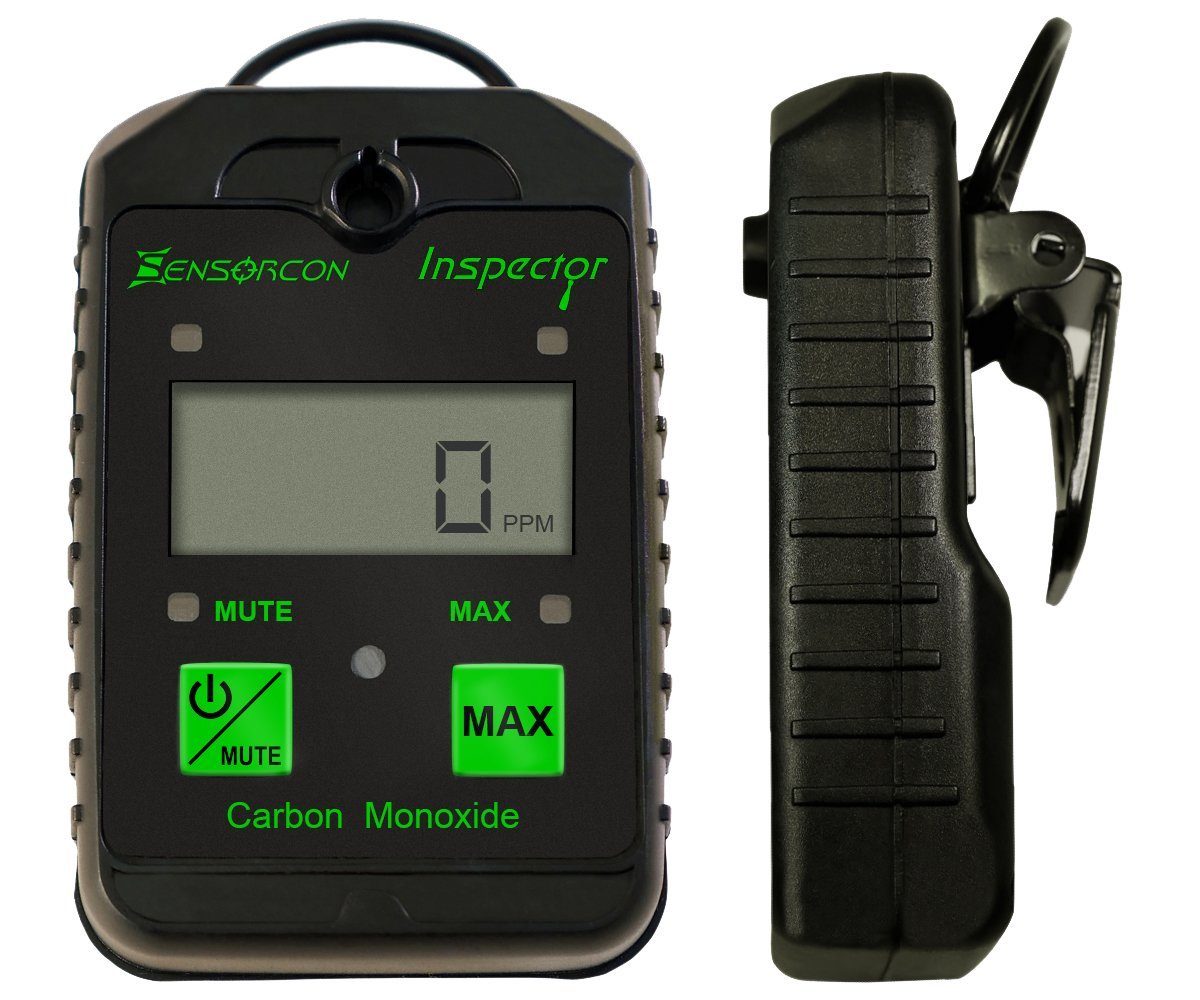 5. Carbon Monoxide Detector: Most U.S. and E.U. homes ill have a CM detector but most countries don't require homes (and by extension, Airbnbs) to have one. By getting this portable CM monitor, you can holiday without a worry. The device will send out a visual and audible alarm if carbon monoxide is above normal levels – before you could be harmed. Waterproof and long-lasting, the tiny machine is a one-time purchase that you won't regret.
6. Packing Cubes: Packing your suitcase (and unpacking it and packing it all over again) can be an organizational challenge. Packing cubes help quite a ton with that struggle. Move them between your suitcase and your Airbnb wardrobe without really having to unpack and keeping your clothes in the same orientation the whole time – basically, less hassle, more organization and fewer wrinkles.
Check out these other great resources
We have loads more information to help you plan your trip to Tokyo.
View this post on Instagram
Final Thoughts on Tokyo Airbnbs
So, that concludes our list of the best Tokyo Airbnbs. Did you find something that perfectly matches your travel needs? We certainly hope so. After all, there are places on our list suitable for all budgets, styles, and tastes!
Whether you want to make the most of the nightlife in districts like Roppongi, or be close to the awesome attractions in Shibuya, or even close to Shinjuku station so you can easily take a day trip, we've covered all the best neighbourhoods in central Tokyo.
And don't forget our best Airbnb in Tokyo according to value – Shinjuku Simple Private Double. If you're struggling to make a choice, you can't go wrong there.
Want to know a bit more about the city and Japan? Keep udated with the news to be sure not to miss anything important!
Now that you've checked out our list, it's time for us to wish you a fantastic vacation in Tokyo!
And don't forget to sort your travel insurance before heading to Tokyo! We've put together a roundup of the best travel insurance for backpackers – check it out here, or if you're low on time, get a quote from World Nomads, our favorite travel insurance provider.
Getting an estimate from World Nomads is simple – just click the button or image below, fill out the necessary info, and you're on your way!

---
Need More Inspiration?
Like this post? PIN ME!!!