Tokyo might have all the Michelin star restaurants, but if you're travelling to Japan and you want to sample local (and more importantly) cheap food, Osaka is the place to be! 'Kuiadore' is the city's motto and it means eat 'til you drop! It's not just food that will make your trip though – there's a stunning castle in Osaka and the nightlife is pretty great too!
If you want to save your money and put it towards street food, you have a few options. Yes, you can stay in a hostel, but you probably won't have your own private space. A better alternative is an Osaka homestay! Not only will it be easy on your wallet, but you'll also get an authentic local experience too. So, with that in mind, we've decided to help you out!
We've put together a list of the 10 best homestays in Osaka. When picking our list, we've thought about different travel styles, tastes, but most importantly budgets. Hopefully, you'll find the perfect Osaka homestay and you'll really make the most of your holiday!
Our 5 Favorite Homestays in Osaka
BEST HOMESTAY IN OSAKA
BEST HOMESTAY IN OSAKA
Ken House Osaka Castle
> $
> 3 Guests
> Great location
> Three free bicycles to rent
BEST VALUE HOMESTAY IN OSAKA
BEST VALUE HOMESTAY IN OSAKA
Sakai Osaka
> $
> 2 Guests
> Bicycle hire available
> Easy access to public transport
BEST HOMESTAY FOR DIGITAL NOMADS IN OSAKA
BEST HOMESTAY FOR DIGITAL NOMADS IN OSAKA
Good Place in Naniwacho
> $
> 2 Guests
> Laptop-friendly workspace
> Monthly discounts
BEST HOMESTAY FOR FAMILIES IN OSAKA
BEST HOMESTAY FOR FAMILIES IN OSAKA
Terase House near the Station
> $$
> 4 Guests
> Shared kitchen
> Welcome drinks and snacks
BEST HOMESTAY IN OSAKA FOR NIGHTLIFE
BEST HOMESTAY IN OSAKA FOR NIGHTLIFE
Independent Warm Room Shinsaibashi
> $
> 2 Guests
> Great location
> Toiletries provided
What is a Homestay?
So what exactly do we mean by a homestay? Well, a homestay can be described as a holiday or other period abroad spent staying in the home of a local family. Or, it can simply mean a private house that offers accommodation to paying guests.
These days, some homestays are more "home" than others. In fact, some are so slick and professional that they are closer to guesthouses. It should normally be easy to identify what kind of homestay you are looking at from the listing and from reading the guest reviews. It is important to choose the right one for you, and to decide exactly how much interaction you want with your hosts.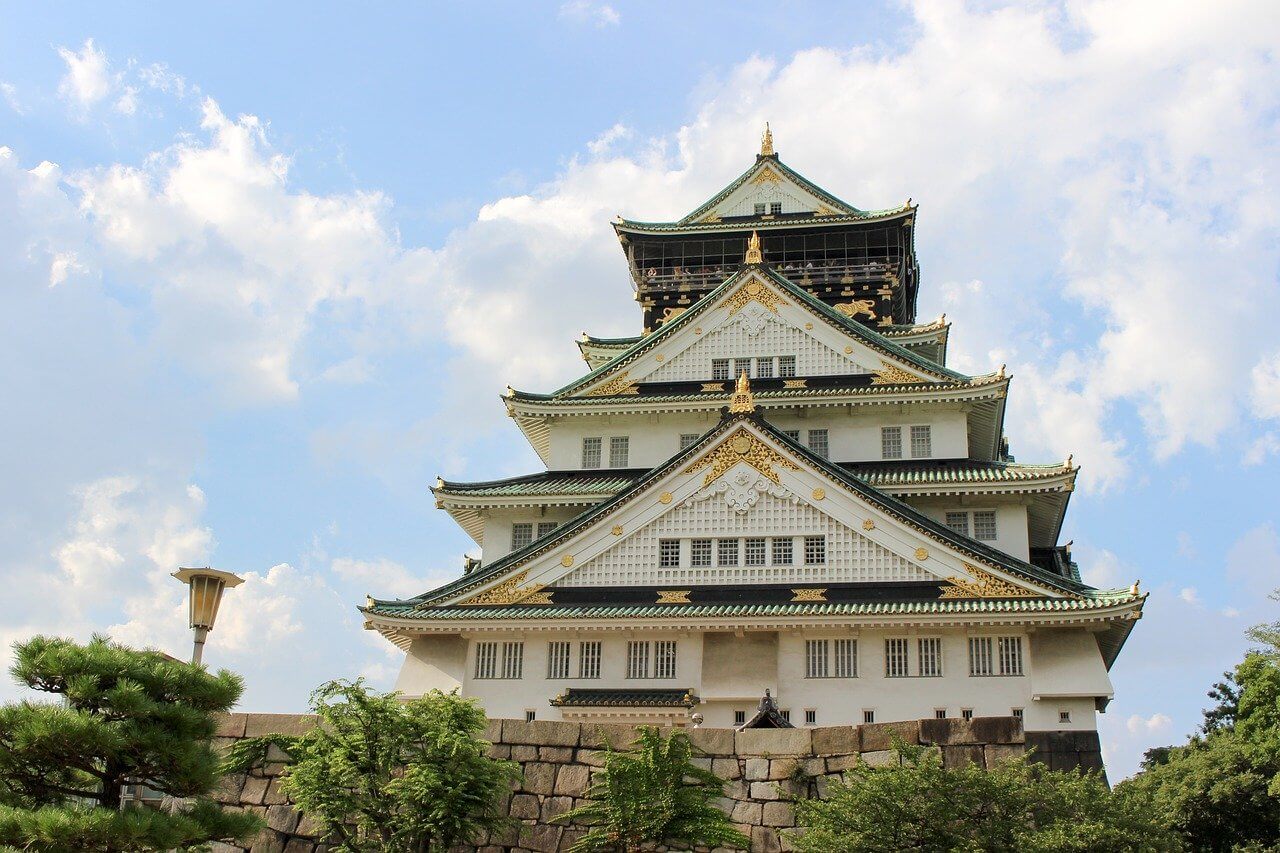 Why Book a Homestay?
Homestays are usually much better value than hotels. There is usually a trade off though as it may mean you have to share a bathroom and you might not get your bed made every day!
Homestays are usually a lot more quiet than hostels and offer some quiet & privacy. There are also offer the chance to break out from the "backpacker bubble".
Finally, Homestays can be great for cultural immersion as you are surrounded by a local family living a pretty typical life. It is for this reason that homestays are especially popular amongst language students.
Remember The House Rules
When you book a homestay, remember to respect the house rules. Whilst homestay hosts will always try their best to be flexible to your needs, there may occasionally be some ground rules such as no guests, no drugs or even no alcohol.
There may sometimes even be a curfew. It is important to read the listings and check these things before you book your homestay.
Are Homestays Safe?
If you are booking through a reputable platform, they will have vetted and verified the homestay host very carefully. Guest feedback is also very important and any complaints are carefully investigated. Therefore, homestays are every bit as safe and secure as hostels or hotels.
Travel with peace of mind. Travel WITH a security belt.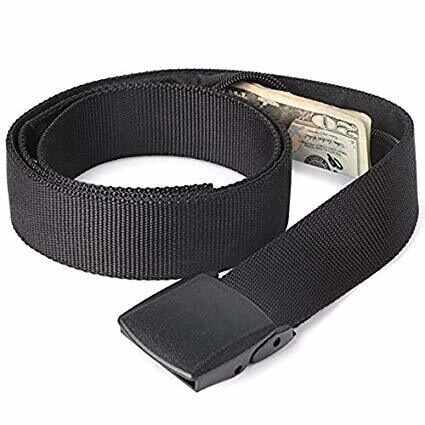 Custom-designed BY the Broke Backpacker FOR broke backpacking, the Active Roots Security Belt will keep your valuables safe no matter where you go.
It looks exactly like a normal belt except for a SECRET interior pocket perfectly designed to hide a wad of cash or a passport copy. Never get caught with your pants down again! (Unless you want to.)
Check on Amazon
Join Homestay.com For More Great Homestays
In this post, we've listed 10 awesome properties handpicked from the 4 corners of the internet! However, in case you don't find what you're looking for here, we recommend signing up for Homestay.com and having a search yourself. They have 1000's of homestay listings in over 100 countries!
The Top 10 Homestays in Osaka
$
3 Guests
Great location
Three free bicycles to rent
Let's begin our list of the best homestays in Osaka with an awesome place near one of the city's top attractions. Yes, here you're just a hop, skip, and a jump from Osaka Castle. So, whether you're travelling with your other half or making your way through Japan by yourself, this is a great place to stay. To get a better view of the city, your friendly homestay host has three bicycles, which you're welcome to take out. It'a traditional tatami mat room, so you can have an authentic experience of a Japanese home!
Best Value Homestay in Osaka – Sakai Osaka
$
2 Guests
Bicycle hire available
Easy access to public transport
Japan is an expensive place to travel, and accommodation is one of the things that can eat into your budget most. However, pick the right place and you won't have those worries! Sakai is one of the best budget homestays in Osaka, but you don't have to compromise on quality. You've got a western-style bed, and there's a laptop-friendly workspace with a comfy chair. Ideal if you're a digital nomad on a shoestring! Explore the city with free bicycle hire, or if you're feeling lazy, hop on public transport. You've not got far to go to find it!
$
2 Guests
Complimentary Breakfast
Luggage drop off
Are you looking for a traditional experience in Japan? Then check out this tatami mat room – it's one of the coolest places to stay in Osaka! You'll be staying on comfy futon beds which guarantee a good night's sleep. Although you won't get a traditional Japanese breakfast, your friendly homestay host will prepare you with an American style brunch breakfast. Perfect for fuelling up before a day of sightseeing. It's not hard to get around Osaka, as you've got subway and JR stations right on your doorstep!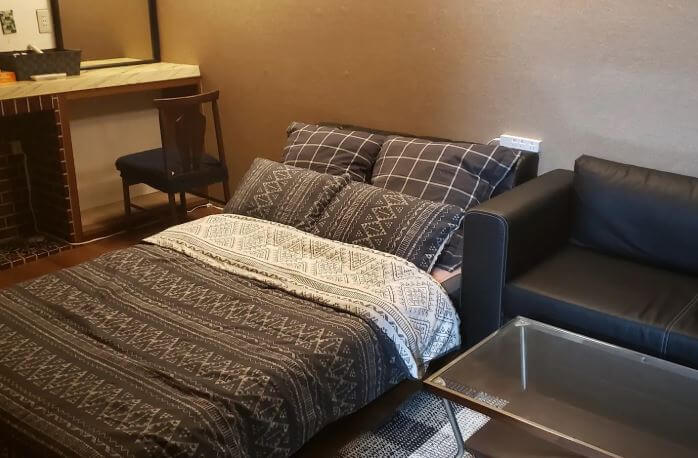 $
2 Guests
Laptop-friendly workspace
Monthly discounts
If you're looking for a cheap homestay in Osaka where you can work away to your heart's content, check out this place in Naniwacho. As well as a comfy sofa bed for you and another guest, you'll have a laptop-friendly workspace where you can send off some emails or finish your latest article! When you've finished working for the day, you're just a stone's throw from Osaka's shopping street – where there are lots of food options too! You'll be sharing your bath and kitchen with other guest in this cute Osaka homestay.
Is This the Best Travel Backpack EVER???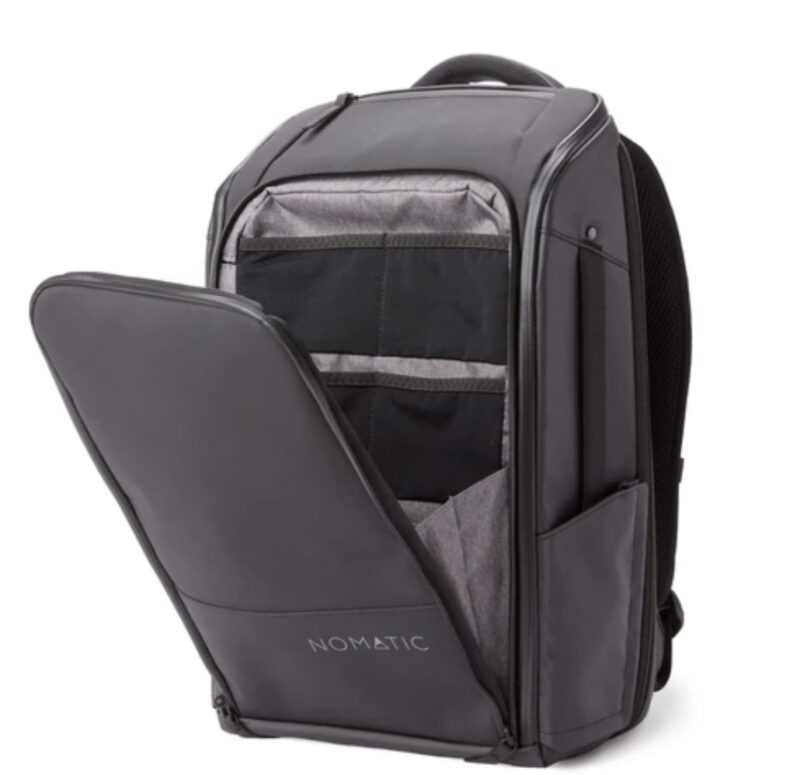 $
2 Guests
Small kitchen
Convenient location
If you're looking for somewhere with a friendly host family in Osaka, then this private room near Kyobashi Station will be right up your street! There's a small kitchen which is perfect for whipping up some coffee in the morning before you go out and explore the city. Not that you'll have far to go through, lots of the city's coolest attractions are on your doorstep!
Don't worry about getting lost on your way, as your host will come and greet you. Also, there's a luggage drop off, so you don't need to carry your heavy bags around town all day!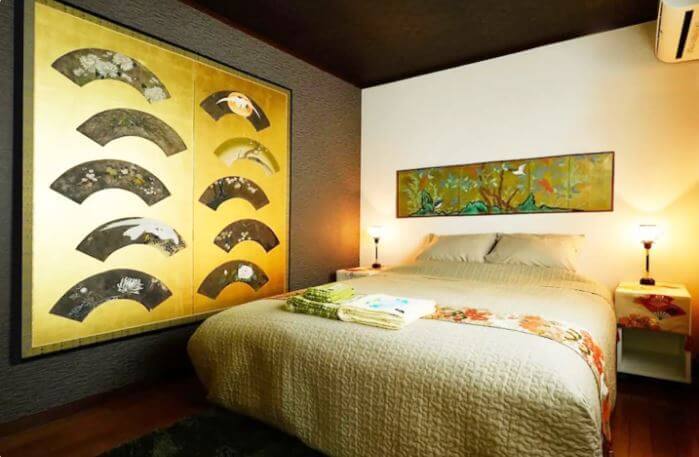 $$
2 Guests
Dining space
Free coffee and herbal tea
This Osaka homestay has a western-style double bed so it's perfect if you're travelling with your other half! Your friendly homestay host will go out of their way to make sure that you are comfortable and welcome in their home – they'll even set out complimentary coffee and herbal tea for you! You'll probably have noticed from the listing too, but there are cats at the apartment. So, if you're missing your own puss from home, you'll be able to make up for that with some cuddles here!
$
2 Guests
Great location
Toiletries provided
Shinsaibashi is the party capital of Osaka, so if you're visiting for nightlife it makes sense to stay there! Not only is it near all of the best bars, clubs, and restaurants, but it is also close to Namba station! So, it's ideal if you're planning on any day trips to Kyoto or Nara. If you come back tired, hot, and sweaty then take advantage of the toiletries provided in your bathroom! Last but not least, you've got a common area to share with the other guests in your Osaka homestay – so if you're travelling solo you can make some new friends!
$$
3 Guests
Laptop-friendly workspace
Basic kitchen
If you need to be near Osaka University, then Umeda is a good location to be. So, check out this fabulous Osaka homestay! Rather than a traditional Japanese tatami room, this is inspired by Scandinavia – which is peaceful in a different kind of way! If you've had a long day at uni, you can come back to prepare a meal in the kitchen and then work late into the night at the laptop-friendly workspace! When you need a break, your apartment is located by the riverside, so you can head out and have a lovely walk!
$
2 Guests
Laundry facilities available
Access to communal areas
Want to stay with a kind and welcoming host family in Osaka? Then check out this cool homestay – which has a fair few cats on-site too! And they have contrasting personalities – one is open-minded while the other is like a ninja! We're sure you'll find out what that actually means when you stay… There are other reasons to stay than pets though – laundry facilities are available at no extra cost and you have access to all the communal areas including the living room and the kitchen!
$$
4 Guests
Shared kitchen
Welcome drinks and snacks
Let's end our list of the best homestays in Osaka with this awesome spacious and comfy room near Namba station. There's space for up to 4 guests, and it's equipped for families of all ages. And you're sure to feel welcomed when your hosts greet you with drinks and snacks! If you still don't feel full after those, you can always whip something up afterwards in the shared kitchen. Make use of flexible check-in too – there's a lockbox so you can come and go whenever you like. Perfect if you're arriving on a late train to Namba Station!
Check out these other great resources
We have loads more information to help you plan your trip.
Need More Homestays?
Personally, I'd stay in any of those lovely homestays! However, in case you didn't quite find what you were after, or just want to see what else is out there then why not sign up for Homestay.com and have a browse for yourself? They have 1000's of homestay listings in over 100 countries!
FAQ about Homestays in Osaka
Here's what people usually ask us when they look for vacation homes in Osaka.
Final Thoughts on Osaka Homestays
So, that concludes our list of the best homestays in Osaka. We're sure you'll agree that there's a lot to choose from! Whether you want a traditional tatami mat room, a friendly family welcome, or to cuddle up with some cute cats, there's a homestay in Osaka for you!
We just hope you're not overwhelmed by how much choice we've given you… sorry not sorry! If that's the case, just scroll back up to the top of the page and pick our favourite homestay in Osaka. That's Ken House Osaka Castle! It's the best combination of value for money, an awesome location, and a sweet and friendly homestay host!
Now that we've helped you plan your trip to Osaka, let us wish you a fun and safe trip to Japan.
And don't forget to sort Travel Insurance for your trip! We've put together a roundup of Travel Insurance for backpackers – check it out here, or if you're low on time, get a quote from World Nomads, our favorite travel insurance provider.

---
Find out how YOU can support the site.
We're a big site with a big team and this job isn't always easy. But we do it because we love it – we love providing epic and free content. We love the knowledge that our content keeps you adventuring. We don't ask for money, but if you'd like to find out how you can help the site in more organic ways, click the button below.
Thank you for your support 🙂
And for transparency's sake, please know that some of the links in our content are affiliate links. That means that if you book your accommodation, buy your gear, or sort your insurance through our link, we earn a small commission (at no extra cost to you). That said, we only link to the gear we trust and never recommend services we don't believe are up to scratch. Again, thank you!