Maybe it's the juxtaposition of Japan's mega-modern tech society and its culturally-rich ancient history that make the "Land of the Rising Sun" so alluring. Or maybe it's the idyllic landscape that spans from rivers dotted with cherry blossom trees in Kyoto, to majestic snow-topped mountains in the Japan Alps, to gorgeous subtropical islands in Okinawa. Or maybe it's the delicious food. Our guess is that it's all of the above; and the reason you're itching to add Japan to your backpacking travel log!
But, with such vast topography and differing climates in each region, knowing what to pack for Japan isn't quite so obvious. So much depends on what your wishlist is too – if you're a hardcore snowboarder or a sun-seeking explorer, your packing list will vary greatly. So our advice is: pack essentials by season that will cover you for anything.
Well, you've come to the right place! We've put together this handy guide on what to pack for Japan – covering your essentials with a top-22 needs packing list, tips on what to wear in Japan, an overview of conditions by season and how to pack for each and what NOT to bother packing.
Packing light enough to fit all your belongings in a carry-on size backpack can be challenging, but keep reading – and you'll be a Japan-bound packing pro!
Ready? Let's begin!
Top 22 NEEDS for Japan – Japan Packing List
#1 – Nomatic Travel Bag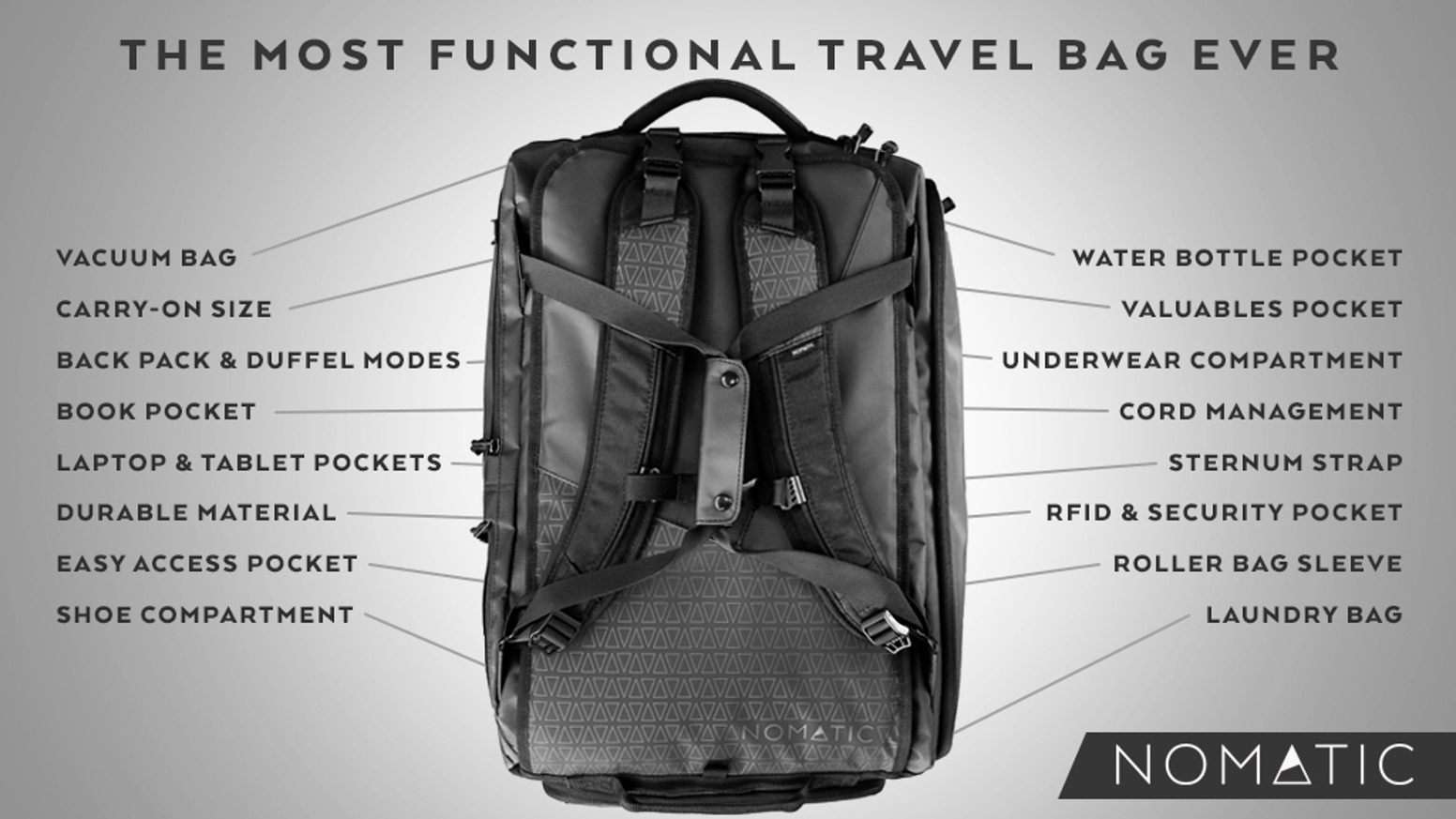 If you're shopping for the perfect backpack for your Japan travels and want the best in the market – look no further. The Nomatic Travel Bag has everything a backpacker needs! We love that it's carry-on size while boasting a 40L spacious interior equipped with amazing pockets and compartments that give you your best packing bang for your buck. Plus, it's made of durable, waterproof material that will endure any conditions. It's a real winner!
#2 – Active Roots Security Belt
Thankfully, Japan has one of the world's lowest crime rates. But that doesn't mean that petty theft or pickpocketing doesn't exist. You should always keep your valuable belongings close and out of sight in crowds. You can easily do this with the Active Roots Security Belt. The hidden zipper pocket lets you stash away money inside what looks like a simple, attractive belt from the outside. It's security and fashion in one!
Need a little more storage?
When moving from place to place, you should keep your travel documents and other valuables on your body. Your carry on isn't safe, even when it's under your seat or overhead.
A full-sized money belt that stays tucked under your clothes keeps your documents and cash organized during your travels and assures nothing critical gets left behind or stolen.
#3 – World Nomads Insurance
Whatever you do, don't forego travelers insurance. No matter where you go, things can go wrong – you want to have the peace of mind knowing you're covered at all times. World Nomads Insurance is the most used and trusted because they'll cover you in cases requiring medical attention, having items stolen or lost, and many other scenarios you may not have considered. They have plenty of affordable options, so travel smart – and be an insured traveler!
#4 – Active Roots Water Bottle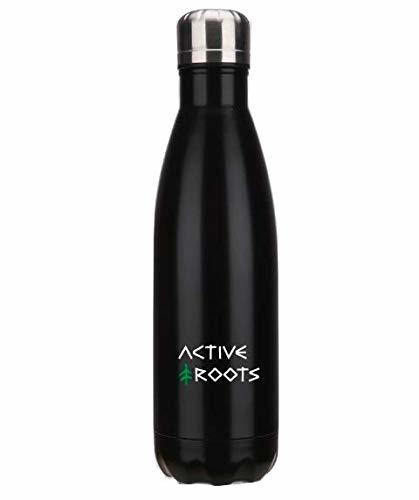 The good news is that Japan's tap water is perfectly safe to drink – always a welcome bonus for saving yourself a few bucks! Take advantage of this free commodity by bringing a dependable, eco-friendly water bottle, like the Active Roots Water Bottle. It's stainless steel and holds a whopping 25 ounces, which is 8 ounces more than comparable bottles. One refill will keep you hydrated a long way, which you'll need with all that on-the-go exploring. No matter what area in Japan you stay in, the tap water should be drinkable.
#5 – Combination Lock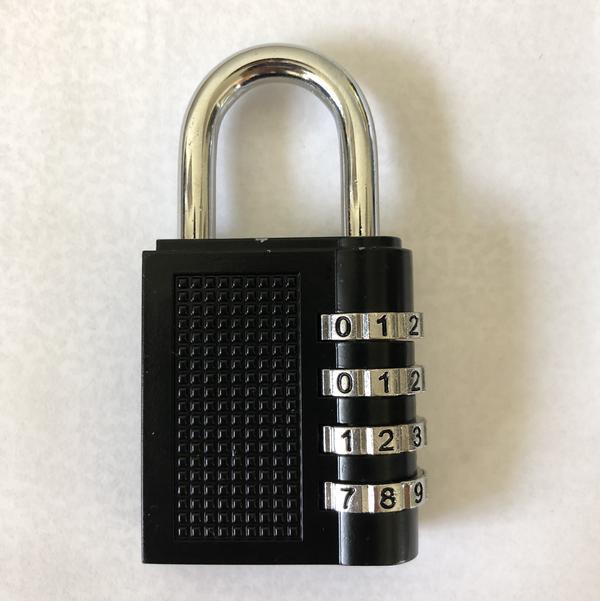 Again, Japan is overall very safe, but always have your travel bag locked when using budget accommodation and leaving your bag unsupervised. The same rule applies for public transport, like a long-haul plane, train or bus rides. We like the Active Roots Combination Padlock because it's small, user-friendly and locks with a resettable combination – so no need to keep track of a tiny, easy-to-lose key!
#6 – Skeletool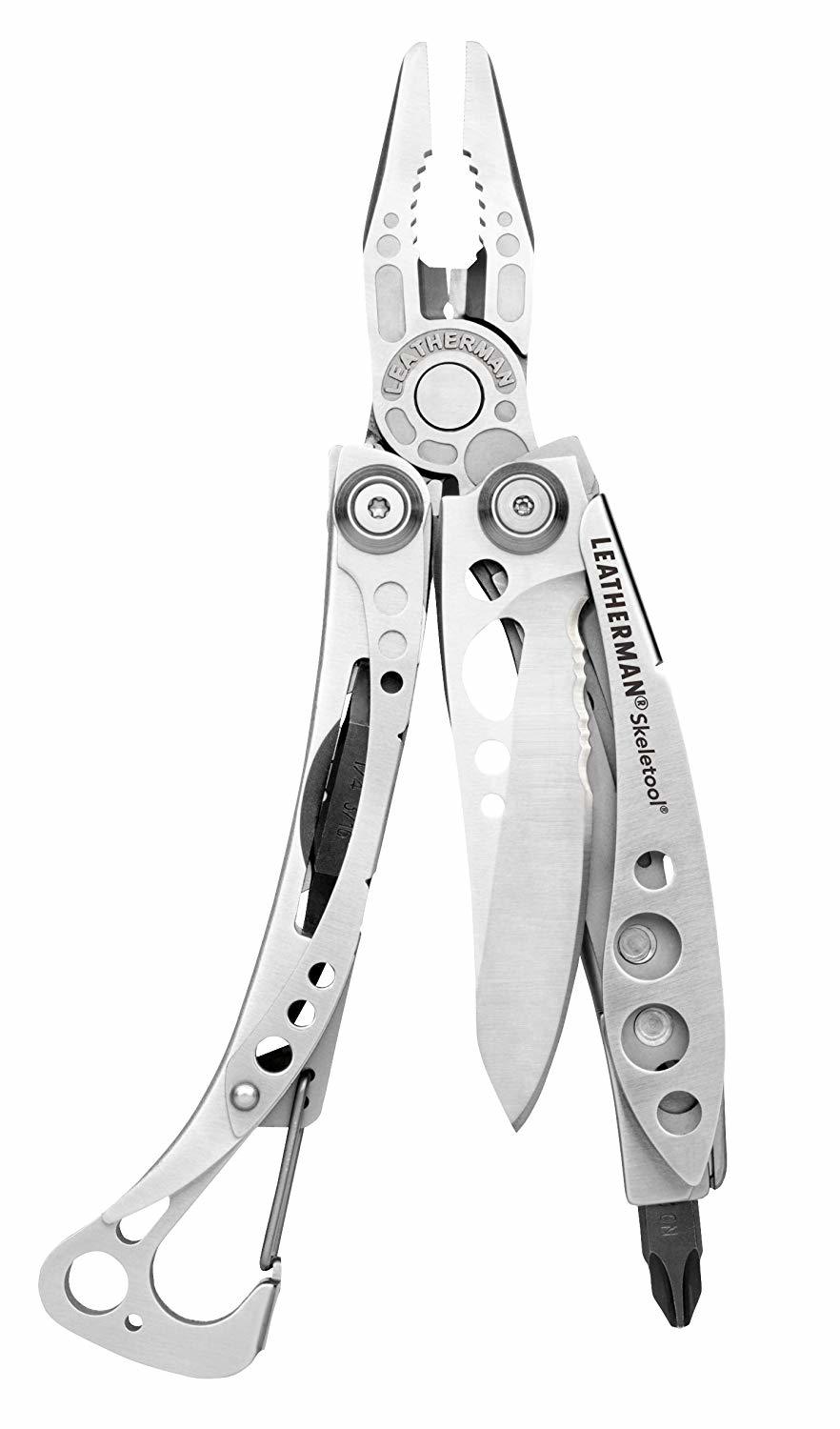 Every backpacker should travel with a compact multi-tool, like the Skeletool. Whether you opt for a pocket or keychain-sized model, you'll love how handy they are in a variety of situations. Choose one with a bottle opener, scissors, nail file, pliers, bit driver – or whatever suits your fancy. We like to think of the Skeletool as part of your "always be prepared" travel kit!
#7 – Active Roots Microfiber Travel Towel
Even in Japan's cleanest and most modern bathrooms, you won't find towels or anything for drying your hands. You'll see Japanese locals carrying around a handkerchief or something similar for this purpose. Your best bet is to travel with the Active Roots Microfiber Travel Towel for a lightweight, quick-drying towel you can fit in your day bag and that can be used for lots of other things, like pools and showers.
#8 – Active Roots DayPack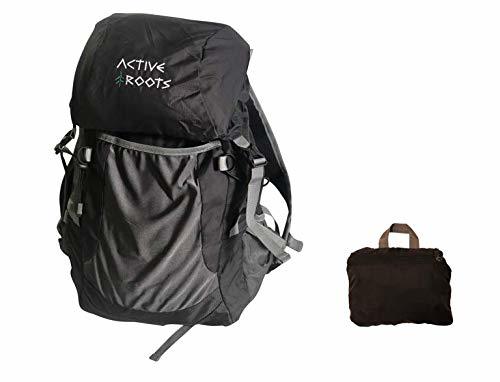 It's always worth having a daypack with you whenever you travel but often NOT worth carrying something bulky around. The Active Roots adventure daypack is hands down the best foldable day pack around, it comes with a water bottle holder, folds down super small yet provides plenty of space for your day-venture and is tough and sturdy.
#9 – Fairywill Electric Toothbrush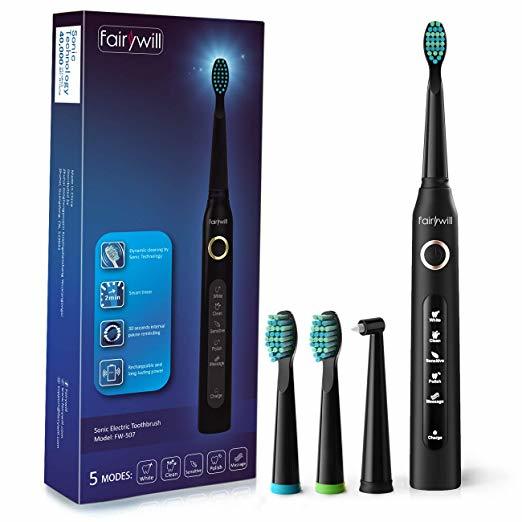 You'll fit right into Japan's electronic-savvy society by ditching the old, boring toothbrush for a Fairywill Electric Toothbrush. Its three different settings get your teeth super clean and feel amazing! It's very travel-friendly, lightweight and needs just one 4-hour charge to keep it alive for 30 days of use. It's a beneficial bit of luxury you'll enjoy having on the road!
#10 – SunGod Sunglasses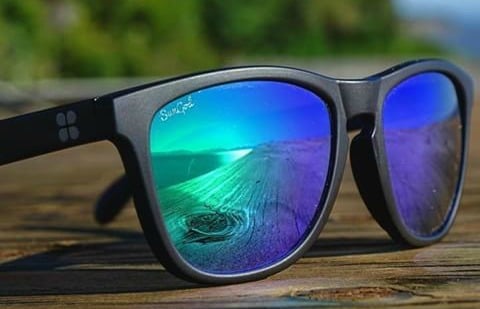 No matter what season you travel to Japan, or what your activities include, you need a dependable pair of sunglasses. We're big fans of SunGod Sunglasses because they're built for performance without sacrificing style. You're not likely to damage these guys with their triple-layer scratch resistant lenses and durable frames made from SunGod's trademarked Adventureproof? Frame Material – but if you do, each pair is covered by the SunGod Lifetime Guarantee for free repair. Check our in-depth review here.
#11 – Camera or Cell Phone Camera Accessories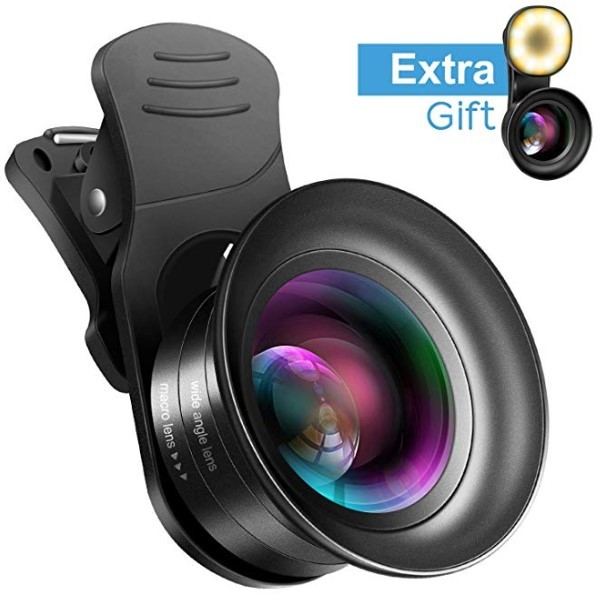 One thing's for sure – Japan is one of the most photography-worthy destinations out there. Now would be a good time to invest in a digital camera – if you don't already have one – that will do the picturesque landscape justice. But if you're relying on your mobile phone camera exclusively, we suggest enhancing your photos with accessories – like a cell phone camera lens kit – to make those pictures really pop!
#12 – Travel Jungle Gym Set
Whether you're traveling for a weekend or for a year, it's difficult to keep your usual workout routine on the road. There are loads of workouts online to print and follow, but there's nothing like being in a gym with proper exercise equipment. Enter: Monkii Bars. You can set up your workout station anywhere – hotel rooms, mountainsides, your backyard – and the pocket gym comes with its own app so you can learn the ropes (cough, cough) of staying fit on the road!
#13 – Portable Charger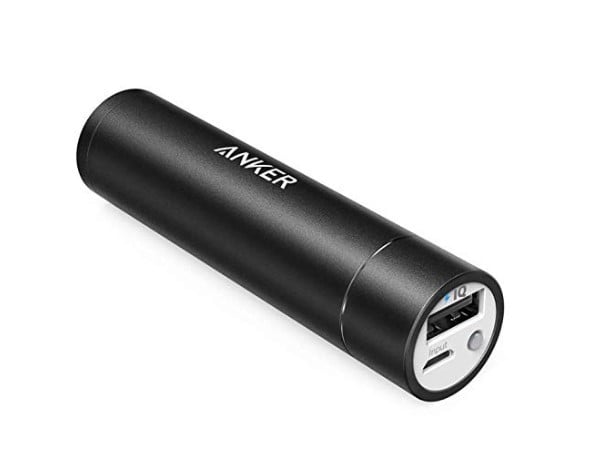 When you think about how much you rely on your phone – as your navigator, your restaurant expert, your news anchor and your connection to friends and family – it's easy to see why traveling with a compact portable charger is a good idea. Being out all day exploring without a recharge may drain your phone of the juice it needs to navigate you back to your hostel when you need it!
#14 – International Adapter
Japanese outlets accommodate typical US two-pronged plugs, but for electronics that have three prongs, you'll need an adapter. The easiest solution is to pack an international adapter to cover all your bases. If you plan on visiting any other country, this is definitely the smartest choice. Save yourself the hassle of trying to track down an adapter at your destination and paying twice as much than planning ahead and buying one line.
#15 – Packing Cube Set
When you're living out of a backpack, the more organized you are, the better. A packing cube set really helps in this department. The more you can compartmentalize your clothing by item type – like t-shirts, pants, swimwear – the less digging and pulling out of random clothes you'll have to do. Most seasoned backpackers swear by them, and we're sure you will too if you've never given them a try.
#16 – AR Toiletry Bag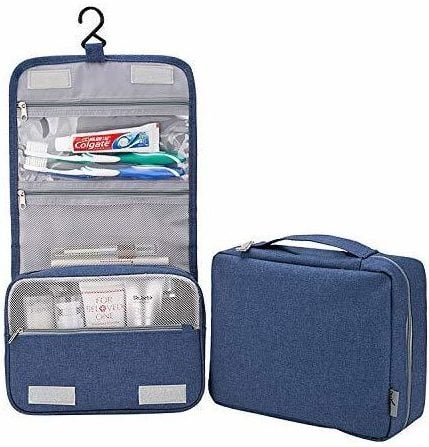 Another backpacker favorite for staying organized is a hanging toiletry bag. It's extremely helpful to have all of your accessories neatly gathered in one bag that you can hang for easy accessibility, especially when counter space isn't plentiful or even available. A well-organized bag is worth having whether you're tree whilst camping or a hook in the wall – it helps to have quick access to all your stuff.
#17 – Travel Pillow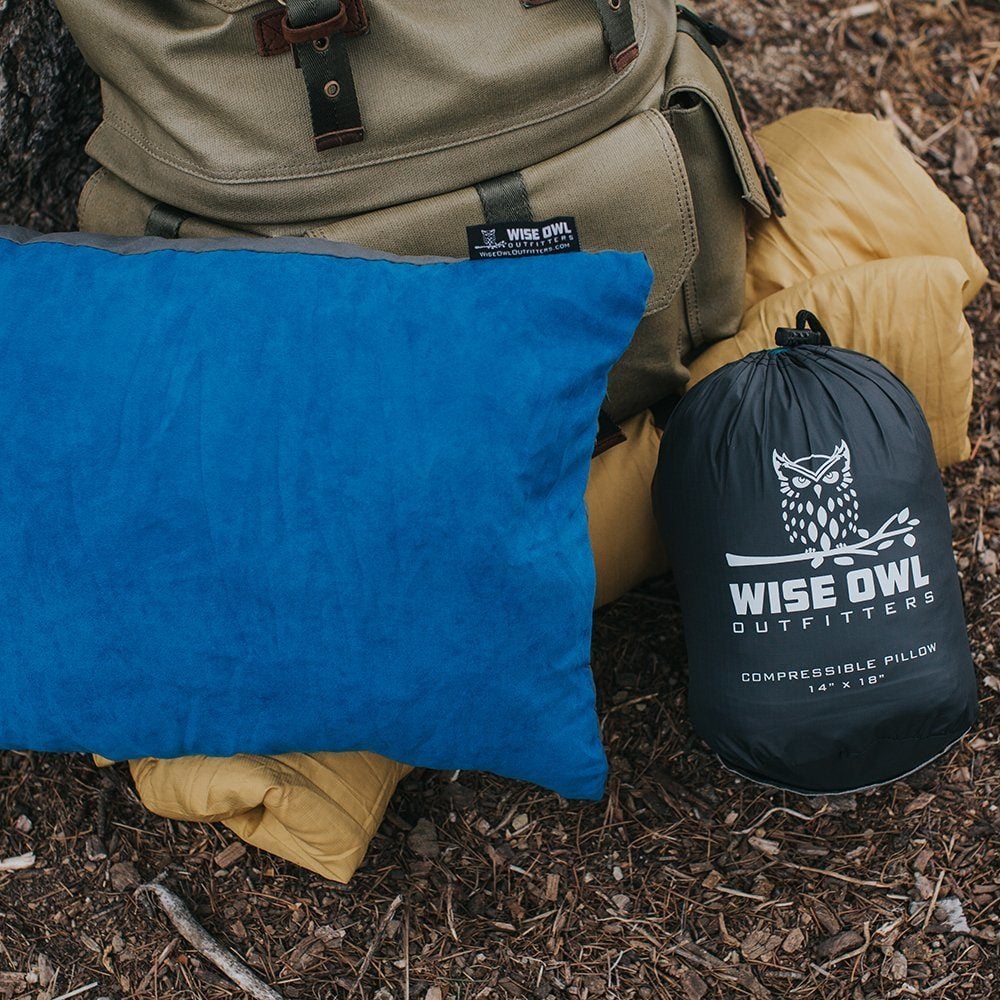 Any sort of long-distance travel on planes, buses and/or trains is more comfortable with a travel pillow. Plus, if the pillow you're provided at your accommodations isn't quite your style or to your liking, a travel pillow can save the day. As long as it's compact enough and can be folded down for easy packing, it's an item you could survive without but will be happy to have!
#18 – Travel Umbrella
It will rain during your travels in Japan. No matter which season you choose, rain in some form and duration is inevitable. You'll see locals using umbrellas for the random showers, so you'll want to do the same. A small travel umbrella is perfect because it weighs less than one pound and fits easily into any day bag. They're nice to have if you want to keep moving without getting soaked!
#19 – Moisture-Wicking Socks
Plan on taking your shoes off. A lot. Many public places in Japan – including temples, traditional Japanese-style inns (called ryokans) and restaurants – require removing your shoes to enter. Also, if you see traditional straw mats (called tatamis), it's considered rude to walk barefoot. You'll want to have socks in your day bag if you're not wearing any – but if you are, be sure to have nice-looking moisture-wicking socks that will keep your feet from being sweaty and stinky!
#20 – Travel First Aid Kit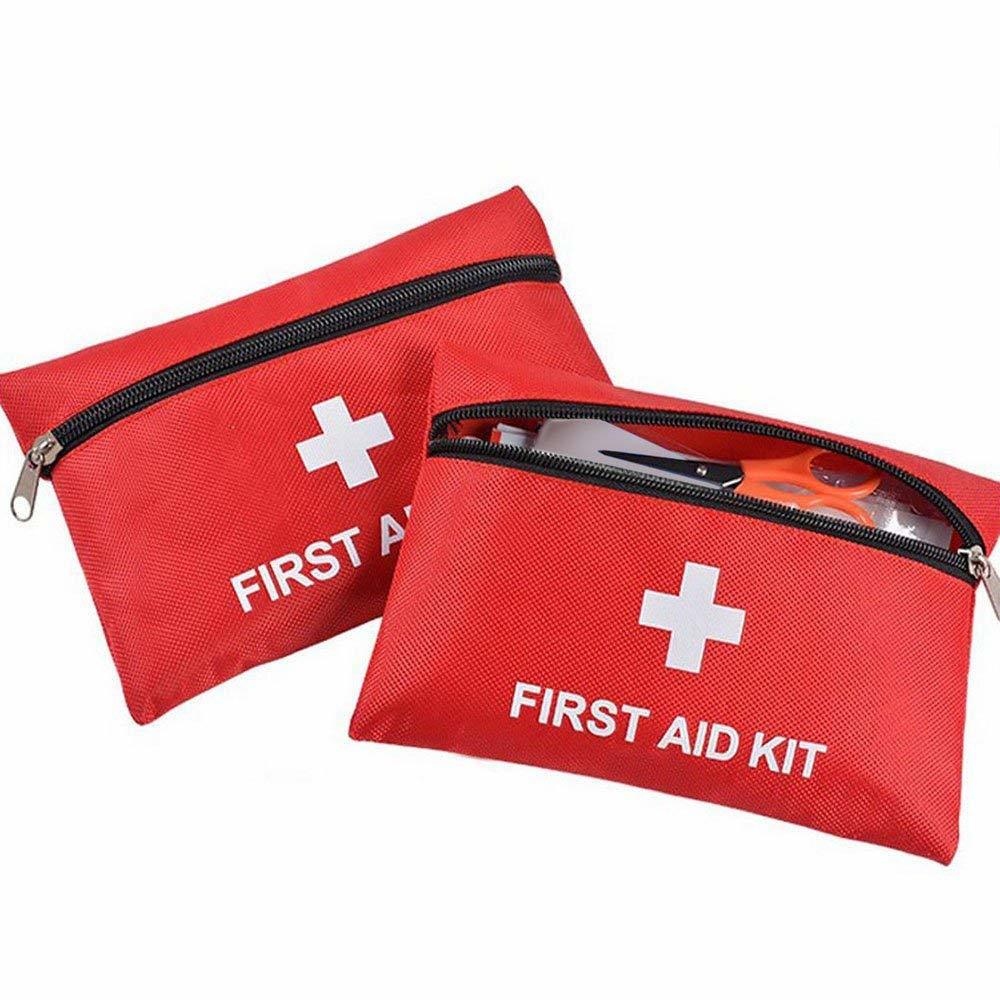 A mini first aid kit stocked with basic essentials is a must for all travelers. You want quick access to a bandage and an alcohol swab if you need it – not to mention some over-the-counter meds like aspirin and anti-diarrhea tablets if a mild illness strikes. These items can be bought in Japan but will likely cost more, so being prepared with your own is highly recommended.
#21 – Hand Sanitizer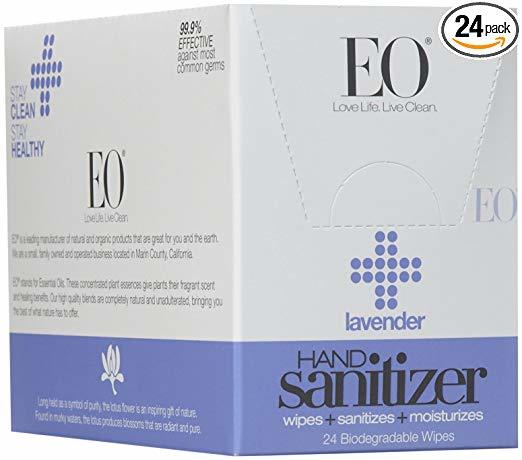 Always being out in public places while traveling calls for having sanitizer readily available at all times. Aside from not having hand towels in Japanese bathrooms, they also don't typically have hand soap, so you'll want to clean your hands in some form before eating. Anything that will help you from getting sick is a good thing! A travel-size bottle of hand sanitizer, or a travel pack of sanitizing wipes, will do the trick.
#22 – Wet Wipes or Deodorant Wipes
Aside from something sanitizing, consider packing travel-sized wet wipes or deodorant wipes. Oftentimes a long day of exploring, especially in hot weather, makes you feel icky and sticky. A little freshening up with a nice-smelling wipe can make a big difference. It's a nice substitute when you know you won't have access to a shower for a while. It's worth using a tiny space in your bag for this little refresher!
What to Wear in Japan
As a foreigner, you'll get away with having more "traveler" style clothing, but you should be aware that Japan has pretty high fashion standards. This doesn't mean you have to dress fancy to fit in, but big cities like Tokyo and Kyoto are known for their sense of style – whether it's professional wear or funky-casual. Think New York or London.
So while you can pack travel pants, shorts and t-shirts, be sure to also have classic items that you can dress up or down as needed. Also, note that the Japanese dress more on the conservative side, so ladies, you shouldn't wear shirts that are too low-cut or revealing. The older generation finds bare shoulders inappropriate, so avoid spaghetti-strapped tops and dresses. It's always best to respect the culture and dress accordingly.
Your best bet for what to wear in Japan is to stick to subdued-colored or clean-cut clothing items that are easily mixed and matched. Shorts, t-shirts, sundresses and lightweight pants are recommended for hot weather. Travel pants, long-sleeve shirts for layering, sweaters and warm scarves are all smart choices for colder weather. Seasons vary quite a bit depending on where in Japan your travels take you, so let's break it down further by season:
Visiting Japan in Summer
Japanese summers typically run from June to mid-September. The weather is hot and humid with average temperatures ranging from 70 to 90° F, but high humidity makes it feel hotter. July and August are the hottest months and be aware that typhoon season peaks in August-September. Weather can be unpredictable, so be prepared for sudden showers.
If you don't mind muggy conditions, summer is a wonderful time of year because Japan comes to life with magnificent festivals, called matsuri, all around the country. There's no better way to soak in Japanese culture than by witnessing these spectacular displays of color and tradition.
You'll also enjoy grand fireworks displays aplenty, as Japan takes great pride in their hanabi exhibitions. The most famous is the Sumida River fireworks show in Tokyo – but you'll find them all around!
To pack for summer travel, choose clothing that will keep you cool in the humid conditions and that adhere to Japan's cultural dress etiquette. Keep it respectful with longer-style shorts, breathable t-shirts, linen pants, moisture-wicking shirts, light blouses, and flowy skirts. Add a sun hat for some style and extra sun protection. You'll want your travel umbrella too for those sporadic showers and especially for August-September travel.
Visiting Japan in Fall
Autumn weather gets underway in October and typically lasts until early December. Fall is considered by many to be Japan's most favorable time, at least weatherwise, with average temperatures ranging from 50 to 70° F.
Aside from the milder weather, fall is especially popular due to the changing foliage that decorates the landscape in a stunning display of colors and hues. Prepare to be wowed by the vibrant bursts of red, yellow, orange and brown. The fall sights make for some truly epic photo ops!
Along with plenty of gorgeous scenery, you'll also find plenty of fellow tourists – especially in October or November. Plan ahead, as accommodations fill up in advance. Also, be prepared to pay higher prices. The good news is that the fall isn't quite as crowded as spring, so it's a good in-between option if you book ahead.
For fall travel packing, you'll want basic items for layering that will cover you in a range of conditions. Long-sleeve shirts, sweaters, cardigans, comfortable pants, and long dresses are all good options. You'll want a rain jacket or shell for cooler temperatures and possible rain showers.
If you're going to be exploring Japan in-depth, you're going to need a good place to crash. Check out our guide to the

best hostels in Japan

and find one that suits you!
Visiting Japan in Winter
The winter weather in Japan comes in December and lasts through mid-March. You can expect cold weather and lots of snow up in the mountains with possible snow even at lower elevations. Typical winter temperatures average between 30 to 45° F.
Want the good news for Japanese winter travel? First off, if you're a skier or snowboarder, this is definitely your season! The legendary powdery snow of the Japan Alps can't be beaten. You'll also have a lot more of the rest of Japan to yourself with the absence of large tourist crowds. With a lack of crowds means lower prices – winter is one of the least expensive times to visit Japan.
On the flip side, if you want to travel during New Year's time, you will encounter a rush – not just from foreign tourists, but also from Japanese people taking advantage of a few days of holiday to travel locally. Also, if bundling up to endure cold weather isn't your thing, you may want to consider another season.
But if you pack smart for the cold, winter is lovely! Our recommendations for winter packing include layers and more layers. Basic items like thermal wear for both top and bottom, sweaters, jeans and an insulating pair of pants. You'll also want a coat or warm jacket – a down jacket packs well and traps in heat. Pack a warm hat, knit scarf, gloves and wool socks to keep your feet as warm as possible. If you're traveling to higher altitudes, of course, you'll want to add snow gear.
Visiting Japan in Spring
March, April, and May are Japan's oh-so-lovely spring months. Spring is most famous for Japan's signature cherry blossom (sakura) blooming season. The views are absolutely stunning, and it's easy to see why visitors come in droves – making this Japan's peak tourist season.
As amazing as the sakura bloom is, if you're averse to crowds, paying peak prices and booking at least a year in advance – you may want to reconsider spring for your Japanese venture. Prioritize what's most important to you and what will help you get the most out of your travels. If the sakura is on your bucket list, then, by all means, do it! Just plan ahead.
Japan's spring weather is overall pleasant but can be very capricious with rain and conditions that can vary greatly from one day to the next. Average temperatures range from 40 to 60° F.
Because of the unpredictable spring weather, you'll want to pack layering items you can easily remove or add as needed – t-shirts, light sweaters, long-sleeve shirts, blouses, along with versatile pants. A lightweight scarf and fashionable hat are perfect items for accessorizing and fending off drafts and chills. Be sure to pack your rain jacket and travel umbrella!
What Shoes to Pack for Japan
From its hip cities to its picturesque mountain villages, Japan is a country best explored by foot. This means you should definitely plan on packing shoes you can comfortably walk in a whole lot. There are great hiking trails in places like Komikochi, but if hiking isn't on your activity list, you should leave heavy hiking boots at home.
Besides comfort, you'll want shoes you can easily slip on and off. As we briefly mentioned, many Japanese establishments require you to remove your shoes before entering, especially in temples and ryokans. Slip-on walking shoes or runners with a cushioned sole are a good option for both men and women. If traveling in one of the rainier seasons, a waterproof version would be a good idea.
Because of Japan's fashion-forward style, we also recommend packing another lightweight shoe you can wear for dressing up a bit, like for nice dinners or a night out on the town. A pair of sandals for women and a pair of leather sneakers or loafers for men are versatile and will easily step up your look!
Also, important to note – don't wear flip flops as daily footwear! You can bring a pair for hostel showers, but you won't see any locals wearing flip flops walking around town – so we advise you not to either.
Females – What to Pack for Japan
Ladies, here are some special considerations for Japanese travel we'd like to point out as you prepare for packing!
For Fashion
You'll find Japan's eclectic fashion fascinating and be amazed at all the styles you'll see. It's always more fun to fit in and travel with a little flair of your own. Remember, showing too much skin isn't considered appropriate, but you have a ton of options for conservative flair. A wide-leg, short-sleeved black romper paired with a trendy layered necklace and bangle would be perfect for daytime and evening attire in warmer weather. For colder temperatures, you can't go wrong with a pair of skinny jeans, a dark sweater, and a chunky knit scarf. Comfortable can be chic!
Pack accessories that keep you safe!
Infinity scarves are chic and classy, but some even provide a hidden pocket to keep your valuables.
The Active Roots Zipper Scarf is your run-of-the-mill infinity scarf but with a hidden pocket that's big and sturdy enough for a night's cash, your phone, a passport and (hell with it) some snacks too!
For hygiene
Let's talk a little about "that time of the month" for women. Never fun to deal with when traveling, but it's something you should be prepared for nonetheless. Rest assured that, yes, Japan has feminine products, like tampons and sanitary napkins. However, be aware that the tampon selection is significantly less than pads, and unless you've studied up on some Japanese, deciphering the symbols for what's "light" or "heavy" may leave you uncertain about what you're buying. Our recommendation is to pack your own tampons. If you're traveling for a few months, you should consider a menstruation cup that's reusable – one is all you'll need.
Males – What to Pack for Japan
Here are some packing tips for you fellas out there that are planning to take on Japan!
For Fashion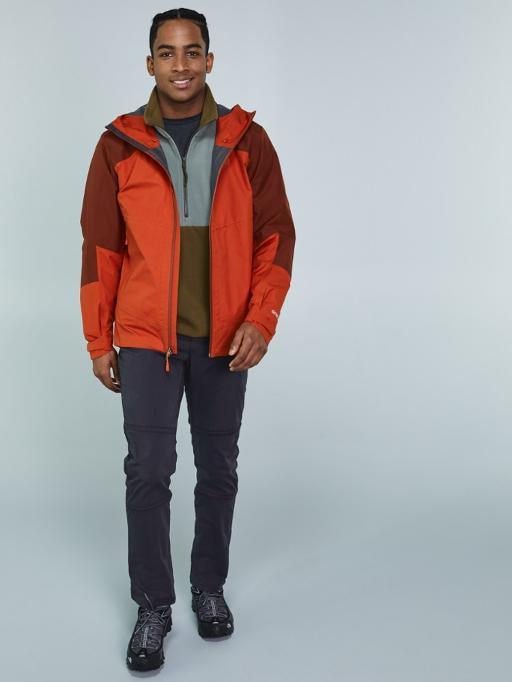 Just like you would for going out in Paris or New York, you'll want to style it up a bit for Tokyo and Kyoto. No need for a jacket and tie, but make sure you have a couple of key items that signal a modern and clean sense of fashion. A pair of dark chinos with a well-fitted button-down shirt under a v-neck sweater always makes for a classy look. For hot weather, a short-sleeve button-down shirt with pants and a nice pair of shoes will work just fine! Think function AND fashion.
For comfort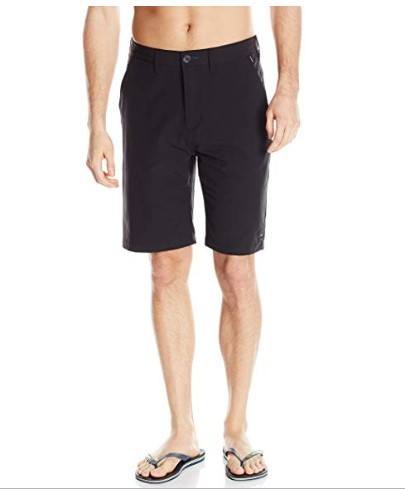 For hot weather, your natural inclination may be to wear shorts to stay comfortable. And, for Japan, that's acceptable. But make sure they're the right kind. Bright board shorts or long, baggy basketball shorts will make you stand out as a sloppy tourist and won't be looked upon favorably. Pack a pair of hybrid shorts – cargo-style shorts that are breathable and quick-dry – to keep you cool. A cut that's a bit longer and covers your thighs is the most appropriate choice. And remember – no flip flops for everyday sightseeing.
What NOT to Pack for Japan
Just as important as what to pack is knowing what to leave behind – let's go over what NOT to pack for Japan!
Don't bring a lot of cash. Being able to use a credit card isn't a problem anywhere in Japan. It's smarter and safer to use your card instead of carrying around a lot of cash that can get lost or stolen.
Don't pack too many electronics. It's easy to get caught up in staying connected and stuffing your bag with cables, plugs, and chargers. If it's not essential, like your mobile phone and maybe a laptop or e-reader, let your pile of electronics wait for you at home.
Don't pack too many clothes. Of course, you want your essentials, but don't pack so much that you don't have room to bring stuff back. Japan has lots of unique shopping opportunities, so take advantage of the cool items you can buy there!
Starting to think about what you're going to do in Japan? Plan your trip

backpacking in Japan

using our complete insider's guide, which is complete with tips, tricks, itineraries, and then some!
The Best Backpack to Pack for Japan
If you're still wondering why the Nomatic Travel Bag is our top pick for the best backpack to pack for Japan, let us explain in some more detail:
We've come across a lot of backpacking packs, and the Nomatic Travel Bag is the smartest-designed and most multi-functional one we've seen so far. It's equipped with so many pockets and compartments that help every traveler reach their maximum packing potential. Don't worry about squeezing your water bottle next to your laptop – there are separate pockets for both of those! No need to create extra space for your shoes – there's a special compartment for those too! There's even an RFID and security pocket for added protection.
You'll appreciate that the Nomatic is made of durable, waterproof material – should you get stuck in Japan's rain. The fact that it also looks sleek and stylish is a nice bonus too!
If there's an occasion where carrying your bag duffel-style is more convenient, you're in luck! The Nomatic Travel Bag's innovative strap system lets you choose between duffel and backpack portability. It's also got awesome chest and sternum straps you can attach for maximum comfort – your back will be grateful!
Didn't we tell you this bag was smart?
Final Thoughts on What to Pack for Japan
You should be super excited about your Japanese adventure now that you're equipped with all you need to know about what to pack for Japan – and we're excited for you! If you feel overwhelmed – just breathe – and refer to our 22-needs packing checklist and our tips on what to wear and pack by the season you choose to travel.
Just keep the packing light and culturally appropriate, and you're set. Add a touch of style wherever possible to fit in and integrate as much as possible into Japan's rich and unique culture. Take advantage of all the country has to offer by taking time to get to know locals and blending in with their norms. And, surely, be prepared and stay safe for any situation.
And that's it! The rest is a piece of cake. Now get out there and enjoy it!
Also – don't forget to sort your travel insurance! We've put together a roundup of the best travel insurance for backpackers, or if you're low on time, get a quote from World Nomads now, our favourite travel insurance provider.
Yay for transparency! Some of the links in this post are affiliate links. This means that if you book your accommodation through the site, The Broke Backpacker will earn a small commission at no extra cost to you. Your support helps me keep the site going.
---
Need More Inspiration?
Like this post? PIN ME!!!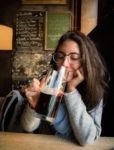 Writer and Editor, Ana Pereira is a California native, inspired by Earth exploration and introspection. Recently, she spent several months exploring Africa and South Asia. She spends most of her "down-time" out in the wilderness, climbing, hiking, and beyond, and is feverishly passionate about travel and health.