His hair was tangled and wild, his eyes piercing. "Get in", he gestured to a bright pink Land Rover. I threw my pack in the back and climbed in, my friends followed suit. Ghassab, our Couchsurfing host, got in next to me. He turned to look at me with cool eyes, he seemed to be assessing me.
"Why are you here?" he asked.
"I want to meet your goats." 
It was the right answer, he smiled at me, gunned the engine and we jolted along the potholed road. We passed through the small town clinging to the outside of Petra's National Park and headed into the desert.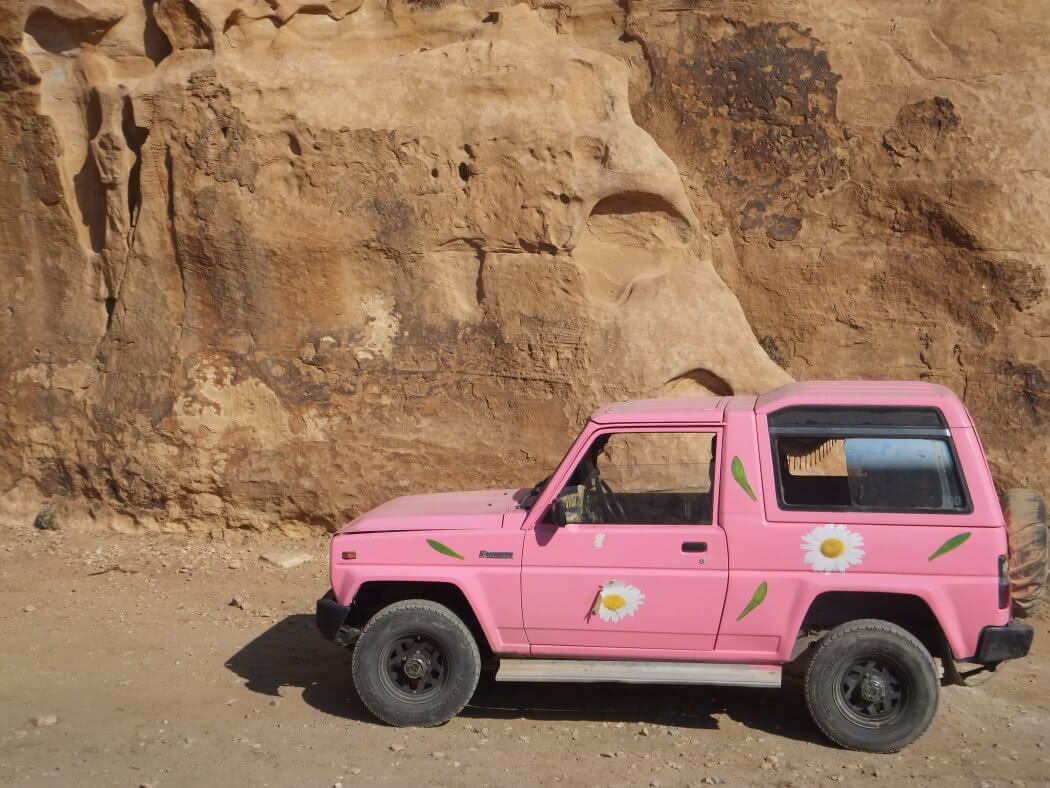 We crossed a dry river bed, bumped past towering rock formations and followed an ever fainter track into the horizon. We must have been driving for nearly an hour before Ghassab suddenly made a sharp right and left the trail altogether. We stopped in front of a huge pinnacle of rock, I could see a small tent nearby and something glinting, perhaps a pan, in the sun. We hopped down from the Land Rover and Ghassab walked over to me, beaming. He seemed excited.
"I am very happy you have come, welcome to my cave".
He stepped back and pointed with an outstretched hand. Fifty meters away from us was a large lump of rock, it was perhaps ten meters by eight meters. I could make out stairs, an entrance and nearby, a small enclosure made off stacked stones.
"There is no time to loose, we must gather firewood".
We dumped our packs by the door of Ghassab's stone home and headed into the mountains armed with a sledgehammer and a piece of iron to help split the wood. We spent the next two hours clambering over rocks, hiking through gullies of red sandstone and scrambling up loose piles of scree. We found some huge dry logs and as a team managed to haul them to the cliff's edge, we hurled them over and watched them smash to pieces below. Later, we climbed down and dragged the wood to Ghassab's fire pit.
Darkness came and we settled around Ghassab's fire whilst he cooked tender skewers of meat. He passed me a joint and told me he considered himself to be a Rastafarian Bedouin. Inside his starkly furnished cave, a poster of Bob Marley looked down at me as I admired Ghassab's collection of trinkets, presents from his past Couchsurfers.
I dragged a mattress up the stairs hacked into the outside of the cave and lay on top of the roof, the stars above me twinkled brightly. The entire valley had turned a deep red as the sun had set and now I could just make out the looming rock faces and twisted formations in the starlight. Surfing with Ghassab, sleeping atop his cave and exploring the ruins of Petra was to be one of the most unforgettable Couchsurfing experiences I ever had…
All About Couchsurfing
Couchsurfing is a global online community for backpackers, expats, students, families and just about everybody! The basic idea is to get free accommodation all over the world but it goes deeper than that, ultimately couchsurfing is an exchange of ideas and cultures. When somebody hosts you they often show you parts of their country you would never otherwise find. Couchsurfing is free to join and surfers do not pay hosts however most surfers will make their host dinner or buy them a drink where possible. There are good couchsurfing reviews and bad couchsurfing reviews plastered all over the internet, I recommend joining up to discover this amazing community for yourself.

Do You Want to Travel FOREVER??
Pop your email in below to get a FREE copy of 'How to Travel the World on $10 a Day!'.
How Do I join Couchsurfing?
Simple, just go to Couchsurfing and make a profile. When filling in your profile try to make it as complete as possible and include a couple of pictures, if you have any friends on couchsurfing already make sure to add them and write them a reference so they can write you a reference back. Couchsurfing relies on a reference system to keep surfers safe so if someone has negative references you should think twice about staying with them.
How Do I Find a Host?
Once you have built a profile you can then search for a host – click on 'Surf' and type in the name of where you are visiting, e.g London. A list of available hosts will pop up, you can then sort them, I suggest sorting by experience. You can then click on a host's profile, see if you like them, and send a couch-request.
Couchsurfing Groups
The couchsurfing groups are a fantastic way of finding reliable information on pretty much anything travel related, simply type in whatever it is you are interested in, for example, India, and there are a whole load of groups to join with relevant information. The groups are also an excellent way to find travel buddies as each country or region normally has a group dedicated to helping backpackers meet up and travel together. You must join a group before you can post.
As a new surfer with only one or two references, you may find it hard to get a host. When you send a couch-request there is an option to 'make this an open request' which means that other hosts in the area will be able to see you are looking for somewhere to stay and contact you directly – you can then check out their profiles and choose whether to stay with them. Ultimately couchsurfing is an exchange of ideas and you are much more likely to get a positive response from potential hosts if your request is personal – read their profile, do you share any interests? Will you offer to make them dinner or teach them a new skill? If a host responds, make sure to respond back. You are more likely to find a host if you have hosted – a lot of people use couchsurfing to find free accommodation for a holiday but then never repay the community by hosting, don't be one of these people.
Is Couchsurfing Safe?
If a host has negative or neutral references make sure to read them, it is often not wise to stay with these people. A very small amount of hosts are involved in the project for the wrong reasons; luring western women to their house in the hope of sex (India and Morocco mostly) trying to sell the surfer tour packages or 'collecting' surfers instead of getting a social life. I have had three bad experiences (none of them terrible) and over one hundred good ones. If someone is 'vouched' for they are much more likely to be trustworthy. The best way to get an idea about someone is to read their references. Never let hosts take money from you and if a host does anything inappropriate just leave, if necessary contact the police and also contact the couchsurfing admin as they will shut down the host's account. Couchsurfing is vastly safer if you are not by yourself, like hitchhiking it makes sense to travel with a friend or try to find a travel buddy.
So, Should I Go For It?
Yes! Couchsurfing offers an amazing community which will help you have experiences you would never normally have had. Many of my backpacking highlights were only made possible through people welcoming me into their homes and showing me around. Through couchsurfing I have discovered underground bars in Romania, been treated at a five star restaurant in Mumbai, kayaked with dolphins, sampled the finest Japanese sushi, been welcomed into an exclusive Samurai training school, slept under the stars on top of a Bedouin cave overlooking Petra and made some amazing friends! Couchsurfing is an incredible way to tap into an amazing community of fellow adventurers…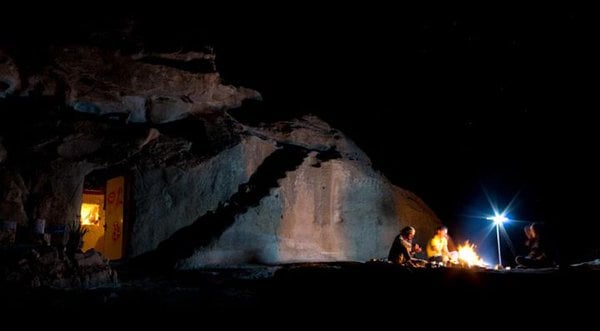 So, what are you waiting for, sign up to Couchsurfing!
---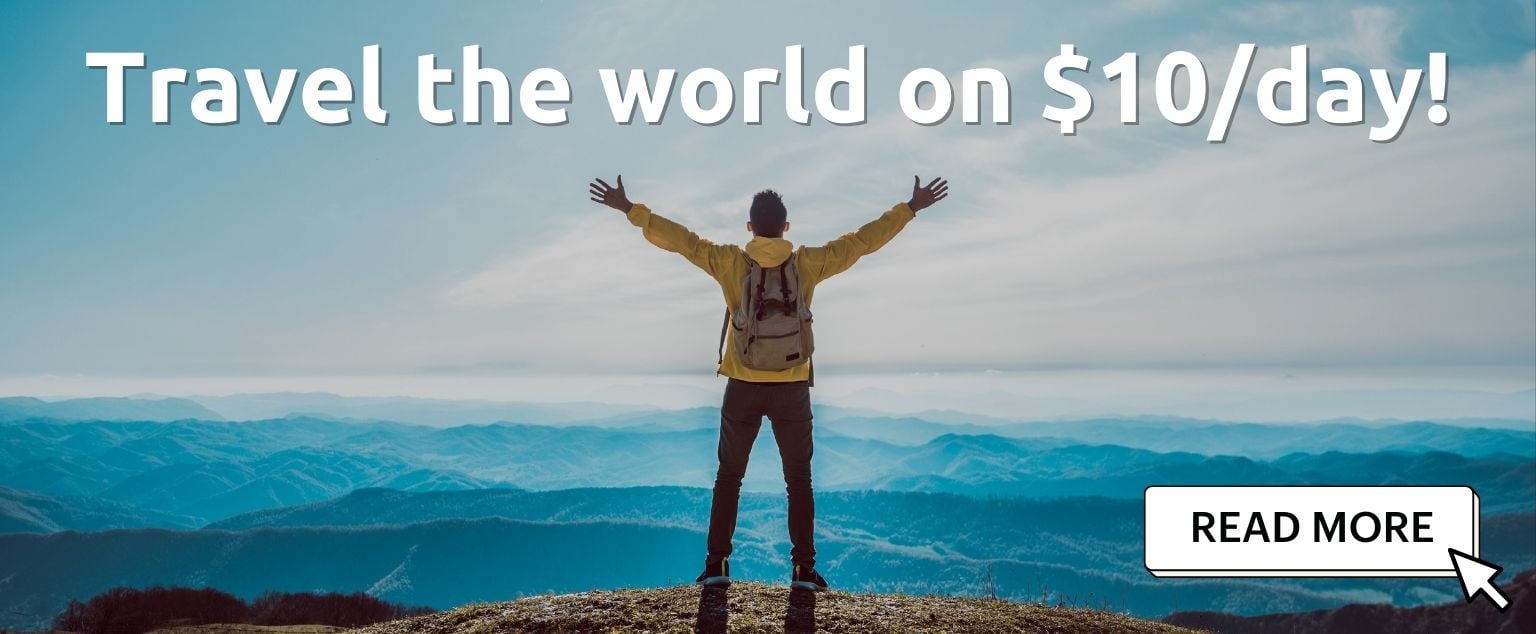 And for transparency's sake, please know that some of the links in our content are affiliate links. That means that if you book your accommodation, buy your gear, or sort your insurance through our link, we earn a small commission (at no extra cost to you). That said, we only link to the gear we trust and never recommend services we don't believe are up to scratch. Again, thank you!