Backpacking Lebanon is a truly amazing experience on many levels. If you love history, you are a fan of delicious food and get excited by getting off the beaten path travel destinations, then Lebanon is the perfect country for the ultimate adventure.
The Middle East has no shortage of compelling countries to visit. For experienced backpackers, perhaps no country in the region is more safe, interesting, and fun to visit than Lebanon.
The best part? Lebanon is a small country and you can see most of it in a relatively short period of time. Plus, Lebanon is nearly void of any main-stream tourism and the possibilities to explore it are endless.
Whilst backpacking in Lebanon is ultra rewarding, traveling here is not without its challenges and quirks. This Lebanon travel guide will bring you up to speed on all of the need-to-know information you will want to have a truly epic backpacking trip.
Below, I provide honest advice on where to go backpacking in Lebanon, backpacker accommodation, suggested Lebanon itineraries, top things to do in Lebanon, how to travel the country, daily travel costs, best hikes, Lebanon budget travel hacks, and other important bits and pieces.
Can you taste the hummus and manoushe yet? Let's get to it…
Where to Go Backpacking in Lebanon
Lebanon is defined by two distinct topographies: the Mediterranean sea and the interior mountain ranges. You may be surprised to learn that Lebanon does not have any deserts. Depending on where you are at any given moment, the landscapes, food, culture, and people can vary greatly across the board.
Almost certainly, you will start your backpacking journey in the capital Beirut. From Beirut, the coastal cities to the north or south are dotted with interesting UNESCO World Heritage sites, beaches, and towns to explore. Besides Beirut, Tyre, Saidia, and Tripoli are the main urban centers along Lebanon's coast.
The Bekaa Valley, Lebanon's famous wine growing region, is home to the largest and best-preserved Roman temple in the world at Baalbek.
For outdoor adventures, Lebanon's mountains are prime for hiking, photography, and simply experiencing a bit of chill time after the traffic and pollution found on the coast.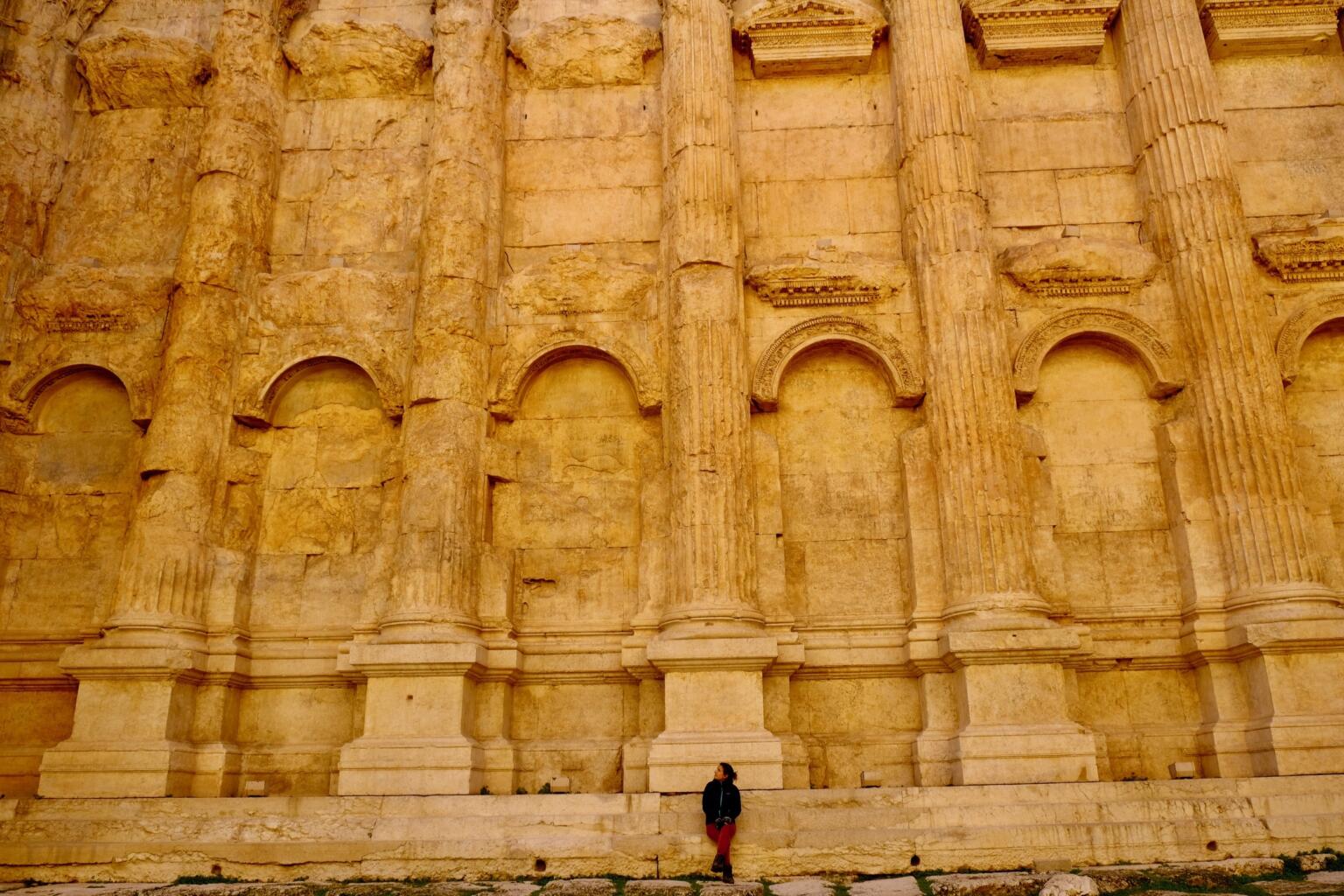 The Chouf Reserve, the Cedars of God, and the Baatara Gorge are among Lebanon's most impressive natural areas.
Sprinkled in-between the villages in the mountains are some truly beautiful monasteries, rivers, forts, and ruins.
Remember that one can drive from the southern tip of Lebanon to the northern frontier in less than half a day. There really is a ton of awesome places to explore in a concentrated area. Backpackers can achieve an ideal balance of visiting ruins, soaking in the culture, eating tasty food, hanging out at the beach, and hiking—all over the course of just a day or two.
Lebanon certainly has something for every keen backpacker. Now, let us take a look at some of your itinerary options for your epic Lebanon trip…
Best Travel Itineraries for Backpacking Lebanon
Below I have provided a few Lebanon travel itineraries to help you make the most of your time in the country.
These routes are just suggestions based on the itineraries I utilized during my time spent backpacking Lebanon. Each of these routes can be customized or reworked to fit your interests and schedule.
#1 Lebanon 7 Day Itinerary: Highlights of Lebanon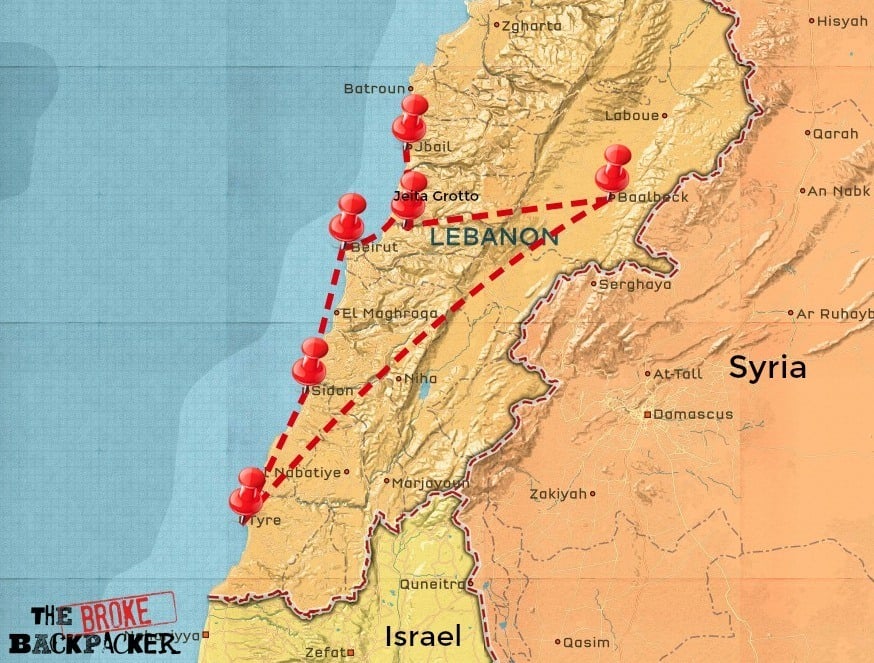 Normally, 7 days is not enough time to explore a country, but Lebanon is a special case due to its small size. Whilst ideally you would have more than a week in Lebanon, you can certainly cover a ton of ground in only 7 days.
To maximize what you can do and see in 7 days, I recommend renting a car in Beirut upon arrival.
One Week in Lebanon: Highlights of Lebanon
To start your trip, you should dedicate at least one full day to exploring Beirut. You can easily spend two or three days in Beirut, but because of time limitations, one full day will have to do.
From Beirut, you can head south and explore Saida and Tyre. Spending the night in each city is well worth it, especially in Saida as it is bigger than Tyre.
From Tyre, you can make the drive/take buses to the Bekaa Valley. In the town of Baalbek, you will find the most incredible Roman ruins I have ever seen. Because of the distance between Tyre and Baalbek, you should opt to stay the night in Baalbek.
Your last few days can be split between Byblos and Beirut. From Byblos, you can easily make day trips to check out the truly spectacular Jeita Grotto and Baatara Gorge (home to the famous 200-meter waterfall).
The distances between all of these places are never more than a couple of hours, more, however, if you are using public transportation. If you don't want so much go-go-go and nightly accommodation changes, you can base yourself in Beirut, Saida, and/or Byblos and just day trip from there.
#2 Lebanon 10 Day Itinerary: From South to North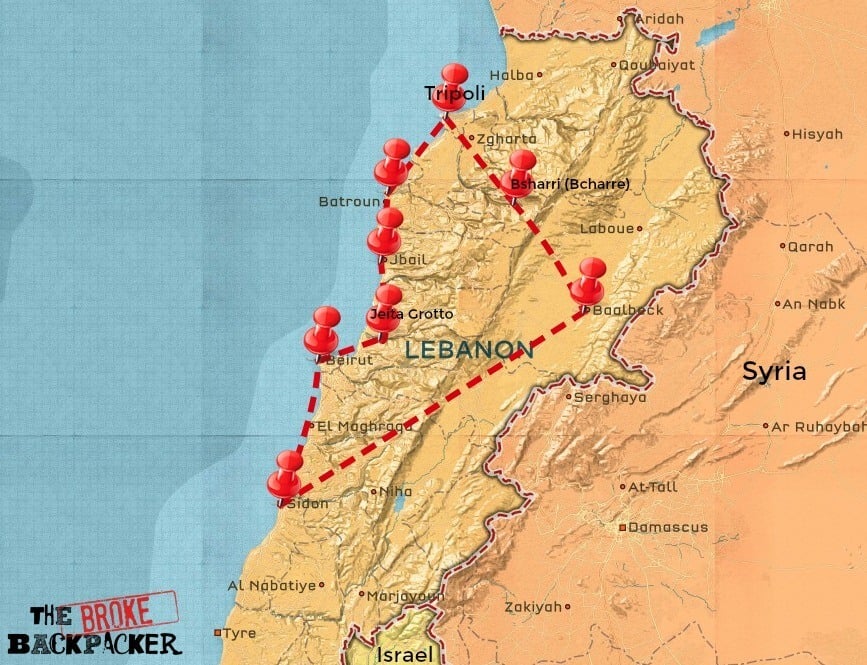 With a few extra days in your itinerary, you can easily make it all the way up to Tripoli and/or spend some extra time exploring the mountains/Kadisha Valley.
Likewise, if you just want to explore the south coast and the mountains without seeing Tripoli, you can do that too.
If you do NOT plan on renting a car (using public transport), I imagine that the 7-day itinerary outlined above would be more realistic and comfortable when done over the course of 10 days.
10 Days in Lebanon: From South to North
So what is worth seeing in Lebanon with a few extra days? The short answer: LOTS. Tripoli in the north of Lebanon is an interesting city to visit, though I must say that Tripoli is not for everyone…
On one hand, Tripoli is loaded with ancient mosques, an impressive hilltop castle, great food, and a diverse population. On the other, it is a very chaotic city: polluted, noisy, and massive. I personally like discovering chaotic Middle Eastern cities… but in small doses.
The drive from Beirut to Tripoli does not have to be done in one shot. Spend the night in Byblos and/or Batroun and save only one full day for Tripoli.
Rather than head to Tripoli, an alternative option is to spend more time discovering Lebanon's interior. The Chouf Reserve and Cedars of God are gorgeous and prime destinations for hiking and camping (camping in non-winter months only).
#3 Lebanon 2 Week Itinerary: Cities, Coast, Mountains, and Ruins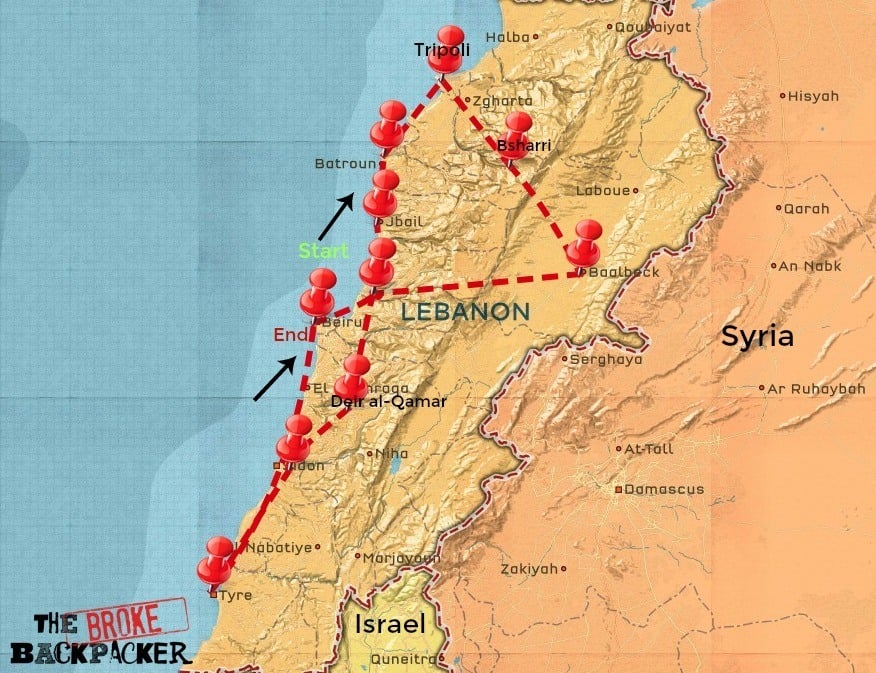 With two weeks in Lebanon, you can experience a vast majority of the interesting places in the country. Without a rental car, seeing the whole country will be challenging because the public transportation system is confusing, slow, and generally disorganized.
A two-week backpacking trip in Lebanon can be as fast-paced or relaxing as you want it to be since you have time to work with.
2 Weeks in Lebanon: Cities, Coast, Mountains, and Ruins
Instead of starting your journey in the south, head north of Beirut. Stop off at Byblos, Batroun, and Tripoli, before making the drive inland to Bcharre. I recommend staying in Bcharre for at least two nights.
In the winter, Bcharre almost looks like a town you might find somewhere in the Alps. There are lots of cool monasteries and hikes to go on in and around Bcharre.
Depending on road conditions, you can access the Bekaa Valley via a mountain road that passes by the Cedars of God reserve. Note: in the winter (or after the first big snow), crossing from Bcharre to the Bekaa Valley is impossible. The road is buried under snow.
Again, depending on road conditions, you can head towards the Baatara Gorge depending on road conditions. Another fine town for a stopover is Deir El Qamar—probably the most beautiful Lebanese town I visited.
You can finish your Lebanese adventure down south in Saida and Tyre before circling back to Beirut.
#4 Lebanon 1 Month Itinerary: The Whole Damn Thing!
For most passport holders, a visa on arrival will get you a 30-day limit to stay in Lebanon. If you choose to stay for the entire 30 days, good on you!
So what to do with all of your time? Well, in addition to seeing the entire country you can certainly spend more time in each individual place.
Since accommodation in Lebanon is not super cheap, bring your own camping gear and/or considering volunteering. More on camping and volunteering in Lebanon later in the post.
One Month in Lebanon: The Whole Damn Thing!
If you tackle a custom version of my two-week itinerary outlined above, you can really experience just about everything Lebanon has to offer backpackers.
Also, with a month (or more) to play with, you don't really need to rent a car as you will not be in any rush. My advice is to spend as much time as you can in southern Lebanon as well as in the mountains.
The coast north of Beirut is nice enough, but one night is sufficient in most places.
Another fine option is to dedicate 1-2 weeks to hiking on the Lebanese Mountain Trail—a long distance hiking path that traverses Lebanon from south to north.
Because Lebanon is such a small country to traverse and plenty of amazing corners to explore, one month in Lebanon is bound to be one hell of an adventurous experience.
Places to Visit in Lebanon
From the sea to the mountains, Lebanon is loaded with awesome places to explore. Save for a few pockets near the Syrian and Israeli borders, there really are not many "no go" places in Lebanon.
Beirut is the undisputed social, political, and commercial artery of the country. It's all happening in Beirut.
It should be known that since the civil war in Lebanon ended (and long before it started as well), the country has been divided (unofficially) into Christian areas and Muslim areas, with crossover from both groups present in many regions as well.
Southern Lebanon and the Bekaa Valley are now Muslim majority, where in places groups like Hezbollah have a die-hard following. Tripoli in the north is also a Muslim majority.
The central hill country overlooking the coast is majority Christian. In fact, since most, if not all, of the Christians formerly living in the south fled during the war and resettled in the central hills and coast, there has been an insane development explosion in this part of the country.
All of that said, the treatment of backpackers does not change in the slightest from one region to another.
Some of the most magical places in Lebanon are products of its rich historical legacy. Its ancient forests and cedar groves, seaside fortresses, archaic churches, mosques, monasteries, and old souks all come together to compliment and highlight the diversity of the country.
Let's take a look at some of the top places to visit in Lebanon…
Backpacking Beirut
The Lebanese capital of Beirut suffered a HUGE amount of devastation during the Lebanese Civil War and is just now beginning to resemble how it looked pre-war… in places.
As I said, Beirut is Lebanon's cultural, political, nightlife, and commercial center. Because of that fact, Beirut offers a taste of Middle Eastern-flavored cosmopolitan life. I have heard Beirut referred to as the "Paris of the Middle East." I dug deep, but nowhere in my imagination could I find the link between the two cities.
That said, I really enjoyed my time in Beirut! Some of the top places to check out in Beirut include:
Hamra neighborhood: Hipster, university-vibes, good live music.
Mar Michael: Another hipster enclave lined with nice bars, restaurants, and shisha spots.
Mohammad Al-Amin Mosque: Massive mosque dominating an entire city block. Close to downtown. The army dudes out front told me that non-muslims could enter after prayer time for photo ops.
Raouche: Rock formation in the sea. You can wander around on the bluffs just opposite it for good views.
Souk el Tayeb: One of the few organic/local food product markets in Beirut.
Vieux Quartier de Gemmayzeh: the best place to see typical pre-war Lebanese architecture.
City Center: Full of boutique shopping and high-end cafes. Not really a backpacker scene but worth a walk through, considering all of the restoration work that has happened here.
Abandoned building exploration: There are endless dilapidated, war-ravaged buildings still standing in Beirut. Some are quite interesting to explore. Be careful though!
Old Holiday Inn: Once the largest hotel in Beirut, the Old Holiday Inn became a symbol of the Lebanese Civil War. Its heavily bombed skeleton still stands near downtown Beirut today.
My favorite place to eat meze in Beirut was at Cafe Em Nazieh. Great vibes/food, good shisha, and all around beautiful space to grab a drink and chill.
Book Your Beirut Hostel Here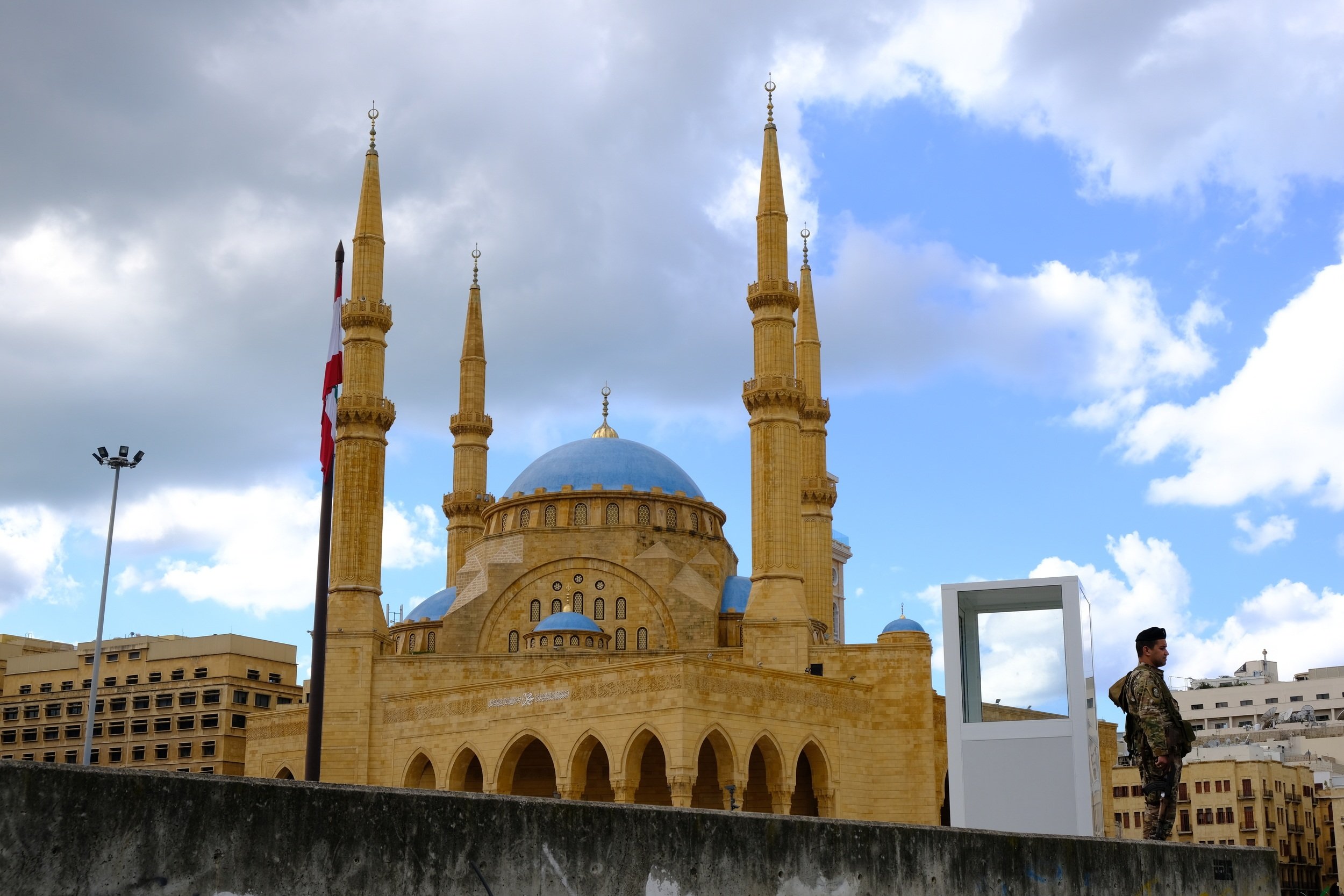 Backpacking Jounieh
If you are passing through, Jounieh warrants a few hours of your time. Check out the old town streets, shops, and cool architecture of some of the ruins. Jounieh is also famous for being an epic paragliding destination if that is of interest to you.
A few minutes drive from Jounieh will bring you to the town of Harrisa (not the spice FYI). From here, you can catch some pretty stunning views of the sea (if the pollution isn't too bad) stretching all the way to Beirut and north to the mountains. The Greek Orthodox church in Harrisa has some very impressive mosaic work covering the walls.
If you have even more time, the trip into the mountains from Harrisa to the Saint Charbel Monastery is well worth it.
Book Your Jounieh Hostel Here
Backpacking Byblos/ Jbeil
Byblos (or Jbeil depending on who you ask) is one of the oldest continuously inhabited cities in the world. Archaeologists have found evidence of a permanent human settlement here dating back to 8800 BC!
Byblos has a very attractive, albeit a bit touristy, old town with souks, nice cafes with terraces, and plenty of spots to grab a bite.
Be sure to check out the Crusaders Castle, built in the 12th century. Entrance to the castle is 8000 LBP. The complex also features Roman columns and Phoenician ruins.
Unlike other historical sites in Lebanon, I was pleased to see a huge team of workers doing restoration on the castle and other sites within the complex. The entrance fees are actually doing what they are supposed to do, hurray! The Rock restaurant is an excellent place to grab a huge meze feast.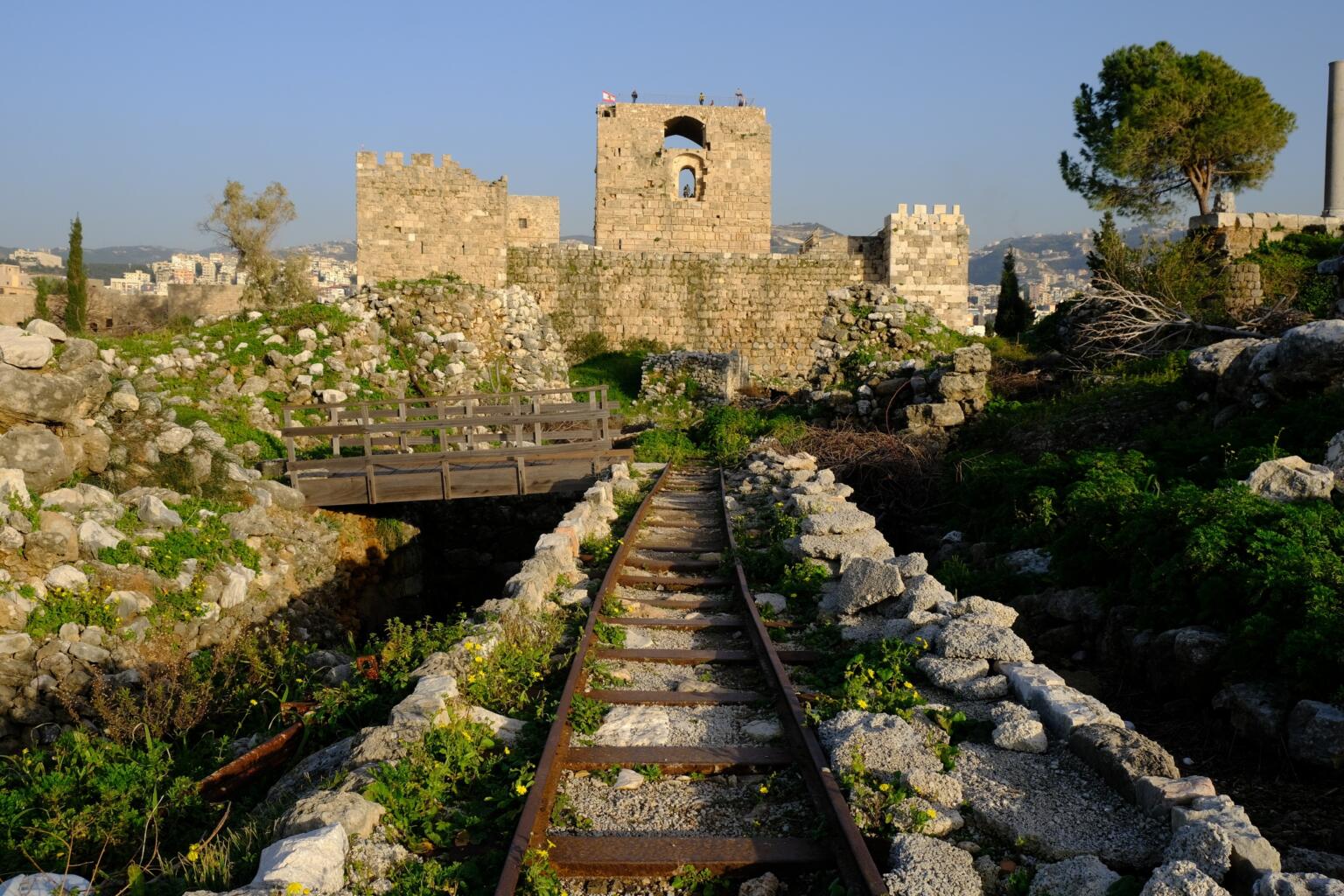 Backpacking the Jeita Grotto
A recent contestant to join the "Wonders of the World" list, the Jeita Grotto is the most impressive natural phenomena in Lebanon and perhaps in the entire Middle East.
The Jeita Grotto is a system of two separate, but interconnected karstic limestone caves spanning an overall length of nearly 9 kilometers! The caves are situated in the Nahr al-Kalb valley within the locality of Jeita, less than 20 km from Beirut.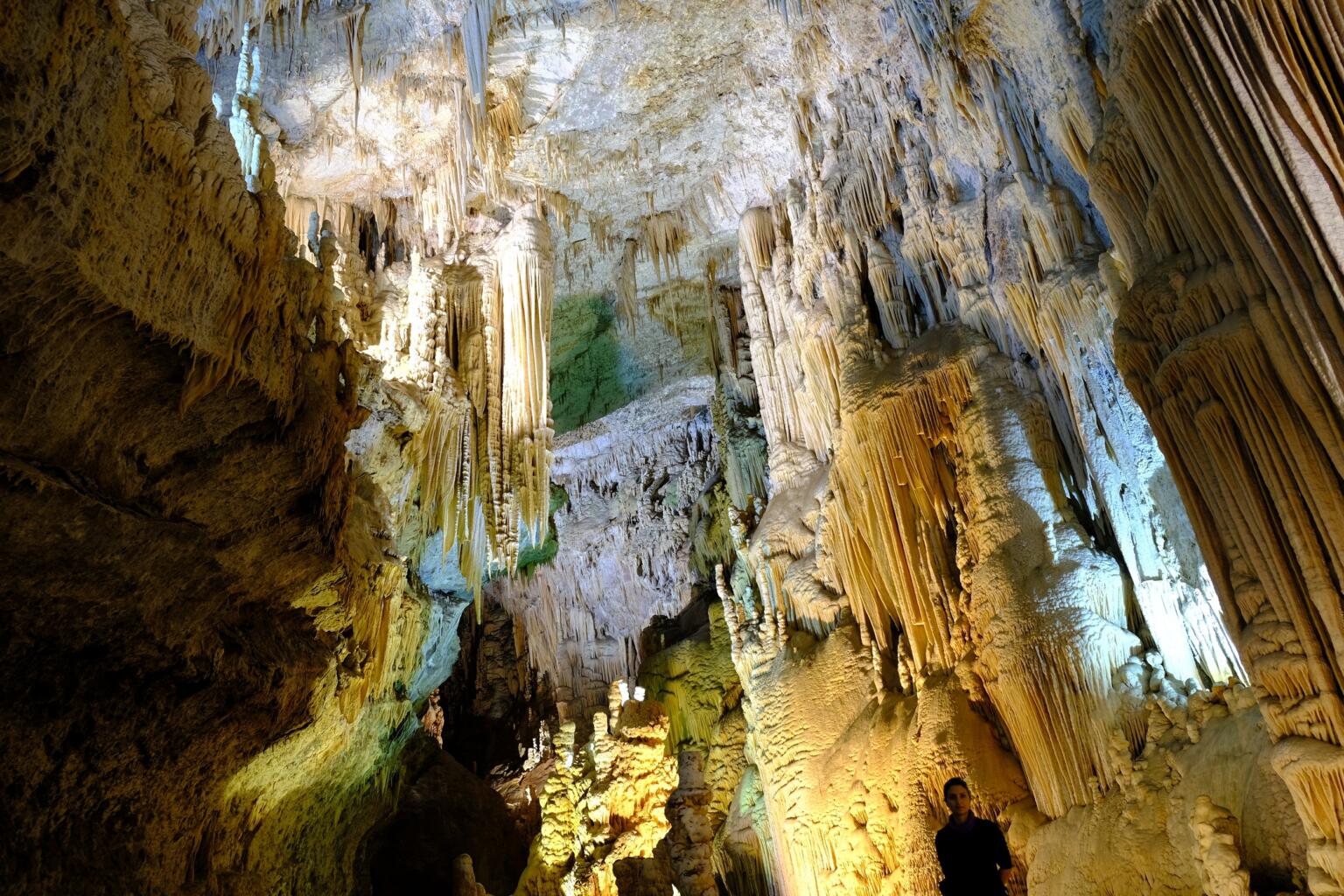 Entrance to the Jeita Grotto is $12 USD. Admission includes a cable car ride and a short boat journey within the lower cave section.
Note: in the winter or after periods of heavy rain, the lower grotto may be closed. When it rains heavily or there is lots of snowmelt, the lower cave gets totally flooded and becomes inaccessible.
Honestly, pictures of the Jeita Grotto do not fully prepare you for how spectacular and massive the inside of the cave is. Some of the biggest stalactite formations in the world are found inside the Jeita Grotto.
It took millions of years for this cave to form. Obviously, avoid touching the rock, littering, or doing anything that may disrupt the fragile ecosystem of the cave. Photography is forbidden in the cave and this rule is enforced by the dudes stationed every 50 meters on the footpath.
Big thanks to Miss Pierrette and Dr. Haddad for granting special photography access to me for this article.
Backpacking Batroun
Batroun is another fine coastal town north of Byblos. I found Batroun to be the most attractive, clean, medium-sized coastal town north of Beirut.
You can dedicate a day to walking around Batroun without boredom. Like Byblos, Batroun is an ancient city that has been occupied for thousands of years by various groups.
The old port area is still an active fishing port where you will find the locals grilling their fresh catch, preparing the nets, and just generally chilling out by their boats when not out at sea.
Located just next to the port is the Saint Georges Cathedral. Be sure to walk out a bit north of the port area to see the old Phonecian sea walls.
Also worth a look is the Diaspora Square which has various buildings paying tribute the Lebanese diaspora living abroad.
Batroun does have an(if the pollution isn't too bad) Old Souk area as well, but it is rather small and underwhelming.
Ray's Cafe is an excellent place to grab lunch or a coffee with sea views. For grilled fish at a decent price, hit up Chez Maggi (roughly 50 meters from Ray's).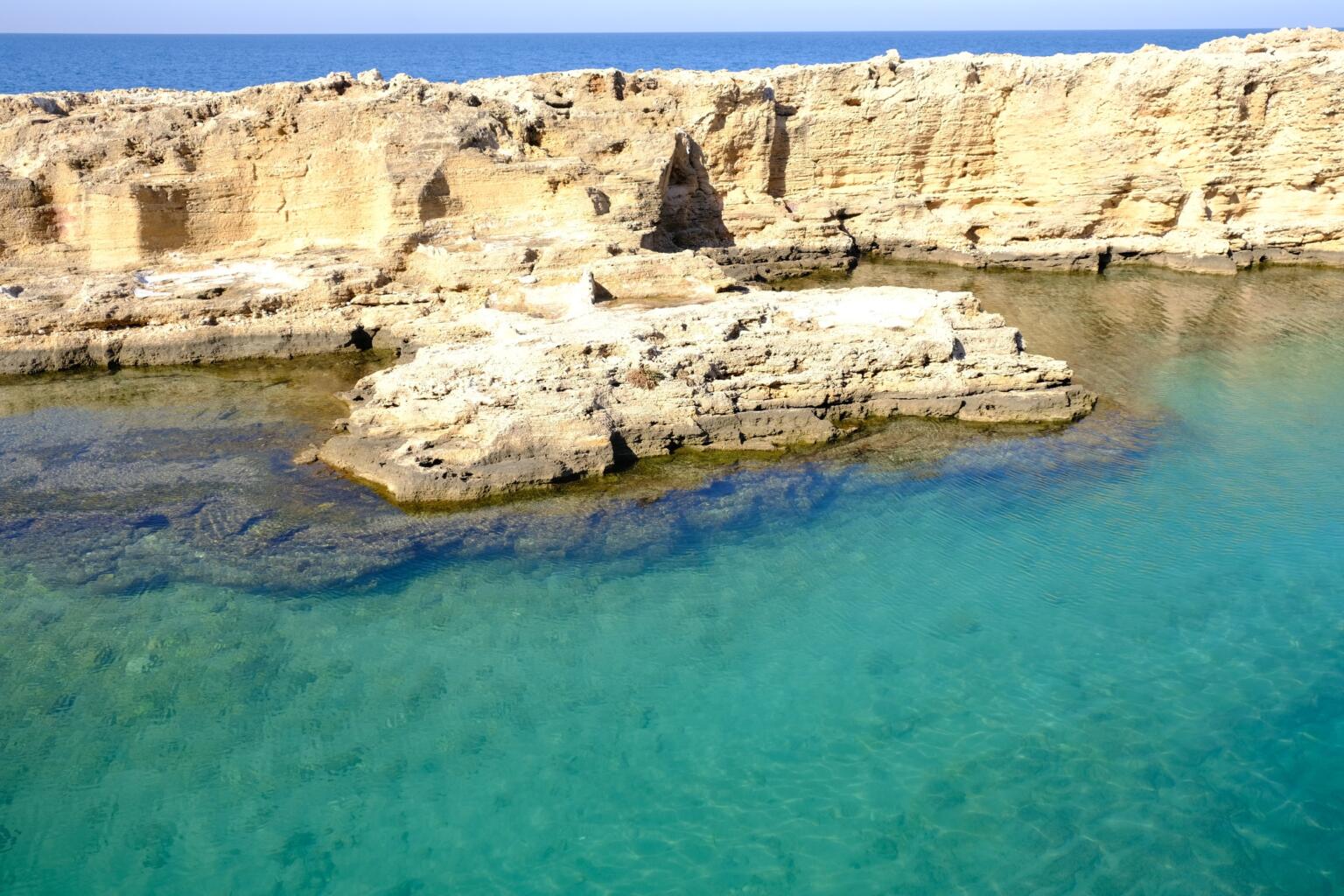 Backpacking Tripoli
Lebanon's second biggest city could not have more of a different vibe than Beirut. Tripoli is indeed a full-on sensory experience of a different variety.
In my opinion, you can see what Tripoli has to offer in just one day, but if you do find yourself in Lebanon's north, it would be a shame to miss out on Tripoli.
Though Tripoli might have horrible traffic jams that rival Beirut, a serious pollution problem, dirty streets, and, a large impoverished population, Tripoli also offers amazing street food, a really cool Old Souk area, and plenty of medieval mosques, forts, and churches to dazzle your historical fancy.
While it is true that Tripoli has a reputation for being one of the more dangerous cities in Lebanon, the violence Tripoli has experienced in recent years has died down considerably.
Likewise, the sporadic clashes between rebels and government forces that took place a number of years ago happened well outside of the city center.
If you just stick to the center, the old souk area, and the coast, there is pretty much zero risk of encountering any issues unless you happen to be very unlucky. Certainly, don't skip Tripoli because you have heard it is unsafe.
Tripoli is massive so taking a taxi is certainly the way to go if you are trying to get across town. A taxi across the city should cost no more than 4000 LBP.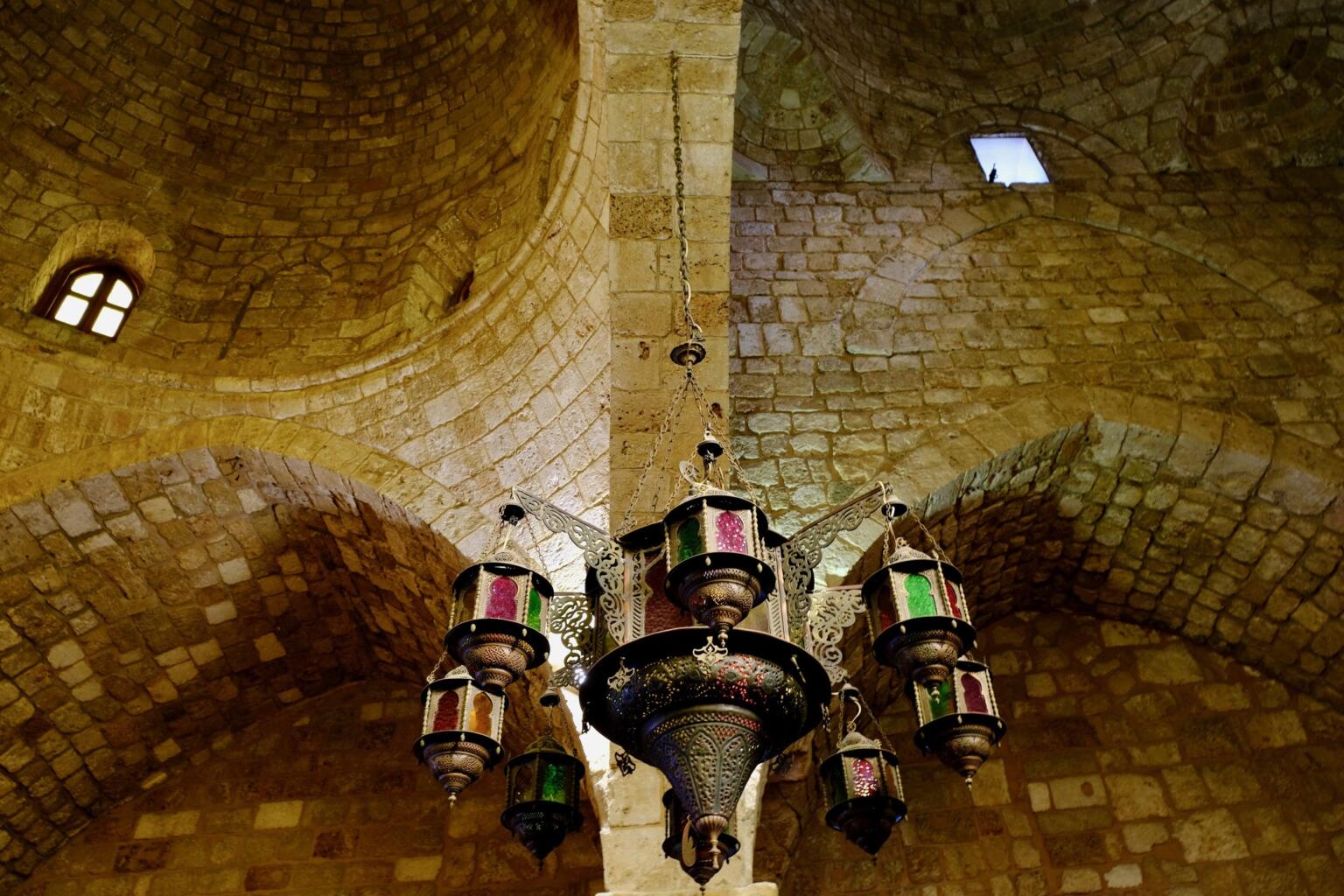 Top Places to Visit in Tripoli:
Citadel of Raymond de Saint-Gilles/Tripoli Castle: This hilltop fort was finished in 1103 and is in great condition despit the repeated attacks and seizures it has endured.
Old Souk: One of the biggest and most diverse souks (markets) I visited in Lebanon. You can find literally anything here. Be sure to haggle when buying stuff!
Taynal Mosque: A beautiful mosque built in 1336. Photography is allowed inside. Remember to always remove your shoes when entering a mosque.
Mansouri Great Mosque: One of the oldest and most important mosques in Lebanon.
El Mina: The somewhat unattractive port area.
Akra Restaurant: Good meze found near the entrance of the Old Souk. The menu is only in Arabic FYI.

Backpacking Akkar
If you like to hike, the natural areas around Akkar are some of the best in the whole north. You can even hike to old forts and water mills located way out in the bush.
Some of the footpaths can be confusing, so it may be worthwhile to "hire" a local kid to show you the way.
Akkar is home to a staggering number of Syrian and Palestinian refugees, so expect to see camps spread throughout the territory.
The Qamouaa Plain is not in Akkar, but rather a few hours drive to the southeast. In the Qamouaa, you can find some equally chill hiking opportunities even in the winter.
Note: Large amounts of snow can be present in the winter. If planning a trek keep in mind that you will likely encounter snow above 1400 meters.
You can tackle a short hike in the Qamouaa Forest just 10 minutes outside of the settlement of Fnaidek.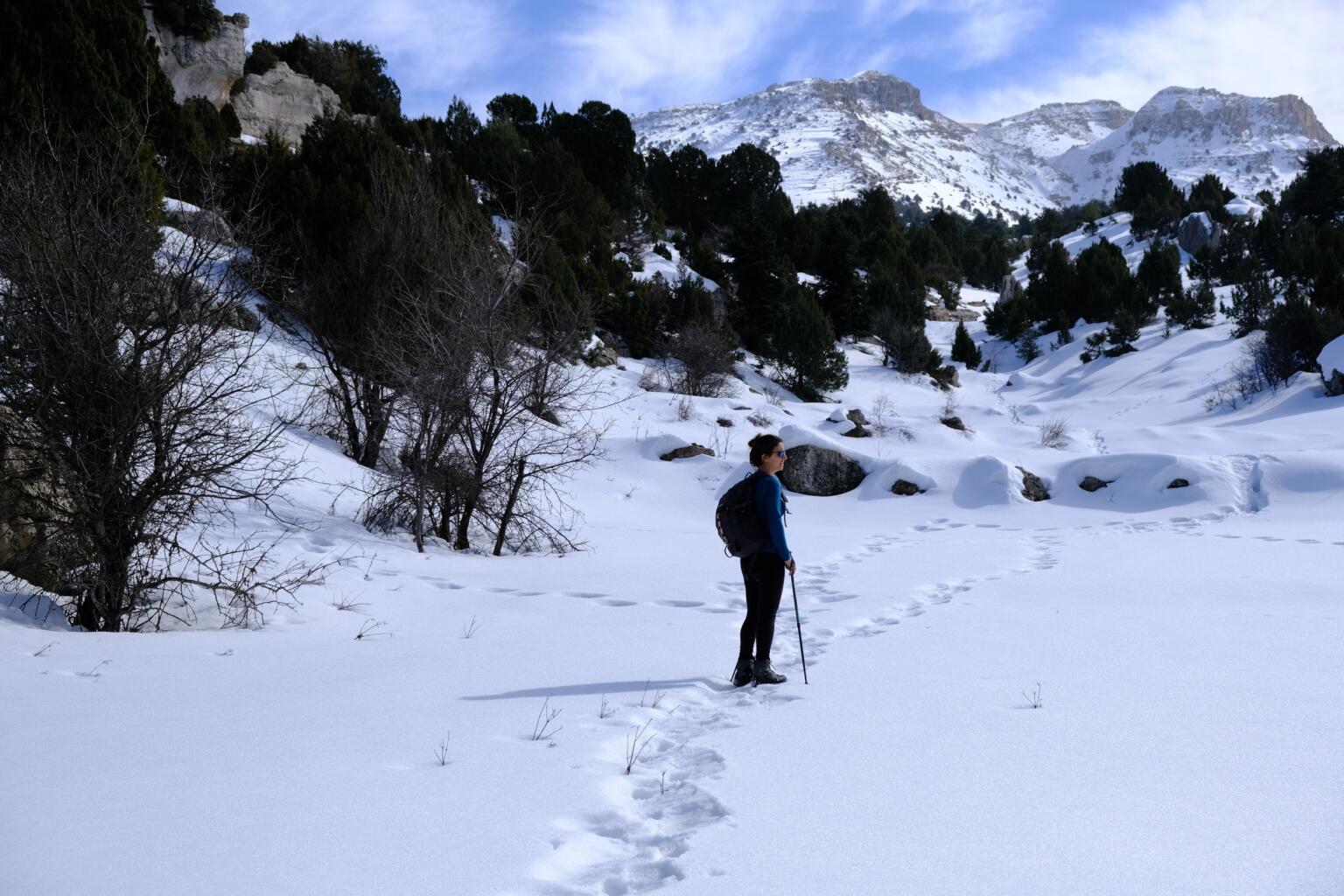 Backpacking Bcharre
Bcharre is one of my favorite places in Lebanon for several reasons. For one, the town is located just above the Kadisha Valley—one of the most historically and naturally significant valleys in the country.
Here you will find monasteries carved out of the rock, pristine olive groves, and part of the Lebanese Mountain Trail footpath.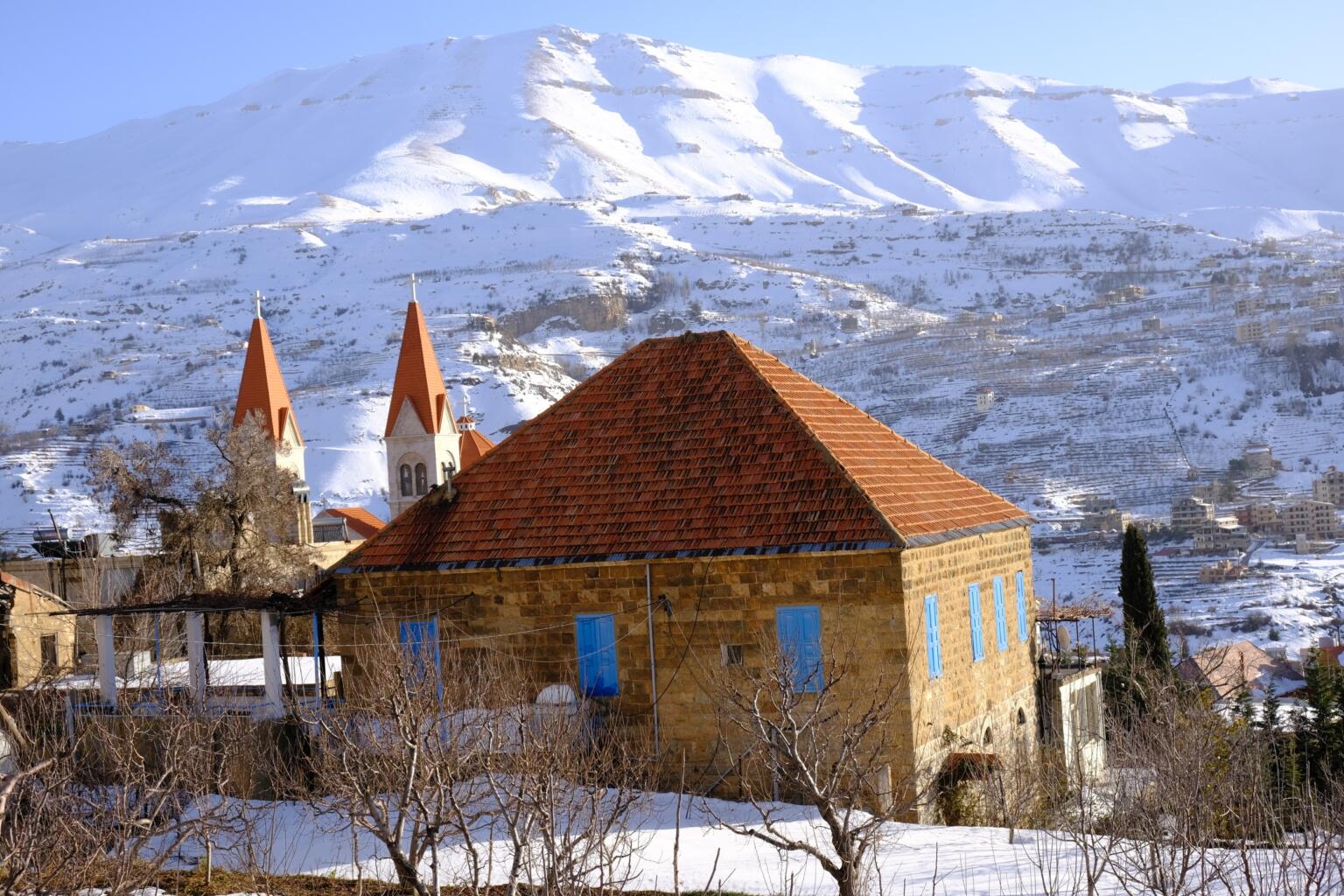 Likewise, the Cedars of God reserve and ski station is just 15 minutes up the mountain from Bcharre. Even in the winter, you can opt to drive (or hike) to several of the low-lying and super impressive monasteries down in the valley.
The Deir Mar Antonios Qozhaya Monastery dates back to 1000 ad and is very well maintained. Entrance is free and you can opt to spend the night (for a fee) so should you choose.
Another awesome monastery to visit is the Deir Mar Elisha Monastery. Somehow, its creators dug this beautiful building out of the rock and managed to make it all work. There is also an epic waterfall just a 5 minutes walk down the path from the monastery.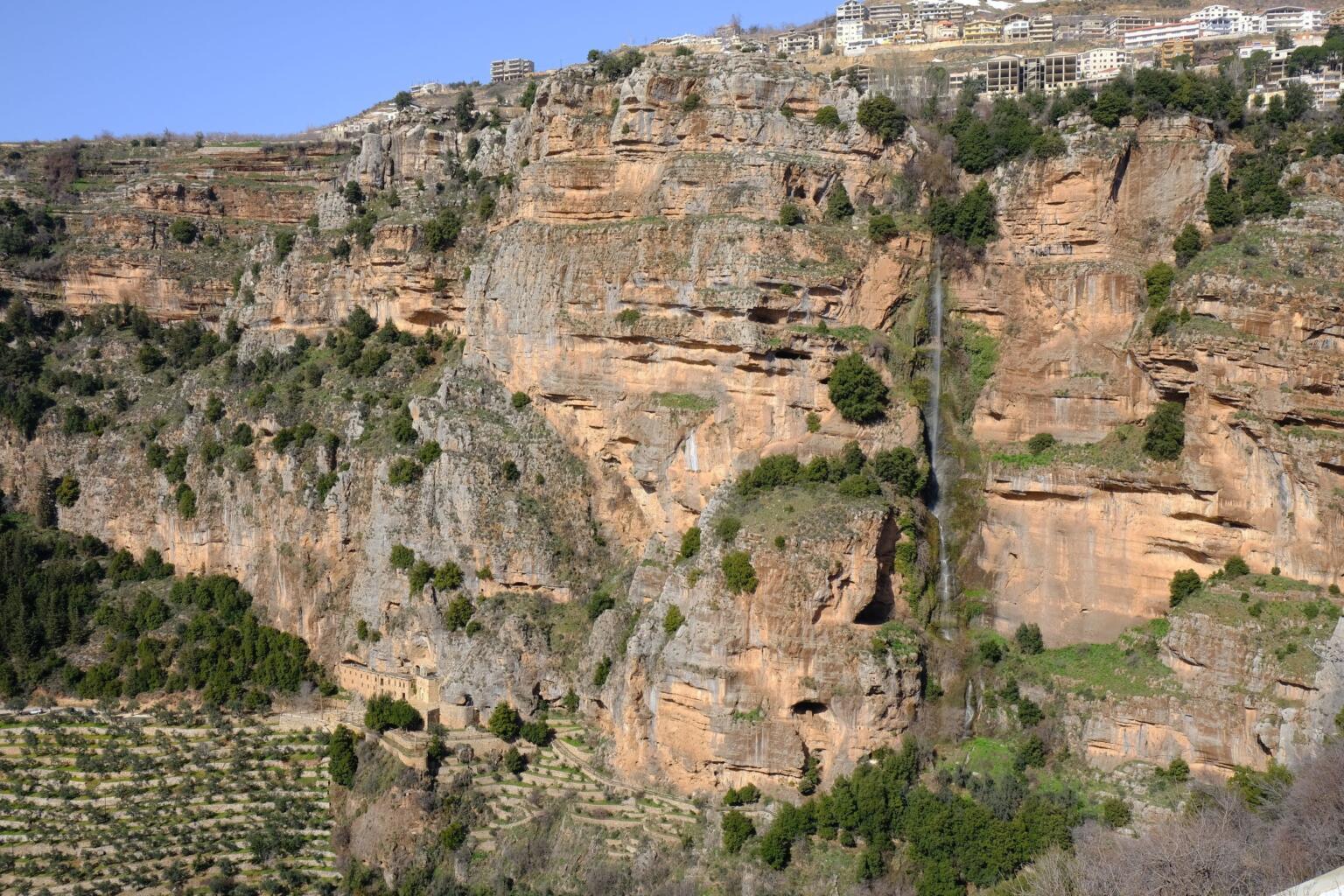 Backpacking the Cedars of God
The Cedars of God are very impressive as they are some of the oldest and largest cedar trees on the planet.
At the same time, when I visited was on a Sunday in January, it was true pandemonium involving thousands of people. It was a horrible experience with people blasting loud music, insane traffic jams, and, locals throwing trash everywhere.
By days end, there was so much trash and debris left by the locals that it looked like the aftermath of a week-long music festival involving hundreds of thousands of people. So sad. Definitely not the peaceful experience I was after.
I am sure this was just a fluke experience, but seriously avoid going to the Cedars of God on the weekends at all cost.
Also, the actual number of cedar trees is very small indeed. Don't expect to find a massive forest. For that, go to the Chouf.
Note: there is a military base located just next to the cedar reserve and access is limited in places.
Backpacking Baalbek and the Bekaa Valley
Baalbek is not to be missed under any circumstances. The Bacchus Temple and the surrounding ruins are very, very impressive and worth every bit of the 15,000 LBP ($10) entrance fee.
Nowhere else on earth can you find such large and well preserved Roman ruins. The whole archaeological site is massive and you can easily take 3-4 hours to explore it properly.
Other highlights of Baalbek include a visit to the Sayyida Khawla Mosque. This mosque features some truly extravagant mosaic work and was one of the more impressive mosques I saw in Lebanon.
You need to go through a security control (a dude watching football on his phone with an Ak-47 slung across his lap) in order to enter, but otherwise, it is pretty chill.
Located on the same property as the mosque is the Islamic Resistance Support Association War Musem (IRSA), Hezbollah's main fund-raising institution. The museum is a pretty fascinating glimpse into the history and propaganda machine of Hezbollah and its co-conspirators.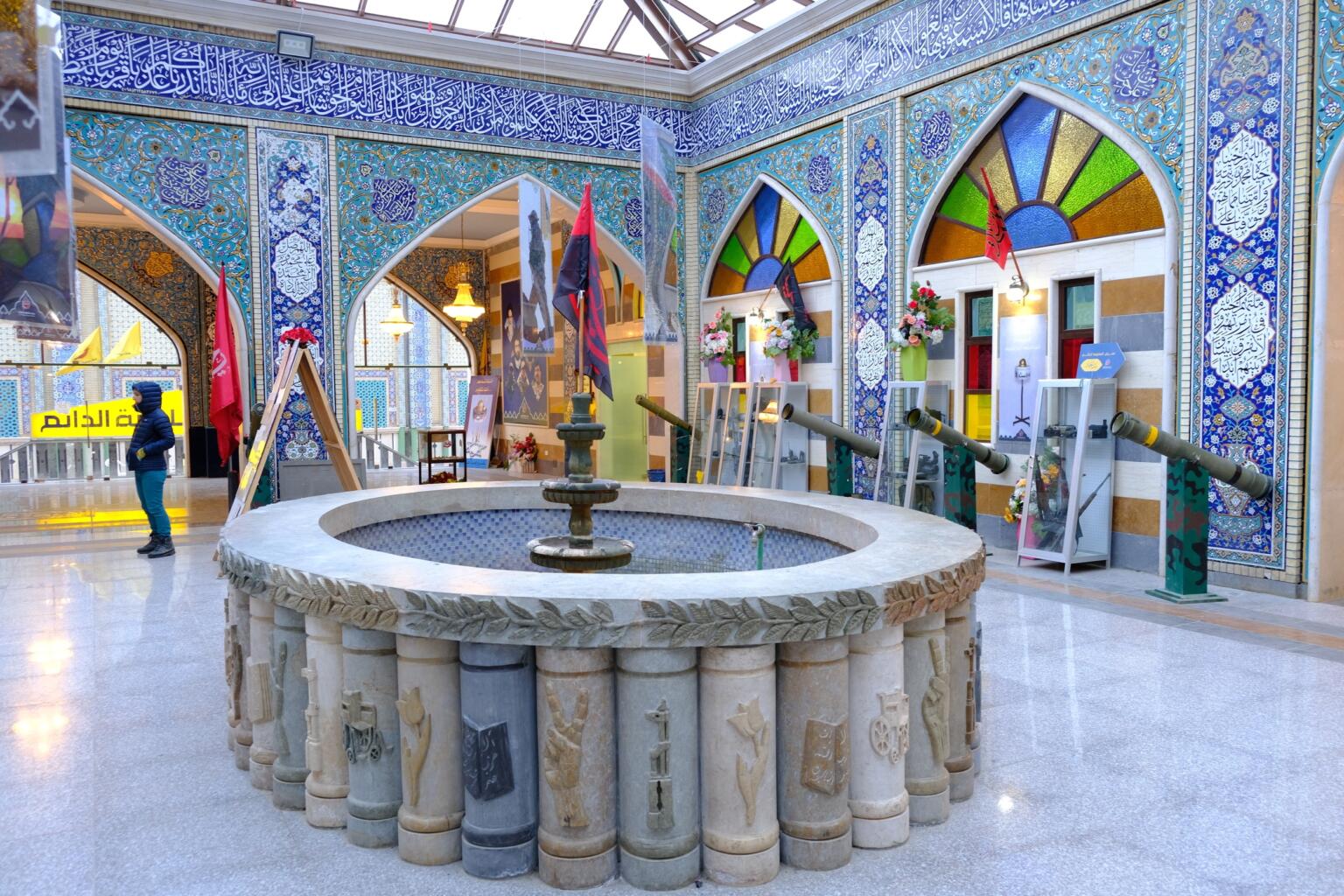 The IRSA is a Hezbollah institution established in 1990 to manage and regulate the organization's fund-raising enterprise. Originally, the institution was subordinate to Bayt al-Mal (Hezbollah's bank, but IRSA's subordination has been changed).
According to unconfirmed information, today the IRSA is directly under the control of Hezbollah secretary general Hassan Nasrallah.
The Baalbek Guest House is a great place to spend the night. Includes an awesome full-spread breakfast.
I had a hard time finding a proper grocery store in Baalbek, but there are plenty of cheap falafel/shawarma places on and off the main drag. El Kahyam is a great/cheap falafel spot.
In the Bekaa Valley, there are also massive Syrian and Palestinian refugee camps spread throughout the territory. Apparently, the Lebanese government does give them some assistance in the form of temporary tent housing as well as access to local social services.
Many refugees work in the agriculture sector that dominates the Bekaa. It was a trip seeing these huge tent villages with satellite dishes mounted on top of the tents. Priorities, right?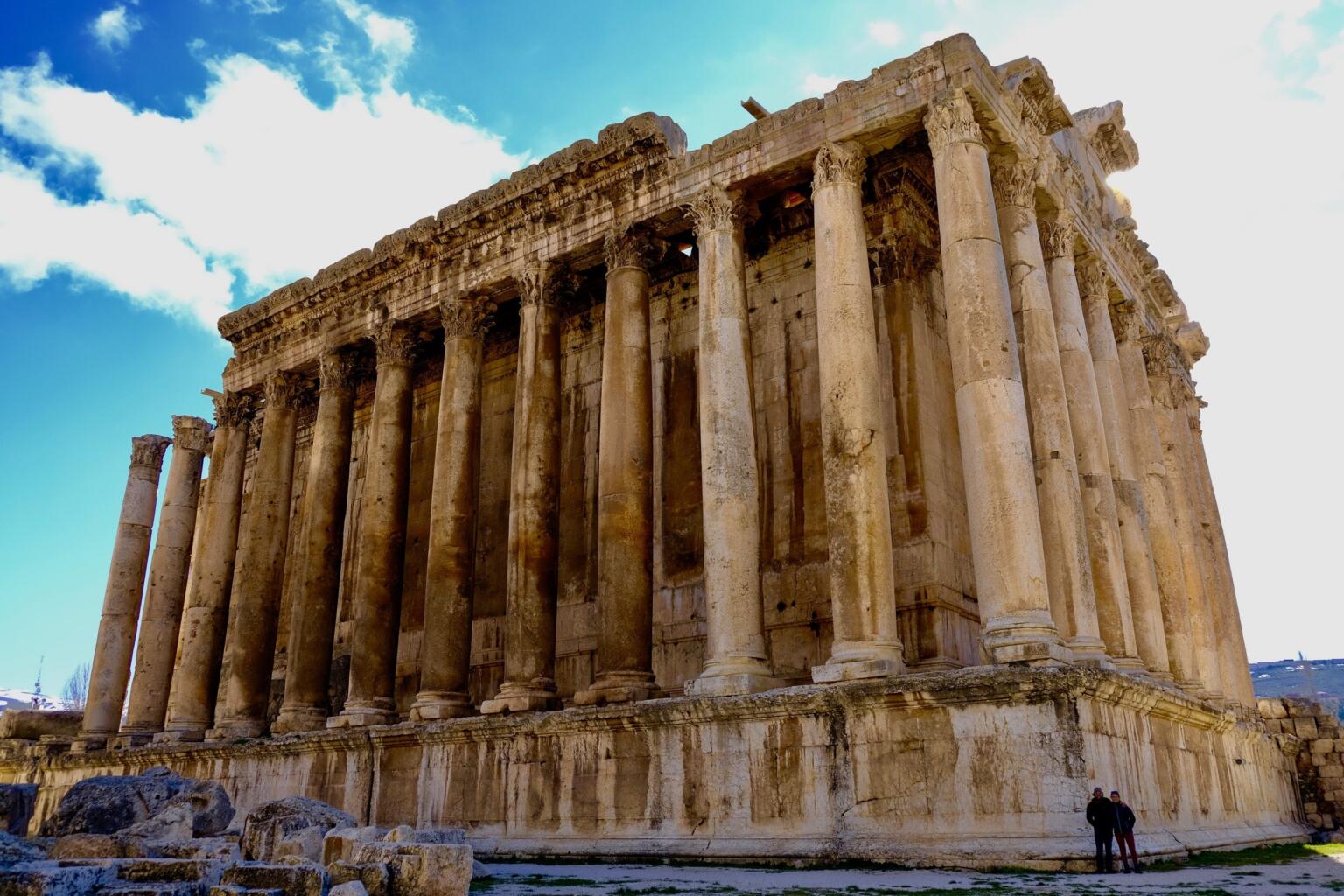 Backpacking Anjar
In case you didn't get enough of the awesome ruins at Baalbek, you can head across the valley to Anjar. At Anjar, you can check out an impressive Omoyiad Citadel, which rivals Baalbek in terms of general acreage.
I'll be honest with you though: after seeing the Bacchus Temple, the ruins at Anjar are just kind of "meh."
If possible, visit the Anjar ruins first.
Thanks, Bacchus Temple, you have forever made other ruins in the world pale in comparison.
Other than the ruins there is nothing of interest in Anjar, so don't sleep here. To arrive at Anjar, try to take the back roads if possible as they are dotted with fine pastoral landscapes and vineyards, and far less traffic-ridden than the main road.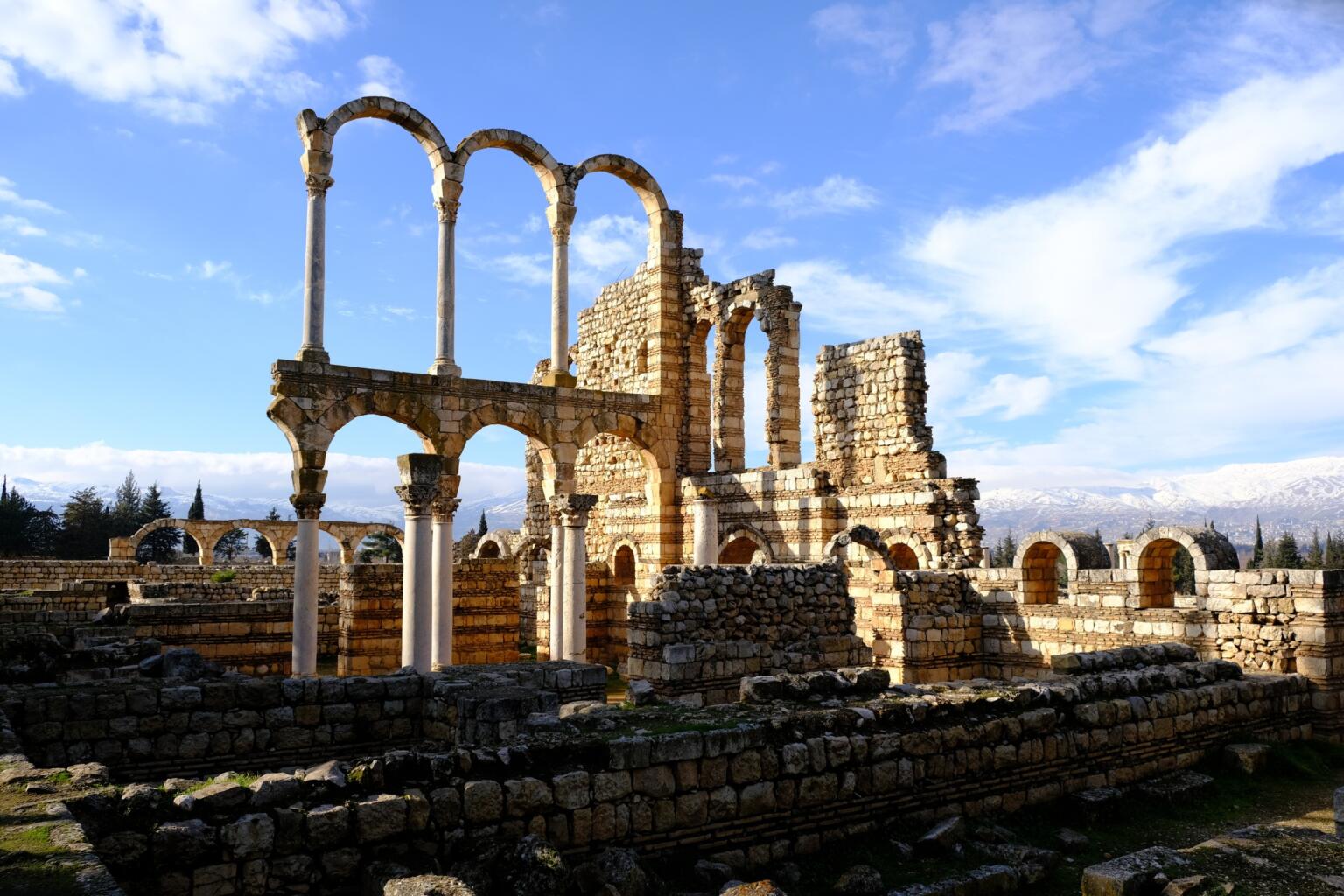 Backpacking Ain Dara
For a chill night in a typical Lebanese mountain village, Ain Dara makes for a good stop over. There is nothing particularly riveting about Ain Dara itself but there is plenty of awesome hiking to be found in the nearby Chouf Reserve. A few nice churches, sandwich shops, and several small bakeries rank among the highlights.
If you are looking for a place to relax, Ain Dara is a good candidate.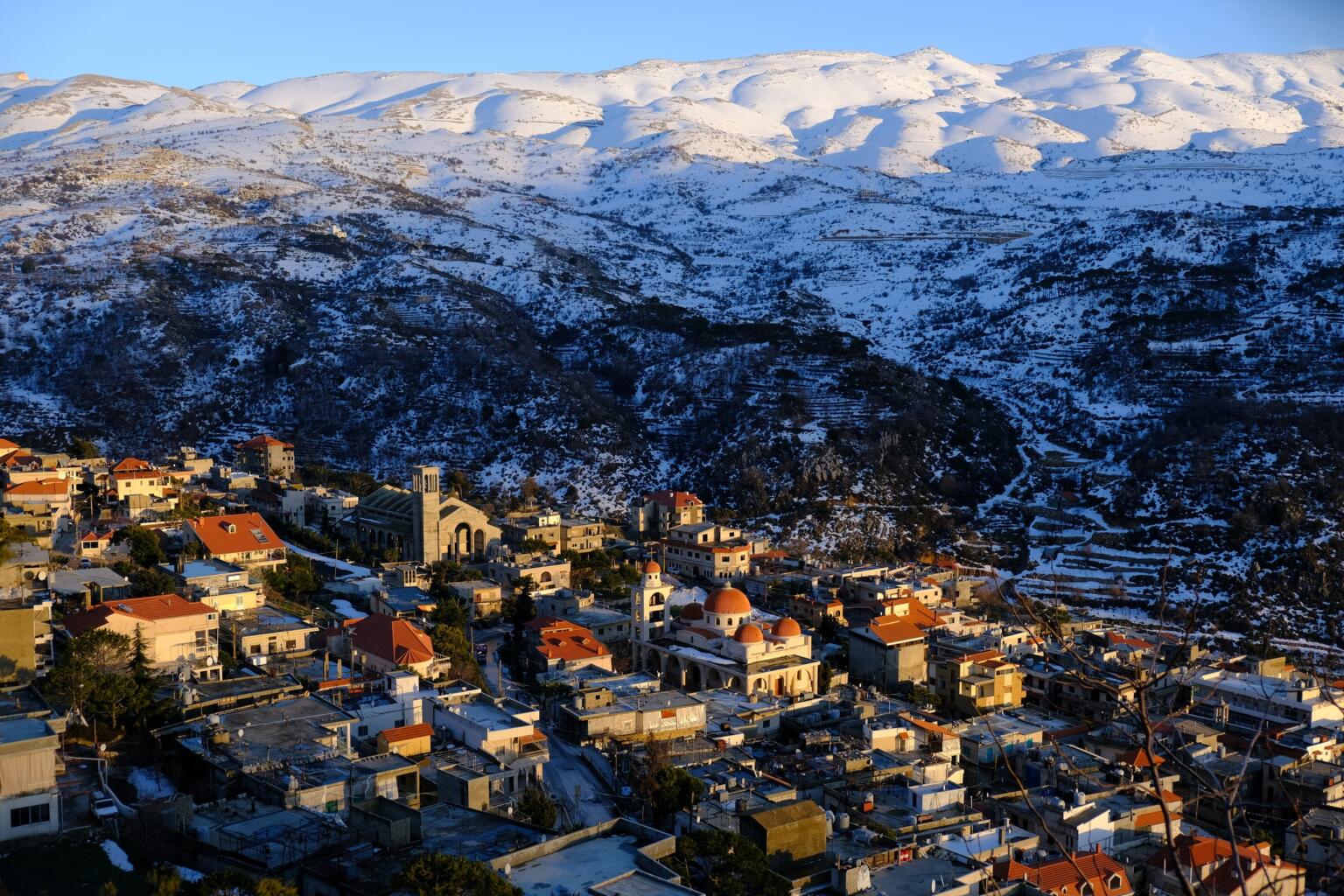 Backpacking The Chouf Reserve
Located south-east of Beirut, the Chouf Reserve region comprises a narrow coastal strip notable for the Christian town of Damour, and the valleys and mountains of the western slopes of Jabal Barouk, the name of the local Mount Lebanon massif, on which the largest cedar forests in Lebanon are found.
The Chouf is truly a vast area and is home to several unique animal species including lynx, wolves, porcupines, and wild boar.
In the summer, the Chouf is perfect for hiking and camping, though the high elevations during the winter are difficult, if not impossible, to access due to heavy snowfall. Accessing the Chouf by car from the Bekaa Valley is only possible when there is not heaps of snow blocking the road.
Backpacking Deir El Qamar
Deir El Qamar is a special place in Lebanon. There are sections of the town with gorgeous stone buildings and well-preserved cobblestone streets.
The main square of the town is dominated by an ancient mosque, which non-muslims can enter (which is true of all mosques in Lebanon FYI).
Nearby is the ultra-quirky, yet impressive Moussa Castle. The Moussa Castle was built by one talented dude over the course of 50+ years. Inside, there are life-sized, mechanized dioramas depicting traditional Lebanese life along with a substantial collection of antique weapons from all over the world.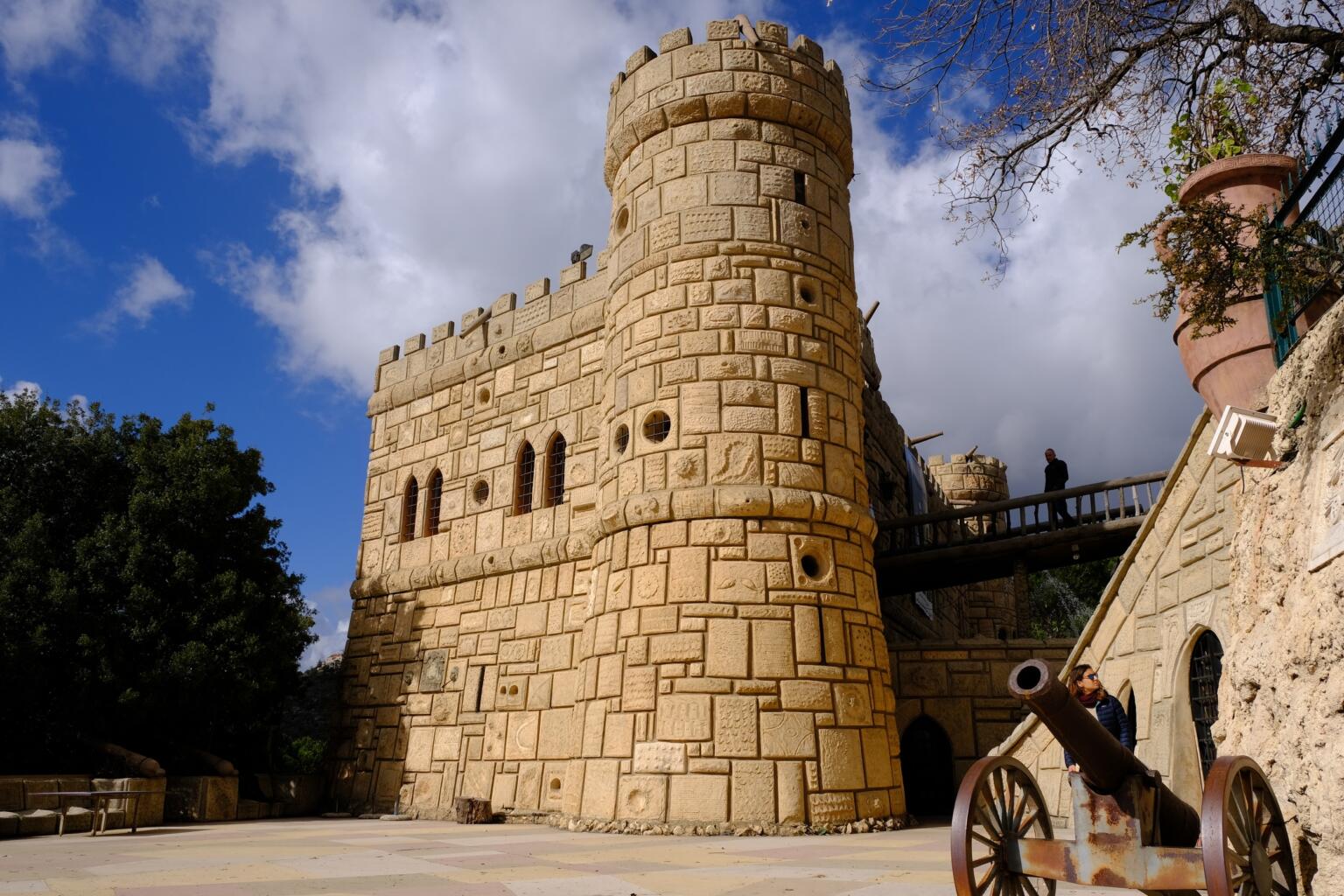 The 15,000 LBP entrance fee to Moussa Castle is overpriced but is worth it considering there isn't much else going on in the area in terms of attractions.
Once you see the amount of work that went into the building and designing of the castle, the price feels more justified.
Another impressive historical structure in the area is the Beiteddine Palace. Entrance fee to this place is 10,000 LBP and is most definitely overpriced.
If history and architecture are important to you, 10,000 LBP may be a small price to pay, however, I opted not to visit it after learning what the price is.
For a rather indulgent night's sleep, you can stay at the best place I slept at in Lebanon; at a friend of mine's Airbnb.
This place is incredibly nice (super luxury for Broke Backpackers), especially if you have been sleeping rough or camping for a few days beforehand (which we were). The extra cash is worth it, if only for one night.
The breakfast was amazing and far too much food for two starving people to consume. Thanks, guys, your place rocks!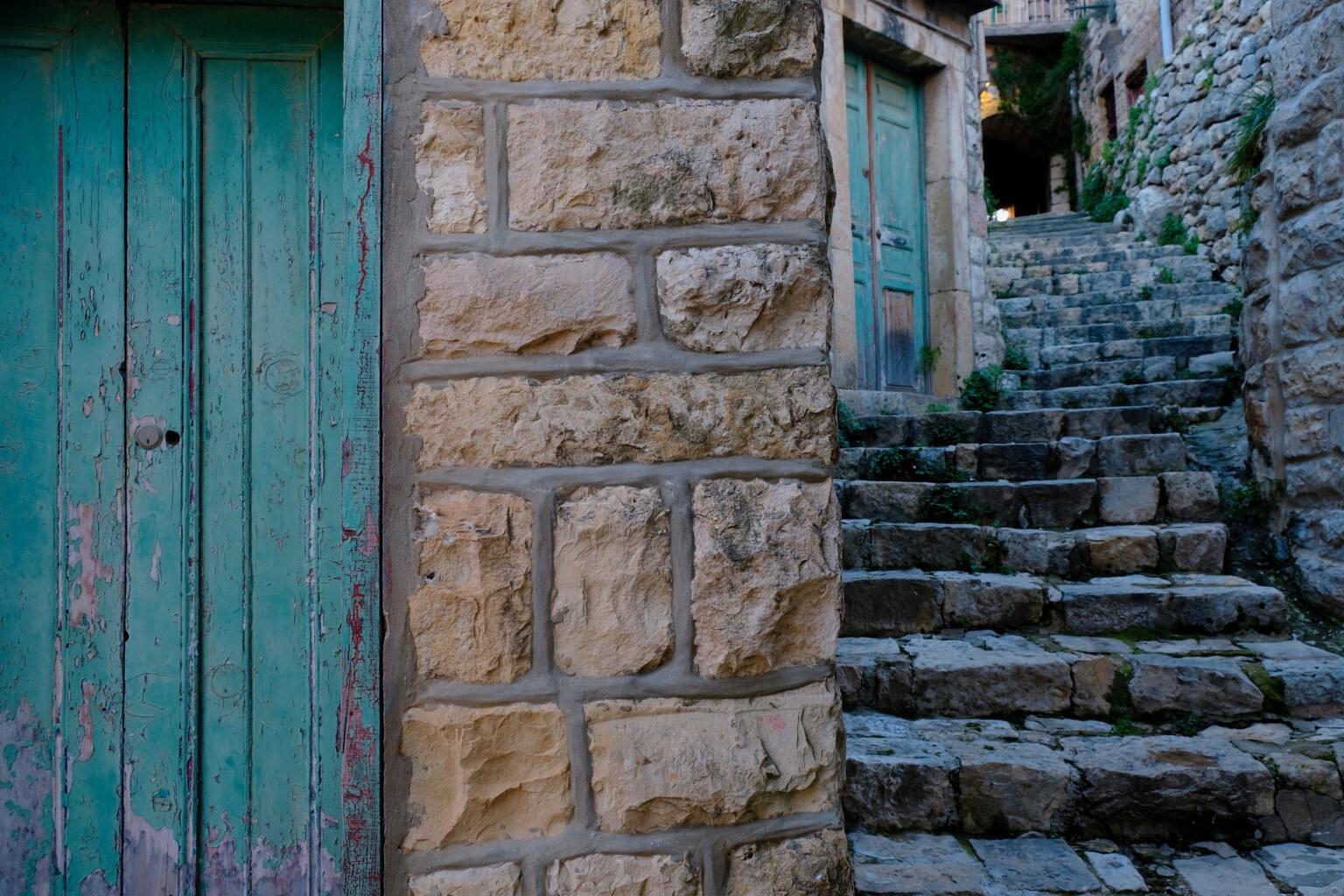 Backpacking the Baatara Gorge
Like the Jeita Grotto, the Baatara Gorge is just one of those magical places only found in Lebanon. This is another must-visit spot, no matter the time of year.
The Baatara Gorge sinkhole is a massive waterfall in Tannourine near Balaa. The waterfall drops 255 meters into the Baatara Pothole, a cave of Jurassic limestone located on the Lebanon Mountain Trail. The cave is also known as the Cave of the Three Bridges.
I tried three different times to come here in the winter and failed on the first two attempts due to snow on the road.
Note: In the winter you CAN'T access Baatara via the Bcharre-Tannourine road OR from any other of the small mountain roads EXCEPT the main road coming from Byblos, which the local government snow plows.
Camping is possible here, though in the summer Baatara can be quite crowded and you wouldn't likely be able to set up shop until towards the end of the day. I saw people camping here in Janaury, but the night time temps were well below freezing. Summer camping may not be allowed, but I don't know for sure.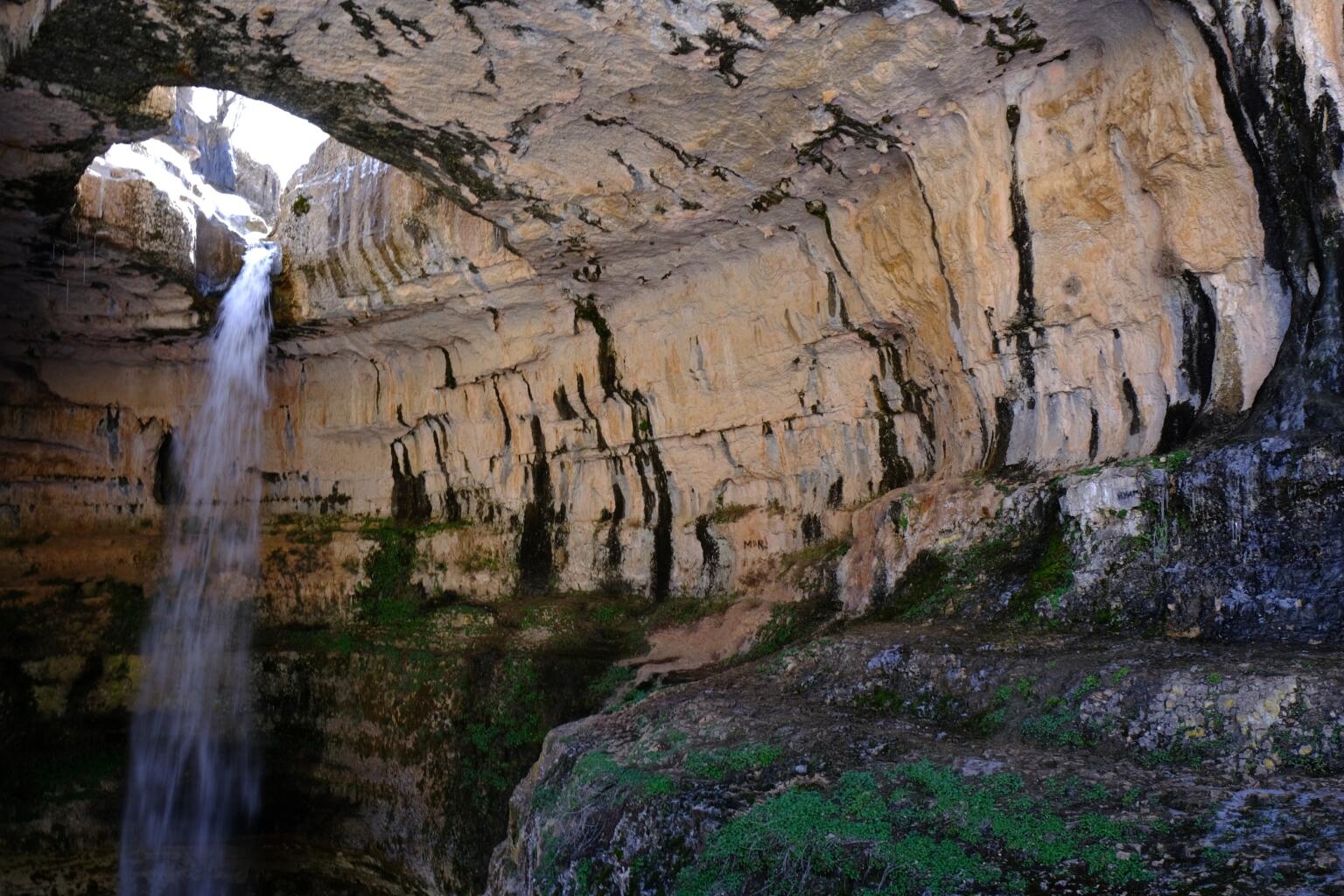 How Not to Die at the Baatara Gorge
If you plan to go down to the man sinkhole/waterfall area be very, very careful. In the winter, the whole natural bridge is completely frozen with ice and the whole path down to it was also covered in snow and/or ice.
Once on the natural bridge, there is only a 2-meter width of standing space (on ice) and a 250-meter drop on either side. If you slip and fall off, you will most certainly die. Again this was totally iced over when I was on it, so please don't do anything stupid or make any sudden movements while on the bridge at any time of the year. Use microspikes, trekking poles, and even crawl if you have to.
In the summertime, walking on the natural bridge is probably not as dangerous, but in the winter/when ice is present, you need to be fully focused and on high alert when you are anywhere near the edge of the sinkhole so that you can avoid a pointless and premature death. No photograph is ever worth dying for. Don't be the next selfie-taking news headline.
Backpacking Saida/Sidon
Once back in southern Lebanon, be prepared to eat very well! The food in Saida is unreal. Wandering around the Old Souk, there are endless delicious looking pastries, street food options, and fresh fruit and veggie vendors.
The kneffe in Saida is on another level (an amazing warm, cheesy desert). Saida is probably my favorite big city in Lebanon. It's got lots going for it: historical sites, awesome food, fun markets, nice locals, and some of the best (and cleanest) beaches in Lebanon are not too far away.
If you have the time, plan to stay in Saida for at least a couple of days.
Top Things to do in Saidia:
Old Souk: One of the best souks I visited in Lebanon for sure.
Soap Museum: Saida has been ground zero for soap manufacturing since forever. The soap museum is an interesting place to learn about the history and process of soap making here.
Saida Castle on the Sea: Just what it sounds like. Entrance fee: 8,000 LBP.
St. Nicolas Church: Plenty of cool mosaics and interior decor.
Al-Omari Mosque: One of the oldest and most important Mosques in southern Lebanon.
Falafel Akawai: Amazing falafel sandwiches for $2. Located in the Old Souk.
Backpacking Tyre/Sour
Just 45 minutes south of Saida is the coastal city of Tyre. Tyre is a short drive from the inaccessible border with Israel, so yeah, this is basically the end of the line geographically for most backpackers in southern Lebanon.
Tyre is also worth spending a few nights in. Like Saida, Tyre has a cool Old Souk (alright, most places in Lebanon have awesome Old Souks!). The Souk is divided into different sections based on what the merchants are selling (fish, veggies, meat, street food, clothes, etc).
The UNESCO World Heritage site known as the Old Egyptian Port (entrance 6000 LBP) is worth a visit. It's a shame that the sea just in front of the site is horribly polluted with plastic shit and rubbish.
The Hara Neighborhood located by the fishing port is the best area in town to sleep. The streets are clean and have been restored with great skill following the end of the war. Grab a drink at the bar by the lighthouse for sunset.
On the opposite side of town, the seafront promenade "main drag" is the city's main vein for shisha bars, cafes, restaurants and general nightlife happenings.
Over the last 50 years, Tyre has suffered terribly from one conflict after another. At the present moment, Tyre is peaceful, but its residents are all too aware of how close Israel is, and because of the tensions between the two countries, the potential conflict is just something that the residents must live with.
Hezbollah flags and propaganda posters are everywhere in Tyre, but again Hezbollah and its supporters could not care less about giving a backpacker a hard time.
Tyre is 100% safe. Just don't go talking about how great Israel is and you will be fine (this is true whenever you are in Lebanon. Don't say the "I" word.).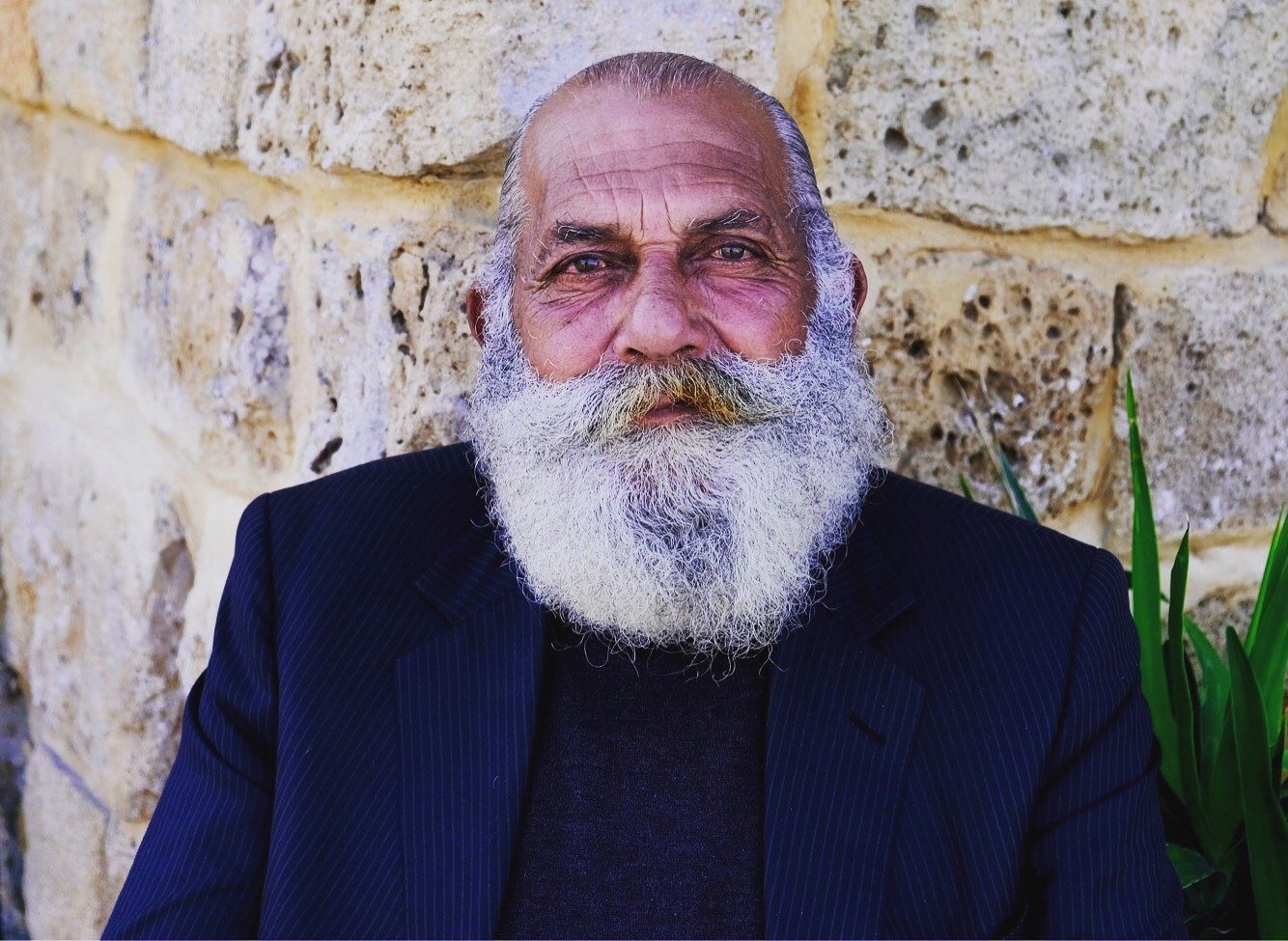 Getting off the Beaten Track in Lebanon
The fact is that most of Lebanon is off the beaten path for travelers. I saw almost no other backpackers/tourists over the course of the near month I spent in Lebanon.
Apart from the famous sites like Baalbek, the Jeita Grotto, and parts of Beirut, the rest of Lebanon is not visited by foreigners in heavy numbers.
Lebanon is indeed one of the least-touristy countries I have ever been to. Only Pakistan has felt more off the beaten track as a whole then Lebanon.
As soon as you set foot out of Beirut or the other above mentioned sites, you are not bound to see many other foreigners, which leaves the door to discovery and exploration wide open.
Backpacker Accommodation in Lebanon
Finding cheap backpacker accommodation in Lebanon is not without its challenges. Save for Beirut, there are virtually no hostels to be found anywhere in the country!
Lebanon is just not set up to facilitate a backpacker scene as of yet, and the lack of hostels reflect that. That said, you do have some options. Just don't expect to find $10 dorm beds anywhere in Lebanon.
Your best bet for finding cheap accommodation is to book midrange hotels and cheap Airbnb apartments.
Whilst not dirt cheap, you can find some decent places in the $35 – 50 per night range. If you go for an ultra-budget hotel, it is likely to be a shit hole in an unfavorable area, so unless absolutely necessary, avoid staying at the bottom of the barrel hotels.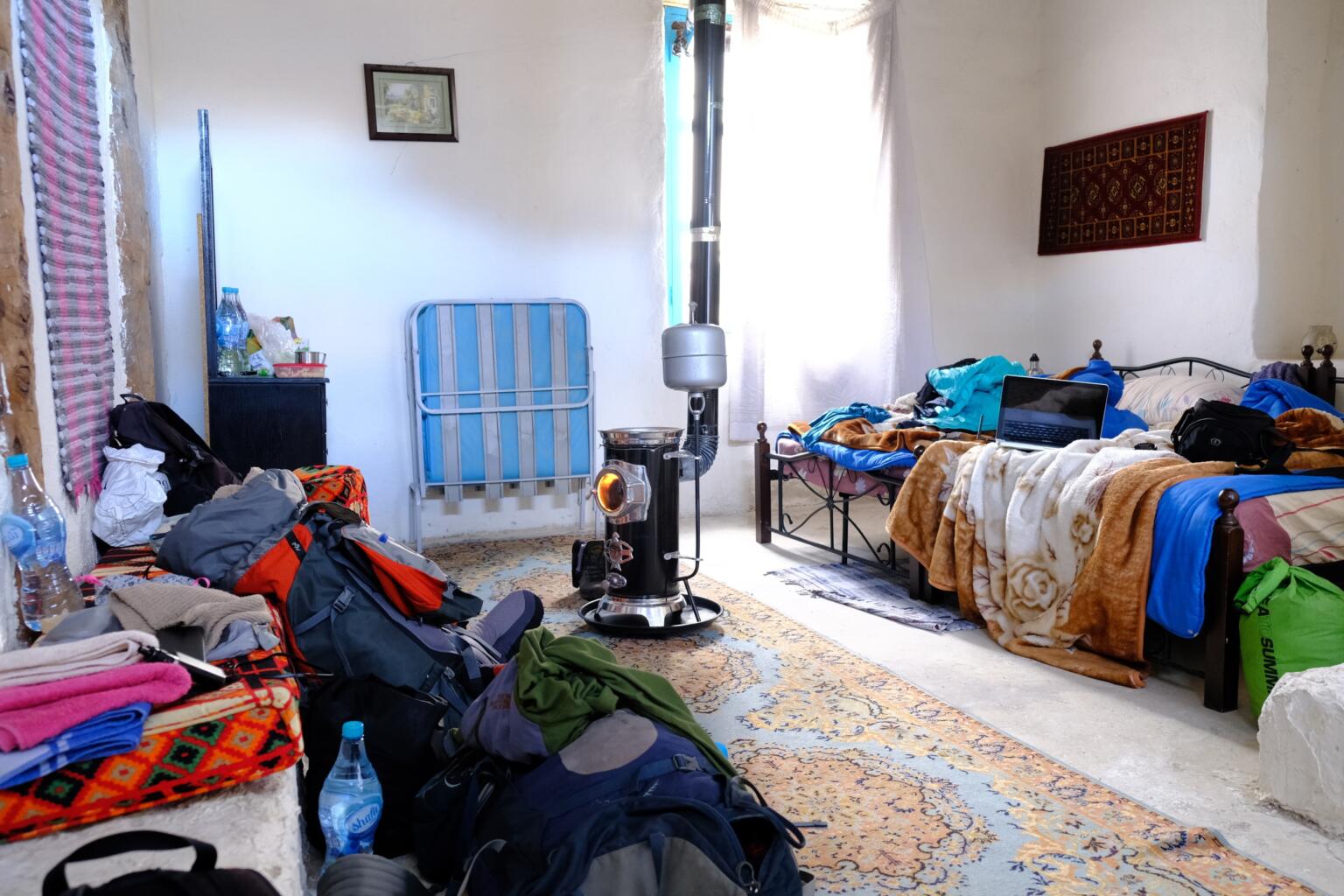 Camping (in the mountains) and Couchsurfing are also legitimate options in Lebanon.
Where to Stay in Lebanon

| City | Hostel | Why we Like it?! |
| --- | --- | --- |
| Beirut | Saifi Urban Gardens | Located in one of the best areas of the city. Awesome atmosphere, close to everything. |
| Jounieh | Bil Residence | As cheap as it gets, by the sea, and very comfy for the price. |
Yeah… as you can see the hostel options are seriously lacking in Lebanon.
Top Things to Do in Lebanon
Below I have listed the 10 best things to do in Lebanon.
1. Explore the Jeita Grotto
There is a reason that the Jeita Grotto was a nominee to join the "7 wonders of the world" list. This place is total magic and is not be missed!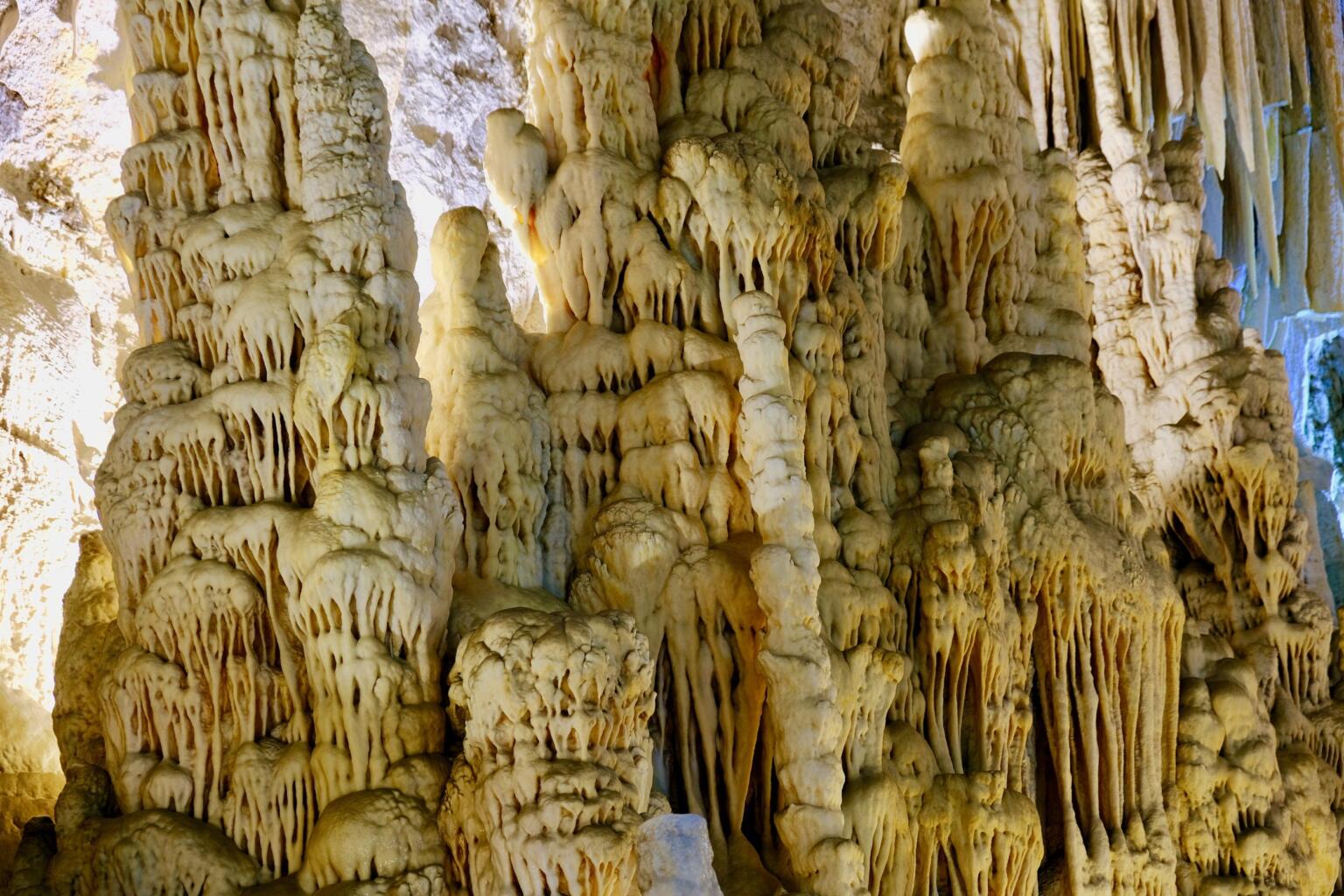 2. Get Lost in the Old Souks
Oddly enough, Beirut does not have a massive regional souk. In just about every other city though, you can wind you way through ancient market streets and small forgotten allies to discover the true sights, smells, and tastes of modern Lebanon.
3. Stay in a Monastery
Lebanon is home to some truly incredible monasteries in the mountains, some of which you can spend the night at!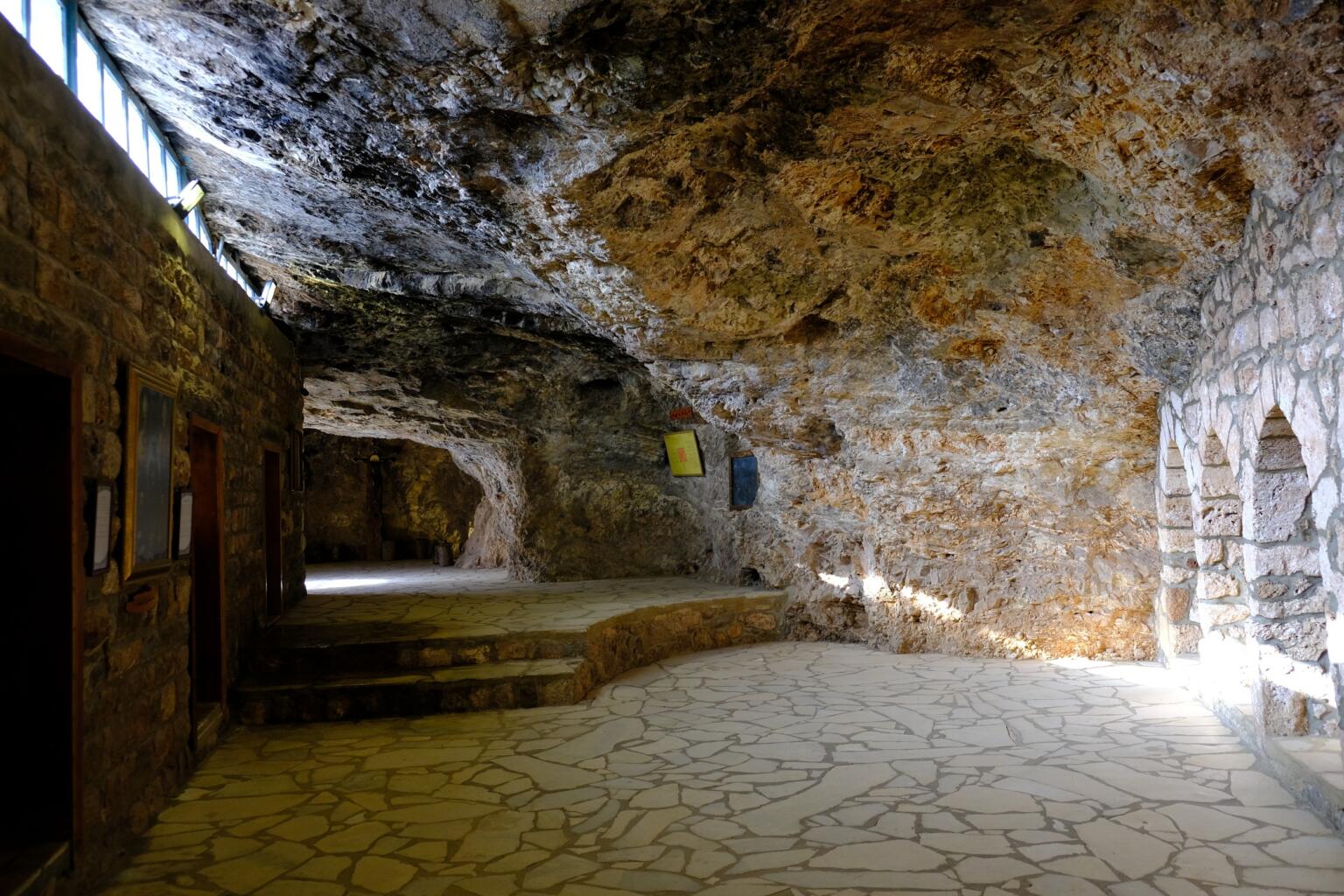 4. Eat Meze
Meze is a broad term for all of the amazing small/side dishes found in Lebanese cuisine. Meze can just be the appetizers, or it can easily turn into a huge spread for an entire meal. Hummus, baba ganoush, fatoush, grape leaves, labneh, spicy potatoes are all amazing meze dishes.
5. Visit the Mosques and Churches
Just about everywhere you go in Lebanon, you will find a beautiful mosque, a church, or both. Architecture, age, and interior design vary across the board and visiting these religious buildings offers a deeper insight into one of the major realities of Lebanese life: religion.
6. Experience the Bacchus Temple at Baalbek.
As far as ruins go, the Bacchus Temple at Baalbek is the most impressive man-made structure from history that I have ever seen. Also, not to be missed!
7. Be Wowed at the Baatara Gorge Waterfall
Lebanon's second most famous natural attraction is equally as mind blowing as the Jeita Grotto, but in a totally different way.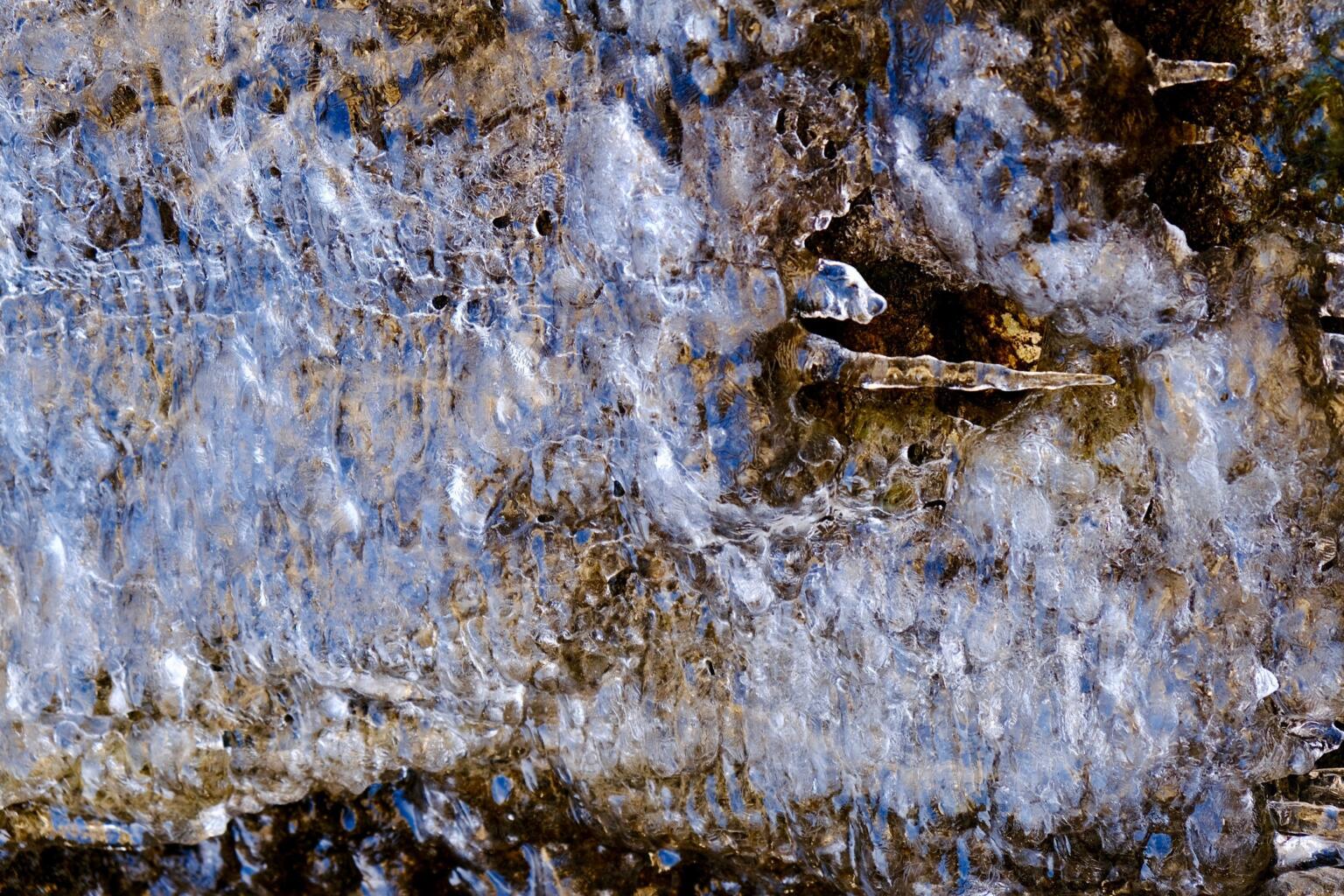 8. See the Ancient Trees at the Cedars of God Reserve
Whilst my own experience at the Cedars of God was far from a positive one, the trees here are incredible and if you get to see them on a day where hordes of people are not present, I am certain you will thoroughly enjoy yourself.
9. Go for a Hike in the Kadisha Valley
Monasteries, forts, waterfalls, and miles of hiking trail make the legendary Kadisha Valley one of the most compelling areas in all of Lebanon.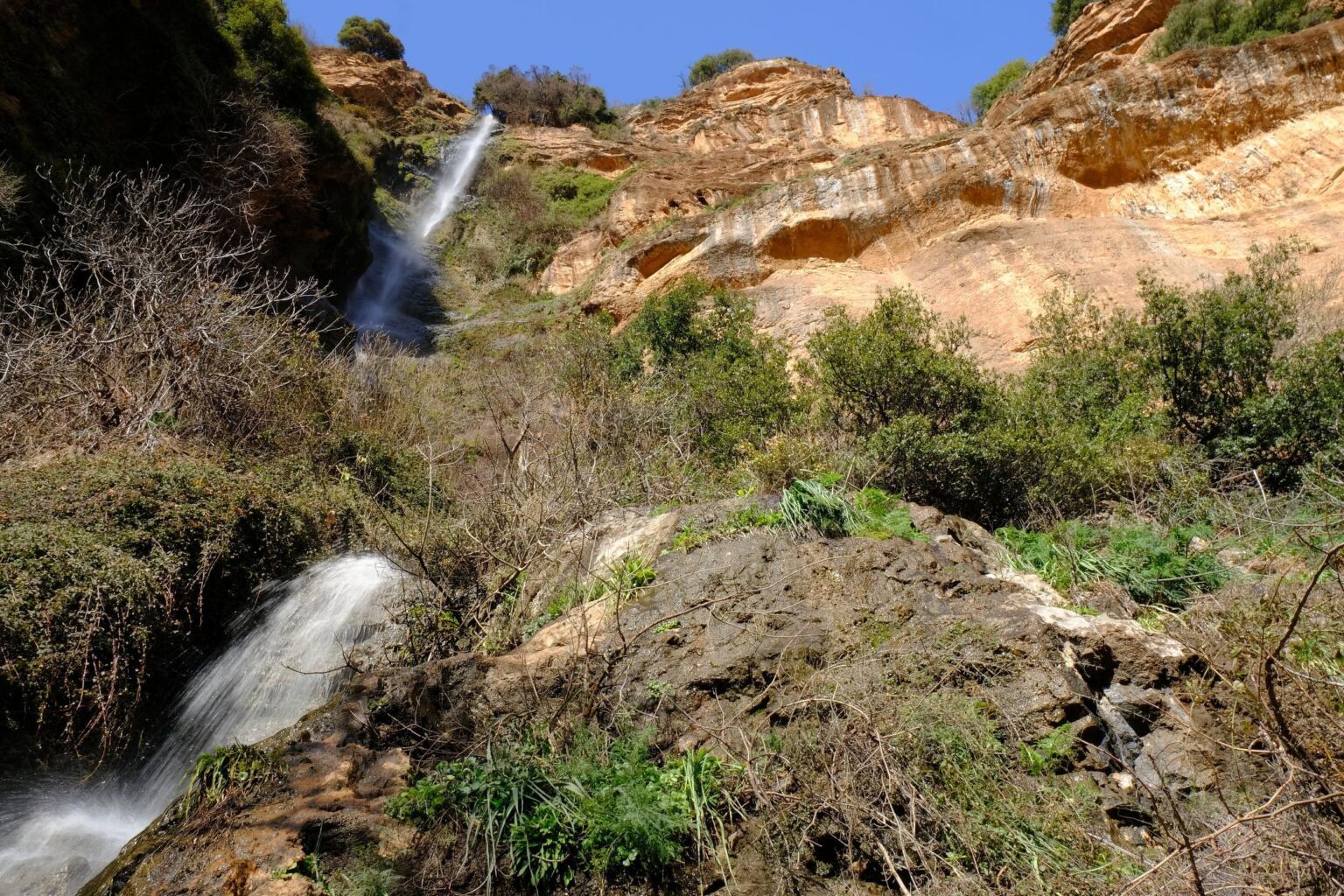 10. Try Arak
Arak is a popular liquor throughout the Middle East. It is an especially important beverage in Lebanon. I was told that if you eat any sketchy street meat, a couple of shots of Arak will all but guarantee that you won't get sick as the parasites cannot survive a good Arak bath in your stomach.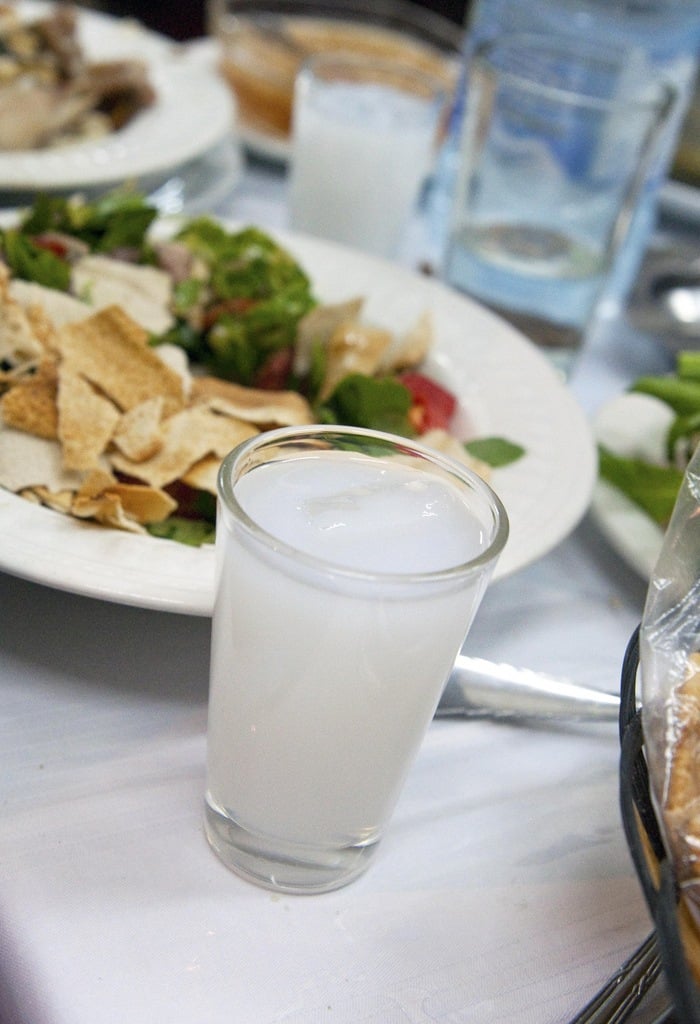 Backpacking Lebanon Travel Tips
Below I have covered tons of essential information for backpacking Lebanon, including books to read, what to pack, backpacking travel costs, and how to travel around Lebanon…
The Best Travel Backpack?!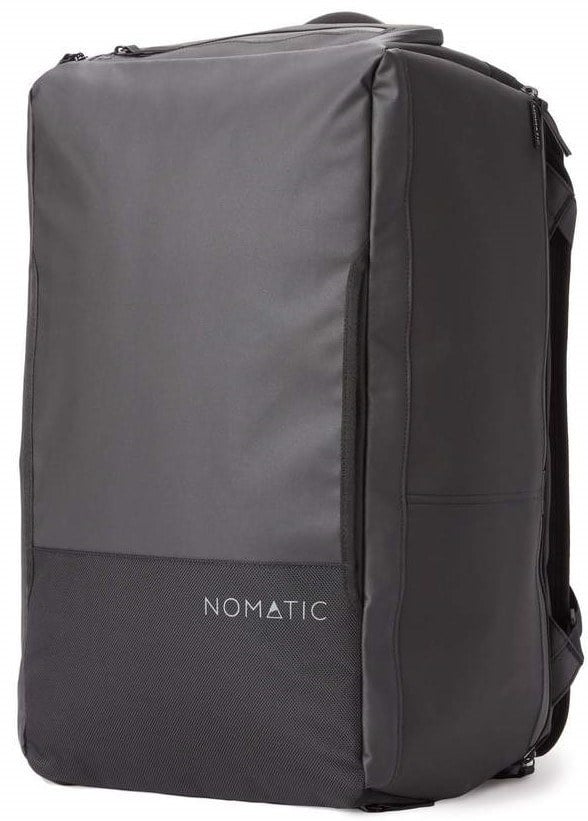 Pssssst! Not picked the perfect travel backpack yet? The Broke Backpacker team has tried out over thirty backpacks this year! Our favourite carry on backpack is the Nomatic Travel Bag.
Read our full review!
Books to Read whilst Backpacking Lebanon
Here are a few of my favorite books set in Lebanon:
Beirut Blues: In Beirut Blues, Hanan al-Shaykh evokes a Beirut that has been seen by few, and that will never be seen again.
From Beirut to Jerusalem: One of the most thought-provoking books ever written about the Middle East, From Beirut to Jerusalem remains vital to our understanding of this complex and volatile region of the world.
A House of Many Mansions: In the light of modern scholarship, a famous Lebanese writer and scholar examines the historical myths on which his country's warring communities have based their conflicting visions of the Lebanese nation.
Pity the Nation: An Abduction of Lebanon: With the Israeli-Palestinian crisis reaching wartime levels, where is the latest confrontation between these two old foes leading? Robert Fisk's explosive Pity the Nation recounts Sharon and Arafat's first deadly encounter in Lebanon in the early 1980s and explains why the Israel–Palestine relationship seems so intractable.
Hezbollah: The Global Footprint of Lebanon's Party of God: Hezbollah: The Global Footprint of Lebanon's Party of God is the first thorough examination of Hezbollah's covert activities beyond Lebanon's borders, including its financial and logistical support networks and its criminal and terrorist operations worldwide.
Jasmine and Fire: A Bittersweet Year in Beirut: As Beirut exploded with the bombs and violence of a ruthless civil war in the '80s, a nine-year-old Salma Abdelnour and her family fled Lebanon to start a new life in the States. Ever since then—even as she built a thriving career as a food and travel writer in New York City—Salma has had a hunch that Beirut was still her home. She kept dreaming of moving back—and finally decided to do it.
Lonely Planet Middle East: Always good to have a Lonely Planet on hand (though this guide is best!), especially if you are planning to go to multiple countries in the Middle East.
Travel Phrases for Backpacking Lebanon
The official language of Lebanon is Arabic and knowing a few words of it will certainly help you over the course of your backpacking journey. Amazingly (but not so surprisingly), many Lebanese people are fluent in English, French, or both. I met dozens of trilingual Lebanese folks.
For the most part, you can get by on English or French, and any Arabic you learn will only be a bonus. Plus, the locals will greatly appreciate your effort to learn.
Here are a few useful Arabic travel phrases to get you started:
Note: Arabic does not use the same alphabet as English, so these translations are transliterations of how the word would look if written using the English alphabet.
Thank you – Shukraan
Hello – Salem a leahkum (for Muslims) /Bonjour (for Christians)
Is this the bus to…? – Hal hadha hu albas?
Do you have meze – Hal ladayk maza?
Where is the toilet? – 'Ayn alhamam?
Please – Raja'
Let's go – Yala
How's it going? — Key fik (spelling not accurate)
No plastic bag please — La kys min alblastyk alraja'
How much? — Kam althaman
I am lost – 'Ana dayie
Beer – Bayra
Can I camp here? – Hal yumkinuni almukhayam huna?
Staying Safe in Lebanon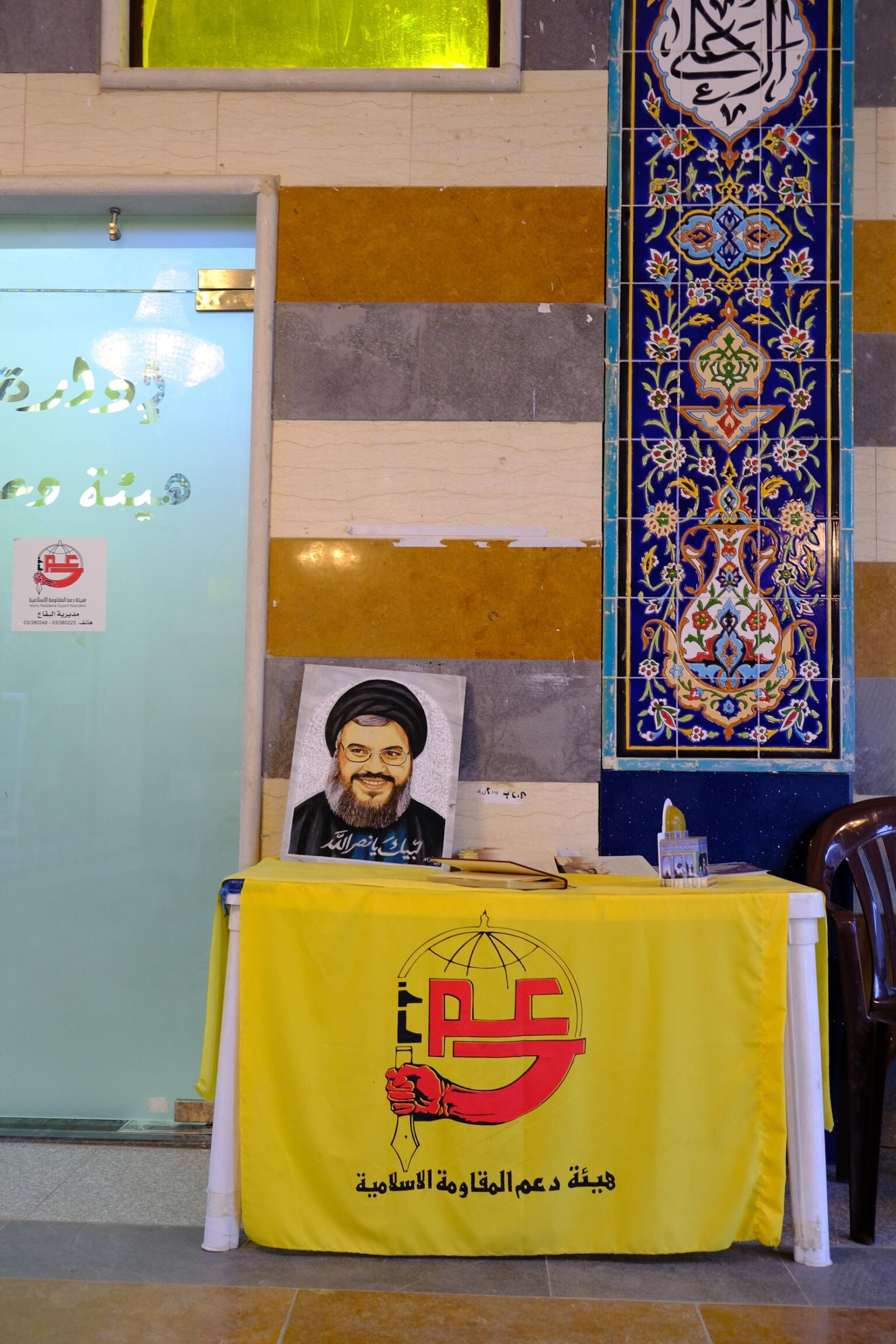 A quick Google search may reveal that Lebanon is not safe to travel to. That is utter bullshit. The security situation in Lebanon remains more or less stable and you can go to 95% of the places in the country without worrying about safety. You can read all our reasons why Lebanon is safe along with some tips and tricks, or read the summary below.
Backpackers should avoid traveling to remote north eastern areas just opposite the Syrian border. There is nothing worth seeing here anyway.
Likewise, trying to go too close to Israel border is just stupid. For one, the Lebanese soldiers won't let you through without a special permit, and if you do get through and try to carry on into Israel, you will be arrested, shot, or both.
Beirut has a mixed reputation on safety. Around the city center, Hamra, and Mar Michael areas, it is totally safe, even late at night. I would however caution against aimlessly walking around in a part of town you do not know (especially not drunk or loaded with cash). There is a lot of poverty in Lebanon and sometimes desperate circumstances lead to desperate actions (like robbing foreigners).
In the Bekaa Valley and in southern Lebanon, Hezbollah is active and their support is substantial. Again, this doesn't really change anything for us backpackers, but just so that you are aware. Don't go around talking about how great the USA and Israel are and you should be just fine.
I would also avoid expressing your political opinion, your religious opinion, or talking about the civil war with people you have just met.
Many Lebanese people opened up to me about their experience with the war and about the religious tensions in Lebanon, but only after spending significant time with them first. Certainly, don't push the subject. Be respectful and try to imagine how things must of been in Lebanon while the war raged for more than 15 years.
You will see that all over Lebanon the army has set up check points. These checkpoint are nothing to be worried about. Just be prepared for a heavy military presence every where you go in the country.
Check out Backpacker Safety 101 for tips and tricks to stay safe whilst backpacking.
Pick yourself up a backpacker security belt to keep your cash safe on the road.
I strongly recommend traveling with a headlamp whilst in Lebanon (or anywhere really – every backpacker should have a good headtorch!). Check out my post for a breakdown of the best value headlamps to take backpacking.
Want to save the world? Single-use plastic bottles are a huge threat to Marine Life - Be a part of the solution and travel with a
filter water bottle
.
The GRAYL GEOPRESS water bottle is the ONLY all-in-one filter water bottle setup you'll need. Whether you need to purify the water from a hostel sink in Kathmandu or a stream trickle in the Andes, the Geopress has got you covered.
Sex, Drugs and Rock 'n' Roll in Lebanon
The Lebanese sure as hell love to party. In terms of alcohol use, Lebanon might just be the most tolerant and liberal muslim majority country in the Middle East. Beer, wine, arak, whiskey… you name it, it's here.
Beirut has a pumping nightlife scene that has made it famous around the world. Alcohol, binge coffee drinking, and sheesha smoking: those are the three main vices in terms of substances in Lebanon. If you are looking to party, Beirut is the place.
Also, Lebanon is producing some of the tastiest wine I have ever tried, and if you have a chance go wine tasting in the Bekaa!
I am sure that there is weed/hash around too, I just never came across it. Lebanon does have some pretty serious drug laws though, so if you do go in search of something to smoke, be very careful how and where you go about getting it.
My advice? If you happen to make friends with some young Lebanese dudes just ask them.
As a whole, Lebanese society is not nearly as conservative as other Muslim majority countries. If you are a woman walking down the street without your hair covered, nobody will even look twice at you, even if you are in a Muslim part of town.
Be aware that if you venture into smaller villages that are of Muslim majority, it won't always be possible to find booze at the local grocery shops.
Travel Insurance for Lebanon
A wise man once said that if you can't afford travel insurance, you can't really afford to travel – so do consider backpacker insurance sorted before you head off on an adventure! Traveling without insurance would be risky. I highly recommend World Nomads.
I have been using World Nomads for some time now and made a few claims over the years. They're easy to use, offer the widest coverage, and are affordable. Also, this is the only company I know of that lets you buy travel insurance after leaving on a trip.
If there's one insurance company I trust, it's World Nomads. Find out why I recommend World Nomads, check out my World Nomads Insurance review.
Getting an estimate from World Nomads is simple – just click the button or image below, fill out the necessary info, and you're on your way!

What to Pack for Lebanon
On every adventure, there are six things I never go traveling without:
1. Security Belt with Hidden Pocket: I never hit the road without my security belt. This is a regular looking belt with a concealed pocket on the inside – you can hide up to twenty notes inside and wear it through airport scanners without it setting them off. This is hands down the best way to hide your cash.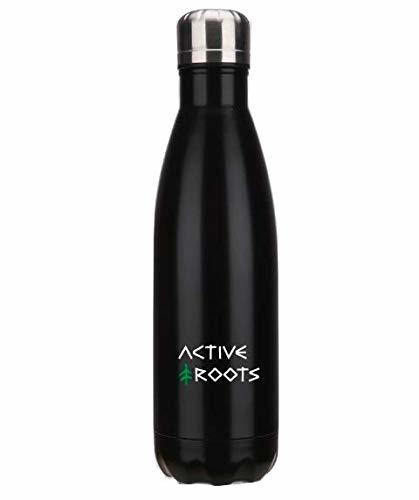 2.Travel Water Bottle: Always travel with a water bottle – it'll save you money and reduce your plastic footprint on our planet. AR bottles are tough, lightweight and maintain the temperature of your beverage – so you can enjoy a cold red bull, or a hot coffee, no matter where you are. For every AR bottle sold, we donate 10% to PlasticOceans.org – an initiative to reduce plastic in our oceans!
3. Microfibre Towel: It's always worth packing a proper towel. Hostel towels are scummy and take forever to dry. Microfibre towels dry quickly, are compact, lightweight and can be used as a blanket or yoga mat if need be.

4. Headtorch: Every backpacker should have a head torch! A decent head torch could save your life. If you want to explore caves, unlit temples, or simply find your way to the bathroom during a blackout, a headtorch is a must. Currently, I'm using the Petzl Actik Core rechargeable headlamp – an awesome piece of kit! Because it's USB chargeable I never have to buy earth polluting batteries.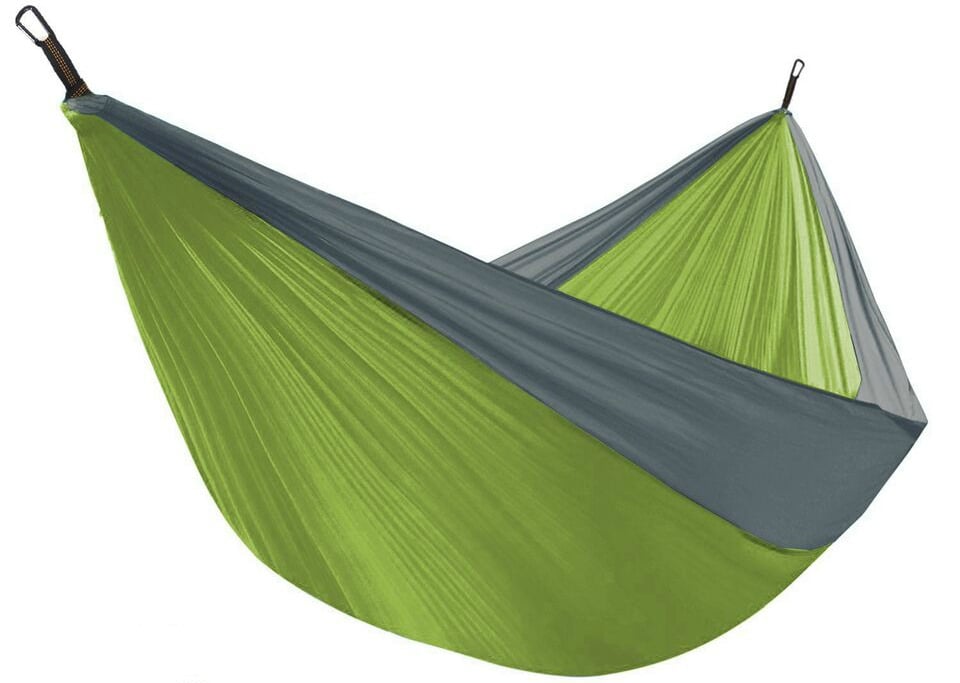 5.Hammock: Taking a tent backpacking is not always practical but hammocks are lightweight, cheap, strong, sexy (chicks dig hammocks) and allow you to pitch up for the night pretty much anywhere. Right now, I'm rocking an Active Roots parachute hammock – it's light, colourful and tough.
6. Toiletry Bag: I always travel with a hanging toiletry bag as it's a super efficient way to organise your bathroom stuff. Well worth having, whether you are hanging it from a tree whilst camping, or a hook in a wall, it helps to have quick access to all your stuff.
For plenty more inspiration on what to pack, check out my full backpacking packing list.
Look Awesome, Do Awesome!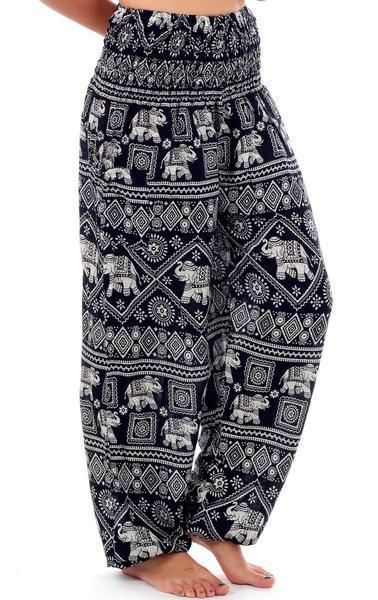 Want to embrace the hippy backpacker style and look? Active Roots hippy trousers are chic, comfortable and perfect for yogis, backpackers, and adventurers alike. Help us support the elephant conservation centre in Laos! 10% of your purchase goes towards saving the Asian elephant population so you can look awesome, feel awesome and
do
awesome - all at once. Pretty fucking awesome right? Use the code ' TBB10 ' for 10% off your order.
Best Time to Travel to Lebanon
I traveled to Lebanon during the entire month of January. For some things, the weather was perfect. The coast was absolutely beautiful and to be honest, I can't imagine what the absolute toxic air of the coastal highway would be like in the summer heat.
For winter travel in the mountains, most of the time the roads were fine, and other times they were not. Whilst true that seeing the Lebanese mountains when they are covered in snow is magical, the snow also presents a number of other challenges.
Hiking options at high altitude are pretty much zero unless you have snow shoes and all the right gear. Likewise, many of the small roads are closed and impassable in the winter.
From what locals told me, late Spring and October are the absolute best times to visit Lebanon. Certainly, if you plan to do some hiking, the fall time is best.
Summers in Lebanon are just too hot, and the air too polluted (at least by the sea) for it to be enjoyable for most people.
Winter is also fantastic, save for the few inconveniences mentioned above.
Be sure to pack warm stuff for the winter months! If you bring the right gear, like a solid rain jacket, a warm down jacket, and a badass sleeping bag, the cold nights in the mountains won't really affect you. Check out my list of the 7 best jackets to take traveling here.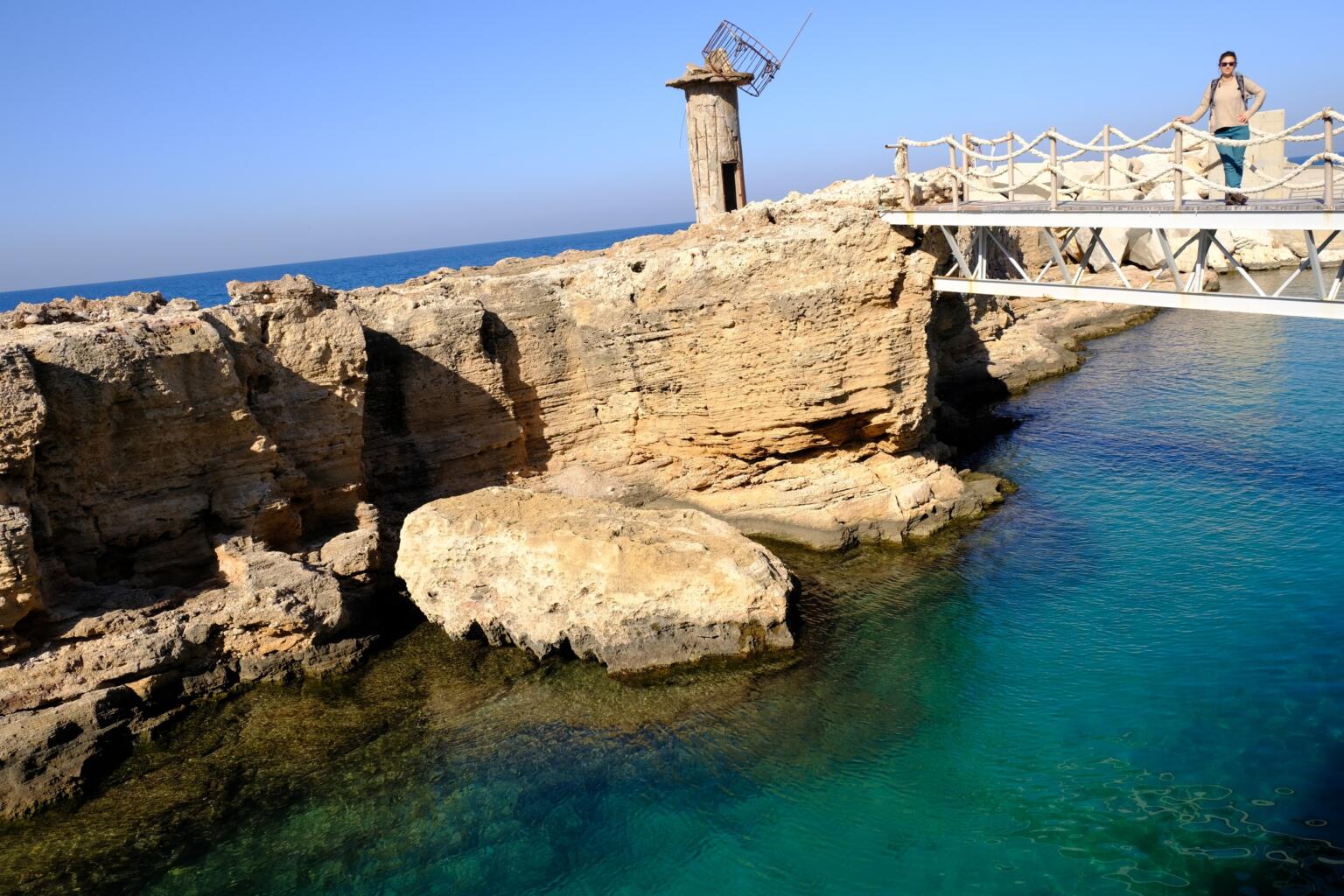 Apps to Download before Backpacking Lebanon
Maps.Me – Prone to getting lost or taking that 'shortcut' that adds another few hours onto a simple walk? This app is definitely for you. My favorite offline maps app, download your map and route before you venture out to keep you on track while backpacking Lebanon. Seriously, Maps.me was a game changer for me in Lebanon. Use it!
XE Currency – I used this a lot when backpacking abroad. It is a great help while calculating expenses. Whether your main currency is the pound or dollar, this app helps you stay on top of exchange rates.
HIDE.ME – I always have a VPN ready to go on both my phone and laptop, I personally use Hide Me which is one of the fastest and most reliable options out there. This particular VPN allows for up to five connections which is handy for keeping all your devices connected without having to purchase multiple VPN packages.
Lebanon Travel Guide to Getting Around
Below I share the practical information needed for arriving into the country and traveling around Lebanon.
Entry Requirements for Lebanon
Since the borders are effectively sealed via Syria (for foreigners) or Israel (for everyone without a special permit) you will almost certainly arrive into Lebanon by air.
For citizens of the USA, the UK, most of Europe, Canada, Australia, New Zealand, China, Japan, and most South American countries (many others too) you do NOT need to apply for a visa in advance.
Tourist visas are granted for 30 days on arrival at the airport in Beirut. You can apply for a 3 month extension for your visa while in the country if you want more time. Just don't overstay your visa as the Lebanese government takes that shit very seriously.
Note on previous Israel/Palestine visits: If the Lebanese customs people/army ask you if you have ever been to Israel or Palestine, the answer must always be NO, even if you were just there last week or more than 10 years ago. It doesn't matter.
If you tell the Lebanese customs officers that you have indeed been to Israel OR Palestine (you can't really do one without the other), then you will most certainly not be allowed to enter Lebanon. If you for some reason have an Israeli stamp in your passport, you will not be allowed to enter into Lebanon.
Luckily, Israel knows this and stopped stamping passports years ago.
How to Travel in Lebanon
As you should know by now Lebanon is a small country. It doesn't take long (in theory) to get from one end to the other.
For backpackers traveling on a shoestring budget, you can opt to take the public bus, which can certainly take you anywhere up and down the coast. Using public transport in the mountains can be a far more complicated affair however.
Be sure, the public bus system in Lebanon is probably the most confusing system I have ever encountered, short of trying to catch a ride in an unmarked collectivo in Guatemala City.
The buses are not always marked and when they are marked there are marked in Arabic, which doesn't help most backpackers. Furthermore, there are no stops or central bus stations. The buses stop when people flag them down or need to get off and there is not much more to it than that.
The best way to get around is by rental car, hands down.
When not walking in the cities, you can opt to either hail a shared taxi or use Uber. Hitchhiking is an option too. More on hitchhiking in Lebanon later in the post.
Fun fact: One thing that blew me away about the cars in Lebanon are the sheer number of old Volkswagen buses/vans there are. Literally, everywhere you go in Lebanon you see a old Volks vans from the 1970's, some in decent condition, others not so much. I love these vans, so it was great to see.
Traveling to Lebanon by yourself? Check out this detailed guide from our friend and fellow travel blogger Anna Everwhere on traveling to Lebanon solo.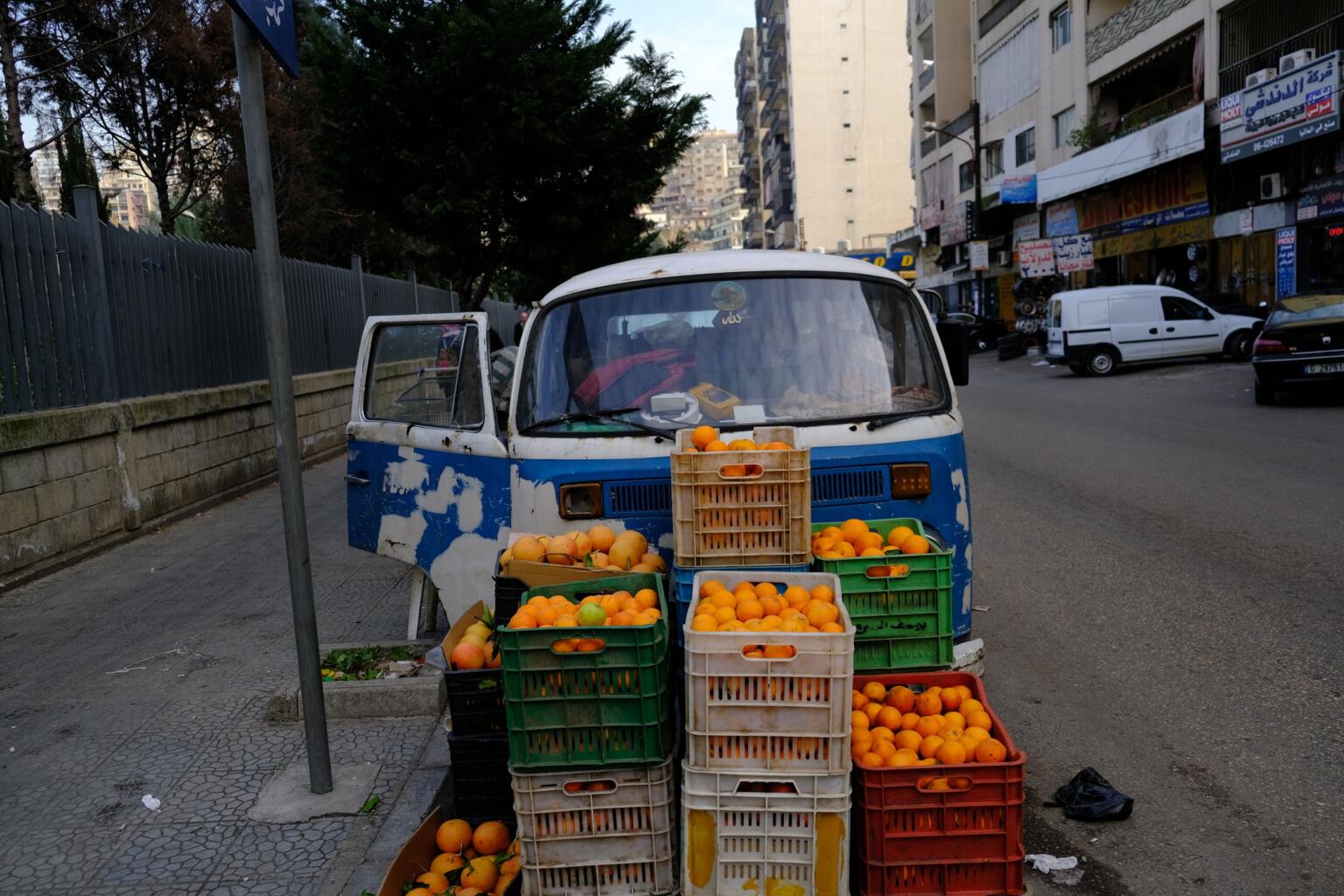 Renting a Car in Lebanon
As I mentioned above, renting a car is definitely the way to go. I rented a car for two weeks in Lebanon and I ended up paying about $17 USD a day, plus the petrol. I did not take insurance and the asshole at the rental car company place charged me $70 for a scratch that was already there before I rented the car.
I am certain! Insurance would of been an extra $30 a day, so paying the $70 for the stupid scratch was still the cheapest way to go.
There is nothing better than moving about at your own pace. Having a set of wheels gives you that. Plus, who doesn't want to make the ultimate Lebanese road trip at least once, right? Remember, you need to explore the mountains and you need a car to make that happen!
You can sort your car rental in just a few minutes. Booking in advance is the best way to ensure you score the lowest price and your choice of vehicle. Often, you can find the best car rental prices when you pick up the rental from the airport. Make sure you cover your rental car with a RentalCover.com policy. It covers your car against any common damages such as tires, windscreens, theft, and more at a fraction of the price you would pay at the rental desk.
Be aware, the Lebanese drive like fucking maniacs. Lanes, right away concepts, turn signals, stop lights, blind curves… all of those things mean nothing to the average Lebanese driver.
When driving in Lebanon, you need to seriously assume/pretend like everyone around you is drunk, blind, and may turn into you at any moment because that is exactly what it feels like to be surrounded by Lebanese drivers on the highway.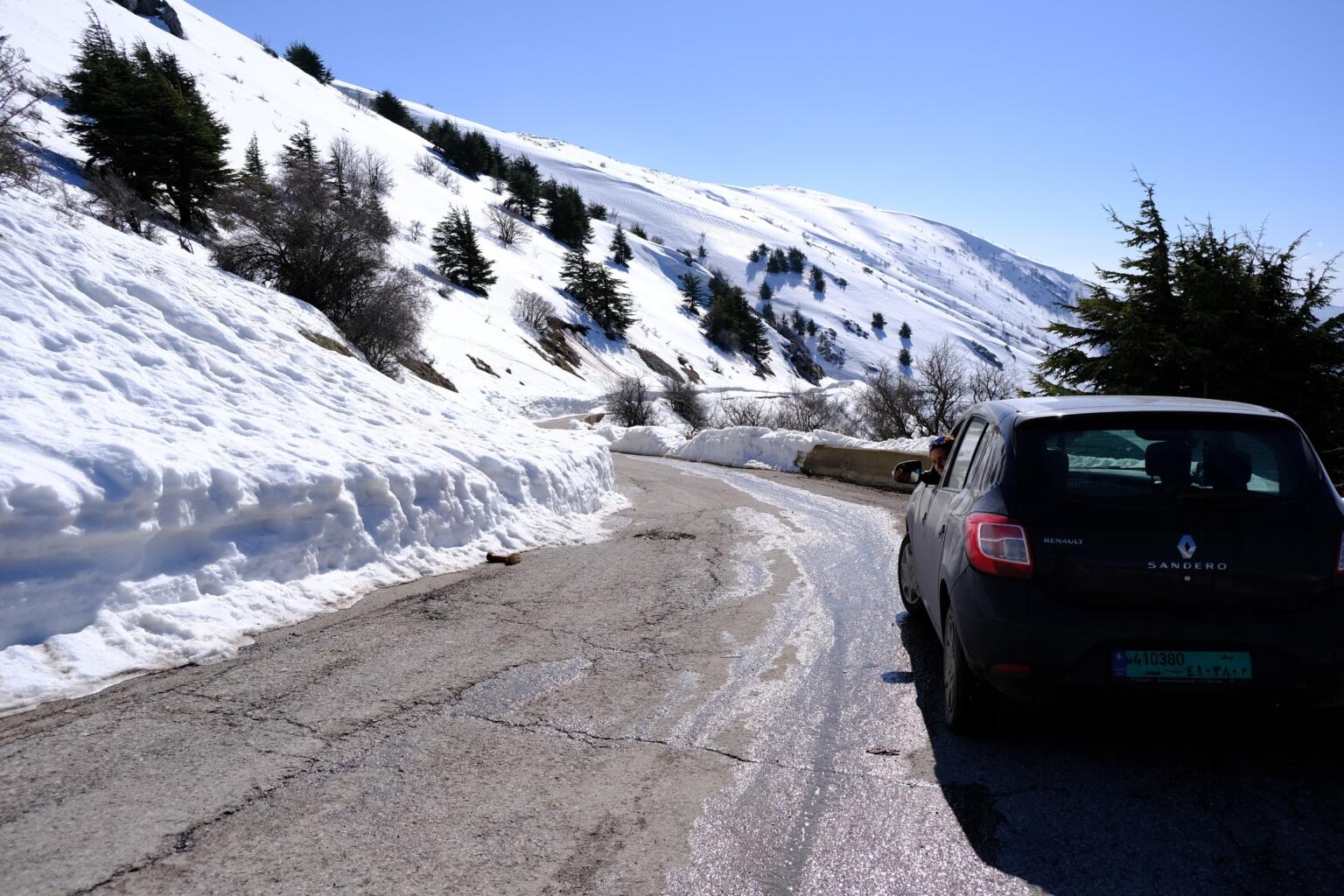 Hitchhiking in Lebanon
I did not personally hitchhike in Lebanon. That said, I have spoken to some close friends who have and they told me that it was easy and that they never had to wait more than a couple of minutes. I did see some locals hitchhiking from time to time, so it is not a totally foreign concept.
I would not hitchhike in Beirut or Tripoli because honestly there are so many taxis that everyone will try to charge you for a ride anyway.
Make it very obvious that when you are hitchhiking, you are actually hitchhiking, not trying to flag down a bus. I guarantee you a few buses will stop and try to pick you up anyway.
Onwards Travel from Lebanon
Overland onward travel options out of Lebanon are limited, if not impossible. It may be possible to cross the border from Lebanon into Syria, but 1.) you will most definitely need to have already gotten your visa in advance and 2.) the army in both Lebanon and Syria may well stop you for ages and ask you a million and one questions about why you are coming to Syria.
If any of you have any recent information on the Lebanese-Syrian border crossing for foreigners, please leave a comment below!
Your best (and likely only) bet for onward travel out of Lebanon is by air from Beirut.
The ferry running from Lebanon to Cyprus seems to have stopped running a number of years ago and I have found no evidence to the contrary. Apparently, when the sea is calm, you can take a ferry from Lebanon to Turkey and then get to Cyprus by ferry from there.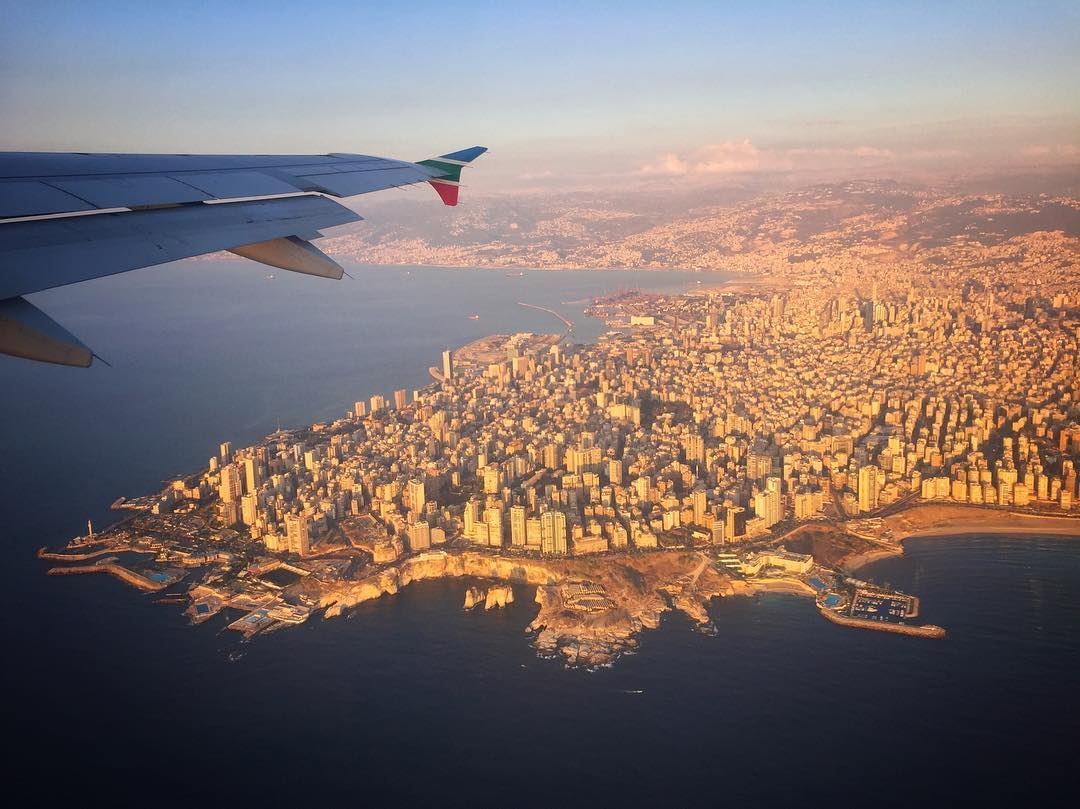 Lebanon Travel Costs
One of the most important questions any backpacker should be asking is, "is Lebanon expensive?" The short answer is that it is neither cheap nor crazy expensive. If there were a number of backpacker hostels scattered throughout the country, then yes, Lebanon would indeed be a cheap country to travel in.
Because there are in fact barely any budget hostels in Lebanon, it is hard to travel in Lebanon on a total shoe string budget.
Not including a rental car, one can travel in Lebanon on $40 – 60 per day and be comfortable and happy. If you have another person to split the hotel room costs, your costs will be in the $40 – 60 range easily.
Food in Lebanon is worth spending money on and generally isn't insanely expensive either.
One can eat very well for under $10/day if you stick to street food like kebab type sandwiches and manouche (like a breakfast pizza covered in either Zaatar spices or Labneh). For $20/day you can seriously eat like a king (meat dishes tend to be a little pricey though).
Entrance fees to major attractions range from around $5 USD to $15 USD depending on what the attraction is.
Groceries from a super market or small shop are reasonable and one can easily cook an excellent meal for $5 -10 worth of store bought ingredients.
I recommend Couchsurfing as much as you possibly can. The more you Couchsurf and hitchhike, the more money you can spend on wine, good hummus, and activities like paragliding. Pure and simple.
As I mentioned before (and will again), having a good tent and sleeping bag are crucial to budget backpacking. Both will save you a ton of money on accommodation. Whilst backpacking in a hostel-less country like Lebanon, having the right gear and ability to camp out (when possible) is very important to keep costs to an absolute minimum.
Below is a list of what you can expect to spend on a daily basis (excluding car hire) whilst backpacking Lebanon.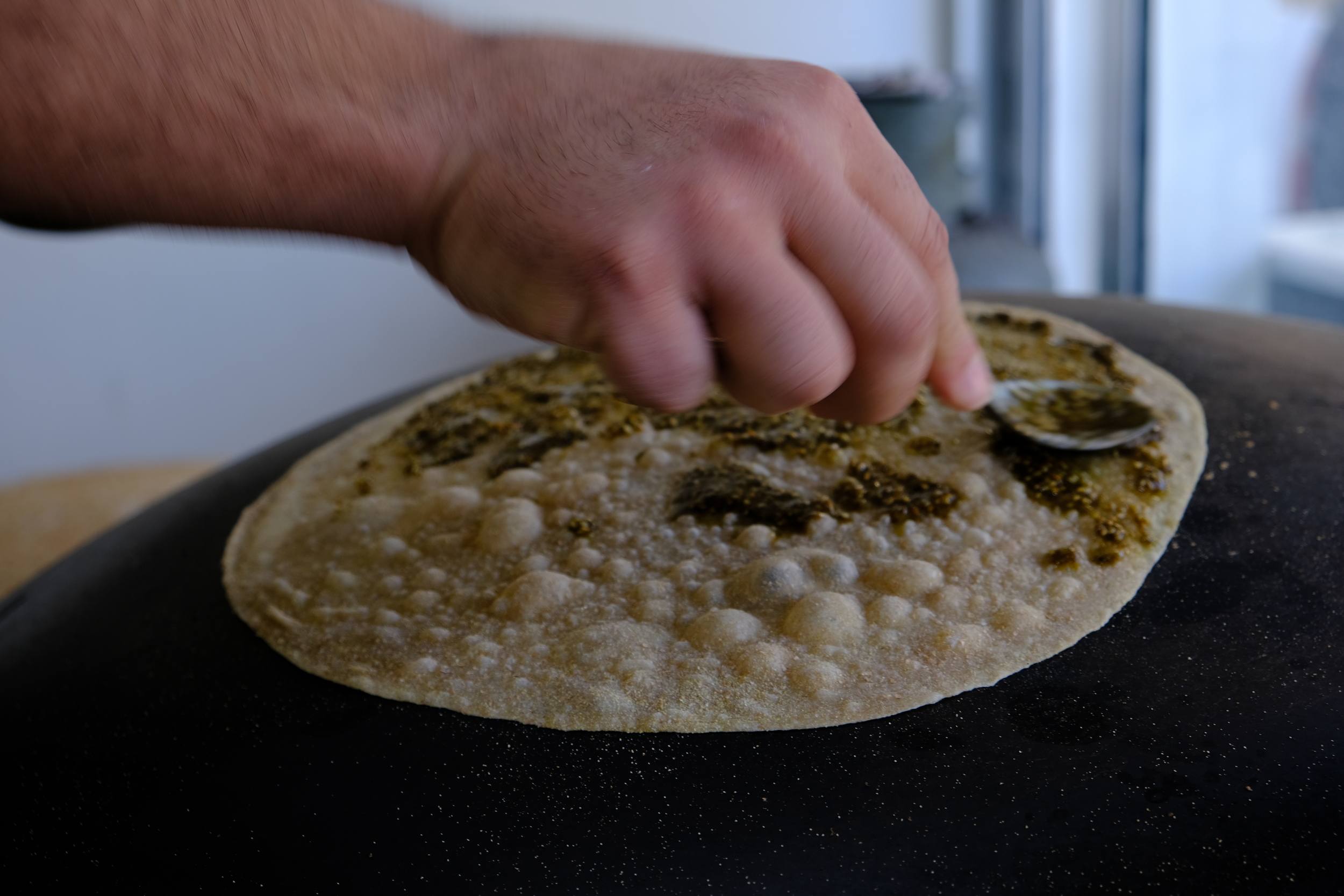 Lebanon Daily Budget
Dorm Bed in a Hostel in Beirut: $15-25+
Nice room for two at a midrange hotel: $40-65
Airbnb apartment in Tyre: $35 – 50
Beirut – Baalbek Bus: $7 one way
Bus from Beirut to Tripoli: $5 – 9
Manouche from a Bakery: ¢75 - $1
Dinner for two at a local restaurant: $8-12 per person
Beer at a bar: $3-5+
Wine bottle from the shop: $8
Jeita Grotto entrance fee: $12
Money in Lebanon
Fun fact: Lebanon has two currencies. That's right!
Lebanon's two currencies are the Lebanese Pound (LBP) and the US Dollar (USD).
Both currencies are widely excepted everywhere in Lebanon. If you pay with USD you will likely get your change in LBP.
The Lebanese Pound has a stable exchange rate against the dollar: 1500 LBP = 1 USD.
Paying with USD for things like hotel rooms and entrance fees to attractions is the way to go if you have the USD on you. Likewise, you don't really need to have US dollars in Lebanon. I think the locals are now starting to trust their own currency because I rarely saw Lebanese people pay for anything using USD.
I recommend carrying cash on you as credit cards are not always accepted. All of the day to day transactions are done in cash, not with cards.
Also, I has some trouble with the ATM machines not accepting my foreign bank card. Make sure that when you head into the mountains, you have plenty of cash because the ATM machines are few and far between!
Tip: Find out whether or not your bank in your home country has fee-free international withdrawal. If so, activate it for your trip or for whenever you travel abroad. Once I discovered my bank card had that option, I saved a huge amount in ATM fees! When traveling to Lebanon on a budget, every dollar counts right?
| | |
| --- | --- |
| | You should always have some emergency cash hidden on you and I've written an entire post on the best places to hide your money. If you want to carry a fair bit of cash safely on your body, your best bet is to get hold of a backpacker belt with a hidden security pocket. |
Top Tips for Backpacking Lebanon on a Budget
Camp: With plenty of stunning mountains and forests to explore, camping saves you money and can help you get off of the beaten path on an epic adventure.
Cook your own food: Travel with a portable backpacking stove or stay at a hostel with a fully-equipped kitchen. Cooking your own food to save some serious cash whilst backpacking across Lebanon. Make sure you buy camping gas BEFORE leaving Beirut as they don't see it anywhere else in the country. The Decathlon store north of Beirut is where to find gas. Call first to make sure they have the kind you need in stock.
If you plan to do some overnight hiking trips or camping having a backpacking stove will be ESSENTIAL to your success. My two personal go-to stoves are the MSR Pocket Rocket 2 and my Jetboil.
Check out my in-depth review of the MSR Pocket Rocket 2 here.
While traveling in Lebanon, I cooked my own meals about 60% of the time. I only ate out when the food 1.) looked fucking amazing or 2.) when the grocery store was closed or totally void of anything fresh. Cook your own food and save heaps of money. Easy.
To learn how to travel the world on $10 a day, check out the backpacker's bible.
Pack a travel water bottle: save money (and the planet) every day! Stop buying bottled water!
Volunteering in Lebanon
Long term travel is awesome. Giving back is awesome too. For backpackers looking to travel long-term on a budget in Lebanon whilst making a real impact on local communities and/or learning some new skills along the way, look no further than World Packers. World Packers is an excellent platform connecting travelers with meaningful volunteer positions throughout the world.
In exchange for a few hours of work each day, your room and board are covered.
Backpackers can spend long periods of time volunteering in an awesome place without spending any money. Meaningful life and travel experiences are rooted in stepping out of your comfort zone and into the world of a purposeful project.
World Packers opens the doors for work opportunities in hostels, homestays, NGOs, and eco-projects around the world. Broke Backpacker readers get a special discount of $20 – just use this discount code BROKEBACKPACKER and membership is discounted from $49 a year to $29.
Teaching English in Lebanon
Many Lebanese people can speak surprisingly good English… and you know what? The demand for Lebanese wanting to learn English is growing every year (sorry Frenchies).
Perhaps one of the best options for backpackers wanting to explore Lebanon long-term and experience living in this truly incredible country is to get a Teaching English as a Foreign Language course online.
TEFL courses open up a huge range of opportunities and you can find teaching work all over the world. To find out more about TEFL courses and how you can teach English around the world, read my in-depth report on teaching English abroad.
Broke Backpacker readers get a 35% discount on TEFL courses with MyTEFL (simply enter the code BACKPKR), to find out more, please read my in-depth report on teaching English abroad.
Note: You will need to apply for a special visa to teach English in Lebanon.
Make Money Online whilst Backpacking Lebanon
Keen to live the digital nomad dream while traveling the world? Who the hell doesn't?
Teaching English online is a great way to earn a consistent income—from anywhere in the world with a good internet connection. Depending on your qualifications (or your motivation to obtain qualifications like a TEFL certificate) you can teach English remotely from your laptop, save some cash for your next adventure, and make a positive impact on the world by improving another person's language skills! It's a win-win!
Check out this detailed article for everything you need to know to start teaching English online.
Whether you are keen to teach English online or looking to take your teaching game a step further by finding a job teaching English in a foreign country, getting your TEFL certificate is absolutely a step in the right direction.
Internet in Lebanon
From what I had read online before I came to Lebanon, I was confident that I could pick up a SIM card for my phone for "just a couple of bucks." WRONG! If you have also read similar information on other blogs regarding cheap SIM cards in Lebanon, forget it.
It just is not true at all. Apparently, there is some monopoly/government corruption thing going on with the cell phone companies because SIM cards and data are fucking expensive.
After going to (seriously) 10 phone shops in Beirut and haggling when it wasn't appropriate to haggle, I was able to get a SIM card good for one month loaded with 5 GB of data on it for $45 USD.
You CAN find cheaper options than that, but often they only include 1 GB or less and the SIM card will still cost you $25 easy.
The two main cell phone companies in Lebanon are Touch and Alfa. Both cost pretty much the same. I had Alfa and it worked well throughout the country.
Most of the wifi I found across Lebanon was super slow or straight up did not work. Since I work online, I ended up using my phone as a hotspot when I needed to get some work done, which was definitely necessary for me.
Do not count of the wifi working all the time. When you do have it, savor it.
If you do not plan on renting a car or you don't need to have internet on your phone, don't bother with a SIM card unless you are staying in Lebanon for more than a couple of weeks. Use the time (and money) to explore the country instead and to get the hell offline!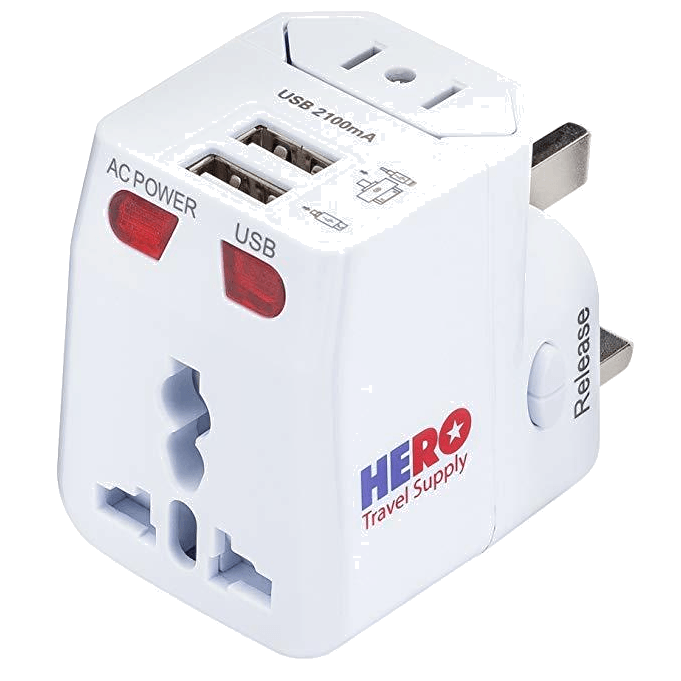 One of the best investments you can make is a
worldwide travel adapter
that will work anywhere! The one featured here is tough, reliable and a solid buy - Don't leave home without one.
GET IT HERE
Must Try Experiences in Lebanon
Meet the People in Lebanon
The Lebanese people are a true pleasure to get to know. We experienced countless acts of hospitality and kindness from the people we met.
From taxi drivers and fish vendors to bar staff and Airbnb hosts…the Lebanese people are some of the most genuine, kind-hearted, and generous people I have ever met whilst traveling or not.
One thing is certain, if you end up becoming friends with any Lebanese people, you will certainly not starve. The Lebanese love language is certainly food, and I swear I gained 10 pounds whilst backpacking in Lebanon just from constantly being offered delicious food.
Ironically, a majority of the Lebanese population is still likely to be very traumatized from the shit they endured during the war years. However they cope with these traumas, it certainly does not manifest in a negative light in the way they interact with foreigners.
Special thanks to all of the amazing people who showed us so much love in Lebanon, especially the Kobrossi family.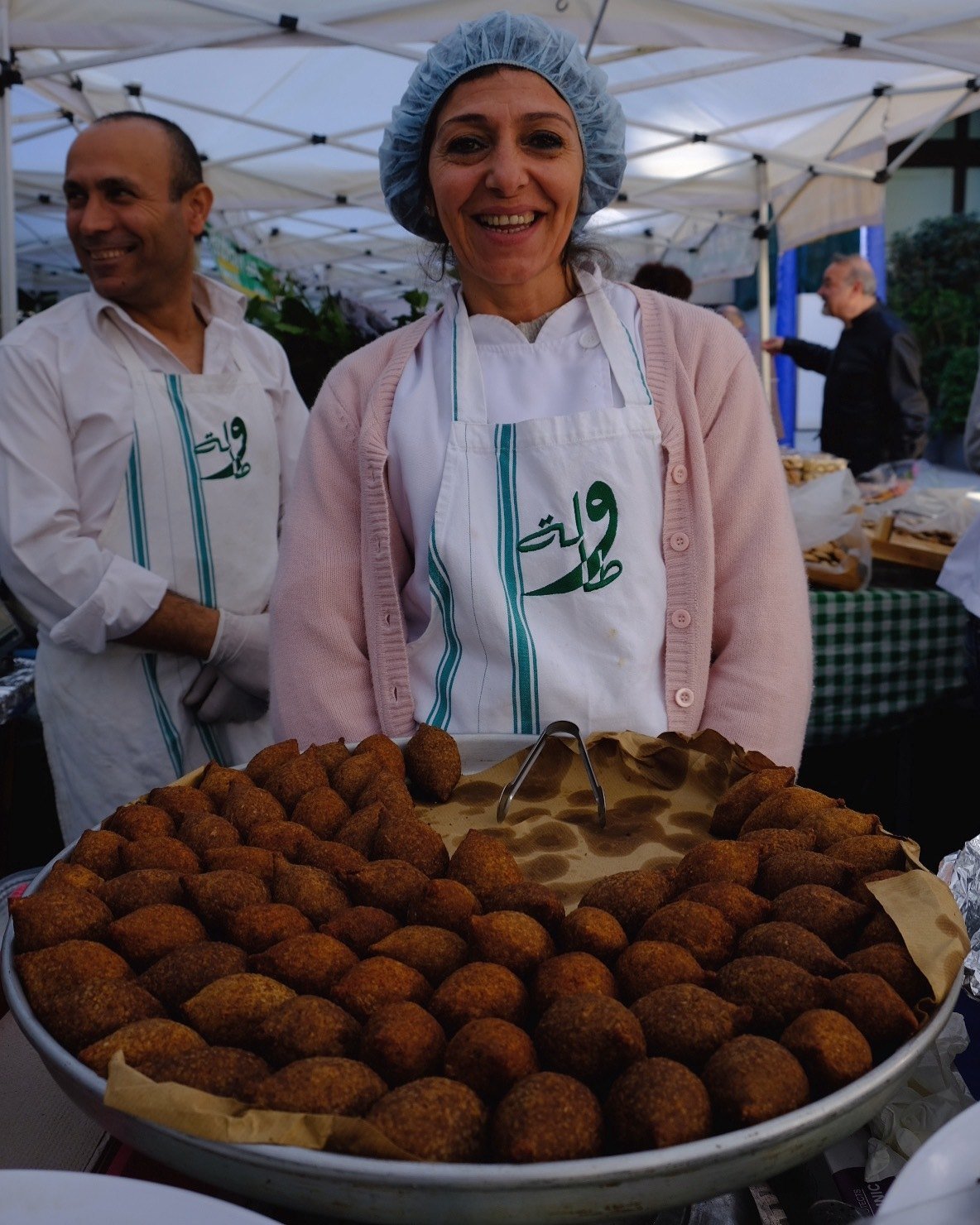 What to Eat in Lebanon
Lebanese food is simply incredible. There are so many options and tasty things to try that if you love to eat, you are coming to the right country! Below I have listed a few of my favorite Lebanese dishes:
Hummus: A chickpea based dip/spread made with olive oil, salt, and tahini paste.
Foul: A breakfast food usually served hot. Made with a fava bean base, raw onions, and olive oil.
Manousche: Another common breakfast food (it's good anytime, really). It's kind of like a pizza, but usually topped with the famous Lebanese spice, Zaatar.
Mutabal: The same thing as Baba Ghanouj. A delicious dip made with smoked eggplant.
Kefta: Oblong shaped meatballs filled with parsley and spices.
Kibbeh: Can take many forms, but is usually a flat ground-beef and bulgur grain dish seasoned with spices and topped with pine nuts. Must have with yogurt!
Fatoush: A classic Lebanese salad topped with fried bits of Lebanese bread and many vegetables like tomatoes and sweet peppers.
Fried Fish: When you are in southern Lebanon, the fish is excellent!
Shawarma: The classic Middle Eastern street food sandwich filled with shawarma meat (can be chicken, lamb, or beef), sauce, and pickled veggies.
Labneh: A slightly sour, young cheese-yogurt hybrid that is delicious on everything
Tabolueh: A world-famous cold salad made with bulgur, tomatoes, and a ton of parsley, lemon juice, salt, and onions.
Lebanese Pastries: I could write an entire article on all of the different Lebanese pasty concoctions. There is an endless variety. Try to sample a different one every day. In Saida, go for the kneffe.
Festivals in Lebanon
The Lebanese love to have a good time (don't we all?). Here are a few Lebanese festivals to look for:
Hippodrome Vinifest, October: 4-day wine festival is organized at the Hippodrome with all kinds of wine tasting activities, food stands and music entertainment.
Jounieh International Summer Festival, June/July: A 10-day international festival that is organized in Jounieh, providing outdoor shows, food and music… and lots of fireworks.
Byblos International Festival, July/August: A fun music/culture festival held in a beautiful setting overlooking the Byblos harbor and ruins.
Baalbek International Festival, July/August: Ever wanted to go to a festival held amongst epic Roman ruins? This is your chance.
Zouk Mikael International Music Festival, July: An annual one-week international music festival held in the vicinity of the Roman amphitheater just opposite the Old Souq.
Trekking in Lebanon
Lebanon's mountains are full of awesome hiking trails. Hiking is not a super popular past time in Lebanon, but slowly people are getting stoked on it. The people behind the Lebanese Mountain Trail (LMT) have done heaps in promoting hiking and trekking in the country.
When the mountains are covered in several feet of snow, the options are endless. Here are a few of the best hikes in Lebanon.
Lebanese Mountain Trail: The LMT is a 470 km (292 mi.) foot path traversing the breadth of Lebanon from north to South. The trail is made up of 27 different sections and takes roughly one month to complete end to end. If you have the time and motivation, this is an ultra rewarding way to see Lebanon. Most people start the thru hike in late spring.
Al Ammouaa Forest: For a chill and non-crowded place to enjoy the mountains, the Ammouaa Forest Reserve in north east Lebanon is a great spot. We did an awesome 3 hour hike out here and did not see another person (also we were trekking in 3 feet of powder and my feet nearly fell off due to cold).
Kadisha Valley: One of my favorite sections of the LMT runs through the Kadisha Valley. Here you have ancient olive groves, monasteries, rivers, and waterfalls.
The Chouf Reserve: Lebanon's biggest forest reserve is the best place to surround yourself with ancient cedars and escape the crowds. Ok, sometimes it can be busy here, but most of the time (especially once you leave the road), it is just you and the trees.
Horsh Ehden Nature Reserve: Another very low-key spot not too far from Bcharre. The lower elevations are hikable in the winter.
Adonis Valley: One of the best places to see a large lake in Lebanon (Lake Chouwen).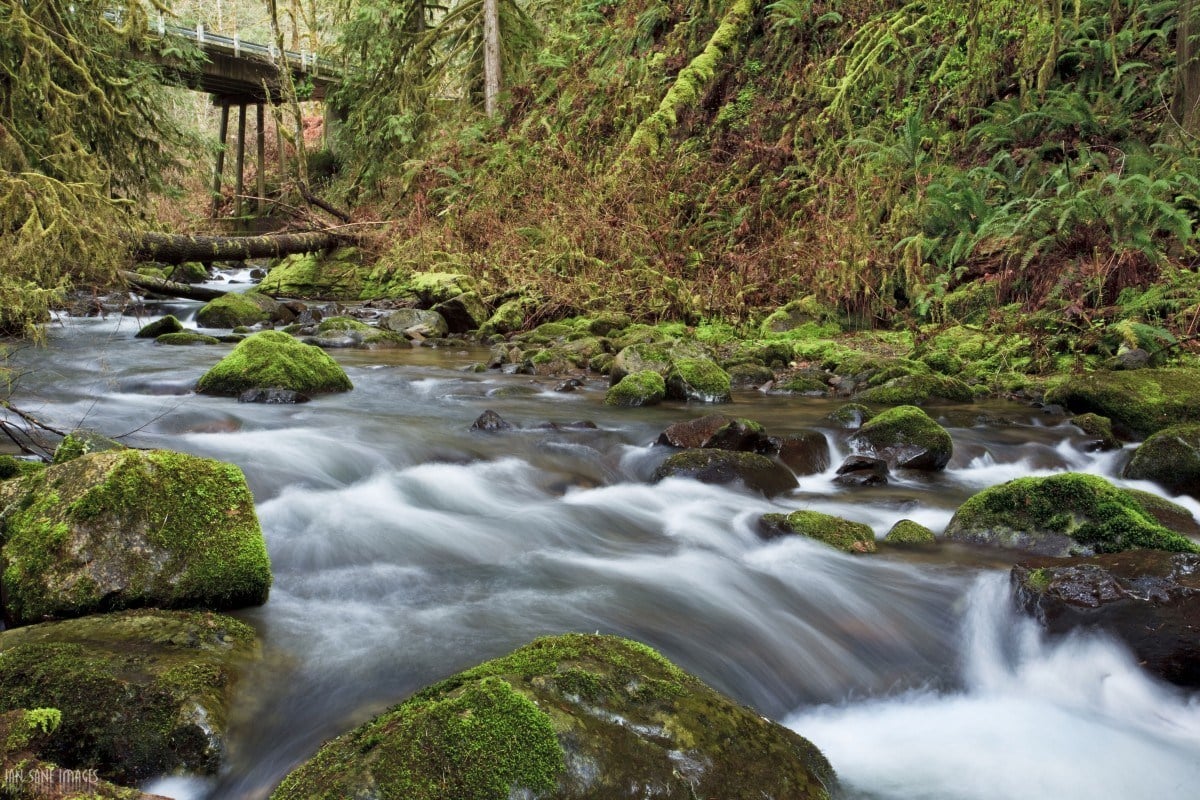 Scuba Diving in Lebanon
In the summer when it is too hot to do anything else, why not go for a scuba dive? Prospective divers can find dive shops in Beirut, Saida, Byblos, Batroun, Jounieh, and Tripoli, to name a few. There are a handful of interesting dive sites to be found up and down Lebanon's coast.
Aub Canyon, near Beirut: The walls on this reef are steep, beautiful, and full of small caves and fishermen's nets with a huge old anchor lying at 43m. The water here is pretty polluted though, so do your best not to swallow any!
Shark Point, near Beirut: One of the best dive sites in Lebanon. Diverse and rich. Fine diving between April and September. Moray eels, stingrays in groups, eagle rays, groupers, and sharks – the small tooth sand tiger and the gray nurse sharks tend to be around in July.
The Souffleur, south of Beirut (12 km): An epic place to see a World War 2 wreck!
Alice B, near Jounieh: An excellent site for underwater photographers. An easy dive for people with little experience.
A Brief History of Lebanon
Since Lebanon is one of the oldest continuously inhabited places in the Middle East, giving a brief history is not a easy task. Basically, for the last few thousand years, the territory now known as Lebanon has been ruled and/or conquered by the Phoenicians, Egyptians, Romans, Arabs, Christians, Mamluks, and the Ottomans, among others.
In 1975, when the Lebanese civil war broke out, the country was forever changed by the conflict.
The Lebanese Civil War and its Aftermath
In all, it is estimated that more than 100,000 were killed, and another 100,000 handicapped by injuries, during Lebanon's 16-year war. Up to one-fifth of the pre-war resident population, or about 900,000 people, were displaced from their homes, of whom perhaps a quarter of a million emigrated permanently. Thousands of people lost limbs during many stages of planting of land-mines.
The War can be divided broadly into several periods: The initial outbreak in the mid-1970s, the Syrian and then Israeli intervention of the late 1970s, escalation of the PLO-Israeli conflict in the early 1980s, the 1982 Israeli invasion, a brief period of multinational involvement, and finally resolution which took the form of Syrian occupation.
In May 1991, the militias (with the important exception of Hezbollah) were dissolved, and the Lebanese Armed Forces began to slowly rebuild themselves as Lebanon's only major non-sectarian institution.
Some violence still occurred. In late December 1991, a car bomb (estimated to carry 100 kg (220 lb) of TNT) exploded in the Muslim neighborhood of Basta.
At least thirty people were killed, and 120 wounded, including former Prime Minister Shafik Wazzan, who was riding in a bulletproof car. It was the deadliest car bombing in Lebanon since June 18, 1985, when an explosion in the northern Lebanese port of Tripoli killed sixty people and wounded 110.
The last of the Westerners kidnapped by Hezbollah during the mid-1980s were released in May 1992.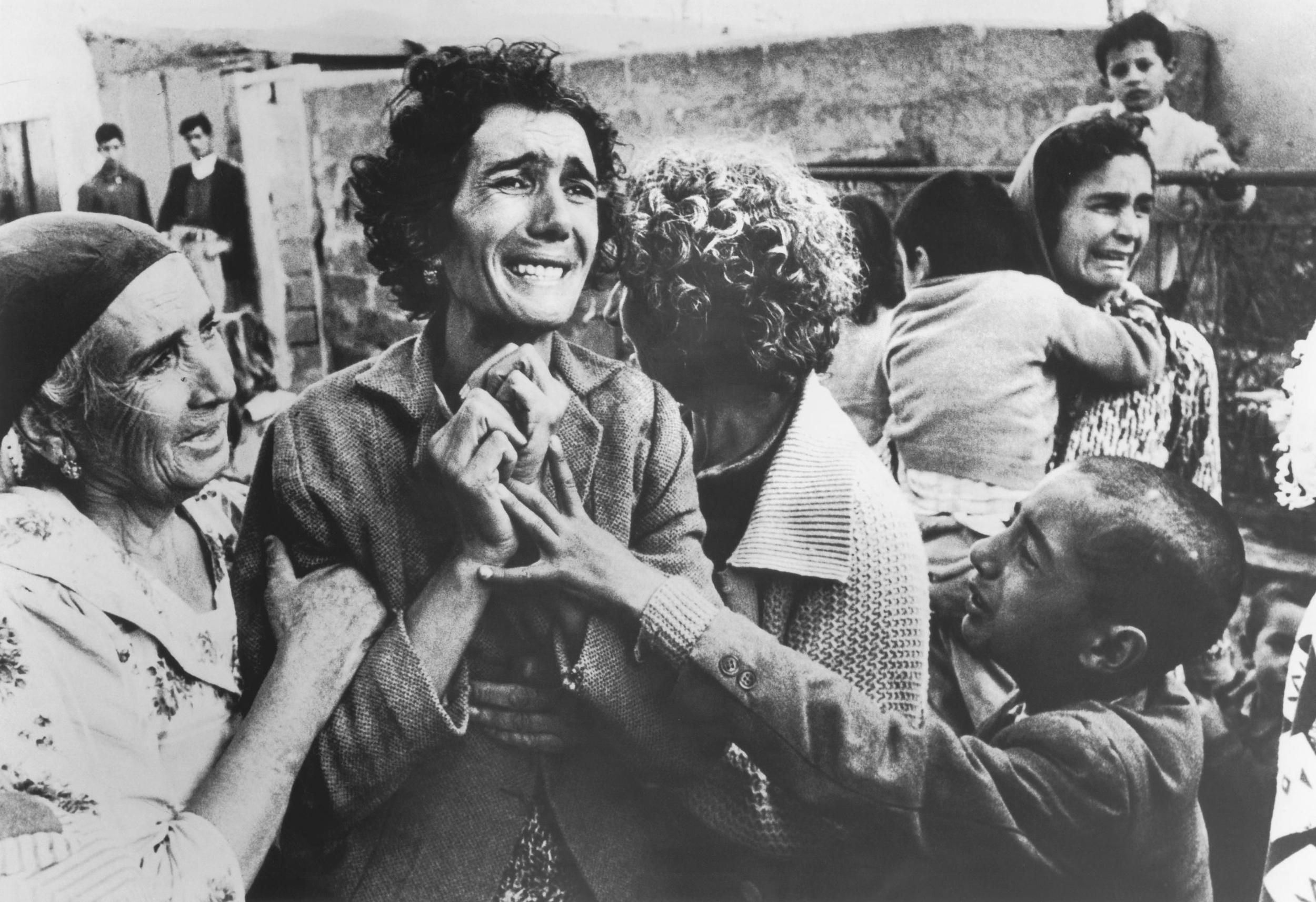 Lebanon in the Present Moment
Lebanon and its population are still recovering from the civil war. Evidence of bombed out, destroyed buildings are still standing all over Beirut as a daily reminder to the people living there just how fucked things got in the not so distant past.
That said, Lebanon has not surrendered in defeat to the wounds and trauma of war. Lebanon is a country on the move and the people I spoke to expressed a deep love and optimism for the future of their country.
The fact remains that Lebanon is still a deeply divided country, though at least for the present moment the majority of Lebanese citizens are finding ways to look past their ideological differences and co-exist with one another, which is very good to see indeed.
I guarantee you that most of the Lebanese people do not want another war and will do everything in their power to avoid one.
The backpacker scene in Lebanon will develop as more and more keen travelers find their way to this magical land, which will be great for the economy and well as for the general public confidence that will get a boost when locals see foreigners coming to enjoy their country.
Being a Responsible Backpacker in Lebanon
Reduce your plastic footprint: Perhaps the best thing you can do for our planet is to make sure you do NOT add to the plastic problem all over the world. Don't buy one-use water bottles, the plastic ends up in a landfill or in the ocean. Instead, pack a tough travel water bottle.
Go and watch A Plastic Ocean on Netflix – it'll change how you view the plastic problem in the world; you need to understand what we are up against. If you think it doesn't matter, get off my fucking site.
Don't pick up single use plastic bags, you're a backpacker – take your daypack if you need to go to the shop or run errands.
Bear in mind, that many animal products in countries you travel through will not be ethically farmed and won't be of the highest quality. I'm a carnivore but when I'm on the road, I only eat chicken. Mass-farming of cows etc leads to the rainforest being cut down – which is obviously a huge problem.
Recently, my gear-venture, Active Roots has started to sell water bottles. For every Active Roots water bottle sold, we donate 10% to PlasticOceans.org – an awesome initiative aimed at educating people on the risk of single use plastic and helping to clean up our oceans.
Help save the planet, whether you take an Active Roots bottle or not – TAKE RESPONSIBILITY for your plastic footprint, don't be a dick.
Need more guidance? – Check out our post on how to be a responsible backpacker.
In Lebanon, there are no shortage of occasions or opportunities in which to get down. I am all about people having a good time and letting loose. That said, don't drink so much that you embarrass yourself, your country, and everyone within 50 feet of you.
I am far from innocent. There have been many times during my travels where I let myself and the situation get out of hand. It's easy to do!
Iit doesn't take much before you do something that you will later regret (or spends a week's budget in one big night out!).
Go to Lebanon and have the time of your life, do the things you've dreamed of, but be respectful along the way. Traveling the world makes you an ambassador for your country, which is awesome. We can make a positive impact on people when we travel and get rid of any ugly stereotypes that may be associated with your country…
Always be respectful when entering churches, mosques, or monasteries.
Climbing on ancient castle walls, Roman ruins, national monuments of martyrs, or other historical artifacts should be avoided. Duh! Learn to appreciate the cultural treasures Lebanon and don't be that dickhead who adds to their demise.
Responsible travel is the best kind of travel. Be kind to the planet that we all love to explore so that the people in the future will still have a planet worth exploring.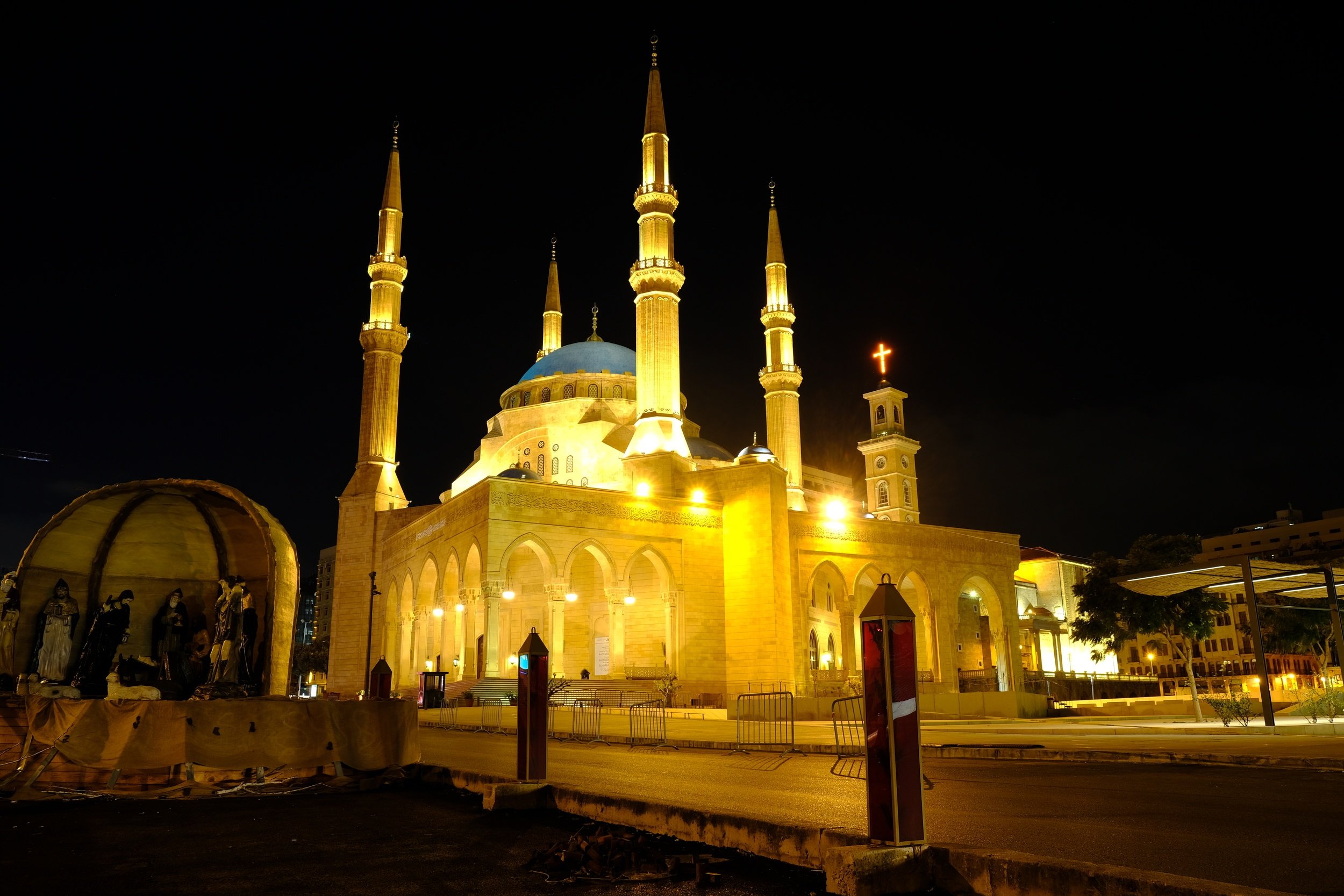 Final Thoughts on Backpacking Lebanon
I hope you found this Lebanon backpacking guide useful. I am confident that this is the most comprehensive Lebanon travel guide on the internet and one I wish I had when I first went backpacking in Lebanon!
It was truly a pleasure to travel in Lebanon, and to have the chance to write about it. My hope is that you put this Lebanon travelguide to use for your own unique backpacking adventure!
Lebanon is a very special country filled with amazing human beings. If you are about to set off to Lebanon, you are in for one amazing travel experience. Happy travels, amigos.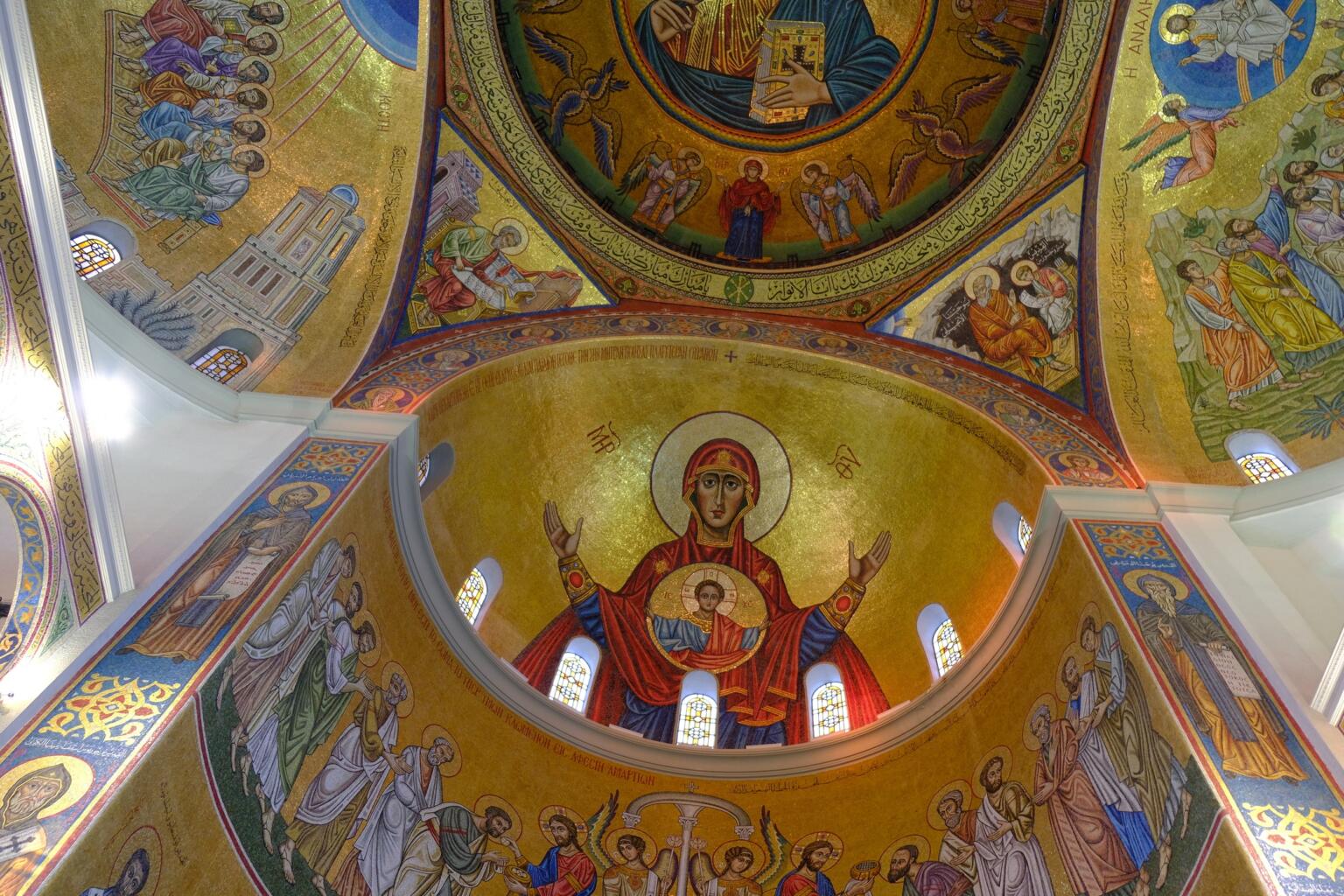 "Yay for transparency! Some of the links in this post are affiliate links. This means that if you book your accommodation, buy a book or sort your insurance, I'll earn a small commission at no extra cost to you. I only link to stuff I've actually used and never endorse crap. Your support helps me keep the site going."
---
Need More Inspiration?
Like this post? PIN ME!!!