Colombia is one of the most incredible countries in the world. With chilled surfing beaches, crazed parties, bustling cities, lost cities, and incredible scenery, Colombia is a country that should be on every backpackers' wishlist. Backpacking Colombia is truly an amazing experience.
When I first arrived in Colombia, I was amazed at how safe everything felt. There is a strong, yet friendly, police presence and locals, in general, are extremely friendly. Traveling in the northerm part of South America is a bit more expensive than I had at first anticipated but if you're smart it's still possible to get around on the cheap.
I strongly recommend booking accommodation in advance during the high season. This Colombia travel guide teaches you the ropes about how to have an amazing backpacking trip to this land of magical realism.
Where to go Backpacking in Colombia
Colombia is a South American country that is rich in ecological and cultural diversity. It is all at once a giant party and adventure central, and can also be mellow and peaceful, once you get away from all of the noise. The big cities are famous for their nightlife, all-night parties, and of course, dancing. Each city has its own unique flavor, colorful buildings, and colonial architecture. The coast is brimming with beautiful post-card beaches and the attractive locals to match. The coastal areas have plenty of awesome places to go surfing or diving too.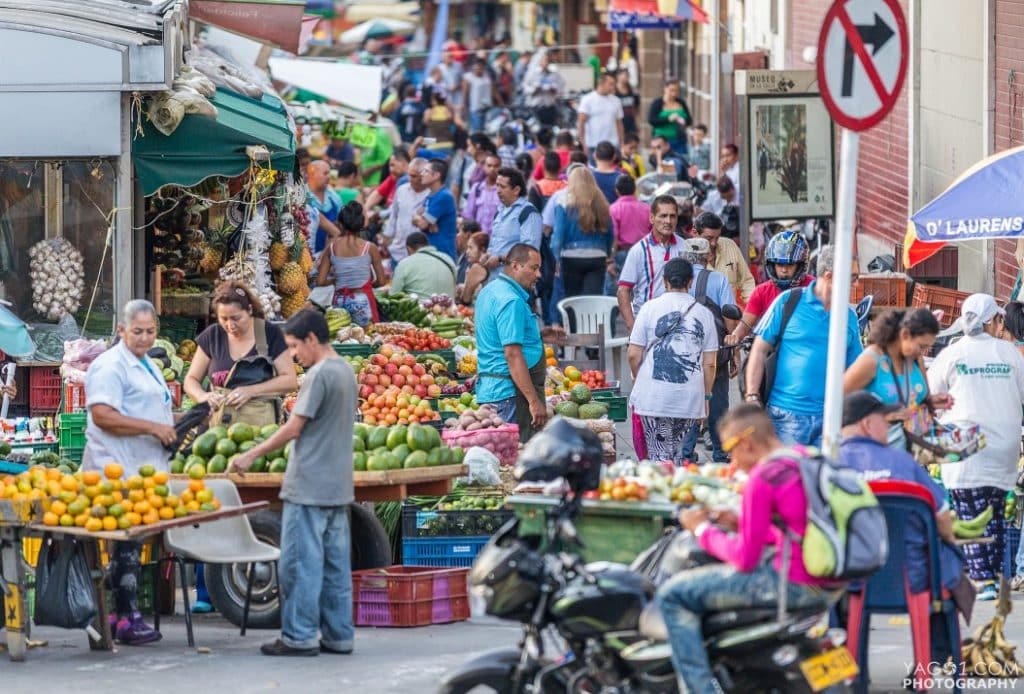 The mountainous, humid, super green interior is a whole other world of Colombia. Think dense jungles, rivers, lost ancient cities, and remote indigenous communities. No matter what your idea of a good time is, there is something interesting and fun to get into around every corner. Modern-day Colombia is a place thriving after decades of trauma inflicted by narco-traffickers, guerrilla activity, corruption and general political instability.
Backpacking in Colombia is one hell of an adventure. Now let us take a look at some of the best Colombia backpacking itineraries to help you get an idea of where to go and what to do in this truly special country.
Best Travel Itineraries for Backpacking
Get information on Colombia travel itineraries and backpacking routes, maps, travel tips, safety, things to do, and much more. Most of all you will walk away with all the inspiration you need to make the most of your trip whilst traveling in Colombia on a budget.
Backpacking Colombia 4 Week Itinerary #1: Colombia's Highlights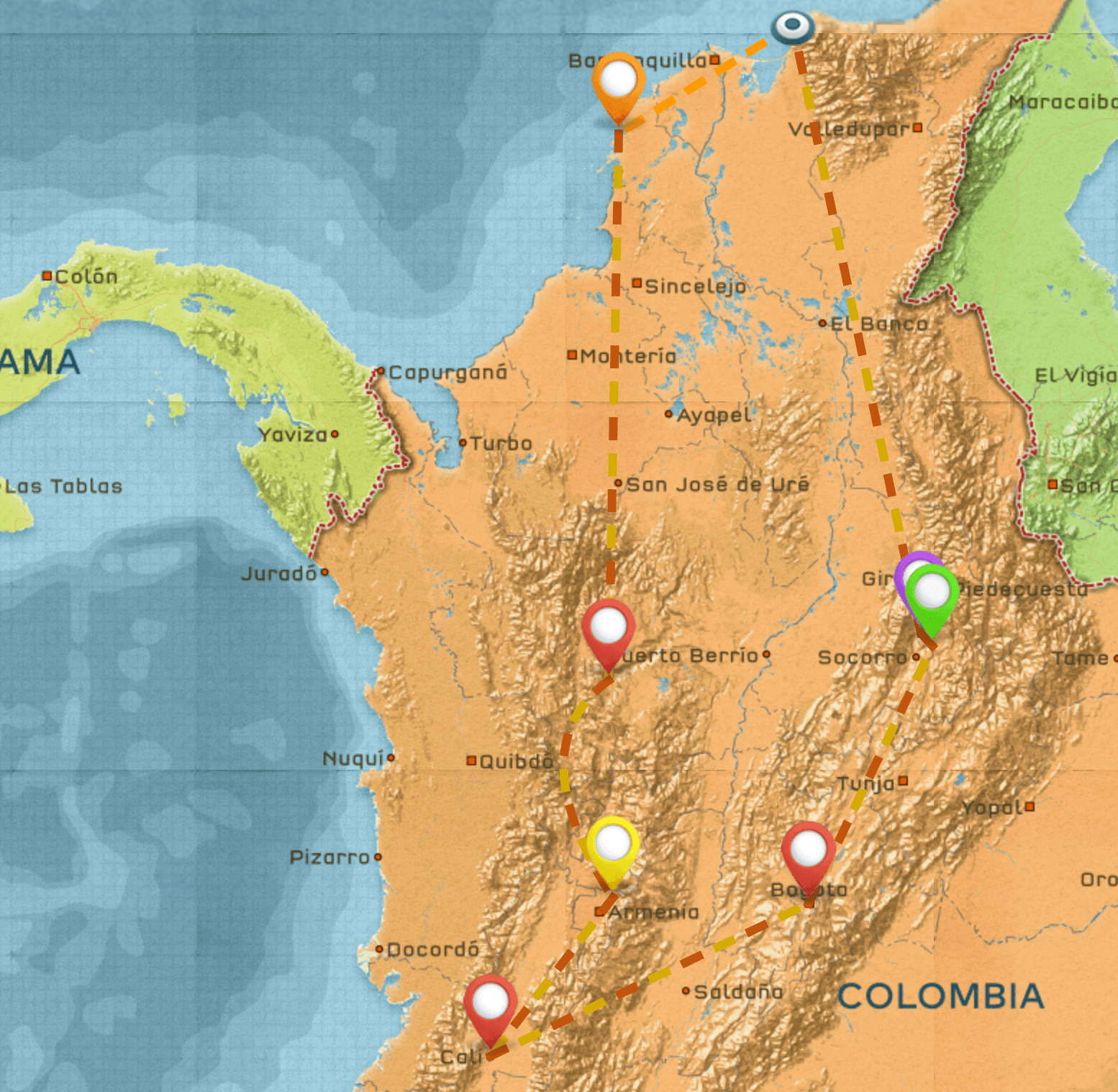 4 Weeks: Colombia's Highlights
Fly into Bogota, Colombia's capital and enjoy the amazing food and nightlife. Head over to Barichara, a picturesque town. Then take the long bus to San Gil, an adventurer's paradise. Here you can kayak, paraglide, and bungee jump!
Next, bus to Santa Marta, your base for Tayrona National Park and other amazing Caribbean destinations. Make sure to arrange a multi-day trek to Ciudad Perdida.
Afterward, head to the postcard-perfect Cartagena. Head south to Medellín; once known as a dangerous city, it's now a trendy, nomad haven.
Next head to Valle de Cocora outside Salento. Visit a coffee finca (farm) and stock up on some coffee. Next, Then continue south to Cali, world famous for their salsa joints. Make sure to take a class!
Backpacking Colombia 2 Week Itinerary #2: The Caribbean Side of Colombia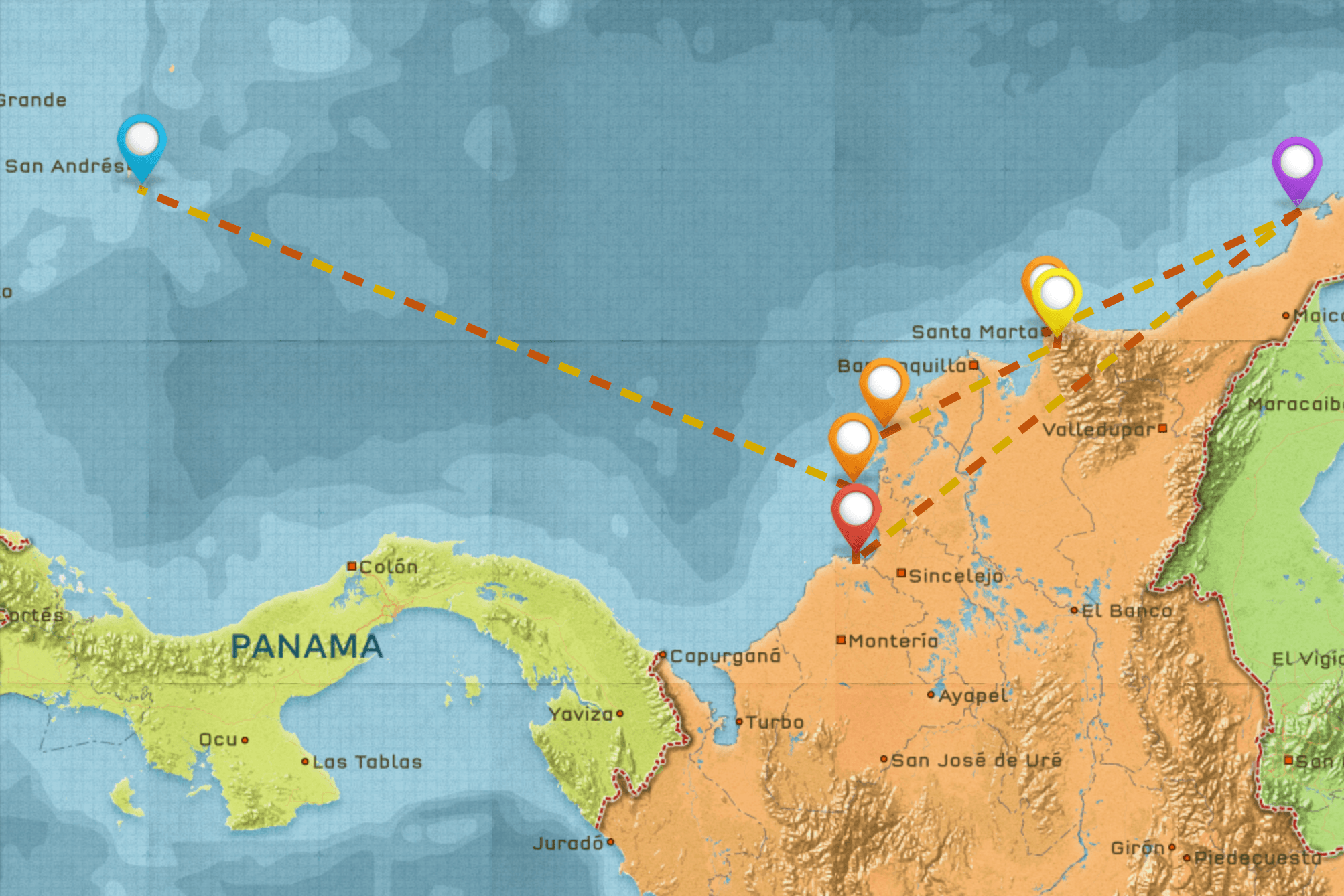 2 Weeks: The Caribbean
Start your trip in Cartagena, perhaps fresh off the boat? After a few days, head to Santa Marta, the jump-off point for Minca – charming mountain town – and Tayrona National Park.
Get a bit off the beaten path, and head east to Cabo de la Vela (where the desert meets the sea) and Punta Galinas, where you can feast on fresh seafood amongst the Caribbean and sand dunes.
Doubling back to Cartagena, head to nearby Playa Blanca and Tolú (mangrove) before heading to Islas de San Bernardo (white sanded islands).
Have an extra week? You can catch a flight to the Caribbean Islands of Providencia and San Andrés.
Best Places to Visit in Colombia
Now that we've covered some of the best travel itineraries for backpacking Colombia, let's jump in and explore some of the top places to visit in Colombia on your adventure…
Backpacking Cartagena
The Old Town is well worth visiting and there are some great beaches nearby like (the very popular) Playa Blanca. You can travel to Santa Marta by bus from Cartagena in around 5 hours (50,000 cop for the express bus).
This town has no shortage of tourists, hustlers, and prostitutes, all of which are unfortunate aspects of traveling here. Venturing beyond the Old Town and main touristy areas will offer a rewarding glimpse of real Cartagena. Backpackers more accustomed to off the beaten path destinations are going to hate Cartagena.
Cartagena's safety might be a bit questionable, so be careful. I heard countless stories of backpackers being forced to buy cocaine at extreme prices after they were given a "free" sample. Like literally they were marched to the ATM and forced to pull out millions of pesos, otherwise, the five angry young men who were pretending to be their friend just minutes before would beat them to a pulp. Don't be that backpacker. Instead, go scuba diving.
For scuba diving, hit up the Rosario Islands. I was able to go scuba diving with a fantastic dive shop called Diving Planet. Their bi-lingual guides are professional and the day or overnight dive trips they offer include van transport and boat transfer, lunch, and all the scuba equipment. The Rosario Islands are one of the best places in Colombia for scuba diving, so don't miss out!
If you are tired of the standard rice, beans, and plantains and want to try the best falafel in Colombia, go to Novo Kebab.
Book Your Cartagena Hostel Here!
Backpacking Santa Marta
There is almost nothing in Santa Marta to get particularly excited about; however, there is lots of truly amazing places nearby, Santa Marta is the hub for Northern Colombia but I recommend basing yourself in nearby Taganga. I liked Santa Marta a lot simply because it has a real backpacker and expat scene and none of the stupid shit you find in Cartagena.
There are some pretty epic beaches to be found in the near by Tayrona National Park.
Santa Martas Hostels are the best option for a few nights. For a cheap place to stay in Santa Marta with a fun party scene (and a pool), I recommend staying at Drop Bear Hostel.
If you want to go for a kick ass motorcycle adventure into the mountains or around the coast, hit up my friends at Adrenaline Addicts (they share the building space with Drop bear Hostel). Ask for Sam, and tell him Chris from the Broke Backpacker sent you and if he likes you can score a small discount on bike rentals.
Book Your Santa Marta Hostel Here!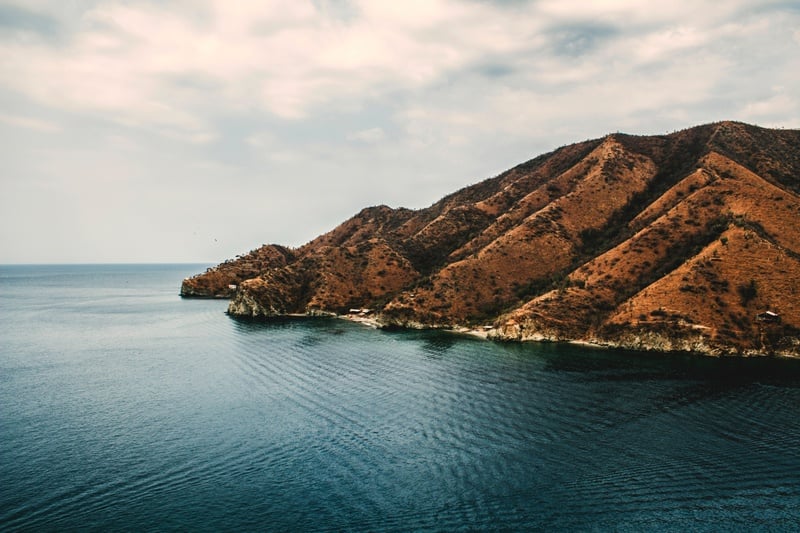 Backpacking Taganga
Love it or hate it, Taganga has something for everyone. This is a beachside party town famous for its drug scene but there is a huge amount more to Taganga than at first meets the eye. Consider staying in Casa Moringa for a truly unique experience; living it up in a mansion overlooking the sea. Taganga is one of the cheapest places in the world to learn to scuba dive so if that's your bag, you've come to the right place. Be sure to grab a bite to eat in the incredible Baba Ganoush restaurant.
Book Your Taganga Hostel Here!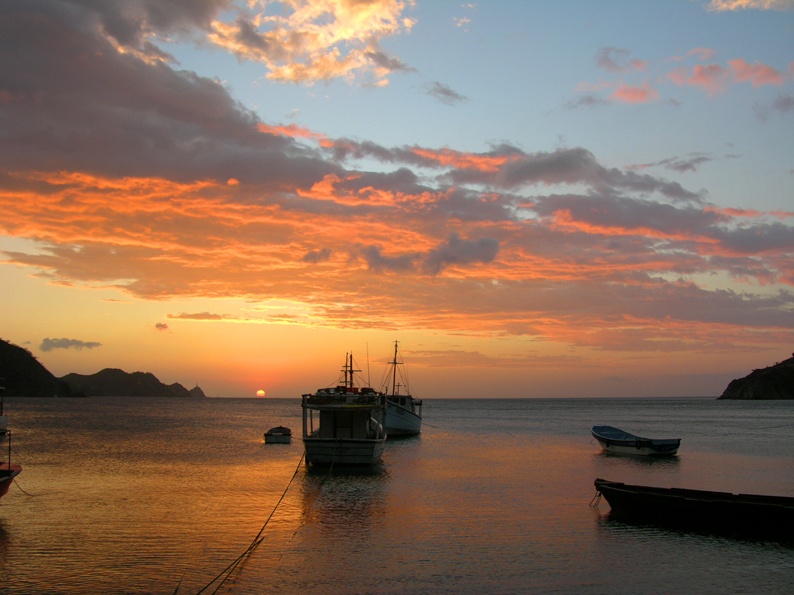 Backpacking Tayrona National Park
An easy hop from Taganga, Tayrona National Park is a truly stunning oasis of pristine beaches backing onto untamed jungle. Accommodation here books up fast so take a tent or book in advance.
There are some excellent day hikes to be had here that are not to be missed.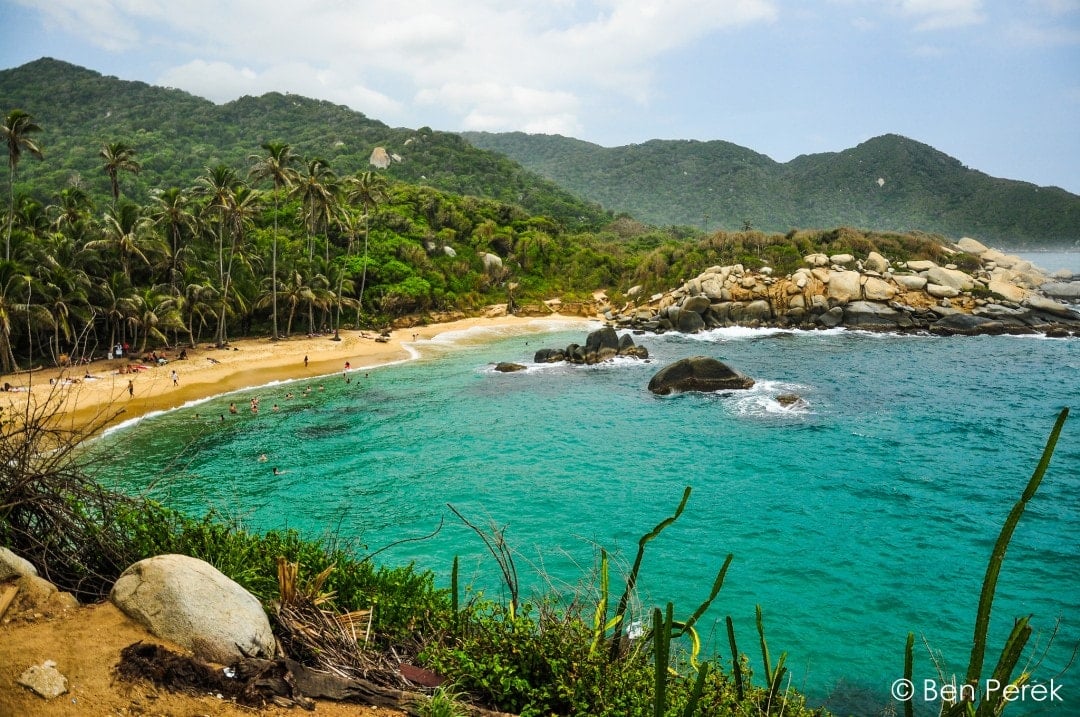 Backpacking Ciudad Perdida
The trek to the Lost City takes 5 days and it's an amazing experience. You will cross raging rivers, slide down muddy banks and bathe in crystal clear pools on your way to the city above the clouds. The city itself is amazing and receives very few visitors; go now before the word gets out.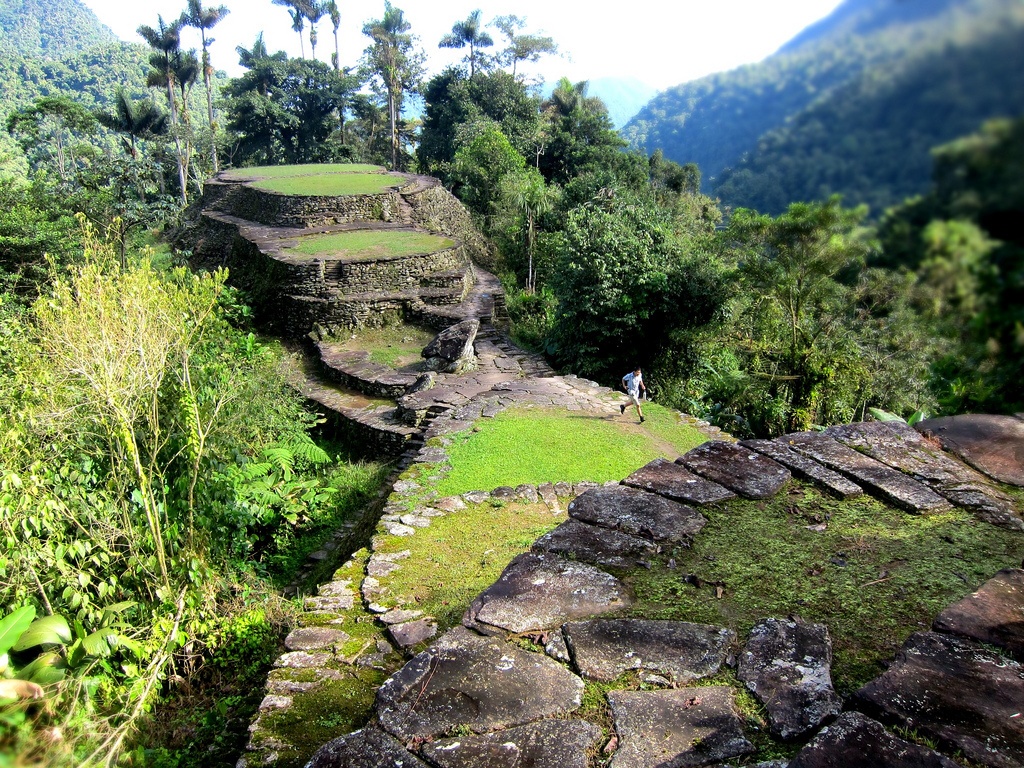 Backpacking Minca
Just a couple of hours away from Taganga, the cool hills of Minca are perfect for backpackers wanting a bit of respite or to go hiking in the jungle.
Top things to do in Minca include yoga, motorbike adventures, hiking, and of course a visit to the legendary waterfalls in the area. Avoid Pozo Azul, as it is always too busy and commercialized to be enjoyable. I personally enjoyed Marinka Falls, those even there was quite crowded.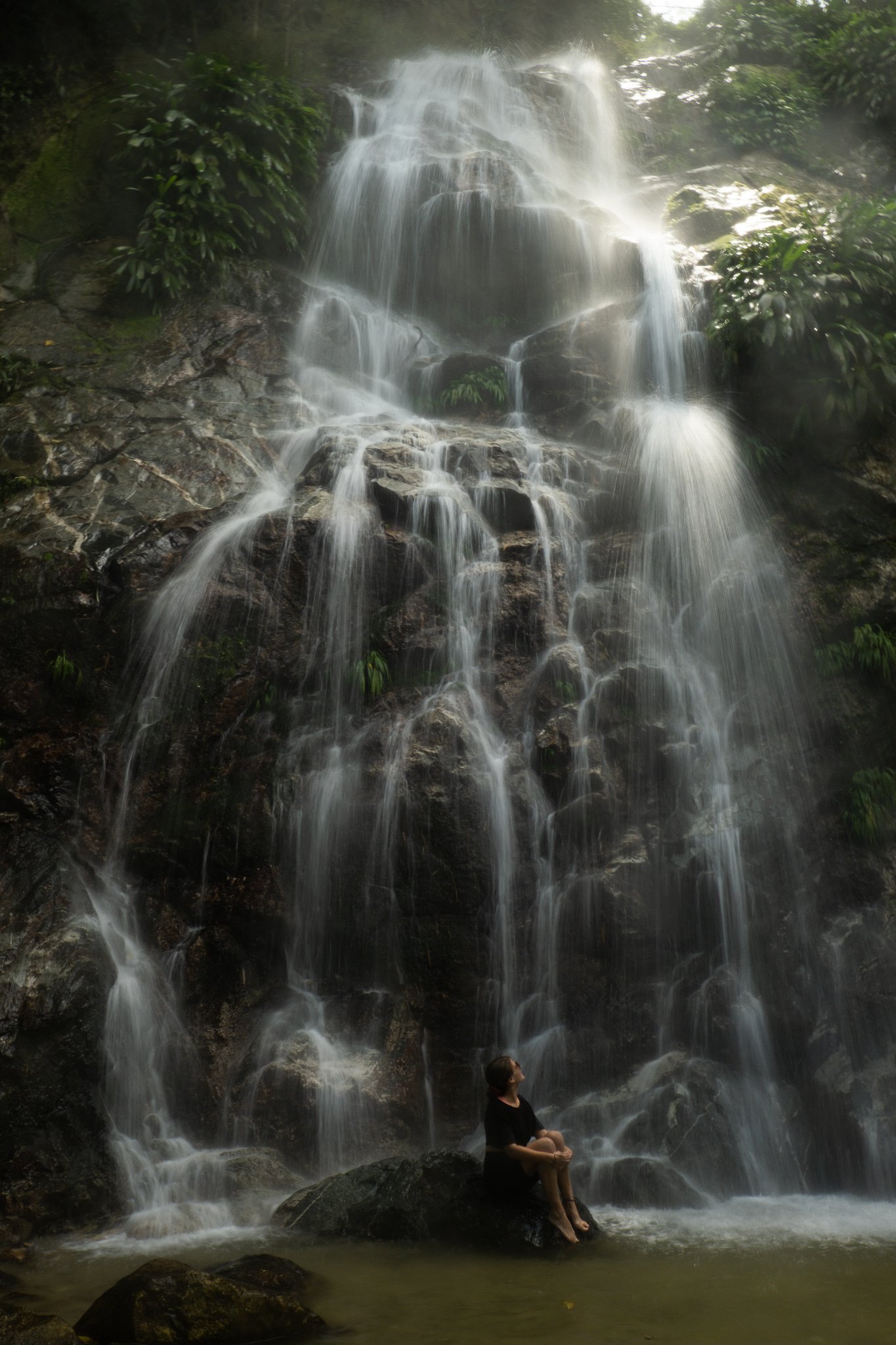 In terms of organized activities in Minca, there are many operators to choose from. I recommend going with our friends at Fototrails for awesome photography, hiking, and cultural day trips. Natasha and her husband run eco and cultural adventures showing the real side of Minca and the Sierra Nevada. They take guests on backtrails and off road adventures for the treks so people can experience a unique and solo hiking expereince away from the crowds. Broke Backpacker readers can get 5% off of any of the activities they offer by mentioning this article!
Another cool part about what Fototrails does: they work with local families and farms to offer locals a sustainable income and take groups of 6 or less for minimum impact on the environment. If you are looking for an affordable place to crash, their small guesthouse is called Casa Iguana (locatd by the health center). Check them out!
I also highly recommend staying at Casa Elemento, book in advance. Bring insect repellent as I got destroyed by sandflies in Minca! If Casa Elemento isn't your thing, there are many other awesome hostels in Minca that offer a super comfy bed and a place to rest your head.
Book Your Minca Hostel Here!
Backpacking San Gil
From Santa Marta, the next logical step is to take a bus to San Gil. The bus takes around twelve hours, so I recommend travelling at night. Spend a couple of days in San Gil and be sure to go paragliding over the incredible Chicamocha Canyon. San Gil is the adventure capital of Colombia; if you're after rafting, caving or trekking this is the place to go. Be sure to grab a brownie from Gringo Mikes - they are amazing.
Book Your San Gil Hostel Here!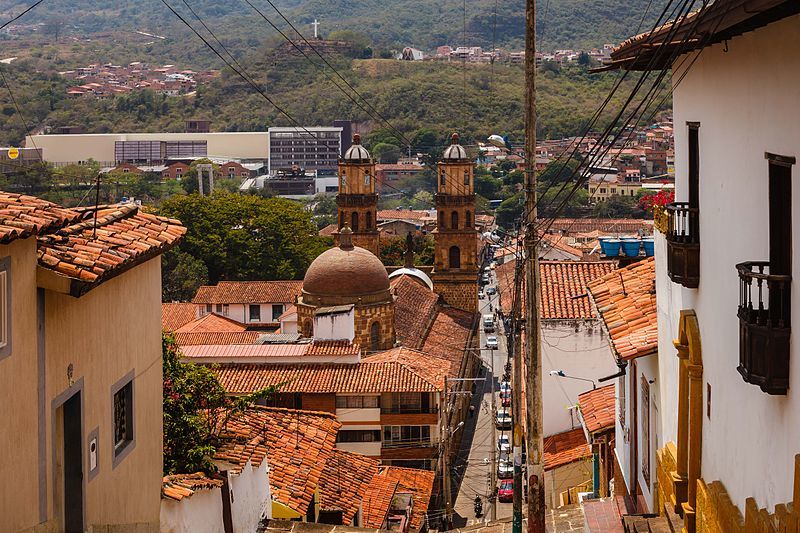 Backpacking Barichara
One hour outside of San Gil lies the picture perfect town of Barichara with it's cobbled streets, fancy restaurants and great day hikes. It's well worth spending a night.
Book Your Barichara Hostel Here!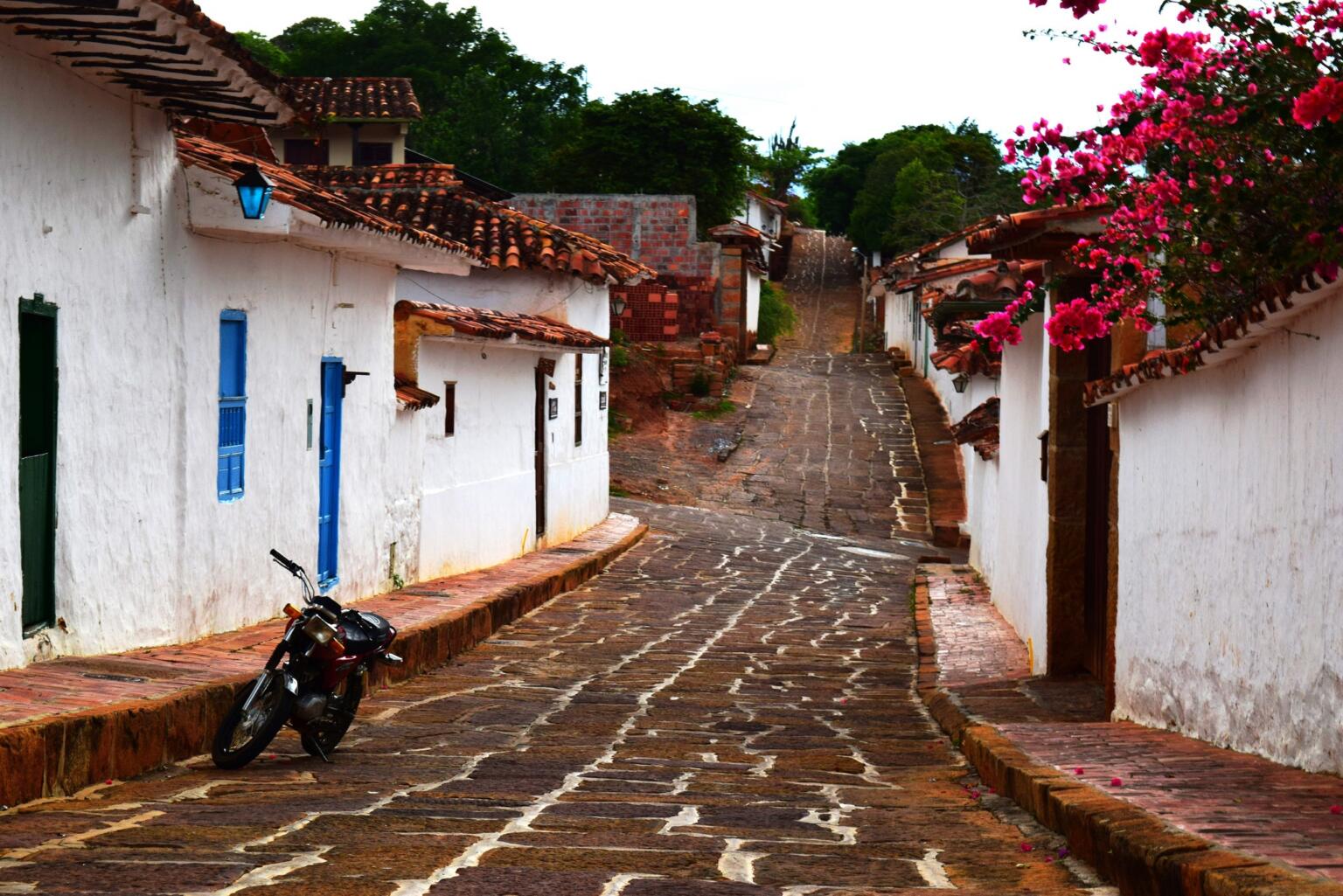 Backpacking Bogota
An uncomfortable 9 hour journey from San Gil, Bogota is the next logical stop on your adventure. There is a huge amount to do here; I highly recommend going on the Graffiti tour and doing a day-trip to explore the truly spectacular Salt Cathedral in Zipaquira. Zona Rosa is a great place to go for drinks in the evening.
Book Your Bogota Hostel Here!
Backpacking Salento and the Coffee Region
A firm favourite with backpackers, Salento is a great place to spend a few days unwinding, trekking and sipping coffee and resting your head in comfy and cute Salento hostels. I highly recommend exploring the Cocora Valley on a day-hike. La Serrana is a great place to base yourself; check out their awesome safari tents!
Book Your Salento Hostel Here!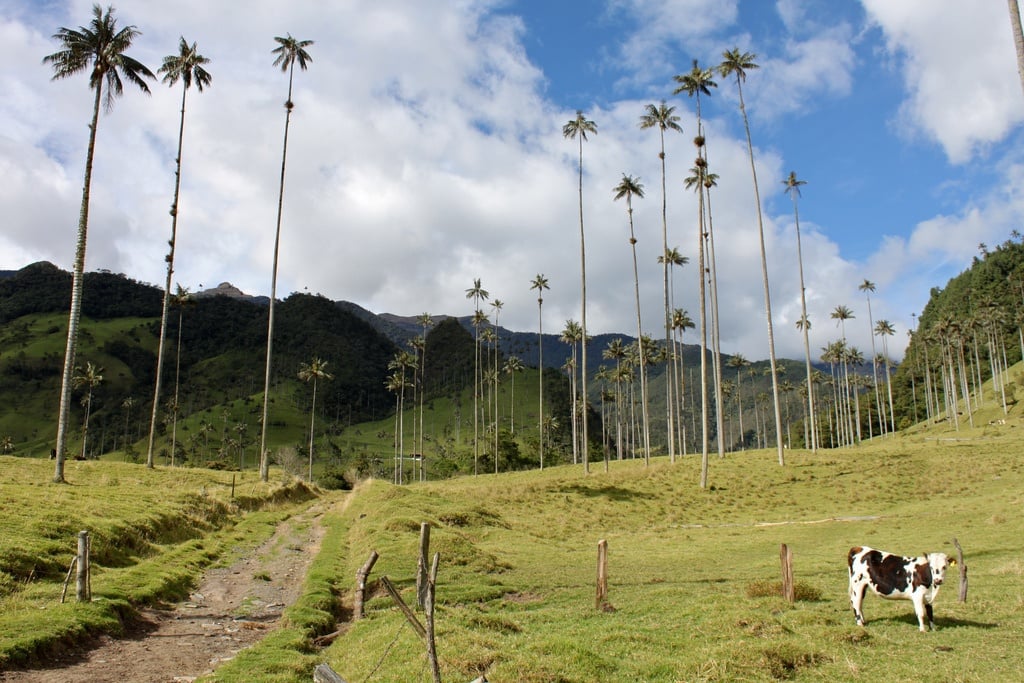 Backpacking Medellín
My favourite place in all of Colombia, Medellín packs a lot of punch and is one of the best places to live if you're a digital nomad in need of a break. The very touristy El Poblado area is where most backpackers base themselves, but I far preferred the quieter Envigado. Be sure to go on the Real City walking tour, officially the best walking tour I have ever been on.
Guatapé is a popular day-trip from the city but the real highlights of Medellin are best discovered by simply wandering around, enjoying a cerveza in a pool hall, attending a free salsa lesson or chilling out in one of the many parks. Medellin has a tarnished reputation on account of Pablo Escobar, think carefully about whether you want to go on a tour to find out more about Pablo's empire. From Medellin, continue onward to Cali or head further afield down to Ecuador and onward to Peru.
If you want to backpack Medellin and have a little more budget to work with, I highly recommend going on an aerial helicopter tour of Medellin with Fly Colombia City Tours. The prices vary depending on group size, but expect to pay around $80 USD per person for a 15 minute / 40 kilometer flight. The views are exceptionally stunning, plus who doesn't want to go for a ride in a helicopter at least once, right? Special thanks to Luisa from Fly Colombia City Tours for helping us organize this flight!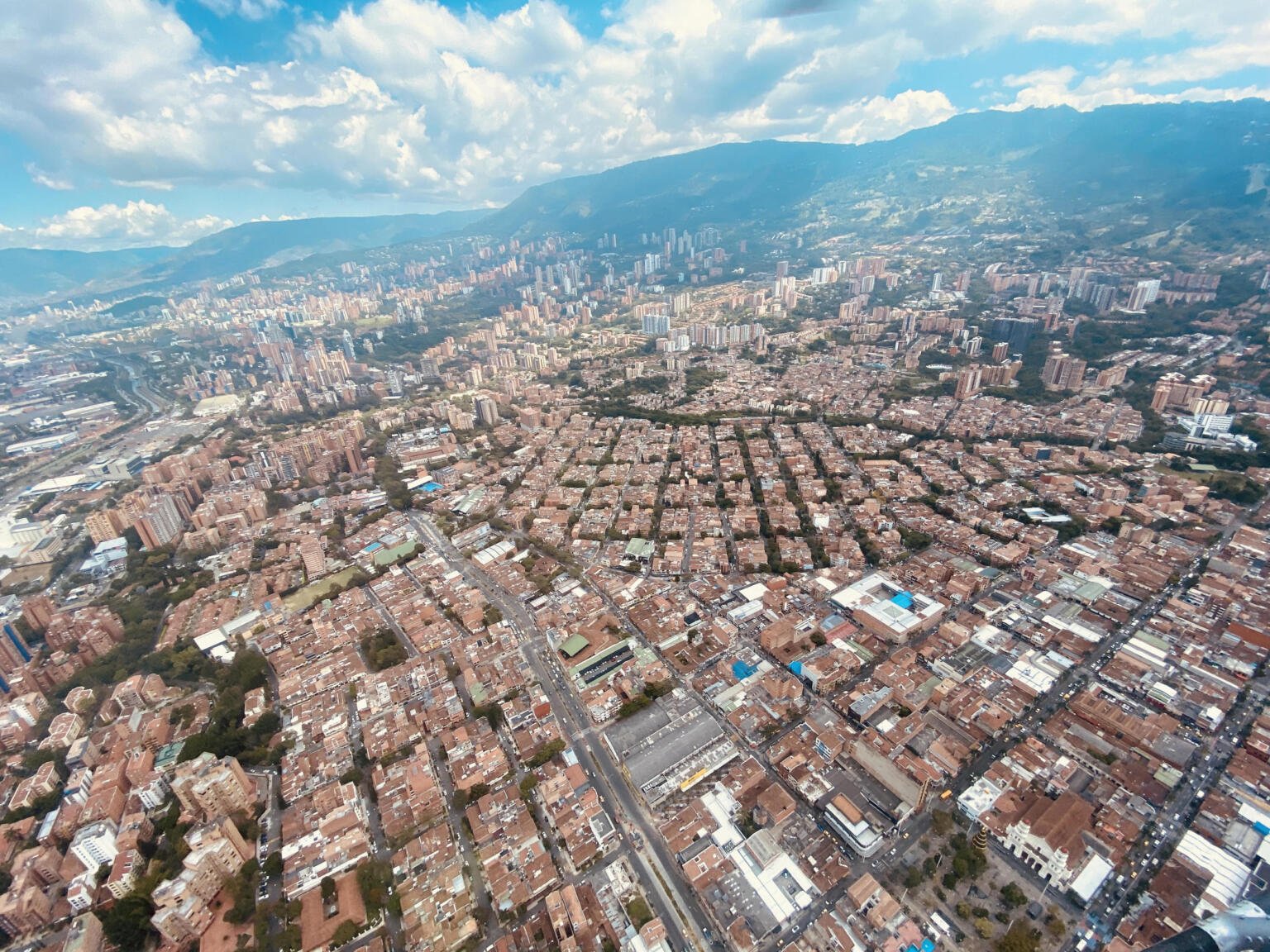 If you can get a group of 5-6 people together from your hostel, you can get a better per person price (maximum 6 people in the helicopter). Book in advance and let Fly Colombia City Tours know the Broke Backpacker sent you! Ask for a flight around sunset time for the best photography light!
Find out more about Medellin
Book Your Medellin Hostel Here!
Off the Beaten Path Travel in Colombia
Colombia is a country packed with hidden gems. Some of the places on Colombia's Pacific coast, mountains, and jungles are difficult to reach. Anytime a place has difficult access, it is a sign that adventure awaits!
Far fewer people make the effort to get out and really explore. Depending on what you like to do, you should have no problem leaving the Gringo Trail behind in search of some truly rewarding experiences. There is so much awesomeness to get into whilst backpacking Colombia, that your adventure is up to you and your motivation to put yourself out there. Read on for helpful information regarding trekking, diving, and surfing in Colombia later in this article.
Backpacker Accommodation in Colombia
Accommodation costs vary across the country with Medellin and Cali being some of the most expensive places to stay. In general, the good places fill up fast so you will want to try and book in advance. It's possible to get a dorm bed for around $12 but a double room will often cost just $25 so if there's two of you, you can have a private room most of the time for no additional cost.
If you want to save money on accommodation, make sure you pack your camping hammock, especially if you'll be trekking or hiking through the jungle.
Book Your Colombian Hostel Here!
Where to Stay in Colombia

Location
Hostel
Why we like it?!
Cartagena
Posada Kalea
This beachfront paradise is every beach bums ideal hostel! They even offer yoga, windsurfing & other fun activities. Plus free breakfast is always a bonus.
Medellin
Hostel Casa Prado
This is an awesome budget hostel option for broke backpackers like myself. It's got a laid back travel vibe!
Bogota
Hobu Hostel
Great social hostel in a central location. Loved the backpacker scene here & the free breakfast.
Santa Marta
Drop Bear Hostel
This is one of those hostels that you don't want to leave. It's got a big pool & great atmosphere!
Salento
Yambolombia Hostel
Your ideal budget hostel in Salento, for those wanting some seriously chilled vibes!
Minca
Casa Elemento
Home of the world biggest hammock & incredible mountainous jungle views. Such a relaxing & peaceful hostel among nature!
San Gil
Macondo Hostel
This is probably one of the most popular hostels in San Gil & host of San Gils famous Tejo Tuesdays! Great social party vibes here.
Barichara
Tinto Hostel
Cool hostel with a pool in a great location! Good value for money. 
Top Things to Do in Colombia
In Colombia there is no shortage of awesome things to do. No matter what your time frame is there are many exciting adventures to be had to suit every backpackers' individual taste.
I have listed the top 10 most popular and best things to do in Colombia below to get your ideas flowing for your next trip backpacking Colombia!
1. Take a graffiti tour of Bogota
Get to know Bogota through some of the countries best street art.
2. Take a salsa dance lesson
Want to know the key to a Colombian woman/man's heart? Learn how to salsa dance and hit the town with your new found skills.
3. Trek to the Lost City
The amazing 5-day trek to Ciudad Perdida takes you to some of the most beautiful, far reaches of Colombia, to explore a national cultural treasure from another time.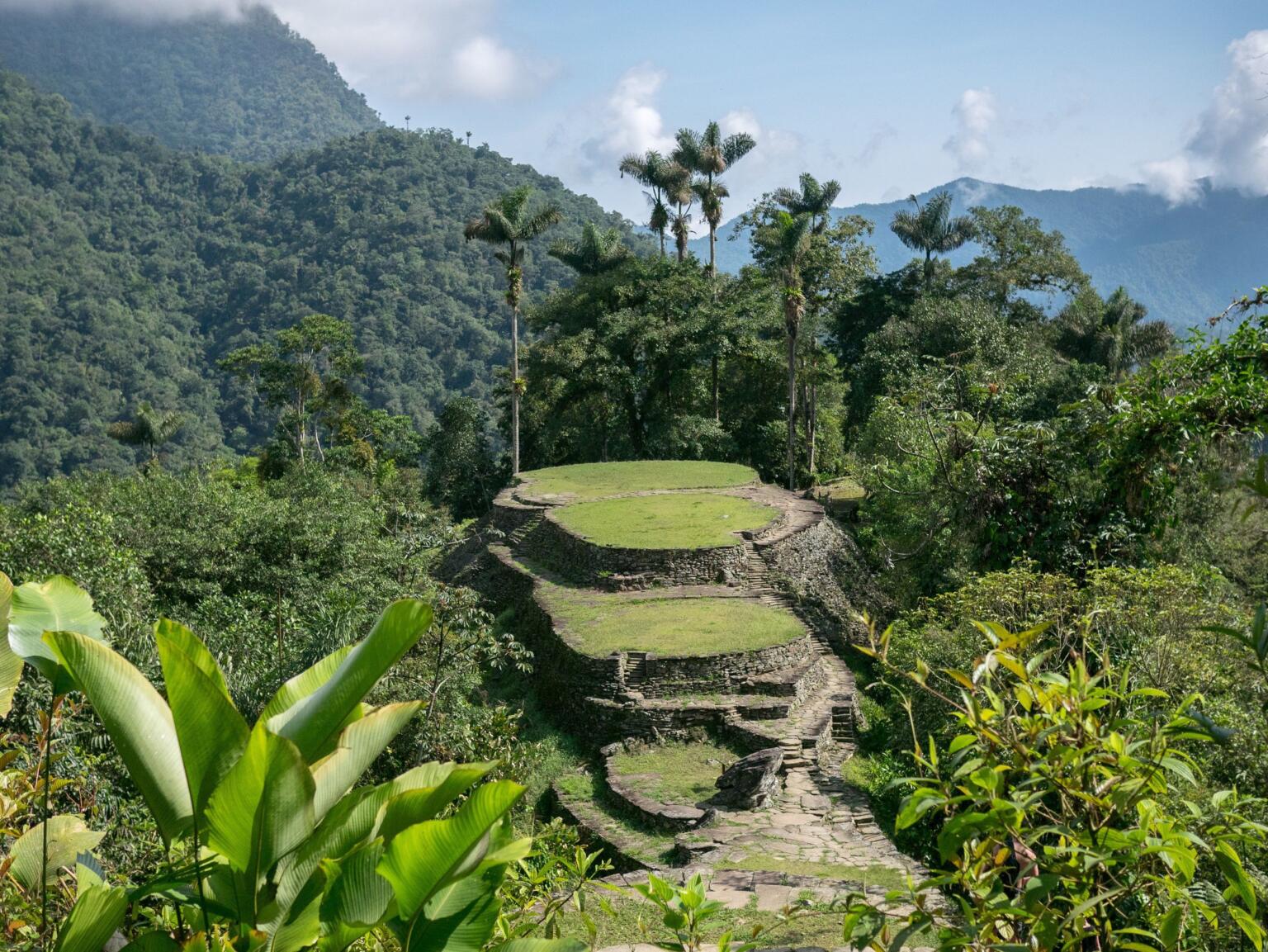 4. Drink coffee in Salento
Colombia's famed coffee region has some of the best brew in South America. If possible drink organic coffee!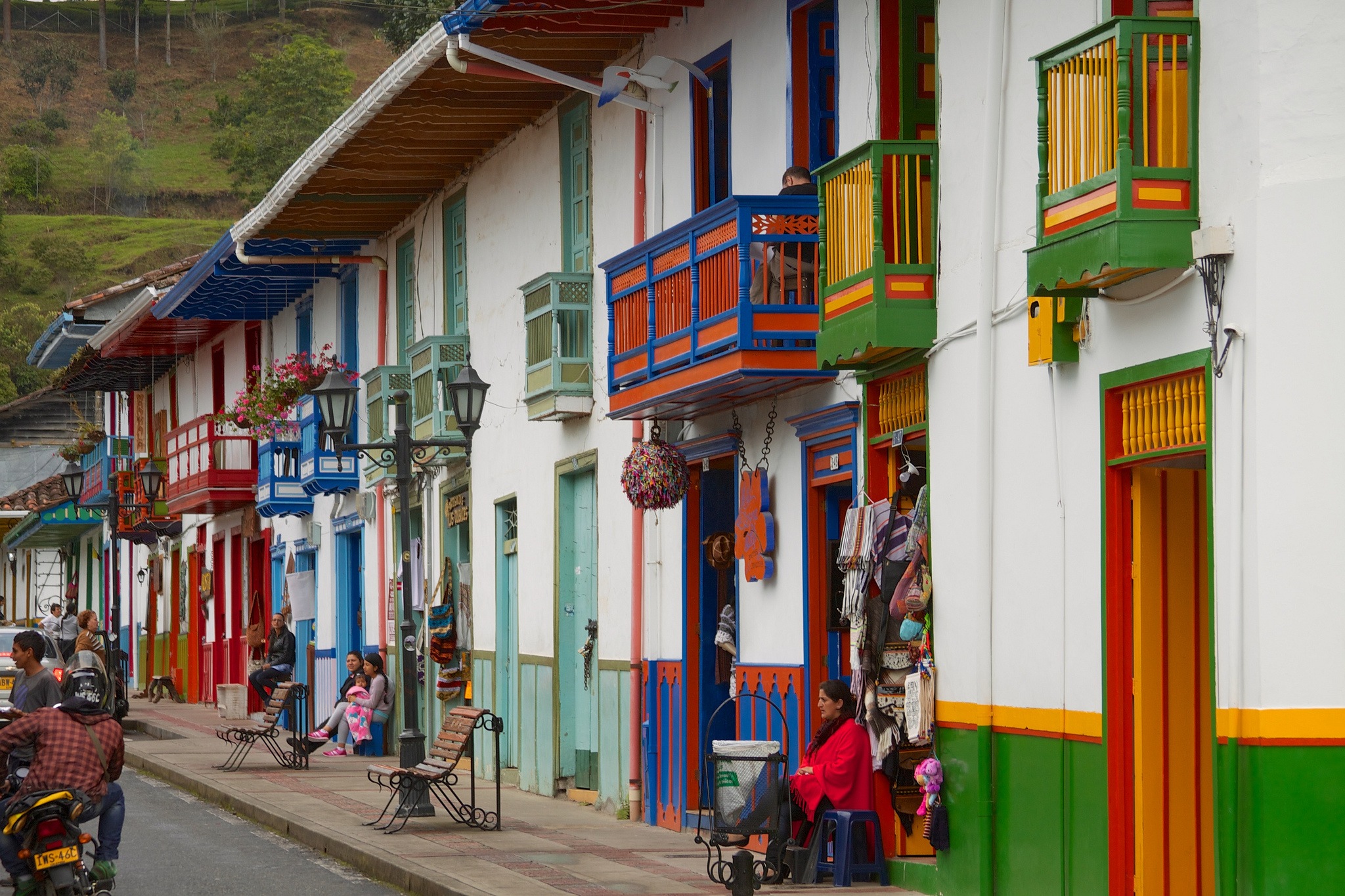 5. Visit an indigenous community
Get to know what traditional life is like for people living the way they have been for centuries. Remember these people are not exhibits in a museum. Their culture is a very important part of their identity and they should always be treated with respect. Remember if you are going to buy some local handicrafts from them, don't haggle so low as to insult all of the hard work that went into making it!
6. Hire a motorbike
Hire a motor bike and explore some of Colombia's gorgeous country side.
7. Hike the Cocora Valley
The Cocora Valley is home to some of the best natural scenery in the country. The valley is easily accessed from Salento.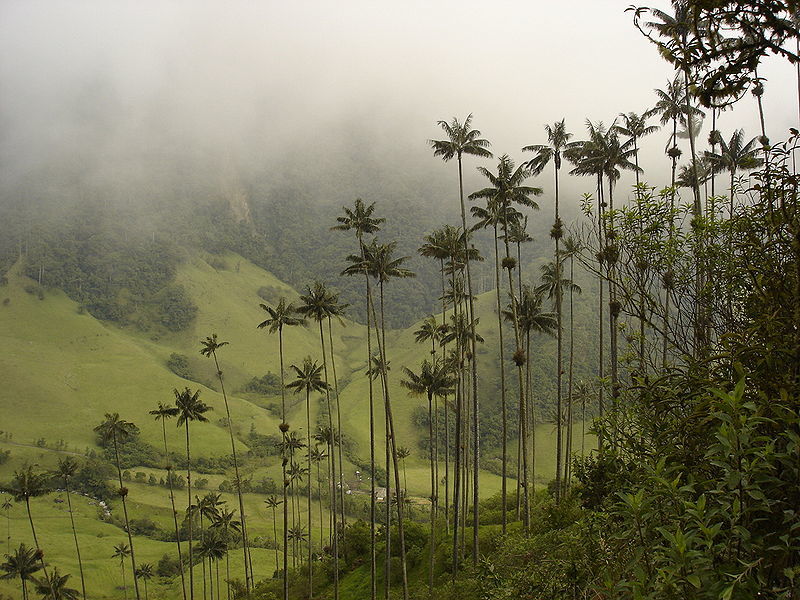 8. Go scuba diving
If you love to dive, Colombia's north coast has some world-class dive sites. It is also possible to obtain your PADI open water diving certificate if you don't have one. You can obtain your certification with Diving Planet based in Cartagena.
9. Visit a pool hall
As Ernest Hemingway once said, "If you want to know about a culture, spend a night in its bars." Pool halls and bars are a big part of Colombian culture. Pop on in, meet some locals, and let loose.
10. Rent a mansion in Taganga
If you are traveling with a few mates, splurge on a night or two in a mansion overlooking the sea. It might be a bit indulgent, but there are few places in the world where you can do this at this price.
Colombia Travel Tips
Below I have provided essential information and Colombia travel tips for your backpacking adventure, including the best time to travel to Colombia, how much to budget for Colombia, and a guide to Colombian cuisine.
The Best Travel Backpack?!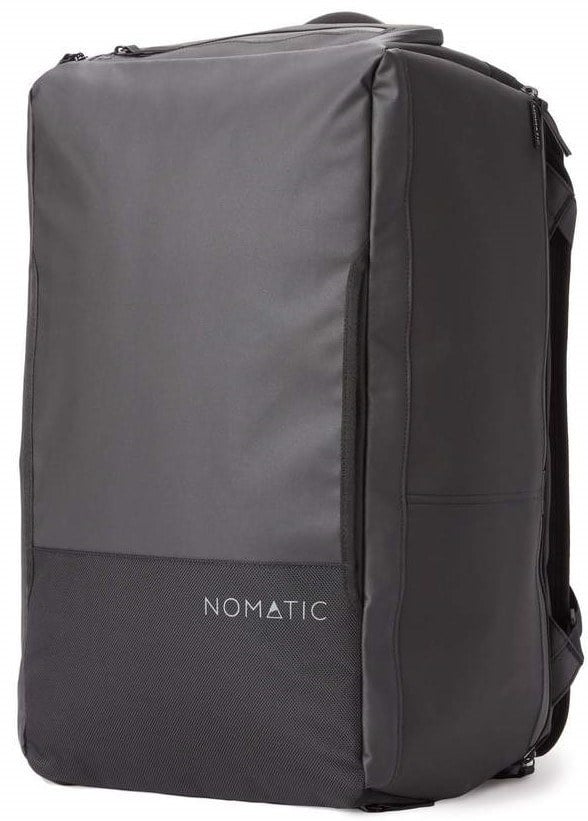 Pssssst! Not picked the perfect travel backpack yet? The Broke Backpacker team has tried out over thirty backpacks this year! Our favourite carry on backpack is the Nomatic Travel Bag.
Read our full review!
Best Time to Travel to Colombia
Peak season in Colombia is from December to February, although it can get pretty busy around Easter also. April to June are the wettest months in Colombia & if you're hanging out in the Amazon it tends to be pretty wet year round. The temperature in Colombia is usually around the 24 degree Celsius mark, however it can drop as low as 7 degrees as you move higher inland.
What to Pack for Colombia
On every adventure, there are six things I never go traveling without. Packing the essentials for your Colombia adventure is just as important as planning it.
1. Security Belt with Hidden Pocket: I never hit the road without my security belt. This is a regular looking belt with a concealed pocket on the inside – you can hide up to twenty notes inside and wear it through airport scanners without it setting them off. This is hands down the best way to hide your cash.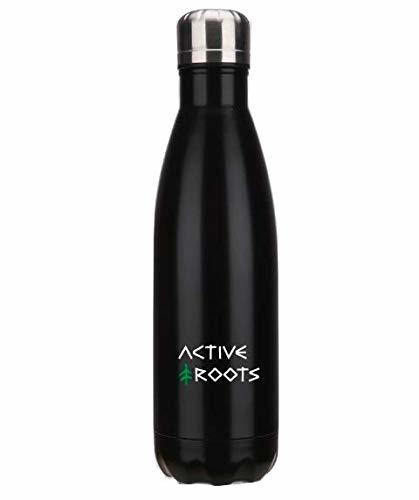 2.Travel Water Bottle: Always travel with a water bottle – it'll save you money and reduce your plastic footprint on our planet. AR bottle are tough, lightweight and maintain the temperature of your beverage – so you can enjoy a cold red bull, or a hot coffee, no matter where you are. For every AR bottle sold, we donate 10% to PlasticOceans.org – an initiative to reduce plastic in our oceans!
3. Microfibre Towel: It's always worth packing a proper towel. Hostel towels are scummy and take forever to dry. Microfibre towels dry quickly, are compact, lightweight and can be used as a blanket or yoga mat if need be.

4. Headtorch: Every backpacker should have a head torch! A decent head torch could save your life. If you want to explore caves, unlit temples, or simply find your way to the bathroom during a blackout, a headtorch is a must. Currently, I'm using the Petzl Actik Core rechargeable headlamp - an awesome piece of kit! Because it's USB chargeable I never have to buy earth polluting batteries.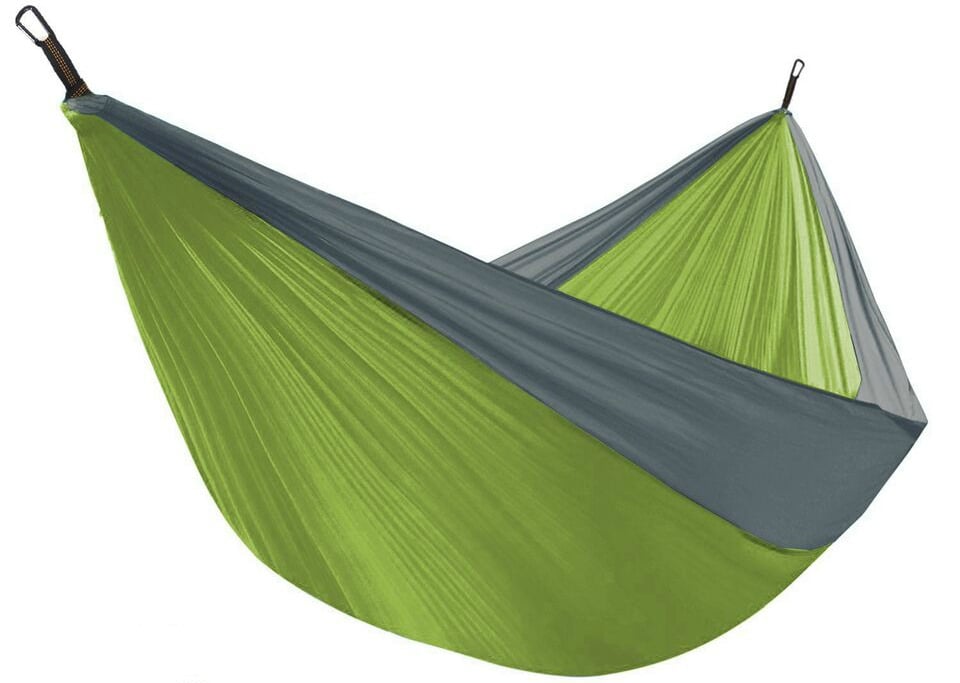 5.Hammock: Taking a tent backpacking is not always practical but hammocks are lightweight, cheap, strong, sexy (chicks dig hammocks) and allow you to pitch up for the night pretty much anywhere. Right now, I'm rocking an Active Roots parachute hammock – it's light, colourful and tough.
6. Toiletry Bag: I always travel with a hanging toiletry bag as it's a super efficient way to organise your bathroom stuff. Well worth having, whether you are hanging it from a tree whilst camping, or a hook in a wall, it helps to have quick access to all your stuff.
For plenty more inspiration on what to pack, check out my full backpacking packing list.
Look Awesome, Do Awesome!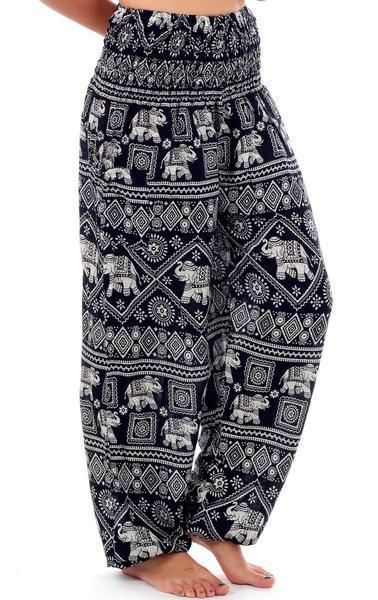 Want to embrace the hippy backpacker style and look?
Active Roots hippy trousers
are chic, comfortable and perfect for yogis, backpackers and adventurers alike. Help us
support the elephant conservation centre in Laos!
10% of your purchase goes towards saving the Asian elephant population so you can look awesome, feel awesome and do awesome - all at once. Pretty fucking awesome right?
Use the code ' TBB10 ' for 10% off your order.
Books to Read While Traveling in Colombia
These are some of my favorite travel reads and books set in Colombia which you should consider picking up before you begin your backpacking adventure…
Colombia Travel Phrases
Learning a bit of Spanish is a great way to get the most out of your trip. When I became fluent in Spanish, it really changed the way I was able to travel in Colombia and South America. It is such a useful language to know! You can speak it in over 20 countries! Check out this post for some Colombian slang.
Here are a few helpful travel phrases with English translations for your backpacking Colombia adventure:
Hello – Hola
How are you? – Cómo estás?
What is your name? – Cómo te llamas?
Very good – Muy bueno/a
Beautiful – Hermoso/a
Can you give me a discount? – Me puede dar un descuento?
How much does this cost? – Cuánto cuesta?
Do you have a lighter? – Tienes un encendedor?
What? – Cómo?
Where? – Dónde ?
No plastic bag - Sin bolsa de plastico
No straw please - No paja por favor
No plastic cutlery please - No hay cubiertos de plástico por favor
Shit - Mierda! (a very light weight insult)
Shit eater - Come Mierda (for better effect!)
Two beers please - Dos cervezas por favor
Down that beer! - Hasta que la cerveza!
Can you give me a ride - Me puedes dar una vuelta?
Cheers - Salud
Useful Apps to Download Before Backpacking Colombia
Staying Safe in Colombia
Safety & security is can be a major deterrent for those wanting to backpack Colombia. Yes, Colombia can be dangerous, but it's nowhere near as bad as how the media portrays it. In recent years they've seen a big increase in the level of security & falling crime rates.
Most people backpacking Colombia never have an issue, but you do hear the odd story of muggings & having things stolen. Just don't flash your valuables around, carry large amounts of money on you, or piss off any locals & you'll be sweet.
Pick yourself up a backpacker security belt to keep your cash safe on the road.
Check out this post for plenty of ideas on ingenious ways to hide your money when travelling.
I strongly recommend travelling with a headlamp whilst in Colombia (or anywhere really - every backpacker should have a good headtorch!) - check out my post for a breakdown of the best value headlamps to take backpacking.
Want to save the world? Single-use plastic bottles are a huge threat to Marine Life - Be a part of the solution and travel with a
filter water bottle
.
The GRAYL GEOPRESS water bottle is the ONLY all-in-one filter water bottle setup you'll need. Whether you need to purify the water from a hostel sink in Kathmandu or a stream trickle in the Andes, the Geopress has got you covered.
Sex, Drugs, and Rock 'n; Roll in Colombia
Colombia has a pretty saucy reputation when it comes to drugs & sex, especially in Pablo Escobar's hometown Medellin. It's well known for both growing & selling cocaine, you can even snag a gram for as little as $7. No wonder it's so popular among many travellers in South America. For tips on how to stay safe whilst getting fucked up in Colombia, check out Blazed Backpackers 101.
Cocaine tourism is on the rise in Columbia. I guess it's not every day that you have the chance to take a "special tour" to make and snort your own cocaine! Just be careful with drugs especially abroad. No one wants to be locked up in a foreign jail. You can usually pay off the police if you get into trouble, just don't go selling or raking up a debt with a drug lord.
Colombian women are typically beautiful and exotic. Their sexy moves and seductive dancing can be pretty hard to resist, plus they love foreigners too. Just be respectful and treat the women here like you would back home and you'll have no problem. Many explorers backpacking Colombia are unsure of what to expect but this is a country with a welcoming people, stunning landscapes & great parties!
Travel Insurance for Colombia
A wise man once said that if you can't afford travel insurance, you can't really afford to travel – so do consider backpacker insurance sorted before you head off on an adventure! Traveling without insurance would be risky. I highly recommend World Nomads.
I have been using World Nomads for some time now and made a few claims over the years. They're easy to use, offer the widest coverage, and are affordable. Also, this is the only company I know of that lets you buy travel insurance after leaving on a trip.
If there's one insurance company I trust, it's World Nomads. Find out why I recommend World Nomads, check out my World Nomads Insurance review.
Getting an estimate from World Nomads is simple - just click the button or image below, fill out the necessary info, and you're on your way!

Colombia Travel Guide to Getting Around
Arriving in Colombia
The main way to get to Colombia if you're overseas is by plane, flying into Bogota International Airport. This is typically the cheapest place to fly in & out of; however, there are other international airports around Colombia that you can also fly into.
The easiest land crossing borders are from Venezuela & Ecuador as they have road access. Most backpackers use the Carretera Panamericana boarder crossing from Tulcan in Ecuador to Ipiales in Colombia. In Venezuela the main crossing is on the Caracas-Bogota road from San Antonio in Venezuela to Cúcuta in Colombia.
Many backpackers coming to travel Columbia from Panama, enter by boat. This is mainly because of the Darian gap between Panama & Colombia consisting mainly of large undeveloped swampland & forests. This no mans land is predominantly run by the Revolutionary Armed Forces of Colombia (FARC), who have a long track record of assassinations, kidnappings & violations of human rights. If you're coming to Colombia after your backpacking Central America trip, consider travelling by boat via the San Blas, it's a once in a lifetime trip and one of the best things I have ever done.
The only land crossing from Peru & Brazil into Colombia is located in the far southeastern corner of the Colombian Amazon. You can reach the Leticia crossing from either Peru or Brazil via riverboat.
Entry requirements for Colombia
Most nations around the world don't require a visa to backpack Columbia, which is awesome! Most nationalities get 60-90 days free to travel Colombia, just check what rules & regulations may apply for your country.
How to travel in Colombia
When it comes to getting around Colombia, the distances can be a problem. There are lots of long distance buses which vary in price depending on the company, I recommend booking buses in advance during the high season. Flights can sometimes be very cheap so it is worth considering internal flights on occasion. Hitching isn't common but is totally doable.
There are many modes of public transport to navigate your way around the cities in Colombia when backpacking. Bogota, Cali & Medellin have massive transport systems similar those in Europe & the United States. City buses have a flat fare no matter how far you're going in the city. They range from pimped out old American school buses blasting Latino music, to modern air-conditioned buses. The price ranges between 600-1650 COP depending on the type of bus.
Tuk-tuks & moto taxis are common around tourist areas, just make sure you agree on a price before you get in. Taxi's are super cheap & easy to use when travelling short distances. Make sure you get in a metered taxi! There are so many fake taxi's around just be careful, make sure the taxi has a meter & there are no other passengers in the taxi as this is a common robbery tactic.
Visiting Colombia? Don't risk having to sit on the floor or change your itinerary because you missed the last ticket at the station! Find the best transport, best time and the best fare with Bookaway. And why not use what you've saved to treat yourself to a cerveza helada on arrival?
It only takes 2 minutes! Book your transport on Bookaway now and guarantee your seat easily.
Hitchhiking in Colombia
Hitchhiking in Colombia isn't that common, mainly due to paranoia about the security situation in the country. Not everyone here is a drug lord that wants to kidnap you for ransom money. You can hitchhike throughout Colombia; it's such an awesome experience! Have faith there are good people out there, keep your wits about you & follow my hitchhiking tips.
Onward Travel from Colombia
The cheapest way to leave Colombia is by bus. There are international buses that you can catch from any major city. One can reach neighboring Ecuador or Venezuela in a matter of a few hours depending of course on where you are departing from.
Bogota and Medellin are home to major international airports of you need to catch a flight back home. Flying in South America can generally be expensive. I recommend using the bus systems as much a possible.
Colombia Backpacking Costs
Travel costs when backpacking in Colombia vary depending on the type of traveler you are. If you're a budget backpacker sleeping in Colombias hostels, hitchhiking, eating street food & catching local public transport, then your travel costs per day will be far less than those flashpackers.
A daily budget for Colombia
Your daily budget will vary depending on how much partying you do, how often you're taking transport, where you're eating & what activities you're doing. A broke backpacker like myself would try stick to a budget of $30 USD or 88,000 COP, per day. Although Colombia is cheaper than other Latin America countries, it's so easy to blow your budget, so keep track of your spending!
Here is a breakdown of what you can expect to spend on your backpacking Colombia adventure...
Dorm Bed: $8-10
Basic Room for Two: $11-20
Public City Bus: $1
Long Distance Bus: $20-30
Meal in Local Restaurant: $3-8
Western-style Restaurant: $8-20
Beer at store: $1-2
One Kilo of Mango: $3-5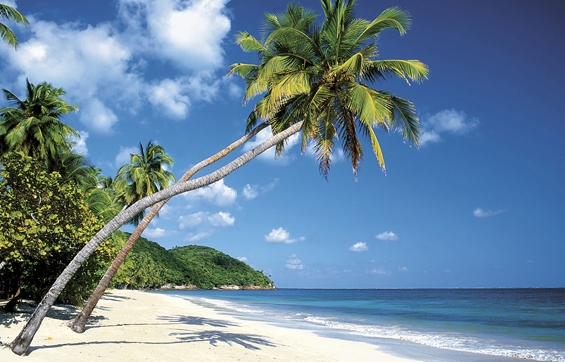 Money in Colombia
The local currency in Colombia is peso known as COP, as of April 2018 1 USD = 2710.50 COP, for a more accurate currency conversion simply look online. I'd advise to take a bunch of USD with you in cash & hide some of the cash in a discreet spot in your backpack just in case!
The ATM fees can be up to $10 per pop, which adds up easily. Most ATMs are open 24 hours & in English, just be wary of ATM skimmers where you insert your card. If you're going to convert your dollars to COP, find out the conversion rate & how much COP it equals to prior.
If you need to transfer money internationally, use Transferwise, it's the fastest and cheapest way to move money around when travelling.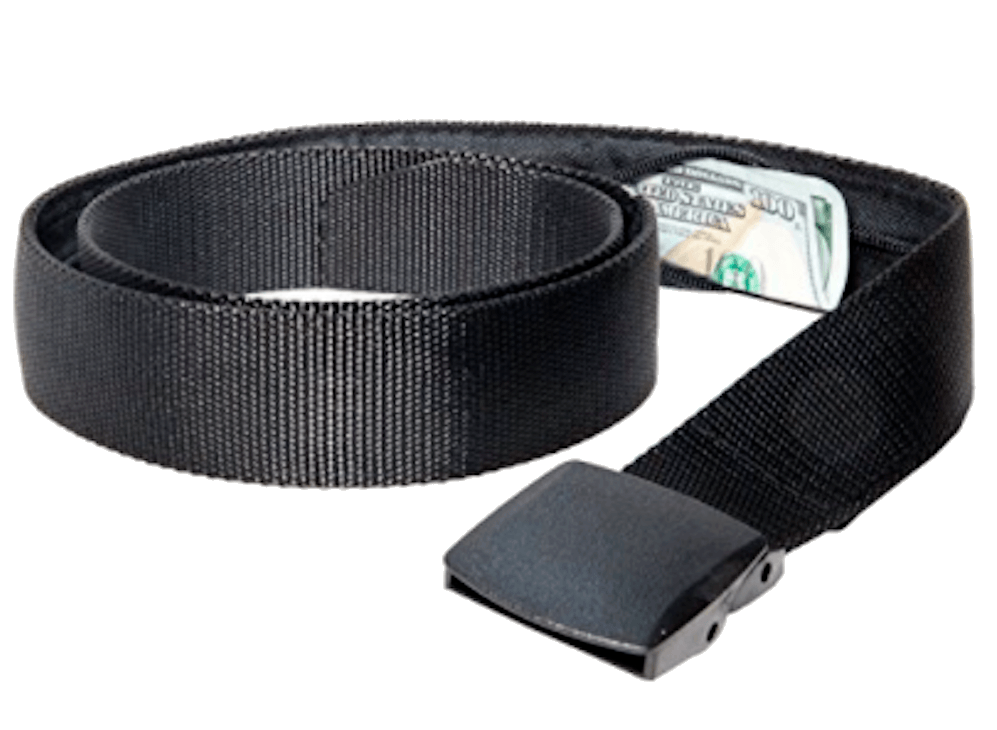 You should always have emergency cash hidden on you - pick up this awesome security belt with its hidden pocket before you travel, it's perfect for hiding money, a passport photocopy.
Top Tips for Broke Backpackers
To keep your spending to an absolute minimum whilst during your Colombia travels, I recommend sticking to these basic rules of budget adventuring….
Joining an Organized Tour in Colombia
For most countries, Colombia included, solo travel is the name of the game. That said, if you are short on time, energy, or just want to be part of an awesome group of travelers you can opt to join an organized tour. Joining a tour is a great way to see a majority of the country quickly and without the effort that goes into planning a backpacking trip. However—not all tour operators are created equal—that is for sure.
G Adventures is a solid down-to-earth tour company catering to backpackers just like you, and their prices and itineraries reflect the interests of the backpacker crowd. You can score some pretty sweet deals on epic trips in Colombia for a fraction of the price of what other tour operators charge.
Check out some of their awesome itineraries for Colombia here…
Volunteer in Colombia
Long term travel is awesome. Giving back is awesome too. For backpackers looking to travel long-term on a budget in Colombia whilst making a real impact on local communities, look no further than World Packers. World Packers is an excellent platform connecting travelers with meaningful volunteer positions throughout the world.
In exchange for a few hours of work each day, your room and board are covered.
Backpackers can spend long periods of time volunteering in an awesome place without spending any money. Meaningful life and travel experiences are rooted in stepping out of your comfort zone and into the world of a purposeful project.
Worldpackers opens the doors for work opportunities in hostels, homestays, NGOs, and eco-projects around the world. We've tried and approved them ourselves - check out our Worldpackers in-depth review here.
If you're ready to create a life-changing travel experience and give back to the community, join the Worldpacker community now. As a Broke Backpacker reader, you'll get a special discount of $20. Just use the discount code BROKEBACKPACKER and your membership is discounted from $49 a year to only $29.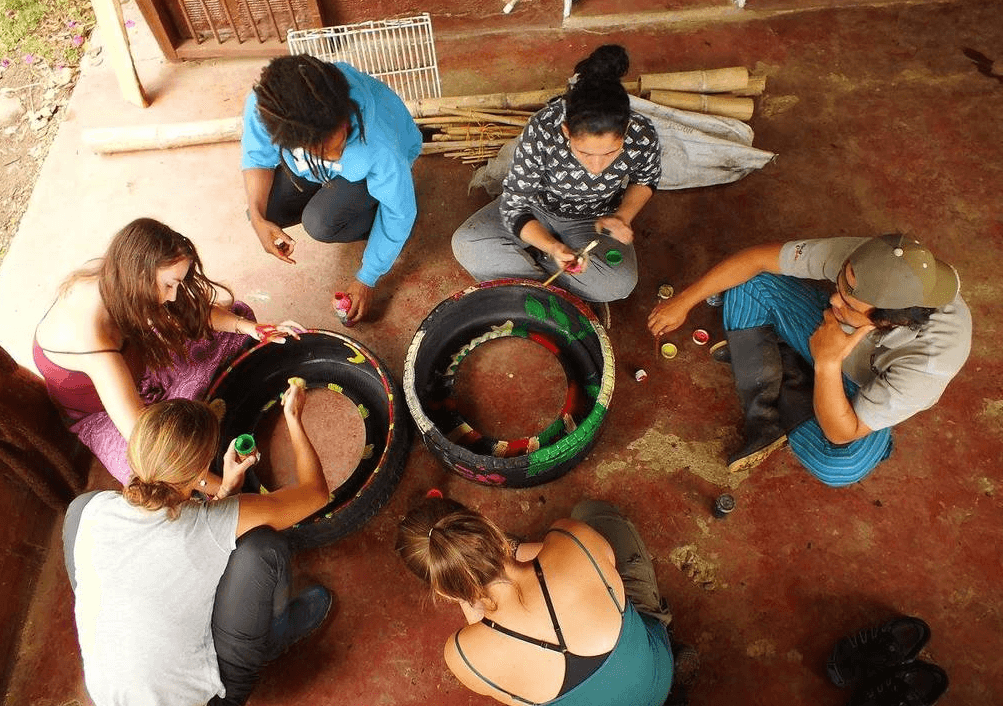 Teach English Online in Colombia
Are you a native English speaker looking to earn cash whilst traveling the world? Teaching English online is a great way to earn a consistent income—from anywhere in the world with a good internet connection. Depending on your qualifications (or your motivation to obtain qualifications like a TEFL certificate) you can teach English remotely from your laptop, save some cash for your next adventure, and make a positive impact on the world by improving another person's language skills! It's a win-win! Check out this detailed article for everything you need to know to start teaching English online.
In addition to giving you the qualifications to teach English online, TEFL courses open up a huge range of opportunities and you can find teaching work all over the world. To find out more about TEFL courses and how you can teach English around the world, read my in-depth report on teaching English abroad.
Broke Backpacker readers get a 35% discount on TEFL courses with MyTEFL (simply enter the code BACKPKR), to find out more, please read my in-depth report on teaching English abroad.
Whether you are keen to teach English online or looking to take your teaching game a step further by finding a job teaching English in a foreign country, getting your TEFL certificate is absolutely a step in the right direction.
Internet in Colombia
In recent years, the internet situation here has greatly improved. Like everywhere in the world, smartphones can be seen in almost every hand on the street, which was not the case at all even four or five years ago. Most hostels have wifi to use for free. Don't expect the connections to be very good as you get further out in the mountains or countryside.
If you get out in the jungle or remote villages, the internet probably won't be available or if it is it will be expensive to use. Enjoy the digital detox. In this day and age it is a blessing to have.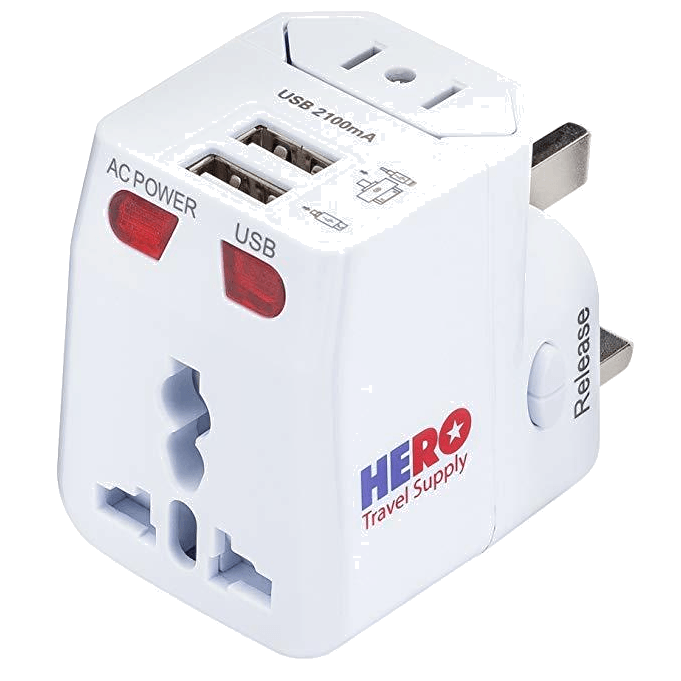 One of the best investments you can make is a
worldwide travel adapter
that will work anywhere! The one featured here is tough, reliable and a solid buy - Don't leave home without one.
GET IT HERE
Must-Try Experiences in Colombia
From surfing and trekking to paragliding and caving, Colombia is an adventure playground. You can do some activities really cheap but it's worth haggling; you can often get 10% off what appears to be a fixed price. Colombia is also home to some of the best diving in the world... well, OK, some of the cheapest places to learn to dive in the world.
People in Colombia
The people of Colombia definitely are what makes is such a special country to go backpacking in. From the late 1970's through the 1990's, the Colombian people endured a whole hell of a lot of trama, war, and terrorism. The conflicts between cocaine drug lords, police, mercenaries, and communist guerrilla groups rattled Colombia to the very foundations of its society.
Modern day Colombia is a place that couldn't be more different than those dark times in its history. Much of Colombia and its people are thriving. Meet some locals and find out what daily life is like in Colombia in 2018.
Food in Colombia
The food is cheap, tasty and plentiful. There is plenty of street food around with arepas, empanadas and meat on a stick being some of the staples. If you're eating out, expect to pay between five to ten dollars for a decent meal.
If you're after a hearty lunchtime meal & aren't watching the carbs, try out Bandeja Paisa. It consists of rice, plantains, avocado, minced meat, chorizo, black sausage, fried pork rind & a fried egg chucked on top. My favourite dish was by far empanadas, they're a great snack & are filled with a variety of toppings. Check out this post for even more info on some of the best Colombian dishes to try.
Festivals in Colombia
There are some epic festivals happening throughout the year in Colombia. These range from food and music events to religious and cultural festivals. Here are a few festivals to check out whilst backpacking Colombia...
Carnaval de Barranquilla: Carnaval Colombia style! This is one of the biggest parties of the year in all of South America, perhaps only rivaled by the Carnaval parties in Brazil.
Festival de las Flores: The festival takes places in Medellín, Antioquia. This festival happens every year during the first two weeks of August and lasts around 10 days. If you love having your mind blown by botanical wonders, this fest is for you.
Carnaval del Diablo: The town of Rio Sucio hosts the Carnaval del Diablo (Festival of the Devil) on odd numbered years biannually, in a party to ward off sadness. The event is a synthesis of indigenous pagan and Catholic beliefs and features feasts, costumes, dancing, music, and poetry under the spell of sugar cane liquor.
Rock al Parque: A firm fixture on the Bogota live music calendar, Rock al Parque is an annual festival dedicated to – you guessed it – rock music, which has taken place in Simon Bolivar Park every year since 1995.
Estéreo Picnic: Estéreo Picnic began life back in 2010 as a one-day festival showcasing local Bogota bands. However, a low turnout resulted in a change of strategy and, since 2013, the festival has existed as a multi-day event in October for both major international artists and local ones.
Baum Festival: One of the newer Bogota music festivals, Baum Festival is an electronic-music event organized by the popular nightclub of the same name. It has been running since 2015 and takes place in Multiparque, a large park to the north of Bogota. It's a one-day affair, but boasts an impressive line-up of international and local electronic acts. This fest takes places in May.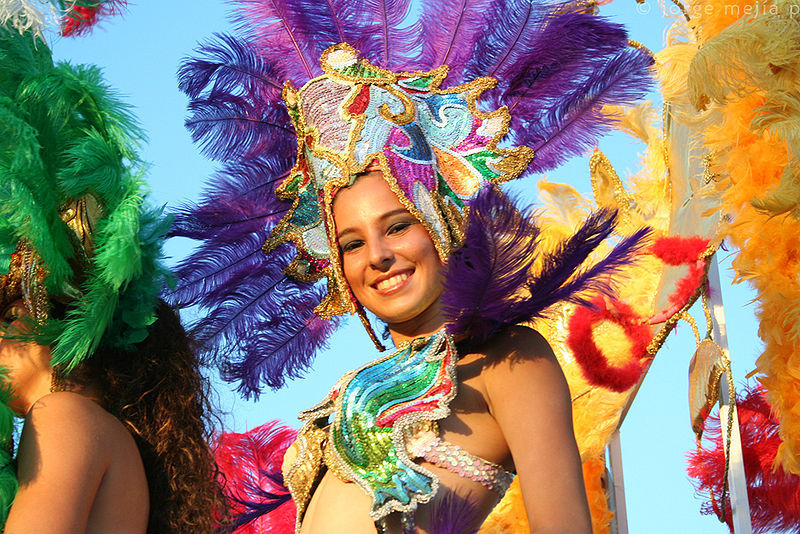 Trekking in Colombia
Colombia is home to some fine trekking opportunities. From multi-day hikes to the Lost City to exploring river valleys and stunning misty mountains, there are many options at your fingertips. If you love getting out in nature as much as I do, Colombia will not disappoint. There are numerous national parks and reserves to choose from. For longer treks, it is easy to find a guide. Here are a few of the best treks in Colombia to get you stoked on some hiking!
Lost City Trek: This hike through the Colombian jungle will certainly be a highlight of your backpacking trip.
Cocora Valley: Some of the best day hikes in Colombia can be found in a region famous for its coffee and stunning scenery.
Sierra Nevada de Cocuy: Snow in Colombia? Here you can find peaks are as high as 5,330 metres above sea level. You have you your own gear and a good sleeping bag, you can probably do the hike without a guide.
Chingaza National Park: This park north of Bogota has some fantastic treks to do in the mountains. Some of Colombia's most spectacular mountain views can be had here!
Chicamocha Canyon: At Chicamocha there is a ridge hike that can be undertaken as a day trip, finishing in a small colonial village. This hike is a must if you're in the area.
Los Nevados National Park: This area of Colombia truly has it all. Experience some of the most diverse landscapes in the whole country. A trek here will certainly get you off of the beaten path.
Tatacoa Desert: Desert in Colombia? Go see it for yourself! Hike, bike, and explore this unique part of the normally quite tropical Colombia. Check out this great article for more information about what to do in Tatacoa.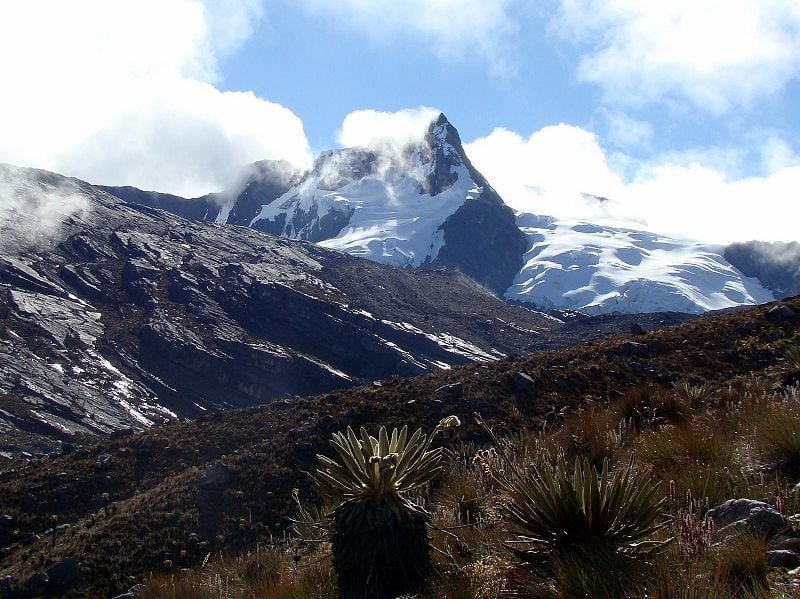 Scuba Diving in Colombia
Love Scuba diving? Me too. Colombia has tons of places to take on some epic dives. Providencia and Santa Catalina, a smaller island to the north, is home to the third largest coral reef barrier on earth, and includes over 40 dive sites.
If Providencia is the accessible best of Colombian diving, Malpelo is the harder to reach version: a jagged rock in the Colombian Pacific, it can only be reached by boat, and divers can only visit here as part of an organized trip on a dive boat. It's worth the time and money for sure; Malpelo is one of the best places in the world to dive with sharks, including hammerheads, whale, and the rare sun ray shark. People have reported schools of up to 500 sharks around Malpelo. That's right. 500.
Another Pacific diving spot, Gorgona, is a rugged island, formerly used as a prison, which now serves as a nature reserve and a prime breeding area for humpback whales.
As mentioned, the Rosario Islands offer good diving that is relativley accessible compared to some of the other destinations this list.
Scuba Dive Colombia on a Liveaboard Trip
There are so many places worth diving in Colombia, I highly recommend joining a Liveaboard trip in Colombia if you can swing it. You get to wake up on a boat every morning and explore the wonders of the underwater world in Colombian seas...
If you are a serious scuba diver looking to check out some of Colombia's best and most remote dive sites, Liveaboard is your ticket to paradise in that regard.
Scuba dive by day, chill on the boat by night, and of course eat tasty food along the way.
Diving journeys don't get any better than this.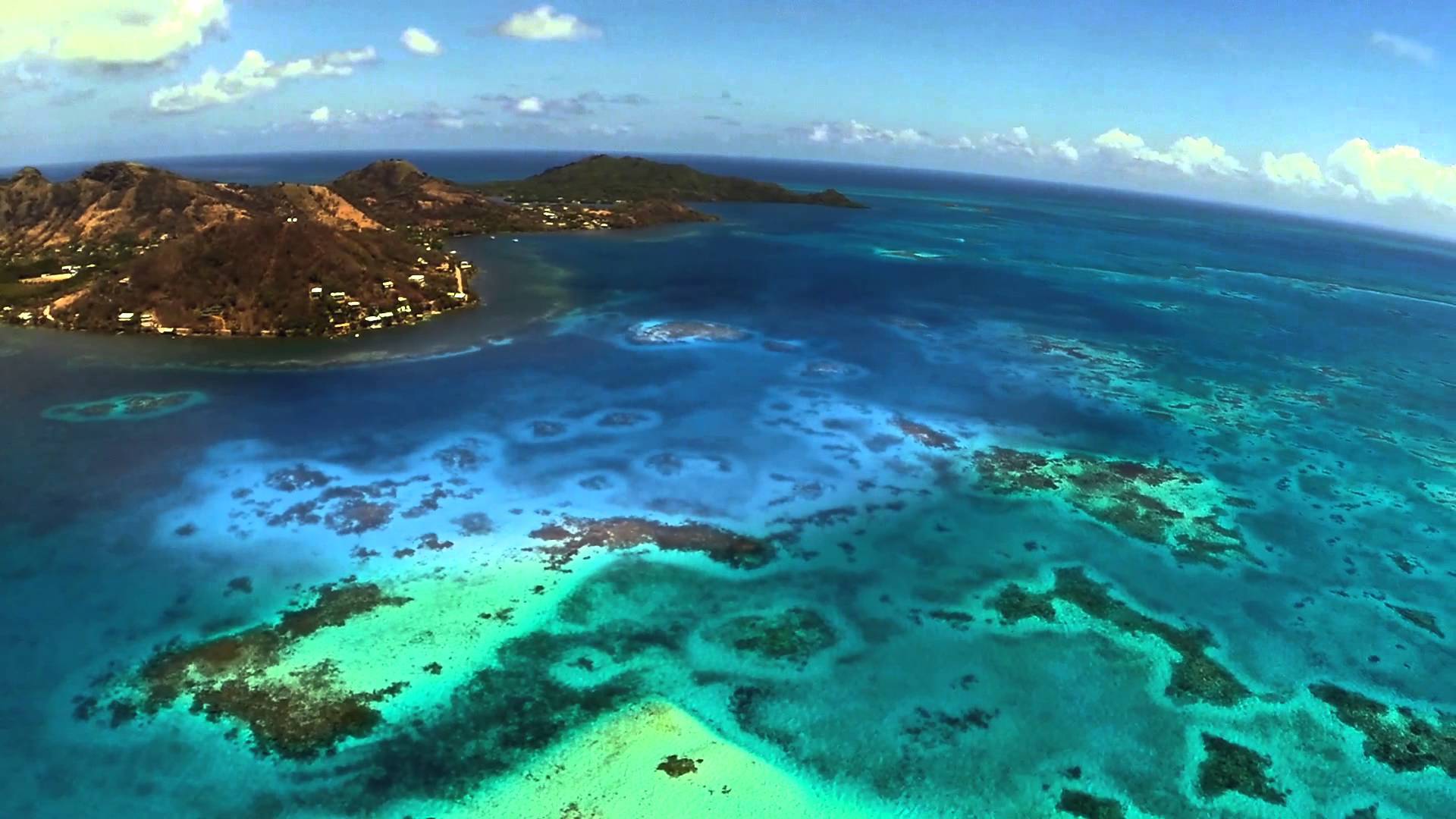 Surfing in Colombia
Another favorite past time for backpackers and locals a like in Colombia is surfing. Colombia has some amazing surfing beaches on both its Northern Caribbean Coast and its Western Pacific Coast. Surfing in Columbia is gaining popularity as this beautiful country opens it's doors to the rest of the word.
The surfing beaches on the Caribbean coast are much easier to access, more backpacker oriented, and tend to be a bit calmer. The Caribbean beaches are the best if you are a beginner learning how to surf, or you just want to get out and catch a few waves.
The Pacific Coast, while much harder to get to, has some of the best surfing in South America. The beaches around Nuqui are the best in Colombia and are an adventure lovers dream.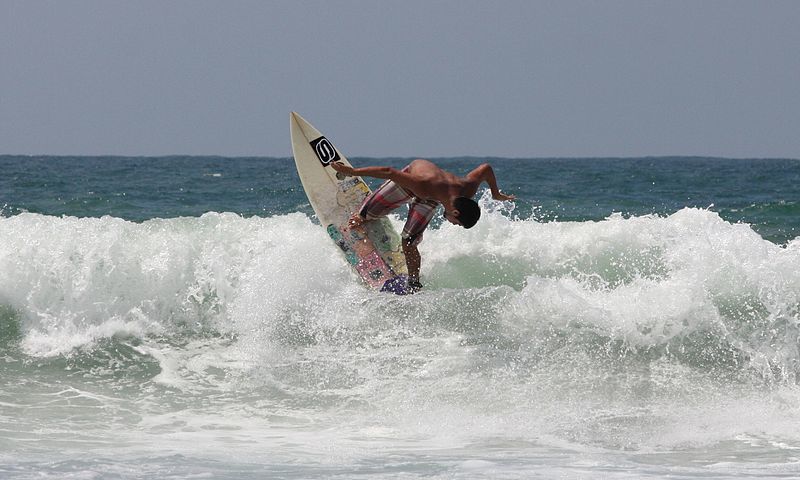 Brief History of Colombia
One name and one product come to mind when thinking about Colombia's recent history: Pablo Escobar. The guy is famous the world over for formally being one of the worlds richest men and Cocaine kingpin. Escobar's reign in Colombia brought the country to its knees. In the 1980's and 1990's, Escobar was responsible for ordering the killings and bombing that resulted in tremendous loss of life in Colombia. We are talking deaths in the tens of thousands. Police, judges, lawyers, journalists, rivals, civilians, guerrillas: everyone was affected.
In addition to the infamous cocaine trade, Colombia had active guerrilla revolutionary movements happening. Some revolutionary groups like FARC, are still active today.
On November 6, 1985, the M-19 guerrilla group stormed the Colombian Palace of Justice and held the Supreme Court magistrates hostage, intending to put president Betancur on trial. In the ensuing crossfire that followed the military's reaction, scores of people lost their lives, as did most of the guerrillas, including several high-ranking operatives. Both sides blamed each other for the outcome.
There was truly so much going on in Colombia, so much violence, that the state was on the verge of collapse.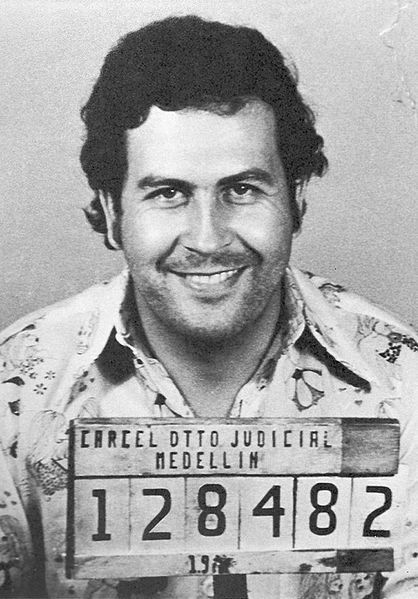 Early 1990's in Colombia
Following administrations had to contend with the guerrillas, paramilitaries, narcotics traffickers and the violence and corruption that they all perpetuated, both through force and negotiation. Narcoterrorists assassinated three presidential candidates before César Gaviria was elected in 1990.
Since the death of Medellín cartel leader Pablo Escobar in a police shootout during December 1993, indiscriminate acts of violence associated with that organization have abated as the "cartels" have broken up into multiple, smaller and often-competing trafficking organizations. Nevertheless, violence continued as these drug organizations resorted to violence as part of their operations, but also to protest government policies, including extradition.
Although the FARC and ELN accepted participation in the peace process, they did not make explicit commitments to end the conflict. FARC ended peace talks in the year 2000.
Modern Day Colombia
As I mentioned before, Colombia is now a nation at peace. You can see it in the streets and in the mountains. People aren't terrified there might be a bombing or a shooting at any moment. Colombia is not totally free from problems certainly. Like any developing country, Colombia is still trying to eliminate poverty and social inequality. Colombia's future is bright. Like Peru, Colombia has one of South America's fastest growing economies.
I am deeply happy for Colombia and its people, that they have finally found relative calm after the totally fucking crazy 1980's and 90's. Keep doing your thing Colombia!
Being a Responsible Backpacker in Colombia
Reduce your plastic footprint: Perhaps the best thing you can do for our planet is to make sure you do NOT add to the plastic problem all over the world. Don't buy one-use water bottles, the plastic ends up in landfill or in the ocean. Instead, pack a tough travel water bottle.
Go and watch A Plastic Ocean on Netflix – it'll change how you view the plastic problem in the world; you need to understand what we are up against. If you think it doesn't matter, get off my fucking site.
Don't pick up single use plastic bags, you're a backpacker – take your daypack if you need to go to the shop or run errands.
Bear in mind, that many animal products in countries you travel through will not be ethically farmed and won't be of the highest quality. I'm a carnivore but when I'm on the road, I only eat chicken. Mass-farming of cows etc leads to the rainforest being cut down – which is obviously a huge problem.
Recently, my gear-venture, Active Roots has started to sell water bottles. For every Active Roots water bottle sold, we donate 10% to PlasticOceans.org – an awesome initiative aimed at educating people on the risk of single use plastic and helping to clean up our oceans. Help save the planet, whether you take an Active Roots bottle or not – TAKE RESPONSIBILITY for your plastic footprint, don't be a dick.
Need more guidance? – Check out our post on how to be a responsible backpacker.
Backpacking Colombia can be one hell of a party at times. Take it from me, it can be easy to get carried away. It is important to keep in mind that you are an ambassador for your country, which is awesome. We can make a positive impact on people when we travel and get rid of any ugly stereotypes that may be associated with your country.
Avoid eating at fancy gringo-owned restaurants. I don't care how badly you want that lasagna and red wine. You make a choice with every dollar you spend. Try to spend your money in places where the experience is mutually rewarding.
I know it can be hard, but do your best to use the least amount of plastic water bottles that you can. Refill the ones that you do buy! Use a Grayl Geopress. Refill at your hostel! There are plenty of ways to reduce plastic!!!
Backpacking Colombia or any country for that matter often illuminates some of the great socio-economic inequalities of the world. Never take it for granted that you are healthy and financially able to go traveling. Show the world around you some gratitude and help to make a positive impact on it.
"Yay for transparency! Some of the links in this post are affiliate links. This means that if you book your accommodation, buy a book or sort your insurance, I'll earn a small commission at no extra cost to you. I only link to stuff I've actually used and never endorse crap. Your support helps me keep the site going."
---
Need More Inspiration?
Love this Post? Pin for later!
> How to Cut Costs >> Coolest Hostels >> Must See Sights >> What to Eat" width="250" height="375">