Colombia's diverse landscapes, rich history, vibrant culture, and unique culinary tastes make it one of the top backpacking destinations in South America.
Every region of Colombia whips up its own collection of flavours and spices. Drawing influences from the country's colonial past, you can eat your way across the mountains and beaches finding delectable mouthfuls and interesting snacks.
Any well-seasoned traveller knows that food can make or break an adventure, and Colombian food does not disappoint! Check out all the must-try dishes.

Unlock Our GREATEST Travel Secrets!
Sign up for our newsletter and get the best travel tips delivered right to your inbox.
What is Food in Colombian Like?
Exploring Colombia is phenomenal, as it is pretty interesting geographically. It hosts 10% of the mighty Amazon Rainforest, as well as a Caribbean Ocean and Pacific Ocean coastline. These significant alinements make for some beautiful scenery, and incredibly fresh ingredients – from seafood to fruits, veg and meats.
Stews and soups are a firm favourite to make use of all the tasty, fresh ingredients on hand. Central Colombia has a meat heavy diet, while those in the coastal regions have easy access to the best seafood in the country.
Loving a good fried snack, tasty side dish or super sweet dessert, Colombians take advantage of everything at their fingertips to create some amazing meals. You will see ultra-fresh vegetables on the side of most meals, along with plenty of carbs.
Understanding Colombian Food Culture
Every plate of Colombian food is reflective of its geographic origins. You'll notice a subtle difference in cuisine as you journey from coast to coast. That being said, its all magnificent!
For Colombians, lunch is the most important part of the day. This is the main meal where families and friends will gather with piled plates of delicious food, sometimes taking up to 2 hours! Lunch is a full 3-course event with a soup, a meat dish, and then a sweet finale – not forgetting a sip of world-famous Colombian coffee. After all the delicious bites, it's time for a little siesta before heading back to work. I can certainly get on board with the nap, but having such a large meal in the middle of the day is pretty foreign to Westerners.
Dinner is usually a light affair, probably more of a snack by our standards. Most will have arepa (bread and cheese) accompanied by a hot cup of coffee.
The adventurous among us can try preparing their own versions of Colombian favourites in a locally-led cooking class.
15 Must-Try Colombian Dishes
The diverse colonial history of Colombia has had a huge factor on its cuisine, leading to some of the tastiest dishes in the world. Here are the 15 Colombian dishes you can't miss!
1. Aguapanela
Aguapanela, or panela water, is a nonalcoholic drink that is popular and readily available across South America.
Made by mixing water, lemon juice, and unrefined sugar cane, in the summer it can be seen everywhere refreshing the masses. It is Colombian's take on lemonade, and tastes heavenly when you have been out in the sun.
The basic recipe of aguapanela remains the same, but street vendors add some pizazz by mixing in a variety of 'Western' flavors. Coffee and hot chocolate are two of the most common aguapanela variants.
When you are in the mood for something a little stronger, ask for a glass of canelazo. It is aguapanela mixed with alcohol for that extra kick!
2. Sancocho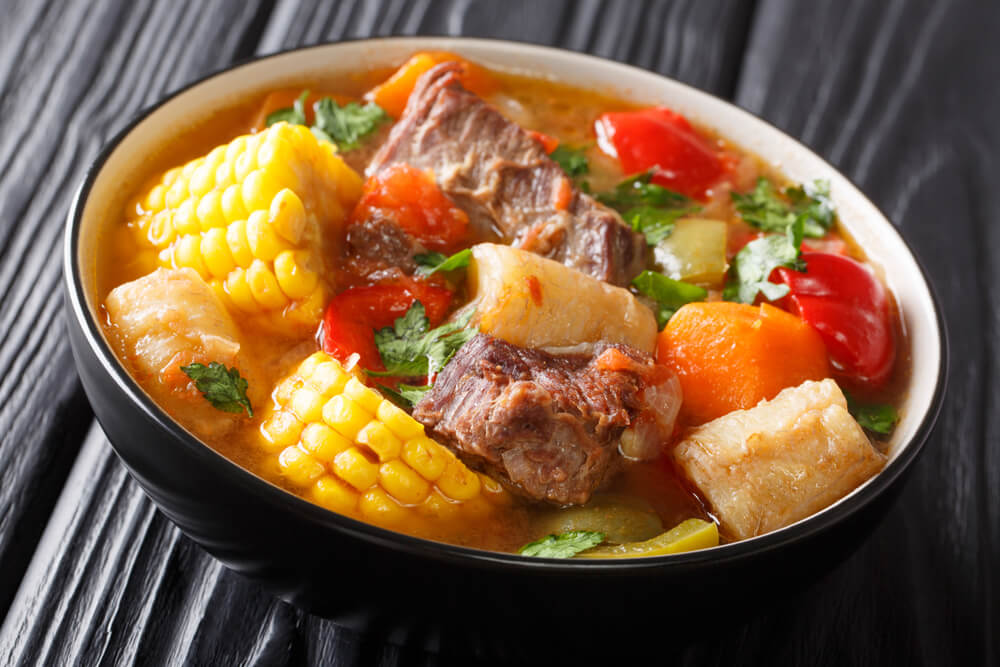 Sancocho is a super traditional, Latin American, meat and vegetable broth. It is a cherished dish, that is often only served on special occasions. The taste and flavours differ from country to country, but also from cook to cook.
Sancocho Colombiano is the Colombian take on the classic dish, but even that varies across the country! Sancocho Colombiano runs the gamut from seafood to poultry. The chef will have a lot of creative freedom based on what ingredients they have available – the range of vegetables and meats will be seasonal and regional.
3. Tamales
Tamales are a signature Colombian dish, traditionally served for Sunday breakfast and enjoyed with hot chocolate. It is a savoury dish, that may also make an appearance at dinner time.
The dish is of an assortment of meat, corn mash, and vegetables wrapped up in banana leaves. Think of the leaves as a built in 'dish', you don't actually eat them. The rolled up packages are steam cooked for an hour, giving them a tender and juicy consistency that will melt in your mouth.
When it is time to eat, you simply untie the string, peel back the leaf, add a dollop of salsa and enjoy!
4. Empanadas
Empanadas are crescent-shaped turnover pastries filled with a variety of savoury ingredients. While these deep-fried snacks are found all across Latin America, the Colombian variant stands out with its unique corn-dough outer layer.
The seasoned meat and potato filling used in Colombian empanadas have a distinct taste and flavour. But, like most Colombian food, they differ from region to region. Bogotá, the capital city of Colombia, is especially famous for serving some of the best-tasting empanadas in the world!
Grab some from a local vendor, and take a walk enjoying the warm and flavourful snack. You could even join a tour of all the best street foods in Colombia!
5. Cholado
To follow up your empanadas, Cholado is a refreshing icy treat from the Colombian region of Valle del Cauca. This popular summer delight is a cross between ice cream, fruit cocktail, and soft drinks. That may sound like a weird combination, but Cholado is exactly what you need to beat off Colombia's tropical weather conditions.
The tasty treat is served in a transparent glass, with shaved ice at the bottom. Layers of tropical fruits, a generous amount of fruity syrup, and condensed milk are loaded up, then topped with even more sweets on top such as shredded coconut, wafer cookies, cherries and whipped cream. Sugar galore!
Is This the Best Travel Pack EVER???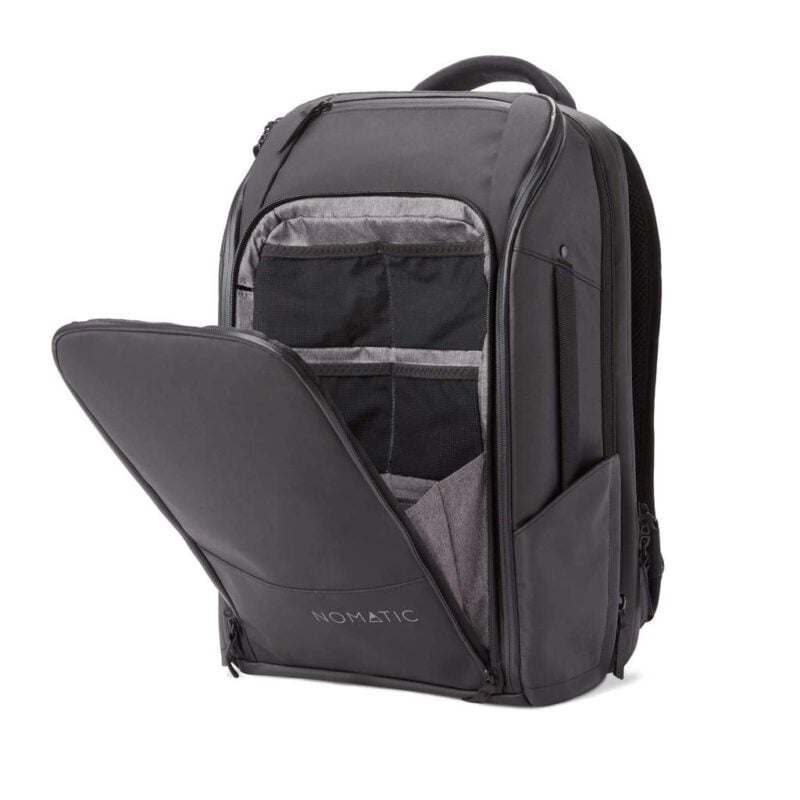 6. Cocadas
The sweet and savoury coconut treats, cocadas, are found throughout Latin America. In Colombia, the cookies are synonymous with beach days. Street vendors set up stalls along sandy beaches, with huge pots overflowing with cocadas.
For those not in the loop, cocadas are similar to macaroons, but much better!
Baking the cookies gives it a slightly crisp outer layer. While the inside is soft, gooey, and caramel-y, with a generous amount of shredded coconut.
7. Carimañola
Carimañola is considered one of the best Colombian foods you can try – we are inclined to agree. These cheesy snacks are commonly served for breakfast, or as an appetizer, and are simply too delicious to refuse.
The traditional Caribbean treat is a torpedo-shaped cassava fritter, stuffed with cheese and meat. Veggies have no fear as there are meatless versions around, too.
Carimañolas are traditionally served hot, with Suero (a fermented condiment made from milk). Most locals will have this savory snack with a freshly brewed cup of coffee.
8. Arepas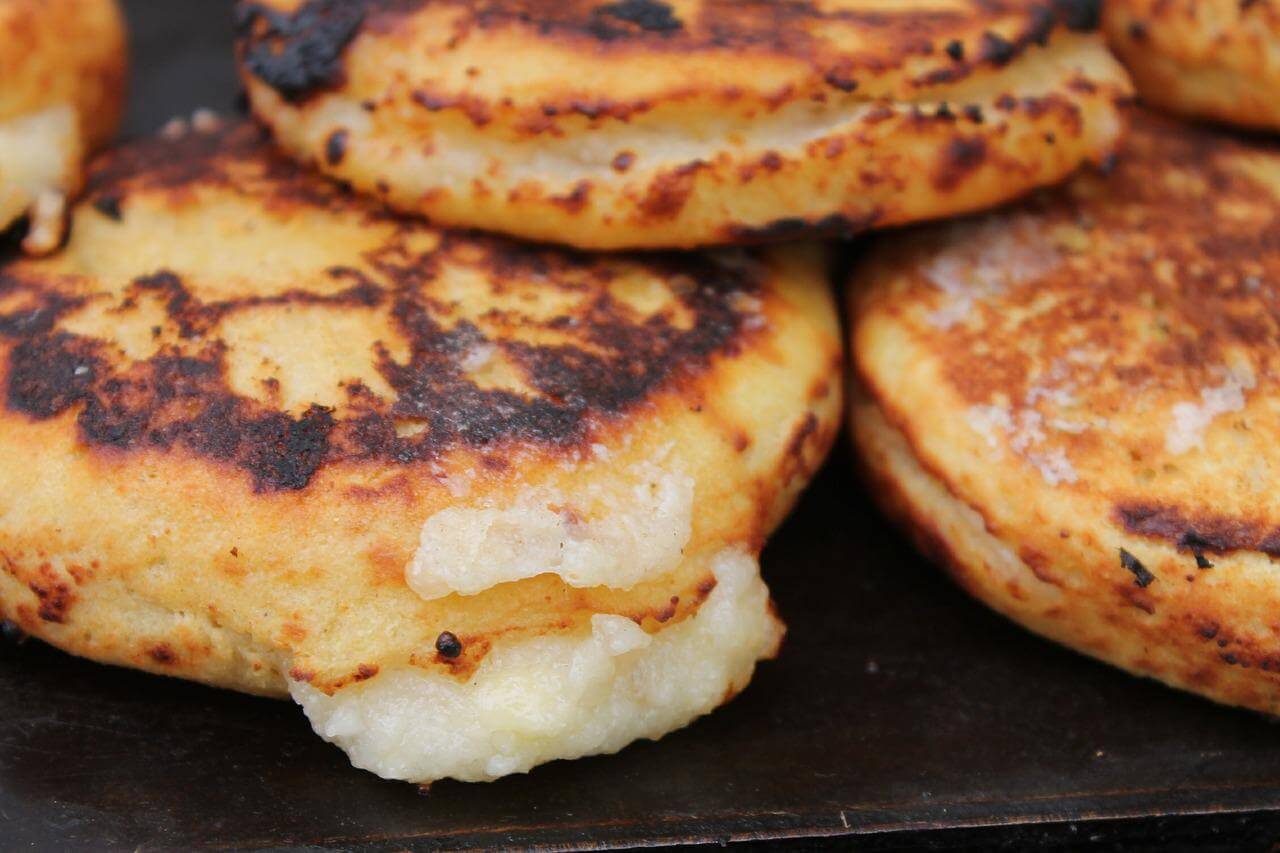 You can't go anywhere in this country without smelling the scent of freshly baked Arepas — they're one of the many things Colombia is known for!
Be it from someone's house, a grocery store, or a street vendor, this national food of Colombia can be found just about anywhere you go. They are most similar to pancakes or flatbread, and made from cornmeal.
You can find multiple varieties of arepas, each with its own unique twist of flavour and style. One variety is called Arepas de Chócolo – we can all recognise chocolate.
The cake is covered in butter and pan-fried until it is that perfect golden brown. Many enjoy it for breakfast, and, as with most Colombian meals, served with coffee.
The sweetness of the corn and the saltiness of the creamy cheese perfectly stimulate your taste buds.
This e-bike tour will take you to the best arepas spot in Medellín, as well as other foodie stops.
9. Jugos
Loosely translated to 'juice', jugos is as fresh and delicious in Colombia as you can imagine, thanks to its vast landscapes and exotic tropical fruits.
Two of the most popular jugos in Colombia are Sandia (watermelon juice), and Limonada de Coco (coconut limeade). Refreshing, tasty and fresh, after a busy day of walking around a sip of jugos is very welcome.
Vendors will let you customise your drink, with a choice of fruits to blend. You can even request add milk, sugar, or water. Go wild and try out some quirky mixes of super fresh fruits!
10. Changua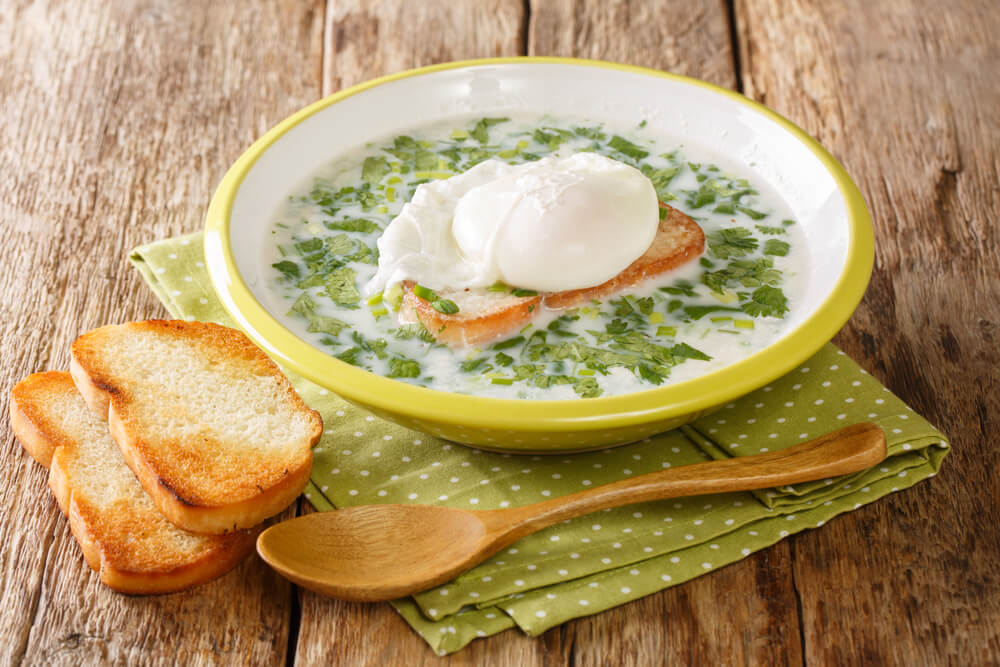 Changua (milk and egg soup), is traditionally a breakfast soup prepared by boiling milk and water together, along with plenty of spices. An egg is cracked into the thick broth-y soup and slightly cooked but still kept runny – yum.
Changua is used by locals to cure hangovers. It is believed that no matter how much you've had to drink the night before, a bowl of changua is all you need to be up and running on your feet the next day.
11. Tres Leches Cake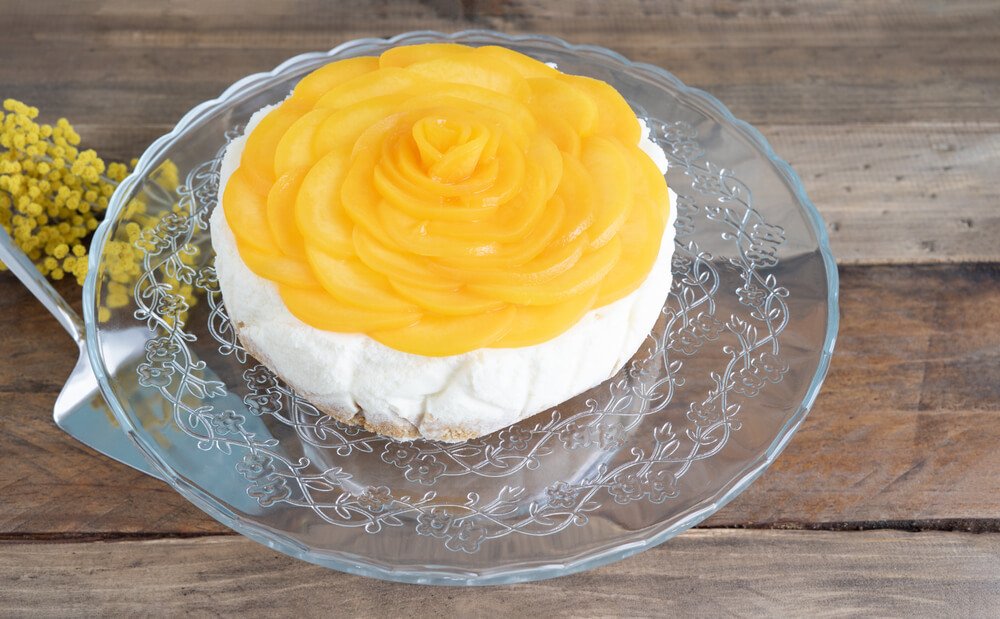 Tres Leches Cake is an iconic dessert with varieties found all over the world. It is a simple sponge cake seeped in milk to create a moist (sorry, there's no other word to use), and sweet treat.
'Tres leches' literally translates to 'three kinds of milk', referring to the three different types of milk products used to soak the cake. It is finished off with a whipped cream topping only adding to decadence.
Tres leches is often served with fresh strawberries, mango, or grapes. The contrasting flavours of the sweet cake, the slight sourness of the fruits, and the creamy toppings are indescribable. It's easy to see why it's such a popular dessert!
12. Bandeja Paisa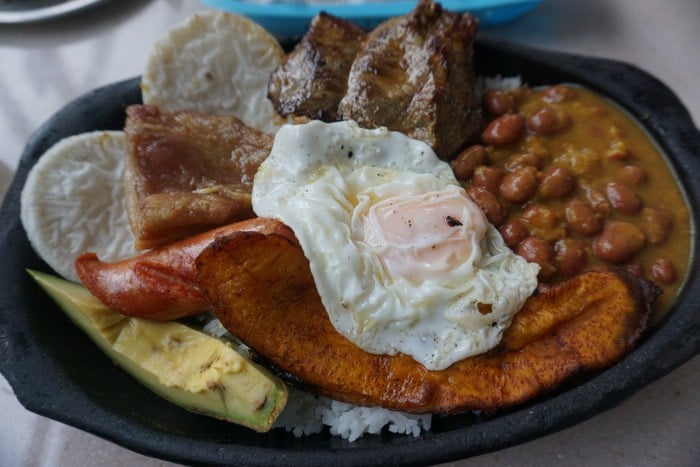 Bandeja Paisa is a Colombian classic, and considered the 'unofficial' national dish of Colombia.
Bandeja (platter) Paisa (a person from the Paisa region) is a platter stacked with rice, beans, avocado, plantain, arepa, fried eggs, and a variety of meats. There are regions that prepare the platter with fish instead of meat.
Bandeja Paisa has an interesting origin story. Long before it was considered a fancy meal, it was 'peasant food'. The field workers of the central Antioquia region or paisa, would have this hearty platter for breakfast. It was a nutritional and balanced meal to give lots of energy before a laborious day in the fields.
Today, Bandeja Paisa is served in restaurants and will sometimes be the most popular, and expensive, item on the menu.

Our GREATEST Travel Secrets…
Pop your email here & get the original Broke Backpacker Bible for FREE.
13. Ajiaco
Ajiaco is a hearty chicken and potato broth native to Bogotá. In the colder climate, it is perfect to warm up the body and soul.
This traditional Colombian soup is a one-pot meal containing chicken, potatoes, corn on the cob, and a unique herb called guascas (which has a slightly minty flavour). The potatoes and guascas leaves are strictly grown in the colder, mountainous regions of Colombia.
Most often, Ajiaco is served with rice, sliced avocados, capers, and sour cream. However, on those chilly Colombian hostel nights high up in the Andes, grab a ladle and eat right out of the pot – with the cooks permission, of course.
Try out an authentic Ajiaco on a Bogotá food tour.
14. Aborrajado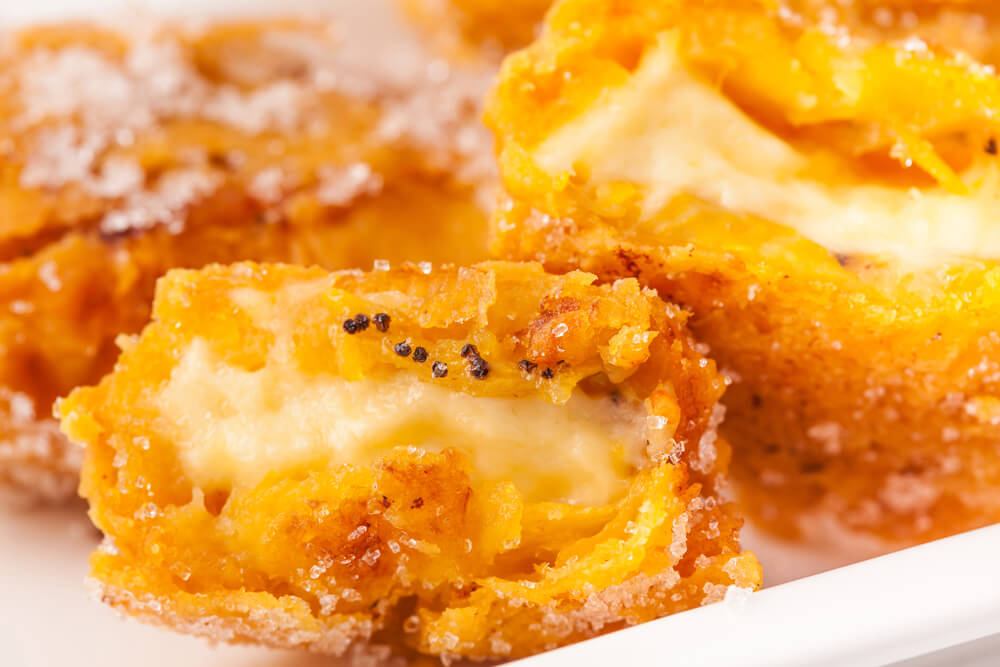 Aborrajado Colombianos is a sweet and savoury Colombian food from the Vallecaucana region.
They are deep-fried slices of ripe plantains, stuffed with cheese and, occasionally, guava paste. Aborrajados are crisp on the outside, and deliciously creamy on the inside. The ones with guava paste are super sweet!
There are so many different varieties – one of the most popular containing fried pork belly.
You'll often see this snack being sold by vendors on the streets, but they are just as easily available in restaurants.
15. Hormigas Culonas (Ants – yikes)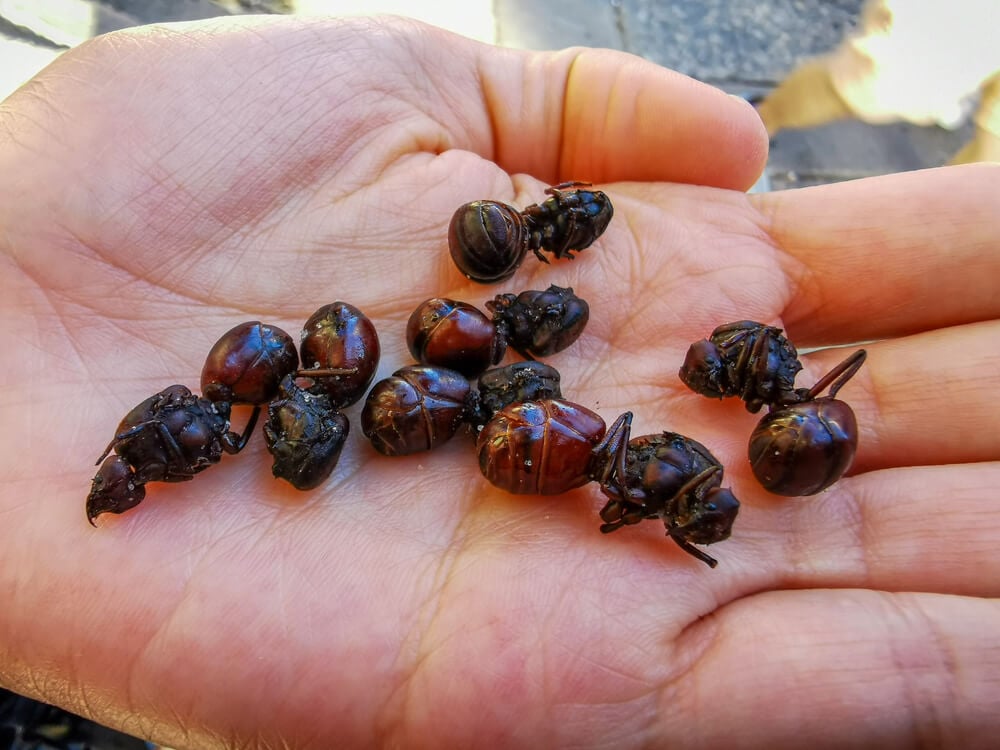 This might sound crazy, but you've gotta embrace Colombia's culture, even if that includes eating a bag of ants. Yes.. you heard that right!
Hormigas culonas, translates to big bottom ants – no body shaming here. Hormigas culonas are large, female leaf-cutter ants, roasted in salt and eaten like chips. Many liken the taste to popcorn.
The delicacy is especially popular in the Santander region during rainy season. The ants are harvested in the spring and are a vital source of protein for the locals.
This is one snack you have to try to truly say you've experienced Colombia.
Final Thoughts
Because of its unique geography, history, and culture, Colombia has some of the best culinary culture in South America.
The sheer variety of tropical fruits, seafood, meats, and spices, allows the locals to experiment with a variety of flavours and textures.
If you haven't already, it is time you look into embarking on a Colombian adventure not just for the beauty and majesty of this place, but also for its unique treats!
---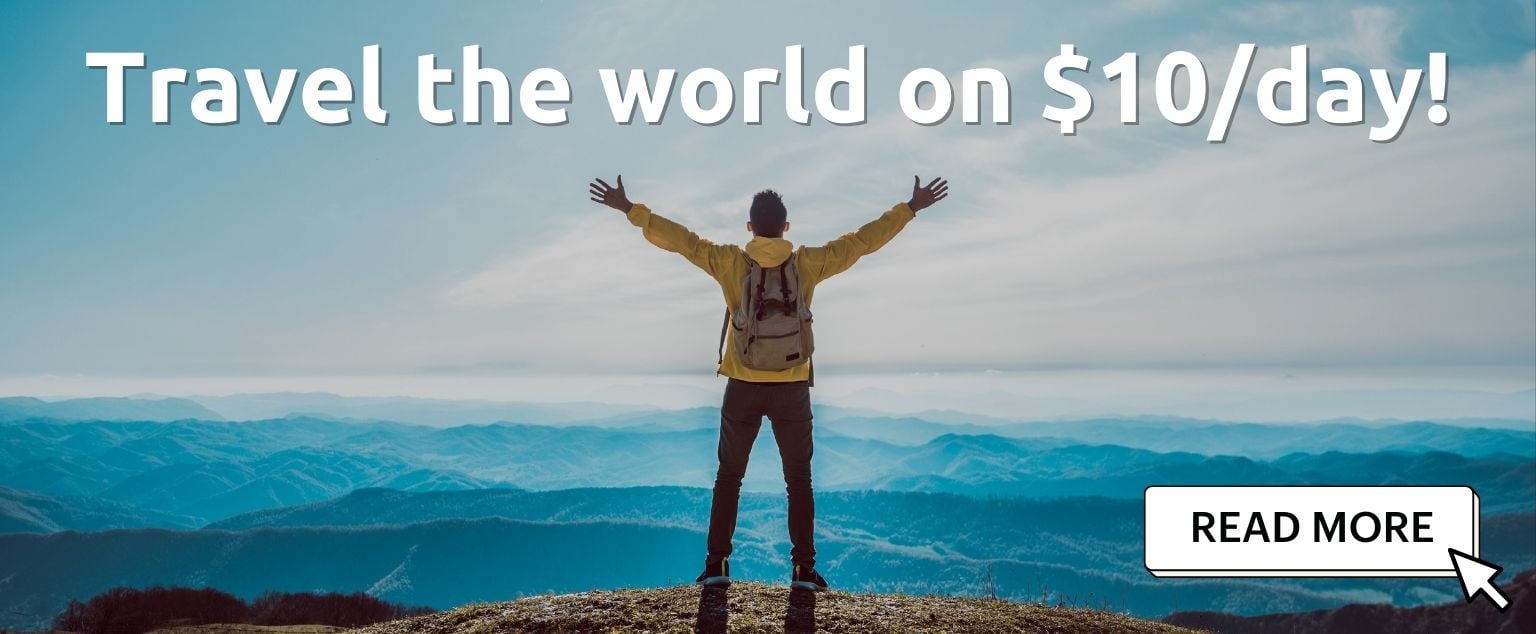 And for transparency's sake, please know that some of the links in our content are affiliate links. That means that if you book your accommodation, buy your gear, or sort your insurance through our link, we earn a small commission (at no extra cost to you). That said, we only link to the gear we trust and never recommend services we don't believe are up to scratch. Again, thank you!