Cartagena is a dizzying, feverish pearl of a city perched on Colombia's Caribbean coastline. The city is awash with colour and overflowing with dance, music, culture, and food, It's your perfect mix of all things Latin with all things Caribbean.
Historically, this is a colonial-era city with some fascinating tales to tell. Not one to surrender to nostalgia though, there are now towering skyscrapers illuminating the cityscape over at the new development of Bocagrande. Here you will also find the city's best beaches, upscale shopping opportunities, and a slew of fancy, contemporary hotels.
However, Cartagena has not always had the best reputation. Colombia is still trying to shake off those associations with drug dealers and cartels. Whilst much of its chequered past is behind it, there are still issues to be aware of. 
But Cartagena is ok to visit? To be blunt, Absolutely YES – as long as you are following some safety protocols. You really do need to take care in Cartagena…
So we have this handy and in-depth guide to staying safe in Cartagena. It's filled with all the tips and information you'll need in order to keep yourself secure in this awesome walled city.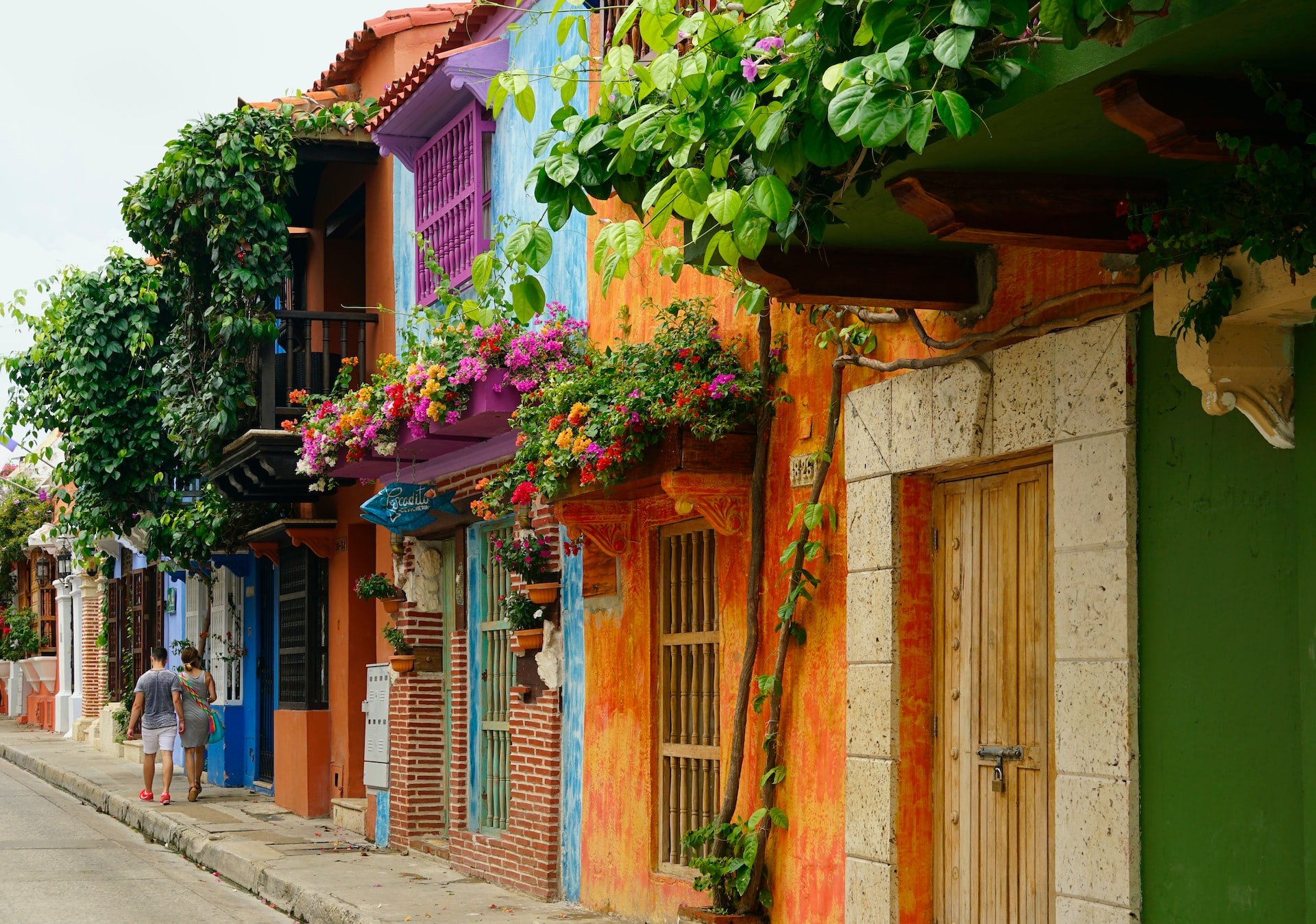 There is no such thing as a perfect safety guide, and this article is no different. The question of "Is Cartagena safe?" will ALWAYS have a different answer depending on the parties involved. But this article is written for savvy travellers from the perspective of savvy travellers.
The information present in this safety guide is as accurate as possible at the time of writing. However, we know now better than ever that the world is a changeable place. Between the pandemic, cultural divisions, and a click-bait media, it can be hard to maintain what is truth and what is sensationalism.
Here, you will find safety knowledge and advice for travelling Mexico. It won't be down to the wire cutting edge info on the most current events, but it is layered in the expertise of veteran travellers. If you use this guide, do your own research, and practise common sense, you will have a safe trip to Cartagena.
If you see any outdated information in this guide, be a good sport and reach out in the comments below! We strive to provide the most relevant travel information on the web and always appreciate input from our readers (nicely, please!). Otherwise, thanks for your ear and stay safe!
It's a wild world out there. But it's a damn special too.
Updated March 2023

Unlock Our GREATEST Travel Secrets!
Sign up for our newsletter and get the best travel tips delivered right to your inbox.
Is Cartagena Safe to Visit Right Now?
In short – yes. Cartagena is pretty safe to visit. In fact, it's one of the safer places in Colombia.
There are plenty of police officers on the street and the city's crime rate and general security and improving. Most visits to Cartagena are trouble-free.
Cartagena has a population of almost 1,000,000 and is the fifth-largest city in Colombia. Cartagena has historically been more of a safe and popular destination – even with Colombian tourists.
Tourism in Cartagena continues to rise. And while tourists and backpackers are increasingly choosing to go backpacking in Colombia, crime is gradually declining.
However, this still isn't a holiday camp: it is still a Colombian city. Crime rates remain relatively high and criminal groups and gangs are still active. The illegal drug trade still affects the country although this is felt less in Cartagena than other regions of the country.
Petty crime is a tourist's biggest risk. Pickpocketing, bag snatching, break-ins, mugging and assault happen in this city daily.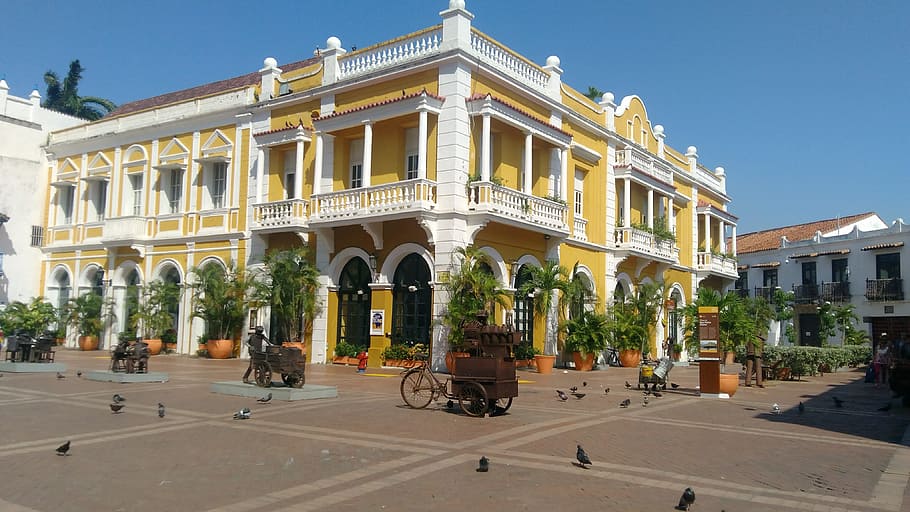 Many areas of Cartagena are safe, but it is within the walled city – La Candelaria – that is the most touristy and risky. Being alert is key.
Street vendors can use aggressive tactics. They may be touting low-budget souvenirs, pushing drugs, or even prostitutes. Knowing how to deal with this will reduce your stress a lot.
Protests and strikes often affect Colombia and these are likely to continue. Additional security measures by authorities mean that there is an increase in police presence and curfews can come at short notice. Safety in Cartagena can also be affected by nature: earthquakes, cyclones, and droughts are a risk.
Currently, Cartagena is safer than it has been in recent years. However, you still need to be smart. Common sense and being alert are essential safety protocols.
Safest Places in Cartagena
When choosing where you'll be staying in Cartagena, a bit of research and caution is essential. You don't want to end up in a sketchy area and ruin your trip.
Always check your government website before you visit too. For example, the UK government currently has no travel restrictions for Colombia, but other countries do.
To help you out, we've listed the safest areas to visit in Cartagena below.
Bocagrande – This strip of seaside skyscrapers is Cartagena's modern heart; a beach resort with a cosmopolitan backdrop of international hotels and restaurants. One of the most expensive areas in the entire country, this area is home to gated communities and wealthy Colombians. This also makes it one of the safest places in Cartagena.
San Diego – Still inside the environs of the old walled city, is the area of San Diego. With fewer tourists, this atmospheric district is where students come from the nearby art college. This means less street vendors, pickpocketing, and pretty theft. Though not one of the the heavy tourist areas, you should still keep your eyes open when wandering through San Diego though.
Historic Center – The undisputed center point of Cartagena's tourism industry. The streets of the old town are pristine, vibrant, and filled with relics of the past hundreds of years. While you have to keep an eye on your belongings, Centro is still considered fairly safe with lots of police presence.
Dangerous Places in Cartagena
Cartagena isn't necessarily known to be the safest place to visit in Colombia. We strongly recommend extra caution, especially in certain areas with a higher crime rate. Be aware that, although there are no travel restrictions for Cartagena for the USA in general, Colombia does have a "reconsider travel" warning.
To help you out, we've listed the most sketchy areas and places to avoid in Cartagena below.
El Paraiso
Sector La Magdalena
La Maria
Olaya and El Pozon
Are these areas of Cartagena dangerous or not? That depends.
It's important to know that all of the places we've just listed CAN be visited. You have more chance of being pickpocketed in the walled city, for example. These areas just have a higher crime rate than others.
Also, they don't have many things to do anyway, but if you want to see all of Cartagena, we'd highly suggest doing this during the day. Keep your eyes open and stay aware of your surroundings if you find yourself in these cities and you should be perfectly fine.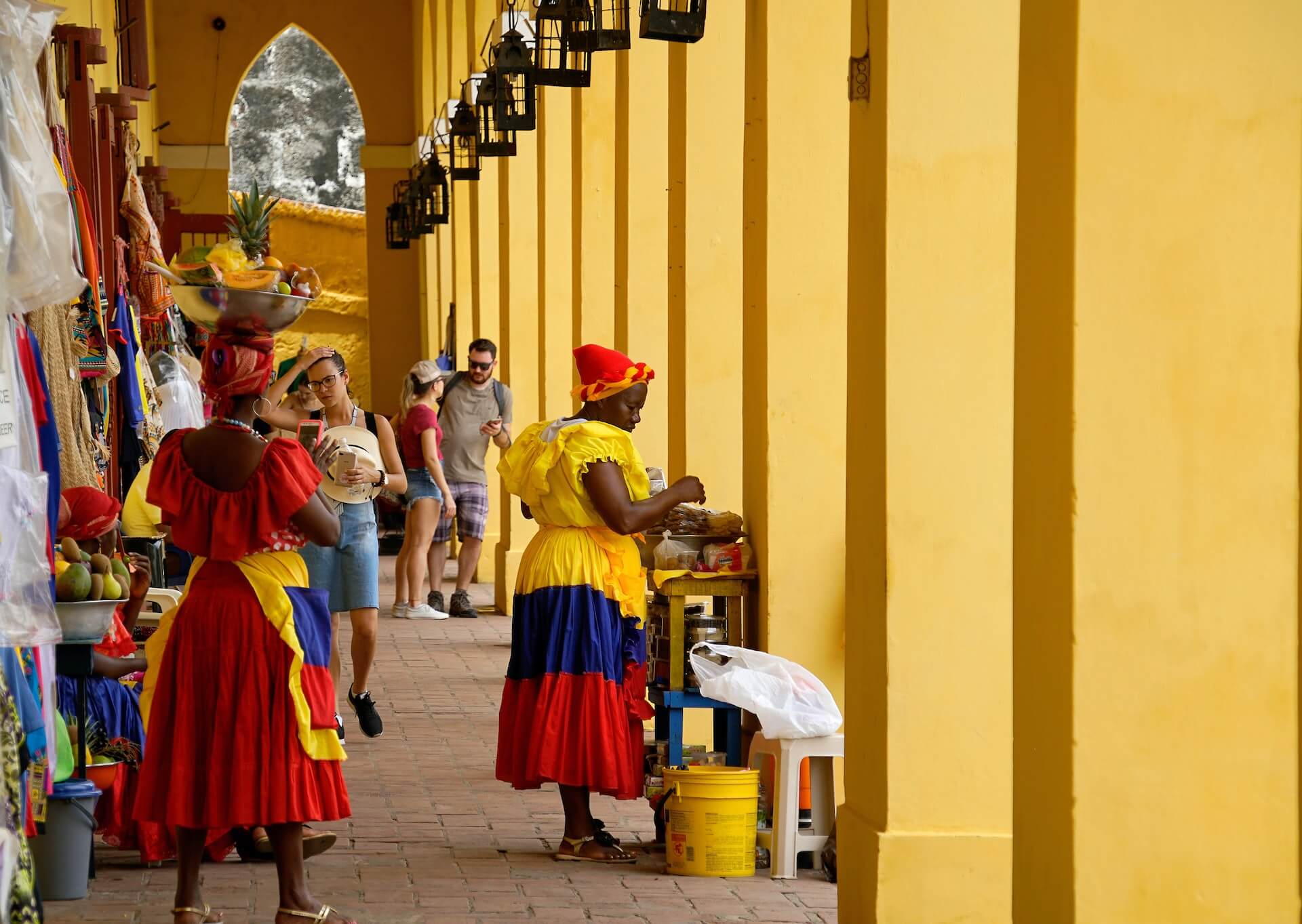 Cartagena is one of the safer cities to visit in Colombia, but it's not Disneyland. To help you navigate this Caribbean coast city, here's a list of safety travel tips for visiting Cartagena.
Limit the cash you carry – and hide it well.
Don't walk around using your phone – You are distracted but your smartphone is valuable.
Try to look confident – even if you're not.
Don't dress like a tourist – Take cues from locals.
Don't wear expensive jewellery – Anything you wouldn't want to lose.
Be aware on public transport – Pickpocket hubs.
Carry a copy of your passport – You must have it by law but a copy is fine.
Keep your cool – It gets intense at times, but stay rational.
Watch out with ATMs – Only use official banks and be discreet.
Beware of Cartagena's beaches – Don't leave valuables unattended.
Check water safety warnings – where you can and can't swim safely.
Avoid illegal goods and services – You risk arrest but drug dealers and pimps also set tourists up for robbery.
Be careful with drugs – Small amounts of cocaine and weed are decriminalised but overdoses and fake stuff are common.
Mind the police – Police officers target backpackers to "fine" them for drugs. They also rob. If they search you, watch CLOSELY, and count your money afterwards.
Sun protection!
Choose accommodation with 24-hour security – There's also someone on hand if you need it.
Learn some Spanish – This helps a lot.
Don't resist if someone mugs you – It's not worth it.
Keep up to date with local news – For weather or protests.
Watch your food, drinks, and cigarettes – and NEVER accept these from strangers. Scopolomine spiking is common in Colombia.
Go to the police if you have an issue – Many are dishonest, but many help too.
Yes! Cartagena is a safe destination for solo travel.
However, it can be a challenge. To help you keep on the straight and narrow, here are our top safety tips for solo travellers in Cartagena.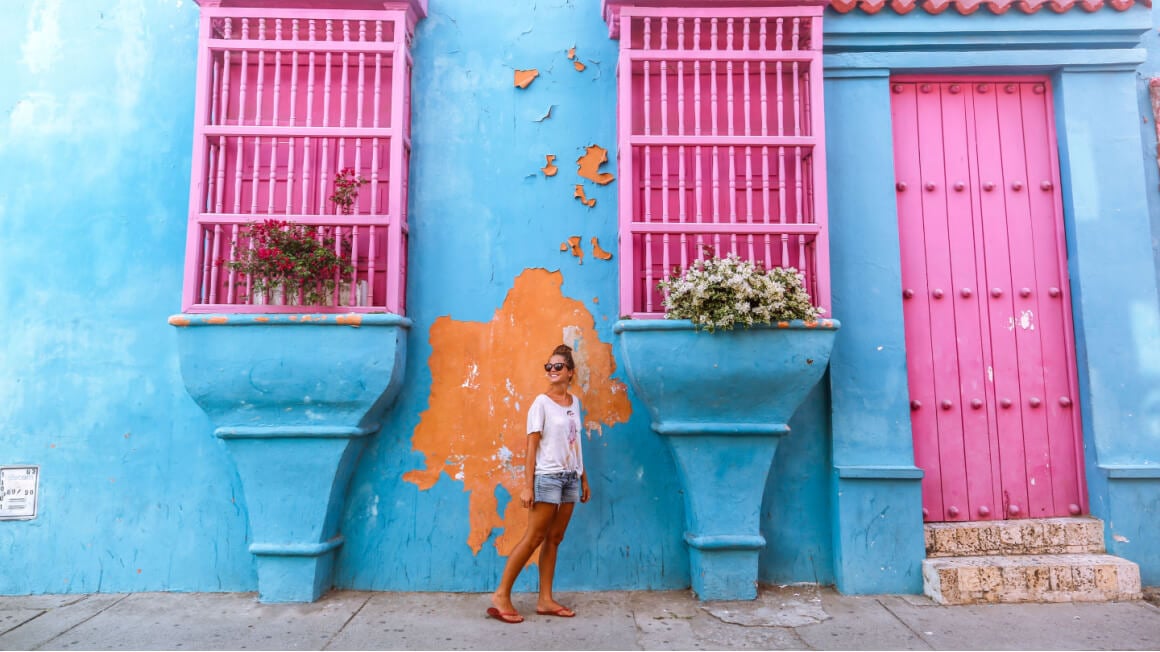 Make friends with other travellers. There is safety in numbers.
Read accommodation reviews. Only stay in places that suit you.
Don't get completely wasted. Join a bar crawl with your hostel and find like-minded people to go out with.
Try out Couchsurfing. Meet locals but read the reviews and check they are who they say they are.
Ask about safe areas to walk around. The staff at your accommodation are good for this.
Don't carry all your valuables together. Split things up, and consider an emergency credit card.
Be careful of over-friendly strangers. People are friendly in Cartagena, but when you are alone, you will be approached by people who don't have your best interests at heart. Politely decline any offers.
Do your research into anyone offering their services. Book through your accommodation or a reputable guide or company.
Keep your friends and family back home updated.
Know when to take a break. Having travel burn-out is not good.
Only travel during the day. It's risky and overwhelming to turn up by yourself somewhere after dark.
Travel light. Walking around a city with a huge backpack makes you stick out like a tourist.
Save emergency numbers. 123 for police and ambulance. Have trusty contacts written down too.
Get a sim card and keep your phone charged.
Is Cartagena Safe for Solo Female Travellers?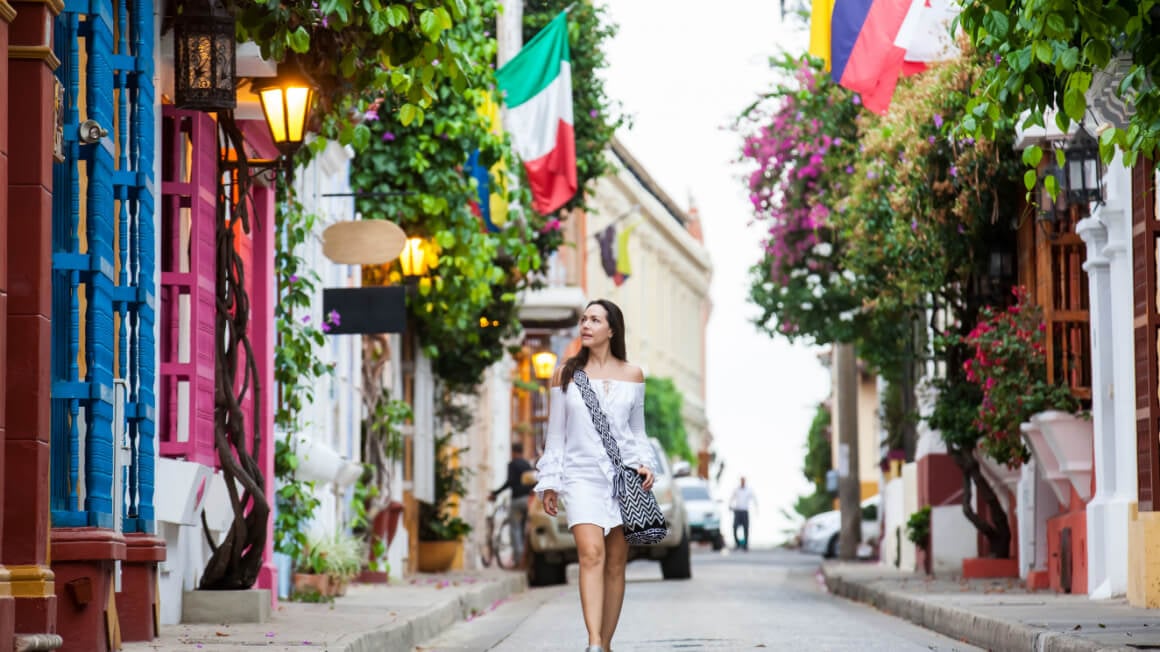 Yes, Cartagena is an awesome destination for solo female travellers. However, it is not always 100% safe for women to travel by themselves. So here are the best tips for solo female travellers in Cartagena.
Just your gut. If something doesn't feel right, get out of there.
Book yourself into a popular hostel. There are great hostels in Cartagena.
Try out group activities. From classes to tours, get involved and meet like-minded people.
Keep your phone charged. It can really help you out in sticky situations.
Know that there will be some level of catcalling and harassment. It does happen in Cartagena. Just ignore this kind of attention and move on.
If something more serious does start to happen, and you get worried, then make a fuss in public. This should be enough to scare a would-be harasser away. Find a nearby trustworthy-looking person, lady, or family and tell them; they will more than likely help you out.
Do not walk around after dark. No matter how short the distance, go with other people or take a taxi.
Tell people about your travel plans. Where you are going and what you are doing – every day.
Do not accept drinks from strangers. Politely decline. Likewise, never leave your drink unattended.
Blend in with your clothing. Although local women don't exactly dress modestly, it is still often good to err on the side of caution.
Don't linger out of politeness. If you are in an uncomfortable situation, or someone is making you feel uncomfortable, don't stick around; make excuses and leave.
Saying NO is always okay. You don't need to please anyone.
Is Cartagena Safe for Families?
Yes, Cartagena is a safe place to travel with your family. We've covered the main safety concerns already, but there are a few more safety tips to know on how to have a safe trip to Cartagena.
Colombian society is very family-oriented and this Caribbean city is no different. People are particularly warm and welcoming if you have your children with you. In fact, there are lots of kid-friendly tourist attractions in Cartagena.
Away from the old town and San Diego, family-friendly hotels in Cartagena are located in Bocagrande. This area can, at times, feel like an entirely different city to the one to be found in Getsemani or La Candelaria.
One of the main things you are going to have to consider is the climate. On the Caribbean coast, Cartagena is a hot, humid place, the sort of place where clothes changes and a shit ton of sun protection throughout the day are necessary.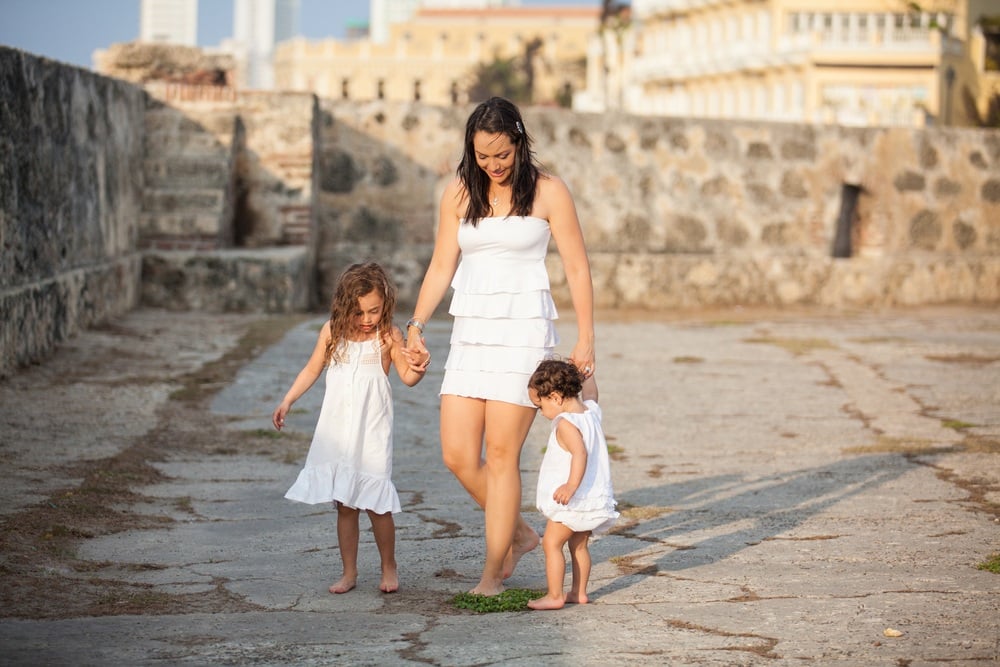 Keeping hydrated, sunscreen, and sunhats, AKA the whole shebang, is key for you and your children. Avoiding being out in the sun, on the beach, or the streets, during the hottest hours of the day.
Culture in Colombia often means that things happen late, including restaurant opening times; lunchtimes begin at around 1 p.m., with dinner at around 9 p.m. It might be worth sleeping in the hottest hours – as many locals do – and coming out again when it's cooled down in the evening.
All in all, Cartagena is a fine destination for you and your family. People may think you are crazy for going to Colombia with your children, but chances are you are going to have a ball in Cartagena.
in the morning is a great way to soak up some colourful local ambience and atmosphere.
Getting Around Cartagena Safely
Driving in Cartagena is generally safe for tourists in Cartagena, but only for confident drivers. People in Cartagena drive aggressively. Unless you want to explore further afield, it's not really worth it. Park in a secure area and NEVER leave valuables in the car.
After or during a downpour of rain, roads flood and everyone drives slowly. We don't recommend driving at night. It's hard to see hazards and you put yourself at more risk. If you are going outside the city, aim to be back in Cartagena before sunset.
Taxis in Cartagena are easy to use. They are however, quite expensive, compared to other places in Colombia and taxi drivers take advantage of tourists.
ONLY get into a licensed cab. (The taxis are yellow and their license plates say "Servico Publico".) Negociate a price before getting in.
Taxi drivers often overcharge foreign visitors. Ask – where possible – to see the official fare card; it is technically illegal for a licensed cab to overcharge.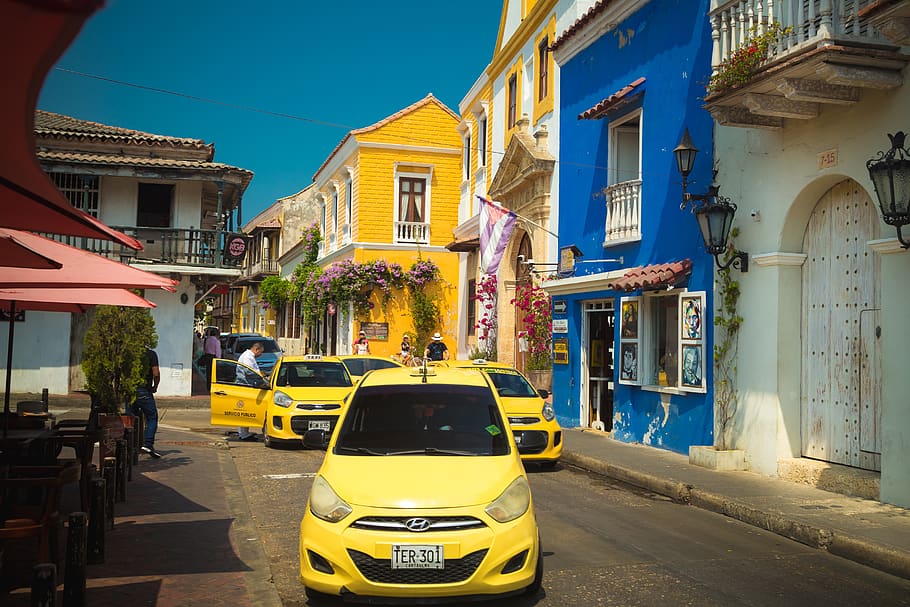 Uber is not currently active in Cartagena, though this is subject to change and there are people discreetly working with the app. Uber has a controvertial past: Uber drivers have been attacked in some areas of Colombia. You can use a taxi-hailing app called EasyTaxi.
The public transport in Cartagena is limited, and not that well developed. You will be relying wholly on buses.
Colectivos, also called busetas, are vans and minibuses driving along set routes. Buses get very busy so keep your belongings close. "Collective taxis" are convienient but usually uncomfortable.
The main public transport system of bus-only routes in Cartagena is called the TransCaribe. This is an alternative to a metro or tram system.
Though limited, public transportation in Cartagena is generally safe. Watch your belongings and be careful around transit hubs.
Getting Insured BEFORE Visiting Cartagena
ALWAYS sort out your backpacker insurance before your trip. There's plenty to choose from in that department, but a good place to start is Safety Wing.
They offer month-to-month payments, no lock-in contracts, and require absolutely no itineraries: that's the exact kind of insurance long-term travellers and digital nomads need.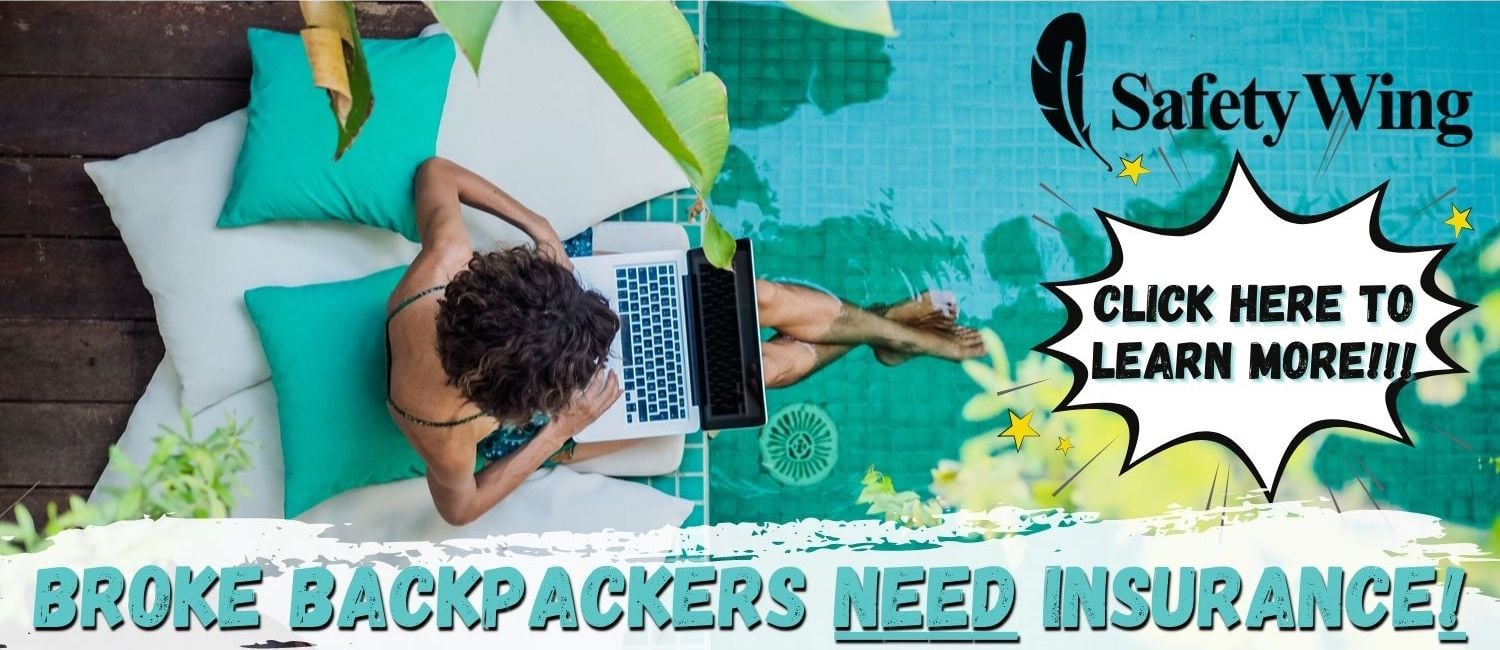 SafetyWing is cheap, easy, and admin-free: just sign up lickety-split so you can get back to it!
Click the button below to learn more about SafetyWing's setup or read our insider review for the full tasty scoop.
FAQs on Safety in Cartagena
Planning a safe trip to Cartagena can get quite overwhelming. That's why we've listed and answered the most frequently asked questions on safety in Cartagena.
So, is Cartagena Safe?
So there you have it: Cartagena can be very safe – unless you're looking for trouble. But honestly, nowhere is really safe if you're looking for trouble. Do your research, stick to our travel tips, trust the process, and you'll be fine!
Cartagena and Colombia have had their fair share of issues in the recent past, but the country is coming out the other side and is again a destination we travellers fall in love with. Nowhere is this more evident than in Cartagena. With beaches, the historic old town, big-name hotels, boutique guesthouses, and a slew of restaurants and bars, it's a fun city to explore.
Though safer than other cities in South America, self-awareness and common sense are essential. Travel insurance is your guardian angel too, so make sure you get a good plan before heading off on a trip to Cartagena!
Besides that, make sure you have fun. Eat the street food and fill up on arepas, take a few cold ones, and dance your little heart out. Nos vemos!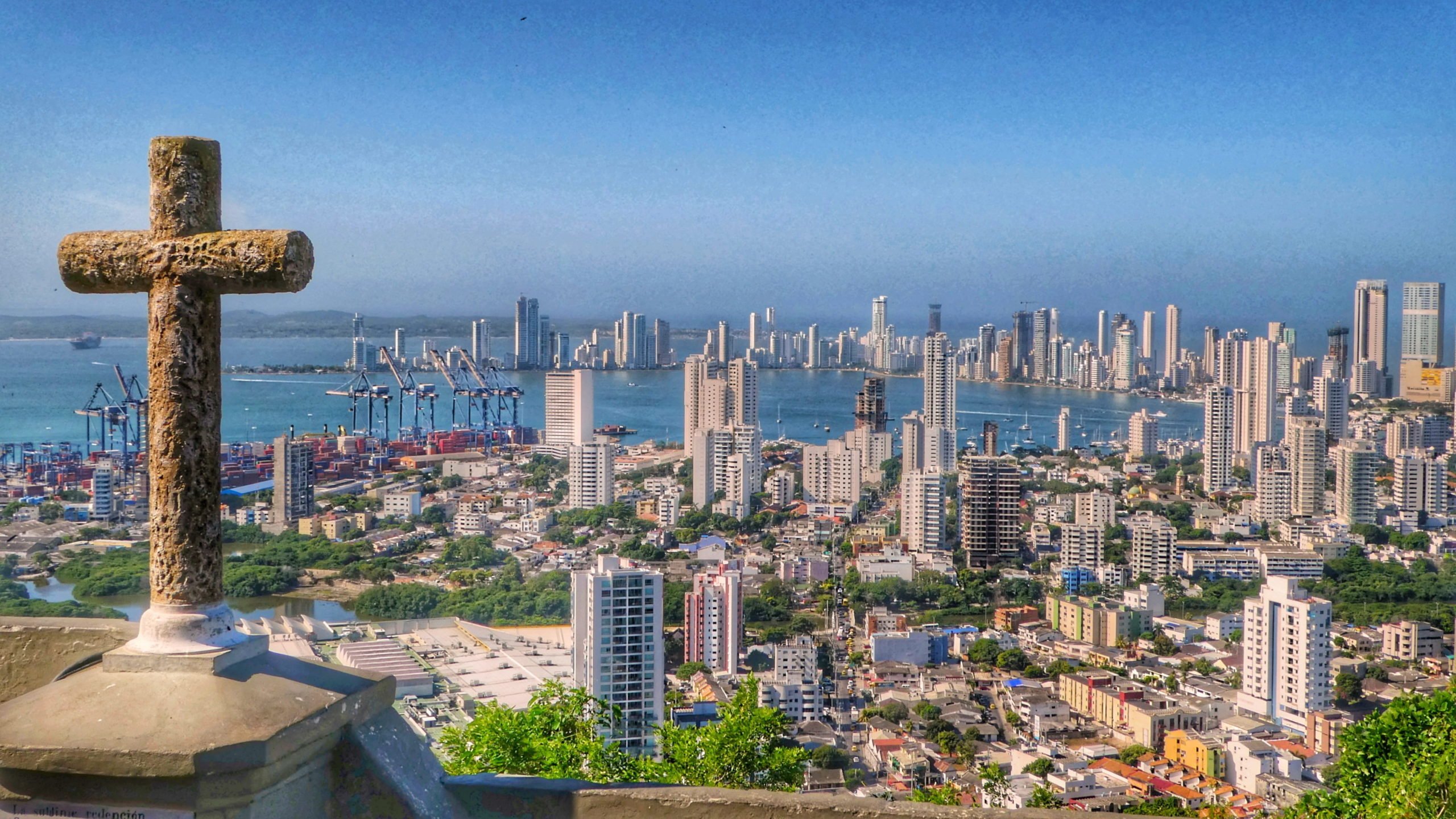 Yay For Transparency! Safety conditions change all over the world on a daily basis. We do our best to advise but this info may already be out of date. Do your own research. Enjoy your travels!
---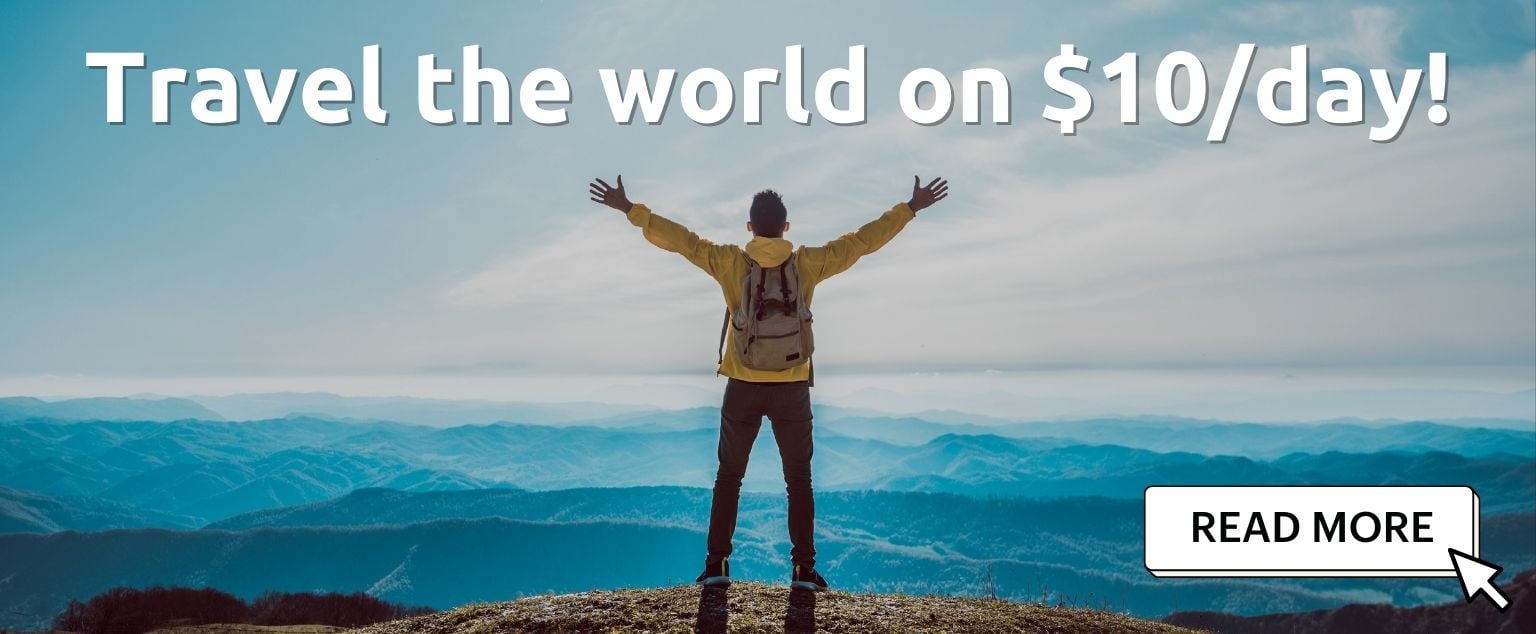 And for transparency's sake, please know that some of the links in our content are affiliate links. That means that if you book your accommodation, buy your gear, or sort your insurance through our link, we earn a small commission (at no extra cost to you). That said, we only link to the gear we trust and never recommend services we don't believe are up to scratch. Again, thank you!