Mixing a modern city with a colonial feel and sprinkle in some of Colombia's finest beaches, it's easy to see why Cartagena is one of South America's top backpacking destinations.
Which is exactly why we've made this list of the 20 best hostels in Cartagena, Colombia.
We've taken the highest reviewed hostels, and organized them into different categories (like the best party hostels in Cartagena), so you can easily find and book the hostel that best suits your travel style.
Whether you are looking to party all night Colombian style, or get some work done as a Digital Nomad, our list of the 20 best hostels in Cartagena is arranged to help you book your hostel with ease.
The 20 Best Hostels in Cartagena
Backpacking Cartagena is going to be a real adventure. In order to enjoy the city the fullest, you need to have a safe place to recharge at night. To rest your head and keep the travel costs low, check out the best hostels in Cartagena below.
If you've never been to the city before, doing a bit of research on where to stay in Cartagena can really pay off when it comes to booking your accommodation. You don't want to end up miles away from the things you want to explore.
And as a side note: If you want to find even more epic hostels, have a look at HOSTELWORLD. You can also filter all of your personal travel needs and find the perfect place for you.

Do You Want to Travel FOREVER??
Then pop your email address in below and we'll send you a FREE copy of 'How to Travel the World on $10 a Day!' – make travel your LIFE.
Overall Best Hostel in Cartagena – One Day Hostel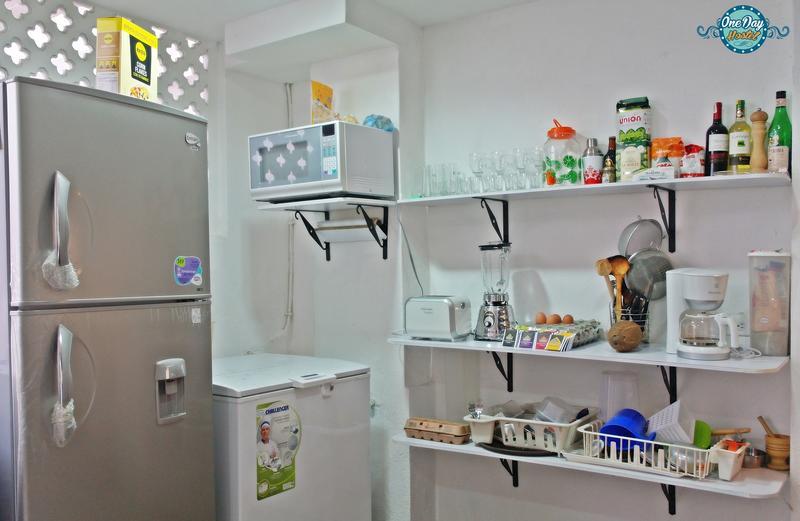 $$$
Free Breakfast
Cafe Onsite
Self Catering Facilities
The overall best hostel in Cartagena is One Day Hostel, travellers can't get enough of this place! As the best hostel in Cartagena in 2021, One Day offers guests a wholesome free breakfast, use of the free WiFi and plenty of communal areas to hang out in. Closer to lively Getsemaní neighbourhood than it is the historical centre of Cartagena, One Day Hostel puts you right at the heart of the action. Homely and cosy are the words that spring to mind when thinking about One Day Hostel, it's a really chilled out hostel where everyone gets greeted with a smile. The beds are uber comfortable and there is air conditioning in the dorm rooms; such a bonus! The staff at One Day Hostel speak good English and are always around to help guests when needed.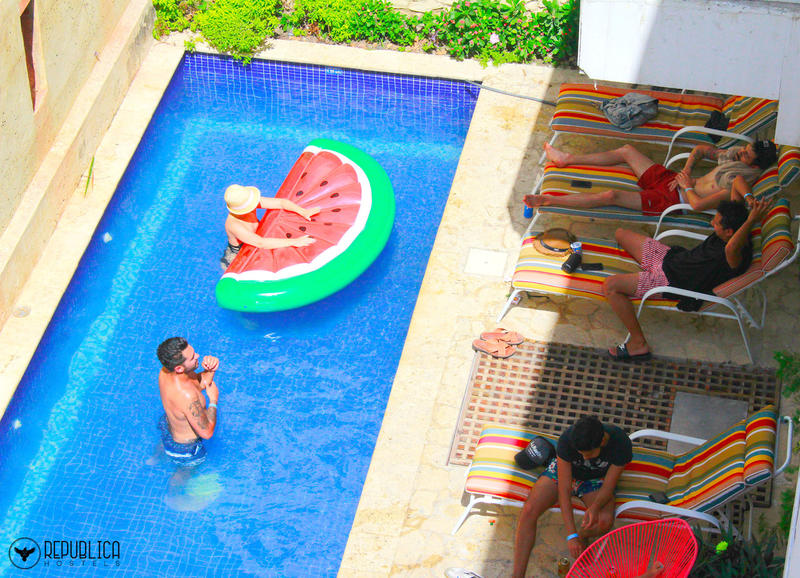 $$
Free Breakfast
Swimming Pool
Tours & Travel Desk
At the 2019 Hoscars Republica Hostel was voted as the most popular hostel in Cartagena. Firmly placed as one of the best hostels in Cartagena you better book your spot at Republica ASAP! They have their own outdoor swimming pool complete with sun loungers, the perfect place for you and your crew to hang out in for an afternoon. Everything about Republica Hostel is charming, from the courtyard to the dorm rooms, from the bar area to the private doubles. Whatever your reason for coming to Cartagena and whoever you're travelling with, chances are Republica Hostel will tick all the boxes for you!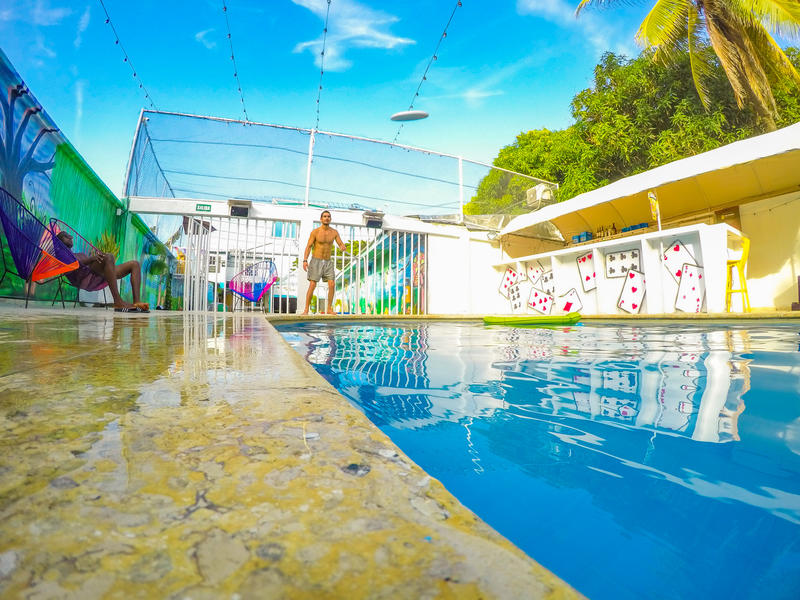 $$
Free Breakfast
Swimming Pool
Bar Onsite
The best party hostel in Cartagena is Wonderland Party Hostel and what a wonderland of partying it is! With their own bar and outdoor swimming pool, Wonderland is officially party central in Colombia! Easily the coolest hostel, and best party hostel in Cartagena, Wonderland host local DJs throughout the week and run pub crawls on the weekends. If you're looking for explore the vibrant nightlife scene in Cartagena be sure to book a bed at Wonderland Party Hostel as the team will point you in the right direction of the city's best party hotspots. No curfew is an added bonus!
$$
Free Breakfast
Swimming Pool
Bar & Cafe Onsite
Media Luna is an awesome Cartagena backpackers hostel perfect if you wanna party hard! Not only does Media Luna have their own swimming pool, ideal for pool parties, but they have their own buzzing bar and cafe too. Seamlessly bringing chilled out hostel vibes with a real party atmosphere, Media Luna can be found in the vibrant Getsemani neighbourhood. Make sure you're here on a Wednesday, this is the big party night!
Best Hostel for Solo Travellers in Cartagena – Makako Chill Out Hostel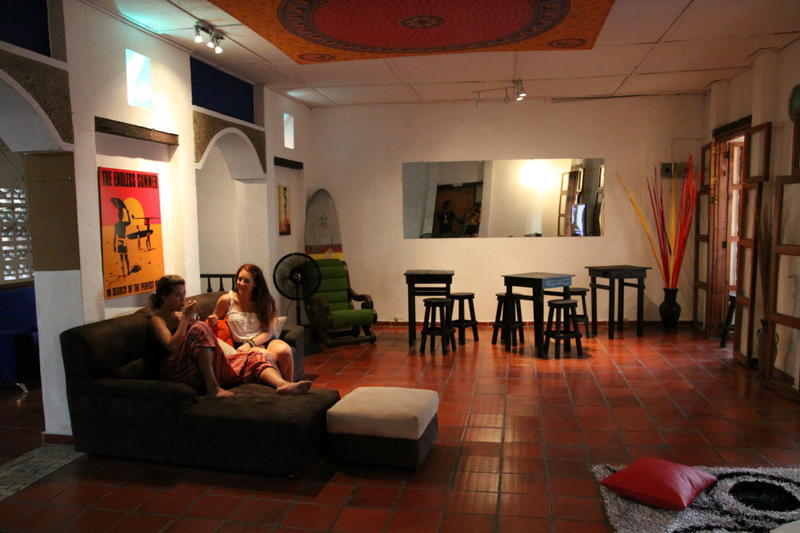 $$
Bar & Cafe Onsite
Self Catering Facilities
Tours & Travel Desk
The best hostel for solo travellers in Cartagena is Makako Chill Out Hostel. The hosts Jacqueline and Jennifer go out of their way to make everyone feel completely welcome and solo travellers instantly have a pair of friendly faces to chat to. Make sure to book your stay on a Wednesday or Friday night (or both!) to be involved with the free cocktail party! What easier way to make friends as a solo traveller than at a free cocktail party! As a top hostel in Cartagena Makako Hostel is set in a gorgeous colonial building in the heart of the Old Town within the Walled City.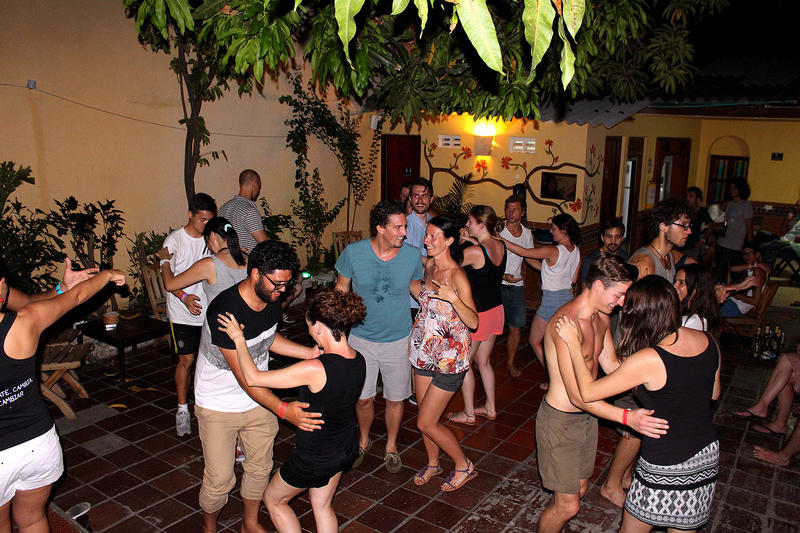 $$
Free Breakfast
Bar Onsite
Self Catering Facilities
El Viajero is the perfect place for solo travellers who like to put themselves out there, meet new people and make great memories on the road. El Viajero is a super popular youth hostel in Cartagena and the sister of the other El Viajero hostels you find throughout South America. The Cartagena edition of El Viajero lives up to the brand's good name and offers guests incredibly clean and comfortable dorm rooms, access to free WiFi, a free breakfast and air conditioning too. For solo travellers who want to find a crew head to the El Viajero bar at sunset, that's where you'll find the gang!
$
Self Catering Facilities
Laundry Facilities
Outdoor Terrace
Easily the best cheap hostel in Cartagena is Casa Torices Real, they have dorms beds for less than $6 throughout the year! With both dorm rooms and private ensuite doubles too Casa Torices Real is a superb hostel for any kind of traveller on a shoestring budget. Whether you're travelling with bae, on your own or with your crew chances are Casa Torices Real will be your saving grace if you're starting to run low on the old pesos. Set in a quaint Cartagena family home Casa Torices Real is a great budget hostel in Cartagena just 1km away from the beach.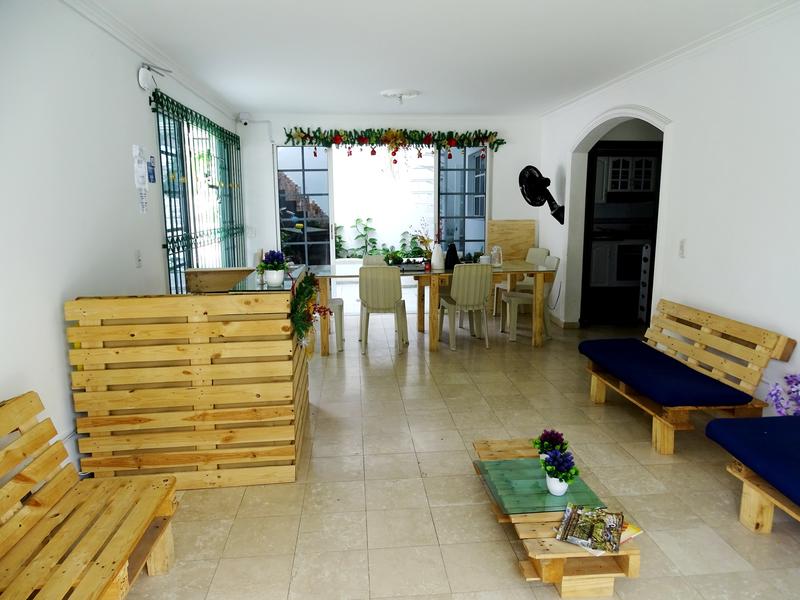 $
Free Breakfast
Tours & Travel Desk
Late Check-Out
Quintas by Maos is a much-loved budget hostel in Cartagena offering great value for money for backpackers like you. Quintas is a simple kinda hostel but offers everything you could need, free WiFi, free breakfast, and use of the community kitchen too. Perfectly placed just 5-minutes walk from the Old City and 15-minutes walk away from Bocagrande Beach Quintas is a solid all-rounder. What's more, Quintas is located in the super safe and welcoming neighbourhood of Manga which you'll no doubt come to love too.
Is This the Best Backpack EVER???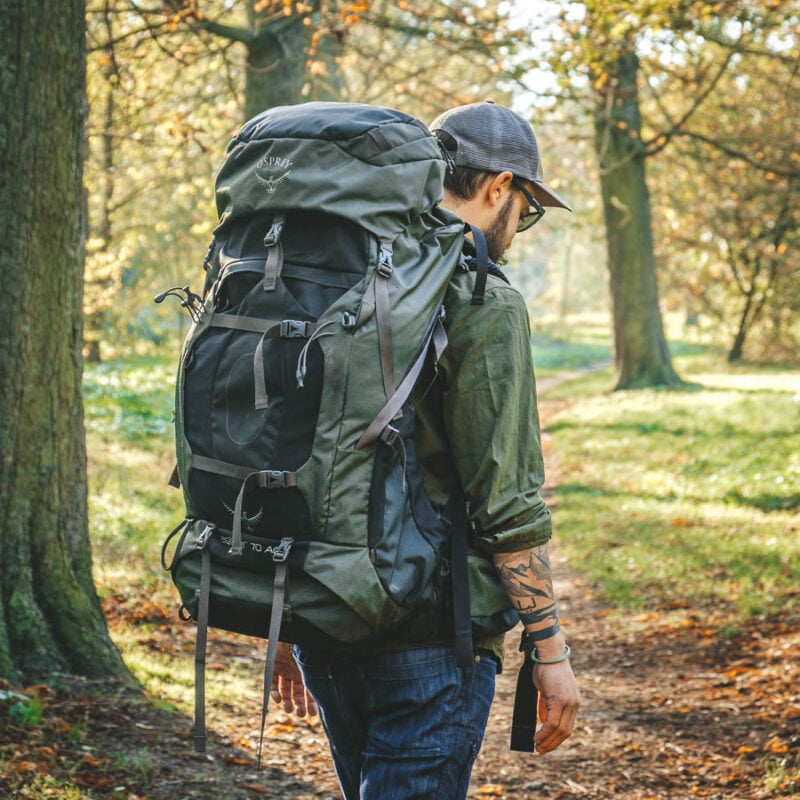 Best Hostel for Couples in Cartagena – Mystic House Hostel
$$
Free Breakfast
Free City Tour
Cafe Onsite
The best hostel for couples in Cartagena is Mystic House Hotel, there's such a wonderful vibe here and the private rooms are super cute! As a highly recommended hostel in Cartagena, Mystic House offers a free walking tour of the city that's not to be missed. If you and bae fancy a few 'hostel days' Mystic House is perfect for you. They have a lovely little community lounge complete with big TV and Netflix too! You and your lover won't have far to walk to get to the bohemian Getsemani neighbourhood as Mystic House is located on Backpackers Street.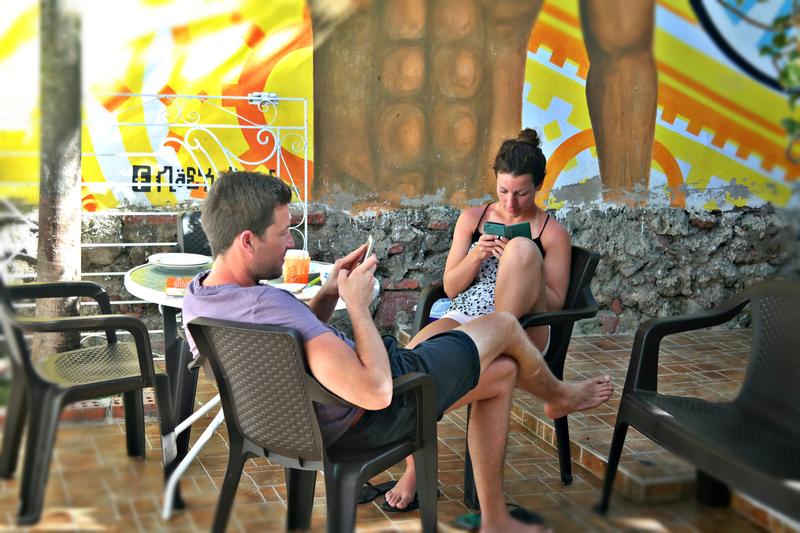 $$
Free Breakfast
Bar & Cafe Onsite
Self Catering Facilities
Hostal Getsemani is a simple, budget hostel in Cartagena, ideal for travelling couples. Set in the famous Getsemani neighbourhood Hostal Getsemani has a range of lovely private rooms, with air conditioning and ensuite bathrooms.  The staff at Hostal Getsemani are really wonderful and have all the time in the world for their guests. If you and your lover are keen to meet other travellers be sure to head to the hostel bar or hang out on the big patio area of an afternoon and get swapping travel stories!
Best Hostel for Digital Nomads in Cartagena – El Arsenal Boutique
$$
Free Breakfast
Bar Onsite
Self Catering Facilities
The best hostel for digital nomads in Cartagena is El Arsenal Boutique as they have everything the modern nomad needs. Whether you prefer to work at the bar, poolside or from the comfort of your bunk you can work wherever you like at El Arsenal as the free and reliable WiFi works throughout the hostel complex. El Arsenal Boutique is just 150m from the Clock Tower, 300m from Plaza Bolivar, the Cathedral and Inquisition Palace. For digital nomads looking for a top hostel in Cartagena that ticks all the boxes El Arsenal is the place.
$$
Free Breakfast
Cafe Onsite
Rooftop Hottub
Most people think that digital nomads spend their days on their laptop from the comfort of a hammock or even in a hot tub. Although that's not strictly true at Life is Good you can indulge in the stereotype for a few days, and why not?! Life is Good is a top hostel in Cartagena and is ideal for digital nomads. Super chilled and incredibly welcoming Life is Good has plenty of space to work in and decent internet connection too. The dorm rooms are perfectly designed and each bed has its own privacy curtain, reading light and plug socket.
More Best Hostels in Cartagena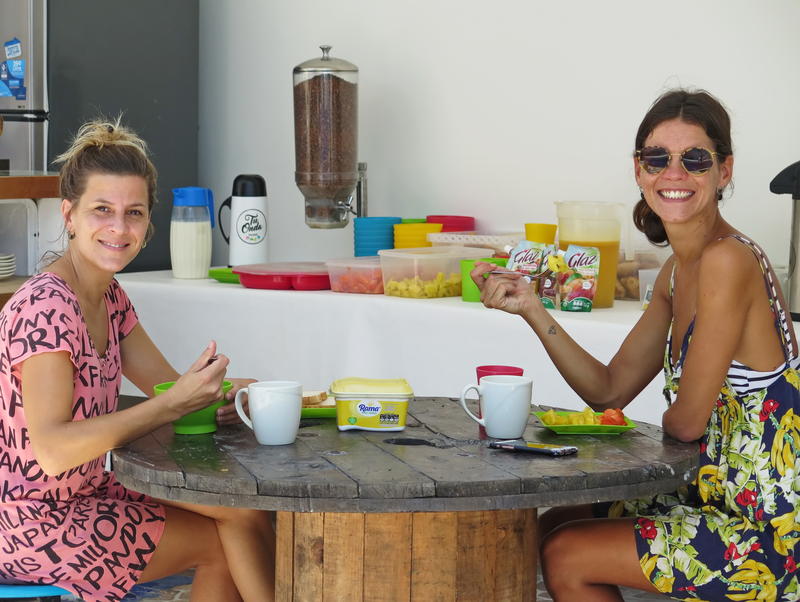 $
Free Breakfast
Bar & Cafe Onsite
Self Catering Facilities
If you're looking for a great budget hostel in Cartagena be sure to have a look at Tu Onda Beach Hostel. Did you know that 'tu onda' translates to 'your vibe'? This is a super relaxed hostel with great party vibes, their own bar and swimming pool. TBF, the pool is like a posh paddling pool but for the budget price, you can't complain! Tu Onda is a great hostel for couples as they have affordable private double rooms. The dorm rooms are great too, ensuite with air conditioning and plenty of space to spread out.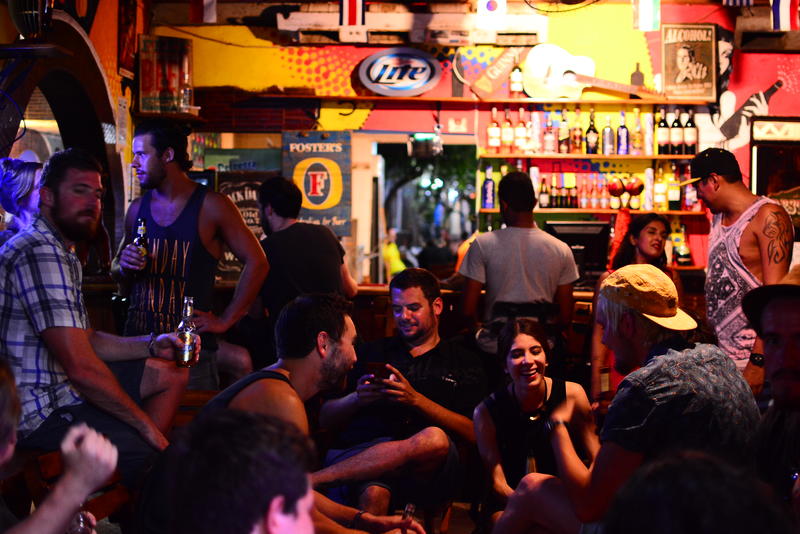 $$
Free Breakfast
Cafe & Bar Onsite
Tours & Travel Desk
Hostel Mamallena is a top hosel in Cartagena ideal for solo travellers, chilled out nomads and anyone who wants to find a new crew in Colombia. It is the staff that make Hostel Mamallena a much loved Cartagena backpackers hostel, they're keen to share their local knowledge and will help in any way they can. The air-conditioned dorm rooms are a real treat, they're super clean, the beds are comfy and there's minimal noise disturbance. Hostel Mamallena is a chilled out kinda hostel were the good times roll on and on!
$$
Bar & Cafe Onsite
Tours & Travel Desk
Laundry Facilities
Hostel Green House Coffee Bar is an ideal hangout for digital nomads, remote workers and online entrepreneurs. They have a decent internet connection, a sociable vibe and are located in the Old City. Although a simple hostel Green House Coffee Bar is great for travellers who like a low-key affair. Quiet and cosy, Hostel Green House is a lovely youth hostel in Cartagena with reasonably priced double rooms and comfortable dorms too.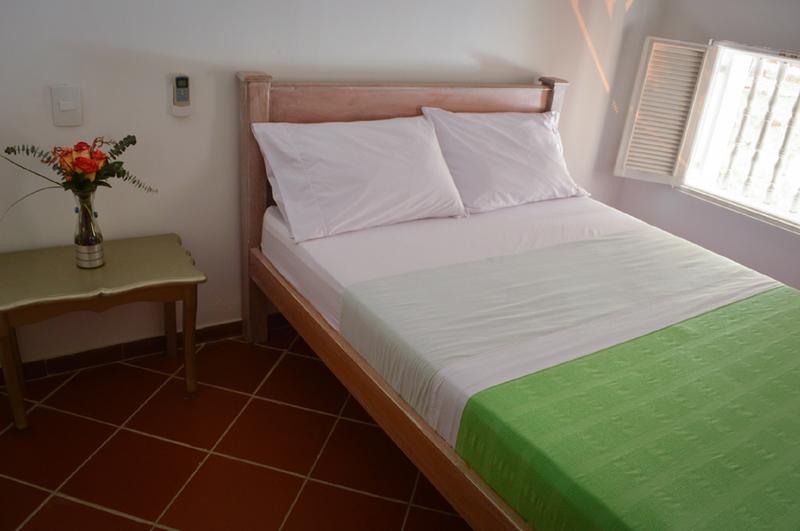 $$
Free Breakfast
Self Catering Facilities
Air Conditioning
Hostal Santo Domingo Vidal is a smart, bright hostel in the Getsemani neighbourhood. Being one of the best budget hostels in Cartagena Hostal Santo Domingo Vidal offers a free breakfast each morning of your stay. To help keep the food budget under control guests are welcome to cook their own meals in the communal kitchen. They have both private rooms available and dorms too. If you're looking for a cosy, bright and happy youth hostel in Cartagena take a second to check out Hostal Santo Domingo Vidal.
$
Free Breakfast
Cafe Onsite
Late Check-Out
Who likes the sound of free coffee all day? If you said yes then you better get yourself to Tree House Hostel; they have a great free breakfast too! Tree House Hostel is a simple and cheap Cartagena backpackers hostel that caters for everyone. With both private rooms and dorms, with an onsite cafe and a late check-out too, it's hard to think of a kind of traveller who wouldn't feel at home here. FYI Cafe Habana, a top club in Cartagena, is just two streets away!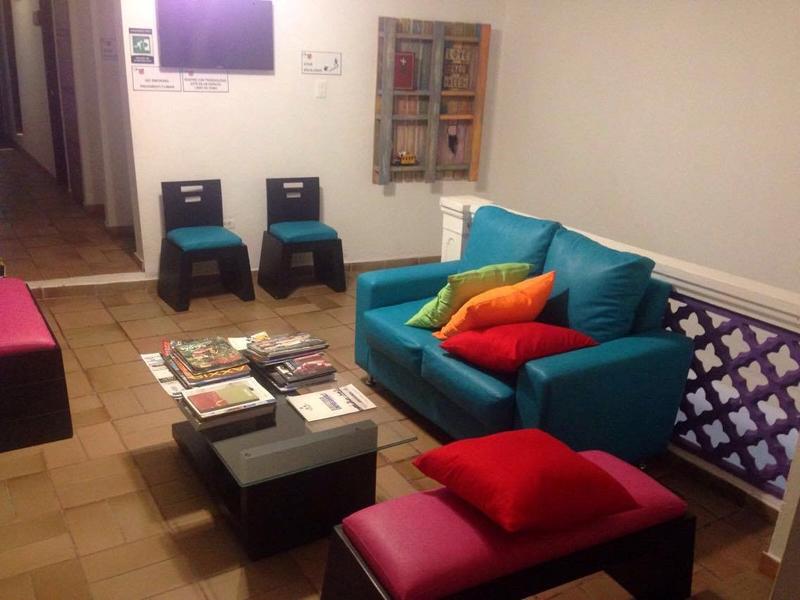 $
Free Breakfast
Bar & Cafe Onsite
Tours& Travel Desk
Mi Llave is a great budget hostel in Cartagena and ideally located in Getsemani,  just a 5-minute walk from the Plaza de la Trinidad. Mi Llave is a colourful and quirky youth hostel in Cartagena that overlooks the water. The dorm rooms are cosy and comfortable and the ceiling fans are a real blessing in the hot season! There are plenty of communal areas to chill out in, including the rooftop lounge with super squishy, comfy sofas!
$$
Free Breakfast
Bar & Cafe Onsite
Tours & Travel Desk
Should you be looking for a real home from home in Cartagena make sure you check out Mama Waldy Hostel. Super cosy, quaint and relaxed Mama Waldy Hostel is perfect for travellers who like their home comforts. Mama Waldy's is a family run youth hostel in Cartagena located within walking distance of Plaza de la Trinidad and Parque Centenario. For digital nomads seeking a cosy place to base themselves for a week or more in Cartagena, you'll be chuffed in your choice of Mama Waldy Hostel. P.S. they have an amazing hot tub!
$$$
Free Breakfast
Swimming Pool
Bar & Restaurant Onsite
Bourbon St Hostel Boutique is a wonderful Cartagena backpackers hostel for travellers who like a touch of the high life. If you're more of a flashpacker than a super budget backpacker you'll love Bourbon St Hostel. Not only do they have their own swimming pool but their own hostel restaurant too. The communal spaces are bright, modern yet rustic. There's a definite Instagrammable charm to Bourbon St Hostel! You'll find them in the downtown of the Old Town, in front of Santo Domingo Plaza. Putting you at the heart of the action!

Unlock the The Broke Backpacker's GREATEST Travel Secrets!
You pop your email here, and we promise to send you only travel content that's actually relevant — sounds like a pretty good deal to us!
What to Pack for your Cartagena Hostel
Pants, socks, underwear, soap?! Take it from us, packing for a hostel stay is not always quite as straight forward as it seems. Working out what to bring and what to leave at home is an art we have perfected over many years.
Check out our definitive Hostel Packing list for our top packing tips!
Why you should travel to Cartagena
Cartagena Colombia is an amazing destination, and if you book one of these best hostels in Cartagena, can be done super cheaply.
With the help of this guide, you'll be able to easily find a hostel that fits your travel-style, so you can book, and focus on enjoying your time in Colombia.
Still can't pick ONE hostel? We get it, there's a ton to choose from. Just go with our top pick for best hostel in Cartagena Colombia 2021 – One Day Hostel.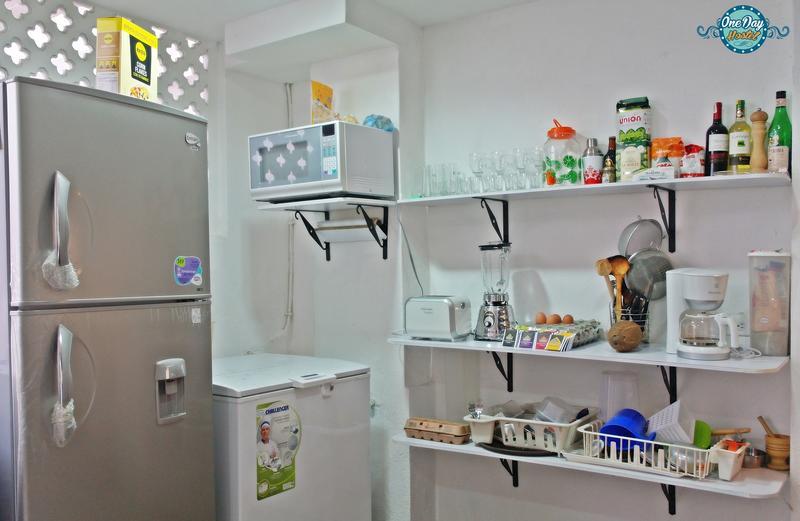 FAQ about Hostels in Cartagena
Here are some questions backpackers ask about hostels in Cartagena.
Travel Safety Tips for Cartagena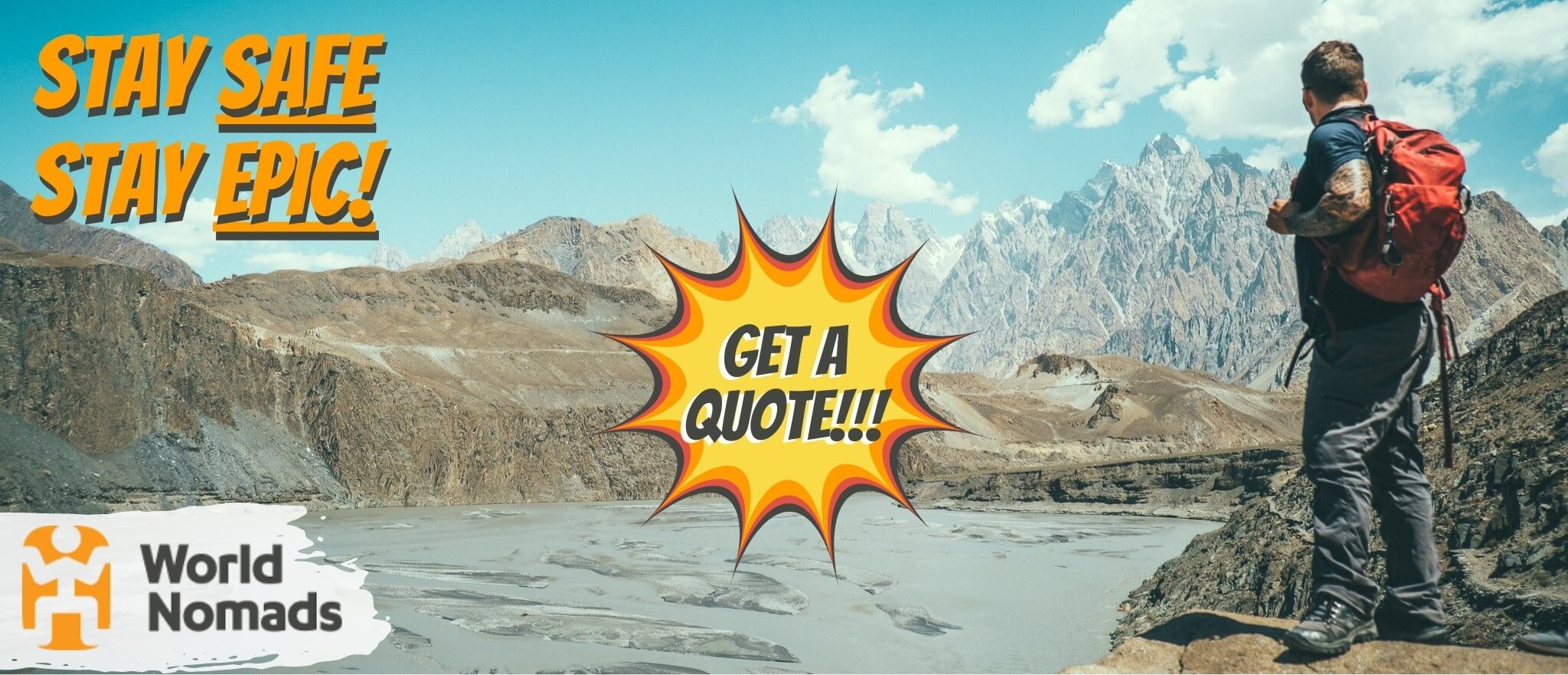 It's good to get lost sometimes, but it's also good not to get too lost. There are people that want you home in one piece.
There's one travel insurance provider The Broke Backpacker trusts for all his wildest shenanigans… World Nomads!
Click the button below to get a quote on your insurance or read our in-depth review of World Nomads' coverage. And then… let the shenanigans begin. 😉
If you're concerned about your safety, then be sure to check out our Cartagena in-depth safety guide, which is full of realworld adivce and useful information.
More Epic Hostels in Colombia and South America
Hopefully by now you've found the perfect hostel for your upcoming trip to Cartagena.
Planning an epic trip all across Colombia or even South America itself?
Don't worry – we've got you covered!
For more cool hostel guides around South America, check out:
Over to you
By now I hope our epic guide to the best hostels in Cartagena has helped you choose the perfect hostel for your adventure!
If you're planning on travelling further, you can be sure that you'll always find a place to rest your head. There are amazing hostels all over Colombia, each offering a safe home-away-from-home, a chance to meet like-minded travellers and an affordable price for the night.
If you think we've missed anything or have any further thoughts, hit us up in the comments!
---
Thanks for reading – that was fun! 😀
We bring you epic FREE content!
Find out how YOU can help support us.
We're a big site with a big team and this job isn't always easy. But we do it because we love it – we love providing epic and free content. We love the knowledge that our content keeps you adventuring. We don't ask for money, but if you'd like to find out how you can help the site in more organic ways, click the button below.
Thank you for your support 🙂
---
Bye for now, but not forever!
If you want MORE top-tier Broke Backpacker content like this, then sign up for our weekly newsletter below to get the latest and greatest!
And for transparency's sake, please know that some of the links in our content are affiliate links. That means that if you book your accommodation, buy your gear, or sort your insurance through our link, we earn a small commission (at no extra cost to you). That said, we only link to the gear we trust and never recommend services we don't believe are up to scratch. Again, thank you!