Colombia's second largest city, Cali is a gem-city for backpackers, that offers so much more than just salsa and nightclubs.
But it's a big city, and there's a ton of hostel choices.
Which is exactly why we put this list together of the 20 best hostels in Cali Colombia.
The Broke Backpacker's Guide to the 20 Best Hostels in Cali is designed with one purpose – to help you find the best hostel in Cali for YOUR travel needs.
So whether you are looking to party like a rockstar, be chillin' like a villain, or just find the cheapest bed available, our list of the best hostels in Cali will help you find the hostel that best fits your needs.
Quick Answer: The Best Hostels in Cali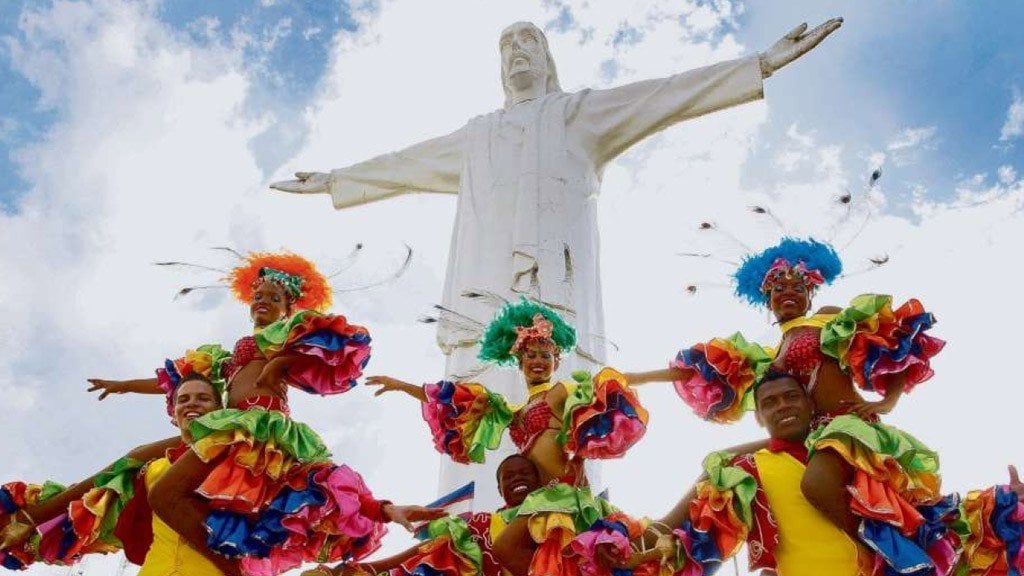 Before you Book your Cali Hostel
This list will help you find a great hostel in Cali – we guarantee it! But here are a few things to keep in mind…
Location, location – While Colombia's safety is rapidly improving, Cali can still be pretty rough around the edges. Don't take a cab alone after 10pm, or if you do, make sure the cab driver sees that you have given the cab information to a friend. Or, to avoid this, try and book a hostel that is nearer to the sights you are interested in.
Freebies are awesome – Colombia as a whole has a great budget-travel scene, and many hostels offer plenty of freebies. Keep an eye out for free towels, city maps, walking tours, pub crawl or breakfast. These can add up quickly
The 20 Best Hostels in Cali
If you're backpacking Colombia and stopping over in Cali, you're in for a treat. Since it's a pretty big city, you can be sure to have many things to explore. For a bit of recharging during the night, stay at one of the best hostels in Cali. We've listed our favorites below.
Do You Want to Travel FOREVER??
Then pop your email address in below and we'll send you a FREE copy of 'How to Travel the World on $10 a Day!' – make travel your LIFE.
$
Free Breakfast
Cafe Onsite
Self Catering Facilities
The Pelican Larry is the overall best hostel in Cali and you're gonna love it! It's hard to find a hostel that genuinely suits everyone but that's why The Pelican Larry is the best hostel in Cali in 2021, because they cater for everyone in every way! They've super lovely, kindhearted staff make guests feel instantly at ease when they rock up at The Pelican Larry. The dorms are spacious, comfortable and bright. There are wonderful private rooms too, with ensuite bathrooms. There are plenty of communal areas to hang out in and meet fellow travellers. The garden and patio areas are cute space complete with hammocks and sun throughout the day. Whether you're a rookie on the road or a well-seasoned backpacker you'll love The Pelican Larry in Cali.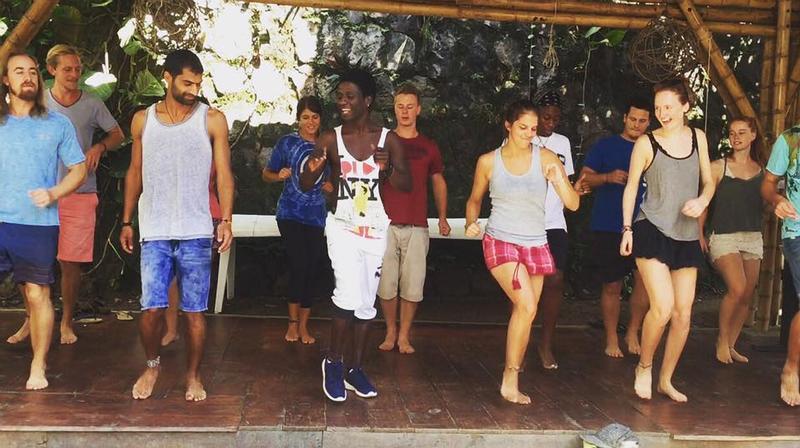 $$
Free Breakfast
Bar & Cafe Onsite
Self Catering Facilities
Caelum Hostel is the best hostel in Cali if you're keen to socialise and have plenty of time and space to chill too. Caelum is a super relaxed and incredibly welcoming youth hostel in Cali. You'll find Caelum just a 3-minute walk from some of the city's biggest and best bars, breweries and coffee shops. The dorm rooms are simple but clean, bright and comfy. It's true that the Caelum Hostel team make you feel part of the family from the moment you arrive till the moment you leave. It's the kinda place you're always dreaming of when you're gone!
Best Hostel for Solo Travellers in Cali – Colombian Home
$$
Free Breakfast
Free Classes
Cafe Onsite
The best hostel for solo travellers in Cali is Colombian Home. If you want to find a whole new crew and learn a whole new set of skills you should move right into Colombian Home right now! Offering free salsa classes, bachata classes and Spanish lessons throughout the week solo travellers have the option to broaden their horizons in so many ways. Classes and lessons may seem way too serious but that's why Colombian Home is the coolest hostel in Cali, it's super laid back, fun and friendly! The outdoor hammock terrace is a popular hangout spot for the Colombian House crew!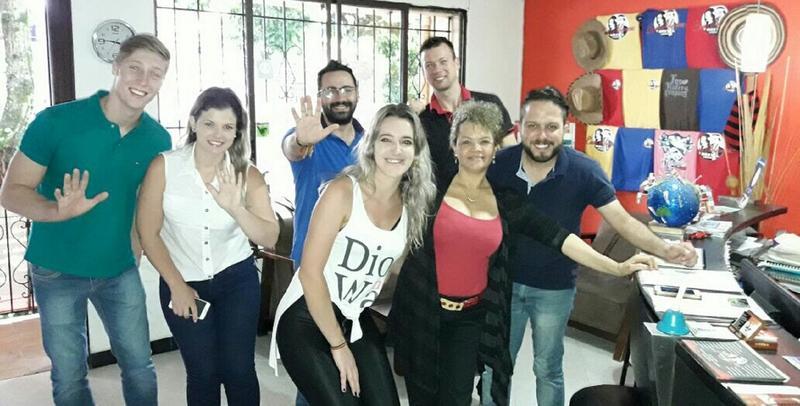 $
Free Breakfast
Cafe Onsite
Tours & Travel Desk
Casa Blanca is a top hostel in Cali ideal for solo travellers who are set on meeting, mingling and exploring. Located in the heart of new Cali city in the Santa Monica neighbourhood Casa Blanca makes it easy for solo travellers to connect with fellow travellers and locals too. They have a free salsa dance class for their guests, just the basic steps, nothing too intense. A great laugh and a must-do when in Cali. There is no curfew but there is quiet time after 11 pm which is much appreciated; always a good night's sleep at Casa Blanca Hostel.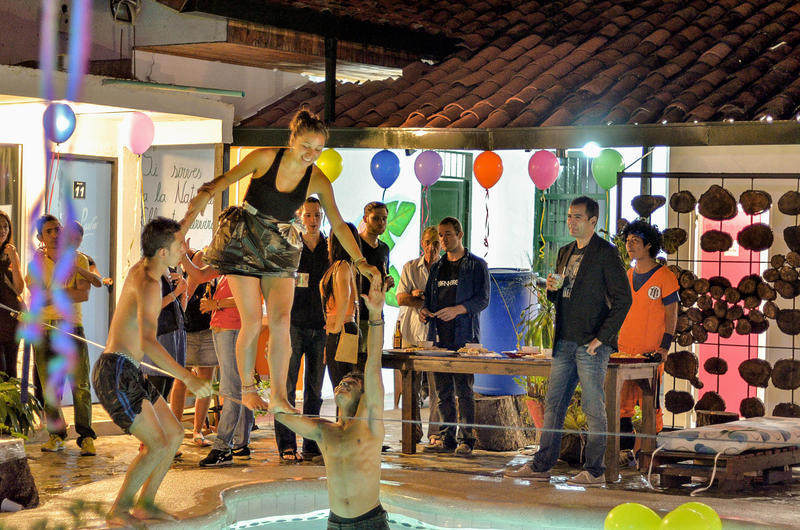 $$
Free Breakfast
Swimming Pool
Free Activities
The best hostel party in Cali is El Viajero Cali Hostel & Salsa School. With a swimming pool, bar and plenty of communal areas El Viajero make it super easy for nomads to meet, mingle and party hard. If you're not blessed with rhythm worry not, you're not obliged to join in any salsa classes, but why not give it a go? You're all in the same boat and a salsa class is a great way for party people to break the ice! In terms of entertainment, El Viajero is killing it! They've teamed up with Circo para todos Foundation to run circus shows each week, on top of live music and party nights!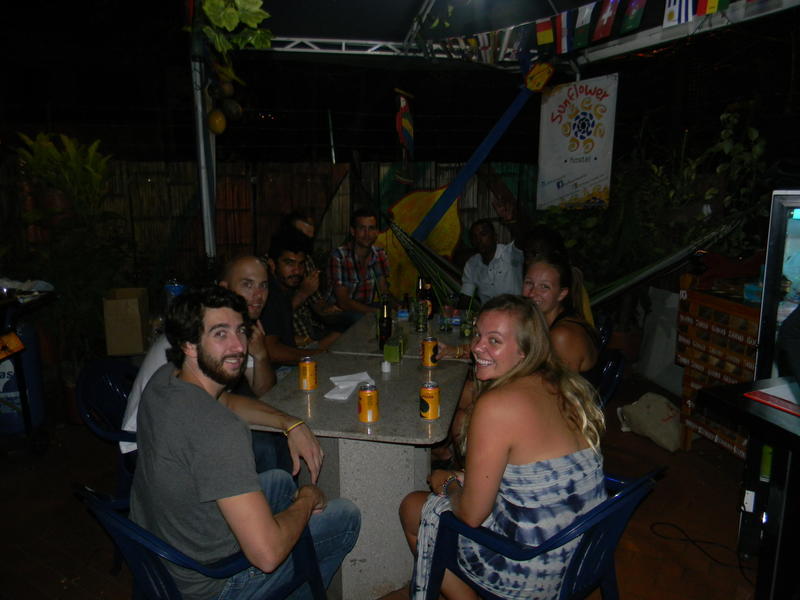 $$
Free Breakfast
Bar & Cafe Onsite
Self Catering Facilities
Sunflower Hostel is a great Cali backpackers hostel for travellers who love those chilled out party feels. Not a rowdy kinda party place but the kinda party that grows from the early evening well into the early hours with cold beers, BBQs and acoustic guitars. Sunflower is a much-loved youth hostel in Cali that is simple yet homely. Tucked away in the lovely San Fernando neighbourhood you're surrounded by trees and parklands, the perfect place to practice your salsa skills, making it one of the best hostels in Cali!
$
Free Breakfast
Swimming Pool
Bar & Cafe Onsite
Free breakfast, free salsa classes, swimming pool and a happy hour at the bar every night, it's easy to understand why La Pinta Boogaloo is the best cheap hostel in Cali. Let's take a sec to appreciate the name, La Pinta Boogaloo; the coolest hostel in Cali by name alone! A bit of a gem, it's rare to find a cheap hostel that has such great facilities (hello outdoor pool!), so many freebies while being clean, safe and genuinely happy. La Pinta Boogaloo is a real treat. The dorms are a bit compact if truth be told, but with a bar and cafe, cosy hammock area, huge garden and guest kitchen to chill in, you only need to be in the dorm to sleep!
$
Cafe Onsite
Self Catering Facilities
Tours & Travel Desk
Lulos Hostal Boutique is the best budget hostel in Cali for sure. It's rare to find a boutique style hostel for such a reasonable price and they do offer great value for money. Set in the quaint, traditional neighbourhood of San Antonio Lulos gives you a taste of authentic Cali. As a highly recommended hostel in Cali Lulos is an intimate affair, they have just three dorms and one private room. Ideal for travellers who like homely, low key kinda place or for couples who want a private room for a great rate, which is why it's one of the best hostels in Cali.
Is This the Best Backpack EVER???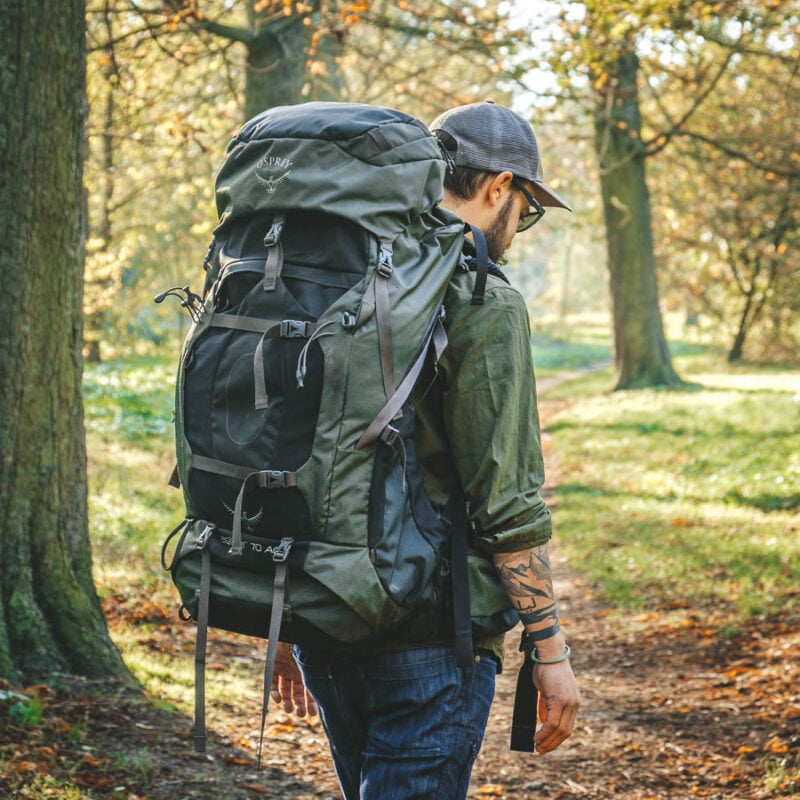 Best Hostel for Couples in Cali – Drop Bear Hostel
$$
Free Breakfast
Free City Tour
Cafe Onsite
The best hostel for couples in Cali is Drop Bear Hostel, it's just lovely it's as simple as that! Offering lovers a free breakfast, free city tour and use of not one but two Netflix TV rooms Drop Bear is the complete package! Drop Bear can arrange yoga classes and salsa classes. What better way to reignite those romantic feels than with a fun and frisky salsa class with your partner! After the excitement of the classes and city tour, couples can relax and unwind in the Drop Bear Hostel jacuzzi! The beer garden and outdoor terrace is the place to meet other travellers in the evenings.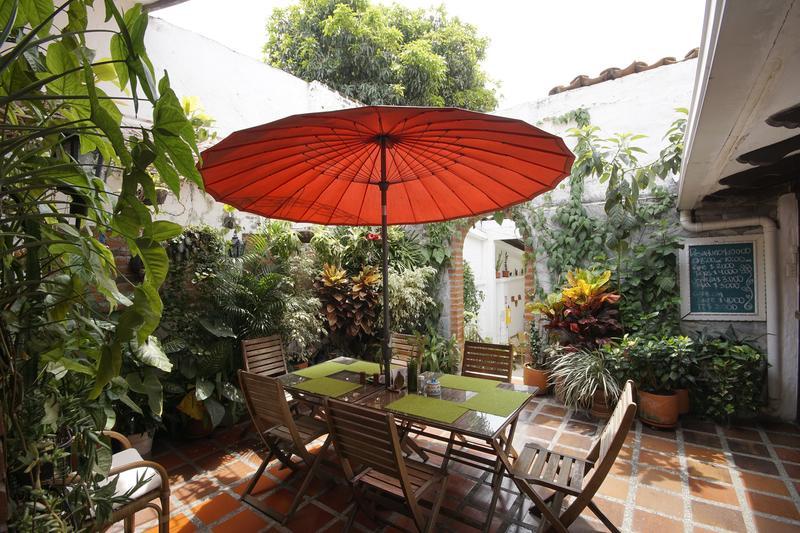 $$
Self Catering Facilities
Tours & Travel Desk
Laundry Facilities
Ruta Sur is on of th best hostels in Cali and super ideal for couples. With a great selection of private ensuite rooms, couples love the positive and relaxed vibes at Ruta Sur. If you and your SO are looking for a chilled out, friendly hostel free from intense party feels you'll feel right at home at Ruta Sur. Being a highly recommended hostel in Cali the team are keen to keep up their good name. The Ruta Sur staff are super helpful and will go out of their way to make your stay enjoyable. If you've got a late flight out of Cali just let them know, they're cool if you hang around after you've checked out.
Best Hostel for Digital Nomads in Cali – RollinKeepers
$$
Bar Onsite
Self Catering Facilities
Tours & Travel Desk
RollinKeepers is the best hostel for digital nomads in Cali for sure. Whether you like to work at the bar, in a hammock or even in bed you can do it all at RollinKeepers as the WiFi reaches everywhere! Hosts Daniela and Augustine are super welcoming and understanding. They make you feel right at home and have created a youth hostel in Cali ideal for digital nomads. With a communal kitchen, laundry facilities and a TV lounge complete with Netflix RollinKeepers is perfect for digital nomads who are seeking a true home from home in Cali.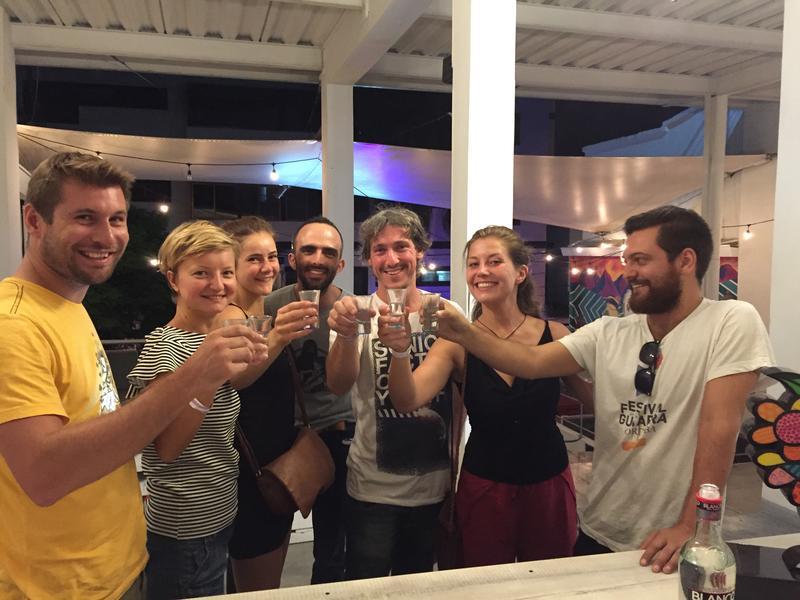 $
Free Breakfast
Bar & Cafe Onsite
Self Catering Facilities
La Sucursal is a highly recommended hostel in Cali that is ideal for digital nomads. With plenty of communal areas that can double as an office, great internet connection and a quiet yet sociable vibe, La Sucursal is a treat! Located in the Granada neighbourhood La Sucursal is just around the corner from a tonne of hipster cafes and traditional family-run restaurants that make for a nice change of office scenery. They even run free salsa classes of an evening, don't miss out digital nomads!
More Best Hostels in Cali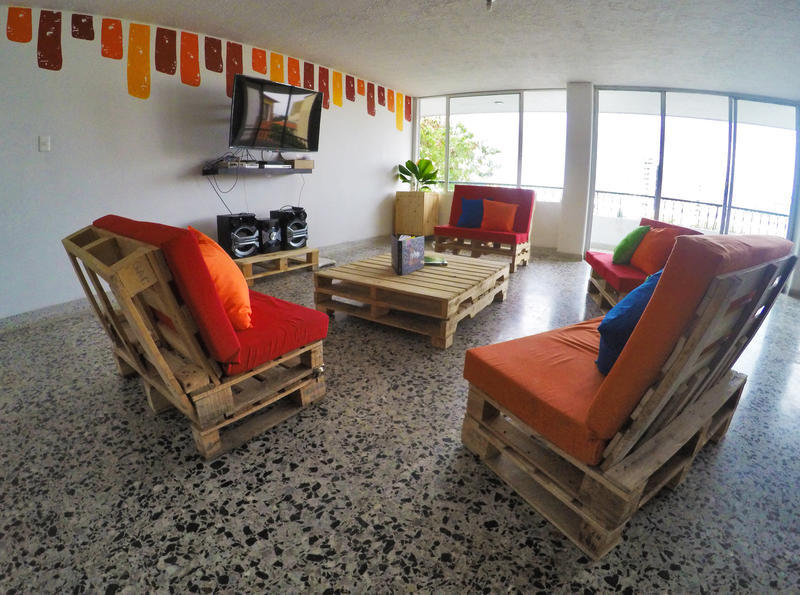 $$
Free Breakfast
Bar & Cafe Onsite
Swimming Pool
Kilele Hostel is a great Cali backpackers hostel in the vibrant neighbourhood of Granada. Close to the buzzing nightlife scene, Kilele Hostel is super chilled and super friendly. There is a party vibe here on occasion but the rest of the time it's sociable, happy and relaxed. The indoor pool is a wonderful place to hang out and make new friends. Kilele Hostel offers a basic free breakfast each morning of your stay and has their cafe open throughout the day and into the evening too.
$$$
Cafe Onsite
Self Catering Facilities
Outdoor Terrace
The Green House is a top hostel in Cali ideal for travellers who like the hostel feel but prefer a private room, or for travelling couples. With a lovely selection of private rooms and just the one dorm, The Green House is more of a guesthouse than a hostel. Worry not, there are all the Cali backpackers hostel vibes you could wish for. The team are super helpful and can arrange so many activities for you; naturally, salsa classes being Cali and all, but also tandem paraglider flights and even beginner courses.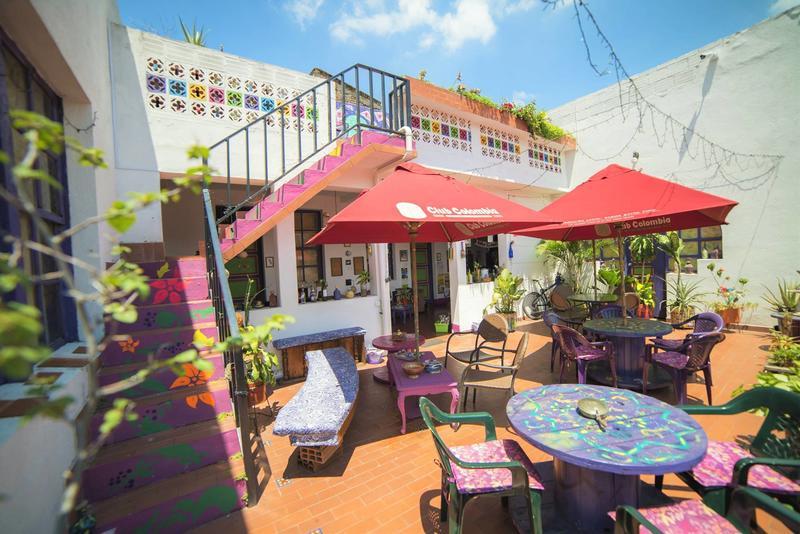 $$
Free Breakfast
Self Catering Facilities
Tours & Travel Desk
Hostal Encuentro is a classic Cali backpacker hostel offering amazing views of Cerro de las Tres Cruces. Hosting up to 26-guests at a time Hostal Encuentro is a mid-sized youth hostel in Cali suitable for travellers of all kinds. A bit of a hidden gem, Hostal Encuentro is often overlooked; those who do take the time to discover this jewel love everything about it, and fair enough! They have a great free breakfast and the staff are really very welcoming.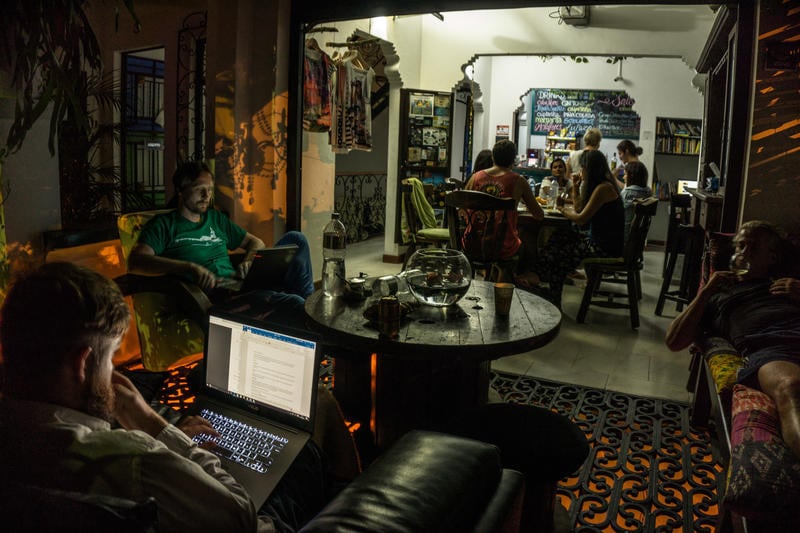 $$
Free Breakfast
Cafe Facilities
Self Catering Facilities
Describing themselves as a "sanctuary of amazing energy of like-minded people coming together in a communal environment of happiness" Casa Miraflores is a truly authentic Cali backpackers hostel ideal for travellers who go slow and take it all in. This is a legit hippie hostel and it's awesome. Full of open-minded, laid back and welcoming people, Casa Miraflores embodies what travel is all about. Make sure you don't miss the free salsa class with Yeison, it's such great fun.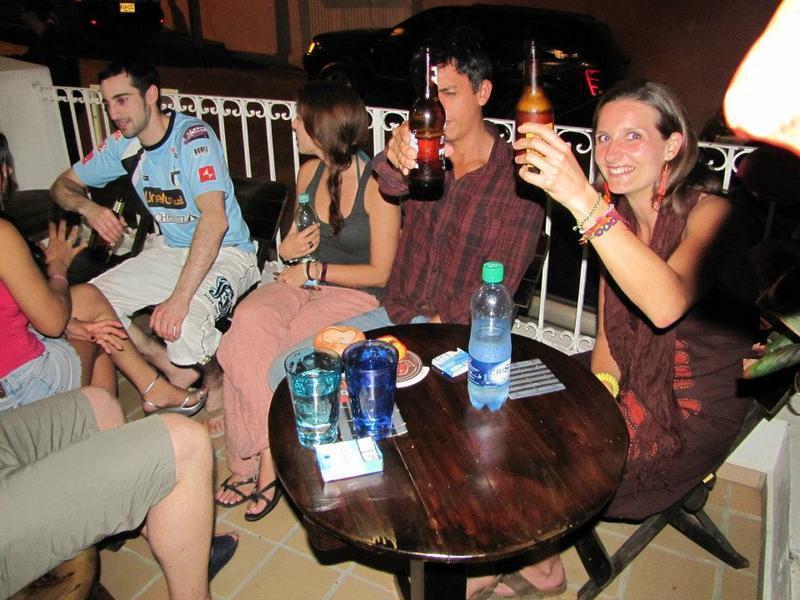 $$
Bar & Cafe Onsite
Self Catering Facilities
Tours & Travel Desk
Tostaky is a great youth hostel in Cali with super laid back party vibes and always a friendly welcome. The staff are chilled out and helpful, they'll be happy to point you in the direction you need to go. Combining Colombian and French cultures in this authentic Cali backpackers hostel Tostaky is a real home from home. There are plenty of areas to meet and mingle but if you feel like simply observing the scene you totally can from the comfort of a hammock; there's plenty to go around!
$
Swimming Pool
Bar & Cafe Onsite
Self Catering Facilities
There is a helluva lot to love about Hostal Pajara Pinta. It's the coolest hostel in Cali if you're looking for a chilled out place with a pool and bar. Located just 900m from Saint's Peter Cathedral Hostal Pajara Pinta puts you right in the heart of Cali city. What more could you ask for?! The dorm rooms are simple but the beds are so, so comfortable! For travellers who like their home comforts, you can make the most of Hostal Pajara Pinta and cook up some homely treats to share with the hostel crew! A sure-fire way to make friends in Cali!
$
Free WiFi
No Curfew
Outdoor Terrace
Who else heard Camila Cabello's "Havana' in their head when they read Havana en Cali? You can definitely change the lyrics to fit! Anyway! Havana en Cali is a cheap and cheerful youth hostel in Cali, ideal for travellers on a shoestring budget. The staff are helpful and on hand most of the time. There is a quiet time between 11 pm and 7 am meaning everyone gets a good night's sleep. Located just a 5-minute walk from the metro stations that connect you to the rest of Cali, Havana en Cali puts you exactly where you need to be to make the most of your time in the city.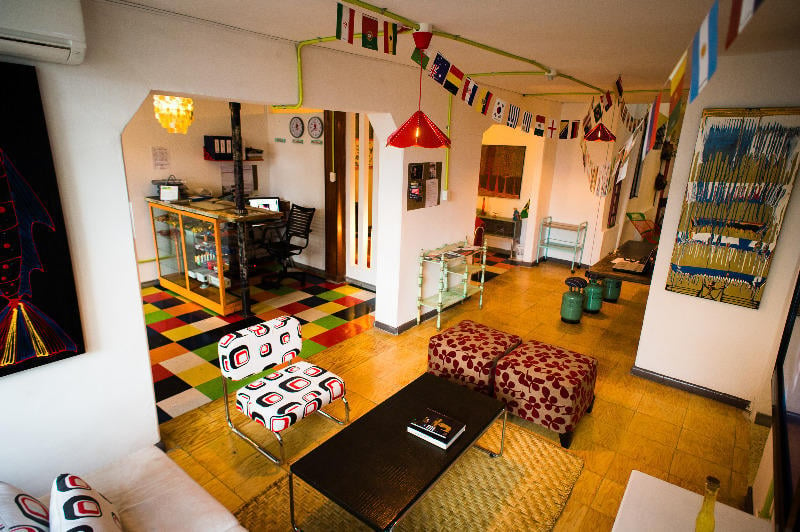 $$
Free Breakfast
Self Catering Facilities
Laundry Facilities
If you're looking for a Cali backpackers hostel that you'll never want to leave you've gotta head to Local House Hostel. Uber chilled out and super friendly Local House Hostel is a real home from home for long-term travellers. Bright and open plan Local House offers everything you could ask for in a top hostel in Cali; a free breakfast, free WiFi, salsa and yoga classes and more! The bathrooms are some of the biggest you'll find in hostels anywhere in the world, promise! They're super clean, of course, and there's hot water too.
Get Your Copy of the Backpacker Bible Totally FREE!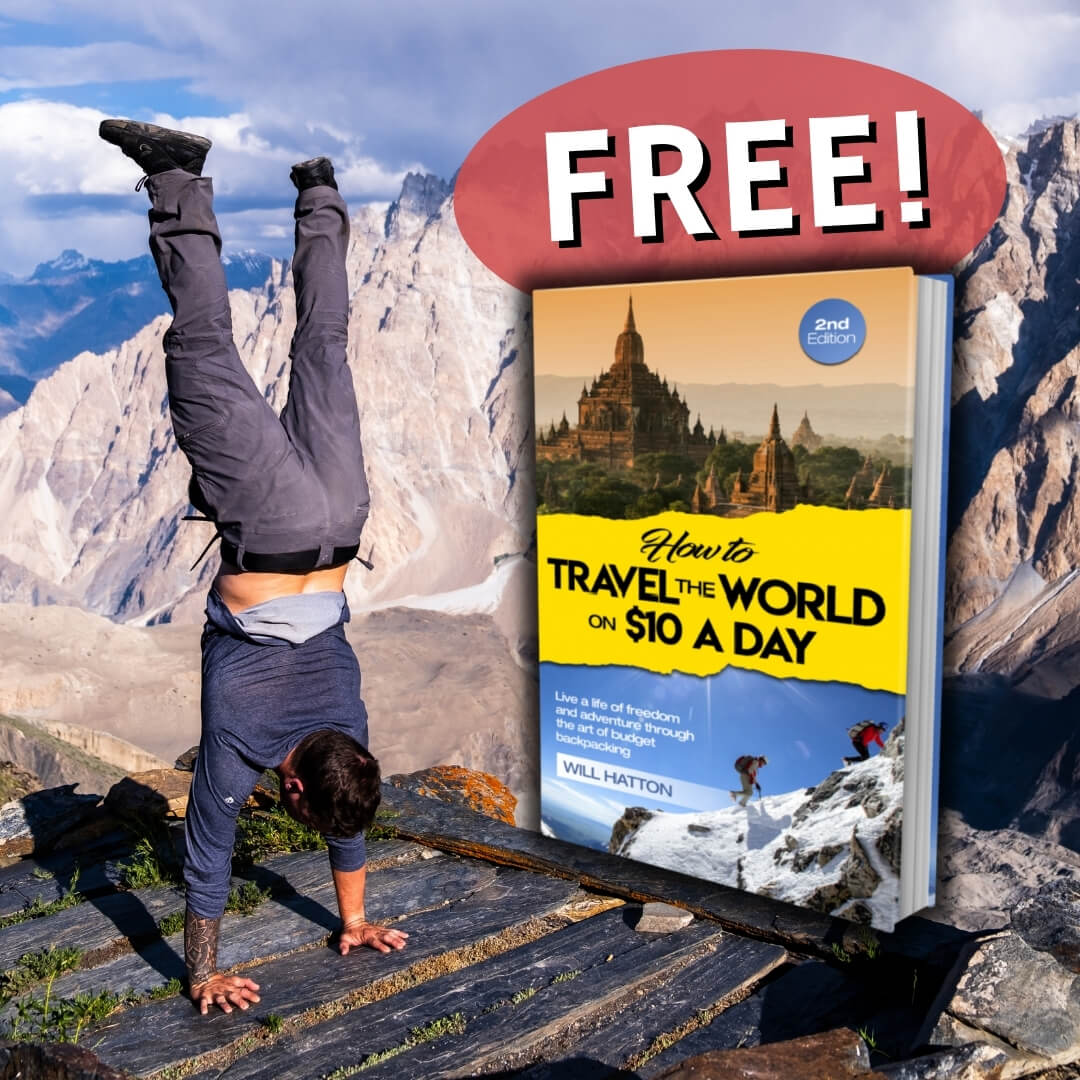 Learn how to travel the world on just $10/day with the Backpacker Bible – Will Hatton's own personal guide to the life of a budget traveller!
This book is the ULTIMATE culmination of more than 10 years of travel experience. It's full of valuable insider hacks and secrets that will help you unlock your full potential as a traveller.
AND… it's also FREE at the moment! All you need to do is click this link (or the sexy image of Will flexing his handstand skillz), provide your email, and we'll email you the ebook lickety-split!
What to Pack for your Cali Hostel
Pants, socks, underwear, soap?! Take it from us, packing for a hostel stay is not always quite as straight forward as it seems. Working out what to bring and what to leave at home is an art we have perfected over many years.
Check out our definitive Hostel Packing list for our top packing tips!
Why you should travel to Cali
Cali Colombia is a blast! Between the nightlife and endless salsa, your only regret will not be staying longer.
Speaking of which – which hostel are you going to be staying at?? We know that this is the best list on the web, and it will help you find a kick ass hostel (and quickly!).
Still can't pick? The struggle is real! Just go with  The Pelican Larry – our pick for the best hostel in Cali Colombia 2021.
FAQ about Hostels in Cali
Here are some questions backpackers ask about hostels in Cali.
Travel Safety Tips for Cali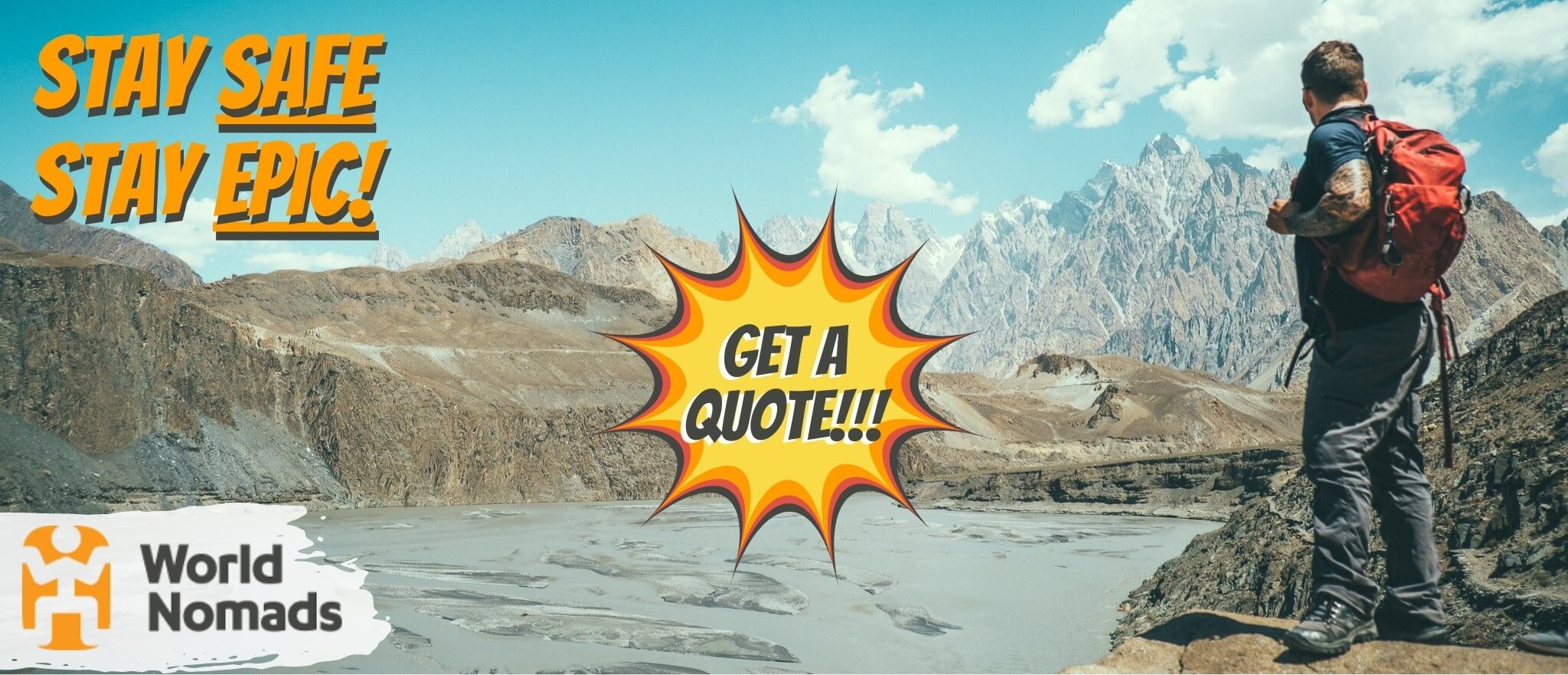 It's good to get lost sometimes, but it's also good not to get too lost. There are people that want you home in one piece.
There's one travel insurance provider The Broke Backpacker trusts for all his wildest shenanigans… World Nomads!
Click the button below to get a quote on your insurance or read our in-depth review of World Nomads' coverage. And then… let the shenanigans begin. 😉
If you're concerned about your safety in Colombia, then be sure to check out our in-depth safety guide, which is full of realworld adivce and useful information.
More Epic Hostels in Colombia and South America
Hopefully by now you've found the perfect hostel for your upcoming trip to Cali.
Planning an epic trip all across Colombia or even South America itself?
Don't worry – we've got you covered!
For more cool hostel guides around South America, check out:
Over to you
By now I hope our epic guide to the best hostels in Cali has helped you choose the perfect hostel for your adventure!
If you think we've missed anything or have any further thoughts, hit us up in the comments!
---
Thanks for reading – that was fun! 😀
We bring you epic FREE content!
Find out how YOU can help support us.
We're a big site with a big team and this job isn't always easy. But we do it because we love it – we love providing epic and free content. We love the knowledge that our content keeps you adventuring. We don't ask for money, but if you'd like to find out how you can help the site in more organic ways, click the button below.
Thank you for your support 🙂
---
Bye for now, but not forever!
If you want MORE top-tier Broke Backpacker content like this, then sign up for our weekly newsletter below to get the latest and greatest!
And for transparency's sake, please know that some of the links in our content are affiliate links. That means that if you book your accommodation, buy your gear, or sort your insurance through our link, we earn a small commission (at no extra cost to you). That said, we only link to the gear we trust and never recommend services we don't believe are up to scratch. Again, thank you!