Medellin is an incredible city that's emerging as a must-visit destination if you are backpacking in Colombia! Medellin is successfully shedding its image as a "drug city" to one of innovation and creativity. With its warm weather year-round and locals (know as Paisas) who know how to have a good time, any itinerary to Colombia should definitely include a stop in "the city of eternal spring."
There are tons of amazing hostels in Medellin, which can make it really difficult to choose one. That's why I've created this list of the 5 best hostels in Medellin for 2023, broken down by your interests. You'll be sure to find a hostel that fits your needs, saving you time and money!
Although more and more people are visiting Medellin, there are still some not-so-great areas. To make sure you stay safe while travelling, you'll want to be sure you're in one of the neighbourhoods that are popular with both expats and tourists.
Most of the nightlife, restaurants, and culture are centred around El Poblado and Laureles. Most of the hostels included in this post are located in or very near these two neighbourhoods, but all of the hostels reviewed here are in very safe areas of this amazing city.
Quick answer: The 5 best hostels in Medellin

Do You Want to Travel FOREVER??
Pop your email in below to get a FREE copy of 'How to Travel the World on $10 a Day!'.
What to Expect from Hostels in Medellin
So you've decided to backpack Colombia – great choice. This place is HUGE, and Medellin is no exception. Medellin is a massive, sprawling city with loads of little barrios or comunas (neighbourhoods) to explore. The public transportation is quite good. There are two metro lines – the only ones in all of Colombia – as well as a few cable cars to take you up the mountain into the local 'hoods.
Backpacking Medellin can be a bit on the pricier side, your Southeast Asian shoe-string budget might not get you quite as far in South America, but it's still much cheaper than travelling in the USA, Western Europe, and Japan. You can still find a meal for $2-3 and local beers for $2-3 in a bar.
As far as hostels go, you can still find dorm beds for as low as $8 per night, and private rooms for $30 in the best hostels in Medellin. Hostelworld is by far the best site to find accommodation in this city, with options galore. As Medellin is quickly becoming a digital nomad heaven, strong wifi is super easy to find here and the trending city is exploding into a global hotspot for travellers.
Contrary to what your family or friends may tell you, Medellin is definitely safe to travel. This should be taken with a pinch of salt however, it's safe as long as you do it correctly. Although some of the comunas can be dangerous, there's not much going on for travellers in these places.
The city has made a dramatic turnaround in terms of safety and crime rates in most of the areas you will find yourself in. This is especially true in areas such as the famous Comuna 13. This makes 2023 the best time for visiting Medellin, maybe ever. Most of the nightlife, restaurants, and culture are centred around El Poblado and Laureles.
Overall, the backpacking scene in Medellin is incredible, and there are SO many amazing hostels in this city, far too many to include on this list. You really can't go wrong when choosing accommodation here, but deciding from all the options can be overwhelming.
To help with this, I've compiled the ultimate list of the best hostels in the city. This list includes some of my personal favourites and some recommendations from friends and other backpackers via the internet.
So, enough talk. Let's get you settled into Medellin before the rest and find you a place to stay!
The 5 Best Hostels in Medellin
These are some of my personal favourite places mixed with some of the highest-reviewed hostels in Medellin, broken down into categories to help you find the one that's perfect for you. With this guide, you'll be able to crack on with your Medellin itinerary without worrying about your accommodation.
Privacy Curtain in Dorms
Rooftop Terrace and Pool
Los Patios Hostal won the 2020 Hostelworld award for the best large hostel in the world! Yes, you read that right, not just Medellin, Colombia, or South America, this has been hailed as one of the best hostels in the world! This isn't the only award it's won either, (see below). Rated 9.5 on the Hostelworld site by nearly three thousand other backpackers, the reviews speak for themselves – Los Patios is fantastic.

The list of facilities on offer here is bonkers. A rooftop pool, two rooftop bars with amazing views, a gym, coworking rooms, a café, sun deck, Spanish School, Kitchen/self-catering facilities, Salsa lessons, tours desk offering unique expeditions, a ping pong, foosball table and pool tables, AND multiple chill-out cribs with PS4's just to name a few! I mean, what more can you want?
Why you'll love this hostel:
TWO rooftop terraces
Playstation, foosball, and pool table.
Perfect Location
This stylish and upscale hostel, split over two buildings is beautifully decorated. Each floor represents a different region of Colombia from the jungle to the coast, each with a description meant to inspire and inform travellers.
They offer stylish and modern private rooms and each dorm bed has its own privacy curtain, fan, two plugs, and a light. Although breakfast isn't included, there is a kitchen free for guests to use and there are many restaurants in the area.
If you're not sold yet, the location of Los Patios is ideal, right in El Poblado. Just two blocks away from El Poblado metro station, you can wake up and crack on with your itinerary. This place really has it all, check out their reviews to learn more using the link below.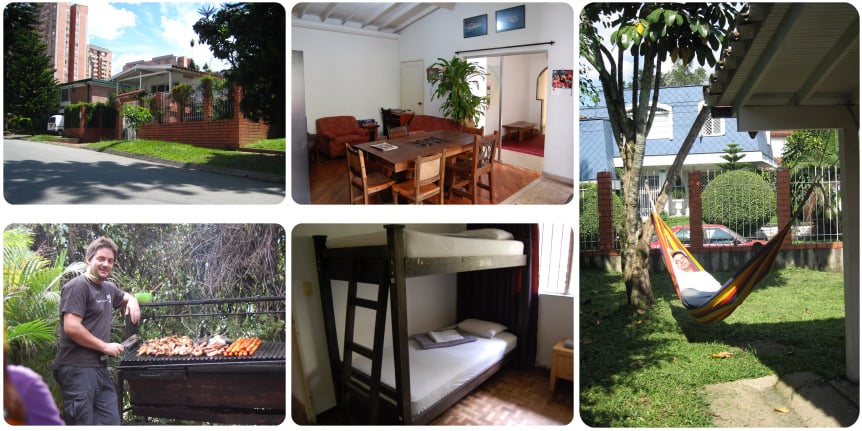 Free Towels
Tours and Travel Desk
Medellin is quickly becoming a global hotspot for digital nomads. There are so many options to choose from for this category. But, I've gone for… The Black Sheep Hostel!
The owner of Black Sheep Hostel has done a ton of travelling so he's designed his hostel with travellers in mind. He can help you book tours within Medellin as well as the rest of Colombia.
Rated 9.1 on Hostelworld, this is another terrific choice for a Medellin hostel. With dorm beds from around $17 and private rooms from $37, this is also a relatively cheap option – great for nomads trying to make money on the road – not lose it!
Why you'll love this hostel:
Amazing Wifi
Hammocks
Social atmosphere
The hostel hosts many activities on site, most notably the Sunday roast where they make a massive feast on the Argentinian-style grill, creating a very social atmosphere.
They have invested heavily in their internet with a fibre optic line running directly to the hostel and three different Internet Service Providers. This reliable WiFi is so hard to beat for nomads and is what edged it for me as the best hostel for digital nomads, especially solo travellers.
The location is pretty good, in El Poblado and the tours and travel desk make it easy for you to book tours to explore the city. If you're looking to get some work done during the day and meet some new friends or socialise in the evenings, this hostel is a great choice for you.
Is This the Best Backpack EVER???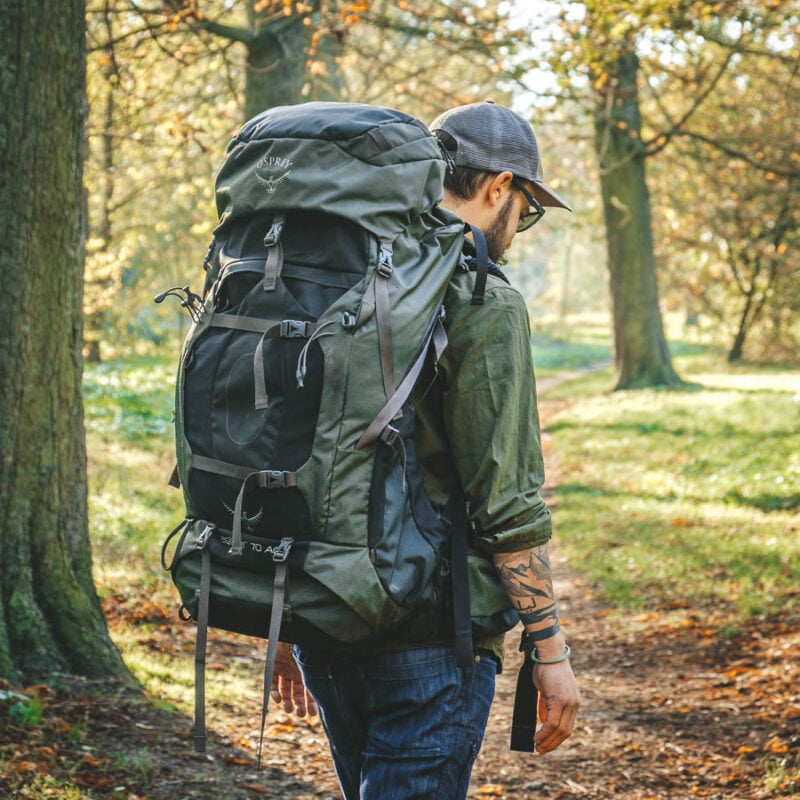 3. Best Party Hostel in Medellin – Masaya Medellin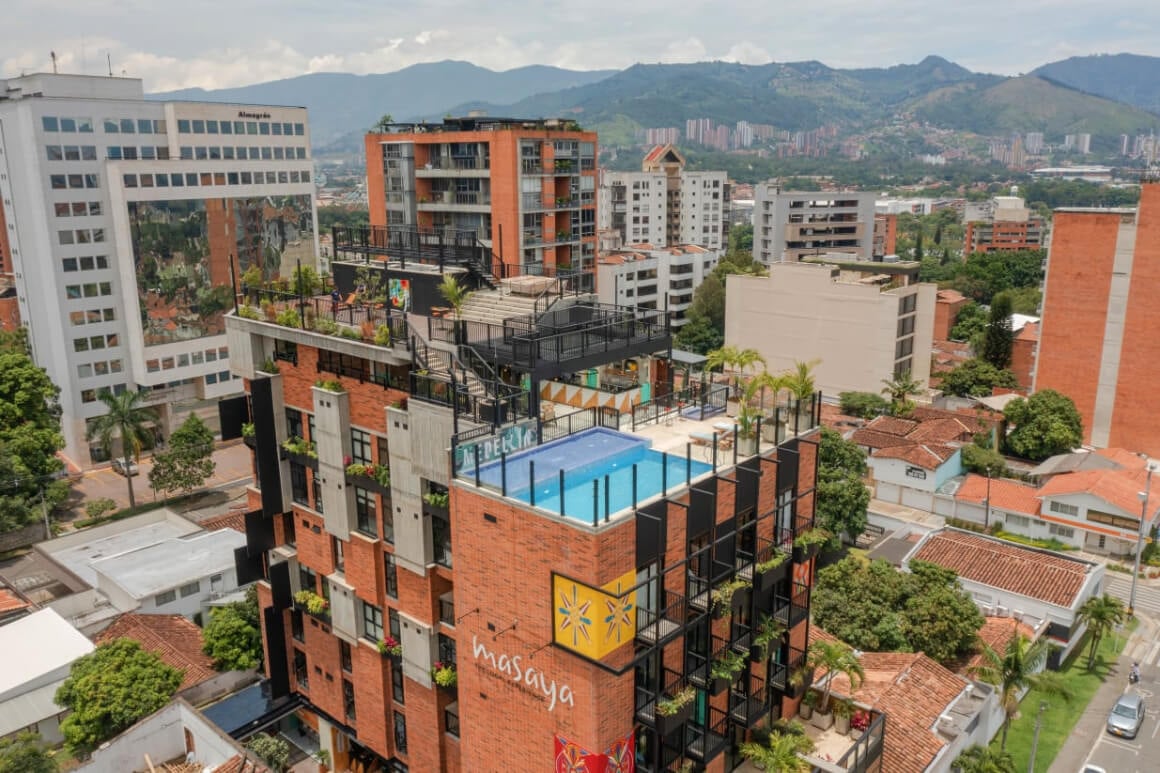 Pod Style Dorm Beds
Rooftop Terrace and Pool
Masaya is one of a kind. Forget Medellin, I would go as far as saying this is one of the best hostels in Colombia.
If you don't believe me, it's rated 9.5 on Hostelworld by loads of other backpackers. This place is not your average hostel. Right in the centre of the popular area of El Poblado, is the new 7-storey hostel of Masaya Medellin.
Masaya does offer private rooms but these are not cheap ($75 if you're lucky). Instead, I would recommend the super comfy pod-style dorm beds priced at around $18 per night. These are ideal for getting a degree of privacy at a fraction of the price. They do have a coworking area here too which makes it great for nomads, but note that this does come with an additional cost.
Why you'll love this hostel:
Stunning rooftop pool
Great Cafe and Coffee
Private Pod-Style Dorm Beds
The rooftop terrace of this place is what should lure you in. It is PHENOMENAL. When I was here, there was a live band performing in front of a very busy and social crowd. Everyone had a drink in their hand from the rooftop bar, people were chatting in the rooftop pool, and it was only a Tuesday! We went on to have an amazing night out in Medellin with people we met here, it was a great experience.
The downstairs cafe was amazing, and I had one of the nicest coffees in Medellin here. Some of my mates enjoyed a hangover-curing, premium-looking breakfast, and the staff were especially friendly and helpful.
Overall it's a very clean and modern hostel, located brilliantly and always active with other backpackers. Opting for Masaya to be your hostel in Medellin is a great choice, especially for solo travellers, whether you want to party or not.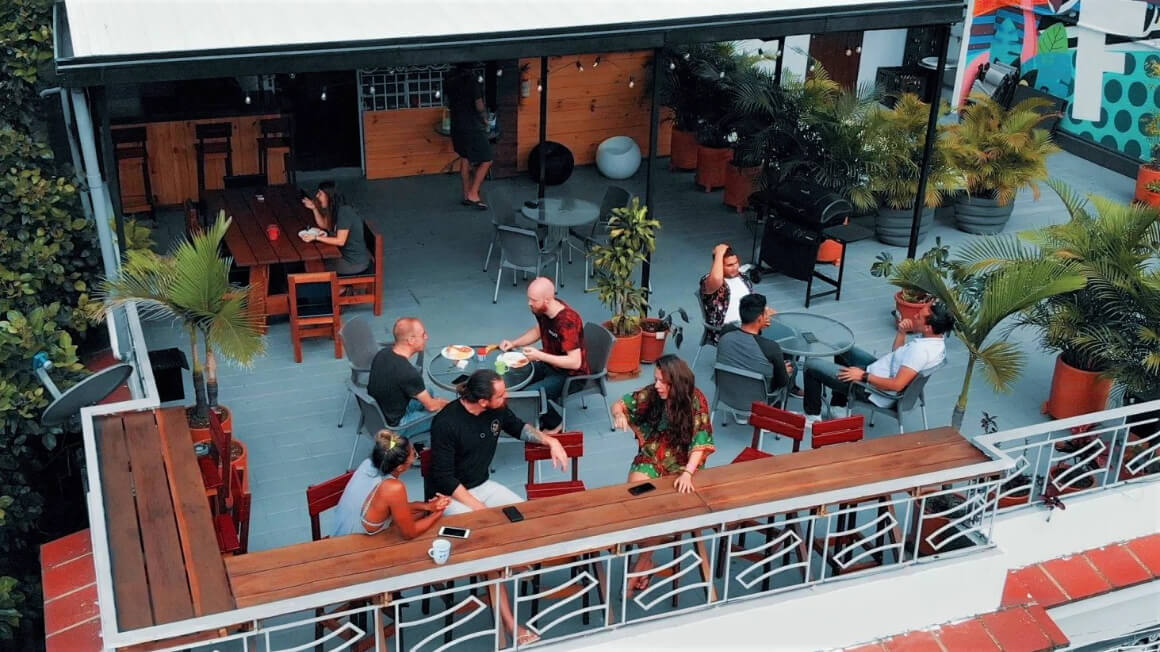 Self Catering Facilities
Free Towels
Be Okay Hostel (as it was originally known before changing to Noah) was designed with comfort in mind. Dutch and English-owned, perhaps the two nationalities that know hostels the best, this place has everything a hostel could ever need.
With bigger beds, amazing pillows, and individual reading lights you can be sure your stay will be as comfortable as possible. The rooftop terrace is a great place to mingle and meet other guests. Located in El Poblado, in a quiet area near lots of delicious restaurants and bars, this is a great hostel for couples. It's definitely one of the best hostels in Medellin for 2023.
Why you'll love this hostel:
Big beds
Netflix room
Great location
This hostel has a great location in the heart of El Poblado. Metro Poblado and Parque Lleras (a place to go out) are only a short walking distance away. They also have a tours and travel desk so you can book all your Medellin tours here, direct with the hostel. The only thing this place lacks is the offer of a private room, but the dorm beds are so big and comfy, it's almost a double anyway!
There is a lovely lady here who prepares a free breakfast every day for the guests. If you don't fancy it, you have the option to make your own in the kitchen. The selling point of this hostel is its great value (at around $15 for a dorm bed). It should be noted that the dorms are only 4-person dorms which edged it for me in terms of value. The beds are extra wide and the reviews hail them as super comfy, so for me, this is the best cheap hostel in Medellin.
5. Best Hostel for Solo Travellers in Medellin – Purple Monkey Hostel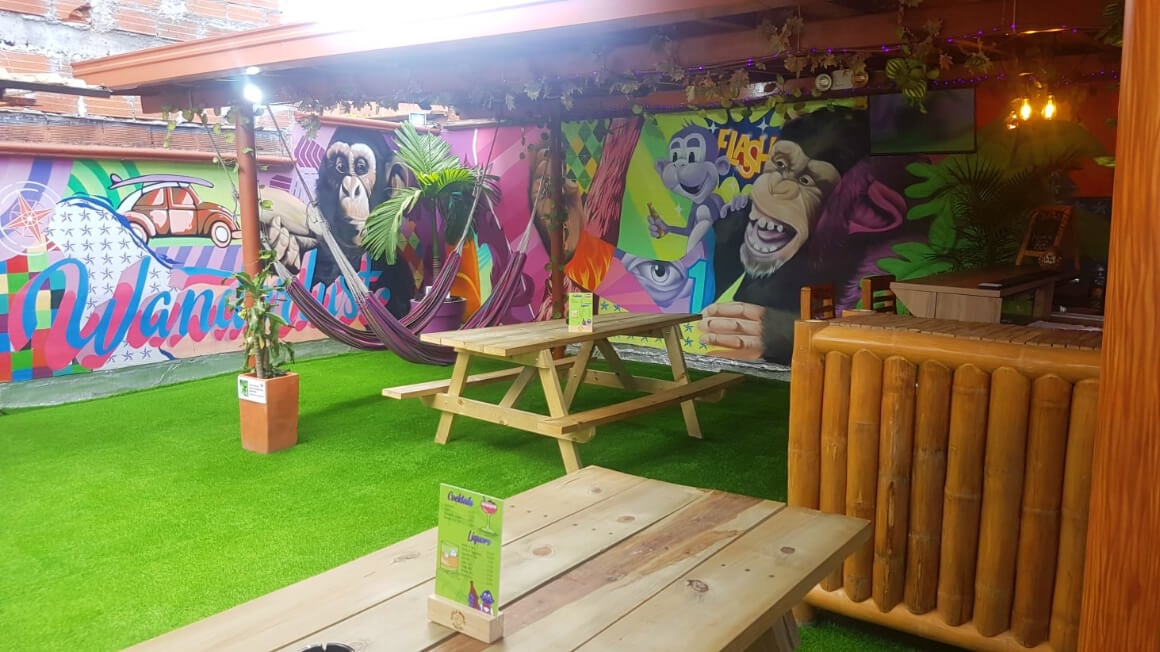 Orthopedic Mattresses
Outdoor Terrace
Purple Monkey Hostel's main focus is encouraging interaction between guests. Playing host to multiple weekly activities such as a pub crawl and free movie night on the rooftop terrace, you're sure to meet like-minded travellers and forge long-lasting friendships. There's a rooftop bar, two communal areas, a TV room, and a kitchen for you to cook your own meals. It's certainly one of the best hostels in Colombia.
Run by a very humorous British guy, this place is suuuper social, so keep that in mind. They encourage drinking a lot, but also respect you if you dint want to. It's the ideal place to make new friends, the perfect hostel for solo travellers.
Why you'll love this hostel:
Social and inclusive atmosphere
Possibly the best rooftop bar/terrace in the city
Free Breakfast
The mega comfy beds are equipped with four, yes four plug sockets per bed, so you can charge both yourself and all your devices up after a heavy night here. The dorm beds are pretty cheap here at around $15 and they offer 12, 6 or 4-person dorms. Purple Monkey also offers guests the choice of a reasonably priced private room ($45).
As Colombia gets safer each year, there have never been so many solo travellers heading there. This hostel is ideal for solo travellers looking to meet new friends and party, but it has two great WiFi networks too in case you're feeling antisocial.
It's super clean and they can help you book any tours you may need around Medellin. You can't go wrong when choosing Purple Monkey, they have amassed a great set of reviews over the last few years, and it's well deserved. This place is the best hostel for solo travellers in Medellin.
More of the Top Hostels in Medellin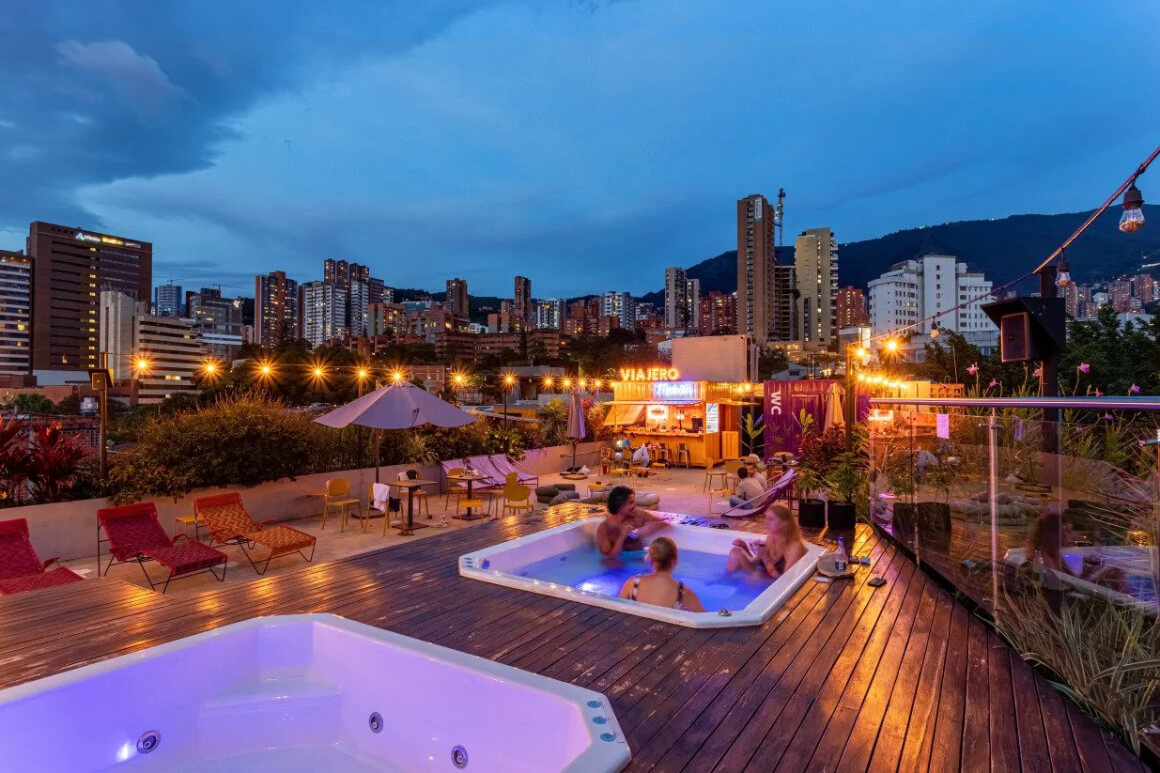 $$
Coworking area
Great location
This was where I stayed on my most recent trip to Medellin (May 2023). The reasons why I loved Viajero Hostel, and would recommand it, are infinite. If you don't believe me, check out all their reviews on Hostelworld which place them at 9.4 rated!
In my opinion, this is one of the best Hostels in Medellin too! The pod-style beds with curtains are in beautifully designed rooms, ideal for all types of backpackers. Equipped with all the facilities one could need, including a coworking area, a kitchen and my personal favourite, a ping pong table. This is a pretty big hostel with one of the most stunning rooftop views (360 degrees) of Medellin.
I couldn't sing this place's praises any higher – I had a wonderful stay here. The only reason it doesn't make it into my top 5 is because I felt it was so big and all around, I wasn't sure what specific category it would fit in.
The only downside to this hostel was, because it was so big, I struggled to make friends here so explored other hostels in the evenings. But, I'm sure that on other days it will be much busier than when I was there – so go check it out for yourself! It's definitely a safe bet as I can personally vouch for it.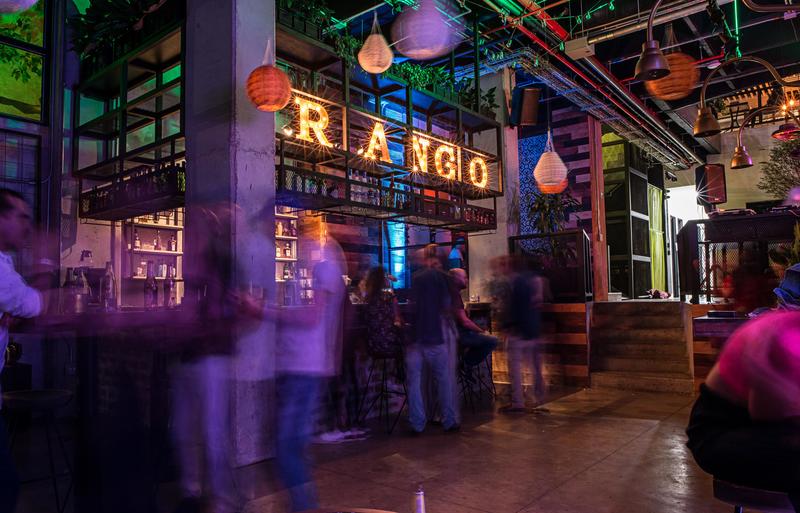 $$$
Free breakfast
Free lockers
Hostel Rango Boutique has everything you could want in a hostel. There's fast wifi from top to bottom, a free European-style breakfast, plus they have a bar and a restaurant on site making it easy to meet new friends. Although the private rooms are a bit on the pricey side, you'll definitely get your money's worth, making it one of the best hostels in Medellin. Plus, it's located in the heart of El Poblado – a top district in Medellin for eating, drinking, dancing, and socialising.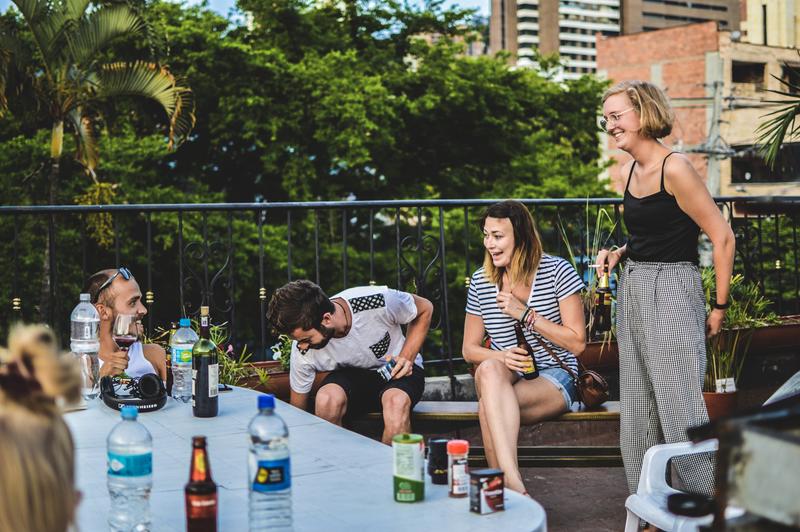 $
Free breakfast
Great location
Super clean hostel located very close to the metro station, Sugar Cane Hostel is great for travellers who love to socialize but also like to sleep. The owners are very knowledgeable about Medellin and can offer great advice. The rooftop terrace is a great place to chill out and enjoy a beer. They also have a BBQ every Sunday, making it one of the best hostels in Medellin.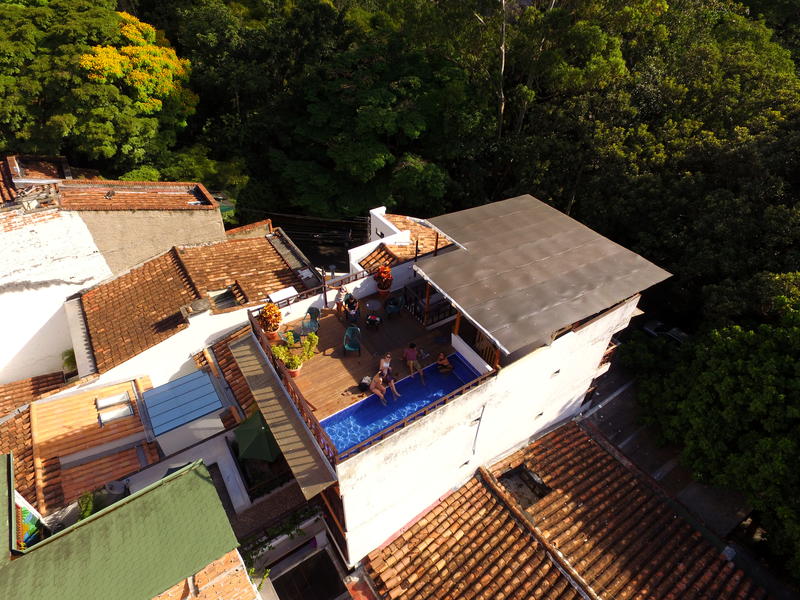 $$
Rooftop plunge pool
Pool table lounge
Daytime can be quite warm in the city so the plunge pool on the roof at Casa Kiwi Hostel makes it one of the top hostels in Medellin. It's a great place to meet people as it's very social but you won't be kept up at night. The bar and cinema room are just the icing on the cake. This hostel comes highly recommended!

Our GREATEST Travel Secrets…
Pop your email here & get the original Broke Backpacker Bible for FREE.
FAQ about Hostels in Medellin
Here are some questions backpackers ask about hostels in Medellin.
Get Insured Before Visiting Medellin
Whilst Medellin is safe to travel, I ALWAYS stay insured to protect against the unlikely, but not impossible chance of something unfortunate. If you're concerned about your safety in Medellin, then be sure to check out our in-depth safety guide, which is full of real-world advice and useful information.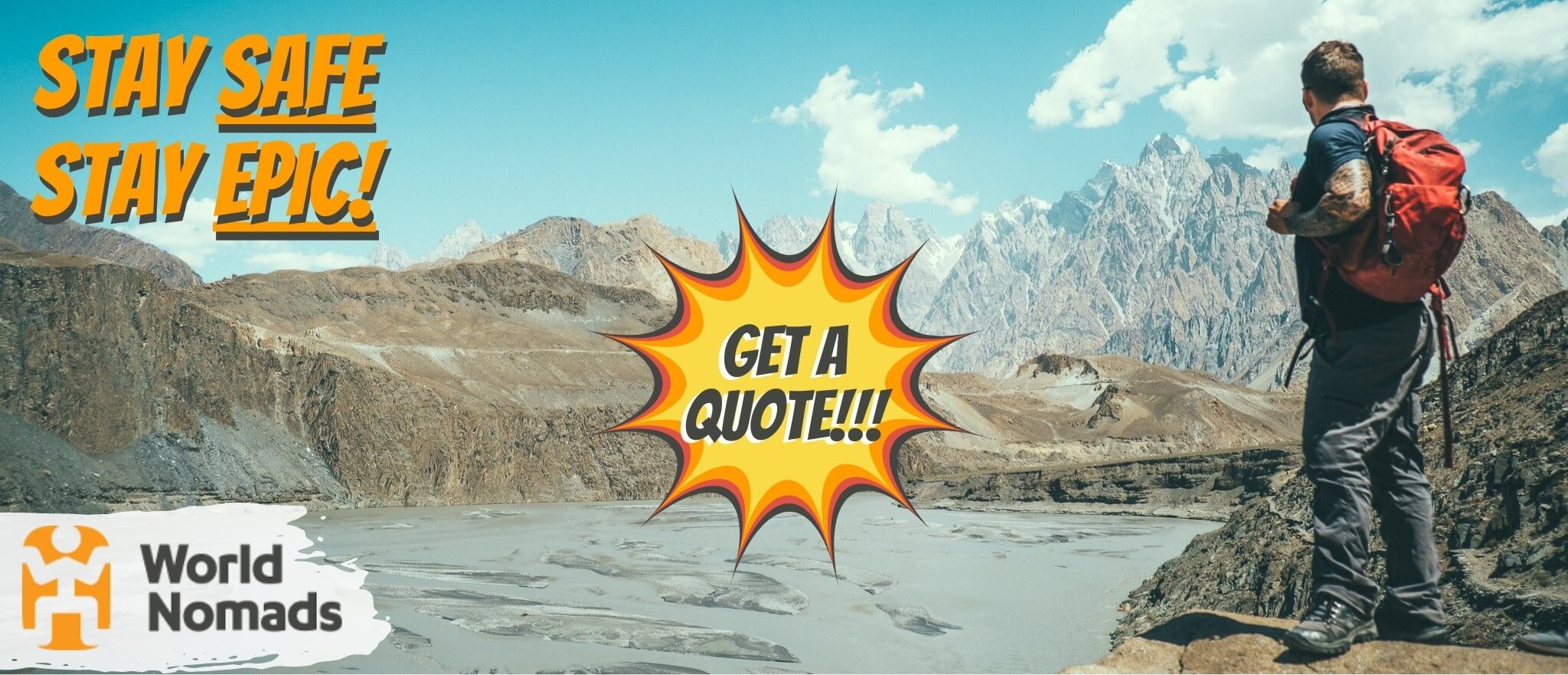 World Nomads' mission is to support and encourage travellers to explore their boundaries. They offer simple & flexible travel insurance, and safety advice to help you travel confidently.
They've been doing it since 2002 – protecting, connecting, and inspiring independent travellers just like you.
Get a quote below or read our in-depth review!
World Nomads provides travel insurance for travelers in over 100 countries. As an affiliate, we receive a fee when you get a quote from World Nomads using this link. We do not represent World Nomads. This is information only and not a recommendation to buy travel insurance.
Final Thoughts on the Best Hostels in Medellin
Get ready, because Medellin is a wild and exciting ride. Remember, while Colombia as a whole is getting safer, it's always best to book accommodation in areas that are popular with tourists. That's why my number one recommendation is Los Patios Hostal Boutique.
By now I hope our epic guide to the best hostels in Medellin has helped you choose the perfect hostel for your adventure! If you're planning on travelling further, you can be sure that you'll always find a place to rest your head.
There are some great hostels all over Colombia, each offering a safe home-away-from-home, a chance to meet like-minded travellers and an affordable price for the night. Whichever hostel you choose, I'm sure you'll have a wonderful time in one of my personal favourite countries in the world. Good luck out there guys!
If you think we've missed anything or have any further thoughts, hit us up in the comments.
---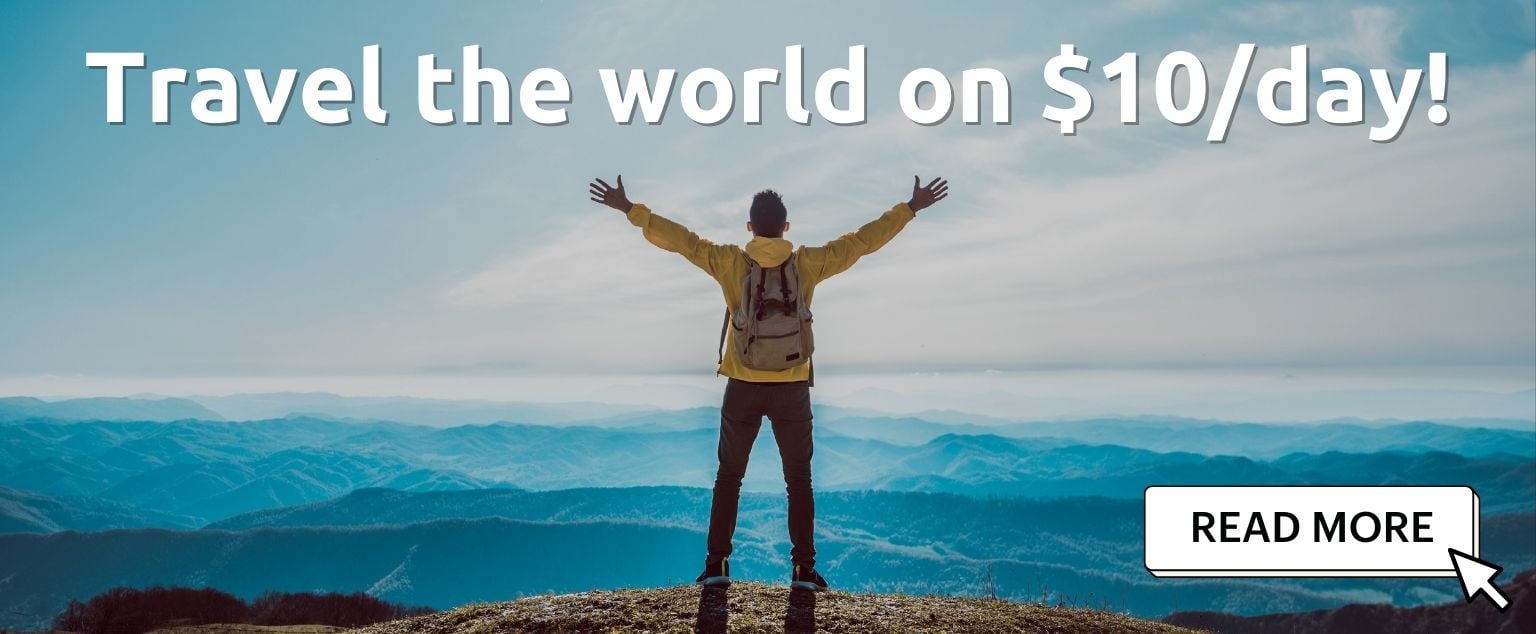 And for transparency's sake, please know that some of the links in our content are affiliate links. That means that if you book your accommodation, buy your gear, or sort your insurance through our link, we earn a small commission (at no extra cost to you). That said, we only link to the gear we trust and never recommend services we don't believe are up to scratch. Again, thank you!
Updated July 2023