Colonial architecture sits alongside skyscrapers in the City of Eternal Spring; Medellin is a cool place to visit, that's for sure. It's commerce, culture, and nightlife are all on the rise and there's more than just The Cartel here these days.
With all the recent 'narco-tourism,' it's still important to remember that gangs are still very much a problem in Medellin. Not just that, street crime, both petty and violent, isn't RARE either.
So, of course, you may be wondering, "is Medellin safe for tourists these days?"
This is exactly the reason why we have created this insider's guide for staying safe in Medellin. We are all about traveling smart here at The Broke Backpacker, and we want to give you some tips to help you do the same.
We are going to be covering a whole lot of ground in this guide. From whether it's safe to visit Medellin right now to whether you should be eating the food in Medellin, and pretty much everything in between. 
You may be concerned about bringing your family to Medellin, and if it's safe AT ALL to visit with children, or you may be worried as a solo female traveler making your way to this infamous city. Whatever concerns you have about safety in Meddelin, we're here to help.
How Safe is Medellin? (Our take)
The second largest city in Colombia, Medellin has a BUNCH of culture to soak up. Backpacking through Medellin is definitely something we'd highly recommend to all sorts of travellers.
Multiple museums, public parks, theatres, festivals; this city pretty much has it all.
And compared to its reputation in the 1980s, when it had one of the highest homicide rates in the world, Medellin is markedly safer these days. But you will have to be careful while traveling. Street crime still exists in worrisome levels here and, usually, it's gang-related stuff.
Oh and then there are the earthquakes (which you'll experience everywhere while backpacking Colombia), and the flooding in the rainy season. Both can be pretty bad and pretty scary. Knowing what to do in a disaster situation could definitely save your bacon out here.
Is Medellin Safe to Visit? (The facts.)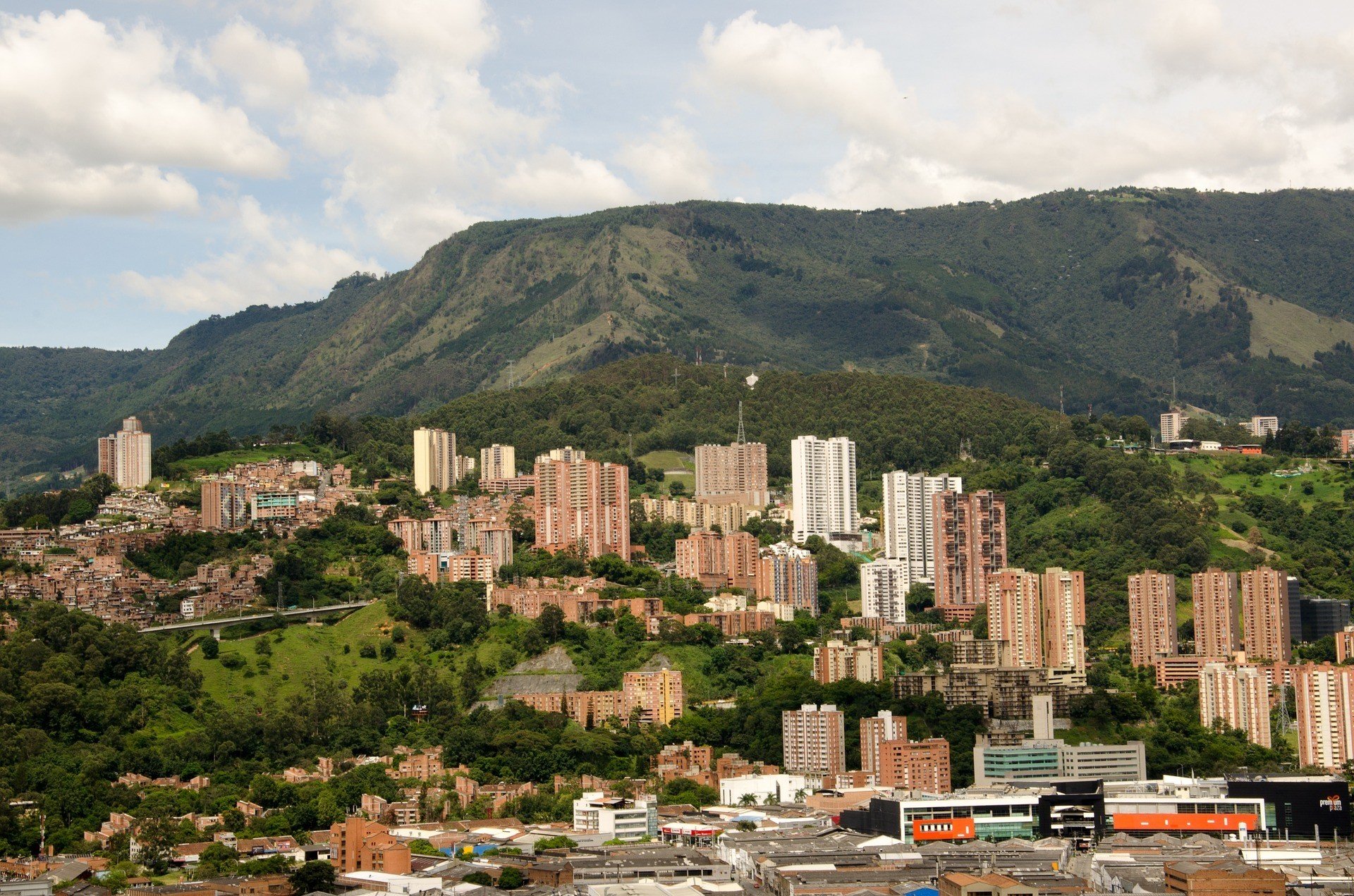 Just like the safety in Colombia overall, Medellin has definitely calmed down after being a VERY violent place in the '80s. In 1993, when Pablo Escobar was out of the picture, things began to turn around in the city. Crime has pretty much plummeted in general and, in fact, Medellin is safer than some American cities.
But violent crime always has a habit of rearing its ugly head – it DID increase in the first half of 2018 – so you must always be aware.
Gangs still operate in the city, with an estimated 240 gangs with around 5,000 members overall. That's still QUITE A LOT for one city.
You're unlikely to get targeted, as gang violence is typically inter-gang, but it pays to know this information. Know that petty theft is also pretty common and that violent crime isn't UNHEARD OF against tourists.
So paying attention to your surroundings is definitely a good idea.
At the same time though, tourism also increased in 2018 and has experienced a year-on-year increase of around 23% actually. People are still visiting Colombia, regardless of the crime.
New hotels are popping up all the time in Medellin, reflecting the newborn popularity of the city. We think it's probably got a lot to do with Narcos, which (let's be honest) kinda romanticized the city in a strange way.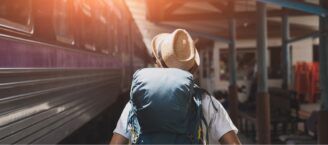 Unlock the secrets of traveling on a budget!
Sign up for The Broke Backpacker newsletter to receive regular tips on how to travel for less plus a FREE copy of The Backpacker Bible!
Is it Safe to Visit Medellin Right Now?
Alongside Medellin's drug renaissance in the 80s/90s, there was also a Communist insurgency happening. And while FARC stopped being an armed group in 2017, not everyone on that side was happy. Dissidents are still active.
In fact, there was a bomb attack in Bogota in January 2019 targeting a police compound. That's not Medellin – we know – but this just goes to show how a situation can change very quickly.
Tourists aren't LIKELY to be targeted by terrorist attacks, but it's good to be aware that these things CAN and DO happen – unpredictably.
On another note, even though there have been improvements in safety in Medellin, gangs still have a lot of power. Drug trade, money laundering, extortion, sex workers; gangs pretty much run it all.
Street crime is still a big problem in Medellin, particularly around the areas of…
Comuna 13, Parque Lleras (known for sex tourism)
Parque de las Luces (NOT recommended after dark)
Parque San Antonio (pickpockets)
Prado (nice, but a hotspot for drugs)
Parque Periodista
Barrio Trinidad (this is where everyone goes to get drugs)
and La Sierra
In fact, Prado and the most historic district, El Centro (aka La Candelaria), become arguably the most desolate areas of Medellin after dark. Commuters and cops leave the area and it becomes decidedly unsafe.
And let's talk again about those earthquakes…
They've been INCREASING over the past few years. Usually, they're barely a wobble, but researchers are worried that Medellin isn't sufficiently prepared for a big one. Make sure you know the drill, therefore.
In conclusion, whilst Medellin is safe to visit right now, situations can change. Keep an eye on what's going on in the city.
Do you need Travel Insurance for your trip? Even if you're only going for a few days, that's more than enough time to get smote by wrathful angels. Have fun in Medellin, but take it from us, overseas medical care and canceled flights can be seriously expensive – insurance can, therefore, be a life-saver.
Travel mishaps can and do happen and it is well worth thinking about insurance before you leave home.
We have used World Nomads for years now and I have personally made several claims. Why not get a quote from them yourself?
Do be sure to read the terms and conditions to make sure that the policy covers your needs.
Getting an estimate from World Nomads is simple – just click the button or image below, fill out the necessary info, and you're on your way!

If you want to shop around a little, then read up on competing companies and what they can offer. There are lots of insurances out there, so don't feel limited.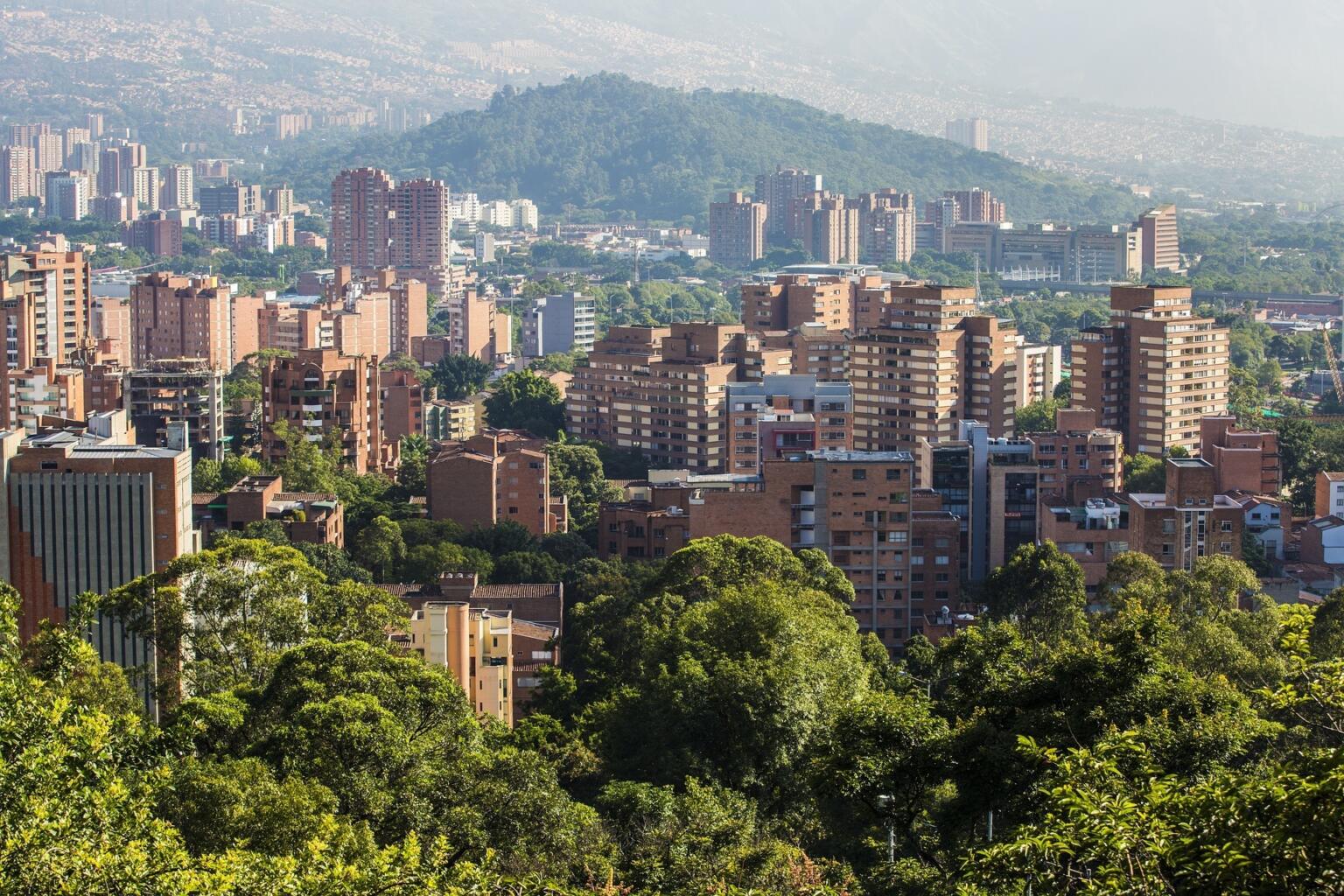 Medellin is no longer the crime hotspot it was during the Pablo Escobar era and, to its credit, it's had a pretty miraculous turnaround. From one of the violent cities in the world to pretty much one of the coolest destinations you could think of right now, it's been a surprising change of fate.
BUT that doesn't mean it's 100% safe all the time. So here are some handy tips to help you stay safe in Medellin.
Don't go walking around shady areas – there are MORE than just the ones we mentioned. Do some research on so-called "no-go areas" of Medellin.
Take taxis at night – things get a lot MORE unsafe after dark. Don't chance it by wandering around at night.
Don't flaunt your wealth – expensive jewelry, SLRs, designer clothing – all the sort of stuff that screams "I'M RICH, ROB ME."
Try to blend in a little bit – basically, anything that makes you look like a tourist is going to make you MORE of a target.
Make sure your bag isn't easily snatchable – this does happen so keep it secure, people.
And keep your bag in sight – hung on the back of a chair, or next to you on the floor, at a restaurant = nope. Could get taken.
Don't walk around with your phone out in busy areas – it's an easy (and valuable) target for thieves.
Careful when you're taking money out the ATM – pay attention to your surroundings.
Watch out for people tampering with food and drink – eat and drink and reputable establishments and keep an eye on your meal.
Similarly, don't take cigarettes from strangers – like food and drink, these can also be laced with drugs.
Plan your routes before you head out – looking like a lost tourist WILL make you more of a target for thieves.
Be wary of overfriendly strangers – more than likely, this will be the opening scene of a scam about to happen.
If someone wants your stuff, give it to them – most homicides against tourists happen when they resist robbery. Your bag isn't worth your life.
Keep your belongings close to you on public transport – as you would in any city. If you really want to keep your cash close to you, invest in a money belt.
Buying drugs is kind of stupid – drugs and gangs are "inextricably linked" (UK government website). Your habit, your little Narcos moment, is one of the thousands that keep the violent drug cartels in business. Don't fund them.
Watch where you travel during the rainy season – Colombia has two: April-May and October-November.
Know what to do in the event of an earthquake – it's a just-in-case sort of thing, but at least you'll have peace of mind by getting this down.
Learn some Spanish – Learn a bit and you'll be able to get around with less confusion.
Lock up your valuables – if your hotel room has a safe, use it. If not, hide your expensive things.
So whilst Medellin is generally safe, it pays to just keep a few things in mind when staying here. Remember that there are some areas you can't go to, that you shouldn't be wandering around after dark, and that partaking in drugs may not be worth it.
Basically, it's all about traveling smart. Colombia isn't the violent scourge of Latin America that many perceive it to be, but it stills pays to watch your bags.
Some General Safety Tips from the OG Broke Backpacker
Keeping your money safe in Medellin
It's more than just annoying when your money goes missing – it can be dangerous. Not having cash on you for a place to stay, something to eat, or anything BASIC is going to put a real dampener on your trip.
And, like most places in the world, Medellin isn't exempt from petty crime. In fact, especially in certain areas, it can be pretty rife. In this case, the best thing may be to wear a money belt.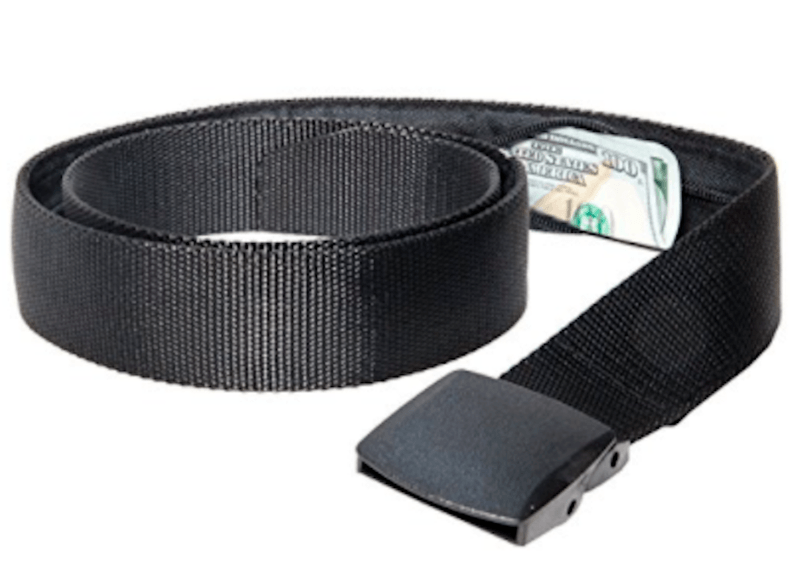 But there really are a whole load of different money belts to choose from. Why not make your life easier and go for one that we definitely recommend: the Active Roots Security Belt.
We're all about this AR belt. It's sturdy, affordable, and actually looks/behaves just like a real belt. No weird satchel, body-wrap thing going on here.
So even if your guard drops for a minute and someone does try pickpocketing you, they'll get nothing. Your stash of cash is safe and sound in the money belt.
Even if your room gets robbed, or your bag, you'll still have a little bit of cash to fall back on thanks to the VERY SIMPLE act of wearing and using a money belt. Basically, it's a no-brainer and we'd always say yes to the Active Roots Security Belt.
If you need a little more room for your passport and other travel valuables, have a look at a full-size money belt that tucks under your clothes instead.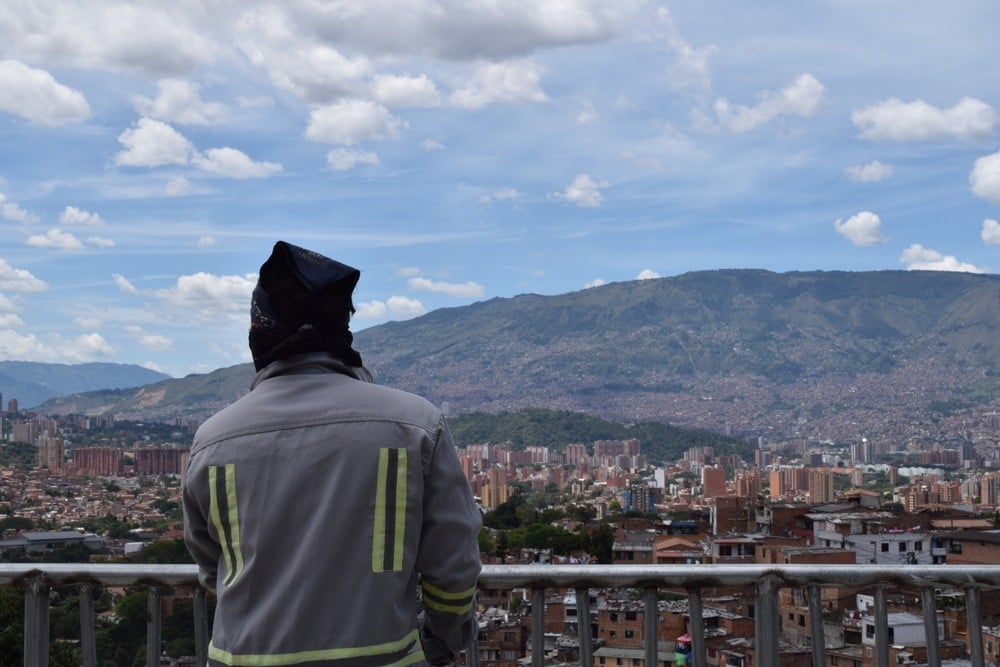 Traveling solo is pretty cool, we're not going to lie. You get to do WHAT you want, WHEN you want, and HOW you want. More than that, you get to challenge yourself and reap the rewards. It can be dangerous, not to mention lonely, depending on where you are but savvy backpackers will know how to avoid the pitfalls.
Believe it or not, Medellin is safe to travel alone in actually. But of course, traveling by yourself does put you at risk of being more of a target sometimes.
Before you head out on your trip, here are some great tips to help you solo travel Medellin like a boss…
Being alone DOES come with the danger of being a target of all sort of things, but most notably SCAMS. For example, street vendors like to take advantage of your lack of knowledge about the exchange rate. There's no one there to say, "hey, that's not right" because you're all by yourself, so it pays to know your stuff.
Stay in a social hostel. Make sure you do research and read reviews – you might end up staying somewhere social that's SUPER party-time – and you may not want that – so make sure your hostel is right for you.
Make some travel buddies! This goes a long way in keeping you grounded, allows you company while traveling the city, and means you can enjoy the nightlife even more. Swapping tips and stories is always fun, too.
Try to blend in. Look at how Colombians dress and try to follow suit. Doing the whole shorts and flip flops thing is just going to make you look like any other Western traveler with (maybe) more money than sense. And who wants to be treated like a tourist?
Telling people what you're up to is always a good idea. Keep in touch with your folks and your friends back home, tell them where you're going, what you're doing – even just a Facebook update every few days is good. Going off grid or ghosting your pals is not cool. It's not good for your safety, either.
Get yourself a sim card so you can contact people with a mobile.
Don't push yourself. Trying to do literally everything that the guidebook tells you to do, or treating your trip like a tick list of stuff you HAVE TO DO, won't make it an enjoyable time at all. Plus you're likely to get a bit burnt out doing things this way. So have a few days off now and then, do some admin, some washing, or just nothing at all. It's a good way to keep SANE.
Speaking some Spanish really is going to enhance your time. This will help with everything from reading bus timetables to conversing with locals, and then some. Colombian Spanish is said to be pretty neutral in tone compared to other types, so picking it up in Medellin is going to be easier than other places.
Don't get crazy drunk. The partying may be GOOD in Medellin, but that doesn't mean you need to get completely wasted. That's something that, more than likely, will just end up in you having a bad time.
Surprisingly, it's pretty safe in Medellin for lone travelers. You'll still be more of a target than when traveling in a group but there are ways to avoid the spotlight.
Remember to pay attention to your surroundings. Basically, if anything BAD is going to happen it's most likely going to be a case of you putting yourself in a BAD situation. Stay safe, travel smart, use your gut. You'll be fine!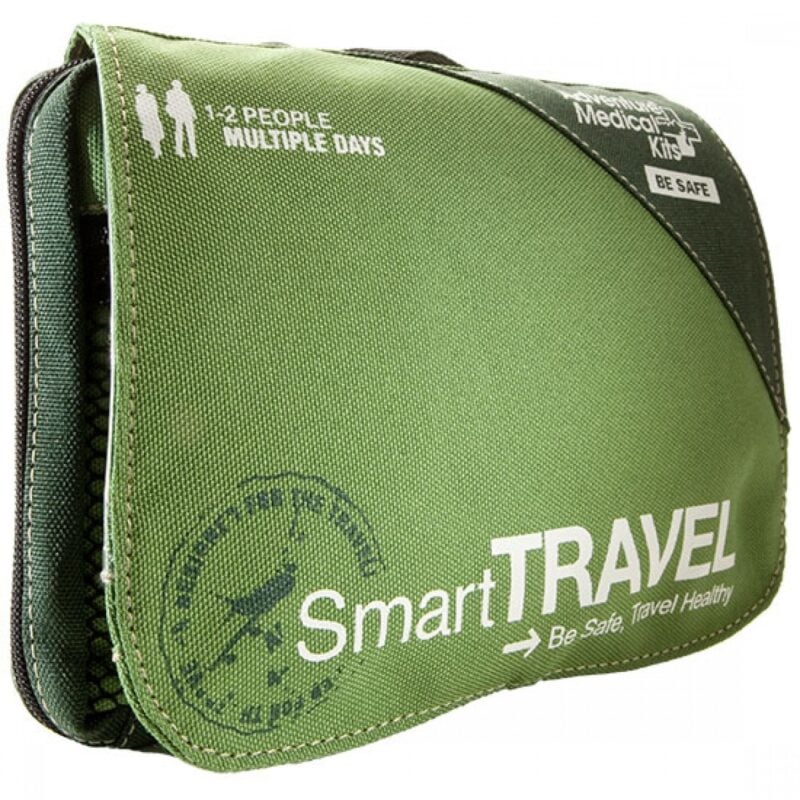 Be prepared for what life throws at you on the road. Pick up an AMK Travel Medical Kit before you head out on your next adventure.
View on REI
View on Amazon
Is Medellin safe for solo female travelers?
Medellin is safe for solo female travelers and lots of them do in fact come here. There are quite a few other women doing the same thing as you – and the opportunity to meet some of them while you're exploring this cool city is equally cool.
Unfortunately, like most places in the world you're going to have to worry about a few more things than male travelers. And, like other Latin American countries, the whole macho society gig is definitely alive and well in Medellin.
A few tips for traveling safely as a solo female in Medellin can't hurt, so refer to the following:
Check yourself into a reputable hostel with female-only dorms. It's a good idea to get to know some fellow female travelers, which is always good for guidance as much as peace of mind. You may feel better knowing that you're not staying in a mixed dorm harboring a potential weirdo.
There is a load of free walking tours to go on in the city. So choose one and go for it. We'd recommend a well-reviewed tour of course, but if your hostel is putting on a walking tour, that's just as good. Traveling with a tour is a good way to visit the barrios like Comuna 13, for example.
At the same time, make friends with your hostel/hotel staff. They'll know cool (and safe!) places to go. Plus if you're planning on heading out for the night, you can tell them where you're going.
Catcalling DOES happen. If it does, just ignore it and walk on. The worst thing to do would be to react, so save yourself the stress and trouble.
It's definitely, definitely not advised to walk around by yourself at night time. This goes double for dark alleyways and areas that are known for being dodgy anyway.
Drink spiking happens so be careful. Keep an eye on your own drink and DON'T accept anything from strangers.
Police are all over the place in tourist areas. If you have a problem, anything from being lost to feeling like you're being followed, or hassled, then go and talk to the police. Tourism is IMPORTANT in Colombia, and that goes for Medellin too, obviously.
As a woman, you'll be more of a target for muggings and bag snatching. It's REALLY important that you keep your bag, purse, wallet, etc. well out of sight. Not having it on show in the first place is going to help, since you won't be advertising what you've got to potential thieves.
Take care when traveling around in taxis after dark. Women HAVE been known to be targets. If a driver seems dodgy, or if something doesn't feel right, then simply don't get in.
As we mentioned before, Colombia has a reputation for being a macho society. Whilst this DOES mean that people are possibly going to catcall and make comments, it ALSO means that men look out for women. It has pros and cons…
That said, solo women travelers in Medellin can be safe so long as they're aware. Doing it by yourself doesn't mean watching over your shoulder every second, but it does mean you should be wary.
Traveling smart, listening to your gut, being sensible with how much you drink, and knowing when (and where) you intend to walk around, is going to ensure you have a safe AND awesome time.
Is Medellin safe to travel for families?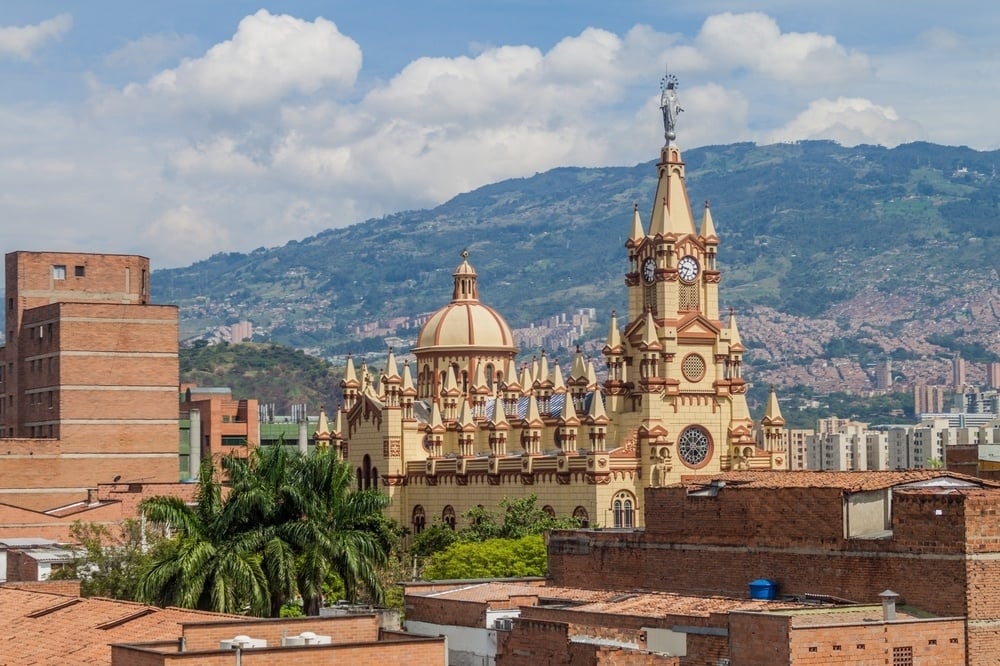 Yep! Medellin is safe to travel for families. Being the City of Eternal Spring, the weather is GREAT – not too hot and too cold for your little ones. Perfect.
Surprisingly, there are actually quite a few child-friendly places. From the El Salado Ecotourism Park – with its birds and butterflies – to the Barefoot Park, which features fountains, sandpits, and even bamboo groves, there are a few cool places to see.
However, the city is not always easy to walk around since the pavement isn't always top notch. The drains are deep, the curbs are high, so it's not ideal for prams or pushchairs.
The metro is generally fine to take your children on, but during rush hour things can get pretty hectic, making it not ideal for your little ones.
And, yeah, don't expect things like car seats in taxis.
Aside from these things, Medellin is SAFE for children!
Your kids will probably be the center of attention with the locals because Colombian people are all about family. The kids will be a great icebreaker and will allow you to meet even more friendly locals.
Is it safe to drive in Medellin?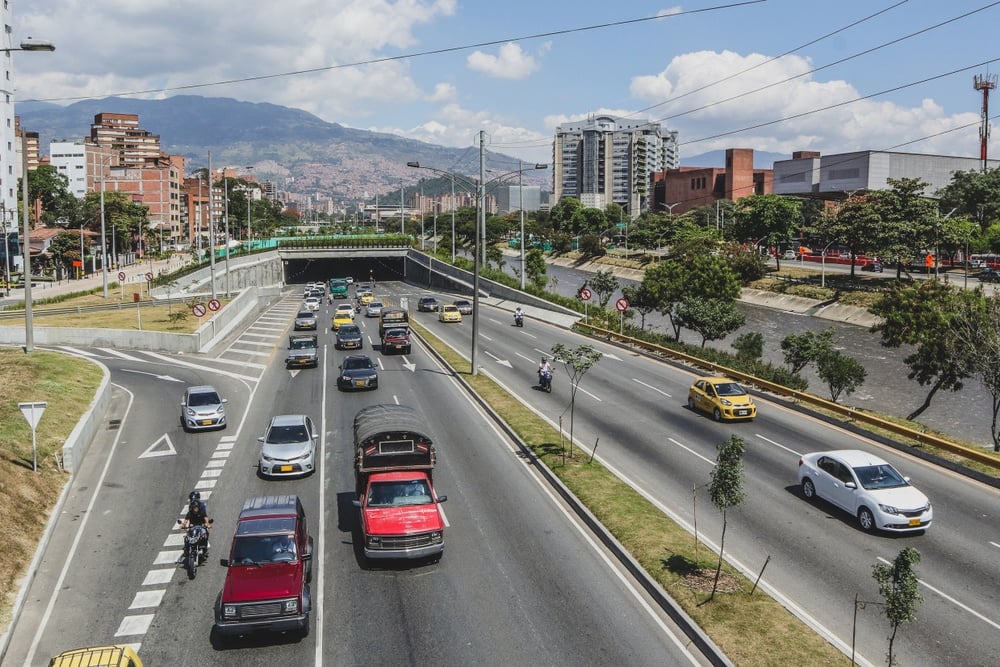 We've got to be honest, driving is pretty hazardous in Medellin. Here's why:
Motorbikes zip in and out and don't stop at red lights, making them pretty much a liability. It's important to check your mirrors AT ALL TIMES to see what's coming up behind you.
There are also big buses that tend to hog the streets. They block other motorists and drive AGGRESSIVELY. Bullies, basically.
Taxi drivers STOP in the middle of the road (obviously). They're FAST and often have pretty much no consideration for other drivers.
Oh yeah, and then there are the unmarked one-way streets. You'll only know about these if you're a local. Other than that it's basically just really difficult to find your way around the city. (Watch out for speed bumps.)
And then there's TRAFFIC, which can get really bad especially in Poblado and El Centro.
The police will give you tickets for not wearing your seatbelt, talking on your phone, speeding, all the normal stuff, and these can get REALLY expensive.
Finally, we have pico y placa. Certain numberplates, including those of hire cars, won't be able to drive in the city center in certain hours. This is to help rush hour not be so crazy.
To conclude, we'd say it's basically not worth it to drive in Medellin.
It MAY be safe at times, but usually, it's just a bit too much. If you were going to chance it at all, we would recommend only experienced drivers try to tackle these roads.
Is Uber safe in Medellin?
Yep – Uber is safe in Medellin.
The cars the Uber drivers use are often nicer and newer than regular taxis. They actually have seatbelts… And air-con… so there's instant peace of mind there.
AND they come equipped with all the usual Uber benefits: you can see a photo of the driver, the license plate number, the type of car, the journey, see REVIEWS of the driver, etc, etc.
In fact, Uber has a good reputation for being particularly safe in Medellin. There's none of the usual taxi hassle (i.e. being overcharged), and you won't have to worry about having the right small bills to pay the driver since you pay in-app.
No-brainer.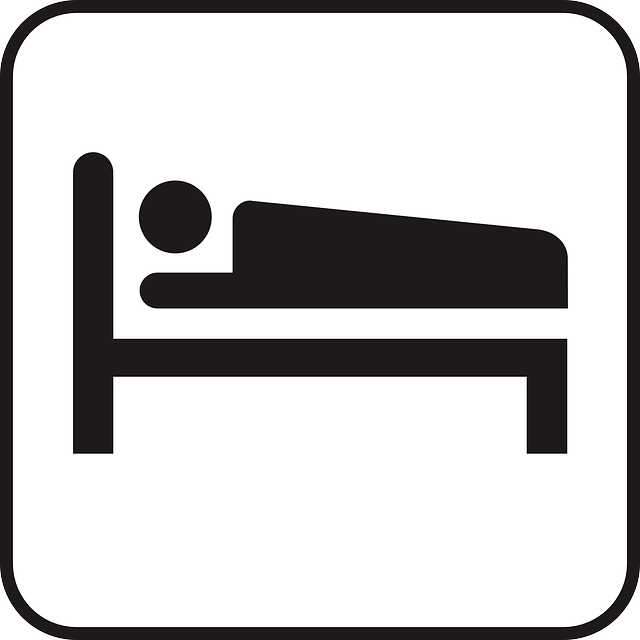 Sleep safe! Choose your hotel, hostel or Airbnb ahead of time so you're not last-minute booking a less-secure place.
Read our Neighborhood Guide for our favorite accommodations in Medellin by area.
Check out our Hostel Guide for the best budget options.
Are taxis safe in Medellin?
Well, taxis ARE safe in Medellin…but there are precautions you should take to keep yourself safe.
The best way to get a taxi? Have your accommodation call one. And if you can't always get them to call one (for example, when you're out and about), then at least get your hostel/hotel/guesthouse to recommend you a reputable taxi company.
Once you've booked a taxi you'll be sent a code via your phone that you can match up with the driver who turns up.
Of course, you CAN hail a taxi in the street, but it's safer to get someone ELSE to call one since you won't have to worry about language.
Taxis can also be found at taxi ranks.
Once you do get your taxi, make sure your taxi is LEGIT. The company logo should be there, and the license plate number should match up with the sticker in the windscreen.
Make sure they turn the meter on and that you get charged the right price. Sometimes they'll like to charge you a higher gringo price. There ARE official fixed fares to various areas so you should know these.
There are LOADS of taxis in Medellin. Mostly, they're yellow but taxis from the airport are WHITE.
When you're in busy areas of the city, it's a good idea to lock the doors.
And to keep yourself extra safe, call someone while riding in the cab (or pretend to) and give the license plate number – this is so the taxi driver understands that someone else knows where you are.
Be aware of these points and taxis will be much safer in Medellin for you and your friends.
Is public transportation in Medellin safe?
Medellin's public transport is very good; so good that it is said to have transformed the city.
There are four ways to get around the city: Metro, MetroCable, MetroPlus which is a BRT (Bus Rapid Transit) system.
The Medellin Metro is the only one in the WHOLE of Colombia. It consists of two lines and links up pretty much every tourist sight in the city. You'll need to get a UniViajes pass to use the metro while you're at it (you can have multiple passes at one time).
The Metro is most often safe, but you're going to have to watch out for pickpockets and for the busy rush hours.
The MetroCable links the center of the city to the comunas on the slopes of the mountains. You can catch this to the Spanish Library, for example, or just head up to get some pretty amazing views of Medellin. It's safe, and a pretty cool way to see areas of the city that have undergone HUGE social change (which is thanks in part to the MetroCable itself).
The BRT – called MetroPlus – stops around the city at designated stops. These have specific routes, and their own dedicated lanes, meaning traffic isn't that much of a problem.
There are also public buses but, like in MOST PLACES, the bus can actually be pretty confusing for foreigners. You may want to stick to using other services.
We advise caution using the bus at night for that matter. It's probably best just to take a taxi if you're heading on a night out.
But that said, Medellin's public transport is safe all-around.
Keep everything on you in transit!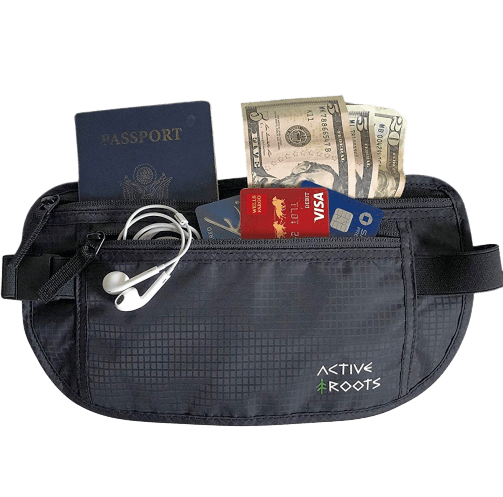 When moving from place to place, you shouldn't store travel documents in a bag, even if it's under your seat or overhead.
A full-sized money belt that stays tucked under your clothes keeps your documents and cash organized during your travels and assures nothing critical gets left behind or stolen.
Is the food in Medellin safe?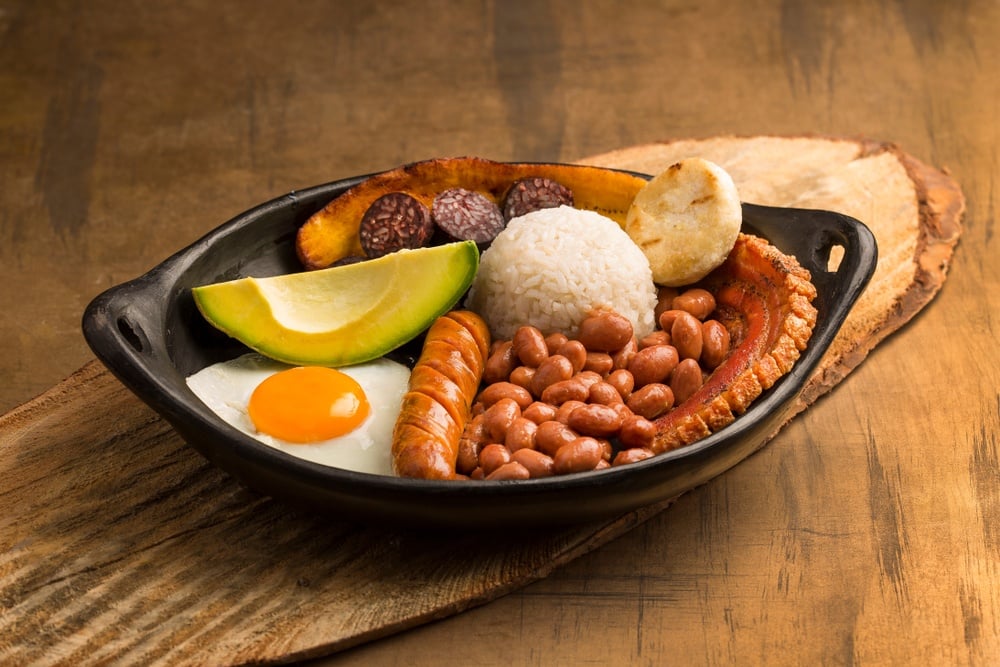 There's a TON of delicious street food in Medellin that you can find all over the city. We're talking about arepas (thick pancakes stuffed with CHEESE) and, of course, empanadas (crispy pastries filled with all kinds of delicious ingredients). So, so good.
Other dishes, like mondongo – a tripe soup with vegetables and coriander, served with avocado, meat and fried plantain – are a good example that most dishes come with a few accompaniments. It's sweet and salty but mostly very filling.
And to help you enjoy it all safely, here are some tips…
First things first: WASH YOUR HANDS. This is a good way to stop you from getting ill thanks to germs you might be picking up from elsewhere.
DEFINITELY try the street food! But make sure you go somewhere that's busy. A good rule of thumb is that busy = good. A bustling restaurant also means happy, healthy people because no one wants to eat somewhere that makes them ill.
A good way to protect your stomach: don't go crazy when you first arrive. Go easy on the food, guys. It can be really easy to just dive into all the deliciousness on offer, but you probably won't be used to the flavors (and ingredients). Easing yourself into this new world of food will help you out.
Avoid food that looks as though it might have been sitting around all day uncovered. There's a good chance that it's harbouring germs that your stomach really won't like.
Medellin is GREAT for fruit as there's literally SO much on offer here. Just be sure to buy fruits you can peel yourself. Pre-peeled and pre-cut fruit may have been handled unhygienically and eating it could end up making you feel pretty awful in the stomach department
Traveling with an allergy? Research ahead of time how to explain your allergy. Keep in mind that store owners and restaurant staff might not know all the foods that contain allergens, so it's helpful to know the names of some of these too. If you're gluten-free, pick up a handy Gluten-Free Translation Card with descriptions of Celiac disease, cross-contamination risk, and local Medellin ingredients in Latin American Spanish.
The main trouble you're going to have in Medellin is choosing what NOT to eat. There's a lot of variety, the portions are large, and you're going to have to almost literally be rolled home after a meal out in this city.
So maybe don't overdo it. Eat reasonably-sized meals and avoid saving yourself for one HUGE meal at the end of the day. Consume too much at once and your stomach won't know what's hit it.
So crack into Medellin's gastronomic scene throughout the day (especially lunch time aka the best meal of the day) and enjoy!
Can you drink the water in Medellin?
You actually CAN drink the water in Medellin and you totally should. It may taste a little chlorinated but you can even drink from the tap, which is awesome!
You don't even have to worry about the ice!
All this means that you can skip bottled water and just refill your own. We suggest investing in a good travel water bottle before leaving for Colombia because it will save both you from extra expenses and the environment as well. Win-win.
Want to save the world?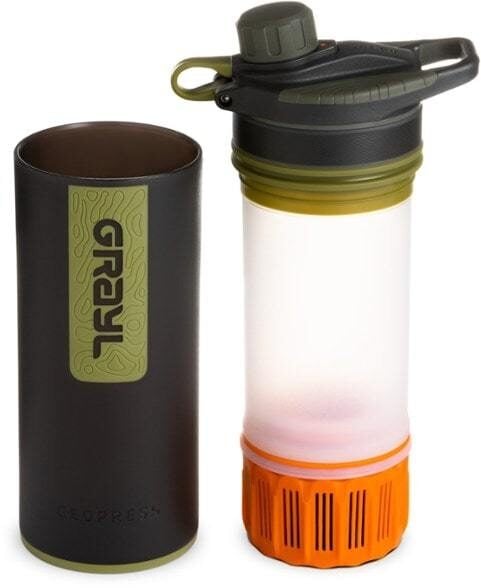 Single-use plastic bottles are a huge threat to Marine Life – Be a part of the solution and travel with a filter water bottle.
The GRAYL GEOPRESS water bottle is the ONLY all-in-one filter water bottle setup you'll need. Whether you need to purify the water from a hostel sink in Kathmandu or a stream trickle in the Andes, the Geopress has got you covered.
Read our full review of the GRAYL GEOPRESS!
Is Medellin safe to live?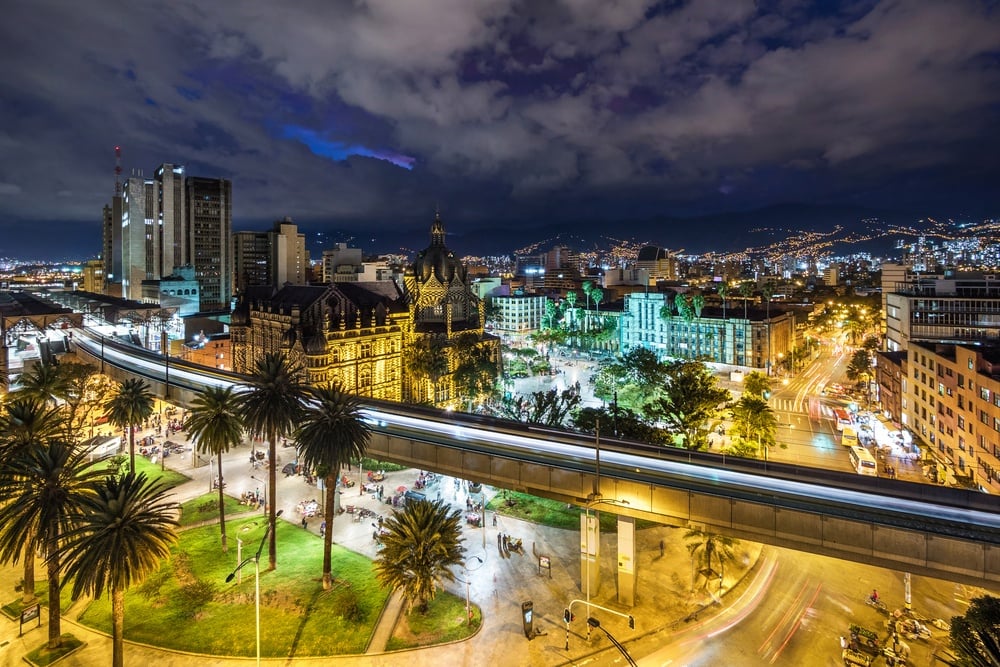 Medellin is GENERALLY safe to live in and there are a lot of perks to doing so. There's a whole lot of culture, city parks, malls to shop at, a plethora of restaurants, supermarkets, and GREAT TRANSPORT as well. If you want to experience the city from a local view, check into one of the epic long-term Airbnbs in Medellin and ask your host for recommendations on what to see. It's the best way to get to know the hidden gems!
Of course, there are places in Medellin you just shouldn't go after dark and street crime still occurs pretty often. That being said, you should take solace in the thought that the Medellin of today is far from the murder capital it was a few decades ago.
Living in Medellin just means remaining vigilant. The same things apply to residents as to tourists: don't flash your wealth around, walk and talk with your phone, and travel at night unless you have a taxi/Uber.
Here are some things of note if you're considering a move to Medellin:
Laureles and Poblado are popular neighborhoods for expats. There's great public transport, stuff to do in the immediate area, parks, playgrounds, and places to eat. All-in-all, these are very liveable areas.
You may not have hot water in the kitchen sink and there may be questionable wiring in your apartment (like the infamous "suicide showers" – whereby water is heated electrically in the showerhead itself). But this is stuff you'll have to get used to (unless you stay in a fancy apartment).
The POLLUTION of Medellin isn't great and smog is an issue. Traffic clogs up a lot of the roads and the fumes sort of hang over the city.
If you come to Medellin, have at least SOME knowledge of Spanish. It will help greatly though you should be learning a lot more as time goes by.
Basically, living in Medellin is safe. Granted, there are downsides, and it definitely isn't perfect, but as long as you take precautions and take care of your safety, then you should be fine!
How is healthcare in Medellin?
When it comes to overall performance of healthcare systems, Colombia actually ranks 22nd out of 191 countries. That's ABOVE 'developed' countries like Germany, Canada, Australia, and America.
There are basically three levels of healthcare on offer:
One is for people who are very poor or homeless, which is called SISBEN (you probably won't be using it).
Then there's public healthcare. This is called EPS and is the mandatory (i.e. everyone pays into it) healthcare system of the country.
Then there's healthcare as provided by private companies.
In Medellin itself, there's a high quality of medical care. Many hospitals and clinics have bilingual doctors, and the staff has often been trained abroad.
On that note, the city has some of the BEST medical facilities in the whole of Latin America. For stats fans, 5 of the best 35 hospitals in Latin America are in Medellin.
It's even becoming a bit of a destination for medical tourism. People are flocking here for all sorts of procedures – including prosthetic transplants.
So rest assured – you're going to have no trouble finding some really top-notch healthcare in this city.
Helpful Colombia Travel Phrases
Learning a bit of Spanish is a great way to get the most out of your trip. Becoming fluent in Spanish really changes the way you are able to travel in Colombia and beyond. It is such a useful language to know! You can speak it in over 20 countries! Check out this post for some Colombian slang.
Here are a few helpful travel phrases with English translations for your backpacking Colombia adventure:
Hello – Hola 
How are you? – Cómo estás?
Very good – Muy buena
Beautiful – Hermoso
Cheers – Salud
Shit – Mierda! (a very light weight insult)
Shit eater – Come Mierda (for better effect!)
What? – Qué ?
Can you give me a discount? – Me puede dar un descuento? 
Where? – Dónde ? 
Do you have a lighter? – Tienes un encendedor? 
Two beers please – Dos cervezas por favor 
Down that beer! – Hasta que la cerveza!
Can you give me a ride – Me puedes dar una vuelta?
What is your name? – Cómo te llamas? 
How much does this cost?  – Cuánto cuesta? 
Final thoughts on the safety of Medellin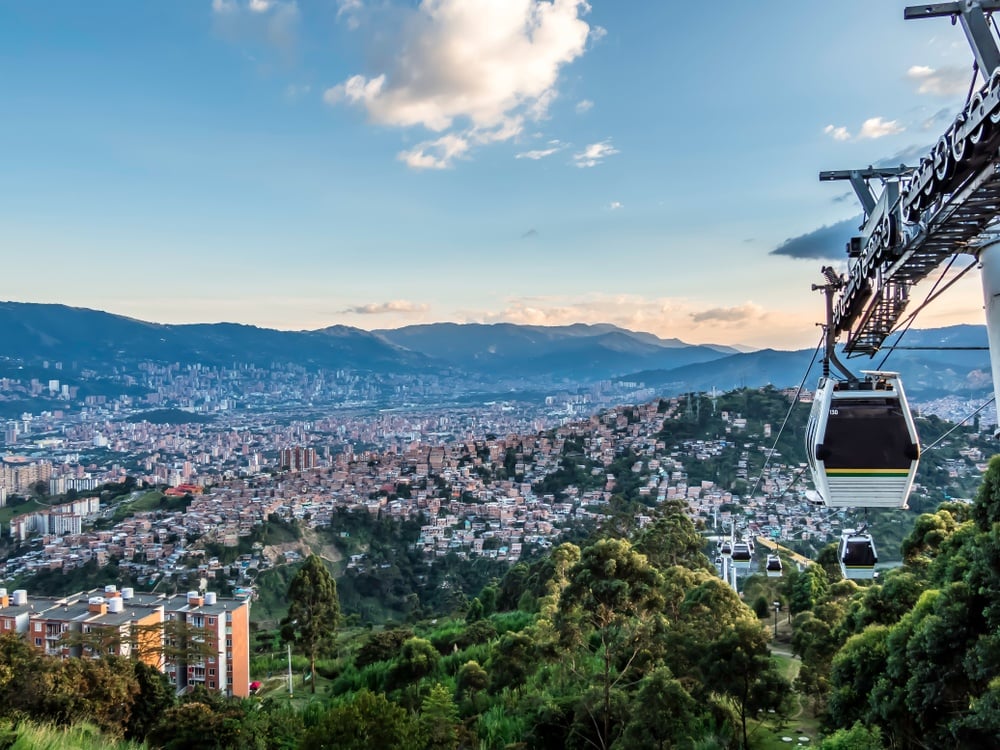 No dar papaya (don't give papaya) is a phrase famous in pretty much all of Colombia. The meaning is basically: "don't put yourself in a situation where you will be vulnerable." And that is how we're going to sum up the safety of Medellin.
Medellin has quite literally come up leaps and bounds in the last few years. From being a city practically run by drug lords, to one that's winning awards. It's honestly mental!
Gangs and street crime do still exist though. The best way to stay safe in Medellin is to basically not give papaya i.e. put yourself in a dangerous position. Don't walk around at night in certain areas, don't get in a taxi with a sketchy looking driver, don't talk to that over-friendly stranger, don't buy drugs; these situations can be easily avoided.
Stick to safe areas, get taxis (or better yet – Ubers) after dark, and make friends with other people exploring this cool city the same time you are. Keep your wits about you, trust your gut, don't make yourself vulnerable, and you're bound to have an AMAZING TIME.
And have you thought about getting Travel Insurance for your trip? You can get a quote from World Nomads by clicking on the link below.
Disclaimer: Safety conditions change all over the world on a daily basis. We do our best to advise but this info may already be out of date. Do your own research. Enjoy your travels!
"Find out how YOU can support the site. We work hard to put out the best backpacker resources on the web, for free! It's all about helping out our tribe of awesome backpacker readers [that's you!]. Please visit the link to find out how you can help keep the site going 🙂
For the sake of transparency, some of the links in our content are affiliate links. This means that if you book your accommodation, buy a book or sort your insurance, we earn a small commission at no extra cost to you. I only link to stuff I've actually used and never endorse products or services that are not up to scratch. Thanks for your support.