Where modern skyscrapers meet quaint pueblos, and lush green jungles merge with tropical oceans, Colombia is overflowing with as much culture as it is with natural beauty. The country has jumped to the top of many travel bucket lists, offering some of the most incredible scenery and cultural experiences.
With a diverse population following different cultures and traditions from region to region, Colombia is a melting pot of exciting events and colorful cultures.
Colombia's music scene is diverse, to say the least. It draws influence from African, Native Indigenous, European, and western American music, attracting local and international visitors from the four corners of the world.
If you're wondering which festivals you can add to your Colombian itinerary, I've listed the top music and cultural festivals in Colombia in chronological order to make your planning easier. Let's dive in…
Festivals in Colombia
With some of South America's most exciting cultures and traditions, it is no surprise visiting Colombia has become a must for young travelers from across the world. Let's take a look at eleven of the best festivals in the country: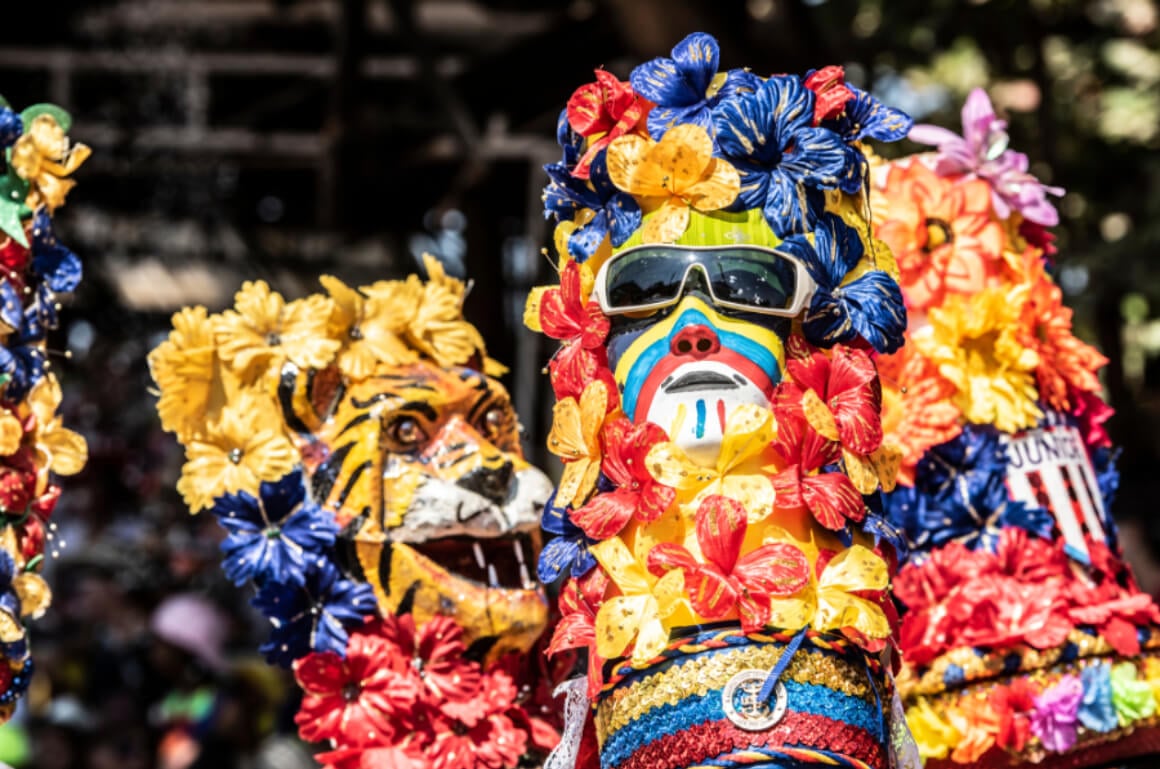 When: February
Where: Barranquilla
Taking the prestigious spot of one of the largest carnival celebrations in the world, second only to the Rio de Janeiro Carnival, Carnaval de Barranquilla is the single biggest street celebration in Colombia.
The event is celebrated over four days during February. However, the pre-carnival season starts in mid-January, when the city begins to come alive with dancing, music, and carnival decorations.
Some of the most popular events leading up to the carnival include smaller parades like the La Guacherna and El Garabato. These parades feature new traditional dances and snap-shots of traditional Colombian carnival music (often with performers practicing for the main event).
The Cumbria, Colombia's most traditional dance, is performed by organized groups throughout the month to hype the city up for the event.
When it comes time for the main event, there is a major Carnaval Parade event each day of the four-day festival. Each is dedicated to a different Colombian culture, tradition, or historical event and offers a chance to experience and watch different performances, dances, and vocal talents.
You will need a ticket to attend the parades at this Colombian festival, which are conveniently affordable and easy to get your hands on. Outside the official parades, there are many concerts, live performances, and shows around the city, which come alive with activity during these four days.
Where to Stay:
While you're in the city, make this gorgeous loft your home away from home. It's designed with mid-century modern-inspired interiors and has a sofa couch for extra guests.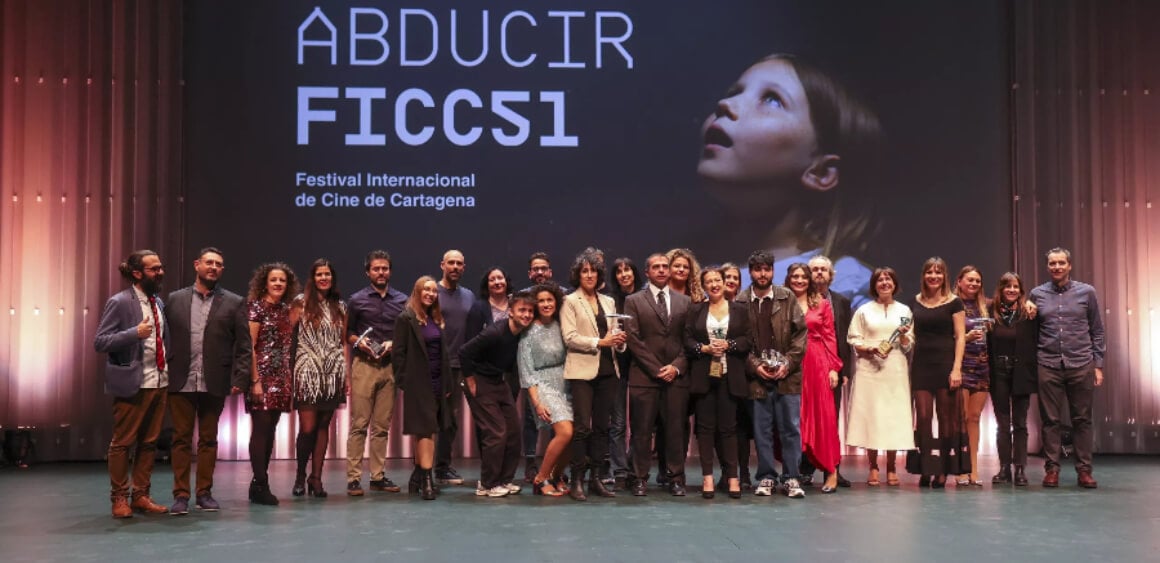 When: March
Where: Cartagena, Bolivar
Festival Internacional de Cine de Cartagena is South America's longest-running film festival, bringing 58 guests and 58 juries together to share the art of filmmaking. The event has been running annually since 1976 when it was founded to give local filmmaking talent a stage for the local cinematographic industry to share cultural and technical talent.
Created to give Spanish film creators, actors, and producers a chance to launch themselves onto the international stage, the event takes place over six days in March and is a cultural experience like no other.
So far, over 5000 movies have been screened at the festival from Colombia, Spain, and across Latin America. The festival has evolved with the city of Cartagena, where it is hosted and is a good reflection of the South American society and communities that create the films.
The event used to be called the International Naval and Sea Film Week, when film screenings were mostly related to coastal themes. It was only renamed in 2005 when the founders broadened the theme to be more of a generalist film festival.
The event can be attended for free at some outdoor screening locations, but you might need a ticket to enter specific venues and events during the week-long film festival in Colombia.
Where to Stay:
Enjoy a taste of the sophisticated life with a stay in the Hotel Boutique Las Carretas. The hotel boasts chic historical details with exposed stone walls and is just a short walk from the center of the town.
When: March / April
Where: Club de Golf Briceno, Bogota
If there's one music festival you should attend in Colombia, it's Estereo Picnic. Held just an hour away from central Bogota near the small town of Briceno, Estereo Picnic is Colombia's equivalent of the Lollapalooza festivals held in the United States.
It's a series of live concerts and sets played by some of the world's most famous rap, R&B, alternative rock, hip-hop, electronic dance music, and contemporary artists. In the past, the event has hosted the likes of Martin Garrix, the XX, Wiz Khalifa, Snoop Dog, Kendrick Lamar, Twenty One Pilots, Gorillaz, Lana Del Ray, and Guns 'n Roses.
Naturally, this incredible lineup attracts tens of thousands of music fans from across Colombia and South America, who visit for the three-day festival. In fact, the festival attracted over 60 thousand fans in 2016.
However, it wasn't always such a hit event. The festival was founded in 2010 as a one-day festival showcasing Colombian artists before the organizers changed the direction to be more internationally focused. Today, the event hosts a variety of musical genres across different stages, with food stalls and bars to keep attendees hydrated and happy.
Held over a three-day weekend in March or April each year, the atmosphere at the event is super relaxed. General admission for the festival in Colombia will cost around $545, with a VIP ticket costing $1250. If you can only attend for one day, a day pass will set you back at just $275.
Where to Stay:
After a night on the dance floor, enjoy a peaceful rest at the HAB Hotel Bogota. This gorgeous boutique hotel features a restaurant, a fitness center, and a bar with a garden. It's a slice of peace and quiet in the heart of the city.

Do You Want to Travel FOREVER??
Pop your email in below to get a FREE copy of 'How to Travel the World on $10 a Day!'.
Vallenato Legend Festival
When: April
Where: Valledupar, Cesar
It's no secret that South America is home to some of the world's most exquisite musical sensations, and Colombia is no exception. Vallenato Legend Festival is one of the country's most influential music events, taking place in the city of Valledupar.
The event was created to pay homage to the Vallenato culture, a local Caribbean culture that is celebrated throughout the region. Vallenato music plays a big role in the culture, making use of an accordion, drums, and a guitar to create a vibrant melody.
It originated from Spanish troubadours who would travel from village to village to share news, poetry, and myths through music, and today is a colorful representation of Colombia's national identity.
Running since 1968, the festival welcomes Vallenato musicians of all ages and skill levels to share their art. It offers musicians an opportunity to perform on a well-received stage and network with one another over the five-day festival in Colombia.
A style of vallenato music called 'piqueria' takes the form of a sort of show-down, where musicians respond to each other with music in an improvised performance. Enjoy live concerts at the main city square or watch the 'parrandas vallenatas', which are private parties hosted in people's homes where musicians play day and night.
Where to Stay:
With a swimming pool and a sun deck, the Hotel Boutique Casa de Los Santos Reyes Valledupar is a gorgeous spot to call home in Valledupar. The hotel is set in a classic old colonial house with a terrace and a garden.
When: May
Where: Corferias, Bogota
Once a year in the buzzing capital of Bogota, Colombia, an electronic music rave attracts over 40 thousand attendees and takes over the entire city. Baum Festival is undoubtedly the most modern electronic music festival in Colombia, held at Corferias, an incredible venue in the heart of the city.
It has been running since 2015, bringing a range of international stars like Miss Kitten, Ellen Allien, DJ Hell, Dubfire, and Loco Dice to perform across five stages. The main genres of this event are house, electronic music, dance, and techno, bound to bring your energy up a level with a deep base and anticipated beat drops.
Baum also holds space for local DJs, artists and up and coming performers, offering Colombia's music industry a chance to perform on a global stage. The five stages at the event run simultaneously, giving attendees tons of options when it comes to music.
For two days during a weekend in May, the Colombian festival gives ravers a heart-beating flurry of musical sensation. As Colombia's electronic gem, thousands of ravers have turned this event into the largest party on the continent.
Where to Stay:
Located across the street from the Bogota Convention Center, The Hyatt Place Bogota Convention Center Hotel offers accommodation with a restaurant and modern lobby space. The rooms are spacious and pet friendly, and some even have gorgeous city views.
I couldn't possibly write a list of events in Colombia without including an iconic salsa festival. Salsa al Parque was founded to showcase Colombia's bright and vibrant cultural dance traditions and is now a huge part of the city's identity and the Bogota salsa movement.
The event has been running for 25 years and draws salsa musicians and dancers from across the Spanish-speaking world to the city of Bogota. While the festival attracts salsa artists from around the globe, most of the musicians come from the nearby city of Cali, known as the 'world capital of salsa music'. During this event, multiple salsa orchestra groups take to the stage to put on a salsa show you won't forget.
Salsa al Parque is part of a series of events held in the country with the same name (Rock al Parque, Opera al Parque, and Hip-Hop al Parque being a few of them). This event is held in the Plaza de Bolivar in the capital city of Bogota in June.
Shows start at 12:30 pm with some of the world's top salsa performers and dance groups taking the stage. Besides the main stage, the Colombian festival also includes couples shows hosted across different locations in the city.
Where to Stay:
The luxurious Cassa Luxury Homes are set in the exclusive Chapinero neighborhood in the center of Bogota, with their own fully-equipped kitchens and private bathrooms. Close to the Salsa el Parque venue as well as a bunch of pubs, restaurants, and coffee shops, you'll be in the center of the action at this accommodation.
Forget boring accommodation… book yourself an EPIC STAY!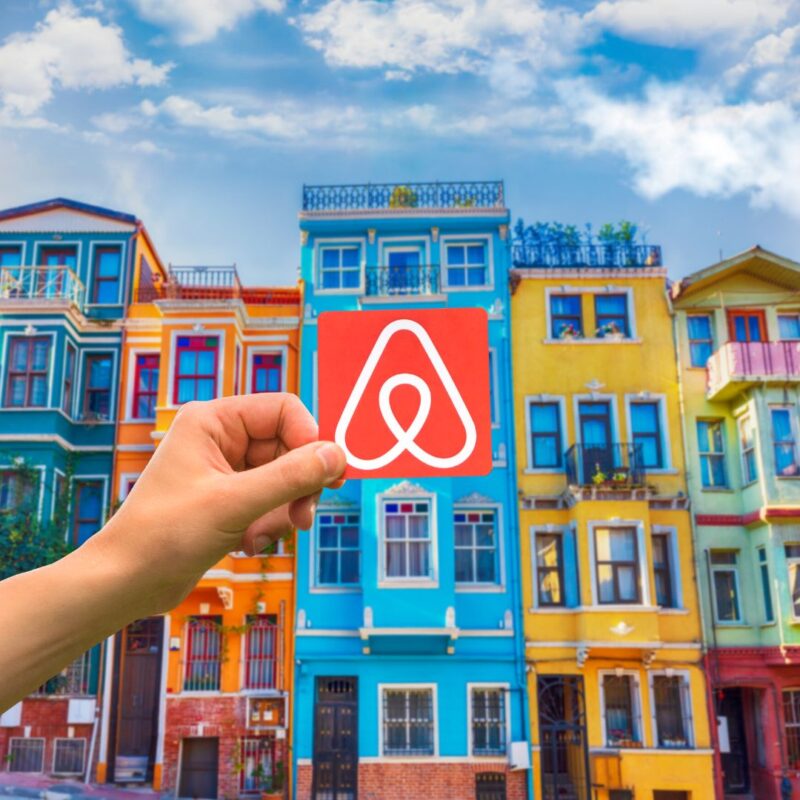 Why stay in a naff hotel when you can stay in a cosy, stylish local house instead? And for half the money too!
Stay somewhere EPIC and save your hard-earned dollars — from houses to barns to castles and caves, there is an Airbnb for every occasion!
Book an EPIC Stay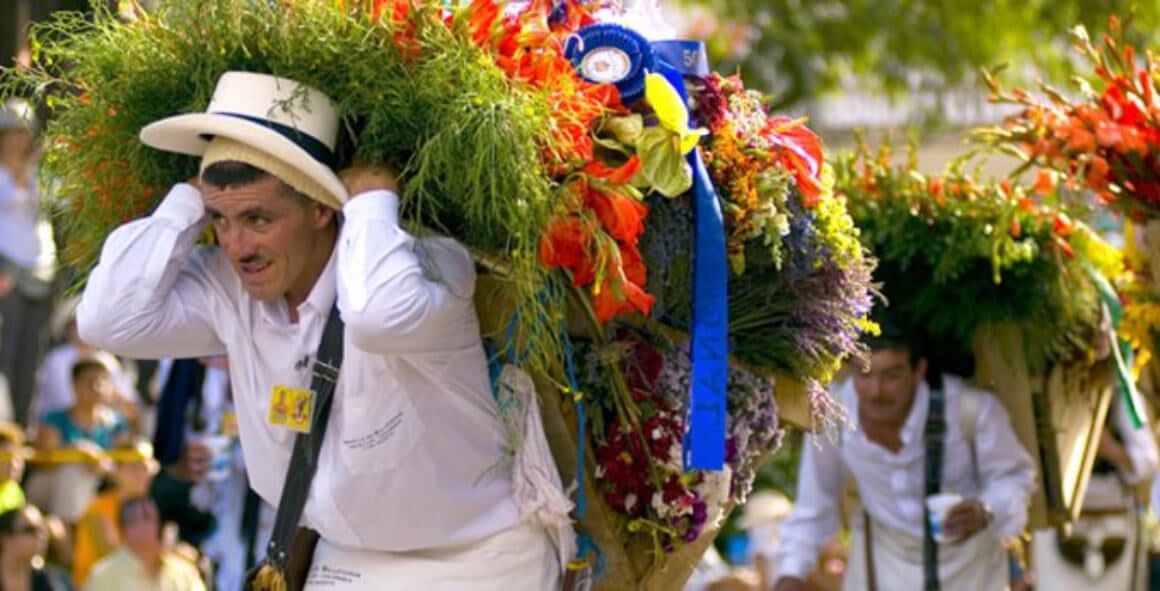 When: August
Where: Medellin, Antioquia
One of the most incredible events held in the country, Feria de las Flores (translated to the Flower Fair), is a massive parade dedicated to all things floral. It is held once a year during the first two weeks of august in the town of Medellin, Antioquia.
The main event at this festival is 'El Defile de Los Silleteros,' a parade that gives floral geniuses (locally known as 'silleteros') the opportunity to grow, cultivate and create incredible artwork out of flowers and plants.
The event is a cultural tradition, where 'silleteros' carry their artistic creations on their backs along the parade route, symbolizing a time when Santa Elena would venture down the mountain towards Medellin to sell flowers in the city.
During the event, visitors can also check out the flower exhibition on show at the Botanical Gardens in Medellin, where some of the country's most prized flowers are grown.
On top of the floral installations and parade, the event also features one of the most famous antique car shows in Colombia, as well as a bunch of outdoor concerts, workshops, and markets, all of which are free to attend.
The best way to experience this festival in Colombia is to book a seat in a box overlooking the parade. You can wing it and walk the streets, but crowds get intense for this spectacular show of flowers. It makes Medellin a perfect place to visit in August if you want to experience local culture.
Where to Stay:
Match the beauty of the Flower Festival with a stay in this exquisite modern loft in the heart of Medellin. High ceilings, an industrial feel, and large windows overlooking the city are just a taste of what you can expect from this self-catering rental.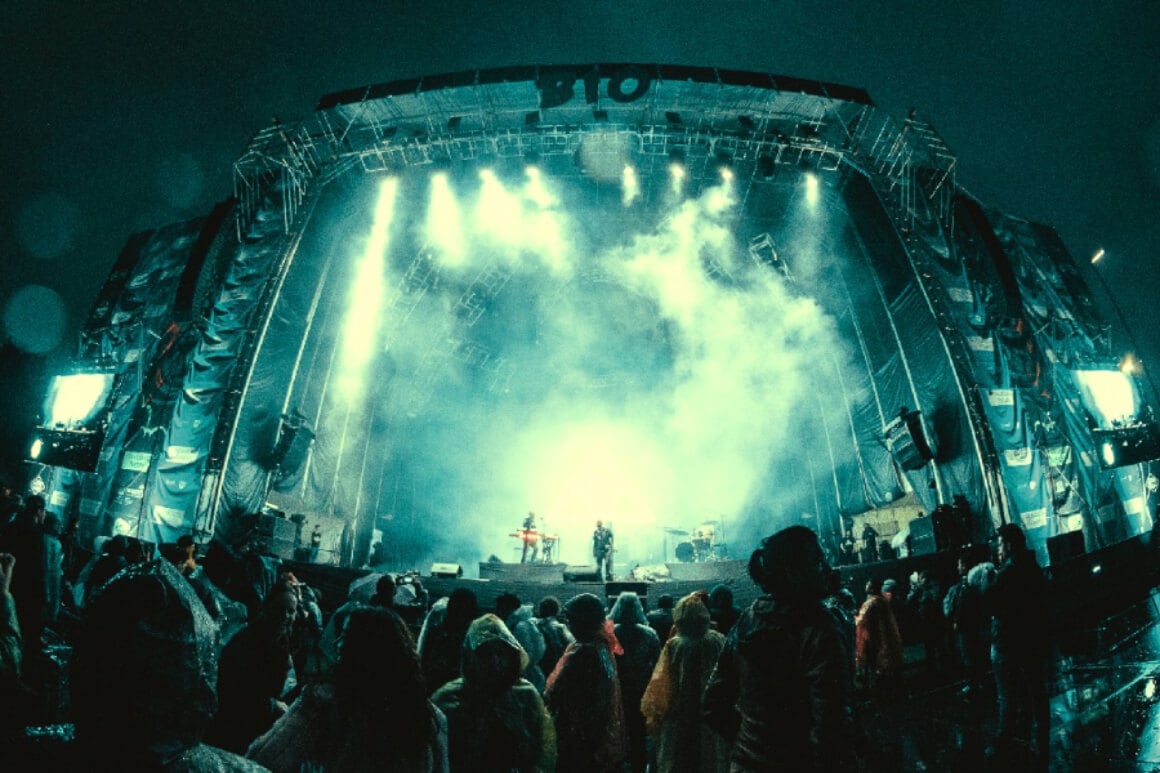 When: August
Where: Parque Simon, Bolivar, Bogota
Another one of Bogota's Parque festival series, Rock al Parque, sees the city's largest park turn into an outdoor concert venue of dreams. Interestingly enough, this event is totally free to attend, making it one of the biggest free festivals in South America, attracting between 300 and 400 thousand attendees to the Parque Simon Bolivar each year.
The festival is dedicated to everything rock n' roll and is supported by the smaller 'al Parque' events held in the city over the course of the year. Being the biggest and most attended of them all, Rock al Parque was the pioneer of the music festival series and has been running since 1994.
Taking the stage are up-and-coming and established rock artists, bands, and musical sensations, who rock throughout the three-day event. Artists fly in from over 30 different countries, with the American metal band Suicide Silence, Cattle Decapitation, and Sweden's Dark Funeral and Dark Tranquility as some past headliners of this Colombian festival.
Since the entrance to the event is free, make sure you arrive early to secure a good spot in the crowd.
Where to Stay:
Just a short walk from Bolivar Square in the heart of Bogota, Magdalena Guest House is a cozy spot with clean and spacious rooms. The locally run guest house has a charming terrace where guests can enjoy a homemade breakfast.
Boyaca International Festival of Culture
When: September
Where: Tunja, Boyaca
For all the culture fanatics out there, this one is for you… Boyaca's International Festival of Culture is one of Colombia's most important cultural events.
Not only is it organized with the core purpose of celebrating the city's heritage, but it also provides a major platform for literature, music, cinema, and dance for Colombians and foreign nations. In this sense, it's a super important event to establish and build international relationships with other countries.
So, why is the city of Boyaca so important? Well, known as the 'land of freedom,' Boyaca was the site of historic battles which gave rise to Colombia's independence movement in the 19th century. This celebration of culture is designed to promote local artists while celebrating multiculturalism and diverse perspectives.
The event features over 500 different events, consisting of live music sessions, concerts, workshops, poetry readings, dance performances, and cinema screenings. On top of this, attendees of this festival in Colombia can check out choirs, puppet shows, traditional folk art, book fairs, and ballet performances in one of the most diverse cultural exhibitions in South America.
All in all, this incredible production of culture welcomes over 300 thousand visitors to the city, including thousands of artists and performers.
Where to Stay:
Soak in as much culture as possible by staying at this bespoke glamping pod called Glamping Cantabria with lake views. The dome-shaped structure features a kitchenette, terrace, and private bathroom. It is surrounded by hiking trails and is just a short drive into the center of town.
Is This the Best Daypack EVER???
La Noches de la Faroles (Candles and Lanterns Festival)
When: December
Where: Quimbaya, Quindio
Celebrated as part of Colombia's 'Dia de las Velitas' (Day of the Little Candles) in the city of Quimbaya, La Noches de la Faroles is an event that perfectly encapsulates the hospitality and wholesome ambiance of Colombia.
It takes place at the end of the year to commemorate the immaculate conception of the Virgin Mary in early December and has become a loved family tradition for Colombians. On this evening, households will light and place candles in decorative paper lanterns on their windowsills or balconies, lighting up the entire country with a warm hue.
Part of an elaborate celebration of lights, Quimbaya is one of the most spectacular spots to experience this lantern extravaganza. Neighborhoods 'compete' with each other by decorating their streets and houses with artistically designed candles and lights, most of which depict religious symbols, beautiful birds, and flowers.
In 2021, over 20 thousand lanterns flooded the city, creating an ocean of flickering light for visitors and locals to enjoy at this festival in Colombia. For us, the festival makes it one of the top places to visit in December.
Where to Stay:
Easily one of the most unique and attractive places in the area, this modern cabana is built using natural wooden tones and tons of glass, which will make you feel as if you're living inside the jungle that surrounds the property. It also has a pool and outstanding views – not bad!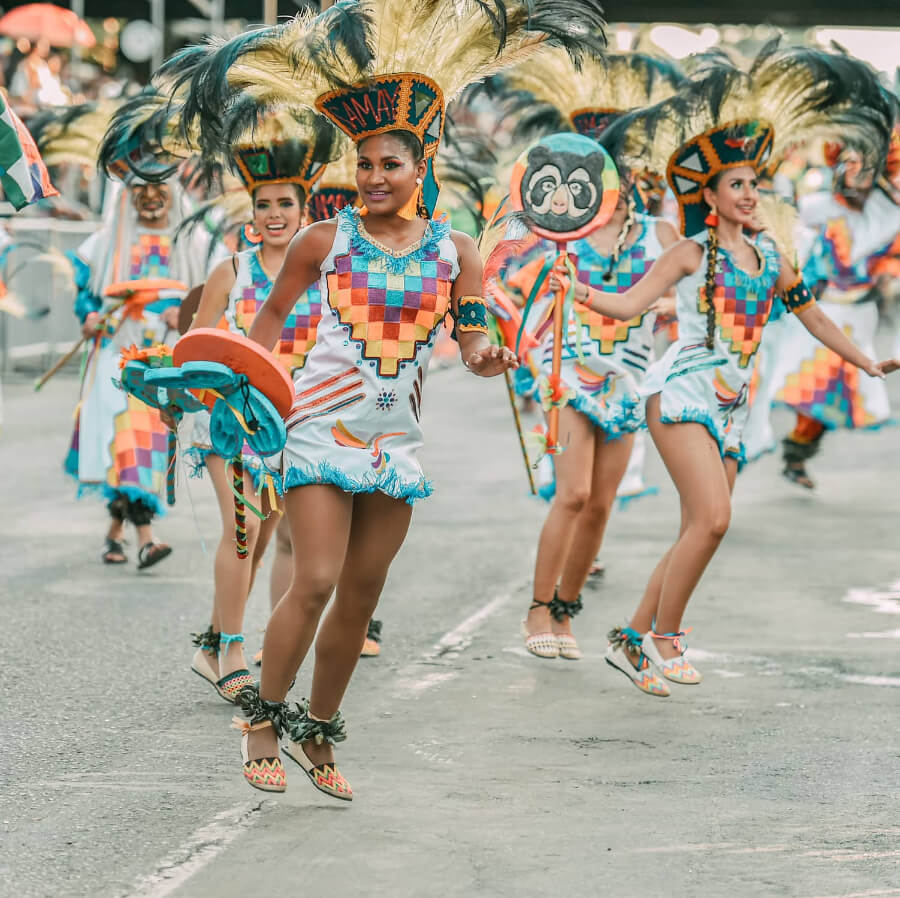 When: December
Where: Santiago de Cali
For one of the most spectacular year-end celebrations, head to the city of Cali for a showstopping Cali Fair. The Cali Fair first took place in 1957 and has been drawing more and more crowds each year, ever since.
What was initially established as a traditional bullfighting event that included ballroom dancing, a horse parade, and a beauty pageant has now transformed into a cultural celebration of all things Spanish. Since the 1980s, the event has become a classic street parade and carnival that celebrates salsa music and dancing.
While some private concerts require invites or tickets to enter, many events are free to attend and held in public venues. The world's top salseros and salsa musicians flock to the city, which is locally donned as the 'capital of Spanish music and dance' for a good reason.
The main event at this festival in Colombia is a dance competition where the top salsa academies and schools in the city compete for first place in the Salsodromo. Hundreds of couples take to the stage to show off their best dance routines to catchy beats.
Where to Stay:
One of the best places to stay in Santiago de Cali, this two-bedroom, two-bathroom condo is modern and spacious. Overflowing with natural light, it features a fully stocked kitchen and open-plan living space.
Final Thoughts
Whether you call Colombia home or are just passing by on an exciting vacation, there are tons of events and festivals held throughout the year that is bound to draw you in.
From indigenous cultural events to electronic music festivals to salsa dancing extravaganzas, Colombian festivals are sure to leave you inspired, educated, and excited about what the country has to offer.
As a culture vulture with a love of gardens myself, the Medellin Flower Fair might be one of the most beautiful events to attend. It's the perfect combination of culture and nature and is bound to boost your mood.
You'll need all the time you can get in this gorgeous South American country.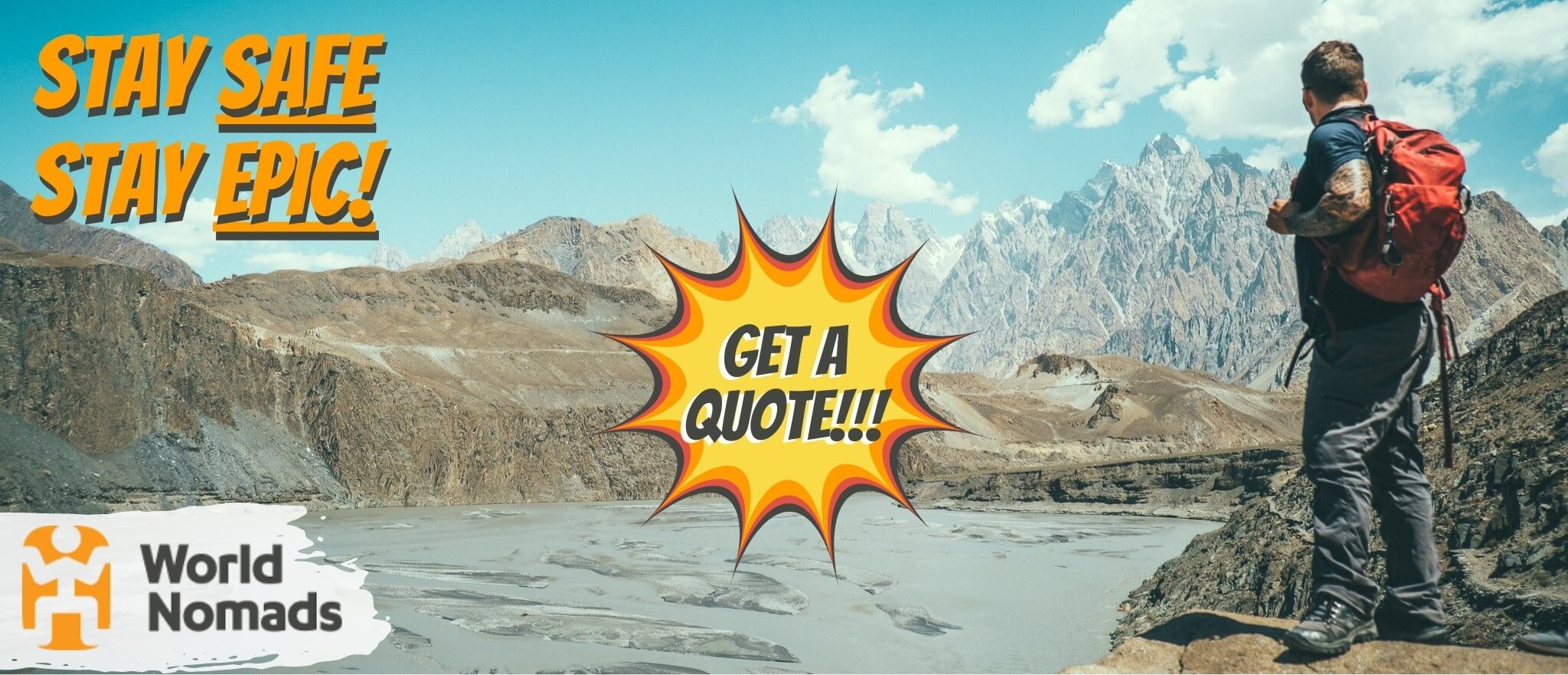 World Nomads' mission is to support and encourage travellers to explore their boundaries. They offer simple & flexible travel insurance, and safety advice to help you travel confidently.
They've been doing it since 2002 – protecting, connecting, and inspiring independent travellers just like you.
Get a quote below or read our in-depth review!
World Nomads provides travel insurance for travelers in over 100 countries. As an affiliate, we receive a fee when you get a quote from World Nomads using this link. We do not represent World Nomads. This is information only and not a recommendation to buy travel insurance.
---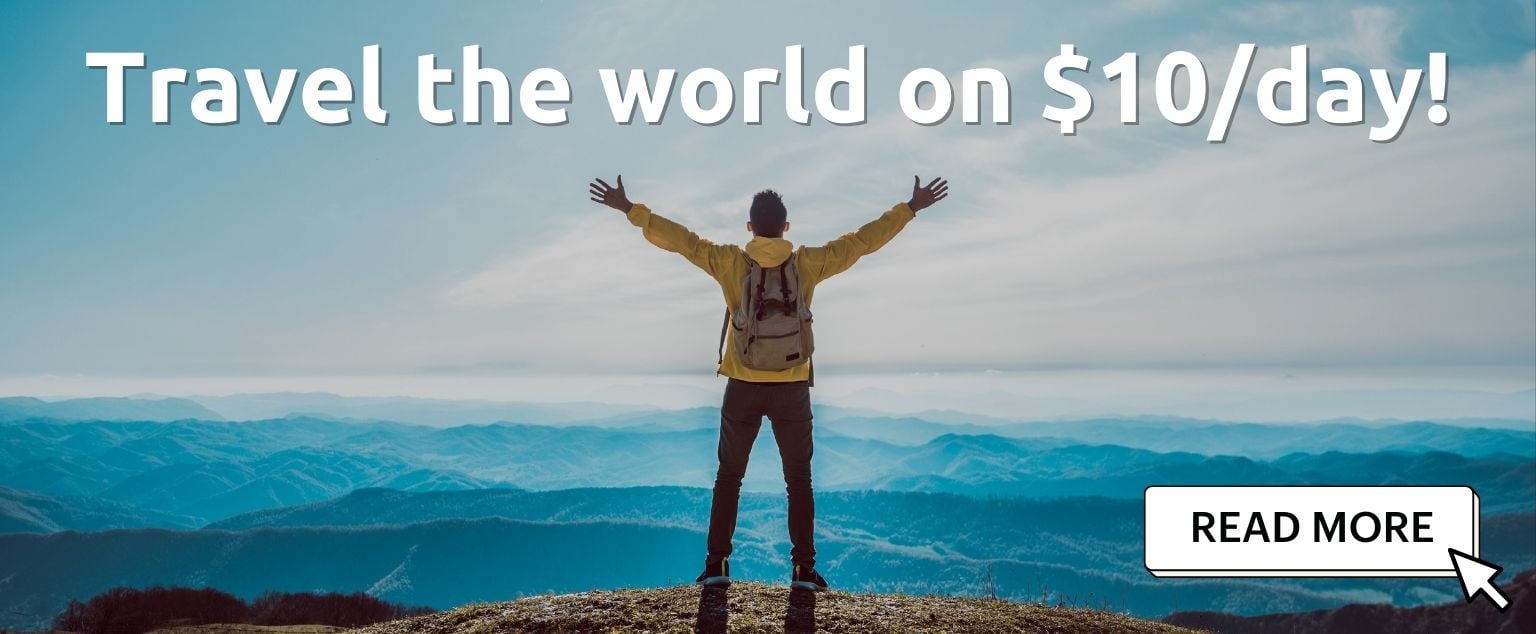 And for transparency's sake, please know that some of the links in our content are affiliate links. That means that if you book your accommodation, buy your gear, or sort your insurance through our link, we earn a small commission (at no extra cost to you). That said, we only link to the gear we trust and never recommend services we don't believe are up to scratch. Again, thank you!