Colombia's capital city of Bogota sits almost 3000 meters high in the Andes making it the 4th highest capital city in the world. But it isn't just the altitude here that will have your head spinning and you pausing to catch your breath, nope, Bogota is whirlwind of exciting sights, pumping parties and fantastic locals!
One of latin americas mega-cities, Bogota also has a larger than life personality. There are a lot of things to do in Bogota and knowing where to begin can be a bit intimidating.
That is why we have created this awesome post for you. In it, we will take a look at the best things to do in Bogota, some off the beaten track things to do in Bogota as well as include our insider recommendations for the best places to score food, drink and good times.

Unlock Our GREATEST Travel Secrets!
Sign up for our newsletter and get the best travel tips delivered right to your inbox.
Top Things to Do in Bogota
From exploring it's Colonial heart to climbing the mountains to take in the view, there are so many things to do while backpacking Bogota!
If you haven't realized yet, Bogota is quite a big city. With many different neighborhoods and areas, each of them offers different activities and hotspots. There are also a couple of things to do off the beaten track. In order to experience the city to the fullest, we'd recommend coming up with a rough itinerary before you start your travels.
1. Partake in Ciclovia Sundays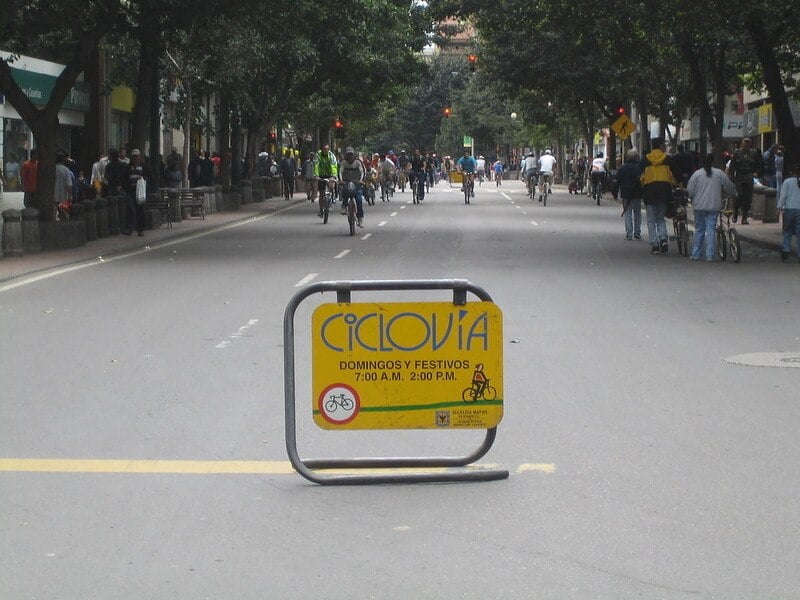 In many ways, Bogota truly aspires to be a progressive, innovative city. One of the best ways this is exemplified is every Sunday morning when roughly 120-kilometers worth of roads are blocked off to motor vehicles and driving is banned.
Why? It is an experiment to lessen the city's carbon footprint and CO2 emissions, but also to get people active, gather families and friends together for quality bonding time. This makes locals more active as streets become flooded with bicycles, pets, roller skaters and food market stalls!
On the roads, 'fun stops' are implemented where exercise instructors host classes in the streets such as salsa-dancing!
You can rent bikes from a number of locations across the city. Cycling during times when the roads are open, is not for the feint hearted however.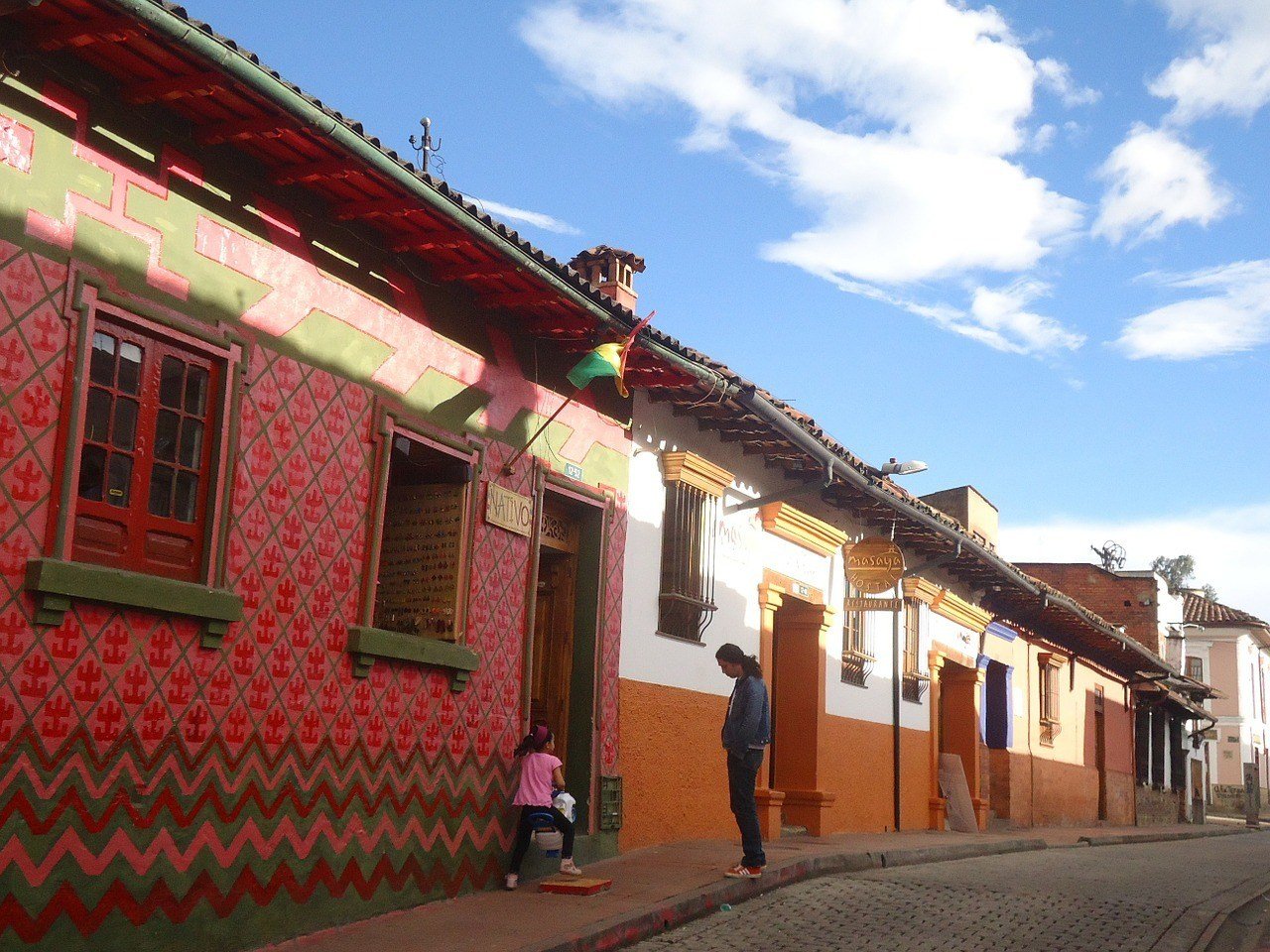 La Candelaria is essentially Bogota's old town and was the original, colonial heart. With its colourful facades, tiled roofs and cobbled streets it has the feel of a charming little latin-american old town and you could quite forget you was in a mega-city.
This is now the main backpacker hub and a number of the buildings serve as hostels, bars, cafe's and shops. Others are open as museums where you can learn about Bogota's history, or quirky art galleries. The Palace of the Inquisition by the way is said to be haunted by the costs who were tortured and murdered there by the Spanish Inquisition.
There are plenty of guided tours around Candelaria where you can learn all about its history.
FIRST TIME IN BOGOTA
Teusaquillo
Teusaquillo is perfect for the outdoor lovers! It's our recommendation for where to stay in Bogota for your first time as it neighbors the downtown district and has easy access to the top tourist attractions.
Places to visit:
Wake up and smell the flowers at the Jardin Botanico de Bogota
Appreciate the illustrations and other drawings at Casatinta Galeria
Admire best planned residential zone of the city in Cuidad Salitre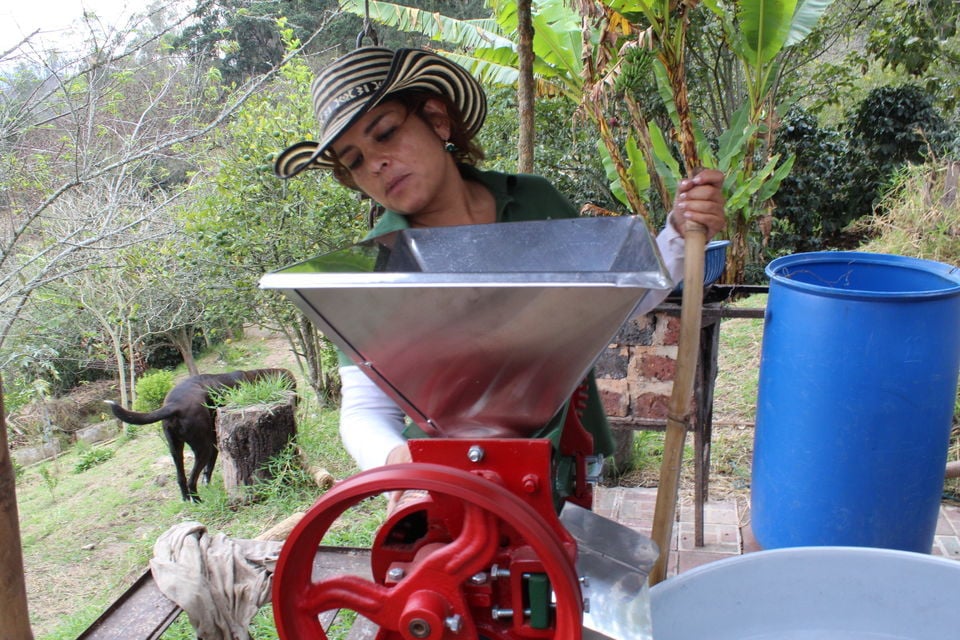 Colombia is world famous for exporting luxury stimulants beginning with letter "C". One of them is Chocolate and another one is…yep, Coffee! The high altitude and climate mean that the mountainsides of Colombia are perfect for coffee cultivation.
Choachi is a municipality in Colombia, that is just under 2-hours away from Bogota. The area is covered with coffee plantations so you can come and see for yourself how the dark stuff is made. Be warned, the roasting can be smelled from miles away and will have you drooling!
This is one of the most educational, stimulating and satisfying things to do in Bogota.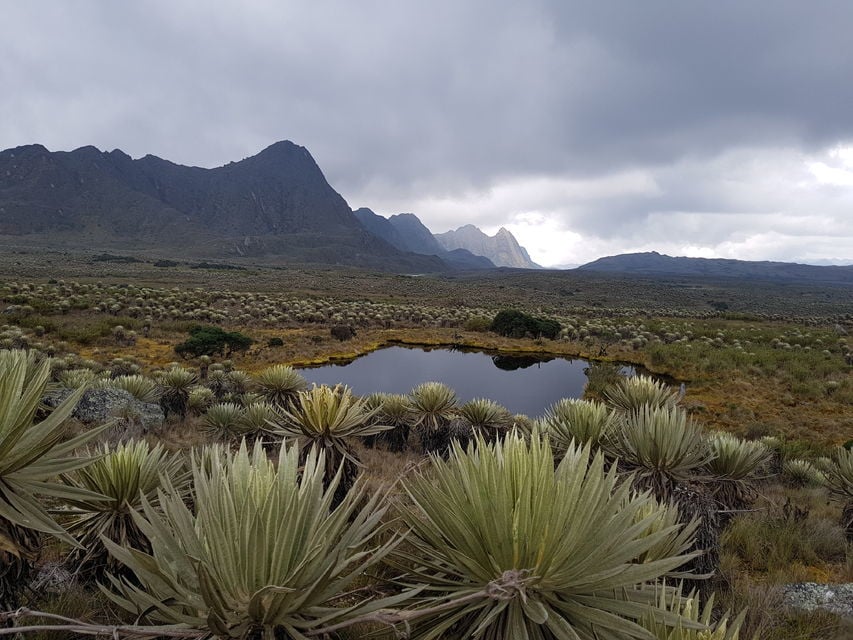 A paramo is a term used to describe tropical alpine vegetation – a mountain eco-system found across the Andean region. This one is Sumapaz National Park which is only 25-kilometers from Bogota.
One of the favorite nature things to do in Bogota is heading out to the park and hiking up the plateau. To get hear you can either take the bus from the Northern terminal, join a guided tour if you don't want to risk getting lost, or if you have a car, use the Sat Nav and mind the traffic in Bogota!
The ecosystem stretches for 1780 square kilometers and forms part of the Andean forests.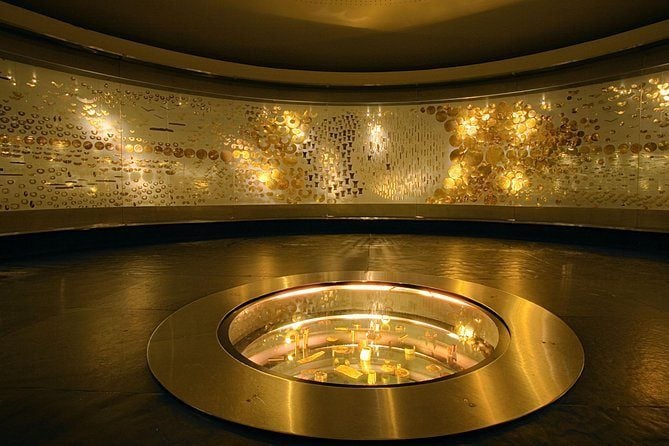 When the Spanish Conquistadores first arrived in Colombia, they could not believe how much gold the indigenous population had and soon set about relieving them of it. In fact, much of modern Spain's wealth originated here and tales of "El Dorado", the gold city, originate here.
The Museo del Oro displays and preserves over 55 000 samples of pure gold including pottery and jewelry. The artefacts originate from indigenous societies from the Pre-Colombian/Pre-Hispanic era. Some of these survived the Spanish conquest and others were later returned.
The museum houses the largest gold collection in the world! But not only is the collection a feast for the eyes, but each item stored in the museum also holds great historical and archaeological value for the country.
There's free entry to the museum on Sundays if you're looking for artsy things to do in Bogota! Otherwise, entrance includes an audio guide or you can join a tour for more context.
As we said earlier, Bogota is a highly elevated city and it will take you a few days to acclimatise and catch your breath. When you're ready to get a bit higher though, it's time to head up to Montserrat Sanctuary. It's a convent and church built onto the mountain-side over looking Bogota and commands awesome views of the city.
It is considered as an extremely holy site for locals, and it's positioning is very deliberate; in the June solstice, the sun ascends precisely behind the hill!
You can either hike the trail or take a cable car. Note that the climb is steep and can be challenging until you have adjusted to the altitude. Also note that thieves do litter the trail during quiet periods so do not go alone.
I did this twice to appreciate the views both at morning and night. It does get chilly at night by the way so please wrap up!
Small Pack Problems? 😉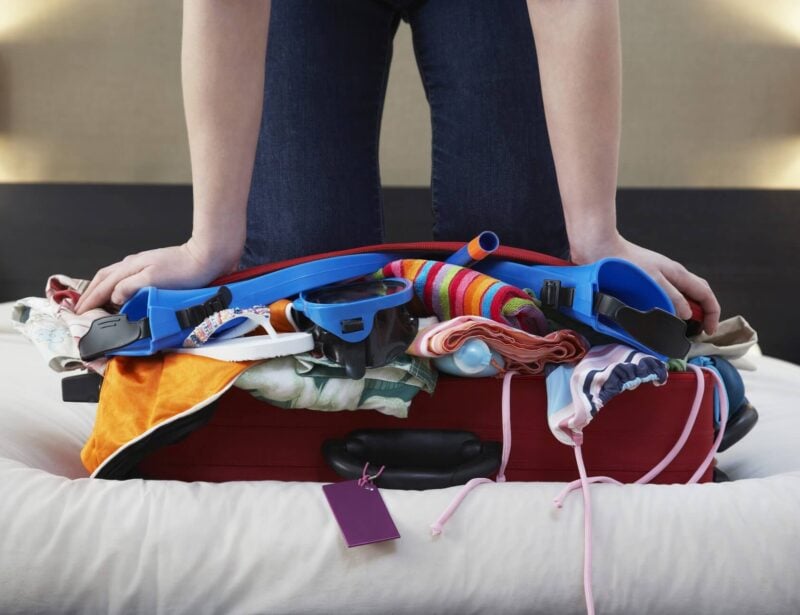 Wanna know how to pack like a pro? Well for a start you need the right gear….
These are packing cubes for the globetrotters and compression sacks for the real adventurers – these babies are a traveller's best kept secret. They organise yo' packing and minimise volume too so you can pack MORE.
Or, y'know… you can stick to just chucking it all in your backpack…
Get Yours Here
Read Our Review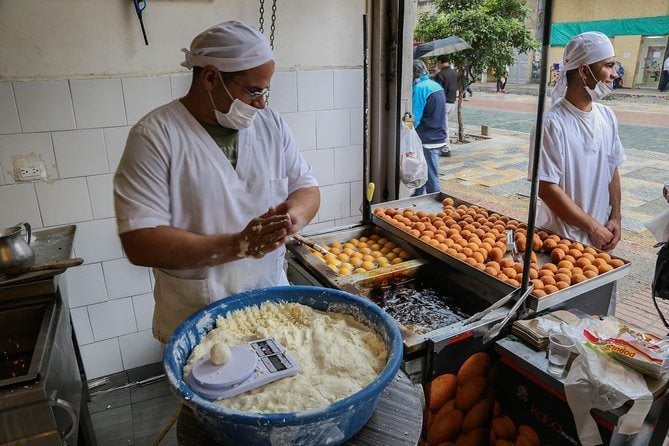 Colombian food is generally stodgy, fatty, filling and ubiquitous! From Empanadas, to arepas, to burgers, street food here is plentiful, affordable and sometimes truly delicious.
Whilst street food can be found everywhere, it is a great idea to join a street food tour so that your guide can find the best of the best for you.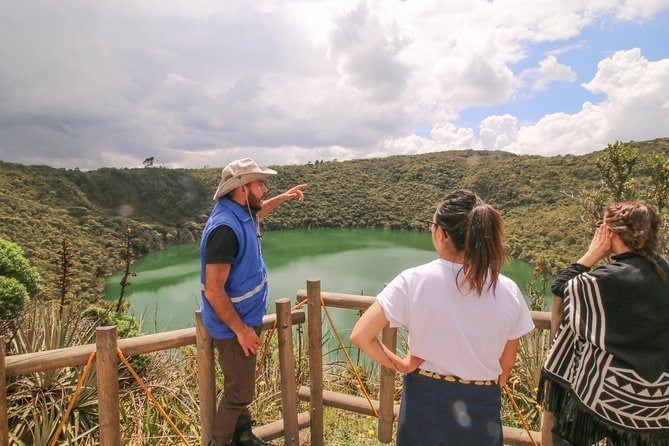 The Laguna de Guatavita is a tranquil, picturesque crater formed between two of the Bogota regions mountains. In pre-colonial times, it was the focus of ancient, unfathomable rituals performed by the indigenous Muisca people who inhabited the area.
Situated only 57km from Bogota, it spans an area of over 1500-acres and is enclosed by luscious fauna and flora.
Oh and if that doesn't sell you then it's probably time to tell you that this was the exact site in which explorers believe the legend of El Dorado originated from – apparently there was once so much gold in the lake that it glimmered! Because of the difficulties getting here on public transport, it may well be worth taking an organised tour from Candelaria.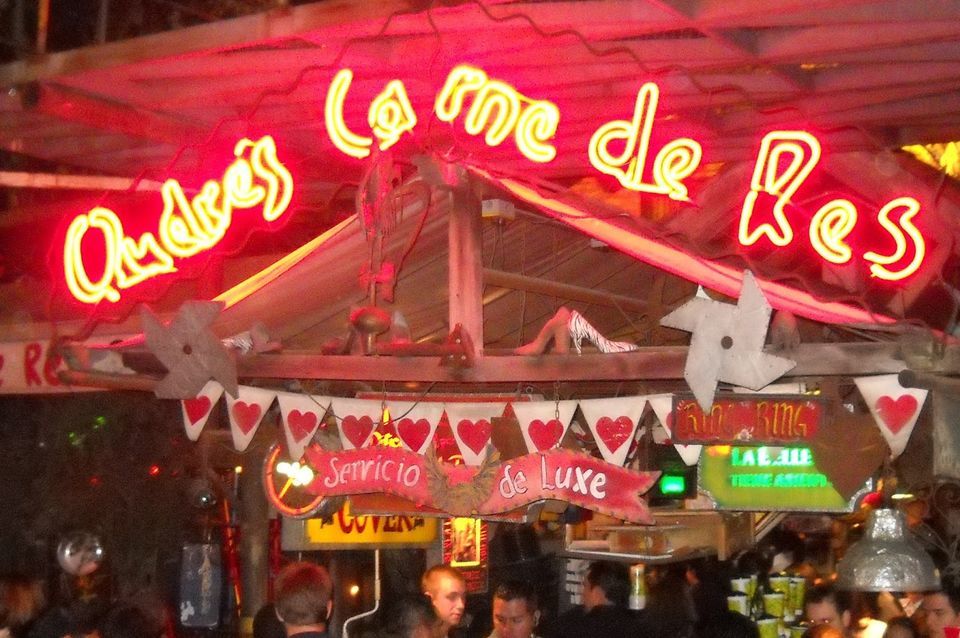 Andres Carnes de Res is basically a massive steak house that turns into a giant party once dinner is done! Busloads of Bogotan's & backpackers alike flock here nightly to celebrate. Expect plate-loads of carnivorous fayre, free-flowing drinks and then 2 dance-floors pumping our reggaeton, salta, vallanato and if you are unlucky, EDM!
The restaurant's total area spans over 7 square kilometers and the waitrons will convince you to dance with them in the walkways.
The restaurant has also been voted into the Latin American 50 Best Restaurants for 2017! But take note, it is a 45-minutes outside of the city.You can join a tour here which includes transport and your meal. It's not exactly one of the coolest out of the things to do near Bogota, but it is perhaps the most fun!
Unusual Things to Do in Bogota
Colombia has some interesting and quirky customs that you have to try during your stay.
10. Trust a Guinea-Pig with your Money
Got some spare change lying around, but don't have time for the casino? Well, a guinea-pig is your best alternative in downtown Bogota! A semi-circle of bowls is placed on the ground (each must have a hole in them), and you and the other gamblers need to put your money on the top of the bowl.
The facilitator then allows for the fluffy friend to run towards the bowl. Whoever's bowl is the chosen destination for the rodent, the money on the top will get multiplied in value by four or five times! The person whose money it is will be the faithful winner.
Take note that there is no intention of animal-cruelty involved here and the animals are in healthy conditions.
11. Try Hot Chocolate, Colombian-Style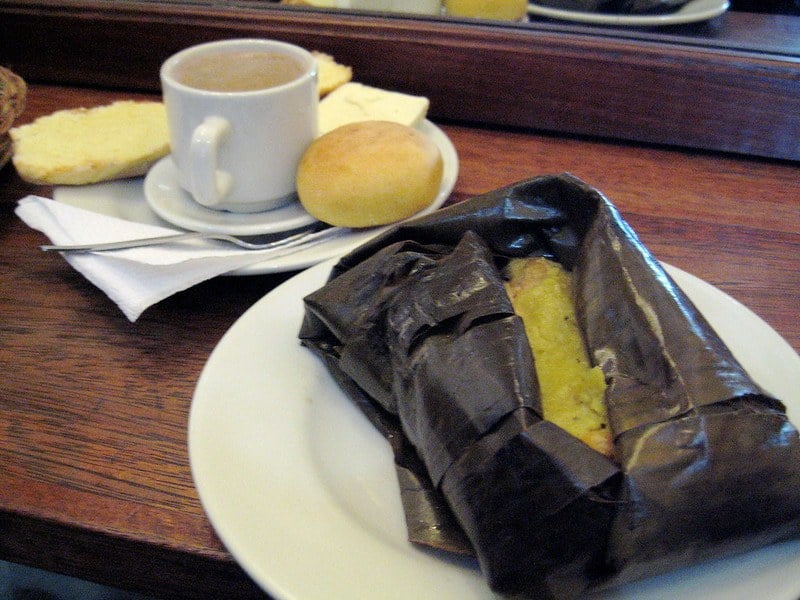 Love cheese? Love chocolate? Well, so do Colombians! And that's why one of the essential things to do in Bogota is to dip a chunk of cheese into your hot chocolate!
Referred to by locals as Chocolate Santafereño, this isn't any ordinary hot chocolate as you've already noticed. It's also popular to accompany hot chocolate with bread for dipping in.
The ideal restaurant to visit for this is La Puerta Falsa. Not only does this pastry shop serve the best food and Chocolate Santafereño, but it is over two centuries old too!
12. Celebrate the Day of Little Candles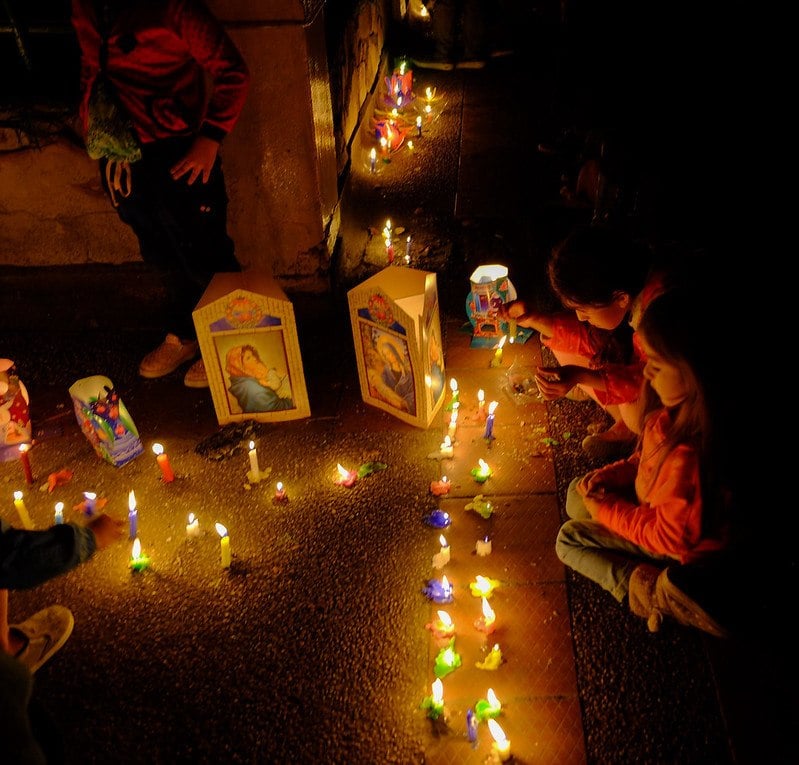 If you find yourself being in Colombia during the 7th of December, then you are in for a real treat.
This day is also referred to as the 'Day of Little Candles' or Dia de las Velitas and residents place small lanterns and candles all over the city! From balconies, streets, and parks, they're distributed everywhere. This means that at night-time, the country becomes illuminated by Christmas lights!
In Bogota, undoubtedly the most incredible experience would be to walk to Bolivar Square. This is because it becomes infested by multitudes of little candles that highlight the entire square.
Safety in Bogota
Bogota is edgy and does have a lot of problems. Whilst Bogota is safe to visit, you do need to take a lot of precautions as tourists as a target.
Firstly, there are pick-pockets and bag snatchers operating in busy areas and especially on the trans-milenio busses. But a good way to stop would-be pickpockets in their tracks is simply to wear a money belt (which we highly recommend); something like the very discreet Pacsafe Money Belt will work wonders.
Violent robbery with weapons is also pretty common across the city. Avoid dark, unlit, unfamiliar areas and stay away from "barrio's" and run-down neighbourhoods at all times. Carry as little cash as possible, try not to wear expensive looking jewellery and keep electronic gadgets hidden – this means go easy on taking pictures and try not to talk on your phone in public.
Drugging by Scopolamine is also pretty common. It causes severe confusion and blackouts and is used as either a date-rape drug or to rob people. Do not accept drinks or cigarettes from strangers and be very careful in bars.
Also note that the Police themselves are not always entirely trustworthy and routinely shake-down tourists (especially young, male backpackers) for bribes or even help themselves to cash.
Make sure you have a Colombia travel insurance and if possible, carry a copy of the policy with you otherwise you may be refused medical assistance.
Note that the altitude does effect new arrivals to the city. It takes a few days to acclimatise during which time you can expect headaches, shortness of breath and tiredness. Take it easy and avoid alcohol until you have adjusted.
Travel with peace of mind. Travel WITH a security belt.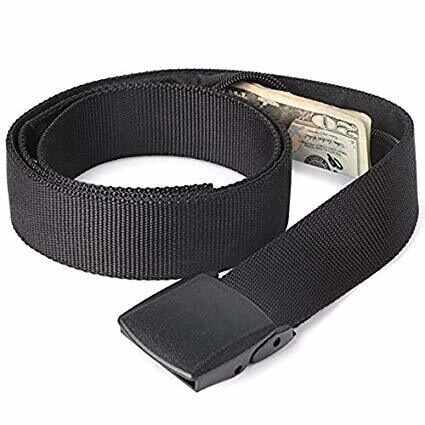 Stash your cash safely with this money belt. It will keep your valuables safely concealed, no matter where you go.
It looks exactly like a normal belt except for a SECRET interior pocket perfectly designed to hide a wad of cash, a passport photocopy or anything else you may wish to hide. Never get caught with your pants down again! (Unless you want to…)
Hide Yo' Money!
Things to do in Bogota at Night
Bogota has a reputation for having a tasty dining experience, and a nightlife to match! Here are some of the best nightlife options in Bogota.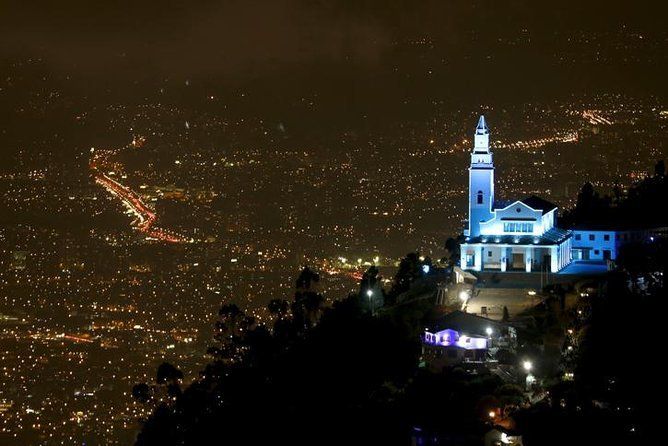 Bogota provides immense views from many different locations, but how will you know where? With a local guide who knows the best spots. It is not advised to traverse the city during the night if you're not in a busy area.
So, a guide will show you the best views of the lit-up city – beginning at the La Calera Lookout. This lookout point provides panoramic views of the city. The aforementioned Montserrat is another classic.
Is This the Best Daypack EVER???
15. Eat Traditional Ajiaco at La Escuela Restaurante
At La Escuela, you'll find high-quality dishes that stay true to the country's essence or preparing filling food.
We suggest you order the award-winning ajiaco dish, which may be a dish.
La Escuela offers a lovely courtyard to sit and dine in at night whilst indulging in their delectable food. Each dish is a Colombian masterpiece, with a modern touch.
16. Bar Crawl Bogota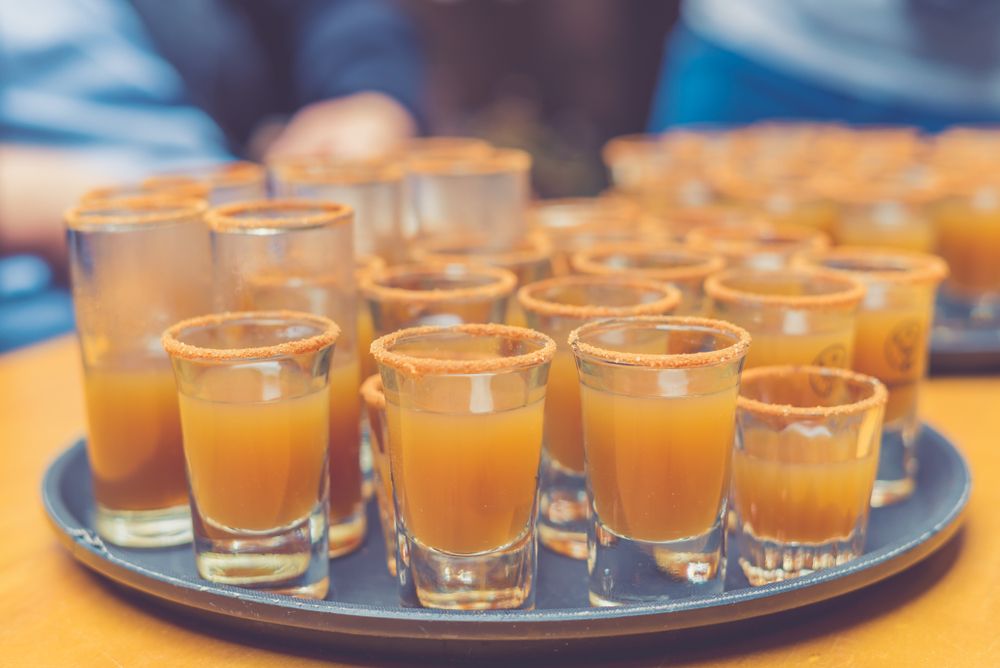 Colombian's absolutely love to party and Bogota is full of bars, tienda's and clubs catering to everybody. If I am honest, the highlight of my time in Bogota was probably drinking, dancing, chatting and flirting my way through the cities bars and clubs.
La Zona Rosa in the North is a trendy, aspirational area which gets packed with dressed up locals on the weekends. Chappienero is a bit edgier and trendier and home to the awesome Baum club and La Candelaria has some seriously atmospheric, traditional bars teeming with backpackers, expats and locals.
Colombians are very friendly and quite fond of foreigners so you may well be invited to share a carton of Aguardiente (local firewater that causes shocking hangovers!) with a table of strangers. Whilst you absolutely should relax and enjoy yourself in the bars, watch your drinks and do trust your instincts if something doesn't feel right.
Where to stay in Bogota
Looking for a specific place to stay? These are our highest recommendations for places to stay in Bogota.
This is the most fashionable apartment – and certainly one of the best Airbnbs in Bogota – in the most fashionable neighborhood – Zona Rosa. It is the place to see and be seen. This luxury flat is sleek and modern with two levels. It has two bedrooms and can hold up to four people so it's perfect for those traveling in a small group. If you're coming here for nightlife, this is the best Bogota Airbnb!
The Hotel El Dorado Bogota appears sparkling new with comfortable, modern furniture and comes with a staff that is eager to please. Breakfast is included and it's a massive spread surely to keep you full for a few hours. There are also two restaurants; one on the main floor and one of the rooftop terrace that will make anything guests desire. It's in a safe, tranquil area of Chapinero. All this combined make it the best hotel in Bogota.
Best Hostel in Bogota: Fernweh Photography Hostel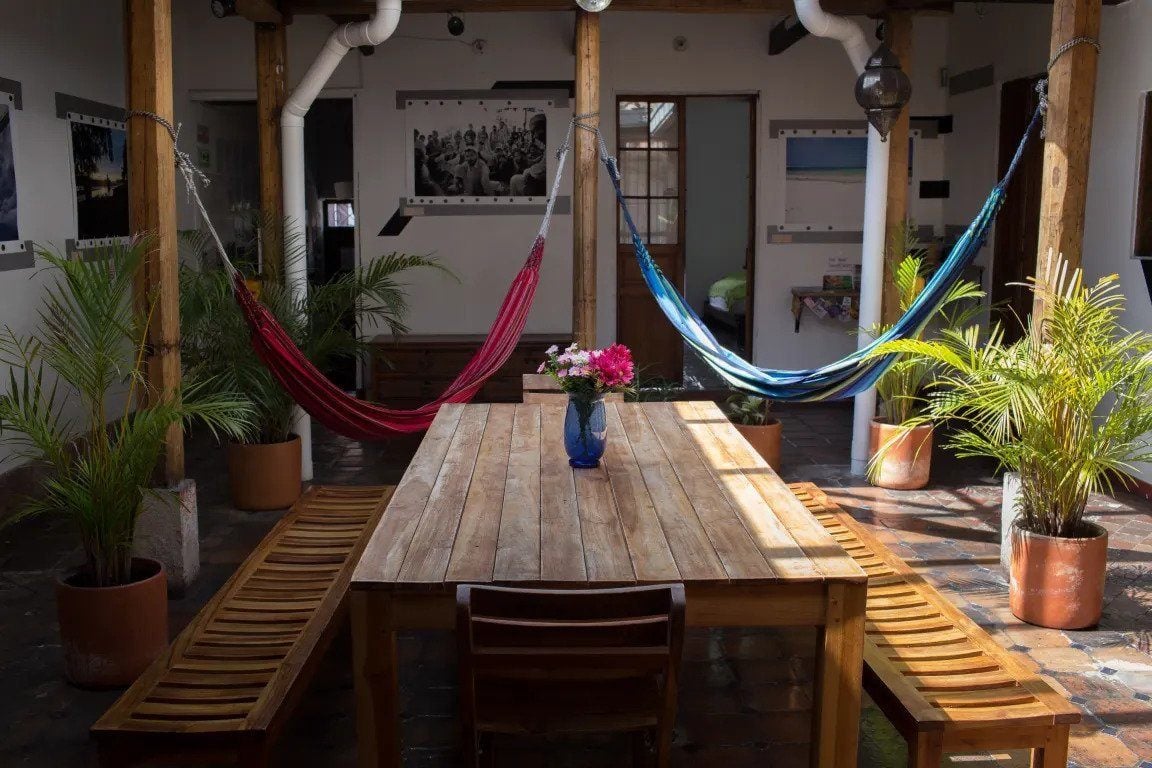 Started in 2015 by travellers looking for a place to combine their passions for travel and photography, this hostel is super zen. It has a reading room, a backyard with a fire pit, and a photo gallery with amazing pictures guests can purchase or simply peruse for inspiration. It's also centrally located within walking distance from everything in La Candelaria.
Fernweh Photography Hostel is one of our favourites in Bogota but they're not taking guests right now. We're not sure if they're closed for good but we hope they'll come back soon.
Romantic Things to Do in Bogota
Colombian's are a pretty romantic bunch at heart. They love to dance Salsa, sing "Vallanato" (romantic, folk songs) and are a very, erm, "affectionate", bunch! Therefore finding Romantic things to do in Bogota will be a breeze. Let's take a look at a few ideas.
17. Dance Salsa Together
Colombians absolutely love to dance and in fact, the Colombian city of Cali is considered to be the spiritual home of Sala behind only Havana!
If you are traveling in Colombia then you will have to try Salsa at some point because the locals will pretty much force you! So, it is well worth investing a bit of time in taking some lessons to learn to do it properly. Salsa is of course, a partner dance style and is very sensual, expressive and perfect for you and your significant other.
There are classes throughout Bogota. Beginner ones do tend to be concentrated in and around Candelaria and Chappinero as there is where foreigners hang out.
18. Rent a Paddle Boat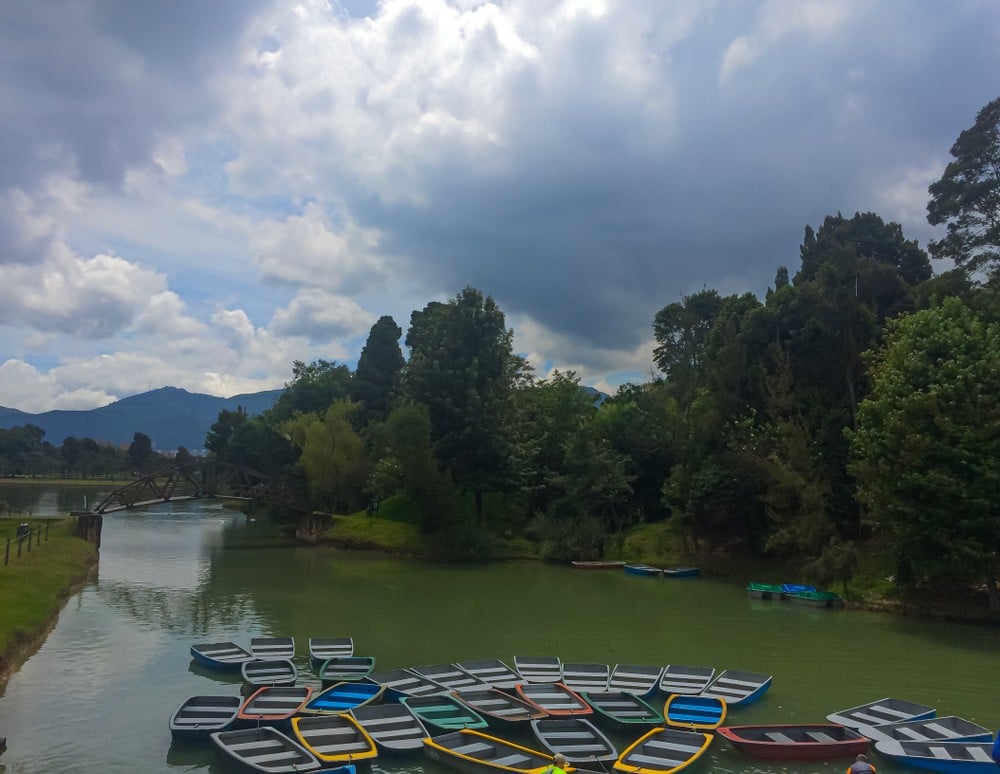 Simon Bolivar park hosts a range of enjoyable outdoor things to do in Bogota. And some of them are pretty romantic too! You can rent a boat in the park's big lake and laze around for hours on end with your partner.
We suggest you rent a boat during sunset and this is one of the most romantic things to do in Bogota for couples. And, it makes for beautiful photos.
The lake is pretty big so you'll be able to stop at a spot that you deem the most intimate for you and your partner.
Best Free Things to Do in Bogota
If you're looking for things to do in Bogota on a budget, then you're in luck. The natural parks here, as well as certain museums, permit free admission.
19. Marvel at Museo de Botero
You may have heard of Colombia's most famous artist and sculptor, Fernando Botero. If you haven't, you will surely come across his work in Bogota. He is famed for painting "larger than life" figures and for his parodies of the world's most famous artists' works, such as Leonardo Da Vinci's Mona Lisa!
And the best part about his artwork is that he supplied the Museum with over 120 of his works, alongside his assemblage of over 80 pieces of other artists' works. He even collected Pablo Picasso's art, which you'll be able to witness, for free, at the Museo de Botero!
Because who wouldn't enjoy seeing a chubby version of the Mona Lisa? Indoor things to do in Bogota have never been funnier!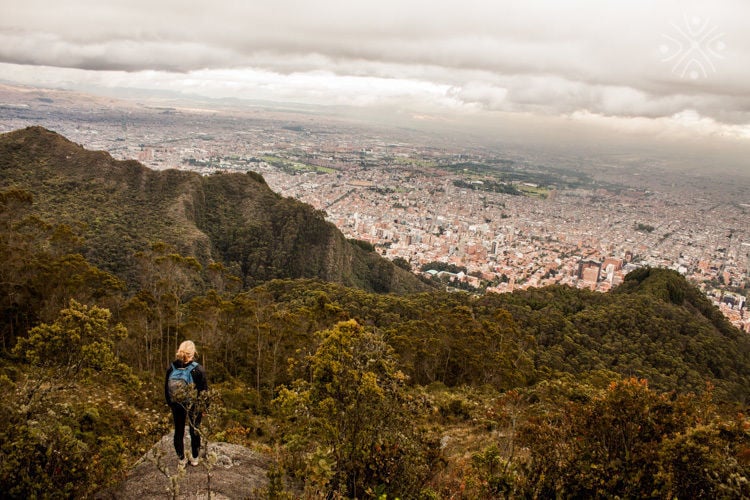 Also regarded as Los Cerros Orientales, this ridge area on the brink of the city stretches for 1,4-million hectares adjacent to Bogota! And throughout this massive conservation area, you'll be able to embark on three different trails that escalate you up the Colombian Andes.
These mountains are home to a multitude of rich fauna and flora species. Subsequently, hiking here is a necessity and paths range in length and difficulty. There are even waterfalls to seek oasis in here! And luckily for you, there's no entry fee.
21. Get Cultured at Plaza Bolivar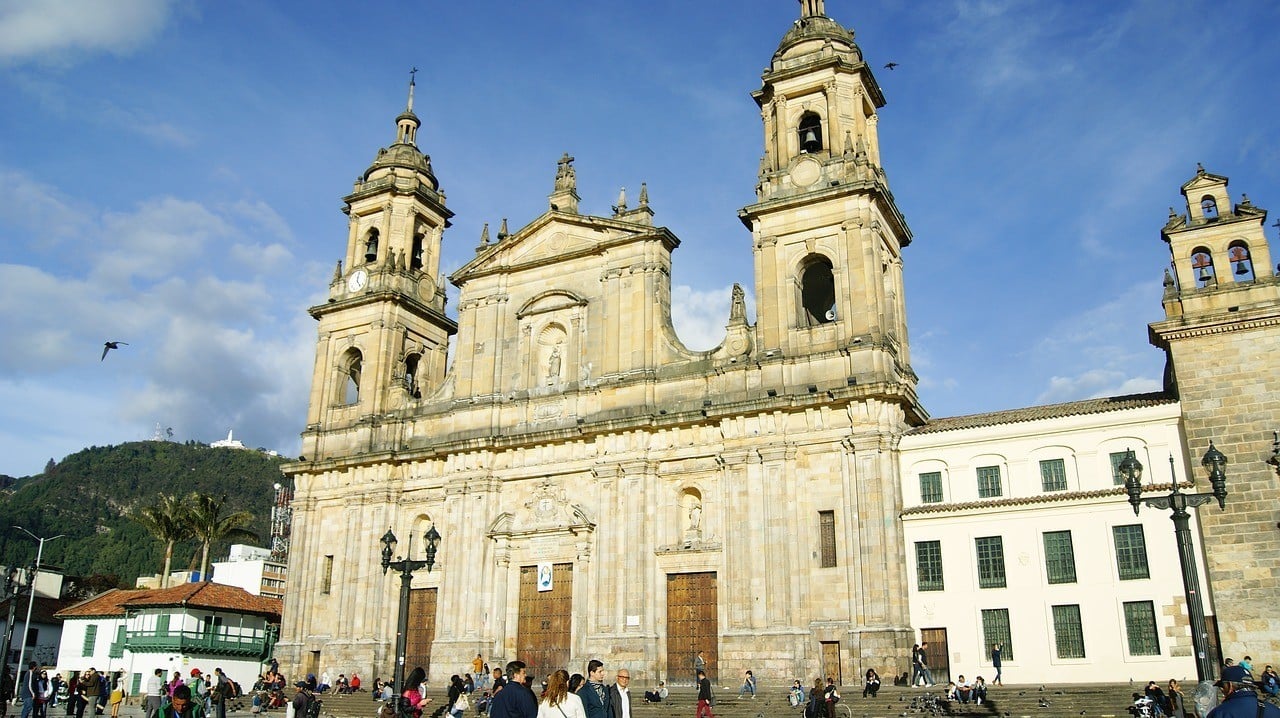 The Plaza Bolivar one of the most important things to see in Bogota. Located next to the La Candeleria area, it forms the the political and religious centre of Bogota and indeed Colombia.
The Bogota cathedral is here, the governmental buildings are here and the oldest building still standing in Colombia is here dating back to 1642.
22. Bogota Street Art Tour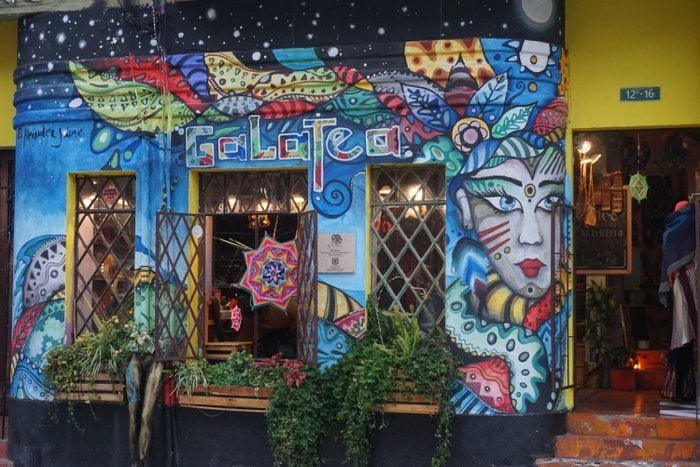 You cannot fail to notice the graffiti, street art and murals which either litters or decorates (depending on your view) the walls throughput the city. The city of Bogota has now embraced its street art and even provides blank walls for artists.
Street Art tours run daily from the Plaza De Bolivar or Candeleria. Join your guide on a walk through the city learning the stories behind the art and finding the hidden masterpieces. We do recommend joining a tour for this as wandering down Bogota's alleyways alone may not end well.
Books to Read in Bogota
Short Walks from Bogota: Journeys in the New Colombia – Writer and journalist Tom Feiling travelled all over Colombia to put together this excellent book on the country.
Voices of Bogota – Learn more about Bogota and its people through the stories of 16 residents. It's an excellent choice for that flight over to Colombia.
Bogota: A Novel – This gripping novel set in modern-day Colombia chronicles the trials and tribulations of a family who moves to the slums of the big city.

Our GREATEST Travel Secrets…
Pop your email here & get the original Broke Backpacker Bible for FREE.
Things to Do with Kids in Bogota
Bogota is an exciting city for all ages, and truly caters to its smaller residents by constantly having family activities, and large areas to play in.
23. Unleash Your Inner-Child (with your Child) at Mundo Aventura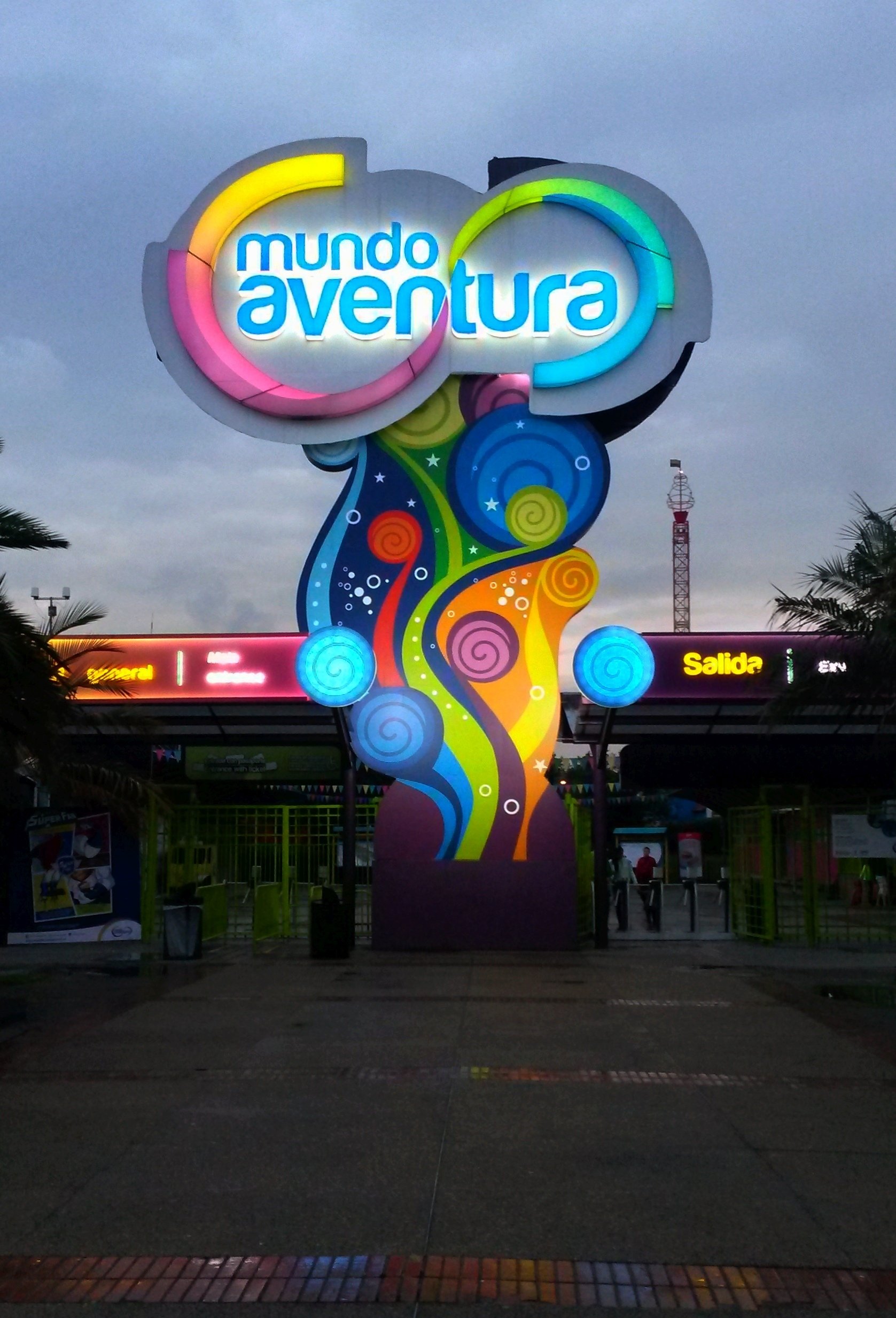 Bogota is home to an elaborate amusement park that will be loads of fun for you and your kids. You'll find rides galore here that will give the entire family an exhilarating experience. There are high-jumps, roller-coasters, log-rides, 5-D theatres too!
If roller-coasters aren't really your forte, then there's still an aquarium as well as horse-riding available too. The rides are designed according to age and however old you or your child, you'll enjoy a suitable adventure.
24. El Tablazo Picnic Grill Picnic Restaurant
If you're looking for restaurants and places to visit in Bogota that aren't generic, then you'll love this innovative one! You'll feel as if you're in the countryside here with its extensive green spaces and parks, which provide ideal picnic spots.
The platters you can get, fresh off the grill here are incredible – and you have a large choice of proudly-Colombian options. Along with the gardens is a big children's playground.
So, while you're relaxing on the picnic blanket, your children will be occupied!
Other Things to Do in Bogota
The sprawling city of Bogota is extremely heterogeneous in terms of activities. Whether you're searching for culture, history, nature or cuisine – you'll find lots of it here!
25. Get Artsy at La Macarena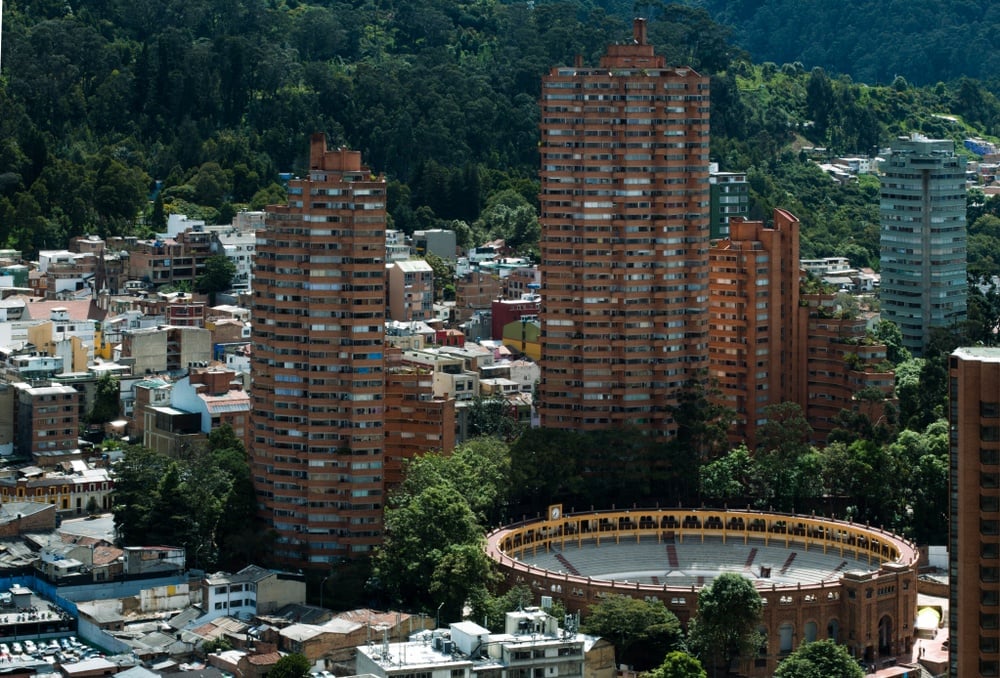 This Western suburb of Bogota is very bohemian and is in close proximity to the mountains. It has undergone processes of reformation from its past, due to it now attracting the creative scene.
It has a lovely park, Parque La Independencia, Colombia's tallest building as well as Colombia's National Museum! But apart from cultural attractions, this trendy area offers some of the craziest dining experiences. Its hippie personality is highlighted in its cafes, which are all internationally infused.
We suggest eating at Tapas Macarena!
26. Have Sundowners at Centrico Rooftop Bar
Do you wish to have the best views of the city but couldn't be bothered to hike Montserrat, or even take a cable car? And, do you love a good cocktail?
Then you'll certainly love the rooftop bar that everyone's raving about in Bogota – on the 41st floor of the Hilton Hotel. It is the tallest bar/restaurant within the city and the views here are the best you'll get from any rooftop bar.
Fortunately, you'll also be able to dine here. The food consists of scrumptious tapas that will delight your taste-buds.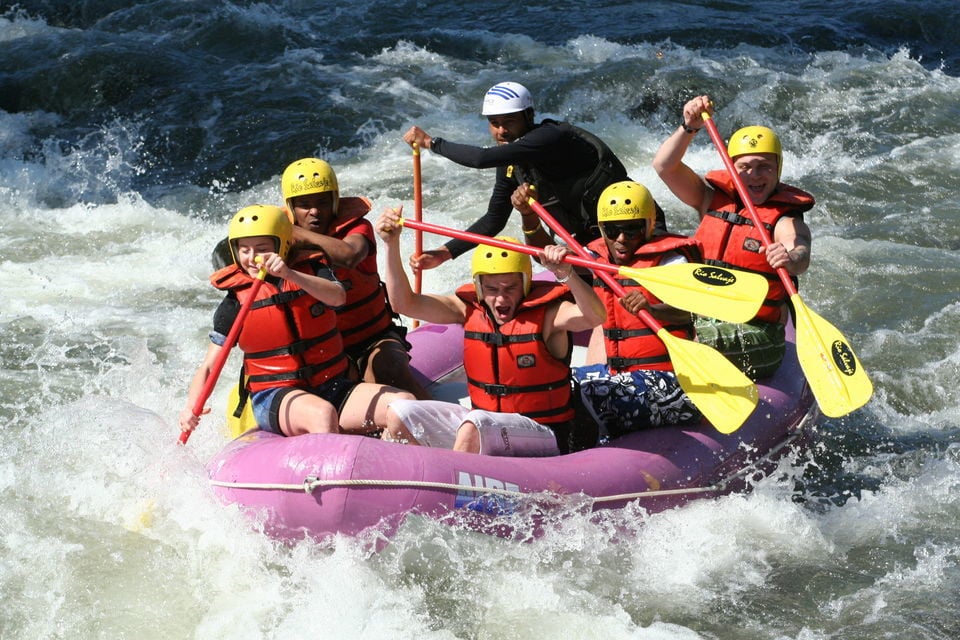 The beauty and convenience of Bogota is its positioning amid some of the world's most astonishing landscapes. It neighbours the Andes, which gives way for canyons and waterfalls… and rapids!
Only just over an hour away from the capital, you'll gain the most exhilarating experience by rafting through the Rio Negro rapids! These rapids are not for the faint-hearted, and you may fall into the water a few times – but don't let this hinder you.
Simply wear appropriate clothing, but not white – it's called 'Black River' for a reason. The color is not due to pollution, but rather from decaying plants. It is very picturesque!
28. Seek Respite at Simón Bolívar Metropolitan Park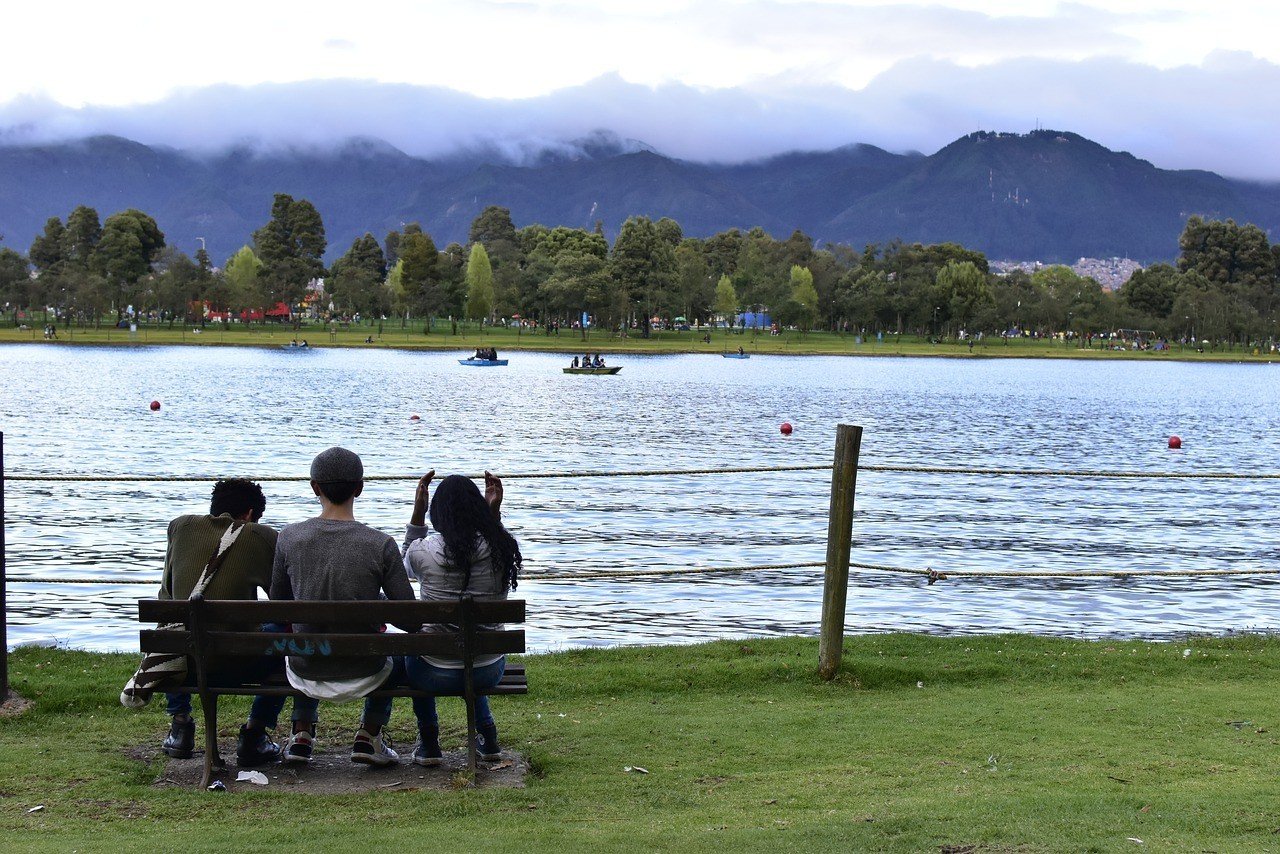 Colombia's cosmopolitan city has one of Latin America's largest urban parks! It offers locals and tourists leisure and respite from the bustling city and is a source of entertainment too.
It spans 400-hectares and is situated in the Western part of the city. The huge green space is also full of wildlife, including birds and ducks. The park also contains a lovely lake for locals to relax along, or even rent a canoe.
The backdrop of the colossal Andes mountains dominates the park, making it extremely picturesque.
Day Trips From Bogota
The best day trips from Bogota are all in close proximity to the city, and are so diverse.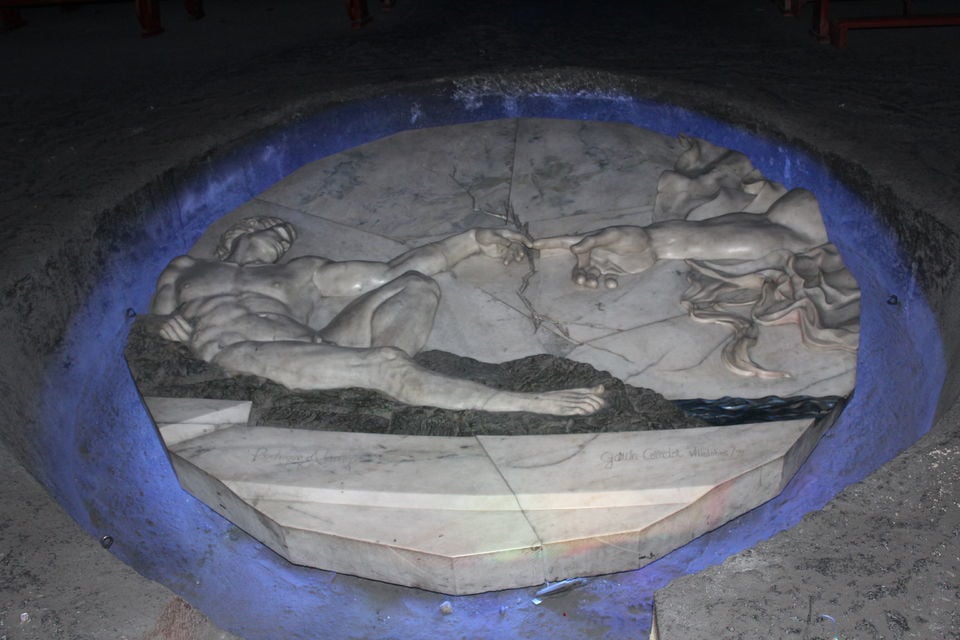 One of the most unmissable things to do in Bogota is visiting this award-winning Salt Cathedral! It is a Roman Catholic Church that has been built almost 200-meters beneath the ground in an abandoned salt mine.
The Cathedral and its surrounding tunnels are illuminated in multi-colored tones and give the impression of a spectral place!
Locals still utilize this location as a place of worship on Sundays. Prior to the insertion of the Cathedral, the mine workers built an altar to pray before digging further. In the 20th-century this got expanded, and the Cathedral emerged.
The town of Zipaquiria is also worth passing through and retains its colonial centre complete with original church and canons. To get here you will need to take a bus from "El Norte" terminal which takes around 2 hours each way. Alternatively you can join a tour which includes bus, entry and guide.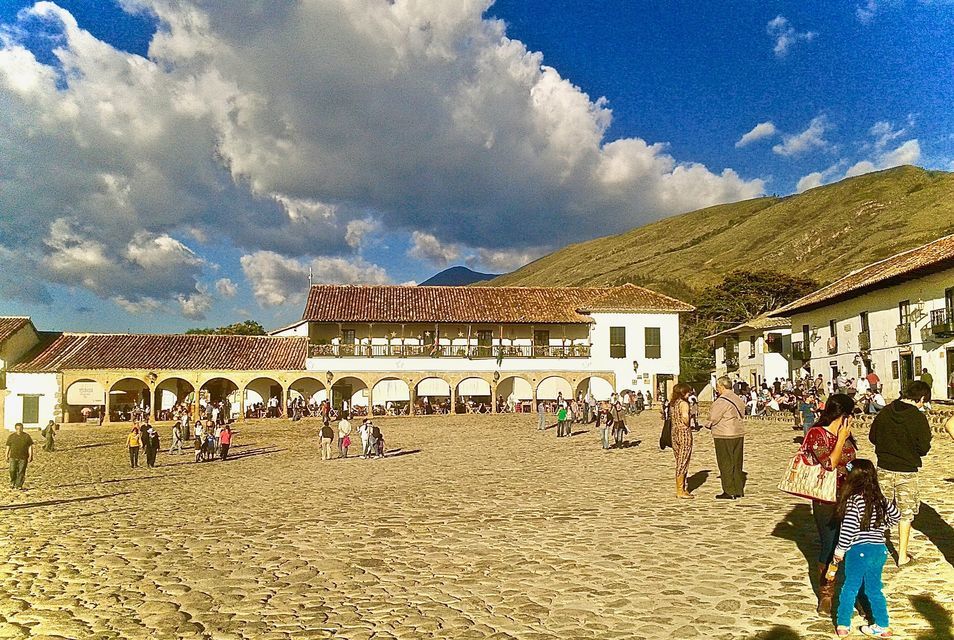 To get a stronger flavour of colonial-era Colombia then head to Villa De Leyva. Much of the town is incredibly well preserved and feels like stepping back 400 years in time to the days of the conquistadores & missionaries. The town also houses one of South America's largest squares – Plaza Mayor – and who doesn't love a big square?!
It is also surrounded by some untouched, lush nature on all sides and there is even fauna and flora sanctuary just above the village! It's perfect for heading out for a walk once you have taken in the town.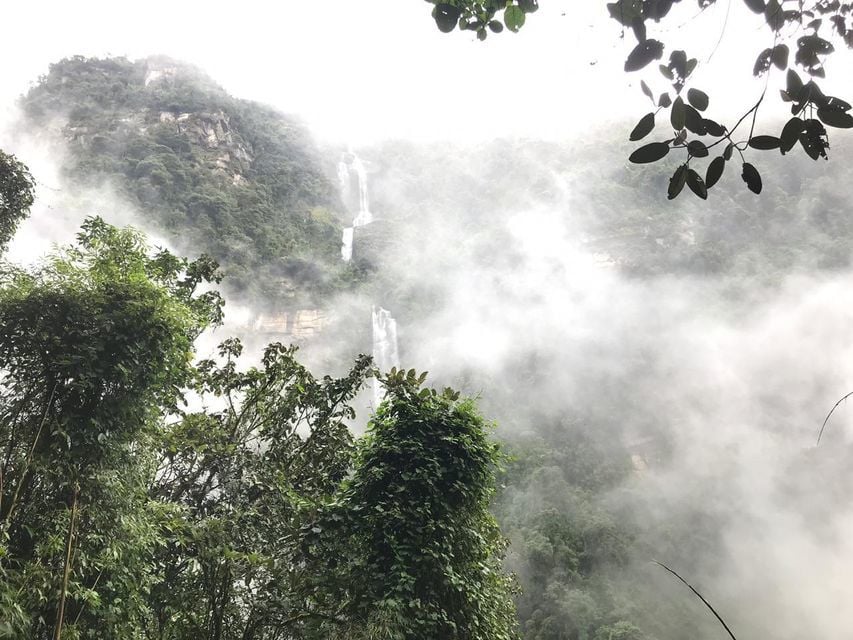 Bogota is in short distance from some of the world's most beautiful landscapes, and this waterfall confirms this. La Chorrera Natural Park contains the country's highest waterfall.
And while this may be the highest waterfall, it certainly isn't the only one you'll encounter on your ascend. This is because El Chiflón is another waterfall that you'll pass 30-minutes into your hike, on the way to La Chorrera.
Once you reach La Chorrera, you'll marvel at its height – almost 600-meters of surging water so if you like waterfalls, head here.
Save $$$ • Save the Planet • Save Your Stomach!
Drink water from ANYWHERE. The Grayl Geopress is the worlds leading filtered water bottle protecting you from all manner of waterborne nasties.
Single-use plastic bottles are a MASSIVE threat to marine life. Be a part of the solution and travel with a filter water bottle. Save money and the environment!
We've tested the Geopress rigorously from the icy heights of Pakistan to the tropical jungles of Bali, and can confirm: it's the best water bottle you'll ever buy!
View on REI
Read the Review
3 Day Itinerary in Bogota
The metropolis is structured in a grid-like pattern and streets have numbers instead of names. The city layout is actually very logical so once you get your head around it, navigating Bogota is pretty easy and getting lost is hard. However, note that distances between the North and South and sub-burbs are considerable and walking in some areas is not advisable at night if at all.
Day 1 – Explore Bogota's Landmarks
On your first day, we're going to start with the essentials: you need to begin by exploring the colonial influenced La Candelaria suburb. There are so many sites to visit here – make sure to include trying some Chocolate Santafereño from La Puerta Falsa. Also, be sure to spend some time at the Plaza Bolivar.
Then you'll head for the Gold Museum, which will take you 25-minutes to walk to and give you a better scope of the city. Once you're finished admiring the gold artifacts, let all that hunger reflect in a meal at La Escuela, only a 10-minute walk from the museum!
Day 2 – Enjoy the City's Varied Activities
Start the day with some filling street food, some strong coffee and then join a Street art tour (enquire beforehand to confirm star time).
Thereafter, we suggest you visit the Montserrat Sanctuary. From the plaza, you can reach Montserrat in roughly an hour by foot, and less than half of that by transport. Hopefully, you'll be here to witness the sunset, and if not, elevate yourself 41-floors at Centrico Rooftop Bar to grab a drink.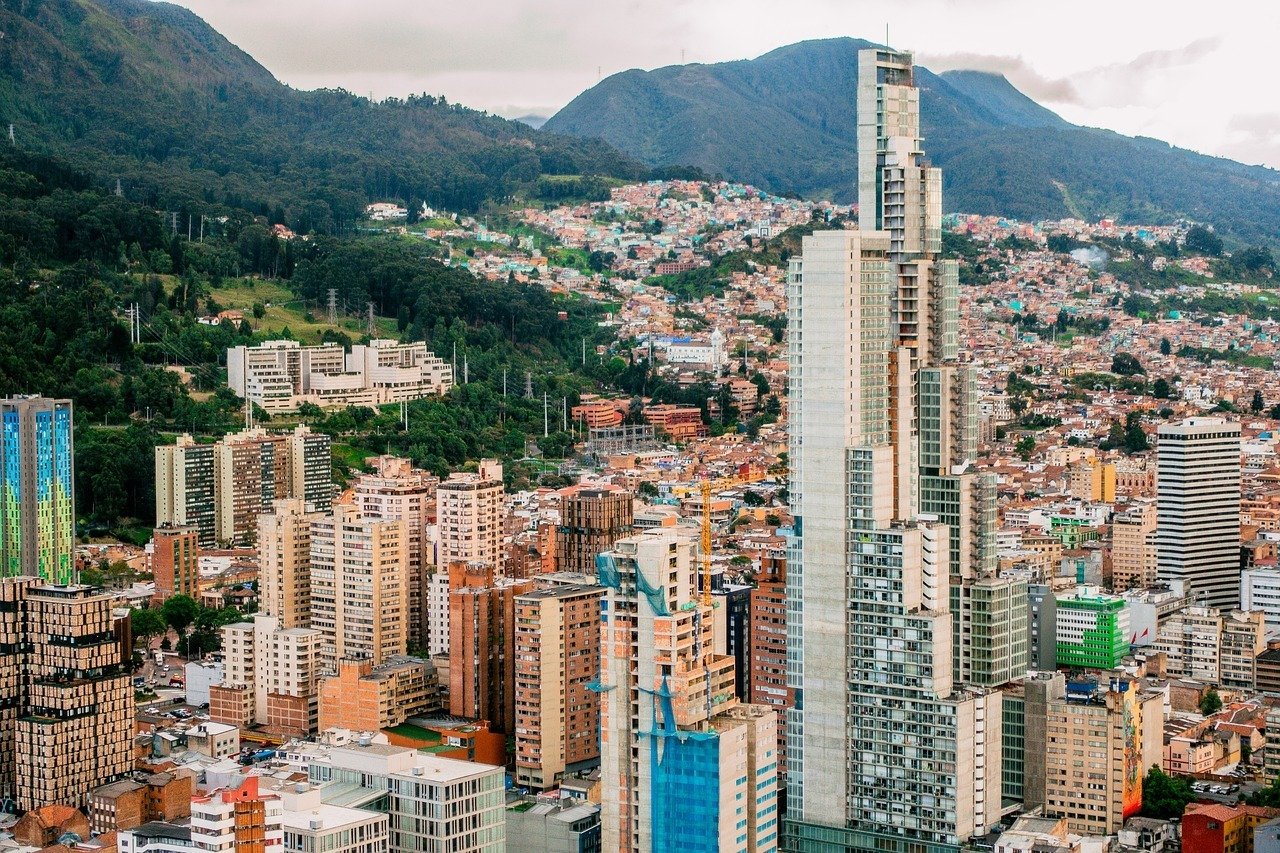 Day 3 – Begin and End on a High
Today you're going to venture outside the city – so wake up early to visit the Zipaquiria Salt Cathedral. Take some time to stroll around the town, take some lunch and then visit the Cathedral itself.
If you get back to Bogota in good time, try find a guinea pig to bet on or find your way to trendy Macarena.
Then, go home and take a nap. You'll need it because tonight your dining Colombian-style. You'll be concluding your stay here at the renowned Andres Carnes de Res or maybe just doing your own Bogota bar crawl.
Don't forget your travel insurance for Bogota
ALWAYS sort out your backpacker insurance before your trip. There's plenty to choose from in that department, but a good place to start is Safety Wing.
They offer month-to-month payments, no lock-in contracts, and require absolutely no itineraries: that's the exact kind of insurance long-term travellers and digital nomads need.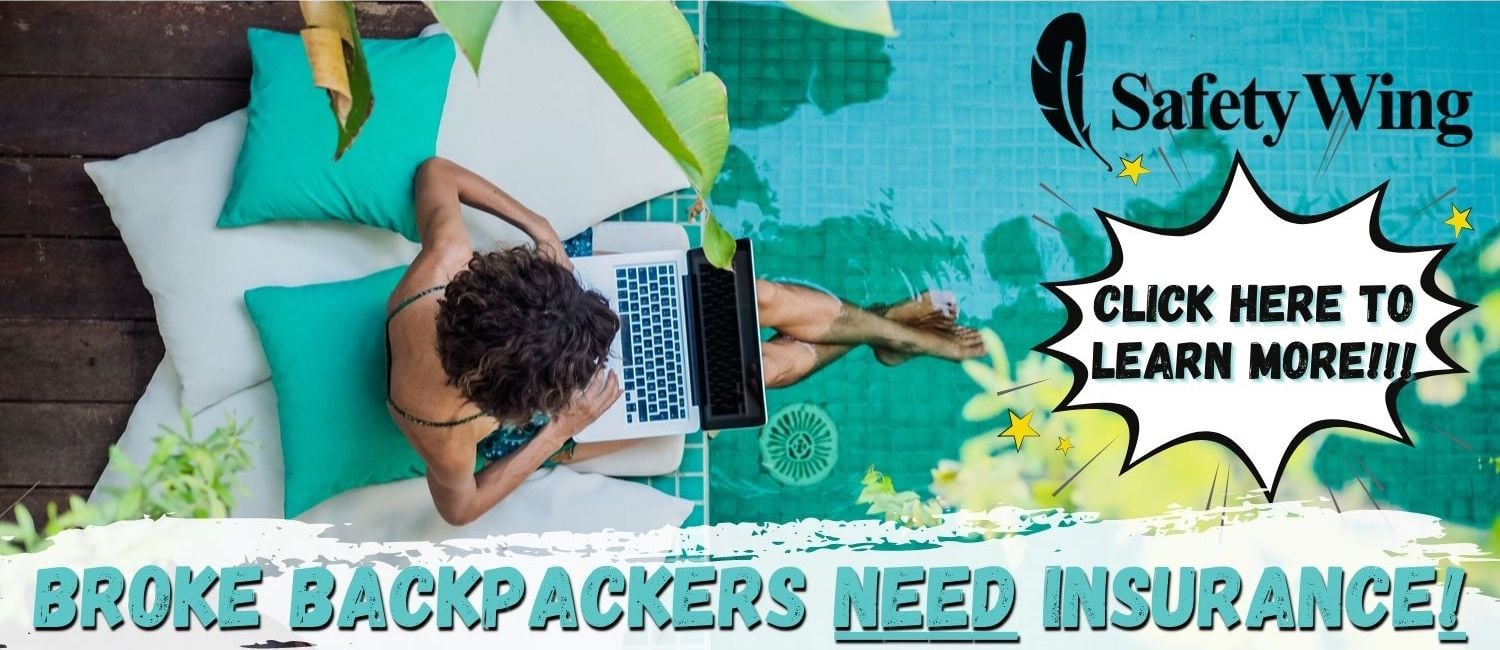 SafetyWing is cheap, easy, and admin-free: just sign up lickety-split so you can get back to it!
Click the button below to learn more about SafetyWing's setup or read our insider review for the full tasty scoop.
FAQ on Things to Do in Bogota
Here are some quick answers to common questions about what to do and see in Bogota.
Conclusion
So, there isn't a reason that you should visit Bogota, but rather there are so many reasons to visit this wide-ranged city! Nestled in one of the world's highest mountain ranges, you'll never feel too far from nature due to its close proximity to astonishing natural and national parks.
But, Bogota's street-life, art, culture and gastronomy are all worth revering too. Bogota things to do are endless, diverse and cost-efficient. You have to visit!
---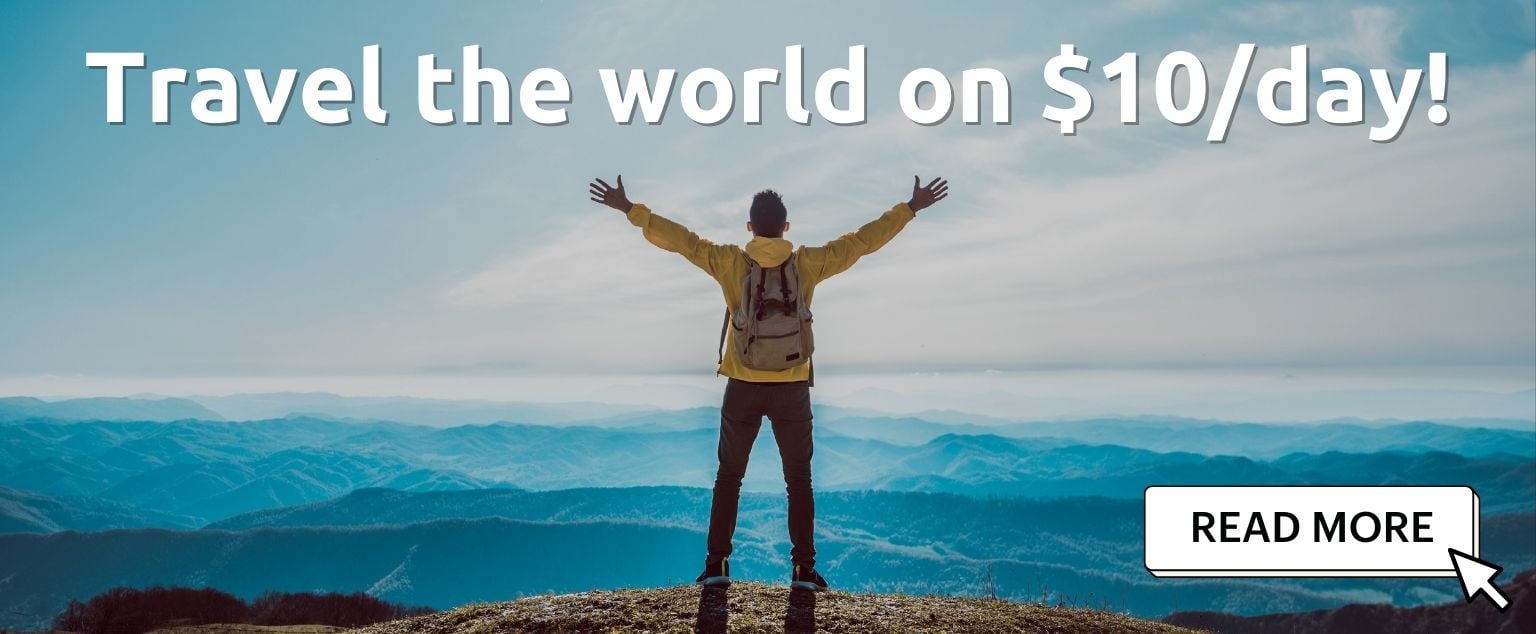 And for transparency's sake, please know that some of the links in our content are affiliate links. That means that if you book your accommodation, buy your gear, or sort your insurance through our link, we earn a small commission (at no extra cost to you). That said, we only link to the gear we trust and never recommend services we don't believe are up to scratch. Again, thank you!