Galleries and museums galore, a historic centre that's well worth a look, vibrant culture and a ton of good food. It must be Bogota, the high-altitude capital of Colombia! This is definitely a cool city that will keep you busy for longer than you've got there!
Whilst it's interesting and exciting, crime still is a problem here. Though Bogota has put its worst days of murder and violence behind it, the city still retains a lot of street crime, gangs, and drug trafficking.
Naturally, this is a pretty scary prospect. Travelling smart in Bogota doesn't just mean not wandering around the streets at night – and therefore not putting yourself in danger; it also means being safe with what you eat, planning your routes around the city, and staying aware of your surroundings at all times.
Whether you're a first-time solo traveller wondering about the situation in Bogota, or if you're simply wondering if you could take your kids there for a family holiday, you're about to get some insider information in our epic guide and top tips on how to stay safe in Bogota!
How Safe is Bogota? (Our take)
Way, way up in the Andes is Bogota, the capital of Colombia. It's a cool city that's got more history than you can shake a stick at a ton of art and culture in its many galleries and museums.
However, crime makes backpacking Bogota something of an issue. Generally, it's pretty alright, despite a past that was all about drug wars and violence, but you still have to be careful.
Reports of robberies and street crime like pickpocketing means having to take care of your belongings and hide your valuables.
Weirdly, much-touristed areas – like La Candelaria – can completely change after dark. In addition, the south of the city is often more dangerous than the north.
Terrorism is a also thing. Don't worry though: it's not a mega threat. Just be aware of your surroundings and follow the advice of authorities. Strikes do sometimes occur. So do public protests and demonstrations and disruption ensues. When these happen, it's best to steer clear – they can be passionate, confrontational and can turn violent.
That all said, the threat of crime and other issues shouldn't put you off visiting. This is one charming city, complete with skyscrapers.
There is no such thing as a perfect safety guide, and this article is no different. The question of "Is Bogota Safe?" will ALWAYS have a different answer depending on the parties involved. But this article is written for savvy travellers from the perspective of savvy travellers.
The information present in this safety guide was accurate at the time of writing, however, the world is a changeable place, now more than ever. Between the pandemic, ever-worsening cultural division, and a click-hungry media, it can be hard to maintain what is truth and what is sensationalism.
Here, you will find safety knowledge and advice for travelling Bogota. It won't be down to the wire cutting edge info on the most current events, but it is layered in the expertise of veteran travellers. If you use our guide, do your own research, and practise common sense, you will have a safe trip to Bogota.
If you see any outdated information in this guide, we would really appreciate it if you could reach out in the comments below. We strive to provide the most relevant travel information on the web and always appreciate input from our readers (nicely, please!). Otherwise, thanks for your ear and stay safe!
It's a wild world out there. But it's pretty damn special too. 🙂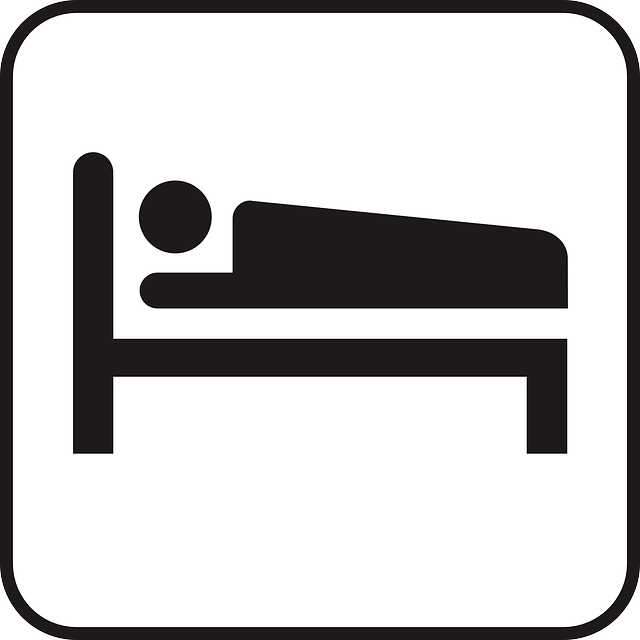 Sleep safe! Choose your hotel, hostel or Airbnb ahead of time so you're not last-minute booking a less-secure place.
Read our Neighborhood Guide for our favorite accommodations in Bogota by area.
Check out our Hostel Guide for the best budget options.
Is Bogota Safe to Visit Right Now?
Bogota isn't just the capital of Colombia, it's the largest city in the country with loads of different areas and neighborhoods. and 8.8 million people living there. It's safe to visit Bogota, but you can't guarantee that all those millions of people are gonna obey the law.
It accounts for a whopping 56% of tourism in Colombia. In recent years it's become an international destination with a ton of companies setting up bases in the city's financial district.
Colombia, in general, has seen a rise in coca cultivation in recent years, the raw ingredient for cocaine.
With that, it means there are still dangerous gangs that affect the country, and the capital, too. There are still dodgy areas throughout the city where you shouldn't really be exploring. However, drug trafficking rarely affects travellers unless they get themselves involved in it.
Pickpocketing and mugging are often mixed with violence and in La Candelaria people have been known to be robbed at gunpoint. This is the state of affairs throughout Bogota at the moment.
Spikings with Scopolomine are very common in Bogota and travellers are often targeted. The substance causes severe confusion and blackouts and is used for robbery, rape or worse. I was personally poisoned with this in 2015 so it is a very real thing.
There is tourist police, however, which has recently been put into action in the city to help deal with crime issues. That said, the Police are not above the occasional bit of theft and extortion themselves especially around Candaleria.
So, with all facts considered, Bogota is about as safe as it can be at the moment.
Safest Places in Bogota
When choosing where you'll be staying in Bogota, a bit of research and caution is essential. You don't want to end up in a sketchy area and ruin your trip. To help you out, we've listed the best neighborhoods in Bogota below.
Zona Rosa
Every South American city has a Zona Rosa. It's the dedicated nightlife area with tons of bars, clubs, restaurants, and a heavy police presence. This makes it to one of the safest areas in Bogota.  The pedestrian-friendly Zona T (named for its shape) is in the heart of it all in Bogota's Zona Rosa. For a wild night out on the town, you need to look no further! 
This is where you'll find most Bogotanos hanging out on the weekends or congregating after work. The nightlife here is excellent and you'll never have to wonder what there is to do. Those who love boutique shopping will also feel at home in Zona Rosa as it's home to two of Colombia's most exclusive shopping malls; Andino and Atlantis. 
The safest area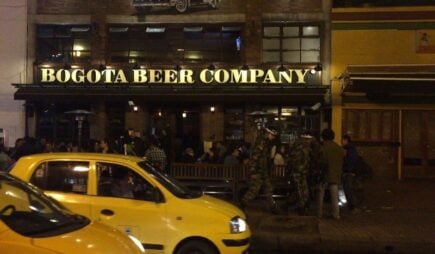 The safest area
Zona Rosa
For wild nights out, shopping, and budget accommodation, Zona Rosa is the ideal place to stay! With lots of police presence, it's also one of the (if not THE) safest neighborhoods in Bogota.
Teusaquillo
In addition to its central location with easy access to other districts, Teusaquillo is perfect for outdoor lovers! It's our recommendation for where to stay in Bogota for your first time in Bogota as it's generally very safe and peaceful.
You have Simon Bolivar, Bogota's biggest public park and there is also a botanical garden perfect for spending an afternoon. It's a safe area to relax and chill, but also a great base to explore the rest of Bogota. 
A chill and safe getaway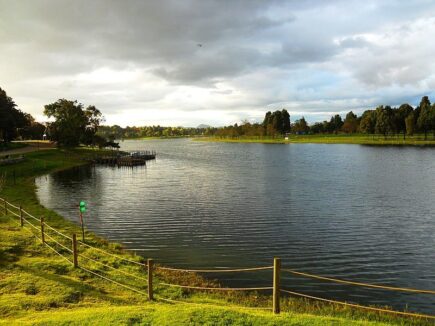 A chill and safe getaway
Teusaquillo
Teusaquillo is perfect for outdoor lovers and visitors that want to have a peaceful stay but still be close to all the actions! It neighbors the downtown district and has easy access to the top tourist attractions.
Chapinero
If you are the kind of person that likes to be near the action, then Chapinero is the place for you. Chapinero is by far and away the coolest and safest neighborhood in Bogota! It's centrally located making it easier to get anywhere else in the city, the massive mix of people from Colombia and the rest of the world make it incredibly diverse, and it's trending!
You can find plenty of expats setting in Chapinero, which is great if you want to get some insider knowledge on what to do and what to see in Bogota. Head shops, vegetarian restaurants, indie coffee shops, student bars, markets, cultural theaters, and insanely cool clubs such as Theatron (the largest LGBT club in the world) are just a few of the things that make Chapinero the bohemian scene full of experimental new services and products.
The most unique place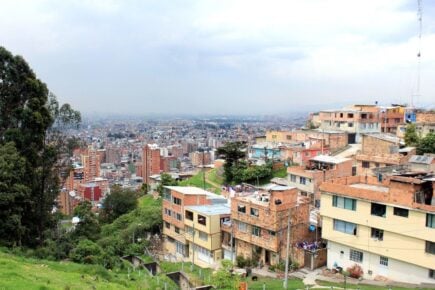 The most unique place
Chapinero
With a central location, a mix of visitors, expats, and friendly locals, Chapinero is a great and safe place to stay in Bogota. Its unique charm attracts plenty of travellers so you'll always be able to meet someone new.
Places to avoid in Bogota
As we made it quite clear already, there are many areas in Bogota that aren't safe for travellers. To help you plan a successful tip, we've listed the no-go areas below: 
ANYWHERE after dark – the city can completely turn at night, so it's best to stay at home or stick with a big group.
Ciudad Bolivar – this city is known for a high crime rate and being massively affected by flooding during the rainy season. We'd recommend avoiding it completely.
San Cristóbal – similar to Ciudad Bolivar, this city also has a high crime rate. It can be visited, but it's best to have a local guide to show you around.
The street of Calle 9 and the south of Barrio Egipto is known for muggings. Avoid, if possible.
La Candelaria – known to be the hotspot of pickpocketing and violent crimes, you definitely have to be more aware of your surroundings than anywhere else in Bogota. If possible, leave all your valuables in your hotel safe.
Bogota Travel Insurance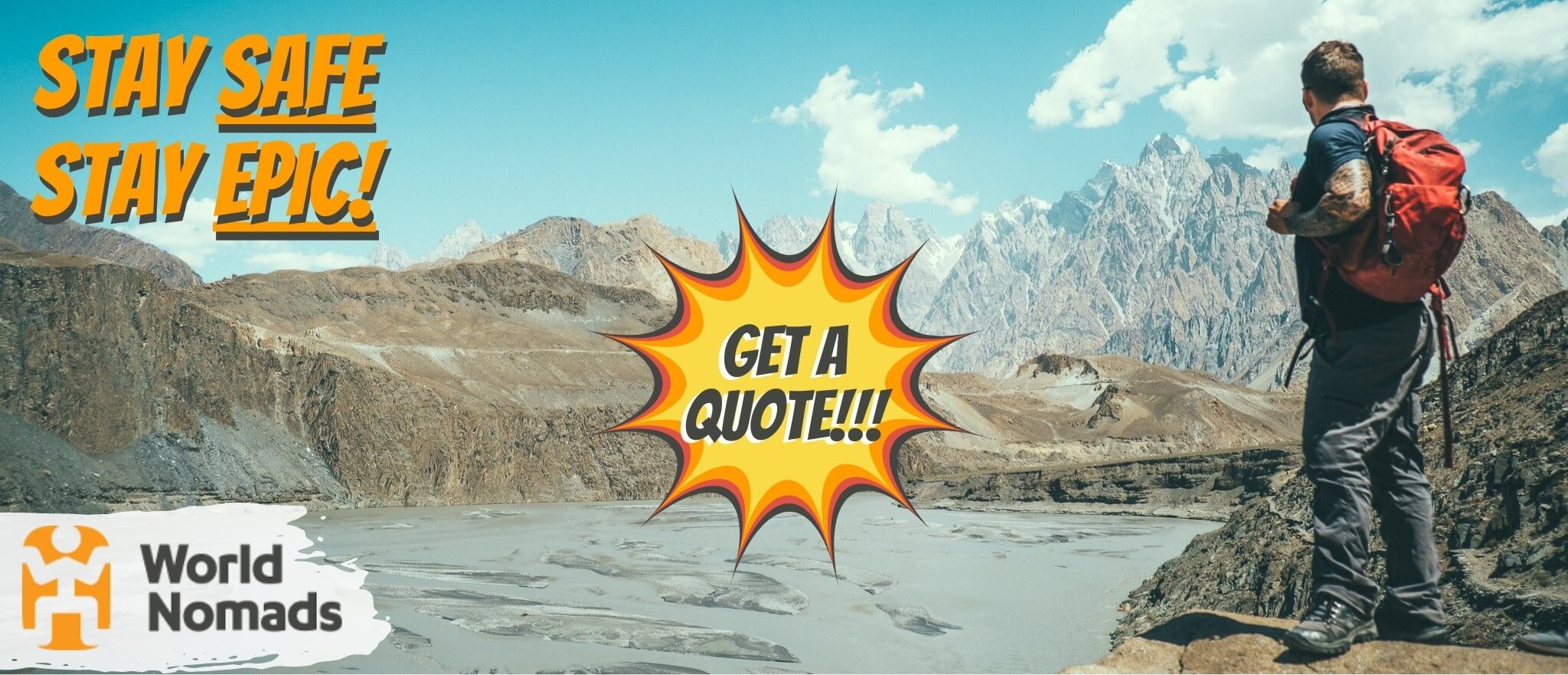 It's good to get lost sometimes, but it's also good not to get too lost. There are people that want you home in one piece.
There's one travel insurance provider The Broke Backpacker trusts for all his wildest shenanigans… World Nomads!
Click the button below to get a quote on your insurance or read our in-depth review of World Nomads' coverage. And then… let the shenanigans begin. 😉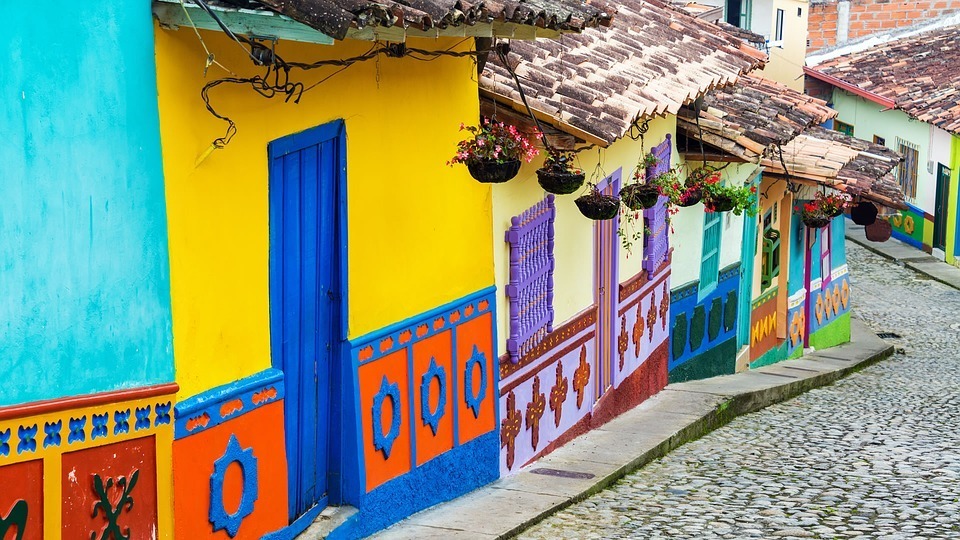 Bogota is most definitely not a holiday camp or theme park; it's a working city with a troubled past that's still got some crime to iron out. You should go for it anyway. The best thing to do is to not be careless and apply the basic safety precautions when traveling to Bogota. With that in mind, here are some of our top safety tips for traveling to Bogota…
Be vigilant – in public places, or near official buildings: these can be targets for attacks. But also, it pays to be aware.
Don't wander into deprived areas of town – really not a good idea at all – you can get in trouble.
Look less like a tourist – flashy watch, looking lost, all that stuff will only make you a target. So…
Blend in – dress down, don't look rich.
Use smartphones inside – there's a high chance of getting it snatched if you use it in the open.
Don't leave your food unattended – male or female, drugging food does happen. Then you get robbed – or worse.
Use ATMs inside (banks, malls, whatever) – and watch out of who's around you. Robberies do occur at ATMs (often at night).
Plan your route – do this before you head out. Two things: 1) you look less lost, 2) you don't get lost.
Beware of 'helpful' strangers – these people might not actually have your best interests in mind and are after your money.
Keep a crappy wallet – and hand it over in the event of a being robbed. Leaves your main wallet (i.e. money belt) intact.
Definitely do hand it over – if you're being robbed, fighting back will end very badly for you. Your life before your money.
Be aware of fake police – they operate in Bogota. If unsure, get them to escort you to the nearest police station.
Carry a colour copy of your passport – including the page with your Colombia visa, at all times. You might be asked to show it.
Don't take pictures of strategic government buildings – old beautiful ones, fine. New military installations, avoid.
Stay away from drugs – you are not Pablo Escobar. You'll be adding to the problems of the country and get some prison time.
Be cautious of ayahuasca or yage ceremonies – it might not open your mind, it might mess you up instead. Do your research before, and make an informed, reflected decision instead of getting carried away on the moment.
Make sure your hostel has good security – especially if you're staying in La Candelaria; high rate of nocturnal crime.
Go on a barrio tour at your own risk – know that you will be going into areas that are rife with crime and poverty.
Steer clear of deserted streets after dark – get a taxi to be on the safe side.
Learn a bit of Spanish – this will help you with everything from deciphering menus to chatting to locals. A few phrases will do.
Get yourself a sim card – we don't need to explain the benefit of data (maps, phones, restaurant reviews, translating, etc.)
Whilst there's crime going on in Bogota, chances are you'll avoid it. Tourist police are helpful and, let's be honest, you won't be staying in a dodgy barrio anyway. That said, crime can pop up anywhere – especially after dark. So travel smart, keep our tips in mind, and be aware of your surroundings at all times. Dress for the part and have a blast in this bustling capital!
Insider Safety Tips from the Broke Backpacker Team
Travel SAFE and Make a Difference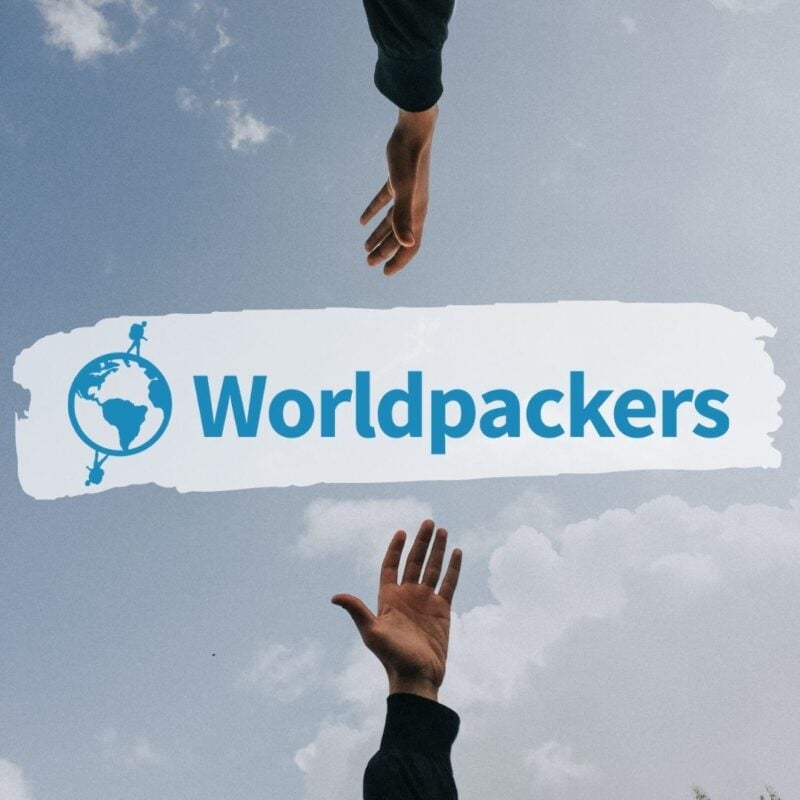 Worldpackers connects travellers with hostels, schools, NGO's and many more for work exchange opportunities. Chat with your host before you arrive to have a soft landing and then experience your destination differently! Local connections make your trip a lot safer – and open up a whole new culture experience.
Worldpackers trips are insured! They'll help you find a new host and cover up to 7 nights in a hostel so you're not left on your own if a host falls through.
Use the discount code BROKEBACKPACKER for a $10 discount. Plus, get 3 free months on your membership during their summer promo!
TRAVEL BETTER NOW
Solo travel is great. It's a chance to grow as a person, make some new mates, see the world, and do whatever you feel like doing whenever you want to do it, following your own itinerary. The world is your literal oyster. That doesn't mean there's nothing bad about solo travel, but it's still awesome, we say.
And yes, Bogota is pretty safe to travel alone. People live alone in Bogota, so why shouldn't you travel alone there? There are risks, obviously, but we've got some solo travel tips for Bogota so you can get around the city like a traveling pro – and stay safe whilst you do it.
First things first: accommodation. Read reviews and understand the security situation going on. Ideally, a safe area is going to be your best bet and the most important thing.
Once you're at your secure social hostel, make friends. Even if you don't feel like it, you should hang out in the shared lounge, get involved in some events, get chatting with people.
Know your way home if you go out. Getting ultra drunk and not being able to navigate the streets, taking a wrong turn, and heading into a dodgy area can be very hazardous. It can be proper scary at night here.
Don't make yourself an easy target. It's all about not giving thieves and criminals the opportunity to get at you. This covers everything from sticking to safe streets, not dressing like an idiot, keeping your smartphone hidden – all of that stuff.
Keep in contact with people. You'll get to stay grounded talking to your friends and fam back home. People knowing where you are, and what you're doing, is much safer than people having no clue what you're up to – especially if something happens to you.
Keep emergency numbers stored high on your phone. You do not want the stress of scrolling through your contacts when you're in panic mode.
Stash cash in different places. Having everything in one place is just not a good idea. If that one bag of yours goes missing, it's game over.  Use a money belt.
Get yourself a credit card for emergencies and keep it safely tucked away. Managing your money is actually a big part of staying safe.
Learn Spanish! When you're by yourself, there's no one to fall back on for a bit of espanol. So learning a few key phrases will definitely help you out. Not only by being able to find your way around but simply being able to make a bit of small talk with a local is cool. Plus, it's always fun to learn a new language!
Get local tips. Ask the staff at your hostel or guesthouse what they would do or see in their city. You should also ask for restaurant and bar recommendations. This is a great way to do what the locals do and see some sights that might be off the usual tourist trail.
The main thing about solo travel is being by yourself. That means you're going to have no one to rely on but you. This can take some mental strain, for sure. Allow yourself a day of rest every now and again for chill times and nothing else. At the same time, be aware of everything from language to money and you can travel safely in Bogota.
Travel with peace of mind. Travel WITH a security belt.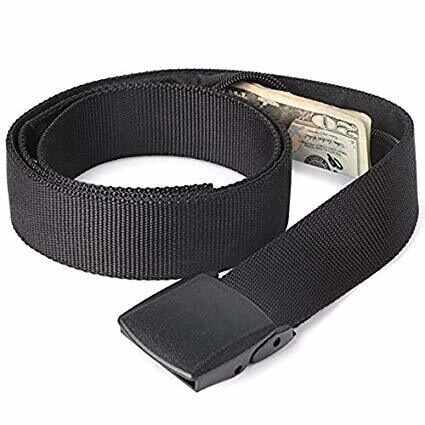 Get your cash stashed with this awesome Pacsafe money belt. It will keep your valuables safe no matter where you go.
It looks exactly like a normal belt except for a SECRET interior pocket perfectly designed to hide a wad of cash or a passport copy. Never get caught with your pants down again! (Unless you want to.)
Hide Yo' Money!
Is Bogota safe for solo female travellers?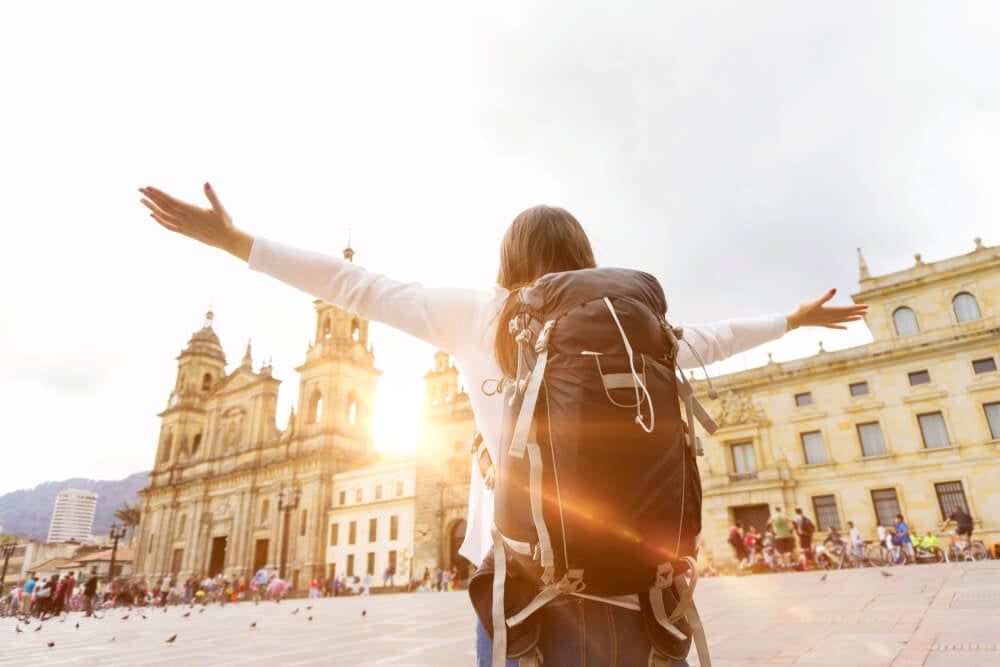 Women travelling by themselves in Bogota will be safe, but Bogota is still a dangerous city. Then again, so are so many other places in the world, so we say that's not really a reason to steer clear of the Colombian capital. Women work, live and travel in the city daily.
As a solo female traveller, you will need to take more precautions than your male counterparts and educate yourself about the issues and potential dangers that exist in the city. And to help out, we've done the hard work for you.
Don't walk around looking lost. Women will be more at risk than men if you're seen walking around not seeming like you know what you're doing. This is basically just going to make you an easy target for crime. Everything from planning a route on your maps to heading out on a walking tour from your hostel will help you get acquainted with the city and not lost.
Locals are pretty friendly in Bogota – especially if you're feeling lost or hassled. Simply head into a shop, or ask a local lady, a family or a group of girls hanging out for help. People are friendly and will help you out if you're in danger.
Do not open the door to your room to just any person who knocks. Unless you know or trust the person, keep your door locked and don't answer it.
Let people know where you're going. If you're going out anywhere, either to party at night or sightseeing for the day, always best to update people. A new friend you've made at the hostel, the hostel or guesthouse staff themselves, anybody you trust. It's always better for someone to know your whereabouts.
Getting into a conversation with someone doesn't mean you have to be honest. If someone is asking you a lot of questions, like what your travel plans are, where you're staying, where you're from, whether you're married or have a boyfriend, you don't have to answer. White lies are fine in these cases if you feel uncomfortable.
Taking a guided tour of any kind is a great way to see the city in a safe way. You'll get to meet other travellers and visitors to Bogota on the tour – plus you'll actually learn about the historic buildings you're looking at, not just snap a photo for Insta.
Take the same basic safety precautions that you would back home. When it comes down to it, the main thing for female travellers to be aware of is something you might already do in your home country. Walking down deserted streets, taking unnecessary short cuts through areas that seem sketchy, especially after dark, is just not a clever move. Probably the same in any city though, right?
As a solo female traveller, you'll have to be on high alert at all times. Be careful with where you go, who you talk to, how you act (i.e. not looking lost)… Above all: trust your gut. If a situation doesn't feel right, simply remove yourself from it. Dodgy happenings can escalate.
DON'T DIE OUT THERE! …Please 🙂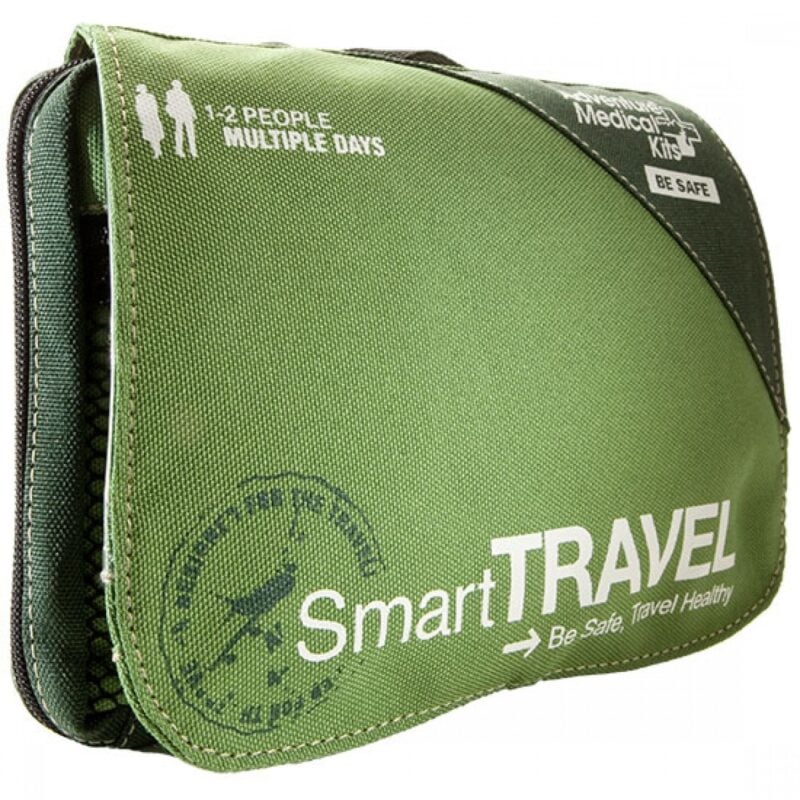 Things go wrong on the road ALL THE TIME. Be prepared for what life throws at you.
Buy an AMK Travel Medical Kit before you head out on your next adventure – don't be daft!
Buy on REI
More on Safety in Bogota
We've covered the main safety concerns already, but there are a few more things to know. Read on for more detailed information on how to have a safe trip to Bogota.
Is Bogota safe to travel for families?
Bogota is actually, in general, pretty safe for families, but you need to remember that it's not going to be on the same level as, say, Madrid. There just are things to be aware of.
Firstly, and it's something you don't think about, but Bogota is one of the highest capitals in the world. At 2,640 metres above sea level, this soaring city is stunning, but the altitude can be an issue.
The high altitude can mean that people, children more than adults, experience things like shortness of breath, nausea, increased heart rate – the air is thinner, basically. People still do take their children to Bogota, but being aware of this altitude issue.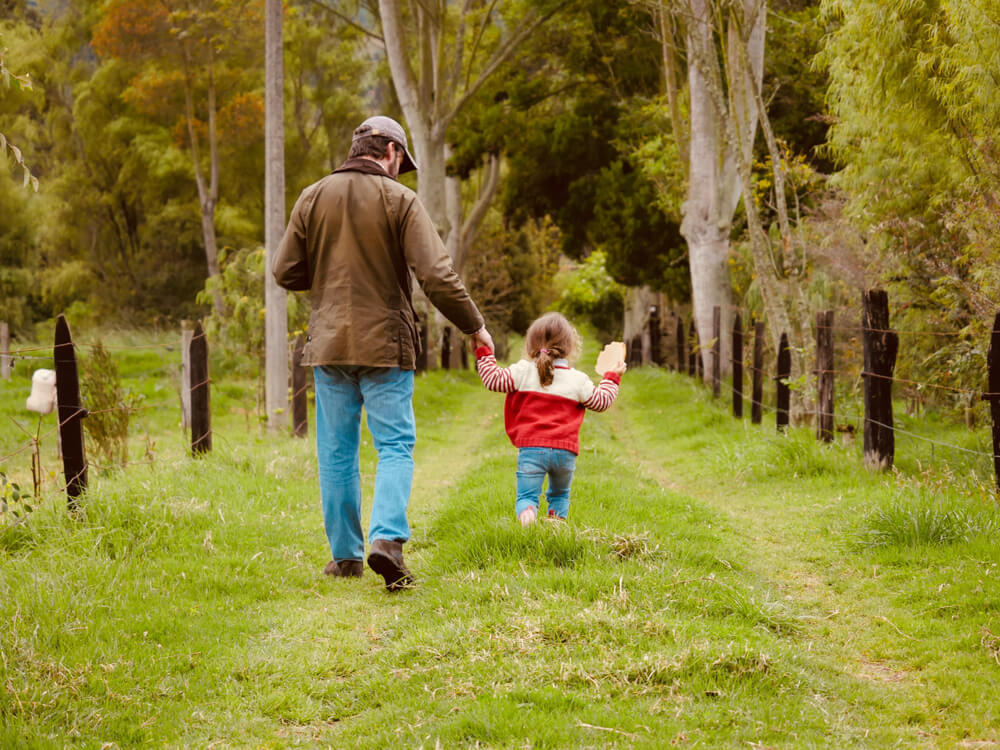 When it comes to getting around Bogota with children, forget prams and pushchairs. This just isn't the place to be pushing one of those around – opt for a sling instead.
The culture here is family-oriented – children come first. You'll be whisked the front of queues and you'll get special treatment at restaurants. On top of this, there's even a dedicated line at immigration if you're arriving with children.
Basically, you'll be welcomed if you're travelling to Bogota with kids. It'll be a pretty enriching experience for all of you!
Is it safe to drive in Bogota?
Sort of, yes. But what's the point?
You can easily get around the city by taxi or public transport. Driving is just not really worth it. The standards of driving are not very high: expect maniacal drivers, traffic rules not always being obeyed, motorbikes on your tail, and so on.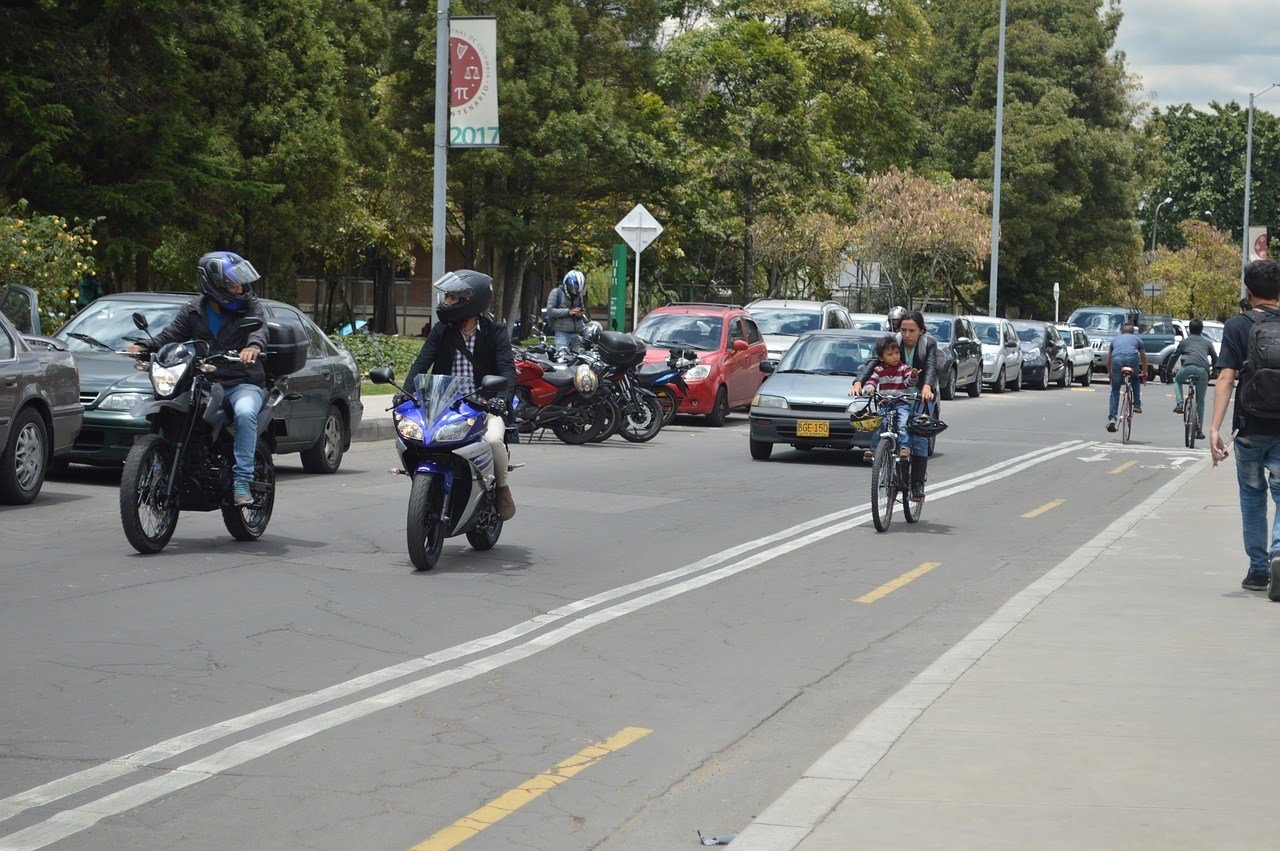 In a study by navigation app 'Waze', Colombia ranked as one of the world's worst countries to drive in. Within Colombia, Bogota ranked 7th – just after Medellin. One of the things that makes it so bad to drive in is traffic.
Traffic clogs up the city every day and can make it impossible to get to your destination on time. You'll hear horns being tooted and beeped constantly.
Whilst it's kind of safe to drive in Bogota, but honestly? We wouldn't recommend it at all.
Is Uber safe in Bogota?
Uber in Bogota is not legal.
But actually, everybody uses it. A lot of the city's population uses Uber to get around the city every day – even though it is "illegal".
Because it is "illegal" Uber drivers often use town cars – like a sedan, airport limousine kind of thing – instead of their own car. This usually means that the car is pretty good quality.
A good thing about using Uber in Bogota is being able to use it in English and not worrying about your rusty Spanish. You can even request an English speaking driver for just a few more of your pesos.
Other Uber benefits, unique to Bogota, are the drivers being more careful about how they drive. It's illegal, so driving carefully means the drivers shouldn't get into any (or much) trouble.
Are taxis safe in Bogota?
Like in many places, taxis come with a whole lot of shady business. The taxis in Bogota are often not so safe.
Because of this, you should not be hailing a taxi off the street, that's just asking for trouble, seriously. You really need to exercise caution when you're getting into a taxi because it can be an unlicensed one.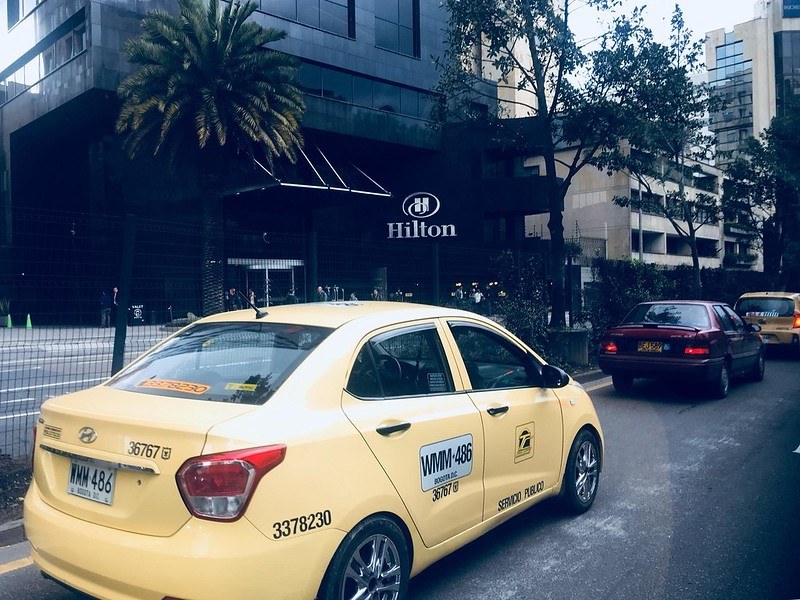 People have been involved in express kidnappings and assaults when they've gotten into an unlicensed cab on the street. There are numerous ways that you can get a safe cab in the city, though.
When arriving at El Dorado International Airport only authorised taxis are allowed to pick up passengers. In the rest of the city, the yellow taxis are often safe, reliable and a cheap way of getting around Bogota.
Taxis in the city are doing away with the meter and will be using a price system where an app calculates the fair, just like Uber. This will mean that scams will be less easy to perform on unsuspecting tourists and travellers.
If you like, you could ask your accommodation to book you a taxi. Otherwise, if you want to get one for yourself, download Cabify, Tapsi or Easy Taxi. 
Is public transportation in Bogota safe?
In Bogota, the public transport system, which is mainly a bus operation, is called the 'TransMilenio'.
It consists of different coloured buses that serve different routes in what is known as a bus rapid transit system. A lot like a metro or tram, in that the buses have their own dedicated lanes, Bogota's is actually the largest BRT in the world.
Cheap and quick, it's honestly an awesome way to get around the city. It's the primary mode of transport for the millions of people who call the city home. This is great, but it also means that it gets super busy.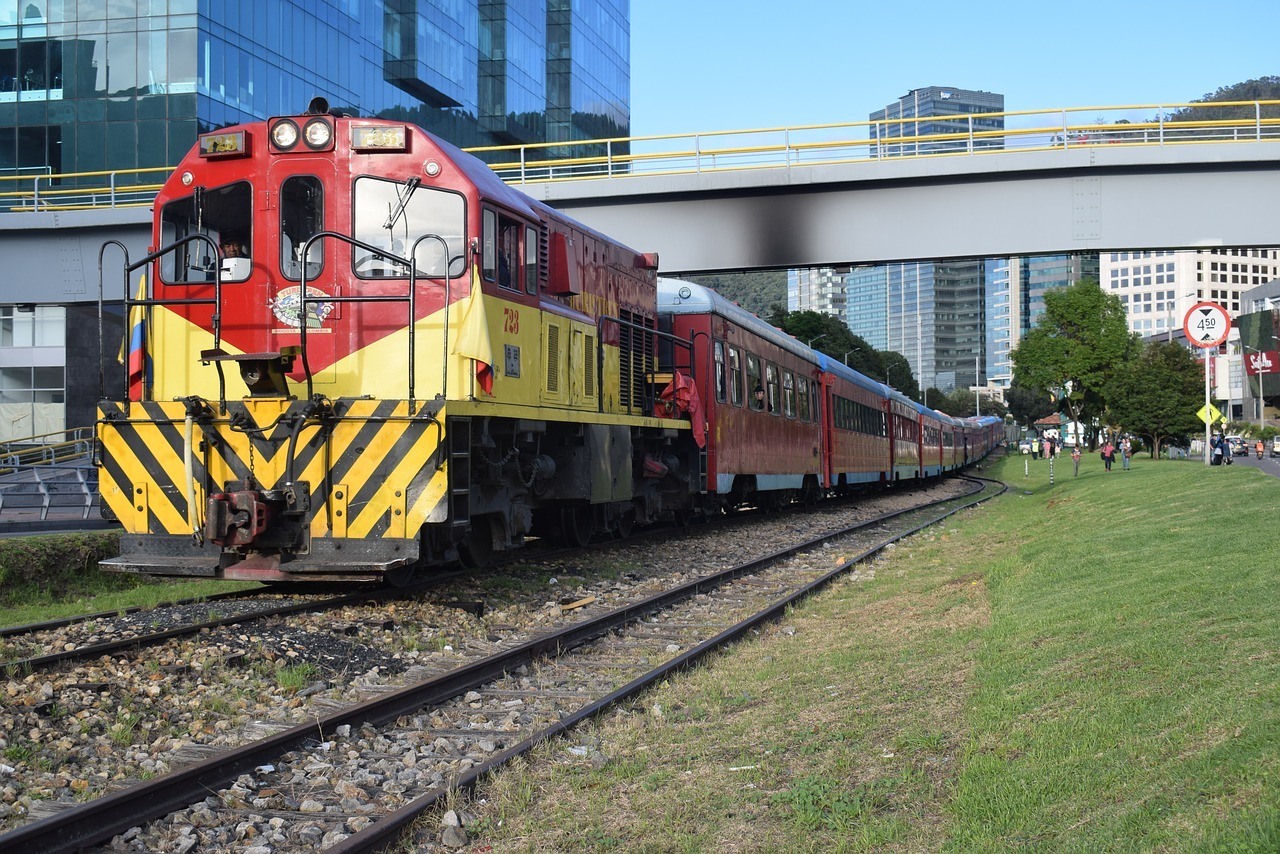 Pickpockets quite literally plague the buses, so be aware of who's near you – and what they're doing. That goes especially if you're by yourself or even more so if you're a woman; you'll be more of a target.
Another problem with the BRT is getting lost – it definitely takes some getting used to. Doing some research on the routes you'll be taking will honestly help you navigate it a lot more smoothly.
Alongside the BRT are small privately owned 'busetas' that trundle around the city, and they don't have any stops. You just put your hand out for them and get on. You'll know them because they're yellow and red. It's best to ask people using the 'busetas', or the driver, where exactly it's going since it's not exactly obvious.
If all that sounds like too much hassle for you, don't worry – there's yet another option. The city is fantastic for cycling. There are public bicycles to use, with stations across the city to pick up and drop off.
Over 2 million Bogota residents cycle. It's no wonder: there are over 300 kilometres of dedicated bicycle lanes for them to use throughout Bogota. This makes for one of the most comprehensive cycling lane networks in the actual world!
Use Bookaway to find the best deals on transport – buses, planes, trains, and ferries. It'll save you a load of time when organising transport and you'll probably nab an EPIC DISCOUNT too!
Book your transport on Bookaway NOW. Get the best price for the best ride… then use those savings to buy the best feed in town!
Book Your Transport Here!
Is the food in Bogota safe?
Colombian food is delicious. There's the ubiquitous sort-of national dish of bandeja paisa, a whole mix of delicious food including rice, beans, avocado, fried egg, steak, to try here. But being a city, there are loads to choose from.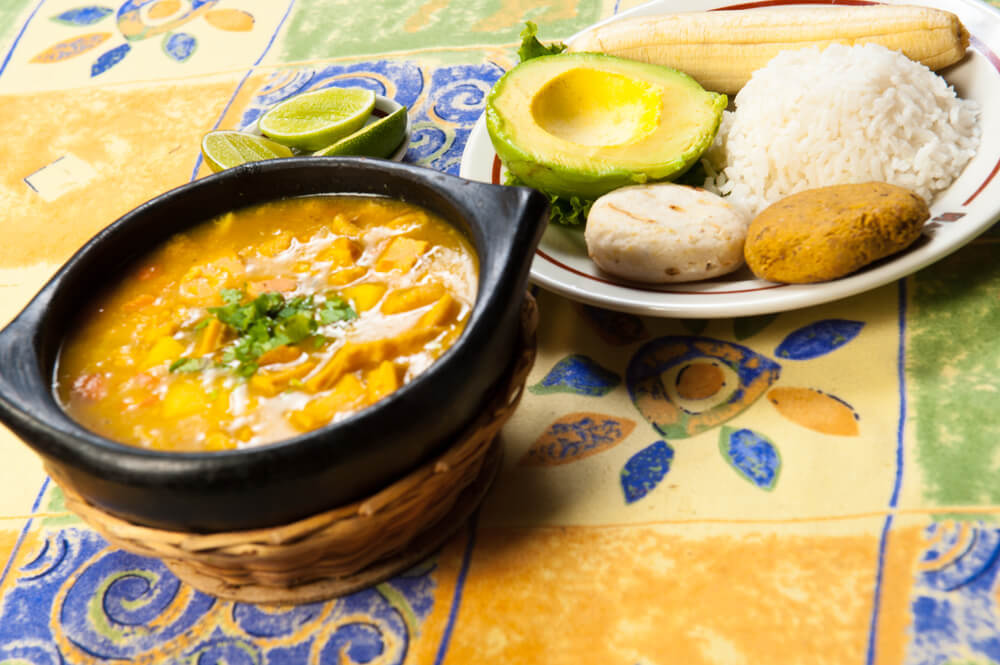 It pays to stay safe and travel smart – and that includes the food side of things. With that in mind, we've racked our brains and come up with a list of our best food safety tips so you can eat your way around the deliciousness of Bogota without the worry of getting ill.
Go somewhere that's busy with locals. If you're hankering for some local food, don't go to a tourist trap, where there's no locals or somewhere that looks ropey or is not really busy at all.
Stick to food that's been freshly cooked. You'll stand less of a chance of getting a bad stomach than stuff that's been lying around all day. This mainly goes for street food, which can have some questionable hygiene practises going on – but that doesn't mean you should avoid it.
Avoid anywhere that looks a bit dirty. If you're really worried about getting ill, might be best to avoid such places.
Enjoy the abundance of fresh fruit and vegetables on offer in Bogota – especially at Paloqumao. This is a famous food market in La Candelaria's downtown area. Just make sure you wash your food very well before you eat it, and avoid buying pre-peeled, pre-cut fruit.
Avoid salad. It's hard to know if people have washed the salad. Or who's washed it; lettuce, for instance, might have been grown in places where the water isn't clean.
Get online to eat non-local fare. Read reviews of restaurants on Google, TripAdvisor, or simply get on your favourite foodie travel blog and see what's good in the local area.
If you've got a sensitive stomach, go easy on the food when you first arrive. It also might be a good idea to avoid those huge, one-plate helpings you get at proper local places.
Last, but not least: wash your hands! Who knows what sort of germs you've been picking up on your travels around the city? Avoid making yourself ill and give your mitts a scrub before you eat.
In essence, the only issue you're really going to have with the food in Bogota is eating at local places, eating things from markets, and eating street food.
Can you drink the water in Bogota?
Allegedly, the water is safe in Bogota. But if you're concerned, you should stick to bottled water.
Alternatively, take your own refillable bottle and fill it up at wherever you're staying – no doubt they'll have some sort of filtered water thing going on. If you decide to do so, we have compared different travel water bottles in this article to help you decide which one is the best for you.
If you want to explore the backcountry, we'd suggest boiling and filtering your water or using the GRAYL GEOPRESS.
Save $$$ • Save the Planet • Save Your Stomach!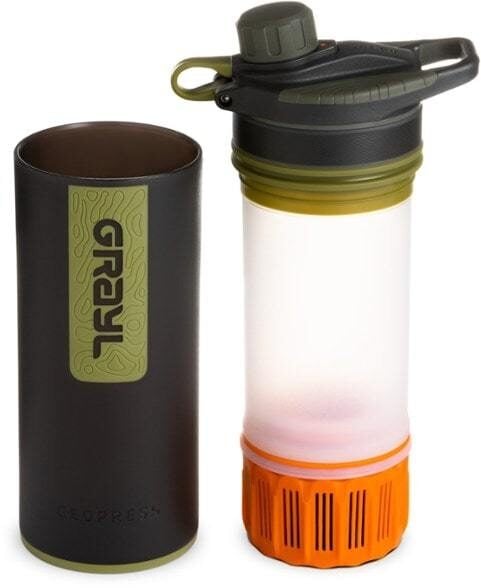 Drink water from ANYWHERE. The Grayl Geopress is the market's leading filtered water bottle protecting your tum from all the waterborne nasties. PLUS, you save money and the environment!
Single-use plastic bottles are a MASSIVE threat to marine life. Be a part of the solution and travel with a filter water bottle.
We've tested the Geopress rigorously from the icy heights of Pakistan to the tropical jungles of Cuba, and the results are in: it WORKS. Buy a Geopress: it's the last water bottle you'll ever buy.
Buy a Geopress!
Read the Review
Is Bogota safe to live?
We're not going to lie: Bogota can be pretty sketchy. Then again, that's sort of just normal life in any big city.
Bogota is a city with a lot of vibrancy going on and a lot of reasons why you should be planning to live there.
Whilst it can be safe to live in Bogota, this really depends on where you choose to live. It's a large, sprawling city, and not all areas are the same when it comes to the atmosphere, and crime rate.
Learning Spanish is crucial. Not only for integrating into daily life but if you speak some Spanish you are much less likely to be taken advantage of than if you only spoke gringo English.
Aside from that, the World Health Organisation 10th on a list of the world's most polluted cities. It's a big problem here. The rush hour just makes it even worse – it's not unheard of to see thick smog hanging over the city.
That said, Bogota is a pretty amazing place to live. Energy levels are high, the people are friendly and welcoming, and there are some great job opportunities on offer. You'll also find a ton of cool restaurants and exciting nightlife.
The Future of the SIM Card is HERE!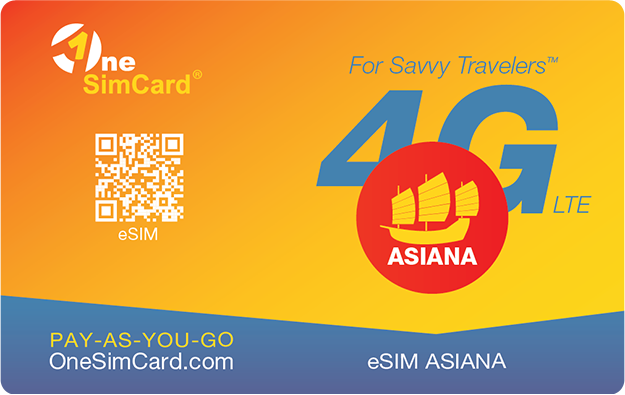 A new country, a new contract, a new piece of plastic – booooring. Instead, buy an eSIM!
An eSIM works just like an app: you buy it, you download it, and BOOM! You're connected. It's just that easy.
Is your phone eSIM ready? Read about how e-Sims work or click below to see one of the top eSIM providers on the market and ditch the plastic.
Buy an eSIM!
Is it safe to rent an Airbnb in Bogota?
Yes, it is definitely safe to rent an Airbnb in Bogota. There are plenty of affordable homes to choose from too. With the reliable rating and review system, you can check how previous guests liked their stay. Check their reviews for anything dodgy or safety concerning. If you can't find anything, you're good to go!  
Is Bogota LGBTQ+ friendly? 
Bogota is home to one of the most vibrant LGBTQ+ nightlifes in Latin America. There are plenty of gay-bars and clubs where you can feel perfectly safe and accepted. During the year, there are plenty of same-sex parades and events, which are very popular amongst the citizens.
However, there will always be one or the other idiot that leaves a rude comment, but apart from that, you won't have anything to worry about. All in all, Bogota is very safe for members of the LGBTQ+ community. 
FAQs on Bogota's Safety
Planning a safe trip to Bogota can get quite overwhelming. That's why we've listed and answered the most frequently asked questions on safety in Bogota.
So, is Bogota Safe?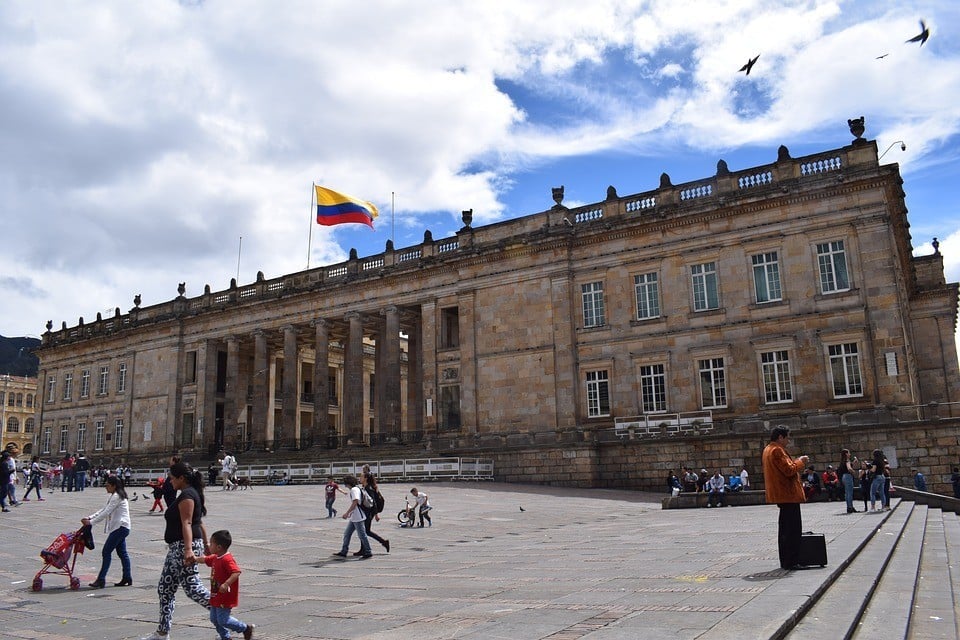 Bogota is a great city and overall safe, but just like safety anywhere in Colombia, it can become a bit sketchy sometimes. Anywhere in the world, taking the wrong turn onto a deserted street at night can end up in a pretty bad situation, you could be pickpocketed in a busy tourist area and you could be looking at your smartphone and have it suddenly snatched from your hands. That's pretty much the same in Bogota, where crime happens.
Yes, it may have that Narcos' reputation of buildings getting bombed, ultra-violent drug trafficking gangs and corrupt government officials, but that was a depiction of a Bogota, a Colombia, of the past. The country and its capital today are looking forward and you're not really going to have to worry all that much about drug lords running the show.
Bogota is a normal city. It closes its roads on Sundays for cyclists. There are a ton of museums and galleries. People sit around in parks, go to work, use public transport, eat at fancy restaurants, go for coffee. Crime exists in Bogota, but the best way to avoid it is to not treat Bogota like a holiday destination; treat it like a city, not wandering around oblivious to your surroundings, and you'll do pretty well.
Don't Forget your Bogota Travel Insurance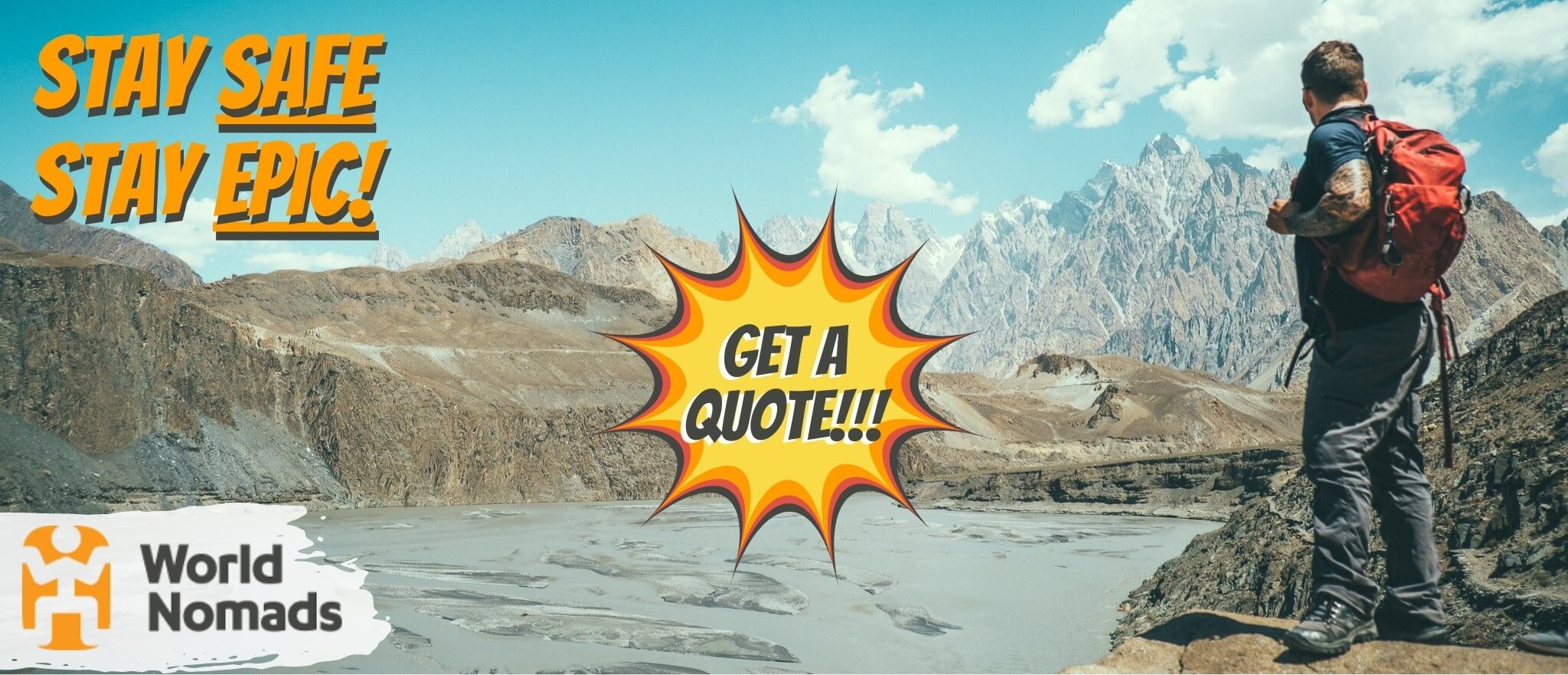 It's good to get lost sometimes, but it's also good not to get too lost. There are people that want you home in one piece.
There's one travel insurance provider The Broke Backpacker trusts for all his wildest shenanigans… World Nomads!
Click the button below to get a quote on your insurance or read our in-depth review of World Nomads' coverage. And then… let the shenanigans begin. 😉
Disclaimer: Safety conditions change all over the world on a daily basis. We do our best to advise but this info may already be out of date. Do your own research. Enjoy your travels!
---
Bye for now, but not forever!
If you want MORE top-tier Broke Backpacker content like this, then sign up for our weekly newsletter below to get the latest and greatest!
And for transparency's sake, please know that some of the links in our content are affiliate links. That means that if you book your accommodation, buy your gear, or sort your insurance through our link, we earn a small commission (at no extra cost to you). That said, we only link to the gear we trust and never recommend services we don't believe are up to scratch. Again, thank you!