In previous decades, Colombia was considered one of the most dangerous countries in the world, but today it's another story. With a BOOMING tourism sector, Colombia is now a popular eco-tourism destination with beaches, rainforests, mountains, and an enormous history to get stuck into.
But it is true that Colombia was once rife with violence. Even as late as 2002 it had one of the highest homicide rates in the world. And though the civil war finally 'officially' ended in 2016, drug trafficking and militias are still active. So we don't blame you for wondering, "is Colombia safe?" "Just how dangerous is Colombia?"
Don't worry. We really are going to make sure you know the full story when it comes to staying safe in Colombia. We've written this guide for safe travel in Colombia because we at The Broke Backpacker believe you should be able to have an amazing time AND stay safe whilst doing it!
We're going to cover a load of different topics. We'll look at whether or not it's safe to use the metro in Medellin (spoilers: YES), if the food in Colombia is safe, whether or not you should relocate to Colombia altogether, and just about everything else in between. There will even be a special section including travel tips for female solo travelers as well.
So whether you're worried about backpacking through Colombia long-term or if you're just worried about an upcoming two-week trip, it's ok. We've got you! Whatever you're worried about, our guide will answer your questions.
How Safe is Colombia? (Our take)
So is it dangerous to backpack Colombia? When it comes to safety in Colombia you might think of Pablo Escobar and episodes of Narcos, but today Colombia is relatively safe to visit. Come for the rainforests, the history, the beaches, but at the same time don't expect it to be the safest place in the world.
Petty theft (mugging and pickpocketing) is still an issue and there are still volatile areas where it's advised you shouldn't go. Crime rates remain quite high and there are even armed militias involved in the drugs trade. Kidnappings still occur to this day and even landmines are an ongoing issue. Needless to say, security situations can change pretty quickly.
Spiking's with Scopolamine are pretty common in Bogota and tourists are often targeted. Do not EVER accept drinks or cigarettes from strangers.
Then there's the nature; earthquakes occur regularly, intense rain can cause landslides in the Colombian Andes, and there are dangerous critters lurking in the jungles and hills. If you're afraid of snakes, bad news – Colombia has heaps of them.
However, that doesn't keep the tourists away, nor backpackers, and it shouldn't keep you away either. Tourism is BIG news here and in recent years is contributing to the wealth of the country.
So let's go deeper into exactly why Colombia is safe to visit these days….
Is Colombia Safe to Visit? (The facts)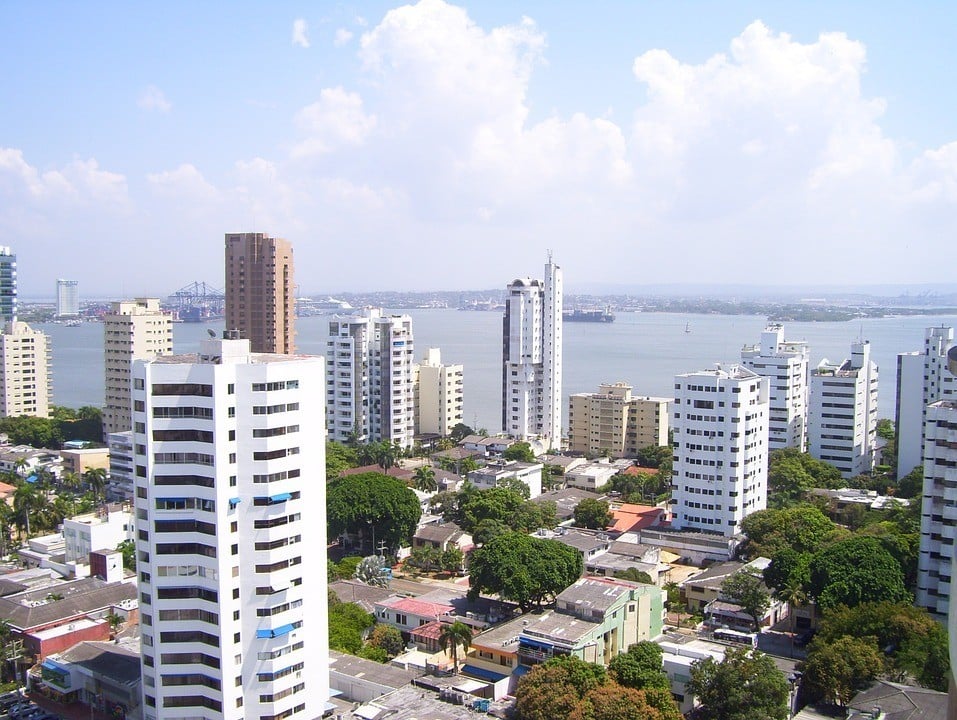 So is it safe to travel to Colombia then? Regardless of the status of travel advisories, Colombia is the new darling of South American travel. The country has been 'rediscovered' despite many critics telling you that it was unsafe to visit Colombia. Today, Colombia is statistically safe to visit.
Colombia's former president Alvaro Uribe created what's known as "democratic security", which resulted in something of a tourist corridor being created and pushing rebel groups like FARC (Revolutionary Armed Group of Colombia) away from highways and major cities into more rural areas.
Ultimately FARC, the largest rebel group, 'officially' became a political party in 2017 after a peace agreement in 2016 ended a 50-year-long civil war. That doesn't mean that the conflict is 100% over – in fact, it's still pretty fresh. But Is Colombia safe for tourists? The answer is yes.
Numbers-wise, we're talking a jump in tourism from 600,000 visitors in 2007 to 4 million visitors in 2017. That is HUGE. It's one of the fastest growing tourist markets globally and is outpacing tourism in other Latin American countries. It's hard to argue with the millions of tourists who visit here and leave totally unaffected by any issues in Colombia.
But…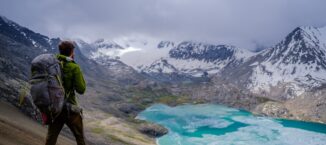 Discover Broke Backpacker Travel Secrets!
Pop your email address in below and we'll send you your copy of the Backpacker Bible for free – learn how to travel on $10 a day!
Is it Safe to Visit Colombia Right Now?
The civil war may be over in Colombia, but not everyone is happy with the outcome. Isolated incidents of bombings have occurred and recently the People's Liberation Army has announced an armed blockade.
But honestly, what you're most likely to encounter on the streets is not an armed rebel, but a guy trying to scam you.
A lot of the real danger is basically around the frontiers near Ecuador, Panama, and Venezuela. Drug traffickers are still very active in these areas so it may be unwise to go near them.
Sticking to the main routes or going on organized tours is probably the best way to NOT encounter any trouble. For instance, if you plan on visiting the Lost City in the Sierra Nevada de Santa Marta, you will have to book a tour.
Political protests are common in Colombia. As in any country that isn't your own, avoiding protests and demonstrations is the thing to do if you want to avoid injury or detention.
At the end of the day, more remote areas = more rebel group activity = more chance of trouble. You may be backpacking, but sticking to the tourist routes is probably your safest bet right now.
Do you need Travel Insurance for your trip? Even if you're only going for a few days, that's more than enough time to get smote by wrathful angels. Have fun in Colombia, but take it from us, overseas medical care and canceled flights can be seriously expensive – insurance can, therefore, be a life-saver.
Travel mishaps can and do happen and it is well worth thinking about insurance before you leave home.
We have used World Nomads for years now and I have personally made several claims. Why not get a quote from them yourself?
Do be sure to read the terms and conditions to make sure that the policy covers your needs.
Getting an estimate from World Nomads is simple – just click the button or image below, fill out the necessary info, and you're on your way!

If you want to shop around a little, then read up on competing insurance companies and what they can offer. There are lots of insurances out there, so don't feel limited.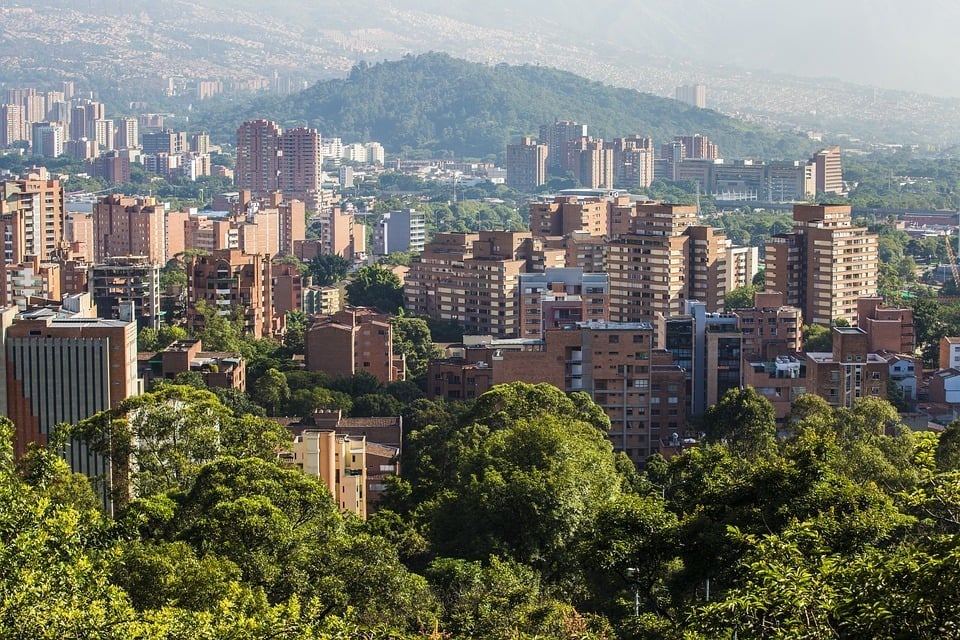 Most visits to Colombia are trouble-free. But there's no harm in knowing a few safety tips for Colombia to really make sure that you have a blast in this amazing country. So here are a few insider tips for staying safe in Colombia.
Here are our top Colombia safety tips;
Keep up to date with the news in your local area – security issues can change from day to day and can from safe to bad, real quick.
Don't show cash, wear jewelry, flashy clothes – if you look rich, you're a winning ticket for a potential thief.
Carry a decoy wallet – it's best to have a few pesos in a crappy wallet. Muggers can become frustrated if you have nothing. Hide your real cash in a money belt.
Say no to illegal cabs – no, no, no, no. Nope. Never a smart move.
Don't use ATMs after dark – it's a no-brainer but thieves operate best at night and ATMs are the perfect spot.
Carry a copy of your passport and visa – local cops don't get paid a lot and have been known to hassle tourists who don't have their passport, etc. Keep a copy and save yourself having to bribe them.
Learn some Spanish – this will get you far. From conversing with people to simply getting around – it helps.
Split your cash up – unless it's happened to you, you have NO IDEA what a headache it is to lose all your money at once.
NO DRUGS – why get mixed up in all that? Be responsible.
Ignore 'plainclothes police officers' – these are people masquerading as police officers and are just after your money.
Watch your belongings in crowds – an easy place for pickpockets to get some easy cash.
IF someone wants to rob you, don't resist – your money, or your life – seriously not worth it.
Be aware that distraction techniques do happen – "Look at this!"… then whilst you do, boom – your pocket's been picked. Ignore them.
Go with a well-reviewed guide on treks – they'll know where to walk and will spot the venomous snakes that you'd step on.
Know your limits, drink-wise – getting dead drunk can also get you robbed, assaulted, or worse.
Male or female, don't walk around by yourself at night – get a cab and save yourself from quite likely danger.
Ask for prices before you accept a service – that way you can avoid coughing up massive amounts after a so-so tour.
Don't accept drinks or cigarettes from strangers – just politely turn them down. Spiking's are pretty common.
Keep an eye on the weather – inclement weather can more than just put a dampener on a day with landslides being quite common.
By following our safety tips for Colombia you'll get to have a blast whilst staying safe. Isn't that the best way to do it? Remember: it all comes down to traveling smart so you can travel without having to worry.
Some General Safety Tips from the OG Broke Backpacker
Keeping your money safe in Colombia
Pickpocketing, robbery, distraction techniques, bribery… there are quite a few possible ways to lose your money. It's not unique to any place, but keeping your money safe in Colombia is a big issue.
It's pretty much the most common crime in Colombia. Most of the time it's non-violent, but losing your money is still very frustrating. The best prevention is simply to hide your cash. And the best way to do that is by using a money belt.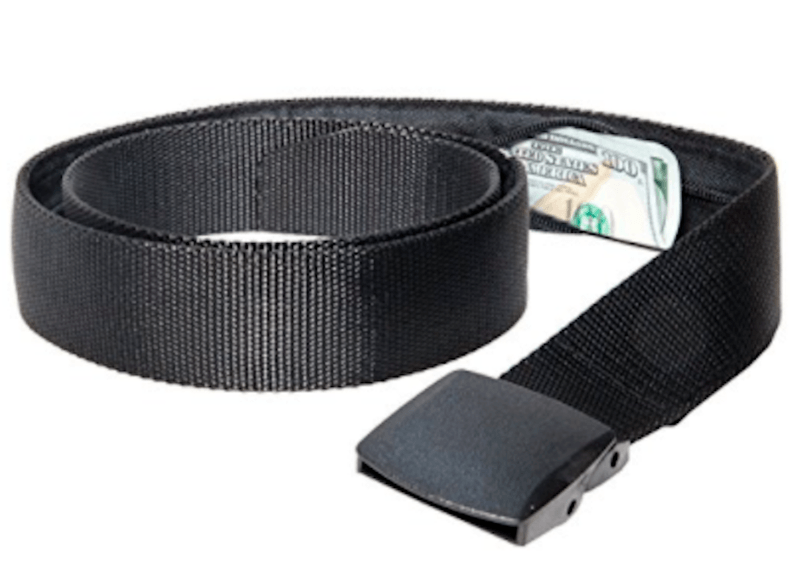 Yep. There are a few different money belts out there to choose from, granted, but when it comes to our choice over here at The Broke Backpacker we'd always go with the Active Roots Security Belt.
It's affordable, it's pretty sturdy, and, the best thing of all, it doesn't LOOK like a touristy money-belt. It looks like… a belt. Perfect.
If pickpockets target you, you'll have a lil' stash of money in this belt. Even if someone robs you, handing over a decoy wallet whilst your main money for the day stays safe in a money belt is perfect. And what's more, you'll have something to fall back on if you lose your bank card or wallet (a huge pain). At the end of the day, we highly recommend this one.
If you need a little more room for your passport and other travel valuables, have a look at a full-size money belt that tucks under your clothes instead.
Colombia is safe for solo travelers, absolutely. A lot of people might think it's unsafe and think that you're crazy for wanting to go there, but travelers head to Colombia by themselves all the time. And the majority of visits are without issue.
Honestly, what will worry you most probably are the people back home. You'll feel confident about traveling solo to Colombia, but your family's disapproval may put doubts into your head. Listen to them but don't let their worries drown you.
Colombia is safe to travel alone. However, that doesn't mean you can wander around the country without a care in the world. And we've got a few tips to keep in mind when you travel by yourself to Colombia. Here are some more Colombia travel safety tips.
The best way to beat the "solo traveling blues" whilst you're on the road is to meet other travelers. Staying in good, sociable hostels in Colombia, or going on organized tours, is the best way to do this. Plus you can share travel tips and stories, too.
If you do go on a tour – research. The best tours are where you'll meet the best people and get the best information.
Try not to stand out like a wealthy tourist. Just have a look at what other people are wearing in whatever area you're in. Maybe a singlet and short shorts isn't always a good idea, is what we're saying.
Your SLR camera dangling around your neck might not work either…
The same goes for talking loudly – shouting around in English (or your native language) is going to make you stand out like a BEACON.
Get some Spanish in your brain. If you're lost, this will help you become un-lost. If you want to meet some locals, this is the best way to do so. Learning at least a little bit of Spanish will go very, very far.
Don't listen to fear-mongering stories. Use your common sense, follow our travel tips, be smart, but also remember that Colombian people are basically REALLY friendly in essence. Tourism is still in its infancy here meaning people will be happy to see you and chat with you (which is why Spanish helps).
Ok, so there may be travel warnings against border areas, but that doesn't mean you should stick to the cities. Head out into nature, see the smaller towns, just be aware of local security situations, weather reports and travel warnings. As long as you stick to where other backpackers are heading, you'll be fine.
We're confident that Colombia is safe to travel alone in. It might not be the best place for a nervous first-time solo traveler, but if you're smart and flexible, you'll be better prepared. Get ready for an amazing new experience and to be welcomed into a vibrant society before the tourist scene truly explodes!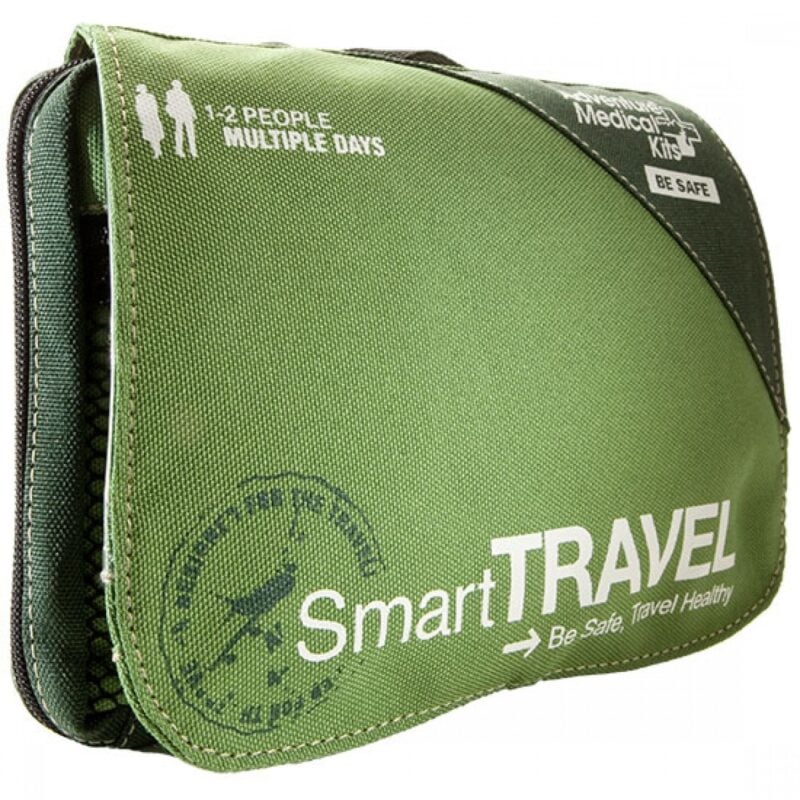 Be prepared for what life throws at you on the road. Pick up an AMK Travel Medical Kit before you head out on your next adventure.
View on REI
View on Amazon
Is Colombia safe for solo female travelers?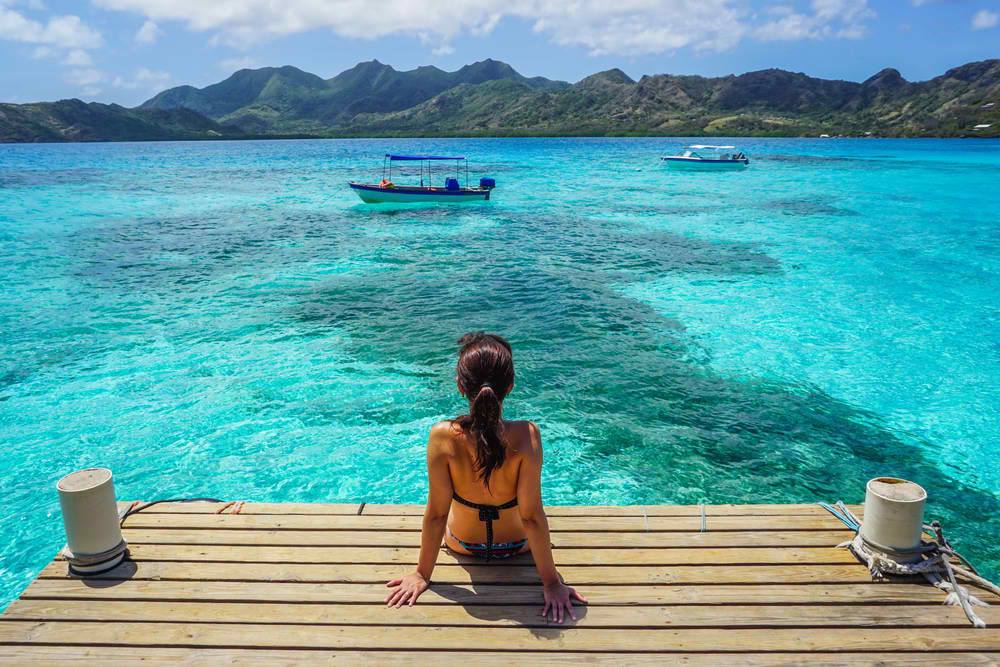 Is traveling to Colombia safe for women? Well we've established that Colombia is safe for solo travelers. But when it comes to being a female solo traveler, there are always a different set of rules to live by. Sad but true.
With all this chat about kidnapping, dodgy police, and armed militias, it can feel a lot like Colombia is a no-go for anybody – especially female solo travelers.
We think everyone, regardless of their gender, should be able to travel where they want. For that matter, a lot of women, despite audible concerns, travel to Colombia anyway. It may not be the safest places in the world to visit for women, it may be overlooked as a destination for women all-together, but women do travel to Colombia alone.
Colombia can be safe for solo female travelers but they must take special precautions. If you're thinking about it, here are a few tips for solo female travelers heading to Colombia.
Colombia is still pretty much a macho society. Expect catcalls as they are an accepted behavior in Colombia. Instead of getting upset, which will just ruin your time, just ignore it, walk by, and be confident. This is part of the culture and society you're visiting and reacting won't make it any better.
It's sensible to dress according to the destination. Medellin = modern. The rural Colombian countryside, however… is not. You might want to cover up. Even if it's for comfort – wearing sensible clothes on a trek makes sense.
It's a smart idea to get a sim card. Keep in touch with your family back home.
Do your research before you arrive at your destination, or even before you plan going there. Are there security concerns? Does the hostel you're staying at have a lot of good reviews? A female-only dorm? Good planning is 99% of staying safe.
Drinking too much is an easy way to make poor judgments, get yourself into bad situations, and to end up hanging around with people you wouldn't normally think were "ok".
Remember: most of the serious crime you hear about is gang-related i.e. gangs attacking other gangs.
Take taxis but don't just hail one. Download a taxi app, get your hostel to call you one, anything that allows you to know the company and driver. Whatever you do don't just get into a random cab.
Don't put anything into your pockets. If it looks like there's something in there, it will most likely be pickpocketed. And on a similar note, don't leave your bag on the floor – even if it's literally right next to you.
If something does happen (bag stolen, etc.) in a tourist area make a fuss. When somewhere like La Candelaria in Bogota where there are lots of tourist police, shouting and making a fuss will alert people nearby and likely spook any would-be thief. Tourism is important for Colombia, and they want to make sure you don't leave with any bad stories to take home with you.
Watch out for your drink. Spiking happens and the best way to avoid this is to always be holding (and keeping an eye on) your beverage.
Try not to look lost. It's a good way to look like a tourist and therefore a target – to some, at least.
At the same time don't be afraid to ask for help. Colombians are very friendly and if you've hurt yourself, need directions or even advice, chances are there will be a whole load of people not only willing but happy to help you.
Fear not – Colombia is safe for solo female travelers. It's not an IDEAL place, that goes without saying, but it is a fascinating and enriching country to visit. You'll be more overwhelmed by culture and kindness than drugs and dodgy situations. It's important to be smart though, so follow our tips and do your best to stay safe!
Is Colombia safe to travel for families?
Is it safe to go to Colombia with your kids? Maybe you've watched too much Narcos, but if you're thinking this is a drug-riddled war-zone, you couldn't be more wrong. It's not easy, but most definitely Colombia is safe to travel for families.
All of the bad stuff – the killings, the kidnappings, the violence – those days have been (largely) left in the '90s and today the people of Colombia are open and willing to show off their beautiful country.
All sorts of tourists are heading to check out the hidden-in-plain-sight gem that is Colombia. Everybody's welcome and that goes for families too.
It seems to be a source of national pride for its citizens that Colombia is now so popular. Travel here with your kids and you'll see that pride come out in the form of super friendly Colombians.
Colombia is a country on the up. The arts and literary scenes are flourishing, tourism is booming, and you'll be happy to know that Colombian culture is family oriented. There's you as an individual – and then there's the family as a whole, which is usually the center of a Colombian person's life.
On top of that, family-friendly activities and adventurous outdoor exploration abound. You can spend nights in a jungle treehouse, play around on beach havens, and trek through cloud forests, amongst other things. Every Sunday in Bogota, 75 miles of road in the city center is shut down to motor traffic (ciclovia) so people can bike and walk freely. Join the locals and rollerblade, cycle, walk or otherwise enjoy this idyllic traffic free day!
Without a doubt, Colombia is safe for families to travel. Take all the usual precautions that you would when traveling with children (medication, snacks, first aid kit, etc. etc.) and you'll all have an unforgettable time.
Is it safe to drive in Colombia?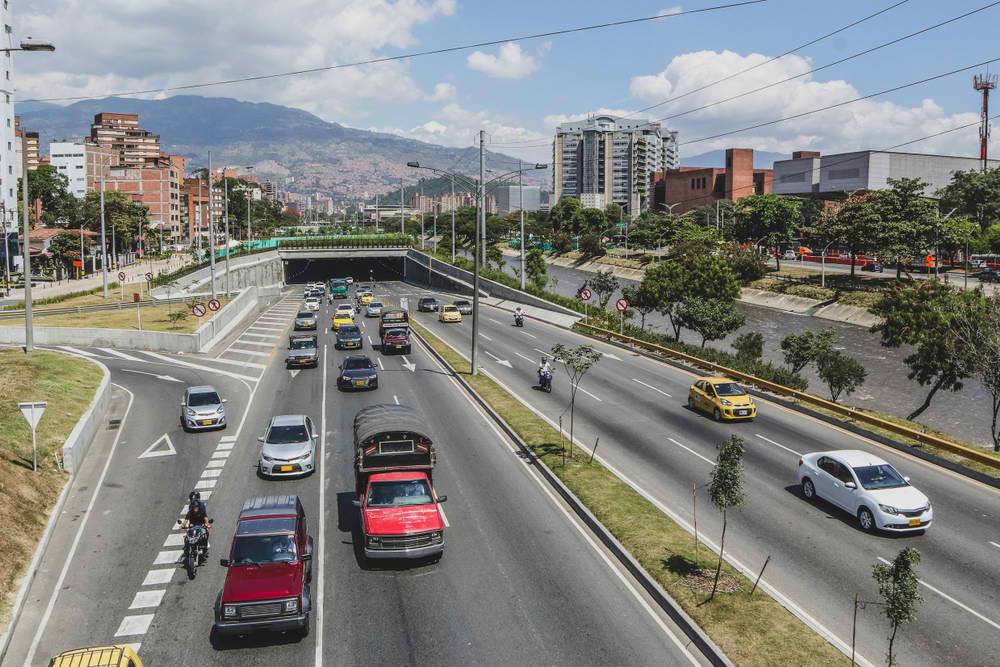 Colombia isn't exactly the number one destination for a road trip. Thanks to the drugs trade, Colombia previously wasn't safe to drive in. However, since most highways were cleared of rebel groups, things are looking up.
Still, if you're planning on embarking on a road trip of Colombia, we would advise taking extra precaution when choosing where exactly you'll be driving. Only taking routes between well established 'tourist towns' is the best bet. Anything else, and especially more remote, rural roads, will put you at risk of being pulled over, questioned, or worse.
The highways themselves are well maintained. Traffic in cities can get pretty heavy in rush hour.
The condition of the roads depends on where they are. There are relatively flat roads on the Caribbean coast, winding routes in the Colombian Andes, and jungle tracks everywhere in-between. All in varying degrees of repair and disrepair.
It almost goes without saying but don't drive at night. This isn't just because of dodgy people (by which we mean militias), but also because of things like cows in the road, hairpin turns on mountain routes, landslides, or other hidden hazards. Just don't.
When it comes to renting a car in Colombia there are a few things you should bear in mind. Don't expect luxury. The cars you'll be able to rent aren't going to be the best in the world. Far from it.
You'll also have to be 23 years old if you want to rent. Plus, you need to be able to speak some Spanish to help you navigate ("Where is the petrol station?" – "How far is it to X?"). A bit of research on the road signage in Colombia wouldn't go amiss either.
If we're being honest, we don't think that it's totally safe to drive in Colombia, yet. Unless you're hellbent on it or you're a super confident driver, it's probably not worth the stress. Local drivers can be crazy, there are often things in the road, mountain passes are filled with slow-moving traffic, and let's not even talk about the cities.
The buses are good enough for us.
Is Uber safe in Colombia?
Yep. Uber is safe in Colombia. Available since 2013 (beginning in Bogota where taxis were/are notoriously bad) and in most major cities, it's probably one of the safest ways to get around.
You can avoid A LOT of hassle by taking an Uber, and won't have to worry about the stresses of public transport or scams or illegal taxis. You order, get in, know where you're going, pay, leave. Simple as that. The review system means service and safety is the selling point of Uber in Colombia, not the price point.
One note: you might be asked to sit in the front seat. Don't be alarmed. The driver is just protecting themselves from being seen as an Uber by 'traditional' taxi drivers who, like most places in the world, oppose Uber.
And speaking of taxis…
Are taxis safe in Colombia?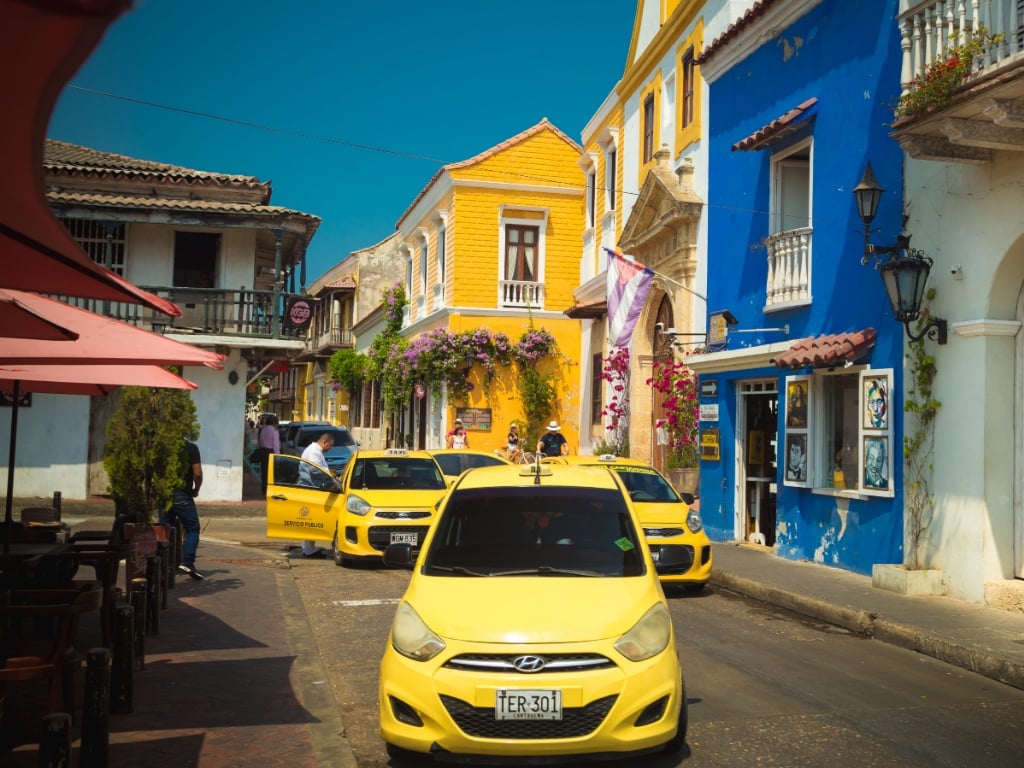 When using taxis in Colombia, it is very important to use them correctly as a lot can go wrong. One day you might hop in a perfectly normal, cheap taxi that takes you from A to B. Another day you might step into a car with a driver masquerading as a taxi who will rob you. These taxis, obviously, are illegal.
Taxis CAN be safe in Colombia, mainly by taking a few precautions.
Number one rule: don't hail a taxi off the street. Pretty much 10/10 these will be illegal, a scam, a robbery waiting to happen. Don't bother.
Real taxis you'll find at taxi ranks outside shopping malls and hotels (in cities anyway). They're usually very cheap.
Don't fall asleep in a taxi. The driver could just drive around hiking the meter up before getting you to your actual destination.
Since there have been so many issues with taxis in Colombia, always take a photo of the number plate and/or the driver's ID. You might even want to make a fake call (even better if you do it in Spanish) telling someone that you're in a taxi and what the license number is.
Downloading an app called Tappsi is a good way to make sure you'll be stepping into a real taxi. You'll know the car's registration and driver's ID and they'll know where you're going. Plus the journey's logged.
If you're not feeling brave enough for the buses in Bogota, a taxi is a cheap way to get around. Be aware they do come with the above issues.
At the end of the day, taxi safety (or lack of) in Colombia is the reason why Uber has become so popular. Best to just stick to the latter.
Is public transportation in Colombia safe?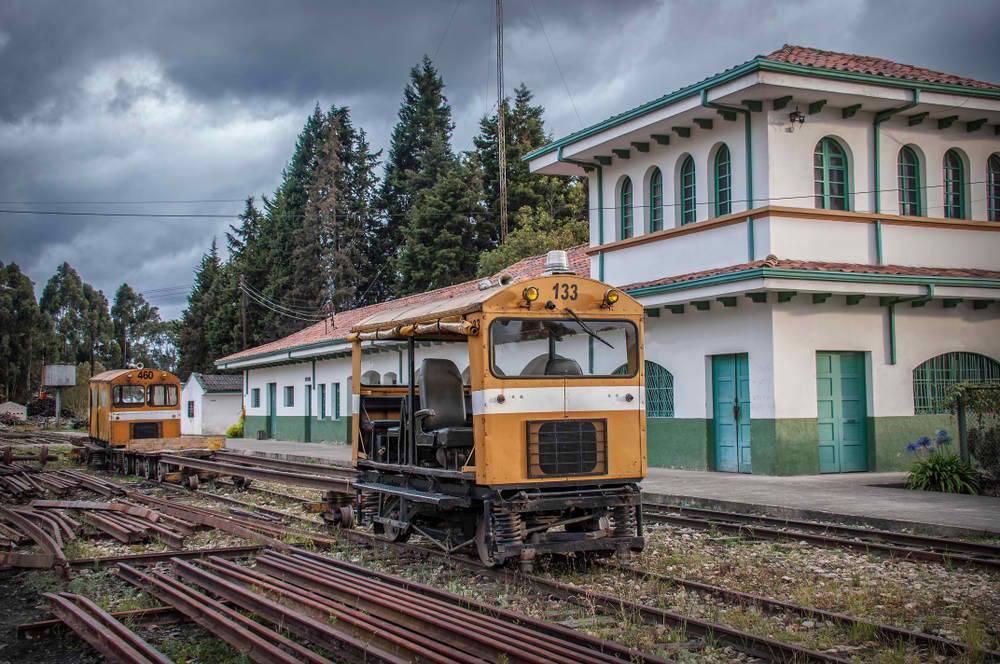 Traveling on public transport in Colombia is nowhere near as dangerous as it once was. Nowadays it's used by pretty much everyone, even tourists.
Other than the metro in Medellin (more on that in a bit), there are no public train services in Colombia. The only way to travel around by train in Colombia is what's known as the Turistren – yes, tourist train – which runs between Bogota and Zipaquira. It's safe to travel by train in Colombia this way because it's for tourists and tourists are good for business.
Bus travel is a lot more common in Colombia. There are loads of different companies, with varying levels of quality service and comfort, so do your research.
There might be military checkpoints along the way. You'll be asked to disembark and show your ID. Don't panic: what this really means is that rebel militias aren't in control in this area. If anything you should feel safer!
Worried about night buses? Don't be. They're safe in Colombia. Again – do your research. An onboard toilet and reclining seats are likely to be a more a comfortable option, especially if you're traveling long distance.
Hop on a colectivo (or any kind of minibus) if you don't need to travel too far a distance. These are relatively safe, a good way to soak up some local life, AND cheap.
Alternatively, there are domestic airlines plying routes between various cities in Colombia. Air travel is safe in Colombia, so if you don't mind the carbon footprint, and you're on a short trip, opting for air travel is fine.
Bogota is the largest city in the world without a metro system. It does, however, have a good bus system called TransMilenio. Prepare for overcrowded, but mercifully air-conditioned rides around the city with around 20 minutes waiting time (on average). Watch your belongings as any crowded situation is good for pickpockets.
When it comes to the metro, this is really only a thing in Medellin. It's pretty much state of the art, clean, as well as easy and safe to use. It's one of the best ways to get around the city. It can get crowded during peak hours (like most metros) but it remains safe.
Overall, and surprisingly, public transport is safe in Colombia.
Keep everything on you in transit!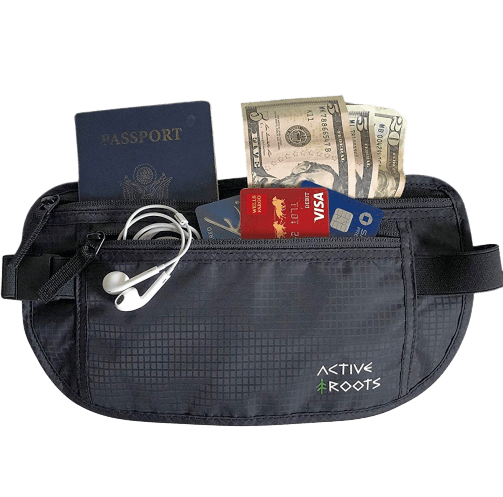 When moving from place to place, you shouldn't store travel documents in a bag, even if it's under your seat or overhead.
A full-sized money belt that stays tucked under your clothes keeps your documents and cash organized during your travels and assures nothing critical gets left behind or stolen.
Is the food in Colombia safe?
Colombian food is delicious. It's all huge piles of rice, potatoes, pork, big meals, heavy ingredients, sweet desserts and a whole load of local specialties to dive into.
Generally speaking the food in Colombia is safe to eat. It's more than safe to eat – it's delightful too. But in order to avoid getting sick, here are a few simple rules to follow to make sure you'll be eating the tastiest and safest grub when going.
Don't rush in ordering without thinking because you're starving. Be hungry, that's ok, but being starving makes you order quickly and without caring what it looks like or where it comes from. Have a sensible snack!
Make sure that what you're about to eat is freshly cooked and hot. Best of all, if it's been cooked in front of you that's a surefire sign that it's all good.
If the food looks like it's been sitting around uncovered in the sun for some time – avoid. It may be crawling with germs.
Avoid raw stuff: eggs, seafood, and meat. Raw eggs, well, these are hotbeds for bugs. Unless you can 100% guarantee that the fish or meat you're eating is very fresh, it's better to be safe than sorry.
Fruit and vegetables are tasty. But unpeeled, unwashed, unboiled vegetables or fruit can be risky. Best avoided.
A decent rule of thumb for any restaurant anywhere in the world: if it looks busy, there's probably a good reason for that. It's most likely delicious and safe to eat there.
Learn a few Spanish phrases so that you can learn about what you're ordering, how much of it you'll be getting, and how much you'll be paying. Portions are BIG here.
Are you a vegetarian? Too bad… There's a big focus on meat in the Colombian diet and you'll often find it difficult to find a dish that DOESN'T have meat included. To avoid eating something you don't want to, either learn some phrases to ask what dishes are meatless or learn which dishes are purely vegetarian.
And an oldie but a goodie: wash your hands. An easy way to not get ill.
Traveling with an allergy? Research ahead of time how to explain your allergy. Keep in mind that store owners and restaurant staff might not know all the foods that contain allergens, so it's helpful to know the names of some of these too. If you're gluten-free, pick up a handy Gluten-Free Translation Card with descriptions of Celiac disease, cross-contamination risk, and local Columbian ingredients in Latin American Spanish.
Food in Colombia is safe to eat; safe and delicious. If you're into big portions, you'll love it here. If you're a vegetarian… less so. It's even safer if you're sensible about WHAT and WHERE you choose to eat. You'll have a blast exploring the local food stalls without worrying.
Can you drink the water in Colombia?
This may surprise you, but the tap water in Colombia is safe to drink in many towns and cities. However, this is certainly not the case in all of them. As a rule of thumb, avoid it at least until you have checked with a few locals and other backpackers.
In rural areas you'll be able to buy a big bottle of water quite cheaply, so you shouldn't worry about staying hydrated.
Your hotel or hostel also may have a water filter. If so, reuse your bottles. Better yet: save the Earth and have your own water bottle, to begin with. Look into buying a good bottle, like the Active Roots Insulated Bottle, that can keep your water cool and take a beating at the same time.
Colombia is working on their water systems and water treatment is improving. Other cities and areas in Colombia may soon follow in the same suit as Bogota and other areas.
Want to save the world?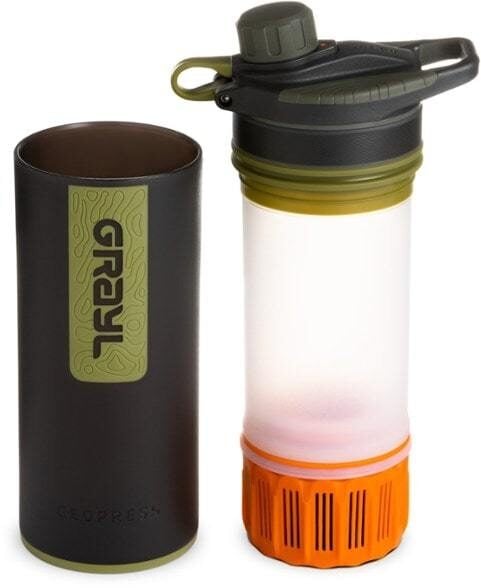 Single-use plastic bottles are a huge threat to Marine Life – Be a part of the solution and travel with a filter water bottle.
The GRAYL GEOPRESS water bottle is the ONLY all-in-one filter water bottle setup you'll need. Whether you need to purify the water from a hostel sink in Kathmandu or a stream trickle in the Andes, the Geopress has got you covered.
Read our full review of the GRAYL GEOPRESS!
Is Colombia safe to live in?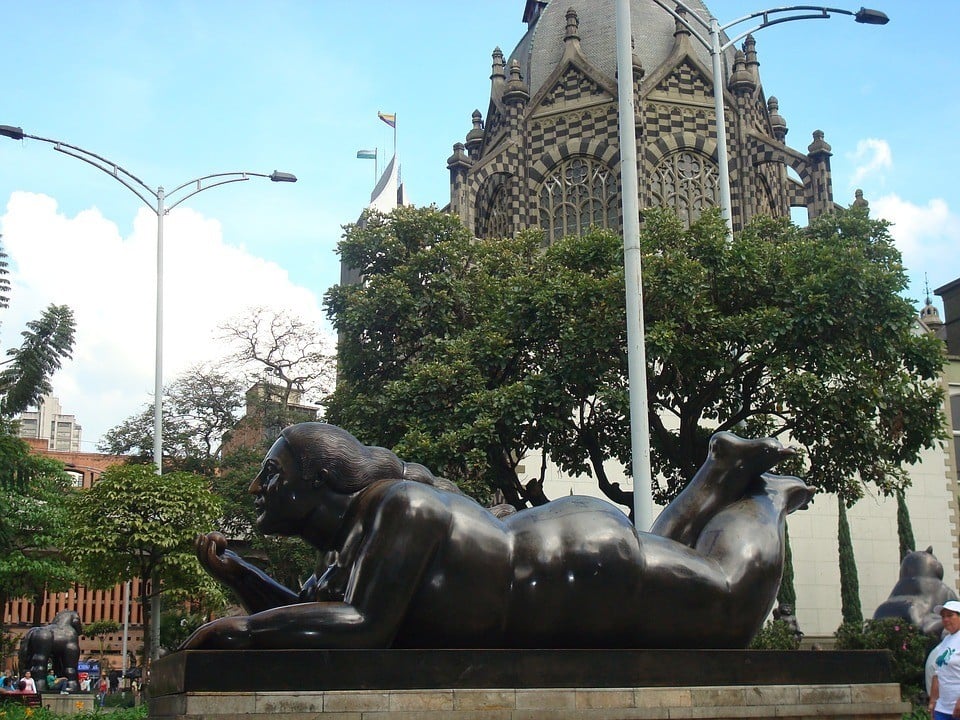 We've asked is Colombia dangerous for tourists but now let's look at expats. I n recent years there has been an increase in people making the leap and moving to Colombia. You'll find digital nomads hanging out in Medellin and older expats who have retired to Santa Marta, all of them enticed by warmer climates, very nice people, and amazing scenery.
We really don't blame you if you're thinking of moving to Colombia. All we can think of is the good coffee!
Whilst Colombia is generally safe to live in, the safety in some cities, like Bogota's safety for example, may feel a little restraining. There will only be certain parts of the city that you'll truly feel safe in, away from more rundown or working class areas, which might make you feel a little limited in terms of how far you're able to roam. If you're looking for the safest(-ish) city, we'd recommend staying in Cartagena.
Since you'll (hopefully) be integrated into the community and won't be sticking out as much as a tourist or even a backpacker, you won't be falling prey to the same sort of petty theft that we've talked about in this article.
And whilst blending in is a plus, Spanish is a must. If you ever hope to get around, communicate with and eventually get to know Colombians, you're going to have to speak their language.
It might not be as cheap as you think it's going to be, but if you're looking for a good climate and people to match, Colombia will be an adventure of a place.
How is healthcare in Colombia?
Surprisingly, there's excellent healthcare available in Colombia. In particular, private healthcare is really spectacular.
Public healthcare in Colombia is available. There may be fee's for use and the quality of carer varies. Private healthcare, on the other hand, is affordable and outstanding in terms of quality and cleanliness.
In rural areas… it's a different story. In fact, it's much harder to get access to healthcare. If it's an emergency, you'll need to get to a major city.
As a visitor, you will need to pay for Private Healthcare if you need any assistance. We recommend obtaining travel insurance before you go as bills can be high.
Helpful Colombia Travel Phrases
Learning a bit of Spanish is a great way to get the most out of your trip. Becoming fluent in Spanish really changes the way you are able to travel in Colombia and beyond. It is such a useful language to know! You can speak it in over 20 countries! Check out this post for some Colombian slang.
Here are a few helpful travel phrases with English translations for your backpacking Colombia adventure:
Hello – Hola 
How are you? – Cómo estás?
Very good – Muy buena
Beautiful – Hermoso
Cheers – Salud
Shit – Mierda! (a very light weight insult)
Shit eater – Come Mierda (for better effect!)
What? – Qué ?
Can you give me a discount? – Me puede dar un descuento? 
Where? – Dónde ? 
Do you have a lighter? – Tienes un encendedor? 
Two beers please – Dos cervezas por favor 
Down that beer! – Hasta que la cerveza!
Can you give me a ride – Me puedes dar una vuelta?
What is your name? – Cómo te llamas? 
How much does this cost?  – Cuánto cuesta?
Final thoughts on the safety of Colombia
Is Colombia Safe? Our Final Thoughts
So is Colombia dangerous?! No, but you do have to be careful. It would be such a shame to miss out on Colombia because of the scary stories that have come out of this country, which are all based on an outdated reputation. Those days have largely passed. The incredible coffee, the extremely friendly people, the wild nature, the eco credentials of this place, alongside its landscapes and endless beaches… how could you miss that?
Colombia still isn't what we'd class as 100% safe. There's pickpockets, fraudulent taxis, occasional muggings, and people posing as police officers to get your cash. You might even get caught up in something political or security-related. But traveling smartly, trusting your gut, and keeping abreast of local news will help you avoid any danger.
Our insider guide will help make this an even safer destination for you. You now have a ton of travel tips designed with your safety in mind. Ultimately, most trips to Colombia are trouble-free. But with this guide in mind, you'll be clued up, less worried about potential dangers, and more interested in getting properly absorbed into this amazing country. And have you thought about getting Travel Insurance for your trip? You can get a quote from World Nomads by clicking on the link below.
Disclaimer: Safety conditions change all over the world on a daily basis. We do our best to advise but this info may already be out of date. Do your own research. Enjoy your travels!
"Find out how YOU can support the site. We work hard to put out the best backpacker resources on the web, for free! It's all about helping out our tribe of awesome backpacker readers [that's you!]. Please visit the link to find out how you can help keep the site going 🙂
For the sake of transparency, some of the links in our content are affiliate links. This means that if you book your accommodation, buy a book or sort your insurance, we earn a small commission at no extra cost to you. I only link to stuff I've actually used and never endorse products or services that are not up to scratch. Thanks for your support.