There are few better places to start an epic South America adventure than Cartagena, Colombia. This gorgeous colonial city sits on the Caribbean coast of Colombia, just a short flight from the southern US.
Its historic city center, paradisiacal beaches, mouth-watering cuisine, and raucous nightlife make it the perfect choice to ease yourself into the continent.
Thanks to its location and history, there is a distinct mix of cultures and styles present in Cartagena. While the city is very much Colombian, the Spanish influence is abundant. It was also one of the first sanctuaries of freed slaves, which resulted in a mixed Afro-Colombian population and culture.
Being on the Caribbean, Cartagena and the surrounding coastal region is quite different from the rest of Colombia, where most people live in the mountains. People here are known as Costeños, and their unique accent and culture set them apart from the rest of the country.
One major highlight of traveling to Cartagena includes exploring the colorful walled city, which was listed as a UNESCO World Heritage Site in 1984. Outside of the old city walls, you can take your pick from several white sandy beaches.
If you're planning on backpacking Cartagena, you'll be happy to hear that it's an affordable destination. The city is home to dozens of excellent hostels, a good public transportation system, and features plenty of places to eat and drink that won't break the budget.
You could also splurge on a luxury vacation if that's what you're going for.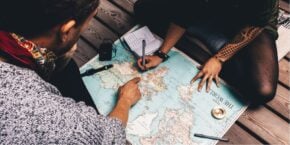 Heading Off-Grid? • Download This Guide as a PDF!
Sign up to The Broke Backpacker's EXCLUSIVE VIP AREA below and download our top backpacking guides as PDFs – go offline with peace of mind!
If you're backpacking Colombia, you'll probably end up in Cartagena at some point. Even though this is the most visited city in all of Colombia, you don't have to spend a small fortune to visit Cartagena; especially if you're coming from the US, Canada, Western Europe, or down under, you'll find that your money goes far here.
On the lower end of the budget spectrum, you can easily get by on a $30-40 a day budget. You can find a dorm bed in Getsemani for $10 a night or less that might even include free breakfast.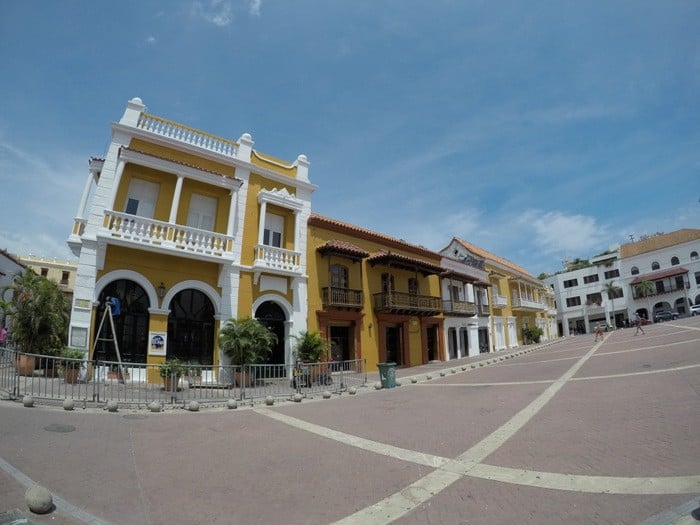 The city is very walkable, and you can catch a local bus for super cheap if you need to. At this budget, you'll be sticking to cheap local restaurants and dive bars.
If you up that daily budget to around $60-70 a day, you can stay in a nicer hostel within the city walls. With that extra money, you can afford to go on a day trip or two, such as the famous Playa Blanca. You'll also be able to sit down for a decent dinner and go out for drinks and dancing.
Average Costs of a Trip to Cartagena
Here's a breakdown of a daily Cartagena budget:
Dorm bed in a hostel: $10-15
Small basic room for two: $25-30
Airbnb in a shared apartment: $20-30
Taxi from the airport: $4-5
Local bus: $0.75
Castillo de San Felipe Ticket: $8
Street food snack (empanadas/arepas): < $1
Menu of the day: $3-4
Local beer at a bar: $1-2
Daytrip to Playa Blanca: $30-35
Cartagena Budget Backpacking Tips
Even though backpacking Cartagena is already pretty affordable, there are always things you can do to stretch your money even further. Here are some tips for those doing Cartagena on a budget: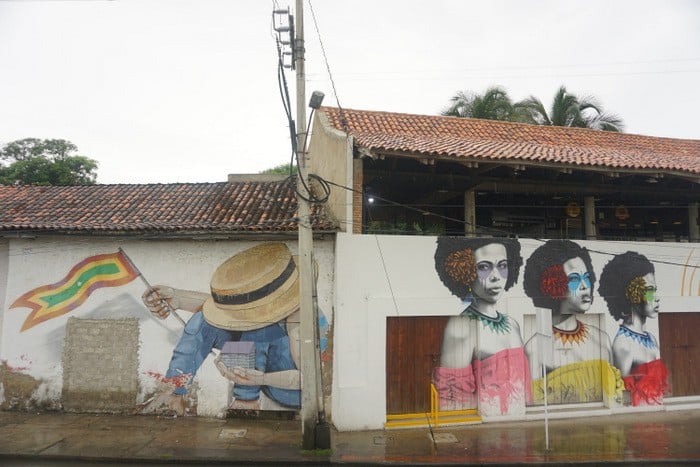 Stay in Getsemani: Most people who visit Cartagena want to stay either in the Old City or on the beach. Not surprisingly, you pay a bit more for those locations. The Getsemani neighborhood is a short walk/bus ride to both and is a much cheaper place to crash.
Book a hostel with free breakfast and/or a kitchen: Cutting down on your food expenses is a great way to stretch your budget. There are plenty of hostels that have free breakfast or offer breakfast for cheap. If there's a communal kitchen, you can buy groceries and cook a few meals for yourself.
Skip the holidays: Cartagena is a super popular destination for both domestic and international tourists. As such, the place is a madhouse during holidays such as Holy Week, Christmas, and New Year's Eve. Unless you want the elevated price tag, skip out on these times.
Learn some Spanish: There's definitely a bit of gringo pricing that goes on in Cartagena. Knowing at least a little Spanish will help you save money, as you'll be able to figure out local buses, eat at local restaurants, and most importantly, haggle in the native language.
Why You Should Travel to Cartagena with a Water Bottle
Plastic washes up on even the most pristine beaches… so do your part and keep the Big Blue beautiful
You aren't going to save the world overnight, but you might as well be part of the solution and not the problem. When you travel to some of the world's most remote places, you come to realise the full extent of the plastic problem. And I hope you become more inspired to continue being a responsible traveller.
Plus, now you won't be buying overpriced bottles of water from the supermarkets either! Travel with a filtered water bottle instead and never waste a cent nor a turtle's life again.
Save $$$ • Save the Planet • Save Your Stomach!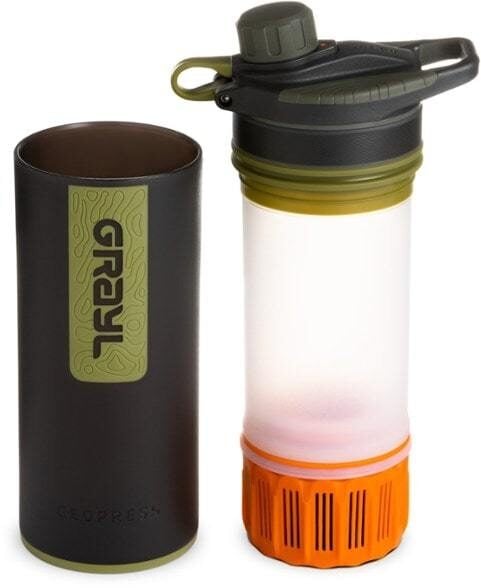 Drink water from ANYWHERE. The Grayl Geopress is the market's leading filtered water bottle protecting your tum from all the waterborne nasties. PLUS, you save money and the environment!
Single-use plastic bottles are a MASSIVE threat to marine life. Be a part of the solution and travel with a filter water bottle.
We've tested the Geopress rigorously from the icy heights of Pakistan to the tropical jungles of Cuba, and the results are in: it WORKS. Buy a Geopress: it's the last water bottle you'll ever buy.
Buy a Geopress!
Read the Review
IN A RUSH? THIS IS OUR FAVORITE HOSTEL IN CARTAGENA!
Most backpackers in Cartagena tend to stay in the Getsemani neighborhood. As I mentioned above, it's definitely cheaper than other areas in Cartagena.
This was once a pretty sketchy 'hood, but it has experienced a bit of a renaissance lately. It's now bustling with Cartagena's best hostels, street art, and plenty of trendy bars and restaurants.
There are also tons of hostels, guest houses, and hotels within the walls of the Old City. There's definitely an appeal to staying here since it's beautiful, but you'll just have to pay a bit more for it.
Those who would rather be near the beach than the sights can find plenty of accommodation in the Bocagrande area. You can even stay at a floating eco-hostel.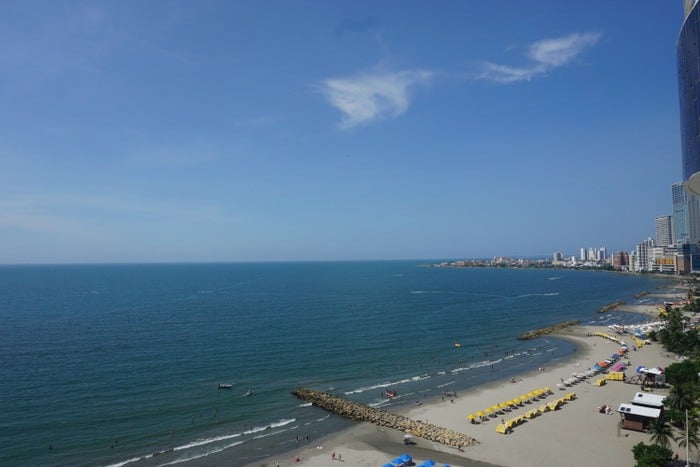 Overall Best Hostel in Cartagena – One Day Home
Scroll through the reviews for One Day Hostel, and you'll see several mentions of "best hostel I've ever been to." They must be doing something right at this great hostel in the Getsemani area of Cartagena.
You get an excellent free breakfast and solid WiFi here, as well as some awesome common areas to chill out in.
Highlights include: Orthopedic mattresses, helpful English-speaking staff, and free breakfast.
Best Party Hostel in Cartagena – Media Luna
If you're looking to let loose in Cartagena, Media Luna is the hostel for you. Their pool is the perfect place to hang out in the intense mid-day heat, and their rooftop bar is the place to party once then sun goes down.
Whether you stay here or not, be sure to check out their rowdy Wednesday night rooftop party. There is a well equipped kitchen here as well, so you can save money for going out by eating at home.
Highlights include: A pool, rooftop bar and parties, bikes for rent, and kitchen.
Situated among the winding lanes of the old town, this chic, modern studio apartment offers everything you need for your trip to Cartagena.
Its small kitchen is ideal for whipping up eggs and brewing your morning coffee. Bathrooms are clean and large, and more importantly, the bed is uber comfortable. There's even access to a terrace with a jacuzzi!
Best Hostel for Solo Travellers in Cartagena – Makako Chill Out Hostel
Where better to meet fellow travellers than at a free cocktail party? That's exactly what you'll find at the Makako Chill Out Hostel every Wednesday and Friday night.
There's also a very large and comfortable common room that encourages guests to mingle. This great hostel is located in a beautiful colonial house in the Old City, so you won't have to go far to see the sights.
Highlights include: Free cocktail parties, amazing location, and hammocks on the terrace.
Makako Chill Out Hostel is one of our favourites in Cartagena but they're not taking guests right now. We're not sure if they're closed for good but we hope they'll come back soon.
Now that you know where to stay in Cartagena, it's time to figure out what to do. You'd be surprised how much there is to see and explore in Cartagena. To make it a bit easier for you, we've listed our 10 favorite activities in the city.
1. Explore the Old City
Much of Cartagena's charm lies within the walls of the Old City. Here you'll find streets lined with colourful colonial homes, beautiful cathedrals, and several public parks and squares where locals gather.
There is a lot of history in Cartagena, so the best way to explore the city is through a free walking tour with a knowledgeable local guide. Tours depart every day at 10 AM and 4 PM in both English and Spanish.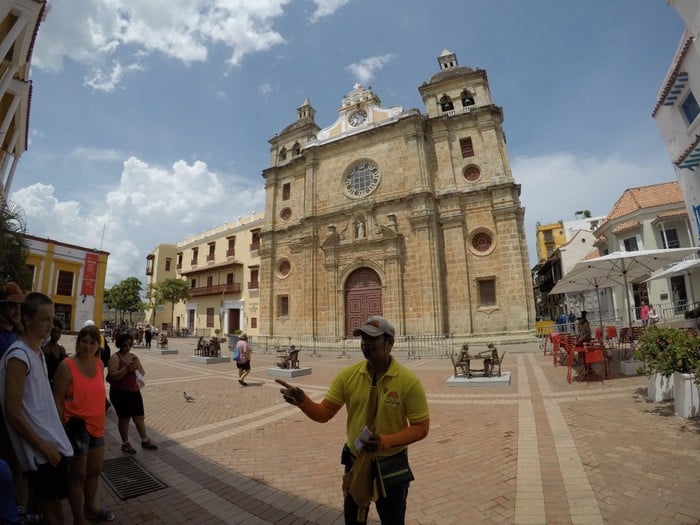 2. Day trip to Caribbean beaches & islands
Once you've seen the Old City, it's time to chill on the beach. The beaches in the city aren't great, so you'll have to go a little further afield.
Just about every travel agent in the city runs trips to places like Playa Blanca and the Rosario Islands. Just be aware that there are several reports of disappointing, overpriced tours, so be sure to book with someone reputable. Your Cartagena must-do list should definitely include some island hopping at least.
3. Castillo de San Felipe
Once upon a time, the Spanish used Cartagena as a major port to send gold and other pillaged treasures back across the pond. Unfortunately for them, pirates were ready to rob them of their booty. In order to thwart their pirating efforts, the Castillo de San Felipe was built.
This ancient fortress is a short walk or cab ride away from the Old City and it provides excellent views. There is a serious lack of information there, so it's best to pay for the audio guide or just take a tour if you want to actually learn something.
4. Soak in the mud volcano
Some may look at this as a tourist trap, but you can look at it as a fun half-day trip out of the city.
The Volcán del Totumo has a mud bath in the crater, which you can soak in for a while before hitting a beach and grabbing lunch. These tours are easy to sign up for and a fun thing to do in Cartagena if you've got the time.
5. Stay at a floating hostel
Just a 2-hour speedboat ride from the city, you'll find the amazing Casa en el Agua. This floating eco-hostel is located in the San Bernardo Islands, which are part of a Colombia national park and are thus protected by the Colombian government.
Sleep in a hammock overlooking the ocean, spend your days snorkeling or SUP-ing, and then enjoy group dinners and dance parties at night. I've done a lot of travelling, and this has got to be the coolest hostel I've ever stayed in.
6. Take Spanish lessons
If you're starting a massive South America backpacking trip in Cartagena, why not pick up some Spanish before hitting the road? Cartagena is home to several excellent Spanish schools that are ready to help you drop that awful gringo accent and speak like a local.
7. Sunset drinks on the wall
Located right on the city wall, Cafe del Mar is the place to be for sunset drinks. They mix up some tasty cocktails and usually have live music at night to go along with the fantastic views of the sea.
While their cocktails are a bit "rich boy," to borrow a phrase from one of my buddies, you don't even have to splurge to enjoy the views. Broke Backpackers may instead purchase a cheeky street beer from locals who bring coolers on the wall every night.
8. Go Scuba Diving
For scuba diving, hit up the Rosario Islands. I was able to go scuba diving with a fantastic dive shop called Diving Planet. Their bi-lingual guides are professional and the day or overnight dive trips they offer include van transport and boat transfer, lunch, and all the scuba equipment. The Rosario Islands are one of the best places in Colombia for scuba diving, so don't miss out!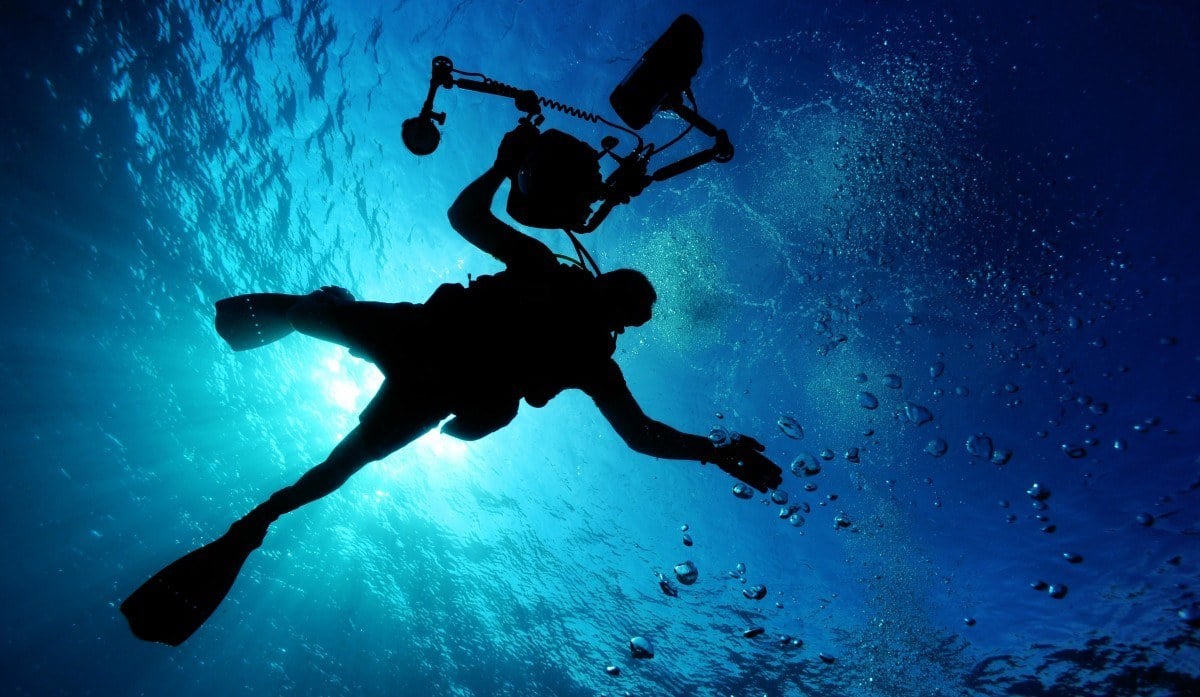 9. Party on the Chiva bus
Once the sun goes down, the streets of Cartagena come alive with the sounds of the rockin' Chiva buses. These colourful open-air buses have bumping music and an open bar, and they take party animals on a little nightlife tour of the city.
You'll surely know a Chiva bus when you see and hear it. Go ahead and flag one down and enjoy a wild night out on the town.
10. Tear up the dance floor
The Caribbean influence is strong here, and that means lots of dancing. Salsa may be the most popular and most famous style of dance, but you can also get down to some Merengue, Rumba, or Bachata.
If you have two left feet as I do, you'll be happy to hear that there are several places offering dance lessons in Cartagena. Take these moves to the dancefloor and head to one of Colombia's many festivals.
Is This the Best Daypack EVER???
Three days is just enough time to get a feel for Cartagena and see most of the highlights. I've even gone ahead and done all the planning for you to save you some time. Here's a detailed itinerary for 3 days in Cartagena.
Day One in Cartagena: Exploring the Old City
Once you're all settled into your hostel, the first order of business should to explore the Old City. With cobblestone streets and stunning colonial homes draped in bougainvilleas, it's a lovely place for a stroll.
While it's easy enough to get around the Old City on your own, you're better off joining one of the excellent free walking tours. The guides are very passionate about the culture and history of Cartagena, and you'll come away from the tour with a much better understanding of the place.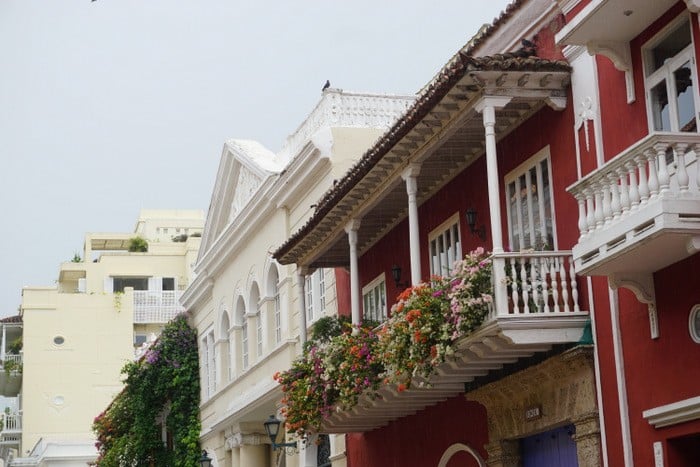 Allow me to take a moment to remind everyone that the guides live off of your trips. Yes, the tour itself is free, but don't be a cheap-ass and give them a measly couple of bucks for a tip. If you can afford to be all the way in Cartagena, Colombia, you can afford $10 for an informative 2-hour tour.
Once the walking tour winds down, you can take your pick from the countless restaurants in the Old City. I recommend finding a local joint and ordering the menu del dia. You'll get a soup, a drink, and a substantial plate for just $3-4.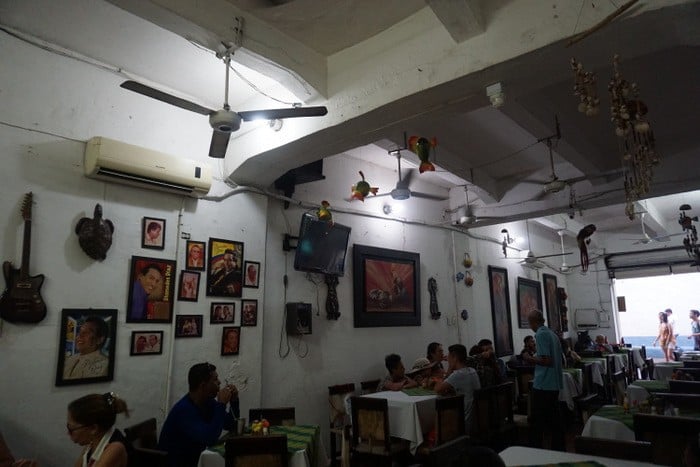 If you need a little boost, it's not hard to find a good cup of coffee here! Colombia makes some of the best coffee in the world and there are tons of cafes to choose from. Try to find a place with a terrace or outdoor seating and linger for a while.
When that scorching hot sun finally starts to go down, you can head over to the city wall to Cafe del Mar. This place is famous for their cocktails and views, although they come at a slightly high price tag.
Broke Backpacker Tip – grab a cold beer from one of the vendors on the wall and enjoy the experience for much less.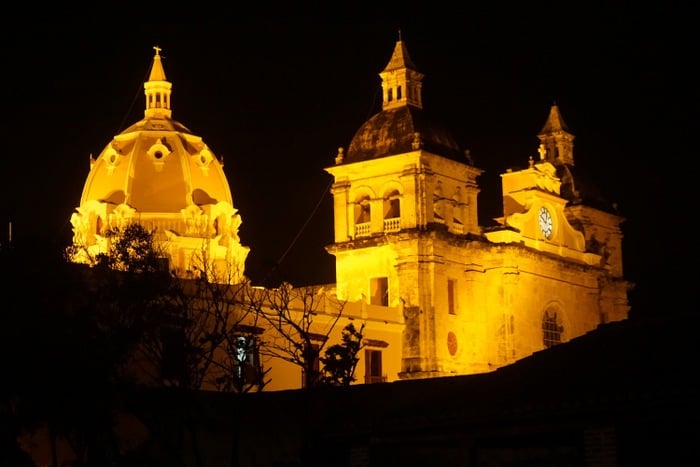 For the first night in Cartagena, you should definitely hop on the Chiva bus. If you don't know what that is yet, you will the second you hear one speeding down the street.
These open-air party buses take you out for a night on the town, all while boozing and dancing on the bus. It's a great way to mingle with Colombian tourists who flock to the city in search of a good time.
The Chiva bus trip ends early enough where there's still plenty of night left. What you do next is entirely up to you. If you've booked an early day trip, you may want to call it a night, or you can stay out and power through on a few hours of sleep.
You do you! Cartagena is bumping every night of the week, so the world is your oyster if you want to go out and keep the party going.
Day Two in Cartagena: Beach time
After a busy day and night in the Old City, you'll want to hit the beach for some good old fashioned R&R. The easiest option is to head to the local beaches in the Bocagrande part of town. They aren't exactly the most beautiful beaches, but you can still enjoy a day of sun and sand right in the city.
If those white sandy beaches are what your heart desires, you'll have to put in a little more effort. The most popular day trip out of Cartagena is one that brings you to Playa Blanca.
Most trips include a bit of snorkeling and lunch as well. I highly recommend researching for a highly rated company, as there are quite a few horror stories of shitty, disappointing trips.
Another solid beach worth the day trip is offered by the luxury hotel Sport Baru. You don't need to stay there to sign up for the tour, and it's a bit more peaceful and relaxing than the Playa Blanca tours. If you really want to get out of the city for a quick tropical getaway, even if just for one day, this is the way to go.
Once you're back from that big day out, you'll want to head back to the hostel and get ready for another night out on the town. Many hostels in Cartagena have a pool or bar where you can enjoy a bit of pre-gaming with your fellow backpackers.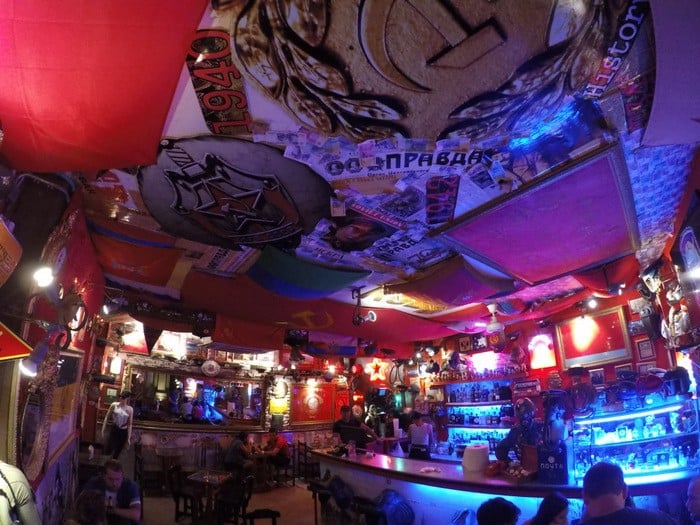 One of the coolest bars in the city has got to be the KGB Bar. Head there for cheap beers and check out all their Soviet-era decorations. On our visit, we were treated to a Colombian guy spitting rhymes that could rival Slim Shady. You never know what you're going to find on a night out in Cartagena!
After the bars it's time to put on those dancing shoes and tear it up. People love dancing everywhere in this city – in the public squares, at salsa bars and nightclubs, etc.
One of the most popular places to go out dancing is Cafe Havana. If you don't mind the queue, the cover charge, and the fact that it's mostly tourists, this is a perfectly fine place to go.
Personally, I much more enjoyed the vibe at Bazurto Social Club. There's a rockin' live band here and you ca hit the dance floor or just grab a table.
Check out the Old City in our "Streets, Beats, and Eats" series, where we show you some of the sights, a few places to eat, and where to rock out and party at night.
Day Three in Cartagena: Sightseeing and Getsemani
While the free walking tour covers a lot of ground, you don't visit many of the main sights of on it. That's precisely how we'll start day three in Cartagena. (Well, actually, you'll probably want to start with brunch and some coffee to power through that hangover.)
One of the most famous landmarks in the city is the Castillo de San Felipe. Try to head up there before it gets too hot so you can walk around the old fortress and take in the views. Consider joining a tour or paying for the audio guide if you want to actually learn something about the place, as the signs are very lacking.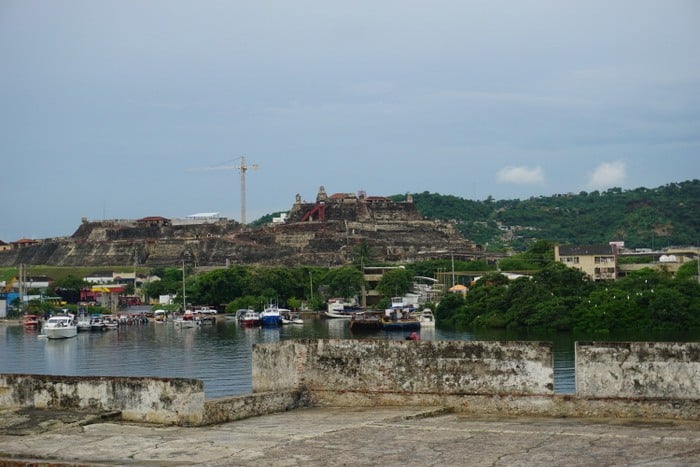 Nearby, you'll find La Popa Hill, which is home to the 17-century Santa Cruz monastery. From high up on the hill, you'll be able to enjoy some of the best panoramic views of the city. Just be aware that it's not advised to walk up there, as it's not the safest part of town. Try to haggle with a taxi driver to take you up and wait for you instead.
Many of you will probably end up booking a hostel in the Getsemani neighborhood. Even if you don't stay there, you should carve out some time to check it out. There's a ton of awesome street art here, so be sure to bring your camera along to snap some photos.
In the evenings, a mixture of locals and backpackers gather in the plaza outside the church here. It's a very lively atmosphere, with several vendors selling cheap and delicious food, street performers break dancing, and a handful of restaurants and bars.
A laidback night out in Getsemani is the perfect icing on the cake after a busy 3 days in Cartagena.
Cartagena off the Beaten Track
Even though Cartagena is Colombia's most popular city for tourists, it's not hard to get off the beaten track. That being said, there's a good reason for staying on the beaten track. Many parts of Cartagena are not exactly safe to wander around on your own, so it's best to stick to tourist-friendly areas.
Staying in the Getsemani neighborhood as opposed to the Old City will surround you with way more locals than tourists. While this area used to be pretty dangerous, you're fine to wander around here now.
If you really want to escape the crowds in the city, the best thing to do is hop on a boat and go to the nearby islands or the aforementioned floating hostel.
Best Walks in Cartagena
Cartagena is a very walkable city, depending on where you are. Here are a few of the best walks in Cartagena to help you see the city on your own two feet:
Old City: Many Cartagena visitors spend a vast majority of their trip within the city walls. The place is set up for you to walk around, take in the sights, and eat, shop, or drink.
City Wall: There aren't many Latin America cities where you'll find a city wall. Take a stroll along the old wall in Cartagena and enjoy the scenery off to the side.
Getsemani to the Castillo: It's not a bad walk from Getsemani to the Castillo de San Felipe. Just make sure to go earlier in the day to beat the heat.
One place I recommend you not walk is Bocagrande at night. We stayed in an Airbnb for a few nights in this neighborhood, and one night decided to go for a stroll to buy cigs and beers. In our 10-minute walk, we were offered coke by a shady dude and then minutes later stopped and questioned by the police, who shook me down and checked my pockets. We didn't buy any drugs so we were fine, but the whole experience left a bad taste in my mouth.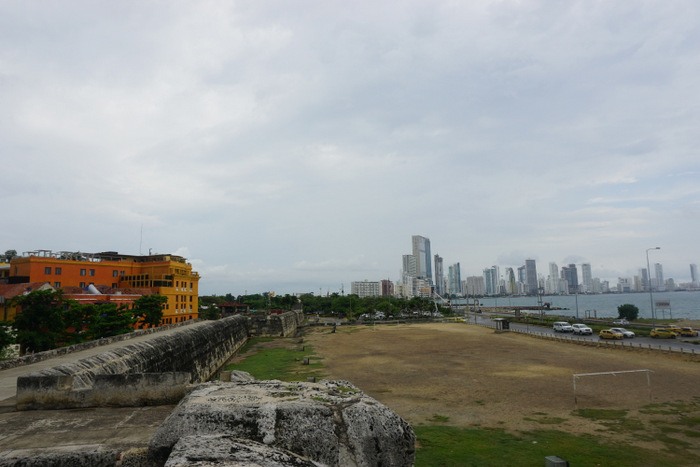 Best Time of Year to Visit Cartagena
It's pretty hot and humid in Cartagena year-round, but it's most bearable from January to March. It's less humid than other times of the year, and the ocean breeze cools things down a bit in the evenings.
As far as crowds go, Cartagena is busiest from Christmas to New Year's and then again during Holy Week. You can expect prices to spike during the holidays, and you'll want to secure accommodation well in advance if you choose to travel during them.
The rainy season lasts from August to November, so if you prioritize sitting on the beach you might want to avoid these months. It's really not that bad though. When we visited Cartagena in early September there were only a few showers that passed through quickly.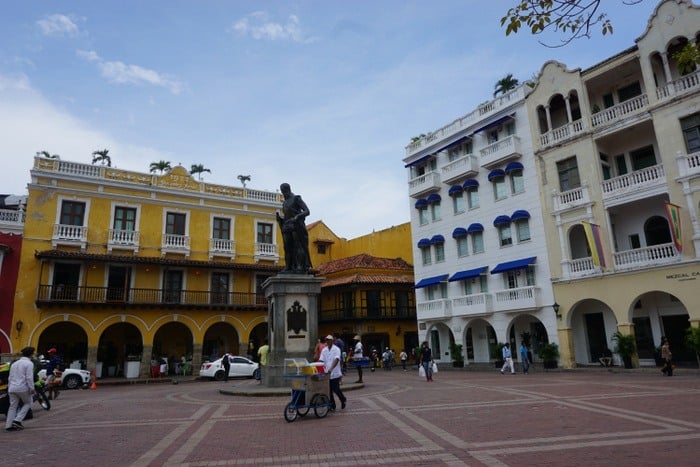 Getting in and out of Cartagena
Most travellers arrive in Cartagena via the Rafael Núñez International Airport (CTG). The airport is about 6 km away from the Old City, or a 20-minute cab ride.
There are direct flights to Cartagena from several cities in Colombia, as well as many other cities in Latin America. You can also fly direct from a few American cities (Miami, Atlanta, New York, Ft. Lauderdale), and even Toronto or Montreal in the high season. From Europe, only Amsterdam offers direct flights.
For domestic travel, you can also reach the city by long-distance bus. It's not far to the larger city of Barranquilla, and it's another couple of hours to Santa Marta.
How to get around Cartagena
If you're staying in the Old City or in Getsemani, you can pretty much walk everywhere. To head to the beach in Bocagrande, you can catch a local bus (if you can figure it out) or a cab.
Speaking of cabs, they're not bad here. Of course, there are some drivers who will try to rip you off, but for the most part, they're fair. Uber is also available if you have a working phone.
To further explore the islands and beaches, join a tour for convenience or head to the harbour and put together your own excursion.
Use Bookaway to find the best deals on transport – buses, planes, trains, and ferries. It'll save you a load of time when organising transport and you'll probably nab an EPIC DISCOUNT too!
Book your transport on Bookaway NOW. Get the best price for the best ride… then use those savings to buy the best feed in town!
Book Your Transport Here!
Safety in Cartagena
If you stick to the Old City, Getsemani, and Bocagrande, Cartagena is a very safe place to visit. It's not really recommended to wander around aimlessly outside of the tourist centres. There are definitely some dodgy areas, as there are in any big city.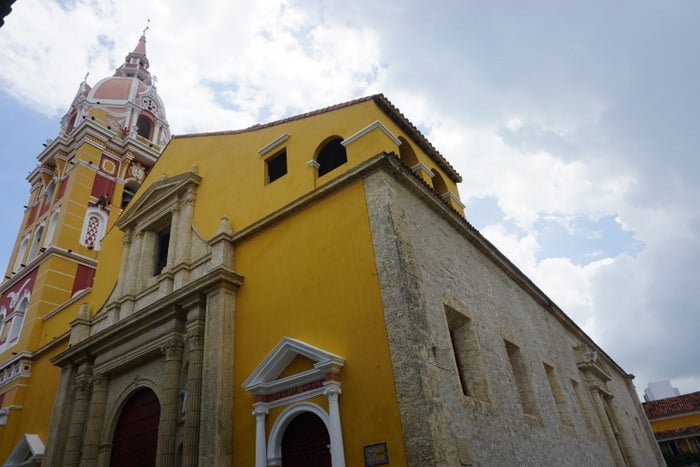 Watch out for money changers' scams; some offer a great rate and then skim money off after counting it. They're sort of like rip-off magicians, so just avoid them all together and stick with the ATMs.
Many visitors have complained about getting stuck on crappy tours to Playa Blanca and the Rosario Islands. Do your research beforehand or ask around your hostel to book a reputable and legit tour operator.
You may not be surprised to hear that certain drugs are readily available here. I'm not going to tell you what to do or what not to do, but just exercise extreme caution if you choose to buy something on the street. Better to make friends with locals and be discreet.
If you're concerned about your overall safety in Colombia, then be sure to check out our in-depth safety guide. It's chalked full of useful tips and reading it should make your life a little easier in Colombia.
Get Insured before Backpacking Cartagena
Traveling without insurance would be risky so do consider getting good backpacker insurance sorted before you head off on an adventure.
I have been using World Nomads for some time now and made a few claims over the years. They're easy to use, professional and relatively affordable. They may also let you buy or extend a policy once you've started your trip and are already abroad which is super handy.
If there's one insurance company I trust, it's World Nomads.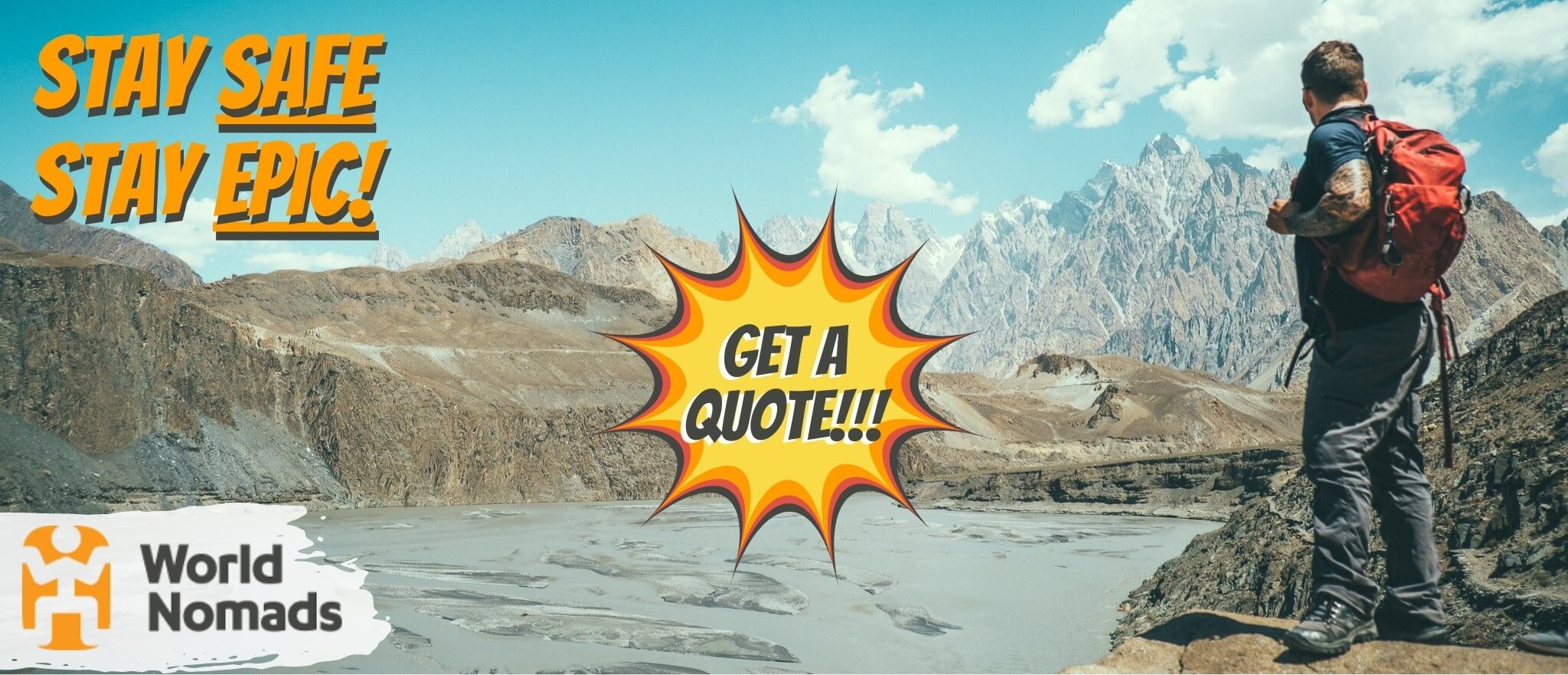 World Nomads' mission is to support and encourage travellers to explore their boundaries. They offer simple & flexible travel insurance, and safety advice to help you travel confidently.
They've been doing it since 2002 – protecting, connecting, and inspiring independent travellers just like you.
Get a quote below or read our in-depth review!
World Nomads provides travel insurance for travelers in over 100 countries. As an affiliate, we receive a fee when you get a quote from World Nomads using this link. We do not represent World Nomads. This is information only and not a recommendation to buy travel insurance.
Cartagena Accommodation Travel Hacks
As I mentioned earlier in the guide, you can save a bit of money by staying in Getsemani instead of in the Old City. It's just a short walk away and is a more backpacker-friendly area anyways.
Wherever you decide to stay in Cartagena, make sure your hostel has free breakfast and/or a communal kitchen. Eating out several times a day always puts a dent in your wallet, and it's nice to have at least one or two meals covered at home.
Eating and Drinking in Cartagena
There's no shame in coming to Cartagena simply to eat and drink your way through the city. There are so many excellent restaurants, cafes, and bars in Cartagena.
If you're backpacking Cartagena on a budget, you can easily fill up on local food like arepas and empanadas. When you need something a bit more substantial, order the menu del dia in a local restaurant and eat whatever they're cooking up that day.
Cartagena is all about the seafood, whether it's grilled fish or a delicious plate of ceviche. One of my favorite dishes was mixed seafood in coconut rice. Muy rico! Also, the restaurant La Cevicheria is a bit pricey but well worth it. They serve some of the best ceviche you'll ever have.
With so much exotic fruit in Colombia, you've got to try the juices and smoothies. You'll also get some of the best coffee around in Colombia, and there's no shortage of cafes where you can enjoy a cup.
Nightlife in Cartagena
The nightlife in Cartagena is the stuff of legends, plain and simple. Not only is this the most popular tourist destination in the country, but the locals like to go out and have just as much fun, if not more!
Every night of the week is a good night to go out in Cartagena. Start out with a bit of pre-gaming in the hostel, or go grab sundowners at Cafe del Mar. That will warm you up for a ride on the Chiva bus as you bounce around town while you drink and dance with fellow travellers.
You don't even have to go out to bars and clubs to have fun in Cartagena. Plenty of people gather in public squares to dance and just have a good time. You can even buy street beers from vendors on the city wall and enjoy a drink outside.
When you do want to go into a bar, you have tons of choices. You can have cheap beers in a Soviet-themed KGB bar or hit up fancy cocktail lounges, dance in sweaty salsa bars or cut a rug to some house beats in a trendy night club.
Before you know it, it's 6AM and you're stumbling back to your hostel with a tasty empanada in hand. Now that's a night out!
Books to Read on Cartagena
Reading about a place you're planning to visit is always fun. It gets you more excited for your trip and you learn something in the process. Below are 5 books and guides to add to your Cartagena reading list:
Moon Cartagena & Colombia's Caribbean Coast – Plan your trip to Cartagena and the surrounding area with this great guide from Moon.
The Fortifications of Cartagena de Indias – If you're interested in the history of the city, especially surrounding its important fortresses, definitely check this book out.
Dancing Feet: One Man's Mission to Dance Like a Colombian – What happens when an Englishman with two left feet heads to Colombia to attempt to learn how to dance like a local? Find out in this hilarious book.
Colombian Slang – Sound more like a local on your trip by learning 500 Colombian slang words.
Volunteering in Cartagena
Long term travel is awesome. Giving back is awesome too. For backpackers looking to travel long-term on a budget in Cartagena whilst making a real impact on local communities, look no further than World Packers. World Packers is an excellent platform connecting travelers with meaningful volunteer positions throughout the world.
In exchange for a few hours of work each day, your room and board are covered.
Backpackers can spend long periods of time volunteering in an awesome place without spending any money. Meaningful life and travel experiences are rooted in stepping out of your comfort zone and into the world of a purposeful project.
Worldpackers opens the doors for work opportunities in hostels, homestays, NGOs, and eco-projects around the world. We've tried and approved them ourselves – check out our Worldpackers in-depth review here.
If you're ready to create a life-changing travel experience and give back to the community, join the Worldpacker community now. As a Broke Backpacker reader, you'll get a special discount of $10. Just use the discount code BROKEBACKPACKER and your membership is discounted from $49 a year to only $39.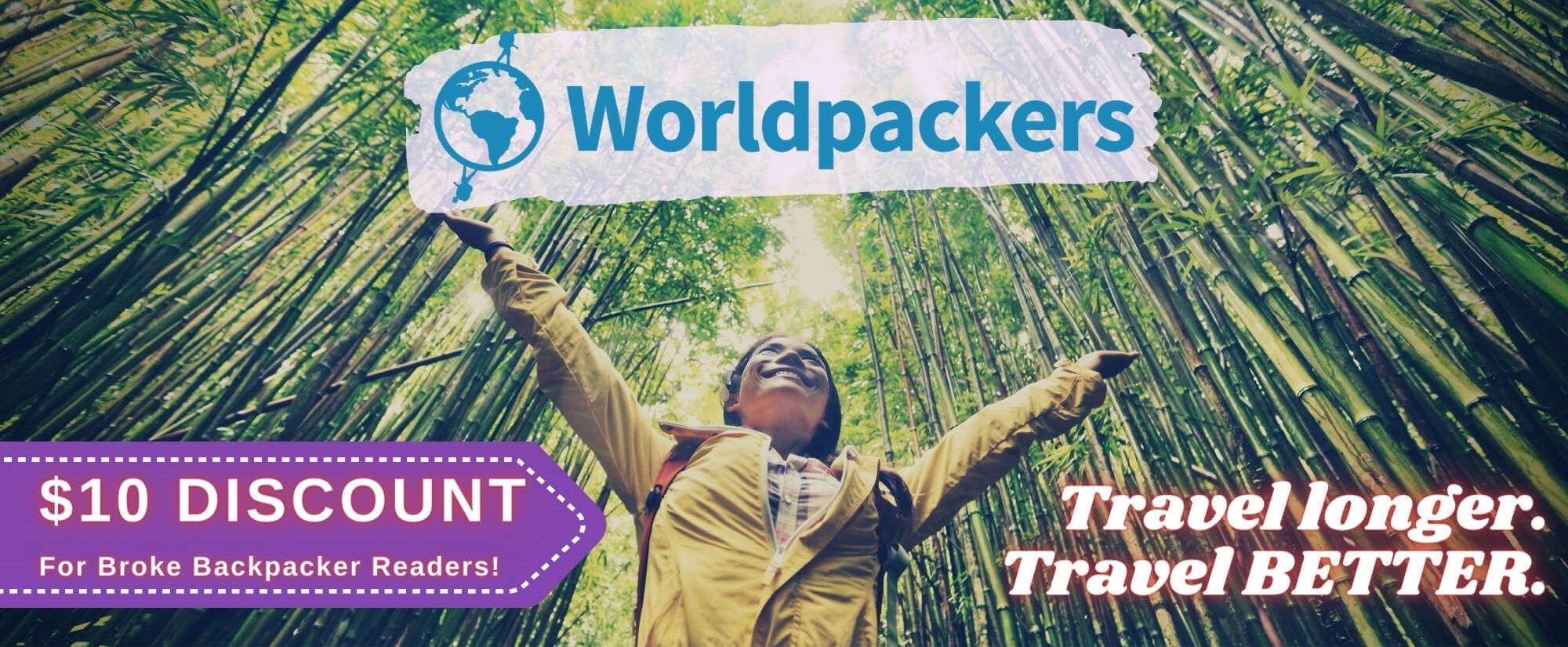 Worldpackers: connecting travellers with meaningful travel experiences.
Make Money Online while Backpacking Cartagena
Traveling in Colombia long-term? Keen to make some cash when you are not exploring? Teaching English online is a great way to earn a consistent income—from anywhere in the world with a good internet connection.
Depending on your qualifications (or your motivation to obtain qualifications like a TEFL certificate) you can teach English remotely from your laptop, save some cash for your next adventure, and make a positive impact on the world by improving another person's language skills!
It's a win-win! Check out this detailed article for everything you need to know to start teaching English online.
In addition to giving you the qualifications to teach English online, TEFL courses open up a huge range of opportunities and you can find teaching work all over the world. To find out more about TEFL courses and how you can teach English around the world, read my in-depth report on teaching English abroad.
Broke Backpacker readers get a 35% discount on TEFL courses with MyTEFL (simply enter the code BACKPKR), to find out more, please read my in-depth report on teaching English abroad.
Whether you are keen to teach English online or looking to take your teaching game a step further by finding a job teaching English in a foreign country, getting your TEFL certificate is absolutely a step in the right direction.
Be a Responsible Backpacker in Cartagena
Reduce your plastic footprint: Perhaps the best thing you can do for our planet is to make sure you do NOT add to the plastic problem all over the world. Don't buy one-use water bottles, the plastic ends up in landfill or in the ocean. Instead, pack a tough travel water bottle.
Go and watch A Plastic Ocean on Netflix – it'll change how you view the plastic problem in the world; you need to understand what we are up against. If you think it doesn't matter, get off my fucking site.
Don't pick up single use plastic bags, you're a backpacker – take your daypack if you need to go to the shop or run errands.
Bear in mind, that many animal products in countries you travel through will not be ethically farmed and won't be of the highest quality. I'm a carnivore but when I'm on the road, I only eat chicken. Mass-farming of cows etc leads to the rainforest being cut down – which is obviously a huge problem.
Need more guidance? – Check out our post on how to be a responsible backpacker.
---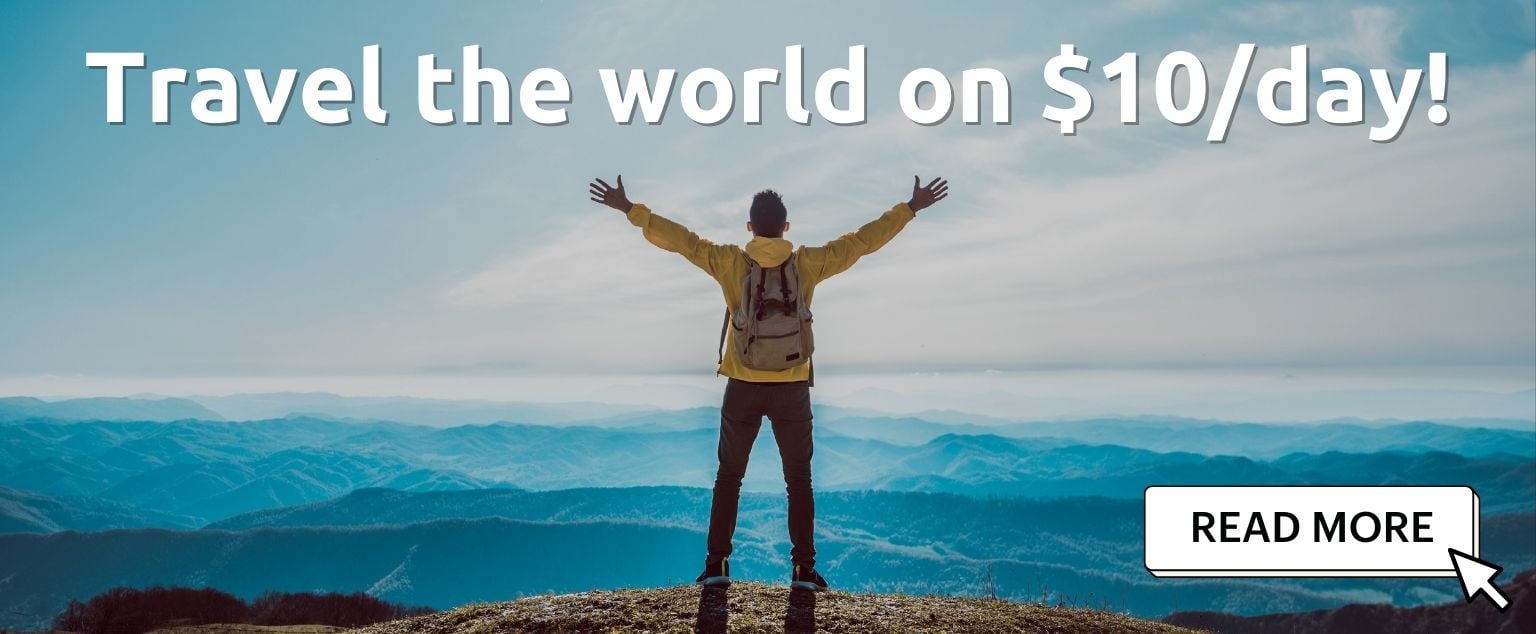 And for transparency's sake, please know that some of the links in our content are affiliate links. That means that if you book your accommodation, buy your gear, or sort your insurance through our link, we earn a small commission (at no extra cost to you). That said, we only link to the gear we trust and never recommend services we don't believe are up to scratch. Again, thank you!