Located high up in the Andes, Bogota is the massive capital of Colombia, and thanks to its mountainous surroundings and vibrant culture, Bogota is a fascinating city to explore.
When backpacking Bogota, you'll quickly notice that this is a city of contrasts, with century-old cathedrals and shiny new skyscrapers on the same block, and tranquil parks chaotic main streets.
With a population of just over 8 million, Bogota is the 3rd biggest city in all of South America. Bogota is divided into 20 different districts, centered around an area known as La Candelaria, where you'll find most of the historical and cultural sights. Heading north, you'll find the trendy area of Chapinero and the upscale Usaquén.
There is plenty to see and do in Bogota to keep you busy for a few days. You can discover the city's history, dive into the amazing street art scene, go for a hike up in the hills, and so much more. Once night falls, the city's excellent restaurants, bars, and music venues fill with locals and travelers alike.
At an elevation of 2,640 meters above sea level, the city retains a cool climate throughout the year. The Eastern Hills of the Andes have limited the development of the city, which has resulted in a long and narrow metropolitan area running north to south.
Make the most out of your trip to Bogota with this massive guide. We'll cover daily costs and money saving tips, give you a kickass 3-day Bogota itinerary, and help you figure out where to stay and how to get around the urban sprawl.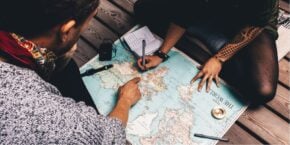 Heading Off-Grid? • Download This Guide as a PDF!
Sign up to The Broke Backpacker's EXCLUSIVE VIP AREA below and download our top backpacking guides as PDFs – go offline with peace of mind!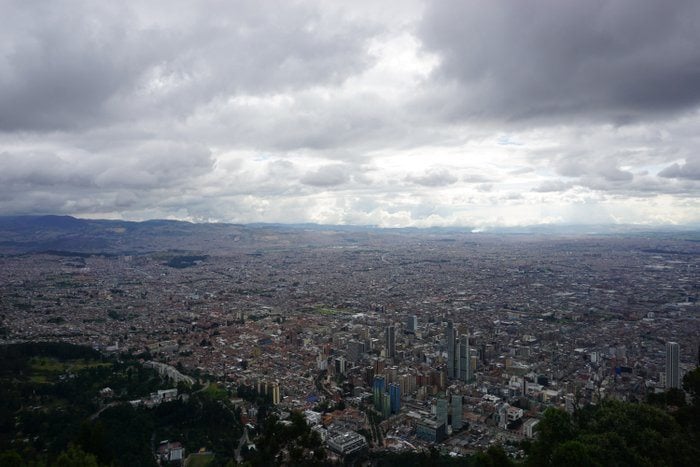 If you're backpacking Colombia, there's no way around Bogota. For a bustling capital city, Bogota is a very affordable place to travel. It's much cheaper than other South American capitals like Santiago and Buenos Aires, making it a great choice for backpackers.
If you're balling on a budget, it's possible to get by on $25-30 a day here. Bogota has some great hostels that are super cheap, a good bus system (and a metro on the way, supposedly), and plenty of free activities. With a lower budget, you should stick to local restaurants and dive bars.
By raising that budget to $50-60 a day, you can find a decent double room and take the occasional Uber. You'll also be able to add a few activities and have a night or two out on the town.
Daily Budget for Bogota
Dorm bed in hostel: $8-12
Small basic room for two: $20-25
Airbnb in a shared apartment: $20-30
Taxi from the airport: $10-12
Rapid bus ride: $0.75
Graffiti Tour: $9
Round-trip cable car/funicular: $6.50
Gold Museum: $1.25
Menu of the day: $3-4
Local beer in a bar: $1.50-2
Bogota Budget Backpacking Tips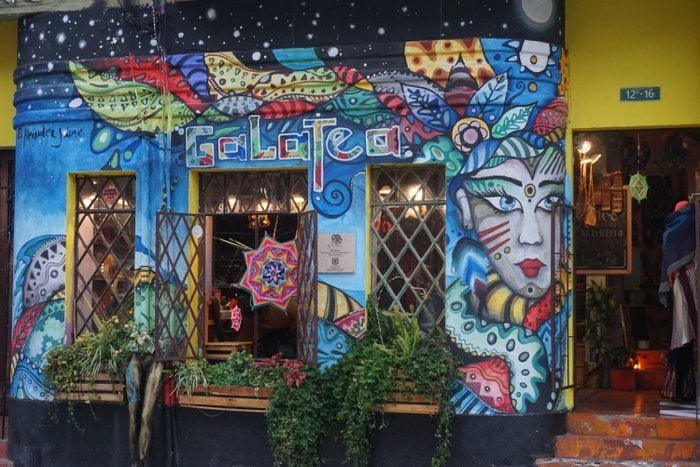 While Bogota is generally a pretty affordable city, there are still a few things you can do to make sure your pesos go further. Here a few tips for backpacking Bogota on a budget:
Stay in La Candelaria: There are lots of budget-friendly hostels and restaurants in this area as well as most of the sights you'll want to see. Staying here will definitely save you some money as opposed to the more trendy area of Chapinero.
Book a hostel with free breakfast and/or a kitchen: Cutting down on your food expenses is a great way to stretch your budget. There are plenty of hostels that have free breakfast or offer breakfast for cheap. If there's a communal kitchen, you can buy groceries and cook a few meals for yourself.
Get a transport card: While Bogota's traffic is notoriously awful, riding the Transmilenio bus isn't so bad as they have their own lane. Pick up a Tu Llave card to save money on fares and save time queuing up.
Fill up at lunch: It's easy to find a cheap and filling meal for lunch. Just look for the "menu del dia" signs on restaurants. You can get a huge plate for $3-4 and not have to eat too much for dinner.
Why You Should Travel to Bogota with a Water Bottle
Plastic washes up on even the most pristine beaches… so do your part and keep the Big Blue beautiful
You aren't going to save the world overnight, but you might as well be part of the solution and not the problem. When you travel to some of the world's most remote places, you come to realise the full extent of the plastic problem. And I hope you become more inspired to continue being a responsible traveller.
Plus, now you won't be buying overpriced bottles of water from the supermarkets either! Travel with a filtered water bottle instead and never waste a cent nor a turtle's life again.
Save $$$ • Save the Planet • Save Your Stomach!
Drink water from ANYWHERE. The Grayl Geopress is the worlds leading filtered water bottle protecting you from all manner of waterborne nasties.
Single-use plastic bottles are a MASSIVE threat to marine life. Be a part of the solution and travel with a filter water bottle. Save money and the environment!
We've tested the Geopress rigorously from the icy heights of Pakistan to the tropical jungles of Bali, and can confirm: it's the best water bottle you'll ever buy!
View on REI
Read the Review
IN A RUSH? THIS IS OUR FAVORITE HOSTEL IN BOGOTA!
Finding out where to stay in Bogota can be a bit tricky as there are many great neighborhoods. A vast majority of the hostels in Bogota are located in La Candelaria, which is the heart of the downtown area known as El Centro. Staying here gives you easy access to most museums and cultural sights and cuts down on time and money spent in transit.
Alternatively, many travelers look to the hip area of Chapinero for a place to stay thanks to its culinary and nightlife scenes. While you'll have to hop on the bus or grab a cab to go sightseeing, you'll be able to stumble home from a big night out if you stay in this neighborhood.
You can also look into renting a room or an entire apartment for your stay. There are plenty of great choices on Airbnb for very reasonable prices. We stayed at this awesome spot called the Man Cave that had an arcade game, mini-fridge, and a punching bag. How cool is that?!
Overall Best Hostel in Bogota – Aurora Hostel
When it comes to the best hostel in Bogota, we've got to give it up to Aurora. This homey hostel in Chapinero can only fit 18 guests, meaning you'll quickly make friends with your fellow backpackers.
It's located in a quiet, safe part of Chapinero with plenty of options nearby to shop, eat, and go out. There is a nice common area and cafe, so grab a cup of coffee, kick back, and relax.
Highlights include: On-site cafe, well-equipped kitchen, great location, nice common room.
Best Hostel for Solo Travelers in Bogota – Masaya Hostel Bogotá
If you're flying solo, the Masaya Hostel is a great choice for where to stay in Bogota. Staying in this big colonial house is a great way to experience Colombian culture and make friends.
They have lots of events where you can mingle, such as salsa classes and live music. There are a whopping three patios with hammocks as well as pool and ping pong tables. At night you can grab a drink from the bar and strike up a conversation.
Highlights include: Activities and common areas for meeting people, social vibe, great breakfast.
This is the most fashionable apartment – and certainly one of the best Airbnbs in Bogota – in the most fashionable neighborhood: Zona Rosa. It is the place to see and be seen. This luxury flat is sleek and modern with two levels. It has two bedrooms and can hold up to four people so it's perfect for those traveling in a small group. If you're coming here for nightlife, this is the best Bogota Airbnb!
Best Party Hostel in Bogota – BoGo Hostel & Rooftop
Looking to party it up in the Colombian capital? Then BoGo Hostel & Rooftop is the place for you! Located in La Candelaria, this is the only hostel in the city with a proper rooftop bar.
Enjoy cheap beers and fantastic views as you socialize before a big night out. Beds are super comfy with a reading light and locker for each one. The substantial free breakfast is just what you need to soak up that hangover!
Highlights include: Excellent rooftop bar/terrace, free breakfast, great location for sightseeing.
BoGo Hostel & Rooftop is one of our favourites in Bogota but they're not taking guests right now. We're not sure if they're closed for good but we hope they'll come back soon.
You'd be surprised by how much there is to do and explore in Bogota. We've listed our favorite activities. If you're on a tight schedule, make sure you plan ahead so that you won't miss out on anything.
1. Explore La Candelaria
The best way to get to know Bogota is by exploring the area known as La Candelaria. This is the heart of the downtown area and home to several historical and cultural sights.
While it's easy enough to give yourself a tour of the area, you're much better off signing up for one of the free walking tours. They run at 10 AM and 2 PM every day and offer a great way to learn more about the city from a passionate local guide.
2. Hit a few museums
As the capital city, Bogota is the cultural hub of Colombia. There are several museums here that are well worth checking out. One of the most popular museums is the Museo del Oro (Gold Museum), which has a very impressive collection.
Other options include the National Museum and the Museum of Modern Art.
3. Take in the views atop Cerro Monserrate
The best place to take in the views of Bogota is high atop Cerro Monserrate. There's a well-marked hiking trail leading up the mountain, or you can take the lazy way out and catch the funicular or cable car. However you get there, it's well worth the trip to enjoy the panoramic views.
Once you get to the top, there's a beautiful church and a couple of cafes and restaurants. The place is packed on weekends, so consider visiting during the week if possible.
4. Visit the Botanical Gardens
When you need a break from the hustle and bustle of the city, head to the Bogota Botanical Gardens. You can explore the gardens at your leisure or join an hourly tour. It's a peaceful place to breathe in some fresh air and get a bit of exercise.
5. Take a graffiti tour
Bogota has an amazing street art scene, but it wasn't always that way. Not too long ago, graffiti art was very frowned upon in the city. If you want to learn about what Justin Bieber has to do with the evolution of the street art scene here, be sure to sign up for the amazing graffiti tour.
The tour will show you a ton of incredible murals and tell you stories behind the pieces and artists who created them. In our 7-month backpacking trip around South America, this was hands down the coolest walking tour we went on. Don't miss it when you're in Bogota!
6. See a football game
Football is a huge part of Colombia culture, so going to a game here is definitely one of the best things to do in the city.
El Champin Stadium hosts games of the Colombian national team as well as the professional league teams Millonarios FC and Santa Fe. Grab a ticket and enjoy the exciting atmosphere as you cheer on the home team.
7. Take part in Ciclovia
Every Sunday several major roads in Bogota are closed to motorized vehicles for the weekly Ciclovia event. Locals come out to walk, jog, cycle, and roller blade free of the usual gridlocked traffic that plagues the city.
There are plenty of shops that rent bikes if you want to go for a cruise, or you can just walk and enjoy the car-free roads. You'll also notice plenty of vendors selling things like fresh-squeezed juice and arepas along the way if you need some refreshments.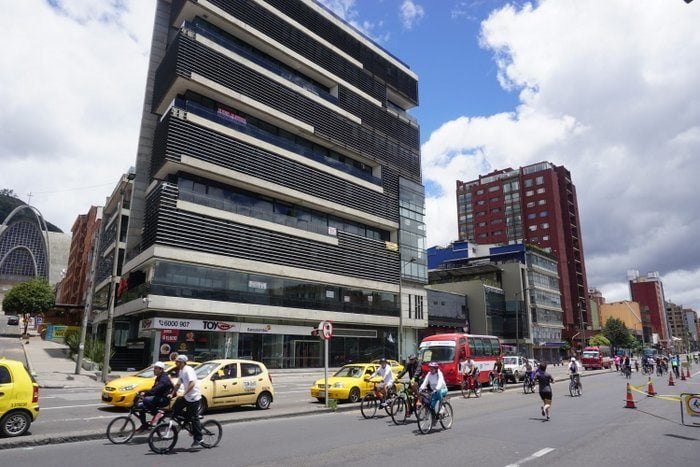 8. Go on a bike tour
Speaking of riding a bike, Bogota Bike Tours runs some pretty awesome trips to see the city on two wheels. They've got a few tours that take in the sights of the capital.
Tours run every day at 10:30 AM and 1:30 PM from their shop in La Candelaria. They also have mountain biking tours outside of the city if you're looking for more adventure.
9. Tear up the dance floor
It's no secret that Colombians love to dance. Salsa is king here, and there are no shortage of places for salsa dancing. If you've got two left feet like yours truly, you'll be happy to learn there are lots of places that offer salsa lessons.
In addition to all of the salsa clubs, you can find plenty of other live music in Bogota. Whether you're into jazz, rock, or electronic, there's always something going on. The city often brings in major international acts and several Colombian music festivals throughout the year as well.
10. Party hard in Chapinero
If you're looking for a wild night out in Bogota, then you'd better head to Chapinero. This hip neighborhood is home to tons of bars and clubs, and it gets especially rowdy from Thursday to Saturday night.
Here you'll find Theatron, which is one of the biggest and rowdiest gay bars in the world. All people are welcome to take part in the wild party that spreads across 13 different dance floors. You'll have to pay a cover charge, but it includes an open bar so you won't need to worry about a bar tab at the end!
Is This the Best Daypack EVER???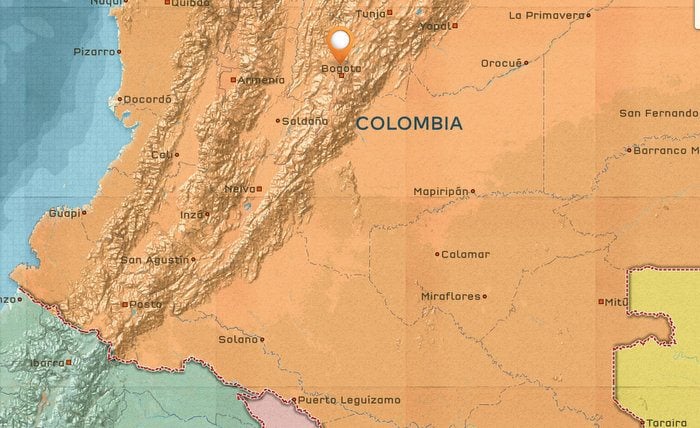 Now that you've gotten a little intro to the city, it's time to plan an awesome trip. Here's a jam-packed itinerary for 3 days in Bogota:
Day One in Bogota: Historical La Candelaria
Once you've gotten settled into your hostel, it's time to explore the historic centre of Bogota. Head to the area known as La Candelaria to begin your exploration of the Colombian capital. Here you'll find plazas, museums, cathedrals, markets, and a whole lot more.
It's easy enough to explore on your own, but you'll learn a lot more if you sign up for one of the free walking tours. I've been on a lot of these tours in the last couple of years and found the ones on offer in Colombia to be some of the best.
The guides are really excited to show tourists around and share insights into the history and culture of Colombia. Just a decade ago, most travellers avoided Colombia like the plague. The fact that people are finally visiting their country has them eager to share it with you.
In all honesty, I learned more about Colombia on this 2-hour tour than I had learned in my previous 32 years of life. It's a fascinating insight into the country as a whole and into the city of Bogota specifically. Be sure to give these guys a good tip and leave them a nice review online. They sure deserve it.
The tour wraps up in Bolivar Square, which is basically the heart of the city. There are plenty of restaurants around here, so find a spot to try some classic Colombian food like ajiaco – a delicious soup made with potatoes, cheese, and avocado.
While you're down here, you may as well go for a wander along the large pedestrian-only streets. In the evening a bunch of street performers and vendors come out, making for a very lively and interesting scene.
On our short stroll, we saw a Michael Jackson impersonator, break dancers, and a guy rocking out with his skull puppet.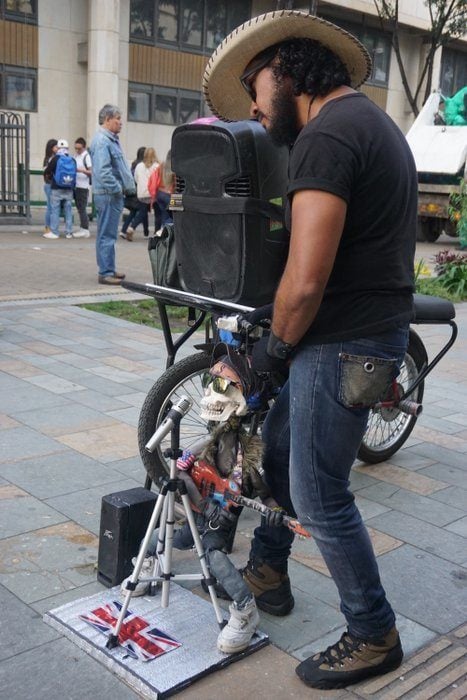 It is worth heading back to the Chorro de Quevedo Plaza on your own. This square is usually packed full of young people, especially on the weekends. It's surrounded by shops, cafes, and bars, making it the perfect spot to spend your first night in Bogota.
Wherever you go in the area, be sure to try some chicha – a corn-based alcoholic beverage that's very popular in Bogota. Check out a few bars, but save some energy for the rest of your trip and call it a relatively early night. Or stay out all night if you can rally the next morning. Whatever works for you!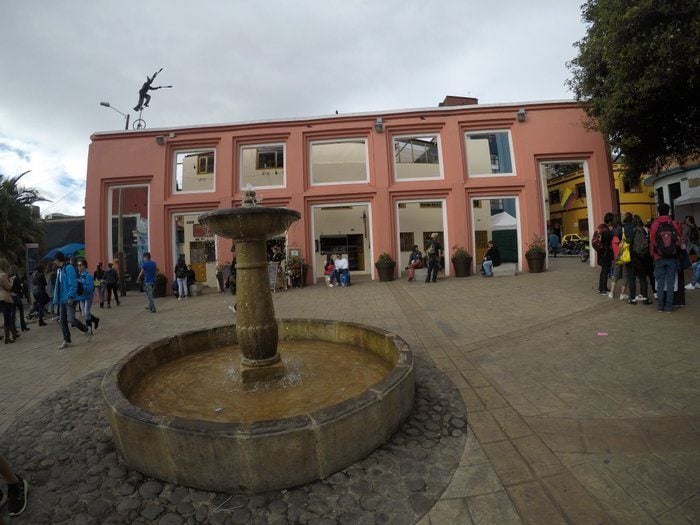 Day Two in Bogota: Monserrate and Chapinero
Start your second day with breakfast the way Rolos do. Order up a few hot arepas and a tinto – Colombia's version of a long black coffee. Now you're ready to take on day two in Bogota.
If you're feeling up for it, you can tackle the hike up Cerro Monserrate. The trail is well-marked and safe during the day. Be sure to bring plenty of water as the high altitude can really creep up on you.
Not feeling the hike? No worries. You can also take a funicular or a cable car to reach the top. Be prepared to queue up for a while if visiting on a weekend. Once you're at the top, you can enjoy some incredible views of the city. There are a few restaurants here if you feel like sticking around for a while.
Depending on what time you make it down the hill, you may be able to squeeze in a visit to one of the city's museums. If you're only going to choose one, I'd vote for the Gold Museum. It's pretty interesting and doesn't take too long to walk through.
I found the National Museum to be a bit disappointing, but I think it may have been under renovations when we visited.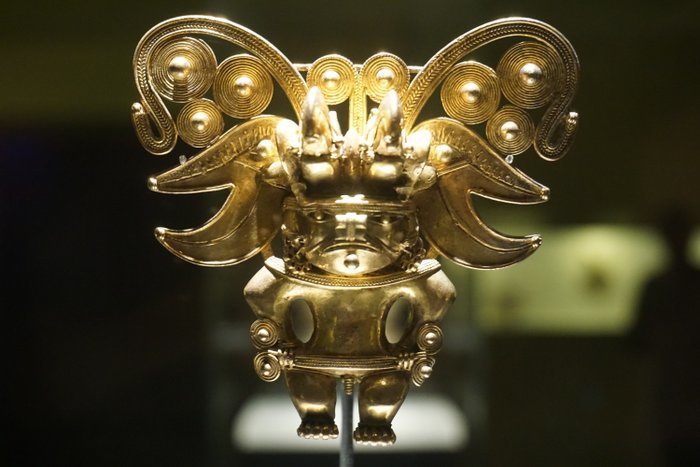 Your second night in the city is the night to go big, so hopefully it falls on a Thursday-Saturday. No worries if it doesn't, as people like to party here every night of the week!
The best place to head out for a big night is Chapinero. This trendy area of the city is home to Zona G (the G is for gourmet), which is full of excellent (but slightly pricey) restaurants. If you're ballin' on a budget, you can skip Zona G altogether and just grab some local food for dinner.
Chapinero is also where you'll find Zona T (for the T-shaped area), which is packed full of bars and clubs. You can easily spend all night here checking out different places. Whether you're looking to have a few beers and chat or go hard in the club, you can find it here.
If you're feeling really adventurous, head to Theatron. This massive gay bar has 13 different dance floors and brings in upwards of 5,000 people on the weekend. Everyone is welcome here, and it's an absolutely wild party that goes all night long.
Day Three in Bogota: Street art and fresh air
One of the first things you're sure to notice walking around Bogota is the awesome street art. It seems as if there are stunning murals around every corner.
While there's nothing wrong with checking the art out on your own, you'll have a much more rewarding experience by joining the Bogota graffiti tour.
Not only will you learn the tragic story of the evolution of street art in the city, but you'll also get insight into the artists and works you see. It's hands down one of the best tours I went on while backpacking around South America.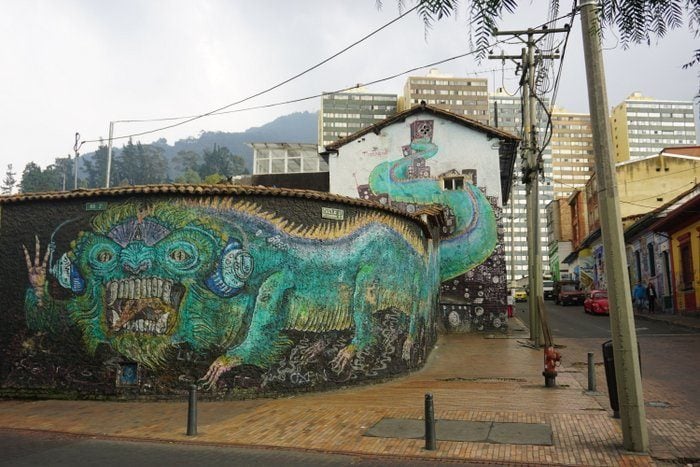 After the tour, you can head to the massive City Park to enjoy a stroll and a bit of fresh air. You'll also find the beautiful botanical gardens nearby, which are well worth a visit. Take a break from the chaos of the big city and enjoy a bit of downtime at the end of a busy three days in Bogota.
As far as what to do with your last night in the city, that's totally up to you and how much energy you have. Your options are basically limitless. You can hit up one of the craft breweries such as Bogota Beer Company, catch some live music, tear up the dance floor at a salsa club, or just take it easy and hang out at the hostel.
Torn? Let us help you make the decision between Bogota or Medellin with this helpful guide.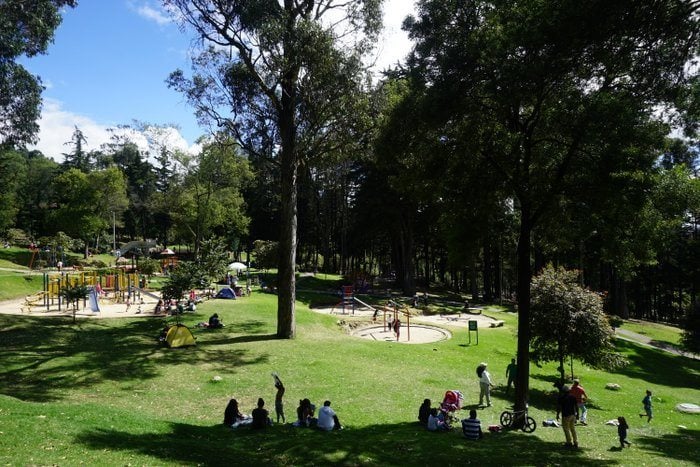 Bogota off the Beaten Track
Just being in Bogota means you're off the beaten track. Most visitors to Colombia only spend time in the coastal area so they can enjoy a beach vacation. Far fewer make it up to the mountains to visit the capital city, so you'll see way more Colombians than foreign tourists here.
That being said, it's definitely better to stay on the beaten path in the city. While things have improved dramatically as far as safety goes, Bogota still has plenty of rough patches. A gringo walking around with a smartphone and a nice camera is a prime target for muggers, so it's best to stick to heavily trafficked areas.
If you really want to see a more local side of the city, you can look into booking the experiences on Airbnb, as most of them are run by locals.
Of course, you can always strike up a conversation at the bar and make some new friends. Colombians are very friendly and are quick to extend an invitation for you to join their group.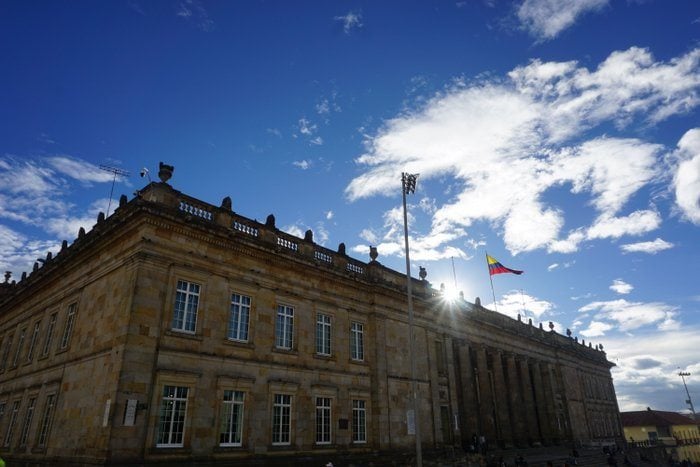 Best Walks in Bogota
Even though it's a massive, sprawling city, there are plenty of great walks in Bogota. Here are just a few:
La Candelaria: The historic center of the city is a great place for a stroll. There are plenty of pedestrian-only streets and wide open plazas to walk through. Along the way, you'll see lots of different monuments and cultural sights.
Graffiti Tour: I've already said it a few times, but I'll repeat it once more here – do the graffiti tour! It's an awesome walking tour of the city where you learn a ton about the vibrant street art scene.
Cerro Monserrate: Hike up Cerro Monserrate. From the top, you're treated to some incredible panoramic views of the city.
Ciclovia: Should you find yourself in the city on a Sunday, get out there and enjoy the Ciclovia event. A few roads are closed to motorized vehicles, so you can enjoy walking in the middle of a major street that's usually packed full of cars, taxis, and buses.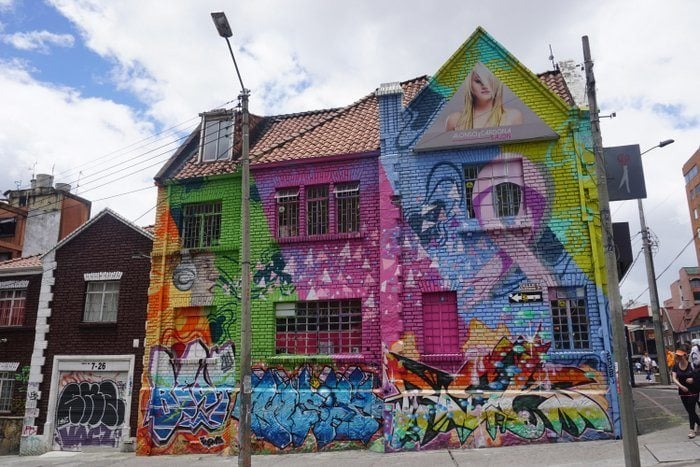 Best Time of Year to Visit Bogota
One thing's for sure about Bogota; you don't come here for the weather. Many visitors complain that Cartagena is too hot and that Bogota is too cold. It really isn't that cold here (average temperatures hover around 18-20 degrees Celsius year-round), but you'll definitely want some warm clothing regardless.
You could wake up in Bogota to a beautiful, sunny day, or you could find yourself surrounded by ominous rain clouds. The city is located up in the mountains, so the weather varies a lot. Generally speaking, the driest months are from December to March.
If there is such a thing as a peak tourist season here, it's probably over the summer or during the holidays. That being said, Bogota receives far fewer visitors than places like Cartagena, so it's never really that crowded here.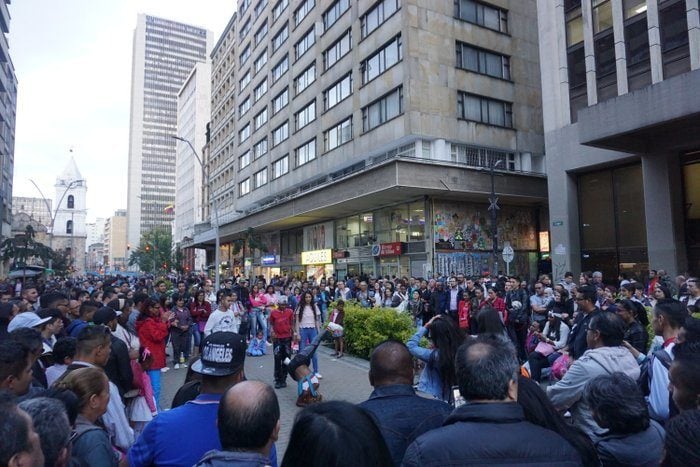 Getting in and out of Bogota
If you're flying into Bogota, you'll arrive at El Dorado International Airport (BOG). In addition to several domestic destinations, there are direct flights to several cities in Latin America. El Dorado is the main hub for the Colombian airline Avianca, which is one of the biggest in the region.
You can also find direct flights to plenty of cities in the US, such as LA, Miami, and New York. Most flights to and from Europe have to make a stop in Cartagena or Panama City, but you can score direct flights to London, Madrid, and Frankfurt.
The airport is located about a 20-30 minute drive from downtown. Taxis from the airport are reasonably priced and safe. Just be sure to get one from an actual taxi stand and not take a ride from that random dude who approaches you at baggage claim.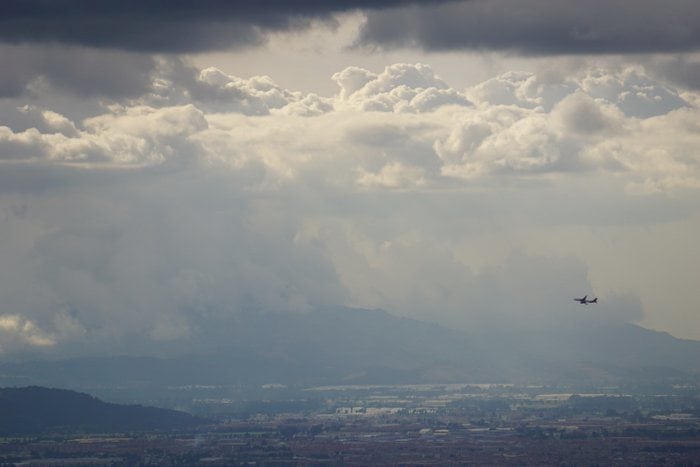 How to get around Bogota
As people from Medellin will proudly tell you, the public transportation system in their city is far better than Bogota's. While the capital is working on a metro system, it has been a painfully slow process and not expected to open until 2024.
With no metro, your best bet for getting around the city is the Transmilenio bus system. These buses have their own lanes so they can bypass the city's notoriously awful traffic. They're generally pretty clean and efficient, and cheap to ride. You'll need to purchase a Tu Llave card, which you can top up and use for all bus lines.
If you don't feel like riding the bus, I recommend Uber. It's cheap and convenient, although you may get stuck in traffic. It's fine to take a local taxi, though probably better to have your hostel call you a reputable one.
It's also possible to explore Bogota on two wheels, as the city actually has the largest system of bike routes in Latin America. There are a couple of shops where you can rent bikes.
Use Bookaway to find the best deals on transport – buses, planes, trains, and ferries. It'll save you a load of time when organising transport and you'll probably nab an EPIC DISCOUNT too!
Book your transport on Bookaway NOW. Get the best price for the best ride… then use those savings to buy the best feed in town!
Book Your Transport Here!
Safety in Bogota
While things have improved greatly over the last decade or so, Bogota still isn't the safest city in the world. Muggings are very common in the city, especially at night. It's generally safe to walk around heavily-trafficked areas during the day, but you should always be aware of your surroundings and try not to flash your valuables.
If you happen to find yourself in a sticky situation, hand over your bag/wallet/phone or whatever it is the thief is looking for. It's certainly not worth getting stabbed over a smart phone.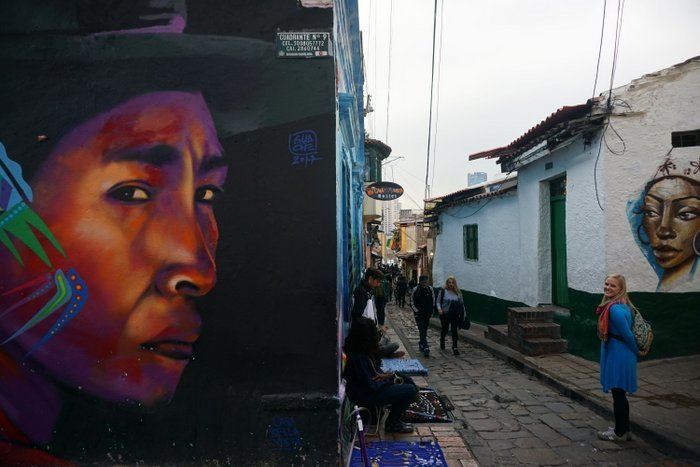 When riding the bus, be sure to keep your bag in front of you and don't leave anything hanging out of your back pocket. You know, the same precautions you'd take in any major city.
Unsurprisingly, it's not hard to find drugs in Bogota. That being said, there's always a risk when buying anything off the street. First of all, you can easily get ripped off or robbed. Secondly, you never know when "dealers" are actually working with undercover cops. If you want to get stoned, your best bet is to make friends with cool locals.
As long as you've got your wits about you and you aren't wandering down a random dark alley at night, you should be fine when backpacking Bogota.
If you're concerned about your overall safety in Colombia, then be sure to check out our in-depth safety guide. It's chalked full of useful tips and reading it should make your life a little easier in Colombia.
Get Insured before Backpacking Bogota
Traveling without insurance would be risky so do consider getting good backpacker insurance sorted before you head off on an adventure.
I have been using World Nomads for some time now and made a few claims over the years. They're easy to use, professional and relatively affordable. They may also let you buy or extend a policy once you've started your trip and are already abroad which is super handy.
If there's one insurance company I trust, it's World Nomads.
ALWAYS sort out your backpacker insurance before your trip. There's plenty to choose from in that department, but a good place to start is Safety Wing.
They offer month-to-month payments, no lock-in contracts, and require absolutely no itineraries: that's the exact kind of insurance long-term travellers and digital nomads need.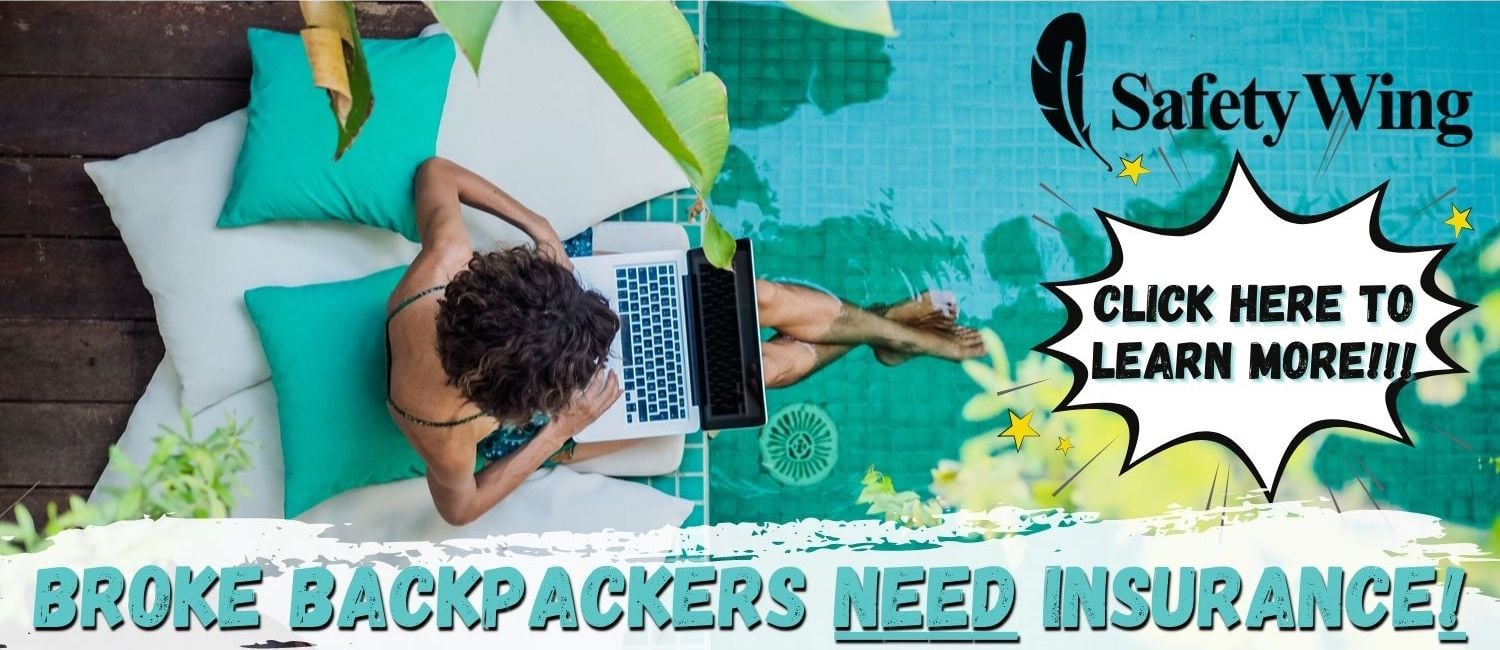 SafetyWing is cheap, easy, and admin-free: just sign up lickety-split so you can get back to it!
Click the button below to learn more about SafetyWing's setup or read our insider review for the full tasty scoop.
Bogota Accommodation Travel Hacks
Wherever you're backpacking, a great travel hack is to find a hostel with free breakfast and/or a communal kitchen. If you can start your day with a free meal or fix your own, you'll definitely save money. Many hostels also have a bar on-site and offer great Happy Hour deals, so you can get a buzz on without spending a bunch.
When booking a place in Bogota, it's also important to factor in how much time and money you'll spend getting around the city. As most of the sights are located in La Candelaria, you'll save money just by staying here instead of the more trendy Chapinero area.
If you're on Couchsurfing, you can definitely try to find a host in the city. There are plenty of locals and expats alike on CS, so it's worth a shot to put out a few requests. In addition to saving money on accommodation, you'll get valuable tips from someone who lives in the city. Score!
Eating and Drinking in Bogota
As a giant capital city, there is no shortage of places to eat and drink in Bogota. From super cheap street food up to 5-star restaurants and everything in between; there's something for every budget here. For $1 or less, you can score some arepas or empanadas, which will keep you full for a while.
Many local restaurants offer a menu of the day, where you get a soup, main course, and dessert for just $3-4. They usually have a few options for the main course, so even if you're a vegetarian you can find something.
If you're looking to class it up and go out for a nice dinner, the Zona G area has plenty of great restaurants. It'll cost a bit more than the local fare, but once in a while, it's nice to treat yourself.
Colombia makes some of the best coffee in the world, and there are tons of cafes to try some. If you want to keep it simple, just order a tinto, which is the local version of a long black coffee. You can also find lots of hipster cafes making fancy cups of coffee.
When it comes to the hard stuff, Rolos love drinking chicha, which is a corn-based alcoholic beverage. It's not strong and tastes pretty good. For something a bit stronger, try a shot of aguardiente, which tastes a bit like licorice. Just be warned that the hangovers can be awful if you drink too much of it! One of the best things to do in Bogota is simply to bar-hop. Fact.
Nightlife in Bogota
In a Latin American city with over 8 million people, it shouldn't be surprising to learn the nightlife is pretty epic. Whether you're looking for a dive bar or a high-end club to dance the night away, you can find it in Bogota.
Start your night by diving into the burgeoning craft beer scene. Head to a place like the Tap House or Statua Rota to see what kind of craft beer Colombia is brewing up.
If you're looking for great cocktails and views to match, you can check out Céntrico. Located on the 41st floor, this is the perfect spot for sundowners in the capital. Club Colombia is another great choice, as they whip up some tasty cocktails using local fruits.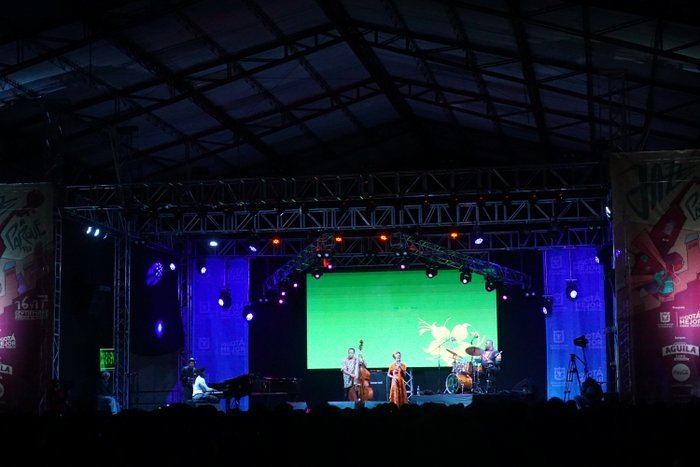 Colombia is all about salsa, and Bogota is full of bars where you can dance the night away. There's even a salsa tour you can join in to hit a few of the hot spots. If you're not into salsa, never fear, you can just as easily catch some jazz, rock, or electronic music.
Those looking to party hard will want to head to the Zona T area of Chapinero; you'll find a ton of bars and clubs. This place is bumping every night of the week, and there's enough going on that you can come back again and again and try something new.
Chapinero is often referred to as Chapi-gay, as it's home to several LGBT-friendly venues. The most famous is definitely Theatron, which is a massive entertainment complex that packs in thousands of revelers every weekend. If you're looking for a wild night out in Bogota, this is the place to be!
Books to Read on Bogota
Reading about a place you're planning to visit is always fun. It gets you more excited for your trip and you learn something in the process. Below are 5 books and guides to add to your Bogota reading list:
Lonely Planet Colombia Travel Guide – The ultimate guidebook for planning your trip to Bogota and all other parts of Colombia.
Short Walks from Bogota: Journeys in the New Colombia – Writer and journalist Tom Feiling travelled all over Colombia to put together this excellent book on the country.
Voices of Bogota – Learn more about Bogota and its people through the stories of 16 residents. It's an excellent choice for that flight over to Colombia.
Bogota: A Novel – This gripping novel set in modern-day Colombia chronicles the trials and tribulations of a family who moves to the slums of the big city.
Volunteering in Bogota
Long term travel is awesome. Giving back is awesome too. For backpackers looking to travel long-term on a budget in Bogota whilst making a real impact on local communities, look no further than World Packers. World Packers is an excellent platform connecting travelers with meaningful volunteer positions throughout the world.
In exchange for a few hours of work each day, your room and board are covered.
Backpackers can spend long periods of time volunteering in an awesome place without spending any money. Meaningful life and travel experiences are rooted in stepping out of your comfort zone and into the world of a purposeful project.
Worldpackers opens the doors for work opportunities in hostels, homestays, NGOs, and eco-projects around the world. We've tried and approved them ourselves – check out our Worldpackers in-depth review here.
If you're ready to create a life-changing travel experience and give back to the community, join the Worldpacker community now. As a Broke Backpacker reader, you'll get a special discount of $10. Just use the discount code BROKEBACKPACKER and your membership is discounted from $49 a year to only $39.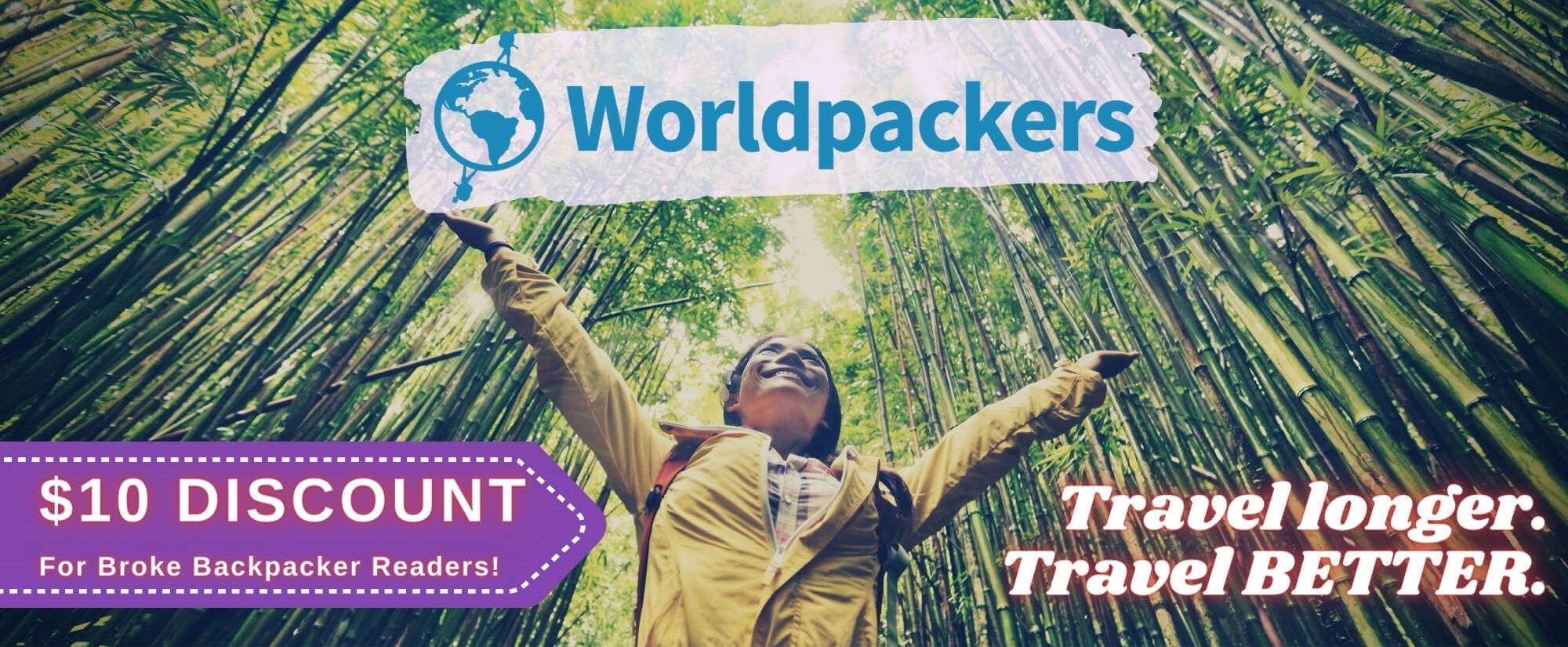 Worldpackers: connecting travellers with meaningful travel experiences.
Make Money Online while Backpacking Bogota
Traveling in Colombia long-term? Keen to make some cash when you are not exploring? Teaching English online is a great way to earn a consistent income—from anywhere in the world with a good internet connection.
Depending on your qualifications (or your motivation to obtain qualifications like a TEFL certificate) you can teach English remotely from your laptop, save some cash for your next adventure, and make a positive impact on the world by improving another person's language skills!
It's a win-win! Check out this detailed article for everything you need to know to start teaching English online.
In addition to giving you the qualifications to teach English online, TEFL courses open up a huge range of opportunities and you can find teaching work all over the world. To find out more about TEFL courses and how you can teach English around the world, read my in-depth report on teaching English abroad.
Broke Backpacker readers get a 35% discount on TEFL courses with MyTEFL (simply enter the code BACKPKR), to find out more, please read my in-depth report on teaching English abroad.
Whether you are keen to teach English online or looking to take your teaching game a step further by finding a job teaching English in a foreign country, getting your TEFL certificate is absolutely a step in the right direction.
Be a Responsible Backpacker in Bogota
Reduce your plastic footprint: Perhaps the best thing you can do for our planet is to make sure you do NOT add to the plastic problem all over the world. Don't buy one-use water bottles, the plastic ends up in landfill or in the ocean. Instead, pack a tough travel water bottle.
Go and watch A Plastic Ocean on Netflix – it'll change how you view the plastic problem in the world; you need to understand what we are up against. If you think it doesn't matter, get off my fucking site.
Don't pick up single use plastic bags, you're a backpacker – take your daypack if you need to go to the shop or run errands.
Bear in mind, that many animal products in countries you travel through will not be ethically farmed and won't be of the highest quality. I'm a carnivore but when I'm on the road, I only eat chicken. Mass-farming of cows etc leads to the rainforest being cut down – which is obviously a huge problem.
Need more guidance? – Check out our post on how to be a responsible backpacker.
---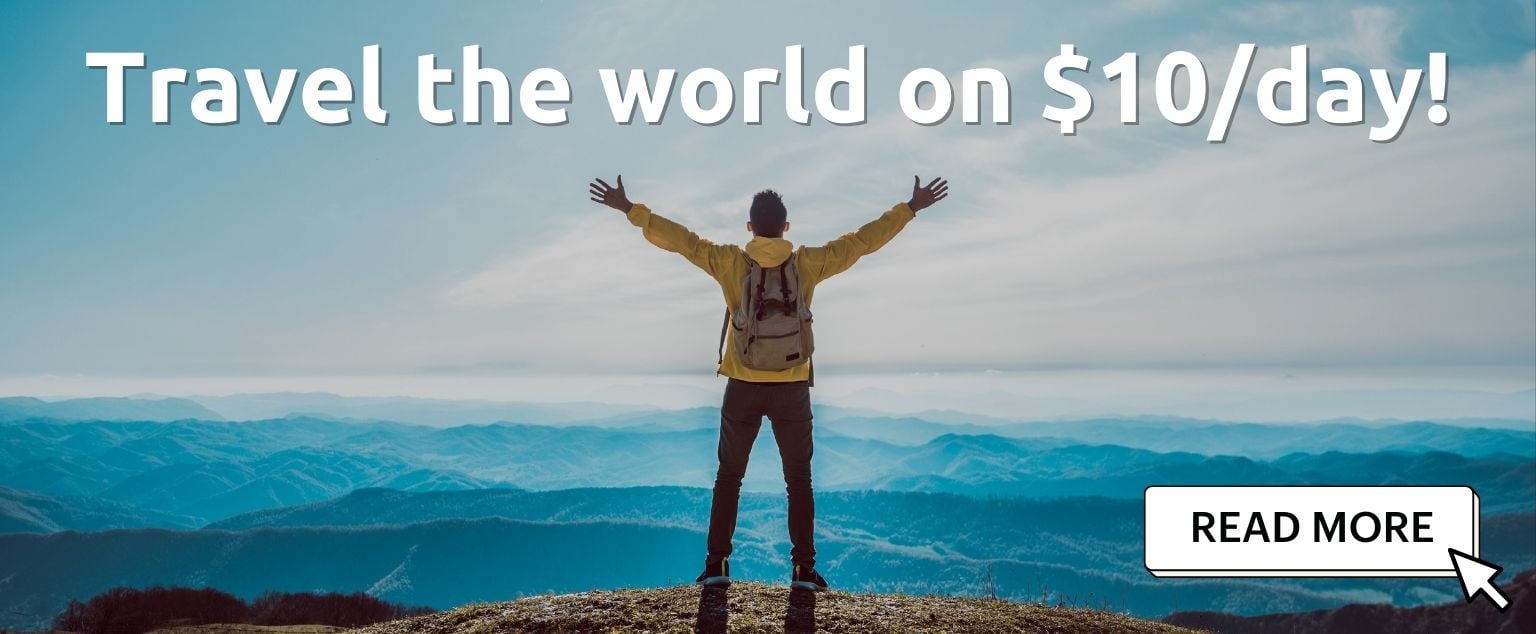 And for transparency's sake, please know that some of the links in our content are affiliate links. That means that if you book your accommodation, buy your gear, or sort your insurance through our link, we earn a small commission (at no extra cost to you). That said, we only link to the gear we trust and never recommend services we don't believe are up to scratch. Again, thank you!