Colombia was once ranked the most dangerous country in the world and now it's crazy to think that over the last decade, it has become one of the fastest-growing tourism destinations in South America. This transformation can be largely attributed to two cities, Bogota and Medellin, which have a lot to offer visitors – both culturally and recreationally.
So which is it? Bogota or Medellin?
When it comes to culture, art, entertainment, food, and nightlife, each city is unique in its own way. For example, Bogota offers visitors a chance to explore its vibrant street art scene and the iconic Gold Museum. Meanwhile, Medellin has become known for its eclectic mix of restaurants and bars, as well as its thriving music scene.
Bogota is known for being more cosmopolitan than Medellin with elegant shopping districts and a thriving nightlife. Medellin is less chaotic and offers visitors more of a laid-back vibe, as well as some great outdoor activities and a look into Colombia's ugly past.
Whether you're searching for an unforgettable experience or learning about the country's history, we'll explore which of the cities is more promising in terms of activities, safety, and entertainment. Keep reading to dive deep into each city!

Unlock Our GREATEST Travel Secrets!
Sign up for our newsletter and get the best travel tips delivered right to your inbox.
Bogota vs Medellin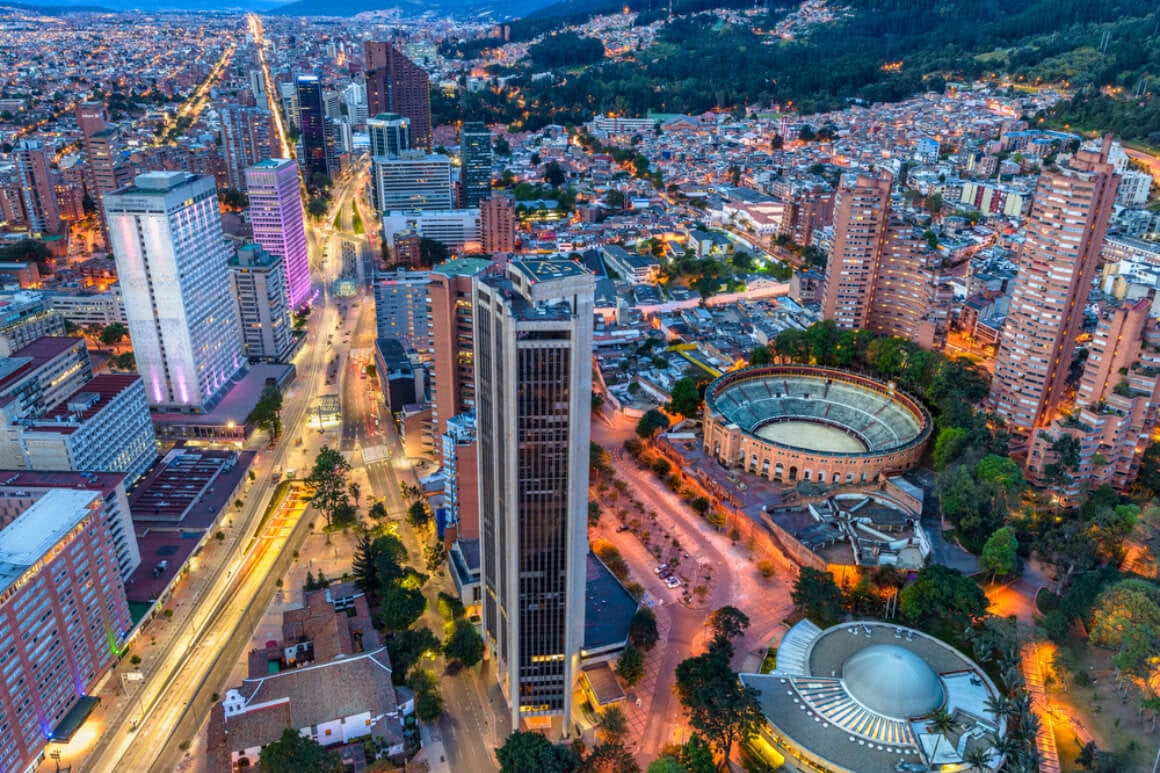 Even though they differ greatly in terms of the attractions and experiences offered, we're not afraid to explore the difference between Bogota and Medellin! So let's jump in.
Bogota summary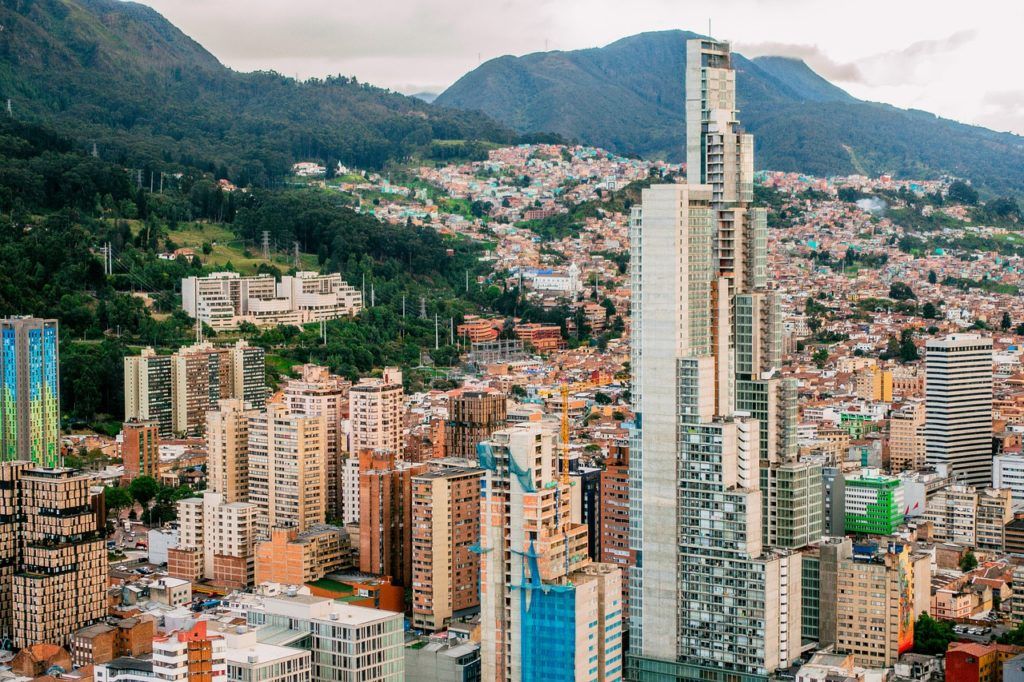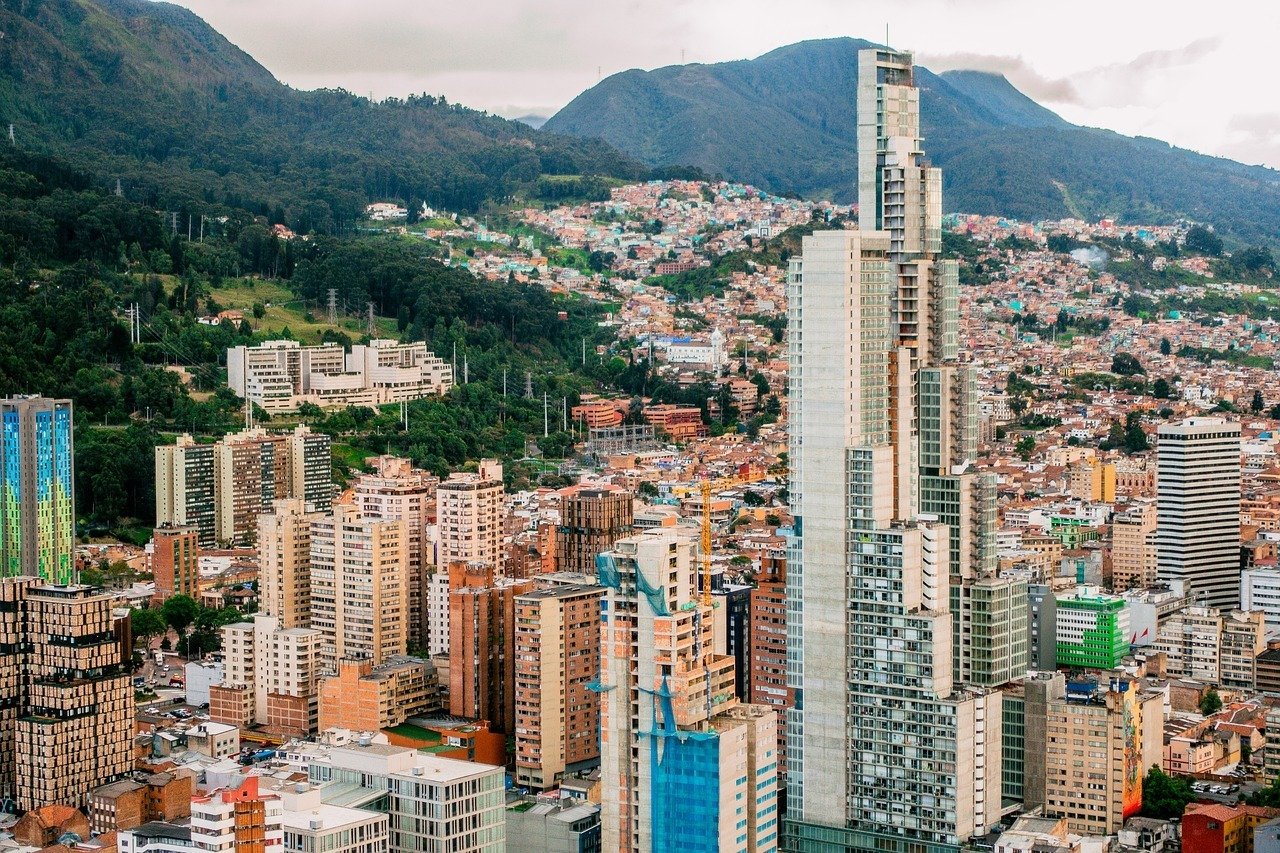 Bogota is the biggest city in Colombia, with over 7 million people the city covers 1775 km. It's also the third-highest capital in South America at 2,640 meters above sea level.
Bogota is known for being more cosmopolitan than Medellin with elegant shopping districts and a thriving nightlife.
Getting to Bogota is extremely easy as it has the largest international airport in Colombia.
Getting around Bogota is pretty simple, with an efficient and reliable public transportation network as well as plenty of Uber and Taxis available. I recommend taking Uber as they are your safest option.
Whether you're looking to stay in luxurious surroundings or enjoy the intimacy of a bed and breakfast, the city offers many types of accommodations. And if budget is an issue, then there are plenty of hostels available for your convenience as well!
Medellin summary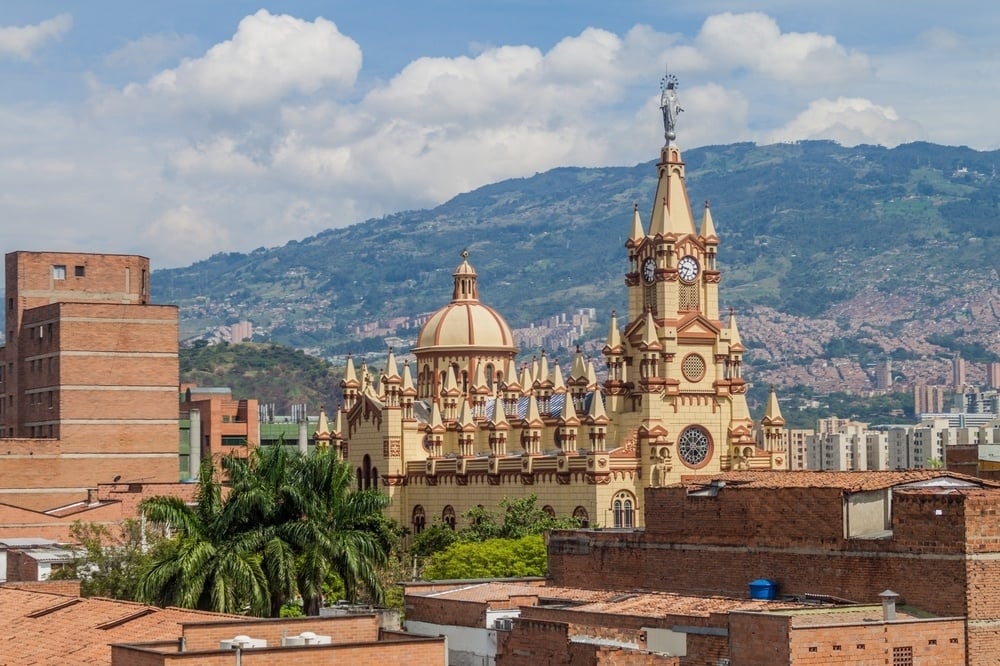 Medellin is a much smaller city located in the Aburrá Valley of Colombia, with over 2.5 million inhabitants spread over 447 km.
Medellin is famous for its historical district of El Poblado, with a vibrant nightlife and plenty of restaurants, bars, and clubs.
Getting to Medellin is also easy as it has an international airport that services flights from around the world.
Getting around Medellin is just as simple as Bogota, with a lot of Taxis and Uber available. There is also a metro that is extremely well-kept and safe.
If you're looking for a place to stay in Medellin, there are plenty of options. From luxurious hotels to cozy bed and breakfasts, if you can think it Medellin has got it.
Is Bogota or Medellin Better?
Bogota and Medellin both boast a variety of attractions and experiences, so when it comes to deciding which is better the answer depends on what you are looking for. And I have all the answers for you!
For Things to Do
Colombia is FULL of things to do and both of the cities bring some bright and unique things to the table when deciding.
If you've been on Instagram even a little bit over the last year I'm sure you've seen Medellin tagged so many times. Because of its vibrant nightlife and abundance of outdoor activities, Medellin is becoming a must-visit city. But don't let this deter you from all of the great things that Bogota has to offer. From its classic architecture, bustling nightlife, and art galleries, you'll be sure to find something unique in this capital city.
Medellin holds a lot of history and if you're a fan of exploring it is the right place for you. With its beautiful buildings and bustling streets, Medellin will give you an experience like no other. See how Comuna trece (13th) is being transformed into a hip and trendy gallery district or why the city is known as "La Ciudad de la Eterna Primavera" (The City of Eternal Spring).
On the other hand, the history of Bogota is also fascinating. Learn all about the history of Colombia's independence through its many museums and historical sites, or take a walk down Calle 7 (7th street) and La Candelaria, Bogota's oldest neighborhood. You'll feel like you've stepped back in time!
For food and nightlife both Bogota and Medellin have an abundance of delicious restaurants, bars, and clubs.
In Bogota, there are traditional Colombian restaurants with unique flavors that you won't find anywhere else. Try a tasty Arepa or Bandeja Paisa in the Chorro de Quevedo or take your taste buds on an adventure through La Macarena's many street food stands!
Medellin also has some amazing restaurants with flavors unique to the city. Head to El Poblado for delicious tapas and craft cocktails, or take a trip to La 70 for some of the best street food in Latin America.
For nightlife, Bogota offers everything from rooftop bars and clubs to jazz bars and traditional pubs. In Medellin, El Poblado is THE place to be. From cozy bars to lively clubs and rooftop terraces with stunning views, you'll certainly find something that fits your style.
To sum it up: If you're looking for a vibrant nightlife full of culture, history, art, and adventure then Bogota and Medellin are the perfect places for you. But Medellin has made so many strides in the past decade that it makes it the clear winner when it comes to the battle of which city is better for things to do and keep yourself busy!
Winner: Medellin
For Budget Travellers
Both cities offer plenty of opportunities for budget travelers. But stacked against each other in Bogota vs Medellin, Bogota has taken first place as the main destination for budget travelers in the last few years.
Bogota has plenty of cheap hostels as well as Airbnbs to choose from. You'll also find some great deals on food with lots of local markets and street vendors offering delicious Colombian dishes at low prices.
Medellin, while not quite as cheap, still has plenty of options for budget travelers. Check out the lively markets around Parque Poblado or head to one of the local restaurants in El Poblado or La Macarena and you'll be sure to get a great deal.
The major difference between the two is the price per bed in hostels. In Bogota, you can snag a bed in La Candelaria for around 7 dollars and the hostel also includes a pool and bar. In Medellin, hostels tend to be around 18-22 dollars per night. If you don't mind the cash, Viajero Medellin Hostel is your spot.
Midlevel accommodation in the tourist area of Medellin, Poblada, will cost you around $70 to 80 dollars a night, and in Bogota, it will cost you around $50-$60 a night.
Getting around both of these cities is actually very cheap. Both trains cost about $1 each way. You can also grab a bus in Medellin for around $2 and an uber for about $5. In Bogota, you can take the Transmilenio bus system or grab a taxi or uber which will cost you around $5-$10 depending on your destination.
The thing I love about Latin America is the everyday optional menu del dia. In Medellin, these are a bit more than Bogota, at $4. It comes with soup, a main dish, and juice. In Bogota, they can be as low as $2.50.
Grabbing a beer anywhere in Colombia will cost you about $1-$2, which is a great deal compared to many cities in Europe and North America.
Winner: Bogotá
Small Pack Problems? 😉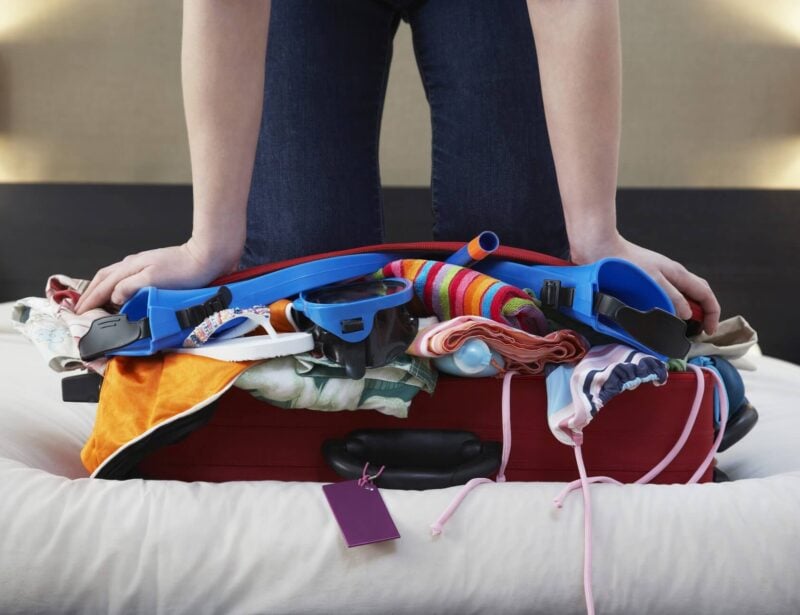 Wanna know how to pack like a pro? Well for a start you need the right gear….
These are packing cubes for the globetrotters and compression sacks for the real adventurers – these babies are a traveller's best kept secret. They organise yo' packing and minimise volume too so you can pack MORE.
Or, y'know… you can stick to just chucking it all in your backpack…
Get Yours Here
Read Our Review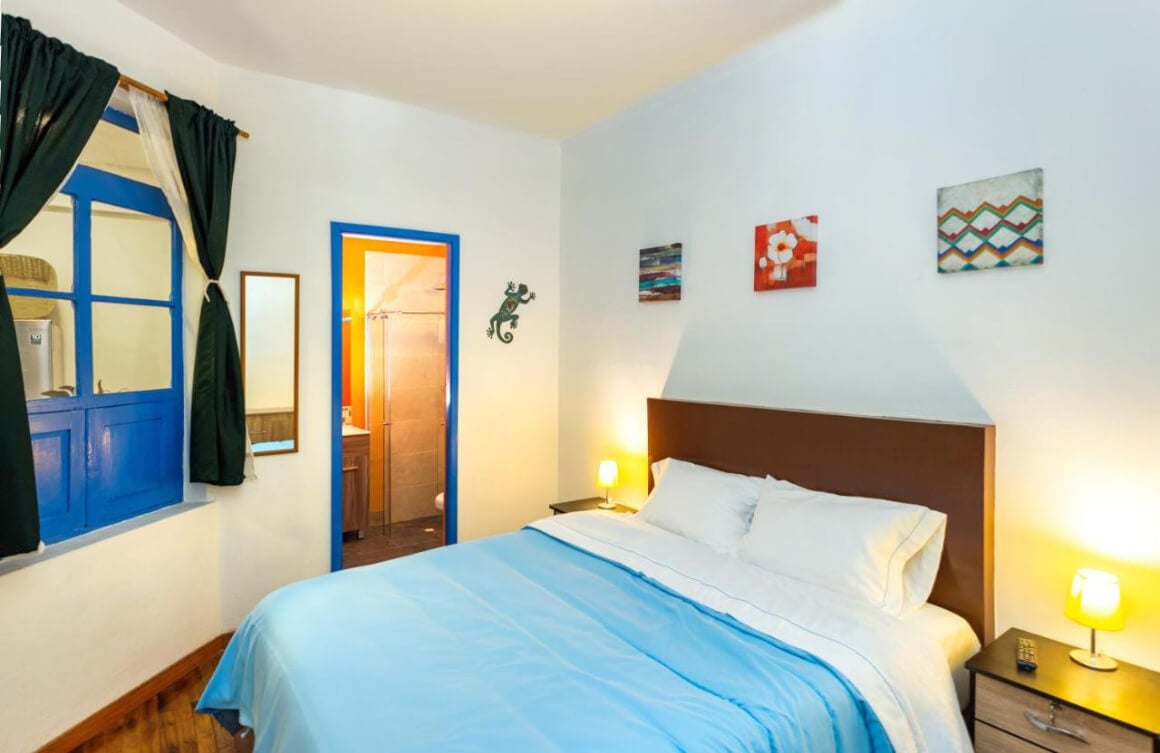 If you're a solo traveler or on a tight budget, this hostel in La Candelaria is the best place to be! This excellent choice offers an enormous outdoor patio and indoor hammock area in addition to its very own bar. What more could you ask for? Here, not only can you enjoy great conversations with fellow travelers but also savor delicious breakfast at wallet-friendly prices too.
For Couples
Medellin is a great choice for couples. The city is known for its romantic vibes and there are plenty of activities to take part in such as wine tasting, hot air balloon rides, and bike tours. You can also enjoy some exquisite restaurants with stunning views of the mountains or head out to one of Medellin's many parks to take in the city's beautiful nature.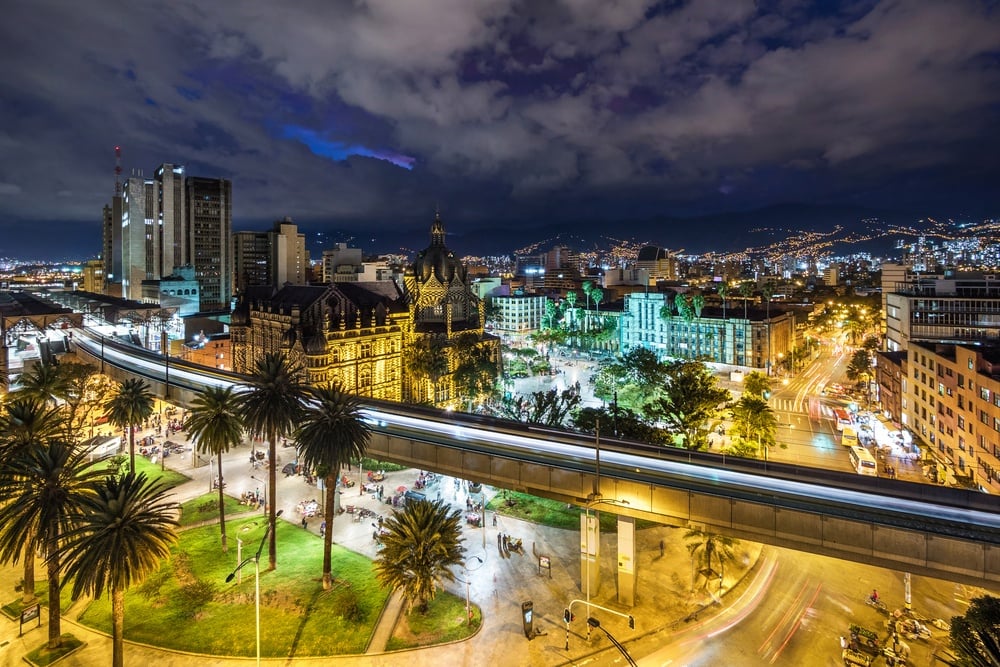 Bogota, on the other hand, is a great option for couples who want to experience the city's culture and history. From visiting museums and galleries to exploring street art and eating in gourmet restaurants, there are plenty of activities to keep you entertained during your stay.
Medellin will have you feeling like you're living in a real-life fairytale. With its unforgettable views and romantic vibes, it's easy to understand why it's one of the country's most treasured cities. And for couples who are looking for adventure and cultural experiences, Bogota is your go-to destination!
Winner: Medellin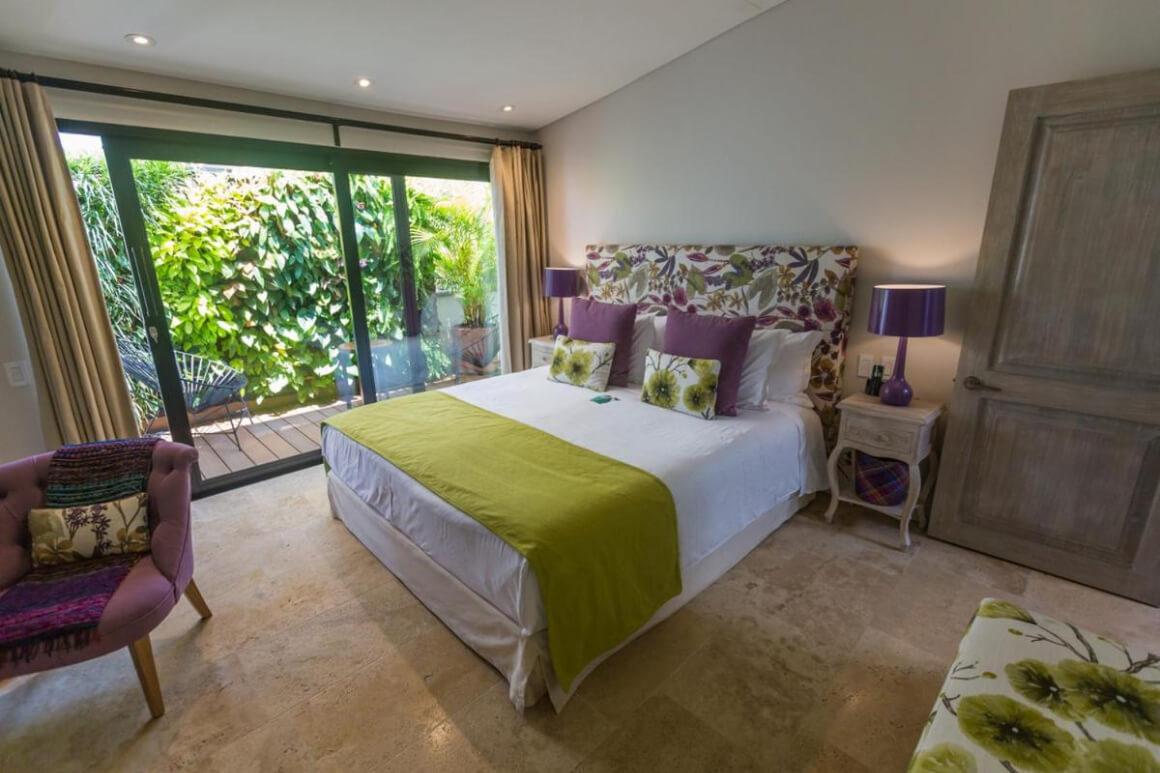 This hotel is perfect for couples staying in Medellin who want a romantic getaway. With its central location and beautiful terrace, the hotel offers the perfect place to relax and unwind after a day of exploring the city. Hang out together on your private balcony and sip on some South American wine.
For Getting Around
Both Bogota and Medellin are great cities for exploring. Whether you're looking to take public transport or prefer to explore on foot, you'll find plenty of options for getting around each city.
In Bogota, the TransMilenio bus rapid transit system is the main form of public transport. This extensive network of buses covers the entire city and is both convenient and affordable. You can also take taxis, Uber, or Cabify to get from point A to Point B quickly and easily.
In Medellin, public transport is just as impressive and honestly a lot safer and cleaner. The Metro de Medellin has two lines that cover the city center, plus a few extensions to the northern and western suburbs. The metro is clean, modern, and a great way to get around the city quickly and cheaply. If you prefer, there are also plenty of buses and yellow taxis waiting outside each station.
Medellin and Bogota both tie when it comes to safety, unfortunately. Even though both cities are growing they still aren't always the safest cities to explore, so it's best to stick to the main streets and use public transport during the day. At night I recommend using the Uber app as these services are monitored by GPS and you can always track your driver's progress on your phone. They are also very affordable, so don't be afraid to use them.
Overall, both cities offer plenty of transport options for getting around, making it easy to explore their many attractions and sights. Whether you prefer public transport or the convenience of private transportation, there's an option available for everyone.
Winner: Medellin
For a Weekend Trip
Just one weekend in Colombia is not enough, but it's definitely enough when spending time in Bogota.
Maximize your weekend trip to Bogota by visiting the vibrant old town of La Candelaria, admiring the dazzling street art, and appreciating a twilight in one of its numerous parks. Shop for unique wares at any number of local markets or indulge in some delicious cuisine from the city's acclaimed restaurants. Then ascend Cerro Monserrate for breathtaking views!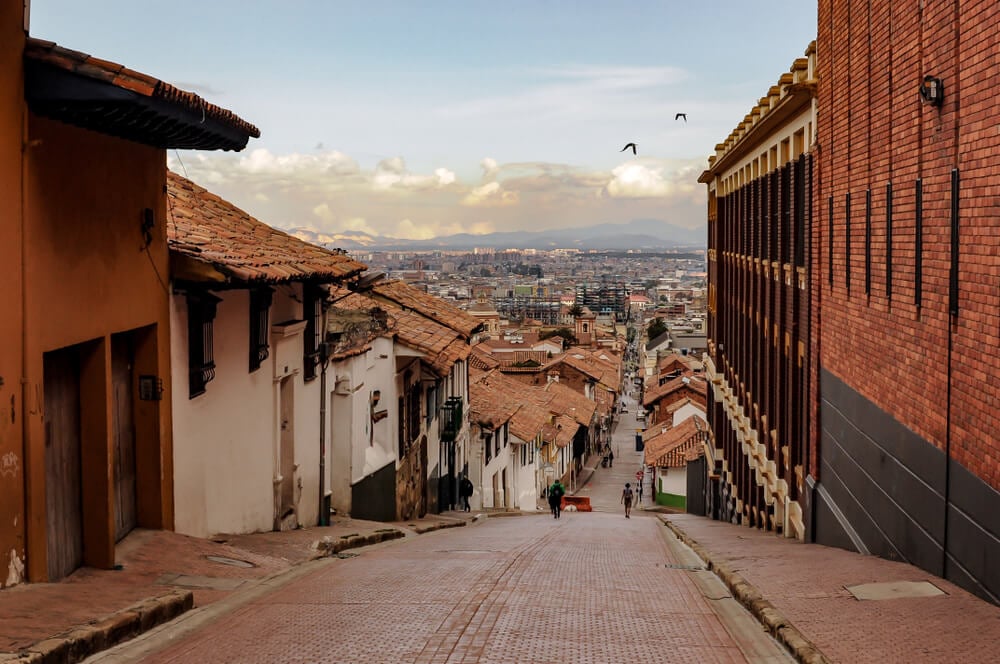 However, in Medellin, there's no shortage of things to do for a weekend trip but I would go as far as to say a weekend is not enough time to explore all that Medellin has to offer!
If you're limited to only three days, be smart with your time. Take a free walking tour of the city center and Comuna trece then makes the journey over to Guatape. It's sure to be an unforgettable experience even if it is a bit rushed.
Winner: Bogota
For a Week-Long Trip
There is a reason why over the past few years so many nomads have chosen to settle in Medellin. There is just simply not enough time to do everything. The city is always bursting with energy and full of incredible places to experience.
A week in Medellin is enough time to explore the city's cultural attractions, do a day trip or two, and take part in some of its exciting nightlife. Spend a day at the Parque Explora with its interactive science exhibitions and aquariums. Or hop on a cable car to Parque Arvi for some hiking and stunning views. And don't forget to stop in at a local bar or two, as Medellin is known for its vibrant nightlife.
It's very easy to lose a few days in Medellin to some head-pounding hangovers. So be careful!
In Bogota, there are plenty of things to do during the day but a week could potentially be a little too long.
If you have a week in Bogota, use your time to explore the hidden gems of the city. Take advantage of its thriving arts and culture scene by visiting one of the many museums or art galleries. Or take a day trip outside the city and experience nature at its most beautiful with numerous hikes or waterfalls nearby.
Winner: Medellin
Visiting Bogota and Medellin
Navigating between Bogota and Medellin is a breeze – it's secure, affordable, and fast! The most effective way to get from one city to the other is via international airports. The $50 flight lasts about an hour 1/2 and is available each day with numerous daily flights.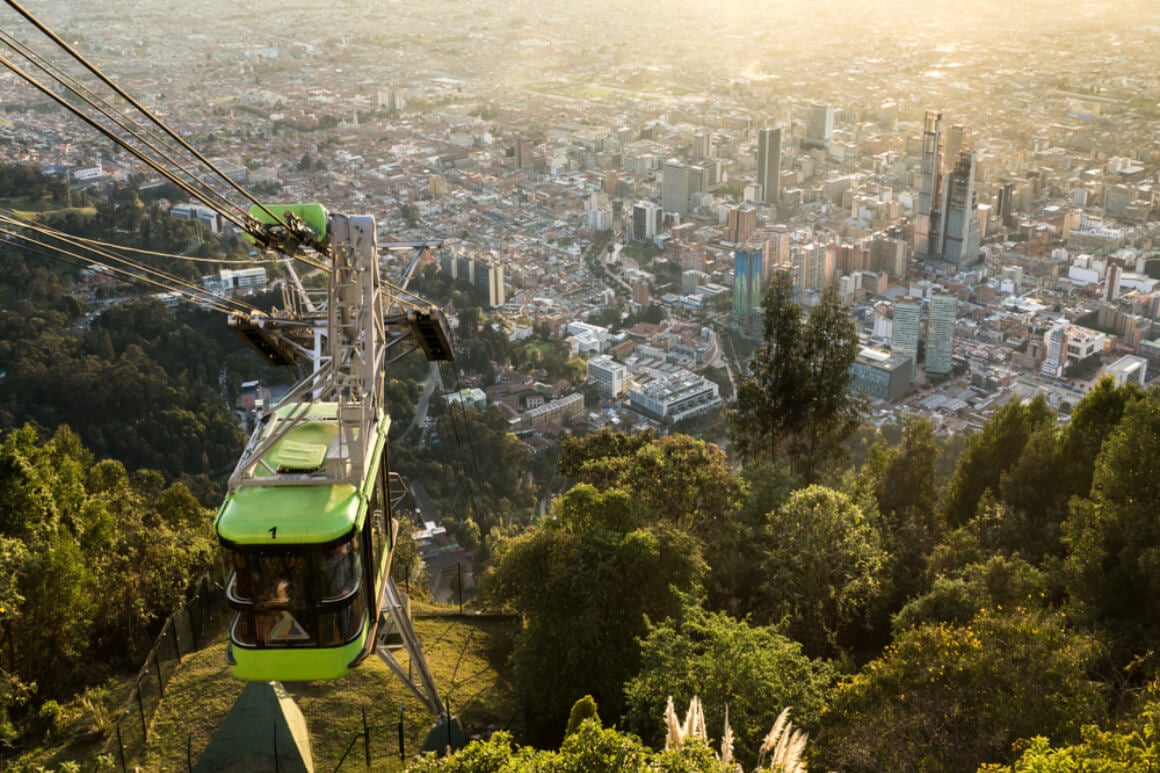 Another great way to travel to both in one trip is by bus. Prices will vary depending on the company and the type of ticket you purchase, but expect to pay around $20 for a one-way trip.
There are also some must-see destinations such as Salento and Jardin along the way, In total, the trip is about 9 hours but with stops and time to explore, it's a great way to see the country.
Is This the Best Backpack EVER???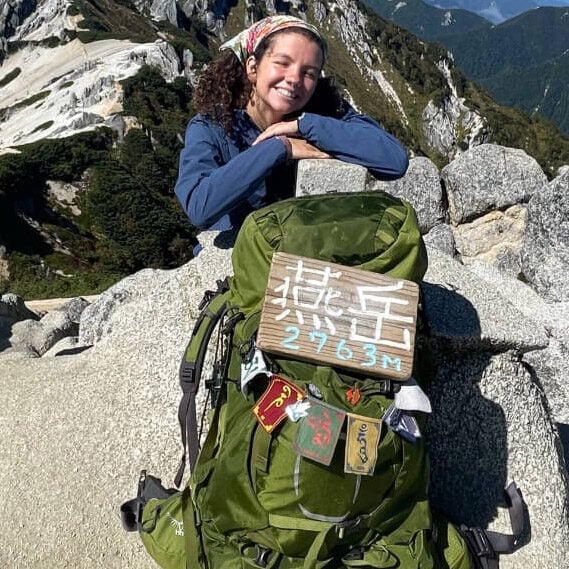 FAQs About Bogota vs Medellin
Final Thoughts
With Medellin being one of the hottest cities to not only visit right now but for foreigners to live in, it's no surprise that it's a great destination for travelers looking to explore the country. While Bogota is the capital of Colombia, there is much more to experience in Medellin during your Colombian adventure.
If you're trying to decide between Bogota and Medellin, consider what type of trip you are taking: a leisurely week-long vacation or a weekend trip with friends. Or, why not plan a two-week adventure and explore both cities? As you can see, there are plenty of amazing experiences to be had in each city, and pitting Bogota vs Medellin just seems wrong.
Either way, you are sure to have the time of your life in Colombia! From stunning views and breathtaking hikes to the vibrant culture and lively nightlife, both Bogota and Medellin have plenty of experiences to offer for any traveler.
ALWAYS sort out your backpacker insurance before your trip. There's plenty to choose from in that department, but a good place to start is Safety Wing.
They offer month-to-month payments, no lock-in contracts, and require absolutely no itineraries: that's the exact kind of insurance long-term travellers and digital nomads need.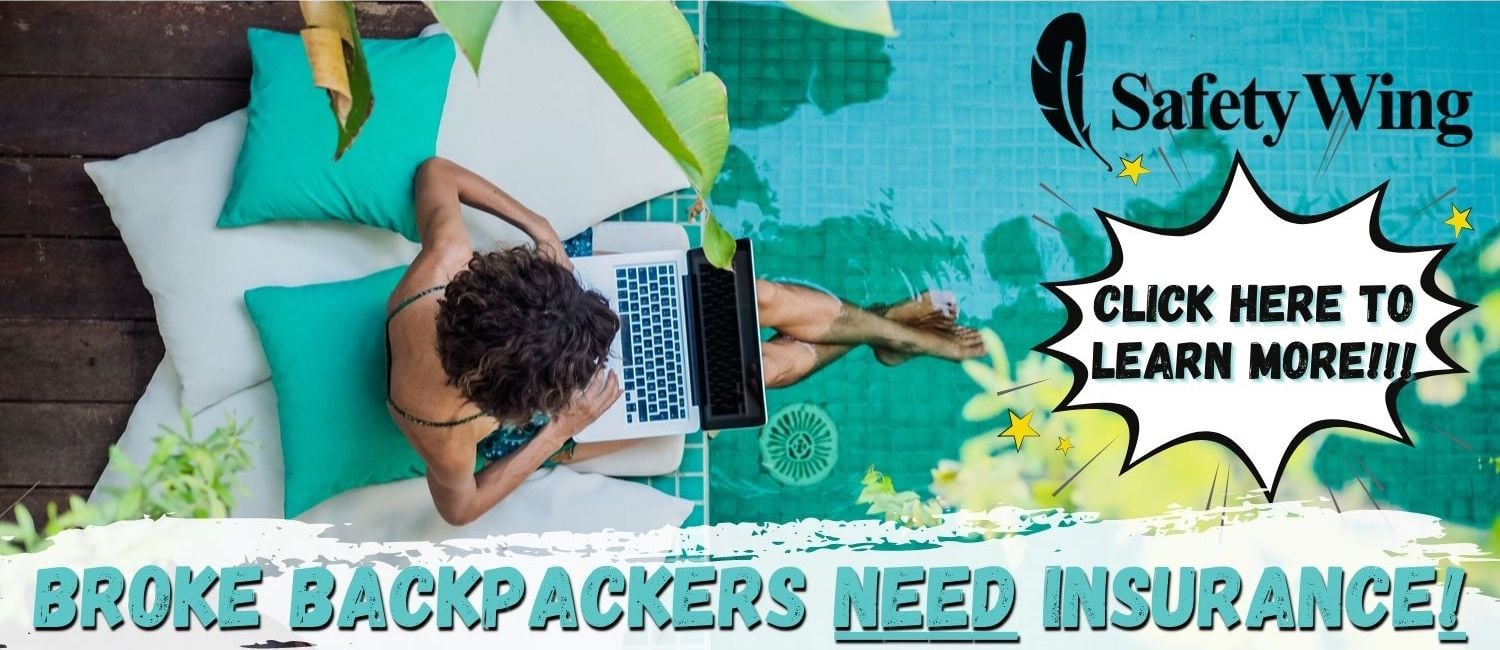 SafetyWing is cheap, easy, and admin-free: just sign up lickety-split so you can get back to it!
Click the button below to learn more about SafetyWing's setup or read our insider review for the full tasty scoop.
---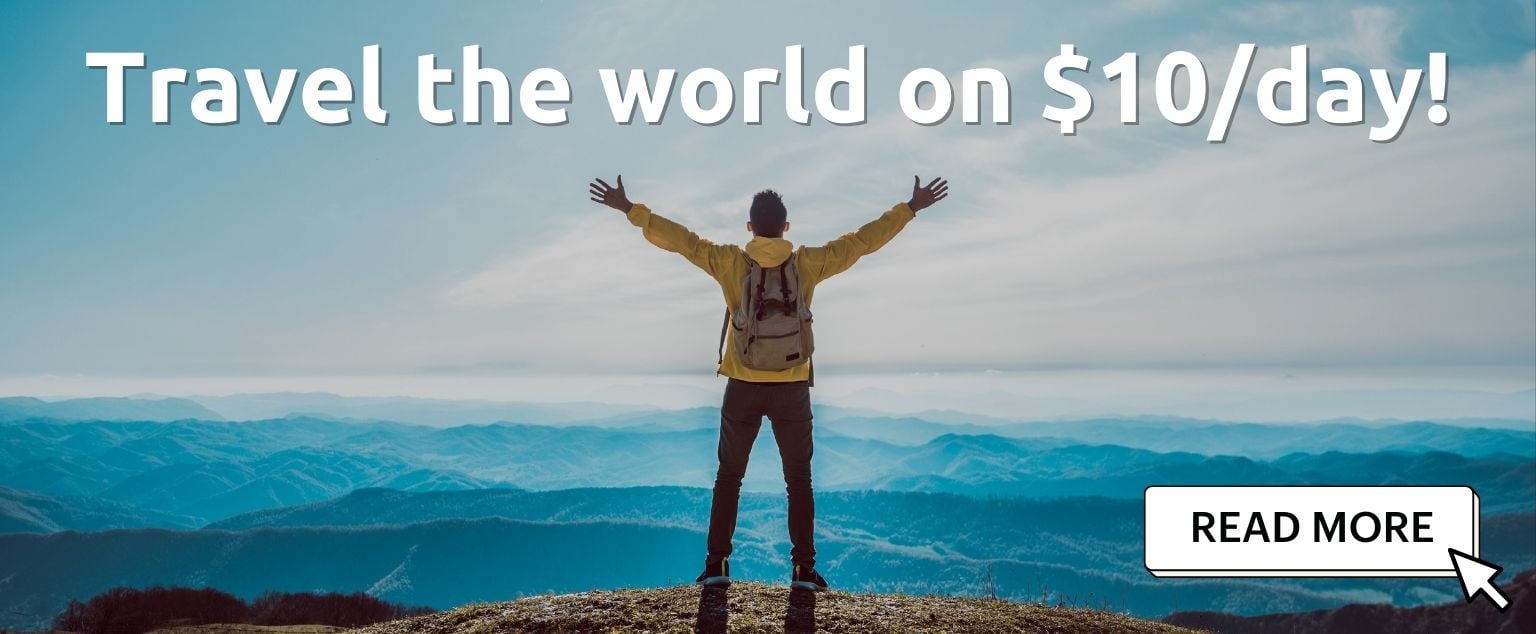 And for transparency's sake, please know that some of the links in our content are affiliate links. That means that if you book your accommodation, buy your gear, or sort your insurance through our link, we earn a small commission (at no extra cost to you). That said, we only link to the gear we trust and never recommend services we don't believe are up to scratch. Again, thank you!