From the world's most dangerous city to its most innovative, Medellin has come a long way in the past few decades. Colombia's City of Eternal Spring is now known for its vibrant culture and beautiful surroundings more than anything else.
To put things into perspective, think about this: Colombia received just 50,000 international visitors in 2000. That number jumped to about 5 million in 2016.
The secret is out; Colombia is a fantastic travel destination, and Medellin is definitely one of the many highlights of visiting this South American nation.
Backpacking Medellin is an incredible travel experience. Days can be spent on walking tours exploring the city, learning about its culture and history, and jumping on the cable car to head up into the mountains for a little hiking. Nights here are filled with salsa dancing and partying until the wee hours of the morning.
We can't talk about Medellin without mentioning the amazing residents of this city. Known as Paisas, the people of Medellin are incredibly welcoming and friendly. They're happy to have you in their city, they encourage you to practice your awful gringo Spanish; they're just a blast to hang out with.
Make the most of your trip to Medellin with our jam-packed city guide. I'll share a typical daily budget with money saving tips, an awesome Medellin 3-day itinerary, and much more.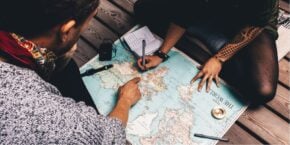 Heading Off-Grid? • Download This Guide as a PDF!
Sign up to The Broke Backpacker's EXCLUSIVE VIP AREA below and download our top backpacking guides as PDFs – go offline with peace of mind!
The great news for travellers backpacking Colombia is that Medellin is a very budget-friendly destination. Your money goes a lot further here than other South American cities like Buenos Aires, Rio de Janeiro, or Santiago. In fact, backpacking Medellin is such a great deal that you just might consider moving there!
If you're looking to visit Medellin on a budget, you can get by with around $30-40 a day at the lower end of the spectrum. This would mean staying in a cheap dorm, using public transportation, taking advantage of free activities the city has to offer and sticking to local food and drinks.
Those who prefer a bit more comfort while they travel can do things like stay in a private room, hit a museum or join a tour, and go out for slightly nicer meals and drinks with a budget of $50-60 a day.
There are few cities better than Medellin to live as a digital nomad. The Spring City is a very affordable place, especially when you're getting monthly discounts on things like rent, co-working spaces, and gym memberships. Read more about the cost of living in Medellin if that's something you might be interested in.
Average Costs of a Trip to Medellin
Here's a breakdown of a daily Medellin budget so you can see how far your money goes:
Dorm bed in a hostel: $7-12
Small basic room for two: $20-30
Airbnb in a private apartment: $40-50
Single ride on the metro: $0.75
Airport bus: $3
Museum of Antioquia: $6
Street food snack (empanadas): $1
Local restaurant for lunch: $4-5
Cup of coffee: $1-2
Local beer in a bar: $2-3
Medellin Budget Backpacking Tips
While Medellin is already an affordable destination, there are still some things you can do to save a few pesos here and there. Here are my tips for backpacking Medellin on a budget: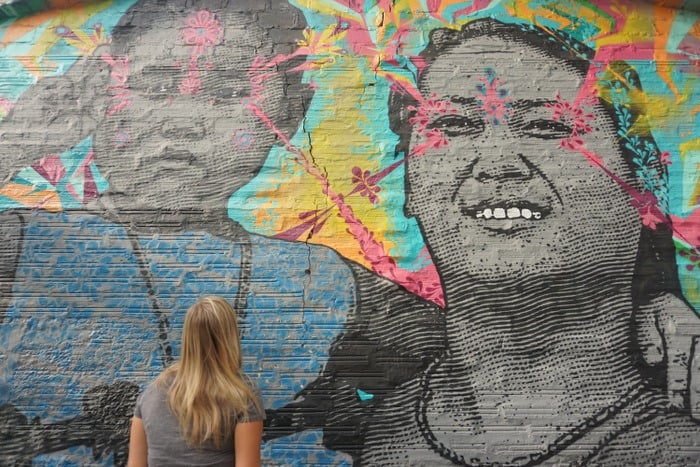 Don't stay in Poblado: Poblado is basically the Gringolandia of Medellin. While it's a very fun neighborhood, it's definitely the most expensive area in the city. You'll pay more for accommodation and going out to eat/drink here than in other areas. Other options include Envigado and Laureles for a more local feel at a more local price.
Enjoy the free activities: There are lots of free things you can do in Medellin, including walking tours, museums, and hikes. It's possible to fill a day with plenty of interesting activities without spending much.
Get a Civica card: Even if you're only staying in the city a few days, it's worth it to get a Civica card. They don't cost anything; you just need to show your passport and fill out a form to get one. These cards get you cheaper rides on the metro and you can skip the line to buy tickets. Time is money, after all!
Eat and drink local: Colombian cuisine isn't exactly the best, but you can find some pretty good meals for cheap if you stick to local joints. The same goes for drinking, as Colombian spirits and beer cost way less than imported stuff.
Bring a reusable water bottle: We're not suggesting you drink the tap water, but there are plenty of opportunities to refill a water bottle with drinkable water. It will help save your wallet… and this planet from single-use plastic!
Why You Should Travel to Medellin with a Water Bottle
Plastic washes up on even the most pristine beaches… so do your part and keep the Big Blue beautiful
You aren't going to save the world overnight, but you might as well be part of the solution and not the problem. When you travel to some of the world's most remote places, you come to realise the full extent of the plastic problem. And I hope you become more inspired to continue being a responsible traveller.
Plus, now you won't be buying overpriced bottles of water from the supermarkets either! Travel with a filtered water bottle instead and never waste a cent nor a turtle's life again.
Save $$$ • Save the Planet • Save Your Stomach!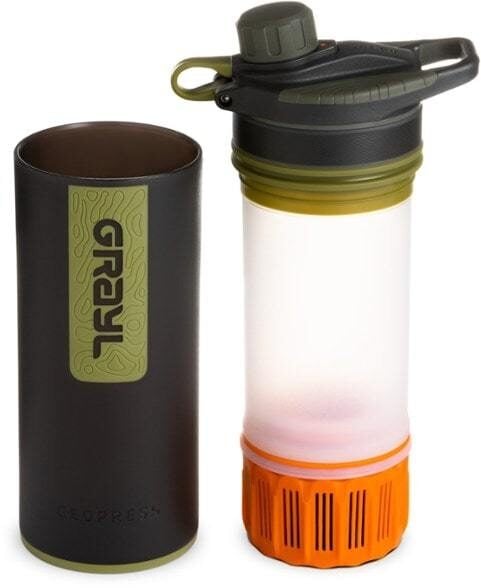 Drink water from ANYWHERE. The Grayl Geopress is the market's leading filtered water bottle protecting your tum from all the waterborne nasties. PLUS, you save money and the environment!
Single-use plastic bottles are a MASSIVE threat to marine life. Be a part of the solution and travel with a filter water bottle.
We've tested the Geopress rigorously from the icy heights of Pakistan to the tropical jungles of Cuba, and the results are in: it WORKS. Buy a Geopress: it's the last water bottle you'll ever buy.
Buy a Geopress!
Read the Review
IN A RUSH? THIS IS OUR FAVORITE HOSTEL IN MEDELLIN!
Most backpackers in Medellin choose to stay in a certain part of the city. It's known as El Poblado. This area is full of great hostels, restaurants, and bars. As I mentioned above, it's also the most touristy and expensive part of the city.
If you're looking for a more local atmosphere, you may want to check out places in Laureles or Envigado. Both have plenty of amenities at a lower cost and are connected to public transport for when you want to go party in Poblado.
Going on to explore more of Colombia after Medellin? To help you find the absolute best places to stay in Colombia during your backpacking adventure, check out our in-depth article on the best hostels in Colombia. There are some true hostel gems in there so give it a look!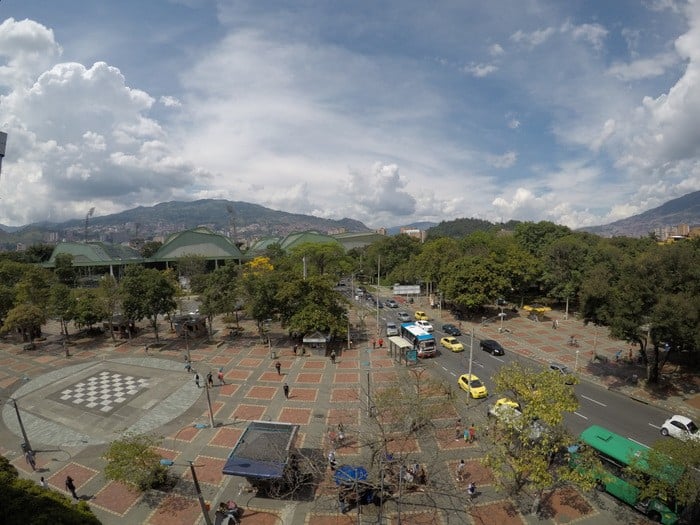 To save you time, I've gone ahead and narrowed down the top hostels in Medellin for best overall hostel, best party hostel, and best hostel for solo travelers.
This new boutique hostel gets our vote for the best place to stay in Medellin. They offer an excellent free breakfast, super fast WiFi, and an on-site bar and restaurant. It's located just a minute from Parque Lleras, which is the most happening nightlife area in the city.
Highlights include: European style breakfast (for free!), fast WiFi and available workspace, and comfortable and well-equipped dorms.
Best Digital Nomad Hostel in Medellin – Selina Medellin
Not technically a hostel, Selina is a community experience in El Poblado that boasts some of the most comfortable dorms, an excellent modern bar, and a cutting-edge coworking space.
I stayed here for New Years 2019, where I made a couple travel buddies at their New Year Party. Another on the Broke Backpacker team used their coworking space for 3 whole months!
Highlights include: Beautiful bar, cheap social dorms, high-speed WiFi, huge coworking space
Best Hostel for Solo Travelers in Medellin – Purple Monkey Hostel
This hostel promises that it will never give you up, let you down, run around, or desert you. It also promises you a great time with like-minded travelers.
They host plenty of activities, including a pub crawl and movie nights, on their awesome terrace. It's not hard to make new friends when you're staying at a place like this!
Highlights include: Great rooftop bar with awesome graffiti, lockers and 4 sockets for each dorm bed, and lots of fun activities.
Located in a residential area of Belén, this comfortable apartment has a master en-suite bedroom and a further two bedrooms and main bathroom.
There's a living area with cable TV and a well-equipped kitchen. The complex has round-the-clock security and the facility has a swimming pool that guests can use. You can also make use of free Wi-Fi.
If you want to see more awesome homes, be sure to check out our favorite Airbnbs in Medellin. There are plenty more waiting for you!
Best Party Hostel in Medellin – Paisa City Hostel
The party starts as soon as you get here with a free welcome drink, and it never stops! This place has pool and ping pong tables as well as XBox 360 and Playstation 4, so you can enjoy some games and drinks before going out.
When you're ready to go out, the famous La 70 street is right on your doorstep. This is one of the rowdiest bar streets in the city, and it's far more local than the places in Poblado. It's no wonder Medellin ranks as one of the best cities in the world to party!
Highlights include: Lots of games, free welcome drink, solid location in Laureles (more local 'hood), and close to the metro.
Paisa City Hostel is one of our favourites in Medellin but they're not taking guests right now. We're not sure if they're closed for good but we hope they'll come back soon.
Even though it's a relatively small city, there's plenty to do in Medellin. We've narrowed down the top 10 things to do in Medellin to help you out:
1. Real City Walking Tours
The best way to get introduced to the City of Eternal Spring is with a free walking tour offered by Real City Tours. The tour is so popular that they run it three times a day and it still books up in advance. Be sure to reserve your spot a day or two early so you don't miss out.
The tours run at 9 AM, 10:30 AM, and 2:15 PM on Monday-Friday. They also have a few other walking tours that are very reasonably priced, including an awesome exotic fruits tour.
2. Visit Pueblito Paisa
Pueblito Paisa is a replica of a typical Antioquian village located on a hilltop. It's a short, easy hike up to the village, where you can check out the cathedral, grab a snack or drink, and enjoy the views of the city. This is an easy, scenic, and cheap thing to do in Medellin.
3. Visit Comuna 13
Few places exemplify the transformation Medellin has undergone better than Comuna 13. Not long ago, this was the most dangerous neighborhood in the most dangerous city in the world.
A focus on accessibility, creativity, and community has completely transformed this neighborhood, and you've got to see it while you're backpacking Medellin. I'll discuss this inspirational story in more detail in the 3-day itinerary.
4. Go for a walk around the city
Medellin is surrounded by hills and parks that make it a great place for a nice walk or hike. Some of your best bets include Parque Arvi and Parque El Salado. Even in the heart of bustling Poblado, you can enjoy a peaceful stroll in Parque de la Presidenta.
5. Admire the art of Botero
Fernando Botero is one of the most famous Colombian artists of all time, and he's also a native son of Medellin. There are plenty of places to see the art of Botero, but your best bet is to head to the aptly named Plaza Botero. Here, you'll find several of his sculptures that he donated to his hometown.
While you're here, you might as well check out the Museo de Antioquia. You'll see many of Botero's works in this museum along with lots of other Colombian art.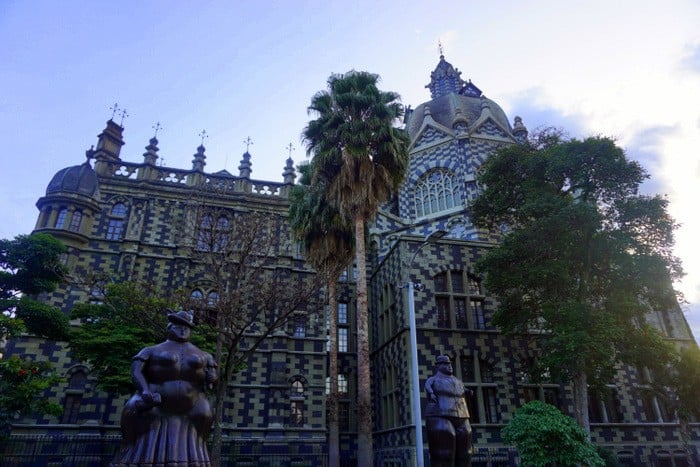 6. Eat and drink like a Paisa
When you're backpacking Medellin, you've got to try the local food and drink. That means digging in to a plate of bandeja Paisa – a mountain of food including steak, chicharron, rice, beans, a fried egg, plantains, and an arepa. You may need a nap afterwards.
As far as drinks go, you'll have to try the local firewater known as aguardiente.
7. Study Spanish
There are few places better for learning Spanish than Medellin. First of all, the people here are known for speaking clearly and relatively slowly, something that can't be said for many other South American cities (*cough, cough* Santiago and Buenos Aires).
Secondly, you have tons of options for studying Spanish in Medellin. There are university programs, language schools (I recommend Colombia Immersion based on my experience), and very affordable private tutors.
Study Spanish for a few weeks here and you'll be ready to take on the rest of your Latin American travels.
8. Cheer on the local team(s)
Football is basically a religion in South America. It's a huge part of the culture and something that you've got to experience if you have the chance. Medellin is home to two teams – Atletico Nacional and Independiente Medellin. Both teams play in the same stadium in Laureles.
9. Go for a Helicopter Ride Over the City
For adventurous backpackers with a little more budget to work with, I highly recommend going on an aerial helicopter tour of Medellin with Fly Colombia City Tours. The prices vary depending on group size, but expect to pay around $80 USD per person for a 15 minute / 40 kilometer flight. The views are exceptionally stunning, plus who doesn't want to go for a ride in a helicopter at least once, right? Special thanks to Luisa from Fly Colombia City Tours for helping us organize this flight!
If you can get a group of 5-6 people together from the hostel, you can get a better per person price (maximum 6 people in the helicopter). Book in advance and let Fly Colombia City Tours know The Broke Backpacker sent you! Ask for a flight around sunset time for the best photography light!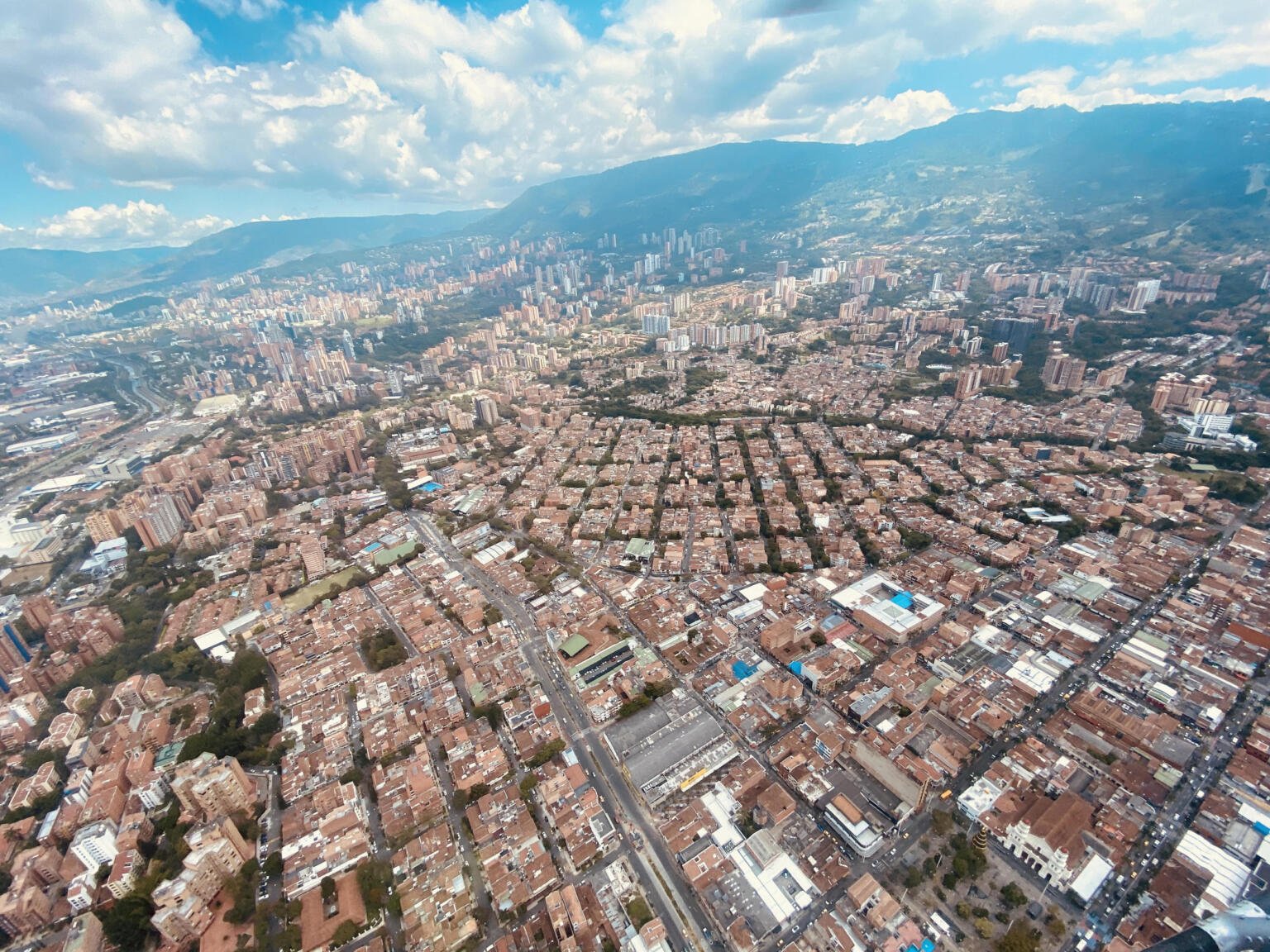 10. Party in Poblado or Laureles
Medellin likes to party, plain and simple. Even on a Tuesday night, the bars in the Parque Lleras area of Poblado and La 70 in Laureles are bumping. Put on your dancing shoes, order up a shot of aguardiente, and get ready for a wild night out.
Is This the Best Daypack EVER???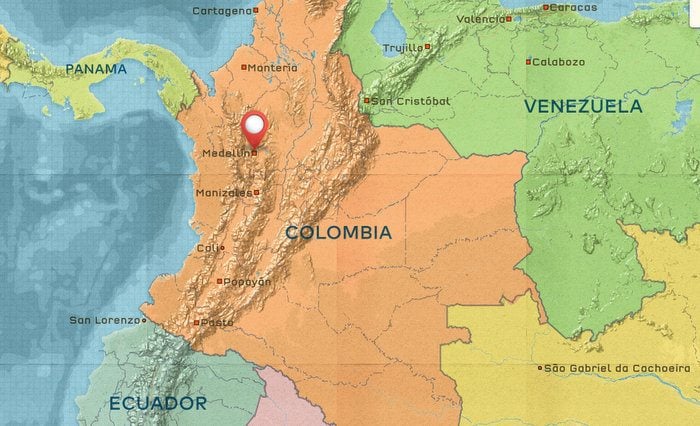 Now that you've got a taste of what's on tap in this awesome city, it's time to map out a killer itinerary for 3 days in Medellin:
Day One in Medellin: Welcome to the Spring City
Assuming this is your first trip to Medellin, you'll want to start out by getting to know more about the city, its people, and its history.
By far the best way to do this is on the free walking tour with Real City Tours. Their local guides are informative and passionate about their city, and will give you an excellent introduction to Medellin.
Tours last a couple of hours and cover various squares, parks, markets, and central parts of the city. They run tours three times a day from Monday to Friday with one on Saturday as well. While it's true you don't have to pay anything for the tour, please be sure to leave a decent tip as this is their livelihood.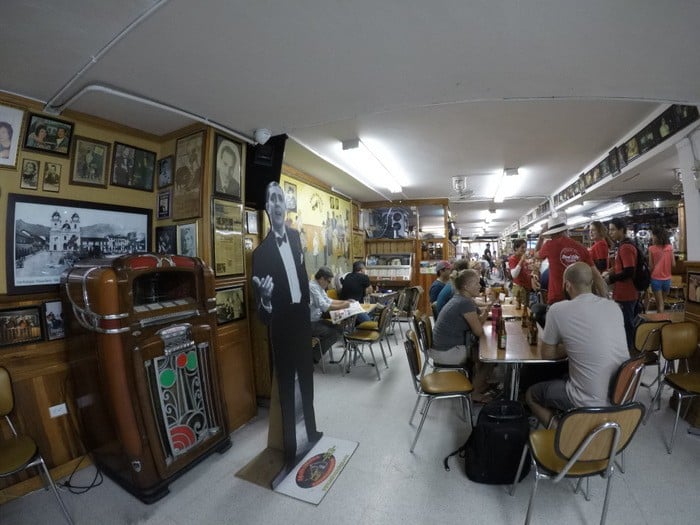 Chances are you'll make a few new friends on the tour, so you may want to find a local bar afterwards to grab a few cervezas and chat. There are also plenty of places around here where you can drop in for lunch. Ask for the menu del dia to try cheap, local food.
After walking around for a few hours, having a few brews, and eating a big lunch, you'll probably be pretty sleepy. Thankfully Colombia is famous for something that helps wake you right up… coffee! What did you think I was talking about?
You can't swing a dead cat without hitting a cafe here. Go ahead and try. Or don't. It's not socially acceptable to be swinging dead cats around…
Some of the best places for a cup of that fine Colombian include Pergamino in Poblado and Cafe Zeppelin in Laureles. Check out our guide to the best cafes and co-working spaces in Medellin for more options. Once you've gotten your caffeine fix – and maybe a little sugar high thanks to some yummy baked goods – you're ready to keep on rolling.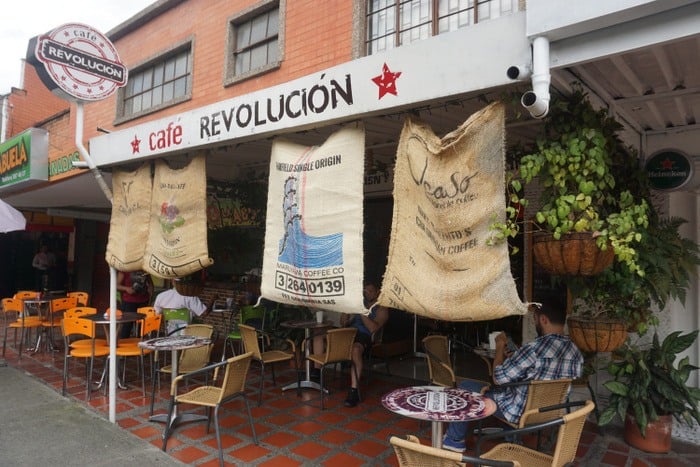 Head back to your hostel to shower up, change, and pre-game with your fellow backpackers. Many hostels in Medellin have their own bar and a good Happy Hour each day, so go ahead and get the party started.
For your first night out in Medellin, you should probably head to Parque Lleras in Poblado. You're spoiled for choices when it comes to where to have dinner here. You can stick with the local food, or switch it up and go for Thai, Italian, Mediterranean, Indian – the list goes on and on.
While it's true that this area is packed full of gringos, tons of locals still come out each and every night to hit the restaurants, bars, and clubs located around the park.
A popular pastime among the degenerate class here is to just grab beers from the little tienda near the park and pound them in the street. Drinking in public isn't exactly legal here, but they let you get away with it if you stay near the shop and don't spill onto the street.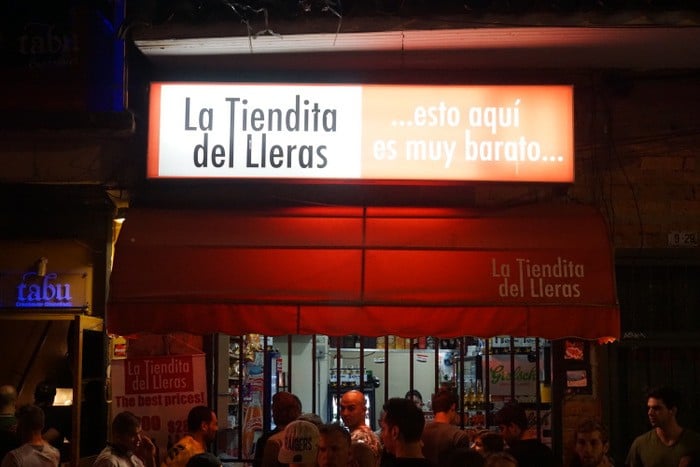 When it comes to partying in Poblado, you have several options. There are a few bars that are more laidback, where you can sample some Colombian craft beer and actually have a conversation. Others are all about getting rowdy, with super loud music, strobe lights, smoke machines, and all that nonsense.
There are a handful of clubs here as well, where you'll have to queue up, dress up, and pay a cover charge. The world is your oyster on a night out in Poblado!
Day Two in Medellin: Walk it off
After that rowdy night out, you'll probably sleep in and feel a bit rough around the edges. No worries there, as you've got lots of choices for a nice leisurely brunch. Get yourself some food, a fresh juice, and some coffee, and you'll be ready to take on day two in Medellin.
Since you saw some of the city centre on your first day, it's time to get out there and enjoy a bit of nature. Here are a few ideas for you to consider, depending on how far you want to travel and how much you want to walk.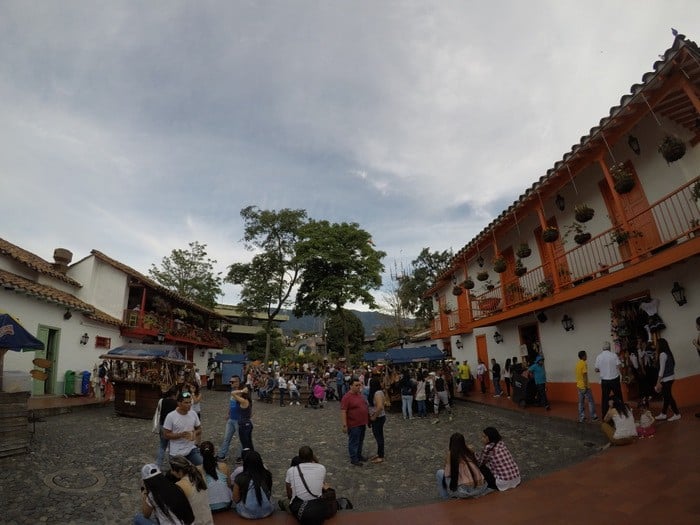 The easiest option is to just head to Pueblito Paisa. This is a replica of a traditional Antioquian village that sits on a hill in central Medellin. To get here, just ride the metro to the Exposiciones station and then walk up the hill.
It takes 20-30 minutes and is a pretty easy walk. Once at the top, you can check out the cathedral and the small museum, then grab a snack and enjoy the views.
If you'd like to spend some time outside but don't really feel like hiking, you can visit the Botanical Gardens. They're free to visit and make for a nice casual stroll. Nearby, you'll find the Parque Explora, a modern museum with an aquarium, planetarium, and interactive science exhibits.
The final option takes a bit more effort and time, but it's worth it. First up, take the metro to Acevedo station and switch to the cable car to Santo Domingo. You'll have to exit and buy another ticket for the next cable car ride, which takes you through the mountains to Parque Arvi.
The views are spectacular, and there are lots of activities you can partake in once you get to the park.
In the evening, you can switch it up and try a more local side of the nightlife. Head to the Laureles neighborhood, which is located right by the Estadio metro station. You can check to see if either of the city's two football clubs has a game going on.
It's easy enough to go to a game on your own, but it's more fun if you join the Medellin football tour and make some new friends. Just be warned: they only serve non-alcoholic beer in the stadium, so be sure to pre-game hard!
Whether there's a game or not, you can hit up the rockin' Carerra 70, also commonly known just as La 70. This street is bumping every night of the week and is packed full of locals. Grab some dinner, hit a few bars, and party it up with the fun-loving Paisas.
Day Three in Medellin: Art, brews, and tunes
For day three in Medellin, it's time to check out the city's thriving art scene. One of the best places to do this is the neighborhood Comuna 13.
Not too long ago, this was the most dangerous area of the city. Comuna 13 has undergone an amazing transformation thanks to a focus on accessibility and creativity.
In this hillside neighborhood, it was always difficult to come and go into the city. A system of escalators in the barrio plus the new cable car lines make it easier for residents to go and find work.
Also, a thriving scene of street art and hip hop has helped to give young kids in the area a better direction than to get involved with gangs.
The transformation of this barrio is a microcosm of the positive changes the city has undergone through in the past decade.
While it's possible and totally safe to visit on your own, you're much better off going with a local guide to Comuna 13. I highly recommend Zippy Walking Tour. As with many other walking tours, this one is tip-based.
In the evening, you can experience another new thriving scene in Medellin – craft beer. If you're in the city on Thursday or Friday, the 3 Cordilleras brewery offers tours where you can sample all five of their beers and take in some live music.
If not, never fear; there are plenty of other breweries pouring up tasty beer in the city. This guide from Medellin Living covers craft beer in Medellin quite well.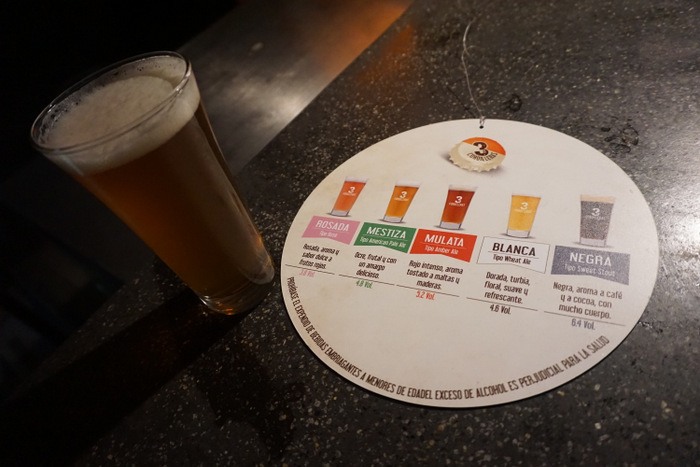 Another solid option for your last night in the city is hitting up a rooftop bar. Envy Rooftop at the Charlee Hotel in Poblado is an excellent choice. Just don't get so tipsy that you fall into the pool. Or do – it's your last night in Medellin, after all.
Torn? Let us help you make the decision between Bogota or Medellin with this helpful guide.
Medellin off the Beaten Track
Medellin is still new as a tourist destination, meaning it's not that hard to get off the beaten path. Basically, as soon as you step out of Poblado you'll see far more locals than tourists. If you don't want to feel like you're in a little gringo bubble, just stay in an area like Envigado or Laureles instead.
When we were living in Medellin, I really enjoyed just going for a walk up in the hills. The Cerro El Volador Park is a nice place to get out in nature and enjoy some pretty epic views of the city.
If you really want to get off the beaten path in Medellin, why not rent some wheels and head out of the city? There are a few places that rent motorbikes, and there are plenty of cool places to check out on day trips.
Since we were there during the rainy season, we never got out there on a bike, but we're hoping to do so next time.
Best Walks in Medellin
Medellin is a great city to explore on your own two feet. There are pedestrian-only streets in the city centre, as well as plenty of parks and hiking trails. Here are some of the best walks in Medellin: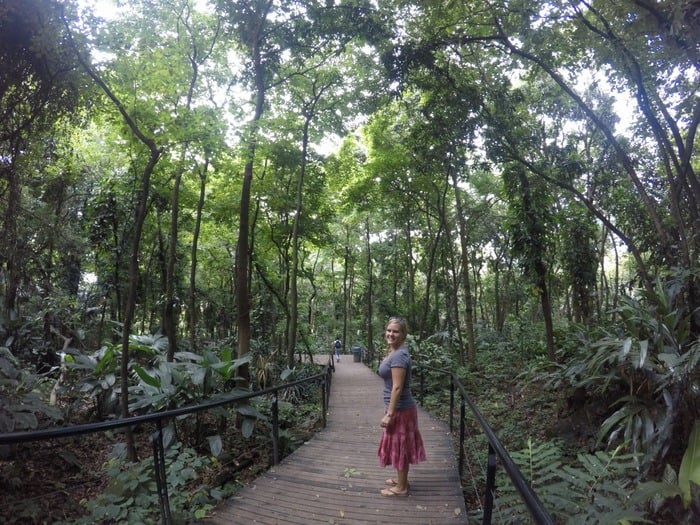 Free walking tours: As I've mentioned several times in this guide, there are some great free walking tours in Medellin. Having a knowledgeable local guide will help you get a lot more out of your visit than if you just stroll around on your own.
El Centro: Even if you don't do the free walking tour, you should go for a stroll around El Centro. There are plenty of landmarks to see, plus several pedestrian-only streets full of vendors, markets, and restaurants.
Botanical Gardens and Parque Norte: A combined visit to the Botanical Gardens and the nearby Parque Norte is a great way to spend a few hours in Medellin.
Parque Arvi: Taking the cable car to Parque Arvi is an experience in and of itself. Once you get there, you can sign up for a guided walk through the large park.
Best Time of Year to Visit Medellin
There really isn't a bad time of year to visit Medellin, as the city is known for its year round spring-like climate. Generally speaking, the best time to visit Medellin is between December and March, as these are the driest months.
Just keep in mind that there are far more travellers at this time of year, especially around Christmas and New Year's.
Medellin has two rainy seasons – April to May and September to November. During these times, there can be up to 20-22 days of rain a month. We stayed there during the rainy season and didn't find it bad. Usually, it just pours for a little while and clears right up.
Some of the busiest times of the year in Medellin are Semana Santa (Holy Week) and the flower festival in August, one of Colombia's most popular festivals. There are huge crowds in the city at these times, so you'll want to book your accommodation well in advance if you're visiting during these events. Having said that, they do make the country a great place to visit in August.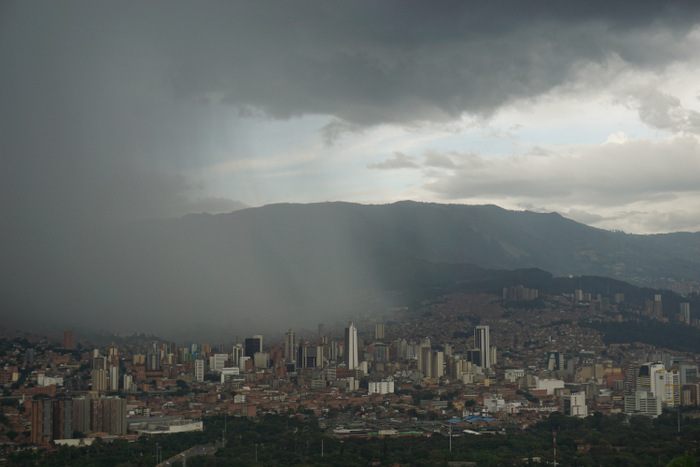 Getting in and out of Medellin
Most travellers will arrive at José María Córdova International Airport (MDE). It's actually quite far out of the city along winding mountain roads.
You can get to and from the airport by shuttle bus if you're trying to save money, or you can get a cab or Uber. There are direct flights to Medellin from several cities in Latin America as well as a few in the US and Europe.
There's another, smaller airport right in the city called Olaya Herrera (EOH). You'll only find domestic flights in and out of here.
If you're travelling overland in Colombia, you can easily catch a bus to/from Medellin. We took one from Bogota and it took about 8-9 hours. There are two different bus terminals in Medellin: north and south. Bus travel in Colombia can move slowly thanks to the mountain roads and traffic.
How to get around Medellin
Paisas are proud of their excellent public transportation system, and for good reason. Medellin is the only city in Colombia with a metro system, and it's super affordable and efficient. There are only two metro lines, but in this small city that's all you need.
The metro also hooks up to a few different cable car lines that serve the communities up in the hills. A transfer to the cable car is included with your metro fare. You need to buy a separate ticket to take the line that goes all the way to Parque Arvi, though.
There are several bus routes in Medellin, but they can be a bit tricky to figure out unless you speak pretty good Spanish. Most taxi drivers here are decent and will turn on the meter for you. Uber is in Medellin as well if you feel more comfortable using it.
If you want to explore Medellin on two wheels, there are shared bike stations all over the city. You'll have to figure out how to register for the system, and will probably want to do so before you arrive into Medellin. Otherwise, you can find shops that will rent bicycles and motorbikes.
Use Bookaway to find the best deals on transport – buses, planes, trains, and ferries. It'll save you a load of time when organising transport and you'll probably nab an EPIC DISCOUNT too!
Book your transport on Bookaway NOW. Get the best price for the best ride… then use those savings to buy the best feed in town!
Book Your Transport Here!
Safety in Medellin
Medellin has come a long way as far as safety is concerned. Not too long ago, this was a city completely devoid of tourists thanks to high levels of crime and violence.
In fact, it's not even in the top 50 of most dangerous cities in the Americas these days. Just take the same precautions you would in any city and you should be fine.
You're fine to walk around most parts of the city during the day, but it's not advisable to go wandering around the hillside slums on your own. And at night, it's definitely a different story.
Many parts of El Centro that are fine during the day quickly become quite sketchy at night. These areas are best avoided. You're fine in areas like Poblado and Laureles thanks to a heavy police presence.
Here are a few words of wisdom for both men and women travelling to Medellin. Dudes – if a cute local girl offers you a drink and comes on to you, that drink is quite likely spiked, which results in you getting robbed rather than laid.
Ladies – Colombia is a very macho culture, so don't be surprised if dudes cat-call you if you're walking around alone or in a group of only women. My advice is to just ignore them instead of trying to start something.
You can most definitely score drugs in Medellin, but doing so comes with obvious risks. First of all, buying drugs on the street puts you at risk of getting ripped off or arrested. Secondly, most people here are trying to shake the bad reputation of Colombia. They're sick of tourists coming to their city looking to score coke and prostitutes, and rightfully so.
If you're concerned about your overall safety in Medellin, then be sure to check out our in-depth safety guide. It's chalked full of useful tips and reading it should make your life a little easier.
For a few words on traveling responsibly, ethically, and sustainably, check out our guide here.
Travel Insurance for Medellin
Traveling without insurance would be risky so do consider getting good backpacker insurance sorted before you head off on an adventure.
I have been using World Nomads for some time now and made a few claims over the years. They're easy to use, professional and relatively affordable. They may also let you buy or extend a policy once you've started your trip and are already abroad which is super handy.
If there's one insurance company I trust, it's World Nomads.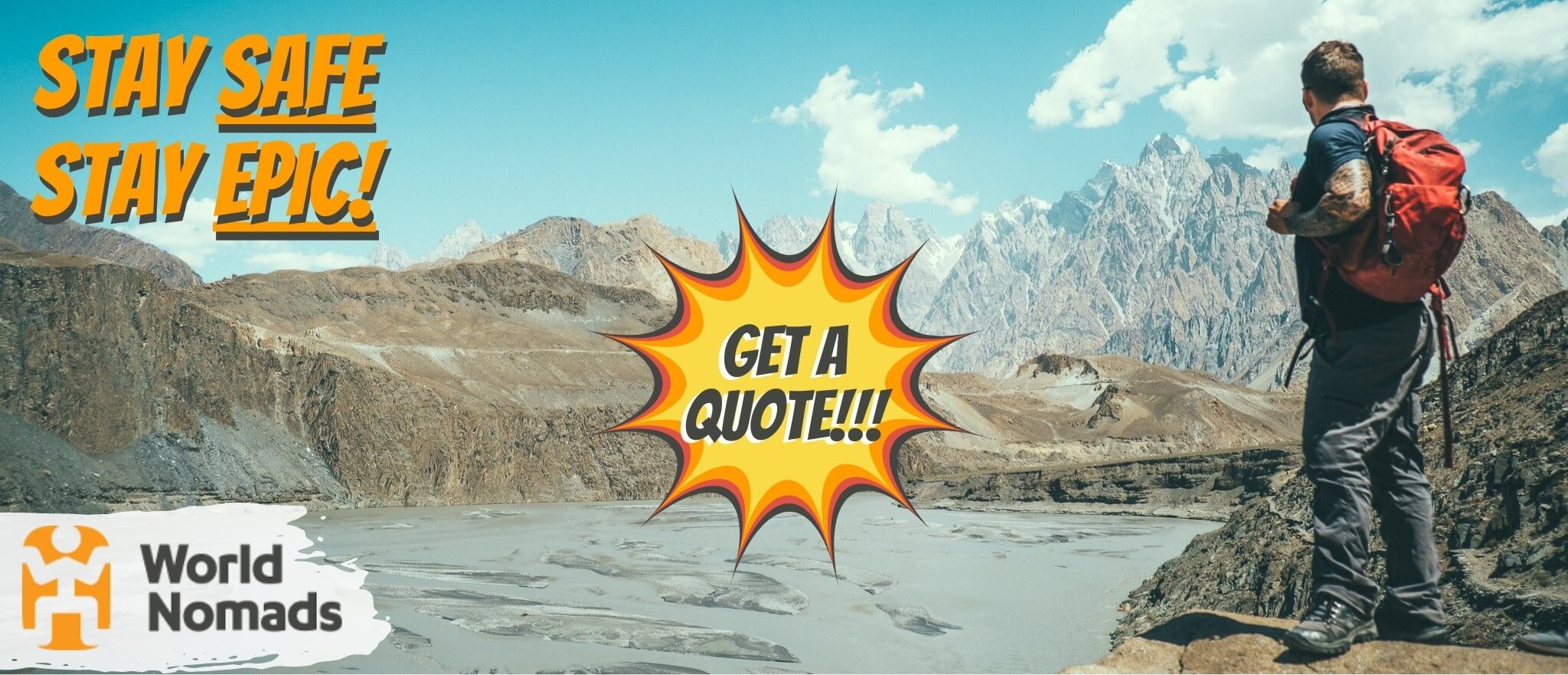 World Nomads' mission is to support and encourage travellers to explore their boundaries. They offer simple & flexible travel insurance, and safety advice to help you travel confidently.
They've been doing it since 2002 – protecting, connecting, and inspiring independent travellers just like you.
Get a quote below or read our in-depth review!
World Nomads provides travel insurance for travelers in over 100 countries. As an affiliate, we receive a fee when you get a quote from World Nomads using this link. We do not represent World Nomads. This is information only and not a recommendation to buy travel insurance.
Medellin Accommodation Travel Hacks
Accommodation in Medellin is already very affordable, as you can easily get a bed in a dorm for $10 a night or even a bit less. One great way to save some money is to find a hostel with free breakfast and/or a shared kitchen. This will help you save a few bucks a day.
If you're going to stay in the city for a while and perhaps try your hand at being a digital nomad, you can find great rooms or even private apartments for a very reasonable price. Most hosts on Airbnb give discounts for stays of one week or one month.
Eating and Drinking in Medellin
Colombian food isn't exactly the most exciting cuisine in the world. The food tends to be quite bland if you ask me. That being said, it's quite easy to find a good meal in Medellin. You've got everything from super cheap street food to fancy restaurants and international cuisine to choose from.
Be sure to try some empanadas and arepas – two of Colombia's favorite snacks. These delicious treats seem to be on every corner, and don't even cost $1.
For lunch, find places that have a menu del dia (menu of the day). For $3-4, you'll get a soup, main course, drink, and maybe even a dessert.
If you're hungry enough, you can try to tackle the local specialty known as bandeja Paisa. It's a massive, artery-clogging plate full of meat, rice, beans, a fried egg, plantains, and an arepa. Honestly, we've split one before and we're still full!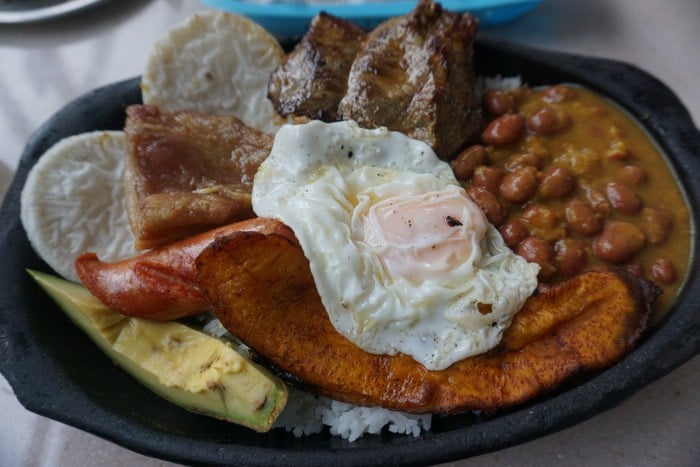 When you need a break from Colombian food, you can find tons of other restaurants. Especially in Poblado and Laureles, it's not hard to find international cuisine – Middle Eastern, Korean, Mexican, Indian, and more. There are excellent vegetarian and vegan options in the city as well.
As far as drinking goes, you're spoiled for choices. During the day, you can frequent the city's amazing cafes and juice shops. When it comes to the hard stuff, you've got to try aguardiente at least once. It tastes kind of like licorice and is the drink of choice for locals looking to party.
Nightlife in Medellin
The nightlife in Medellin is pretty rowdy, to say the least. People here like to have a good time and they're happy to invite you to join. Most people tend to flock to Parque Lleras in Poblado or La 70 in Laureles, as both areas have tons of bars and clubs.
Both places are bumping every night of the week and the party goes late.
In addition to those nightlife mainstays, you've got salsa clubs, underground electronic music venues, dive bars with loud rock bands, and much more.
3 Cordilleras brewery is a great place to check out on Friday nights. You get a short tour of the facility, five samples, and a live band for under $10.
If you're a night owl, you're going to love going out in Medellin.
Books to Read on Medellin
Reading about a place you're planning to visit is always fun. It gets you more excited for your trip and you learn something in the process. Below are 5 books and guides to add to your Medellin reading list:
Moon Medellin – Plan your trip in the Spring City and Colombia's coffee region with this awesome Moon Guide.
Medellin Travel Guide – David Lee was a Medellin expat for several years and even started a popular website about the city. He put together this great guide for visitors to the city.
The Infiltrator – This book is listed as "The True Story of One Man Against the Biggest Drug Cartel in History," and that's exactly what you'll read about.
Colombian Slang – Sound more like a local on your trip by learning 500 Colombian slang words.
Volunteering in Medellin
Long term travel is awesome. Giving back is awesome too. For backpackers looking to travel long-term on a budget in Medellin whilst making a real impact on local communities, look no further than World Packers. World Packers is an excellent platform connecting travelers with meaningful volunteer positions throughout the world.
In exchange for a few hours of work each day, your room and board are covered.
Backpackers can spend long periods of time volunteering in an awesome place without spending any money. Meaningful life and travel experiences are rooted in stepping out of your comfort zone and into the world of a purposeful project.
Worldpackers opens the doors for work opportunities in hostels, homestays, NGOs, and eco-projects around the world. We've tried and approved them ourselves – check out our Worldpackers in-depth review here.
If you're ready to create a life-changing travel experience and give back to the community, join the Worldpacker community now. As a Broke Backpacker reader, you'll get a special discount of $10. Just use the discount code BROKEBACKPACKER and your membership is discounted from $49 a year to only $39.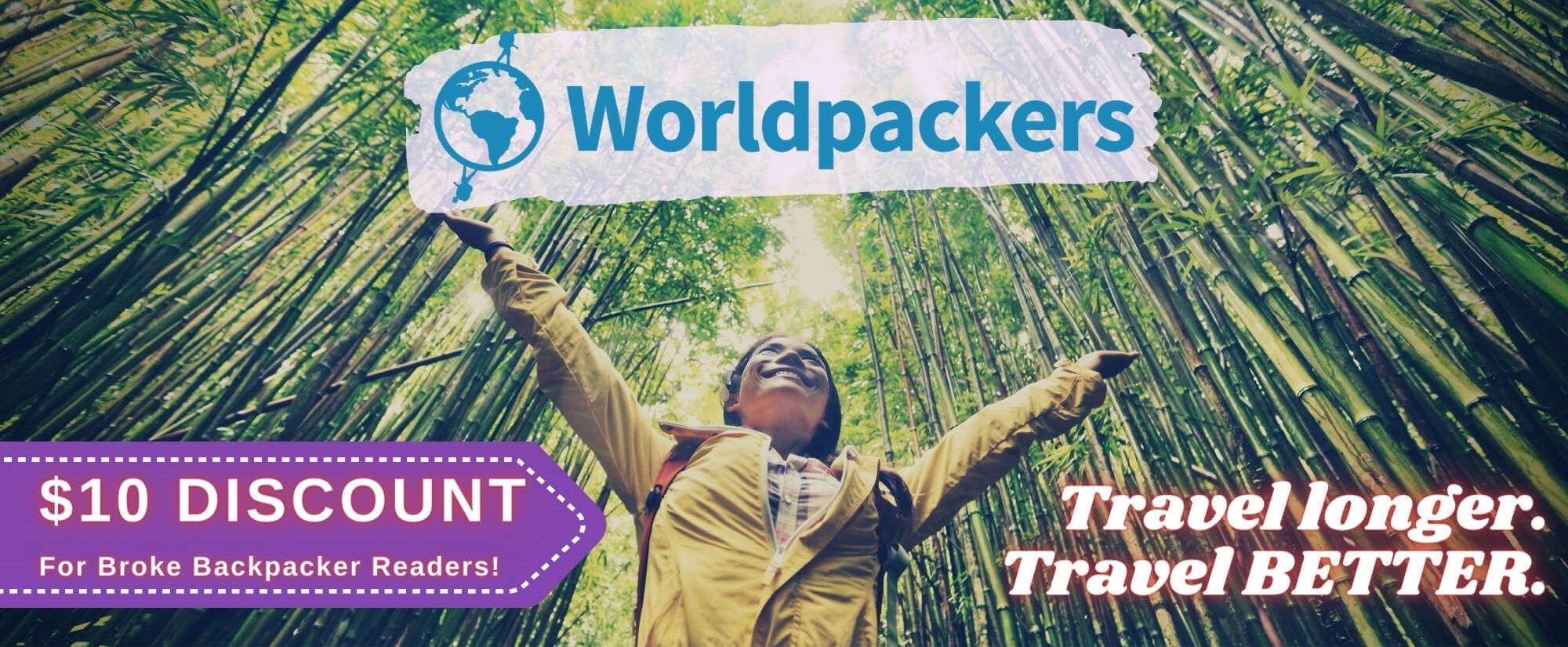 Worldpackers: connecting travellers with meaningful travel experiences.
Make Money Online Whilst Backpacking Medellin
Traveling in Medellin or Columbia long-term? Keen to make some cash when you are not exploring the city?
Teaching English online is a great way to earn a consistent income—from anywhere in the world with a good internet connection. Depending on your qualifications (or your motivation to obtain qualifications like a TEFL certificate) you can teach English remotely from your laptop, save some cash for your next adventure, and make a positive impact on the world by improving another person's language skills! It's a win-win! Check out this detailed article for everything you need to know to start teaching English online.
In addition to giving you the qualifications to teach English online, TEFL courses open up a huge range of opportunities and you can find teaching work all over the world. To find out more about TEFL courses and how you can teach English around the world, read my in-depth report on teaching English abroad.
Broke Backpacker readers get a 35% discount on TEFL courses with MyTEFL (simply enter the code BACKPKR), to find out more, please read my in-depth report on teaching English abroad.
Whether you are keen to teach English online or looking to take your teaching game a step further by finding a job teaching English in a foreign country, getting your TEFL certificate is absolutely a step in the right direction.
---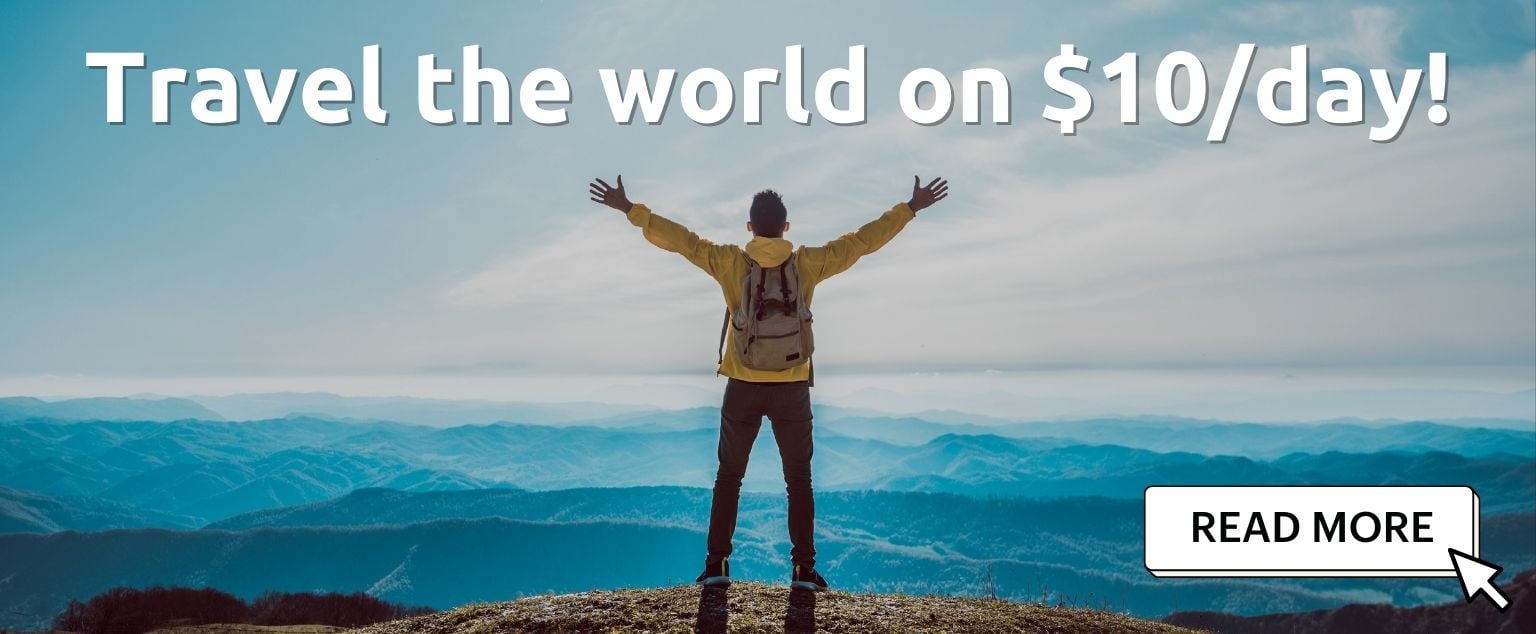 And for transparency's sake, please know that some of the links in our content are affiliate links. That means that if you book your accommodation, buy your gear, or sort your insurance through our link, we earn a small commission (at no extra cost to you). That said, we only link to the gear we trust and never recommend services we don't believe are up to scratch. Again, thank you!