If you think the city of Medellin has been mentioned in conversation more than usual, you're not going crazy. With Lonely Planet labeling Colombia as the 'second-best country to visit' and Travel and Leisure calling the city 'South America's Best Kept Secret,' Medellin is on the rise.
Colombia offers the perfect sweet spot between an off-the-beaten-track destination with a vibrant cultural scene. With this, it is fast becoming one of South America's most sought-after tourist destinations.
Not only is it gaining traction as a tourism hot spot, but the city is also known as the digital nomad epicenter of the South Americas. Medellin is becoming as popular with remote workers as places like Bali and Thailand.
This jungle-bordered Colombian capital is the perfect destination in South America for remote workers and freelancers, who can use the convenience of the city and transport networks to jet off and experience all the country and region has to offer. Colombia alone is home to the Amazonian jungle, tropical islands, snow-capped Andean mountain ranges, and bustling Latin American culture.
The fact that it is still relatively unpopular is one of Colombia's greatest strengths, with few tourists disturbing the local culture and atmosphere. This low-key and local environment gives it an edge as a destination for digital nomads in Medellin.
While some choose to visit Santa Marta, Bogota, or Cartagena, I recommend checking out the inland city of Medellin for an extended visit as a remote worker. Read on to see why…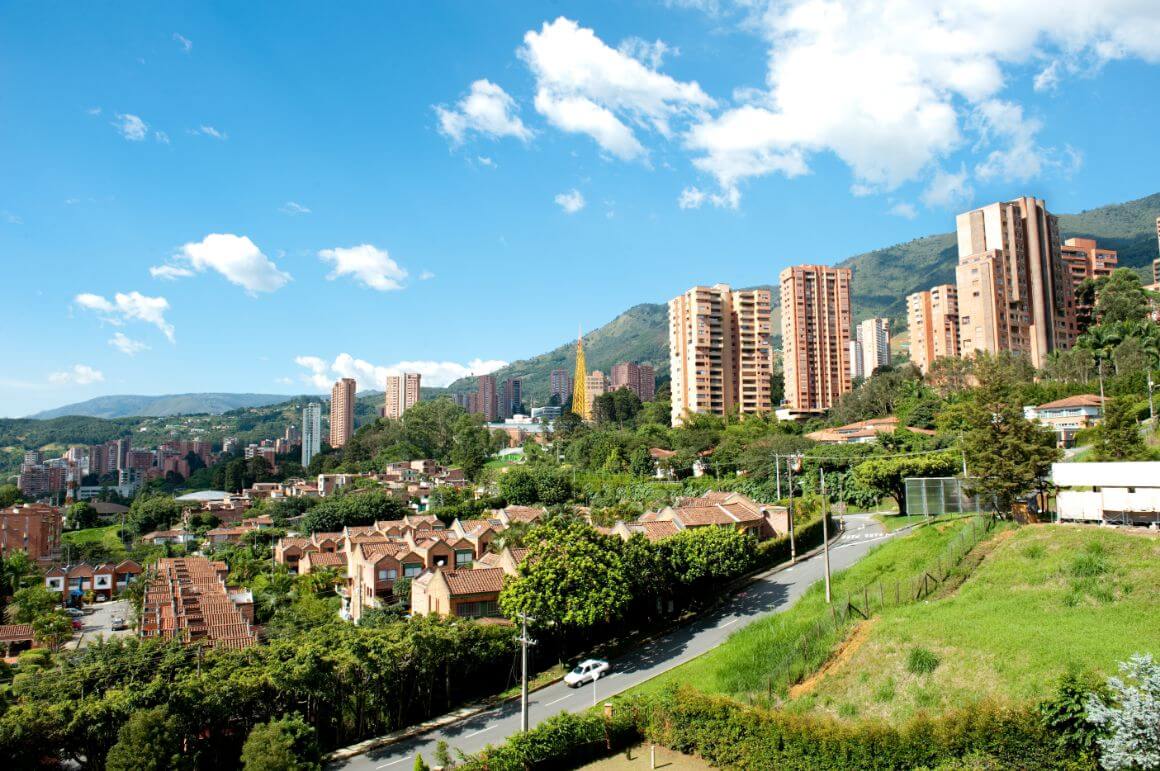 Is Medellin Good for Digital Nomads
As Colombia's 'Capital of Cool,' Medellin is dotted with trendy neighborhoods (or barrios) with vibrant street art and lively atmospheres. Each area has a distinct feel, making it possible to find a place to live that is right for your particular needs.
The city is dotted with chic cafes, bars, and restaurants set against the backdrop of the surrounding mountains. A young social scene with a quintessentially Latin American vibe brings a sense of tradition and culture into everyday life, something any adventurous digital nomad craves.
Weather is a significant factor that attracts digital nomads. Called 'The City of Eternal Spring' for a good reason, the weather is absolutely blissful here, with pleasantly warm weather even throughout the rainy season. While the rainy season does bring a wet forecast, rainstorms typically only last a few hours before the sun shines its rays through the cloud cover into the city most days of the year.
One of the best things when visiting Medellin is its bright, verdant green countryside and the mountains surrounding it. From rolling hills to quaint pueblos, some of the country's most beautiful outdoor parks and traditional villages are easy to reach from the city for a day trip or a more extended adventure.
The city also has an international airport that connects flights from across the South American and North American continents, making it easy for digital nomads in Medellin to explore the country and surrounding continent.
Another thing that makes Medellin so great for digital nomads is its relatively low cost of living, with inexpensive and high-quality food. No matter your budget, eating out is always possible, with everything from street food to glamorous fine dining eateries, all for a fraction of what you might expect to pay in the Northern Hemisphere.
Lastly, the city has a thriving digital nomad community, which is only growing with time. Long-term and temporary ex-pats who call the city home are friendly and will always be happy to welcome you into their circles.
Cost of Living
As a single resident, you can expect to spend around $450 on monthly living expenses, not including rent. The city is affordable compared to other cities, for example, it is 73% less expensive than living in New York.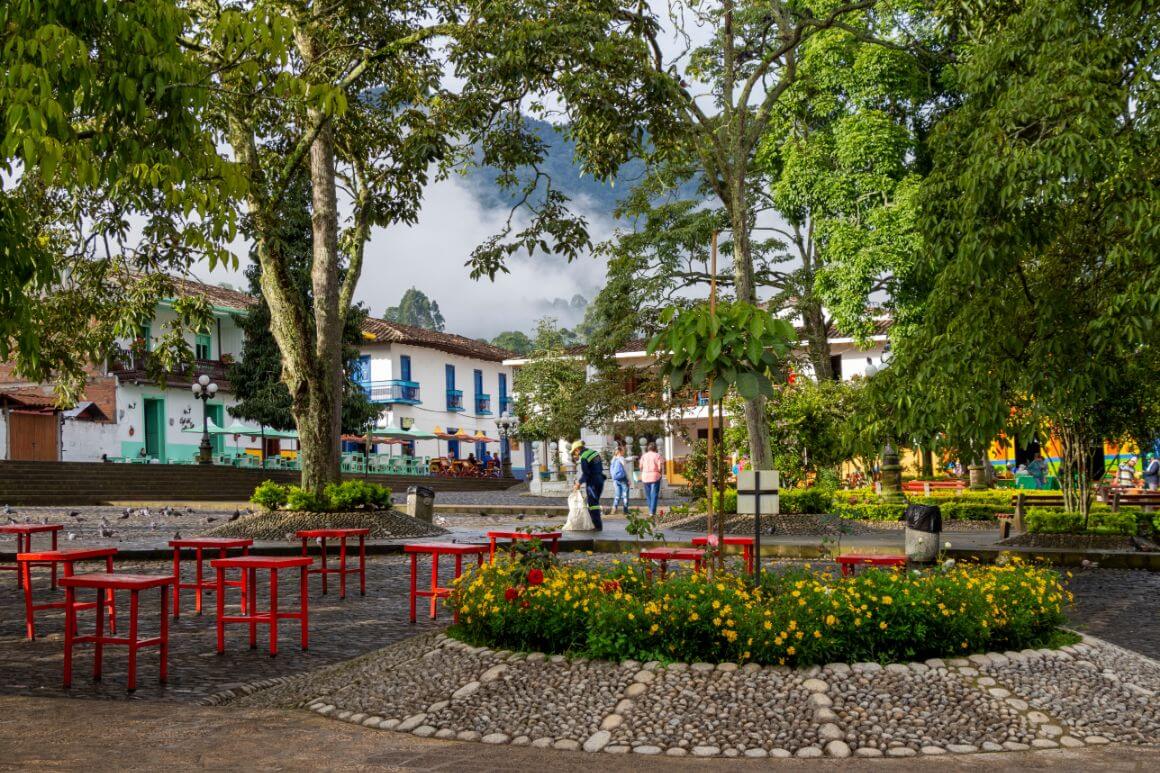 Depending on your desired lifestyle, you can save or splurge in Medellin. With abundant suburban space, you could live a more lavish lifestyle or buckle down and save your bucks in the city center.
Eating out: A meal at an inexpensive restaurant costs around $5, while a three-course meal for two at a mid-range restaurant will set you back $25. A coffee costs as little as $1.20, while a beer averages between $1 and $2.
Rent: A one-bedroom apartment in the city center costs around $320 per month, while a similar apartment outside the center costs as little as $250. A three-bedroom apartment in the city might reach $600 per month. Basic utilities (heating, cooling, water, trash) cost around $60 monthly for a one-bed apartment. Wi-Fi connection is strong, and you can expect to spend about $25 per month on unlimited data as a digital nomad in Medellin.
Transport: a one-way ticket on local transport costs 60 cents, while a monthly pass without discounts costs $33. Taxis are more expensive than public transport but still very affordable, costing around $2.30 per mile traveled.
Activities: If you choose to join a fitness center, you could spend around $20 per month on membership. Renting a tennis court for an hour on the weekend might cost about $12, and a single ticket for the cinema costs around $3.
Groceries: Groceries are fresh, and farmers' markets are abundant. A gallon of milk costs almost $3, while a loaf of fresh white bread costs under $1. A bunch of bananas costs only 30 cents, while apples cost closer to $1. A pound of potatoes costs 50 cents.
Digital Nomad Accommodation in Medellin
With a blossoming tourism industry and a fast-recovering economy, new spots are popping up on the rental and hotel market every day. El Poblado is one of the most upscale neighborhoods and is gaining traction with tourists.
Other suitable and safe neighborhoods include Laureles, Envigado, and Sabaneta. Just ensure you avoid accommodation in the Center and Prado, as this is where most of the crime is concentrated.
Although new to the Medellin digital nomad scene, the city has a few great co-living spaces. If you're interested in a co-living and working space, I recommend researching and booking well in advance to ensure you don't lose out on availability.
Where Should Digital Nomads Stay?
You have a few options when it comes to accommodation in Medellin:
First, you could rent a room in a co-living space, which essentially means you can enjoy the privacy of your own bedroom while benefiting from shared common spaces like the kitchen, living areas, and bathrooms.
If you're visiting alone and want to maximize socializing, working, and exploring as much of the country as possible, settling in a co-living space is one of the best ways to do so.
Balu Coliving Medellin is a community-minded living space that was created by a local couple who wanted to create a solid ex-pat community. The goal behind this space was to create a welcoming family vibe in the up-and-coming Laureles neighborhood.
Set in a house that the owners have carefully built from the ground up, they have considered everything in this cozy home. There are eight private rooms with private bathrooms and one studio with its own kitchen. You'll have your own modern bedroom and access to shared living spaces to get to know the other residents. There is also an outdoor terrace, a rooftop area with a jacuzzi, and shared laundry facilities.
Next on the list, Vecino Coliving Medellin is a beautiful home in the barrio of Poblado. This home also features eight beautifully refurbished rooms, six with private ensuites and two with shared bathrooms. The spacious rooms include plenty of closet space, a personal work desk with an ergonomic chair, and a fan.
The house has a spacious modern kitchen with all the amenities you might need for an extended stay. Best of all, there is a large and well-ventilated coworking space fitted with desks, and outlet points, so you won't have to find and pay for somewhere to co-work, too!
If you're visiting with a significant other or family, you might prefer your own space with a private kitchen and living area. In this case, I recommend browsing Airbnb for an affordable sublease with the option of extending and staying longer.
This gorgeous nature-inspired home is suitable for long-term travelers and has everything you might need as a digital nomad. It's located close to El Poblado and features a spacious indoor and outdoor living space dotted with lush greenery and trendy wooden furniture. With a fast internet connection and a dedicated workspace, this is the perfect spot for a digital nomad in Medellin who prefers privacy.
This modern apartment is designed with sophisticated interiors, boasting high ceilings and tons of natural light. With two bedrooms, two bathrooms, and a full kitchen, it's an excellent option for a family visiting to work abroad in Medellin.
Finally, another option would be to book a hotel room using Booking.com. Many hotels and bed and breakfasts offer discounts for long-term stays, and Hotel Bolivariana Plaza in Laureles neighborhood provides clean and cozy accommodations with hotel amenities. Take advantage of an American breakfast served daily, and enjoy access to the spa with a sauna, hot tub, Turkish bath, and fitness center on-site.
Forget boring accommodation… book yourself an EPIC STAY!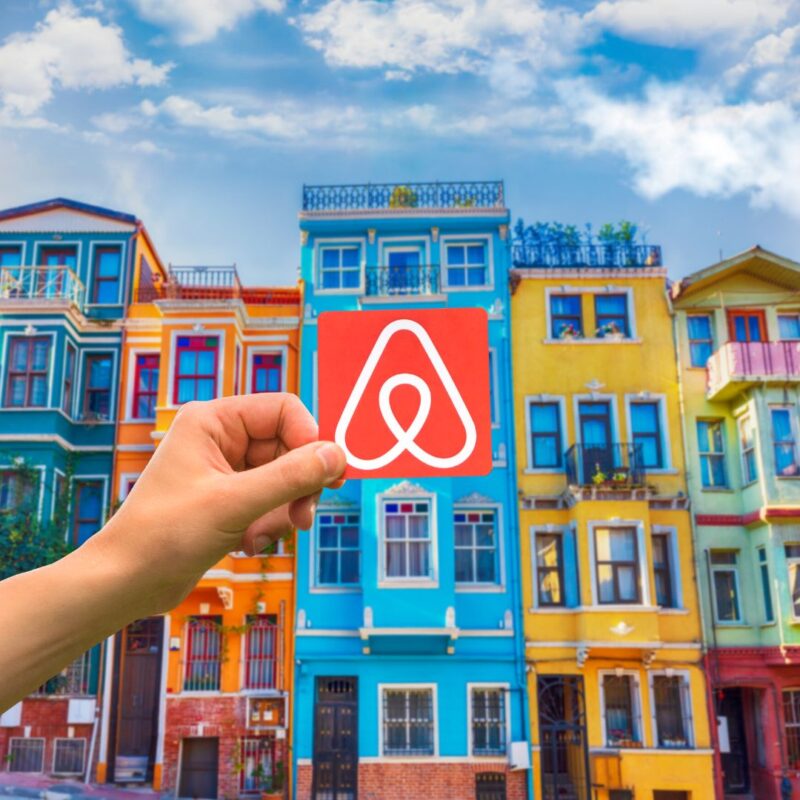 Why stay in a naff hotel when you can stay in a cosy, stylish local house instead? And for half the money too!
Stay somewhere EPIC and save your hard-earned dollars — from houses to barns to castles and caves, there is an Airbnb for every occasion!
Book an EPIC Stay
Wi-Fi in Medellin
Since this is the second largest city in Colombia, there are no issues when it comes to Wi-Fi in Medellin; most restaurants, hotels, and shops have a free internet connection with basic upload/download speeds, more than speedy enough for most digital nomads.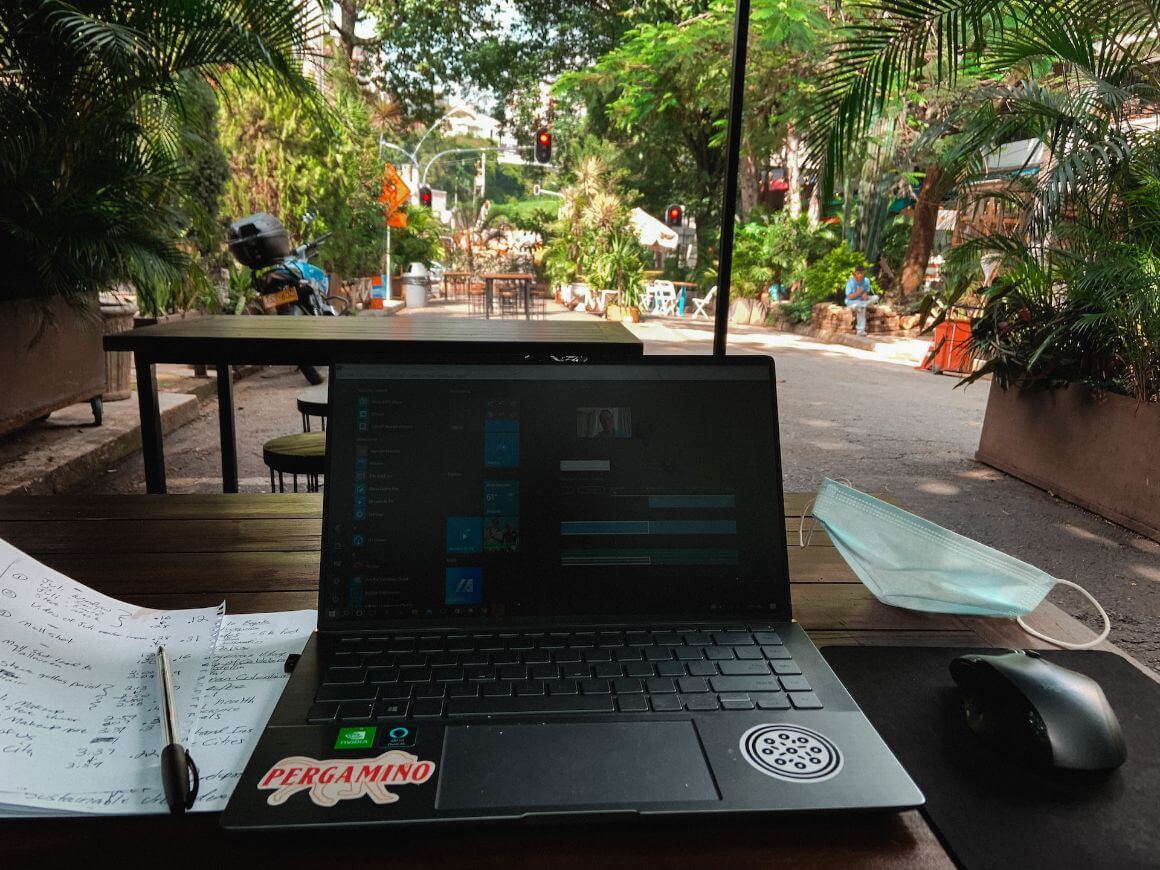 However, if you require a high-speed internet connection, research the area and network providers before you arrive. The leading internet providers in the city are Claro, Movistar, and Tigo.
Other than Wi-Fi, you'll want to make sure you have adequate data on your mobile phone. Using an eSIM is a great option for travelers who need only data and no call time. Alternatively, you could get a physical local SIM card. All you need to get a SIM card and the data package is your passport to purchase a package for as long as you wish to stay in the city.
Coworking in Medellin
Co-working spaces are ideal for digital nomads who prefer a work day with a formal structure combined with a stable social scene. These shared spaces offer communal facilities like kitchens, meeting rooms, and printing facilities and are relatively quiet, similar to an office.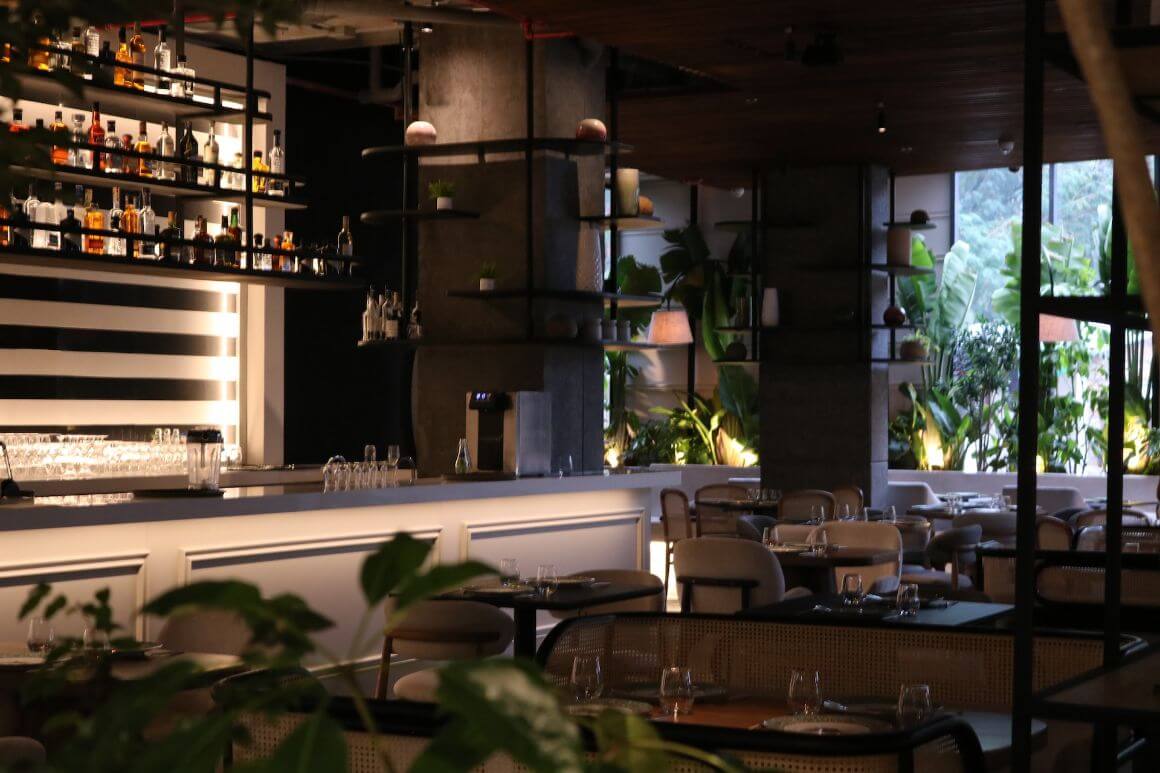 If you're a digital nomad in Medellin who enjoys working in a busier space where background music and sound don't disturb your work ethic, you might prefer to set up a mobile workspace in a cafe or restaurant. Of course, this route risks not finding a suitable desk and is a lot more unreliable (although cheaper).
The Best Coworking Spaces in Medellin
There are a few important factors you need to consider before signing up for a co-working space; reliable Wi-Fi, abundant plug points and lighting, comfortable seating, and community events. The city has realized that there is an opportunity to offer comfortable co-working spaces for foreign digital nomads, so plenty of great spaces are popping up for co-working.
La Casa Redonda is one of the best and is located right in the heart of the vibrant Laureles neighborhood. This coworking space is best known for its community vibe, where members can attend rooftop BBQs and potluck dinners to meet new digital nomad friends.
From 8 am to 8 pm on weekdays and from 8 am to 12 pm on Saturdays, this vibrant space offers shared and private workspaces, a meeting room, a workshop table, a kitchen with complimentary coffee, and a living room and a terrace. They offer options to rent a dedicated desk, private office, or hot desk.
Selina is one of the best options for digital nomads in Medellin's El Poblado neighborhood. Although it operates as a hostel, Selina offers on-site coworking spaces that attract a variety of digital nomads. The hostel/coworking brand is also known for hosting fun events, including yoga classes and post-work socials at the bar. The best thing about Selina is that you can book a hot desk on a daily, weekly, or monthly basis, so long-term commitments aren't necessary.
Selina is equipped to host workshops, TEDx functions, and other events. They also have a library, wellness area, meditation room, skype room, lounge area, bar, and coffee and tea facilities.
Semilla is one of the top options for coworking at a cafe. Founded to serve digital nomads and remote workers, it's the leading coworking space in Laureles and offers a cafe serving food and drinks on the ground floor and a dedicated coworking space on the second floor.
The coworking space has spacious shared yet divided desks, ergonomic chairs, and plenty of plug points. Of course, the Wi-Fi connection is strong and fast, and the space offers passes for day visitors, week visitors, and monthly memberships.
Semilla also offers shared kitchen space and private offices for those who need a bit more space and hosts regular meetups and events. The cafe is decorated with warm wooden tones and filled with greenery, creating a relaxing space that will constantly remind you why you don't work in a stuffy office anymore. The cafe below is buzzing, yet the coworking space is peaceful and quiet.
Cafes with Wi-Fi
Coworking isn't every digital nomad living in Medellin cup of tea. If this sounds like you, your next best option would be to work from a cafe, where you can still meet other digital nomads in a buzzing atmosphere, changing it up and exploring the city at the same time. After all, Colombia is, above all, famous for its coffee culture.
Pergamino Cafe is easily the most famous coworking cafe in the city. Located in the center of Poblado overlooking the Parque Lleras, the cafe offers two levels and an abundance of indoor and outdoor seating. The cafe has a reliable Wi-Fi connection and is excellent for deep-focused work (depending on when you visit and how busy it is at the time). The best time to arrive is in the morning, as this cafe can get super busy during the work week.
Delmuri Cafe in Laureles is a small, rustic cafe just a short walk from Semilla Coworking. It has one of the fastest internet speeds of all cafes in Medellin and is a great spot to take Zoom calls or settle in for a day of concentrated work.
Hija Mia Coffee Roasters in Poblado brews one of Medellin's best cups of coffee. The cafe is pretty small but spacious enough for working solo or with a friend. The bench-side seating has plenty of plug points, which you might have to arrive early enough to nab. Other than incredible coffee, the cafe offers a great Wi-Fi connection and is ideal for casual work.
Urbania Cafe is a top location for a local Colombian brew in the heart of Poblado. The cafe has a great work and social vibe, filled with digital nomads, morning readers, and groups meeting up for a little break. The space is small and only fits around 20 guests comfortably, including indoor and outdoor seating. The Wi-Fi is above average, but there could be more power outlets (there are only at select tables).
Wherever You Roam… Get Insured First
Keep yourself and your precious electronics safe when roaming around town. Travel insurance is key for your own peace of mind, and The Broke Backpacker stands strong for SafetyWing.
Month to month payments, no lock-in contracts, and no itineraries required: that's the exact kind of insurance digital nomads and long-term traveller types need. Cover yo' pretty little self while you live the DREAM!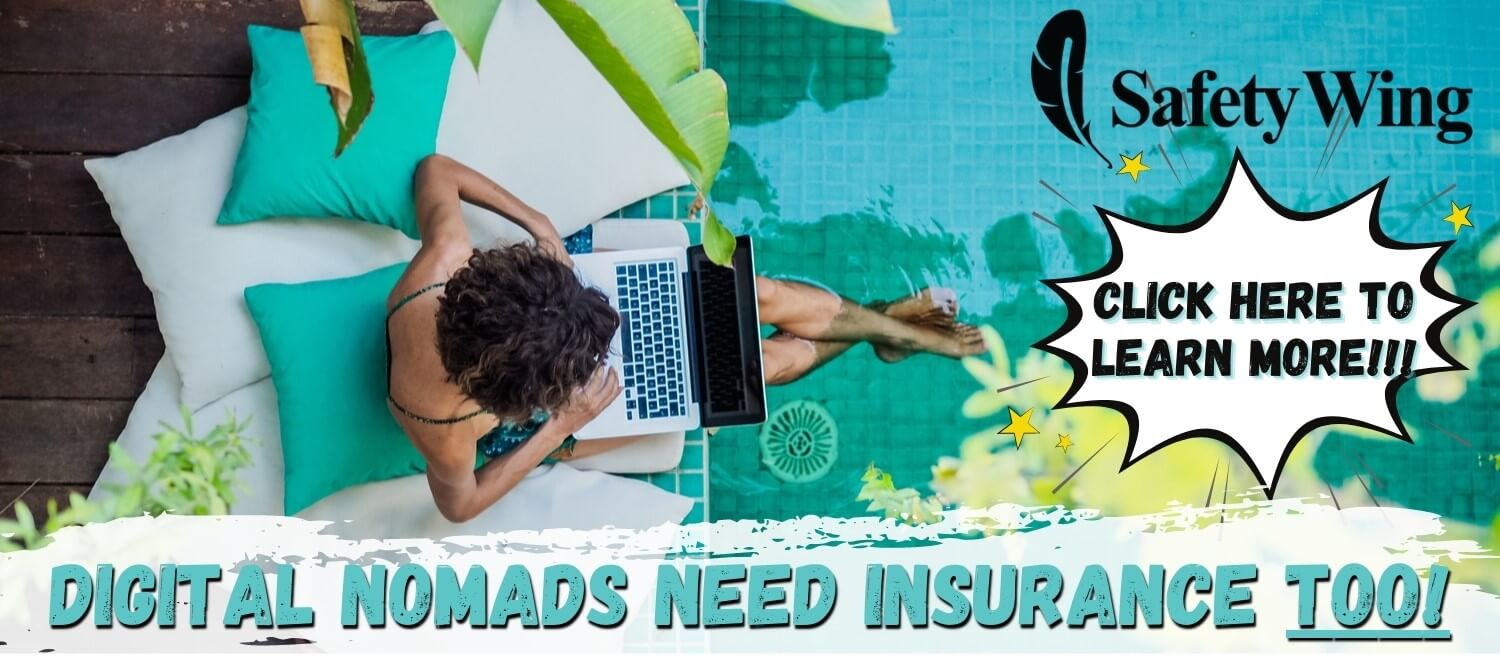 SafetyWing is cheap, easy, and admin-free: just sign up lickety-split so you can get back to work! Click the button below to learn more about SafetyWing's setup or read our insider review for the full tasty scoop.
Places to Eat in Medellin
On visiting this city as a Medellin digital nomad, prepare yourself for plenty of color, flavor, and fresh ingredients in the local food scene. Arepas are a dish you can find on every street corner and can be eaten as breakfast, dinner, or an appetizer. There are over 30 varieties of arepas, but the most common is a flat round shape made from cornflour dough and grilled with a meat or chicken and vegetable mix.
Another favorite hearty food is Ajiaco, a potato and chicken soup that originated in the country's northern regions. Cooked with capers, corn, and cream milk and served with rice and avo on the side, this soup is perfect for the occasional cold day in Medellin.
Bandeja Paisa is a traditional Medellin specialty consisting of rice, minced meat, red beans, chorizo, arepa, a fried egg, and sweet plantain. It's also considered a Colombian national dish.
With a blossoming tourism industry, Medellin is quickly becoming one of Latin America's hottest new dining destinations, with new restaurants popping up weekly.
Few dishes are better than the plantain-crusted fish at Carmen, served over a coconut rice risotto with banana and rum sauce. The head chef at this institution is constantly looking to Colombian ingredients to inspire new dishes. Set in an open-kitchen dining room format, with the option of sitting in the fancier formal dining room or casual patio, this spot has a five-course tasting or a la carte menu.
Oci.Mde is a casual, modern restaurant that specializes in slow-cooked food. With a menu that changes every six months, their specialties include 12-hour braised short ribs. The chefs encourage sharing dishes to experience the flavors of as many dishes as possible – perfect for socializing with a group of digital nomads in Medellin.
Set in the Medellin Botanical Gardens just north of the city center, In Situ is a quiet and peaceful oasis in a city of noise and activity. The menu features fresh local ingredients to create a blend of Colombian cuisine and modern dishes. This is the perfect destination for a relaxing lunch with reasonable prices and a beautiful outdoor location.
While meat and fish dishes dominate the Medellin food scene, there are a few great vegetarian and vegan restaurant options in the city. Ama Restaurante is one of the all-time favorite vegan restaurants in the city, popular for its vibe, service, and, of course, delicious food. They even have a small fresh produce market on-site! The menu includes traditional Colombian dishes inspired by fresh fruit and vegetables to replace meats, as well as Western-inspired cuisines like classic avo toast and fruit juices.
What it's like Living in Medellin
Ex-pat community – While the city and country as a whole are not yet super popular with ex-pats, Medellin is super welcoming to local and international ex-pats. With a rich cultural heritage and focus on paisa traditions, music, and dance, there is plenty to see and learn while living in Medellin.
The city also has a buzzing arts and entertainment district with museums, theatres, and cinemas. Most ex-pats in the city live in and around the El Poblado, Laureles-Estadio, Envigado, and Sabaneta neighborhoods. Within these neighborhoods, you could find social groups for ex-pats living in Medellin from similar regions worldwide.
Language – Locals in Colombia speak Spanish as their first language (99.5%, to be precise), with another 65 Amerindian languages spoken throughout the country.
Only around 3% of Colombians are fluent in English, with generally low English proficiency in the country. English is not part of the curriculum in many schools. However, many locals (more commonly young adults looking for work opportunities in the English-speaking world) are learning English as a second language. That said, most of those who can understand English live within the city of Medellin or Bogota.
Visa situation – Apart from visa-exempt nations (including EU citizens, US citizens, and holders of a Schengen Visa), everyone visiting the country must get a visa before arriving. For more information, visit this government page.
The country has recently released a new digital nomad visa allowing foreigners to live and work in the country for up to two years. Of course, you'll need to meet specific requirements, like proof of employment, a minimum monthly income, proof of health insurance, and payment of visa fees. Check out the visa application form here.
Transportation – There are four different types of public transport in Medellin, which offers an easy and affordable way to explore the city. They include a metro, metro cable, bus, and tram. The city is also dotted with cabs, Ubers, and private drivers. To use this transport network, you will need a personalized Civica Card, which costs $29 for unlimited monthly access.
A trip in a cab from the airport to El Poblado or Laureles will cost around $30, which is a reasonable price if split between more than digital nomad in Medellin.
Things to do in Medellin
Known as the City of Eternal Spring, the sun is (almost) always shining in Medellin. Of course, this makes it an excellent place for those who enjoy spending time outdoors. Whether you choose to spend your free time wandering the beautiful city parks or venturing into the gorgeous rolling hills and mountain regions just past the city boundaries, there are tons of adventures to be had in and around the city.
Go beyond a typical tour and explore the best hiking trails, campsites, and mountain biking trails in the mountains, either as a day trip or for a weekend away. Jardin Botanico is one of the most beautiful gardens in the city, offering a quiet space separate from the hustle, bustle, and traffic of the city. The 14-hectare gardens run plenty of events, concerts, and festivals throughout the year but are also a great location to relax with a book and be surrounded by nature.
When you don't feel like venturing too far out of the city, Medellin has an incredible repertoire of museums and galleries worth visiting. A usual favorite is the Cementerio Museo de San Pedro, a cemetery slash museum honoring the graves of many of Colombia's most influential leaders and symbolic residents.
Casa de la Memoria is another museum dedicated to the struggles that the people of Colombia have had to endure and overcome to get to where they are today. You can't consider yourself living in Medellin without visiting the Museo de Arte Moderno, a modern art museum with a small yet incredible collection. You can also join a tour about the violent life of Pablo Escobar, one of the most infamous faces of the country's past.
If your trip lines up with a soccer match, you won't regret watching the Athletico Nacional and Independiente Medellin soccer teams play at their home stadiums. Known as 'futbol' by locals, Colombians are passionate about the sport, and attending one of these matches is as much a cultural experience as it is a sporting one.
One of the best things to do here is to take a food tour. If you don't feel like organizing one yourself, there are plenty of tour companies willing to help. During a tour, you'll learn about the country's culinary traditions and get a taste of local customs and food in the area. There are also plenty of microbreweries in Medellin worth checking out. The best include Brew House, Medellin Beer Factory, Cerveza Premium Apostle, and 3 Cordilleras.
When planning your visit to Medellin, make sure to join as many ex-pat and digital nomads in Medellin groups as you can find, be they on Facebook or Instagram. Plenty of ex-pats are looking to meet up and socialize with other like-minded digital nomads, with events, workshops, and meet-ups hosted regularly.
One of my personal favorite ways to meet locals in a new city is through a gym or fitness membership. I usually join a yoga or pilates studio, which offers a super-inclusive community of locals and ex-pats with similar morals and values.
Final Thoughts
Medellin is quickly becoming a favorite South American destination for digital nomads. With the affordable cost of living, incredible culture, history and food scene, friendly locals, and welcoming ex-pat community, the city has everything you could wish for as a temporary citizen.
Best of all, it is well located in Colombia, surrounded by gorgeous mountains and valleys, which are great to visit during a long weekend. With an international airport servicing local and international flights, you could also use Medellin as a jump-off base to explore the rest of South and Central America.
I believe Laureles is the best neighborhood to live in as a digital nomad in Medellin. Packed with vibrant bars and restaurants, green spaces, and friendly locals, you'll feel right at home in this picturesque neighborhood.
---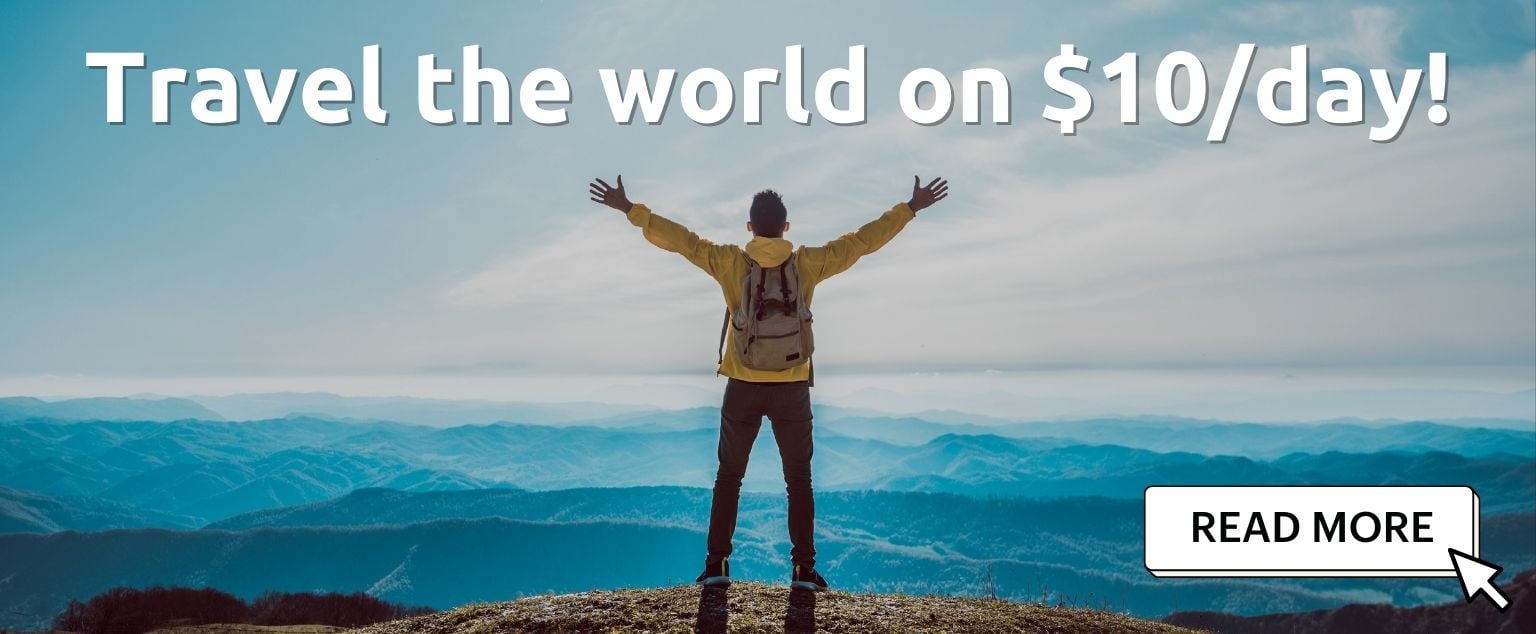 And for transparency's sake, please know that some of the links in our content are affiliate links. That means that if you book your accommodation, buy your gear, or sort your insurance through our link, we earn a small commission (at no extra cost to you). That said, we only link to the gear we trust and never recommend services we don't believe are up to scratch. Again, thank you!