The third-highest capital city in the world, you'll need a few days in Bogota to acclimatise to the altitude. That's not a bad thing, though – there's a glut of things to do. Starting in la Candelaria, the 17th century Old City, you'll find world-class museums, galleries, and colonial architecture. After all that, find a cafe or a restaurant to watch the sun set behind the Andes.
Or, search for an Airbnb in Bogota. With a range of property types available, they'll only enhance your stay in the Colombian capital. Rentals in Bogota can be anything from a comfy private room in a hostel to comfortable apartments with rooftop pools.
With so many properties on Airbnb, it can be exhausting to search for them. To help you out, I've put together a list of 15 of the best Airbnbs in Bogota. Not only that, but I'm also showing you the best experiences on offer. You're welcome!
Quick Answer: These are the Top 15 Airbnbs in Bogota
Overall Best Value Airbnb in Bogota
Overall Best Value Airbnb in Bogota
360 Apartment in La Candelaria
> $$
> Four guests
> Wonderful location
> Tours available
Best Budget Airbnb in Bogota
Best Budget Airbnb in Bogota
Spectacular Loft in Tourist Zone
> $
> Two guests
> Incredible location
> Laptop-friendly workspace
Best Airbnb for Couples in Bogota
Best Airbnb for Couples in Bogota
Colombia Loft with Garden
> $$
> Two guests
> Great location
> Beautiful Garden
Best Airbnb for Families in Bogota
Best Airbnb for Families in Bogota
Gorgeous Apartment in Chapinero
> $$
> Five guests
> Bright living room
> Fully equipped kitchen
Over-the-Top Luxury Airbnb in Bogota
Over-the-Top Luxury Airbnb in Bogota
Duplex Penthouse w/ Hot Tub
> $$$
> Two guests
> Rooftop terrace w/ hot tub
> In the desirable Bogota Norte neighborhood

Unlock Our GREATEST Travel Secrets!
Sign up for our newsletter and get the best travel tips delivered right to your inbox.
What to Expect from Airbnbs in Bogota
As you might expect in a capital city, there are lots of different types of Airbnb available. Budget backpackers in Bogota can make the most of private rooms or hostels, while at the upper end, you'll get cool flats and loft apartments or maybe a boutique hotel.
If you're willing to head out of the city centre, you can even find houses surrounded by nature like mountain cabanas!
There's very much a local feeling when you rent your Bogota Airbnb, which is great for exploring the city. Be sure to get recommendations and travel tips from your host on the best places to visit and things to do in Bogota while you're in town!
Entire Apartment
Though entire flats are the most common type of accommodation you'll find in Bogota, there's no one size fits all apartment. With everything from a cute studio perfect for a couple to a loft apartment with room for a whole family, there's something to suit all travel styles and budgets.
The most important thing about choosing your location is safety. Yes, Bogota and Colombia might have shaken off their 'dangerous' tags to a degree, but many of the barrios south of the city centre are no-go areas for tourists.
It's best to look for somewhere in Bogota's touristy neighborhoods like La Candelaria (the historic centre), Zona Rosa, and Zona G. Happily, this is where you have the most choice!
Private Room
Unlike capital cities in Europe and the Americas, Bogota can actually be pretty cheap to stay. Often, you can get a nice apartment to yourself for just an extra handful of pesos.
However, sometimes you might prefer a private room in a house for other reasons. Homestays are a great way to immerse yourself in local culture and save yourself money at the same time.
Colombians are known for their super-friendly hospitality, so don't be surprised if your host invites you to share a few beers with them in their living room or on the balcony. You might even hit up Bogota's best nightspots with them!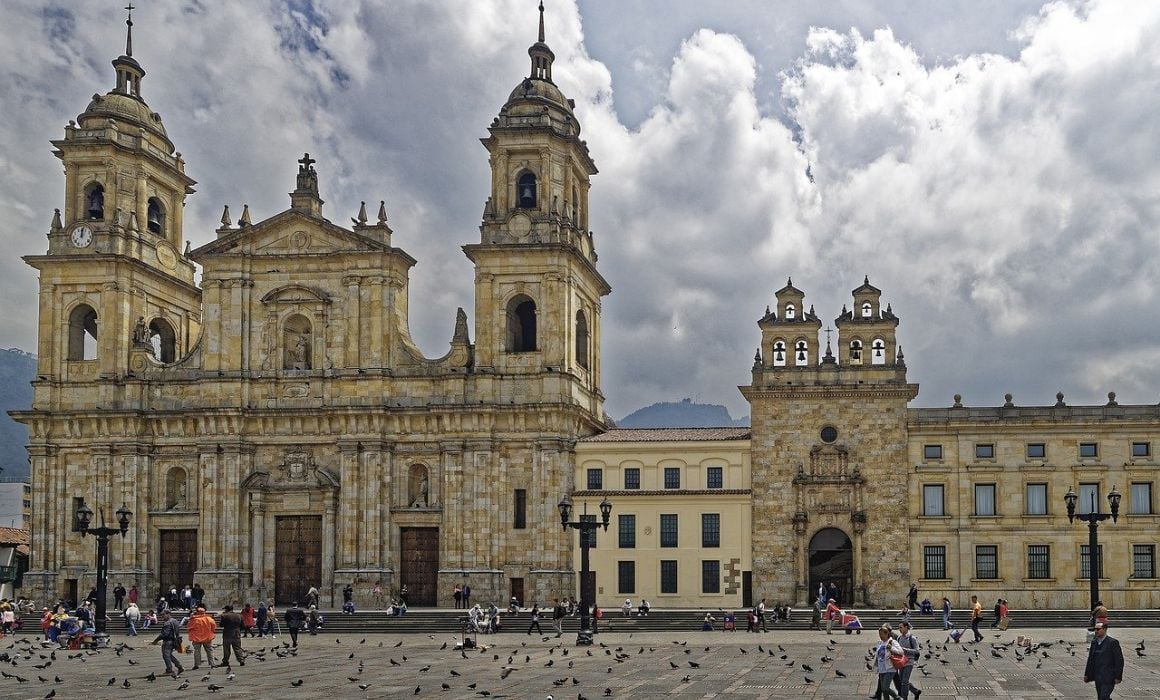 Boutique Hotel
Usually, guests use Airbnb to avoid staying in a hotel. After all, hotels can be a bit drab and characterless – unless you stay in a boutique hotel, that is. Popular around Latin America, especially in colonial cities, you'll often find that boutique hotels offer luxury at a low price.
These cute properties usually have a handful of rooms and are elegantly styled – think big fluffy beds, spacious rooms, and beautiful views over Bogota – perhaps from your own balcony!
Why Stay in an Airbnb
If you're still thinking of staying in a dull and drab hotel or being kept awake in a hostel, why?! Not to worry, I'm sure these five reasons will convince you an Airbnb is your best option.
Local Experience: Having the expertise of a local host means they can not only provide you with a place to stay, but give you tips on all the places that aren't in the guidebooks.
Safety: While it's less of a concern than in the past, Bogota can still be a bit hairy at times. With vetting of both guest and host, you can be assured that where you're staying is secure.
Unique Properties: Airbnbs have bags of character and charm – something you can't say for some hotels!
Affordability: Another advantage Airbnb has over hotels is that you get a whole lot more for your money.
Airbnb Experiences: Carefully curated tours by locals can really enhance your trip. I'll show you my favourites in Bogota after the properties themselves…
The 15 Top Airbnbs in Bogota
Now you know what kind of property you can expect and have a list of reasons as long as your arm, let's check out the 15 best Airbnbs in Bogota. All you have to do is choose the one best suited to your trip!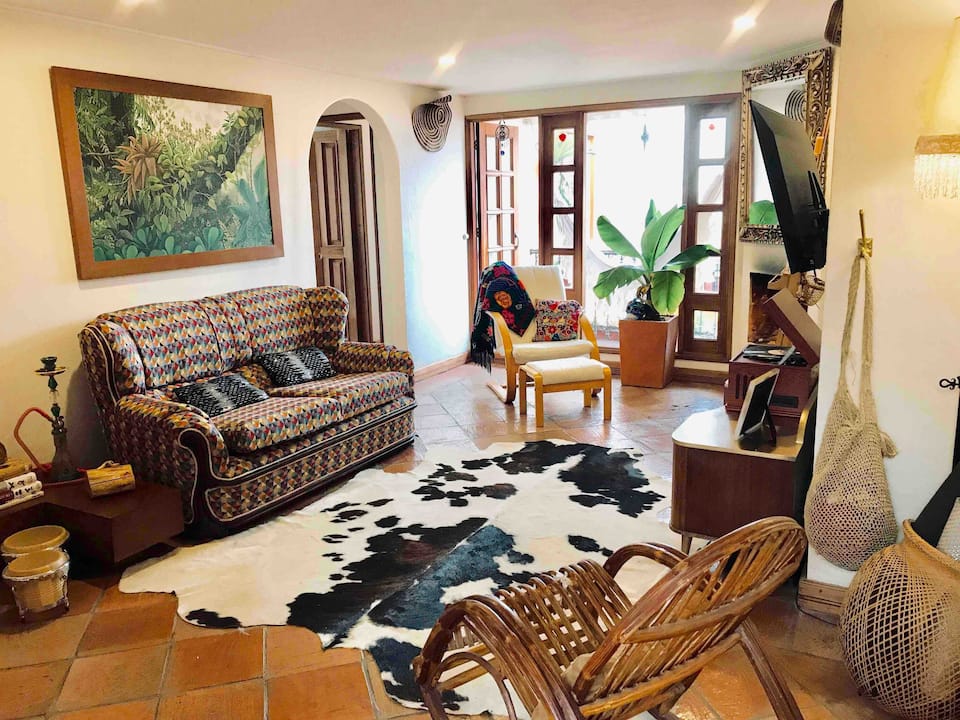 Four guests
Tours available
Want to look out over the rooftops of Colombia's historic quarter from the comfort of your very own hammock? You've found the right place.
Alegria's stylish apartment is beautiful both inside and out – with houseplants, a large living space, and a fully equipped kitchen. You've even got a fireplace for those cold Bogota nights.
If you fancy a night in, pour a glass of wine and stick some vinyl on the player. With space for up to four guests, you'll feel right at home!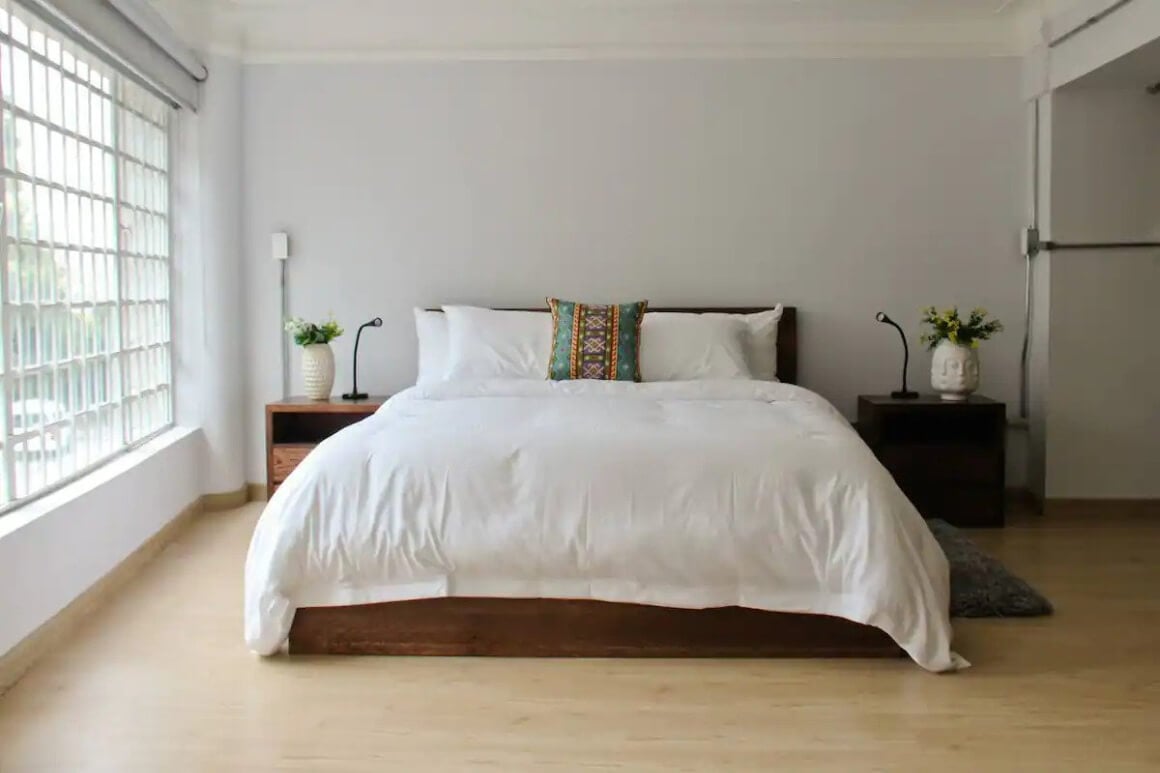 Two guests
Laptop-friendly workspace
Usually, when looking at properties on a budget, you'd only be considering private rooms. But not here! This cool minimalist loft may only have a small kitchen, but there's a large living space, and it would be perfect for a solo traveller or a couple on a budget.
It's right in the middle of the Macarena District, too, so you won't have far to go to find the best local food and drink.
$
Spacious apartment w/ 5 bedrooms
Two guests
Modern amenities
If you're travelling alone and want to meet other travellers, then staying in a vacation rental with other travelers is a great way to make some new friends, without dealing with the party atmosphere's of hostels.
This Bogota Airbnb is a house with five bedrooms and three bathrooms, and each room is rented out separately. You have all the amenities you would need for a comfortable stay, including laundry facilities, a fully-equipped kitchen, a spacious living area, and a gorgeous outside terrace to mingle in.
You're also staying in an ideal location in Zona G, in a safe and quiet neighborhood.
Is This the Best Travel Pack EVER???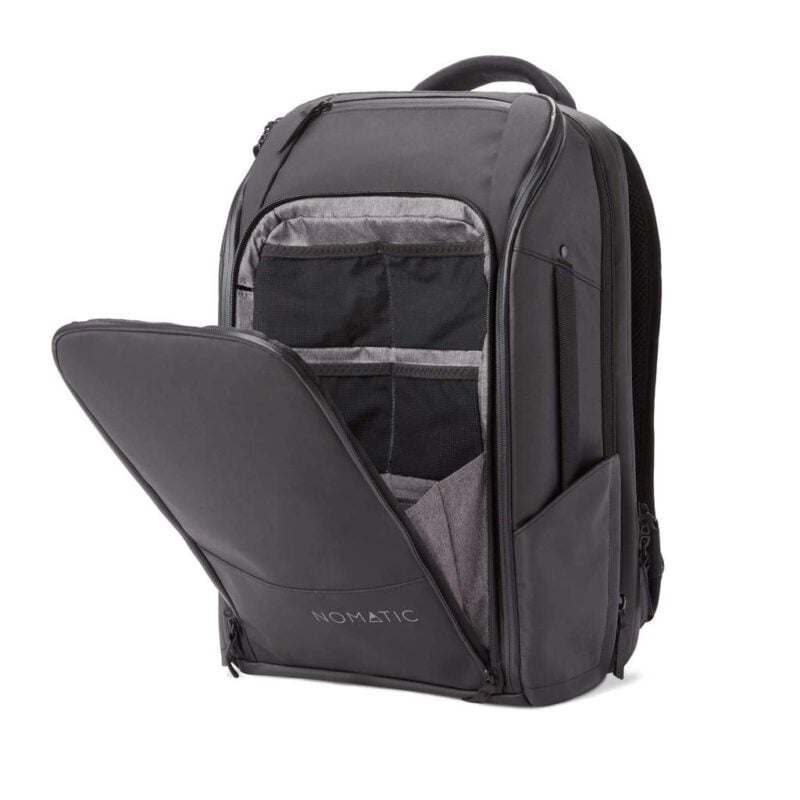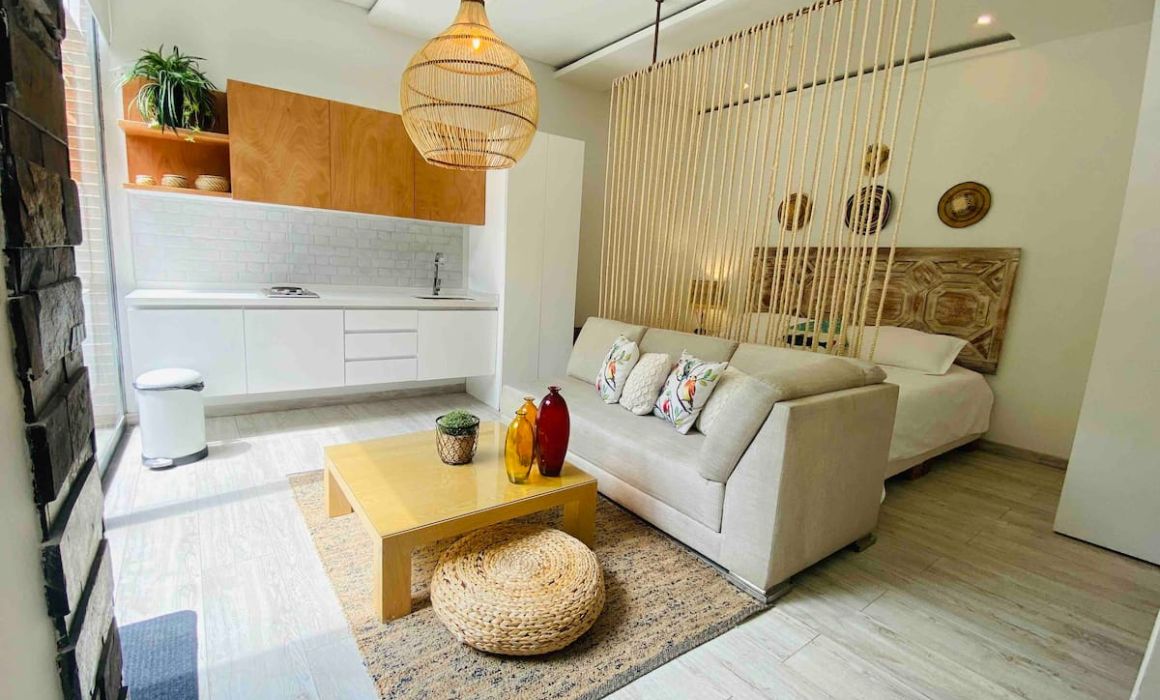 Two guests
Beautiful Garden
Zona G is one of the most upmarket districts in Bogota, so it makes sense that there are some pretty beautiful flats there. This modern studio apartment might be small, but it packs a lot into that space. And you have your very own private garden for when you want to chill out!
Many of Bogota's top restaurants are within walking distance of your flat, so you'll have no trouble sweeping your partner off their feet in and out of the flat!
Five guests
Fully equipped kitchen
Travelling to Bogota with your family? This two-story modern apartment has space for five guests in its three bedrooms, but that's not the most exciting feature.
The view of the eastern hills is so spectacular that you won't need to bother switching the TV on: your eyes will be glued to the window!
You'll be staying in the safe neighborhood of Chapinero, where there are plenty of cafes and restaurants around. Or cook up everyone's favourite meal in the fully equipped kitchen!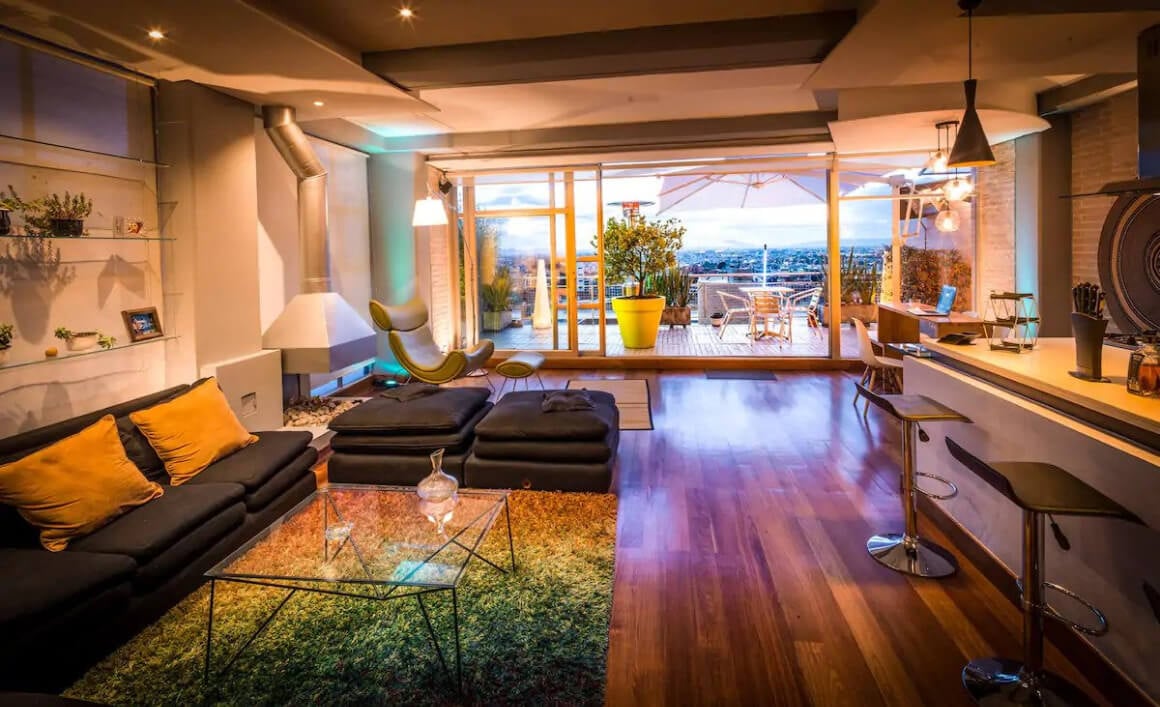 $$$
Rooftop terrace w/ hot tub
Two guests
In the desirable Bogota Norte neighborhood
If you've always wanted to have a view of the Andes while bathing in a private rooftop hot tub, now's your chance. This luxury two-floor penthouse apartment in Bogota's desirable Norte district, has a whole host of things that will make your stay easy and convenient.
There's a ton of natural light in the airy open-plan living and dining space that opens up onto three private terraces. All the furnishings and fittings are of the highest quality, and there's even a wood-burning fireplace for the winter. If you're planning a road trip, there's free parking on the premises.
$$
Walking distance to all the attractions
Four guests
Fireplace for cool evenings
When it comes to beautiful Bogota apartments, you'd be hard-pressed to beat this one. As soon as you wake up, you'll have a huge mountain and the rooftops of La Candelaria right in your face. Head to the living room for views of the city and the calming effects of house plants. Fancy a night in? Put your feet up, wrap yourself in the fluffy throw, and enjoy a coffee in front of the fireplace!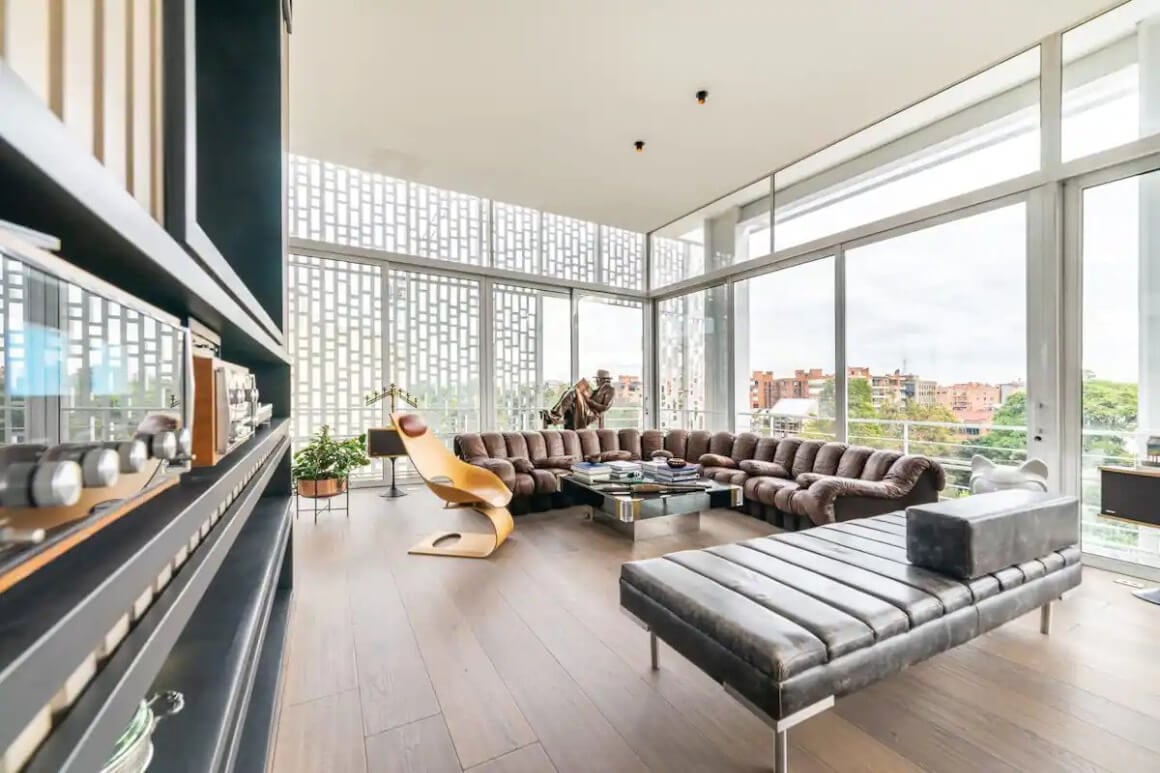 Six guests
Three-storey penthouse
If you're visiting Bogota for a weekend, why not splurge on a luxury penthouse with three floors and a hot tub? This designer apartment in the iconic Virrey neighborhood has all the bells and whistles to make your stay memorable.
There's so much space in this apartment, and the finishes are so luxurious you'll feel like royalty. The kitchen has a huge quartz marble counter top and the living space is the perfect place to sit and enjoy a glass of wine in the evenings.
This is luxury at its finest.
Best Boutique Hotel in Bogota | Casa Lelyte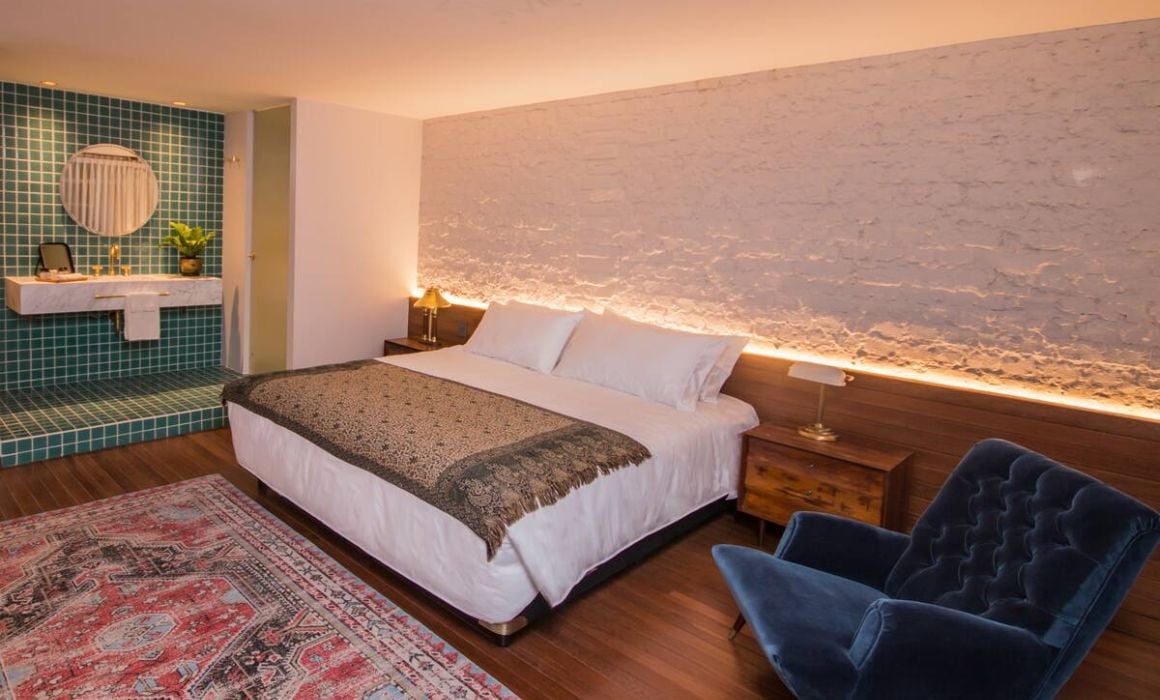 Two guests
Breakfast included
This is more than just a boutique hotel – it's a cultural, artistic and gastronomic space too. Enjoy the art deco and whitewashed walls from your huge king bed or head down to the lounge, cafe, or patio. With plans to have an art gallery, this is a wonderful chance to stay at an exclusive and stylish Bogota boutique hotel!
$
High-speed internet & Dedicated workspace
Two guests
Long-term stays allowed
If you're looking for a vacation rental to hunker down and work in, then you won't find better than this loft in the upmarket Chapinero district.
There is a laptop-friendly workspace and high-speed internet in this cozy apartment, plus it has everything you need for a long stay including a fully-equipped kitchen and laundry facilities.
When you've finished working for the day, you're within walking distance of some of the best restaurants, bars, and museums that are right on your doorstep!
$$
Kitchenette and bathroom
Two guests
Beautiful garden
Looking for an unusual stay while you're in Bogota? The Little Wooden House might just do that for you. Rather than a private room or a boutique hotel, you're in a small wooden house in the middle of a garden.
Ideal if you want to escape the hustle and bustle of the city for a bit. This casita is best for a solo traveller or a couple, and you can cook your own meals in the basic kitchenette.
Two guests
Lots of hiking routes nearby
If a garden isn't enough of an escape from the city, how about a cabana in a forest reserve? If you're visiting Bogota for the hiking, you can't miss this place! It's right by a pond, too, so it's a lovely place to come back to and feel relaxed and blissful.
Though you won't hear any noise from the city, it is just 15 minutes away by car – so you can enjoy a day in La Candelaria without any problems. There are restaurants nearby too!
Seven guests
Incredible views
Like the previous property, this beautiful Bogota Airbnb is in the mountains. However, rather than being suitable for a solo traveller or a family, it's great for a group of friends or family.
The living room has enormous windows, so you can take in the hills and valleys surrounding the house. For a full 360 view, just head out onto the terrace. Want to recharge your batteries? Spend a night in front of the fire or take a long soak in the tub.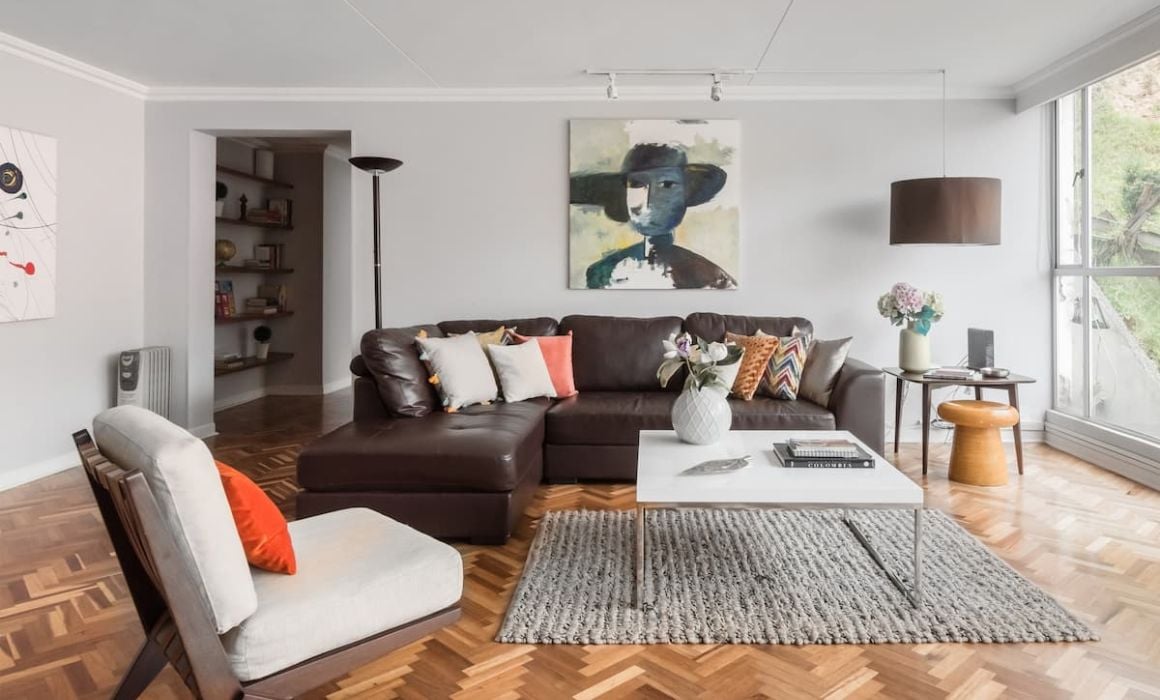 Airbnb Plus properties are usually pretty stunning, and this Bogota flat is no exception. The abstract art on the walls is only part of it – you've got a trendy wooden floor and large leather sofas, too. While everything is quite spaced out, there's still a warm and homely atmosphere.
Best Airbnb in Bogota for a Group of Friends | Dream Loft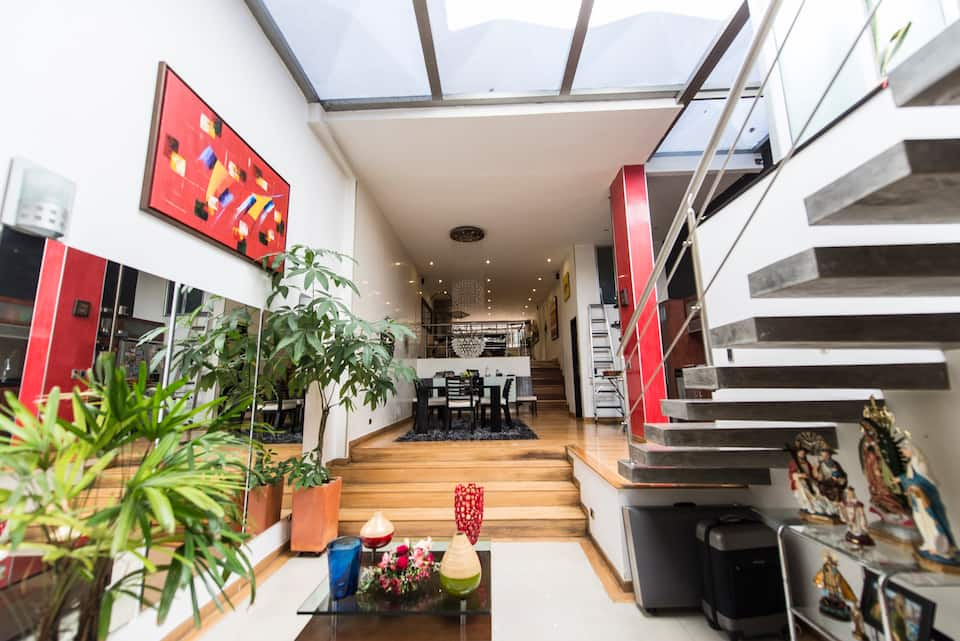 Four guests
Indoor fireplace
Travelling with three of your best mates? You're sure to love this cozy loft apartment in Zona G. The owner of this amazing apartment has designed it themselves, and it's a cool open-plan space with multiple areas to relax.
Lie back on the chaise longue, have a meal around the dining table, or curl up for a nap in a four-poster bed. The beds are king and queen, so it's good for two couples travelling together.
Top 5 Experiences in Bogota
Now that you know where to stay in Bogota, it's time to start planning your trip. And what better way to do that than with Airbnb Experiences?! If you're not familiar, these are tours curated by locals showing you parts of their city that you'd never find on your own. With everything from guided hikes to cooking classes, they're a great way to immerse yourself in the culture and make unforgettable memories on your trip. Here are five of the best Airbnb Experiences in Bogota.
$68/person
8 hours
Up to 6 guests
Don't pay attention too closely to the 8-hour recommendation for this day trip. It can be as long as 15!
You'll head out to Sumapaz – better known as heaven's door – in Colombia. It's where you'll see mountains, wild animals, and native plants.
You can also learn about the history of the FARC guerrillas and Muisca civilisation. It's a wonderful way to see nature near Bogota!
$118/person
13 hours
Up to 10 guests
If you don't have a lot of time in Bogota but want to pack in as much as possible, this three location trip is right up your street. Over 13 hours, you'll visit the Laguna de Guatavita, where locals will show you around.
Then, you'll go to the Tomine Reservoir and the Salt Cathedral of Zipaquira. One of the most popular tourist attractions in Colombia, you'll be given a two-hour tour before going to the iconic Andres Carne de Res restaurant!
$18/person
2.5 hours
Up to 10 guests
La Candelaria is the most popular part of Bogota, and many of the Airbnbs on this list are conveniently located right in the heart of it. So, you may as well learn more about the area you're staying in!
Not only will you find out about the important historical monuments, but also discover the best places to stop off for food and drink.
You'll also try chicha, a fermented corn drink dating back to indigenous times.
$17/person
3 hours
Up to 5 guests
Colombia is blessed with exotic fruits thanks to its climate and location. Many of them can't be found fresh in other parts of the world, so be sure to try them while you have the chance.
One of the best ways to learn about the fruit of Colombia, is by taking a tour of the world's sweetest market, the Paloquemao Market. You'll learn all about the history and traditions of fruit and get to sample 25 different varieties.
This activity is sure to be a fruitful adventure!
$32/person
3 hours
Up to 10 guests
Want to get to know the breweries and bars of Bogota? Then this is the tour for you. You'll sample beers across the city while learning about Colombian culture and beer brewing methods.
You'll get a bottle of beer and five more glasses or pints. If you're not used to the altitude, this could see you getting drunk pretty quickly!
FAQs About Airbnbs in Bogota
Here's what people usually ask us about vacation rentals in Bogota…
Don't Forget Your Bogota Travel Insurance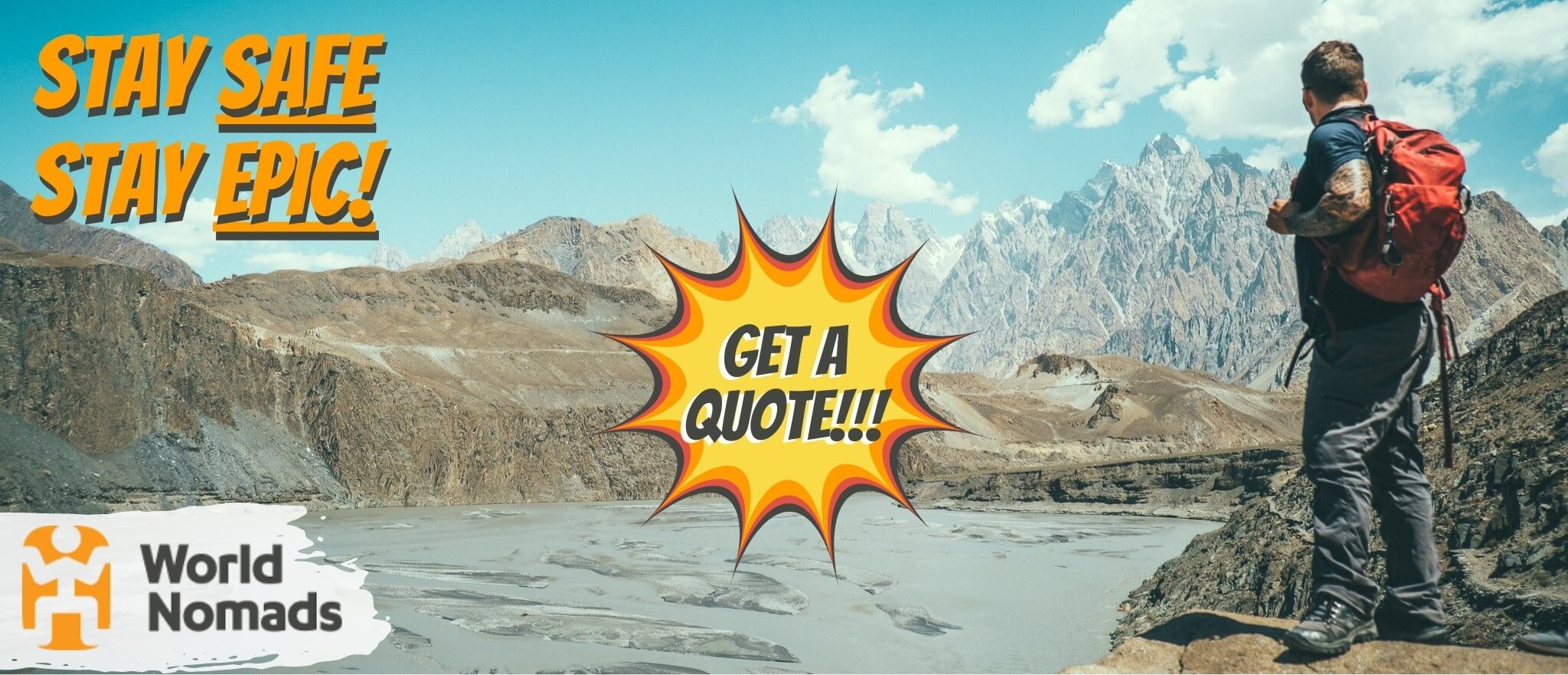 World Nomads' mission is to support and encourage travellers to explore their boundaries. They offer simple & flexible travel insurance, and safety advice to help you travel confidently.
They've been doing it since 2002 – protecting, connecting, and inspiring independent travellers just like you.
Get a quote below or read our in-depth review!
World Nomads provides travel insurance for travelers in over 100 countries. As an affiliate, we receive a fee when you get a quote from World Nomads using this link. We do not represent World Nomads. This is information only and not a recommendation to buy travel insurance.
Final Thoughts on Bogota Airbnbs
Now that you've seen the best Bogota has to offer, all you need to do is book your transport to get there. As well as the coolest experiences in the city, you've seen some awesome Airbnbs. Will you stay in the luxury apartment with the rooftop pool, a cool boutique hotel, or a friendly local homestay?
If you're still having trouble making your mind up, go for my favourite Airbnb in Bogota. That's the 360 Apartment in La Candelaria. As well as having an great location, it provides excellent value for money, and your host is super-friendly.
When you travel to Bogota, make sure to have World Nomads travel insurance to keep you and your belongings safe while you're there.
---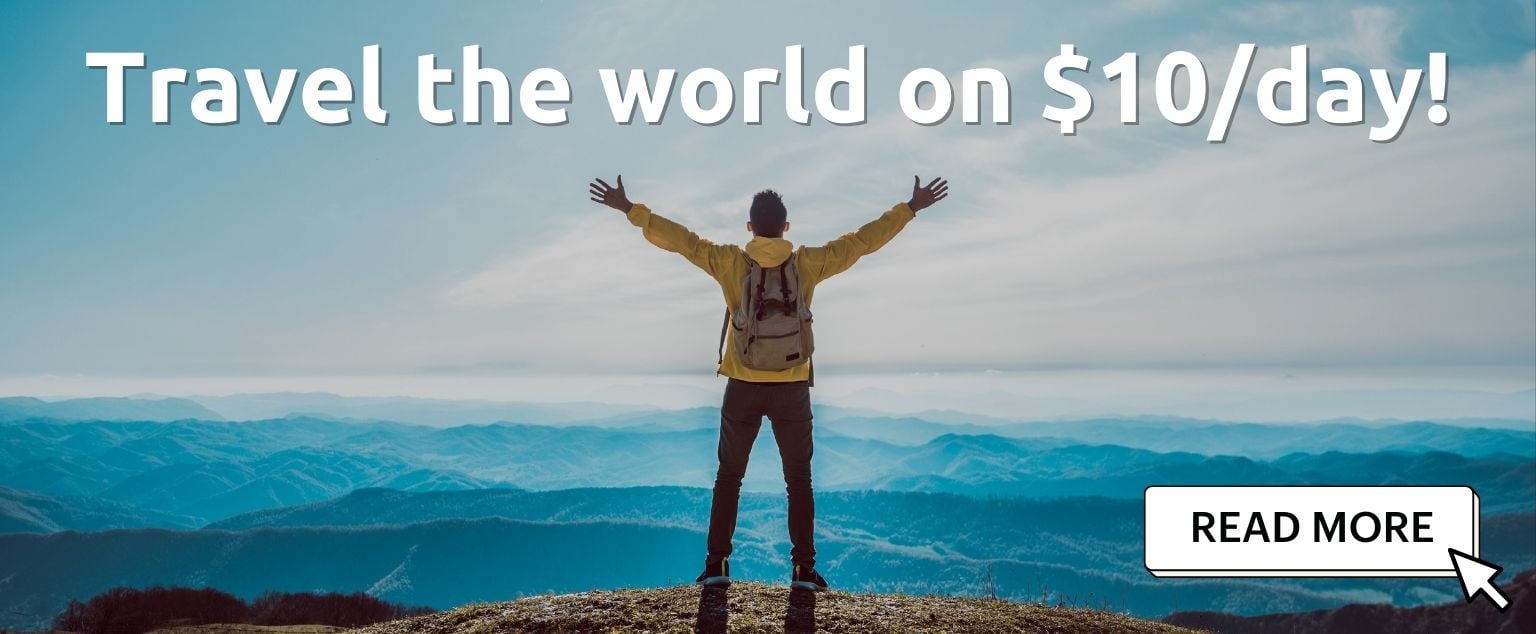 And for transparency's sake, please know that some of the links in our content are affiliate links. That means that if you book your accommodation, buy your gear, or sort your insurance through our link, we earn a small commission (at no extra cost to you). That said, we only link to the gear we trust and never recommend services we don't believe are up to scratch. Again, thank you!