Spread over a swathe of latitudes, encompassing a myriad of climates and culture, lies Mexico. It's the land of taquitos, carnitas, frijoles, y pico de gallo. 
Mexico is home to peyote, mountain retreats, margaritas by the beach… and the drug smuggling, body disappearing cartel lords.
It's a contrast intimidating enough that some travellers never leave their resort! But you're a backpacker and you want adventure.
Backpacking Mexico is the best way to see real Mexico. You can indulge in cenote diving, street food hauls, cheap tequila, and perfecting your Spanish skills. Travelling is also about exploring places you've been told to avoid.
Travelling Mexico offers this in spades. You can dip in and out of the tourist trail and see up close how much better the town an hour away with no tourists is compared to Cancun…
But with options coming out of the wazoo, you need solid pointers to set you off on your adventure in the right way. That's where this backpacking Mexico guide comes in.
I've got you a nice framework to hang your wanderlust from, to take your travels with ease. I want to inspire you to eat more than tacos and see something other than Cabo. Mexico is too freaking awesome squander in the tourist hotspots!
Vamos, amigos! Let's talk backpacking Mexico.
Why Go Backpacking in Mexico?
Backpacking Mexico satisfies the traveller's trifecta of needs: it's cheap, the food is to die for, and both the culture and landscape are suitably removed from your own that you feel you're being let in on a secret. The secret being this is how life should be.
Plus, ahem, I hear the peyote is pretty good. 😉
Sure, many people from the USA vacation in Mexico. In fact, there are close to a million of them living in Mexico.
So I'm not sure why they get so mad about the Mexicans living in the United States, but I digress. To truly travel Mexico, to go backpacking in Mexico, a certain peeling back of the veil is required.
With free-flowing beer and tequila, plenty of sunshine, and just the perfect lack of responsibility to a job, things can get pretty loose in Mexico. And when you wake up from the back of a friend of a friend's pickup truck, head still cloudy from that deceptively delicious tequila you might find yourself thinking, hmm perhaps I might do something a little less hedonistic today.
The promise to not party quite so much is a familiar one for many backpackers that might be falling into a traveller trap. Luckily for them, Mexico is overflowing with reasons to go hiking with a side of cerveza (rather than cerveza with a side of stumbling through the back door of a beach bar).
Mexico has both jungles and deserts – both of which are overlooked in favour of its incredible beaches! There are volcanoes to climb, waves to catch, and even oodles of spiritual retreats.
And don't even start me on the food… Vietnam was my food mecca in Asia, but Mexico makes me moan and groan with culinary delight in the Americas.
Tacos, amigos, tacos! And Oaxacan cheese, mmmmmhm yum…
Backpacking Mexico also allows you to slow down your travels with a 6-month tourist visa offered to most travellers. In this time you can truly sink your teeth into the vibrant culture, learn the language, visit the city with the most number of museums in the world, and listen to the locals about the blend of mestizo, Indigenous, and Afro-Latino cultures that come together in the big, the bold, the beautiful United Mexican States.
Oh Mexico, I miss you!
Look, you won't be able to see all of Mexico in one trip. Mexico is deceptively big! It's about three times the size of France and each state is vastly different.
With that in mind, time and geography are your biggest concerns when backpacking Mexico. If you're limited in time, it's best to stick to one region and do it thoroughly.
Decide what your priorities are when choosing where to go and where to stay in Mexico. Are you interested in Mayan ruins, jungle adventures, catching some waves, or eating your way through venerable piles of tamales?
Some states are more tourist-friendly with more hostels, buses, and a police presence. Other states require you to travel off the beaten path and really keep your wits about you. I'm no believer in overhyping the dangers of travel, but I did see the occasional body slung over a bridge in rural Mexico.
However, I very much strayed from the relative safety of the turquoise waters and "gringo trail". So your adventure in Mexico is likely to be very safe! Anyway, that wee caveat aside, here are a few ideas for your Mexico backpacking itinerary.
When backpacking Mexico, I think a loose plan is better than a regimented itinerary. So feel free to adapt these to your interests!
2-Week Itinerary for Backpacking Mexico: Explore the Riviera Maya
With just 2 weeks in Mexico, it's to fly into Cancun. Spend a night there if necessary, but stay somewhere downtown so you don't feel like you're in a Disneyland version of Mexico. Eat a bunch of tacos and grab a cerveza or two at a local joint where you'll be introduced to mariachi music.
From Cancun, it's just a few hours by bus to Chichen Itza. You can stay at a hotel just up the road from this ancient Mayan city to get there early and beat the crowds. It's worth it to splurge on a guide to learn all about this awe-inspiring place that's one of the New Seven Wonders of the World.
Next up, spend some time walking the cobblestone streets of Valladolid. This colourful colonial town is gorgeous and super laid back with access to cenotes to dive into and cool off in.
If you need some more excitement, you can reach the ruins at Ek Balam. Unlike Chichen Itza, you can still climb to the top of the main pyramid here.
After a few days in Valladolid, head back to the coast to the trendy town filled with things to do: Tulum. Hopefully, you're not sick of ruins because the ones here are probably the most beautiful! You can spend the rest of your time bumming on the beach and bouncing around the restaurants and bars. You could even consider renting a car in Tulum to truly be able to explore everything the area has to offer with ease!
Continuing back up the coast, you've got a few choices for where to stay. Playa del Carmen or Cozumel are both good options. You could do Cozumel on a day trip if you're pressed for time and Playa Del Carmen is well connected to Cancun Airport.
If you want something quieter, check out Puerto Morelos. Enjoy a few relaxing days before you have to get back to Cancun to catch your flight.
1-Month Itinerary for Backpacking Mexico: From the Centre to the Coast
Rather than starting out in Cancun (because, all due respect, FUCK Cancun) this trip starts in the capital. Fly into Mexico City AKA Cuidad de Mexico and dedicate at least a few days to this mega-city. Did you know that Mexico City has more museums than any other city?
Honestly, I could probably up and move to Mexico City. But this is a travel guide – not a list of places you might find the author when she has another quarter-life crisis.
The ancient city of Teotihuacan is a must. Also known as the Birthplace of the Gods, it was once one of the biggest cities in the world, extending its influence across the region and beyond. I'd highly recommend learning Spanish if only to talk to the locals here about the majesty of Indigenous Mexican culture.
After taking in all that CDMX has to offer, it's time to chill out a bit. A short bus ride will take you to one of the most beautiful towns in Mexico, San Miguel de Allende.
From here, you should check out Guanajuato as well. This city is known for its silver mining history and colonial architecture. It's also famous for its mummies on display from a cholera outbreak during the mid-1800s if you're into that dark tourism stuff.
Ok, indulging in oddities aside, now it's time to head back to the big city – Guadalajara. While Guadalajara has found itself sandwiched between Mexico City and Puerto Vallarta leading to it being overlooked a little, there are definitely a lot of cool places to stay in Guadalajara and some damn fine food too.
Just an hour or so down the road from the city is Lake Chapala. There are plenty of villages around the lake where you can stay, including Ajijic. Spend a couple of days here chilling out and enjoying the natural beauty in one of Mexico's top ex-pat destinations.
After that action-packed trip, it's time to head to the beach. Puerto Vallarta and the surrounding area is the perfect spot to end your month-long adventure backpacking Mexico. If Puerto Vallarta gets a bit much, you can always head up the coast to Sayulita or down the coast to Bucerias.
3-Month Itinerary for Backpacking Mexico: The Combo
With 3 months of backpacking Mexico, you can traverse the country if you move like a firecracker's been set off in close proximity to your bum. Of course, you always have the option of lingering a while in places you like.
A good strategy would be to start in one corner of the country and book your flight out of another. For example, you could start off staying in Cabo and end by flying out of Cancun. I could think of worse places to bookend an extended backpacking trip!
With 3 whole months, you can visit all the places mentioned in the itineraries above and add a few others. Definitely go ahead and add some time in the states of Baja California and Oaxaca. They have tons of beaches, gorgeous colonial towns, and abundant nature. If you're into surfing, you'll love both of them too.
Also, you HAVE to try Oaxacan cheese… and chocolate. Mmm, I'm freaking salivating just thinking about it! Oaxacan food is insane.
Having more time in the country means you can check out some places a bit more off the beaten path. Cities like Monterrey (way up north) and Puebla (near Mexico City) get way fewer foreign visitors, so these are cool places to visit if you're interested in seeing the less-touristy real side of Mexico.
There are so many quaint little towns, remote beaches, and natural wonders across Mexico that you can fill in 3 months. Slow down, take it all in, and enjoy. And don't forget to sample a taco from each and every state you visit!
So the best-of lists will inevitably ruffle some feathers, as we all have our secret wee spots that hold a special place in our hearts! Besides, Mexico is simply packed to the brim full of fascinating and beautiful places to visit. I'd hope that each and every one of you budding backpackers of Mexico throw all your fucks to the wind and hitchhike to large amber markets and clandestine hippy congregations in the jungle.
But, you know what, from time to time, popular places to visit remind us why they became popular in the first place: Mexico has some truly awesome cities full of marching bands, salsa verde, clear watered cenotes, and dreamy surf breaks. You can learn to dive one week, and hike a volcano the next. There are museums and art galleries contrasted with backcountry roads.
Inevitably you'll discover your own hidden gems but these places to visit in Mexico are a good start!
Backpacking Mexico City
Mexico City, home to over 20 million people, is one of the largest cities in the world. Many travellers choose to skip it and head straight to the coast, but these travellers are nincompoops!
Backpacking Mexico City is vital to truly travel to Mexico. You've got to see how a capital city seethes with energy to understand what's at the heart of a country.
And what's at the heart of Mexico City? A city of contrasts.
LGBT travellers will revel in the delights of Zona Rosa, and all travellers will enjoy the diversity of nightlife. There are high-end cocktail bars, clubs home to DJs that can make the whole place pulse, and streets that come to life with Mariachi bands.
What Central Park is to New York, Chapultepec is to Mexico City. This massive green space is an excellent place to spend a leisurely day in botanical gardens, a castle, and even an old-people zone. Be sure to head inside to explore the only royal castle in the Americas, but get there early; the lines are crazy by the afternoon!
No trip to Mexico City would be complete without a bit of mariachi and tequila. You can easily get a dose of both by visiting the Museum of Tequila & Mezcal and then getting dinner in Plaza Garibaldi.
Here, roaming mariachi bands are available for hire. Order up some tacos al pastor and a cold one and enjoy this traditional Mexican music.
Backpacking Tulum
The Riviera Maya may be famous for its flashy resorts, but that doesn't mean it's not for backpackers! You can pick one of the Riviera's more alternative towns – Tulum – as your place to start backpacking this coastline. You just have to know where to stay in Tulum!
Tulum is surrounded by lush sub-tropical jungle and has a glittering, turquoise water beachfront. There's also a lot of epic street art here.
Tulum seems to attract hippies that are "lost with purpose" but can always be found with good weed. 😉 So safe to say, that just because Tulum is in the Riviera Maya doesn't mean it's expensive and out of reach of the backpacker.
If you're backpacking with friends, you can even find cheap vacation rentals in Mexico's answer to Byron Bay. And, thankfully, it's not Cancun, because as mentioned… with all due respect FUCK Cancun.
There are plenty of awesome things to do in Tulum, and you can easily find a cheap dorm bed and rent a bicycle for your stay to explore the ruins and beaches. The most affordable accommodation is in the town (about a 10-minute bike ride from the beach). Tulum is even a decent place to base yourself for an excursion out to Chichen Itza or other Mayan ruins!
So whether you get sucked into the hammock life or you learn how to freedive to explore the cenotes, Tulum will jump to the top of your list of favourite places in Mexico.
Backpacking Cozumel (and other epic Islas)
Technically, Cozumel and the other more famous islands off the coast of Mexico are all still in the Quintana Roo state just like Cancun and Tulum. In fact, getting from Cancun to Cozumel is quite an easy trip, but as I might have mentioned – I don't like Cancun.
The trouble is, I like everything around Cancun. Like Cozumel!
Cozumel is a decent-sized island smudged off the coast of Playa del Carmen. It's most famous for the incredible SCUBA diving you can do around the area.
The water temperature remains around a balmy 27 degrees year-round and the visibility is almost always amazing! There is an abundance of marine life that you can see.
Another pretty unique aspect of travelling to Cozumel is cenote diving. Mexico is the only place in the world you can cave dive through this magical cave network and this is really a must-do for water babies!
Isla Mujeres is a smaller version of Cozumel. The SCUBA diving is also incredible here and your choices of where to stay range from high hotels to shabby beach bars. The broke backpacker will find themselves right at home in one of the many budget hostels.
Backpacking Playa Del Carmen
When you're heading to Riviera Maya, there are a few things to say about Playa Del Carmen. I'll start off by saying it's far from the most ideal, dirtbag backpacking destination, but in the same breath, I had an absolutely amazing time here.
It's undeniable: you're going to be in close proximity to painful levels of tourism. It's a major city on Mexico's Caribbean coast so you can start to create a picture from that.
What is Playa Del Carmen's absolute shining perk is its location. It's the central point for all the best places to visit in Riviera Maya and an awesome place to enter Mexico.
Arriving from Europe, Cancun airport is easily the most convenient place to get to. But, as you've probably noticed by now, I am no fan of that monster. Instead, we got invited by a mate for a bit of Couchsurfing and were instantly welcomed into Mexico with a cold beer, amazing food, and beautiful beaches.
If you want a base to explore Quintana Roo and Riviera Maya, Playa Del Carmen is the one. You're slap bang in the middle to head to Tulum's Mayan Ruins, Valladolid's cenotes, Cozumel's blue waters, Isla Holbox's remoteness, and Isla Mujeres' paradise.
So it might not sound like a backpacker's ideal candidate for a Mexico itinerary. But if you can see beyond cringey, sunburnt vacationers, I can assure you, Playa Del Carmen is one big happy memory.
Backpacking Oaxaca
When it comes to a backpacking trip to Mexico, few places are as awesome as Oaxaca. This state in southern Mexico is famous for its mouth-watering cuisine and indigenous cultures.
Several indigenous languages are spoken here, but your broken gringo Spanish will still get you by. You could stay a while and go from broken to passable Spanish, though.
The hub of Oaxaca City is where your trip here will likely begin. You can easily spend a couple of days here strolling around the tranquil downtown streets and sampling the local cuisine.
You'll find numerous epic hostels in Oaxaca as well. Be sure to add a day trip out to Monte Alban – one of the most impressive ruins in the country.
Yes, you can party in Oaxaca City. You can go hiking in the surrounding areas, too.
In fact, there are many villages known as the Pueblos Mancomunados that run an ecotourism project. The money that you do spend here goes directly back to the Indigenous communities. So not only do you get to enjoy hiking through the Mexican mountains, but you also get to give back.
Indigenous culture is strong throughout the whole state of Oaxaca. There is one of Mexico's mejor festivals – Guelaguetza – held annually that celebrates the strong Indigenous heritage.
Another big reason I fell in love with these colourful cities was the food. I honestly can't overhype the Oaxacan cheese; it's this glorious ball of stringy, mozzarella-esque (but with stronger, more aged cheese flavour) that just goes well with everything!
And as you head south in the state, you will come to the town of San Jose del Pacifico. This town is famous because its magic mushrooms fall into a deliciously legal grey area.
Unsurprisingly, many people "find themselves" here. 😉 But, it does have a very laid-back vibe, hostels covered in trippy artwork, traditional temazcal sweat lodge ceremonies, and of course, a very encouraging attitude toward mushroom taking.
It actually gets a little chilly up in the mountains so be sure to pack a jumper! And, maybe it goes without saying, but a lot of the hippy stuff actually has deep spiritual roots in Indigenous culture – so be respectful. 🙂
Backpacking Puerto Escondido
Within the state of Oaxaca is another laid-back hippy gem – Puerto Escondido. But instead of the Mexican mountains and magic mushrooms, you've got epic surf and doobies in hammocks! 😉
There are surf lessons available for those who have always wanted to stand up on a board but never quite got there! But both beginners and pros will be delighted by the swell here. There are the pumping Mexican Pipeline 20 ft waves, and also smaller waves at beaches nearby.
If surfing isn't your thing – no worries! You can chill on the beach, chill in a hammock, or chill in style at one of the many beach bars. Actually, the SCUBA divers will love the opportunities to see manta rays, oysters, turtles, and a whole host of tropical fish!
Puerto Escondido also offers more than just the beach. There's a bioluminescent lagoon that is particularly epic to swim in at night.
While in recent years Puerto Escondido has become more popular, it's certainly not super flashy or fancy. You'll see plenty of tourists but more of the broke backpacker/surfer type, as well as quite a few Mexican tourists. This laid back vibe means that you never feel like you're rushed or stressed like you often do in resort towns.
Plus, not everything has been made 200000x more expensive just because it's a tourist town. Yeah, Cancun, I'm looking at you…
Honestly, there are so many things to do in Oaxaca that it should be on every backpacker's to-do list in Mexico, but I can't stress how epic Puerto Escondido truly is. Come, relax, and let the beach work its magic.
Backpacking Banderas Bay
Located on the Pacific Coast of Mexico, Banderas Bay is one of the biggest tourist draws in the country. Here you'll find plenty of beaches and chilled out Mexican towns.
You could spend your entire trip in Mexico bouncing around the bay. Just be warned that you may love it so much that you decide to move there. Trust me – I know from experience.
Puerto Vallarta is the main city in the area and is where you'll fly into. While it's famous as a Spring Break and retiree destination, PV is definitely not only for drunk high school kids and old farts. There are many amazing neighbourhoods, each unique and different.
This is easily one of the best beach towns in Mexico. Just go to the main square on a Sunday night and dance with the locals, and you'll forget that you're in a super popular tourist destination.
From PV, you can catch a bus up and down the bay to visit several different towns. Bucerias is located just an hour up the coast and it's a much smaller, more chilled-out spot.
Keep going and you'll reach Sayulita, which attracts surfers, yogis, and hippies alike. There are heaps of great Sayulita hostels to check out too.
Head in the other direction from PV and then catch a boat to Yelapa. It's not an island but it sure feels like one!
This town has attracted the likes of Bob Dylan and members of the Grateful Dead. Come check it out for a few days and you'll see why.
Backpacking Baja California
The wonders of Baja California have long been known to surfers making their way south of the border from the other California. This peninsula extending into the Pacific Ocean is home to some epic waves up and down the coast. Popular spots for surfing include Rosarito Beach and Ensenada.
On the other side of the peninsula, you'll find beaches better suited for sunbathing and relaxing. Most towns in the south also have diving, kayaking, fishing, and even whale watching from December to April. The most booming tourist towns on the peninsula are located in the Los Cabos area, including Cabo San Lucas.
In between the coasts, Baja California is home to some pretty wild, and almost alien landscapes — as well as some pretty epic hiking trails to go along with it!
Here you'll find vast deserts and dormant volcanoes. The peninsula is also home to some very famous and thought-provoking cave art. The best place to check it out is the Sierra de San Francisco, which was even declared a UNESCO World Heritage Site.
The Baja is popular with sailors, retirees, backpackers, and domestic tourists alike. There are plenty of ritzy rich and famous-only areas, and also plenty of loveable dive bars too.
I think the Baja offers a glimpse into how tourism can affect a place. It can be done really tastefully (and IS done tastefully in some parts of the Baja) and how it can spiritually bankrupt a place.
The American dream can feel at times like a morally bankrupt race to stay in Cabo the longest. Don't be those tourists.
Getting off the beaten track along this peninsula will reward you a hundredfold. It's a place where the desert bleeds into the sea. Manta rays, whales, and turtles call this part of the ocean their home.
You don't need to eat lobster in a fancy restaurant surrounded by washed-up white folks to have a good meal here. Simply explore off one of the trails and treat yourself to some street food.
Backpacking Chiapas
Chiapas is secretly not-so-secretly my favourite state in Mexico. It's deeply interesting, absolutely stunning, and just a little bit complicated. There's a sex joke, or at least a relationship joke in there somewhere but I'd be digging.
Anyway, Chiapas, you're my favourite.
The state itself borders Guatemala to the south and shares many of the same Mayan Indigenous groups. Over 10% of Chiapas don't speak Spanish as a first language and are of Mayan descent. They've never been represented very well politically in Mexico, and this lead to the Zapatistas movement briefly declaring war on the Mexican government.
I say all of this because it pays to show respect in this beautiful state. There are countless secret cenotes, soaring mountains, and eclectic towns nestled in the jungle.
Many people get drawn to the spiritual energy that surrounds the ancient ruins of Palenque and semi-permanently live within the nearby jungle. While 99% of them have good intentions, there is the occasional story of tourists doing a few too many drugs and annoying the locals here.
San Cristobal de las Casas is another incredibly beautiful spot in Chiapas. The iconic yellow churches are home to a blend of Mayan and Catholic traditions involving animal sacrifice.
With so much of the state being Indigenous and historically not having been treated very well, I'd think twice before sticking your nose in every church service just to see if they're slaughtering chickens. If you get invited along to a service then be mindful that this is someone's belief system, even if you don't agree with it.
I mean, you probably know all this! San Cris (as it's affectionately known) is also a great place to buy amber and macrame supplies. You'll find plenty of artisans from throughout Latin America stocking up on supplies here and one of my favourite backpackers – Puerta Vieja Hostel.
The city of Comitan is not on many tourists' to-do lists but is home to the best torta (essentially a deep-fried sandwich) I've ever had! It's the best road trip food known to man!
Be sure to check out as many waterfalls as possible on your trip through the state, too. They're truly out of this world.
Off the Beaten Path Travel in Mexico
In a country this massive, it's really not that hard to get off the beaten path in Mexico. Even in popular tourist destinations like Puerto Vallarta, all you need to do is walk a few blocks away from the beach and you'll be surrounded by locals.
Generally speaking, the further away you are from la playa, the fewer gringos you'll see. If everyone is here for margaritas on the beach, then you just have to go do shots of tequila in the desert.
A great city to explore that's a bit more off the beaten path is Monterrey. It's the third biggest city in Mexico and the closest to the US, yet very few foreign tourists make it here. Once an incredibly dangerous city, Monterrey has undergone quite a transformation in recent years. It's surrounded by mountains and full of culture, making it a great base for a couple of days.
Another fun city that's worth checking out is Mazatlan. While it's true that Mazatlan is a popular spot for retirees, not that many travellers make it here. The city hosts one of the biggest Carnival celebrations in the world, so try to time your visit to be here then. You can drink margaritas as big as your head while stumbling up and down the Malecon listening to live bands.
Finally, there is an incredible spot in the state of San Luis Potosí called Huasteca Potosina. This is one of the many smaller towns that are bursting at the seams with Mexican culture and vibrancy but is completely off the itinerary of most travellers.
The perfect Instagram shot and the delightfully phone-less adventures are all on offer in Mexico. Backpackers are spoilt for choice when it comes to landscapes, cultures, and even beers on offer! Narrowing down the top 10 things to do in Mexico is always difficult – but use these to inspire you to find your own top 10 must-dos!
1. Visit Chichen Itza
This ancient Mayan city is one of the New Seven Wonders of the World and one of the most incredible places you can go to in Mexico. You can visit the ruins easily from anywhere in the Riviera Maya. Definitely be sure to spend at least half a day here taking it all in. The highlight is the impressive Temple of Kukulkan, which was built to honour a Mayan feathered serpent god.
In my opinion, this is one of those "tourist" things that does live up to the hype. The grounds themselves are quite large so you never feel claustrophobic with the crowds.
Entry is free for Mexicans, and pretty reasonable for everyone else. If you've got the gift of the gab you might find yourself a way to shave the cost down a bit.
2. Eat all the Tacos
… But also all the food that ISN'T tacos!
There are so many different types and flavours of tacos it'll make your head spin. Whether you're eating them at a street vendor or in a beachside bar, delicious tacos will be there to join you.
Forget about tacos with ground beef, lettuce, and cheese. Those aren't real tacos. Instead, try the local specialties such as tacos al pastor or fish tacos on the coast.
I had this incredible taco while out with a couple of local mates. Utterly spent and drifting up in food heaven, I asked, "So what was in that?"

"Lengua, chica."

Tongue tacos… Yeah, they're freaking AMAZING.
3. Museum Hop in Mexico City
I always blow peoples' minds when I tell them that Mexico City has more museums than any other city in the world. At over 150+ by the last count, CDMX really is a city full of museums.
Some of the best include the Museum of Anthropology and the Frida Kahlo Museum. Be sure to spend at least a few days in the capital and check out a handful of museums while you're there.
4. Swim in a Cenote
A cenote is a natural sinkhole that's formed when a cave ceiling collapses. They were considered sacred to the Mayans and were often used as sacred water sources and occasionally as places of sacrifice.
You can find cenotes all over the Yucutan peninsula, so you've got plenty of choices. These are also great places to learn how to snorkel or scuba dive.
For those with the appropriate skills, you can even go cave diving. The same limestone earth that causes the cenotes also creates an intricate system of caves to go diving through. You can dive through one cenote and pop up in an underground cavern… Talk about freaking EPIC!
Even without risking death in the depths of a Mexican cave system, you can still enjoy the crystal clear waters of these cenotes.
5. Listen to Mariachi
Mariachi is a traditional type of Mexican musical group. It's popular all over the country.
In addition to their great music, the mariachi bands are famous for their traditional outfits. Mariachi bands are not that hard to find, as they play in restaurants, bars, and live music venues all over Mexico. Plaza Garibaldi in Mexico City is one of the best places to hear some mariachi.
I love the all-female mariachi band – same fiesta energy, but make it fuck the patriarchy. 😉
6. See the Lucha Libre Fights
The high-flying, colourful mask-wearing luchadores of Mexico's famous style of wrestling put on an amazing show. Lucha libre is a huge part of Mexican culture and thus a can't-miss when backpacking Mexico. The best place to see the fights is Arena Mexico in Mexico City, but there are also great fights in Guadalajara.
7. Hit the Beach
Most travellers to Mexico have some beach time planned – and for good reason! Mexico is home to every kind of beach you could imagine.
There are white sand beaches with turquoise water. Others have great waves for surfing. Hell, there are even nudist beaches if that's your scene!
Go ahead and order up a margarita, kick back, and relax. But, if I can rain on your beachy parade for a moment, alcohol and the beach actually don't always mix hella well. It's way too easy to drown in the waters of a foreign country.
8. Drink Tequila (and Mezcal)
Nobody does tequila quite like Mexico! This world-famous booze is distilled from the blue agave plant and is known to be the start (or end) to wild nights. It actually comes from the town of Tequila, which you can visit easily from Guadalajara.
You'll also want to try some mezcal, which is kind of like tequila's older, more civilized cousin. Even the best tequila can whisper bad ideas to you like take your shirt off and climb a street pole…
Mezcal, on the other hand, will hold your hand and lead you gently to the altar of drunken oblivion. One minute you're laughing and having a good time; the next minute you're singing Billy Joel in a remote Mexican town in which you are the only English speaker. Yeah, mezcal is a deliciously sneaky drink!
Whichever one you order, don't try to do it as a shot with salt and lime. That's insulting to good tequila. Just sip it casually and enjoy!
9. Explore a Local Market
Markets are the lifeblood of any city. If you want to put your Spanish to the test, you need to avoid the gringos. To avoid the gringos, head deep into the bowls of a Mexican market.
You can barter for new clothes, pieces of high-quality amber, and then wash it all down with carnitas or tamales. I personally come to Mexico with an empty backpack and buy all my clothes in San Cristobal De Las Casas.
You'll be sure to find dozens of macrame artists plying most marketplaces too. Give it long enough travelling Central America, and you might find yourself amongst the throng of macrame-making hippy vendors!
10. Hike a volcano
Yes, Mexico has epic beaches. Mexico also has its share of famous desert landscapes. (Peyote calls the desert its home actually…) But Mexico isn't done with nature just yet.
3 of the most famous volcanic peaks in Mexico are Iztaccíhuatl, Pico de Orizaba, and Popocatépetl – all within a few hours from Mexico City. Iztaccíhuatl is so high that you can experience mal de montaña (altitude sickness) so be prepared.
The views though. Damn, Mexico you just keep on giving!
Although on a sombre note, the glacier Ayoloco that used to grace Iztaccíhuatl has been declared extinct. There is a memorial plaque there, and I have to say, it's such a tender moment to face the future in such a way like this. As humans we can't help but anthropomorphize; yet there is real grief for the global inaction to do anything to limit the death of another glacier.
When backpacking Mexico, you're spoiled for choices as far as accommodation goes. In popular tourist areas and the big cities, you've got great Mexican hostels to choose from.
It's also easy to find a decent hotel without spending too much, and eco-friendly accommodation is also on the rise. While Mexico isn't as cheap as travelling Southeast Asia, it's definitely not expensive!
But in order to save your coins, your best bet is to live the hostel life. Luckily, the hostel scene in Mexico is full of dreamers and artists. So many of the hostels have such incredible artwork – and if painting is a skill of yours there might be a way to score yourself free accommodation in exchange for contributing to the art of the hostel.
The average price for a hostel ranges between $10 – $20 per night. There's not much better than chilling in a hostel by the beach and being able to surf all day before enjoying a cerveza and lime at sunset.
When that one guy at the hostel has told you the story about how he almost became an international drug smuggler but then he remembered about his ethics so he just dodged taxes instead, booking an Airbnb can seem more appealing for a night. Mexico has a huge range of good quality – and relatively cheap – Airbnbs available too. Sometimes you need a vacation from your vacation, right?
In between swanky Airbnbs and party hostels are a bunch of great guesthouses and homestays. Many of these aren't listed online but are well known via word of mouth.
Wherever you choose to stay in Mexico, it's not going to be expensive – but it will be a great time!
And here's a quick insider tip: If you want to see all – and I mean ALL – hostel options in Mexico, be sure to check out Hostelworld. You can even filter your personal travel needs to find the perfect place for you.
The Best Places To Stay in Mexico
Mexico can be an incredibly cheap place even if you're travelling solo. It can also be incredibly expensive – all you have to do is stay in some glitzy hotel in Cancun and buy marked-up drugs and never leave the resort. Damn you, Cancun.
Anyway, enough of my gripes with the world's biggest waste of time. The cost of backpacking in Mexico will depend on a lot of factors.
If you do everything the local way, your money will go very far here! It's definitely possible to get by on $40-50 a day and live VERY comfortably.
If you're into street food and hole-in-the-wall local joints, your food bill in Mexico will be very small. Many local restaurants often have a set menu at lunch for just $3 – $4 that will keep you full.
A great thing about travelling in Mexico is the wide array of cheap or free activities. It costs nothing to sit on the beach, after all.
There are plenty of parks, town squares, and beautiful churches you can visit for free. Museums are less than $10. Chichen Itza is the only place to see ruins which are quite expensive at around $30.
You can also pick up an eSIM for Mexico before you travel for pretty cheap, depending on how long you visit for it can cost just over £1 a day for unlimited internet.
A Daily Budget in Mexico
Your daily budget will of course vary depending on your personal style and what you wish to do. The table below however is intended as a guide.
Copy of (no name)

| Expense | Broke Backpacker | Frugal Traveler | Creature of Comfort |
| --- | --- | --- | --- |
| Accommodation | $0 - $10 | $10-$20 | $20+ |
| Food | $5-$7 | $7-$12 | $12+ |
| Transport | $0-$5 | $5-$10 | $10+ |
| Nightlife | $0-$10 | $10-$15 | $15+ |
| Activities | $0-$5 | $5-$15 | $15+ |
| Totals per day | $5-$37 | $37-$70 | $70+ |
Money in Mexico
Mexico's currency is the peso (MXN). As of April 2023, the exchange rate hovers around 18 MXN to $1 USD.
You'll need cash for things like local bus rides, street food, and tips. You'll be able to use a credit card easily, especially in big cities and beach towns. Make sure you have a card that has no foreign transaction fees and don't forget to tell your bank where you're headed.
You should always hide some emergency cash on you. You never know when a bribe legitimate "fine" may be required to get you through a checkpoint.
All the major cities and town will have a variety of banks but be aware that smaller towns and villages may not. It's also possible they will run out of cash fairly quickly, so make sure you keep a decent (but not too decent) amount of cash on you. You may be charged a fee at the ATM by both the local bank and your bank.
For all matters of finance and accounting on the road, The Broke Backpacker strongly recommends Wise – The artist formerly known as Transferwise! Our favourite online platform for holding funds, transferring money, and even paying for goods,
Wise is a 100% FREE platform with considerably lower fees than Paypal or traditional banks. Really, it even beats out Western Union.

Travel Tips – Mexico on a Budget
While the $1 beers and $3 lunches can make budget backpacking a breeze here, it's still easy to slip over your budget when you're in beach mode. Other than the standard budget backpacking tips there are a few extra tips I'd suggest for those backpacking Mexico.
Camp: Camping in Mexico isn't very common, but there are definitely places where it's an option. Your safest bet is to travel in a campervan and find official campgrounds. Tent camping is possible in some places, including the beach towns of Bucerias and Sayulita, north from Puerto Vallarta. Or, if you're feeling real adventurous and want to save some cash, consider picking up a backpacking hammock. Honestly, almost anywhere can become a camping spot in Mexico if you're discreet enough.
Cook your own food: If you are on a tight budget, you can save money by cooking your own food – I recommend bringing a portable backpacking stove.
Book your transportation early: Plane tickets are much cheaper if you purchase them in advance, especially with Mexico's budget airlines.
Couchsurf: Especially in the big cities in Mexico, it's not too hard to find a host whose couch you can crash on. They might be expats who are working there or locals. Learn how to couchsurf to make some real friendships and see this country from the perspective of locals.
Hitchhike: Depending on where you are in the country, attitudes will vary to hitchhikers. Some people will be kind of confused and others will spot a fellow macrame-making-patched-up-clothes dirtbag and pick up instantly. It helps to speak Spanish so you can explain what you're doing and don't end up paying for a ride you didn't want to. Still, it will open your travels to more adventures and will save you dollaroonies.
Why You Should Travel Mexico with a Water Bottle
Because plastic sucks, spending money on water served in plastic is dumb, and, ultimately, we're better than that.
Single-use plastic is shit. It's poisoning our planet, and we only get one of those. Please, stop using it: we can't save the world overnight, but we can at least be a part of the solution and not the problem.
When you travel to some of the world's most remote places, it's important to strive to leave it better than when you arrived. That's when travel becomes truly meaningful. Well, that's what we believe at The Broke Backpacker.
Whether you buy a fancy filtered bottle or just contract Giardia and develop a constitution of steel after the fourth round of antibiotics. The point is the same: do your part. Be good to this beautiful spinning top we love to travel to.
That said, you should totally get a filtered water bottle. They're a bloody dream!
You can drink water from ANYWHERE. And you won't be spending a cent on bottles of water either. These things ARE the best thing since sliced bread.
The most popular time to visit Mexico is generally between December and April. These are the driest and coolest months in coastal destinations like Puerto Vallarta and Cancun. Of course, this is also high season.
That means the biggest crowds and the highest prices. Consider travelling in the shoulder season if you don't mind a little heat and possibly rain. Your wallet will thank you!
Keep in mind that Mexico is a huge country with diverse landscapes. While it's almost always hot on the coast, it can get downright chilly in Mexico City and other places at a higher elevation. You may actually need some warm clothes for the winter months.
With a country as big as Mexico, there are multiple "best times of the year" to visit. But in general, accepting a little bit of rain along the coast and slightly colder temperatures at altitude, and visiting outside of December – April will have you a cheaper and less crowded backpacking trip.
If you're living the boat life and sailing the coast of Mexico, you'll want to avoid July – October as this is hurricane season. The Baja fills with sailors during December – April, too, so it really depends what you want to get out of your trip to Mexico as to when the best time to visit is.
What to Pack for Mexico
What you decide to pack will depend on where you're going, what activities you have planned, and what the weather will be like. If you're just going to hang on the beach, you can just show up in your swimsuit and tank top and be ready to rock. Buuuuttt, bring a pair of nicer clothes if you want to go out to the clubs.
Be sure to pack some decent shoes if you plan on exploring the cities, and good hiking shoes and clothes for any outdoor activities. It's also a good idea to bring an extra day bag to carry with you to the beach or for big sightseeing days.
But, on every backpacking adventure, there are a few things I never leave off my travel packing list!
If all of your opinions on Mexico are based on what you hear on the news, you'll think Mexico is one of the most dangerous countries in the world. While it's definitely true that the drug cartels are ruthless and that there are plenty of places you don't want to travel to, most places of interest to travellers are quite safe.
Sure, bad shit happens occasionally, but the same is true for places like Paris, Las Vegas, and Bangkok; there are horror stories of humanity's worst whenever there is a lot of us gathered in one place.
For the most part, travelling in Mexico is quite safe. Even in Mexico City, you're fine walking around by yourself as long as you exercise some common sense.
If you stick to the standard backpacking safety tips – you'll be more than ok.
One thing to watch out for in Mexico is taking random taxis. They're not all legit, and there are plenty of stories of people getting ripped off and robbed.
Uber is big in most places you'll likely visit and is super cheap, so just get a local SIM card and stick with that. Try to find an official taxi stand if you need to just hail a cab, or have someone call one for you.
Wherever you go, always keep an eye on your drink. Even better, just stick to beer and ask them not to open the can or bottle until it's in your hot, little hands.
And, my final tip would be to keep an eye on local news. If you know something cartel-related went down in a certain area, then wait until it's blown over before you travel there. Not all places will be safe all of the time, and not all places will be dangerous hellscapes.
Sex, Drugs, and Rock 'N Roll in Mexico
One thing's for sure about Mexicans – they like to party, and they like it loud! In places like Mexico City, Cancun, Play Del Carmen, and Puerto Vallarta, it's not hard to find a party that's going on all night long.
Mexicans love their music, so there's usually a band or a DJ playing. It might be a local mariachi band, it might be a heavy metal band from the US, or it might be a German house DJ. If you're looking to rock out and dance the night away, you've come to the right country.
When it comes to drinking – again, Mexico loves to drink! If you want to go local, try a michelada. It's basically a Bloody Mary but with beer instead of vodka. Or try a calimocho – wine and coca-cola!
Those looking for something stronger you can opt for tequila or mezcal. After all, the best stuff in the world comes from right here in Mexico.
As far as drugs go in Mexico, they're obviously around. As a gringo tourist, don't be surprised if people approach you to offer you drugs.
I don't recommend buying drugs from a random guy on the street anywhere, but I know some of you will probably do it anyways. Drugs on the road are inevitable so you might as well learn about them and do it properly!
I got caught smoking a joint in San Cristobal De Las Casas – and it's not my favourite memory. Luckily, I had my charming Argentinian companion to smooth talk our way out of it with a small bribe.
They are cracking down at the moment on weed in Mexico. I've also been stopped and searched randomly in transport stations so, in my experience, it's not worth travelling with or smoking in public now.
There's plenty of hostels, guesthouses, and beaches that are cool with it. Judge the vibe, ask locals, and make your own judgement.
If you're looking to roll, trip, etc., it's definitely possible. Again, be extremely wary of buying anything off the street. A better idea is to find the hippies, stoners, punk rockers, and the like. They'll know where to find something without you getting ripped off or busted.
And as for sex and love while travelling Mexico? Oh man, the Mexican passion is not exaggerated – for all genders! Being a sexy foreigner bodes well for trying your luck dating in Mexico.
Plus, the backpacker scene is far from abstinence-only. 😉 Through it all, treat each other well. Free love is about love as much as it is about sex!
Getting Insured BEFORE Visiting Mexico
Right, now let me be the first to admit that my travels sometimes involve some sketchy activities! But rather than ignore my wild side, I just insure in with World Nomads! That way, I can still have my adventures while knowing if shit hits the fan – I'm covered by good insurance.
World Nomads are a flexible and affordable travel insurance option and I've trusted them for years.
ALWAYS sort out your backpacker insurance before your trip. There's plenty to choose from in that department, but a good place to start is Safety Wing.
They offer month-to-month payments, no lock-in contracts, and require absolutely no itineraries: that's the exact kind of insurance long-term travellers and digital nomads need.
SafetyWing is cheap, easy, and admin-free: just sign up lickety-split so you can get back to it!
Click the button below to learn more about SafetyWing's setup or read our insider review for the full tasty scoop.
Mexico is a super accessible country within the Americas. There are direct flights from multiple cities within the USA and Canada, as well as direct flights from Europe. You can always cross the land borders from the US, or from parts of Central America.
What this means is that Mexico fits in well with almost any backpacking itinerary! You can fly in directly from Europe or North America and explore Mexico for as long as your visa allows you. Or, your Mexico backpacking route can be part of a longer overland travel adventure through Latin America if you cross the southern border.
Personally, I flew into Mexico once and crossed the Southern border another time. I know other people may have a different experience, but I found flying in easier in terms of paperwork and bureaucracy. There was a convoluted hold-up at the land border that ended up requiring a long discussion and a stroke of luck to get me across!
Entry Requirements for Mexico
The entry requirements for Mexico vary depending on your nationality. Citizens of 65 different countries are allowed to visit Mexico visa-free. Typically, tourists and business visitors can stay up to 180 days. Make sure you read up on the visa policy of Mexico if you're not clear.
If they give you a tourist card as you enter, hold onto this: you will need to present it as you are leaving and you'll be held up and fined if you don't. Though, you may not receive one depending on how you enter.
Mexico is quite well connected – especially the major centres! There is, at the very least, a bus or a colectivo that will take you close to where you want to go. Mexico ADO buses are the easiest option for getting between popular tourist destinations. Mexico City has its own metro.
Many of the regional centres are connected via planes that aren't so expensive! Within major centres, you'll find Ubers, taxis, and even the metro. Generally speaking, no transport in Mexico is overly expensive but taxis can sometimes overcharge you.
Hitchhiking in Mexico
Hitchhiking?! In Mexico?! Surely not!
Nah, mate, of course you should hitchhike Mexico!
Like with most hitchhiking, you need a little experience, patience, and good instincts. It also helps to speak a little Spanish when hitching in Mexico so that you can fully explain what you're doing and where you want to go.
Your hitching luck will depend on what state you're in. When I was in the Yucatan, Riviera Maya, Chiapas, Oaxaca and anywhere close to Mexico City I had good luck. I think if you're close to places where raggedy, hippies from throughout Latin America congregate then chances of scoring a ride are high!
The states I mentioned before are known for various reasons (either they have good drugs, good jewellery supplies, or are known to be good for selling jewellery) to be favourites of the Latina vagabonds. So most drivers knew what hitchhiking was all about.
But as with hitchhiking in any country, say no to the rides that don't feel right. It's not worth it.
Also, explaining in Spanish that you're on an adventure and that you're happy to shout lunch (but not pay for the ride) goes a long way. Some of the best conversations and side quest adventures I had in Mexico came from hitchhiking with my chicken!
My chicken and I went swimming in cenotes, ate many bomb-ass tacos, and even went to a full moon ceremony on the beach (don't ask, I was on my "journey") all with people we met hitchhiking! I also met some amazing kiwi lads driving a van around Mexico and we spent about 5 days travelling together after I hitched a ride with them! You never know what funny story is going to come out of a hitchhiking adventure.
Well, I mean, sometimes it sucks too. It rains, you get food poisoning, you end up walking 20 kilometres because you can't be bothered waiting for a ride. But on the whole, the randomness of life rewards you.
Onwards Travel from Mexico
Mexico is the perfect jump-off point for your adventures in Latin America. Those looking to travel by land have the option of heading into Guatemala or Belize. It's not hard to arrange bus trips to these neighbouring countries.
You've only just started exploring my favourite region on Earth! Backpacking Central America is up there with my favourite adventures of all time!
Alternatively, cheap flights are available to most countries in Central America or the northern part of South America. If you're looking to visit the Caribbean or backpack Cuba, you can find good deals on flights out of Mexico City and Cancun.
The Mexican Peso is not exactly a strong currency – so Mexico isn't the place for Western backpackers to come and make their fortune. Still, there are some employment opportunities for those wishing to remain longer in Mexico and get to know the culture.
The most obvious option for paid work is teaching English. Other than that there are plenty of volunteering projects and opportunities in the country.
Just be sure to check the visa situation as technically you need to be a resident in Mexico before earning any money in the country. This can be a grey area for digital nomads in Mexico.
But as the internet gets better and the beaches stay magical, Mexico is fast becoming a bit of a digital nomad hub! You can expect to find a few people making money from their laptops as they counter the hustle with chilling in the hammock during their off days.
Teaching English in Mexico
Teaching English in Mexico is a great way to earn some extra dollaridoodles for your journey. It's by no means a get-rich scheme, but it's easy to get work, you'll learn a lot, and hopefully help some people develop life skills in the process!
You can also teach English online to make yourself completely remote. Though, be aware that the internet connection isn't always trust worthy in those budget hostels.
You don't need to have to have a degree but a TEFL certificate is unbelievably useful. You improve your English and teaching skills to really change up your abilities and opportunities. As a Broke Backpacker reader, you can get a 35% discount on TEFL courses with MyTEFL. Simply follow the link or enter the code BACKPKR.
Volunteering in Mexico
Volunteering abroad is an amazing way to experience a culture whilst giving something back. There are loads of different volunteer projects in Mexico ranging from teaching to animal care to agriculture to pretty much everything.
Mexico is constantly in need of volunteers, especially in social work and healthcare. English teachers are in high demand throughout the country, while rural areas present more unique opportunities like farming and helping with eco-projects. Most nationalities are able to volunteer in Mexico visa-free for up to 180 days.
Volunteer programs run through reputable work exchange programs are usually very well-managed and reputable. However, whenever you are volunteering, do stay vigilant – especially when working with animals or children.
If you want to find volunteering opportunities in Mexico, then we recommend that you Signup for Worldpackers. With a Broke Backpacker discount, it's only $39 a year – so it's worth giving it a shot.
Mexican culture is colourful and intoxicating.
Did you know that Mexico is the 11th most populous country in the world? As of 2023, the population of Mexico is estimated at over 130 million. It's also far and away the most populous Spanish-speaking country: Columbia comes in second and is home to only about 50 million people.
The population of Mexico is also super diverse. The Mayan and Indigenous cultures have never truly gone away, and particularly in southern Mexico, they remain extremely rich and thriving. Each group has their own language, customs, and traditions – although they often are inspired by each other and by certain aspects of Catholicism.
This leads to a church in San Cristobal de las Casas regularly sacrificing chickens in an otherwise Catholic Church. Actually, this is quite emblematic of Mexican culture at large.
Elements of Spanish culture and the Catholic Church, Indigenous cultures, and even Afro-Caribbean culture all come together and fuse to become Mexican. The majority of Mexicans are known as Mestizos, which means they identify as having both indigenous and European elements.
And a running joke amongst Mexicans is the word ahorita. Actually, there are a few words endemic to Mexican Spanish that always make me chuckle as it takes me back to being there. ("No mames guey!)
But ahorita is special because it unites all the different and diverse cultures of Mexico. It vaguely means "soon" but embodies their cultural lateness. 😉 There is such thing as "Mexican Time" and you might as well practise patience and get on board!
Useful Travel Phrases For Mexico
Mexico is the largest Spanish-speaking country in the world, but it's also home to nearly 70 native languages. While all 132 million of its inhabitants are considered Mexican, this is an incredibly diverse country. The culture and customs of Mexico change as you move across the country, ensuring there's something new to discover everywhere you go.
Below are some useful Spanish phrases for backpacking Mexico. While many people speak English in tourist areas and cities, once you get outside these areas, Spanish will carry you a long way!
What To Eat in Mexico
Eating will definitely be a highlight of your experience backpacking Mexico. This country takes its culinary arts seriously, and it shows. I could make a guide this long and just about Mexican food.
Mexican cuisine is famous all over the world, and for good reason. Each region has its own flavours and unique dishes, ensuring there's something new to try everywhere you go.
Make sure to find out what the local specialities are in each place you visit and give them a try. Eating your way across Mexico is a foodie's dream come true!
One thing that my heart bleeds for is mole. This sauce is often made my hardworking women using equipment that dates back pre-Colombian with all kinds of ingredients including vegetables, coffee, and even cacao. It's something you'll only find in Mexico and I miss it dearly.
We can't mention Mexican food without talking about the drink as well. You can even take a train ride called the Tequila Express; it leaves from Guadalajara on the weekends and includes snacks, live music, a tour of the distillery, and of course, lots and lots of tequila.
Popular Mexican Dishes
A Brief History of Mexico
Mexico has been populated with complex and diverse civilisations for over 13 000 years. The most famous of these civilisations were the Aztec and the Maya – although there were others.
What's extra remarkable about these civilisations is that they arose in lands without major rivers (although cenotes were used as water sources) and without beasts of burden. This means the complex agricultural and architectural wonders were almost entirely dependent on human labour!
As is well known, the Spanish invaded in 1521. What evolved over the 300 years between their invasion and Mexican independence was a stratification that still impacts society today.
At the top of the hierarchy with all the political power were the Spanish who sailed over from Spain. Then it was the creoles or the Spanish people born in Mexico.
Lower down were the mestizos or "mixed" Spanish and Indigenous. Lower still were the Indigenous and the indentured African labourers.
While all three lower classes often ran into conflict with one another, they all resented the Spanish. They could find enough common ground to incite revolution; by 1821, the war of Independence was won.
What followed was quite some turmoil largely due to the stratification under Spanish rule. For a brief moment in history, there was the Mexican Empire which included a hefty chunk of the Americas from California and Texas all the way down to Costa Rica.
Also, the exchange of illegal products between Mexico and the USA has never been one way. The cartels get much of their firepower from the USA. And even with the drug war declared over in 2017 by the left-leaning President Andrés Manuel López Obrador, many issues stemming back to Imperial times still linger over Mexico.
However, Mexico is resilient. The Mexican people are proud and refuse to stand by and watch their country slip away from them. It simply remains to be seen how to untie some of these complex knots of politics today.
There's no shortage of must-try experiences in Mexico. In fact, there are so many of them that you'll just have to keep coming back. Even if you can spend a few months in Mexico, you won't be able to do it all!
Mexico has so many beautiful beaches and all the fun activities that come along with them. You should definitely be sure to do some snorkelling, diving, fishing, SUPing, surfing, and whatever else is available!
Sports are huge in Mexico, especially football and lucha libre. Check the schedule for the local football clubs and see if they do lucha fights where you're travelling to.
Hit a local cantina before the game or the match and soak up the lively atmosphere. Joining the locals to cheer on their favourite team and luchadores is tons of fun and a great insight into local culture.
Scuba Diving in Mexico
If you're a diver, you're going to love Mexico. There are several world-class dive sites around the country for you to explore. The best spot if you want to base your trip around diving is the Riviera Maya. There are several great dive sites around Cancun, and you can also easily find good hostels in Cozumel and nearby Isla Mujeres.
For a unique scuba experience, why not go diving in a cenote? These underground sinkholes are fascinating to explore below the surface. It's easy to arrange a cenote diving trip from major tourist hubs like Cancun or Playa del Carmen.
On the other side of Mexico, there's diving available in Cabo, Puerto Vallarta, and Acapulco as well. Just be aware that the water over here can be quite cold and may require a warming dry suit. It's worth it as you may see giant rays or even whales while diving on the Pacific Coast.
Surfing in Mexico
Mexico is an incredible destination for surfers. You've got a wide variety of breaks and lots of swell here.
In many places, you can ride some epic waves with little to no crowd. It helps that there are about 2,500 km of Coast. Surfing is also an option year-round in Mexico.
Some of the best places to go surfing include Baja California, Sayulita, and Puerto Escondido. You don't need to bring your own board as there are always some available for hire. If you're like me and can't stand on a board of any kind, there are several options for surf classes in the more popular destinations.
So your backpacking Mexico route is taking form! But there's always more questions to ask. Here's a little more travel advice I'm gonna throw in there!
Mexico is one of the most vibrant and diverse countries that you'll ever go backpacking in. The landscapes are wild and varied: there's desert, jungle, mountains, and of course, the beaches. And then the cultures are just as mixed and vibrant to match.
Whether you breeze in for a surfing holiday or commit to serious hitchhiking and volunteering for six months or so, Mexico will leave a big fat mark on your heart. This country is so much more than its all-inclusive resorts and cartel wars. It really is a country that keeps on giving.
When you go backpacking Mexico you understand the long-reaching impacts of long ago historical events. Buuuttt, you also get to enjoy cheap tequila lazy days in the sun. It's all about balance!
I only have one more thing to say before I sign off. Because ultimately, I can write a big-ass guide on Mexico but nothing really prepares you for the majesty (or complexity) of this country.
So, be good to Mexico. There's been a lot of crazy shit happening here over the years. And while almost everyone you meet will be eager to show the best side to Mexico, you don't want the locals getting burned by overly inebriated or ignorant backpackers on top of everything else.
But, I have no doubt you broke backpacker will take to this great nation and have an experience of a lifetime. Hopefully, I'll see you out here someday and we can share a taco (or seven)! Vamos, amigo, it's time you go backpacking Mexico.
---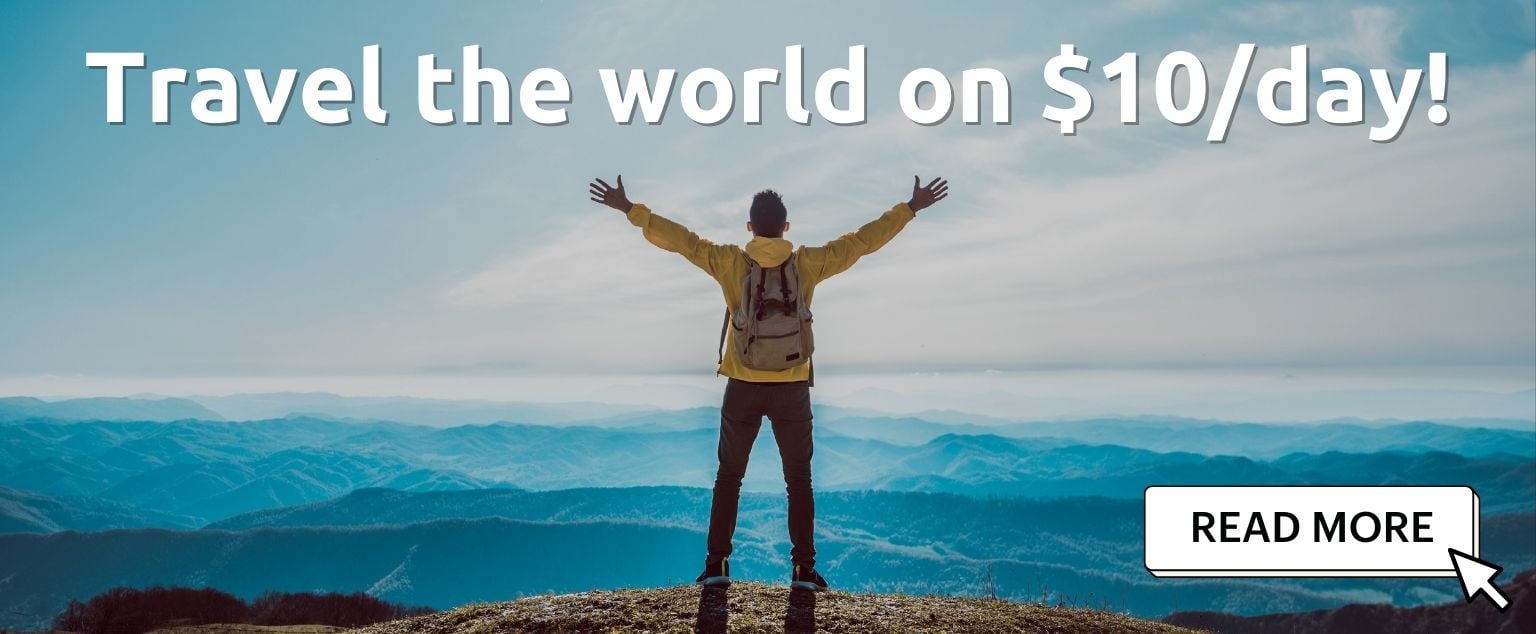 And for transparency's sake, please know that some of the links in our content are affiliate links. That means that if you book your accommodation, buy your gear, or sort your insurance through our link, we earn a small commission (at no extra cost to you). That said, we only link to the gear we trust and never recommend services we don't believe are up to scratch. Again, thank you!