Every traveler with even the most limited interest in scuba diving has heard of the legendary reefs off of Playa del Carmen, Mexico. Perfect turquoise Caribbean waters and palm tree lined beaches? Sounds like a cliche, but that is exactly what Playa del Carmen looks like. Oh, and with a few mega resorts and dance clubs mixed in there.
Whilst Playa del Carmen is anything but the sleepy Mexican beach town it once was, for most backpackers traveling in the Yucatan Peninsula, it is a must visit.
Playa Del Carmen has grown so much over the last two decades that there are a seemingly endless number of hostels and accommodation options here.
That is exactly why I wrote this guide to the best hostels in Playa del Carmen for 2021.
The purpose of this guide is to separate the haves from the have-nots: I have organized each hostel on my list into categories, so you can easily book the right spot for yourself.
Navigating the deep dark ocean of hostels and hotels in Playa del Carmen is a bit like scrolling through tinder; there might be some attractive options but you never know really what you're in for. That is until now…
This hotel guide answers all of the most important questions and sets the record straight about which places are clearly the best hostels in Playa del Carmen. Period.
Let's get right to it…
Quick Answer: The Best Hostels in Playa del Carmen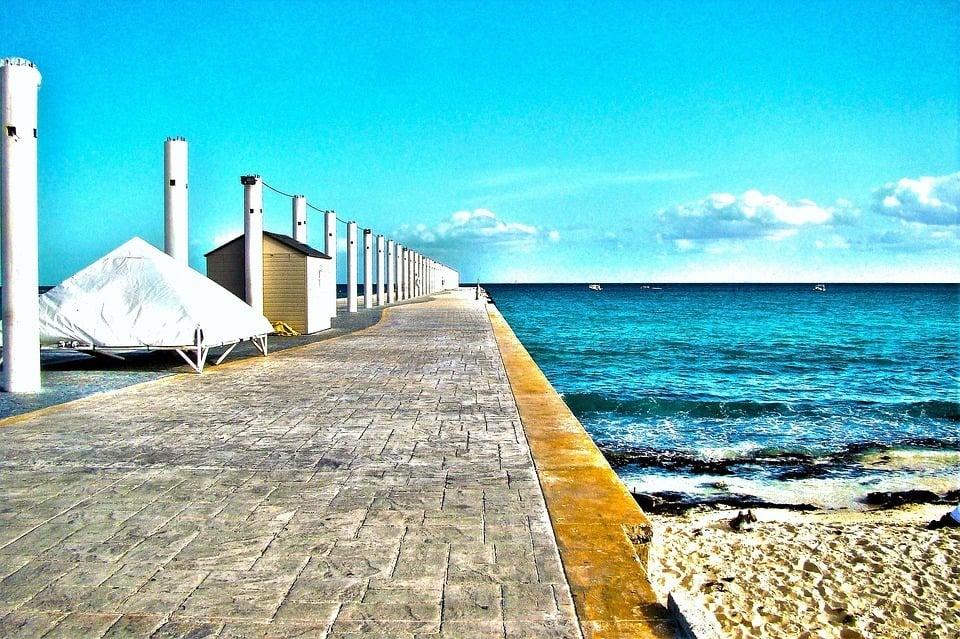 The 15 Best Hostels in Playa del Carmen
We've made it pretty clear that Playa del Carmen is an awesome place for backpackers. However, if you don't plan your trip beforehand, you might get a bit overwhelmed with all the options.
Find out what you want to explore and decide where you want to stay in Playa del Carmen accordingly. Your feet will thank you, as well as your wallet – you don't want to end up miles away from your preferred hotspots simply because you haven't done your research.
Overall Best Hostel in Playa del Carmen – The Yak
$$
Free Breakfast
Cafe & Bar
BBQ
Why 'The Yak'? We don't know. It's a weird name, but despite that it's P much the overall best hostel in Playa del Carmen. Combine a relaxed, social atmosphere with super helpful staff, then add a cool layout for the hostel, some hip decor and furnishings, plus a chill rooftop area, and then activities like mojito-making lessons and movie nights, and finally garnish with bright, airy dorms, self-contained private rooms and TWO communal kitchens – and in the end you have yourself a pretty sick place to stay in Playa del Carmen. The best hostel in Playa del Carmen 2021 also comes with a free breakfast OF COURSE. Cleanliness also a plus.
Best Hostel for Solo Travellers in Playa del Carmen – Sayab Hostel
The common areas at Sayab Hostel – which look more like something from a luxury villa TBH – are great for meeting people and making friends and all that, plus there's a pool which somehow is always like an icebreaker, know what we mean? Somehow it just always is. So we'd say it's the best hostel for solo travellers in Playa del Carmen: it's easy to make friends, it's near the main strip, the staff are decent. It's all good here if you're on your own, we'd say. Plus the rooms and dorms are pretty stylish in that minimal-industrial sorta way, which always floats our boat.
Best Cheap Hostel in Playa del Carmen #1 – Kaban 44 Hostel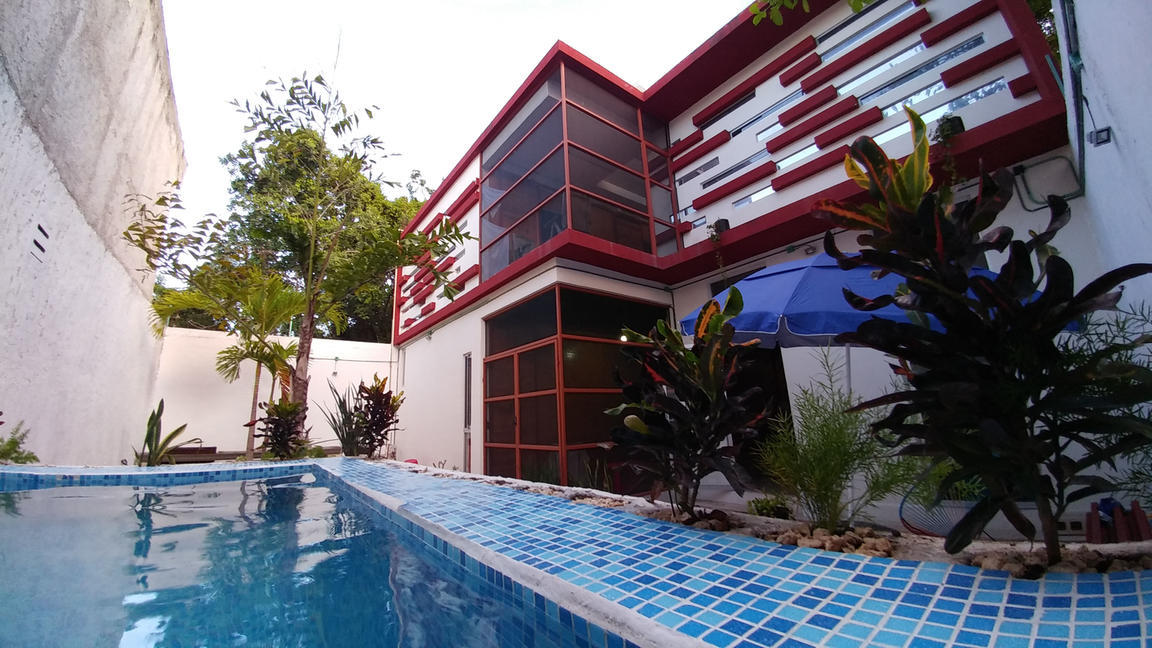 $
No Curfew
24-Hour Reception
Hot Tub
The philosophy of the stylish Kaban 44 is one that we can get behind TBH: since Playa del Carmen has enough bars for you to party in, this isn't a party hostel. Makes sense to us. As such you'll find a chill hostel here, with super friendly staff to boot, which is a welcome break from the obligatory party atmosphere of hostels that happen to be located in a party-based town. You know? Aaanyway, its also the best cheap hostel in Playa del Carmen – this place wins price-wise. Like, really wins. It's more than half the price of some other places, seriously.
Best Cheap Hostel in Playa del Carmen #2 – Hostel Rio Playa
$
Bar
Free Breakfast
Tour Desk
Another cheapie, and seemingly some problem with caps lock, HOSTEL RIO PLAYA is a decent option for a Playa del Carmen backpackers hostel. It's a block away from the bars and clubs of 5th Avenue, and 2 blocks from the beach, so the location is good. On the downside, it's basically above a cantina that doesn't stop poppin till well past midnight. Win some, lose some. The staff, on the other hand, are friendly, funny and helpful, with info about what to do in town, the best spots for snorkelling, and things like that. Overall, a good pick for un-picky backpackers.
Best Cheap Hostel in Playa del Carmen #3 – Hot Spot Hostel
$
Late Check-Out
Free Breakfast
Bar & Cafe
A pretty solid option for a budget hostel in Playa del Carmen, Hot Spot Hostel has a very good location… for both bars and beach. So that's perf really, we guess. Inside it's… a little basic. Not the coolest hostel in Playa del Carmen, but definitely decent. The private rooms can be a little noisy here, but given the location, it makes sense really. As long as you don't come here expecting luxury, you'll be fine. Overall, this is a great option if you're backpacking and fancy sticking around for a few days. Basic but functional and with nice enough staff.
Best Hostel for Couples in Playa del Carmen – Excel Sense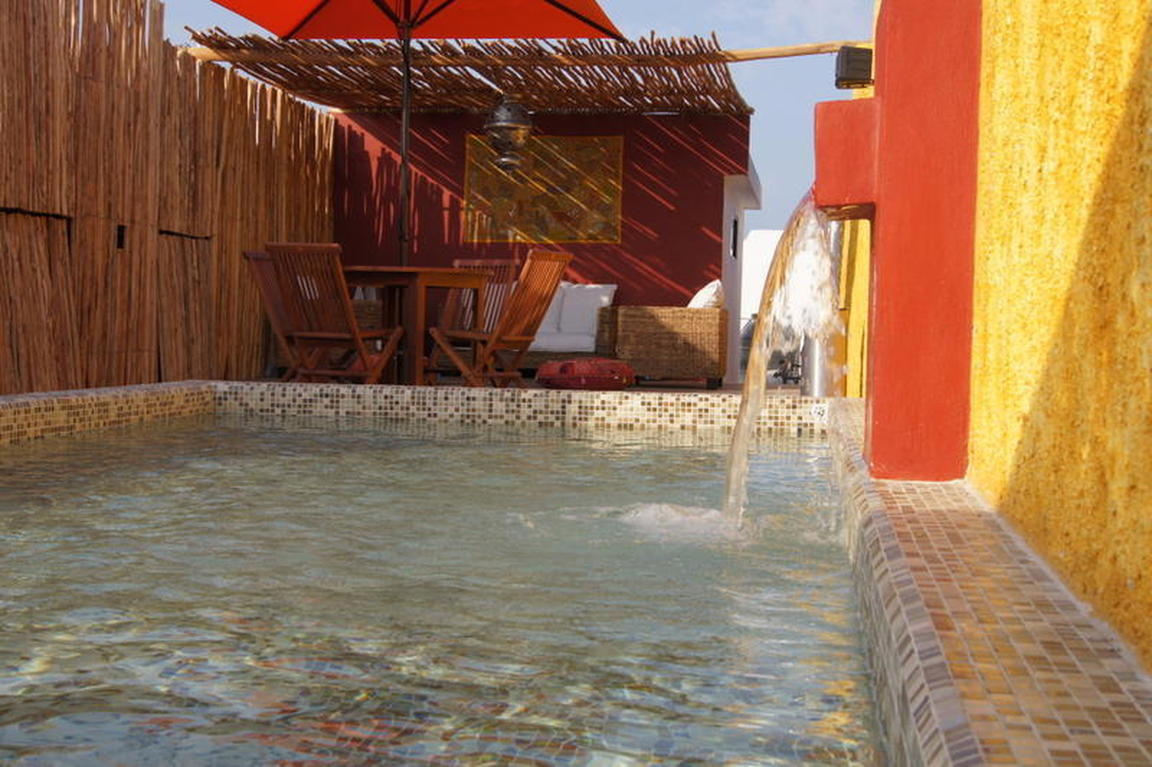 $$
Free Breakfast
Bicycle Hire
24-Hour Reception
Given that this place is totally a party town full of bars and clubs, we've mercifully selected something away from the madness as the best hostel for couples in Playa del Carmen. And not only is it about a 15-20 min walk from the main street in town, it's also in a gated community. So it's pretty safe and we like that. Other than the location the private rooms at this chill Playa del Carmen backpackers hostel are clean and tidy, the WiFi signal is STRONG, and there's a rooftop bar and a little pool as well. So as a couple you can party in town, then come back to your own slice of seclusion.
Best Party Hostel in Playa del Carmen – Hostal MX
$$
Free Breakfast
Hot Tub
24-Hour Reception
For a place that's almost (almost) solely about partying, where do you go for the best party hostel in Playa del Carmen? Answer: Hostal MX. Not only does it have a party vibe at the hostel itself (we're talking loud music till the early hours, so BE PREPARED), but it's also right in the thick of the action if you wanna experience that side of Playa del Carmen. With that said, it's not like, completely mental, and you'd be forgiven for thinking that it would be given its location. But it stays relatively chill in the daytime with a super nice jungle garden area to chill in. The decor's all nice and rustic, things are generally clean. S'all good.
Best Hostel with a Private Room in Playa del Carmen – Selina Playa Del Carmen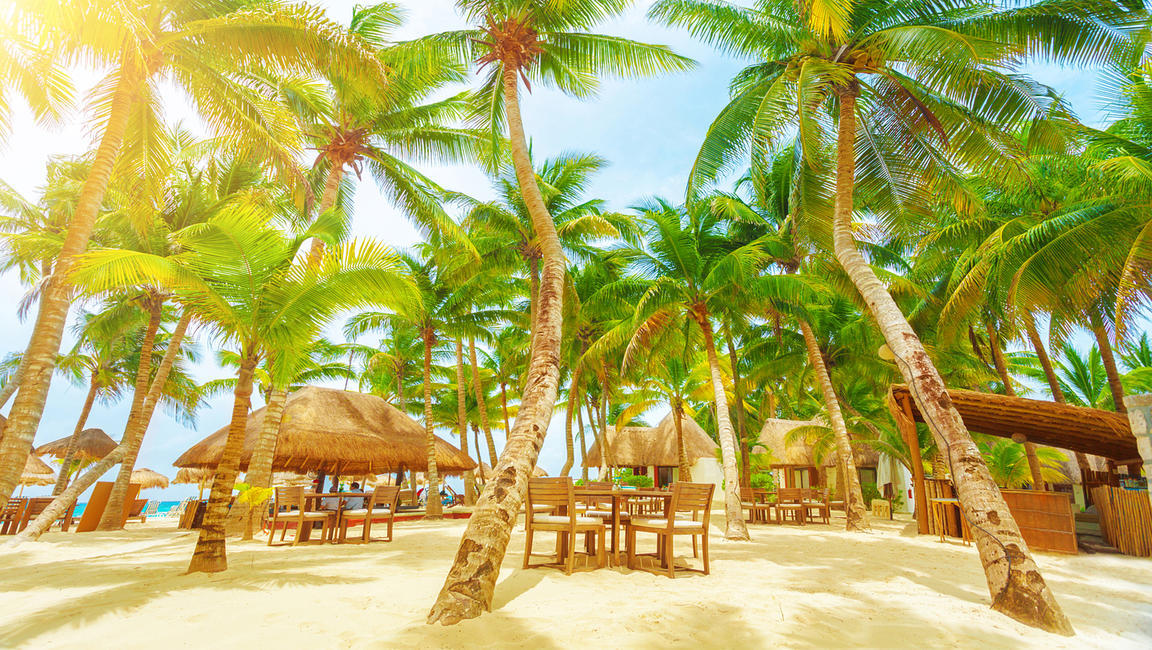 $$$
Swimming Pool
Air Conditioning
Bar
Oooo! V nice private rooms here. The beds, the art, the decor in general, all pretty cool and design-y and when it comes to the best hostel with a private room in Playa del Carmen, we'd expect these things. So we're happy about that. The private rooms are also cleaned daily – this includes towels, also. And to add to the convenience and casual cool of the rooms there's a good pool at this top hostel in Playa del Carmen, a pretty sick little bar (and bar area) – plus the location is pretty much where you wanna be: close to everything.
Things DO go missing sometimes…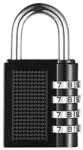 Psst! Heading to a hostel? Don't forget to pack a padlock! It's well worth having one so you can secure your locker and protect your stuff!
More Best Hostels in Playa del Carmen
Not happy with the hostel options yet? Don't worry, we've got even more of the best hostels in Playa del Carmen coming your way.
$
Cafe
Free Breakfast
Bicycle Hire
Cheap and basic – but at the end of the day packed with colour and character, and with friendly staff as an added bonus. That's pretty much how we'd describe this recommended hostel in Playa del Carmen. It's deffo on the cheaper end of things compared to other hostels in town, which is great if you're watching what you spend. There's no bar here, which is a plus or a minus depending on how you look at it (plenty of bars in town tho right), but at this budget hostel in Playa del Carmen they serve some amazing food. Seriously, that burrito…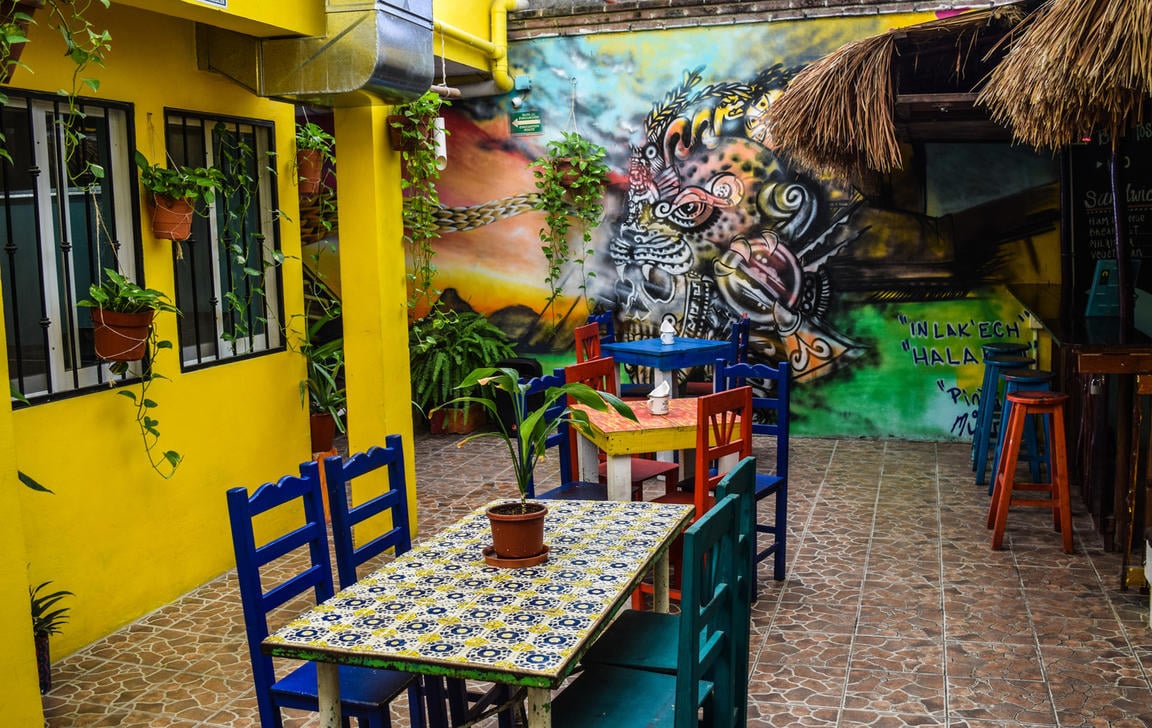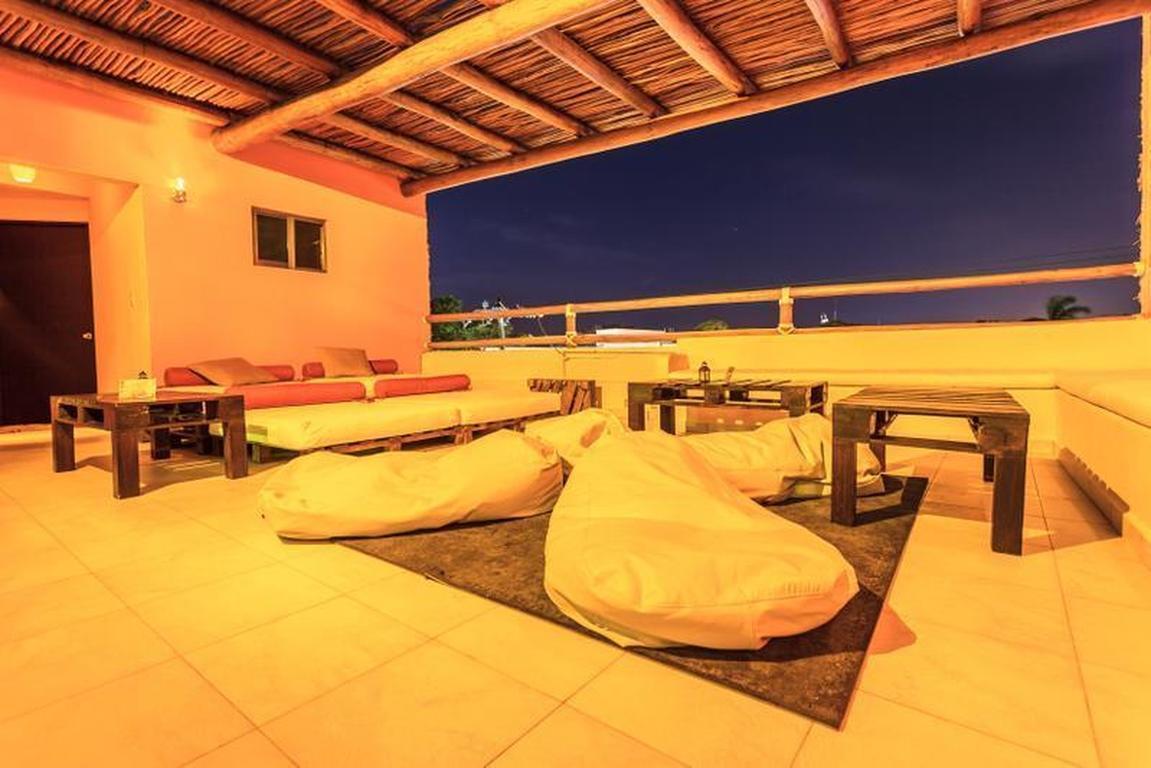 $$
24-Hour Reception (And Music)
Bar
Free Breakfast
Dios mio… this place is pretty mental. We know people like to party but wow. It's not the best party hostel because we think it's, hmm, TOO much, maybe. Plus it has a no pop/commercial/reggaeton after 9:30pm policy, which just astounds us; 'underground electronic' only. What about Thriller? Jeez… But if you wanna go completely mad with a lot of other people who wanna go completely mad, you'll find the opportunity to do so at Hostel 3B. And it's a recommended hostel in Playa del Carmen for its infamous Sunday parties (where sort-of-known DJs play). Don't expect much sleep though.
$$
Rooftop Bar
Swimming Pool
Free Breakfast
One hour of free drinks EVERY DAY from 8pm to 9pm. That's just something we thought we'd throw out there at the start so you know what kinda place this youth hostel in Playa del Carmen is. It's sociable and lively, as are many hostels around here, but it's also possibly the coolest hostel in Playa del Carmen – looks like it's been newly done and the dorm bunks are like, all metal-frame and concrete contraptions (plus the beds are doubles). It does look pretty cool, we must say. And on top of that, it's pretty clean too. Couple with rooftop bar and pool – plus closeness to both beach and 5th Avenue Playa Del Carmen nightlife – for optimum fun.
$$
Bar & Restaurant
Swimming Pool
Free Breakfast
If quiet is what you're after, well, stay here. Some might complain that Las Hijas is too far out from where all the action is for them, but others might prefer this out-the-loop location and the chilled vibes it encourages. Because you won't find anywhere this quiet in the centre of town, that's for sure. So we'd say it's definitely a recommended hostel in Playa del Carmen if you want a bit of peace and tranquillity while you're passing through this party town. It has a rooftop bar for meetin 'n' greetin, which serves well-priced drinks and excellent seafood – and that free breakfast is definitely a plus, wow.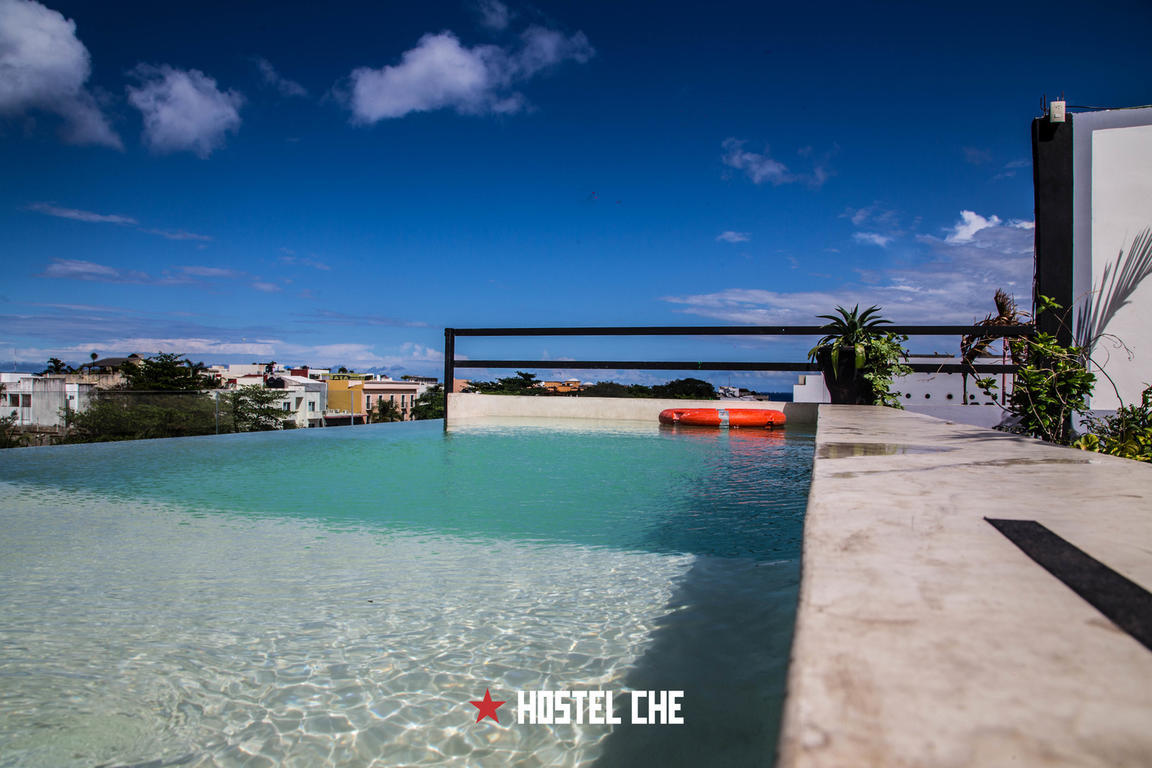 $
Bicycle Hire
Nightly Activities
Bar & Cafe
Hey, it's ANOTHER party hostel. But this one's pretty good, definitely a top hostel in Playa del Carmen – aside from (or because of) its reputation as a place to party. The rooms are basic but bright and clean, plus it's got a great atmosphere, friendly staff, and a ton of different activities going on every night, from sushi night and pizza nights, to BBQs and taco parties, as well as yoga and salsa classes – plus free tours. There's a lot to do here. And whaddya know? It's a bargain, too. So it's a very solid choice for a budget hostel in Playa del Carmen.
$$
Beach
24-Hour Reception
Self Catering Facilities
This Playa del Carmen backpackers hostel is located right on the beach, so if beach living is your priority then Hostel La Isla Playa del Carmen would be a pretty good choice. But what else has it got apart from location? Well, it's quiet, since it's set away from the main strip and all of the top sights in town – this will suit some people, but if you're after a party it ain't here. There's a huge terrace that looks out over the sea which is pretty much a perf view in our opinion. There are hammocks to chill in, too. The dorms are decent, the staff are friendly, good showers. Their breakfast ain't all that though.
Want to save the world?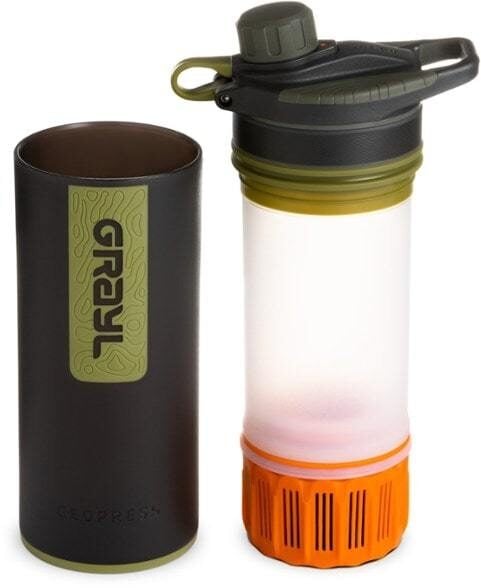 Single-use plastic bottles are a huge threat to Marine Life – Be a part of the solution and travel with a filter water bottle.
The GRAYL GEOPRESS water bottle is the ONLY all-in-one filter water bottle setup you'll need. Whether you need to purify the water from a hostel sink in Kathmandu or a stream trickle in the Andes, the Geopress has got you covered.
Read our full review of the GRAYL GEOPRESS!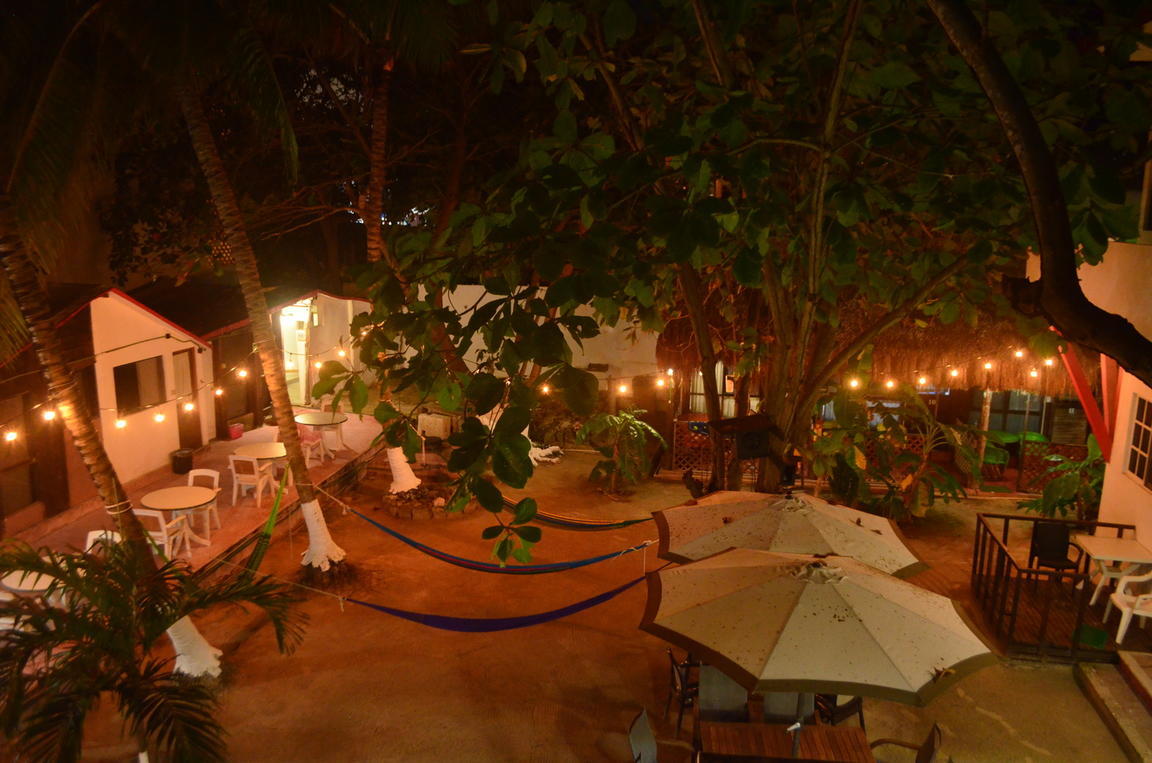 $$$
Beach
Tour Desk
Bar & Restauarant
Just a few steps from the beach and in walking distance of the bars and shops of Playa del Carmen's centre, Popul Vuh is another peachy beachy recommended hostel in Playa del Carmen that's ideal for anyone looking for an actual chill time and not a party time. There's an outdoor kitchen for your cooking needs, hammocks for your chilling needs, beach for your beaching needs, clean but basic private rooms for your sleeping needs, friendly staff for your welcoming-vibes needs, and it's near the bus stop for your travel needs. They say they do their best to keep this a quiet place and, well, it's working – thankfully. Bit pricey though.
Is This the Best Travel Backpack EVER???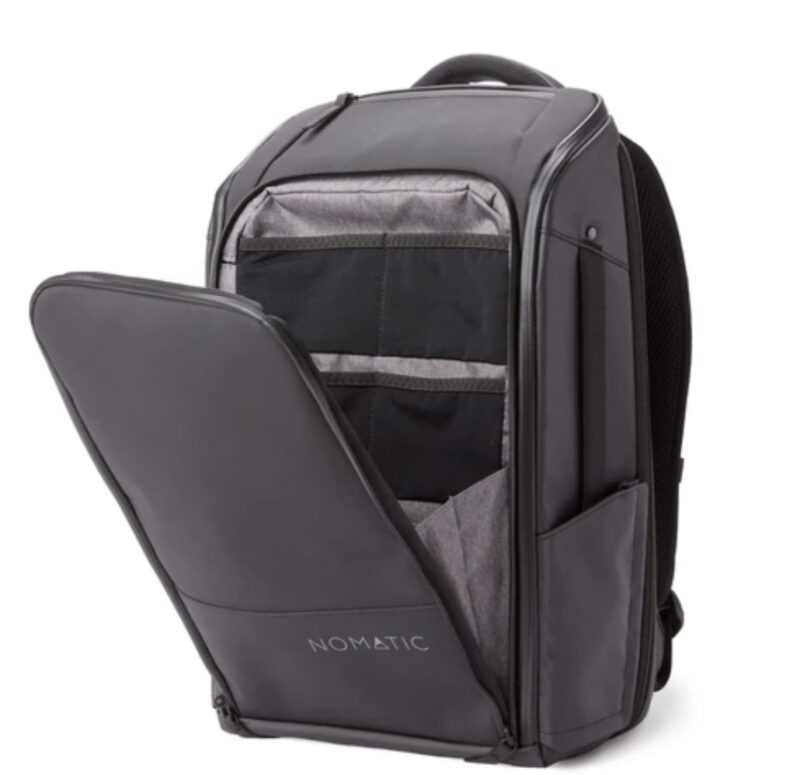 What to Pack for your Playa Del Carmen Hostel
Pants, socks, underwear, soap?! Take it from us, packing for a hostel stay is not always quite as straight forward as it seems. Working out what to bring and what to leave at home is an art we have perfected over many years.
Check out our definitive Hostel Packing list for our top packing tips!
Why you should travel to Playa del Carmen
There you have it amigos: this is the end of the road for my best hostels in Playa del Carmen 2021 list.
Playa del Carmen can be a pretty wild place, especially with so many dang hostel options. You are now hip to all of the best hostels in Playa del Carmen! Hopefully, after reading this guide you are now feeling confident to book the spot that caught your eye.
Where you lay your head matters. The last things I wish for any traveler is to find themselves at a anything-but-awesome-hostel, especially when there are so many great ones on hand.
Remember, Playa del Carmen is a super popular spot for backpackers. If you know you're coming to town for some diving or partying, you should always book ahead to ensure you can score your top hostel pick.
All of the best hostels in Playa del Carmen are now at your finger tips. The choice of where to book is now in your hands!
Still feeling unsure? Too many sick hostels to choose from? I get that…
When in doubt, I recommend just booking my top pick for the best hostel in Playa del Carmen: The Yak. Happy travels guys!
FAQ about Hostels in Playa del Carmen
Here are some questions backpackers ask about hostels in Playa del Carmen.
Travel Safety Tips for Playa del Carmen
Don't forget to sort your travel insurance! Playa del Carmen is generally safe, but you'll never know what could happen. We've put together a roundup of Travel Insurance for backpackers – check it out here, or if you're low on time, get a quote from World Nomads now, our favourite travel insurance provider.

More Epic Hostels in Mexico and Central America
Hopefully by now you've found the perfect hostel for your upcoming trip to Playa del Carmen.
Planning an epic trip all across Mexico or even Central America itself?
Don't worry – we've got you covered!
For more cool hostel guides around Central America, check out:
Over to you
By now I hope our epic guide to the best hostels in Playa del Carmen has helped you choose the perfect hostel for your adventure!
If you think we've missed anything or have any further thoughts, hit us up in the comments!
---
Find out how YOU can support the site.
We work hard to put out the best backpacker resources on the web for free! It's all about helping out our tribe of awesome backpacker readers (that's you!). Please visit the link to find out how you can help keep the site going 🙂
For the sake of transparency, some of the links in our content are affiliate links. This means that if you book your accommodation, buy a piece of gear, or sort your insurance through our link, we earn a small commission at no extra cost to you. We only link to stuff that members of the Broke Backpacker team has actually used and never endorse products or services that are not up to scratch. Thanks for your support!