One of the coolest cities on the Mexican Riviera, Playa del Carmen is ideally placed between Cancún and Tulum. It's perfect for taking in the delights of the Yucatan Peninsula, such as swimming in cenotes and visiting Mayan ruins. Closer to the city itself, there's awesome nightlife, family friendly things to do, and clean beaches where you can chill out.
There's no shortage of places to stay in Playa del Carmen. However, rather than looking at hotels and hostels, you're likely to find better value for money with vacation rentals in Playa del Carmen. There's something for every type of traveller across a range of budgets. The only downside is there are so many to wade through!
With that in mind, I've made things a little simpler. That's right, I've put together a list of the 15 best Airbnbs in Playa del Carmen. Not only that, I'll also show you some of my favourite Airbnb Experiences on the Mayan Riviera too. Let's jump straight in!
Quick Answer: These are the Top 5 Airbnbs in Playa del Carmen
Overall Best Value Airbnb in Playa del Carmen
Overall Best Value Airbnb in Playa del Carmen
Modern Ocean View Apartment
> $$
> 3 guests
> Central location
> Rooftop terrace with pool
Best Budget Airbnb in Playa del Carmen
Best Budget Airbnb in Playa del Carmen
Mayan Style Private Studio
> $
> 4 guests
> Perfect location
> Private entrance
Best Airbnb for Couples in Playa del Carmen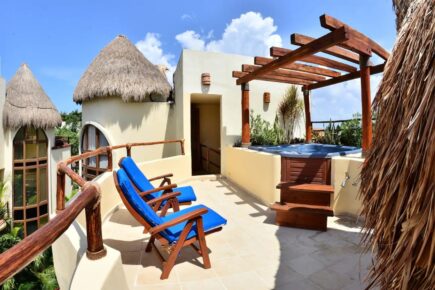 Best Airbnb for Couples in Playa del Carmen
Romantic Apartment with Private Jacuzzi
> $$
> 2 guests
> Private jacuzzi
> Queen bed
Best Airbnb for Families in Playa del Carmen
Best Airbnb for Families in Playa del Carmen
Family Apartment Near the Beach
> $$$
> 7 guests
> Awesome location
> Fully equipped kitchen
Over-the-Top Luxury Airbnb in Playa del Carmen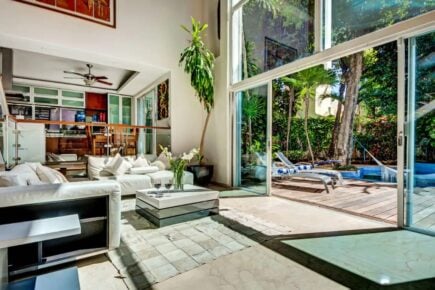 Over-the-Top Luxury Airbnb in Playa del Carmen
Villa Los Charcos
> $$$$$$$$$$$$$$
> 12 guests
> Heated pool
> Cook included

Unlock Our GREATEST Travel Secrets!
Sign up for our newsletter and get the best travel tips delivered right to your inbox.
What to Expect from Airbnbs in Playa del Carmen
Playa del Carmen is one of the most popular resorts on the Mayan Riviera. Unsurprisingly, there's a lot to choose from in terms of accommodation. While hotels and resorts are great, Airbnbs offer something just that little bit different.
Besides, with the cost of travel in Playa del Carmen lower than neighbouring Tulum, you can afford to splash out if you want to! Luxurious boutique hotels are a fraction of the price of larger 5-star properties, while villas can be split multiple ways when it comes to cost.
Due to the popularity of Playa del Carmen, you will find many properties are operated by businesses. However, it's still possible to find homestays if you're looking to experience the area like a local.
However, it's not a small city, which is why it's always a good idea to research where to stay in Playa Del Carmen to make sure you are near to all the attractions you want to see.
Lofts
For something that's like an entire flat but a little more exclusive, try a loft apartment. Most of the time, these vacation rentals will be on the top floor of a building, which means epic views, and sometimes roof terraces, if your budget will stretch to it.
pRoof terraces in Playa del Carmen can include infinity pools, jacuzzis, and lots of places to soak up the sun! If you're planning a road trip, often lofts come with underground parking or a safe place to leave your car.
Of course, they can also be lower building apartments with loft-style beds, which are slightly different. Lofts are usually best for smaller groups, such as couples or small groups of friends. However, there are some larger loft apartments with room for six to eight guests.
If you want to be close to the action, choose a loft within walking distance of Avenida La Quinta (5th Avenue). This is where you'll find many of the restaurants, shopping, and nightlife Playa del Carmen is famous for. And it's not far from the beach either!
Boutique Hotels
Yes, I get it. The whole point of coming to Airbnb is to get away from hotels. However, boutique hotels are not the same as your average, drab, grey hotels that you find all over the place.
They're often labors of love from owners who know exactly what travellers want. So, you can expect individually designed rooms, local art and furniture, and important amenities, such as swimming pools, jacuzzis, and roof terraces.
Boutique hotels are best suited again to smaller groups. Rooms are often for two people, so they can be great if you're on a romantic break with your other half. They're also good for solo travellers and digital nomads. It can end up quite expensive to book multiple rooms in a boutique hotel!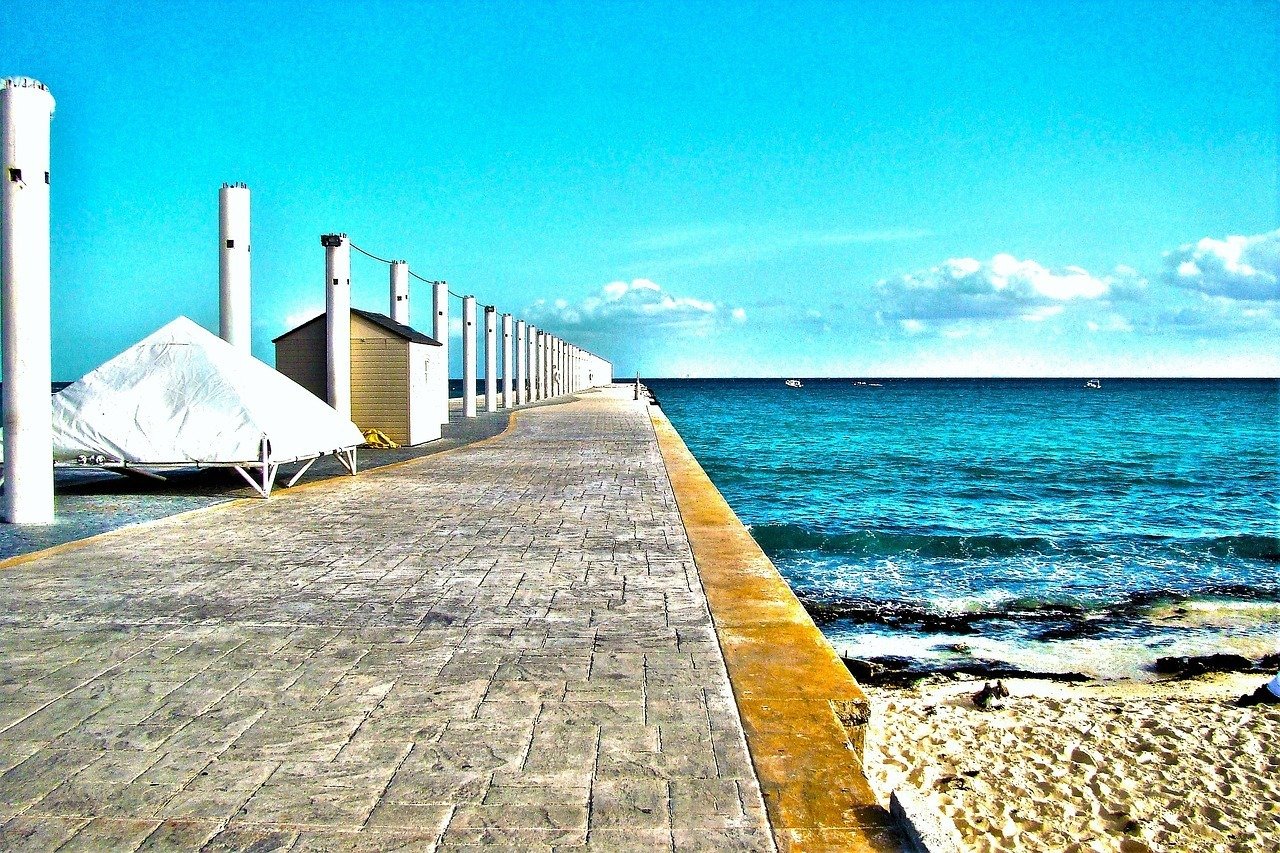 Villas
Whether you're travelling in a large group or you're looking for a bit of luxury, a villa is a way to treat yourself in Playa del Carmen. These properties are often large and are perfect for hosting a celebration with a group of family or friends.
Unlike lofts and boutique hotels, you'll have to travel a little further from 5th Avenue for a villa. The upside to that is many villas are right on the seafront and you'll be waking up to a sea view! Villas also are likely to offer private pools, a private balcony, fully equipped kitchens, indoor and outdoor living spaces, as well as multiple bedrooms.
Sometimes you might also have luxurious amenities like a private pool or hot tub, private beach access and huge spaces to host a party, such as a large dining table that can seat 10 or more.
Though villas initially look much more expensive than other properties at first glance, remember that you can split the overall cost multiple ways if you have several guests.
Why Stay in an Airbnb?
Still not convinced a vacation rental is for you? Let's take a quick look at five reasons you should stay in an Airbnb.
Local Experience: Whether your host is a local or a business, they'll be able to give you all the inside info on the best things to do and see in Playa del Carmen.
Unique Properties: As you're about to see, there are some unique properties in Playa del Carmen, with everything from swanky lofts to beachfront villas.
Privacy: Many Airbnbs have self check-in and you can even filter for a completely private accommodation should you wish to.
Affordability: When compared with hotels of an equivalent price, you're likely to get much more for your money in an Airbnb! And that doesn't just go for Playa del Carmen, but for all travel destinations in Mexico.
Airbnb Experiences: It's not just about where to stay. Airbnb Experiences offer tours and trips curated by locals once you arrive in your destination!
The Top 15 Airbnbs in Playa del Carmen
Now you know what's on offer and have more reasons to book a vacation rental, let's get to the part you've been waiting for. You're about to see the 15 best Airbnbs in Playa del Carmen. I just know you're going to love them!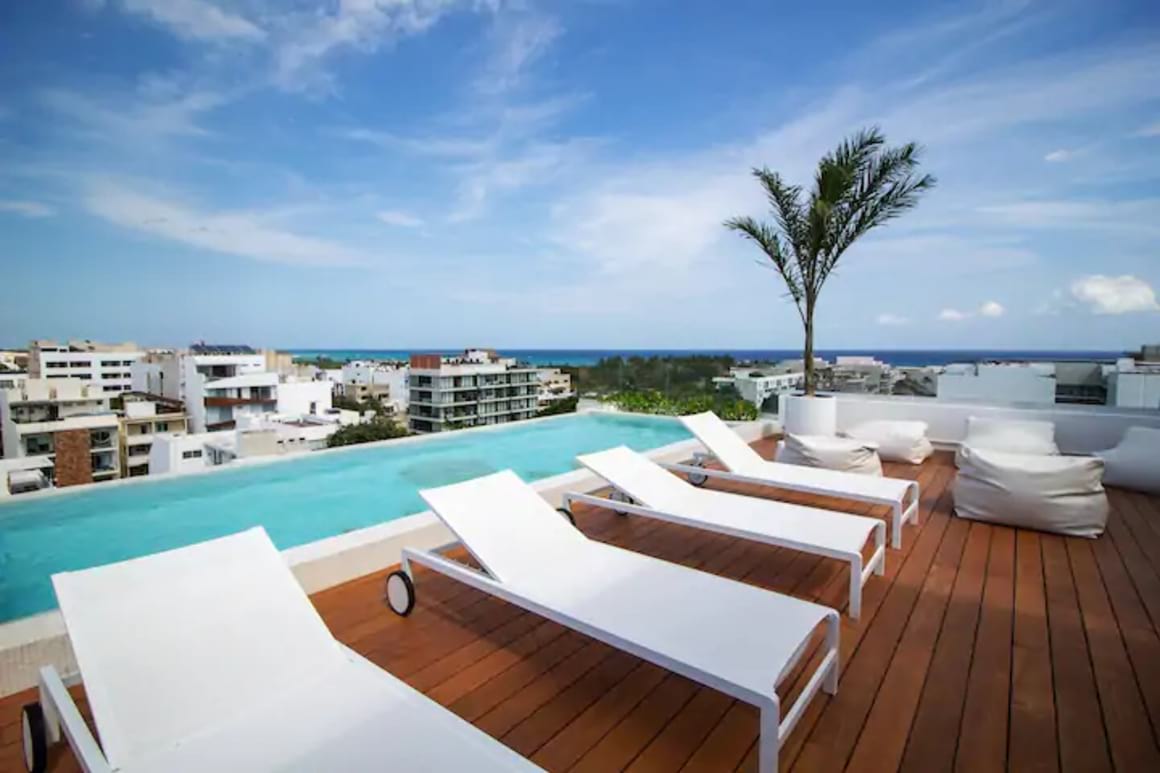 3 guests
Rooftop terrace with pool
This modern studio apartment is right in the heart of Playa del Carmen. Yep, Fifth Avenue is right on your doorstep! This place is about more than just convenience though, you'll probably want to spend a lot of time in the Airbnb itself. That's because you've got a rooftop terrace with a rooftop pool, and spectacular views of the beach from your private balcony. This room would be perfect for a romantic break!
This private studio has everything you need for a budget trip to Playa del Carmen for up to four guests. Its central location means you can enjoy the nightlife without having to worry about splashing out on a taxi home. It might not be as cheap as most hostels in Playa del Carmen, but it's still super affordable.
No matter how late you arrive, you won't disturb your hosts as your apartment has its own private entrance. Though the listing says good for groups or families, do be aware that one of the beds is a hammock!
$$
Walking distance to all the nightlife
4 guests
Breakfast included
Travelling solo? People will probably recommend that you head to the nearest hostel, but we understand that's not for everyone. Instead, check out this cool bed and breakfast just off 5th Avenue. Not only will you be able to enjoy the social atmosphere of the B and B, but the bars, restaurants, and legendary nightlife of Playa del Carmen is on your doorstep too!
Is This the Best Backpack EVER???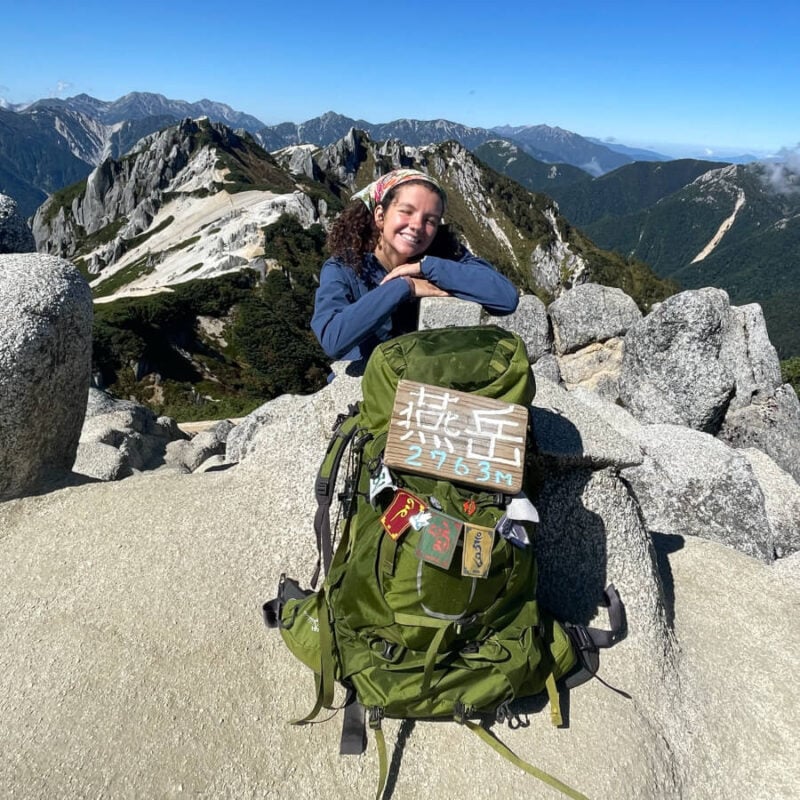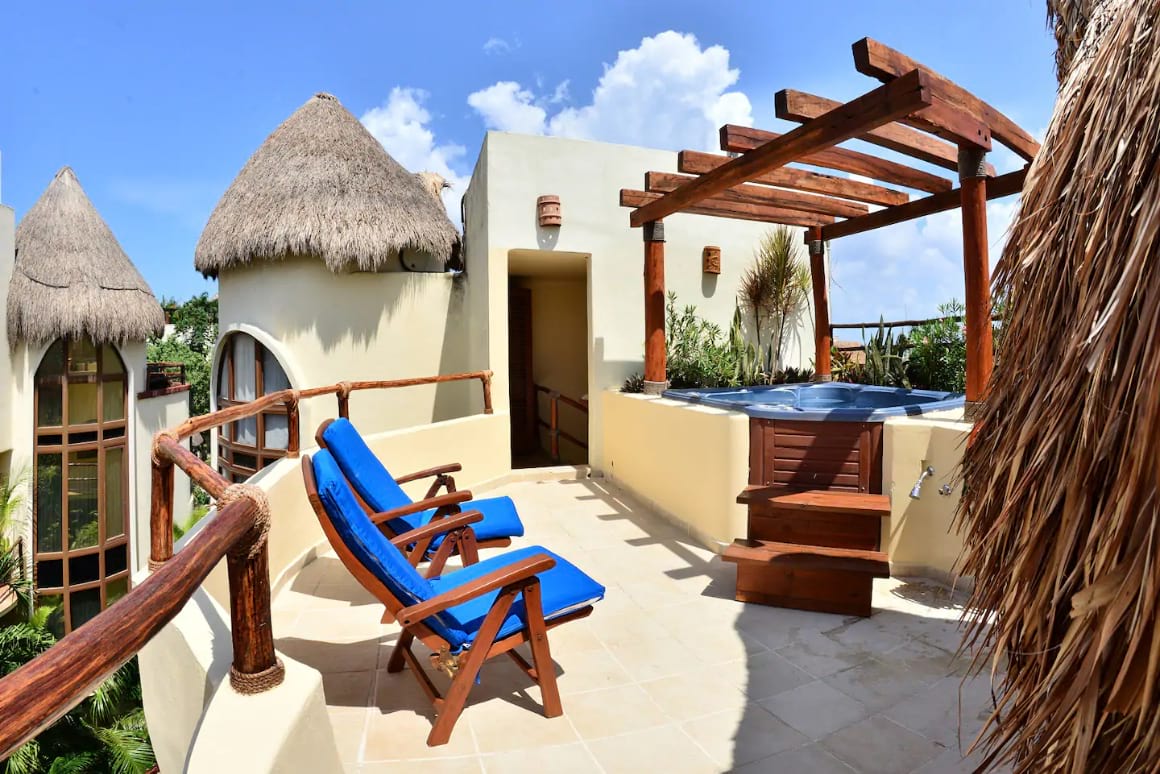 Usually, solo travellers will be advised to hit the nearest hostel and enjoy themselves. However, it can be hard to enjoy hostels if you don't feel comfortable in them!
Thankfully, we've found a cool B & B that has a sociable and friendly atmosphere, but you'll still have your own private room when it's time to turn in. You've also got a private hot tub and a full breakfast in the on-site restaurant!
$$$
Awesome location within walking distance of the beach
7 guests
Fully equipped kitchen
This condo in the centre of Playa del Carmen is the perfect place for families. There's room for up to seven guests, and restaurants, activities, and the beach are all within a stone's throw.
Don't fancy going out for food? There's also a fully equipped kitchen where you can whip up your own meals. All ages will love lounging about by the private pool or taking a dip with views out over the city!
Over the Top Luxury Airbnb in Playa del Carmen | Villa Los Charcos
Ever wanted to roll off your hammock into a perfect blue private pool as your own private chef cooks you a meal? Well, you're in luck – as that's exactly what you'll get at Villa Los Charcos.
This stunning property has a tropical garden where you'll probably spend most of your time. Just make sure to set aside a day or two for hitting the beach! There's room for up to 12 guests, so it's perfect for a group.
3 guests
Rooftop terrace with daybed
Looking to sweep your other half off their feet? You'll be able to do that at this penthouse loft with its own private jacuzzi and daybed on the roof terrace!
You also have the option of getting treatments at the spa, while you can pass the evenings with a movie at the outdoor theatre. The modern complex also boasts a communal rooftop bar and lounge if you're looking to be sociable.
2 guests
VIP access to beach club
The good news is that the Terrasse Hotel has a selection of rooms available on Airbnb. So even if this one doesn't match your taste perfectly, you'll likely find another one that will!
The rooftop terrace comes with a rooftop pool and daybeds, while you'll be treated to VIP access to Martina Beach Club. For an extra charge, you can get breakfast at the hotel too.
8 guests
Swimming pool and outdoor seating
This enormous villa can sleep up to eight guests so it works perfectly for large groups of friends and family. Perhaps it's the location for your next birthday party!
There's a well-stocked kitchen for making meals, and you can enjoy them in the outdoor seating area that has lounge chairs and a dining table, before taking a dip in the pool. This is one of the best-priced villas in Playa del Carmen too, so it won't break the bank.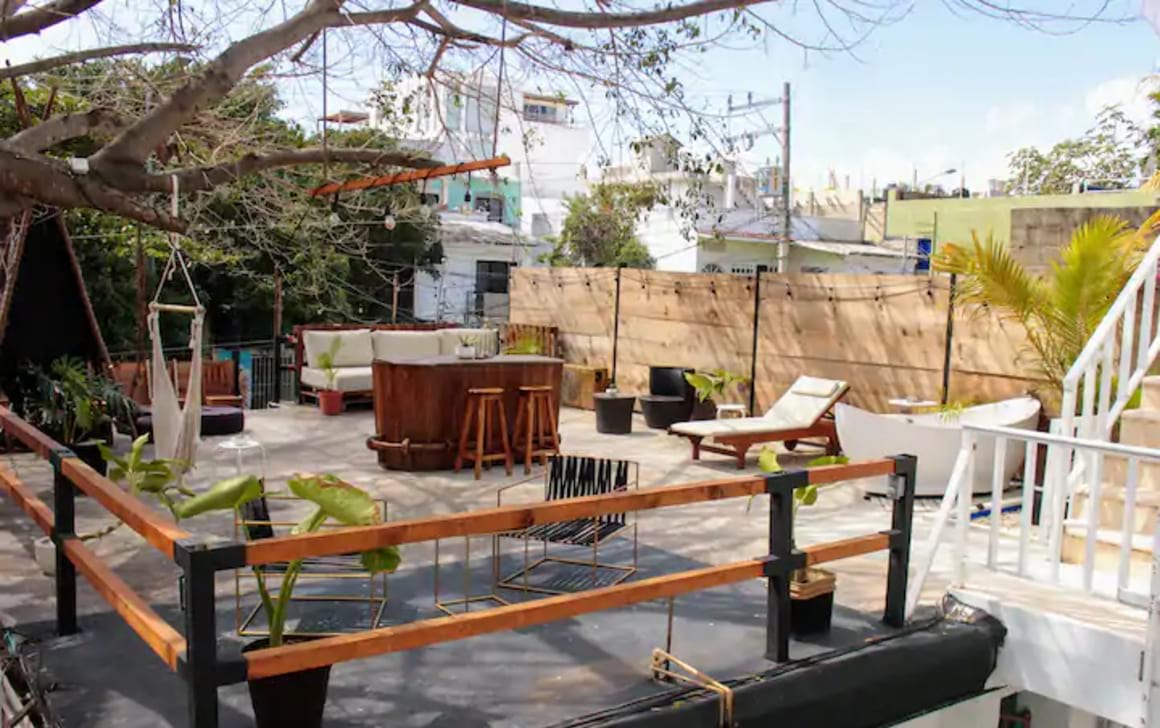 2 guests
Dedicated workspace
The gorgeous weather and low cost of living in Playa del Carmen make it a dream destination for digital nomads. All that's left is to choose somewhere to stay. As well as a dedicated workspace and quick Wi-Fi, there are plenty of spaces where you can work and chill throughout this cool property.
Make the most of an outdoor bathtub or swinging in a hammock in your downtime, just steps from the beach!
Most Beautiful Airbnb in Playa del Carmen | Casa Sirenus
$$$$$
Tropical garden with waterfall
16 guests
Private chef included
Airbnb Luxe Properties are the most beautiful (and often expensive) properties on the platform. This stunning villa has multiple indoor and outdoor spaces where you can enjoy your beachfront surroundings while having complete privacy.
Take a wander through the tropical garden and listen to the rush of the waterfall as a private chef cooks up an evening feast for you and 15 more guests!
Best Airbnb in Playa del Carmen with a Pool | Villa Caterina
$$$$$
Spectacular swimming pool
10 guests
Floor to ceiling windows
It's not hard to find a villa with a pool in Playa del Carmen. However, finding one this beautiful isn't quite so easy. It's another Airbnb Luxe property, but splitting the cost between ten guests means it's well within reach of those on a family vacation or enjoying time with friends.
When you're not chilling in the pool, enjoy views of it through the floor to ceiling windows!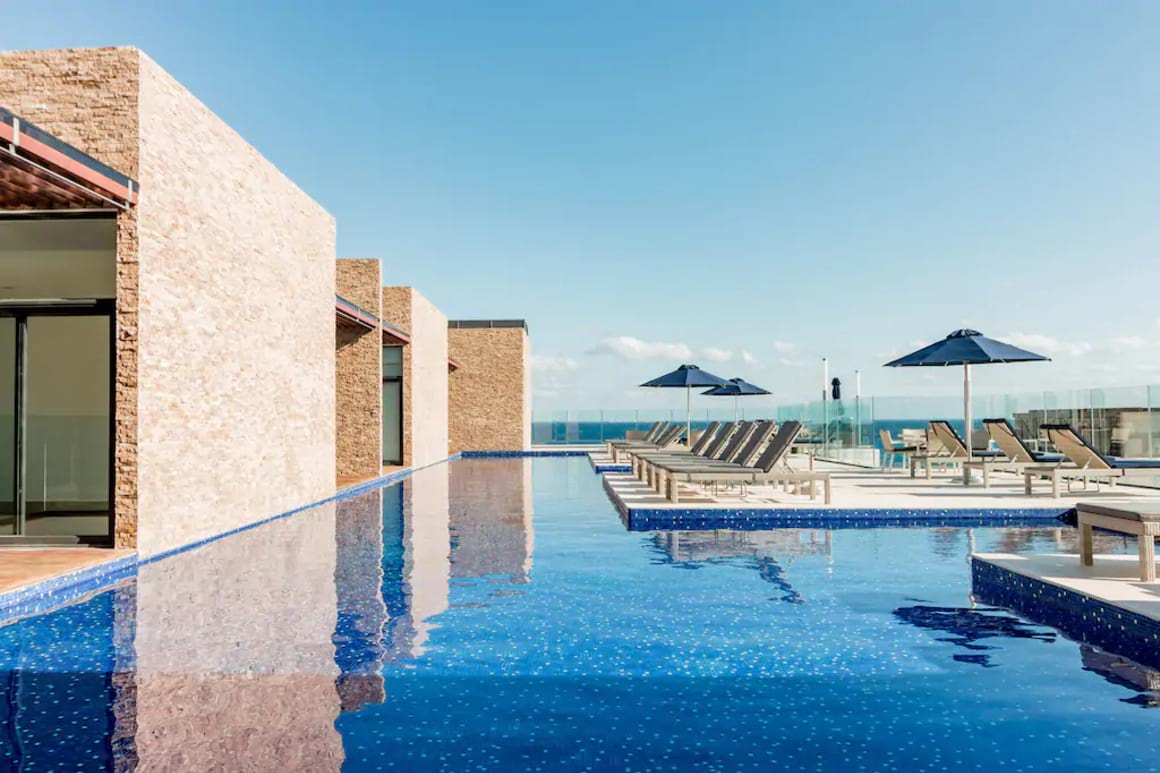 2 guests
Rooftop terrace and pool
Airbnb Plus properties are chosen for a number of reasons. One is consistent high review scores, while another is attention to detail from hosts. They even get an inspection from someone at Airbnb!
With space for up to four guests, you can enjoy a light-filled apartment packed with books, games, and spaces to chill out. Don't fancy chilling inside? Then head up to the roof terrace to soak up the sun or have a swim in the pool.
3 guests
Cinema, pool, and jacuzzi
Again, it's not hard to find a roof terrace in Playa del Carmen. However, the shared outdoor terrace and swimming pool up here is just that little bit special. There are a couple of levels, so you can enjoy a large pool with multiple sun loungers around it or a smaller plunge pool. There are also several places to soak up the sun.
Prefer to have a private terrace? You've got one of those attached to your room – though the view isn't quite as good!
When travelling with friends, it's important to have somewhere to spend time together. Especially if you haven't seen each other in a long time!
This apartment is packed with places to chill out, including a rooftop infinity pool, outdoor deck with seating, and another pool surrounded by sun loungers on a lower level.
It's within walking distance to all the attractions of Fifth Avenue too, so you can easily make the most of the legendary nightlife!
Top 5 Airbnb Experiences in Playa del Carmen
While you're deciding which of the above Airbnbs are perfect for your trip, let's start to think about what to do when you arrive. Airbnb Experiences are a great way to get to know your destination, as they offer tours and trips curated by locals.
They can be anything from sampling local dishes and drinks with a spectacular backdrop, to learning about the Mayan heritage of the Yucatan Peninsula. With a range of trips from cultural, to sporty, to historic, there's something for everyone.
Here are five of our favourite Airbnb Experiences in Playa del Carmen.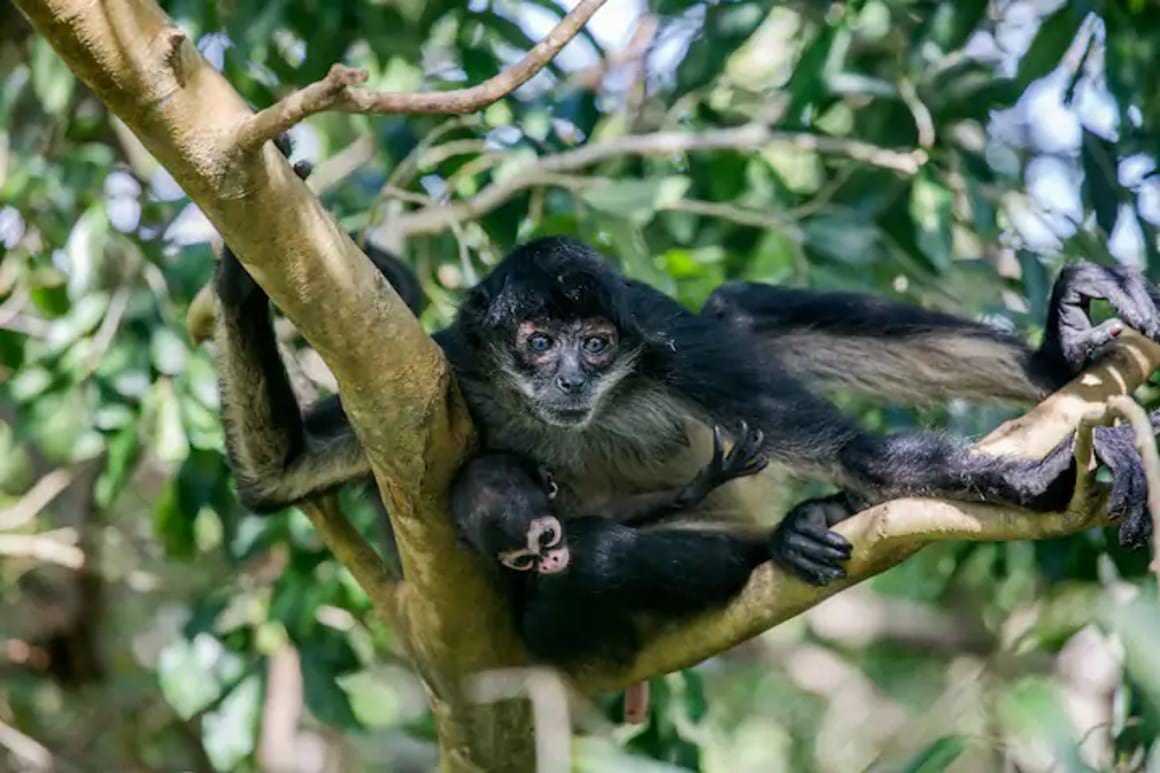 $42/person
4 hours
Up to 6 guests
While Playa del Carmen's nightlife and shopping are pretty good, no trip here is complete without getting out into nature. This trip in nearby Akumal gives you the opportunity to observe more than 100 wild animals who shelter in the area.
You'll get to do one of the most popular activities in the Yucatan too, swimming in an underground cenote. So, don't forget your swimsuit!
$24/person
2 hours
Up to 6 guests
Stand up paddle boarding is a great way to get a workout on vacation. It's also one of the easiest sports to pick up as a beginner! There's nowhere better than the calm and flat waters of Playa del Carmen to take your first steps into the water.
You'll head out to explore coral reefs and may have the chance to snorkel and see brightly coloured tropical fish!
$101/person
5 hours
Up to 10 guests
Want a real Mayan adventure during your trip to Playa del Carmen? Then this jungle trip is the ideal day out for you. You'll be heading deep into the jungle with your guide, who knows where to find cenotes and spellbinding caves.
After an epic day of swimming and exploring, it's onto a locally-prepared meal around a fire pit. What could be better?!
$52/person
4 hours
Up to 8 guests
Mexican food is up there with the tastiest in the world, so why wouldn't you search it out on your trip to Playa del Carmen? With this walking tour, your local guide will show you all the places that locals go to get tacos, tamales, ceviches, tropical juices, and ice cream!
You'll stop off at more than 6 establishments through the duration of your tour, so it might be best to skip lunch beforehand!
$85/person
3 hours
Up to 10 guests
Want to enjoy the best of Playa del Carmen's nightlife? Of course you do. However, it can be hard to know where to start.
With this legendary tour, you'll have a chance to sample mezcal, tequila, and cocktails made with both spirits. You'll also have a chance to take a dip in a rooftop infinity pool, so don't forget your swimsuit.
Don't Forget Your Playa del Carmen Travel Insurance
ALWAYS sort out your backpacker insurance before your trip. There's plenty to choose from in that department, but a good place to start is Safety Wing.
They offer month-to-month payments, no lock-in contracts, and require absolutely no itineraries: that's the exact kind of insurance long-term travellers and digital nomads need.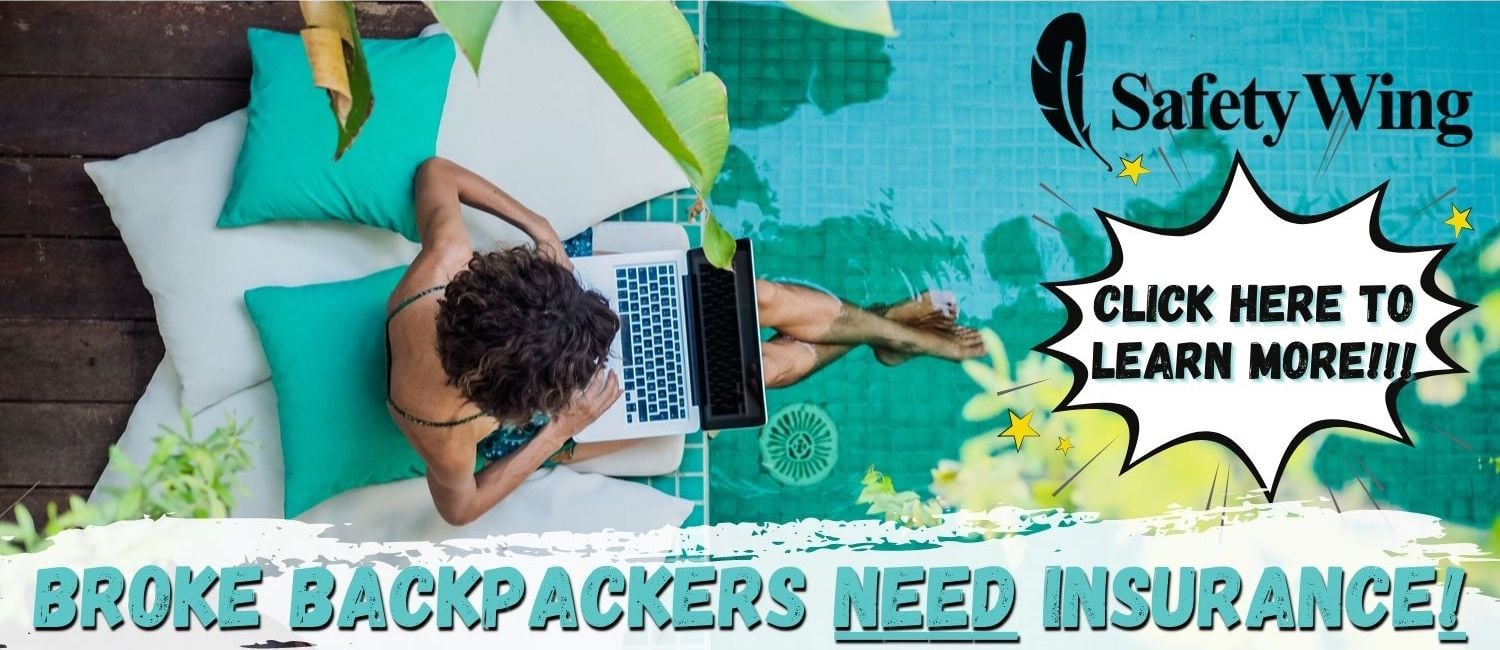 SafetyWing is cheap, easy, and admin-free: just sign up lickety-split so you can get back to it!
Click the button below to learn more about SafetyWing's setup or read our insider review for the full tasty scoop.
Final Thoughts on Playa del Carmen Airbnbs
Well, there you have it. Those are the 15 best Airbnbs in Playa del Carmen, with some fun Airbnb Experiences thrown in too! Whether you want to enjoy views of the Caribbean Sea from a rooftop pool, relax in the tropical gardens of a villa, or just soak up the epic atmosphere of La Quinta, there's an Airbnb in Playa del Carmen for you.
Still can't make your mind up? Let us remind you of our overall best value Airbnb in Playa del Carmen. That's the Modern Ocean View Apartment. You can't beat the location and it has some awesome features as standard.
We hope that wherever you decide to stay, you have an epic vacation in Mexico. Make sure that once you've booked where to stay and what to do, you check out travel insurance from World Nomads too. It'll keep you and your belongings safe during your trip!
---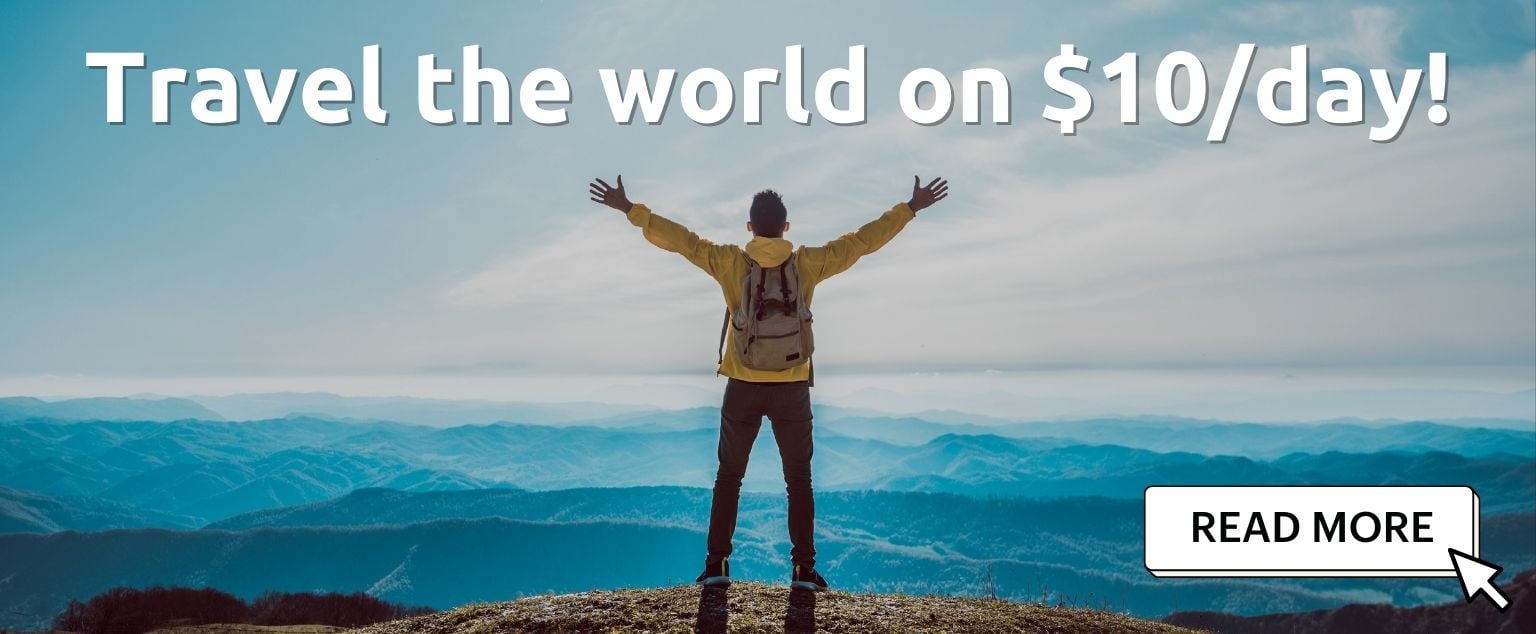 And for transparency's sake, please know that some of the links in our content are affiliate links. That means that if you book your accommodation, buy your gear, or sort your insurance through our link, we earn a small commission (at no extra cost to you). That said, we only link to the gear we trust and never recommend services we don't believe are up to scratch. Again, thank you!