It's hard to put into words how special Mexico is. If you've ever met me, I've definitely told you to get your ass there. 
It's a country that is always waiting for you, arms open wide, with a nice, big plate of food – kinda like Grandma, but spicier. People are kind and their hearts are very, very big. 
It's a huge country – and arguably the most diverse in the world. You can find sweaty ass beaches, bustling cities, snowy mountains, dry deserts, beaches for surfing or snorkelling, hippy hideouts – and everything in between. So the best areas to stay in Mexico are really dependant on who YOU are – and what you want to see!
I've spent years exploring this vast expanse. I've come to realise, you could spend a lifetime exploring Mexico and you still wouldn't consider it 'done'. But, granted, some places are definitely worth visiting before others. 
When you're planning your trip and deciding where to stay in Mexico, there are some things you need to take into consideration. First of all, who are you and what do you like? In this guide, I'm breaking down the top places to stay in for this fantastical paradise, especially for you. 
There are so many incredible options for lodging in Mexico that it was difficult to pick just three! I may or may not have cried a little into my margarita when I had to finally buckle down and choose…
Best Airbnb in Mexico – Casita Azul – Isla Mujeres
This stunning beach house in Mexico dwells directly in front of the sandy shores of the Caribbean Sea. Your views look right over the Carribean Sea! You'll also be conveniently located right next to the main street with all the best bars, restaurants and shops. But best of all, you're walking distance to some of the most beautiful beaches in the world.
Best Hostel in Mexico: Tribu Hostel – Holbox
Really, I can sum up Tribu Hostel in one word: epic. Tribu Hostel is a little off the beaten track on Isla Holbox, Quintana Roo. Just mere steps away from gorgeous beaches and it's also where the party is at. Tribu also hosts the best parties, daily yoga classes on the rooftop, and offers fun social tours. They also have a top-class restaurant: check out the food at Magma Holbox!
There are plenty of fancy resorts and hotels in Mexico that are beyond gorgeous. However, those hotels will smash your poor little piggy bank to bits! The Seven Crown La Paz Centro Historico sits just mere steps away from the La Paz coast and is enormously affordable. It's a beautiful hotel built in the old world Spanish style. There is an outdoor pool and connected restaurant, plus it's right next door to Doce Cuarenta— an amazing cafe!
It's super useful, before you land in Mexico, to have an idea of which direction you are heading. You don't want to end up hanging around by the biggest parties if you're travelling with your family. Likewise, getting trapped in the hustle and bustle of the crazy cities isn't ideal if you just want to sip cocktails on the beach.
First off, let's talk about the big one: Mexico city, AKA Ciudad de Mexico. This city is a monster! It's big, it's heavily populated, and it's jam-packed full of unique and incredible things to do.
If you like getting to know culture, history, and a full belly, you must visit Mexico city. But if you definitely aren't a city person, I suggest not going here – at least not as your first destination on your Mexico adventure.
There's no way in hell that you're going to find a recommendation for Cancun here – though I will recommend Playa Del Carmen. It's kinda like the little, more favourable brother of Cancun.
It's conveniently close to the airport, you can find all the same amenities and stunning beaches, yet it's much less obscene than Cancun. That's why it's an ideal pick if you're staying with your family in Mexico.
For those travellers looking for idyllic settings, postcard-picture, white sand beaches, palm trees, and impossibly blue shores, look no further than Isla Mujeres. This is the island of dreams. Really, you end up pinching yourself as you're floating in swimming pool clear waters, surrounded by sea life.
Puerto Escondido in the state of Oaxaca is a must-stop on any backpacker trip in Mexico. It's definitely one of the coolest places to visit. Set on the Pacific coast, you'll be surrounded by all kinds of cool travellers, beautiful beaches, and a laid-back atmosphere.
My personal favourite stop in Mexico (and where you'll find me, most likely) is San Cristobal de las Casas, in the state of Chiapas. A little out of the way but it's definitely worth the journey. It's easily the best place to visit on a budget in Mexico – and lays claim to the best artisan markets in the world! Colour, art, food, and all the best of Mexico, rolled up in one tiny city.
The city of Oaxaca is a top destination for visitors in Mexico. Although it's not somewhere I will tell you I fell in love with, I will say that you should see it for yourself. A million and one people tell you it was one of their favourite places to visit – and that's why it makes the list. You'll find lots of colonial architecture, hearty food, and a party every day.
Baja Peninsula is a super stop for those coming from the USA. You can easily drive over the border in a day and take your adventure whichever direction the wind is going. Check out Cabo San Lucas if you're stuck for direction.
Now, I am not going to leave out a special recommendation for the LGBTQIA+ community: Puerto Vallarta calls you! Much of Mexico is super welcoming. But here, you can be totally yourself!
Mexico City – The Overall Best Place to Stay in Mexico
Surprise, surprise— a trip to Mexico City is definitely the overall best choice while you're backpacking Mexico. It's simply an enormous city filled with a thousand different reasons why it's so unique. From the world's best street art to the city being a literal UNESCO World Heritage Site, this place is packed with people, sights, and sounds!
When you're in the best city in Mexico to do cool things, then you better make a solid to-do list – because you'll never get around it all! It has more museums than any other city in the world – so history and learning are in no short supply here.
Of course, make sure you see the top tourist sites in the Centro Historico and Condesa districts. I also want to recommend checking out the other less touristy areas too like the Polanco and Coyoacan area.
My favourite district is Roma. Roma Norte is a hipster neighborhood that is filled with unique things. From the Cafebrería El Péndulo, a three-story bookshop, to the Panaderia Rosetta bake shop, to the El Vilsito nightclub that was a car repair shop turned into a bar!
Deciding where to stay in Mexico City can be a struggle, so make sure you inform yourself beforehand. You don't want to end up far away from the hotspots you wanted to explore.
Best Places to Stay in Mexico City
If you want to get the most out of Mexico City, I recommend staying in the Condesa to be close to the sites, while not being directly at the epicenter of the tourist activity. Condesa is a great neighborhood that has more local vibes. You can also find the best hostels in Mexico City in this area. Roma is also a top choice and one of the coolest areas to stay in.
This incredible apartment is located in one of the best locations in Mexico city. You'll have stunning views from your private balcony in the heart of Mexico city, and just a few blocks from the popular districts of Roma and Condensa. World-class museums, gourmet restaurants and more are all at your disposal!
Best Hostel in Mexico City: Hostal Regina
Hostal Regina sits in the heart of the Historic Center of Mexico City. It's the top spot to stay in if you want to keep the pulse on the heartbeat of the city. This hostel has a very special rooftop bar that serves mean mojitos on the weekend. The private rooms and dorm rooms are downright affordable!
This Mexico City hotel is a real beauty. It's situated in the Condesa district and has an onsite gourmet restaurant and bar. This fancy hotel actually perfumes its rooms with natural essences and all the furniture is completely handmade. While this hotel is a bit more expensive than other Mexico accommodation options, you'll be staying in style!
Isla Mujeres – Best Place to Stay in Mexico for Couples
Isla Mujeres is an island in Mexico that is in the Caribbean Sea, just off the Yucatan Peninsula. It's actually just 13 kilometers from the city of Cancun.
Given its isolation and gorgeous beaches, staying in Isla Mujeres is the most romantic place to stay for couple visiting Mexico. It's famous for luxury resorts and hotels, impossibly blue and clear waters, and an extremely relaxed atmosphere.
Being a small island, just about 7 kilometers long, and all at sea level, you'll be able to explore the whole place fairly easily- it's a super stress-free holiday. Isla Mujeres also boasts some of the best snorkeling spots in the world with breath-taking coral reefs in crystalline aquamarine waters.
There is also ancient Mayan ruins to explore and an underwater museum. Is Island Mujeres calling your name, or what?!
Best Places to Stay in Isla Mujeres
It's a small island, but you'll make the most out of your trip by staying in the North region, Playa Norte. This is where you'll find the most beautiful beaches, gourmet restaurants, and high end shops.
But fear not, you can rent a golf cart and scoot around the island with ease to find more incredible beaches and snorkelling spots!
Best Airbnb in Isla Mujeres: Casita Azul
This stunning beach house in Mexico dwells directly in front of the sandy shores of the Caribbean Sea. Your views look right over the Caribbean Sea! You'll also be conveniently located right next to the main street with all the best bars, restaurants and shops. But best of all, you're within walking distance of some of the most beautiful beaches in the world.
If you mention hostels in Isla Mujeres, you're bound to hear the name Nomads. Famous across the whole state of Quintana Roo, Nomads Hostel is easily the top pick for the best hostel to stay in Isla Mujeres! Sitting right on the beach, you can enjoy a drink in hand on the white sand beaches from their award-winning beach bar. Enjoy a cosy setting, but save some energy if you enjoy social time too!
Best Hotel in Isla Mujeres: Hotel Secreto
Of all the luxury resorts in Isla Mujeres, Hotel Secreto is the top pick for couples in Isla Mujeres. Just meters away from the white sand beaches of Playa Norte, you'll be in for the vacation of a lifetime. For luxury travelers, this hotel offers infinity pool with panoramic sea views from your private balcony and stylish suites. The hotel also offers all kinds of excursions to make the most of your time in paradise.
Playa Del Carmen – Where to Stay in Mexico for Families
Hello beautiful! Playa Del Carmen is definitely one of the best areas to stay in Mexico for families – and let me tell you why. Travelling with kids can be a task but Playa del Carmen has all the amneties to keep them entertained – outside, but close enough to, the monster that is Cancun.
This coastal resort city on the Yucatan Peninsula is situated is one of the most convenient places along the Caribbean Sea. Staying in Playa del Carmen means you're just a short distance to all the biggest hotspots in the state of Quintana Roo: Cancun, Tulum, Isla Holbox, Cozumel, and Isla Mujeres.
There is also a long pedestrian walkway that winds parallel to the sand that is filled with restaurants, cafes, shops, and bars. Make sure to check out the local amusement parks, the fun sculptures at Los Fundadores Park, and visit the Xaman Aviary bird watching area to spot some flamingos.
As well as great entertainment for kids, you'll find plenty of fun for adults too! So sit back, relax, have a margarita and let the kids play on the white sandy beaches.
Best Places to Stay in Playa del Carmen
Most of the accomodation options in Playa del Carmen are placed in close proximity to the beach. No matter where you stay in Playa del Carmen, you won't be too far from those beautiful turquoise waters!
This luxury Airbnb in Mexico is a little magical. It's perfectly located to the beach so you can watch your little ones while you enjoy a margarita or two on the terrace. With plenty of space for kids to be kids, you can get back to being you. Enjoy the pool all year round, as well as a hot tub, and a fantastic kitchen to cook up a storm. That's what vacations are all about after all.
If you and your significant other are social butterflies or are in the mood to party the night away, this is the hostel for you! Che Playa Hostel has an epic onsite bar that regularly hosts themed parties and beer pong championships. Plus, every night their staff whip up delectable all-you-can-eat family-style dinners so you will definitely make a friend or two—while keeping your bellies happy. Definitely one of the best hostels in Playa del Carmen!
Looking for an enchanted getaway? For an affordable price, you'll be just four blocks away from Mamitas Beach. There is also an outdoor pool and garden, perfect for soaking up a bit of peace and quiet. Also, the Xcaret Eco Theme Park is actually just a ten-minute drive away. This hotel really puts you in the perfect spot to make the most out of all that Playa del Carmen has to offer. Plus, the popular bar Coco Bongo is just a couple minutes walk away.
Puerto Escondido – The Coolest Place to Stay in Mexico
If you're wondering where should I stay in Mexico for truly cool vibes— Puerto Escondido is the answer! We're talking about Mexico's Pacific coast. Puerto Escondido is a lively resort town with beautiful beaches, a relaxed vibe, surfing galore, and tonnes of amazing people to meet!
Many travellers in Mexico flock to Puerto Escondido – and many don't want to leave. Epic weather, golden sands, and fresh fish tacos are hard to say no to.
There's a party every night with some of the best bars and clubs in the whole country. It's not difficult to find a good place for a boogie in this town. It's especially good if you're staying in Mexico for a festivity like Christmas or New Year.

Though if you're not into the party, don't rule out Puerto Escondido. You'll find many a fantastic restaurant looking over the vast Pacific Ocean and shops to find those perfect trinkets to carry home.
It's one of those special places that attracts people of all kinds. Families, couples, solo travellers, and Mexican locals all know and love this place dearly. Come as you are, and leave a piece of your heart here.
Best Areas to Stay in Puerto Escondido
If you're staying for the first time, I recommend Playa Principal. You've guessed it – it's the main beach in town! You'll find all the shops, restaurants, and supermarkets there too so it's really conveniently located.
In the best location in town, this amazing bungalow offers the best experience in Puerto Escondido. It's one of the few accommodations that offers a swimming pool, a kitchen, and super-fast wifi. Digital nomads in Mexico never want to leave this one!
This hostel has been a fan favourite in Puerto Escondido for years – and it's not going anywhere anytime soon! This is the best place to get an authentic Mexican experience of Puerto. It's super location leaves you in the heart of town, surrounded by great people. There's also extra fast internet for those that simply can't go without.
Best Hotel in Mexico City: Gallo de Mar
Gallo de Mar is easily the top hotel to stay in Puerto. Right on the doorstep of Zicatela beach, you'll find yourself in paradise. There's a patio to enjoy, a swimming pool, and even a shared kitchen for the nights you just want to get creative for dinner. The garden terrace is a jungle dream too.
San Cristobal de las Casas – Where to Stay in Mexico On a Budget
San Cristobal de las Casa is a really magical city in Southern Mexico. Okay, it's not a lively resort town on the Caribbean Sea. Some might describe it as a hippy-dippie sticky spot – a place where people come to bum out in the mountains and do as little as possible.
This picturesque city-town is the best place in Mexico for vibrant markets, a relaxed atmosphere, and an authentic Mexican experience. One of the biggest attractions in San Cristobal is the budget friendly living. If you're travelling on a budget, Puerta Vieja Hostel is your spot.
San Cristobal is situated in the state of Chiapas; its famous for having the biggest indigenous community in Mexico and the Zapatista movement. You can visit the nearby Mayan Ruins in Palenque: one of the most important archaeological sites in North America.
Chiapas is also the hub of alternative healing, yoga, reiki, and everything else you could possibly think associated with that kinda vibe. You can enjoy fantastic hospitality and the best of Mexican cuisine, and you don't need to cry about burning your budget.
Best Places to Stay in San Cristobal de las Casas
San Cristobal is not a big city – but you'll want to stay in el centro to make the most of your visit. It is quite mountainous, but the city centre is flat enough that you can easy stroll around with minimal energy. These streets are completely magical by night too, so staying in the middle of it all is where you can experience it best.
Best Airbnb in San Cristobal de las Casas: Caira House
This sweet and simple private apartment is a one-bedroom with two beds and one bathroom. It has a small kitchenette and is a mere 100 meters from the beach. It's also very close to the city center and just six blocks to the ferry! Plus, it comes at a bottom basement price.
Best Hostel in San Cristobal de las Casas: El Nagual Hostel
There's nowhere like home. That's why I recommend this hostel when you're staying in San Cristobal. Always full of good people, good art, and good vibes, this is where you'll find me when I'm in town. With a choice of budget friendly dorms or private rooms, they accommodate all kinds of travellers. Located perfectly in the centre of the city, you'll be in a super location to all the best food and artisans.
Best Hotel in San Cristobal de las Casas: Hotel Casa Mexicana
For an authentic Mexican experience, this is one of the best hotels in the country. Casa Mexicana stay true to native customs, while still offering you a luxury experience with the best of Mexican hospitality that most visitors don't get to see. You'll have easy access to the top attractions in the city, located right in the city centre.
Oaxaca – One of the Most Unique Places to Stay in Mexico
Oaxaca is one of the places where all of the historical periods of Mexico shine through. From the pre-Hispanic period to the colonial period to the modern period, you can see plentiful examples expressed in nearly every street. With archaeological sites to visit, bio fluorescent lagoons to check out, and gastronomic delights to be had—Oaxaca is definitely the best city in Mexico for unique experiences!
Let me start off by discussing the culinary scene of Oaxaca. It's where tons of innovative chefs are taking the local cuisine to the next level— even street vendors. The most renowned Oaxacan dishes that you simply cannot miss out on trying are: memelas, tlayudas, tetelas, tamales Oaxaqueños, and well, um, chapulines aka grasshoppers.
When in Oaxaca, there is also so much to see! Make sure to visit the Temple de Santo Domingo de Guzman, a truly impressive church from the 16th century. Also, if you are up for a drive, just 90 minutes from Oaxaca city is the Herve el Agra which is actually a petrified waterfall!
There's a cool hike to enjoy around the falls, and mineral springs at the top to take a quick dip in. Also, just a short drive from Oaxaca City is Monte Alban which is an incredible archaeological site and the former site of the ancient Zapotec City which dates all the way back to 500BC!
Other things to do in Oaxaca City include taking the Teotitlan Del Valle Textile Tour, the Jardin Etnobotanico de Oaxaca guided tour, the mezcal tasting tour, and an Oaxacan black clay workshop!
Best Places to Stay in Oaxaca
When deciding where to stay in Oaxaca, we'd recommend the city center to experience all the incredible things to do and see. You never know what you'll encounter or discover!
This one bedroom and one bathroom private apartment in Oaxaca is spacious and tastefully designed. The amazing tile floor, high ceilings, and vintage decor is jaw-dropping. It also is centrally located, just a five-minute walk to the Zocalo, three minutes to the Mercado of the 20 of Noviembre. This is definitely one of the best options for lodging in Mexico!
The Azul Cielo Hostel is a warm and welcoming hostel just a quick 10-minute walk to the city center of Oaxaca. There is a rooftop terrace to enjoy, as well as stacks of board games, and Spanish classes, which makes it one of the best hostels in Oaxaca! Plus, there are both private rooms and dorm rooms available. Lastly, there is a super clean and well-stocked communal kitchen to whip up your favorite meal or snacks in.
La Casa Carlota is a charming bed and breakfast situated right in the historic old town of Oaxaca. In fact, it's just 550 meters away from the Santo Domingo Temple, and just a five-minute walk to the Oaxaca Cathedral. The street itself is quiet, and a welcome reprieve from the downtown noise!
Baja Peninsula – Where to Stay in Mexico for Adventure
The Baja Peninsula sits at the Northwestern part of Mexico, and it separates the Pacific Ocean from the Gulf of California. It's actually 1,247 kilometers long— so it's a very narrow stretch of land. Also, it's worth noting that Baja California lies to the North and Baja California Sur is in the south.
The popular Cabo San Lucas sits right at the southernmost tip of the peninsula. In case you're planning a trip there, let's guide you through some of the best accommodation options in the area.
While Cabo San Lucas is known for its raucous nightlife and tequila bars, in Baja there is a huge mix of beaches, deserts, and mountain ranges that make Baja the best city to stay in Mexico for adventure.
If water sports is your thing, then you're going to love Baja, because it has everything from kayaking, to sport fishing, to surfing, to scuba diving, to whale watching! You're definitely going to want to swim in the Sea of Cortez to see over 800 marine species— it's incredibly biodiverse.
If you want to give surfing a try, then head over to the popular surf spots of San Pedrito Point or La Pastora. If you'd rather just collect pretty seashells and take a breather, then go to Playa Las Palmas.
If it's time for a break from the ocean then head over to Parque National Sierra San Pedro Martin to trek up to the highest peak in Baja— Pichaco del Diablo.
Best Places to Stay in the Baja Peninsula
I have always loved staying in Baja Sur. It's such a gorgeous area, and there are lots of towns to pick from that aren't as rowdy as Cabo San Lucas!
This Airbnb will be your own little slice of paradise. Situated in Cabo Pulmo, a quiet nature-filled area, where you can chill out and relax. All the amenities are up to date, with a kitchen and a little outdoor patio with a hammock.
This hostel is a special place, located in one of the best beach towns in Mexico, Cabo San Lucas. Mayan Monkey Los Cabos accommodates all kinds of travellers: backpackers, digital nomads, and adventure seekers are all welcome. You're just 5 minutes from the beach and 10 from some of the best parties in Mexico. Sign me up, right?
The Seven Crown La Paz Centro Historico sits just mere steps away from the La Paz coast. This hotel comes at a budget-friendly price, all while having luxurious amenities, like an outdoor pool, and all rooms come with a private balcony. The rooms are sparkly clean and the complimentary breakfast is divine— there are even gluten-free and dairy-free options available.
Puerto Vallarta – Best LGBTQIA+ Destination in Mexico
Puerto Vallarta is a popular resort town on Mexico's Pacific coast. It has beautiful beaches, epic water sports, and an incredible nightlife scene! Puerto Vallarta also just happens to be the self-proclaimed gay beach capital of Mexico. It's a safe and very welcoming city that waves its pride flag high!
There are lots of activities that are organized with LGBTQIA+ in mind. One of the most popular activities is Diana's gay and lesbian cruise, where the Jell-O shots never stop coming!
There's also tons of gay bars and gay-friendly nightclubs in Porto Vallarta, mostly in the Zona Romantic Old Town neighborhood. The two most popular gay bars are Paco's Ranch and CC Slaughter. The former is known for their drag shows, and the latter is a dance club.
If you're looking for accommodation, there are some amazing Airbnbs in Puerto Vallarta. From budget to high-end luxury, the city simply got everything!
Best Places to Stay in Puerto Vallarta
Zona Romantica, also called the Old Town, is the best neighborhood to stay in Puerto Vallarta for the LGBTQIA+ scene.
This is a spacious Airbnb that comes at a super low price-tag. It's a two-bedroom and two bathroom apartment that has three beds in it. It's centrally located, just two blocks from the main avenue, and 8 minutes away from the Malecon. There's a fully functional kitchen, and the hot water comes from a solar heater!
Best Hostel in Puerto Vallarta: Hostel Vallarta
Situated right in the cultural center of the city, surrounded by bars, restaurants, and tremendously delicious street food vendors, Hostel Vallarta is the best hostel in Puerto Vallarta. From top to bottom it's decorated in Mexican style! Not to mention that it has a large rooftop terrace where you can hang out, make new friends, and watch the sunset. Also check out nearby Sayulita, a small surf town.
Perched on the hillside overlooking the Pacific Ocean, this gay-friendly hotel is perfect for Puerto Vallarta getaway! Ot has an onsite restaurant, and is just a few minutes walk to Los Muertos Beach, perfect for swimming and enjoying a margarita! This hotel has an onsite hot tub and spa, and as well as having two swimming pools.
Mexico is a safe country to visit. But, besides, you can't plan for everything. Believe me, if things don't go to plan, solid travel insurance is invaluable.
ALWAYS sort out your backpacker insurance before your trip. There's plenty to choose from in that department, but a good place to start is Safety Wing.
They offer month-to-month payments, no lock-in contracts, and require absolutely no itineraries: that's the exact kind of insurance long-term travellers and digital nomads need.
SafetyWing is cheap, easy, and admin-free: just sign up lickety-split so you can get back to it!
Click the button below to learn more about SafetyWing's setup or read our insider review for the full tasty scoop.
If you've still got questions, no worries! Here are some of the most frequently asked questions about the best areas of Mexico to stay in.
So now I've poured my heart out on the internet for you, get booking! Abuela, I mean Mexico, is waiting.
Mexico offers better choices than any other country. If you're looking for beaches, you just need to decide which kind of beach you want to experience.
Surfers should check out Baja Peninsula or Puerto Escondido. Those seeking white sand, blue seas, and margaritas should head to Playa del Carmen or Isla Mujeres. Casita Azul is the ultimate Airbnb experience – maybe in the world?
Of course, I'm not going to leave out a special for request for those barefooted backpackers. You shouldn't miss San Cristobal de las Casas off your Mexico itinerary. Though Tribu Hostel in Holbox is worth the venture out as the best hostel in Mexico.
Get booking and planning the adventure you'll never forget. You have my word, it's one to remember.
Do you own or run a kick-ass hostel? Want to be featured on this list? Get in touch at [email protected]
---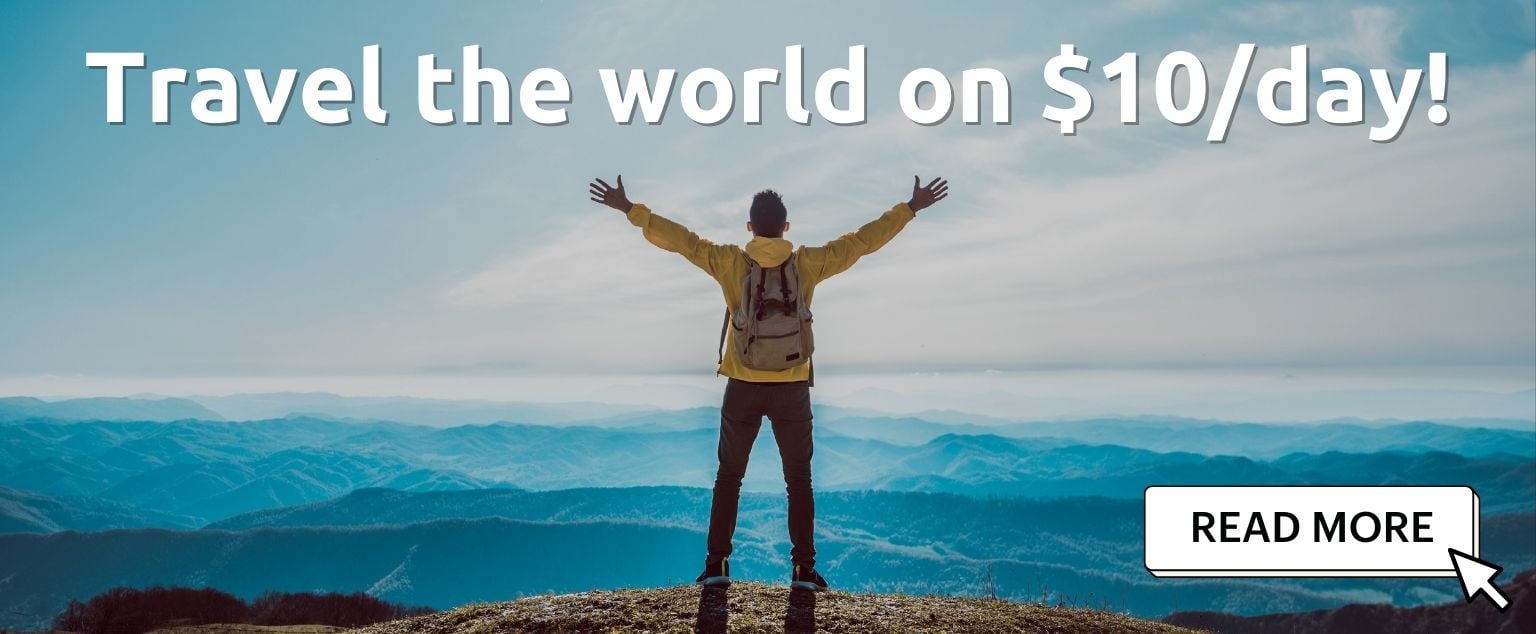 And for transparency's sake, please know that some of the links in our content are affiliate links. That means that if you book your accommodation, buy your gear, or sort your insurance through our link, we earn a small commission (at no extra cost to you). That said, we only link to the gear we trust and never recommend services we don't believe are up to scratch. Again, thank you!