On the Pacific Coast of Mexico in the state of Jalisco, Puerto Vallarta is the prime spot for the seaside, beach-ready resort on the Mexican west coast. Top restaurants, a picturesque old town, and a whole lot of sea! They even welcome the LGBTQ+ community plus a self titled Romantic Zone. 
Being in Mexico, there's worry that Puerto Vallarta isn't going to be safe, or not up to safety standards. In the fact, Puerto Vallarta does suffer from some level of crime. 
This is exactly why we have this FOOLPROOF safety guide to Puerto Vallarta. With a whole lot of expert knowledge, insider information, and pro traveller tips, your trip to this coastal city will be just as awesome as the millions of other visitors who visit Puerto Vallarta safely.
We're all about smart travel and common sense. Safety isn't just how you should act in a city, it's how to use the transport system and where to stay as a solo traveler; how to travel as a solo female traveler and staying safe at night. 
So is Puerto Vallarta safe to visit right now? Or so you just want a few tips? Well, we've got it sorted!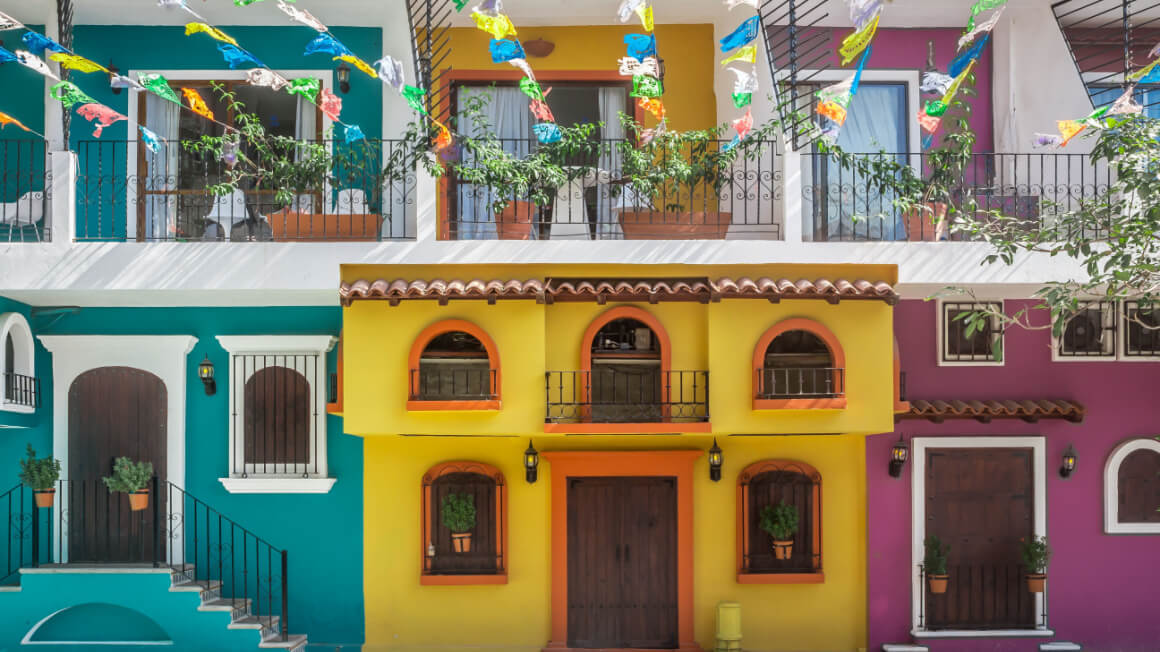 There is no such thing as a perfect safety guide, and this article is no different. The question of "Is Puerto Vallarta Safe?" will ALWAYS have a different answer depending on the parties involved. But this article is written for savvy travellers from the perspective of savvy travellers.
The information present in this safety guide was accurate at the time of writing, however, the world is a changeable place, now more than ever. Between the pandemic, cultural division, and a click-bait media, it can be hard to maintain what is truth and what is sensationalism.
Here, you will find safety knowledge and advice for travelling Puerto Vallarta. It won't be down to the wire cutting edge info on the most current events, but it is layered in the expertise of veteran travellers. If you use our guide, do your own research, and practise common sense, you will have a safe trip to Puerto Vallarta.
If you see any outdated information in this guide, we would appreciate it if you reach out in the comments below. We strive to provide the most relevant travel information on the web and always appreciate input from our readers (nicely, please!). Otherwise, thanks for your ear and stay safe!
It's a wild world out there. But it's pretty damn special too. 🙂
Updated February 2023

Unlock Our GREATEST Travel Secrets!
Sign up for our newsletter and get the best travel tips delivered right to your inbox.
Is Puerto Vallarta Safe to Visit Right Now?
Yes, Puerto Vallarta is a safe place to visit right now. Over 6 million people visited Puerto Vallarta in 2022 alone – most of which had a perfectly safe visit!
The town plans to attract more tourists every year and is constantly renovating hotels and attractions to make it, well, better. That being said, you'll still need to know some ins and outs here. So let me give you a rundown.
The puerto vallarta crime rate is pretty low. If you're going travelling in Mexico, this is one of the best destinations to choose for safety.
Violent crime and cartels are usually people's biggest worry in Mexico. Though, unless you're actively looking for trouble, it's very unlikely it will come to you.
Besides petty theft, like pickpocketing, bag snatching, and common travel scams, tourists are very rarely affected in Puerto Vallarta. If you apply your usual travel common sense, you should be fine.
The Puerto Vallarta crime rate is lower than much of Mexico; it's one of the main tourist destinations in the country, other than the Riviera Maya. This town has also never had any travel restrictions put on it by countries like the US.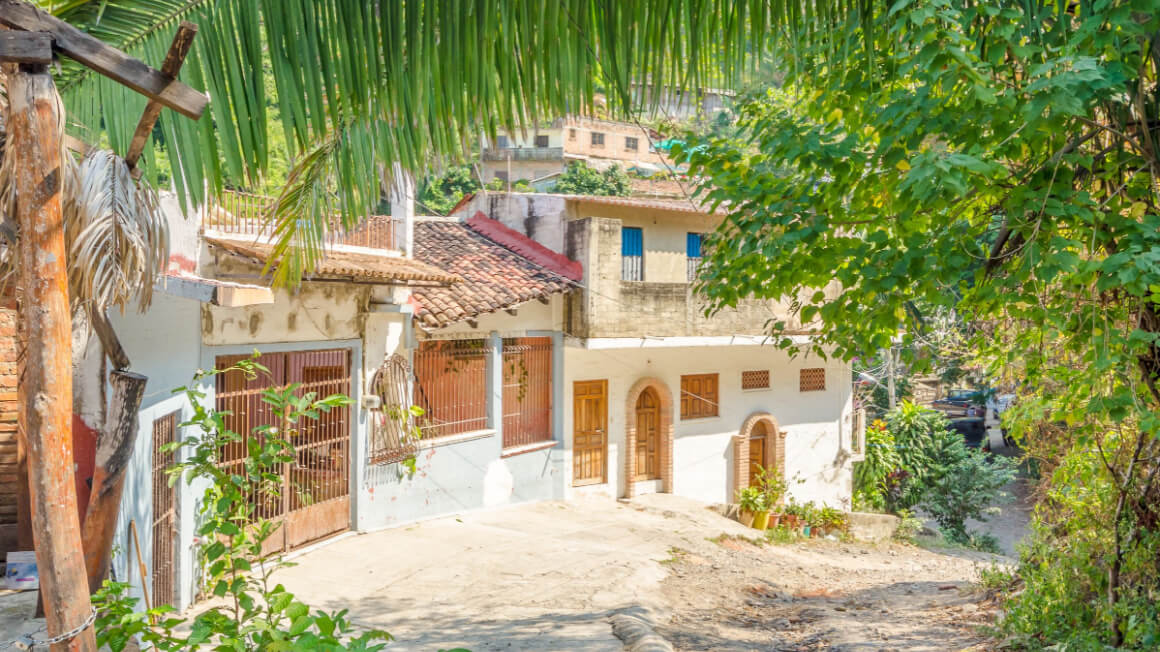 The Pacific Coast can become pretty volatile in hurricane season, which runs from June to November. This is something to be aware of if you're traveling to the area.
Another thing to consider: safety when swimming. Tides, currents, even things like jellyfish, are all things to watch out for. It goes without saying, but pay attention to flags on the beaches.
Overall, you have very few worries while visiting Puerto Vallarta. It's even safer than Mexico City, Playa Del Carmen, and Los Cabos. So it is a good choice for a safe trip to Mexico.
Safest Places in Puerto Vallarta
Like most places in Mexico, the Puerto Vallarta safe zones are generally tourist destinations. Tourism is important here, the country, and many people that live here, need the tourism industry to survive. So the Mexico security forces are working hard to ensure that the visitors are safe.
That being said, these neighbourhoods in Puerto Vallarta are more susceptible to petty theft. So visiting these tourist areas in Puerto Vallarta is safe, but pay particular attention to your valuables. While you're away from home, still use common sense and exercise a little extra precaution.
Here are some of the safest places to stay in Puerto Vallarta: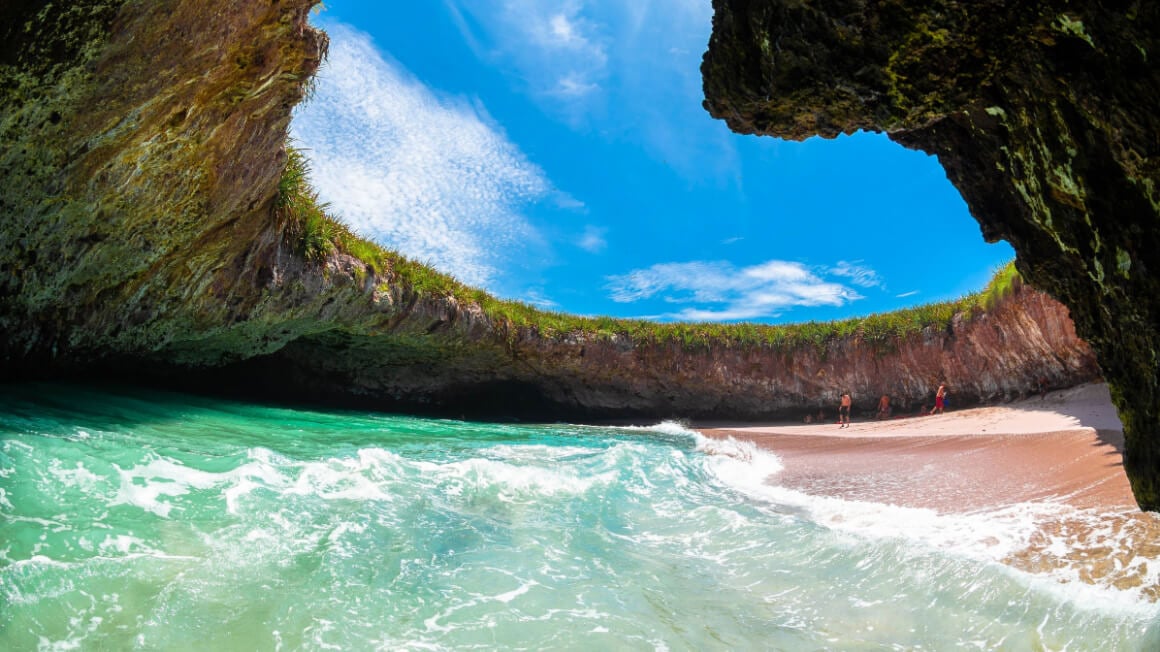 Marina Vallarta – This was one of the early tourist destinations developed especially for international tourists coming to visit Mexico. Since then, they haven't stopped coming. Mexico works hard to maintain this area of Puerto Vallarta as a safe destination – so you'll have very few worries here.
Hotel Zone (Zona Hotelera) – The all-inclusive resorts along Mexico's pacific coast are the claim to fame for the Hotel Zone in Puerto Vallarta (for obvious reasons). There are boutique hotels and shopping centers here to delve into. It's ideal for family vacations being one of the safest neighborhoods with many tourists and a low crime rate.
Romantic Zone (Zone Romantica) – As the name suggests, this is the lovey-dovey area of Puerto Vallarta, safe and, even more: it's LGBTQ community friendly too. The Romantic Zone is one of the tourist areas where you'll find fantastic food, art, and rich culture that Mexico is famous for.
Nuevo Vallarta – Technically a state over in Nayarit, Nuevo Vallarta in Banderas Bay is undoubtedly one of the safest neighborhoods to stay in the area. It's a popular choice for American tourists with friendly locals and a huge range of biodiversity on Mexico's pacific coast.
Places to Avoid in Puerto Vallarta
Although, as a whole, Puerto Vallarta is pretty safe, there are always some places that are better avoided. The state of Jalisco as a whole does have reconsider travel warnings from the USA for American tourists. Though Puerto Vallarta, as well as other popular tourist destinations like Guadalajara Metropolitan Area and Riviera Nayarit, are not included in this – so you're good to go!
The Puerto Vallarta crime rate varies across the state a lot. As a general rule, the further away from the tourist areas you go, the higher the rate of violent crime is.
Though – please note – tourists have very little to see in these areas anyway. You really won't miss anything anyway.
Anywhere at night outside of the tourist zones – If you're moving between areas or heading back to your accommodation, just take a taxi.
Inland neighbourhoods – Away from the coast and outside of the safest areas like the Romantic Zone and Marina Vallarta start to get more dangerous and the risk of violent crime increases.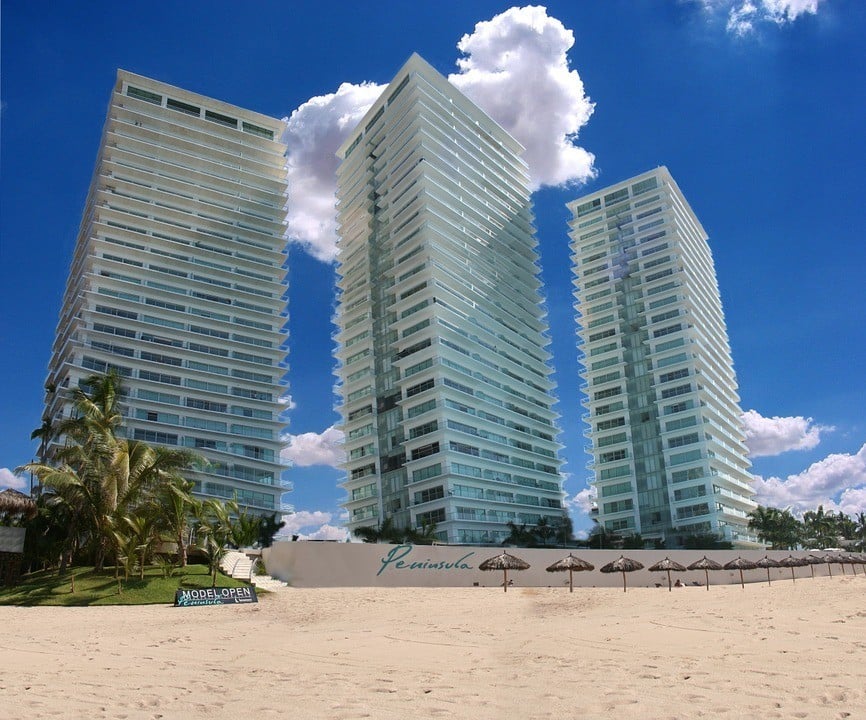 Puerto Vallarta is one of the "safer" areas of Mexico to travel to. But then again – it's still Mexico.
Things like petty theft exist and you always have to apply travel common sense and general safety tips. To help you out, we've put together some of our best travel tips for Puerto Vallarta so you can have an awesome time here.
Understand local culture – Speaking Spanish will go a long way. Being polite about Mexico is nice too.
Careful at the beach – don't swim too far out and be wary of big waves and undercurrents.
Don't swim under the influence – of anything. People die this way.
Ignore taxi (and other) touts at the airport – just say 'no gracias' and keep walking. It's best to hire taxis through your hotel.
The town is surprisingly hilly – especially if you're heading up to ziplines (they're a thing here). Steps and rails aren't always in place – different safety standards and all that.
Stay in a vacation rental – vacation rentals such as VRBOs in Puerto Vallarta vet out hosts and guests, and offer 24 hour support when you need it. This helps travellers find a safe place to stay. You can also find vacation homes in gated communities and with security by filtering your search.
Don't look rich – it singles you out as a potential target; try to dress down.
Keep your bag closed and close – pickpocketing does happen here.
Limit the amount of money and cards you carry – having everything in one place is a recipe for disaster.
Careful when using ATMs – you never know who's watching.
Don't drink too much – have fun but keep your wits about you.
Be aware of your surroundings – walking around like you're in a theme park is not the way to go anywhere, let alone here.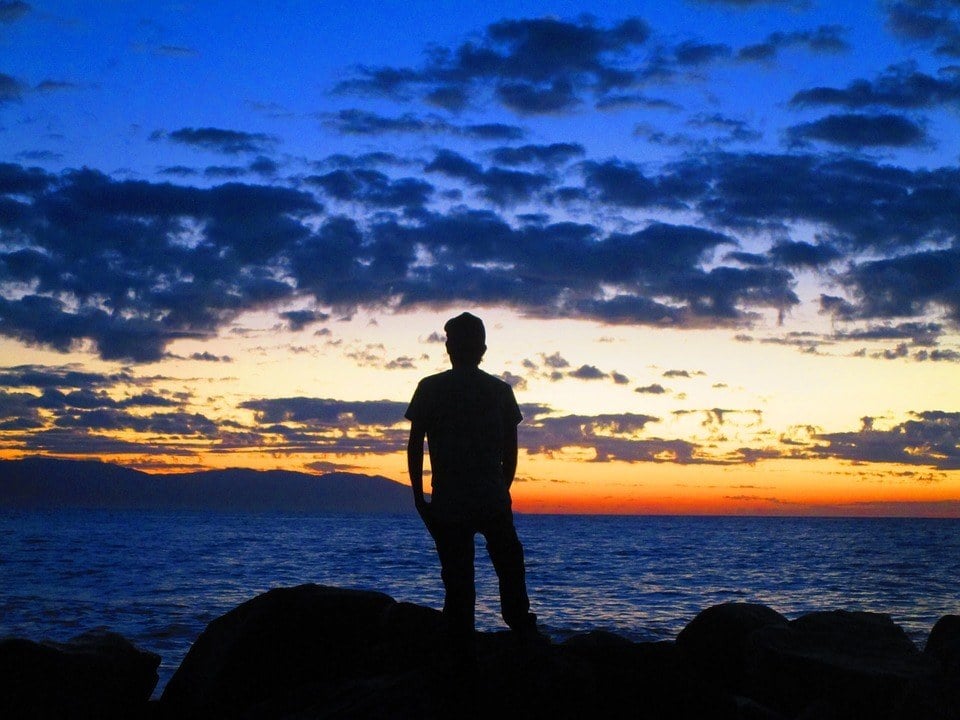 Yes, you can travel solo to Puerto Vallarta safely!
Puerto Vallarta is a fun and safe place to travel alone. But travelling this way can sometimes wear you down. So here are our very best tips for solo travelers in Puerto Vallarta so you can have a blast and stay sane as you do so.
Make friends – There's safety in numbers plus it cures any solo travel blues.
Do things alone – don't get stuck in a rut. Head out to Downtown and grab a drink. Push yourself to be social. If you don't drink, go grab a coffee or eat at the beachside restaurants.
Choose quality accommodation – There's no shortage of good hostels in Puerto Vallarta for solo travelers.
Plan your route home – especially if you're heading back after dark.
Don't get too drunk – for obvious reasons.
Travel light – More baggage means more burdens. Plus, it's more stuff to potentially lose.
Let people know what you're up to – We're talking about people back at home. Keep your friends and family informed of what you're doing and where you are.
Know your limits – you don't need to prove nothing to no one. Know when it's time to call it a day.
Being a solo traveler in Puerto Vallarta is actually a lot of fun. There are loads of people to meet, a ton of activities to get involved with, food to eat, restaurants and cafes to visit, bars to drink at…
Here it's easy to stick to your own schedule and do what you want to do. Remember: travel at your own pace. For a first-time solo travel trip, we'd say Puerto Vallarta is actually a pretty good one. Party if you want, chill if you want – it's all good!
So
Is Puerto Vallarta Safe for Solo Female Travelers?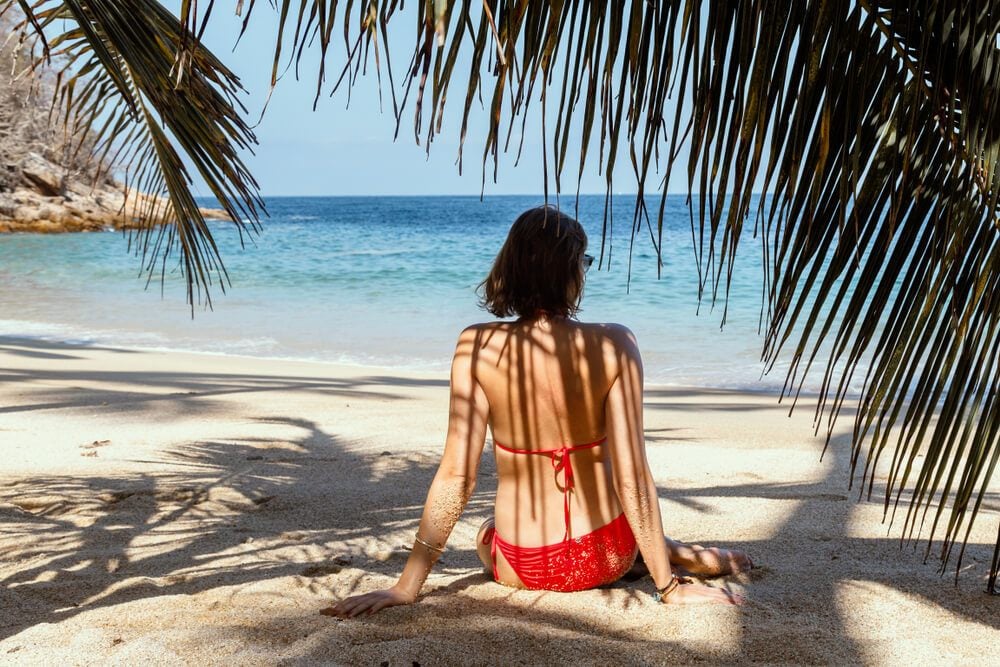 Yes, Puerto Vallarta is safe for solo female travelers.
Though, like everywhere, there are actual risks. So to help you out fof your Puerto Vallarta trip, here are our top tips for solo female travelers.
Trust your spidey senses! – if your gut says something is wrong then it probably is.
Check out good hostels for women – read reviews, make friends with other solo female travelers, and share experiences and tips. Use female-only dorms if you prefer.
Don't leave your drink or food unattended – Drink spiking occurs.
Dress a little more conservatively – Mexico is still pretty conservative on the whole. I love strong women breaking boundaries but unfortunately I'd recommend that as a solo female traveler, you needn't attract unwanted attention.
Don't feel like you have to get off the beaten path – We're saying this especially if this is your first solo trip: it's fine to stick to touristed areas. In fact, touristed areas are the safer areas of towns (generally) anyway.
You don't have to be polite – or answer questions, or tell the truth. Saying "no" is always okay!
If someone does bother you, LET EVERYONE KNOW! – Should it loud and make a fuss.
Travelling to Puerto Vallarta is actually super cool as a solo female traveler. It's a safe and fun place; it's the perfect place to push yourself outside of your comfort zone a little bit.
Puerto Vallarta is ideal to visit as a first-time solo female traveler too. There won't be a lot of the usual hassle you MAY get in other areas when you visit Mexico. There's more of a liberal mindset here.
However, it's STILL important to have common sense. It may be safe, but you should still trust your gut and NOT do things you wouldn't do at home.
Is Puerto Vallarta Safe for Families?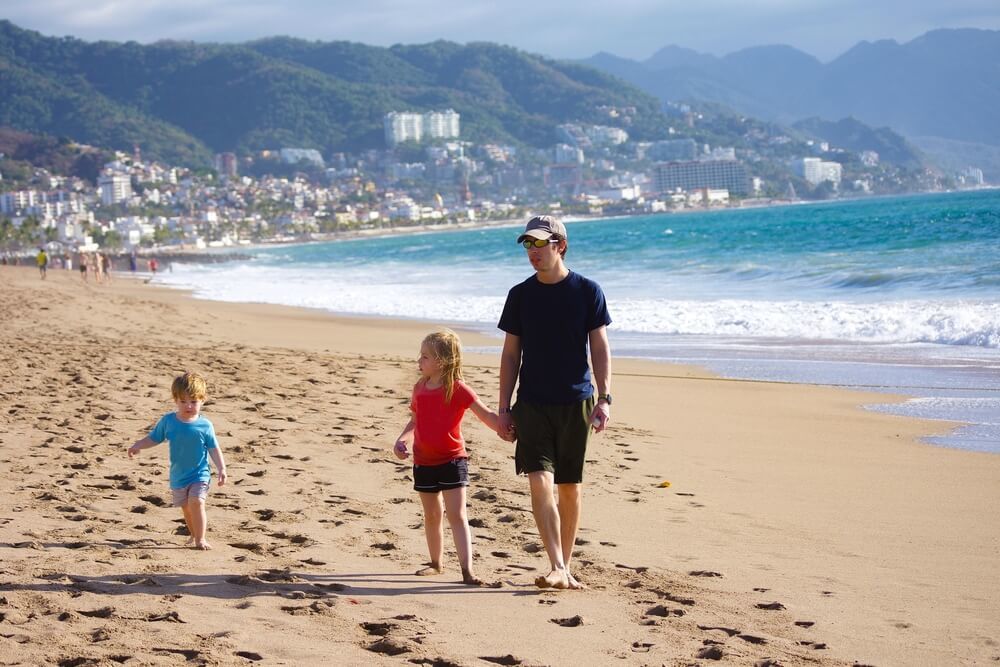 Yes, there's a whole load of stuff to do and see in Puerto Vallarta for families, with child-friendly attractions for all ages. Mexican society is all about families; you'll get a warm welcome here. Puerto Vallarta is an awesome place to immerse your family in Mexican culture where you won't have to worry much about safety or crime levels.
If you stay at a resort hotel there will be kids' clubs and family rooms. There's fun stuff to do, one of which is ziplining. You can also book tours, easily done through your hotel.
Walk along the Malecon – a boardwalk near the beach with plenty of local life and street vendors, as well as restaurants, too. Twenty minutes from here is El Pitillal, which is a decent local area where your kids can play in the street; no safety worries or tourist traps insight.
The most you'll have to worry about is covering up from the sun and heat. The sun takes no prisoners here so make sure you max out on sun protection. Booking a place with a swimming pool is great so you've got somewhere to cool off in.
Swimming in the sea does have its risks for small children, just make sure you keep an eye on what they're doing and where they are. Beaches like Playa de los Muertos are family-oriented, but there are some party-party establishments nearby that you can steer clear of – not exactly family-friendly!
Remember to protect your family from mosquitos too. Insect repellent is essential to keep mosquitoes away.
Generally, however, Puerto Vallarta is a safe place to travel with families – and all-round cool place to take your kids!
Getting Around Puerto Vallarta Safely
Driving in Puerto Vallarta is pretty straight forward. It's easy to navigate: the sea is on one side, the mountains, the other. You will need an international driver's license.
Renting a car opens up the area for fun road trips. Though, Mexico is far from the safest place to drive with road accidents being one of the leading causes of death.
The drivers around Puerto Vallarta, Riviera Nayarit, and Banderas Bay are far from cautious. Pay extra attention to other drivers and pedestrians. Please be extra vigilant and AVOID nighttime driving.
You can hire taxis easy enough. Ask your accommodation where your nearest taxi rank. Avoid hailing them off the street: using unofficial taxis is risky (more information coming on this).
Better yet, Uber is safe in Puerto Vallarta. They're usually cheaper and much safer than normal taxis.
Now… airport taxis. Inside the arrivals terminal, you can find licensed taxis. This is more expensive, but you're guaranteed a licensed taxi.
The public transport is safe in in Puerto Vallarta and is made up of two things: bus and boat.
If you want to get around town cheaply, hop on the local bus. You can get them all over the place.
The buses run on loops roughly every five minutes. For long-distance journeys, make sure to only use first class bus companies.
The other way to get around Puerto Vallarta are water taxis. These serve routes that run to the southside beaches. Usually, these depart from Playa de Los Muertos.
When you grab a boat, make sure that it's not overcrowded – and wear the lifejacket. No, lifejackets have always been cool. Cover up or wear a ton of sunscreen; these boats are the perfect recipe for some gnarly sunburn.
Scams in Puerto Vallarta
Scammers are active in tourist zones in Puerto Vallarta. So be prepared to expect all your standard travel scams and common sense will help with most of them. I'm going to give you a heads up on some of the most common scams.
Taxi scams – these guys never stop. The most common scam is simply overcharging tourists. Ask your accommodation how much you should be paying roughly.
Sometimes taxi drivers try and take you on a tour (sometimes without asking) then charge you for it. Only use official taxis and agree a price before getting in. Official taxis are yellow and have the license displayed.
Don't use large bills in taxis. This could honestly be too large for the drivers to give you change, but other times they might try to bamboozle you with shortchange.
Mustard scam – or basically a distraction scam: someone spills some kinda sauce on you and a friendly stranger comes to your aid. A perfect way to quickly raid your pockets and be gone before you notice.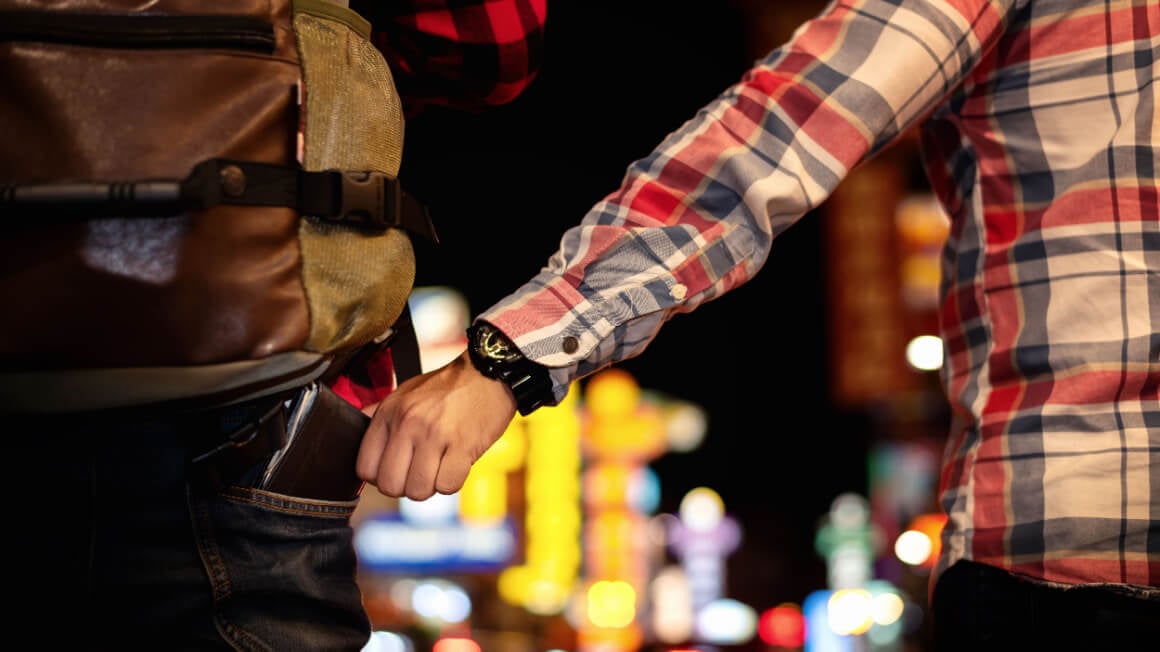 Police bribes – there is a "zero tolerance" policy when it comes to police asking for bribes. If it does happen, you can report it to the police (of course).
Airport scams – sellers will over massively overprice services at the airport. You can politely decline: "no, gracias". Try and organise your transport, services, and tours before you arrive in Puerto Vallarta or find reputable (and well-reviewed) companies.
Basically, tourists without a care in the world are easy targets for scammers. If someone seems overly friendly or too close in your personal space, that's a red flag.
Getting Insured BEFORE Visiting Puerto Vallarta
Before you go on any type of trip, the best way to cover yourself is by getting insurance. When you're planning to visit Puerto Vallarta, make sure that you get good travel insurance for Mexico – that covers the type of trip you want to have.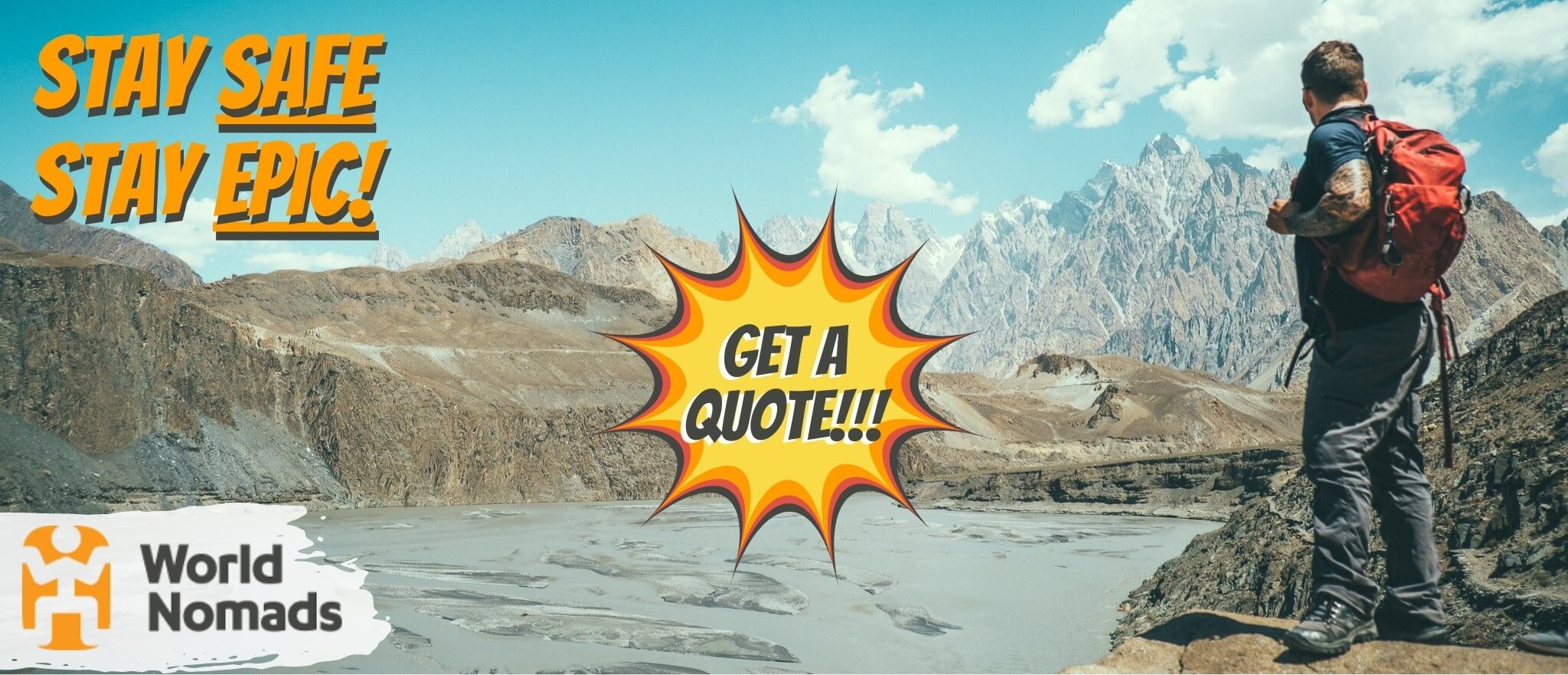 World Nomads' mission is to support and encourage travellers to explore their boundaries. They offer simple & flexible travel insurance, and safety advice to help you travel confidently.
They've been doing it since 2002 – protecting, connecting, and inspiring independent travellers just like you.
Get a quote below or read our in-depth review!
World Nomads provides travel insurance for travelers in over 100 countries. As an affiliate, we receive a fee when you get a quote from World Nomads using this link. We do not represent World Nomads. This is information only and not a recommendation to buy travel insurance.
FAQs about Staying Safe in Puerto Vallarta
Here are some quick answers to common questions about safety in Puerto Vallarta.
So, How Safe is Puerto Vallarta?
Yes, Puerto Vallarta is in Mexico. Yes, it may have a bit of petty crime here and there – pickpockets and stuff. And yes, there may be a bit of a party thing going on here.
What it doesn't have is the same levels of crime that Mexico, on the whole, has. What it also doesn't have is the seedy atmosphere that comes with typical coastal party towns. Puerto Vallarta is a genuinely nice place!
Like we said earlier, this is the sort of place you come to and think, "oh yeah, this is why people want to come to Mexico…" It isn't dangerous here. You won't feel unsafe.
Even as an LGBT traveller, you're going to be pretty mindblown at what an inclusive and welcoming place this is. By extension, solo travelers of all kinds won't feel alone here. It's a friendly, fun place.
We already said that, too. Basically what we mean is this: Puerto Vallarta is safe! The only way you're going to potentially get into any trouble is by doing something stupid, like getting crazy drunk and being reckless; going swimming in the sea whilst off your head, or some other sketchy situation.
The key thing to remember: keep your wits about you and don't endanger yourself. With that, there's no reason why you won't have an unbelievably incredible vacation in Puerto Vallarta!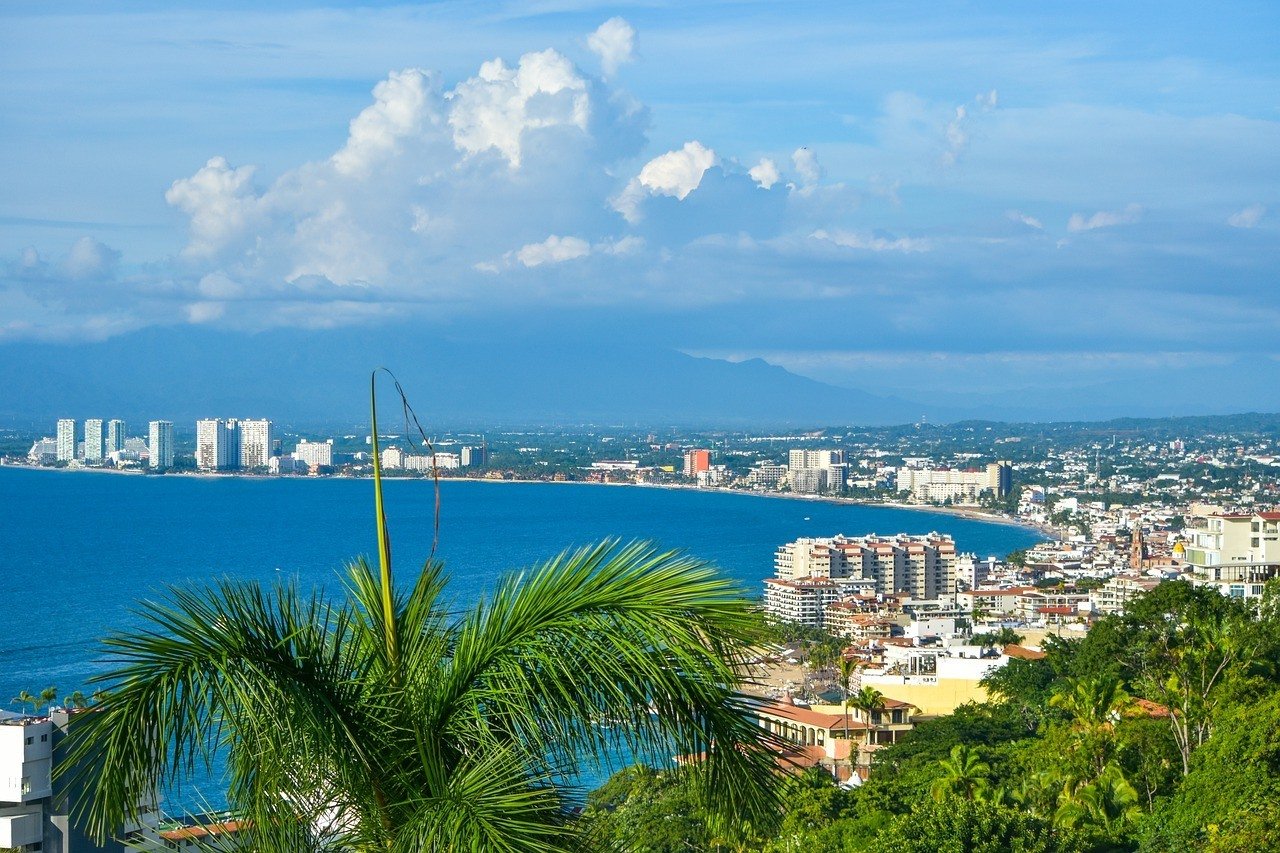 Disclaimer: Safety conditions change all over the world on a daily basis. We do our best to advise but this info may already be out of date. Do your own research. Enjoy your travels!
---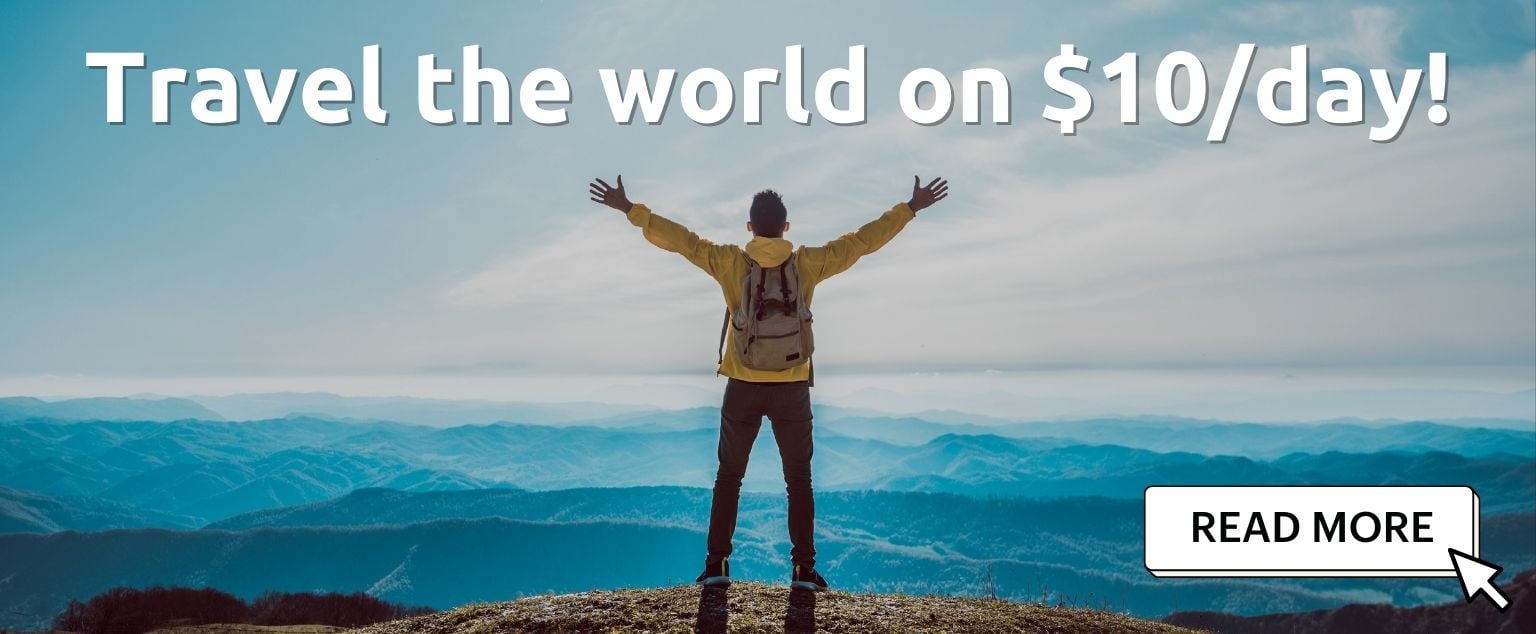 And for transparency's sake, please know that some of the links in our content are affiliate links. That means that if you book your accommodation, buy your gear, or sort your insurance through our link, we earn a small commission (at no extra cost to you). That said, we only link to the gear we trust and never recommend services we don't believe are up to scratch. Again, thank you!