The first time I went solo traveling in Mexico, my expectations were high. I'd heard about the exquisite nature, vibrant cities, friendly locals, and colorful culture, not to mention the incredible food scene, from just about everyone I knew who had visited before me. If it was at all possible, the country only exceeded my unrealistic expectations.
Many view the country exclusively as a resort destination, taking the odd day trip to a Mayan ruin or strolling through a local market. Beyond the classic stereotypes of mariachi bands and street tacos, Mexico is bursting at the seams with cultural vibrancy.
Little did I know: traveling through Mexico alone means building confidence, meeting amazing people, falling in love, and learning a LOT.
The country has been known to get a bad rep for its cartel activity and violence, which deters many solo travelers from exploring. However, Mexico has made its mark as a home for ex-pats and a destination for tourists looking to create lives and communities. Cities like Oaxaca and Mexico City deserve the same – if not more – attention than the idyllic beach towns.
Traveling alone is one of the best ways to get to know yourself by participating in the activities that most excite you. In this article, I will give you all the best advice and tips on traveling solo in Mexico, where to go, and how to stay as safe as possible. Let's get into it!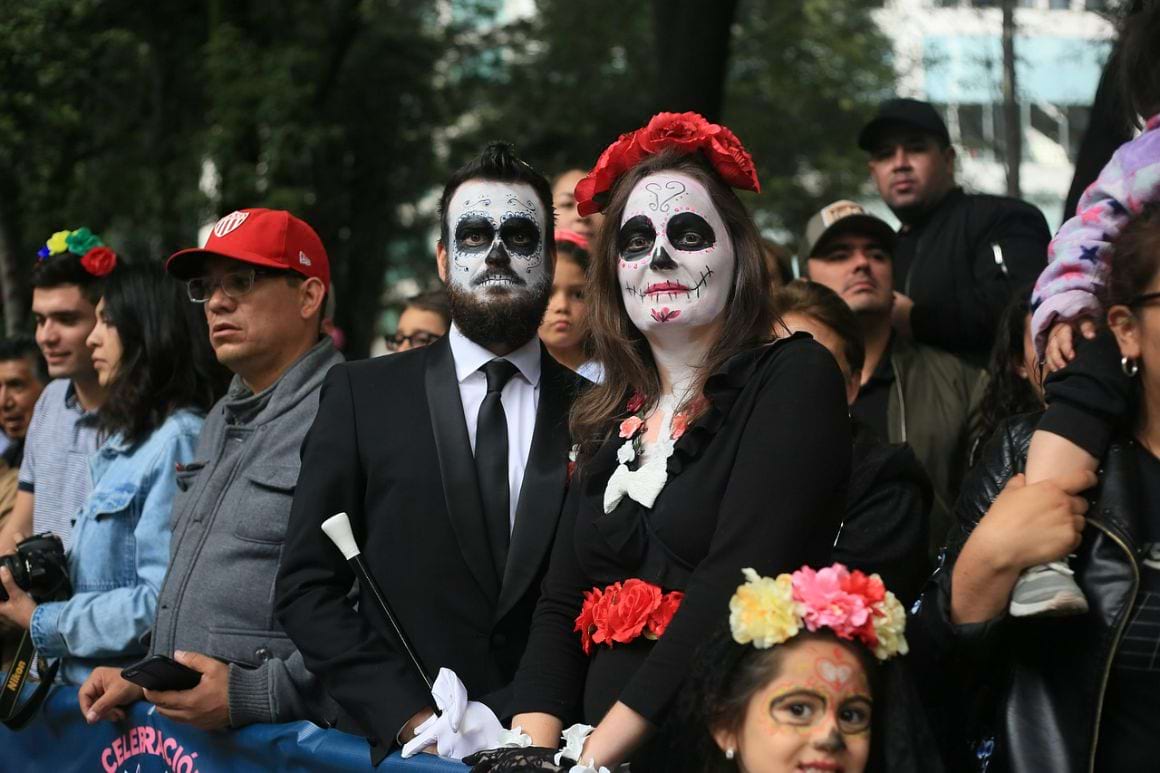 Unlock Our GREATEST Travel Secrets!
Sign up for our newsletter and get the best travel tips delivered right to your inbox.
Tips for Solo Traveling in Mexico
Spend time of your trip in Mexico in hostels. This is the easiest way to make friends. Viajero Sayulita Hostel in Sayulita and Hostal Cuija Coyoacan in Mexico City are two of my favorites.
Plan pre-booked and organized adventures. When you first arrive in a town or city, sightseeing or group walking tours are a great way to get your bearings and see the city through a different lens.
Keep your plans and itinerary flexible. Undoubtedly, you will meet people who guide you toward different destinations and activities you may not have initially planned for. After I fell in love, I moved out my entire itinerary…
Plan your own trip with what you most enjoy. Template itineraries and advice from friends is helpful, but it's always best to research and make time for the activities you most want to do and places you most want to visit. Define your budget and timeline, and research those places.
Know a basic level of Spanish – vital in more remote regions. However, Spanish fluency isn't essential to travel to Mexico, and you can get by knowing minimal Spanish.
Be aware of your surroundings and belongings. Always keep an eye on your possessions on beaches, when traveling on public transport, and in public spaces when traveling solo in Mexico, where petty crime and pickpocketing is expected.
Always share your travel plans with someone you trust back home, and once you make new friends in Mexico, it's a good idea to tell them your vague plans too. This way, if something goes wrong, your family and friends should be able to contact you.
Download an air sim using a company like Airalo when you arrive. There will be times when you will want your phone to organize reservations, order Uber, or check the exchange rate.
Prepurchase a solid insurance plan that covers both health and emergency repatriation and travel insurance in case you run into any issues with lost luggage or misplaced items.
ALWAYS sort out your backpacker insurance before your trip. There's plenty to choose from in that department, but a good place to start is Safety Wing.
They offer month-to-month payments, no lock-in contracts, and require absolutely no itineraries: that's the exact kind of insurance long-term travellers and digital nomads need.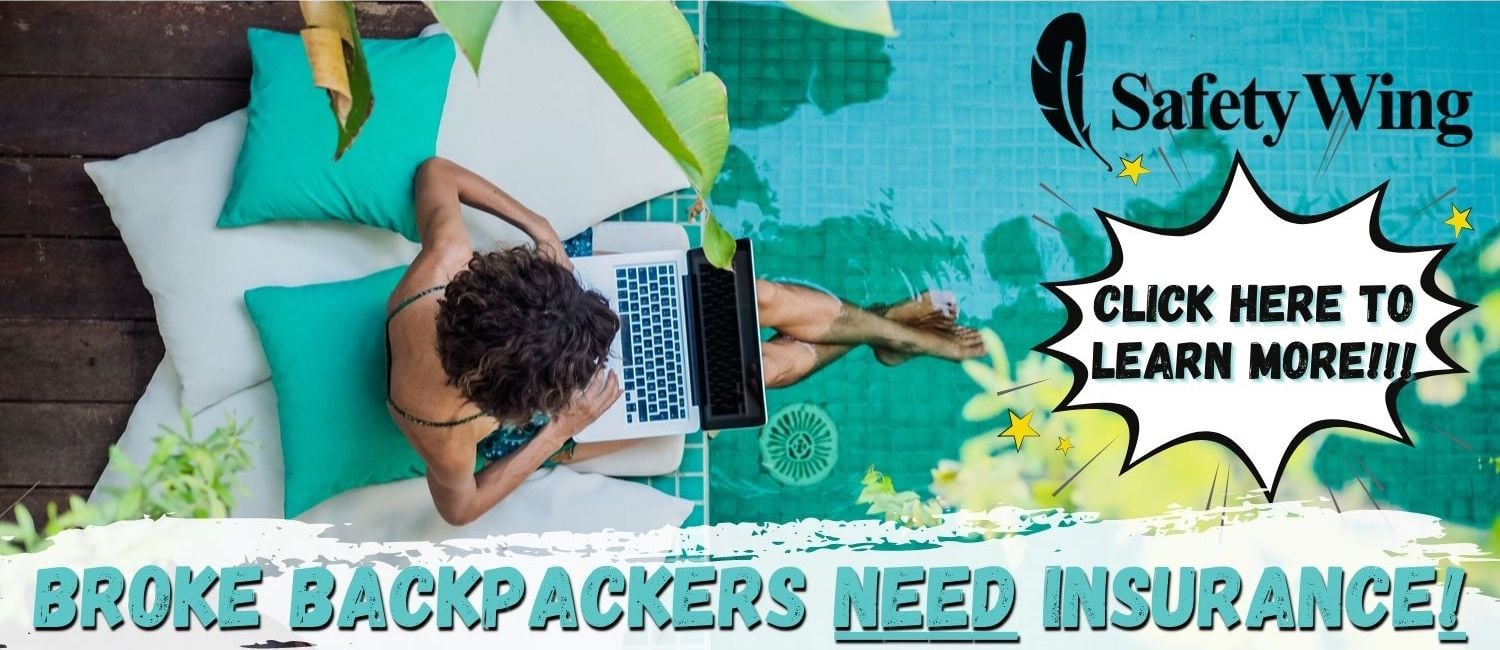 SafetyWing is cheap, easy, and admin-free: just sign up lickety-split so you can get back to it!
Click the button below to learn more about SafetyWing's setup or read our insider review for the full tasty scoop.
How to Meet People when Solo Traveling in Mexico
Stay in a hostel: One of the best ways to meet people when traveling solo in Mexico is by staying in a hostel. Whether you stay in a private room or a dorm room, typical hostels have a variety of shared spaces where guests can socialize. Many hostels even have on-site bars to let loose.
Attend events: If you are staying at a hostel, find a property that organizes regular gatherings or tours. Many hostels (especially in major backpacker destinations) host social evenings like pub crawls, tours, and group activities. Joining a few organized activities is a sure way to interact and make new friends.
Download dating/friend-finding apps: Did you know that most dating apps offer services that allow you to meet and make new friends? Ideal for solo female travel in Mexico, Tinder, Bumble, and Hinge can all be switched from 'dating' to a 'friendship' profile, where you can scroll through and chat with people within your vicinity who may have similar interests or travel plans.
Short-term memberships: If you plan to spend an extended period of time in one particular area, purchasing a gym membership or joining a coworking space is another excellent way to meet people.
Join group tours: Whether you join a tour hosted by a hostel or an independent tour, joining a group tour or activity is one of the best ways to make friends while traveling. Chances are those joining the same tour as you will have similar interests, at least in the tour or type of trip you join together.
Join Facebook groups: They offer a similar way to meeting friends as an online app, just within a different format. Groups like Mexico Travel Community, Travel Buddies on the Road in Mexico, and Mexico Travel Recommendations all host a vast community of tourists and ex-pats, many of whom are also looking for social connections while abroad.
Join cultural activities: Besides tours, joining other cultural activities like language classes or cooking courses is a great way to meet others with similar interests.
Be approachable: Make sure you keep an open mind about meeting others while in Mexico. Be available when others ask for advice or directions or to take photos of them. Being open and available makes you seem more approachable and makes it easier to strike up a conversation with a stranger in arbitrary scenarios.
5 Best Solo Destinations in Mexico
Mexico is bursting with activity and color, with a surprise in every direction you turn your head. That said, like any country, there are certain regions that are better suited for solo travelers than others, and some that I would recommend you outright avoid.
Mexico has a bad reputation for safety related to crime and gang violence and it's not really fair. It's always a good idea to do personal research about neighborhoods inside major cities since there are always places you would instead not find yourself passing through (especially alone). Though, these really aren't places of interest.
Enough about that; here are five places that are incredibly welcoming for solo female travelers in Mexico:
Mexico City (CDMX)
Founded in 1325, Mexico City is the oldest continually inhabited city on the American continent and one of the most populous in the world. The city is home to an incredibly vast population with something to offer every type of traveler, including more museums than any other city in thew world.
Visiting Mexico City needs to involve the cultural scene. It's bursting at the seams with incredible restaurants and unique cuisine, gorgeous parks, and incredible options for accommodation.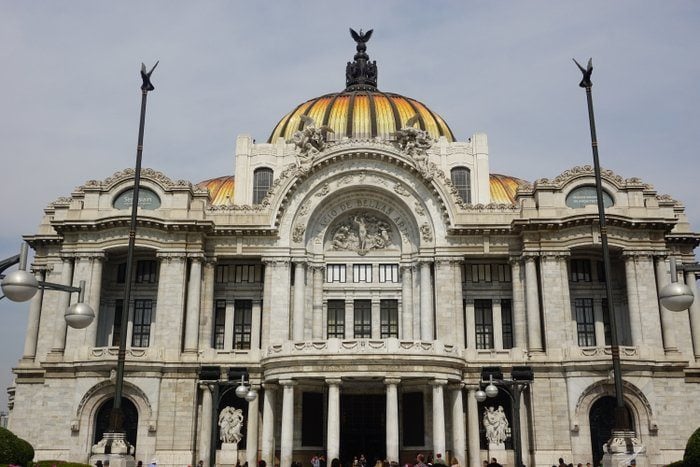 Viajero CDMX Centro Hostel is a beautifully designed property in a safe historic neighborhood. Surrounded by Mexican culture and history, the hostel is packed with local art and craft showcasing the unique artisanal creatives of the area. Choose from a private room (with breakfast included), a single private ensuite, or a range of dorms from six to twelve beds. Female dorms are available for solo female travelers.
So, is it a safe city for solo female travel in Mexico City? The short answer is yes, but the long answer is that this comes with a few apparent appendixes.
Common sense and intuition are always important, but so are avoiding specific neighborhoods. The atmosphere can change quickly from neighborhood to neighborhood. Generally safe to explore as a solo female, Roma Norte/Sur, Condesa, Centro Historico, and Zona Rosa are good areas to find accommodation in CDMX.
San Miguel de Allende
If you're wondering what it takes to be a good city for solo travelers, staying in San Miguel de Allende is the answer. It has a moderate year-round climate, gorgeous architecture and mountain views, and an abundance of World Heritage Sites nearby.
It's also considered relatively safe, small enough to explore by foot (the center, at least), and known for its incredible art, culture, and architecture. It is popular with solo travelers and digital nomads, long-term ex-pats, and artist communities. With tons of festivals held in the town, it's gaining traction with younger travelers.
El Jardin, the central town square, is where you'll find the highest concentration of restaurants, shops, and other inspired travelers. It's also just a short drive from the surrounding vineyards of Mexico's wine and cheese route.
San Miguel de Allende has accommodation options for all budgets, ranging from impressive hotels and boutique bed and breakfasts to affordable hostels suitable for sociable solo travelers.
Located in central San Miguel de Allende, Meson Amelia is one of the best Mexican solo travel hostels, built on the foundations of a 30-year-old mansion. It offers a more intimate vibe than other hostels, with small four-person dorms and female-only rooms, a central courtyard space, and an on-site restaurant.
Sayulita and San Pancho
Just an hour's drive from Puerta Vallarta on Mexico's Pacific coastline of, Nayarit, Sayulita, and San Pancho are neighboring beach towns with much to offer. The small beach towns are known for their intimate town centers, incredible nightlife (Sayulita especially), and excellent surfing conditions for beginners.
Sayulita is the busier town of the two, offering a small yet significant center with many shops, restaurants, bars, cool ass hostels, and nightclubs. While certainly more of a tourist destination, the town still hones into the local feeling of small-town Mexico, with no chain stores or Western restaurant brands to be seen.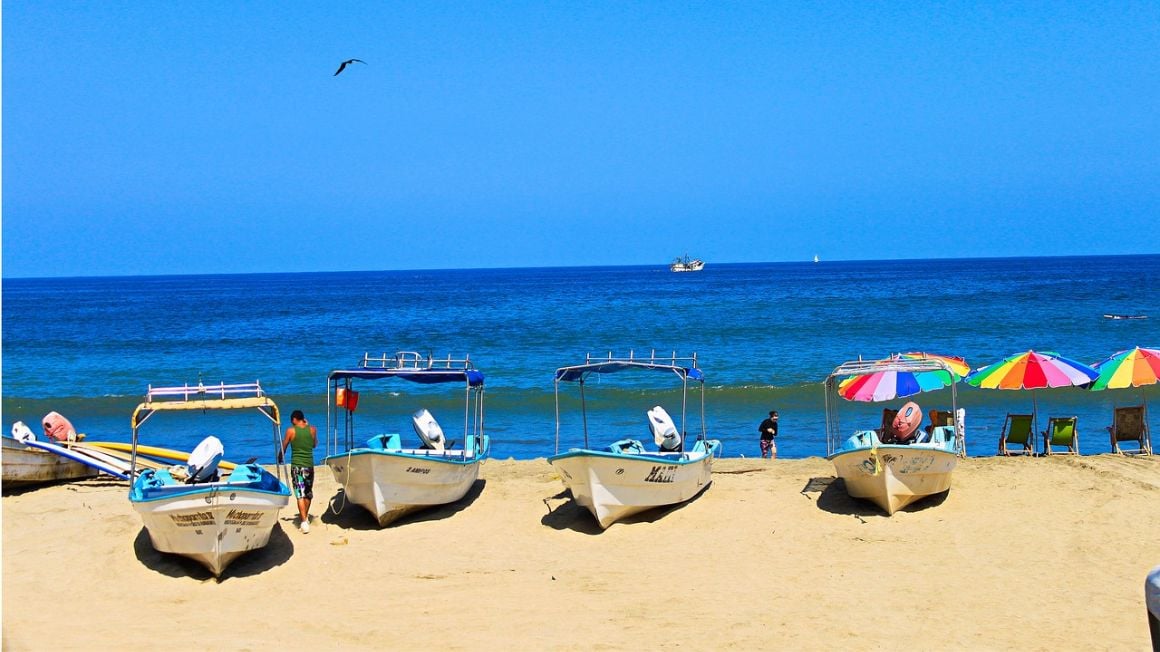 San Pancho is a lot smaller yet less touristy than Sayulita. Visitors flock to the exquisite beach to watch the sunset, surf, and enjoy ball games on the sand. Both towns are relatively affordable, although priced slightly for tourist markets.
Known for its properties worldwide, Selina Sayulita is one of the beach town's most popular hostels. Set right in the heart of the town; it's just a few meters from the beach and all major restaurants and nightlife. Of course, the hostel hosts daily events and activities, which offers an easy way to meet friends while traveling solo.
Oaxaca City
Oaxaca City is known as one of the best destinations in Mexico for female solo travelers in Mexico. The city is smaller than one might expect and is also the cultural capital of its state.
The central town square, called the Centro Historico, is a World Heritage Site. Since the city is one of the food capitals of Mexico, joining a food tour is one of the best ways to experience the city's charm.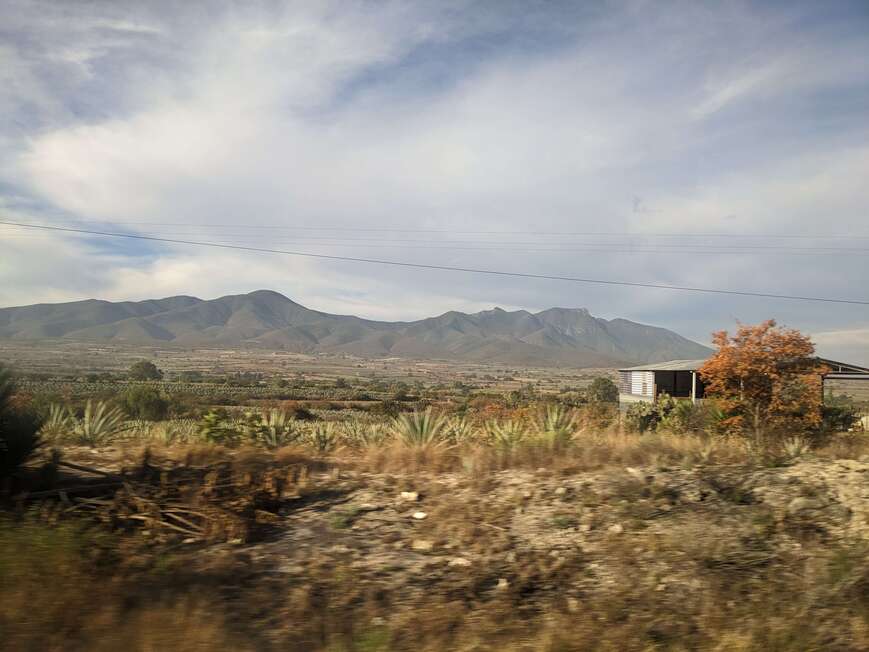 You'll feel safe walking around the city alone during the day, even as a female solo traveler. However, I always advise walking with a group or using taxis at night as a precaution. The city has boomed as a tourist destination, which means it's easy to meet other travelers, but prices can also be higher than local towns. Regardless, accommodation and food are affordable, and staying in a hostel or boutique hotel is a great way to meet others.
One of the most exciting hostels in Oaxaca is Casa Angel Hostel. This award-winning hostel is one of the best places for solo travelers in Mexico to mingle and let loose. They have a perfect, city center location in the historic area of Oaxaca and offer endless activities for backpackers to get stuck into.
Guadalajara
One of the best destinations for solo female travel in Mexico, Guadalajara is a colorful, vibrant, yet equally relaxed city just a six-hour drive from Mexico City. There are plenty of safe neighborhoods here, including Chapultepec and Colonia Americana, both of which boast a range of boutique accommodations and affordable hostels.
As the second largest metropolitan center behind CDMX, this city has a lot to do and see. The Centro Historico and Zocalo neighborhoods are an excellent place to start exploring, home to a range of historic buildings and exciting markets.
One of the best things to do while in Guadalajara is take a day trip to Tequila. Unsurprisingly, this is the small town where the famous Mexican liquor is produced. There is even a Tequila Train that offers a full-day tour through the town. Another incredible place for a day trip is Tlaquepaque, a magical town known for its artisanal pottery production.
With a lush rooftop garden terrace and sunset views, Hostal Bohostel Chapultepec is one of Guadalajara's most authentically attractive properties. It's just a block away from the city's trendiest avenues offering private and shared rooms with cozy common areas. The hostel also offers a range of activities like yoga and cooking classes.
Is This the Best Travel Pack EVER???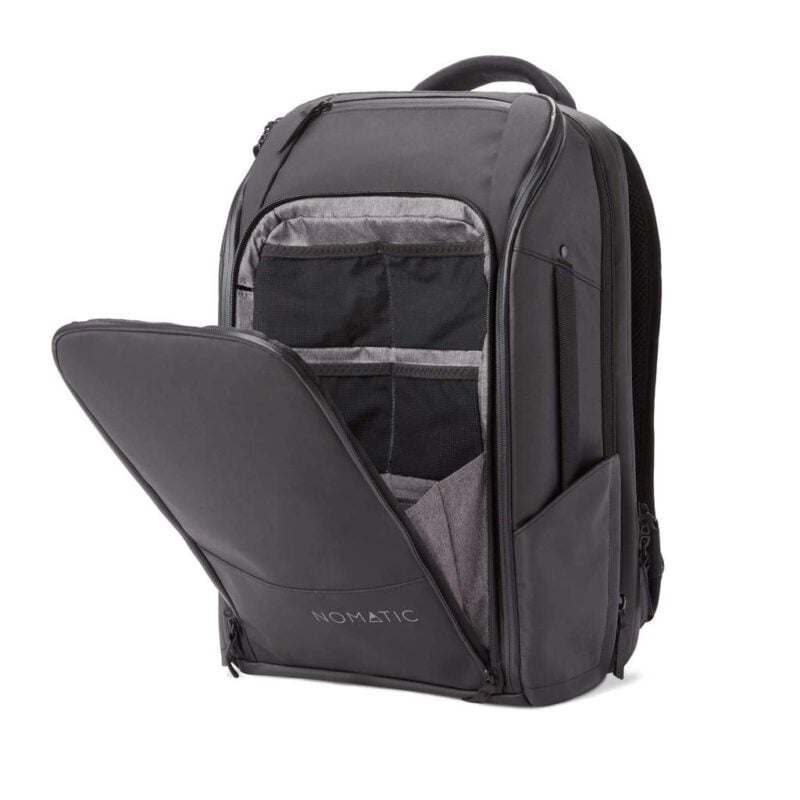 7 Things to Do in Mexico When Traveling Solo
Mexico is pretty much a paradise for beach lovers, culture fanatics, and foodies. If you're looking for ways to spend your alone time, you could sip on a fresh coconut on the beach, explore unique markets, take yourself on a self-made food tour, or spend a day soaking up knowledge in one of the country's best museums.
From the Pacific coastline lined with world-class surfing waves to the calm waters of the Caribbean Gulf of Mexico to the rumbling volcanoes, each corner of the country boasts its own unique ecosystem, culture, and history. With a natural landscape so diverse, it's not hard to believe that Mexico is bursting at the seams with different activities and things to do as a solo traveler.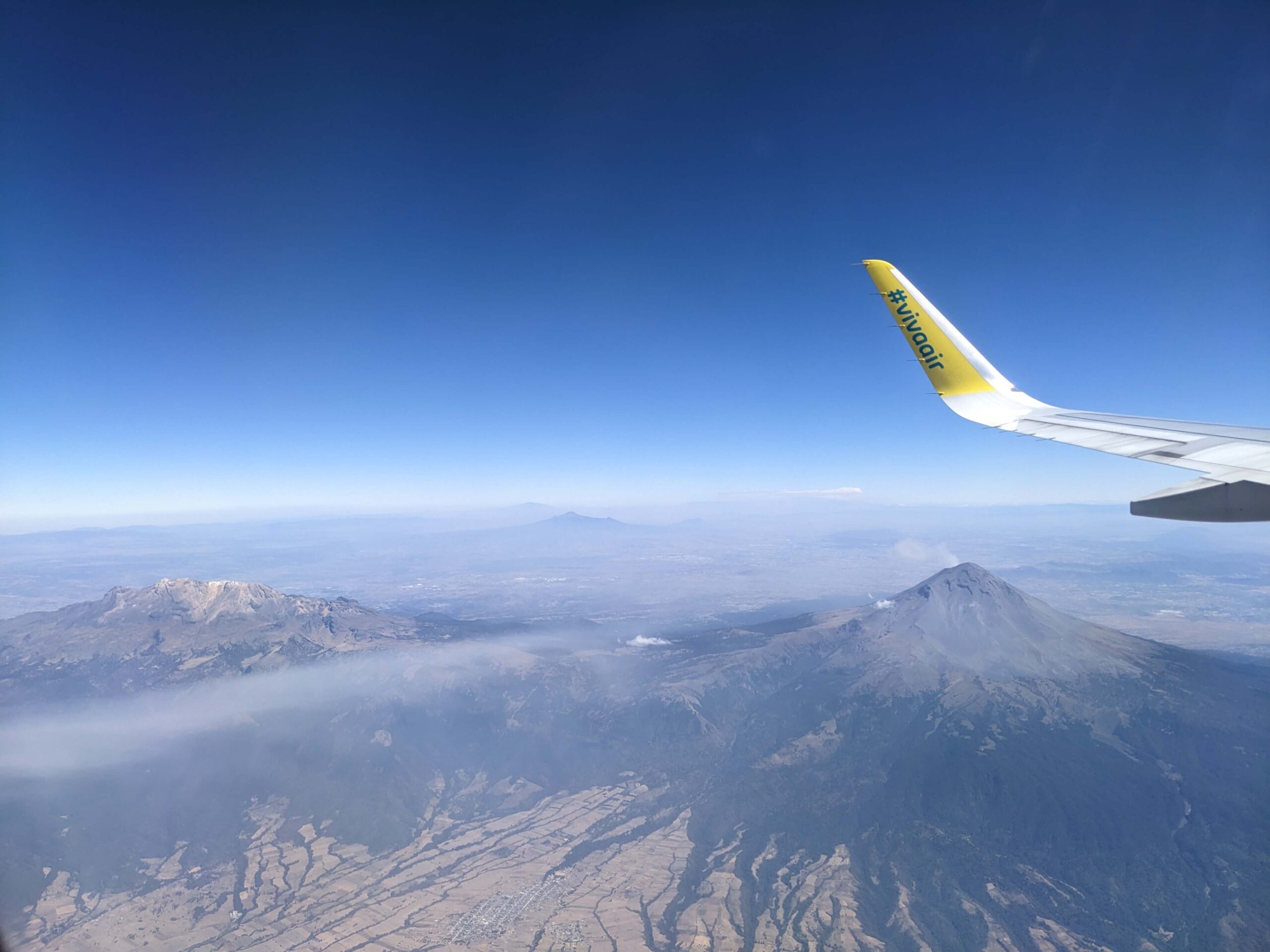 If you'd prefer to join others on a fun activity, check out local tour groups or travel groups and join a trek or hike through nature, take a group surfing lesson or cooking lesson, explore ancient ruins in an organized tour, or simply enjoy the social atmosphere at a local bar or nightclub.
1. Get to Know Mexico's Surf Scene
If you're traveling solo in Mexico and like to stay active while catching some sunshine, Mexicos Pacific Coastline is packed with incredible surfing conditions and waves for all levels. Surfers offer a very child-out outlook on life and are usually friendly and welcoming even if you aren't a surfer yourself.
The surfing scene is well worth checking out, and Puerto Escondido is particularly well-known among the world's best surfers, while places like Sayulita and San Pancho are more suited for beginner and intermediate surfers.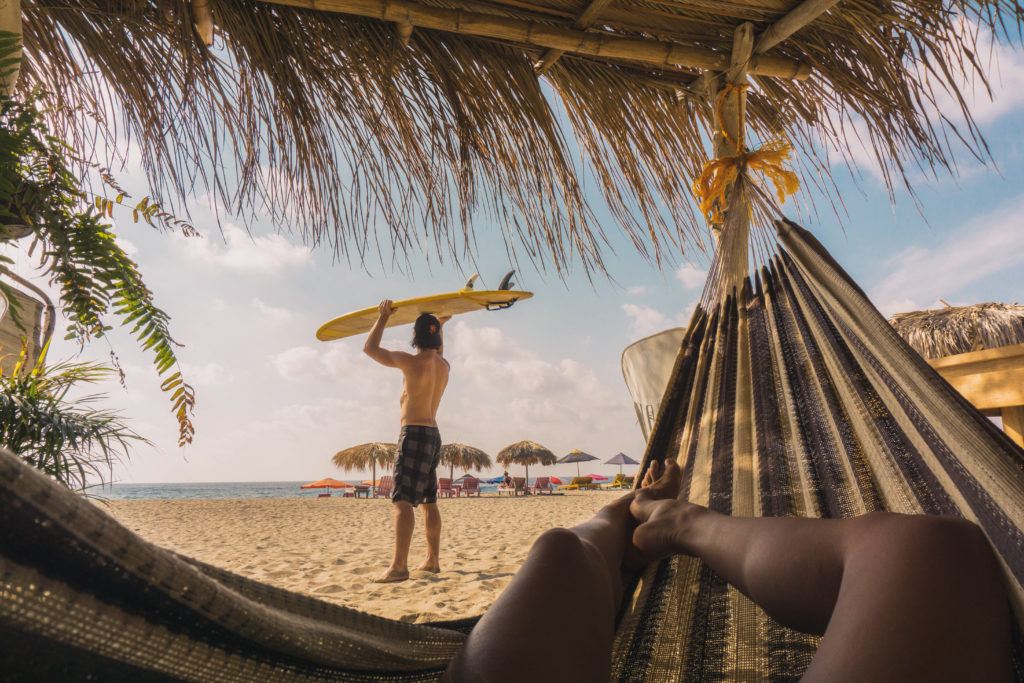 By spending time out in the water, you'll be getting your daily dose of vitamin D in, exercising your body, and will get a chance to see the country from a different point of view. Whether you want to try your hand at the sport or not, you will no doubt leave with a few cool new friends.
2. Support a Small Business and Take a Local Cooking Class
The cuisine is one of Mexico's most valued 'exports.' With tacos and burritos available across the four corners of the world today, Mexico truly does offer something special when it comes to food.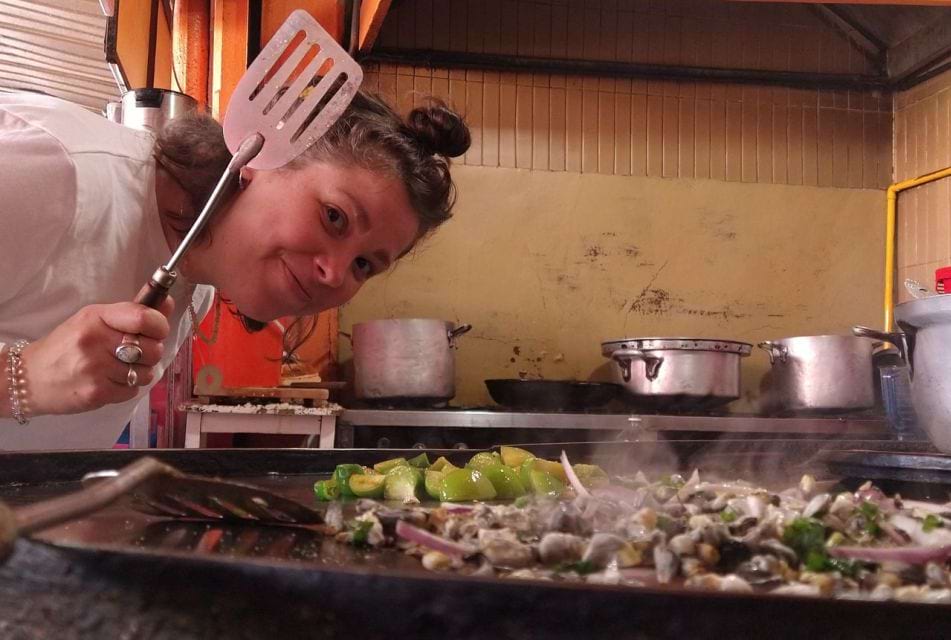 That said, the food you'll taste within the country is a unique experience from what you might have tried abroad, and the way it is prepared locally is an art compared with how you might throw your breakfast burrito together in the morning.
One of the top Mexican solo travel tips, joining a cooking class is a great way to learn about the local culture of your region, while meeting other travelers and supporting a local business. Typically hosted by a homely chef (the matron of a home), you'll learn the ins and outs of authentic Mexican cooking as it is passed down from generation to generation.
3. Volunteer
Volunteering abroad is one of those activities that is just good for you in every sense. It doesn't matter if you choose to volunteer with a local animal shelter or cook for hungry children, the selfless act makes you feel helpful, all while helping you gain experience, promoting your own self-esteem and personal growth, and strengthening your ties with the local community.
There are all sorts of ways to help out in Mexico, offering you a chance to 'give back' while meeting other volunteers, locals, and learning about Mexican culture.
4. Join a Group of Strangers on a Tour of Ancient Mayan Ruins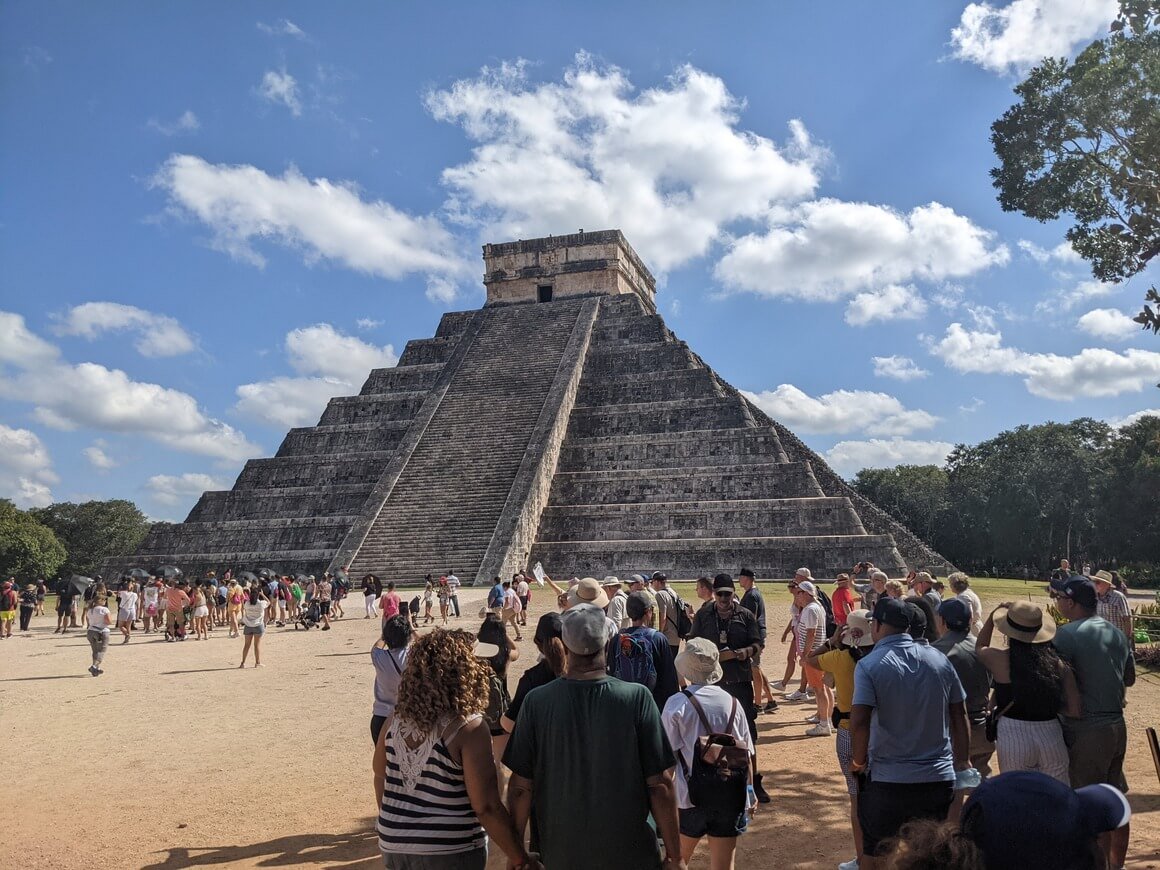 Mexico's history and unique heritage are not to be missed. Known for their incredible stone pyramids and intricate cities, the Maya were an advanced ancient civilization known for their incredible understanding of agriculture, pottery, and maths.
Still standing tall today, visiting these incredible ancient pyramids offers a glimpse into the past of Mesoamerica. If you're traveling solo in Mexico, take a day trip from Mexico City to Teotihuacan and the Tlatelolco ruins of the Sun and the Moon.
5. Play Chess with the Locals
Even though you might not be able to communicate using Spanish, chess is a world-famous game that is understood by just about every nationality. You'll find locals enjoying a game of chess in hostels, parks, on sidewalks, and in busy marketplaces, who will welcome you to compete with them in a friendly battle.
6. Join a Spanish Class
Spanish is one of the core components of Latin heritage, and understanding a basic level of the language will not only be an added skill set for yourself but will earn you more respect from locals when exploring Mexico. Plenty of language courses are offered throughout the country, offering essential to advanced level courses. Of course, joining any class like this will leave you with a well-rounded group of new friends.
7. Adventure Across the Beautiful Mexican Landscape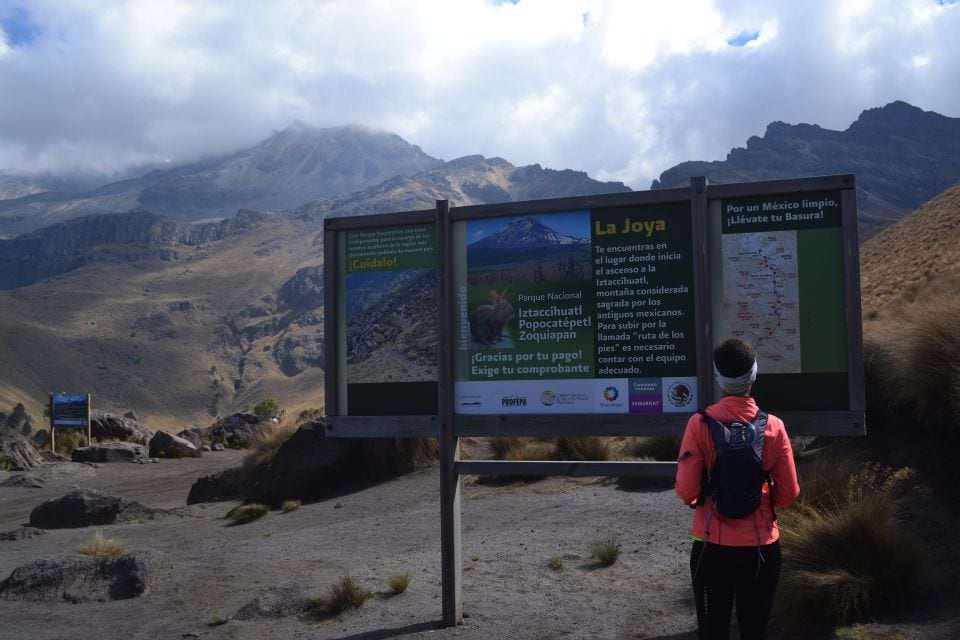 If you enjoy spending time outdoors and in nature, you'll want to seek out the best hikes and treks through Mexico's best national parks. From one point of the country to the other, you could explore the dense tropical Lacandon Jungle and venture through the cacti-studded Sonoran Desert.
Perfect for Mexico solo travel, a hiking tour from Mexico City ventures into the peaks of the Iztaccihuatl Volcano with a trained alpinist.
The Best Travel Apps for Solo Travel in Mexico
Having the right apps for travel makes your life a whole lot easier.
Hostelworld – The best way to search and book affordable dorms or private rooms
Couchsurfing – Ideal for budget travelers but not advised for solo female travelers
Airalo – An e-Sim application that allows you to download a data-only Sim card without installing a physical card
Tinder – Suitable for meeting friends in foreign places
Hinge – Designed for dating and meeting likeminded travelers
Bumble – Ideal for making new friends
Backpackr – A social app for travelers to find nearby travelers
If meeting like-minded travelers is your goal, check out the current popular Facebook groups for travelers in Mexico.
Safety Tips for Solo Travelers in Mexico
Like any destination, there are certain areas you should stay clear of and things you should avoid doing in Mexico. One of the leading Mexican solo travel tips to staying safe is to avoid unnecessary attention. Don't wear flashy jewelry or wear unnecessarily revealing clothing, as this will only attract predators.
Listen to your gut and trust your sixth sense – we have it for a reason. Share your plans with those you trust, but avoid oversharing information with those you don't know. Partying is fun, but don't get blackout drunk when out alone at night.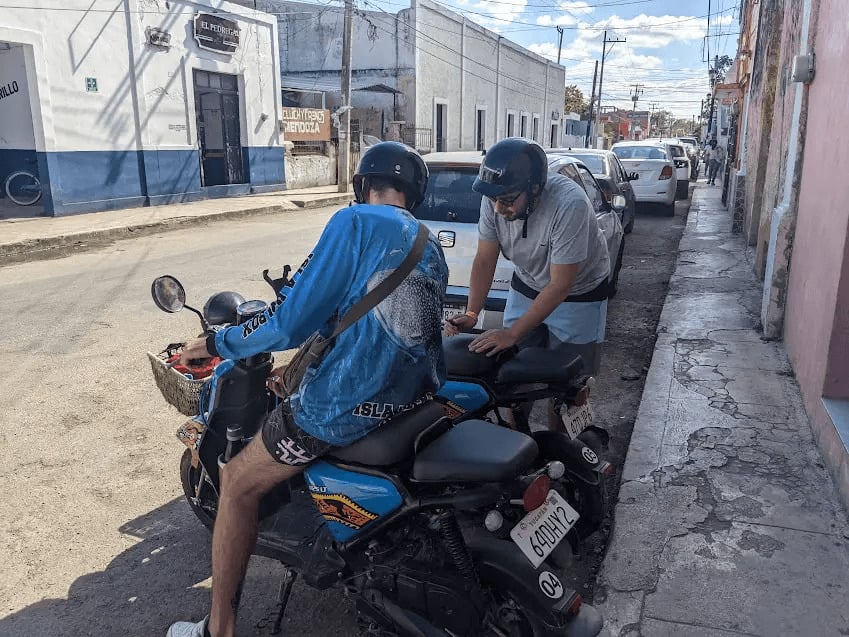 In the same vein, don't leave drinks unattended; no matter how good that margarita looks, never accept a drink from a stranger. I don't think I have to explain this one.
Although optional, learning basic Spanish is a great way to understand your surroundings. Locals advise tourists to avoid calling the police. Bribery is rife, and the police force won't necessarily be on your side.
Always carry cash with you; there will no doubt be a scenario when you want to buy something or get home, your Uber app doesn't open, your phone dies, or your card doesn't work.
Final Words for Solo Travelers in Mexico
All in all, there is little negative to be said about traveling to Mexico solo. Since the country is so large, it can be daunting to decide which places to visit, where to stay, and what to do in Mexico at the best of times. The best thing about traveling solo? You can make all the calls for yourself and spend your time exactly how you want to.
If you possess a good level of worldliness and common sense (which is necessary for any solo adventurer), you'll find Mexico is not at all intimidating or scary and instead is home to some of the friendliest locals, the most exquisite landscapes, and exciting cities.
From the laid-back vibe of Baja California and the Pacific coastline to the dynamic beach scene of the Caribbean side, Mexico has something to offer every traveler.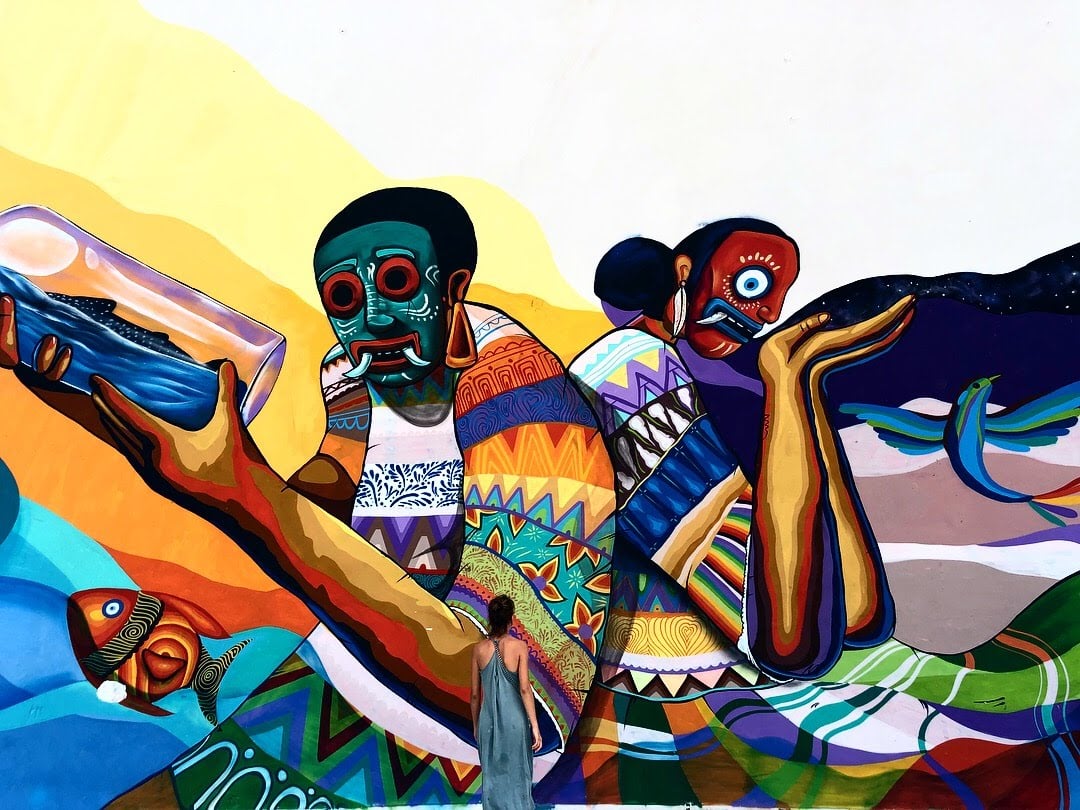 ---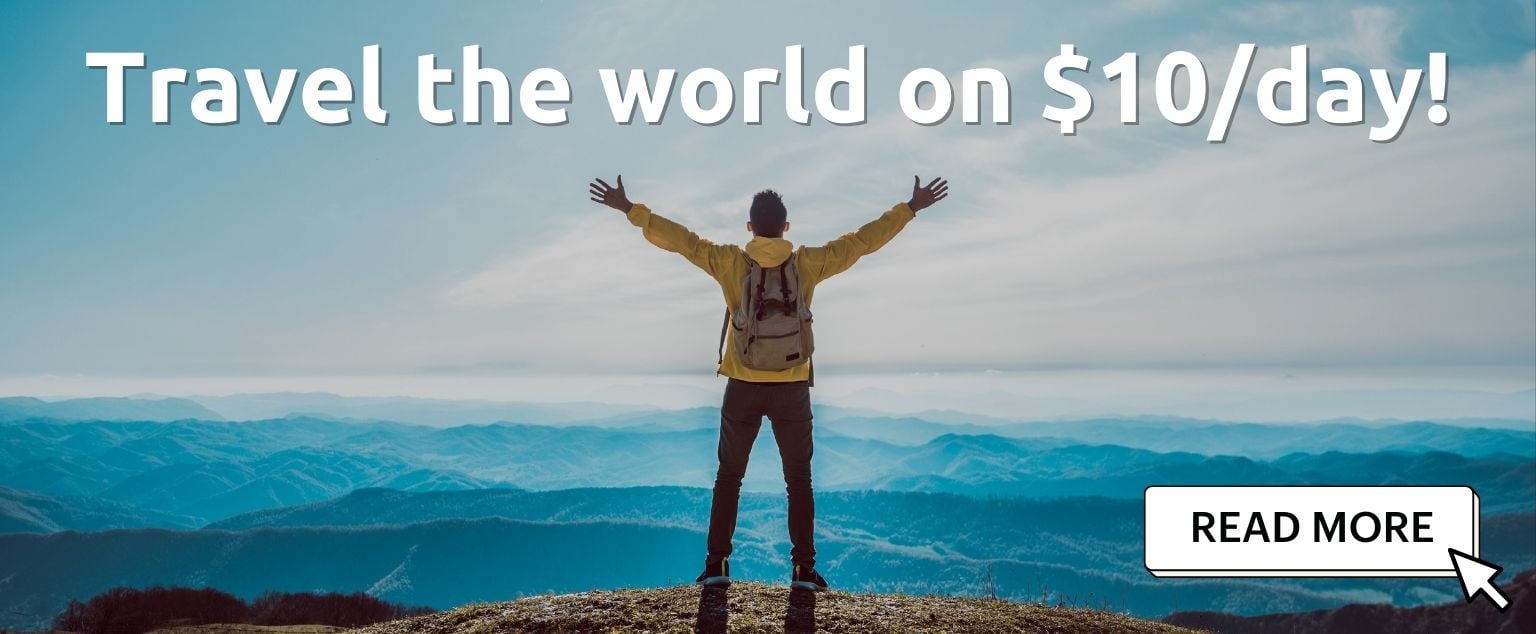 And for transparency's sake, please know that some of the links in our content are affiliate links. That means that if you book your accommodation, buy your gear, or sort your insurance through our link, we earn a small commission (at no extra cost to you). That said, we only link to the gear we trust and never recommend services we don't believe are up to scratch. Again, thank you!