So, here's the deal: I'm NOT a surf pro. I mean, I've wiped out more times than I care to admit. But there's something about the whole surf town vibe that's just plain addictive, you'll see.
I had heard so much about the beach towns in Mexico. So, they were the first places I've visited when I embarked on my first backpacking adventure as an eighteen-year-old solo American traveler.
Now don't get me wrong, I wasn't on the hunt for killer waves. I was after those good vibes, the community, the whole shebang that makes these places buzz.
I spent A LOT of time scouting out THE BEST beach towns in Mexico, and I have managed to narrow them down to this list of the greatest Mexican coastal towns and some of my experiences whilst there.
So, if you're all about that soul-filling, beach-loving, barefoot, and free kind of travel, then this guide is like your golden ticket to Mexico's surf towns and what to do apart from the waves…. 🙂
When I first started solo traveling in Mexico, I went to some nice beach towns where the water was clear, the sand was white, and the waves were rolling.
But you know what? Something wasn't quite right. I found myself surrounded by families, grandparents, or spring breakers and as a young backpacker, I just didn't fit in. I knew I was on the hunt for a specific vibe, but couldn't place my finger on it.
Then one day, while I was strolling barefoot through a bustling market in Guadalajara's city center, this laid-back backpacker guy in his twenties, rocking a colorful shirt and a big ol' grin, came up to me. He chuckled and pointed at my feet, saying, "What are you doing barefoot here…? You belong in Sayulita."
And just like that, with a metaphorical puff of smoke, he was gone… I took this serendipitous meeting as a sign, and the next day there I was, on a bus to Sayulita; a truly special place that would change my life forever. I had finally found where I belonged, and I was hooked. Let me tell you all about it…
Sayulita is an official "Pueblo Magico" a.k.a. magical town located on the coast of Nayarit, Mexico, just a couple of hours west of the city of Guadalajara and an hour north of Puerto Vallarta. This was one of my favorite places to go when backpacking around Mexico.
The cool part about Sayulita is that it has held onto its hippie and surfer vibe since the '60s. The counterculture spirit is still prevalent and alive!
What to Do in Sayulita
Sayulita is a great place to start if you are backpacking on a budget, as it's pretty affordable! This area is surrounded by mountains begging to be explored, and it's relatively easy to get out into nature.
The trek that takes the cake? Monkey Mountain. Warning: It's a tough one, but the view from the top? A total game-changer.
Head out at sunrise, as it gets pretty hot… You may have some pretty magical wild horse encounters. If you're lucky, you might meet the Huichol Indians conducting a ceremony, as this is considered a sacred mountain.
Make sure you stop by the weekend market in Sayulita for some crafts, tacos, and live music. I loved this market, with my favorite souvenirs, of course, being the ones from the Huichol Indians.
As the sun goes down in Sayulita, that's when the fun comes out, the place comes alive with music, energy, and good vibes, making it one of the best beach towns in Mexico.
Check out places like Don Pedro's, which has themed nightly parties, or the great street parties around town. You'll dance all night and end up eating street tacos at 4 a.m. and sleeping on the beach…
Another great thing to do in Sayulita is to visit the Sea Turtle Camp. This is just a small hut located on the main beach in Sayulita.
Here, you can volunteer to help relocate the turtle eggs as well as release the hatchlings! Volunteering in Mexico is a very powerful way to inject more meaning into your travels! It was one of my favorite experiences here.
Best Beaches in Sayulita
Playa Sayulita is the main beach in town. Head here for sunset, enjoy the plethora of beach bars and restaurants, and take part in the chill waves you can find here. Also, be sure to bring your camera along, you don't want to miss this!
You must visit Isla de Marietas, a hidden beach. Several tours are leaving from the beach at Punta de Mita, but I would recommend finding some friends from a hostel and getting your own private boat.
I accidentally ended up on a booze cruise with a bunch of uni kids who got so drunk that the boat turned into a giant orgy when all I wanted was a chill snorkeling day. Get a private boat, TRUST ME!
If you're looking for a quieter option, check out Playa Carracitos, a remote beach perfect for journaling, meditating, and reconnecting with nature. I would go here everyday and have the whole beach to myself!
Then, there's Playa La Lancha which is where the surf crown normally hangs out.
This beach is perfect for surfers and surf watchers, as it offers loads of trees with ample shade. It's also a longer beach, perfect for a nice stroll.
Okay, let's talk about Playa Los Muertos, meaning "beach of the dead". Don't let the name freak you out – it's called this because, on your way, you'll pass by this incredible graveyard, fully decked out in photos, food, and flowers, and painted in all the colors of the rainbow.
It's located right next to the main beach of Sayulita, but way less crowded. Like a quick 15-minute walk from town.
Day Trips from Sayulita
Sayulita has some great day trips!
My favorite is the nearby town of San Pancho, a smaller, quieter version of Sayulita.
Here, the town goes silent as everyone meets on the beach for sunset. Every. Single. Night. You'll also find small beach bars with open mic nights, sound healing sessions, and yoga.
An absolute must-try in San Pancho is experiencing a Temezcal, a traditional Mexican sweat lodge. Forget the fancy spas; this is the real deal, an ancient ritual that connects you to the land, the culture, and yourself.
If you're looking for a more local vibe, check out Lo de Marcos, a quieter beach town with calm waters and a super relaxed atmosphere. You can get a glimpse into local Mexican life here.
One of my other FAVORITE day trips from Sayulita is visiting the Pueblo Magico of San Sebastian De Oeste! This quaint mountain town lies just a two-hour drive away from Sayulita.
My journey to San Sebastián was quite spontaneous – a result of going hitchhiking with no particular destination in mind, often my favorite way to travel. You can get here by the local bus system as well.
This town is nestled in the Sierra Madre Occidental mountains. It offers charming colonial-era architecture and culture that give a glimpse into Mexico's rich history and natural beauty.
Friends…. ALWAYS Get Insured
Now if you're like me, and you'll accidentally eat the world's most poisonous fruit… then I recommend ALWAYS getting quality travel insurance when traveling!
I use World Nomads, and it's never let me down.
ALWAYS sort out your backpacker insurance before your trip. There's plenty to choose from in that department, but a good place to start is Safety Wing.
They offer month-to-month payments, no lock-in contracts, and require absolutely no itineraries: that's the exact kind of insurance long-term travellers and digital nomads need.
SafetyWing is cheap, easy, and admin-free: just sign up lickety-split so you can get back to it!
Click the button below to learn more about SafetyWing's setup or read our insider review for the full tasty scoop.
Where to Stay in Sayulita
Sayulita is full of amazing hostels, but La Redonda Hostel was my favorite.
They've created a hostel with such a wonderful social vibe. I made so many friends here. They've got an in-house bar and have surfboards and bicycles for rent too!
If you want some more amazing hostels, check out our best hostels in Sayulita guide!
Are you considering a trip to these beach towns but are unsure of what backpack to buy? Well, this is the bag I bring on ALL of my travels and it's served me well!
Puerto Escondido is a wonderful coastal town located in the state of Oaxaca, Mexico, and is a great place for solo travel in Mexico.
This town is known for killer beaches, amazing surf vibes, and just a whole lot of character. While it used to be more of a backpacker's hidden gem, it has become a bit more mainstream. The secret is out and people just want to see it for themselves.
What to do in Puerto Escondido
Most backpackers flock to La Punta, an area known for its laid-back vibes, vibrant nightlife, and good sunsets. There are incredible things to do in Puerto Escondido!
Spend your days participating in beachside games or learning how to surf! A lot of people describe La Punta as its little bubble, as most people who come here never want to leave.
Rinconada is my favorite neighborhood in Puerto Escondido. This is where you'll find plenty of digital nomads living in Mexico and backpackers alike.
It is tucked away from the chaos and has a great mixture of locals and tourists. It's far from the busy streets, and it's packed with cute cafes, nice shops, and just a great, chill atmosphere.
A MUST do while here is watch the sunset from the 3km stretch of white sand and palm trees that is Zicatela Beach. Here you can find loads of beach bars, restaurants, and markets.
When you're walking around, make sure you check out Mercado Benito Juárez to immerse yourself in local culture. You can wander around, hit up cool art galleries, snag some local goodies at the markets, and eat some wonderful Oaxacan food.
Best Beaches in Puerto Escondido
Puerto Escondido has some of the best beaches in Mexico, each with its own vibe and character.
Playa Carrizalillo is a chill spot for swimming and beginner surfing. Playa Bacocho? The sunsets there are beautiful.
And Playa Puerto Angelito? That's the spot for snorkeling with vibrant sea life.
But, if you're into surfing, Puerto Escondido is your dreamland. They call it the "Mexican Pipeline," and the waves at Playa Zicatela are no joke. It's even a challenge for the pros, but don't sweat it if you're a newbie – there are beaches nearby that are perfect for learning.
Where to Stay in Puerto Escondido
Whether you're into surfing, partying, or simply want to lounge in the sun with your toes buried in fluffy marshmallow sand, you'll find heaps of great places to stay in Puerto Escondido based on your needs and budget.
The best hostel in Puerto Escondido is the Tower Bridge Hostel. They have a great surf vibe with hammocks, a pool, a volleyball net, and a bar!
Day Trips from Puerto Escondido
If you're feeling adventurous and want some day trips, check out Hierve El Agua, about a 2.5-hour drive from Puerto Escondido.
This is a once-in-a-lifetime experience where you can check out petrified waterfalls (I know, awesome, right?) and bathe in mineral-rich springs. A true day of exploration and relaxation.
If you want to explore something truly magical… take bioluminescent lagoon tour at nearby Laguna de Manialtepec! You can also have a guided nighttime kayak tour to witness the water light up with naturally glowing organisms.
Ever read/watched "The Life of Pi?" Well, this is the real-life scene from that movie…
Check out Chacahua, a lagoon and national park. You can take a boat tour through the mangroves and spot some pretty amazing birds, crocodiles, and other wildlife. I also recommend you visit the Chacahua village for a true taste of Mexican coastal living.
One of my favorite places on Earth is San Jose Del Pacifico, about a 4-hour drive from Puerto Escondido.
You can take a shuttle/bus that runs quite frequently but make sure you bring some car-sickness pills/ginger as the road is so windy that they call it the vomit bus!
This place is a MAGICAL little mountain town above the clouds, known for its magic mushroom culture. Here you can find mushrooms everywhere. Literally. If you know me at all you'll know this was my PARADISE.
During the mushroom season, you can participate in ceremonies with some of the local shamans where they take you mushroom hunting in the forests and teach you how to prepare them.
You can even spend a night at the mushroom dome. It's a special one, TRUST ME!
These two beach towns in Mexico are located just 10 minutes from each other, just about an hour south of Puerto Escondido. It can easily be grouped into a day trip from Puerto Escondido. But I believe you need to spend at least a couple of weeks here on this portion of the coast.
Mazunte is an amazing little town full of bohemian shops, vegan restaurants, and local artisans. You can also do long-term volunteer work in Mazunte.
I spent a month in Zipolite, the next town over from Mazunte. To get transportation between the two towns, you can take the "collectivo," a truck with a seating area in the back that costs anywhere from $0.25 to $1.00, depending on where you choose to hop off.
It's a super convenient way to jump between towns and an easy way to make friends!
You can also ride between the towns by scooter, but be aware that in general, scooters aren't available for rent like how they are when backpacking Southeast Asia, where you can rent them by the day.
A couple of my friends purchased their scooters for the time they were living in the area and then were able to sell them for about the same price when they were finished!
In Zipolite, you'll find some of the most amazing funky people. It's known for its clothing-optional beaches and resorts. You'll also find a wonderful and non-judgmental atmosphere and community.
Chill on the beach at sunset and enjoy the fire shows, buskers, local artisans, and bakers who come to share their arts and talents with the community.
Best Beaches in Mazunte & Zipolite
Let's talk beaches! You've got options. In Mazunte, the main beach is a chill spot, perfect for sunbathing and splashing in the waves.
Sometimes, during sunset, you might even catch some local folks having a drum circle near the rocks at the end of the beach. Don't forget to grab a coconut and groove to the music! This is also a great place to make friends if you're traveling solo!
If you want something a bit wilder and love surfing, check out Playa Mermejita just up north from Mazunte. The waves here are huge, and the natural beauty is rugged.
San Agustinillo Beach is the cool middle ground between the two. It's not super crowded, and you'll find some quiet beach bars and restaurants to chill at.
Punta Cometa is a popular sunset spot in Mazunte where you can find the locals congregating to play music and serenade the sea.
Now, over in Zipolite, the big deal is the looong beach that stretches along the whole town. You can walk from one end to the other in about an hour.
It's packed with beachfront places to stay, bars, restaurants, beachside massages, and local artisans selling their stuff.
If you want something more secluded and quiet, there's Playa del Amor in Zipolite. It's a cozy cove tucked away at the south end of Zipolite Beach. You'll have to climb a set of stairs over a ridge to get there, but it's worth it for some peace.
Where to Stay in Zipolite and/or Mazunte
To be honest, a lot of the hostels and accommodations in Zipolite aren't available online… it's just that kind of place.
But a great place to stay in Mazunte is Cabañas Balamjuyuc Mazunte Ecohostel. This hotel has an AMAZING view and is very ECO-friendly, using solar and natural building materials.
Thinking of heading to one of all of these beach towns but unsure what to pack? These are 6 things I never travel without…
Let's dive into some of the most frequently asked questions about the best beach towns in Mexico.
This is THE guide I wish I had when I started my Mexican solo travel adventures.
On my Mexican adventure, I went with the wind, flitting and flowing from place to place in search of the best beach towns in Mexico. I wanted to get closer to nature and be surrounded by non-judgmental, curious, and kind people.
So, are YOU looking for somewhere where you can ditch your shoes and live in a swimsuit? A place where the local community meets on the beach at sunset to celebrate the day and share laughter and a beer? A place where you can connect with the sea and rediscover the slow way of life once again?
If this sounds like the adventure you've been yearning for, then this guide is for you. I hope that it will serve as a compass, directing you toward the fulfillment of your dreams – the magic of embracing Mexican beach life in all its glory.
---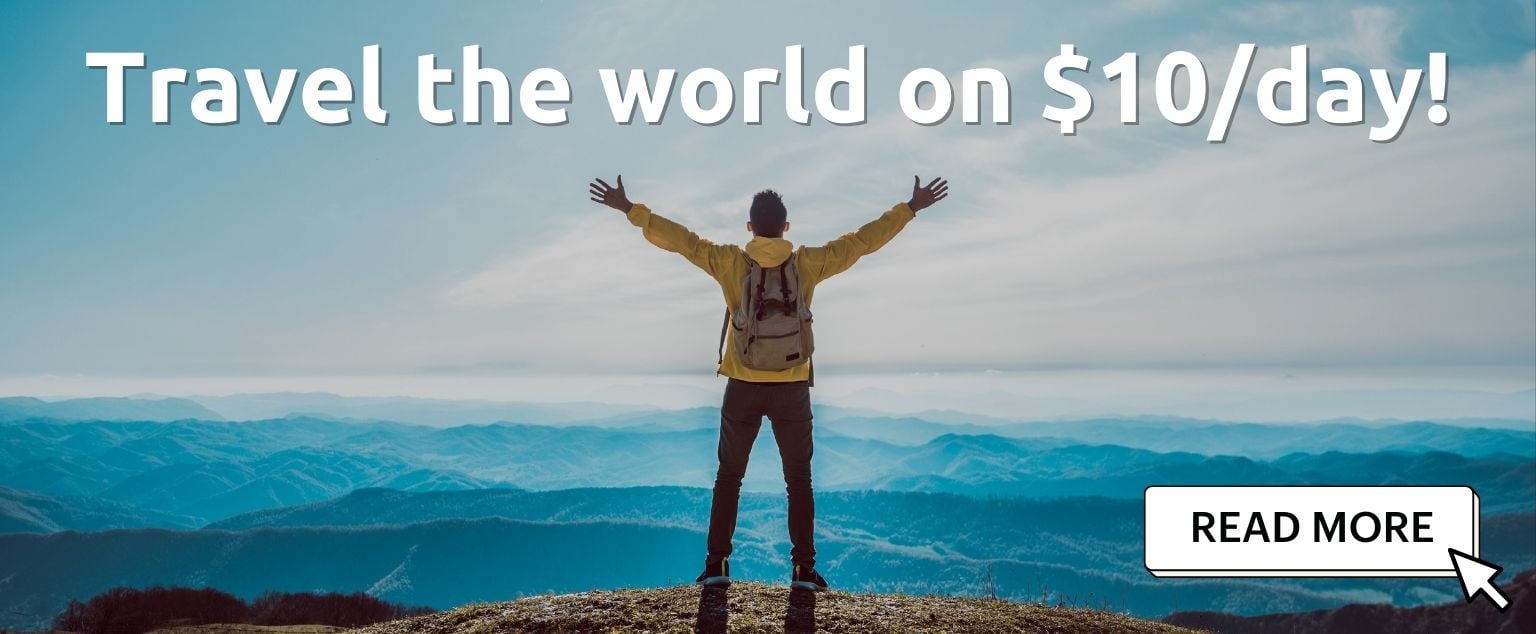 And for transparency's sake, please know that some of the links in our content are affiliate links. That means that if you book your accommodation, buy your gear, or sort your insurance through our link, we earn a small commission (at no extra cost to you). That said, we only link to the gear we trust and never recommend services we don't believe are up to scratch. Again, thank you!