There are few places for digital nomads like Mexico. With a low cost of living, gorgeous weather year-round, a friendly community, and liberal visa regulations, Mexico certainly sits proudly at the top. I spent many months working and travelling with my laptop across this grand continent, and learnt some serious tricks of the trade.
Squeezed between North and Central America, enter the gateway to Spanish-speaking America. This thrilling place is a perfect introduction to Latin culture, with a famously festive atmosphere, astonishing Mayan and Aztec history, and the food? Now we're talking. 
The country is HUGE, divided into 32 diverse states. So, there are endless options for things to do in Mexico for digital nomads. If you're looking to have the best place to work from 'home'… you may have well just found it. 
Though no doubt, some areas of Mexico are considerably better for digital nomads than others. There's nothing worse than having to hit those deadline when your accommodation's internet doesn't cut the mustard, or needing a quiet cosy and being surrounded by 24/7 party animals.
But fear not! I'm about to dish all my TOP tips and tricks for being a digital nomad in Mexico. Settle into fast-paced Mexico City, take it easy on world-class coastlines, or head out into the desert. 
We'll take a look at the best places to settle, the cost of living, and best places to stay in Mexico. Read along before making Mexican paradise your temporary home…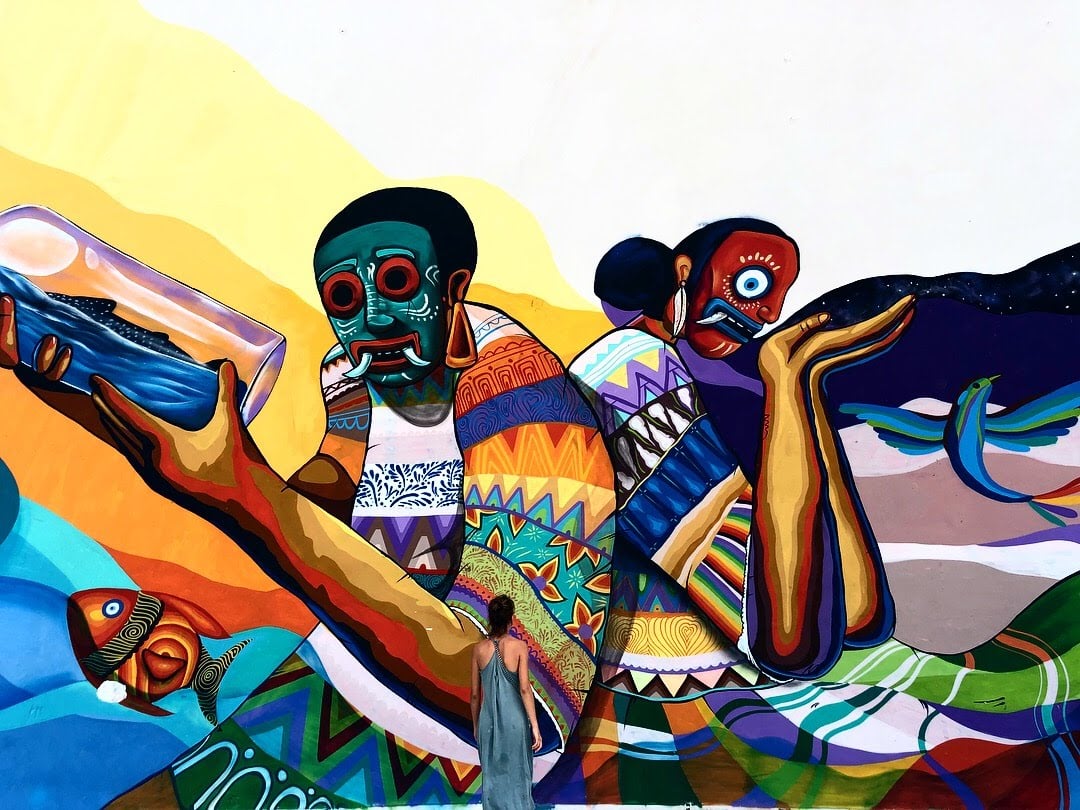 Is Mexico Good for Digital Nomads?
Mexico is well connected to the world, with more than 100 major and international airports across the country. The most popular ones are in Mexico City, Oaxaca, Puerto Vallarta, Cancun, and Cabo. However, it is pretty easy to get elsewhere in the country using public buses or renting a car.
That said, not only is Mexico geographically massive, but the distances between cities and towns can be considerable and public transport is irregular. You shouldn't have any issue using buses to get around the country with some patience.
Weather is one of the major factors that attract digital nomads to visit Mexico. Located just above the equator in Central America's tropical region, the climate has a rainy and dry season instead of summer and winter.
The rainy season runs from May to October, and the dry season from November to April. Wet season showers usually occur in the afternoon, and temperatures rarely drop below 50 degrees. Year-round sunshine and warm temperatures attract many digital nomads in Mexico.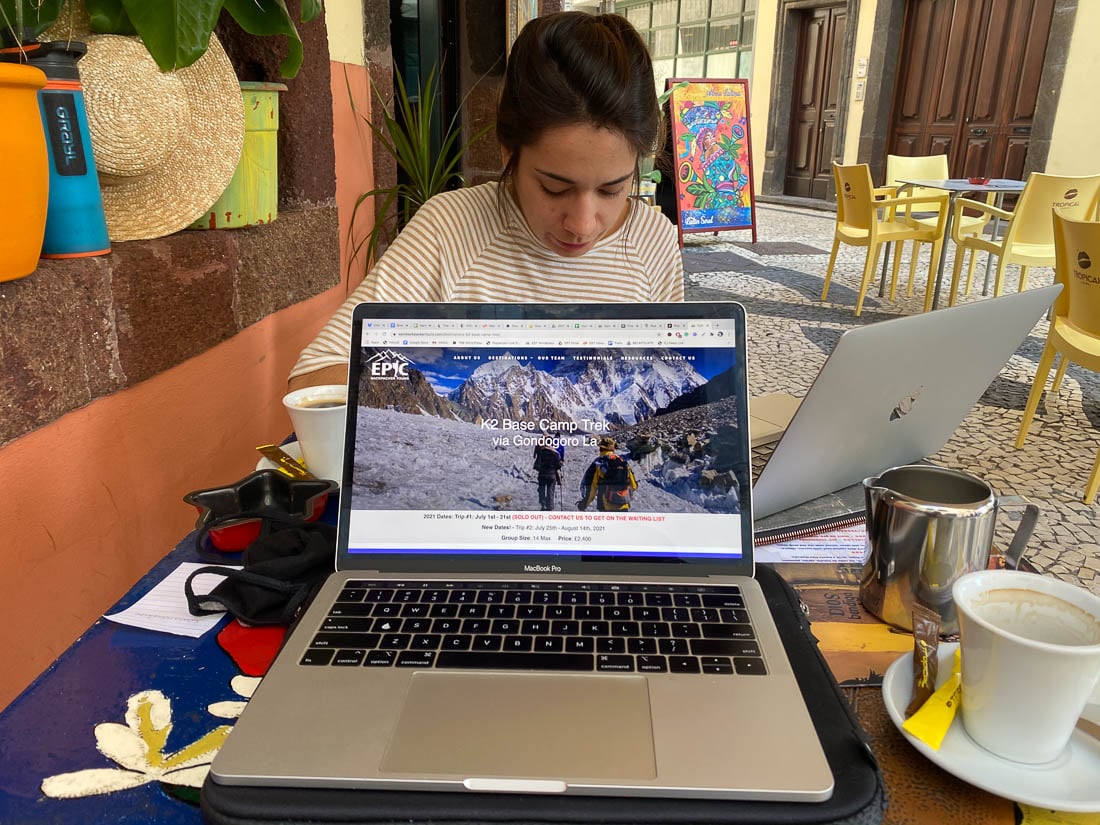 Safety is typically a concern for ex-pats living in Mexico, with a cartel presence still throughout the country. Although Mexico is safe for digital nomads, you should hone in on reading up about what you can do to ensure that stays true for you.
Another factor that makes this place perfect for digital nomads is its affordability. The Mexican Peso is a pretty good deal alongside Western currencies. From accommodation to food to leisure and activities, you can regularly eat out, travel, and enjoy some finer things without going over budget.
The vibrant atmosphere and colorful culture are enough to make anyone want to live in this gorgeous country. Cultural traditions vary from region to region; however, you can expect a rich and unique culture influenced by ancient Aztec and Mayan civilizations and European colonization wherever you are.

Unlock Our GREATEST Travel Secrets!
Sign up for our newsletter and get the best travel tips delivered right to your inbox.
Cost of Living
The cost of living in Mexico depends entirely on where you settle. Local towns and villages are the cheapest option, while tourist cities like Cabo and Cancun are naturally more expensive to live in.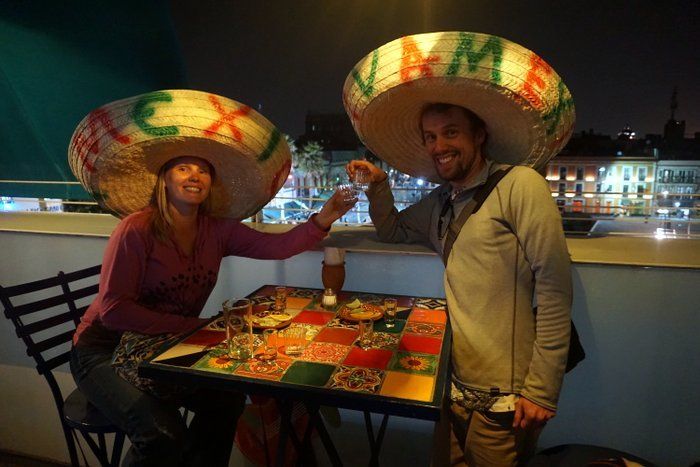 Many digital nomads choose to stay in Mexico City (CDMX) and Oaxaca City. Both of which offer a relatively affordable cost of living for ex-pats. Here's what you can expect to spend living the digital nomad life in Mexico (prices are in US dollars):
Street eats: $2 – 3
Eating out: $8 – 30
Rent: $300 – $500+ per month depending on where you settle as a digital nomad in Mexico.
Transport: <$1 for metros & town buses, $20+ for long-distance buses, $50+ for domestic flights.
Activities: Free – $25(ish) per attraction
Groceries: $150 per month
Digital Nomad Accommodation in Mexico
Many of Mexico's great hotels are surprisingly good for digital nomads in Mexico. However, for those that need extra space, co-living is a cost-effective alternative. Offering furnished rooms with personal leases, this type of accommodation can up the game. Since Mexico gained traction as a digital nomad hotspot, co-living spaces are constantly popping up and are easy to find.
Most of the best co-living spaces can be found in bigger cities and popular ex-pat locations. The most common spots for digital nomads in Mexico include Mexico City, Playa del Carmen (which is the most popular city for digital nomads in the country), Oaxaca City, Tulum, San Miguel de Allende, Puerto Vallarta and Sayulita, and Merida (known as one of the safest options).
Another great option is moving from one city to another. Each region is so unique, so visiting just one part of the country would be a real shame.
Where Should Digital Nomads Stay?
With tourism contributing as a significant industry in the country, there are countless options for finding accommodation in Mexico. First, ask yourself where you want to base yourself and the type of crowd you like to attract.
If you're a solo digital nomad in Mexico, you can maximize your social experience in places where you can meet people, work, and explore the country simultaneously. Selina Hostels and Viajero Hostels offer a range of accommodations from budget privates to luxurious suites to shared hostel dorm rooms, with all-inclusive shared spaces like pools, living rooms, and kitchens.
Most of their hostels also have dedicated co-working spaces and on-site restaurants and bars, offering the perfect combination for those who like to work a little boogie. Hostel staff arrange all sorts of group activities, tours, bar crawls, and events to make it easy to socialize with locals and other digital nomads in Mexico. Two of my favorite coworking hostels in Mexico are the Viajero Sayulita, located in the small beach town of Nayarit, and Selina Puerto Escondido, set in another epic surf and beach town.
Living in a co-living space is the best option if you're in it for the long haul. Co-living usually means an all-inclusive rental agreement in a space where you will share certain facilities with other residents.
While you'll have your own bedroom, you'll share spaces like a living room, kitchen, and most outdoor spaces. Some co-living spaces are designed especially for digital nomads, featuring co-working office spaces included in the rate.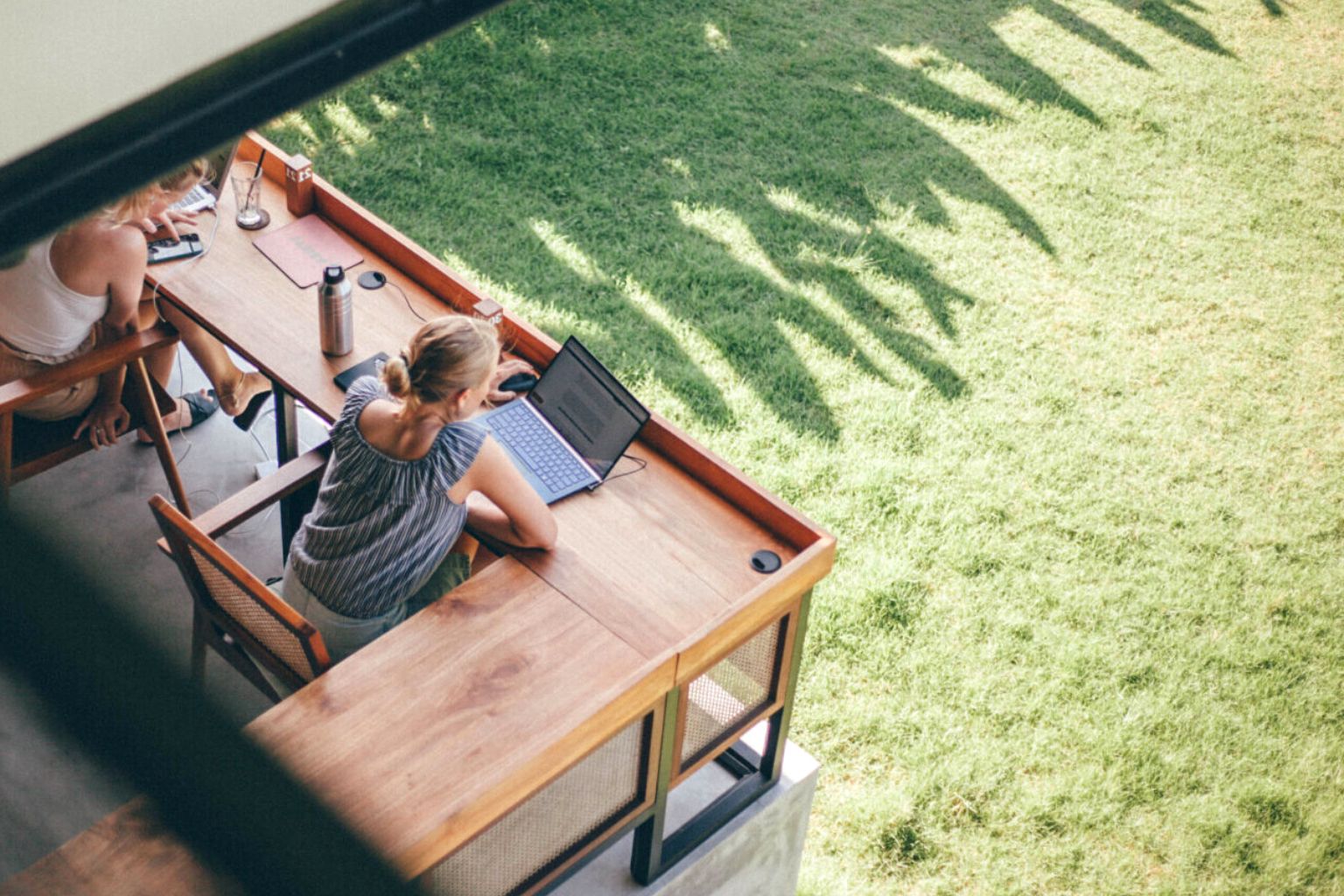 Staying Long Term in Mexico as a Digital Nomad
If you plan to move around a lot and don't feel the need to settle, you could make a local hotel or guesthouse your home away from home in Mexico. Although the more expensive option, there are lots of properties that offer discounted rates for long-term stays.
Located in the historic center of Oaxaca, Grana B&B is a gorgeous bed and breakfast just a short walk from the Oaxaca Cathedral and Santo Domingo Temple. Set in a traditional colonial building with a central courtyard and historical details, the B&B has a 24-hour front desk and concierge service. Each room features a personal work desk and high-speed internet.
If you're travelling as a couple or with children, you will fare best in a self-catering vacation rental. You'll enjoy your personal space across multiple bedrooms and shared spaces such as a living room, kitchen, and private bathroom.
Since many of these homes are personal properties, they are equipped with everything you will need for a long-term visit to the country, including extras like state-of-the-art kitchenware, linen and towels, and even complimentary parking spots. The best place to find short-term leases / sub-leases is on Airbnb and through local Facebook groups.
Although a bit of a splurge, this gorgeous townhouse in Mexico City's famous La Condesa neighborhood is well worth the hype. The area is home to an artsy ex-pat community and some of the city's most loved spots for food, drinks, or shopping.
Forget boring accommodation… book yourself an EPIC STAY!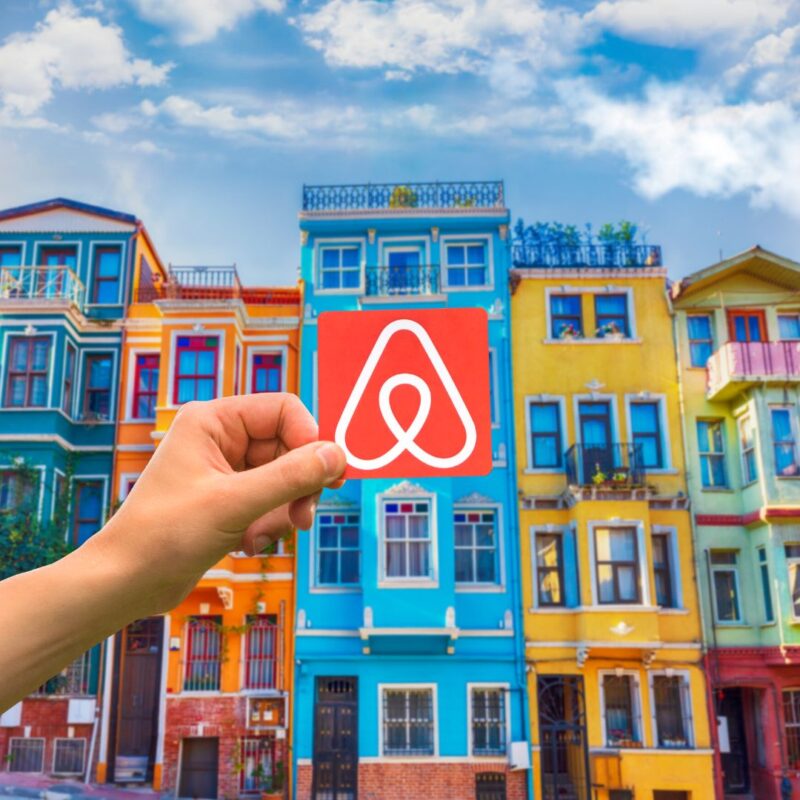 Why stay in a naff hotel when you can stay in a cosy, stylish local house instead? And for half the money too!
Stay somewhere EPIC and save your hard-earned dollars — from houses to barns to castles and caves, there is an Airbnb for every occasion!
Book an EPIC Stay
Wi-Fi in Mexico
One of the cons of being a digital nomad in Mexico is the Wi-Fi. Finding a reliable internet connection can certainly be an issue. The country ranks as having the highest number of internet users of any Spanish Speaking country, with a huge demand for broadband internet services. While the country is marketed for growth in the Wi-Fi provider industry, it can still pose issues for digital nomads as we speak.
Generally speaking, hotels, hostels, and co-living spaces are fitted with high-speed internet. Although, in true Mexican style, it sometimes comes and go as it pleases. In this case, having a Mexican SIM card is invaluable.
Ask for a speed test before renting any long-term accommodation. However, as soon as you leave a stable internet connection, finding a cafe to work in with good Wi-Fi, air conditioning, and comfortable seating can be challenging.
Coworking in Mexico
If you can't find a co-living space in Mexico, the country is packed with co-working spaces that you can treat as your office. Just in Mexico City alone, there are 15 WeWork offices, some of which have over 20 stories of desk space. So, if you can't get into one of the boutique co-work offices, you won't struggle to find a desk with good Wi-Fi here.
Co-working spaces are optimal for digital nomads who enjoy the structure of an office, with a lot more freedom. They offer an all-inclusive office experience and a consistent social scene, featuring various communal amenities like social lounges, kitchens, dining areas, outdoor spaces, and often even an on-site coffee shop or restaurant.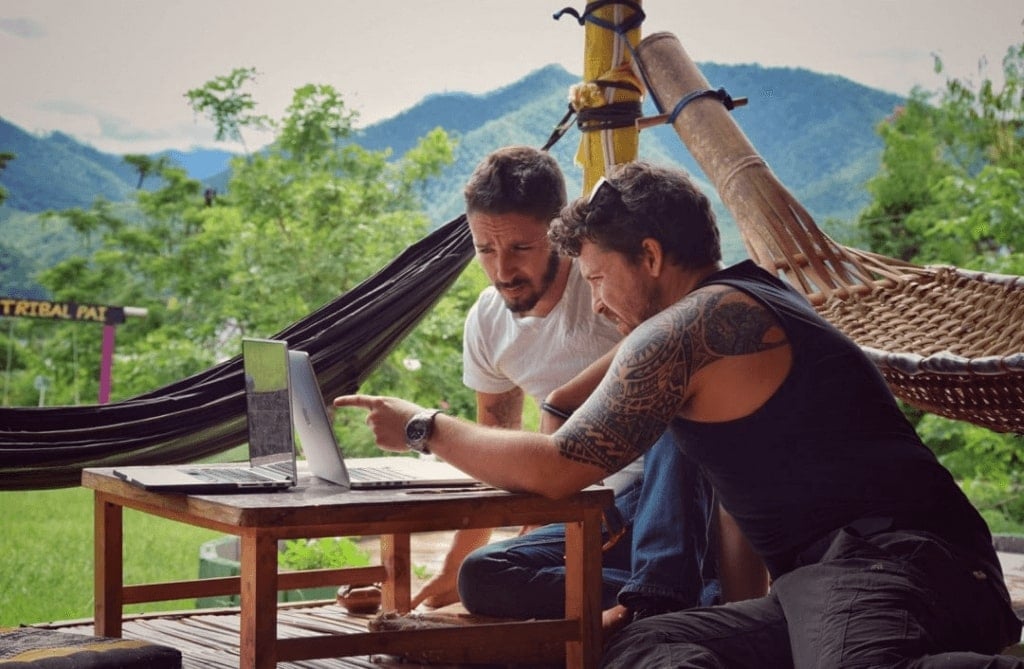 Depending on the coworking space and packages they provide, you could pay for a daily hot desk or commit to a monthly membership. If a membership is above your budget, you might be better off choosing different coffee shops or cafes to work in.
If a loud atmosphere and background music doesn't disturb your work ethic, you can choose a different restaurant each day depending on how many meetings you need to attend and your mood. Of course, with this option, you will need to purchase the odd cup of coffee or meal to make it worthwhile for the cafe to host you.
The Best Coworking Spaces in Mexico
With its vibrant nightlife, colorful culture, and incredible food, visiting Mexico City is one of the top choices for many digital nomads in Mexico. Impact Hub tops the list of coworking spaces in the city and is globally recognized for its community and brand. If you're familiar with the concept, you'll feel right at home in this space in Mexico City, featuring reliable facilities, including spacious communal seating, ergonomic chairs, meeting rooms, and FREE coffee, yoo hoo!
It's an excellent option for anyone looking for a local community, hosting regular events and dinners to encourage social cooperation between members. You'll need to purchase a monthly membership.
Easily one of the most attractive coworking spaces for remote workers in the city, Homework offers a spacious, well-lit space featuring open-concept seating with long tables. There are also private desks and comfortable loungers for taking a quick break.
However, it's the outdoor patio space that grabs our attention, extending across the city skylines historic and modern buildings, with some covered outdoor space and some sunny space. With such a beautiful space to work, it is no surprise this coworking facility is most popular with innovative young freelancers and entrepreneurs.
If you're staying in Playa del Carmen, NEST Coworking is one of the country's first and original spaces for digital nomads – and continues to be a big player in the office-space industry. Rest assured, you will meet like-minded nomads benefit from one of the fastest Wi-Fi connections in the whole city. Comfortable chairs are scattered throughout, great for working or chilling, and it doesn't have a formal corporate vibe that other spots tend to have.
Nest also offers a range of communal activities and workshops if you ever need an excuse to socialize and network with other digital nomads in Mexico. It's also just a short stroll from the beach, which makes it the perfect co-work space for this tropical destination.
Cafes with Wi-Fi
With Mexico taking off as one of the best countries for digital nomads, local cafe and restaurant owners are catching on and providing spaces for freelancers and remote workers. By providing a solid Wi-Fi connection, comfortable seating, and air conditioning (or fresh, breezy air, at least), cafes attract a new market of digital nomads looking to get away from their living room couch.
San Miguel de Allende is most popular with . Still, with its colonial charm and wholesome atmosphere, it's growing as a destination for digital nomads.
Cafe Rustica in San Miguel de Allende, ex-pats and retirees, Rustica is a local favorite for digital nomads, with a beautifully designed interior and relaxing ambience. It features plenty of seating and spacious tables, complimentary Wi-Fi, and an impressive menu.
Cafe Negro in Mexico City, located in the historical Coyoacan neighborhood (near the iconic Frida Kahlo house) is the perfect spot to satisfy your sweet pastry cravings while cracking away at your laptop. Freshly brewed coffee attracts a good mix of digital nomads, ex-pats, and locals. Along with a good internet connection, it has plenty of electrical outlets to keep your devices charged up as you work.
Coffee Lab in central San Jose del Cabo is an open-air coworking cafe designed for digital nomads. Other than providing outdoor space for freelancers to work in the fresh air, the cafe prides itself on its speciality coffee and its ability to inspire and connect locals and ex-pats through various cultural events. This spot has a social vibe, so if you need to take calls in silence, it's not ideal.
The Green Place Cafe, located in Cinco de Diciembre in Puerto Vallarta, is a great place for digital nomads to go for a quiet work session. The cafe has a separate meeting room, quiet and air-conditioned. Perfect for food-loving digital nomads in Mexico, they serve delicious coffee, western-style breakfast, and lunch, and have an impressive internet speed of 47 Mbps download and 8 Mbps upload.
Wherever You Roam… Get Insured First
Keep yourself and your precious electronics safe when roaming around town. Good travel insurance is key for your own peace of mind and safety. As a digital nomad, I personally use SafetyWing – and they've not let me down yet.
ALWAYS sort out your backpacker insurance before your trip. There's plenty to choose from in that department, but a good place to start is Safety Wing.
They offer month-to-month payments, no lock-in contracts, and require absolutely no itineraries: that's the exact kind of insurance long-term travellers and digital nomads need.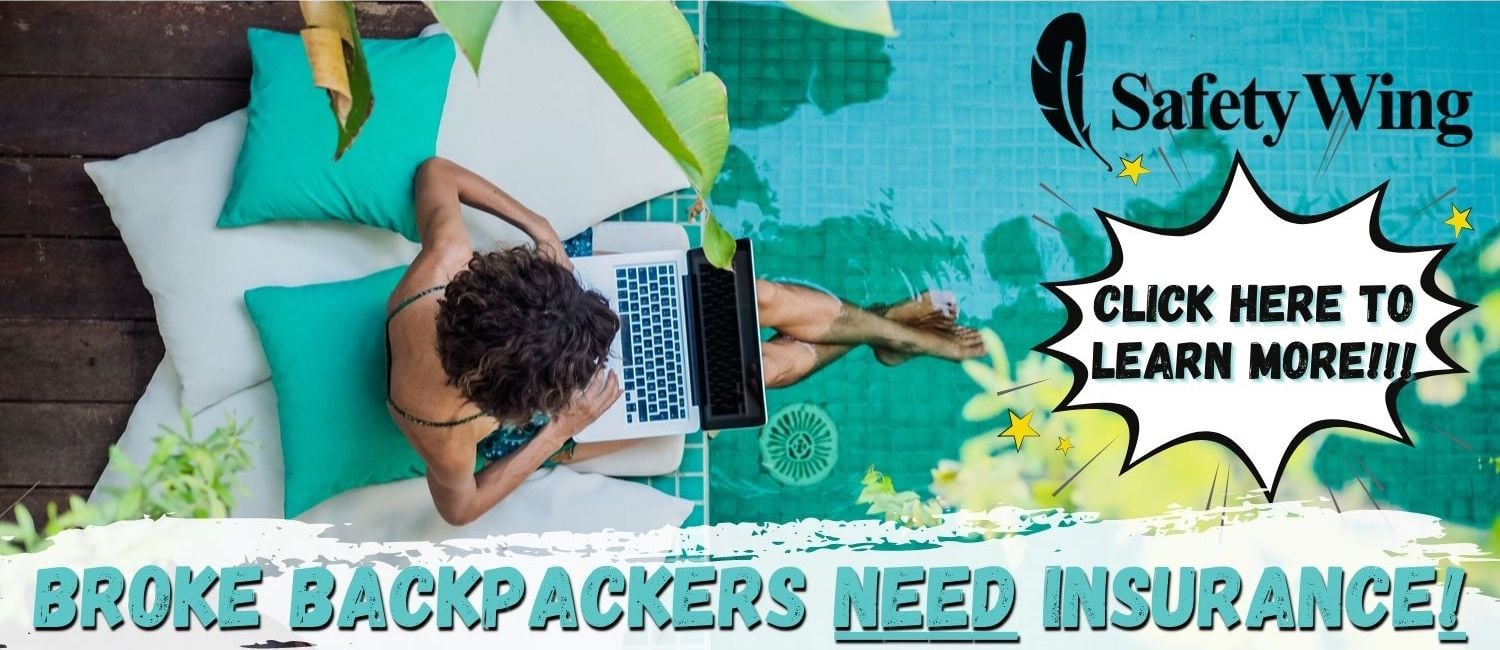 SafetyWing is cheap, easy, and admin-free: just sign up lickety-split so you can get back to it!
Click the button below to learn more about SafetyWing's setup or read our insider review for the full tasty scoop.
Places to Eat in Mexico
If there's one thing that Mexico is best known for, its local cuisine. Adopted and adapted worldwide, Mexican food is one of our favourite cuisines. Since chillis are native in Mexico (and has been used in recipes for thousands of years), Mexican food IS spicy, but locals will go easy on visitors if you ask.
A blend of Native American and European Spanish cuisine, Mexico's food scene is beans, corn, tortillas, and chilli peppers, almost certainly with meat or cheese. If you're living on the coast, you can also expect to eat a lot of fresh seafood.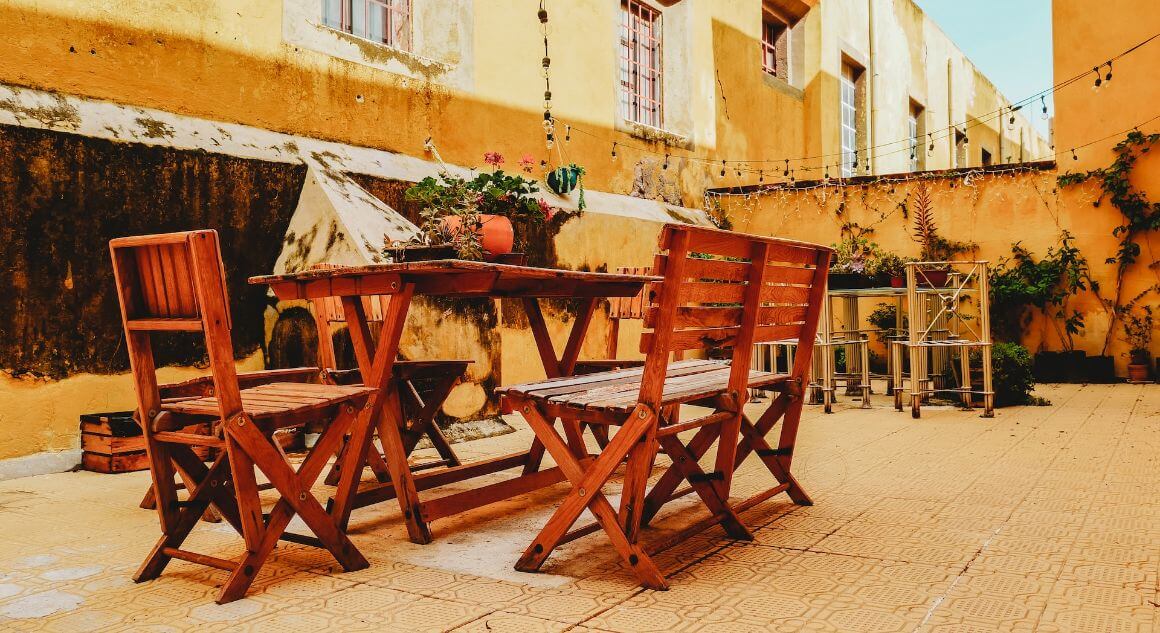 Forget everything you thought you knew about Tex-Mex: traditional cuisine is entirely different, boasting unique flavor combinations. Tacos, burritos, enchiladas, tamales, and elote are some of the most common foods in the country, with flavors differing from region to region.
Guadalajara's Allium is a classic Mexican farm-to-table restaurant where the chefs themselves are known for their green thumbs, harvesting produce from their rooftop garden. They champion artisanal producers and providers, sourcing the most environmentally and socially conscious food possible with nearly 100% Mexican ingredients.
If you're on the hunt for the best tacos in Puerto Vallarta, you'll find what you're looking at Taco de Marlin, a hole-in-the-wall establishment, just like most underrated Mexican food is. They are also known for burritos, filled with local marlin, shrimp, crab, or octopus.
El Chulo is also a taco stand but great for adventurous digital nomads in Mexico. Their most famous dish is the tongue and beef cheek tacos.
If you're a vegetarian, check out Tacos El Talivan, a late-night spot in the hippy beach town of Sayulita to satisfy your craving. It's one of the better restaurants in the town for veggies looking for authentic Mexican cuisine, serving incredible mushroom tacos, street side on the main town square.
Organi-K is another exceptional option for vegans and vegetarians in Sayulita, with an array of green juices, quinoa browns, and salads to keep you fueled between margaritas.
Cash doesn't go as far in the touristy town of Canun. So, if you're after an affordable meal, Parque de las Palapas in Centro turns into an impromptu night market packed with food stands serving everything.
What it's Like Living in Mexico
Maybe I'm biased, but Mexico is one of the best countries to live in. It's one of the few countries in the world I felt COMPLETELY welcome as a traveller, tourist, and digital nomad. Let's get into a little bit about why it's such a great place to live and work from your computer.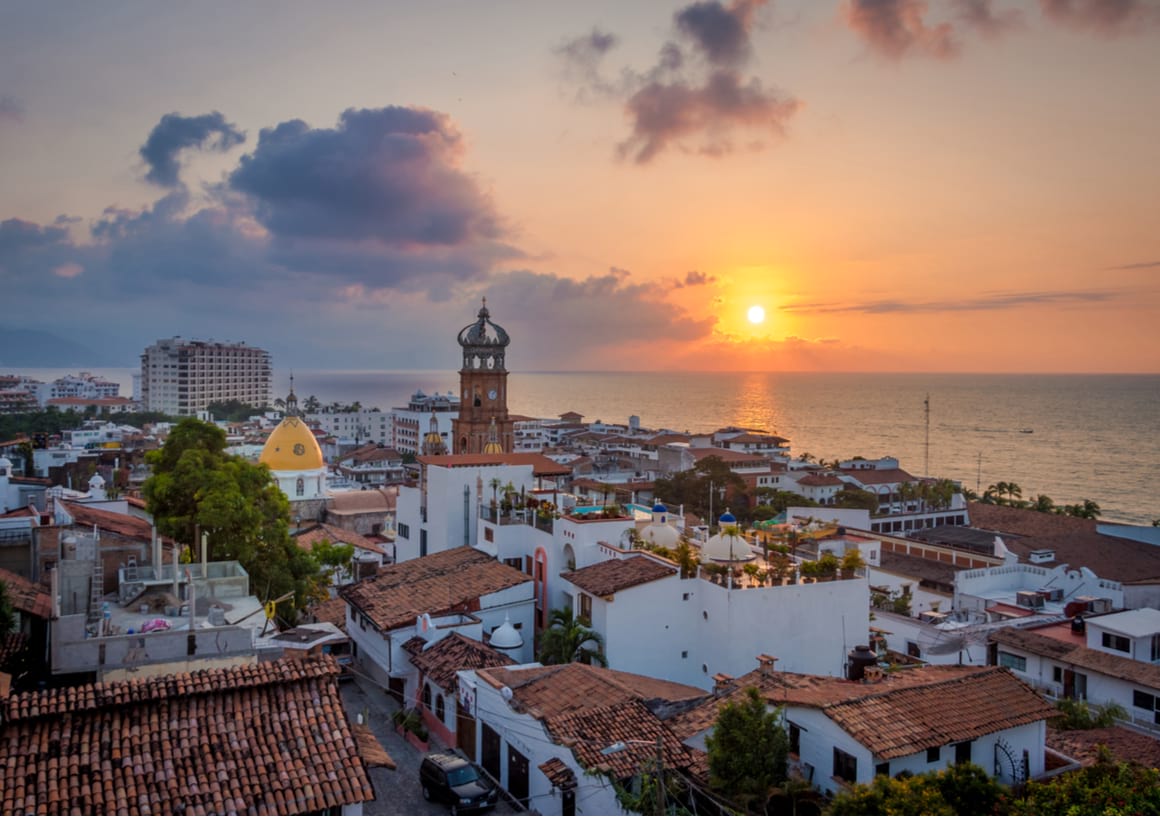 Visa situation
Legal visa regulations are among the most important things about any digital nomad location. Designed to welcome visitors from across the globe, Mexico has a free 6-month tourist visa for most nationalities. Renewing this is as simple as crossing the border and coming straight back for another 6 months.
They also offer a temporary resident visa for digital nomads. Known as the No Lucrativo Visa, this visa allows you to earn a foreign income but not to find work within the country.
Expat community
If you stick to the main cities, strong ex-pat communities will welcome you into their world. Many ex-pats live in Puerto Vallarta, San Miguel De Allende, Merida, Lake Chapala, Tulum, and, of course, Mexico City. Merida on the Yucatan Peninsula is known to be the safest town for ex-pats (because, ironically, that's where the cartel live) to settle and has a welcoming community because of this.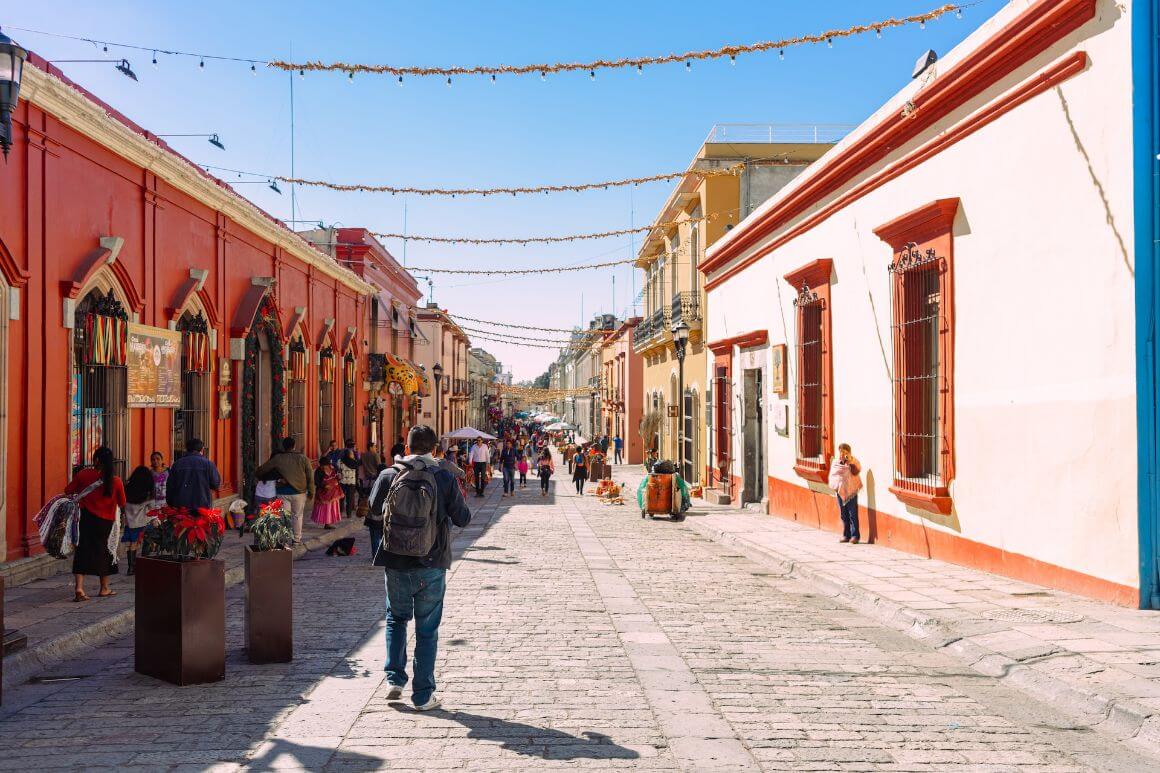 When or before arriving, join a few social media and in-person ex-pat groups to help practice your Spanish and engage in communal activities and social events in the city you plan to live in. Some of the most common ex-pat groups include the Wednesday Language Exchange CDMX and Merida Language Exchange Meetup.
Language
With a Spanish colonial history, the national language in Mexico is Spanish (or Castellano). A different dialect to European Spanish, all Spanish speakers can easily understand Mexican native speakers, aside from the odd word or accent.
In small towns, English is limited. However, if you are living as a digital nomad in Mexico's more touristed areas, you can get by speaking only English.
That said, locals will be appreciative if you make an effort to learn the local language. You'll feel much more included in the community and change your experience entirely.
Transportation
Transport in Mexico varies entirely on location. Country-wide, there are plenty of buses that operate daily, connecting just about every big city and small village. Buses are generally safe, comfortable, and pretty affordable.
However, if you aren't familiar with bus company names, it can be tough to figure out bus schedules. ETN is one of the most luxurious bus companies in Mexico, offering double-story transport and reclining seats suitable for long-distance travel.
Home to nearly nine million people, CDMX is pretty much a country on its own. Transport can be confusing. The Metro is cheap and efficient, although a super-crowded option.
With buses and an underground, each ride is about 30 cents. As a digital nomad in Mexico, you want to avoid sticking out here; tourists are often targeted for scams or petty theft.
Ubers are an excellent option in Mexico to avoid being overwhelmed and are affordable enough. In some places, Uber is banned and normal taxis aren't that great.
Things to Do in Mexico
Since Mexico is a vast country with varying climates and terrains, this section depends entirely on which region and city you settle in. Whether you live by the ocean or in the mountains, one of the most common things to do in Mexico is to spend time outdoors. The country is overflowing with wildlife and unique flora, ranging from desert cacti to tropical rainforests.
Personally, I like nothing better than sitting down with a fresh coffee, a home-grown joint, and avoiding the Mexican police while I smoke it. But if you're not a bum like me, you can be skydiving, white-water rafting, rock climbing, and exploring Mexico's national parks and reserves.
Make sure you check out the Park Nacional Iztaccihautl – Popocatepetl Volcano, one of the country's highest peaks. On the other end of the spectrum, Cabo Pulmo National Park is a marine reserve near Cabo San Lucas, boasting some of the most exquisite beaches.
Water sports are popular, with plenty of opportunity for adventure along both the Pacific and Gulf of Mexico coastlines. The Pacific hosts some of the world's best surfing waves, with perfect tropical conditions attracting a host of surfers from across the globe. The Gulf of Mexico / Caribbean side is better known for its crystal clear water, ideal for digital nomads in Mexico who enjoy lounging on beaches, snorkeling, and freediving.
Visiting the incredible archaeological ruins is another top activity in Mexico. The country used to be inhabited by Mayan and Aztec populations, who have left their mark through ancient temples and civilizations that can still be visited and explored.
Some of the most famous include the Mayan ruins of Chichen Itza in Mexicos Yucatan Peninsula. Teotihuacan is another archeological complex near Mexico City. Of course, Tulum is known for its incredible archeological park, which includes an entire city of ruins.
Final Thoughts on Being a Digital Nomad in Mexico
The secret is out: Mexico is a digital nomad haven! Though don't let that deter you: believe me, this should encourage you.
Mexico is growing from strength to strength in the digital nomad world. Overall, the country is an excellent option for any digital nomads – freelancers or remote workers – who want to set up a temporary work schedule with a slower lifestyle. Depending on where you choose to stay, you could settle in a tropical paradise surrounded by crystal clear water or in tiny mountain village.
With a friendly local population, a global ex-pat community, and great outdoor activities, it's a haven for adventurous digital nomads in Mexico. While Mexico City is a beast for travellers, it's good to balance it out by seeking out the "real" Mexico too.
You could spend your days off exploring ancient Mayan ruins or snorkeling over tropical reefs before indulging in a delicious authentic Mexican meal, all while staying within your budget. Mexico truly is a slice of heaven for digital nomads. I'll be back in my little Mexican town in the mountains before long… Ahorita.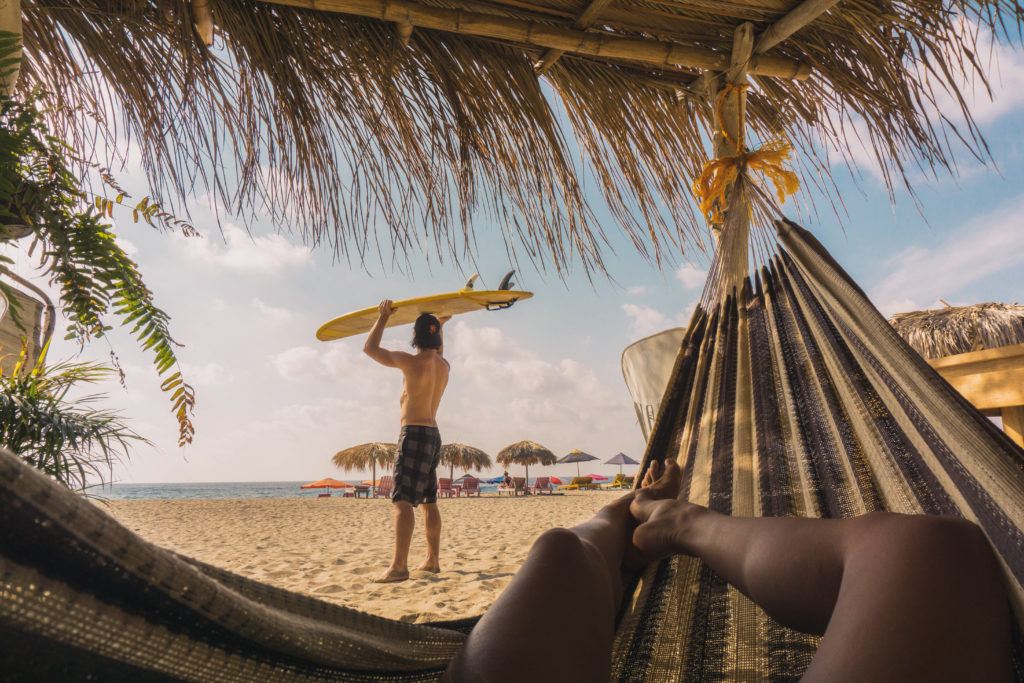 ---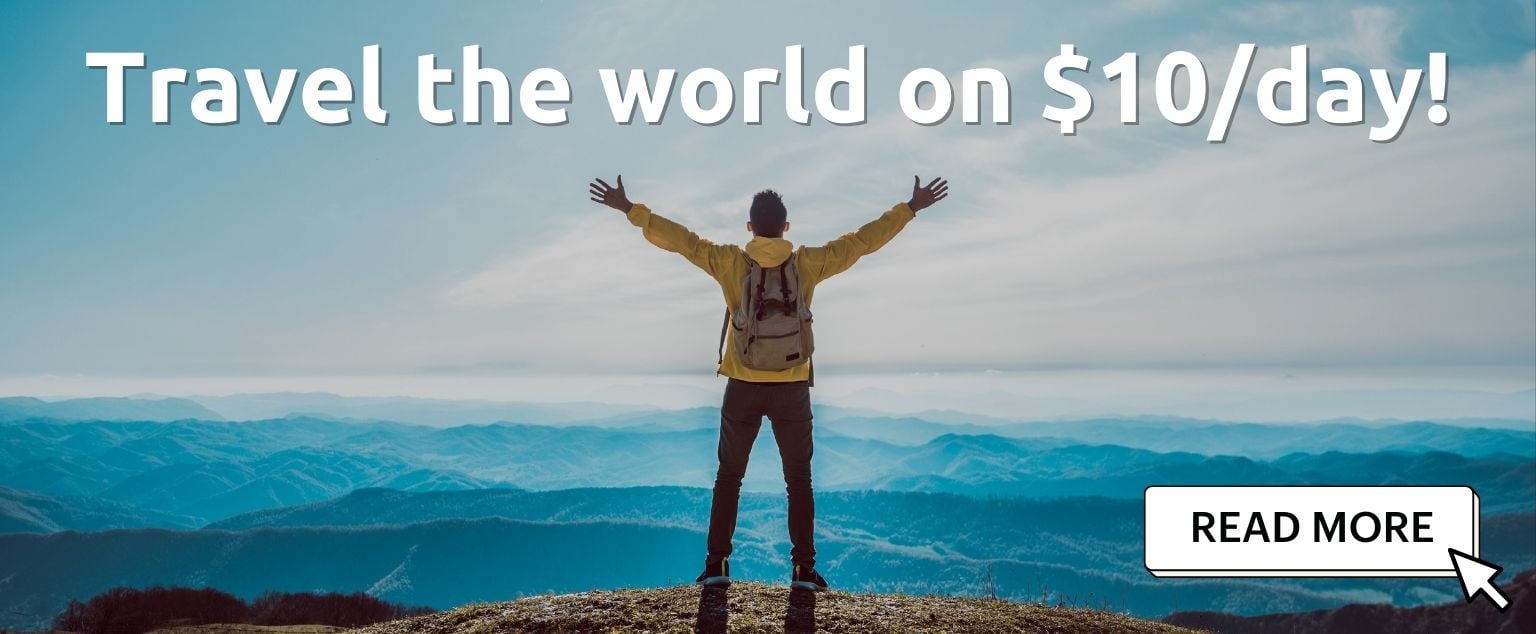 And for transparency's sake, please know that some of the links in our content are affiliate links. That means that if you book your accommodation, buy your gear, or sort your insurance through our link, we earn a small commission (at no extra cost to you). That said, we only link to the gear we trust and never recommend services we don't believe are up to scratch. Again, thank you!