Your alarm goes off, it's cold and dark outside. You start the coffee pot with the same black coffee you drink every morning. You sign into work at your tiny desk, staring at a monitor all day. At 6pm you sign off, and spend the rest of the night staring at another screen.
This is your sign to escape the mundane, and look into moving to Mexico. All your days will start with sunshine, there are crystal clear waters, and latin music all around.
It sounds like a dream, I thought so too, until I decided to risk it and take the leap!
Let me guide you through everything you need to know about getting to Mexico, where to live, visas, schooling for your kiddos, and most importantly the cost of living in Mexico. Check it out!

Do You Want to Travel FOREVER??
Pop your email in below to get a FREE copy of 'How to Travel the World on $10 a Day!'.
Why Move to Mexico?
Mexico is a popular destination for vacations. With its beautiful beaches and sunny skies, it is the perfect escape for a few days. However, it is full of surprises and different landscapes – you could explore for years and still not see everything!
You can catch some waves on the Pacific, swim in cenotes in Quintana Roo, hike mountains in Chiapas, or live the big city life in Mexico City. Your options are truly endless when it comes to living in Mexico.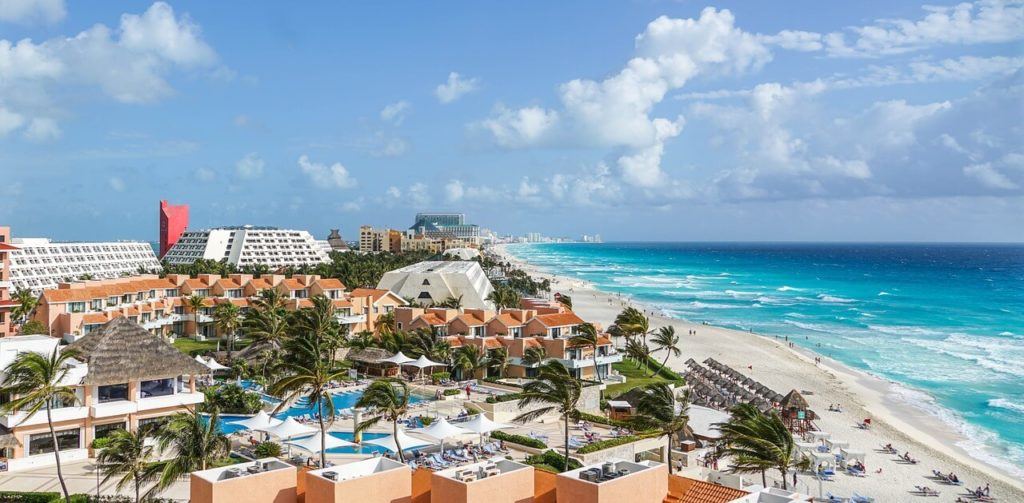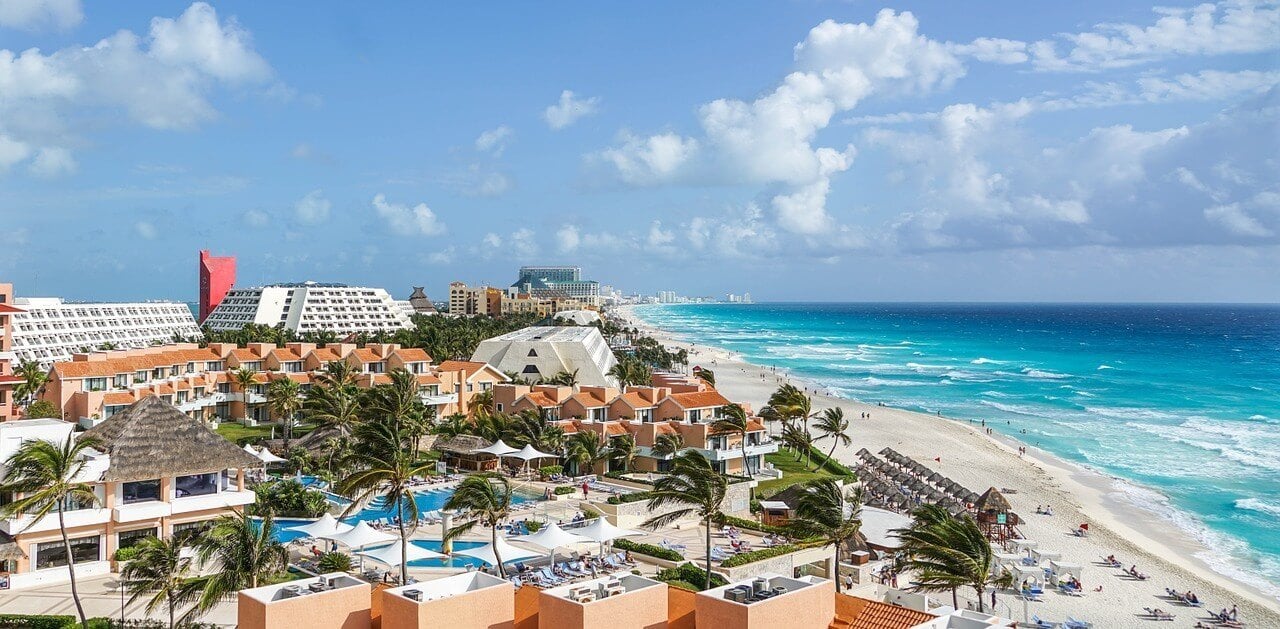 Moving offers you a vast array of freedom, and with an affordable lifestyle, you can live the life you have been dreaming of – full of color, local Mexican spices, and lots, and lots, of tequila. Sounds like heaven to me!
Mexico isn't known for its outstanding jobs or booming economy. It is not a place to search for a job, and work within the system. Mexico is the perfect place for digital nomads, remote workers or innovative business owners. You have the flexibility to be in the same time zone as the United States, and there is a flexible visa system for visitors.
Sounds nice right? Let's go ahead and dive into the logistics of how to become a digital nomad in Mexico, and get you here quick!
Cost of Living in Mexico Summary
Living in Mexico has so many benefits, from its warm sunny weather, flavorful cuisine and friendly locals, you will find it easy to adapt and call this place home in no time.
It's important to have a thorough understanding of what moving to Mexico entails, and exactly what to expect for month-to-month spending. Prices will vary depending on which city you decide to live in – for instance, you will find it much cheaper to live on the Pacific Coast of Mexico vs living in Quintana Roo.
This table will help you develop an initial budget, and summarize the cost of living in Mexico. These numbers will help you get familiar with your expenses. They have been sourced from a variety of user data.
Cost of Living in Mexico

| Expense | $ Cost |
| --- | --- |
| Rent | $350-$700 |
| Electricity | $30 |
| Water | $20 |
| Mobile Phone | $20 |
| Gas | $20 |
| Internet | $30 |
| Eating out | $150-$250 |
| Groceries | $200 |
| Housekeeper(3x per week) | $125 |
| Transportation | $30 |
| Gym | $55 |
| Total | $1,030+ |
What Does it Cost to Live in Mexico – The Nitty Gritty
Now that you have an idea of your monthly expenses, let's dive in further to give you the full scope of what it looks like living in Mexico!
Rent in Mexico
Your biggest expense in Mexico, like anywhere, is going to be your accommodation. The amount will highly depend on where you want to be located – city centre, beach front, outside of the city etc.
For example, a shared house in Sayulita will cost you way less than villas in Tulum. As Tulum is very popular among digital nomads, they are able to charge a lot more due to the demand. You will find that where there are expat communities, the rent prices will soar.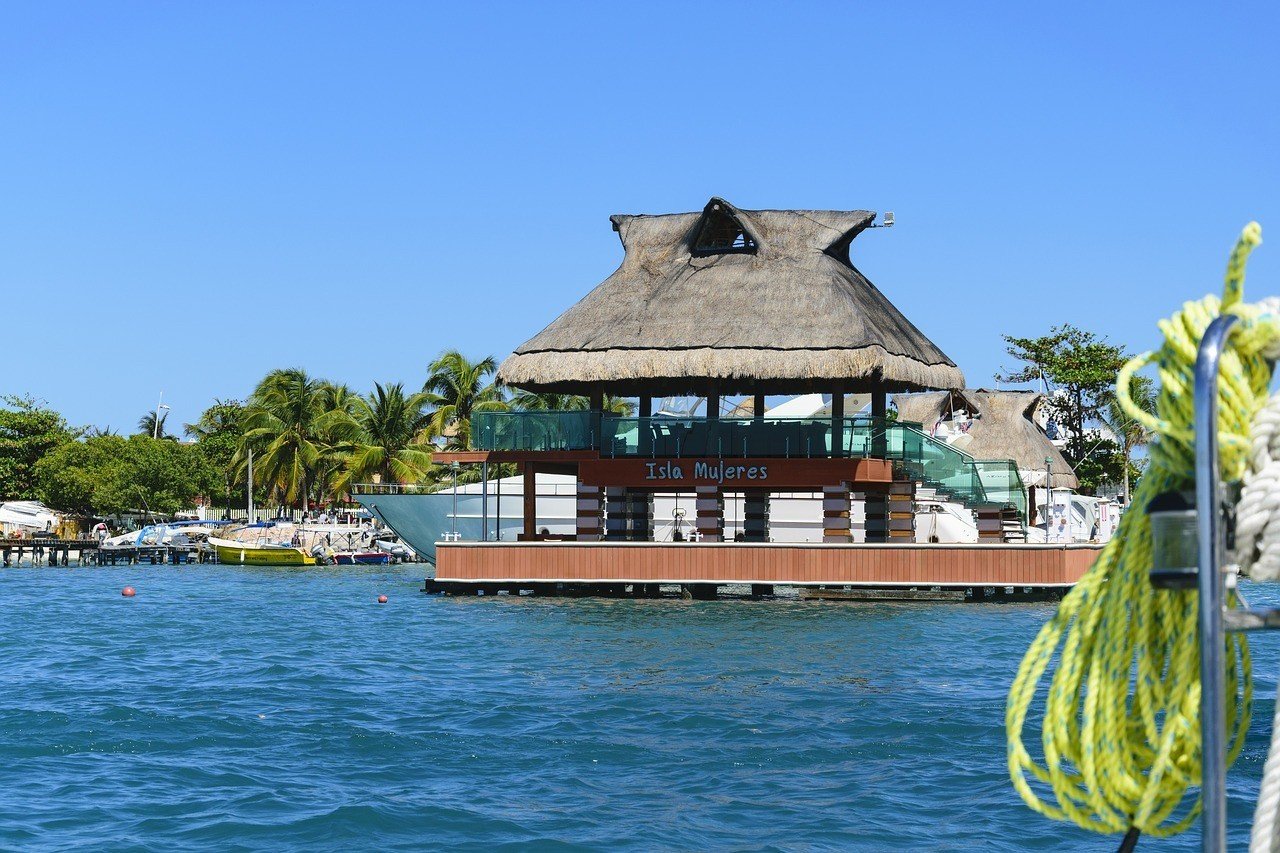 To narrow down your search, and get the most accurate ideal of where you want to stay in Mexico and what you will be spending on rent, you need to consider some things. Firstly, do you want to live alone? Are you moving with a partner or children? This will give you a realistic look into what you are able to afford.
I recommend heading to the spots that are calling to you for a bit, and staying in a Mexico hostel or hotel to get a feel of the area and check out some living spaces. You are more likely to get a good deal on a long term rental by getting in touch with the owner vs inquiring online.
Private Room in Mexico City – $350
Private Apartment in Puerto Vallarta – $600
Private Villa in Tulum- $1,500
Transport in Mexico
Getting around Mexico is pretty easy and convenient. The ADO busses connect all the major cities making traveling the country smooth and accessible. You will find plenty of taxis in all of the hubs, however, if you aren't careful they can easily rip you off. Trust me… I've been there – SMH. Once you have started living in Mexico you will know exactly how much a taxi ride should cost and it won't happen as often.
In the bigger cities, you will have Uber, and I recommend using it over taxis. They are monitored, and the price won't change depending on the driver.
For public transportation and the cheapest way to get around, you can hop on a collectivo, a mini bus that drops passengers off anywhere along the way from point A to point B. Collectivos are not very convenient if you are in a hurry, but make it easy to get picked up from anywhere. Be warned, there is a high chance of a chicken sitting next to you!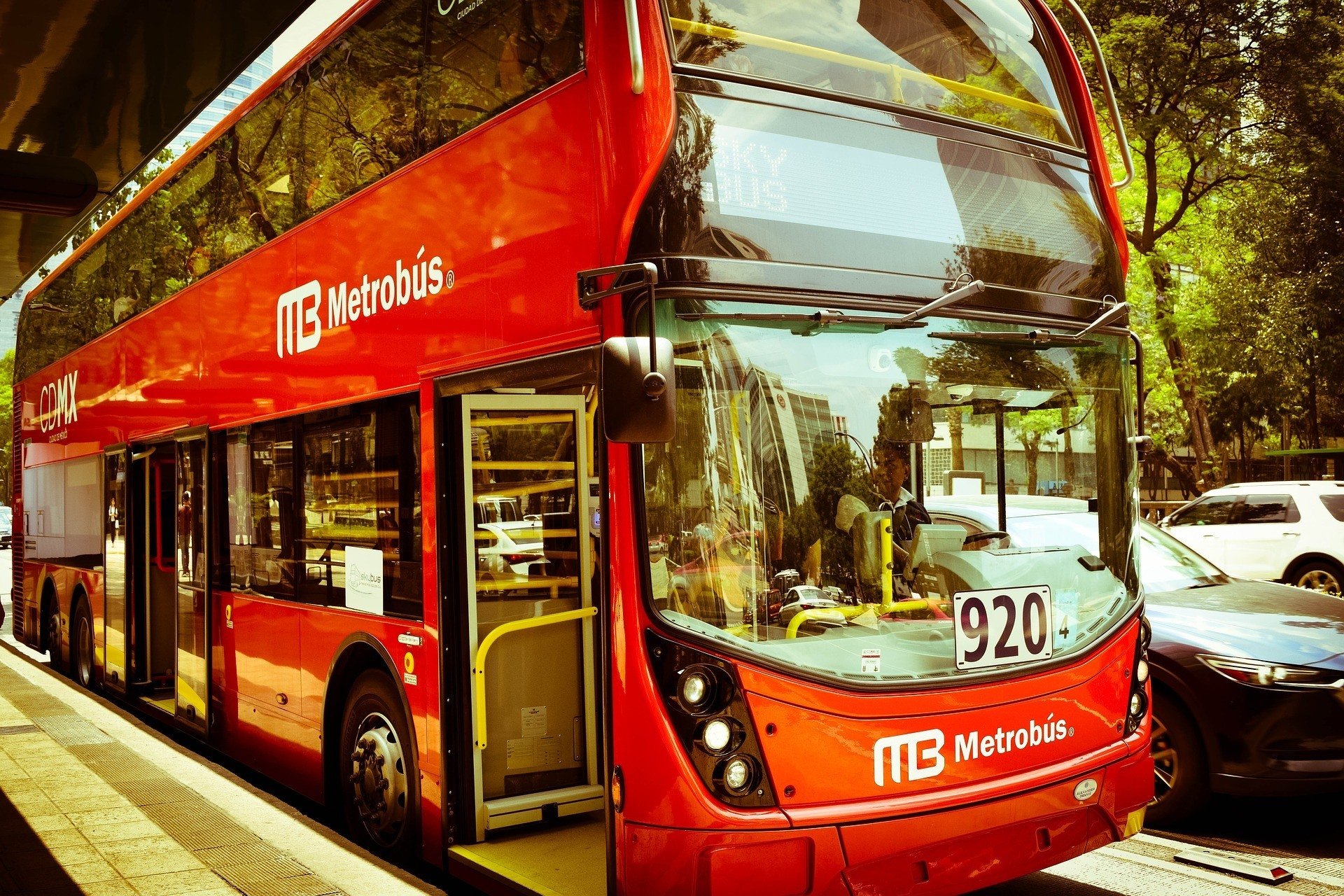 If you are located in the beach towns, you really only need a bike or your feet and you will be able to get anywhere within 15 minutes. This would cut your transportation costs down and help you maintain an active lifestyle. However, I know we all want the freedom of hopping in a car and going anywhere sometimes. Many people will rent cars or buy a motorbike to give them access to the open road.
ADO bus (Cancun Airport to Tulum) – $13.70
Taxi Ride (Mexico City Airport to Center) – $12
Car Rental – $17
Food in Mexico
The food scene in Mexico is incredible from street tacos to mole, to their famous Oaxacan cheese. I can promise you will not go hungry! I am drooling just thinking about it.
You will find street vendors on every corner, and thankfully they will not break the bank. Whether you want to eat every meal out, or head to the local mercado to purchase your own ingredients to cook at home, both are very affordable. The fruits and vegetables are super fresh, making every meal so tasty – can you say a win-win?!
Just like anywhere else, you can find high-end restaurants at a high dollar price, and the touristy areas often have American/European prices. Many restaurants in the hotel zone of Tulum require a reservation, and you can expect to spend 30 bucks on a meal.
If you grab your bike and head to the city center, you can easily find tacos for a few pesos(and I think they taste better, just saying).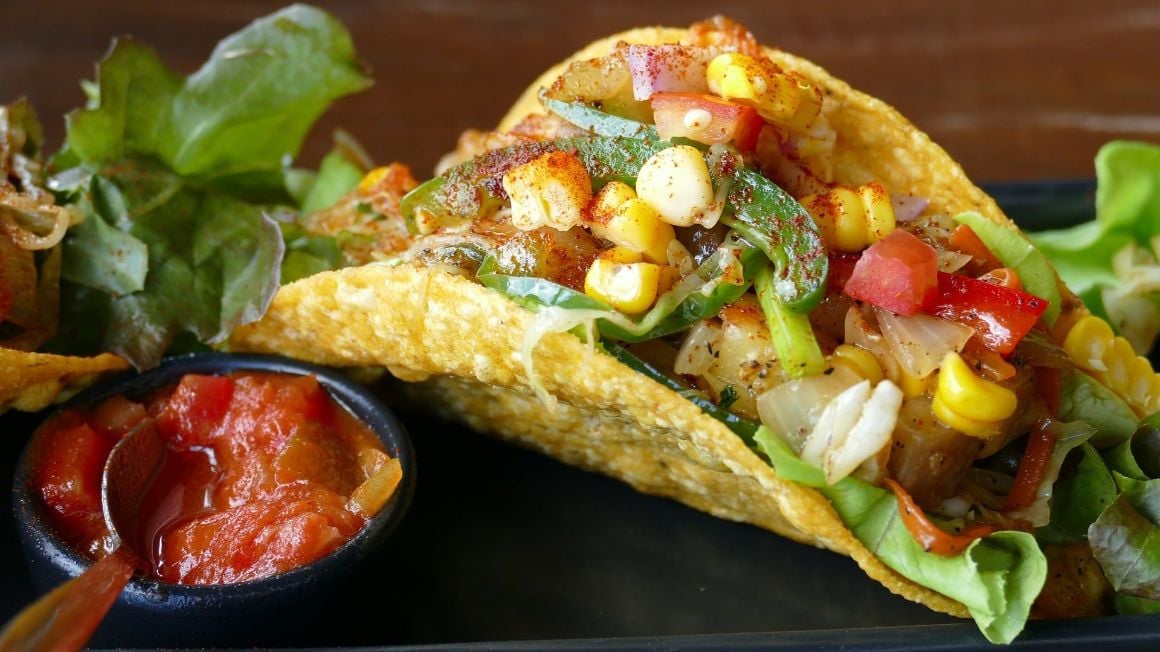 Heading to the supermarket is very convenient and affordable in Mexico. The most popular and affordable supermarket is Chedraui. You will be able to get your vegetables, meat, spices, and even some international brands.
The Pacific Coast of Mexico is much cheaper when it comes to food. It is less touristy, and many locals are eating at the same places – that's how you know a spot is good. You will really get to practice your Spanish in the local restaurants!
The Mexican cuisine can be very meat focused. Most meals will consist of chorizo, el pastor and some form of salsa. However, within the past few years a lot of vegan and vegetarian options have shown up all over the country. Making it incredibly convenient to eat out and stay within your budget for vegans.
Milk (1 gallon) – $4.00
Bread (loaf) – $1.50
Rice (1lb) – $0.60
Eggs (dozen) – $1.50
Local Cheese (p/kg) – $2.60
Tomatoes (1lb) – $0.50
Bananas (1lb) – $0.50
Drinking in Mexico
Drinking tap water in Mexico is a BIG no no! Always buy bottled or filtered water as the tap water will make you sick. This is also important when washing fruits and vegetables.
Buying bottled water is very inexpensive, but if you plan on staying long term I recommend buying the five gallon water jugs. They only cost $0.50 to fill up and will last you the longest.
Mexico is the home of tequila and mezcal, making nights out a lot of fun and affordable.. or thats just an excuse to buy another round! In the supermarket a middle shelf bottle of Mezcal will cost you around $15.00 and a six pack of beer will cost you $5.00. When drinking in a restaurant or bar, an average domestic beer will cost you $1.50 and cocktails range from $4.00-$6.00. With these types of prices you might find yourself out every night of the week, at least I sure did!
Why Should You Travel to Mexico with a Water Bottle?
Plastic washes up on even the most pristine beaches… so do your part and keep the Big Blue beautiful!
You aren't going to save the world overnight, but you might as well be part of the solution – not the problem. When you travel to some of the world's most remote places, you come to realise the full extent of the plastic problem. And I hope you become more inspired to continue being a responsible traveller.
Plus, you won't want to be buying plastic bottles of water from the supermarkets either! Travel with a filtered water bottle instead and never waste a cent nor a turtle's life again.
Keeping Busy and Active in Mexico
Now, you aren't moving to Mexico to do the same boring routine of work and Netflix. Mexico has a lot to offer in regards to staying busy and active, and making the most of your day!
Imagine waking up, biking to the beach to catch an early morning surf sesh, grabbing a coffee and saying hi to some of the locals all before you clock into work. This is a reality in Mexico. Whether it be surfing, yoga on the beach, or even taking salsa lessons in the city, Mexico has everything you need to start and end your day properly, all while maintaining your tan!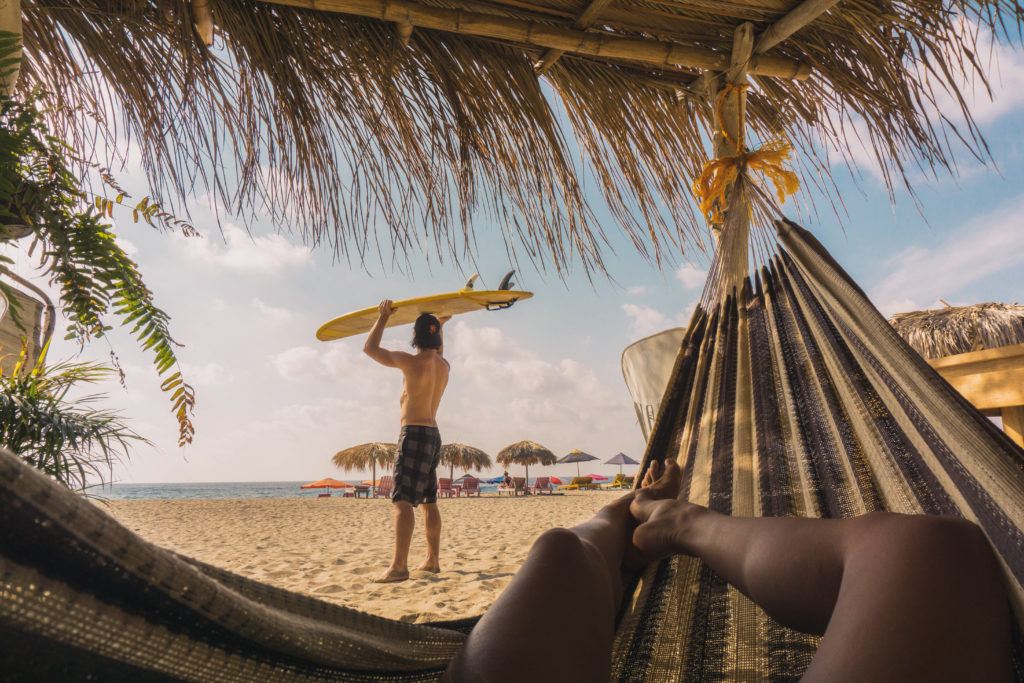 If you have a smaller budget, some areas in Mexico make it much easier to stay active without needing to sign up for a membership. Every night at sun down you will find heaps of people playing sand volleyball or going for an evening swim.
With so many options there is something for everyone in Mexico.
Surf Lesson (1 hr) – $25
Bike Rental (1 day) – $5
Salsa Lessons – $25 – $60 (depends on private or group classes)
Temazcal Ceremony – $35
Yoga Class – $10
Gym Membership(1 month) – From $55
School in Mexico
Unfortunately, Mexico does not have the best reputation for public schools, and continues to fall behind in literacy amongst locals.
Due to the high volumes of expats in the country they have a wide variety of private international schools for your children to go to, and remain diligent in their studies. You will find multiple options from American Curriculum to British and Japanese. You will need to decide if you would like your kids to be day students or boarders, as this can be a huge indicator of which city you should live in. Many of the larger schools are in Mexico City and Guadalajara.
If you are wanting to live in a coastal city, another great option is home schooling. As many families have moved to the Pacific side, and were not keen on boarding school, the expat community joined together to make their own school where all the children in the city can interact and learn together.
Fees for international schools in Mexico – $4,000-$8,000
Is This the Best Backpack EVER???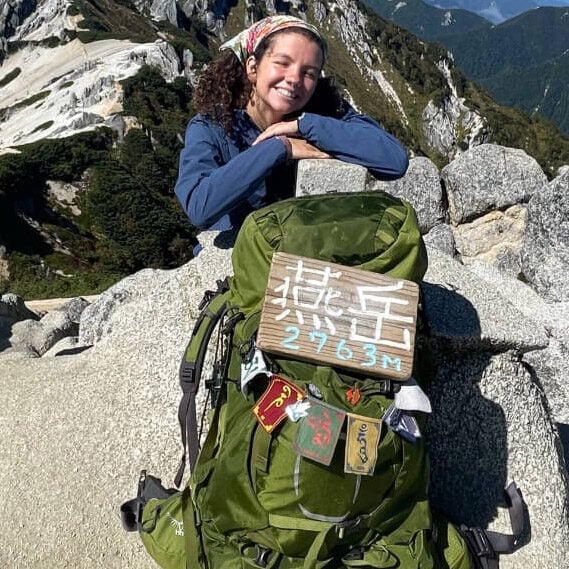 Medical Costs in Mexico
Healthcare in Mexico is very mediocre. Having access to the same quality of healthcare that you are used to can be challenging. Depending on your location, and how much cash you have, the best treatment is not always accessible. For instance, you can always get a tooth pulled, but will your mouth be numb?… maybe? maybe not?
You will be able to receive proper procedures and medication in most parts of Mexico, but it will cost you. In Mexico, you will need to pay upfront the total bill of whatever procedure you are having done. While it will be exponentially cheaper than most western facilities it can still hit your bank account pretty hard. This can cause a bit of caution when moving to Mexico as a life or death situation can be totally dependent on your finances. Thankfully, there are multiple international healthcare plans.
SafetyWing offers a monthly healthcare plan which covers Digital Nomads, expats, and long term travellers. We have been using it ourselves for a while now and find that they provide great value.
Visas in Mexico
If you are planning on staying in Mexico longer than 180 days you will have two options in regards to visas:
With a Temporary Resident Visa you can stay in the country up to four years. It is ideal if you are coming to Mexico to study, work, join a family member of Mexican nationality, or invest in the country.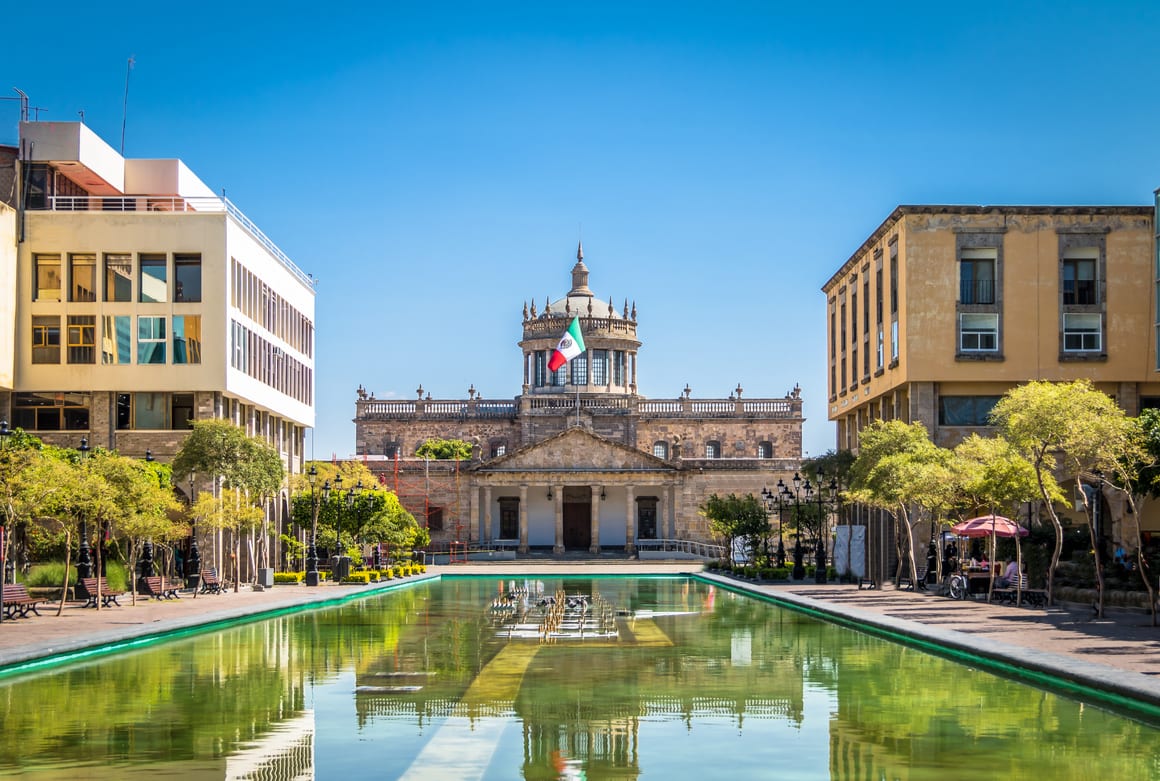 A quick reminder that most expats are not moving to Mexico to find work! They are bringing their already steady jobs and incomes.
The Mexican government has recently opened the Temporary Resident Visa to digital nomads, under the condition the individual can show proof of $1,036 income for six months – outside of the country. If they are approved, the resident is not allowed to get an additional job in the country earning pesos.
Another option is to hop over to Central America every 6 months to renew your 180 day tourist entry. I am not saying this is legal, but it's a viable option that I participated in for a year without consequence, plus you get a weekend adventure!
If you find yourself wanting to stay in the country long term, which you will, you are able to apply for the Permanent Resident Visa. You will be able to apply for this after living in Mexico for four consecutive years, or if you have a relative that is a Mexican citizen or holds a Permanent Resident Visa. This includes parents, spouses and kids.
Banking in Mexico
Opening a bank account in Mexico is easy.. You will need proof of your residency in Mexico, your ID, a Mexican phone number, and a utility bill within the last three months.
When choosing a bank, you want to look at the options that are most compatible with your home country. This will help you to avoid ATM fees, foreign transaction fees, and the best conversion rates.
If you are feeling a bit iffy about opening a bank account, no worries. You will find ATM's all over the country and most major cities take Visa and Mastercard. I recommend always carrying cash on you in the beach towns and villages, as it is still a cash forward society.
To avoid spending heinous amounts of money on ATM fees, or foreign transaction fee's with your home countries bank, we recommend getting a few different travel banking cards. They all offer a certain level of fee-free ATM withdrawals. If you get yourself a Transferwise, Revolut and Monzo card, you'll be able to withdraw around $600/month and have unlimited card payment allowance!
For making and receiving international bank transfers without incurring any fees, we recommend using Payoneer.
Taxes in Mexico
Your situation, and where your income is made will determine what taxes you pay in Mexico. While the system is pretty straight forward, any resident will pay between 0-30% in taxes.
Every purchase made in Mexico will already be pre-taxed, and you will see the charge at the bottom of your receipts. As Mexico is divided into states, each state has its own percentages and laws surrounding the tax on goods. This is very helpful for you and me!
As for your personal taxes, if you have made over 51% of your income abroad, you will not be liable to pay taxes in Mexico to keep people from double taxation. However, if you are a resident you will still need to report this to the Servicio de Administración Tributario – the government body in charge of federal taxes. If you are earning 50% of your income in Mexico you will need to hire an accountant to see what your options are, and which tax bracket you fit in.
Always make sure to check in with your home country to know the rules and regulations of how to properly file your taxes in both places of residency.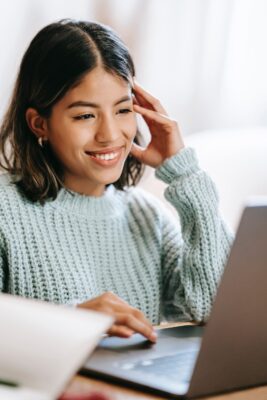 Earn $$$ ONLINE Whilst Travelling the World!
Keen to live the digital nomad dream while travelling the world? Who the hell isn't?
Teaching English online is a surefire method to earn a consistent income on the road. Work from anywhere, change some lives, and earn some dollaridoos while you do it!
Check out this detailed article for everything you need to know to start teaching English online.
Any type of travel or big move is going to come with the unexpected, and sadly that unexpected is, if not always, expensive. While we try our best to be prepared and think of every single thing that could pop up, the statement stands true – you don't know what you don't know. I always seem to find out what I don't know too late!
Let's learn from my L's and make sure you are prepared!
I can't predict your future, or give you exact numbers, but I want this section to give you a pause when you consider the finances you need to make the leap!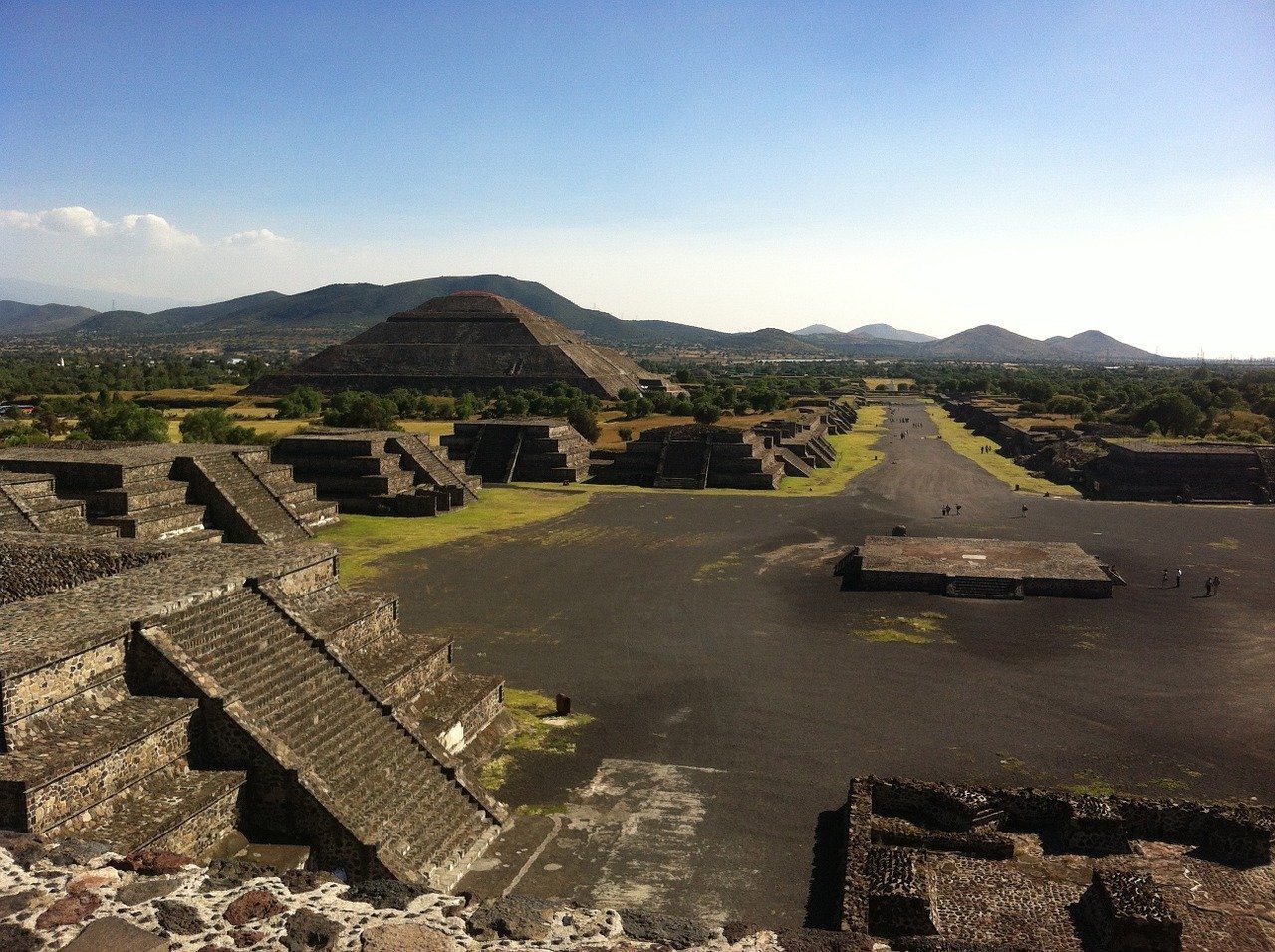 While Mexico is on average 50% cheaper than the United States, little charges here and there can start to add up quickly without you even noticing. As mentioned above, sometimes you get scammed on a taxi ride, or your international health insurance went up. No matter the case, we want you to be prepared.
Don't let the cost of a last minute expensive flight stress you out. Make sure to maintain your savings account, and give yourself a buffer for when the unpredictable happens. Your future self will thank you. I recommend having at least two flights home in your savings at all times, three months worth of rent, and make sure to account for those extra tequila shots you are bound to want.
Insurance for Living in Mexico
Mexico has a reputation for drugs and cartel, this should come as no surprise to anyone. The crime rate is continuing to grow in popular places as cartel gangs are fighting over territories. With that being said, I have never once felt in danger while living in Mexico. Be smart, be aware of your surroundings, and don't walk alone at night.
The best way to take care of yourself is making sure you are insured should anything happen. This could be a motorbike wreck, a diving incident or even a jellyfish sting on a nightly swim in Tulum (can you tell this one is personal). We never think these things will happen to us, but being prepared will help you to feel at ease.
A great option for digital nomads to stay prepared is by getting Safetywings health insurance. They have affordable plans for nomads, travelers and expats. Click the button below to see which plan works best for you.
Month to month payments, no lock-in contracts, and no itineraries required: that's the exact kind of insurance digital nomads and long-term traveller types need. Cover yo' pretty little self while you live the DREAM!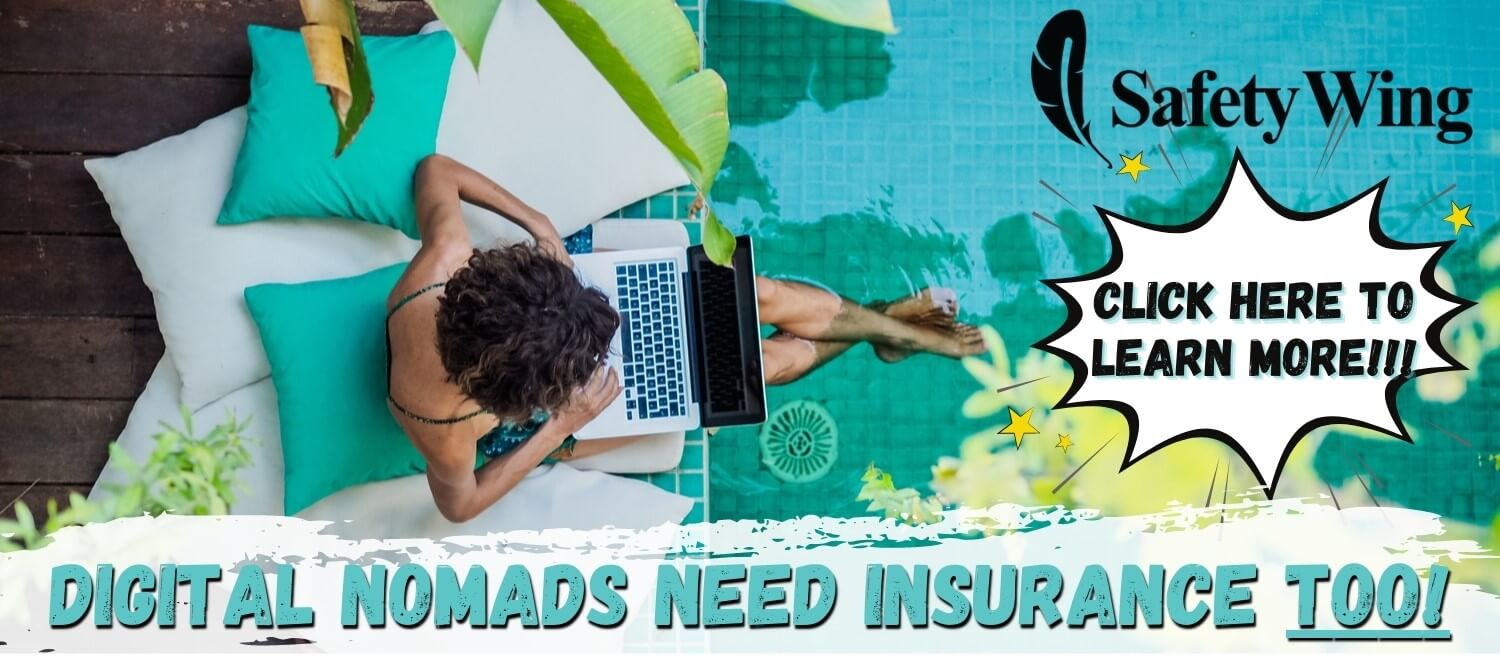 SafetyWing is cheap, easy, and admin-free: just sign up lickety-split so you can get back to work! Click the button below to learn more about SafetyWing's setup or read our insider review for the full tasty scoop.
Moving To Mexico – What You Need To Know
Now that we have covered the nitty gritty of living in Mexico, let's get to the fun stuff! There are so many options of where to live, and hopefully by the end of this you will have a much better idea of where you want to be calling home in the near future!
Finding a Job in Mexico
Not many people are moving to Mexico to find a job, and I would not recommend moving without a set plan of how to create an income. If you are unable to work remotely with your current career don't fret! There are quite a few international options for those that are dying to get out and see the world!
While it may be hard to land a job at an international branch in Mexico, you will find loads of teaching opportunities. As Spanish is the main language, you will find many private and international schools looking for English teachers to engage and teach primary learners. You can get TFFL certified online and start applying.
The pay will be less than a western teaching job, but English teachers in Mexico will still be earning enough to live a comfortable lifestyle and have summers off to explore the country!
Where to Live in Mexico
Mexico is huge! The North American country is made up of 32 states, and has a population of 128.9 million people. The landscape changes drastically from Cancun to Chiapas. You will find beautiful crystal clear waters in one state, and be above the clouds in the mountains in another.
I recommend taking a trip to Mexico, and seeing the country for yourself, feel the atmosphere, meet the locals and explore what it would be like to live in each of the areas that appeal to you. This is where you can decide what type of atmosphere you want, and exactly where in Mexico you can see yourself thriving.
Tulum
A hippies paradise, Tulum is known for its free flowing spirit, beautiful beaches, and wild jungle parties. Located two hours from Cancun, this beach town has become one of the most popular destinations in the world. You will find every kind of person in Tulum, from digital nomads, broke backpackers, to boujee crypto guys.
Tulum is going to be the most expensive destination to live as a remote worker in Mexico. With so many tourists coming each year, the rent, taxi, and food prices are continuing to rise. Tulum is the perfect place to meet others, and join a community, but it really lacks good Wi-Fi.
If you have Tulum high on your list of living, I recommend purchasing your own Wi-Fi in your house, and make sure to try out the area before locking into a rental agreement.
Most Cosmopolitan Tourist Area
Most Cosmopolitan Tourist Area
Tulum
If you have cash to splash, Tulum is the most popular and thriving area to live. Although pricier, the town is filled with everything you need for a comfortable life with an excellent work/beach balance. Find a shared home and a group of fellow nomads to save some money on accommodation.
Playa Del Carmen
Playa Del Carmen is in the heart of the Riviera Maya, about an hour and a half from the Cancun airport. You will find the perfect blend of expats to locals making it easy to create a genuine friendship group. It is a walkable city with close access to an airport for traveling. It is truly a Caribbean paradise!
You will have affordable housing, access to everything you need, and some of the best beaches and diving spots. It is warm weather all year round, but you will experience hurricane season from June to October, so be prepared for rain and wind.
Affordable Central Area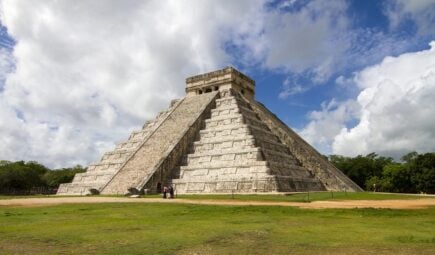 Affordable Central Area
Playa del Carmen
Playa del Carmen has the best of everything Mexico has to offer – beaches, affordable housing, diving spots, and an expat community. If you are moving solo with a remote job, this will be an ideal place to make your home.
Mexico City
The Capital of Mexico is Mexico City. It is the largest digital nomad community in Mexico. It is a bustling city with lots of cute neighborhoods and mercado's to stroll through. You will find the best co-working spaces, Wi-Fi, and nightlife in Mexico City. Many of the expats in CDMX are in their late 20's and enjoy the city life vs a laid back surf town.
The city has over 150 museums, a huge cafe scene and is a cultural hub. There is always something new going on whether you want to take salsa lessons, or enjoy a mezcal tasting with friends.
Remember you are trading the beach for an inland city, you will experience a hot summer and mild winter. With such easy access to Mexico City Airport, you can catch a $30 dollar flight and be in Cancun or Puerto Escondido in two hours.
Best Place for Young Digital Nomads
Best Place for Young Digital Nomads
Mexico City
As the capital on the country, Mexico City is a bustling and thriving place to live in Mexico. Digital nomads will love the busy co-working scene, nightlife, and community. Spend days at the laptop and afternoons lounging on the beaches, enjoying sunsets with an ice-cold cocktail.
Puerto Vallarta
Puerto Vallarta is located on the pacific ocean where the water is much colder, it is also no longer that magnificent turquoise blue. You will find the water here perfect for surfing and skim boarding.
There is an ease of life with a laid back surfer vibe, and a lower cost of living. Puerto Vallarta is a huge tourist destination. Puerto Vallarta is a place where many Americans and Europeans choose to retire.
The beach town has tall high rises, and lots of street cafes to enjoy a day. If you head to the outskirts you will have modern architecture and huge shopping malls.
Within the past few years more coworking spaces have popped up, and a few neighborhoods have gotten fibre optic connections, making this town more and more appealing to digital nomads in Mexico.
Laid-Back Beach Town
Laid-Back Beach Town
Puerto Vallarta
For digital nomads who want a laid-back life, Puerto Vallarta is the ideal place to live. You can get your emails and work done during the day, before heading to the ocean to surf or try-out skim-boarding. It has easy access to plenty of facilities, and a friendly expat community.
Sayulita
A sleepy little town with a lot of love, Sayulita is an up and coming place to stay in Mexico, located about 30 minutes north of Puerto Vallarta. If you are trying to catch some waves, enjoy football on the beach with friends, all while keeping costs low, then Sayulita might be for you.
This town is laid back with lots of cafes (plenty of vegan options), and sunshine all year round. The issue with Sayulita when it comes to working remotely is their lack of infrastructure.
While you will find plenty of surf instructors or baristas, finding a good signal for online work is a bit of a challenge. You can catch a signal, but typically you are sharing it with a few others, and the chances of it going out in the middle of an uploading project are quite high. It is getting better as time goes on, but before making the commitment I would recommend spending a few days here while working to get a feel for it.
Sleepy Town Beside the Ocean
Sleepy Town Beside the Ocean
Sayulita
Sayulita isn't the most modern or well-equipped town, but is a perfect place to relax and unwind for those looking for a laid-back life. If you don't rely on the internet for your work, you can spend your time exploring beautiful streets, relaxing on the beach and dining at one of the many vegan cafes.
Mexican Culture
Mexican culture is warm and inviting. Everywhere you look you will see locals smiling and engaging with foreigners. Many of the younger locals will speak English, but a lot of the older generations will only speak Spanish.
The culture is known for its hospitality, and so much of it revolves around food. If the locals can see that you are truly interested in the Mexican culture, they will be happy to assist you in whatever you are needing.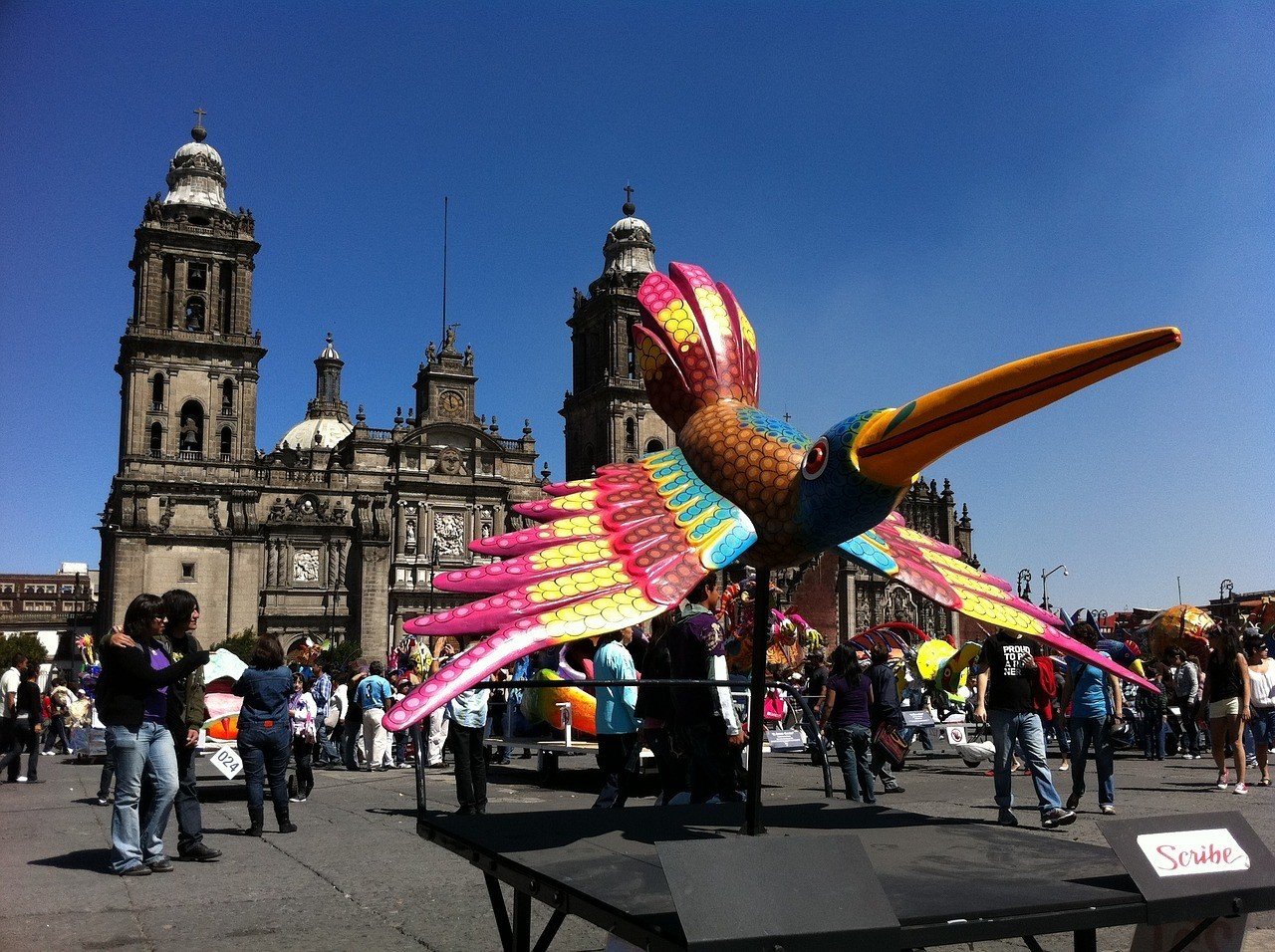 You will find many expats engaging with locals as many people are trying to learn Spanish or how to bachata, so don't be embarrassed, join in on the fun, and make a few local friends! It will help you become more acclimated to your new home.
Just make sure you know what una mas cerveza means, and you will get along just fine!
Pros and Cons of Moving to Mexico
A holiday in the sun for life sounds pretty perfect, but as we know not everything is perfect all the time. While Mexico has so much to offer there are definitely some pros and cons to consider before packing your life up!
Pros
Weather – It is warm, sunny skies 70% of the time and will have you chasing summer all year round, just watch out for hurricane season
Quality of Life – With great weather, lost cost of living, and activities around every corner, you will find yourself enjoying your life much more – it is inevitable
Nature – Regardless of what area of Mexico you choose to settle, you will find some of the best landscapes. Snorkeling, hiking mountains, swimming under caves, Mexico has it all
Food Cuisine – One of the most flavorful cuisines in the world, and at an affordable price. Tacos on every corner, and fresh fruit from the trees – your belly will always be satisfied
Cons
Schooling – The public school system is not great, and the private schools can get pricey
Limited Job Opportunities – Outside of teaching English, if you do not have a steady job overseas, finding a job that will pay you well in Mexico is not viable
Lack of Infrastructure – While bigger cities have accommodated to the influx of digital nomads in Mexico, a lot of the country is just starting to get proper internet access
Hurricane Season – From July to October, hurricanes can become active leading to evacuation, or electricity to be unaccessible
Living as a Digital Nomad in Mexico
Internet in Mexico
The internet in Mexico is hit or miss depending on your location. Make sure to check your rental property for good signal, and visit some of the cafes in town to see how fast their broadband is.
Also, grabbing an eSIM from Holafly for Mexico before you travel is a wise move for cheap, reliable and safe phone data.
The Future of the SIM Card is HERE!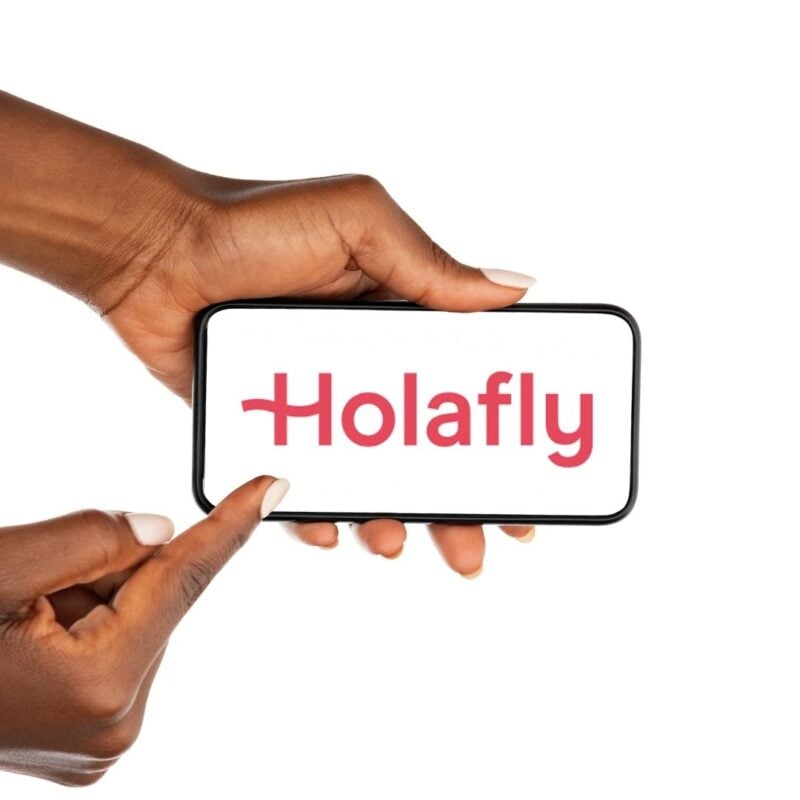 A new country, a new contract, a new piece of plastic – booooring. Instead, buy an eSIM!
An eSIM works just like an app: you buy it, you download it, and BOOM! You're connected. It's just that easy.
Is your phone eSIM ready? Read about how e-Sims work or click below to see one of the top eSIM providers on the market and ditch the plastic.
Grab an eSIM!
Digital Nomad Visas in Mexico
The Mexican government has recently opened the Temporary Resident Visa to digital nomads, under the condition the individual can show proof of $1,036 income for 6 months outside of Mexico.
Co-Working Spaces in Mexico
The best thing about working remotely is working from wherever you want, but sometimes I miss that office camaraderie. Thankfully co-working spaces are becoming more accessible.
You will find loads of co-working spaces all throughout the country, especially in the digital nomad community hubs like Mexico City and Playa Del Carmen. While many of us throw in our AirPods and get to work, sometimes it's nice to have a coffee break and chat about something other than numbers or graphs.
These typically range from $100 to $150 a month, and area open for normal Monday-Friday working hours.
Final Thoughts on Mexico Living Costs
Are you convinced yet? With the stunning Mexican landscapes, the low cost of living, and the incredible Mexican culture, this is truly one of the best places to consider moving to right now. Find yourself learning a new language, picking up surfing, or even just actually enjoying your coffee in the morning. Mexico is calling you my friend, and I can't wait to see you there!
---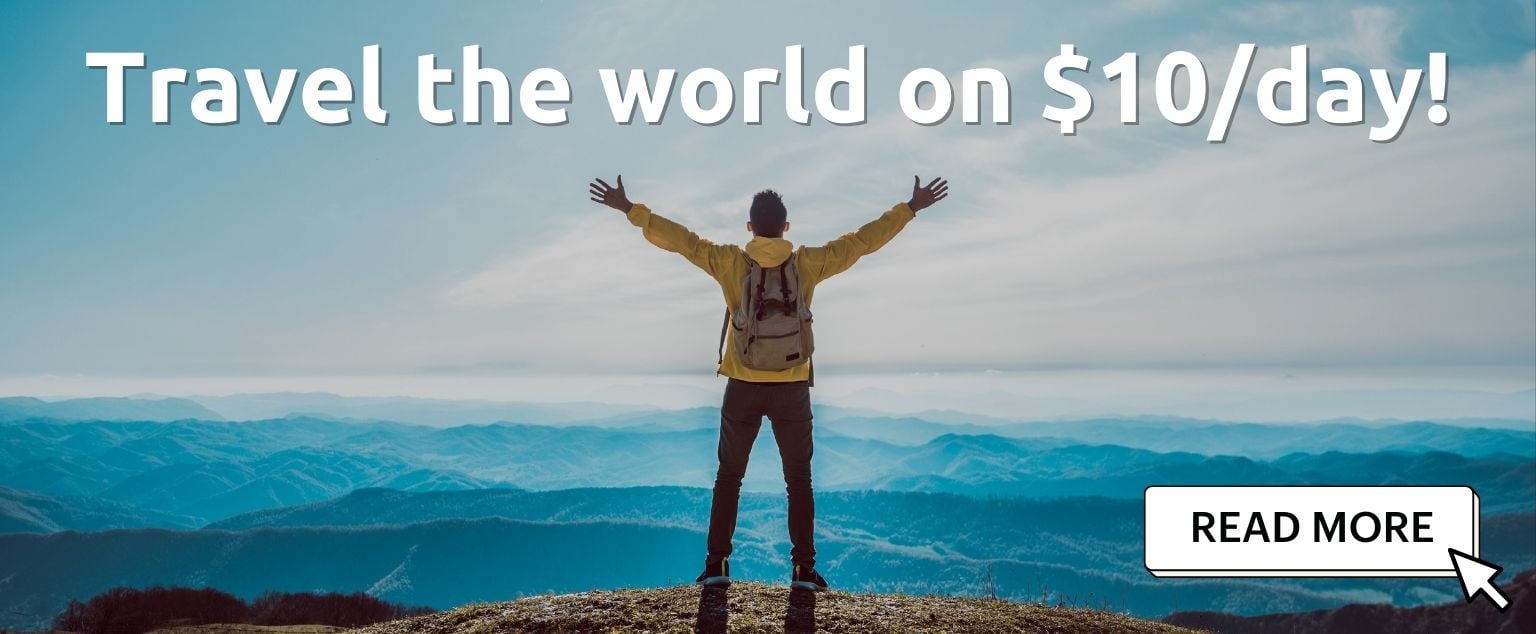 And for transparency's sake, please know that some of the links in our content are affiliate links. That means that if you book your accommodation, buy your gear, or sort your insurance through our link, we earn a small commission (at no extra cost to you). That said, we only link to the gear we trust and never recommend services we don't believe are up to scratch. Again, thank you!