Once home to a thriving Mayan port, Tulum is a brilliant mix of sun, surf, and ancient ruins. Under the warm Mexican skies, it offers an exciting oceanside vacation with long golden sand beaches, marine national parks, and a thriving nightlife.
To this day the Mayan ruins along the Yucatan Peninsula remain remarkably well preserved, and are the third most visited ruins in the country. They once helped to protect the Mayans and, in fact, did so incredibly well. It wasn't until seven decades after the Spanish arrival that the city began to crumble.
Between drinking cocktails on the beach, cooling off in the turquoise Caribbean Sea, and exploring ancient stone buildings, there is so much to see and do in Tulum. Which is why well-situated accommodation can take your trip to the next level.
VRBOs in Tulum come in all shapes and sizes, from deluxe condominiums just steps to the ocean, to jungle homes in the town itself. Budget travelers will love just how cheap it is to find a cozy beachside shack to crash in each evening.
Larger groups will have the choice of homes with multiple bedrooms, large living spaces, often incredible views of the jungle and the sea.
But let's not waste anymore time, below we take a deep dive into what type of accommodation is most common in Tulum and, of course, our favorite VRBOs in this amazing location.
Quick Answer: These are the Top 5 VRBO in Tulum
Overall Best Value VRBO in Tulum
Overall Best Value VRBO in Tulum
Jungle Tree House
> $
> 2 Guests
> Unique VRBO
> Central Location
Best Budget VRBO in Tulum
Best Budget VRBO in Tulum
Luxury on a Shoestring
> $
> 2 Guests
> Poolside
> Completely Private
Best VRBO for Couples in Tulum
Best VRBO for Couples in Tulum
Beachfront Cottage
> $$$
> 2 Guests
> Beachfront
> Sea Kayaks
Best VRBO for Families in Tulum
Best VRBO for Families in Tulum
Kid-safe Pool!
> $$$
> Up to 14 Guests
> Beachfront Views
> Outdoor dining
Over-the-Top Luxury VRBO in Tulum
Over-the-Top Luxury VRBO in Tulum
Luxury Boutique Resort
> $$$$$
> Up to 14 Guests
> 3 Stories
> Private Beach

Unlock Our GREATEST Travel Secrets!
Sign up for our newsletter and get the best travel tips delivered right to your inbox.
What to Expect From VRBOs in Tulum
Tulum is a happening tourist destination. If you add in a bit of Mexican influence and a Caribbean touch, then VRBOs provide an exotic way to experience the town.
The majority of VRBOs on offer are professionally designed and run by those who understand what visitors want, and need. They have been hosting travelers for a long time and will be more than happy to help make your Tulum adventure the best it can be.
Unlike in major cities, you will have the choice of single and multi-room accommodations. Tulum has many fantastic options for larger groups!
You will be happy to know that there are many beachside options to suit the majority of budgets. Through VRBO you will be able to enjoy a sunset every night, in a place that feels like your own.
Here are some of the most common types of VRBOs you will find in Tulum.
Condos
Condos are an excellent option in Tulum when travelling by yourself, with a friend or with your partner.
Either a studio design or one to two bedrooms, most condos have some fantastic ocean views.
This type of VRBO accommodation is found within larger complexes and have access to resort-style amenities without having to pay hotel rates.
Depending on the size of the condo, you will get a kitchenette or a full blown cooking space to enjoy. It will be a far cry from crowded hostel kitchens. If you are used to staying in hotels and eating out, now you can save some money and try fantastic local produce.
You will find condos within the central Tulum area, which can allow for a pure local experience. However, the majority are found along the coast in complexes, great for a beach vacation.
Homes
Although 'homes' is a pretty blanket term, VRBOS in Tulum have a great variety of homes in all shapes and sizes. Many that we feature on our favorites list are private properties, for a completely private vacation.
Homes are often the best option for those travelling in groups, and are the go to choice for families. Once the cost is divided up among friends and family, these beachside homes don't need to stretch your wallet.
They provide full amenities, individual bedrooms, and ensuites, large living spaces to hang out, and expansive views of the Caribbean Sea.
Being in a private property allows you peace and quiet to enjoy your vacation. It also gives you space to relax and spend time with your loved ones without worrying about annoying your neighbors.
These stunning homes often have access to a private community beach, only accessible to those staying in the area. As everyone is most likely to stick close to their VRBO, you will regularly have the beach all to yourself.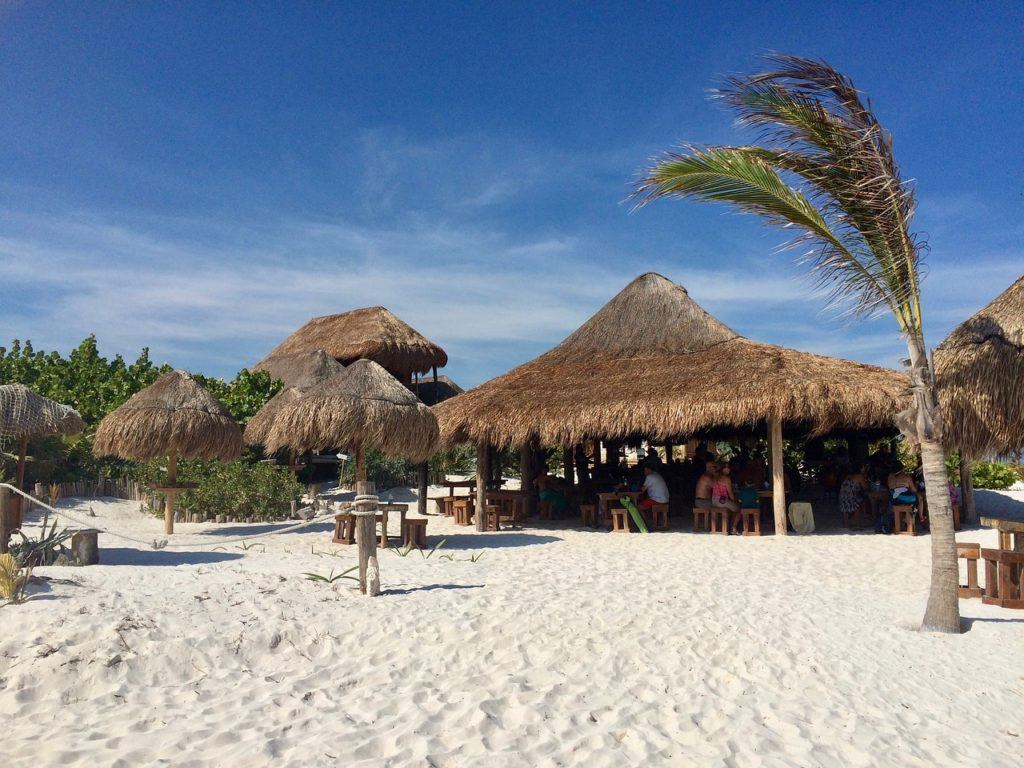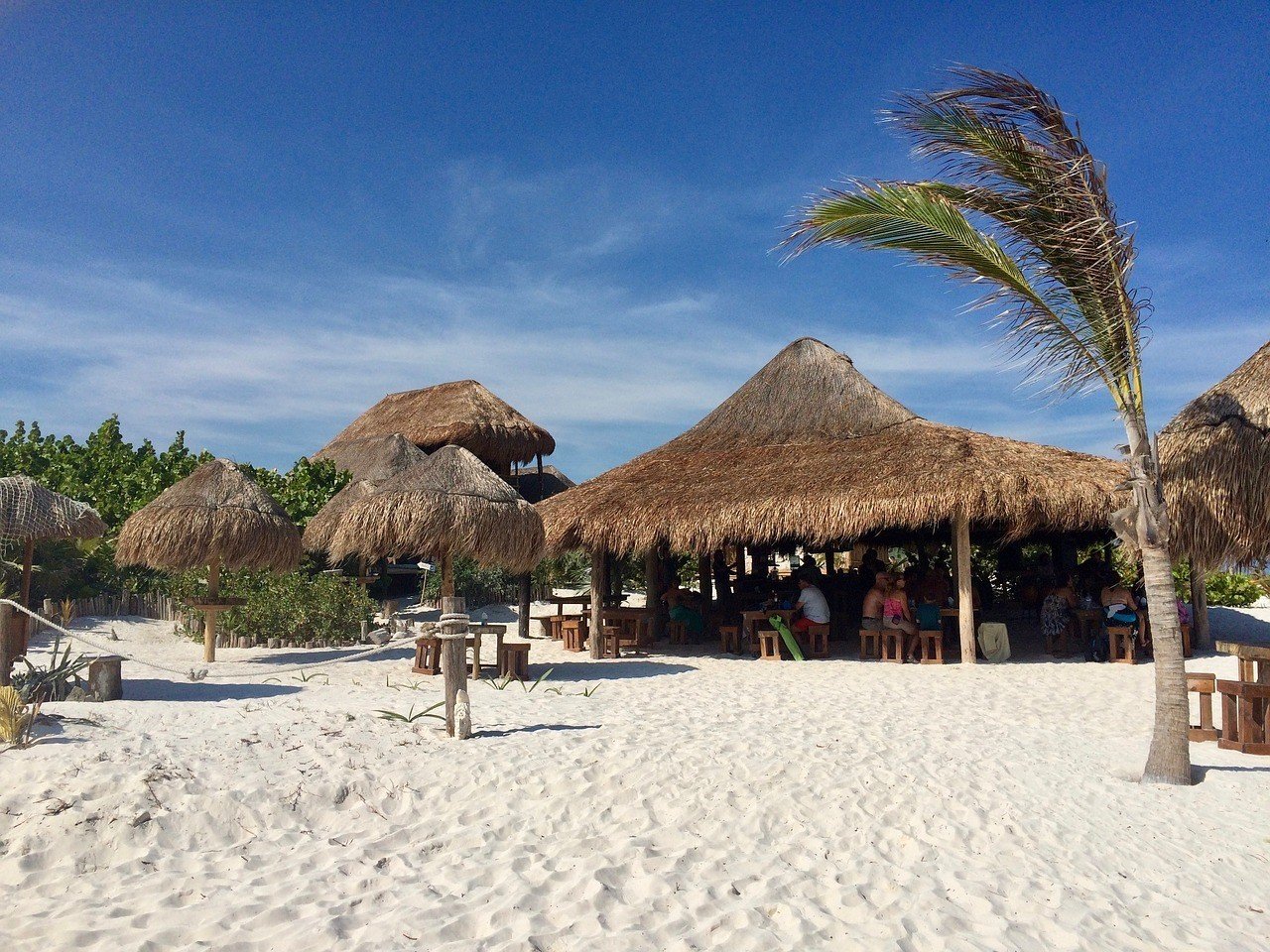 Bungalows
For couples looking for a more romantic escape in Tulum, bungalows are a perfect option.
We have listed a few bungalows below, and the common characteristics are their rustic qualities, simple interior, and direct beach views and access.
Bungalows can be very similar to a studio, but featuring a beach shack style. Rather than being many storeys above the ground, you simply have to walk out the front door to reach the glistening sand. They provide an intimate and scenic spot to spend a romantic stay with your partner.
You can spend all day at the beach while being just steps away from the comfort of home.
Why Stay in a VRBO?
There are many reasons to stay in a VRBO:
Local Experience: When staying at a VRBO, you will often be living where the locals live. Through your hosts, and the friends you make, you will be opening yourself up to a quintessential local experience.
Unique Properties: Gone are the days of stale hotel rooms and yet another hostel. VRBO gives you the opportunity to stay in many unique properties, from tree houses to tiny homes on wheels, even yachts.
Privacy: Through contactless check-ins, private access to your rooms or even having entire properties to yourself, your VRBO experience will be yours to enjoy, and yours alone.
Affordability: Instead of a single bed in a packed dorm room, or a basic hotel, a VRBO stay creates the opportunity to stay cheap but with all the amenities you enjoy back home.
Last Minute Bookings: If you're planning a trip at the 11th hour, or are already at your destination, VRBO will help you find properties that are available for rent right now.
The 20 Top VRBOs in Tulum
Ok folks, we've made it to the juicy part.
Tulum is an amazing beachside holiday destination, and here are the best VRBOs to prove it!
Overall Best Value VRBO in Tulum | Jungle Tree House
For a well-rounded trip to Tulum, you can't pass up this Jungle Tree House, which is our pick for the overall best VRBO in Tulum.
A mix of budget accommodation and a unique VRBO experience, this treehouse boasts luxury jungle living, and is just a quick drive from the beach.
The completely sustainable home has an outdoor shower, surrounded by tropical plants to freshen up after a day at the beach.
When dusk arrives, you will love the bird songs that echo through the jungle as the light creeps through the canopy.
Just minutes away from shopping in Tulum Centro, the Mayan ruins and the sparkling waters of the Caribbean Sea, when you aren't lazing around the treehouse, explore all the amazing sights in Tulum.
Places to Visit:
Tulum Mayan Ruins
Tulum National Park
Playa Paraiso
2 Guests
Completely Private
For budget travelers, Tulum is a treat! Unlike major cities or other hot tourist towns, Tulum offers the chance to get out of a basic hotel or dorm room, and enjoy a place all to yourself.
This condo is a welcome blend of convenience and comfort. You're just a stone's throw away from the major sites without having to give up space and privacy to others.
Kick back by the shared pool after a big day exploring the Tulum jungle, or hang out on your own front patio. With a private kitchen you can whip up something tasty for dinner.
Enjoy a little touch of luxury without breaking the bank at the best budget VRBO in Tulum.
Places to Visit:
Tulum National Park
Gran Cenote
Mayan Ruins
For solo travelers this studio has the best of both worlds. Located in downtown Tulum you will have access to shops, bars, and restaurants, while being just a few minutes drive from the coast.
This private studio has a great kitchenette, cozy queen-sized bed, and views to the outdoor gardens. It will be a welcome change for those looking for some more alone time.
The outdoor space, including a shared pool and restaurant, offer great opportunities to meet fellow travelers and guests. The WiFi will also come in handy when calling back home.
Don't forget to grab a bike in Tulum so you can see even more of what this town has to offer.
Check out our Is Tulum Safe? post for more safety tips when traveling solo.
Places to Visit:
Las Palmas Beach
Playa Ruinas
Temple of Doom
Is This the Best Travel Pack EVER???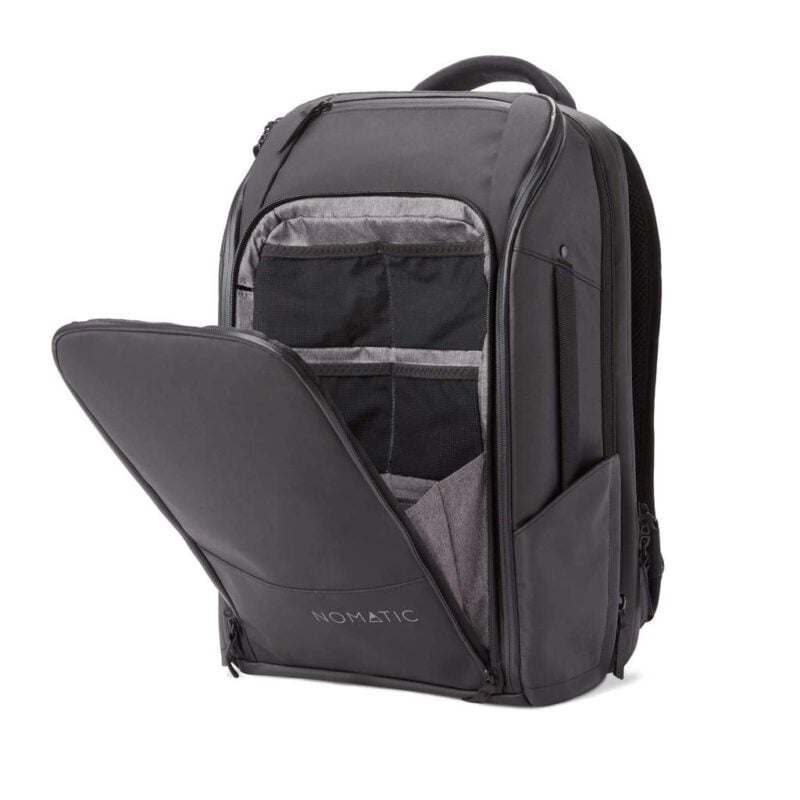 The best VRBO in Tulum for couples wanting a romantic getaway is located right on the Caribbean Sea.
Charming and cozy, this cottage is a matter of steps from the water where you can explore the crystal clear seas aboard sea kayaks.
Beach front homes in the region are often large and meant for families, but this one bedroom escape will be all that you need for a romantic vacation with your partner.
At night, wander along the sand for 10 minutes to reach the town of Akumal filled with laid back restaurants and bars. Or, head further to Playa del Carmen known for its exciting nightlife.
Places to Visit:
Akumal Beach
Half Moon Bay
Best VRBO in Tulum For Families | Kid-safe Pool!
Up to 14 Guests
Outdoor dining
One of the most affordable luxury villas you are likely to find anywhere, is right here in Tulum. With its kid friendly space, bunk rooms, and beach access spread across half an acre, this is the best VRBO in Tulum for families.
The property has on-site maids and gardeners to keep the home in top shape during your visit. Such is the space between other properties, the beach will feel like your own little area to hang out with your loved ones.
The kid-safe swimming pool faces directly towards the Caribbean Sea, providing a safe way to enjoy the outdoors without losing track of the kids.
Along with baby chairs, boards and beach games, and Netflix for the evening, you will be able to have the family vacation you've always wanted.
Places to visit:
Cenote Manati
Solimon Bay
Tulum Mayan Ruins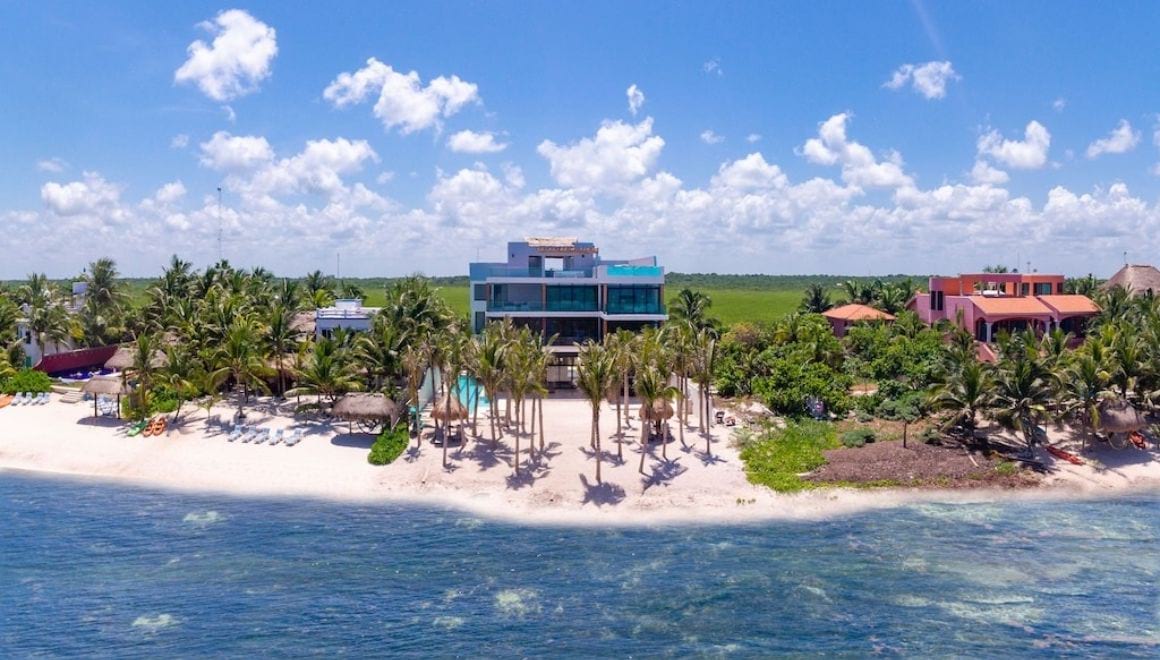 Up to 14 Guests
Private Beach
As far as incredible luxury goes, it doesn't get much better than this VRBO in Tulum. A three-story luxury resort, with a bottom and rooftop pool, that features it's own bar, is already enough to solidify a luxury ranking. But, we have only just scratched the surface, after all the resort boasts sunrise and sunset views.
Located at the end of a private bay, you will have the beach all to yourself. That is if you do eventually roam beyond this mind-boggling property.
In the water you will find a dazzling coral reef and some of the best snorkeling in the area.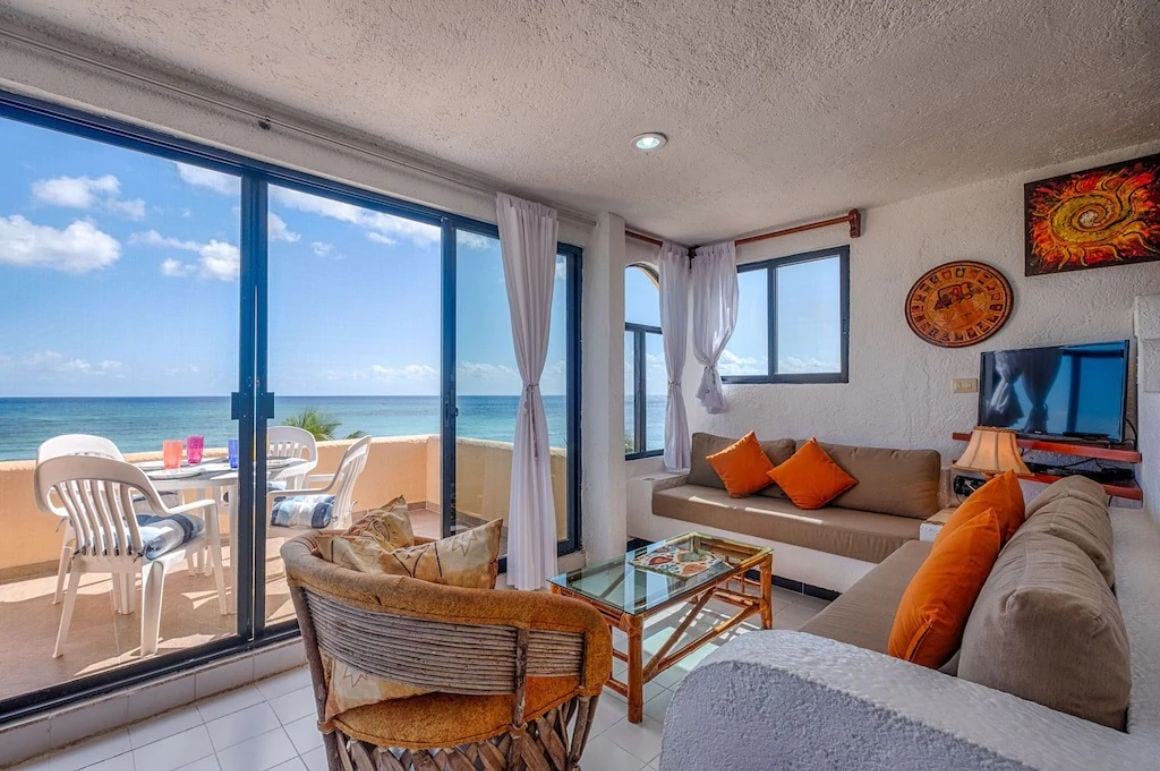 For great value, amazing views and private accomodation all to yourself, it would be hard to pass up this awesome beachfront condo.
Condos offer the best bang for your back in this area, and enable you to stay the best parts of town without going above and beyond. This VRBO in Tulum is no exception.
Located at the top of the four-story building, it has undisturbed views out to the ocean, not just from the patio, but also from the light and colorful living space surrounded by large windows.
With a full kitchen you have the option of staying in for an easy dinner, or taking the short walk to the main street.
Located in Xpu Ha Bay, named after its incredible sunrises, this rustic beachside bungalow is what dreams are made of.
As you walk out to the front patio, the ocean breeze will brush past your face as you gaze out to the clear blue waters of the Caribbean Sea. This beach is one of the hidden gems in Tulum and thus you won't see many other beachgoers; leaving you with what feels like your own little slice of paradise.
The interior is warm and cozy, with a simple kitchenette and a quirky dining table swing to sit on as you eat your delicious meal.
Nearby restaurants serve up fresh tacos and ice cold beer to complement your exotic hideaway.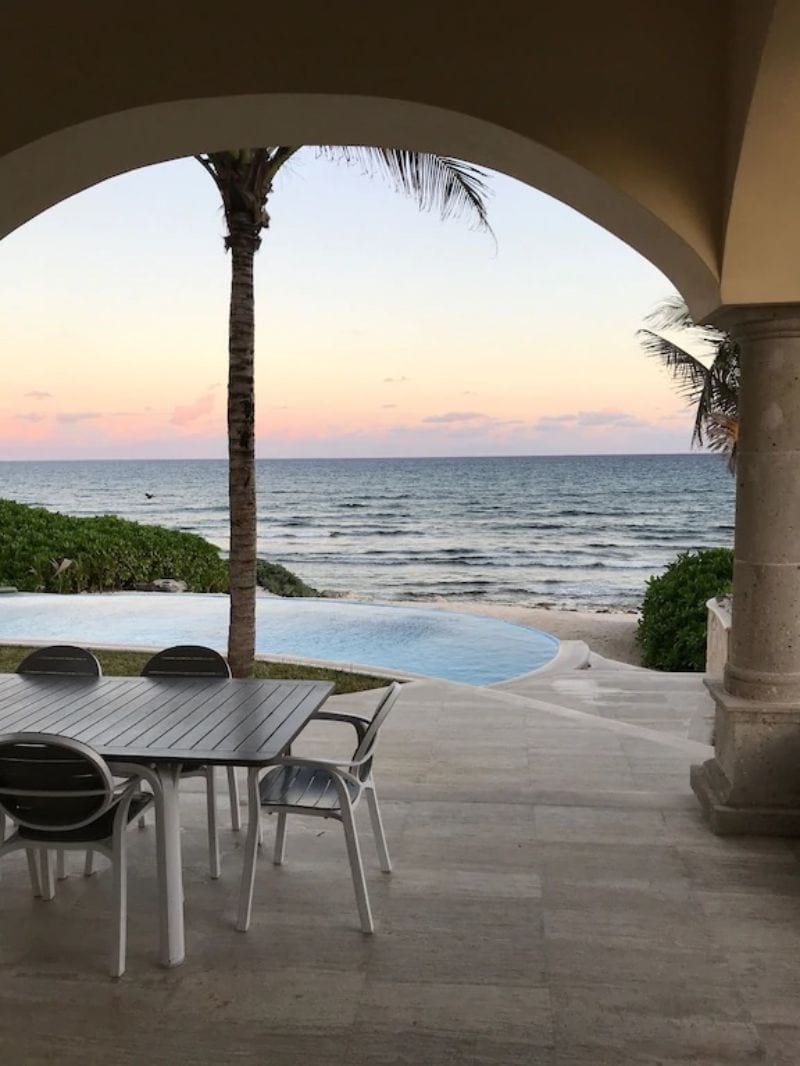 2 Guests
Incredible ocean views
The best beach house VRBO in Tulum is found at Casa Vendaval. Perfect for couples searching for some privacy, this beach house will quickly become your favorite home away from home.
In front of the gorgeous property is a huge pool where you look out over the ocean. There are also hammocks in the gazebo, as well as on the rooftop deck, for lounging as the sunsets.
Wander along the beach for as far as the eye can see and check out some of the interesting local towns.
In the evening, cook up a storm on the BBQ grill as you enjoy yet another sunset, before relaxing with your loved one on the couch for a movie.
The beauty of VRBOs in Tulum are on display yet again at this Mediterranean-style mansion that can sleep up to 16 people. For a reasonable price you can enjoy a rustic beachfront villa that comes with the best pool views in Tulum. And considering the options available, that says a lot..
The pool, surrounded by sand, has amazing views of the ocean, while being a calm refuge from the crashing waves.
There are beach loungers spread out along the property giving each guest their own private sandy spot to enjoy the sun.
Surrounded by protected jungles and mangroves, the villa is its own piece of untouched paradise.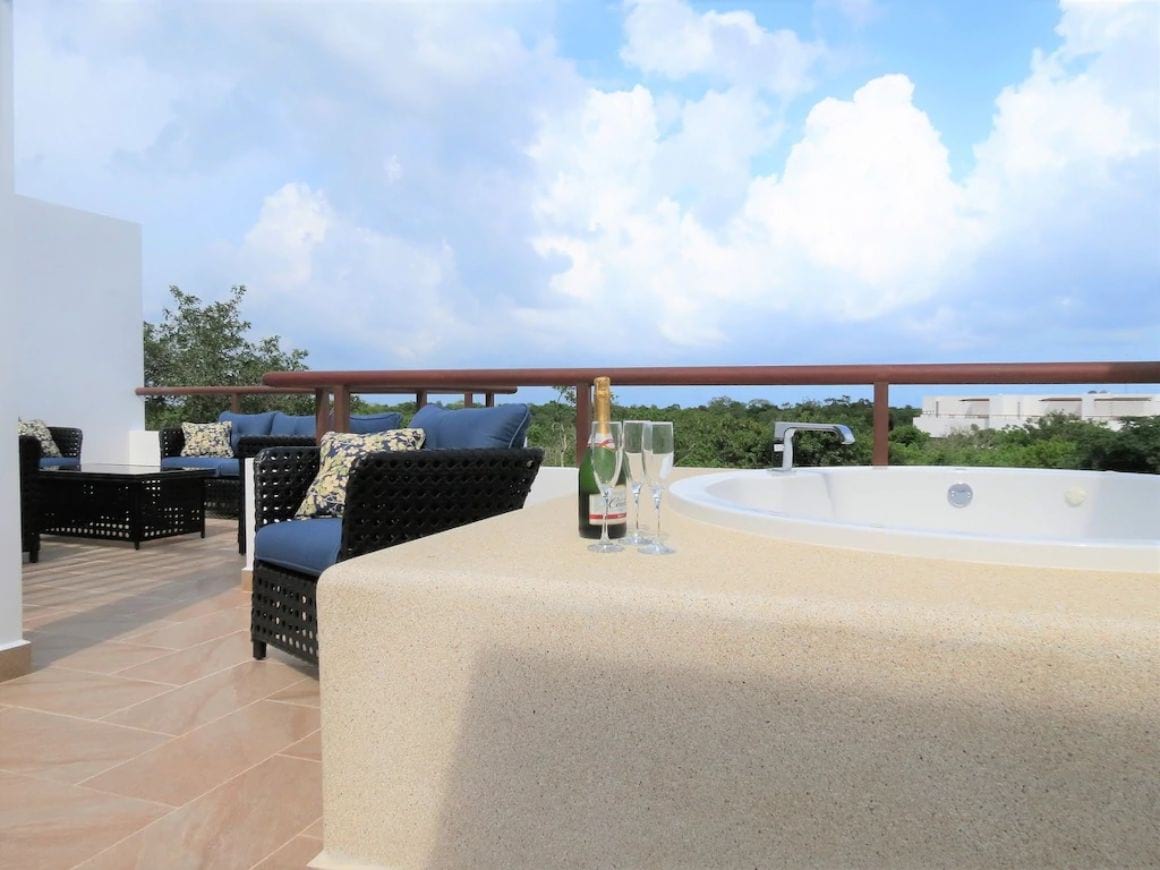 Boundless views surround the rooftop patio where you can enjoy a drink with your loved ones, friends and family. Large enough to seat 15 people, it will become a great entertainment space during your visit. With views out to the Caribbean Sea, relax in the Jacuzzi and fire up the BBQ at Tulum's best VRBO with a rooftop.
The accommodation is located in a gated community, and features modern amenities, a large kitchen and a plush king-sized bed.
Take advantage of the community pools, and the free kayaks for exploring along the coast.
Perfect VRBO for Digital Nomads | Jungle Escape
It isn't often that great WiFi and a jungle environment go hand in hand, but that is the case at this VRBO in Tulum.
In a calm and natural environment, you will be able to fire up the laptop and easily run through the day's activities. With a fresh jungle breeze coursing through the home, get comfortable in the hammock or take a quick break in the pool.
Without breaking the bank you can enjoy a balanced work-life in a stress free environment.
When you're ready to explore, the home is just a short distance from Tulum Beach and the Mayan Ruins.
Best VRBO in La Velle Neighborhood | Loft Apartment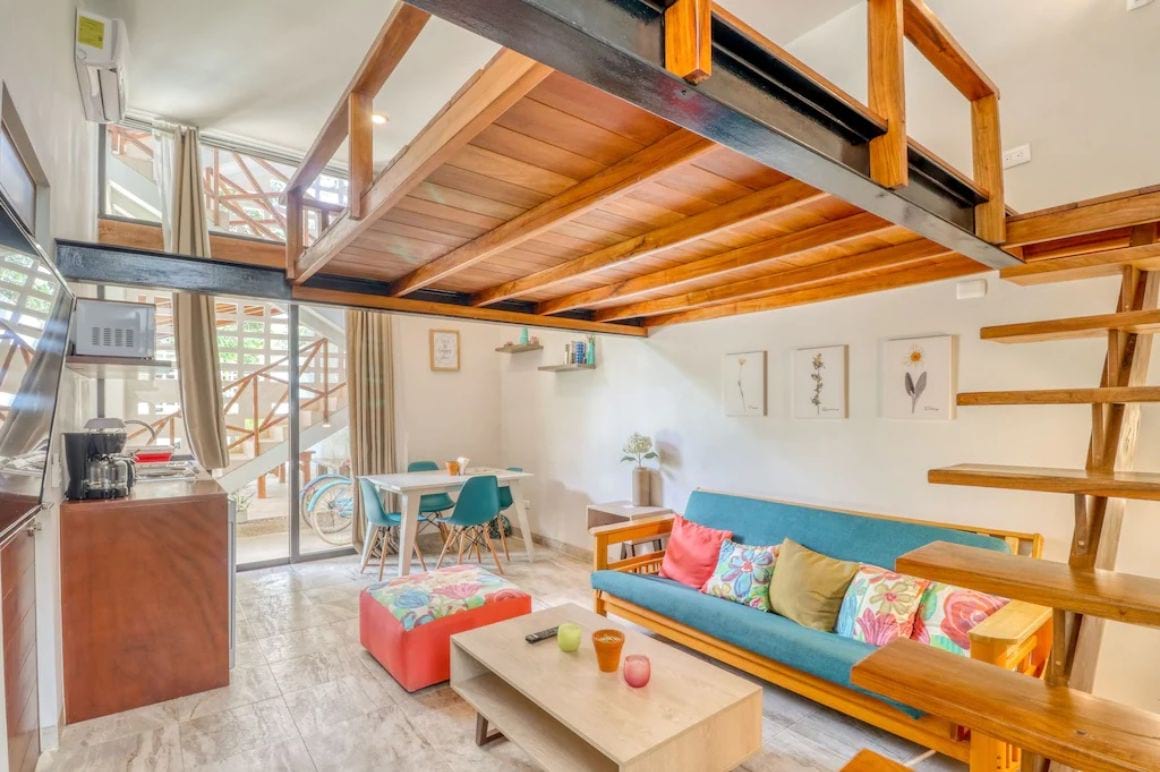 The La Velle neighborhood is a key part of downtown Tulum. Home to many of the popular bars and restaurants while being just minutes from the coast.
At this bright and open apartment, you will have a warm and relaxing home for the duration of your adventures in Tulum. The shared outdoor pool is a lovely place to meet fellow travelers.
In true Mexican style, the colorful living area is a fun place to hang out and work on the day's intinerary. You can't help but love the cozy mezzanine bedroom that helps this VRBO stand out among the crowd.
If you are planning a short-term stay in Tulum, or decide you don't want to leave, this is the best spot for month-long trips.
Looking out over the Caribbean Sea and Half Moon Bay, the floor to ceiling views offer a perfect picture image. Each night you can fall asleep to the sounds of the crashing waves, and in the morning they will slowly soothe you awake.
Nearby is the Yal-Ku Lagoon, home to schools of fish and playful turtles. The condo is within walking distance of many great restaurants and vibrant nightlife.
Even better, this property offers discounted rates for short-term stays!
Many of our VRBOs in Tulum choices could have ended up with the title, but we knew it belonged to this spot in the paradise of Mayan Akumal.
A short drive north of Tulum, you can enjoy an amazing beachside environment. Grab your welcome baskets of snacks and fruit, and tuck into them on the balcony with infinite ocean and jungle views.
In front of the VRBO, you can dive into the Caribbean Sea and explore the vibrant reefs, before returning and relaxing in the infinity pool.
At night, leave the windows open and let the ocean breeze flood through your room.
To continue your adventure of romance, come and stay at this VRBO in Tulum. A cute bungalow right on the water, you can have a honeymoon that you'll never forget.
In the wonderful Solimon Bay, the Casa Canciones or House of Songs creates a serene beachfront environment. Find hammocks to lay in and snorkels to use out on the reefs. A cold beer or a fancy cocktail will complement the sunset experience as the stars become ever-present.
The bungalow has its own grill, romantic living space and a king-sized bed.
In the evening, you can walk the beach to reach the oceanfront bars and restaurants.
Best VRBO in Tulum For a Group of Friends | Penthouse Living
In Mi Casa Del Mar, you will be able to live out your penthouse fantasy.
Right on the Caribbean Sea, this two-story penthouse apartment has unforgettable views, with ample space to hang with friends.
Loaded with lounge chairs and hammocks in the shaded spots, this VRBO in Tulum is the ideal place to have a few drinks out of the sun.
Take in the morning ocean sunrise and end the day with a wonderful sunset over the jungle.
The large kitchen has enough space for everyone to hang out while dinner is being prepped. You'll also be able to enjoy the many board games and DVDs on offer.
Pumping Akumal Bay is only a five minute walk away along the sandy shores.
The best VRBO in Tulum for a grand old party is this wonderful Greek-style villa with private beach access.
Complete with your own personal chef, you don't have to worry about the cooking, simply relax and have a great time with friends and family.
The huge living space is ideal for entertaining, and comes with a variety of games and activities to enjoy.
Outside there is a private patio, terrace, and swimming pool. A few more steps and you will be on the beach, quite likely all by yourselves.
What better place to throw a party than right here?
Super Accessible VRBO in Tulum | Free Bikes
Right in the heart of downtown Tulum, this VRBO grants you easy access to the best sights in town.
For those arriving via bus, this apartment is right by the ADO Station. Hop on the complimentary bikes, and take the short ride to Tulum Beach and the Mayan Ruins.
The interior is simple, but you won't be left strapped for cash. Prepare tasty snacks and morning coffees in the kitchen before heading out for a day exploring.
Additionally, the communal gardens and rooftop areas are great for meeting other adventurers.
It is just a short bike ride from Playa Paraiso, and the beautiful Gran Cenote.
Classic Mexican Adobe
Colorful and Vibrant
When in search for a unique place to stay here, why not check out the Casa De Las Joyas VRBO in Tulum?
The well-preserved abode is a throwback to early Mexican and Spanish architecture. The outside gardens and patio will be a lovely place to enjoy the sun and be in the heart of the local community. Relax in the hammock and take in the sounds of the songbirds and fountains.
The home's furniture was made by local artisans and will grant you a greater insight into the local style.
Moments away is Xcacel Beach, which is a turtle nesting grounds and a protected area, the beach is rated as one of the best in the country.
Don't Forget Your Tulum Travel Insurance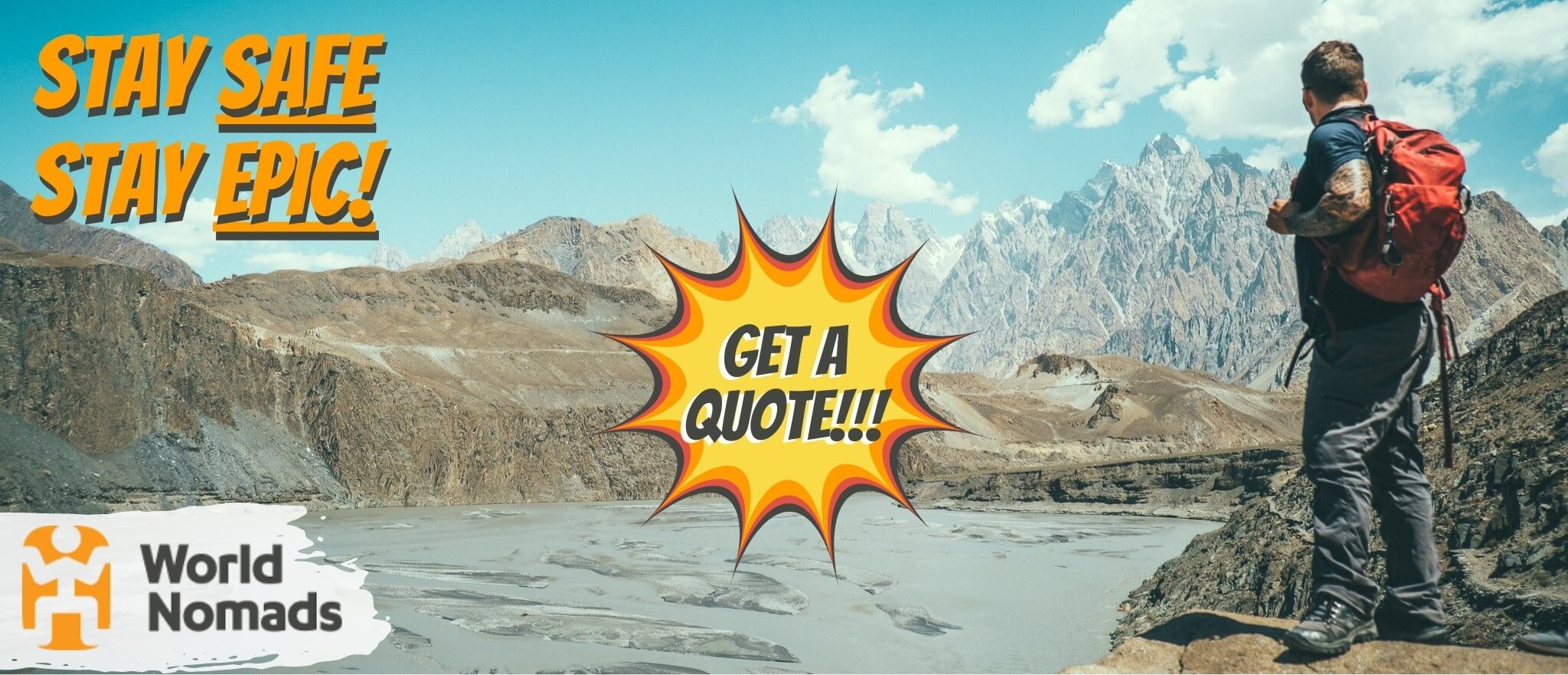 World Nomads' mission is to support and encourage travellers to explore their boundaries. They offer simple & flexible travel insurance, and safety advice to help you travel confidently.
They've been doing it since 2002 – protecting, connecting, and inspiring independent travellers just like you.
Get a quote below or read our in-depth review!
Final Thoughts on Tulum VRBOs
VRBOs in Tulum offer up luxury at a small price. For those that have been jumping from hostel to hostel, this is a chance to break that chain and treat yourself to some amazing local experiences.
Regardless of whether you are travelling alone or with a group of friends, there are entire properties, condos, bungalows, and jungle homes to discover.
There aren't many places in the world where you can wake up to the ocean without paying a pretty penny. But the best VRBOs in Tulum open that golden door just for you.
---
Bye for now, but not forever!
If you want MORE top-tier Broke Backpacker content like this, then sign up for our weekly newsletter below to get the latest and greatest!
And for transparency's sake, please know that some of the links in our content are affiliate links. That means that if you book your accommodation, buy your gear, or sort your insurance through our link, we earn a small commission (at no extra cost to you). That said, we only link to the gear we trust and never recommend services we don't believe are up to scratch. Again, thank you!