San Miguel de Allende is a charming small town hidden away in the highlands of Guanajuato. It's a UNESCO World Heritage city that's considered to be the most beautiful city in all of Mexico.
It may be small, but you definitely don't want to skip it!
With a towering Neo-Gothic cathedral, colorful colonial architecture, and a handful of fascinating museums, there's so much to see and do. On top of this, the food in San Miguel de Allende is some of the most delicious in Mexico.
Lucky for you, there are endless delicious restaurants and cafes to pop into. You could spend months here without being able to try them all.
If you're a nature lover, the surrounding mountains are littered with trails that circle the whole town. Hiking and biking are the two most popular outdoor activities, but they are far from the only options. Kayaking and stand-up paddleboarding are also great things to try here and can be done on the Rio Laja and the Allende Reservoir.
Though it is a small city, there are countless options to choose from when deciding on where to stay in San Miguel de Allende and I know that it can be overwhelming and confusing at times.
That's why I prepared this ultimate San Miguel de Allende area guide. To help you find the best place to stay in and around San Miguel de Allende no matter who you are and what type of accommodation you are looking for!
Looking for a place to stay in San Miguel de Allende but don't have much time? Here are my top overall recommendations of the coolest places!
Hostal and Spa Lool Beh is without a doubt our favorite hostel in San Miguel de Allende! They have a huge selection of dorm and private room options, as well as a welcoming common area where you can mingle and meet new people. With those new friends, head out on the town and explore the vibrant nightlife that surrounds the hostel. Furthermore, there's a spa and wellness center inside the hostel! How many hostels have you stayed in that can say the same?! For that reason, it's probably one of the best hostels in Mexico.
This is one of the most stylish and hip places to stay in Mexico! It's a five-star hotel with a multitude of room options and some truly spectacular features. As a small hotel with only seven rooms, every guest receives celebrity-like treatment and the staff is there to cater to your every need. The modern swimming pool, Jacuzzi, and epic sun terrace are only a handful of the things you are certain to love about it!
Best Airbnb in San Miguel de Allende: Encantadora Suite en Residencial Hípico Otomí, SMA
If you are traveling as a family, this is no question where to stay in San Miguel de Allende! Trust us, as soon as your kids see photos, there is no way you will be able to stay anywhere else. It's a stunning and spacious two-bedroom apartment, but the home itself is not our favorite aspect of this place. That would be all the amenities! There's a pool, hot tub, soccer field, tennis court, restaurant, and more! At times it can feel more like you are staying at a luxury resort than in an apartment!
Before we dive into the best places to stay, let's quickly get familiar with the neighborhoods of San Miguel de Allende so you can get an idea of which is the best neighborhood for you.
When people think of San Miguel de Allende, what they picture in their heads is the Centro Historico. It's the beating heart of the town and where many of the most popular tourist attractions are, such as the picturesque pink church. Whether it's your first time in town or your 50th, it's a great area to stay in!
La Lejona is a small neighborhood in southern San Miguel de Allende that's perfect for backpackers traveling Mexico on a budget. It's close to the center, there's still tons to do, and the prices are low. This area is where to stay in San Miguel de Allende on the cheap.
Traveling as a family? San Miguel Viejo is the area for you. It's right on the Allende Reservoir and full of large and illustrious homes. Another great aspect of this area is that many of the homes and complexes have swimming pools and other kid-friendly features!
Guadaloupe is just north of the city center and home to many restaurants and bars. It's a very walkable neighborhood full of authentic Mexican culture. If you are a solo traveler or a fan of nightlife, it's a terrific place to stay in San Miguel de Allende.
Now that you know a little bit about each neighborhood, let's take a look at each one in more detail. If you're looking for an apartment, condo, hostel, or hotel in San Miguel de Allende, these are the best ones!
1. The Historic Centro – Where to Stay in San Miguel de Allende for your First Visit
The historic center is the heart and soul of the town, and without a doubt where to stay in San Miguel de Allende on your first visit! It's where you will find the iconic Parroquia de San Miguel Arcángel (the Church of Michael the Archangel). The cathedral was built in 1683 and was carved out of pink sandstone, which is why it has a beautiful pink hue. Make sure you bring your camera because it's one of the most photographed buildings in Mexico!
"El centro historico," as it's called in Spanish, is a fabulous place to stroll around and get lost. It's full of narrow and colorful streets, and will make you feel like you've gone back in time! The center consists of 24 blocks, all of which are considered a UNESCO World Heritage Site. If you don't feel like walking, hopping on a bike or trolley is also wonderful ways to tour the center!
This stunning one-bedroom apartment is in the absolute center of the Historic Centro. It sits right on the main square and has an incredible private terrace that overlooks the square. The terrace is an unrivaled place to have breakfast or watch the sunset and has some of the best in all of San Miguel de Allende. All top attractions in the area are within walking distance and the hosts are super friendly and will personally welcome you upon arrival.
Best Hostel in the Historic Centro: Hostal Punto 79
Hostal Punto 79 is only one block from the main square and is one of the most central hostels in town. They offer a variety of dorm room options, as well as private rooms and family rooms. If you are traveling solo you will love the common spaces. There's a beautiful open-air courtyard with a fountain and tables, and an indoor shared space as well that has a pool and board games. Need a jolt of energy in the morning, there's even a coffee bar inside the hostel!
This exquisitely modern hotel is a place of tranquility in the always busy center. The spacious rooms are brilliantly decorated and have a calm and relaxing atmosphere. The heavy use of wood in the interior design makes the rooms look like they came out of a magazine. If the rooms alone don't have you convinced, there's also a tasty in-house restaurant, a large lounge area, and one of the prettiest swimming pools you'll ever see!
Things to See and Do in the Historic Centro:
Marvel at the magnificent architecture of the Parroqui de San Miguel Arcángel.
Buy some handmade goods at the famous "Mercado de Artesanías."
Go on a guided walking tour of el centro historico to learn more about the towns history.
Stop by the cultural center of "el Nigromante" and check out local artwork.
See traditional Mexican folk toys at "El museo la esquina."
Hang out in the main square and view all the activity. It's also a great place to grab a drink or a bite to eat!
Visit the home of Ignacio Allende which has been transformed into a history museum.
Sample some delicious coffee at one of the many lovely cafes.
2. La Lejona – Where to Stay in San Miguel de Allende on a Budget
The Neighborhood of La Lejona is about three kilometers south of the historic center, but it's still right in the action! As it's outside the most touristy part of town, the prices are very friendly on the wallet and it's a great area to stay in if you are traveling on a budget. Perhaps you can use some of that money saved on accommodation to enjoy a nice meal or some rooftop drinks at the oh-so-popular Luna Tapas bar.
Also, if you enjoy nature, La Lejona is where to stay in San Miguel de Allende! It's super close to the mountains which are full of hiking and biking trails, and it's on the way to "Cañada de La Virgen" which is home to ancient pyramids and ruins. For the best cityscape view, hike fifteen minutes up to the "mirador" and we can guarantee you won't regret it!
If you are on the hunt for the best bargain in San Miguel de Allende, look no further! This charming two-bedroom apartment is situated on a quiet side street in La Lejona and is an absolute steal. It's a great place for single travelers and couples, but it can sleep up to four people if you are a group. Additionally, it has a lovely terrace with superb mountain views. The host is super friendly and accommodating and if you need to work while you travel she will even arrange to have a desk put in the apartment for you!
Lool Beh Hostal Boutique is a wonderful hotel located inside an old colonial building. It has a very traditional Mexican feel, with lots of tile and brick, and is a great budget option. They offer beds in four-bed mixed dormitories along with private rooms for up to four people. The two-person private room comes with its own bathroom and balcony and is a terrific option for couples. A delicious free continental breakfast is provided every morning too!
Casa Toscana Bed & Breakfast is an endearing four-star hotel with large and comfortable rooms. They have a huge selection of accommodation options ranging from double rooms all the way up to giant apartments that can sleep eight. The hotel has a magnificent courtyard which is the perfect place to enjoy the delicious hand-cooked meal that is included at no additional cost. They also have a 24-hour reception and a tour desk where they can help you book all your activities in San Miguel de Allende!
Things to See and Do in La Lejona:
Take a walk to the "Mirador" that offers unbeatable views of the city.
Take a drive out to the Sanctuary of Atotonilco. It's sometimes called "the Sistine Chapel of Mexico!"
Go on a day trip to "Cañada de La Virgen." It's a famous archeological site with ancient pyramids.
Go hiking in the mountains! You can go on your own or you can hire a local guide.
Go on a bike ride through "Parque Benito Juarez."
Be daring a try a beloved local snack, fried grasshoppers!
Enjoy sunset drinks on the roof of Luna Tapas Bar.
Sign up for some language classes and improve your Spanish.
3. San Miguel Viejo – Where to Stay in San Miguel de Allende for Families
San Miguel Viejo is five kilometers from the center of town and is situated next to the shores of the Allende Reservoir. It's an old neighborhood filled with large, historic homes. Many of the buildings look rustic on the outside, but are totally renovated and modern on the inside. It makes you feel like you are staying in the past, but with all the amenities and technologies of today.
One of the most fun activities in this area is exploring the Allende River and Rio Laja. There are numerous paths to choose from, and tons of wildlife! If you like birds, bring your camera or some binoculars because multiple rare species of birds call this place home. With the water nearby and tons of other kid-friendly activities, this is a safe and family-friendly neighborhood, and unquestionably where to stay in San Miguel de Allende if you are traveling as a family.
This extravagant lake house is the ultimate getaway for families or large groups. It has a breathtaking design both inside and out that would make even the most accomplished architects jealous. It has three bedrooms, seven bathrooms, and can easily fit up to thirteen people. Furthermore, there's a stellar garden with a volleyball net and a beautiful courtyard. Our favorite feature of this home is the massive terrace though! It's absolutely one of a kind and has amazing views of the reservoir!
Mesa Verde is a unique hotel and one of the coolest stays in San Miguel de Allende! All the buildings are constructed in an eco-friendly manner using tin and recycled wood. In lieu of one large building with typical rooms, every "room" here is actually its own free-standing unit. You can choose between a cozy cottage or a two-bedroom bungalow. Regardless of which you choose, they both have private bathrooms, kitchens, and flat-screen TVs.
Best Bungalow in San Miguel Viejo: Encantadora Suite en Residencial Hípico Otomí, SMA
This splendid bungalow is part of the "Otomi," one of the most exclusive and luxurious developments in San Miguel de Allende. The house sleeps four, has a full kitchen, and a quiet patio with gorgeous views. Kids will love staying here as it literally has endless places to play! There's a massive swimming pool, tennis courts, a soccer field, a gym, a jacuzzi, and more! Free transportation to and from downtown is also available whenever needed!
Things to See and Do in San Miguel Viejo:
Rent a kayak or paddle board and take it out on the Allende Reservoir.
Walk along the river or around the reservoir and try to spot rare birds.
Stop by the public library and read a book. It's the second largest in Mexico!
Stroll around the beautiful botanical gardens and see hundreds of native plants.
Go horseback riding and explore Native American chapels.
Fly over the city in a hot air balloon for a different perspective.
Volunteer with a local organization and give back to the community!
4. Guadaloupe – Where to Stay in San Miguel de Allende for the Best Nightlife
Young, wild, and looking for a good time? Look no further than the hip and popping barrio of Guadaloupe! It's just outside the historic center, and full of bars, pubs, and restaurants. If you like nightlife or are traveling alone, this is where to stay in San Miguel de Allende. One great activity to sign up for if you are alone is a pub crawl! There are multiple in the city and they are fun ways to make new friends when in a new place.
After drinking and dancing the night away, you are going to want to relax in some hot springs. There are three hot springs in the San Miguel de Allende area, and all of them are not far from Guadaloupe. Or maybe your strategy is to just keep drinking? There is an excellent mezcalería and multiple vineyards you can go to during the days. Other points of interest in this area are the art galleries at "Fábrica La Aurora," and the Mask Museum.
This awesome little studio is super close to the city center and one of our favorite places in San Miguel de Allende for couples! There's a large and comfortable king-size bed and a small kitchenette area equipped with a microwave, sink, and coffee maker. Additionally, there's a flat-screen TV with Netflix perfect for lazy days. Outside, there are many cafes and bars only minutes away and the famous Fabrica La Aurora is basically next door!
Hostal and Spa Lool Beh is one of the top-rated hostels in Mexico and an excellent place to stay in San Miguel de Allende! It has a nine-bed mixed dormitory as well as an abundance of private room options. If you are traveling solo the dorm room prices are some of the best in town and you are sure to meet other friendly travelers. What makes this hostel unique is the attached spa and wellness center. After a long night, this is the ideal hostel for a little recovery and relaxation time.
Best Hotel in Guadaloupe: Casa Carly
Casa Carly offers marvelous traditional Mexican-style suites that will make your stay in San Miguel de Allende feel much more authentic. They have standard hotel rooms for one or two people, but they also have larger apartment-style suites which are perfect for families or groups. There's a lovely central garden with fish ponds inside the property, and some of the rooms have private terraces with garden views. Moreover, they also have an in-house restaurant where you can eat or you can have them deliver food directly to your room!
Things to See and Do in Guadaloupe:
Join a pub crawl and take part in the local nightlife.
View all the art galleries at the "Fábrica La Aurora."
Check out the crazy and somewhat spooky Mask Museum!
Relax at some hot springs while you recover from a night out.
Explore some vineyards and learn about wine on a tasting tour.
Visit "Mezcal Art" and taste the local liquor.
See a show in the Angela Peralta Theater. It has opera, jazz, comedy shows, and more!
World Nomads' mission is to support and encourage travellers to explore their boundaries. They offer simple & flexible travel insurance, and safety advice to help you travel confidently.
They've been doing it since 2002 – protecting, connecting, and inspiring independent travellers just like you.
Get a quote below or read our in-depth review!
World Nomads provides travel insurance for travelers in over 100 countries. As an affiliate, we receive a fee when you get a quote from World Nomads using this link. We do not represent World Nomads. This is information only and not a recommendation to buy travel insurance.
San Miguel de Allende is one of Mexico's national treasures and an absolute must-visit colonial town! It's beautiful, inexpensive, and has delicious food and phenomenal weather. What more could you want from a travel destination?
If it wasn't included on your Mexico itinerary before, it better be now!
As you have seen, San Miguel de Allende has accommodation options for everyone, no matter what you are interested in or what your budget may be.
I hope that this guide has helped you decide where to stay on your next trip to San Miguel de Allende. Did you find what you were looking for? Let me know in the comments!
---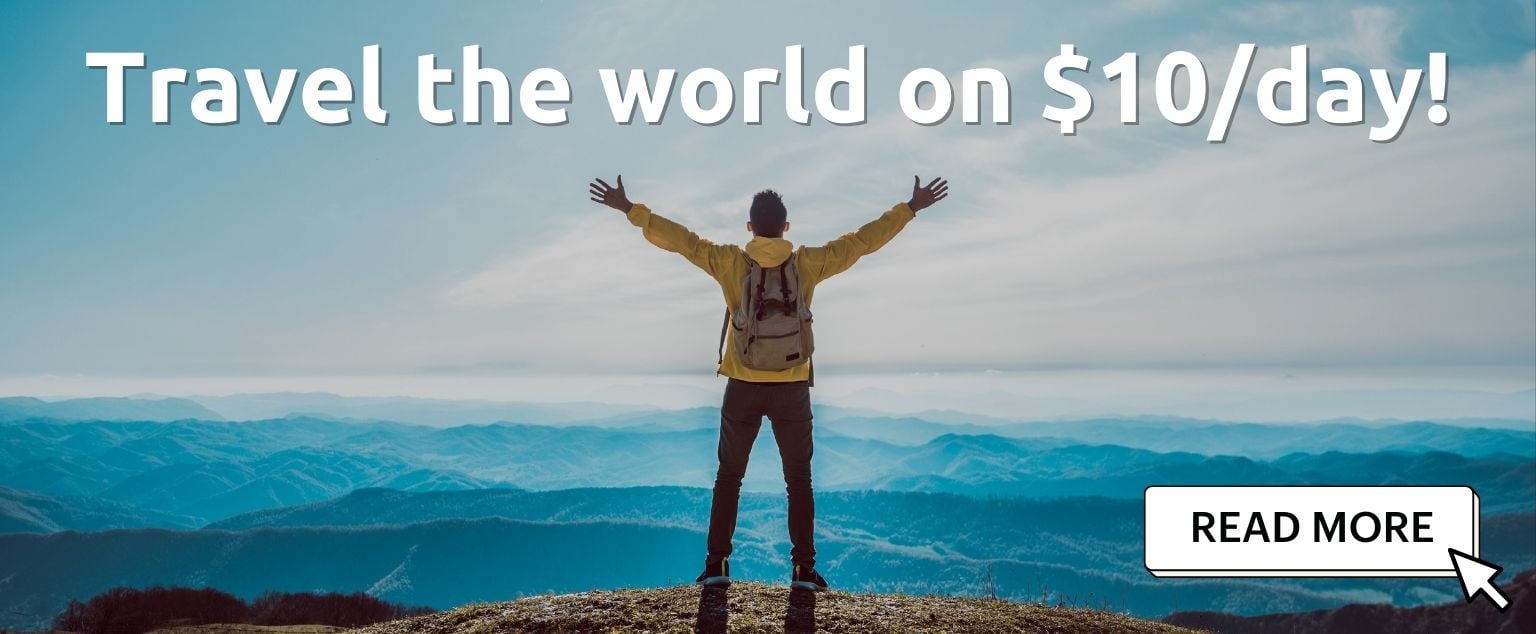 And for transparency's sake, please know that some of the links in our content are affiliate links. That means that if you book your accommodation, buy your gear, or sort your insurance through our link, we earn a small commission (at no extra cost to you). That said, we only link to the gear we trust and never recommend services we don't believe are up to scratch. Again, thank you!