Ahh Mexico, is there anywhere else on the planet like it? With jaw-dropping coastlines, vibrant cities, secret island escapades, and towns steeped in colonial and Mayan history, not to mention a cuisine that leaves your taste buds dancing – there's so much to enjoy about Mexico.
The country is huge and each area has something unique to offer. Whether you're after relaxation or adventure, you can be sure to find all you need and more in this diverse country.
But when it comes to choosing a place to stay, staying in a boring hotel isn't going to add magic to your vacation. Not when you can enjoy Riviera Maya beaches from a beach house in Cancun, or stay within the jungles of Chiapas state in a treehouse.
Where can you find these unique properties in Mexico you ask? Well, the biggest variety of incredible accommodations can be found in Airbnbs in Mexico. With Airbnb, you can stay in colonial homes and haciendas with open courtyards and colorful mosaic tiles, or in lodges and cabins by the ocean.
The only downside is the sheer number of vacation rentals in Mexico and I know it can be mind-boggling searching through them all. But don't worry, I did the legwork for you. I'm going to show you the top Airbnbs in Mexico, for any type of traveler.
So, let's get started…
Quick Answer: These are the Top 5 Airbnbs in Mexico
Overall Best Value Airbnb in Merida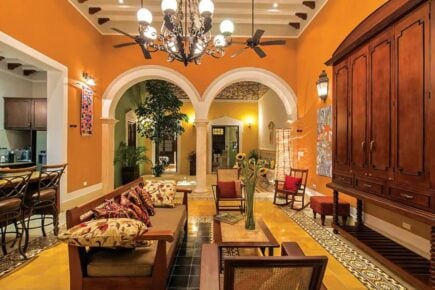 Overall Best Value Airbnb in Merida
Historical Villa and the Winner of the Best Unique Spot Holiday Home 2021
> $
> Guests: 4
> Excellent location
> Swimming pool
Best Budget Airbnb in Guadalajara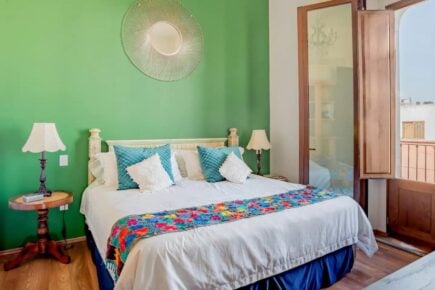 Best Budget Airbnb in Guadalajara
Colonial Mansion in Historic District with Pool and Magnificent City Views
> $
> Guests: 2
> Modern kitchen and bath
> Gorgeous courtyard with fountain
Best Airbnb for Couples in Tulum
Best Airbnb for Couples in Tulum
Villa with Private Pool in the Middle of the Jungle Near Town
> $$
> Guests: 2
> Minibar
> Solarium
Best Airbnb for Families in Mexico City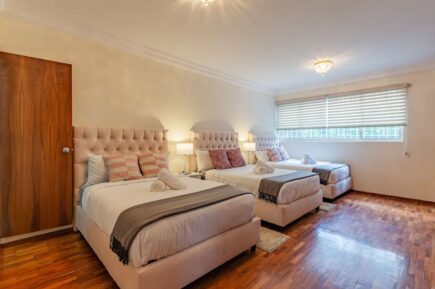 Best Airbnb for Families in Mexico City
Home in Polanco Near Everything with Rooftop BBQ and Garden
> $$
> Guests: 14
> Free parking
> Close to museums and parks
Over-the-Top Luxury Airbnb in Mexico
Over-the-Top Luxury Airbnb in Mexico
Beachfront Villa in Akumal with Private Pool and Patio
> $$$$
> Guests: 16
> Daily cleaning
> Garden

Unlock Our GREATEST Travel Secrets!
Sign up for our newsletter and get the best travel tips delivered right to your inbox.
What to Expect from Airbnbs in Mexico
Before you can book a flight to the land of Mayan temples, tacos and tequila, you need to consider where you want to stay in Mexico. The country is huge and unless you have a year to spare, it's unlikely you'll get to see all of it in one trip. You should choose a location based on what you want to get out of it; be it relaxation by the beach or urban exploration in Mexico City.
Lucky for you, because there is a varied mix of Mexico Airbnbs all over the country. From small and basic private rooms to grand and opulent villas, Airbnbs in Mexico come in all shapes, sizes, and budget. There is always something for you. So let's take a look at some of the most common property types to see which one is best suited for you.
Apartments & Condos
Apartments are all over the country, especially in major cities and urban areas. The best thing about them is that you can have a private room for yourself or the whole apartment. Apartments range from studios that are ideal for single travelers or backpackers in Mexico, to 1-3 bedroom apartments for a couple of friends to families.
Some apartments come with extra amenities such as pools, hot tubs, and balconies while others can be fairly simple.
If you plan on traveling to the capital city, keep in mind that some of the hippest neighborhoods in Mexico City are Roma, Codensa, Copilco, Juarez, and Coyoacan. It might cost a bit more but you certainly want an apartment that has an excellent location.
Haçienda
Haçiendas are unique to Spanish colonies that came to Mexico in the 16th century. Although most are large estates, some of these properties can be smaller houses suitable for a couple or small family. If you want a truly authentic experience in Mexico, you should definitely consider staying in one.
These beautiful and charming haciendas come with fountains, courtyards, gardens, and balconies. Everywhere you look your eyes will be treated to gorgeous colors and detailed artwork that speak much about Mexico's culture and history.
Just like apartments, haciendas are pretty much all over the country too so you won't have any problems finding one on Airbnb.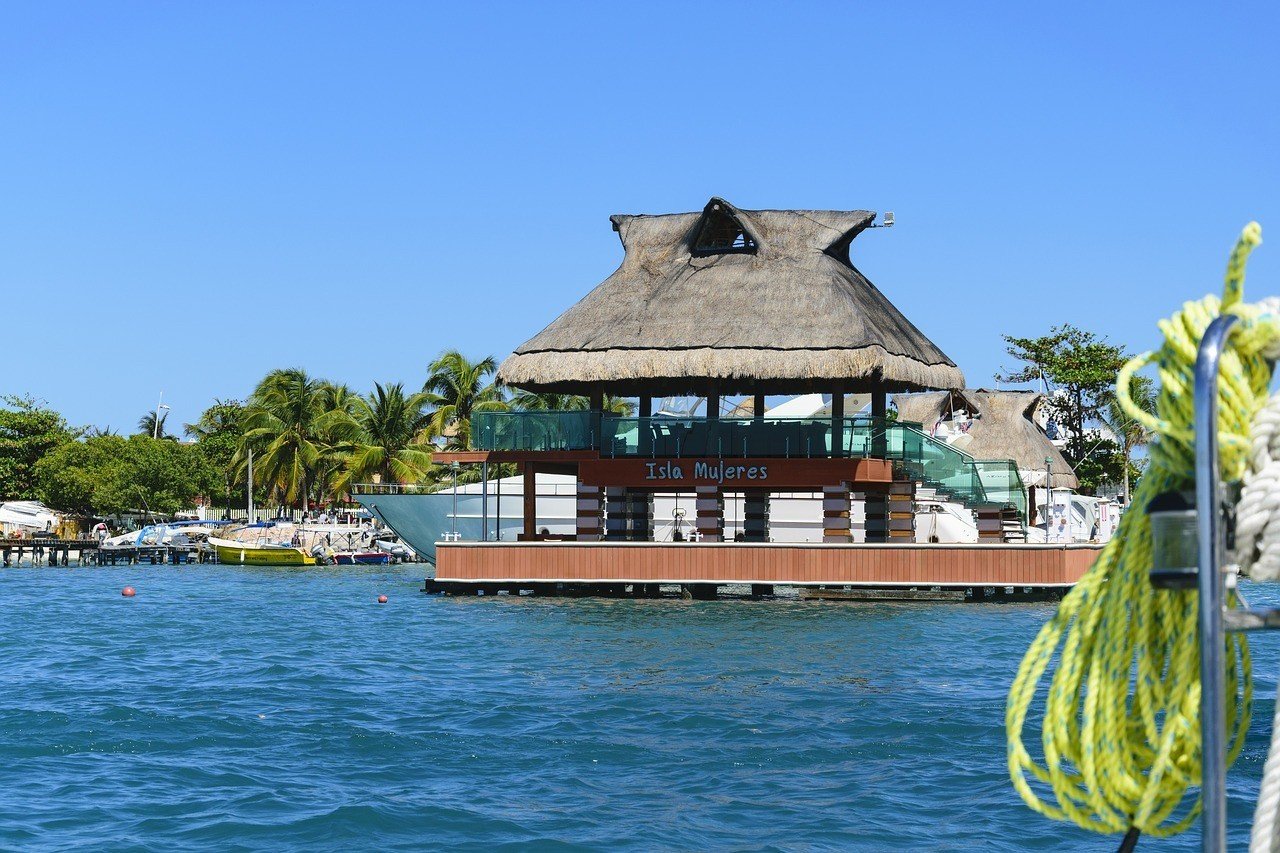 Villa
Villas are large private residences located all over the country. Most villas come with luxurious extras such as huge pools, sauna, patio, garden, and balconies. These vacation rentals in Mexico are more expensive compared to apartments and condo units, but if you have the cash, they are definitely worth it.
Ideal for families or large groups traveling together, Mexico has countless beachfront villas that give you breathtaking views of the ocean and some even have their own private beaches! Who wouldn't want that?
Why Stay in an Airbnb
Why choose an Airbnb over a hotel? I can think of plenty of reasons why! Here are just a few…
Last-minute booking: It can be tough to book hotels at the last minute but you'll never have that problem with Airbnb.
Unique properties: I'm all for staying in unique properties because who wants to come home to a dull and lifeless hotel room?
Affordability: we all love to stay in accommodations that have character yet are comfortable and affordable, and there's plenty of those options on Airbnb.
Local Experience: What can be better than having a local to guide you and give you insider tips?
Privacy: A plethora of residences and apartments are on the platform if you prefer to have the entire place for yourself.
The Top Airbnbs in Mexico
Thrilled to go to Mexico to party, learn about its history, stay at the beach, drink some tequila and have a good time? Then, it's time you booked a property to match the excitement! Here is the coolest Mexico Airbnbs.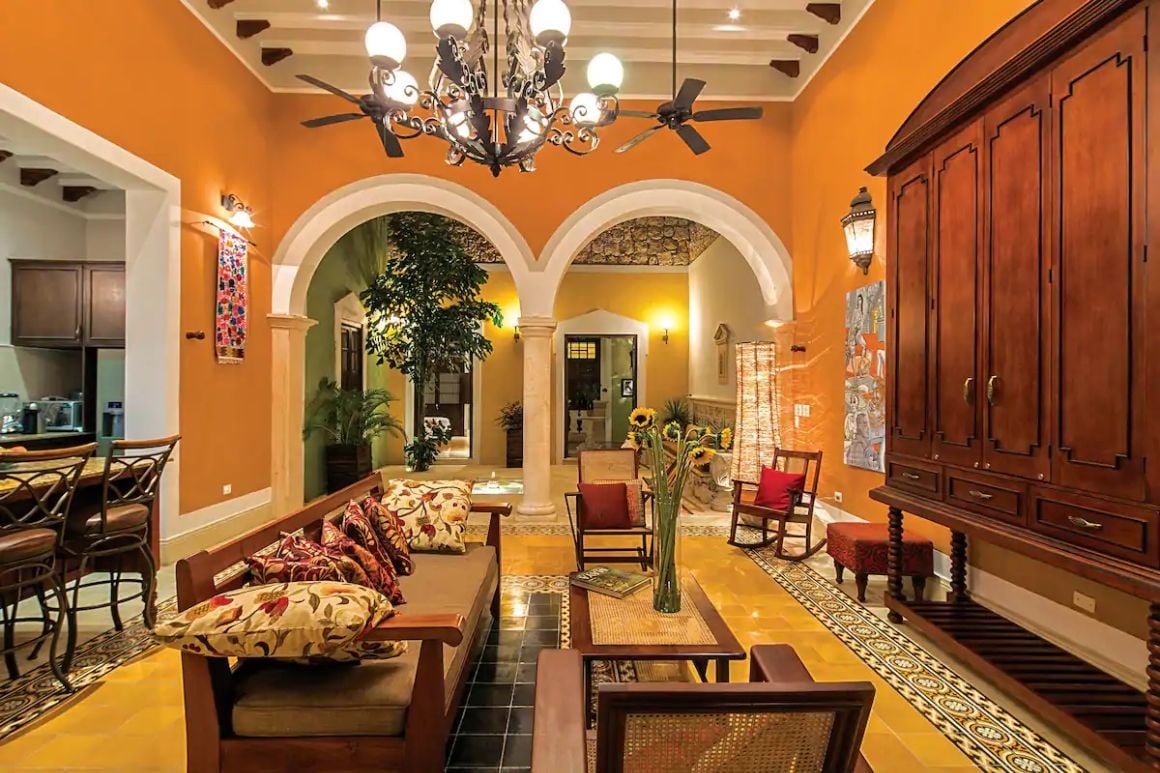 This historical home is almost a hundred years old but is outfitted with all the modern conveniences such as a swimming pool where you can lounge, read a book, or enjoy a drink. The colonial style furniture adds personality to the property that was restored in 2014. Located in the historical center of Merida, you are close to everything.
You can lounge in the living room with access to the internal courtyard or prepare meals in the well-appointed kitchen. Saunter to Paseo de Montejo in the afternoon and practice your Spanish with the locals or check out the many museums and parks nearby. The easy street parking is an added bonus to anyone driving to the property.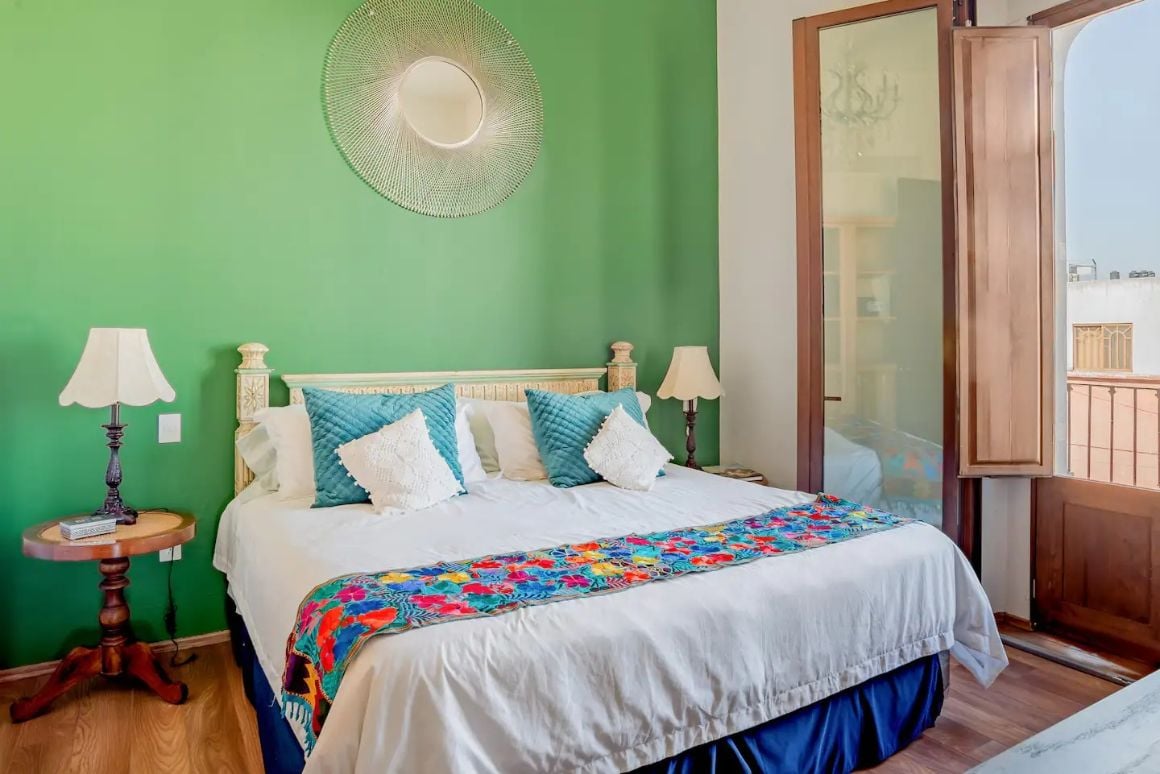 2 Guests
Gorgeous courtyard with fountain
Located in the center of the historic district, this colonial mansion is perfect for solo travelers or couples looking to stay in Guadalajara without spending too much on accommodations. The mosaic floors, beautiful courtyard with fountain, and windows with Juliet balconies are some of the things which make it outstanding.
The lovely home is close to groceries, historic sites, and restaurants where you can get your fill of the local cuisine, as well as drinks. After a busy day exploring the surrounding area, you can take a dip at the rooftop swimming pool which has some of the best city views. What more can you ask for?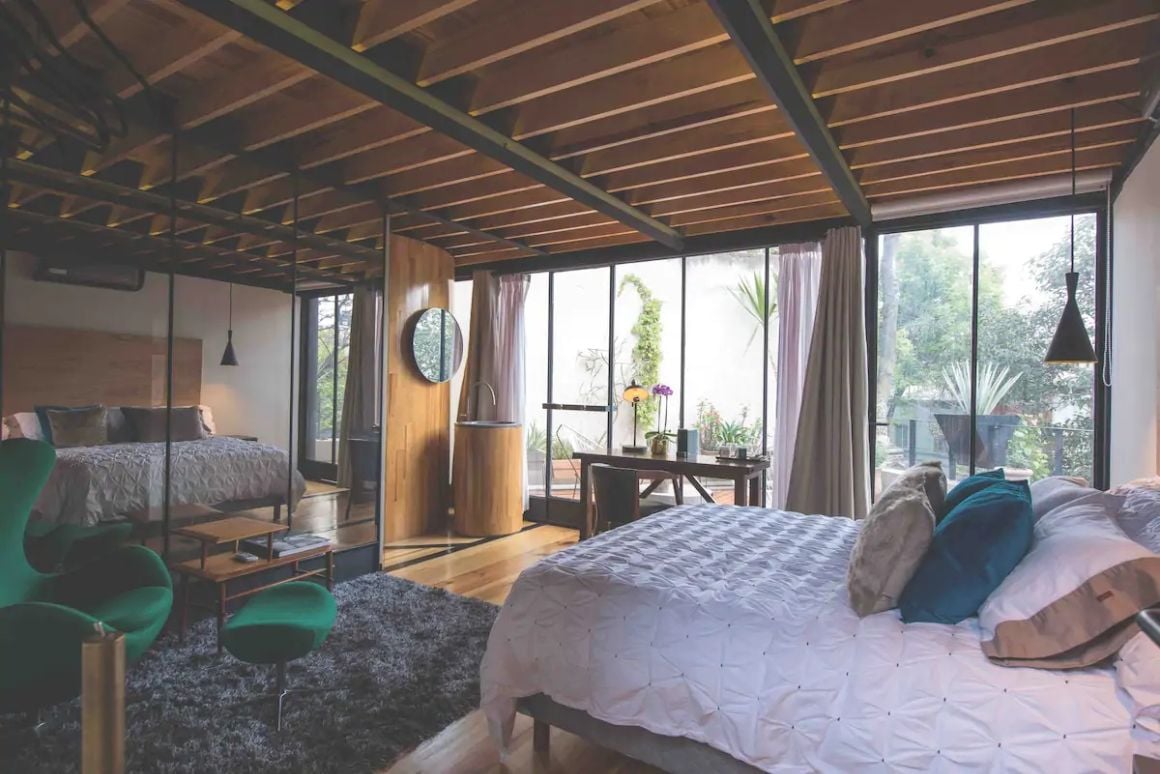 2 Guests
Beautiful and traditional neighborhood
With fast Wi-Fi and a dedicated space where you can work comfortably, this private room in Mexico City ensures you will never have to miss any deadline even when traveling. You get plenty of sunlight, and a beautiful, private terrace with a street view where you can take a break from work and have a cup of coffee.
The room is part of a house which has plenty of common areas such as the fountains, library, and gardens where you can interact with other travelers.
Located in the popular and artsy neighborhood of Santa Maria la Ribera, this historic property easily connects to Chapultepec, Polando, and the airport. Its close to the historic center, so you will never run out of beautiful places to explore.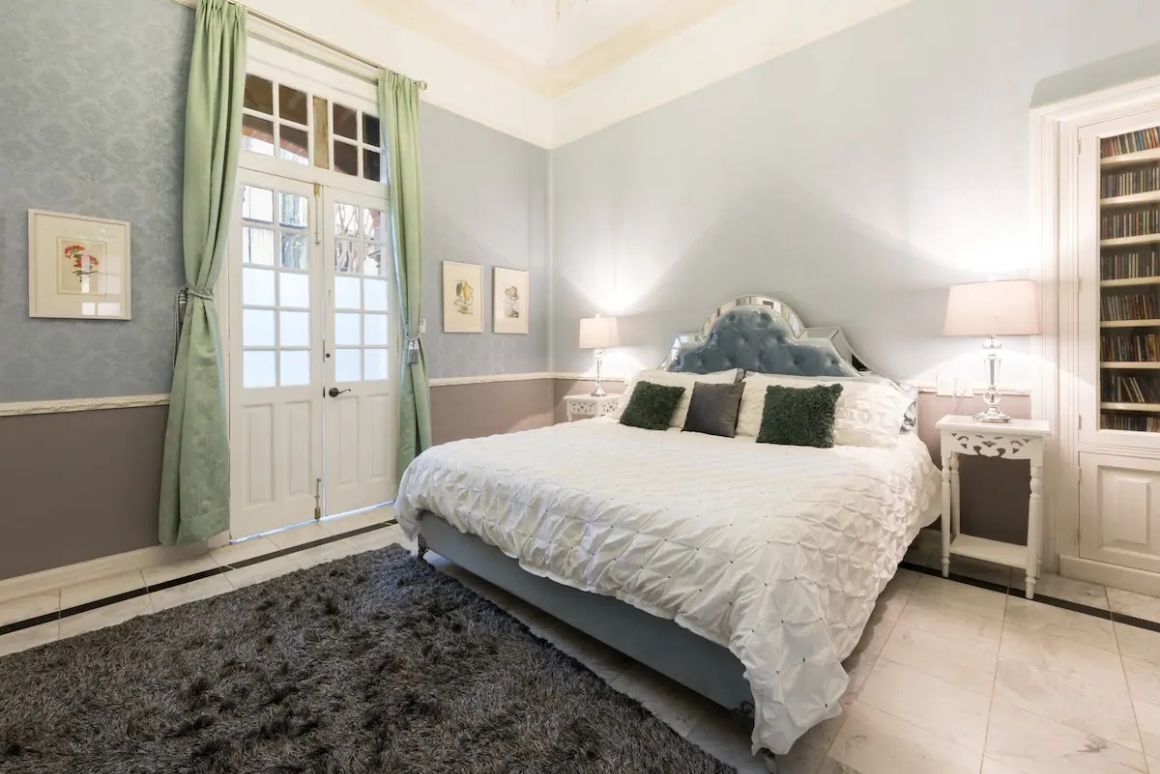 2 Guests
Close to restaurants
This lovely room in Santa Maria is in a historical home designed by Federico Mariscal, the same person responsible for the Palace of the Arts.
The view of a garden surrounded by murals will greet you every time you look out the window. The garden patio is the perfect place for relaxing after checking out the historic center which has a plethora of old houses with immense artistic value.
Restaurants abound in the neighborhood that offer excellent Mexican food so you'll never have to worry about going hungry. A great bonus is the Mexico International Airport is only 15 minutes away by car if there isn't any traffic.
Is This the Best Backpack EVER???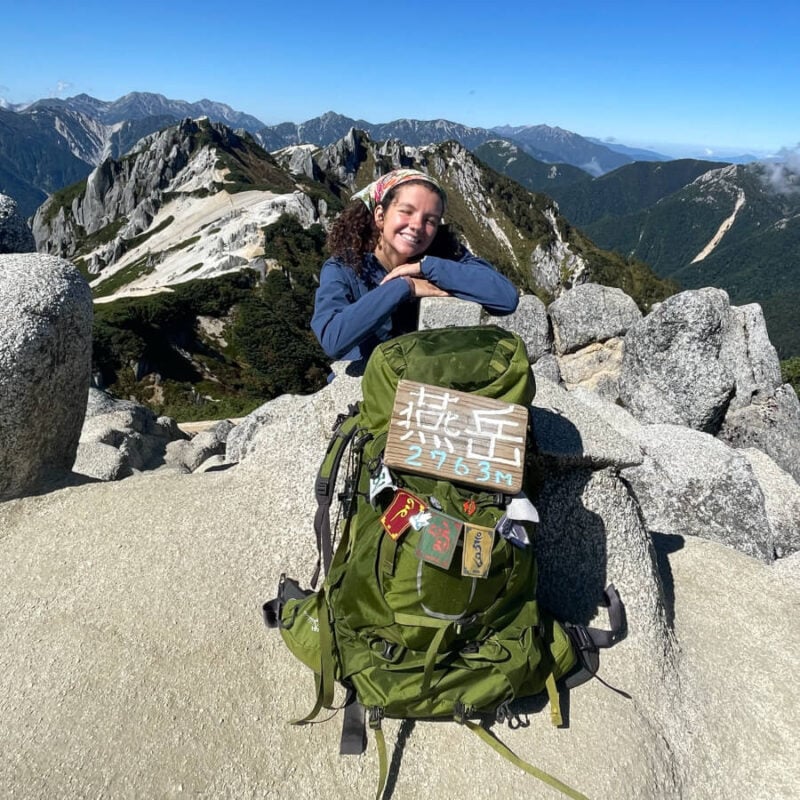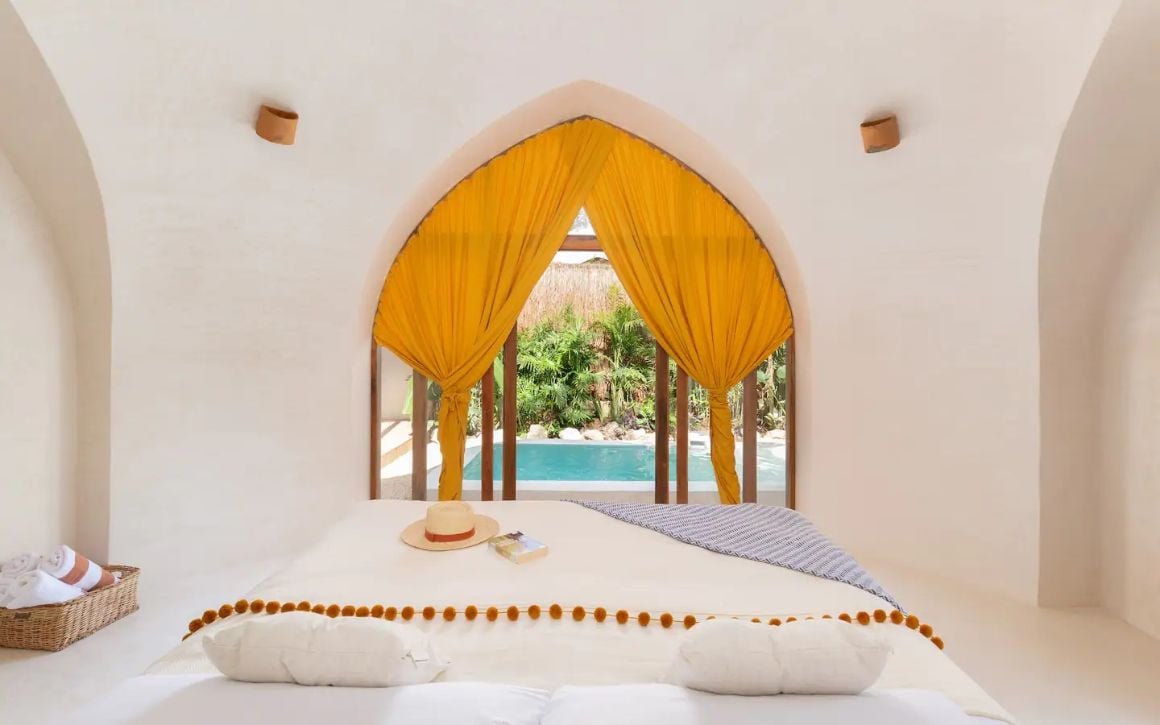 This unique private villa is surrounded by nature where you'll be greeted by birdsong when you wake up in the morning. Just five minutes away from the town of Tulum and 15 minutes from the magical beaches, it's the perfect base for relaxation, rejuvenation, and exploration.
You will have private access to the pool, garden, as well as terrace, and there's even a minibar for every time you need a drink.
Oh, don't forget to treat yourself to the Jacuzzi, sauna, and massage package after exploring the town's main attractions on a scooter or a rental car. You'll be recharged after your stay in this villa.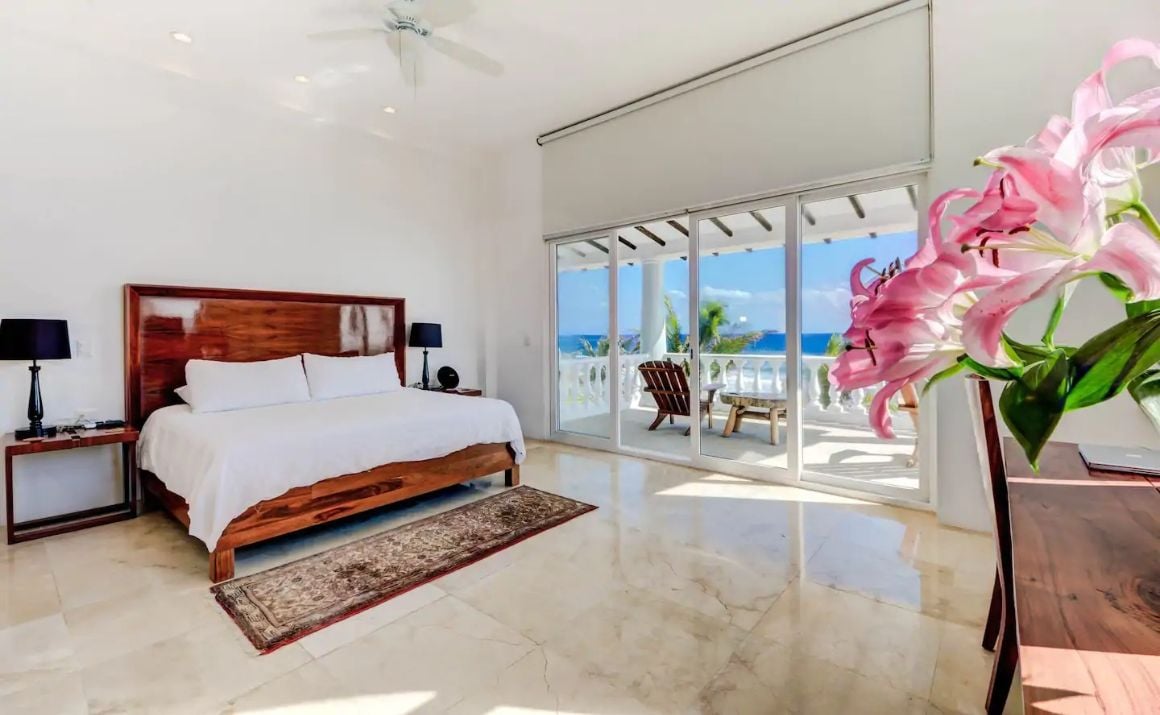 This stunning beach house in Mexico provides guests private access to a beach just a few steps away and three of the bedrooms on the 3rd floor have incredible views you won't soon forget.
The villa is the perfect base if you want to go snorkeling with turtles in Isla Mujeres or if you want to head to Tulum on a day trip. If you feel like staying in, you can always lounge by the pool, fire up the grill, lie on the hammock, or just admire the ocean from the patio with a glass of piña colada in hand.
Chef services, as well as transport services, are available for a fee but daily cleaning is inclusive of the rental. You may also have the staff pick up the groceries for you for an additional fee.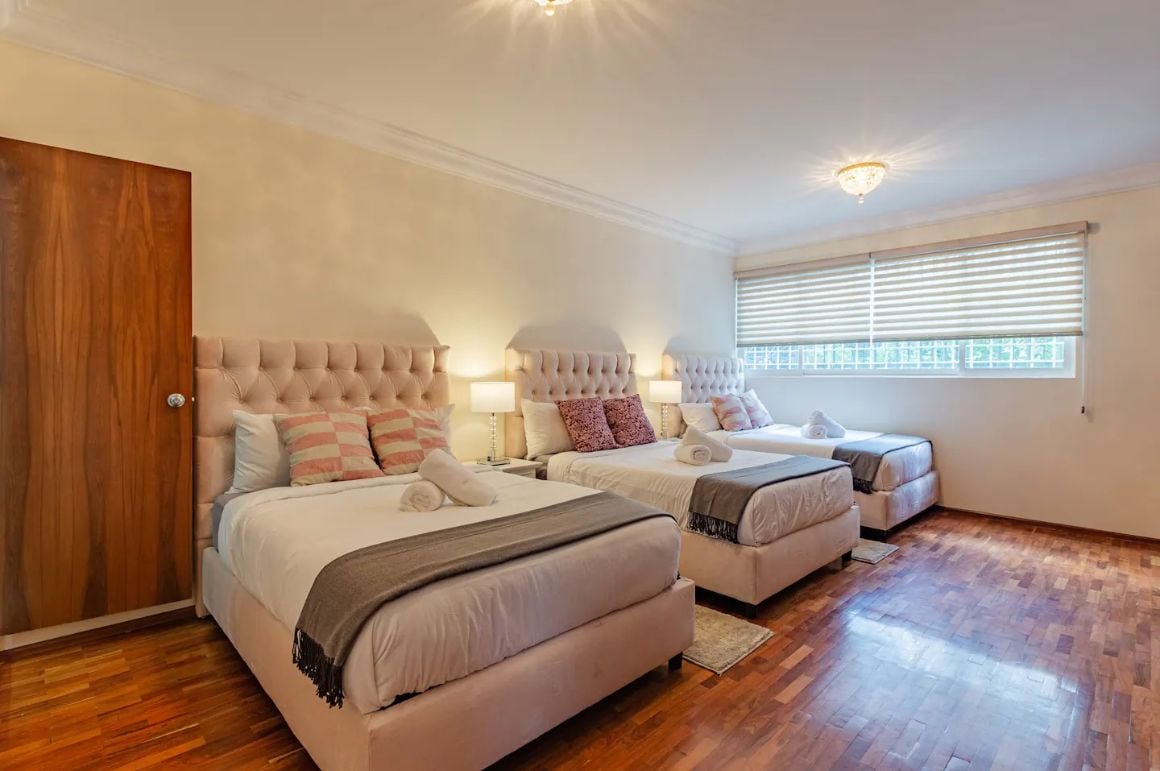 16 Guests
Close to museums and parks
This stylish residence is perfect for families vacationing in Mexico City. Its superb location in a quiet and sage neighborhood ensures you just pretty much walk to everything as cafes, stores, and restaurants are nearby.
Several museums and parks are in the area too so you can take the little ones there to play and discover the culture, as well as history of the city.
End the day by firing the grill on the rooftop balcony with cold drinks in hand while the children play and run around. Don't worry, there's plenty of space for that.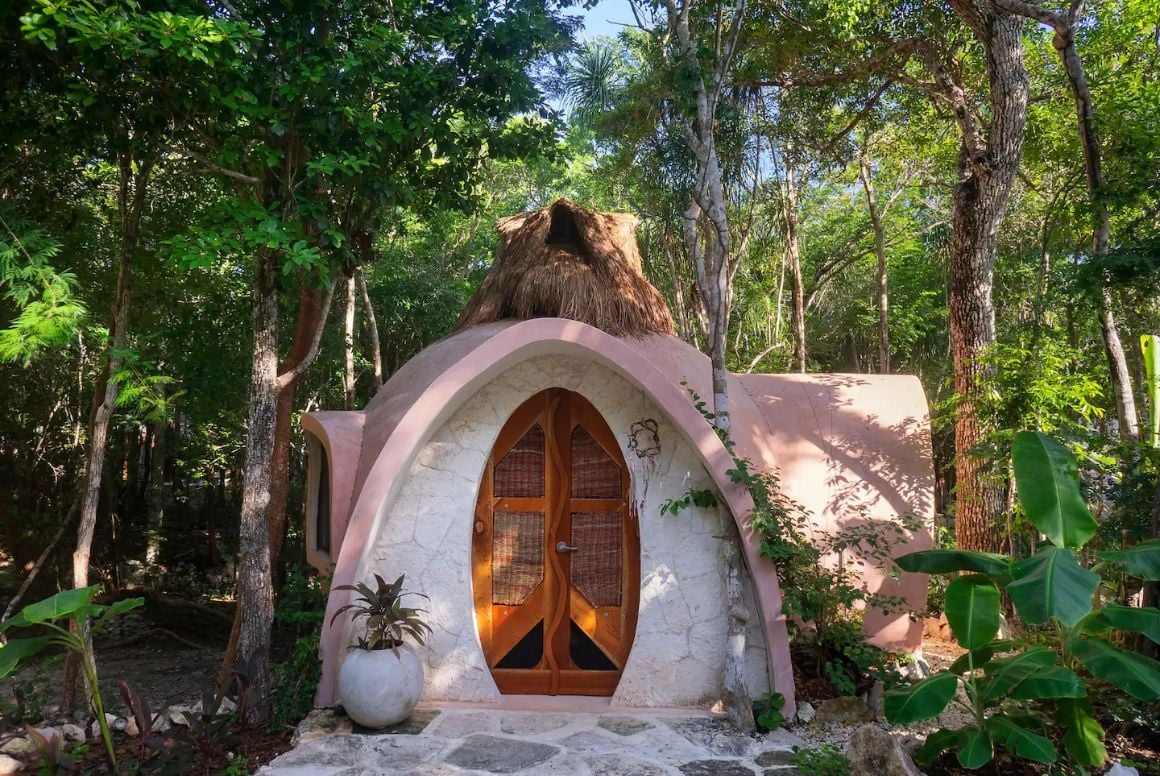 2 Guests
10 minutes away from Tulum
If you want a singularly unique experience in Quintana Roo, this eco dome house is a winner! This Airbnb in Tulum is an attraction of sorts by itself. Inspired by the Mayan culture, it's made with handcrafted stone and wood with a few decorations made with Mexican textile.
With its location in the Mayan jungle, it's secluded and quiet enough but also just a 10-minute drive away from Tulum where you will find bars, restaurants, supermarkets, and banks.
It's close enough to Soliman beach where you can snorkel and windsurf. Over 70 cenotes are close by, as well as various archaeological sites.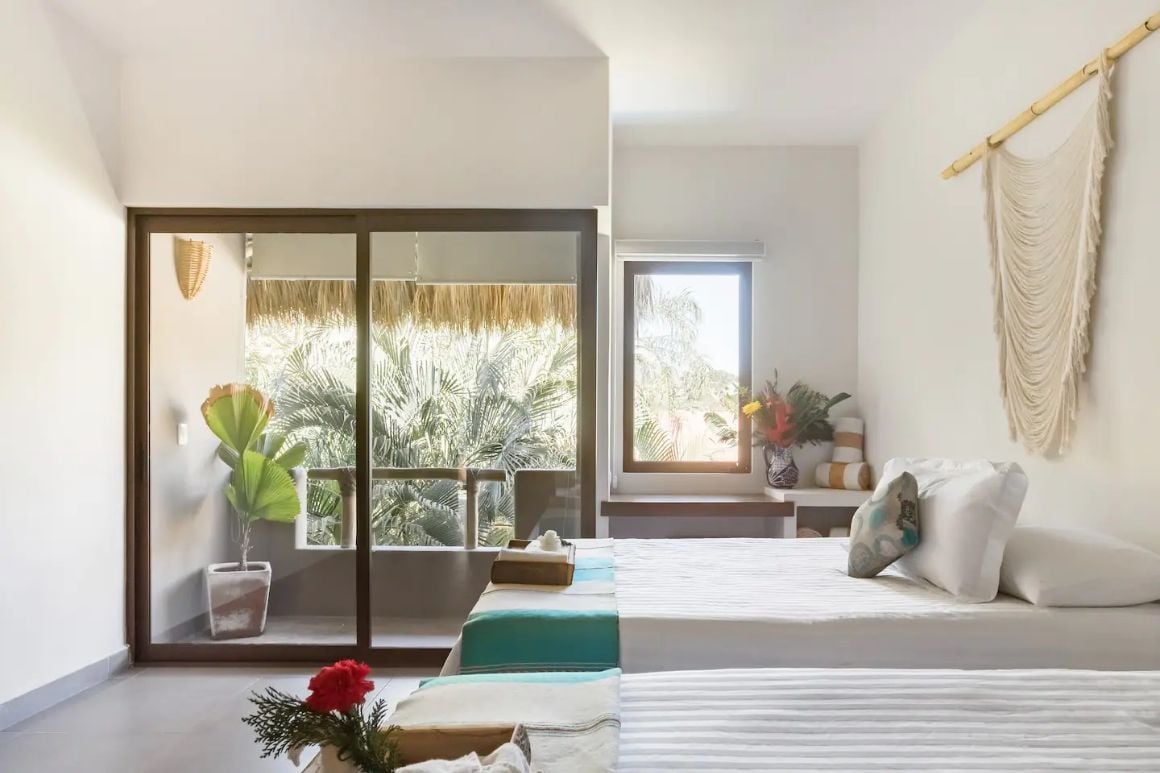 8 Guests
Close to the beach
This luxury villa in a pristine tropical location will make your Mexican vacation memorable. Just a few minutes' walk to the center of town, you're never far away from the trendiest restaurants, most happening bars, and clubs, shops.
If you like to cook your own meals, there's a grocery store nearby where you can buy the ingredients you need should you choose to prepare meals in the well-appointed kitchen.
Spacious enough for eight guests, the home has the modern conveniences you need for a comfortable stay plus you have the patio and pool all to yourself. Gorgeous beaches are close by and if you want the adrenaline rush, you can always try paddleboarding or surfing.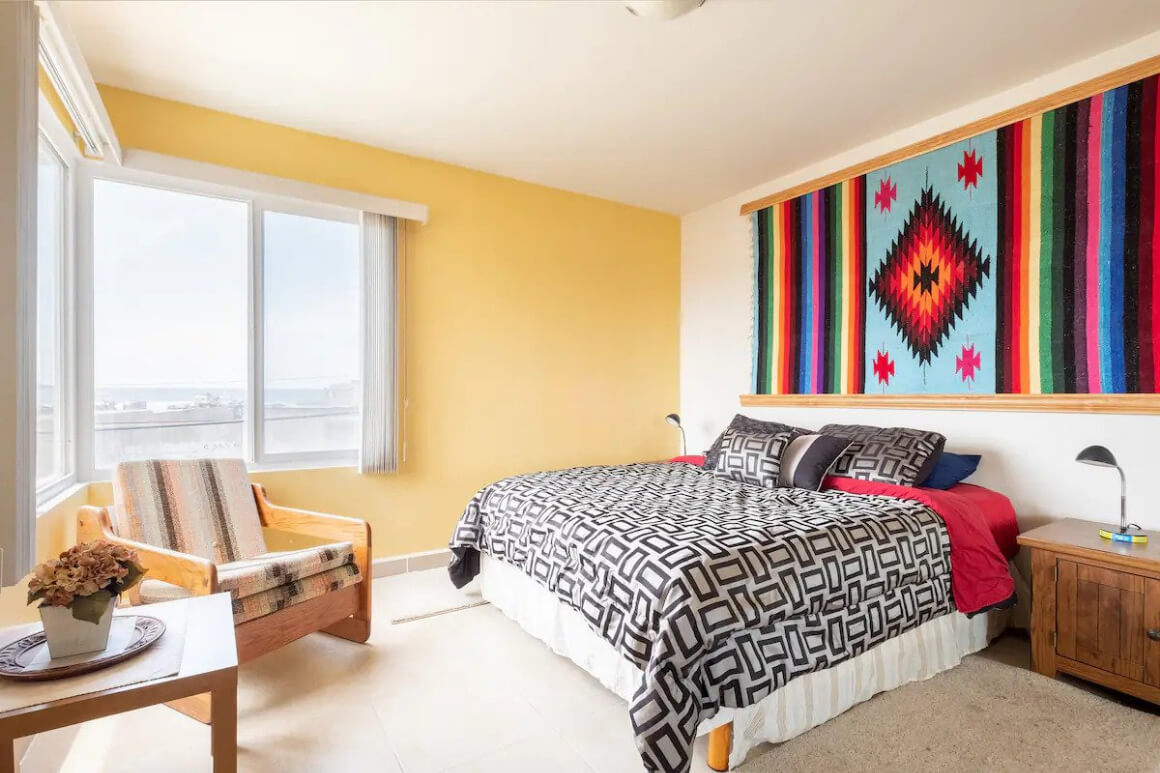 Just a few seconds away from the beach, this home is ideal for a group of friends traveling together. If you have had your fill of the beach, you can spend time on the balcony to enjoy the picturesque sunset with drinks in hand or watch the stars at night after a delicious meal cooked up in your fully-stocked kitchen.
In addition, you can always have a dip in the pool or hot tub since this condo is located in a private, gated community. When it comes to finding places to eat, you can always walk into town and find some awesome restaurants.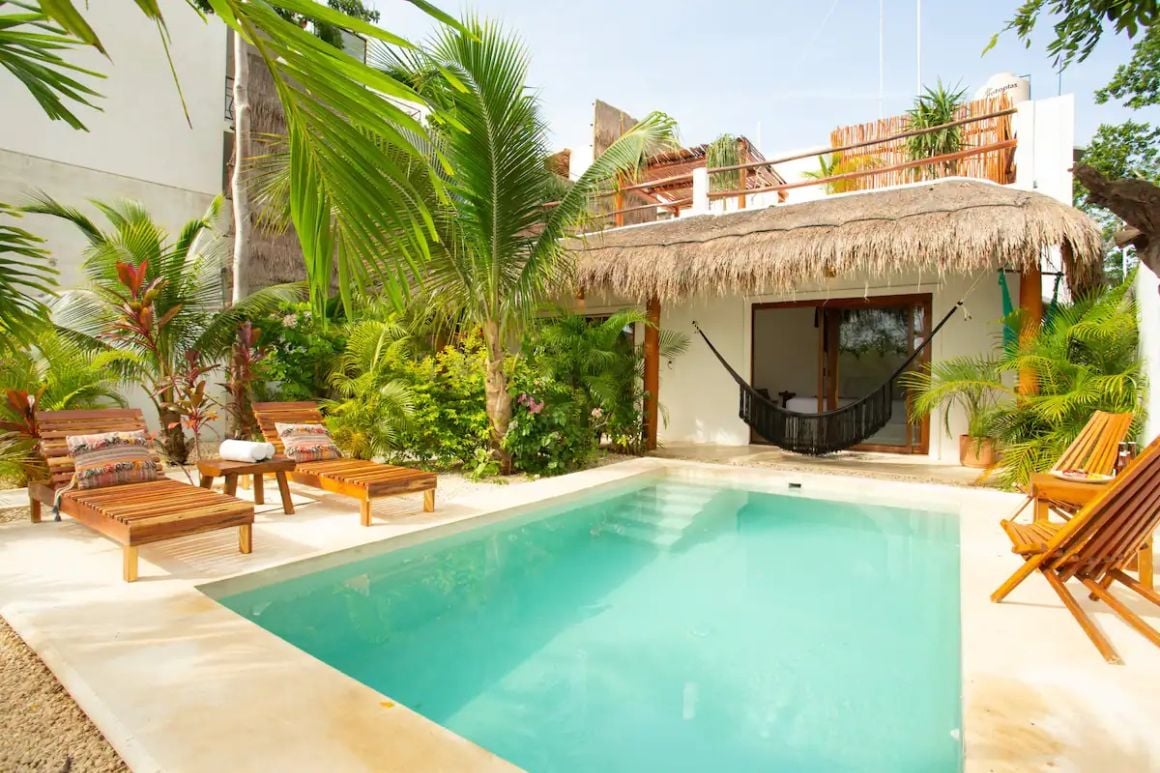 $
Close to restaurants and shops
2 Guests
Chef services at additional fee
Have an amazing honeymoon with your partner in this breathtaking and eco-friendly home in La Veleta surrounded by a virgin jungle.
Located in a secluded area, the swimming pool, garden, and terrace are at your disposal. Chef services are available upon request at an extra fee which includes international and local dishes with the menu sent prior to your arrival but several restaurants are nearby should you want to head out to dine.
Arriving by car is advisable and an airport transport service is available but you can arrange your own transport. The town of Tulum is less than 10 minutes away and the beach on the other side is about the same distance away from the property.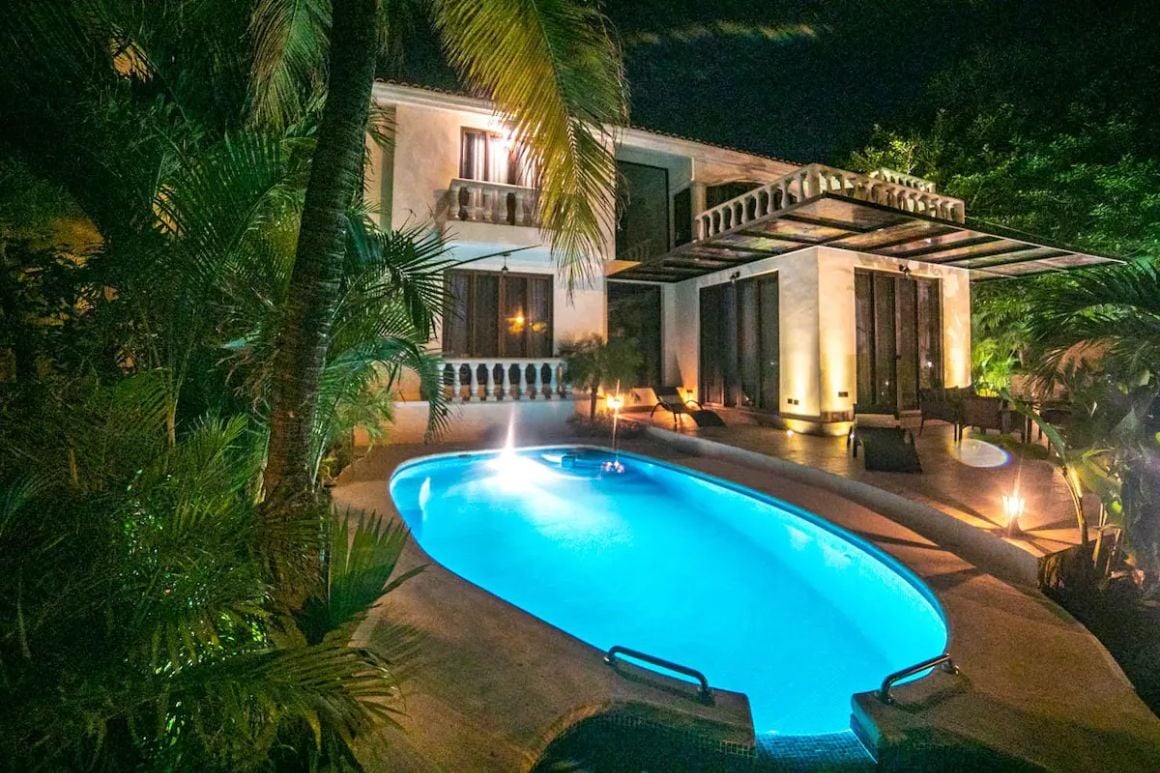 16 Guests
Walking distance to the beach
This luxurious private villa is perfect for parties as it can easily accommodate up to 30 people and comfortably sleep 16 guests in its five bedrooms, each with its own bathroom.
With a swimming pool, not one, but three Jacuzzis, a karaoke machine, and a gas BBQ at your disposal, you'll surely have a good time. Oh, and did I tell you that a hundred bottle wine bar and daily maid service are inclusive of the price? How can you beat that?
The villa has a small garden and the beach is only a few minutes walk away. Security is round-the-clock so you need not worry about your safety at this gorgeous place to stay in Playa del Carmen.
2 Guests
Private airport transportation
Surrounded by traditional artisanal markets and close to tourist spots, this cozy home is ideal for travelers who are planning to stay in Cancun for some time and experience the area like a local.
You're only a few minutes' walk away from cafes, and restaurants, as well as the local market, and nearby the ferry with trips to Isla Mujeres and Puerto Juarez, the perfect day trip.
The rooftop garden is an excellent spot for relaxing where you can grill some meat while treating yourself to beautiful sea views. Stroll through the neighborhood and you'll be delighted to see murals made by local and international artists.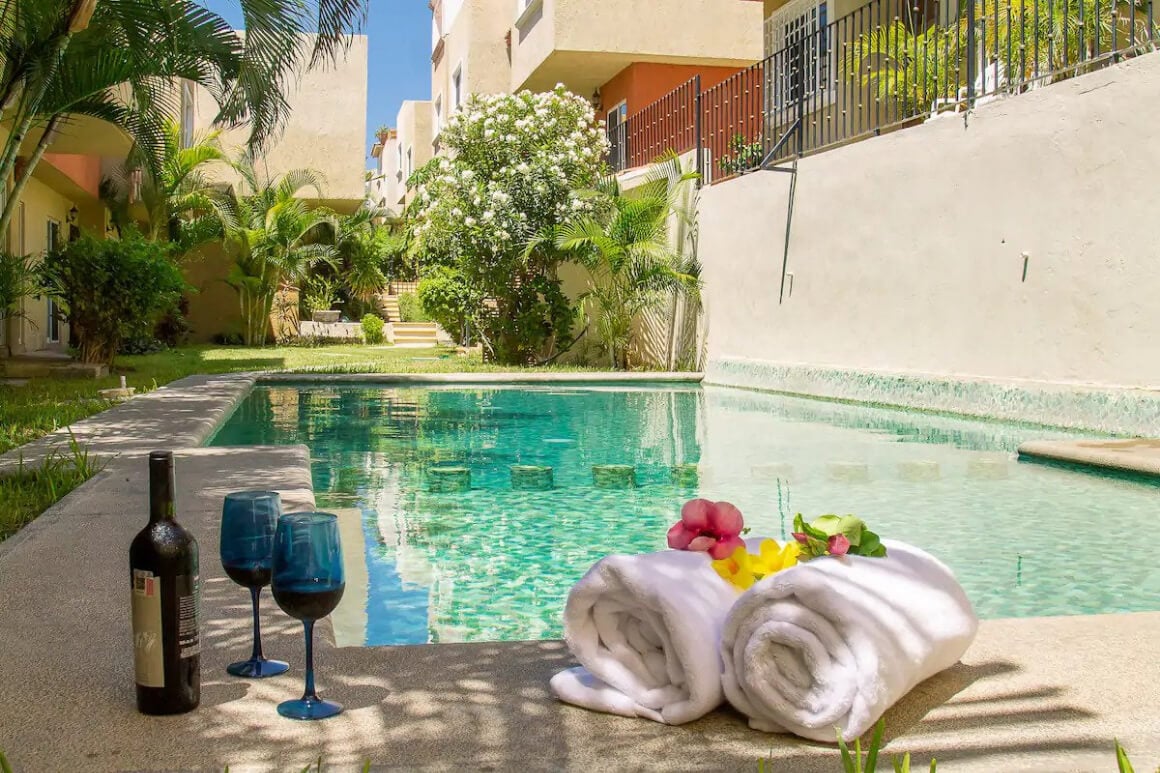 $$
In a quiet and family-friendly area
Guests: 6
Walk to nearby restaurants and shops
Close to the downtown area and the marina, this Airbnb is one of the best in Cabo San Luas area. You need not search far and long for provisions and amenities as restaurants and shops are nearby too. You'll be spoilt for choice when it comes to beaches but if you don't feel like going out, you can lounge by the pool and take in a gorgeous enclosed setting amongst the greenery.
There are plenty of things to do in the surrounding areas and activities to enjoy, such as wild canyon adventures or sailing. If you want to save money on eating out, the kitchen is at your disposal.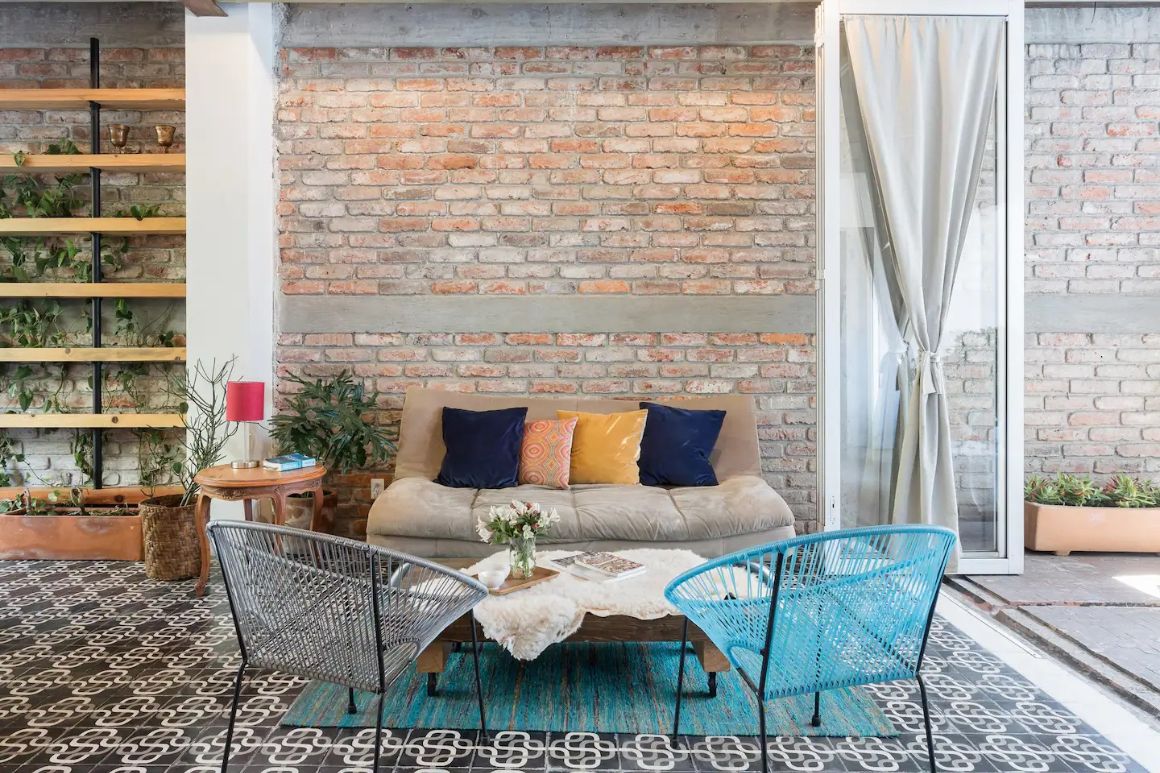 Guests: 2
Close to train and subway
If you are in Mexico City to party, you will love this apartment located in Roma, the epicenter of hipster culture with the trendiest bars and clubs. You will never get bored as something is always going on in this part of town. The apartment is within a few minutes of the vibrant nightlife but far enough to be quiet and relaxing.
After partying it up all night, you can come home to a cozy bed and relax on the balcony from where you can see the world go by. This stylish home is within walking distance of restaurants and a variety of shops too.

Our GREATEST Travel Secrets…
Pop your email here & get the original Broke Backpacker Bible for FREE.
Top Airbnb Experiences in Mexico
A trip to Mexico wouldn't be complete without visiting must-see attractions, sampling the local cuisine, and experiencing the real Mexico. You don't have to worry about that, Airbnb Experiences have got you covered.
With Airbnb Experiences, you can join small and personal tours conducted by locals. You get to see and experience Mexico from the eyes of a local and the best thing about them is that you don't have to go elsewhere to book. You can book the tours on the same platform as your rental home.
No need to check your email or print confirmation slips, you can manage everything from the Airbnb app. Convenient, right? So let's get right down to some Airbnb Experiences that I think you'll love.
What better way to get introduced to Mexican culture than with Lucha Libre, Cerveza, and tacos? You can do all three things in just one night with this tour.
It begins with eating some of the most delicious tacos in one of the most popular taquerias followed by beer and your choice of pulque or mescal – a must-try liquor made from the maguey plant.
While having drinks, you will get an introduction to Lucha Libre and after you've washed down your tacos with Cerveza, you'll go to the arena to have a spectacular night of wrestling.
No need to worry about a thing as tickets, tacos, and cerveza is included in the ticket. Just bring your appetite and your interest.
$120/person
15 hours
Up to 4 people
Take a little respite from all the hustle and bustle of the city and treat yourself to some relaxation with this trip to Tolantongo.
Famous for its warm springs and canyons, you will be picked up from the hotel by the guide and driven to hot springs. You will discover all the secret spots and some of the most magnificent views along the way.
When you reach the hot springs, you can dip into the little pools, go through tunnels and caves, see waterfalls, walk on a hanging bridge, and just have an excellent time. They have saved the best for last too, a full-body exfoliation.
Cenotes are underground caves filled with water and are natural phenomena that are unique to Mexico. They are popular spots for divers, adventurers, and centuries ago, Mayan civilizations. Cenotes were historically used for human sacrifices, though thankfully, now they are just used as a refreshing place to swim.
Cenotes have become a huge tourist attraction in Mexico and it's easy to see why – they are beautiful. But if you're someone who wants to learn about the historical uses of cenotes, and explores some off-the-beaten-track locations away from the tourist crowd, then this experience is for you.
This experience is for the true adventurer. You'll have to hike 8km through dense jungle to reach this cenote. After that, it's a scramble through the impressive rock formations (helmet provided) before you can relax and enjoy the stunning cenote underground. You'll be accompanied by a professional guide and all the PPE will be provided.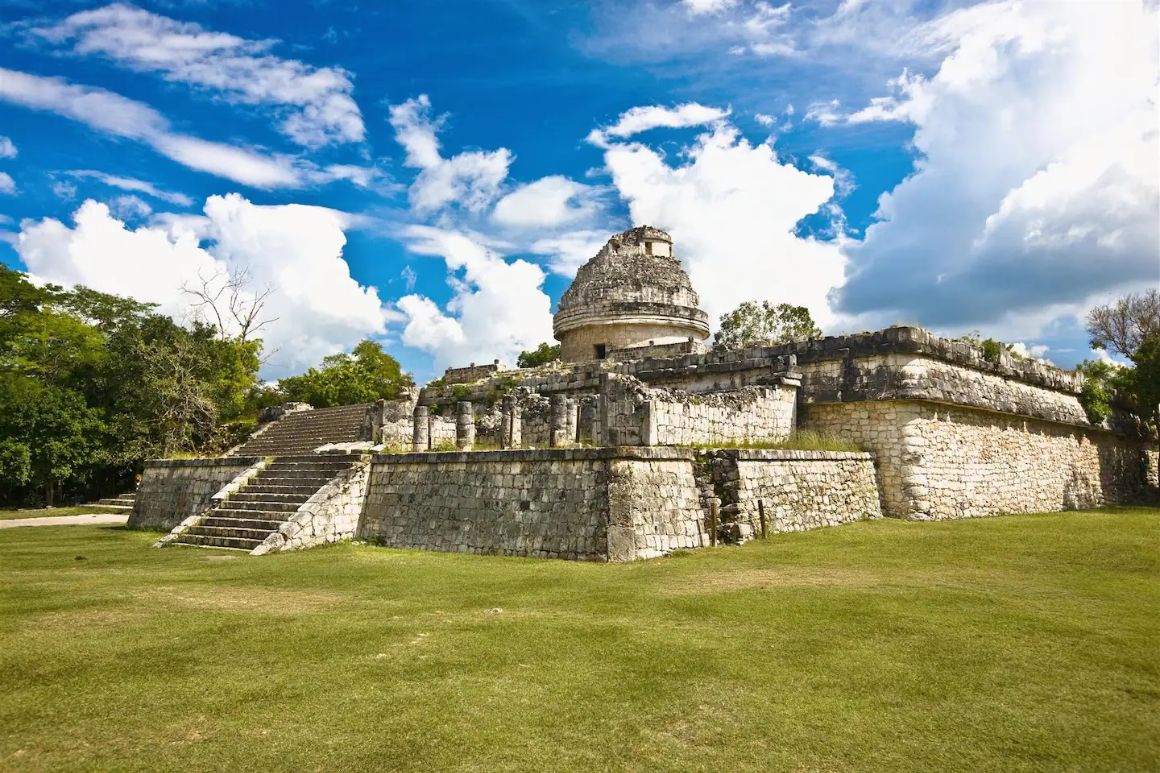 $96/person
12 hours
Up to 4 people
Chichen Itza is one of the world's wonders and with this tour, you'll be able to discover its beauty and long history.
After walking through one of the most visited archaeological monuments in the world, you will proceed to the city of Valladolid to a building that was once a hacienda that has been converted into a museum cum restaurant.
There you will sample various dishes and continue your walk through history along with its many colonial buildings, streets, and squares. Keep in mind that the cost doesn't cover the entrance fee to Chichen Itza. Make sure to wear comfortable clothes and bring along swimwear if you'd like to take a dip in the cenote.
$77/person
2 hours
Up to 10 guests
Always wanted to experience a sunset cruise? Fulfill your dreams on this tour, whether alone or with someone special. This fun and exceptional cruise include an open bar with various cocktails, beer, and snacks.
With music playing in the background, this cruise will take you to the Arch of Los Cabos and see a community of sea lions while waiting for the sun to set.
You can have your photos professionally taken for a fee but you are allowed to use your own camera or mobile phone.
Don't Forget Your Mexico Travel Insurance
ALWAYS sort out your backpacker insurance before your trip. There's plenty to choose from in that department, but a good place to start is Safety Wing.
They offer month-to-month payments, no lock-in contracts, and require absolutely no itineraries: that's the exact kind of insurance long-term travellers and digital nomads need.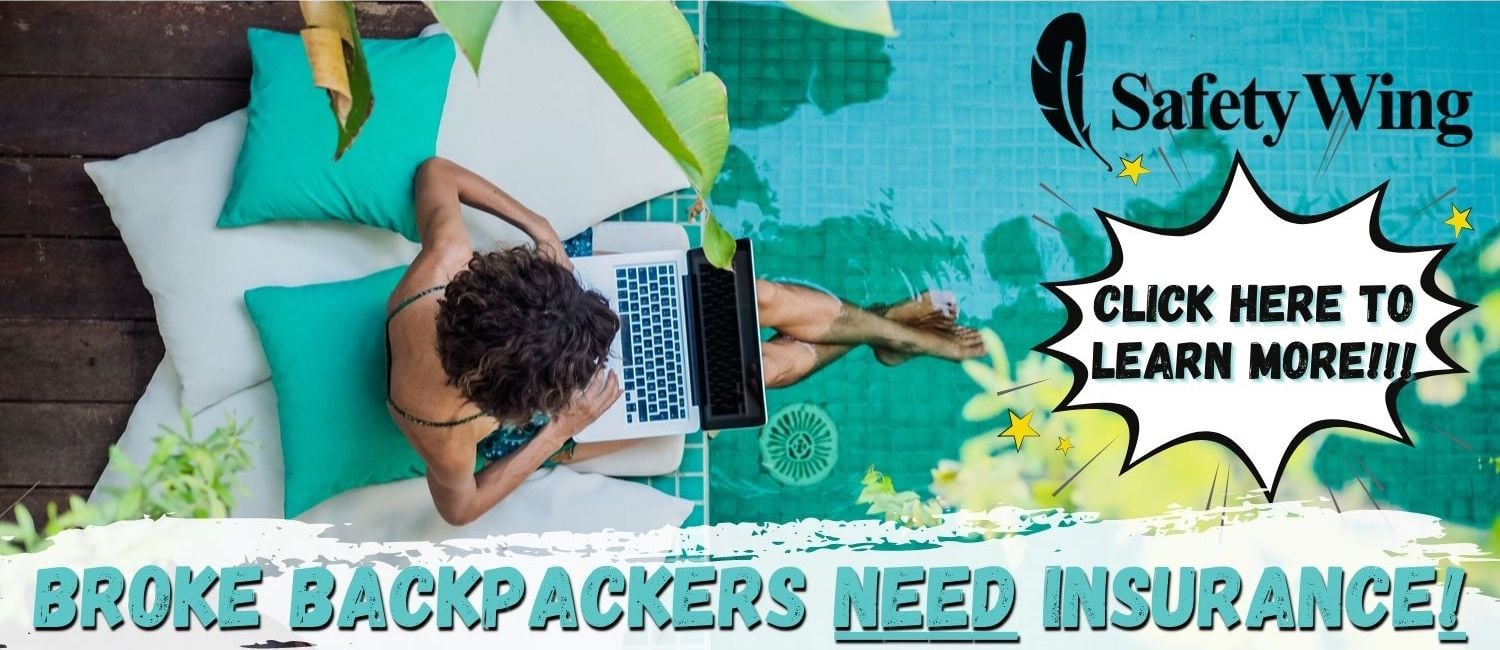 SafetyWing is cheap, easy, and admin-free: just sign up lickety-split so you can get back to it!
Click the button below to learn more about SafetyWing's setup or read our insider review for the full tasty scoop.
Final Thoughts on Airbnbs in Mexico
Are you all set for your getaway in Mexico? Hopefully, you were able to find what you were looking for in my list of the best Airbnbs in Mexico and a few Airbnb Experiences.
Whether you're on your honeymoon, putting the romance back in your marriage, on spring break with a group of friends, or just want to get away from work for a while, there's no doubt you will be pleased with Mexico.
Lastly, before you jet off to the beach, don't forget to take out travel insurance. You never need it until you don't have it, and World Nomads is one of the most trusted providers of travel insurance. Affordable, professional, and easy to use, you'll be able to sleep better on vacation knowing that should something happen, you are covered.
---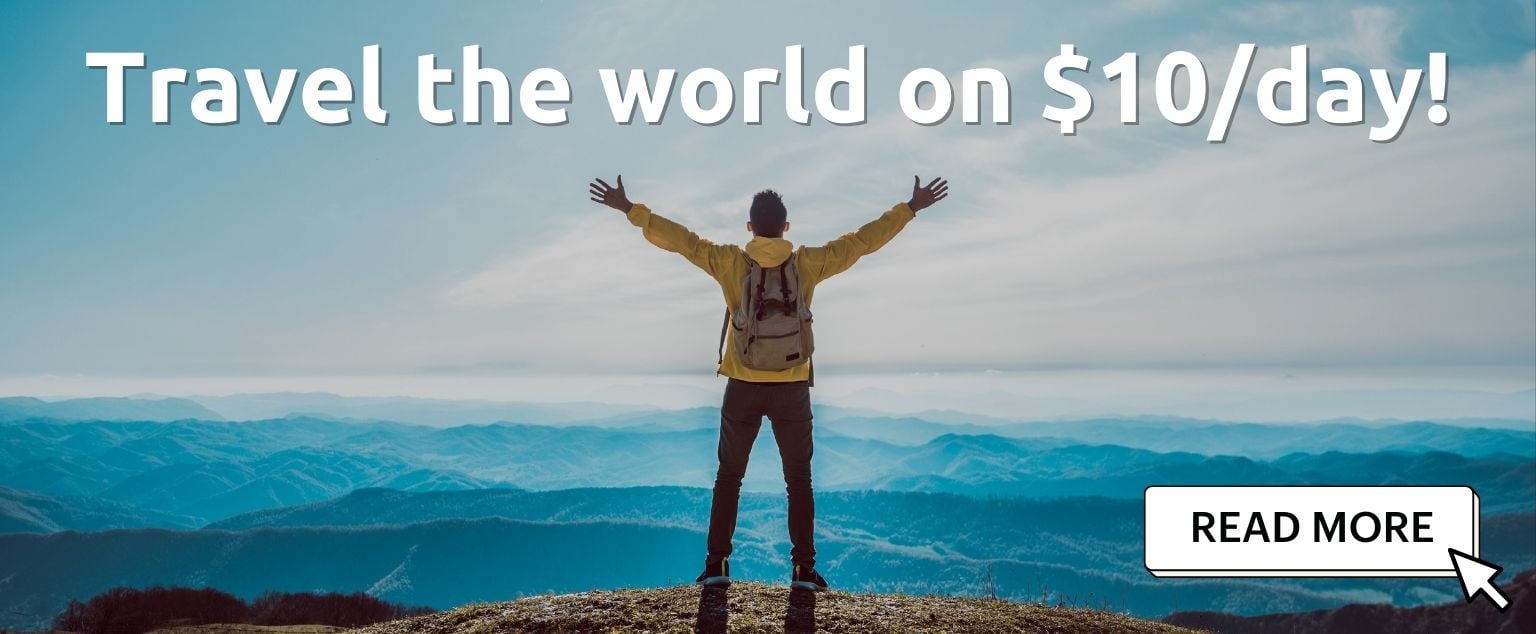 And for transparency's sake, please know that some of the links in our content are affiliate links. That means that if you book your accommodation, buy your gear, or sort your insurance through our link, we earn a small commission (at no extra cost to you). That said, we only link to the gear we trust and never recommend services we don't believe are up to scratch. Again, thank you!