Blending the jungle and the coast, with a hefty slice of ruins thrown in, Tulum is a popular destination on the Mayan Riviera.
Though the city centre is right off the highway, you won't notice that as you stroll along the powdery white sands or swim in the cool waters of an underground cenote. You've also got some stunning nature reserves within a stone's throw of Tulum.
With everything going on in this charming part of the Yucatan Peninsula, you'll need somewhere to stay. Rather than going for bland hotels or hostels, take a look at vacation rentals in Tulum. Not only do they offer excellent value for money, but style and character that can take your vacation to the next level.
With that in mind, I've put together this list of the best Airbnbs in Tulum. Not only that, I've included my favourite Airbnb Experiences in Tulum too. Let's take a closer look!
Quick Answer: These are the Top 5 Airbnbs in Tulum
Overall Best Value Airbnb in Tulum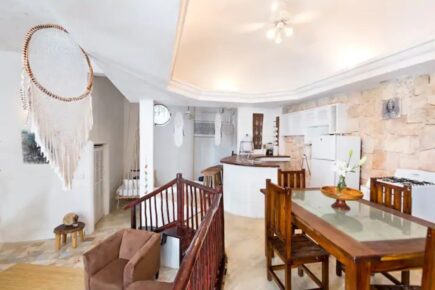 Overall Best Value Airbnb in Tulum
Casa La Vie Boheme
> $$
> 3 guests
> Central location
> Shared garden with hammocks
Best Budget Airbnb in Tulum
Best Budget Airbnb in Tulum
La Paloma Cozy Studio
> $
> 2 guests
> Central location
> Built in kitchenette
Best Airbnb for Couples in Tulum
Best Airbnb for Couples in Tulum
La Petite Bang Bao & Spa
> $$
> 2 guests
> King bed
> Private pool and garden
Best Airbnb for Families in Tulum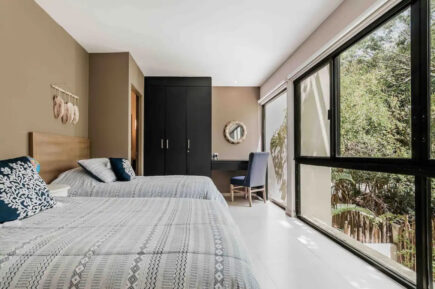 Best Airbnb for Families in Tulum
Relaxing Family Villa
> $$$
> 6 guests
> Quiet location
> Garden and pool
Over-the-Top Luxury Airbnb in Tulum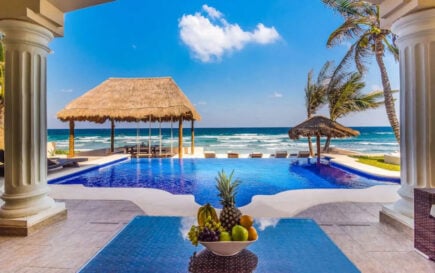 Over-the-Top Luxury Airbnb in Tulum
Villa Steps from the Beach
> $$$$$
> 13 guests
> Open concept living space
> Steps from the beach
What to Expect from Airbnbs in Tulum
As you might expect in one of the most popular travel destinations in Mexico, there's a lot of choices when it comes to accommodation in Tulum. Prices, in general, are higher than in nearby Playa del Carmen, but you should still find the cost of travel pretty manageable here.
What you'll get depends on your budget. At the lower end of the scale you can get a cabana or a bed and breakfast, while loosening the purse strings could see you get a swanky boutique hotel or a villa.
When it comes to properties, there's a mix of local and professional business accommodation. The larger and more expensive the property, the more likely it is to be managed by a professional lettings company. Either way, you'll be able to get the inside info on what to do off-the-beaten-track in Tulum!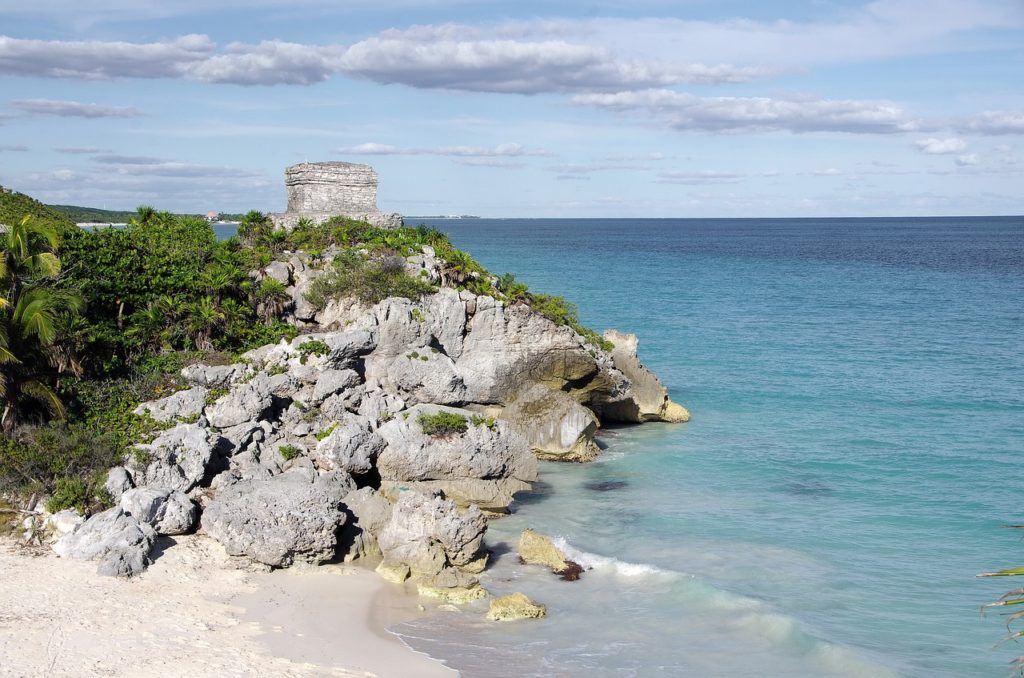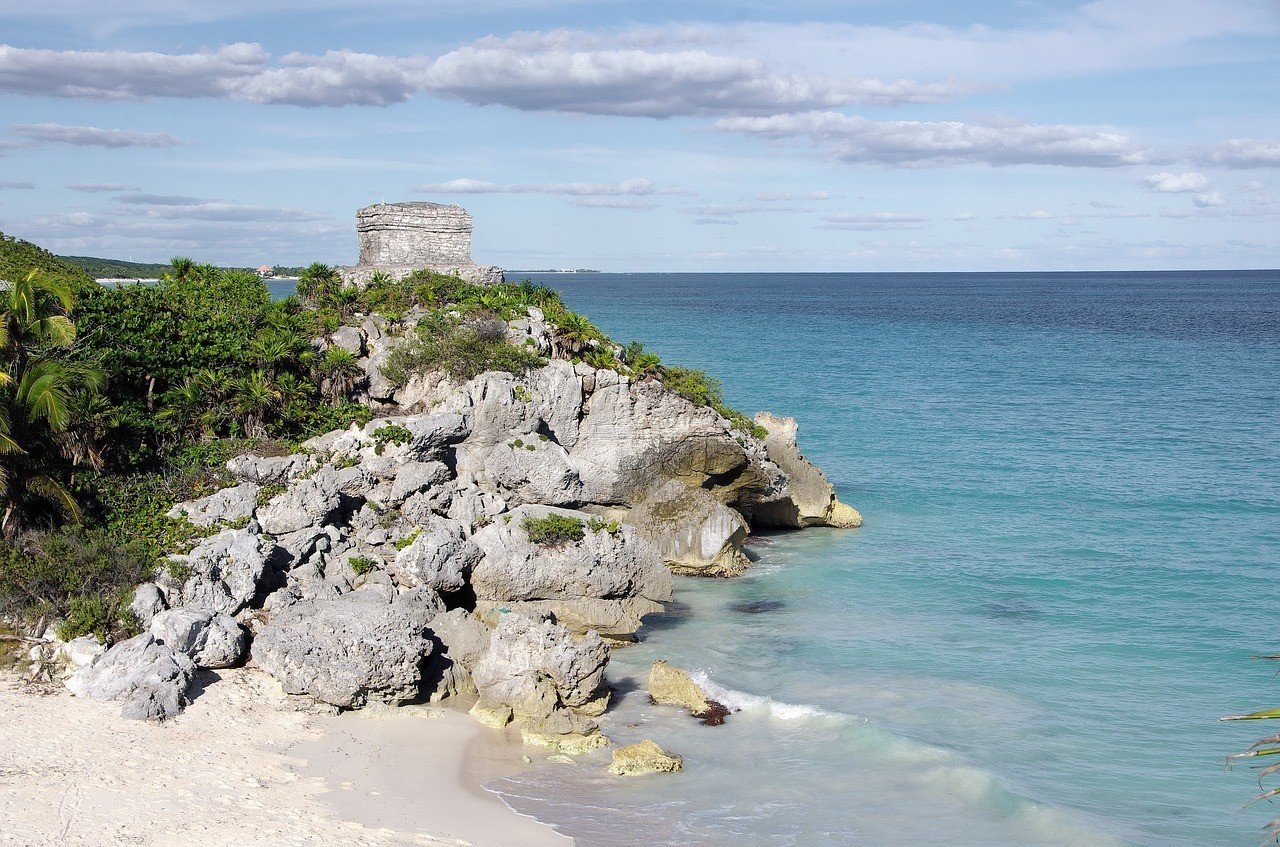 Cabins (Cabanas)
If you were travelling in the Rocky Mountains or a similar location, you'd assume a cabin to be a wooden building that's warm and cosy, maybe with a log fire. However, you don't need that in Tulum. A cabin here means a cabana – in other words, a beach (or jungle) hut!
Cabins are often small and peaceful places to stay that can be part of larger complexes. They're best for small groups, such as solo travellers and couples. However, they do sometimes have space for four or five guests.
Staying in a cabin isn't about having loads of features and amenities, it's more about the peace and quiet. That said, you're still likely to get a large and comfortable private room with a private bathroom. If your cabin is in a resort, you will have access to shared features, such as swimming pools and bars etc.
Boutique Hotels
Yes, I know. You came to Airbnb to avoid hotels. However, boutique hotels aren't your average grey and drab hotels that you find in every city. These independent properties are often labours of love, with their owners wanting to give the best hospitality, and offer a comfortable and welcome place to stay.
Boutique hotels often have local art and furniture and each room is designed with a different theme. They also have lovely amenities, such as fluffy queen or king beds, roof terraces, and private jacuzzis or tubs in your room.
Boutique hotel rooms are usually aimed toward smaller groups. They're often quite romantic so they'd ideally suit a couple! A solo traveller with a bit of cash to spare will also love a few nights in such a comfy environment.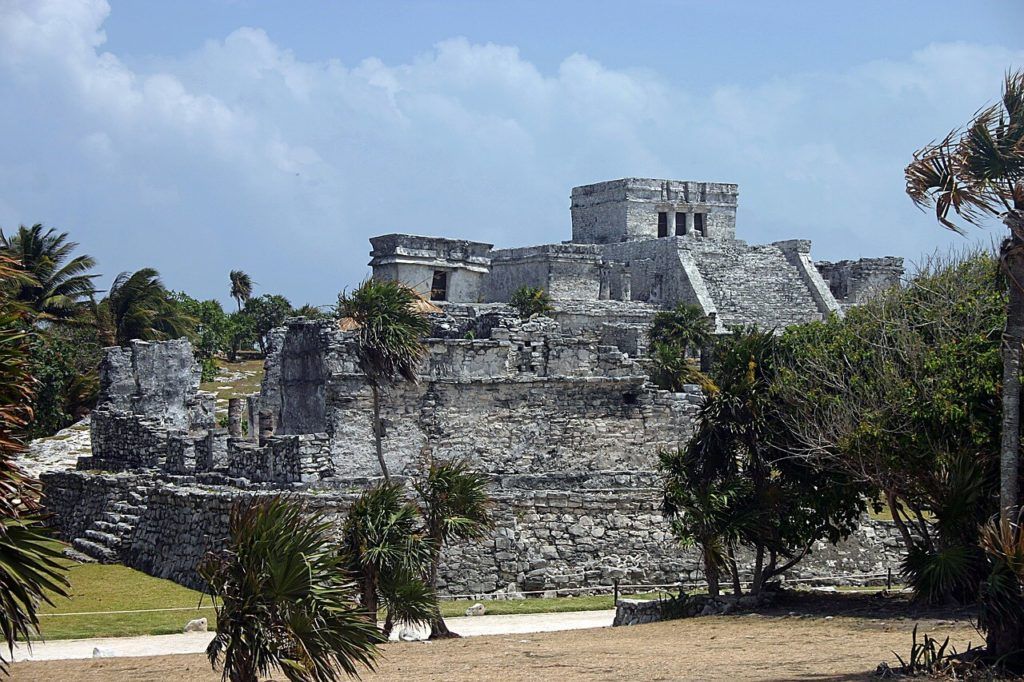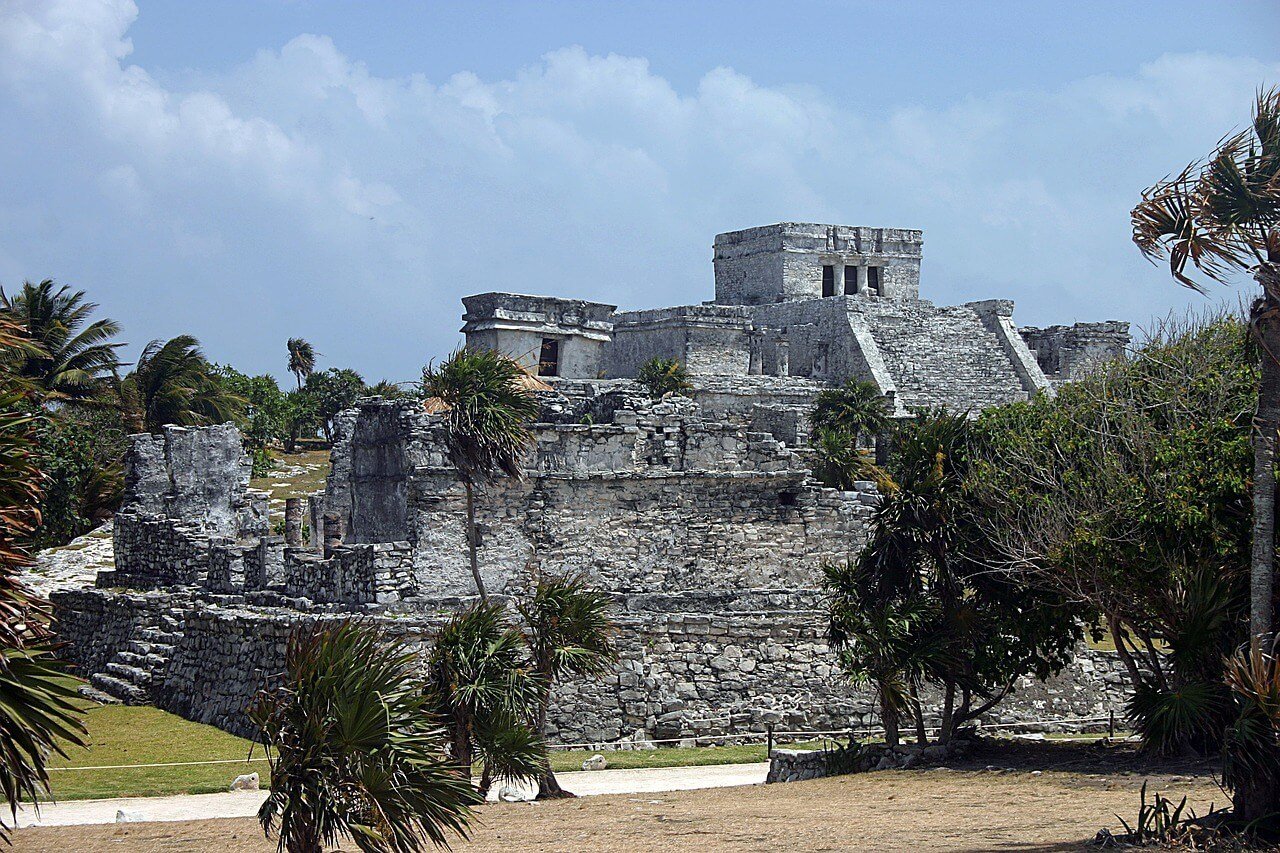 Villas
Whether you're travelling as part of a large group or you just want a luxury experience, check out villas in Tulum. These delightful properties are mostly situated just outside the centre of the town, giving you the chance to soak up the peace and tranquility of the jungle or the beach.
Villas are a great option for couples too – you can get smaller properties that will make your romantic getaway unforgettable. However, most villas are handy for their size. They can sleep multiple guests and they're great for groups of friends and/or family.
You'll get loads of features too; it's very hard to find a villa that doesn't have a swimming pool. You'll also be welcome to use fully equipped kitchens, indoor and outdoor living spaces, and multiple bedrooms. You can split the price multiple ways too, so sometimes they even end up being the most cost effective option. Crazy, huh?!
Why Stay in an Airbnb?
If you're still on the fence about a vacation rental in Tulum, that's a shame. However, here are five reasons you should stay in an Airbnb in Mexico. After this, there'll be no doubt in your mind!
Local Experience: Whether your host is a local or a business, you'll be able to get the low down on all the things you can do in Tulum. The ones that are off-the-beaten-track!
Unique Properties: From cabins to jungle lodges to villas, Airbnb's properties are a lot more interesting than your average hotel!
Privacy: Want some time undisturbed? That's no problem with Airbnb. You can get properties with self check-in, and you can even filter for a completely private place to stay.
Affordability: Airbnbs offer better value for money than hotels at an equivalent price. Ideal if you're on a budget!
Airbnb Experiences: It's not just about where to stay, it's about what to do when you arrive. And that's where Airbnb Experiences come in. More on those later!
The Top 15 Airbnbs in Tulum
Now you know what to expect and why you should stay in a vacation rental in Tulum, let's get to the part you've been waiting for. Here are the overall 15 best Airbnbs in Tulum. I'm sure you're going to love them!
Overall Best Value Airbnb in Tulum | Casa La Vie Boheme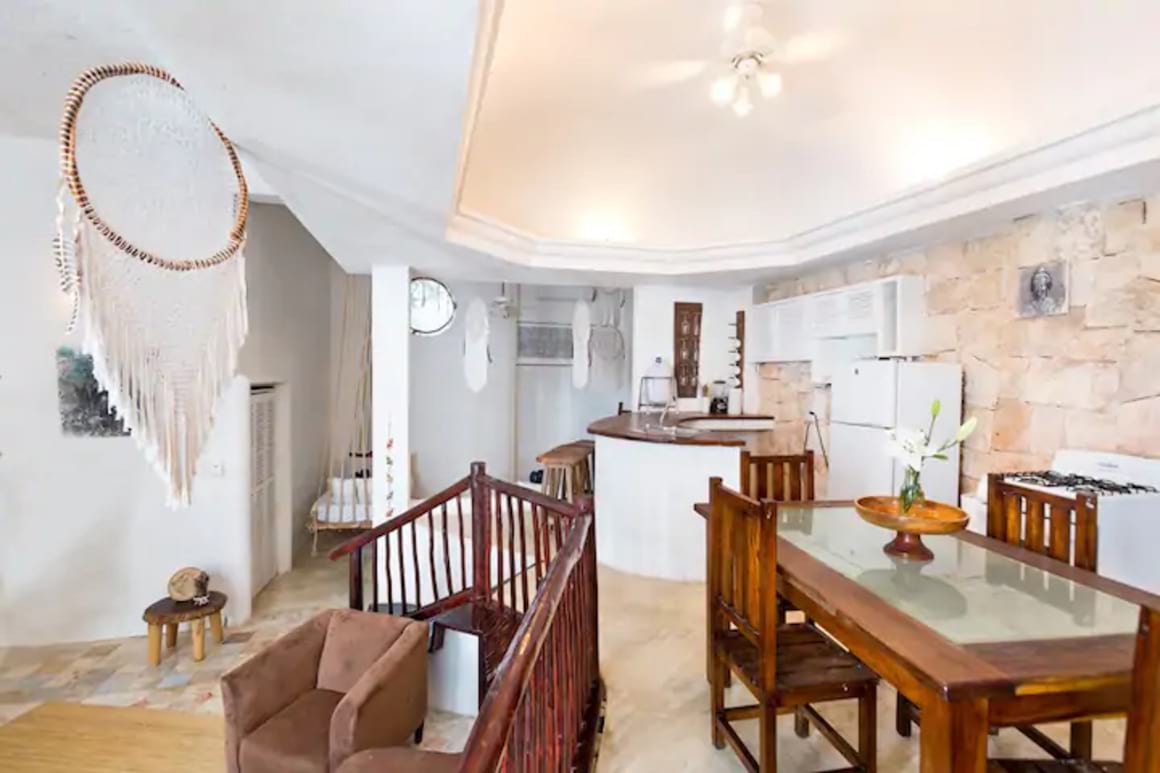 3 guests
Shared garden with hammocks
Located one minute from Downtown Tulum, but feeling a million miles away in the jungle, is this cute little Airbnb in Tulum.
The open concept apartment is in an authentic Mayan building and you've got a fully equipped kitchen, dining area, and living space, as well as your bed. The outdoor shared garden includes a hammock where you can lie back and enjoy peace and quiet!
2 guests
Built in kitchenette
Usually, the cheapest Airbnbs in Tulum would be a homestay. However, Tulum offers some pretty cool private flats at bargain-basement prices. This flat is ideal for a couple and you'll have your own private bathroom, as well as a double bed.
It's just a block from the main strip, but if you're hoping to save some more cash, you could always just cook in your built-in kitchenette before exploring Tulum and the surrounding local area!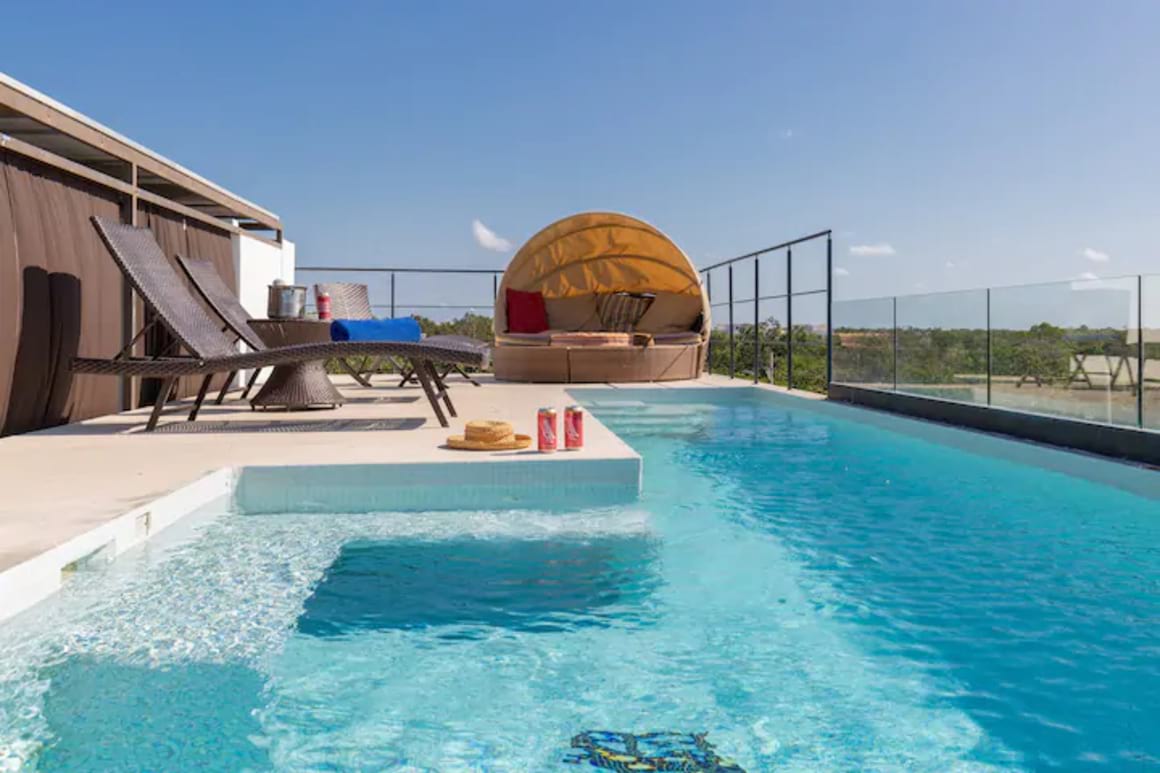 $$
Rooftop pool with daybed
Travelling solo? A friendly boutique hotel might be the best way to make some friends and treat yourself. Especially if you've been travelling solo for a long time!
At this gorgeous studio in Los Amigos Tulum, you'll have access to a private rooftop plunge pool with a daybed, a great spot to meet other travellers. It's also close to the restaurants and bars in the centre, meaning you'll never feel like you're on your own!
Is This the Best Travel Pack EVER???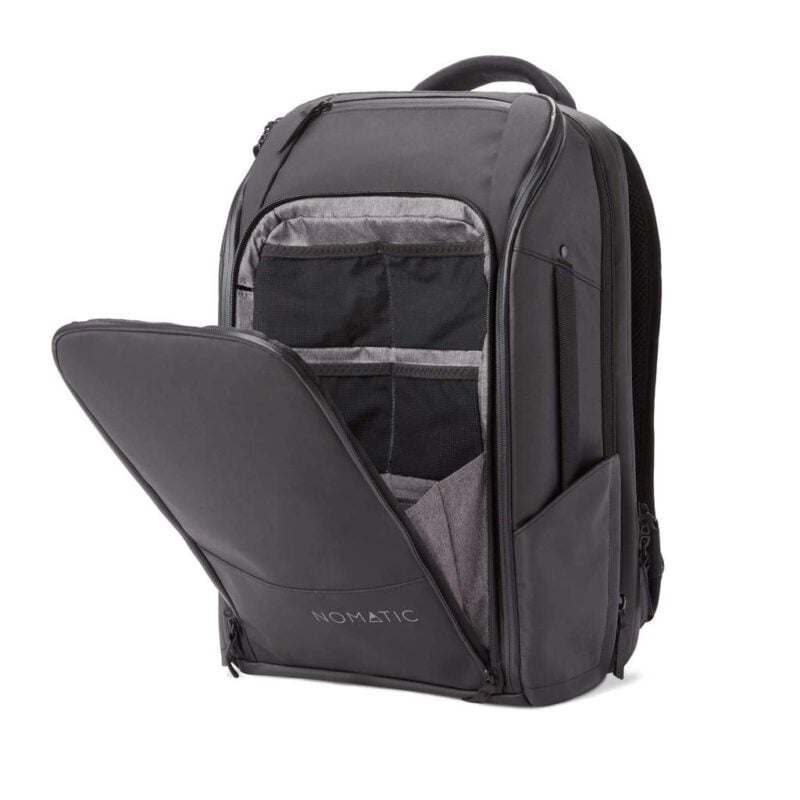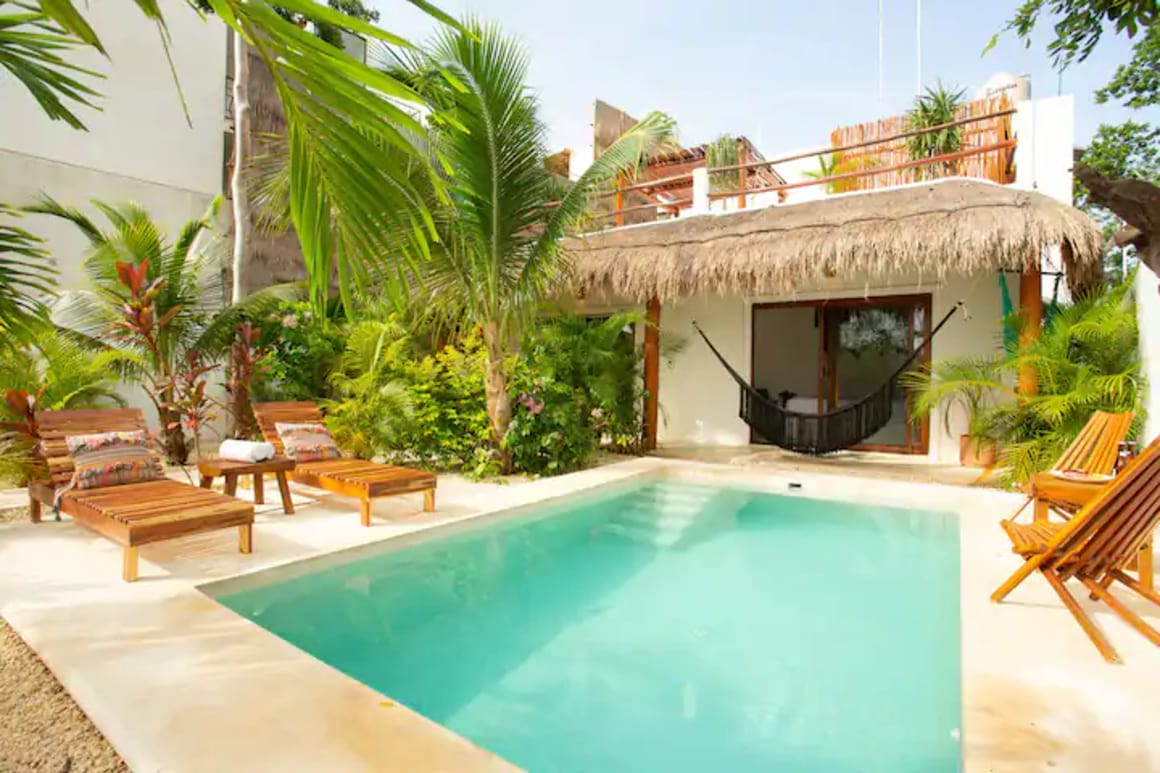 2 guests
Private pool and garden
Looking for your own private slice of paradise with your other half? Then I have found the place for you! This private villa is perfect for couples, thanks to a king bed and your very own private pool.
Of course, there are also sun loungers for two, a table where you can enjoy a drink, and a hammock which is probably big enough for you to cosy up together!
This uniquely designed, entire serviced apartment home in the Tulum is perfect for families. There is space for up to six guests across three bedrooms, and there is a huge open plan living and dining area that opens up onto a terrace with its own private pool.
Every room in this home speaks of luxury, with floor to ceiling windows, a fully equipped kitchen with breakfast bar, cozy dining area and balconies overlooking the Tulum jungle.
It's in a quiet location, just a short drive to Tulum beach, as well as the centre's restaurants and shops, but you will not be disturbed while you're here. Just perfect for family time.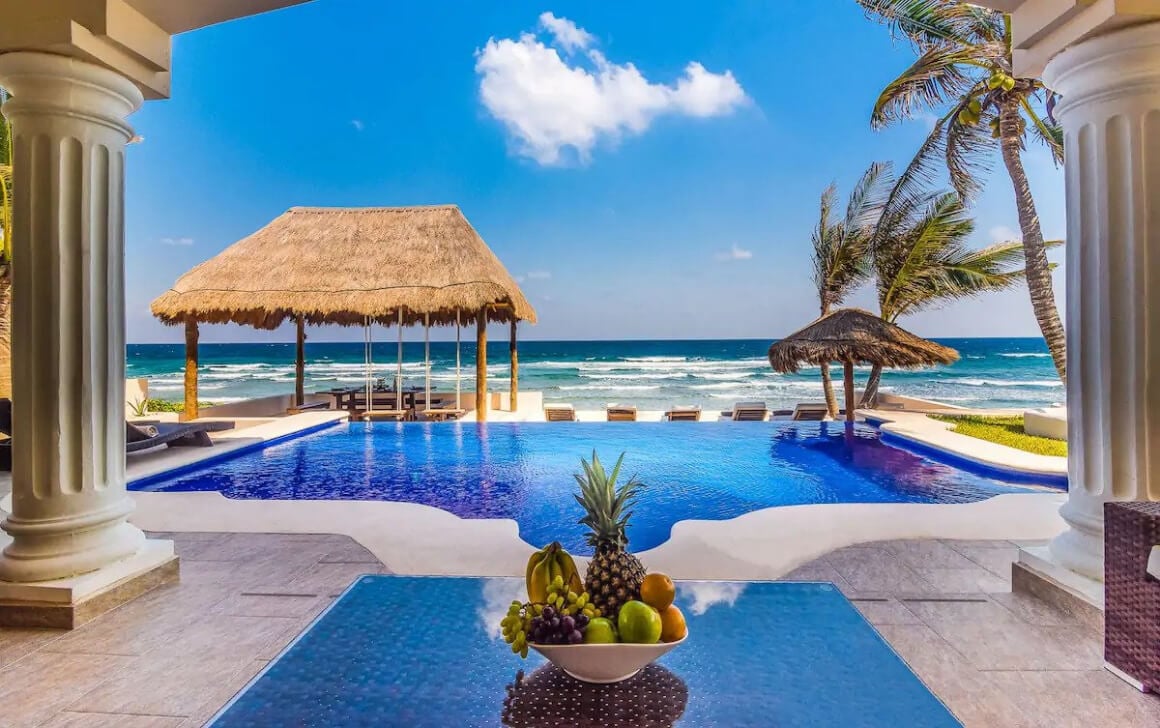 $$$$$
Open concept living space
13 guests
Steps from the beach
Airbnb Luxe properties are the most luxurious and beautiful on the platform, and this beachfront villa is no exception! It's not really clear where the inside and outside end, and the versatile living spaces make it easier to appreciate your natural surroundings no matter where you are in the house.
Not only can you relax around the tranquil pool or in the outside cabana next to the beach, but there's a balcony in nearly every room. The biggest danger with this house is that you'll not leave any time aside to explore Tulum and its surroundings!
Some cabins you'll find at Tulum beach, others in the jungle. This comfortable jungle lodge is surrounded by the rainforest and allows you to immerse yourself in nature.
While it's minimalist, you also get a luxury feeling as there's lots of space and light in this beautiful property. There's a swimming pool which you can cool off in after a busy day of exploring Tulum's ruins!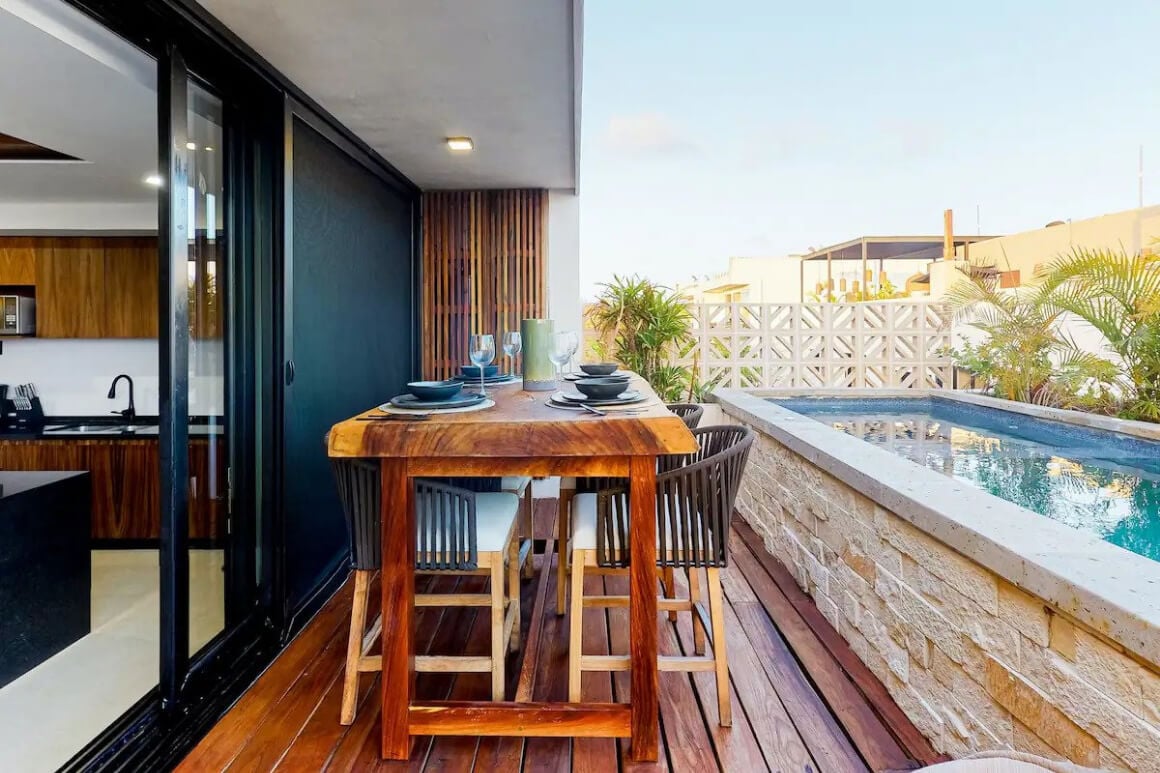 6 guests
Fully equipped kitchen
With a roof terrace with a private pool and hot tub, there are much worse places to be than this downtown Tulum penthouse in a boutique hotel.
The apartment comes with two bedrooms, one with a king-size bed and the other with two double beds. There's also a fully equipped kitchen that opens up to a spacious living area and patio doors to the outside.
This is the perfect little hideaway in Tulum for a large group or family. Plus, you're within walking distance of the town centre, perfect for when you want to get a bite to eat.
$$$$$
Private swimming pool
7 guests
Mayan furniture and handicrafts
With room for up to seven guests, this isn't the biggest villa but it's more than adequate for a group of family or friends. It really has local flavour, with Mayan handicrafts and furniture making up the majority of the decor.
As well as the beautiful design flourishes, you have integral stuff like a swimming pool and a fully equipped kitchen. This is a really beautiful villa!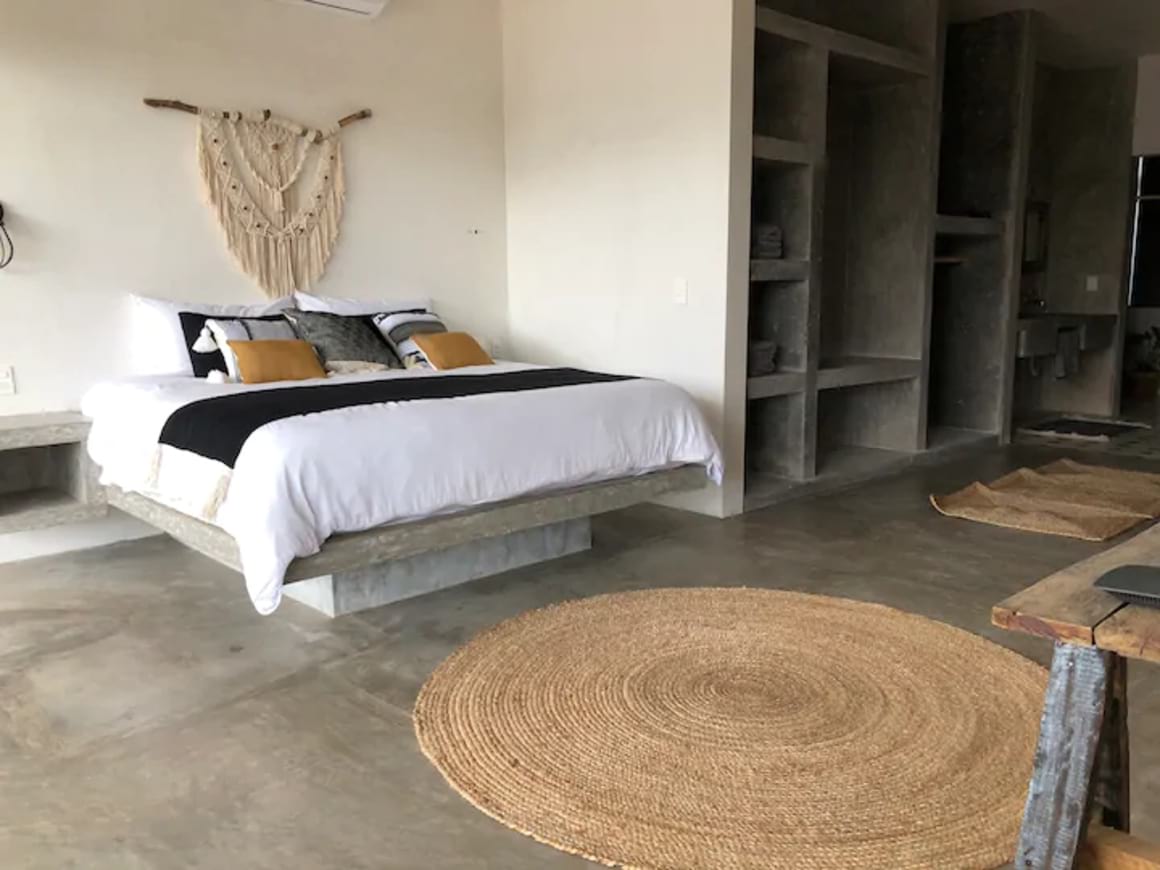 2 guests
External bathtub and hammock
Another boutique hotel for you now. Tulum is a popular location for digital nomads thanks to its excellent weather and reasonable cost of living. This boutique hotel offers digital nomads the opportunity to work in comfort and socialise with others, without being in a noisy and rowdy setting.
When it's time to close your laptop for the day, you can chill out in a hammock or lower yourself into the outdoor garden tub with a cocktail!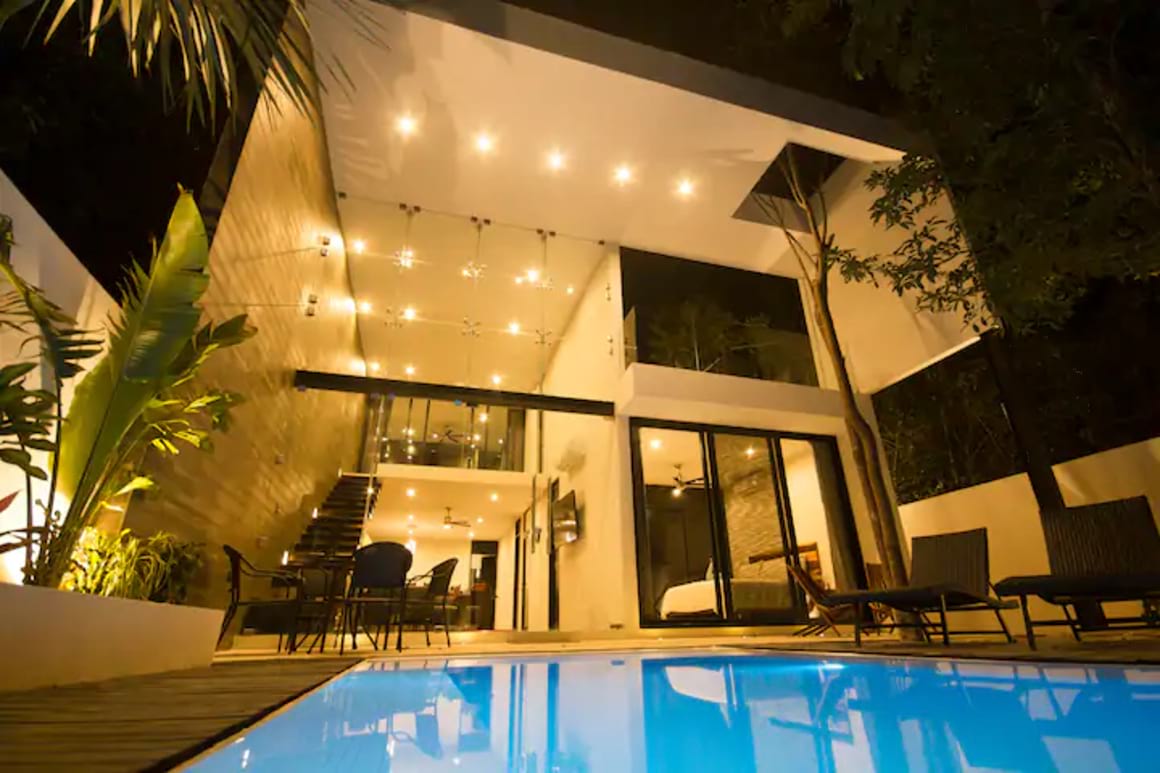 8 guests
Modern design villa
Looking for an Airbnb in Tulum that will take your breath away? The ultramodern Villa Vidrio should see to that. The stunning villa lets in lots of space and light and even has trees growing through the roof!
You've also got an infinity pool which is the ideal place to start off your day. The outdoor spaces are quite special too.
$$$$
Overlooking Tulum Ruins
8 guests
Gorgeous rooftop deck
It's not hard to find Airbnbs with roof terraces in Tulum, but one with a view this spectacular is a little trickier to find.
Overlooking Tulum's ruins and the jungle, the rooftop terrace at this jungle penthouse is truly incredible. You can either relax in a swinging chair or join the inflatable flamingos in the infinity pool. An unforgettable view!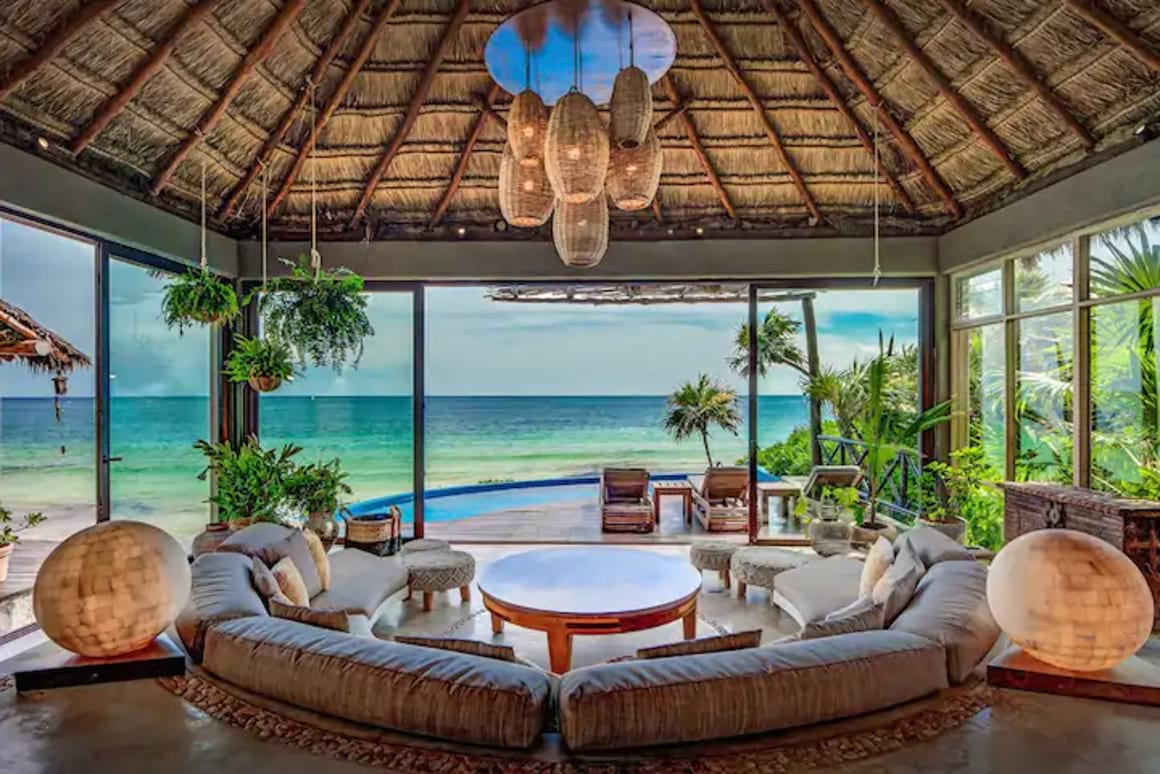 $$$$$$$$$$$$$
Panoramic ocean views
10 guests
Peaceful and serene
Part of what makes this Airbnb so beautiful is that view. You're right on the shore of the Caribbean Sea, with nothing but white sands, palm trees, and a huge expanse of turquoise stretching out in front of you.
Once you get inside the villa, it's pretty gorgeous too. Whether you're in the infinity pool or the open plan living area!
$$$
Beautiful private plunge pool
Airbnb Plus properties are hand-picked thanks to their high review scores and attentive hosts. With an innovative open-plan home by the pool, you're sure to love this villa for up to seven people.
It has two private rooftop patios and or you can spend your days lazing around the tropical garden or in the private pool. If you want to try traditional local food without having to going far, you're within walking distance of the town centre.
6-8 guests
Free bike rentals
When travelling with friends, it's important to have somewhere that you'll enjoy spending time together. And what could be better than a pool with a swim-up bar?!
Enjoy a beer or a tequila and catch up with friends you haven't seen for a while before retiring to your own luxury apartment which has enough space for up to eight. If you want to get out and explore the local area, there are free bikes included!
Top 5 Airbnb Experiences in Tulum
Now that you've got a better idea of where to stay in Tulum, let's look at what's on offer when you arrive. With the beach and jungle just a stone's throw away, there is no shortage of things to do – especially if you love the great outdoors!
The perfect way to explore is with Airbnb Experiences. These tours curated by locals can be anything from a mountain biking experience in the jungle to a food tour around the town. It could even be visiting a much-beloved ruin without crowds!
Here are five of my favourite Airbnb Experiences in Tulum. Now, it's over to you to decide which one you want to do first!
$48/person
4 hours
Up to 6 guests
Tulum is surrounded by some of the easiest to access cenotes in the Yucatan. With this tour, you'll bike to two of them and take a dip in these naturally occurring underground pools.
Your host isn't going to rush you, so even if you haven't ridden a bike in years, you'll still get a lot out of this tour. At the end of the tour, you'll sample some delicious Mexican food too. What more could you want?!
$60/person
2 hours
Up to 6 guests
Yes, you've explored cenotes inland, but now it's time to get out onto the deep blue sea. And what better way to do it than by kayaking and snorkelling? You'll head to a stunning coral reef and spot a range of marine life, including tropical fish, stingrays, and coral, just to name a few.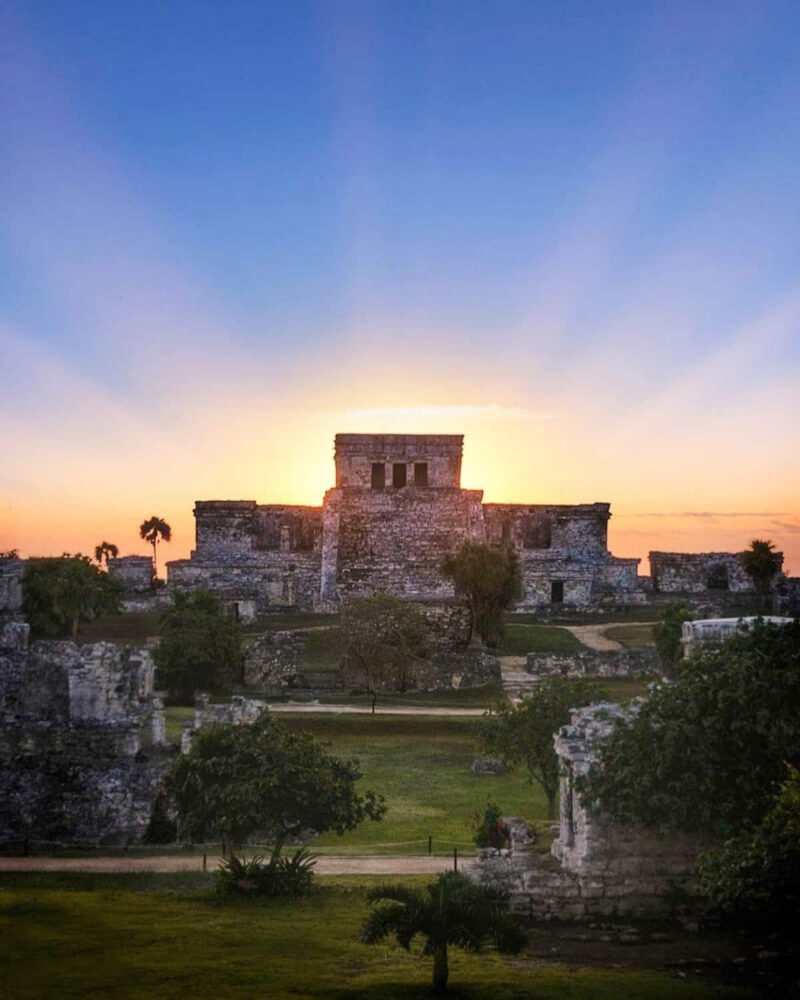 $48/person
2 hours
Up to 7 guests
The Ancient Mayan Ruins of Tulum are one of the top attractions in Mexico. So, as you'd imagine, it's normally pretty busy! However, with an early start, you'll beat the crowds and have this awe-inspiring archeological site practically to yourself. When you're leaving, all the other tourists will just be arriving.
$28/person
2 hours
Up to 10 guests
Speaking of delicious authentic meals, this is your chance to enjoy one of the most emblematic Mexican foods, the humble taco. You'll stop off at three different places and try a number of sublime flavours. Prices of tacos aren't included in the tour price, so be sure to bring some extra money along with you!
$109/person
3 hours
Up to 10 guests
Perhaps do this one on a different day to the taco experience as dinner is included! However, the key part of this trip is tasting local mezcals and tequilas from different parts of Mexico. The tasting can whet your appetite and give you ideas of which drinks you may want to take home as souvenirs or gifts.
FAQs About Tulum Airbnbs
Here's what people usually ask me about vacation rentals in Tulum.
Don't Forget Your Tulum Travel Insurance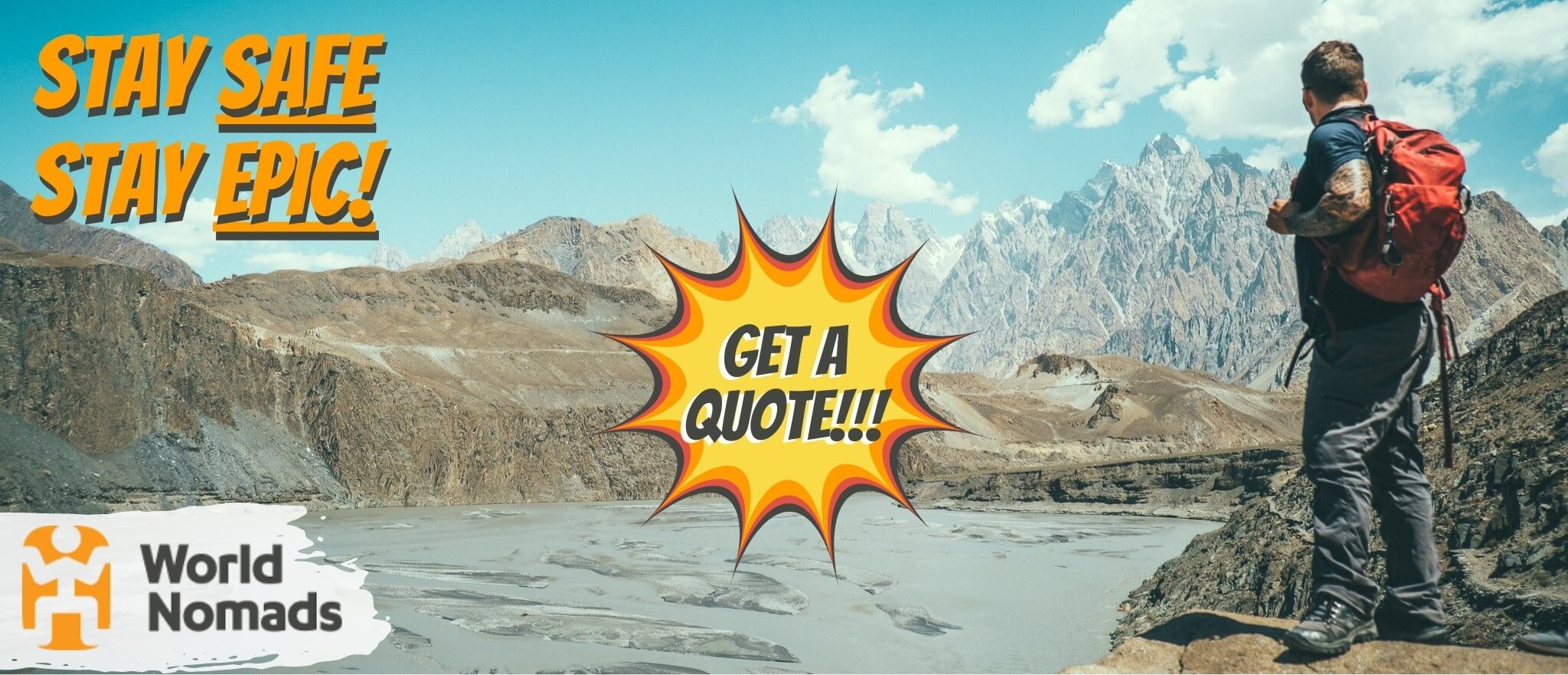 World Nomads' mission is to support and encourage travellers to explore their boundaries. They offer simple & flexible travel insurance, and safety advice to help you travel confidently.
They've been doing it since 2002 – protecting, connecting, and inspiring independent travellers just like you.
Get a quote below or read our in-depth review!
Final Thoughts on Tulum Airbnbs
Well, there you have it. Those are the 15 best Airbnbs in Tulum! Whether you want to stay in a penthouse overlooking the jungle, a beachfront cabana, or a luxurious private villa, there's an Airbnb in Tulum for you. I hope you like the Airbnb Experiences too!
What's that? You still can't make your mind up?! That's understandable. I'd recommend keeping it simple and going for my overall favourite Airbnb in Tulum. That's Casa La Vie Boheme. It's a cool example of traditional Mayan architecture!
I hope that wherever you choose to stay, you have a fantastic vacation in Tulum. After booking your accommodation, be sure to check out World Nomads for the best travel insurance policy for you too. It's the easiest way to keep yourself and your belongings safe!
---
Bye for now, but not forever!
If you want MORE top-tier Broke Backpacker content like this, then sign up for our weekly newsletter below to get the latest and greatest!
And for transparency's sake, please know that some of the links in our content are affiliate links. That means that if you book your accommodation, buy your gear, or sort your insurance through our link, we earn a small commission (at no extra cost to you). That said, we only link to the gear we trust and never recommend services we don't believe are up to scratch. Again, thank you!