Looking for the best hotels in Tulum? Look no further.
For a true beach vacation, totally disconnected from the modern, hectic world, there is no better destination. Tulum, in the Mexican state of Quintana Roo, is home to some of the most luxurious beachfront hotels you will ever find.
Opt for a completely off-the-grid, lavish experience and spend your days snorkelling, scuba-diving, and eating fresh fruit in swinging hammocks. Or, take in the sustainable lifestyle and live at eco-friendly hotels within the town to visit locally run restaurants and boutique shops.
Whatever your preference is, the combination of white sandy beaches and clear blue waters is enough to keep tourists escaping to this location time and time again.
Tulum is a relatively small location with an intimate communal atmosphere. The neighbourhoods are well interconnected and very similar in style and ambience.
In Tulum's centre, you can find more populated areas with grocery stores and attractions. The further to the beach you get, the more peaceful it becomes.
I have gathered a list of the BEST hotels in Tulum in the best neighbourhoods in Tulum. This travel guide will also detail the amenities offered in each hotel, the quality of the rooms, and the surrounding attractions.
Let's get into it…
Selection Criteria
When choosing a destination, accommodation, and things to do when visiting Mexico, planning pays off. Before you are booking a hotel to stay in, here are some key components to consider when booking a hotel.
Location – The location is the most important factor when determining your hotel. You can choose to opt for a hotel that has access to more of the vibrant culture or stay further out and be just a couple minutes away from the beach. Both have their own unique activities to offer.
Customer reviews and ratings – The experience you have at a hotel can determine how positive your trip is. To ensure you have a great trip, this list has highly-rated hotels with consistent glowing reviews.
Amenities and services – In less modern areas, such as Tulum, the amenities and services located in the hotel are even more important. This list has hotels that offer pools, on-site restaurants and 24-hour staff to make sure that you feel comfortable throughout your entire trip.
Price range – Budgets vary for each trip. This list caters to budget-friendly travelers looking to explore and those looking for a more expensive beach vacation.
Unique features or experiences – Having fun at the hotel is also important. You want to feel looked after as soon as you arrive. I have chosen hotels with unique features, so you can have an incredible experience both in and out of the hotel.
With all these factors considered, how you use these selection criteria will be determined by your situation. For example, if you want exceptional service and cocktails by the beach, you may be willing to trade the excitement of the attractions. Whereas others may prefer to be immersed into the ever-present vibrant culture and stay in a more budget-friendly hotel. You will need to determine the type of trip you would like to have and choose the hotel with that in mind.

Unlock Our GREATEST Travel Secrets!
Sign up for our newsletter and get the best travel tips delivered right to your inbox.
Tulum Beach
Waking up with beachfront views is a once-in-a-lifetime experience that you can have if you stay in Tulum's Beach town. Tulum Beach is one of the dreamiest locations in Mexico and is ideal for solo travellers that are not staying in Tulum for long but still want to experience some of Mexico's best beaches.
Most mornings you will find travellers practising yoga on the beach or eating fresh fruit whilst taking in the views. Here are the best hotels to stay in Tulum Beach.
One of the best hotels in Tulum you will ever stay in is Rahoo Tulum. It's even fun to say that – Rahoo Tulum.
This five-star hotel in Tulum offers a gorgeous on-site restaurant which serves a delicious a la carte breakfast, boho-style rooms, a private garden AND swimming pool. The staff are also a true representative of Mexican hospitality.
That being said, you won't be spending much time inside the hotel because just a short two-minute walk and you will be at the beach. The sea here is crystal blue and will make you want to stay outside – in nature – the entire day. However, if you do want to explore, you can hire bikes from the hotel.
The Ikal Tulum Hotel is the perfect destination to disconnect away from noise and tourists and submerge yourself in complete relaxation.
This boutique hotel is located just a few steps from Paraiso Beach and despite its off-the-grid vibe, the hotel is stocked with modern facilities. In the hotel, you can find air conditioning, spacious rooms with balconies and a healthy continental breakfast.
Hop off the plane at Cozumel International Airport, take the hotel's shuttle service to the property and be immersed into paradise. You will be surrounded by beaches at this location. Las Palmas Beach is nearby and Playa Pescadores is only 500 metres away.
Hotel Ma'xanab Tulum is a tranquil experience for both solo backpackers and travelling couples. This 5-star hotel in Tulum pulls out all the stops to make your stay both comfortable and safe. Which makes it ideal for those that are travelling alone.
The rooms either have a balcony or an epic sea view. Plus, you'll have access to complimentary Wi-Fi, safety boxes, a swimming pool, and a private bathroom. Just a short distance away from the hotel, you can visit the Tulum Archeological site and Parque Nacional Tulum. There is also 24-hour front desk assistance.
When searching for where to stay in Tulum, this eco-friendly hotel comes to mind.
This hotel is situated on a private beach within Tulum National Park for a secret getaway filled with fresh seafood and revitalising fruit. The complex provides thatched cabins complete with free Wi-Fi, private bathrooms and stunning sea views. The rooms are decorated with vibrant, traditional decor which is in keeping with the sustainable living lifestyle that is ever-present in Tulum.
Whilst here, either choose to eat at the Mivida restaurant on the beach, which specialises in Tapas, or take a short 10-minute drive to a range of restaurants and bars.
El Pueblo
El Pueblo is the perfect location for travellers that love to explore. You can't go wrong with staying in this area as you will never be short of things to do.
Whilst in El Pueblo, you will be within walking distance to everything you could need to make your stay comfortable. Just a short walk will take you directly to Tulum's top attractions: the famous Tulum markets, bars and restaurants. Also, if you do want to travel a little further, cabs are easily accessed from this location.
This isn't quite the peaceful getaway that you will experience in other locations in Tulum. This area is often filled with locals chatting with friends, loud vehicles and food carts but if being a part of the community is your vibe, you will be in luck here.
This adult-only hotel is as luxurious as it is convenient. This hotel is great for couples who want to explore before returning back to a serene accommodation.
Inside the hotel, you can find an amazing healing centre which offers therapeutic ice baths, a steam room and massage treatments. The rooms continue to exceed expectations with relaxing amenities such as hammocks, hot or cold plunges and healthy snacks.
The hotel also offers daily yoga classes, a mixology bar, a pool and a delightful restaurant that serves classic Mexican dishes. But that is not all, by staying at this location you will be just a short distance away from the Caribbean Sea, Natural Cenotes and incredible theme parks.
When searching for the best affordable hotels in Tulum, the Lagoon Boutique Hotel is a great place to stay. The hotel has a simple urban theme throughout that is effortlessly stylish. The rooms have private bathrooms, a terrace, coffee machines and a breathtaking city view.
This hotel is in the centre of Tulum, so you'll never be far from something to do. The famous Tulum Archeological Site is just 5.8km away and the Tulum Bus station is just 1.5km away.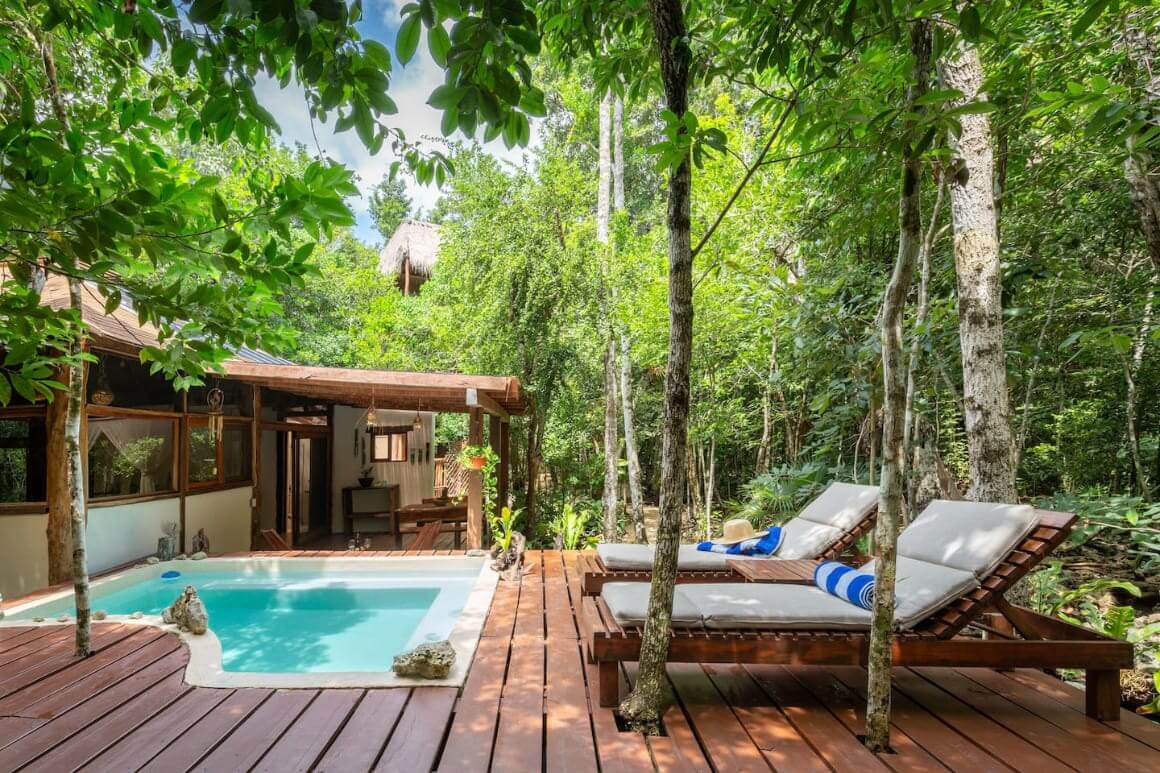 Situated in the Jungle at Cenote Park Dos Ojos, you'll be surrounded by obscure wildlife and blooming nature at the Pepem Eco Hotel.
The Pepem Eco Hotel is adult-only and tucked away from the direct centre of El Pueblo which makes for a much quieter experience. The expert chef here has gained glowing reviews online as they provide delicious cuisine upon arrival and throughout your stay. The rooms each have a patio with garden views, a kitchen and a private shower and you will be a short walk away from the bustling city centre.
Small Pack Problems? 😉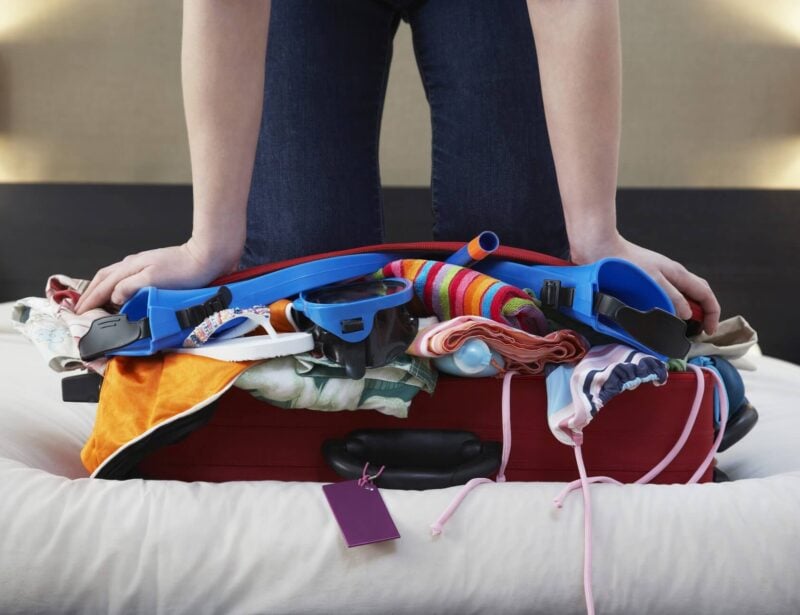 My missus travels with all her clothes in ziplock bags: don't be like my missus. UP YOUR PACKING GAME!
Packing cubes for the globetrotters and compression sacks for the real adventurers – these babies are a traveller's best kept secret. They organise yo' packing and minimise its volume too so you can pack MORE.
Or, y'know… you can stick to ziplock bags.
View Our Fave Cubes
Or Check Out the Sacks!
North Beach Zone
Looking to snorkel in clear, blue waters and stay at the best boutique hotels in Tulum? You should book an overnight stay in the North Beach Zone of Tulum.
The North Beach Zone in Tulum is from the edge of Tulum's National Park up to the Tankah neighbourhood. The entire area is quiet with only a few beach clubs, boutique hotels and locally run restaurants, however, this won't stop you from having a great time getting to know the locals.
If you head slightly north from this beach zone you will also discover cenotes which are natural swimming holes that are truly incredible.
This location is akin to the Tulum South Beach Zone, a great location for those wishing to stay a short time in Tulum.
Located on the white sandy beach, this hotel boasts a deluxe atmosphere that has tourists in mind.
You might feel like you're in another world here, but you will still be met with home comforts. The beds are lined with fine Italian linen and the rooms have a cable TV, hairdryer and luxury toiletries. There are also three outdoor pools and a restaurant serving both local and international dishes just waiting to be enjoyed.
This hotel also makes up for the small number of attractions in the area and helps tourists to arrange activities such finding yoga retreats, scuba diving and snorkelling in Tulum.
Mi Amor describes itself as a place for, "love of each other, love of food, love of music and love of life."
This sensual adults-only hotel has a communal ambience of peace and tranquillity radiating throughout the accommodation. The hotel is situated on a small, rocky hill and the rooms are beautifully decorated. Within the hotel you can access a restaurant, private plunge pools and panoramic sea views.
The hotel staff actively work to ensure your stay is filled with positivity by hosting DJ sessions whilst you sip cocktails in their infinity pool.
This is the picturesque Mexican holiday you have been waiting for.
One of the nicest hotels in Tulum, here the staff go above and beyond to ensure your stay here is a time of luxury. The restaurant at this hotel is top-tier. Their award-winning chef creates authentic Thai dishes that will leave you feeling nourished and revitalised
There is also a stunning swimming pool within the hotel and the rooms are clean and spacious. The majority of your time here will likely be spent feeling the warm sand beneath your feet, soaking in the sunshine and being in disbelief about the breathtaking Caribbean Sea views.
Aldea Zama
Zama Tulum is a gated community nestled between the Mayan jungle and the Tulum townsite. This exclusive area is filled with private villas and some of the best boutique hotels in Tulum.
If you're searching for a serene getaway, where you can live like a local, this is the place to stay. Alongside lounging on the stunning white beach and hanging in hammocks under the tropical trees, you can also easily reach the must-sees in Tulum like the nearby ancient Mayan ruins. Plus, there are adrenaline-filled activities such as zip-lining or swimming in the freshwater just moments away.
Aldea Zama is the perfect vacation spot for both relaxation and fun. Here are the best hotels in that area.
Located in the heart of Tulum, booking a suite here will be an unforgettable experience, rivaling Tulum's fierce Airbnb competition.
Whilst here, be enamoured by the architecture of this building as it is specifically designed to blend into nature.
Despite its natural appearance, you will find modern amenities inside such as complimentary Wi-Fi, flat-screen TVs and private bathrooms with showers. After you have settled in, head outside to an outside pool and peaceful gardens to begin your vacation.
These suites are in prime position to experience the best of Tulum. Five minutes away is the vibrant town and ten minutes away are the sandy beaches. Buses are also easily accessed from this location, so various other attractions can be visited.
This is one of the best great value hotels in Tulum. Surrounded by the Boho community, Casa Wahh intertwines the worlds of Mayan and Moroccan culture for an enriching overnight stay.
Each of the rooms are fully functional with an oven, fridges and dishwashers. Depending on the unit you choose, you may even get access to a balcony that overlooks the pool. All guests get to enjoy a delicious a la carte breakfast in the morning.
Located in a gated community you will feel safe, secure and embedded in a home away from home. In the neighbourhood you can find the iconic Casa Club, swimming pools and restaurants serving traditional dishes. If you're intrigued to explore more, bicycle rental services are provided at the property.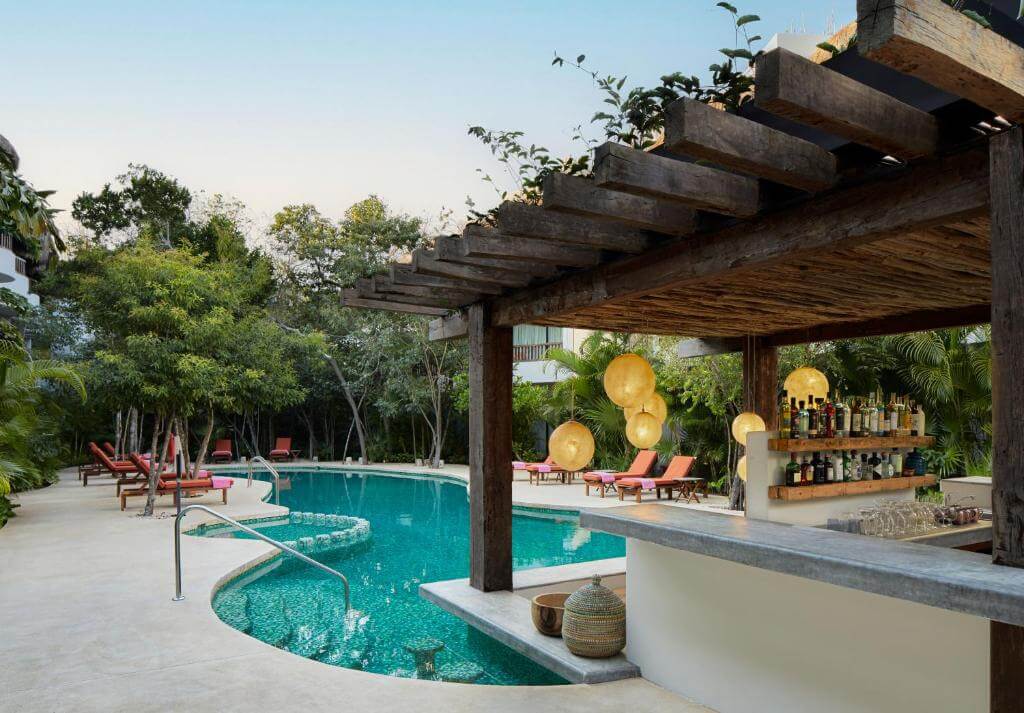 Searching for lodges in Tulum? Look no further.
These Tulum lodges have fun facilities such as a swimming pool, a fitness centre and game tables such as ping pong. And best of all: dogs are allowed. The accommodation itself is perfect for couples wanting to experience that pure let's-never-go-home energy.
These lodges are in a perfect location for exploring the rural community that resides here. Around the area, you can find amazing eateries, stores and walking routes that take you around the beautiful scenery.
The Azul Tulum hotel is a stylish, modern development surrounded in lush tropical surroundings.
The accommodation is separated into condos which are bathed in natural light and nature. Inside, you'll discover serene lights, luxury amenities and balconies overlooking the jungle. You will also discover gorgeous outdoor swimming pools, a shared lounge and a scenic garden.
This Tulum apartment is conveniently nearby to the airport and the property offers a paid airport shuttle service. A popular attraction in Tulum is visiting the Tulum Archaeological site which is just 4.9m away from here.
Is This the Best Travel Pack EVER???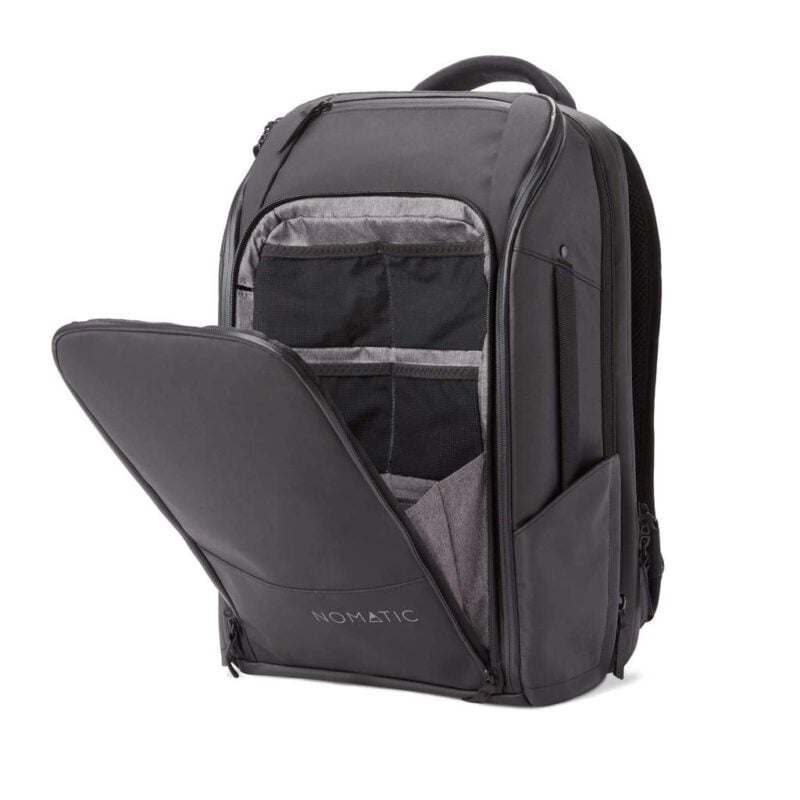 La Veleta
La Veleta has expanded quickly into a tourist hot spot which is lined with luxury hotels, apartments and villas that lead up to a breathtaking beach. This area is ideal for those that are staying for a long time in Tulum.
Aside from some of the best hotels in Tulum, you will also find several restaurants, grocery stores and even wellness facilities.
Take a walk along the streets in the evening and you will also experience a bubbling nightlife with upbeat music playing throughout the neighbourhood.
A paradisical stay is what awaits you at the Era Hotel & Spa. This four-star hotel in Tulum is well known for its peaceful rooms and immaculate vibe, which will make for a truly exceptional stay.
The rooms boast a fully equipped kitchen, a private bathroom and comfortable beds. They also have free Wi-Fi and air conditioning.
Inside the hotel is a tranquil restaurant that serves a delicious breakfast that will set you up for a day of lounging at the beach and indulging in spa treatments.
Located in La Veleta, you can expect the area to be very peaceful. That being said, if you do want to steep yourself in the culture, the bus station is just 5.2km away.
Take in the zen atmosphere at the Turquoise Tulum Hotel.
This boutique hotel is decorated in a retro-urban style with wooden panels and consistent turquoise accents throughout each room that promotes a sense of calm. The rooms are spacious with private bathrooms, free toiletries and fluffy bathrobes. Plus, some of the rooms have a private balcony that overlooks the two outdoor pools.
In the surrounding areas of this hotel, you can find a list of restaurants and cafes serving both continental and traditional food.
With a white minimalist design and surrounding jungle nature, this small boutique hotel in Tulum is a popular visit amongst couples.
This hotel looks far more like a resort than a small hotel with a dimly lit pool, refreshing tropical drinks at every corner and the jungle peeking in from all around.
The staff here are welcoming and will be more than happy to answer any questions or point you in the direction of the best restaurants. The rooms are also pristine with pool views, probate bathrooms and additional toiletries.
This hotel is 80km away from Cozumel International Airport and the airport offers a paid shuttle service that will take you directly from your flight to this oasis of calm.
Secluded and exotic is the best way to describe Intima Resort.
This hotel is full of modern amenities such as a fully-functional kitchen, a TV, a hot tub and a garden. The main features of this resort are the well-recommended restaurants, the tropical pool and the swim-up bar.
This resort is made for couples that want to stay in a safe beach town and have an experience of utter bliss. This resort is known for its communal atmosphere, so much so that this hotel is a clothes-optional location!
Tips for Booking a Hotel in Tulum
When booking a hotel in Tulum, you should always book as far in advance as possible. The area is relatively small and the best hotels tend to get booked fairly quickly.
It is also important to remember that Mexico does experience a rainy season from June to October, so you should avoid booking during these months. Instead, opt for a vacation between February or May as this is when the weather is settled and warm.
Using booking sites is favoured amongst travellers to Mexico, however, if you have any special requirements, you should confirm with the hotel directly before booking your room.
Tips for Booking a Hotel in Tulum on a Budget
The best way to stay in Tulum on a budget is to book as far in advance as possible.
The lowest hotel prices will be present during the rainy season, however, it is advised not to book your stay during this time as you will not be able to enjoy the beaches and any attractions or excursions usually close during this time.
Instead, for a budget-friendly trip, choose to visit in November or December as this is when there will be fewer tourists and the weather will still be mild.
Discover Tulum With The Broke Backpacker
The consensus is out, Tulum just has to be added to your summer vacation travel list.
With slow, eco-friendly living at the forefront, Tulum is a welcomed escape from chaotic cities and tourist-filled areas that may already be on your travel bucket list.
On a final note, the beaches in Tulum have to be experienced to be believed. Nature here is always magnificent and will allow you to feel grounded to the earth in a way that can't be replicated elsewhere.
This destination is for those that crave tranquillity, peace, healthy living and connection to your body and others.
Booking a vacation here will lead you on a path of feeling totally refreshed, inspired and ready to take the world on again – you might even get to see some turtles along the way!
---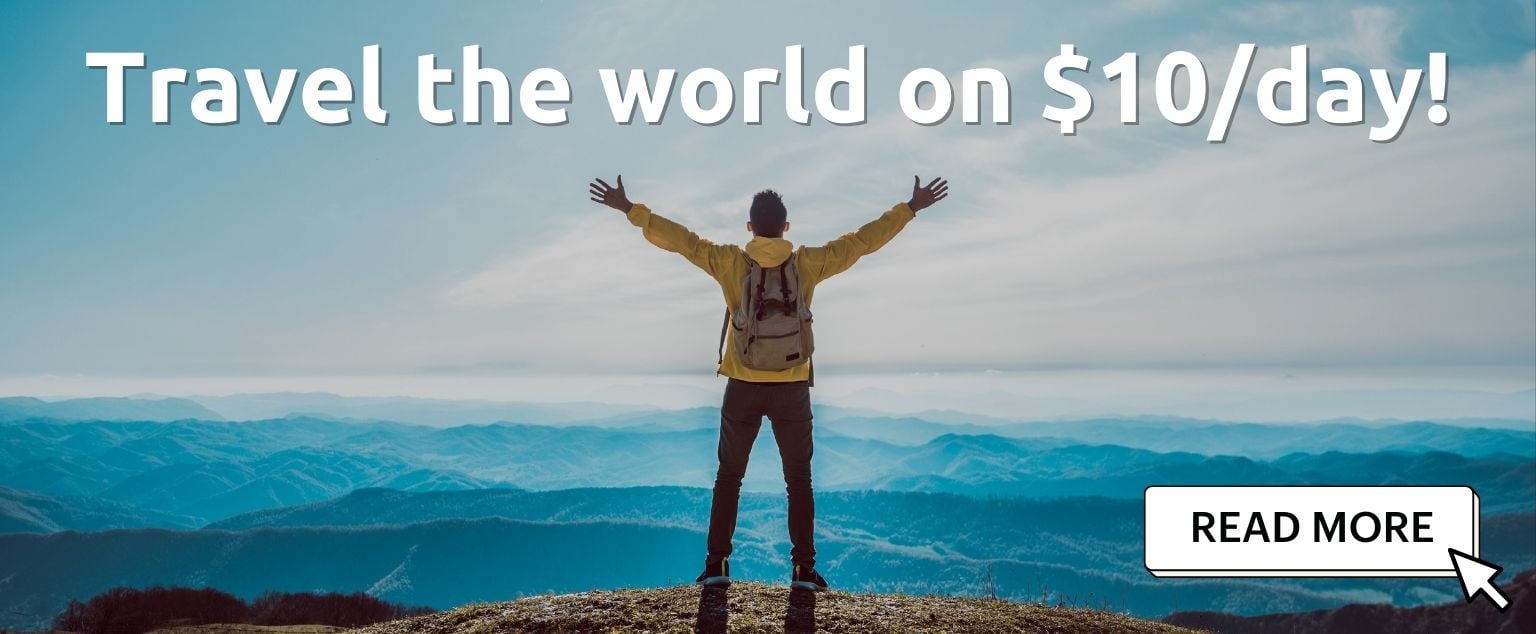 And for transparency's sake, please know that some of the links in our content are affiliate links. That means that if you book your accommodation, buy your gear, or sort your insurance through our link, we earn a small commission (at no extra cost to you). That said, we only link to the gear we trust and never recommend services we don't believe are up to scratch. Again, thank you!