There are lots of factors that make Guadalajara one of Mexico's best cities to visit, including its rich history, colorful architecture, and vibrant nightlife. This authentic Mexican city is jam-packed with lively neighborhoods that function as the perfect starting point for any adventure south of the border.
There are loads of awesome areas to choose from when choosing where to stay in Guadalajara. From the ritzy to the bohemian, each offers something unique for a reasonable price.
No matter what your travel style, Guadalajara has plenty of accommodation options. Whether you're planning a family vacation, a romantic getaway, or anything in between, we've got you covered.
Check out our guide of where to stay in Guadalajara for an EPIC stay.
This modern Mexican Airbnb apartment is just a short walk from the Cathedral, and the most popular shopping and restaurant area in the city, Chapultepec. It's a studio apartment, with enough space for 2 guests, a fully equipped kitchen and laundry facilities. The building also offers lots of extras like a cafe, fitness center, and pool.
This is one of the best places to stay in Guadalajara if you want a little luxury during your stay. It's a 1 bedroom apartment, suitable for 2 guests, and has a private jacuzzi so you can soak away your stress during your stay. It also has a full kitchen, laundry facilities, and you can bring your pet along with you during your stay!
This four-star hotel sits right in the city center, close to all the most popular attractions like Guadalajara Cathedral and Mercado de San Juan de Dios. Not only is it centrally located, but the hotel also boasts an on-site lounge, fitness center, and room service. Stay at Hotel Dali if you want to be within throwing distance of Guadalajara's best monuments.
Guadalajara is one of the most densely packed cities in Mexico boasting a population of 1.46 million inhabitants. Located just over 300 miles from the capital of Mexico City, Guadalajara's prime location near the beach resort of Puerto Vallarta helps to attract thousands of travelers to "the Jewel of Jalisco" every year.
This charming city sports a thriving culinary scene, and robust nightlife as well as deep historic roots. It is the home to both Mariachi music, and the Mexican hat dance. It hosts Latin American's largest indoor food market, Mercado San Juan de Dios, a 40,000 square meter behemoth that is chock full of all the food stalls and souvenir shops that a gringo could ask for.
Still, whether you're drawn in by the impeccable gastronomy or the eye-catching colonial architecture, staying in certain areas in Guadalajara has more benefits than others. Some of the best neighborhoods to stay for sight-seers are those near El Centro, especially if you want to be in the thick of the action. Zapopan is another great choice for fans of culture and historical landmarks.
However, for those who want the quaintness of a Mexican town without the massive crowds, Tlaquepaque and Zona Expo are terrific areas. Both neighborhoods offer high-class accommodations, but are set in a slightly more authentic backdrop than the city center. You can expect to find a plethora of brightly-hued bars and restaurants along with countless mariachi bands serenading the pedestrians until sunset, when the action really picks up.
On the other hand, if convenience is your only requirement for a perfect getaway, look no further than accommodation near the airport, the gateway for many to Guadalajara. This neighborhood is renowned for having the best luxury hotels in the city, with all the amenities you could need in one place, while still being close enough to downtown.
No matter your budget, Guadalajara has a place for you to stay so don't delay. Vamonos!
If you're in Guadalajara for the first time, El Centro, the official name of the Historic Center, is undoubtedly your best bet. What could be better than staying in the heart of Mexico's second-largest city whose claims to fame include tequila and wide-brimmed sombreros?
Founded by the Spanish in the mid-16th century, Guadalajara boasts a long, proud history and it shows in the countless monuments and historic sites sprinkled throughout the city center. El Centro is full of cultural museums, theatres, and artisanal shops that they will make your head spin.
If you want the genuine experience of staying in Guadalajara, this neighborhood should make your top slot.
Best Airbnb in the El Centro: Entire Loft
Boasting a kitchen, free parking, and a prime location close to Expiatorio Plaza, this beautiful loft sleeps up to 2 guests and has a great balcony where you can take in the atmosphere with a glass of wine. The fittings are all sleek and modern, and there are security cameras on the property to ensure your safety during your stay.
If you're a couple looking to spend your holiday in the lap of luxury, there's no better pick than Hotel Real Maestranza. Besides large, well-lit suites, the hotel also provides its guests with access to an on-site restaurant, fitness center, and free parking. Sample their a la carte breakfast or catch some sun on the scenic terrace. With a 24-hour reception desk, room service, and airport transfers practically at your fingertips, what more could you need?
For travelers who crave to explore Guadalajara's vivid streets but don't want to spend a fortune to do so, Hostel Hospedarte Centro is the perfect compromise. Located right in the heart of the city, this hostel offers private rooms for cheaper than those in boutique hotels while still coming with several amenities. It also has dorm rooms and daily continental breakfast as well as pub crawls to the city's best bars to keep you entertained.
Things to See and Do inEl Centro
Snap some pics of Catedral de Guadalajara and the Rotonda de los Jaliscienses Ilustres
Spy a mariachi band in Plaza de Armas
Check out the underwater life at Acuario Michin Aquarium
Take in the art at Museo de Arte Sacro de Catedral de Guadalajara
Stroll around the Botanical Gardens or take in the flowers at Mercado de las Flores
Watch a show at Teatro Degollado
Shop until you drop at Plaza de Alameda or the Mercado del Rizo
Wander around Parque Morelos or Parque Alcalde
Take a tour of the Cultural Institute Cabañas
Eat until you can't move at Mercado San Juan de Dios
Located to the northwest of Guadalajara's city center is Zapopan, arguably the region's largest cultural hub. For history and architecture buffs, Zapopan can't be missed as it's also a famous local pilgrimage site for believers who want to see the Virgin of Zapopan, housed in the Basilica of Zapopan.
Zapopan is also brimming with art galleries and museums, such as Zapopan Art Museum which houses works from some of the most prestigious contemporary Mexican artists. For lovers of arts and crafts, the Huichol Wixarika Museum is home to handicrafts made by local Indigenous groups. And then, you have the Magic Top Museum, which offers frills and thrills for the whole family!
This luxury suite sleeps up to 4 guests and has air conditioning, cable TV, wooden floors throughout, and modern bathroom facilities. If you're traveling with a car, then you can store it in the apartment's covered garage because you won't need it much while at this apartment. It's close to several popular shopping areas.
This luxury hotel practically screams elegance, from its sleek outward design to the tasteful decor of its wide suites. Take a dip in the hotel's indoor pool or check out the panoramic view from its lounge bar. For foodies, make sure to grab a bite at the on-site restaurant and then work off the calories at the hotel's state-of-the-art fitness center. Either way, you can't go wrong.
This opulent hotel looks straight out of a magazine, featuring a rooftop swimming pool and hot tub, an unbeatable on-site restaurant, and a fitness center with all the bells and whistles. For travelers coming with tots in tow, the Hilton also offers suites large enough for a minivan's worth of kids. Feast on their daily continental breakfast or have a drink at the hotel's bar for the ideal beginning or end to any travel day.
Things to See and Do in Zapopan
Take in the glory of the Basilica of Zapopan and the Arcos de Zapopan
Visit the Museo de Arte de Zapopan
Check out the thrills at the Magic Top Museum
Watch a soccer match at Akron Stadium
Play around of golf at Guadalajara Country Club
Go for a stroll in Bosque Los Colomos or have a picnic at Jardin Japones
Shop like a pro at Belenes Grand Terrace
Grab a bite to eat at Plaza Real Center
Situated to the southeast of Guadalajara, Tlaquepaque is a culture lovers' dream. Although there are lots of cool things to do in Guadalajara, this colourful neighbourhood takes the cake. It's teeming with life and energy, from the Mariachi music constantly playing in the squares, to the bars offering choice drink deals. Staying around El Parian is your best bet since copious entertainment venues surround the bandstand.
If you're looking for an authentic Mexican stay, there's no better location than Tlaquepaque for its quaint charm. While in the area, make sure to check out the ample amount of pottery shops lining the vibrant streets. One is sure to hold something for you in their treasure troves. Andale!
Suitable for up to 4 guests, this bright apartment is private and has 24-hour security. It's in an excellent location in a quiet street while still being close to the city's downtown area. It also has a big kitchen for cooking, which makes this one of the best places to stay in Guadalajara for families.
This villa's ambiance is nearly as vivacious as its decor, from the two sparkling outdoor pools to the brightly painted walls in every suite. Upgrade to a suite with a balcony and/or a hot tub, and try a plate of their hot breakfast, served daily from their on-site restaurant. The villa provides free parking for guests arriving by car, so book a room and hit the road as soon as you can.
If you're looking for accommodation with both style and substance, this boutique hotel is just your ticket. Featuring an elegant interior design as well as an outdoor pool, San Pietro offers large suites with a garden view right in the center of Tlaquepaque. Relax on the hotel's terrace to soak up some sun, or book a tour at the 24-hour reception desk for a taste of adventure instead.
Things to See and Do in Tlaquepaque
Check out the pottery at Museo Regional de la Ceramica
Get some pics of the Monument to the Heroic Children and Palacio Municipal Tlaquepaque
Sign up for a cultural workshop at Centro Cultural El Refugio
Stroll around Jardin Hidalgo or La Glorieta del Alamo
Browse the handcrafts at Plaza de Artesanias
Try the samples at Mercado Benito Juarez
Hit up the shops at Forum Tlaquepaque Centro Commercial and the Plaza Altea Rio Nilo
Take in the architecture of Catastro de Tlaquepaque Jalisco
Place your bets at La Terraza Rio
Named after the Expo Guadalajara Convention Center, Zona Expo is the perfect place to stay if you want to save a pretty penny. While other popular neighborhoods in Guadalajara tend to specialize in pricey, luxury accommodation, the boutique hotels in Zona Expo are just as elegant, but for a fraction of the price.
If you want to live large, but don't want to overspend, this area is a great compromise between a centralized location and affordable options. The area is loaded with a wide variety of restaurants, shopping centers, and entertainment venues – everything you need to make the most of your time under the Guadalajaran sun without needlessly breaking the bank.
This simple, modern apartment is the perfect oasis away from the noise and busyness of the city. That's what makes it one of the best places to stay in Guadalajara. It's surrounded by public transport options, restaurants, and shops and has modern fixings and street parking.
This luxury hotel is where you go in Guadalajara when you want to live like a royal, without the expense. The sleek, dark-wood interior design of the stylish suites practically drips elegance while the hotel additionally provides copious amenities such as a poolside bar, lobby bar, a free minibar in each room, and two on-site restaurants. Don't forget to try their complimentary continental breakfast to jumpstart your day!
Just a few minutes drive from Guadalajara Cathedral, the AC Hotel is arguably the chicest boutique hotel in Zona Expo. Their large suites are uniquely decorated and well-lit. The hotel also houses an on-site bar, restaurant, and fitness center. Stay in this ultra-modern hotel if you want to live in the lap of luxury without spending an arm and a leg.
Things to See and Do in Zona Expo
Snap a picture of La Minerva statue and the Guadalajara Cathedral
Buy tickets for a show at Telmex Auditorium or a game at Jalisco Stadium
Go shopping on Avenida Chapultepec
Have a picnic at Glorieta de los Naranjos or Parque Agua Azul
Visit Expo Guadalajara
Pay homage at Glorieta de los Ninos Heroes and La Estampada monument
Check out the architecture at Templo Expiatorio del Santisimo Sacramento
Listen to some Mariachi music at Plaza de la Bandera
Honor the local artists at Rotonda de los Jaliscienses Ilustres
Take a tour around Museo Pateon de Belen
If you're traveling alone to Guadalajara, staying near the airport is an excellent idea. The city is not known for having reliable public transportation, so having a car is essential for getting around. Several car rental agencies are operating right out of the airport. All you have to do is land, and pick up your keys, before making the short drive to your accommodation.
You'll never have to worry about where to park the car overnight as nearly all hotels in the area provide free parking. This factor also makes the area the ideal starting point for a day trip to other cities around Mexico, and the city center is less than a half-hour drive away.
When you're all done, just drop off your rental and catch your flight back home. How's that for convenience?
This comfortable apartment is a good choice when you're deciding where to stay in Guadalajara with kids, as it sleeps up to 7 guests. It's completely private and you'll have full use of all the rooms, including the patio! The house has new fittings for a relaxing and convenient stay.
If you're a digital nomad working on the go, this hotel should be right up your alley as it specializes in catering to traveling professionals. The hotel happily provides its guests with an excellent Wi-Fi connection and use of a conference room for meetings. Plus every suite also comes with a working area. Best of all, the hotel serves a scrumptious breakfast daily, giving your plenty of brain foods to keep you productive.
This colonial-style luxury hotel should be at the top of your list if you're in search of accommodation with lots of amenities, for a low price. Not only does the hotel feature an outstanding outdoor pool, but the entire estate is surrounded by gardens and cobblestone roads. Enjoy Mexican or international cuisine at the on-site restaurant, and grab a drink at the lobby bar before hitting up the hotel's nightclub to dance until dawn.
Things to See and Do in Near the Airport
Listen to live music at Plaza de Mariachis
Try all the samples at Mercado San Juan de Dios
Get religious at Templo de San Sebastian Analco
Get to know some celebrities at Museo de Cera
Snap some shots of the Basilica of Zapopan, the Catedral de Guadalajara, and the Arcos de Zapopan
Buy a ticket to the Museo de Arte de Zapopan
Grab a bite to eat at Plaza Real Center
Marvel at the architecture of Palacio Municipal Tlaquepaque
Go shopping at some trendy boutiques at Plaza Altea Rio Nilo
Don't Forget Travel Insurance for Guadalajara
World Nomads' mission is to support and encourage travellers to explore their boundaries. They offer simple & flexible travel insurance, and safety advice to help you travel confidently.
They've been doing it since 2002 – protecting, connecting, and inspiring independent travellers just like you.
Get a quote below or read our in-depth review!
World Nomads provides travel insurance for travelers in over 100 countries. As an affiliate, we receive a fee when you get a quote from World Nomads using this link. We do not represent World Nomads. This is information only and not a recommendation to buy travel insurance.
The birthplace of both tequila and Mariachi music, Guadalajara is also well-known for its lively nightlife, mouthwatering cuisine, and a cultural heritage whose roots run back hundreds of years.
You can stay anywhere around the Historic Center to have easy access to the best sights in the city, or near the Zona Expo if you'd rather save a few bucks. Zapopan is the best option for those traveling with young children as there are several green spaces in the area and a plethora of family-friendly venues. For those who prefer a more genuine stay in Guadalajara, Tlaquepaque is an appropriate pick thanks to the area's popularity among local artisans.
Whether you're attracted to Guadalajara for culture or food, you'll have more places to choose from than you'll know what to do with!
Do you own an awesome hostel, hotel or apartment? Want to be featured in our list? Email [email protected] to find out how.
---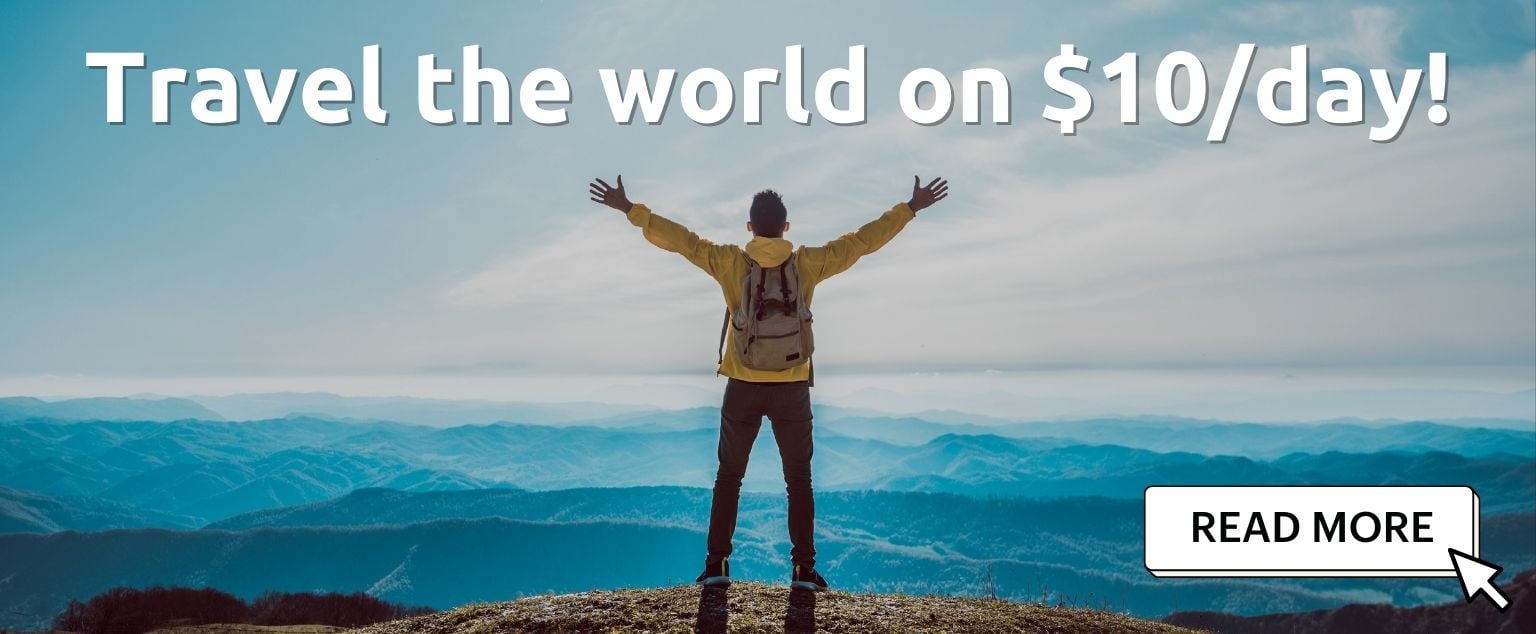 And for transparency's sake, please know that some of the links in our content are affiliate links. That means that if you book your accommodation, buy your gear, or sort your insurance through our link, we earn a small commission (at no extra cost to you). That said, we only link to the gear we trust and never recommend services we don't believe are up to scratch. Again, thank you!