Mexico might not be the first place you think of when you imagine a beach house, but it should be. With exciting beachside locations, both on the Caribbean Sea and Pacific Ocean to gaze at during your stay, there's nothing quite like a beach house in Mexico.
Staying at a beach house in Mexico doesn't just mean sun, sea and sand. Not at all. The coastal destinations throughout Mexico are often located near Ancient Maya sites, or near towns filled with cafes, bars and restaurants – or (a lot of the time) both. Nature, history and colourful culture are never too far away.
Add to this some really budget finds and some sleek design credentials, and you can see why people flock to Mexico for beach house getaways.
So if all that is sounding pretty much amazing to you, and you can envisage a stay by the sea in Mexico, then you've come to the right place.
In this carefully curated list of the very best beach houses in Mexico, you'll find options for any type of traveler and budget. So, let's get started…
In a Hurry? Here's Where to Stay in Mexico for One Night
FIRST TIME IN MEXICO
Chic Beach Villa
Situated in Nerida on the Yucatan Peninsula, the idyllic location of this beach house in Mexico is all you need for a dreamy beachside vacation. Add chic style into the bargain and it's easy to see why this place is so awesome.
NEARBY ATTRACTIONS:
Kokomo Club de Playa
Telchac Village
Zona Arqueológica de Xcambo
Is this amazing Mexico Beach House booked for your dates? We've got your back with our other favourite properties below!

Unlock Our GREATEST Travel Secrets!
Sign up for our newsletter and get the best travel tips delivered right to your inbox.
Staying in a Beach Houses in Mexico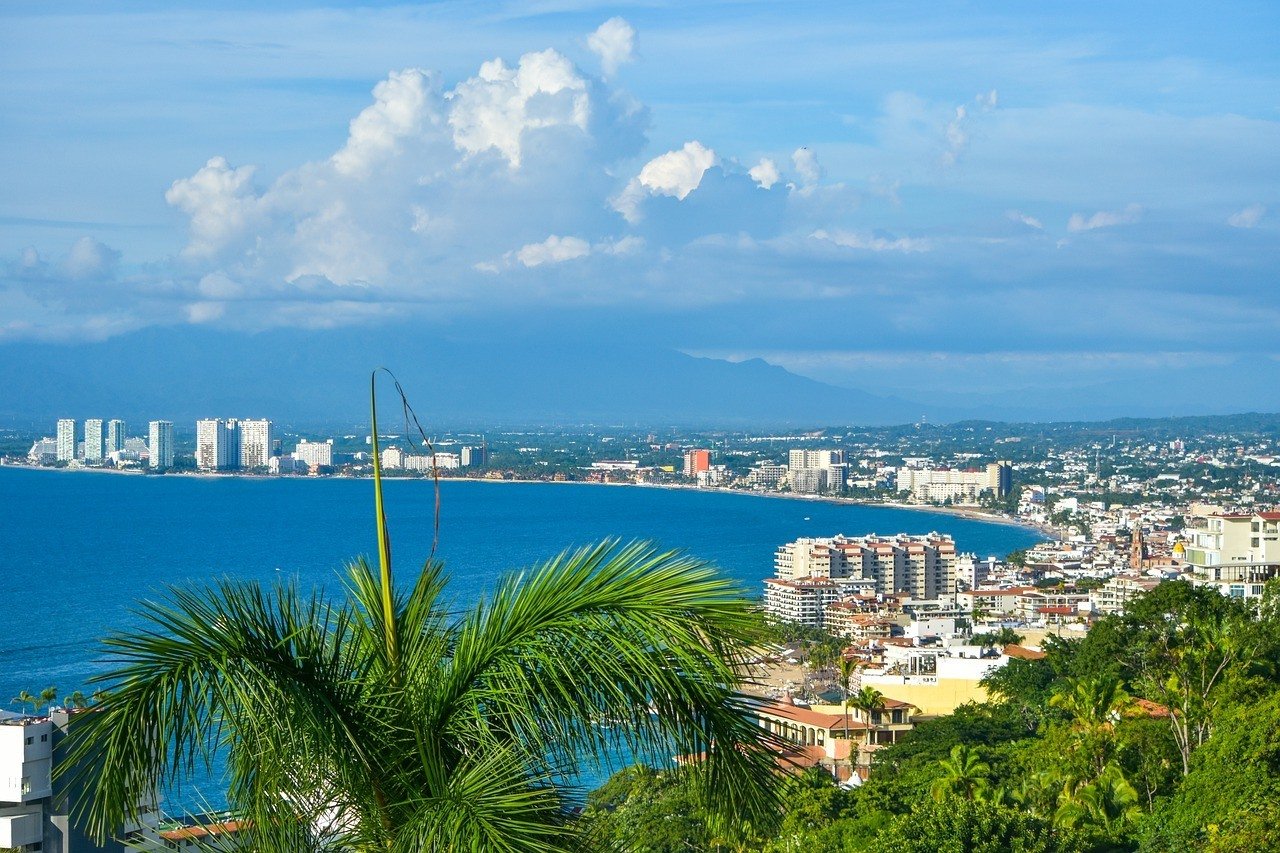 Like a lot of places in the world, there's no one-size-fits-all description for a beach house in Mexico. There's a lot of variation going on here, but one thing I would say that ties it all together is modern design.
It's not often that you find a historic house by the sea in Mexico, whether that's in Baja California or Quintana Roo. More often than not, it's all about contemporary aesthetics. You'll see a lot of rustic chic styles, a lot of polished beachside vibes, a lot of polished concrete, and mid-century modern furnishings going on.
In short, the best beach houses in Mexico are pretty dang stylish.
What to Look For in a Beach House
It's not just about the style though. It's also about the substance. A large portion of my favourite beachside houses in this Central American nation comes with some amazing conveniences and amenities. That can run from basic stuff like coffee machines and smart TVs, all the way to more upscale stuff: like maid services, concierges, cooks, and workout rooms in some properties. You might even find kayaks and snorkel equipment provided.
That brings us to the price tag. You might be thinking that paying for somewhere luxurious as I've just described as totally breaking the bank. In a few rare instances, yes, that might be the case. However, for the most part, snagging yourself a beach house in Mexico is affordable enough that a backpacker or independent traveller can enjoy. It makes memorable honeymoons and family trips, too, a pretty cost-effective possibility if you're looking for a bit of style in your life.
And if you're worried about safety in Mexico, well, don't! Many of the properties I've included on my list are situated in secure buildings or in gated communities, making it possible for solo travellers to get a slice of beach house action without worrying about security.
Where should you look for your beach house? Aside from the great properties on my list, I'd suggest looking through Airbnb. Booking.com and Vrbo are fine, but Airbnb has the better choice, and allows you to have communication with the host. You can also read former guest reviews, so you know what you're getting into.
OVERALL BEST VALUE BEACH HOUSE IN MEXICO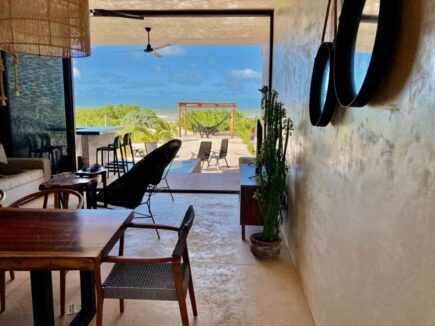 OVERALL BEST VALUE BEACH HOUSE IN MEXICO
Chic Beach Villa
> $$
> 6 Guests
> Private outdoor infinity pool
> Private beach
BEST BUDGET HOUSES IN MEXICO
BEST BUDGET HOUSES IN MEXICO
La Casita de Chelem
> $
> 2 Guests
> Hammock
> Private pool
BEST BEACH HOUSES FOR COUPLES
BEST BEACH HOUSES FOR COUPLES
Charming Cabana on the Beach
> $$
> 2 Guests
> Stunning island location
> Charming design throughout
BEST BEACH HOUSE FOR A GROUP OF FRIENDS
BEST BEACH HOUSE FOR A GROUP OF FRIENDS
Oceanfront Isla Mujeres Estate
> $$$
> 16 Guests
> Private swimming pool
> Every bedroom has en suite
OVER-THE-TOP LUXURY BEACH HOUSE
OVER-THE-TOP LUXURY BEACH HOUSE
Villa La Gran Tortuga
> $$$$
> 10 Guests
> Chef, concierge, etc.
> Incredibly stylish design
BEST BEACH HOUSE FOR FAMILIES VISITING MEXICO
BEST BEACH HOUSE FOR FAMILIES VISITING MEXICO
Ocean Front House
> $$
> 6 Guests
> Private play area for children
> Pets allowed!
BEST BEACH HOUSE FOR BACKPACKERS IN MEXICO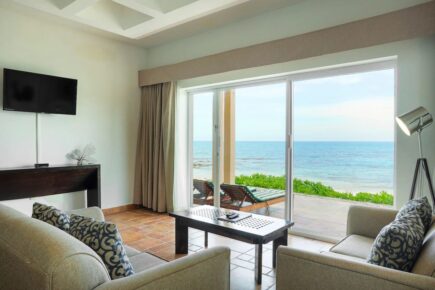 BEST BEACH HOUSE FOR BACKPACKERS IN MEXICO
Chic Vacation Home
> $
> 2 Guests
> Beach club access
> Air conditioning included!
The 15 Top Beach Houses in Mexico
Now that you know what you should be looking for in a beach house, cast your eyes below to see some of the best beachside properties and unique accommodation in Mexico that money can buy.
Overall Best Value Beach Houses in Mexico – Chic Beach Villa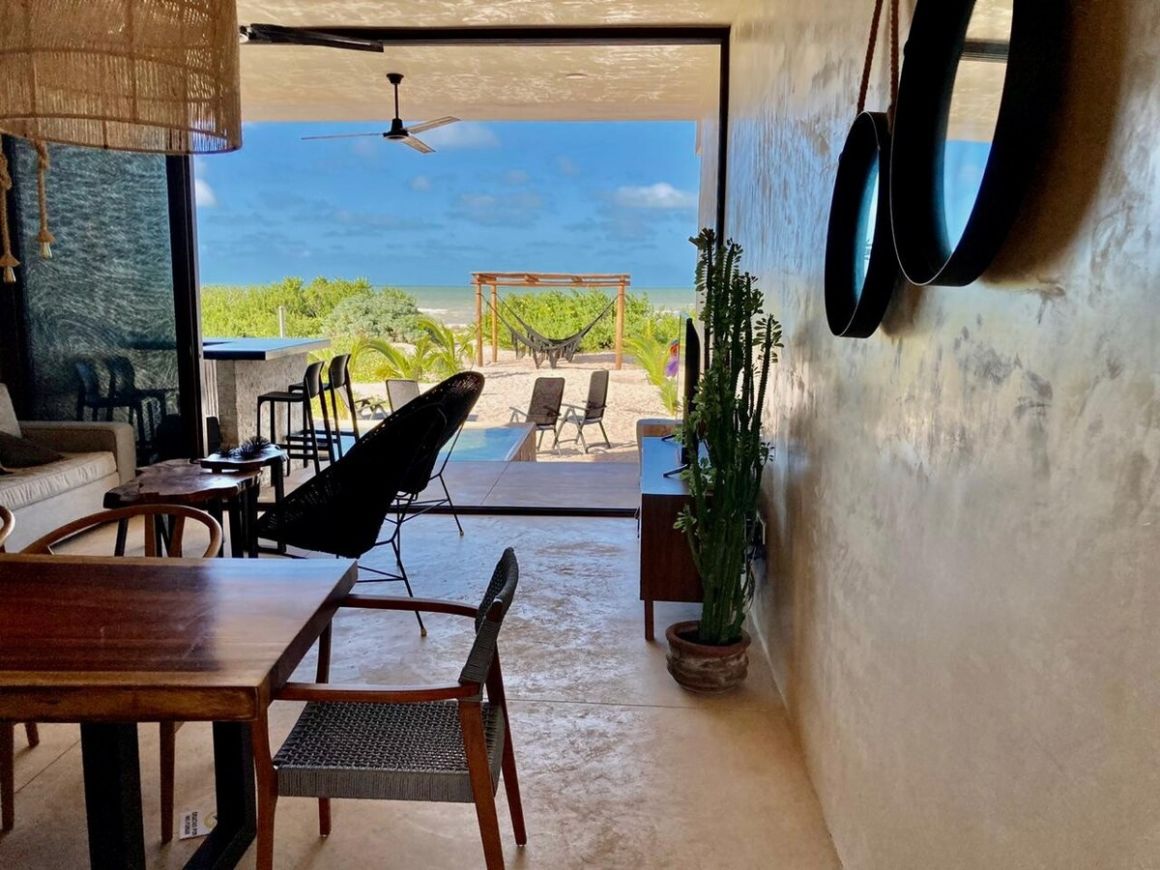 $$
6 Guests
Private outdoor infinity pool
Private beach
Billing itself as a Tulum-style villa, this is probably the best beach house in Mexico for your money. You could spend more, of course, but for the combo of price, location, and sleek style, it's hard to beat this one. This classically stylish villa is the perfect vacation rental for your dreamy Mexico getaway.
You'll find it in Nerida, on the Yucatan Peninsula. It's idyllically perched on a quiet beachfront, but with the town and its conveniences still just a five-minute stroll away. The villa itself has been decked out with chic interior design: think polished concrete, patterned tiles, and minimalist aesthetics.
Situated in Nerida on the Yucatan Peninsula, the idyllic location of this beach house in Mexico is all you need for a dreamy beachside vacation. Add chic style into the bargain and it's easy to see why this place is so awesome.
$
2 Guests
Hammock
Private pool
Make the most of your money and stay in style in a beach house by the sea. You could opt for a hostel or a cheap hotel, but with a property this cheap, why bother, right? It's perfect for those backpacking Mexico, and you'll never believe what comes with it!
You'll have your own private pool, a quiet local beach to enjoy, and chic interior design to soak up.
Located in Chelem, Yucatan, it's easy to hop in an Uber and explore the nearby sights (Nerida, for example). With all that in mind, no wonder this is the best beach house in Mexico on a budget.
$$
2 Guests
Stunning island location
Charming design throughout
There's no better place in Mexico for couples than the seclusion of the island of Holbox. Here you can wake up to the sound of the sea, stroll out onto the sand with morning coffee in hand, and watch the fishermen bring in their catch.
Sunsets here are utterly incredible – a must for any romantic getaway, obviously. The cabana (that's what this place calls itself) is all about beachy vibes, with cute decor throughout, and comes complete with a queen-size bed, large porch, and even an outdoor shower.
$$$
16 Guests
Private swimming pool
Every bedroom has en suite
Book yourself and your pals a break in Mexico with this awesome beach house. More than just a house, this is actually an oceanfront estate on Isla Mujeres. It's a sizeable property with eight bedrooms, each boasting an ensuite bathroom.
There's a big kitchen, so you can spend time cooking up a feast together; a large balcony to kick back on; and your own private garden with a swimming pool as its centerpiece. Not only that but there's also a hot tub and many sun loungers for days spent lazing in the sun.
Is This the Best Travel Pack EVER???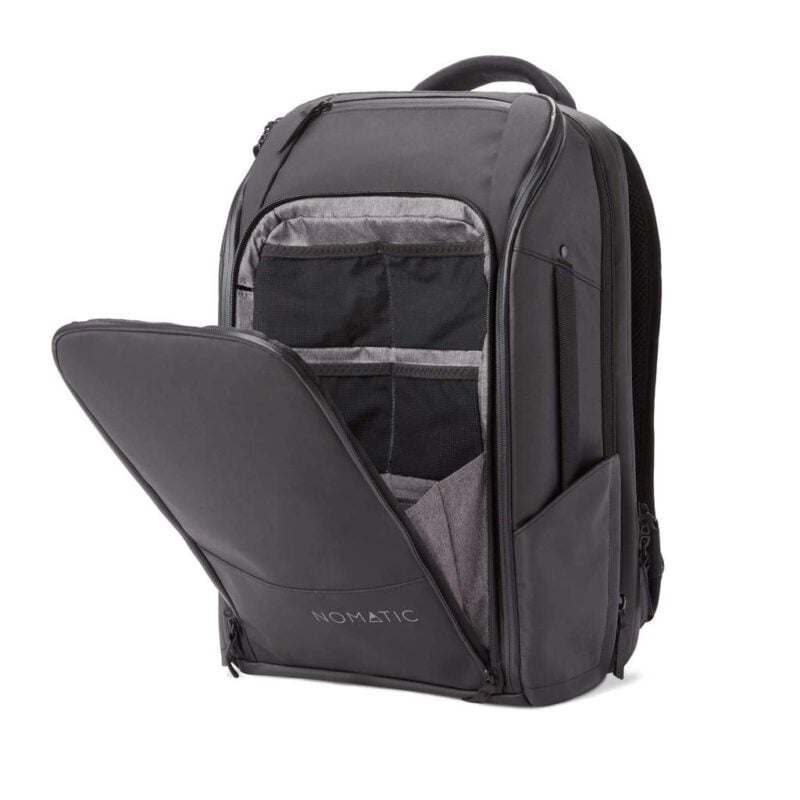 Great Beach House for a Group of Friends – Villa del Toro Rojo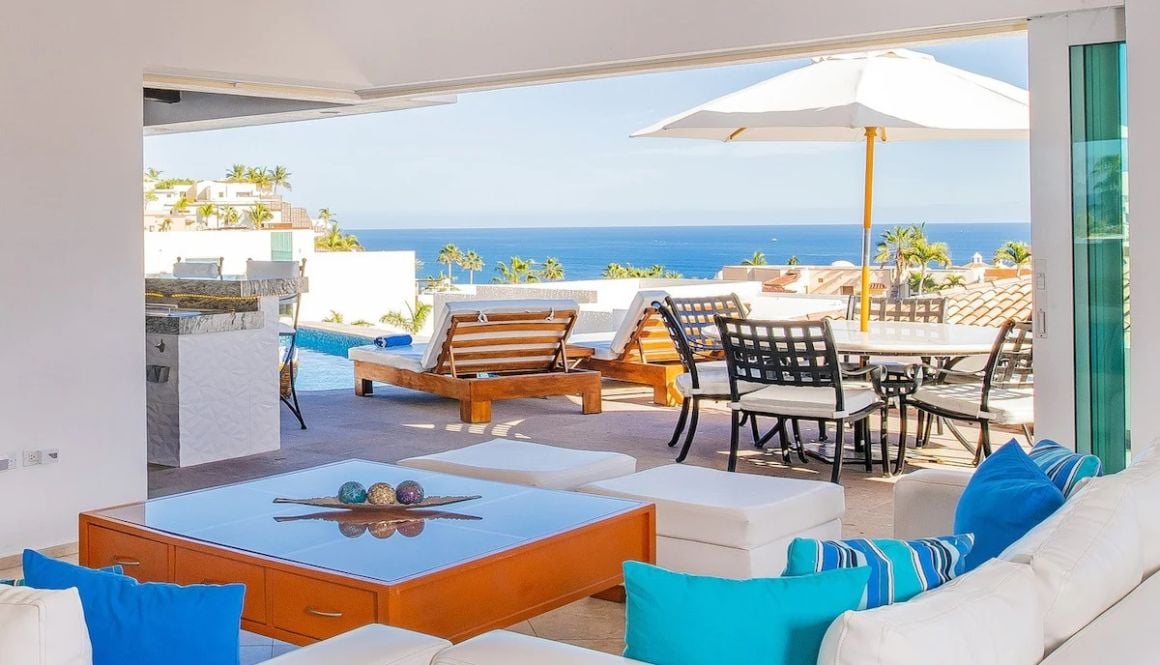 $$$
12 Guests
Concierge services
Hot tub
That last place didn't do it for you? Well, another option for a beach house in Mexico for you and your friends is this high-end villa.
Situated right on the sand of Cabo San Lucas, in Baja California, where it's all about style and living in the lap of luxury. You won't need to lift a finger: the property comes with its own daily maid services and concierge, who can help arrange chefs, stock the house with food, and also arrange activities for your group.
This large modern beach villa is all about indoor-outdoor living, with a chic terrace, swimming pool, and incredible views out over the sea.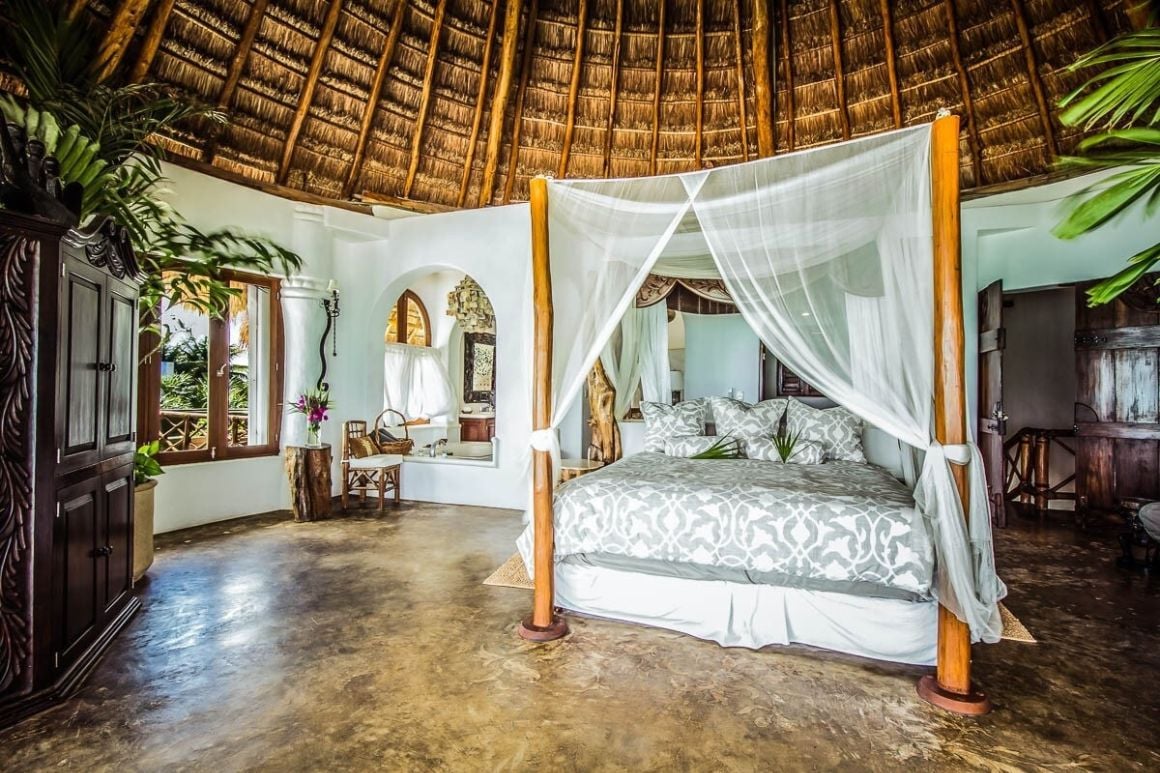 $$$$
10 Guests
Chef, concierge, etc.
Incredibly stylish design
Feeling like a palace-sized cabana, this luxurious estate is where you can live out your celebrity dreams on the Maya Riviera.
Situated right on Playa del Secreto – a perfectly pristine white sand beach – this upscale oasis has an endless list of facilities to make use of. This includes a massive pool, workout room, stylish terrace, entertainment system, housekeeping, cottages, spa services… It goes on.
As well as this, the rattan furnishings and rough plaster make this a rustic-chic paradise. On-site staff helps everything run smoothly, which you'd expect for the price tag!
Best Beach House for Families in Mexico – Ocean Front House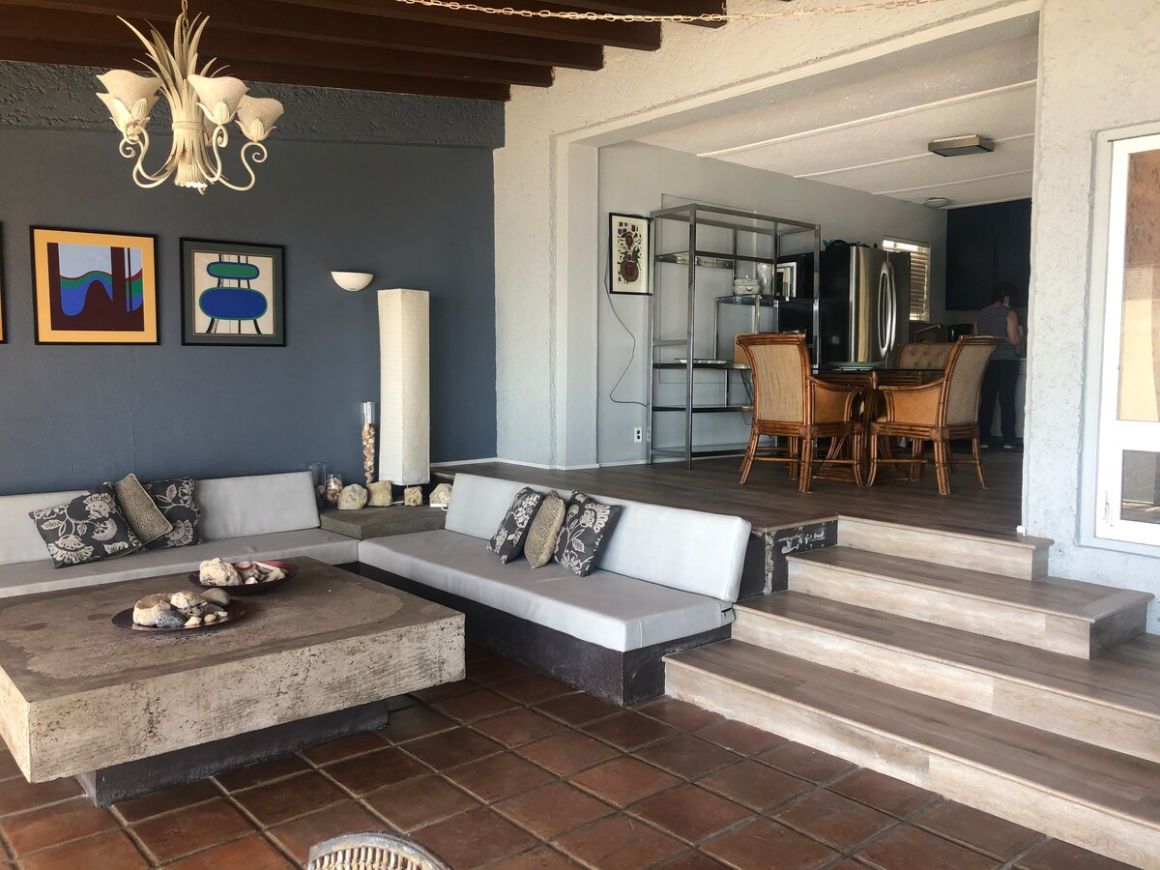 $$
6 Guests
Private play area for children
Pets allowed!
If you're looking for the best beach house in Mexico for you and your family to spend a memorable time, make sure to take note of this stunning spot. Located in Tijuana, this property comes with its own slice of beach, and is the kind of place that people keep coming back to – they love it that much.
Here it's all about open plan living, with rooms opening right out onto the terrace which boasts views of the sea. The beach house itself is modern and newly decorated, with well-appointed bathrooms and well-stocked facilities. Travelling with young kids? There's your very own playground in the backyard.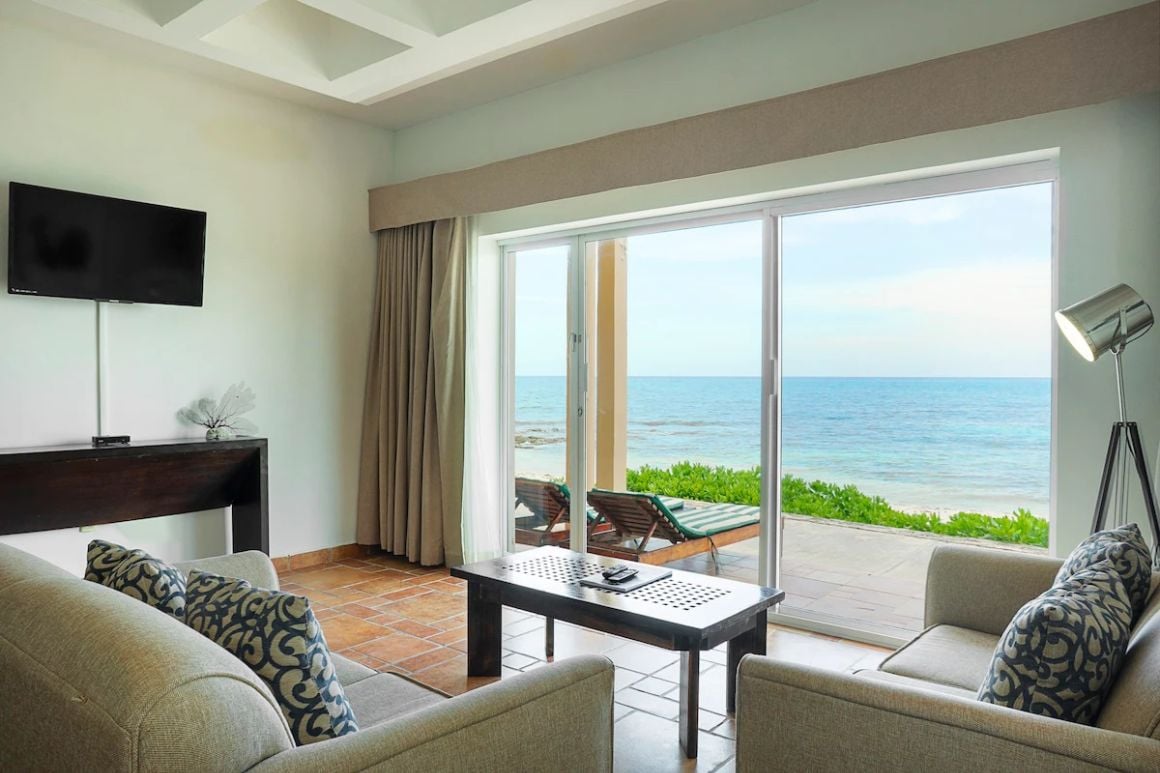 $
2 Guests
Beach club access
Air conditioning included!
Backpacking in Mexico doesn't mean resigning yourself to a dormitory in a hostel every night. It's very possible to get backpacker-friendly digs in Mexico, of which this stylish beachfront apartment is one.
Feeling totally like your own luxury space, this Tulum-located property puts you close to the jungle and nearby sights of the coastal town.
It comes complete with its own kitchen so you can rustle up breakfast, private terraces, and modern amenities. It also boasts access to a nearby pool and beach club. And all with a view of the sea.
Amazing Luxury Beach House in Mexico – Beachfront Villa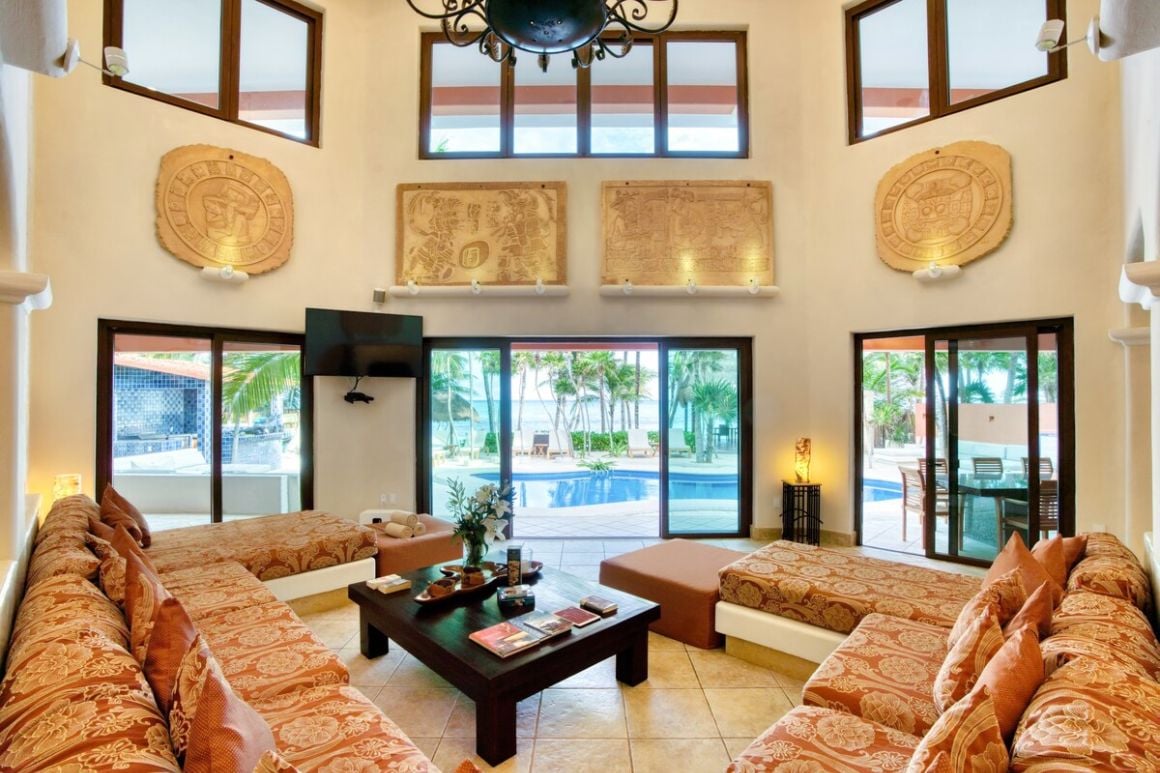 $$$$
16 Guests
Swimming pool
Gated property
Located in Soliman Bay, Quintana Roo, this is yet another incredible luxury beach house in Mexico. It's a definitive A-lister villa, and has an awesome location to match, being close to Tulum Archeological Zone and the town itself.
The property itself is right on the sand and comes packed with all the amenities you'd expect of an upscale spot like this: your own private pool, your own part of the beach, the list goes on.
You'll also have kayaks to make use of and beautifully sculpted tropical gardens to hang out in. It's a great choice for a group, with a guest house and the main house with no fewer than nine bedrooms.
Best Beach House for Solo Travelers – Beach Cottage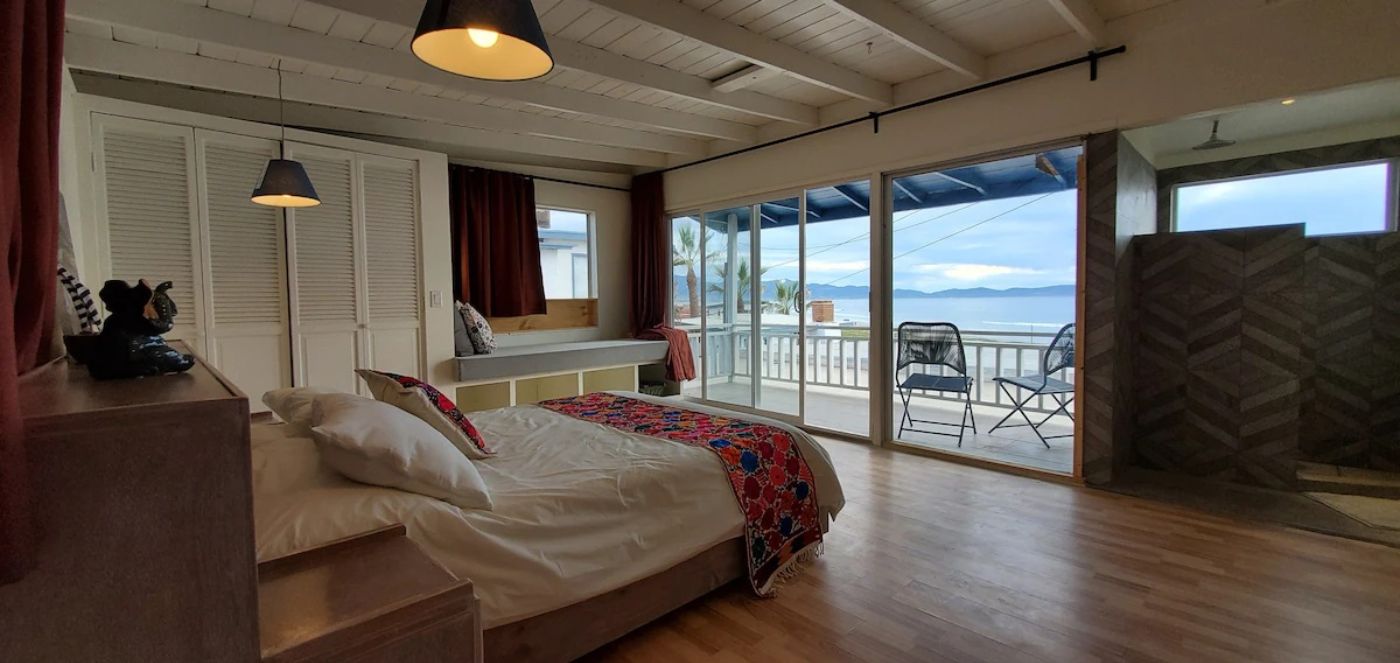 $
1 Guests
Walking distance to shops and restaurants__
Safe gated community
This cute little property is ideal for those who are traveling around Mexico by themselves. Located in Ensenada, Baja California, this two-story beach cottage makes for the ideal beachfront getaway.
It's located within a safe and secure gated community, with restaurants and shops a short walk away in a "quirky, vibrant" neighborhood.
It's right on the beach and features amazing views, particularly of sunsets. There's no better place to be than on your own terrace, sipping on a cocktail with a vista as beautiful as this one.
Best Beach House for a Weekend in Mexico – Beach Front Home
$$
8 Guests
Modern apartment
Swimming pool
Weekend in Mexico? Why not spend it in Cancun? This three-bedroom beach apartment in a quiet residential building in Zona Hotelera means you can escape the crowds and recline in style, whilst still being on one of the best beaches in Mexico.
The property itself is gleaming white and modern, boasting colorful artwork and wide, panoramic views from the windows.
You can simply rock up here and everything will be sorted for you, so you can make the most of your short trip. There's access to the beach and an on-site swimming pool included in the price. You'll also feel safe, thanks to the building security.
$$
2 Guests
Beautiful concrete design
Private swimming pool
As well as having an awesome isolated location, this place might win the award for the most stylish beach house in Mexico. This totally chic concrete structure puts you in the middle of nature, but don't worry: from here it's an easy walk to a beach, a mezcal bar, and a restaurant.
The house itself is inspired by Henry David Thoreau's Walden, a book that's all about living among natural surroundings.
As such, the house is all about the simple life: windows opening up onto nature, an alfresco pizza oven, plenty of outdoor space, a hammock. It's definitely somewhere for those looking for somewhere to really escape from it all.
Best Beach House for Views – Villa Amara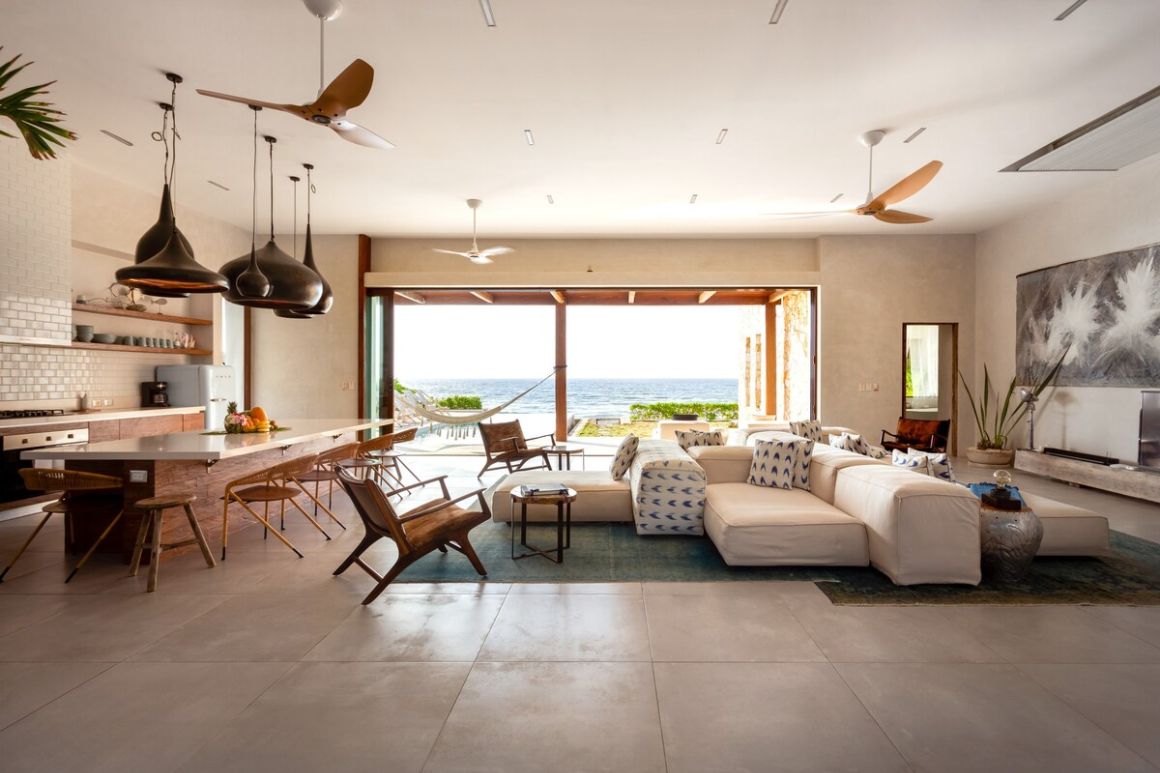 $$$
10 Guests
Al fresco dining
Private swimming pool
Situated in Tankah Bay, Tulum, this beach house is right on the beach – think white sand lapped by crystal clear waters.
Designed to reflect its beautiful natural surroundings, the interiors feature relaxing spaces, but it's all focused on the view. Whether it's enjoying dinner on the terrace, sipping coffee at the breakfast bar, or sunning yourself on the rooftop patio, the view at Villa Amara takes center stage.
The beach house features an open concept kitchen and lounge area and boasts wooden furnishings throughout. You'll have Apple TV, an espresso machine, snorkelling equipment, and more at your disposal staying here.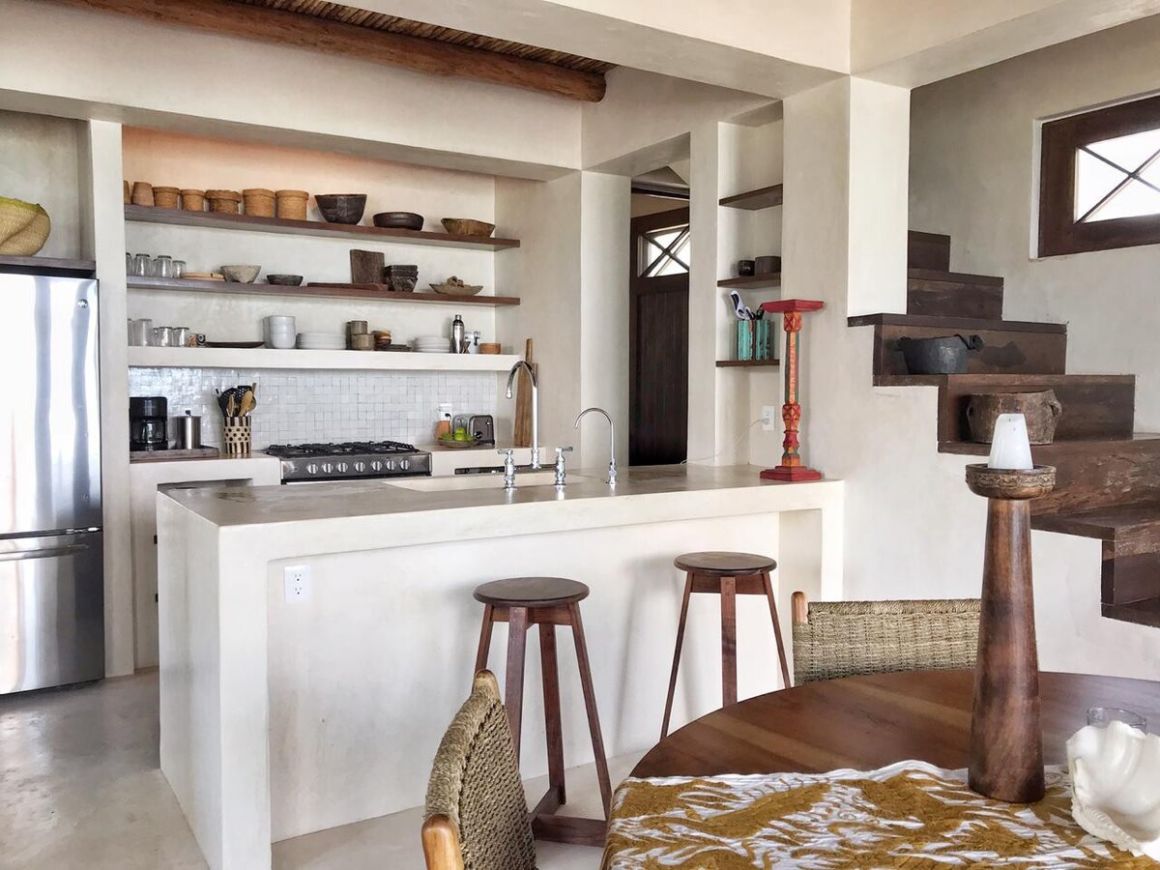 $$$
2 Guests
Tree house setting
Cafes and bars nearby
Situated on a hillside overlooking a beach in a private jungle setting, this place offers up the chance for you and your partner to spend your honeymoon in a memorable location.
It's basically a treehouse (a stylish one, don't worry) and as such, you'll be surrounded by treetops and nature – all with the beach right on the doorstep.
Situated in Sayulita, Nayarit State, it's also just a few minutes' walk from the downtown area and all its cafes and eateries. You can spend mornings here drinking coffee on the terrace, and days enjoying the surf below.
Most Beautiful Beach House in Mexico – Casa Acacia
$$$
4 Guests
Carefully curated design
Large private rooftop terrace
The word to use here is stunning. The property, a brand new beach house on the island of Holbox, uses natural woods and high-end aesthetics to create a carefully considered property that is every Instagram fiend's dream.
Rooms have large doors that open up onto the view, allowing nature to play a big part in this beautiful property. The master bedroom even comes with its own outdoor tropical shower, too.
For sunset views, head to the rooftop terrace where you can spend evenings with a cocktail in hand. And all this is just a short walk to restaurants, bars, and supermarkets. Don't be surprised if other people stop to take pictures of this beach house: it's a stunner.
Don't Forget Your Mexico Travel Insurance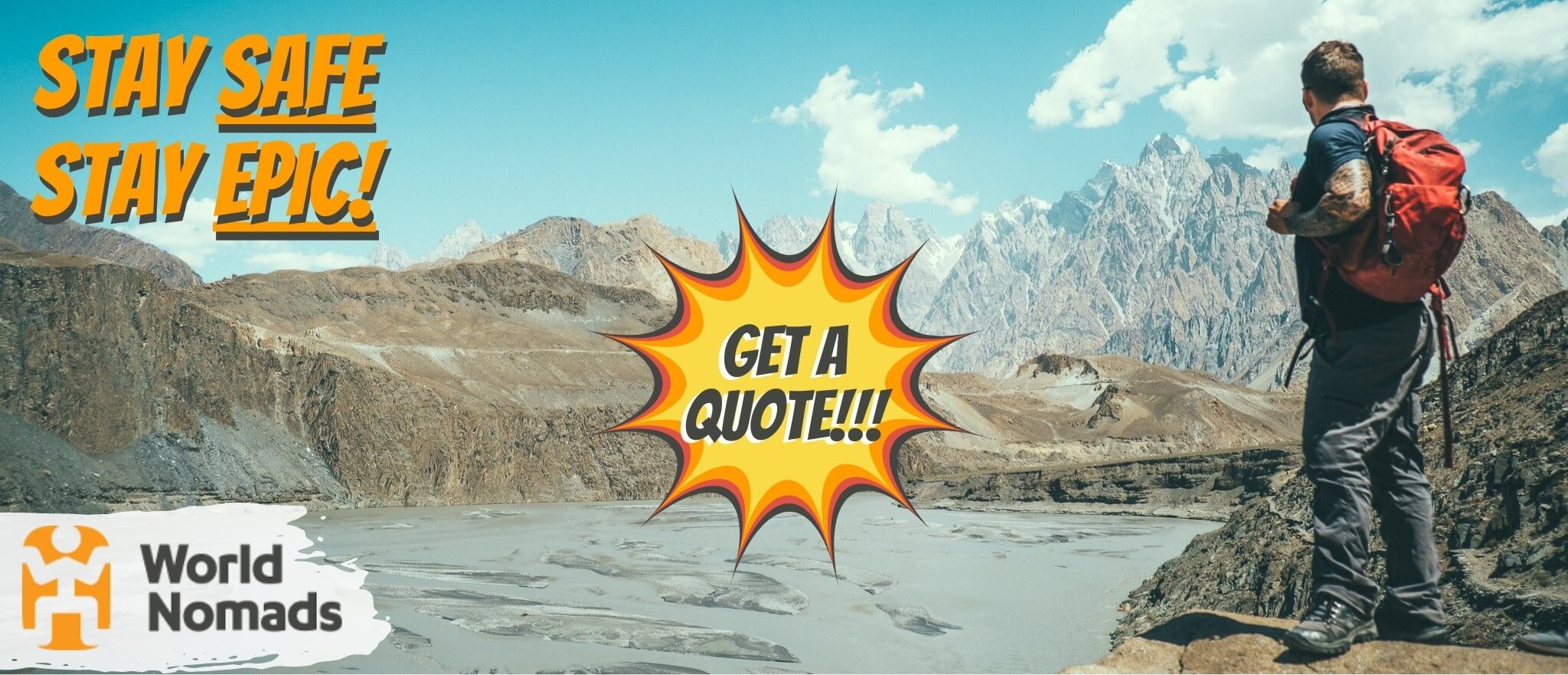 World Nomads' mission is to support and encourage travellers to explore their boundaries. They offer simple & flexible travel insurance, and safety advice to help you travel confidently.
They've been doing it since 2002 – protecting, connecting, and inspiring independent travellers just like you.
Get a quote below or read our in-depth review!
World Nomads provides travel insurance for travelers in over 100 countries. As an affiliate, we receive a fee when you get a quote from World Nomads using this link. We do not represent World Nomads. This is information only and not a recommendation to buy travel insurance.
Final Thoughts on the Best Beach Houses in Mexico
I mentioned earlier in this article that design and aesthetics were key points of beach houses in Mexico, and hopefully, by now you get the idea.
Whether it's polished concrete and Instagram-worthy minimalism, or something more in the realm of beach-inspired rustic chic vibes, these properties go hard in terms of looking the part.
So there's that. There's also a great selection in terms of location. Nayarit, Quintana Roo, Baja California, Isla Holbox, Tulum – wherever you feel like exploring, chances are that there's an awesome beach house waiting for you. And the cherry on top? Many of these villas, cabanas, apartments, and houses are surprisingly affordable.
Last but not least, I'd like to remind you to get some travel insurance. If you're travelling to Mexico from a different country (let's be honest: that's likely), it's something you should consider. It's a just-in-case thing to consider, because who knows what's going to happen?
---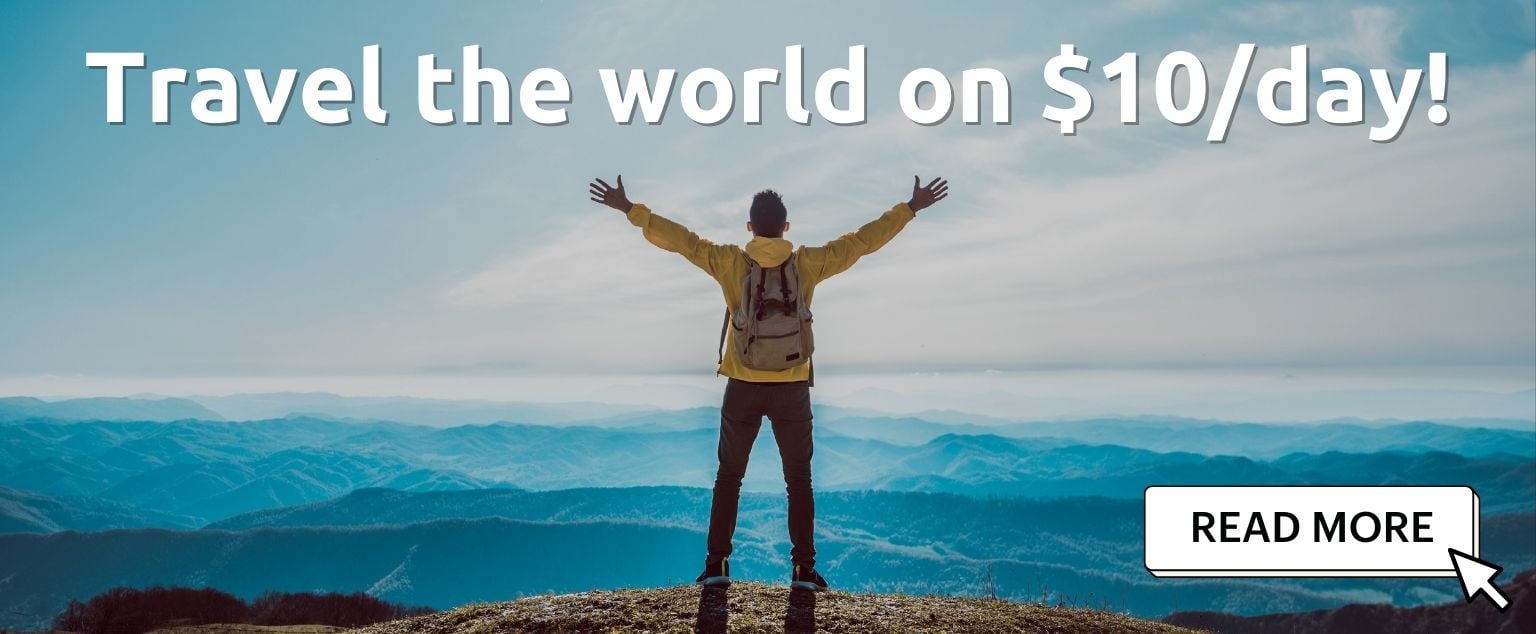 And for transparency's sake, please know that some of the links in our content are affiliate links. That means that if you book your accommodation, buy your gear, or sort your insurance through our link, we earn a small commission (at no extra cost to you). That said, we only link to the gear we trust and never recommend services we don't believe are up to scratch. Again, thank you!