Nowhere in the world seems to throw a party quite like Mexico. From grand religious festivals to delightfully goofy town bashes, Mexico has a festival for every occasion. Each of these celebrations reflects the Mexican spirit and culture in its own unique way. Whether solemn or joyous, serious or festive, one thing is certain – all of these gatherings are filled with meaning and enthusiasm.
Mexican people have a strong sense of tradition, and their festivals reflect that. Whether it's a harvest festival or a religious celebration, the Mexican people take pride in carrying on these traditions year after year. With some of the most flavorful food and exuberant music around, these festivals are truly a sight to behold. So if you're ever in Mexico, make sure that you don't miss out on the festivities!
Festivals in Mexico
Mixing the Caribbean flair with Spanish passion, Mexican culture and traditions are infused with vibrant colors and high-energy celebrations.
This list of Mexican festivals is only a small sampling of the many fiestas and celebrations held throughout the country. From huge religious gatherings to dressing up in colorful garb and parading through the streets, each of these festivities reflects the power and spirit that makes Mexico such a special place.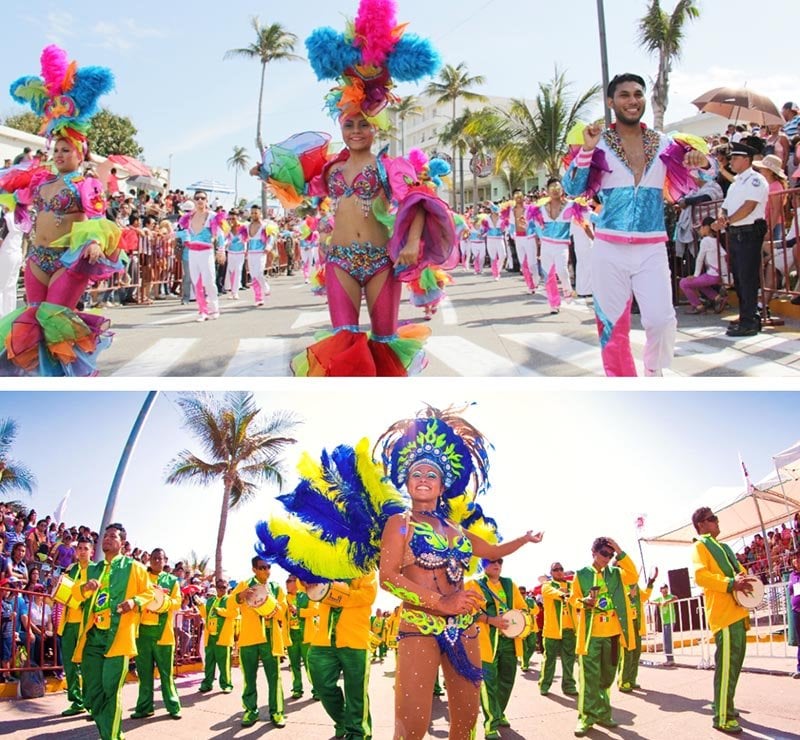 When: February
Where: Veracrus & Mazatlan
One of the most popular festivals in Mexico is Carnaval, a joyous celebration that takes place in various cities across the country. In Veracruz and Mazatlan, you'll find parades with vibrant costumes, dancing in the streets, and other fun activities that reflect the energy and spirit of this time-honored tradition.
Carnaval takes place before the start of Lent and is a time for people to let loose and enjoy themselves before embarking on a period of fasting and reflection. It's also known as Mardi Gras in other countries, which comes from the Latin phrase "Carne vale," meaning "farewell to meat."
The festival lasts for 9 days and brings together locals and tourists alike. Whether you're looking for family-friendly fun, a rowdy night out with friends, or an exciting cultural experience, Carnaval is the perfect festival in Mexico for you.
One of the oldest cities in all of Mexico, Veracruz is located on the Gulf of Mexico, so it's no surprise that Carnaval here is one of the biggest and best. The festivities include colorful parade floats, dancers in elaborate costumes, and street vendors among other attractions. Engulfed in Latin vibes, I can promise you will never want to leave this side of Mexico!
If you're planning to visit Mazatlan during Carnaval, be prepared for a busy and exciting celebration. This Pacific coastal city is known for its beautiful beaches, making it the perfect place for a relaxing getaway any time of the year.
Where to Stay:
Just steps away from the beach and attractions in Veracruz, the Nu Hotel is the perfect place to stay during Carnaval.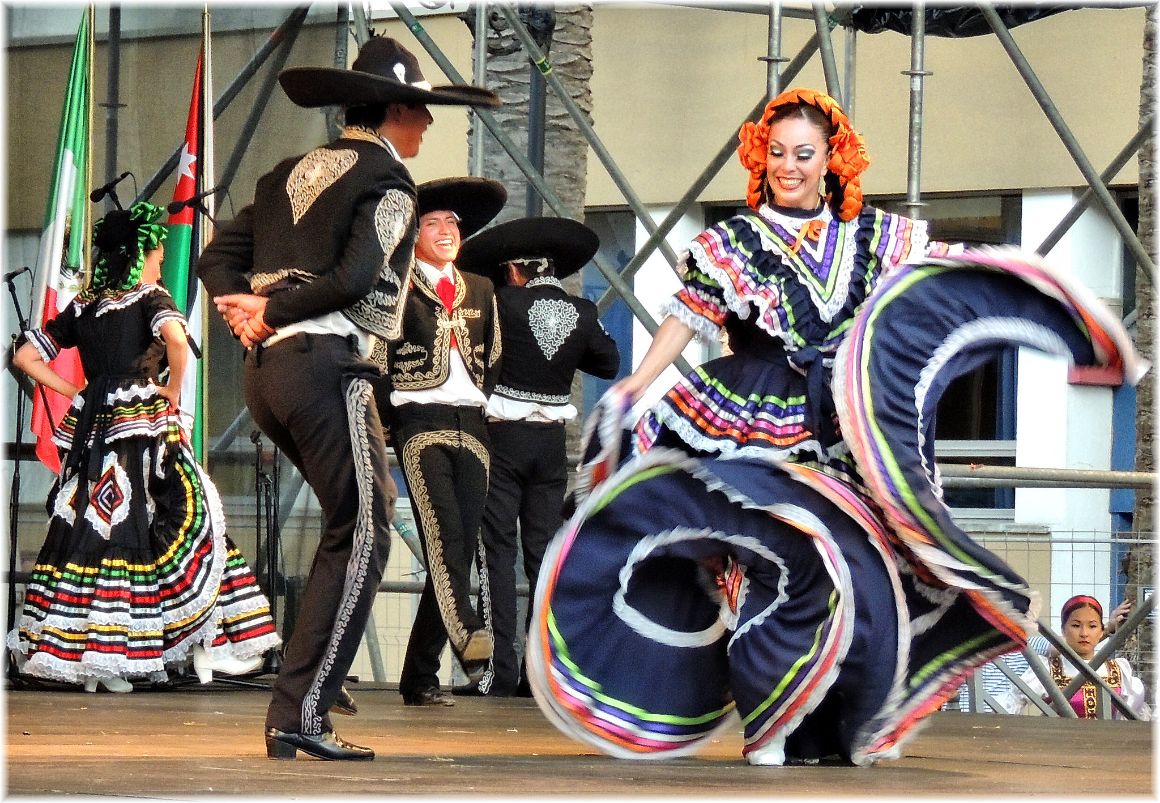 When: March & April
Where: Mexico City
If you're looking for an exciting cultural experience and want to learn more about the history and traditions of Mexico, look no further than Festival de Mexico. This renowned festival takes place in Mexico City each March and celebrates the country's diverse heritage through music, dance, art, film, literature, food, and more.
At Festival de Mexico, you'll have the opportunity to attend live performances, view art exhibitions, and watch documentaries in theaters around the city. You can also explore popular neighborhoods such as Roma, Condesa, and Polanco. These suburbs offer all kinds of restaurants, bars, and cafes, allowing you to sample cuisines from a range of different regions in Mexico.
This festival lasts for 2 weeks and attracts people from all over the world. Whether you're traveling solo or with your family, Festival de Mexico is the perfect opportunity to immerse yourself in Mexican culture and learn more about this fascinating country.
With a wide variety of entertainment and vivid experiences at every turn, you can't go wrong with this festival. Whether you enjoy dancing and nights out on the town, or shopping around one of Mexico City's many markets is more your vibe, Festival de Mexico has for you're looking for!
Where to Stay:
Mexico City has a ton of cool places to stay, but one of our favorites is the Hostal Regina. This charming boutique hostel is located in Roma, one of Mexico's most vibrant and exciting neighborhoods.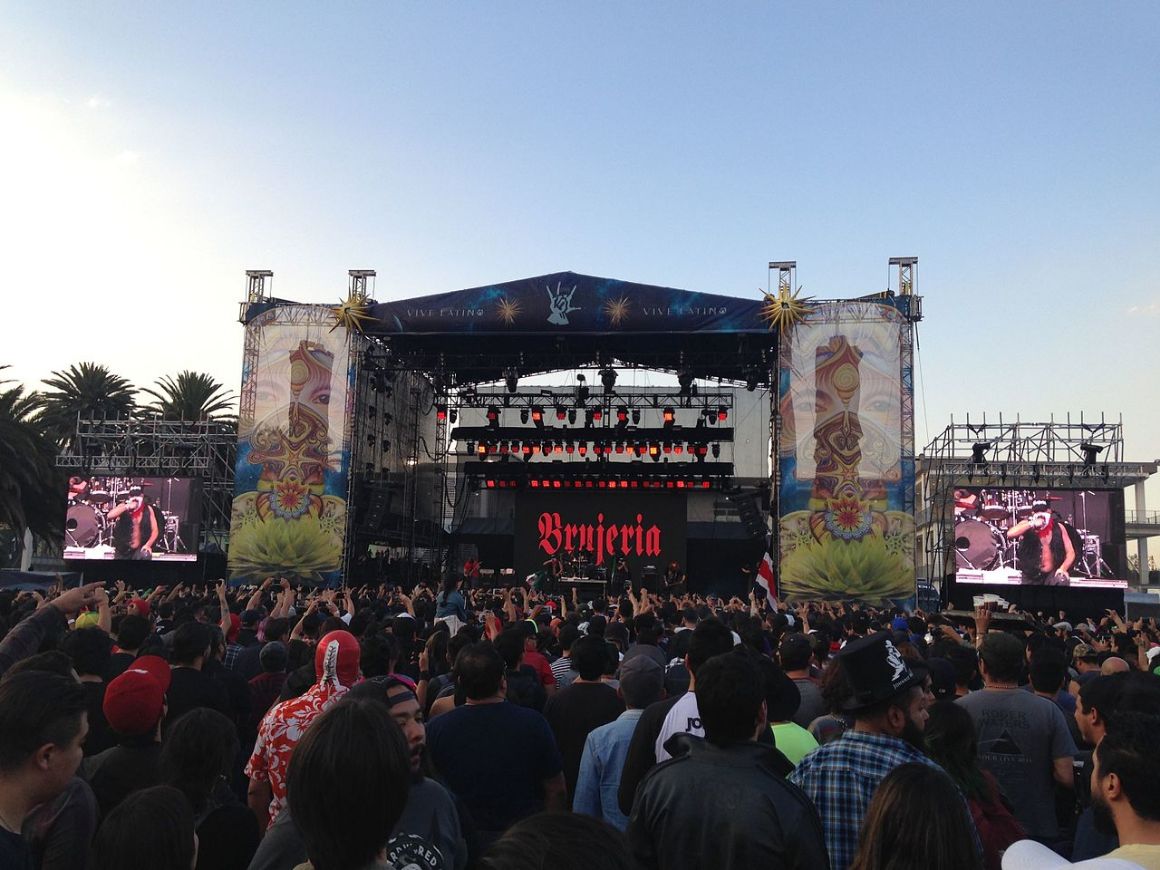 When: March
Where: Mexico City
If you're looking for a party that will blow you away, look no further than Vive Latino. This massive music festival takes place in Mexico City each March and is one of the most popular celebrations in all of Latin America.
There's a little something for everyone at Vive Latino, whether you're looking for upbeat dance music or want to relax with some lounge-y instrumental sounds, this festival boasts music from all genres. From hip-hop and rock to reggaeton and salsa, this festival captures all that Latin music has to offer.
Aside from the amazing performances, what really makes Vive Latino special is its vibrant atmosphere. This festival brings together people from all walks of life, who come together to share their love for music and experience the vibrant culture of Mexico.
The festival lasts for 2 days, and tickets are often sold out well in advance. General admission starts at $150 USD, but if you're looking to splurge, you can buy VIP tickets that include access to private lounges and food and drinks.
If you have an affinity for Latin music and love to party, then Vive Latino is a can't-miss festival for you. Add a few extra days to your Mexico City itinerary and experience all this historically rich city has to offer!
Where to Stay:
Be close to the action at the Fiesta Americana Viaducto Aeropuerto, a luxurious hotel located just minutes from Vive Latino.

Do You Want to Travel FOREVER??
Pop your email in below to get a FREE copy of 'How to Travel the World on $10 a Day!'.
Tulum is known as one of the most beautiful cities in Mexico, and each March and April, it hosts Art with Me, a popular music festival that celebrates local culture through art, music, and food.
Tulum has been a hotspot for artists, musicians, and filmmakers for many years, as its stunning natural scenery provides the perfect backdrop for creative expression. At Art with Me, you'll have the opportunity to see live performances from up-and-coming local bands, art exhibits by emerging artists, and screenings of short films created by aspiring filmmakers.
You'll also have the opportunity to sample delicious local food and shop at unique local markets, making Art with Me an immersive cultural experience unlike any other. The festival stands on 6 pillars: art, care, dance, breathe, play, and community. Join classes throughout the weeks for healing, meditation, dance, and more.
Whether you're visiting Tulum solo or with your friends and family, Art with Me is the perfect opportunity to dive headfirst into a unique experience that is surrounded by the natural beauty of Mexico.
A 3-day general admission pass starts at $169, and this will give you access to many performances, workshops, films, and art exhibits. And when you aren't participating in the festival, you can enjoy the pristine beaches of Tulum, one of Mexico's most beautiful coastal cities.
Where to Stay:
Splurge at the Zamas hotel in the Tulum hotel zone, this will give you easy access to the beach, the festival, and the city's best restaurants and nightlife.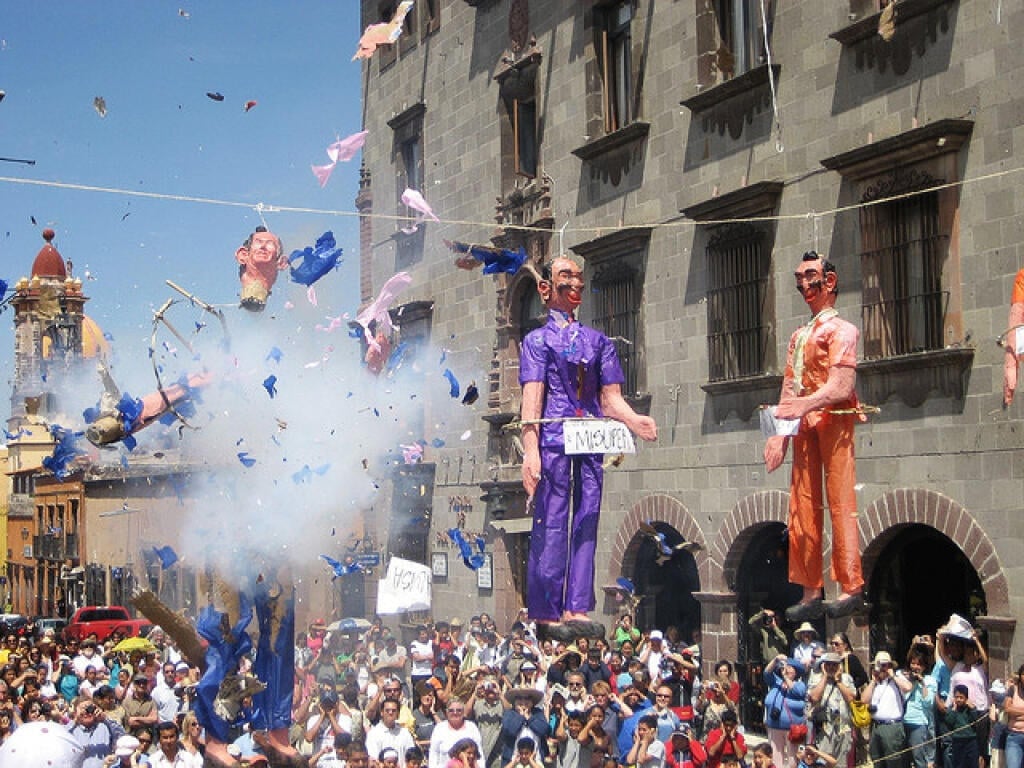 When: April
Where: All over Mexico
One of the most important festivals in Mexico is Semana Santa, or Holy Week. This religious festival marks the end of Lent and commemorates the final days of Jesus Christ's life. It begins on Palm Sunday and lasts for 7 days, ending on Easter Sunday with a joyful celebration that brings together people from all backgrounds and faiths.
During Semana Santa, you'll witness vibrant processions and other religious ceremonies throughout the country. You'll also see locals and tourists participating in traditional activities like painting eggs, eating special foods, or attending church services to pay their respects to Christ and the crucifixion.
So many different cities in Mexico participate in Semana Santa, with celebrations taking place all over the country. Whether you want to enjoy the beach in Puerto Vallarta, explore the architecture and history of San Cristobal, or travel to quieter towns in rural communities, you will find every pueblo welcoming you with open arms.
If you're planning to visit Mexico during Holy Week, be prepared for crowds and higher prices, as many local businesses and hotels will be closed. However, the beautiful processions and other festivities make Semana Santa one of the most memorable festivals in Mexico.
Where to Stay:
Hotel Grand Maria is the perfect blend of a cultural experience and a relaxing getaway. Located in the vibrant town of San Cristobal, this boutique hotel offers beautiful views of the mountains while also giving you easy access to local restaurants, bars, and shops.
When: July
Where: Oaxaca City
Guelaguetza is a Zapotec word meaning "offering" and it is one of the most iconic Mexican festivals, held in Oaxaca City each July. This massive celebration attracts people from all over the world to witness and partake in one of Mexico's most colorful and vibrant events.
Held every year on the full moon of July, Guelaguetza is a celebration of indigenous culture and tradition. You'll see hundreds of dancers wearing elaborate costumes and performing traditional dances from all over the country. There are also colorful parades, street vendors selling delicious local foods and crafts, and music that fills the air with joy and excitement.
The festival was started as a way to honor the gods for a good harvest, but it has evolved into something much bigger and more meaningful. Today, Guelaguetza is celebrated as a symbol of pride in Mexican heritage, culture, and traditions.
The streets of Oaxaca City are lined with stunning decorations, and the atmosphere is electric.
Whether you're a history buff or simply looking to experience something new and exciting, Guelaguetza is the perfect festival to visit.
Where to Stay:
Trekking through Mexico on a budget? For an authentic cultural experience that won't break the bank, stay at the Azul Cielo Hostel in Oaxaca City. This charming hostel is situated right in the heart of downtown, just steps away from all of the best attractions and festivities.
Forget boring accommodation… book yourself an EPIC STAY!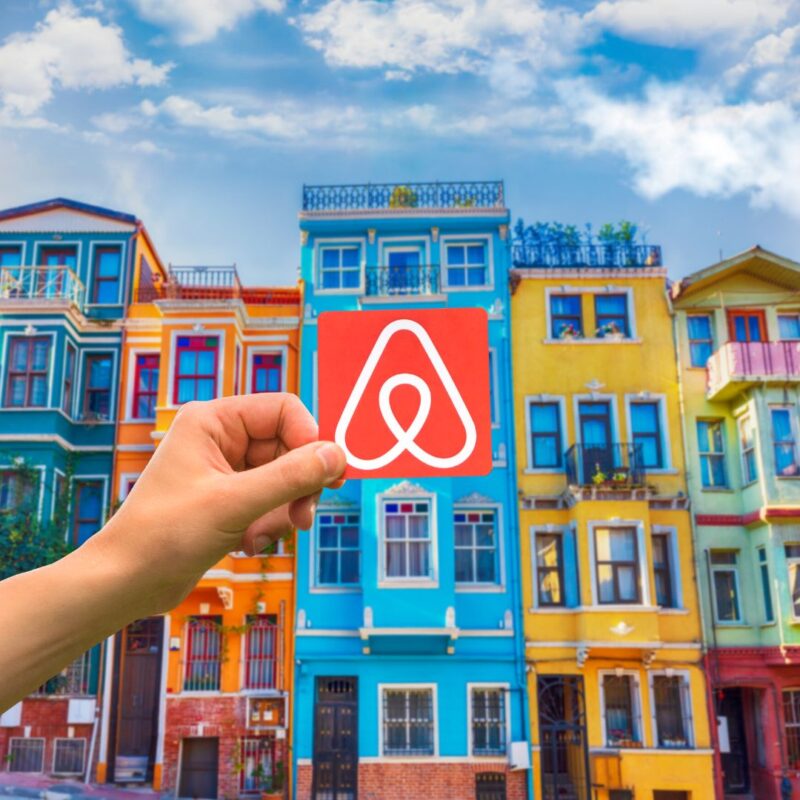 Why stay in a naff hotel when you can stay in a cosy, stylish local house instead? And for half the money too!
Stay somewhere EPIC and save your hard-earned dollars — from houses to barns to castles and caves, there is an Airbnb for every occasion!
Book an EPIC Stay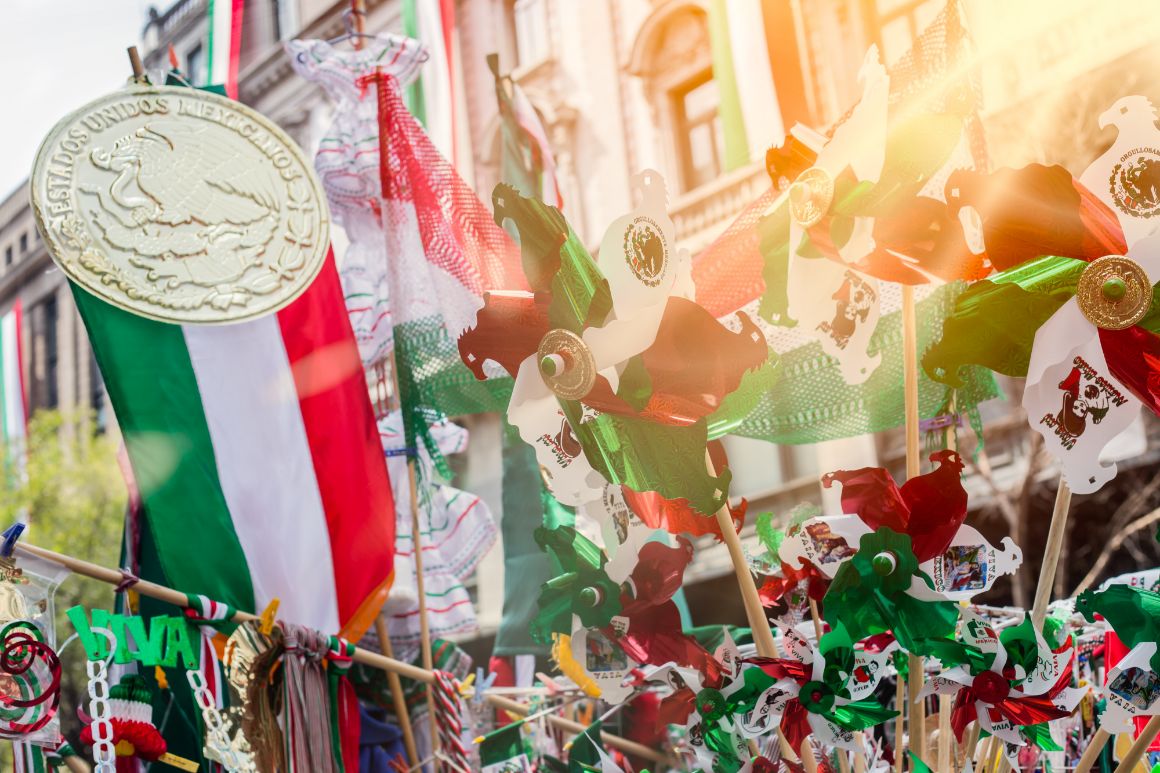 When: September 16
Where: All over Mexico
Another one of Mexico's most iconic festivals is Dia de la Independencia, or Mexican Independence Day. On September 16th each year, Mexicans across the country come together to celebrate their freedom and independence from Spain. The very best of Mexican spirit and culture is on full display with colorful costumes, traditional dances, and music ringing through the streets.
Mexico began fighting for its independence from Spain on September 16, 1810. The movement was led by Father Miguel Hidalgo, a respected religious leader and advocate for independence. Hidalgo famously made the "Grito de Dolores" on the morning of September 16th, calling all Mexicans to fight for their independence from Spain. Since gaining their independence, the "Cry of Dolores" is held in the National Palace every year on September 15th.
While the main party will be going on in Mexico City, don't be afraid to venture out to other cities and experience their celebrations. Being a national holiday, you're guaranteed to have a great time wherever you are in the country.
The day is a national holiday, so many shops, businesses, and roads are closed for the day. But If you're lucky enough to be in Mexico during this festival, be sure to join in on the festivities and take in the rich historical significance you're witnessing!
Where to Stay:
This boutique hotel will give you all of the vibes of a Puebla getaway. La Casareyna brings all the colors, music, and passion of the Dia de la Independencia celebrations to your doorstep.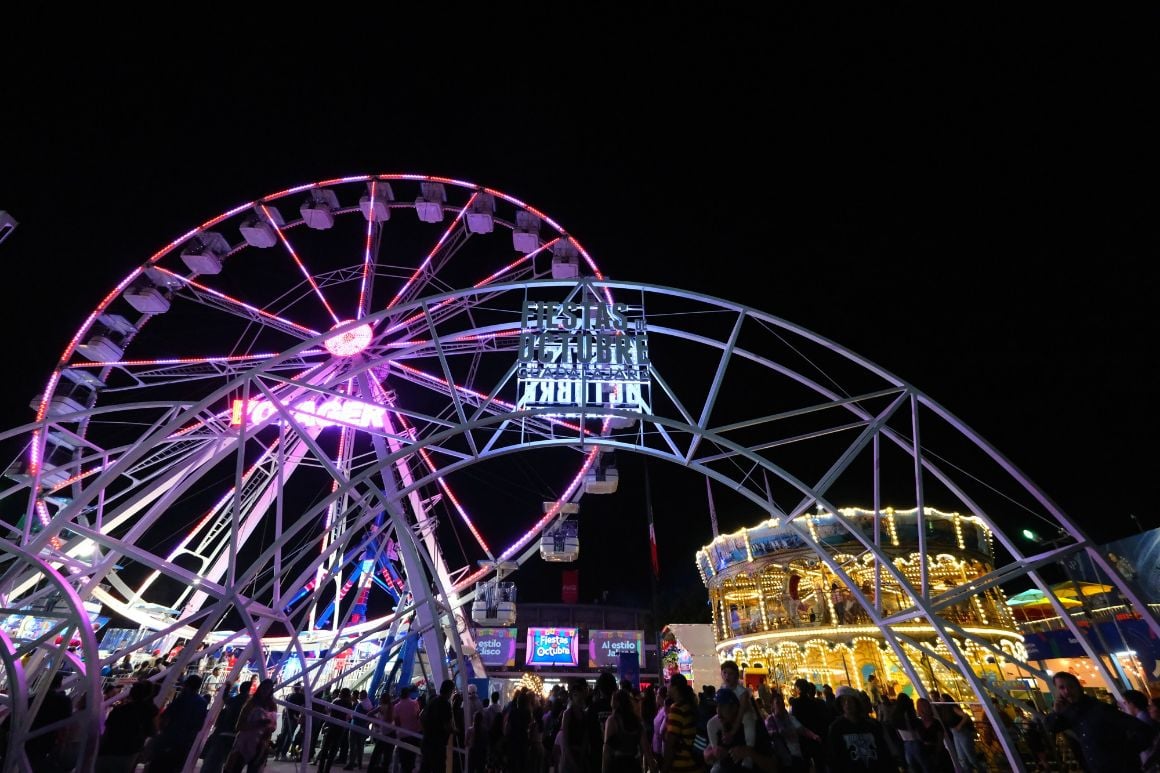 When: October
Where: Guadalajara
If you're looking for an immersive cultural experience in beautiful Guadalajara, look no further than Fiestas de Octubre. Originally starting in 1965, these festivals have become one of the most traditional cultural expressions in the state. If you're looking for somewhere to visit in October, then look no further.
Throughout the city, you'll find colorful performances that bring to life Mexico's rich history and vibrant cultural heritage. From traditional music and dance performances to vibrant parades and colorful street festivals, Fiestas de Octubre is the perfect opportunity to immerse yourself in Mexico's vibrant culture.
Guadalajara is usually associated with its world-famous tequila, but there's so much more to explore here. Be sure to check out local delicacies from street vendors while strolling through the cities colorful streets.
The festivals go on from October 1 until November 2, and tickets usually range from $50 to $100. So what are you waiting for? Come experience the magic of Fiestas de Octubre and immerse yourself in Mexico's vibrant cultural heritage! And don't forget to bring along a lightweight backpack while your festival hopping, trust me, getting your groove on is much harder when you're lugging around a 60L pack.
Where to Stay:
Get the best bang for your buck at the Hotel Real Maestranza, right in the heart of Guadalajara. For 5-star quality at a low price, this is a great option to enjoy all the festivals throughout October.
Is This the Best Daypack EVER???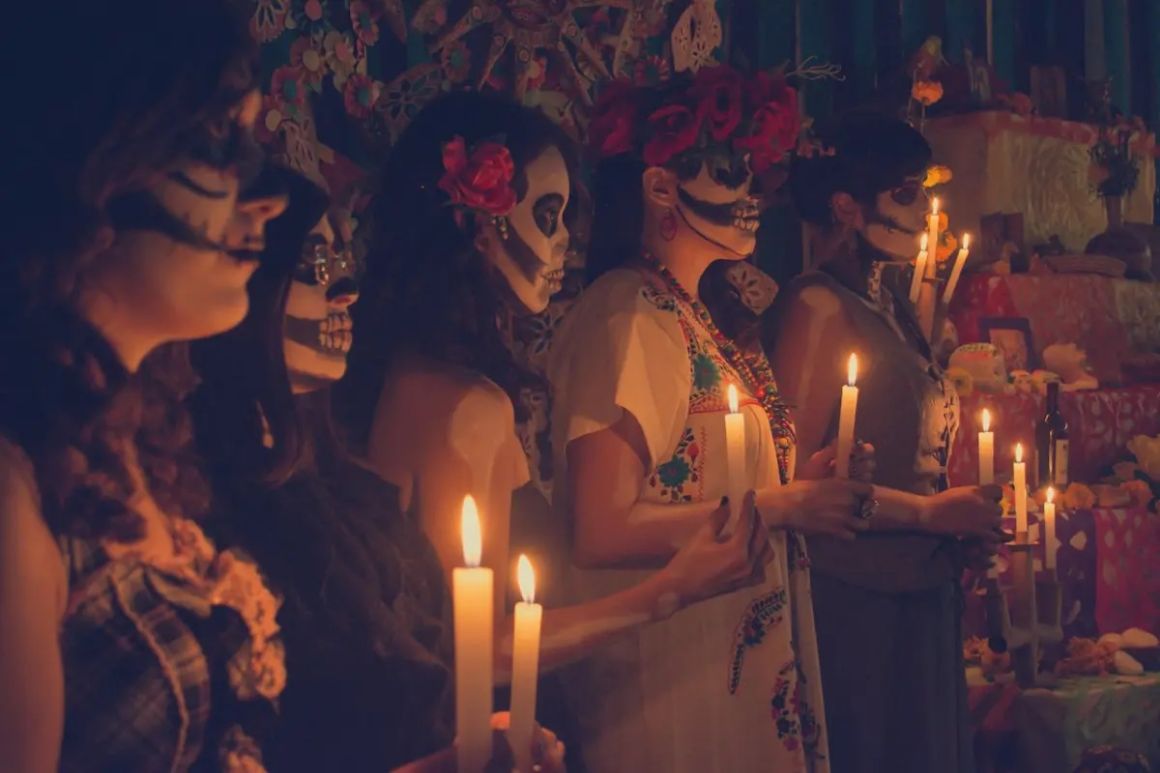 When: Nov 1 & 2
Where: All over Mexico
One of the most widely celebrated festivals in Mexico and one of the most famous festivals in the world, the Day of the Dead is a time for people across the country to honor and remember their family and friends who have passed away. From parades and colorful decorations to dancing and traditional foods, this celebration truly embodies the spirit of Mexico.
A popular Mexican tradition is the building of ofrendas, or alters, to honor and remember the dead. Many families will also visit the gravesites of their relatives to pay tribute and celebrate the good times they shared.
Celebrations are held all over the country, but some of the most famous and brightest take place in the southwestern town of Oaxaca. The streets are lined with colorful decorations and there are music and dancing late into the night. Whether you're religious or not, it's a truly heartwarming experience that you won't want to miss!
Paint your face like a skull and join in on the festivities, or just sit back and enjoy the show, either way, you'll feel the energy and excitement of this uniquely beautiful Mexican tradition.
Be sure and book your stay FAR in advance if you plan on experiencing Dia de Los Muertos in Mexico City or Oaxaca. These two cities are the most popular to experience this festival, resulting in places filling up quickly and prices skyrocketing!
Where to Stay:
Located in the heart of Oaxaca City, La Casa De Pino offers you a unique and authentic experience during the Dia De Los Muertos festival.
Final Thoughts
If you can't tell by now, Mexico is a truly magical place, full of vibrant culture and endless opportunities for exploration. Whether you're attending one of its many cultural festivals or listening to some of its world-famous musicians, it's always a fiesta in Mexico.
While all of these festivals are bucket list worthy, I have to say Dia de Los Muertos is my top pick. The festival captures the beauty and spirit of Mexico and its people at its finest, making it the perfect choice for experiencing the country's vibrant culture at its best.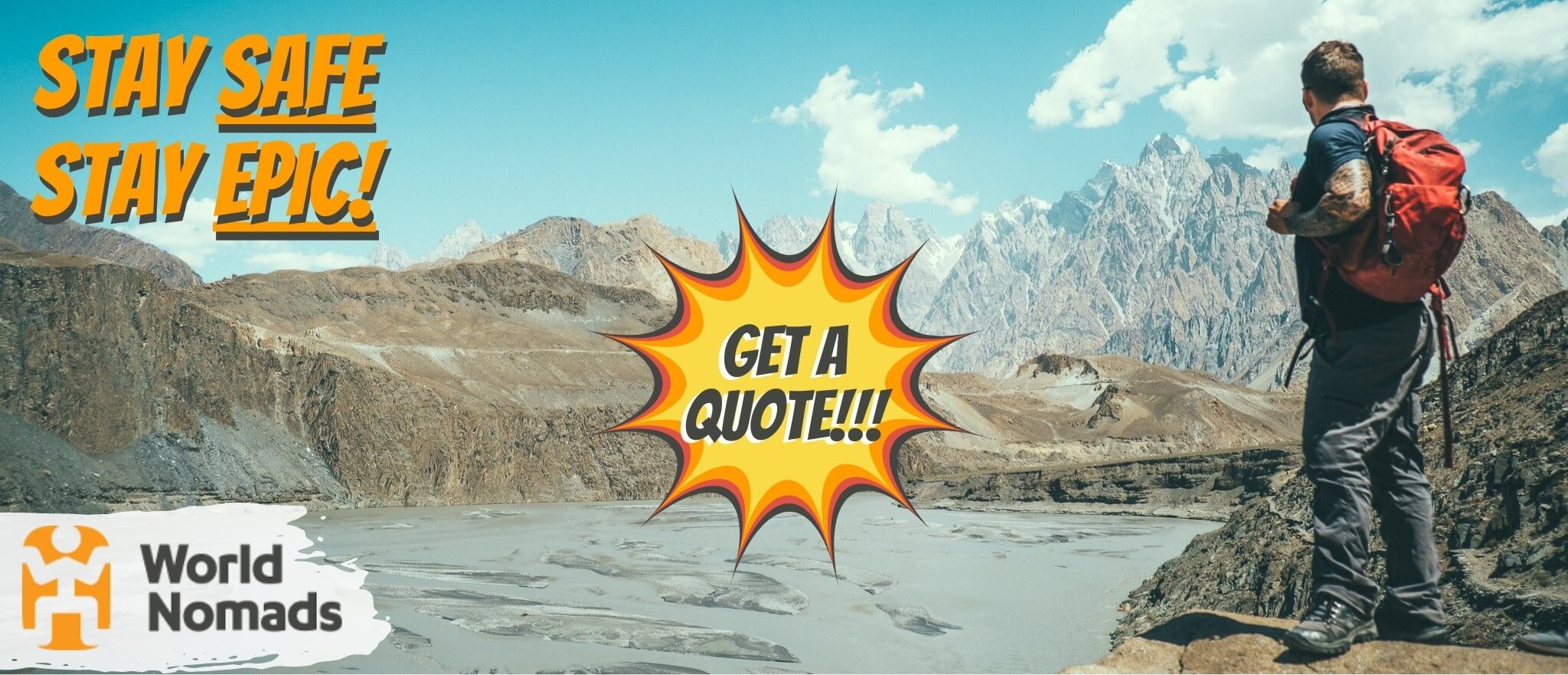 World Nomads' mission is to support and encourage travellers to explore their boundaries. They offer simple & flexible travel insurance, and safety advice to help you travel confidently.
They've been doing it since 2002 – protecting, connecting, and inspiring independent travellers just like you.
Get a quote below or read our in-depth review!
World Nomads provides travel insurance for travelers in over 100 countries. As an affiliate, we receive a fee when you get a quote from World Nomads using this link. We do not represent World Nomads. This is information only and not a recommendation to buy travel insurance.
---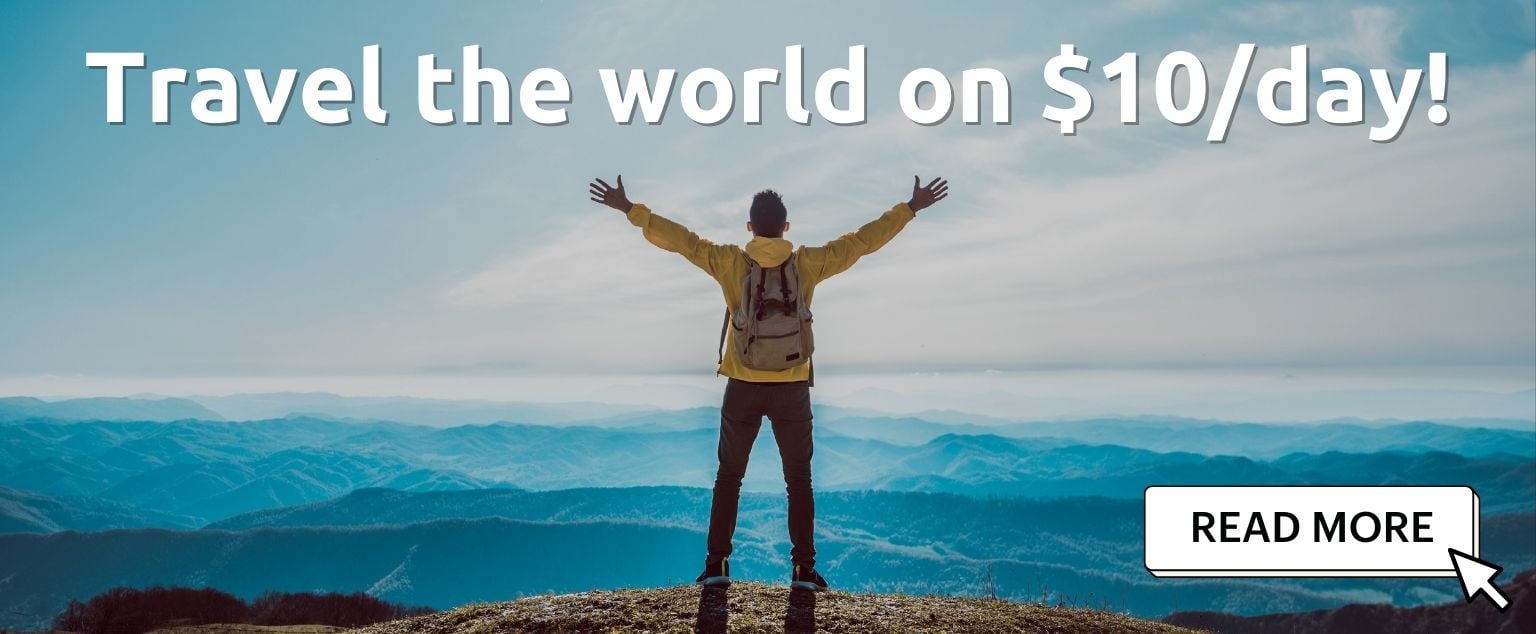 And for transparency's sake, please know that some of the links in our content are affiliate links. That means that if you book your accommodation, buy your gear, or sort your insurance through our link, we earn a small commission (at no extra cost to you). That said, we only link to the gear we trust and never recommend services we don't believe are up to scratch. Again, thank you!