With its tropical jungles, beach resorts and ancient ruins, Mexico is one of the most popular places to travel in Central America. From spicy Mexican cuisine to sun-bathing on white sand beaches, the opportunities for a relaxing retreat in Mexico are endless.
Although hotels are fairly easy to find, you might want to consider looking for other unique accommodation options in Mexico for your trip. For a peaceful and sustainable travel experience, check out some of Mexico's best eco resorts.
There are loads of amazing eco resorts on offer, so how do you pick the best one? Well, we've done the dirty work to help you decide exactly what to look for, and what to expect from an eco resort in Mexico.
In a Hurry? Here's Where to Stay in Mexico for One Night
First time in Mexico
The House in the Woods
Wake up to the sight of beautiful jungle scenery right outside your bedroom window. This secluded eco lodge is the perfect place to unwind and reconnect to nature while enjoying the small-town charm of Xalapa, Veracruz.
Places to visit:
Orchid Garden and Museum of Coatepec
Museo del Cafe of Coatepec
Anthropology Museum of Xalapa
Is this amazing Mexico Eco resorts booked for your dates? We've got your back with our other favorite properties below!
Staying in an Eco Resort in Mexico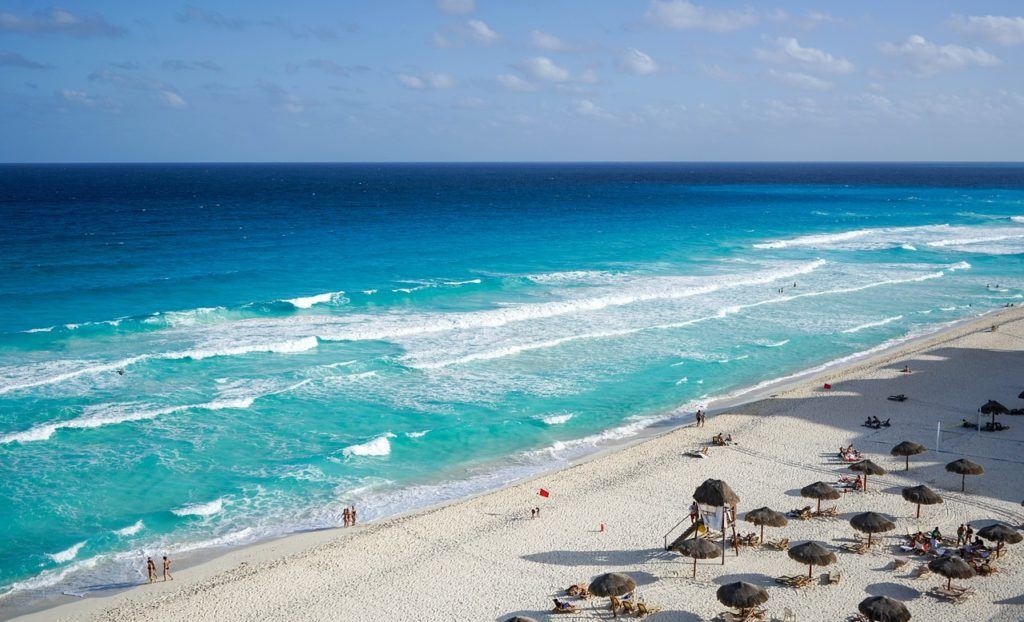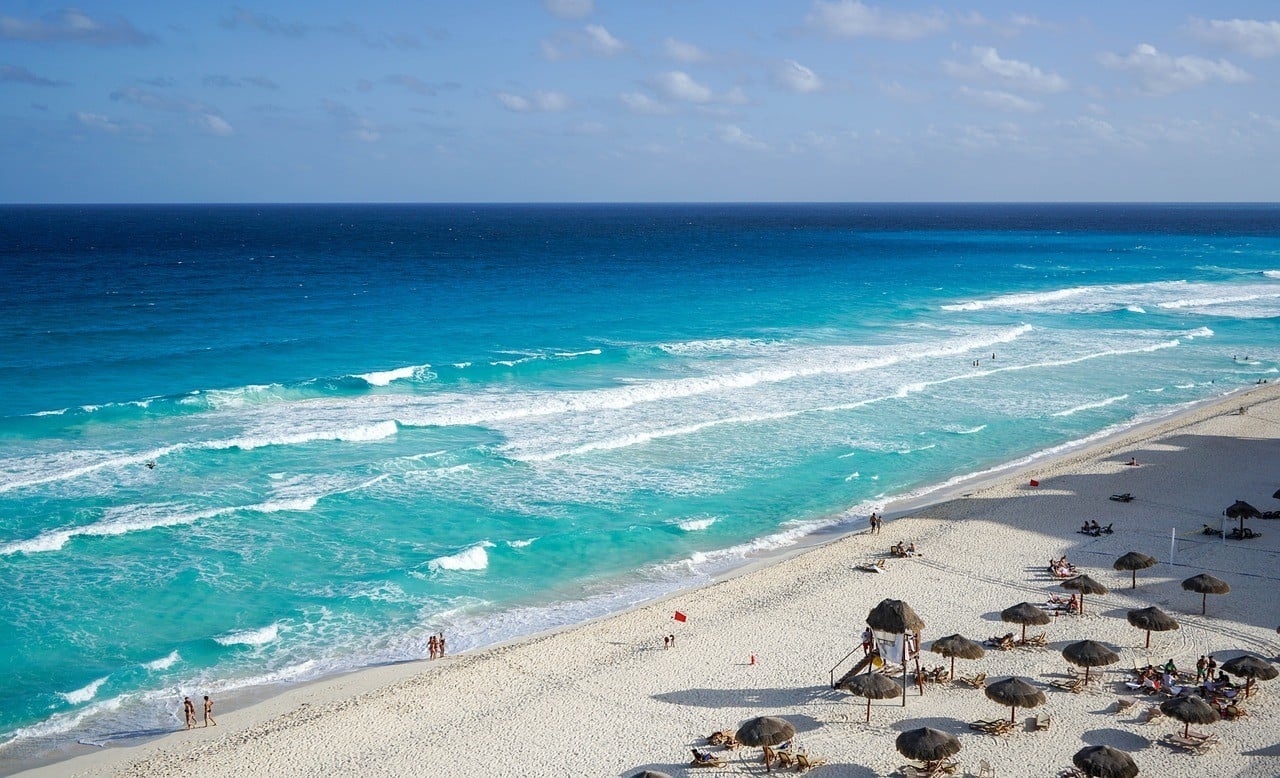 Mexico is pretty large, and you can find eco resorts or eco hotels in quite a few areas. Eco resorts tend to be in a more secluded setting, close to stunning beaches or tucked away in jungle scenery, so you won't be bothered by loud city noises or traffic. 
Eco hotels and resorts also vary greatly in price; there's everything from luxurious high-end spiritual retreats to smaller down-to-earth spots. However, you can always expect natural surroundings, a focus on sustainability, and eco-friendly practices. 
Staying at an eco resort also means you'll have a chance to get a more authentic Mexico backpacking experience. Instead of only seeing major attractions, you'll be removed from the main tourist scene so you can appreciate more of the country's natural gems. 
Thanks to Mexico's diverse landscape and intriguing history, eco resorts can offer a range of activities. Depending on the property, you can enjoy tours of ruins, yoga classes, snorkelling, boating, or hiking activities.
What to Look for in an Eco Resort 
Since there's a variety of eco resorts in Mexico, you'll have the opportunity to choose somewhere that fits your travel style. Eco resorts also vary widely in price, so don't rule them out straight away if you're sticking to a tighter budget!
Eco resorts vary in the type of rooms they provide. Most often you'll have your own room, while some budget eco-friendly hostel options follow traditional dorm-room models (but in cooler locations). Other eco resorts offer even more privacy with private bungalows, luxury tents, or cabanas. 
A lot of the best eco resorts in Mexico will have some meals included in the room price, or at least have dining available onsite. Eco resorts with self-catering options are also available if you prefer to prepare your own meals.
Using a search platform such as Airbnb, Booking.com, or Hostelworld is a great way to find unique accommodation in Mexico. This way, you can narrow your options based on your preferences and budget to find the right place for you. 
OVERALL BEST ECO RESORT IN MEXICO
OVERALL BEST ECO RESORT IN MEXICO
The House in the Woods
> $$
> 4 guests
> Fully equipped kitchen
> Beautiful view from all rooms
BEST BUDGET ECO RESORT IN MEXICO
BEST BUDGET ECO RESORT IN MEXICO
Aldea Jalcomulco
> $
> 2 guests
> Swimming pool
> Dining area and bar
BEST BUDGET ECO HOSTEL IN MEXICO
BEST BUDGET ECO HOSTEL IN MEXICO
Xkopek Native Bee Farm Camping
> $
> 2 guests
> Kitchen onsite
> Bicycles for rent
BEST ECO HOTEL FOR COUPLES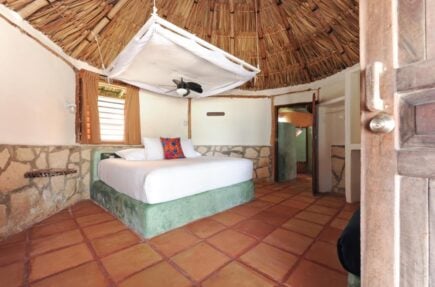 BEST ECO HOTEL FOR COUPLES
Zamas Hotel
> $$
> 2 guests
> Swimming pool
> Beachfront location
BEST ECO RESORT FOR A GROUP OF FRIENDS
BEST ECO RESORT FOR A GROUP OF FRIENDS
Four Seasons Crocodile Bar and Cabañas
> $
> 6 guests
> Onsite restaurant
> Beachfront location
OVER-THE-TOP LUXURY ECO RESORT
OVER-THE-TOP LUXURY ECO RESORT
Chablé Yucatan
> $$$$
> 2-6 guests
> Private pool and terrace
> Onsite restaurant
BEST ECO HOTEL FOR FAMILIES VISITING MEXICO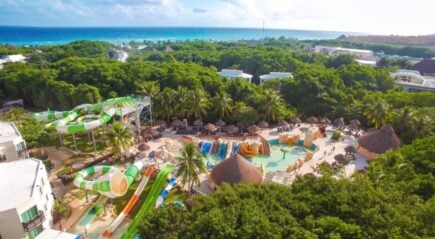 BEST ECO HOTEL FOR FAMILIES VISITING MEXICO
Sandos Caracol Eco Resort
> $$
> 5 guests
> Onsite waterpark
> Numerous restaurants
The Top 15 Eco Resorts in Mexico 
Now that you have an idea what to expect at an eco resort, read on to discover our picks of the top 15 eco hotels resorts in Mexico! Each of these places offers the chance for a relaxing escape from daily life amid peaceful, natural surroundings.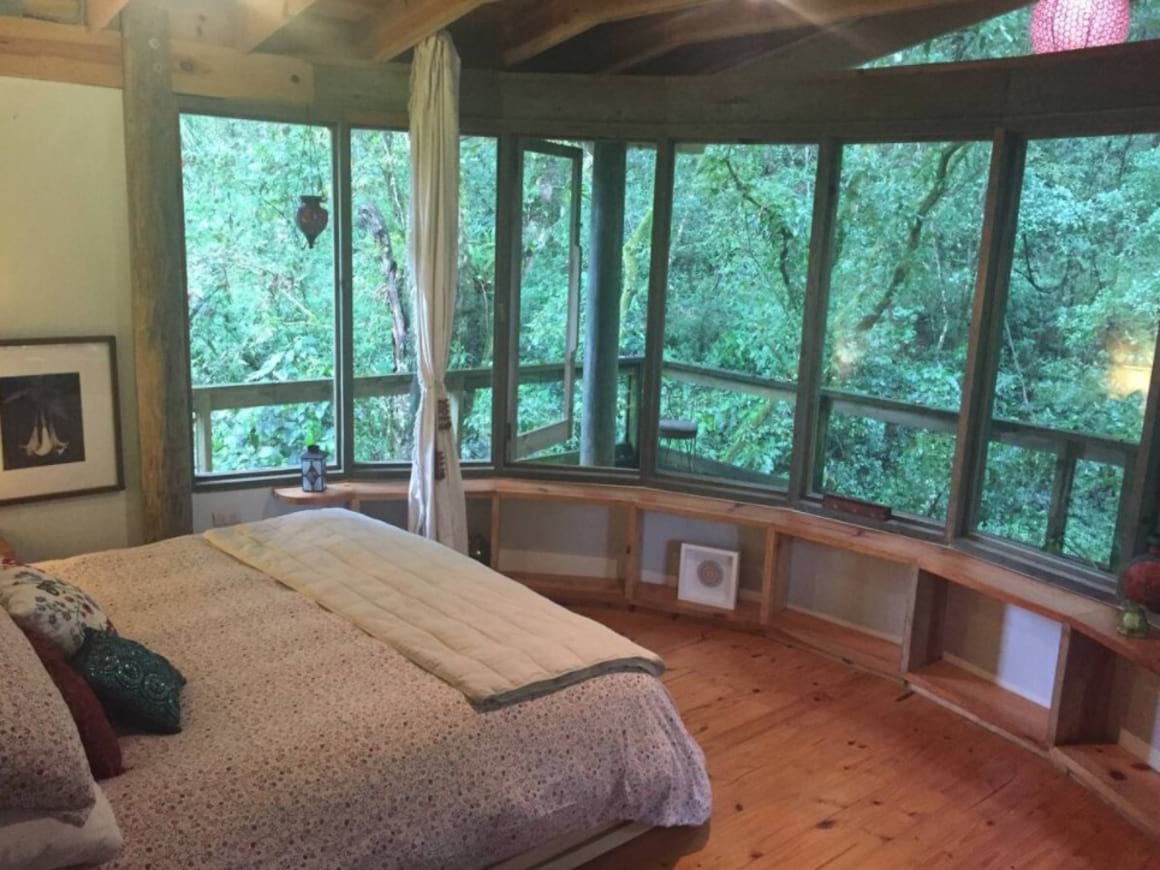 $$
4 guests 
Fully equipped kitchen 
Beautiful view from all rooms 
Located just outside of Xalapa, Veracruz, this beautiful woodland eco lodge is the perfect place to relax and take a break from it all. There's a nature spa offering Temazcal and yoga classes within walking distance. Alternatively, you might just want to stay at the lodge to enjoy the scenery. 
There's a deck with outdoor seating where you can admire the views. The cabin also has some modern comforts including a full kitchen, TV, and Wi-fi. You'll feel right at home within this quiet and nature-loving community, where you can appreciate the beauty and wildlife of the Mexican jungle. 
The Best Budget Eco Resort in Mexico – Aldea Jalcomulco
$
2 guests 
Swimming pool 
Dining area and bar 
Surrounded by the lush, tropical scenery at the foot of the Jalcomulco Mountains in Veracruz, this eco resort is both budget and eco-friendly! Using solar energy, compost, and bio-degradable bags, the resort is a great way to experience the Mexican jungle in a sustainable way.
If you're interested in adventure sports then you're in luck, as horse riding and mountain biking are available. There are hammocks and a swimming pool onsite if you just fancy chilling – grab yourself a drink and relax to the sound of the jungle birds.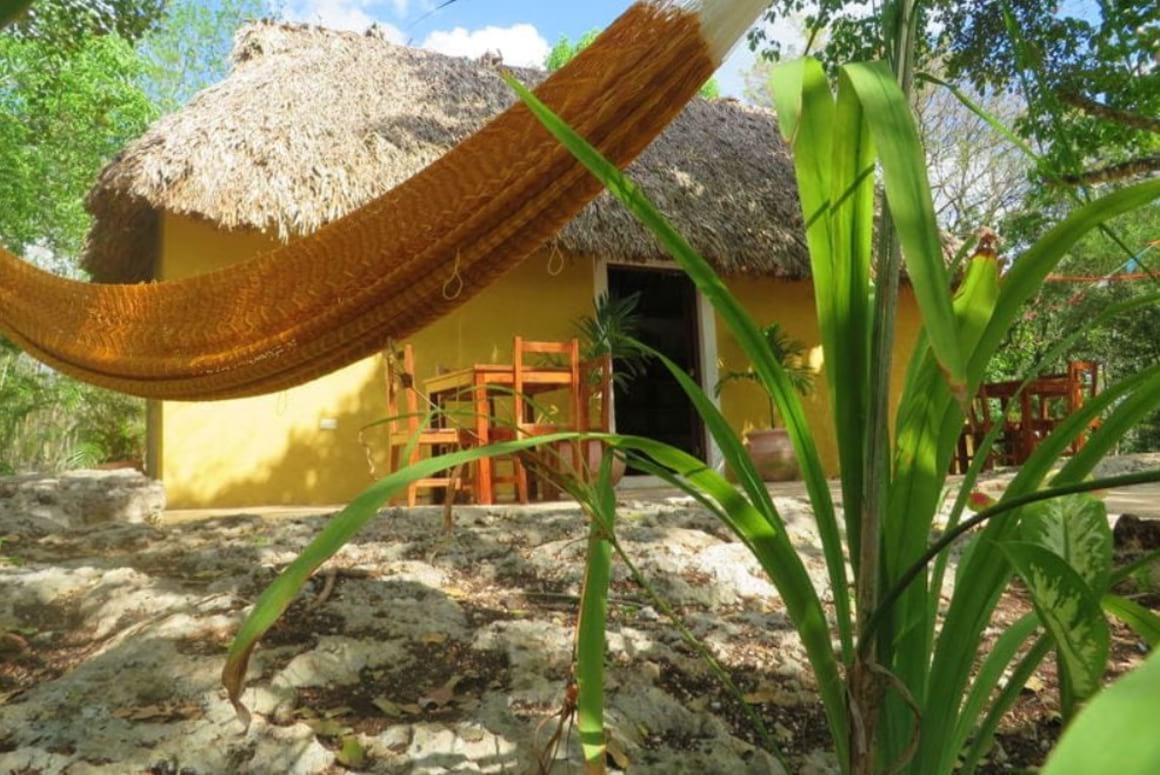 $
2 guests 
Kitchen onsite 
Bicycles for rent 
Just outside the city of Valladolid, Xkopek Native Bee Farm has rooms and tents available for budget backpackers hoping to find somewhere close to nature. Guests have access to a shared kitchen, showers and bathrooms, and bikes to rent for exploring the area. 
Within Valladolid you'll find local markets, churches, museums, and historic ruins. Explore the Cenote Zací or travel a bit further to Chichén Itzá, then return to the peaceful and quiet campsite to relax in the garden.  
Best Eco Hotel for Couples – Zamas Hotel
$$
2 guests 
Swimming pool
Beachfront location 
This eco-resort in Tulum is perfect if you want to treat your other half. Tulum is a popular city among tourists, known for its beaches and ancient Mayan ruins. What better than to enjoy the wonders of this tropical paradise in an eco friendly hotel? The Zamas Hotel is a mostly electricity-free property, although a generator does supply limited lighting and Wi-fi in common areas. 
During the day you can sign up for yoga classes, book a massage onsite, or rent gear at the diving shop to explore the tropical waters. Once the sun goes down, the candles and matches provided can be used to create a romantic atmosphere on the beach.
An Eco-Friendly Traveller NEEDS an Eco-Friendly Backpack!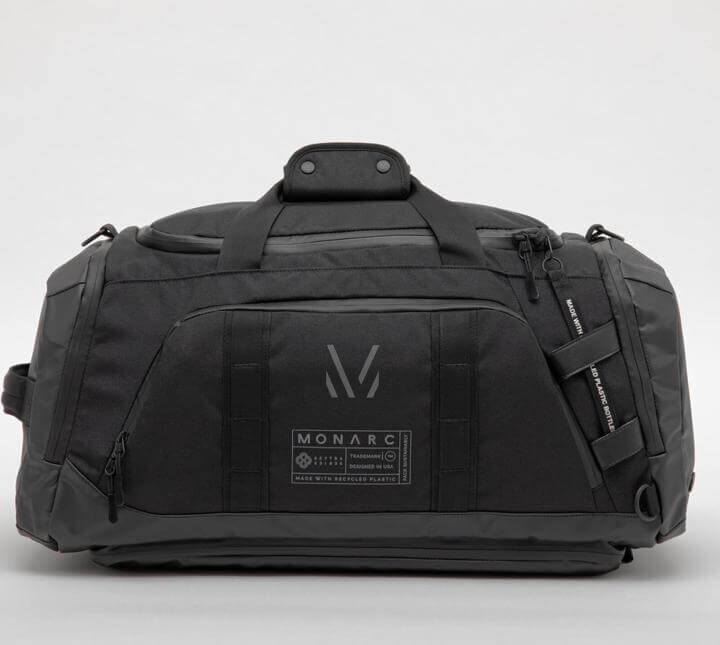 50 recycled plastic bottles – that's what goes into every Monarc Settra: the world's MOST SUSTAINABLE backpack.
Whether you're rocking duffel mode or backpack mode, if you're a traveller that gives a flying hoot about their environmental impact, then there's only one backpack you should consider – the plastic-negative Monarc Settra.
Learn More Now!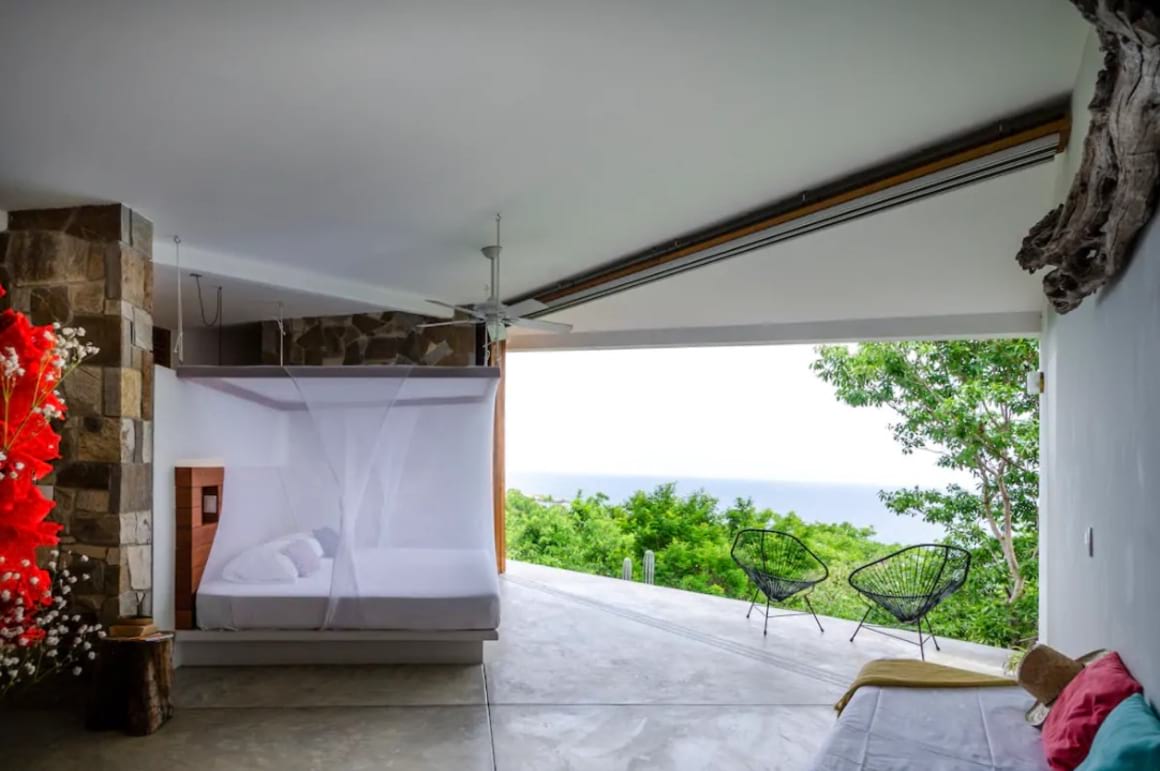 $$
2 guests 
King sized bed 
Amazing jungle views 
Enjoy a peaceful and romantic jungle escape at the Cocolia Hotel, located just outside of Mazunte. Your private bungalow features a king sized bed, expansive views of the jungle and Pacific, and even an open shower facing the ocean. Caliente.
You'll have complete privacy in your bungalow, as well as access to public spaces including a salt-water swimming pool and onsite restaurant. The main energy source of the hotel comes from solar panels, and the buildings were designed to flow with the natural topography of the region to create a more sustainable and immersive nature experience.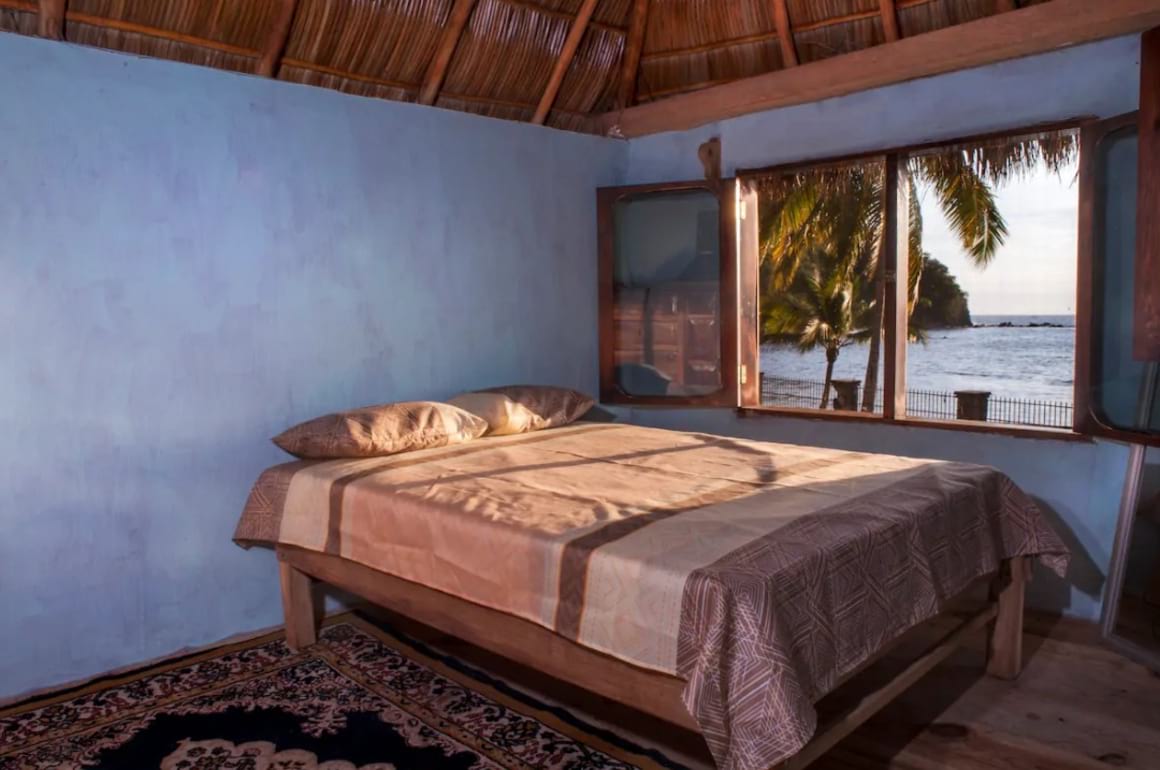 $
6 guests
Onsite restaurant 
Beachfront location 
The rustic and charming cabins of Four Seasons are the perfect spot to enjoy a beach vacation on the Jalisco coast of Mexico. There are several cabins to pick from depending on your group size, each featuring beachfront access and a palapa roof.
The peaceful charm of La Manzanilla makes it a great place for relaxing on the beach. You can check out one of the local restaurants in town, or just eat at the Crocodile Bar onsite and watch the sunset over Tenacatita Bay. 
Over-the-Top Luxury Eco Resort – Chablé Yucatan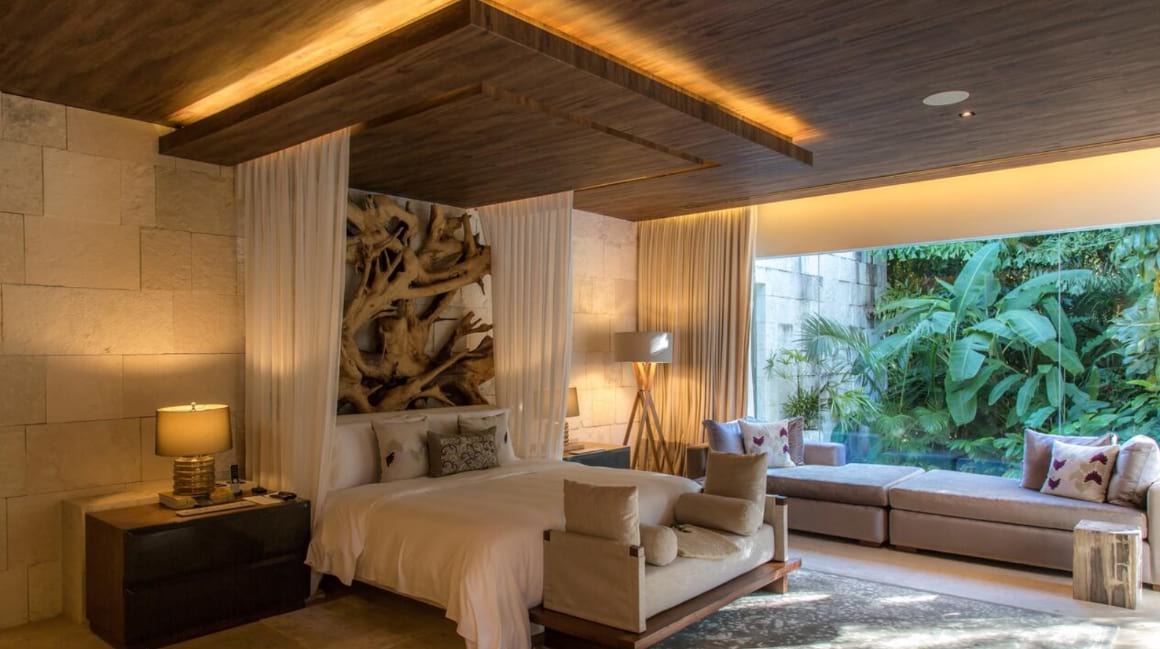 $$$$
2-6 guests 
Private pool and terrace 
Onsite restaurant 
As long as your budget allows, the Chablé Yucatan eco resort offers a truly unparalleled luxury experience on the Yucatan peninsula. Each room features its own private terrace and pool, plus guests all have access to the high-class spa, free bikes, and large swimming area. 
Rooms don't come cheap, but they really do have it all when it comes to comfort and service. Start with breakfast in your room, head out on a bike tour, enjoy an afternoon at the spa, then round off your day with a delicious meal at the highly rated La Chaya Maya restaurant and bar. Wind down with an evening dip in your private pool.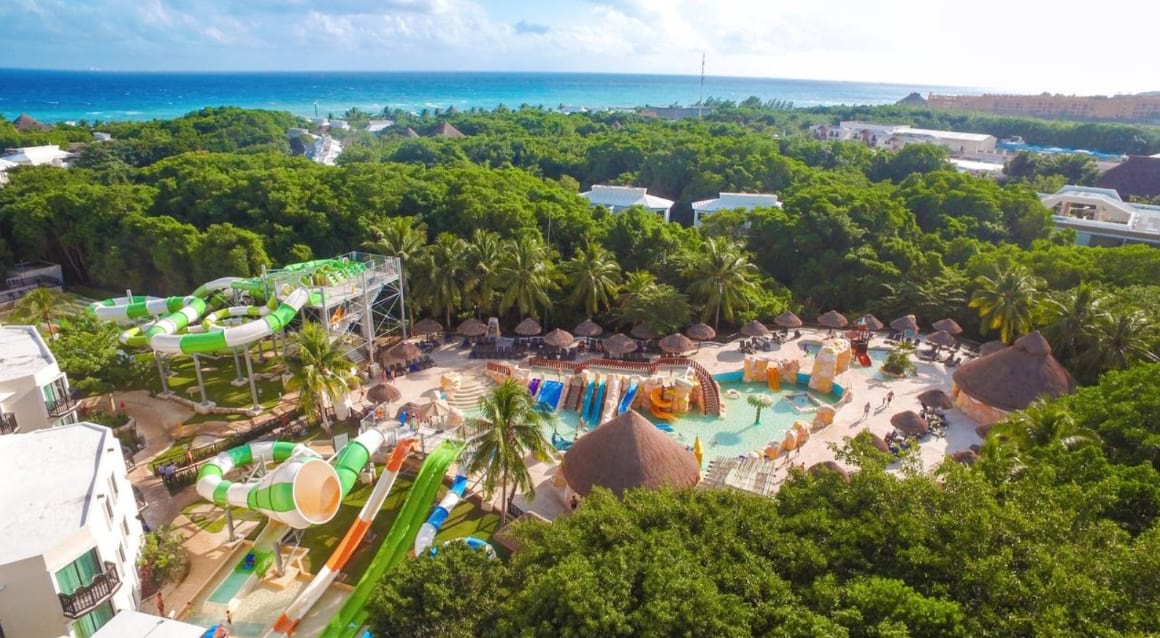 $$
5 guests 
Onsite waterpark 
Numerous restaurants 
Families looking for a fun vacation in Playa del Carmen don't need to look further than the all-inclusive Sandos Caracol Eco Resort. Kids will love the 29-slide waterpark, and parents can relax at the spa and sauna. There's also a gym onsite.
There are 9 restaurants onsite, so from Asian to traditional Mexican food there'll be something for everyone to choose from. Playa del Carmen's top attractions are a short drive away, so you can enjoy snorkelling, historic sites, and golf courses during your visit. Activities can be arranged from the tour desk onsite.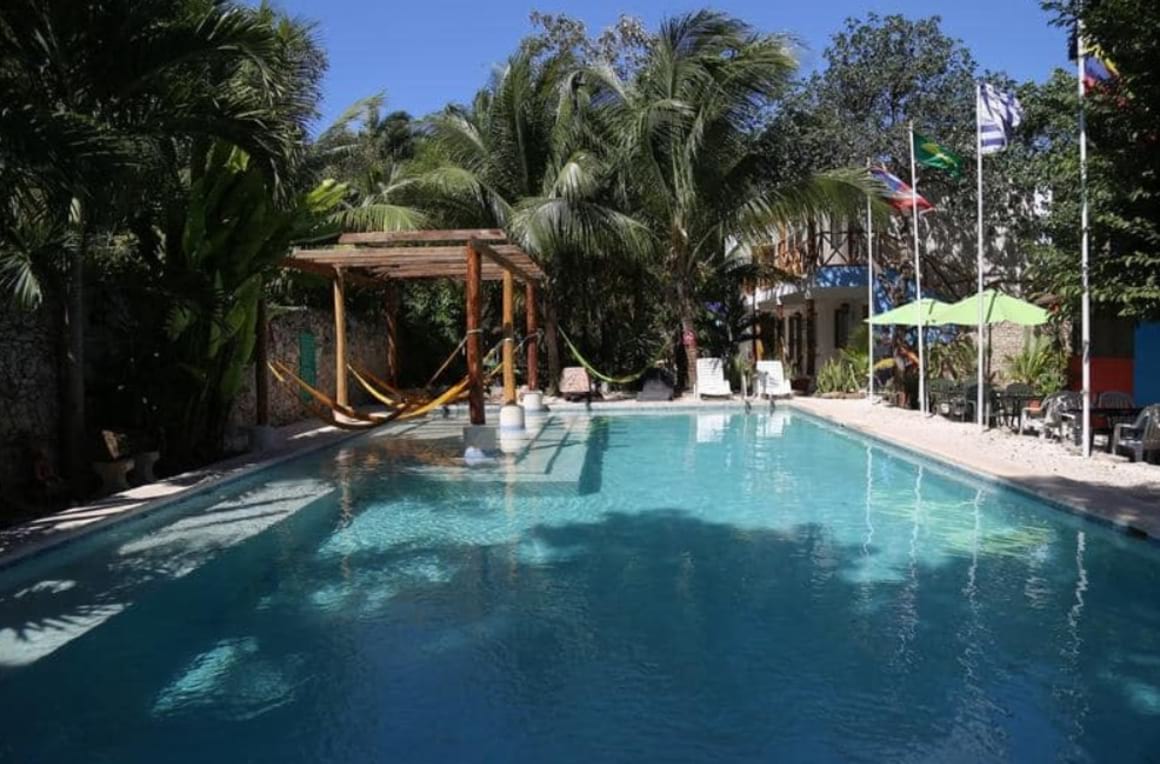 $
1-4 guests 
Free breakfast 
Swimming pool and hammocks 
Located in the town of Mérida, capital of Yucatan and popular home-base for exploring Mayan ruins, this eco-accommodation has everything you'd want from staying in a hostel. Start off each day with a free breakfast onsite, take yoga, dance, or cooking classes during the day, and relax to live music in the evenings. 
There's plenty to see and do in Mérida, from touring museums to live music entertainment. On days when you just need to relax and take a break, you can lounge by the pool or read your favourite book in the comfort of one of the hammocks.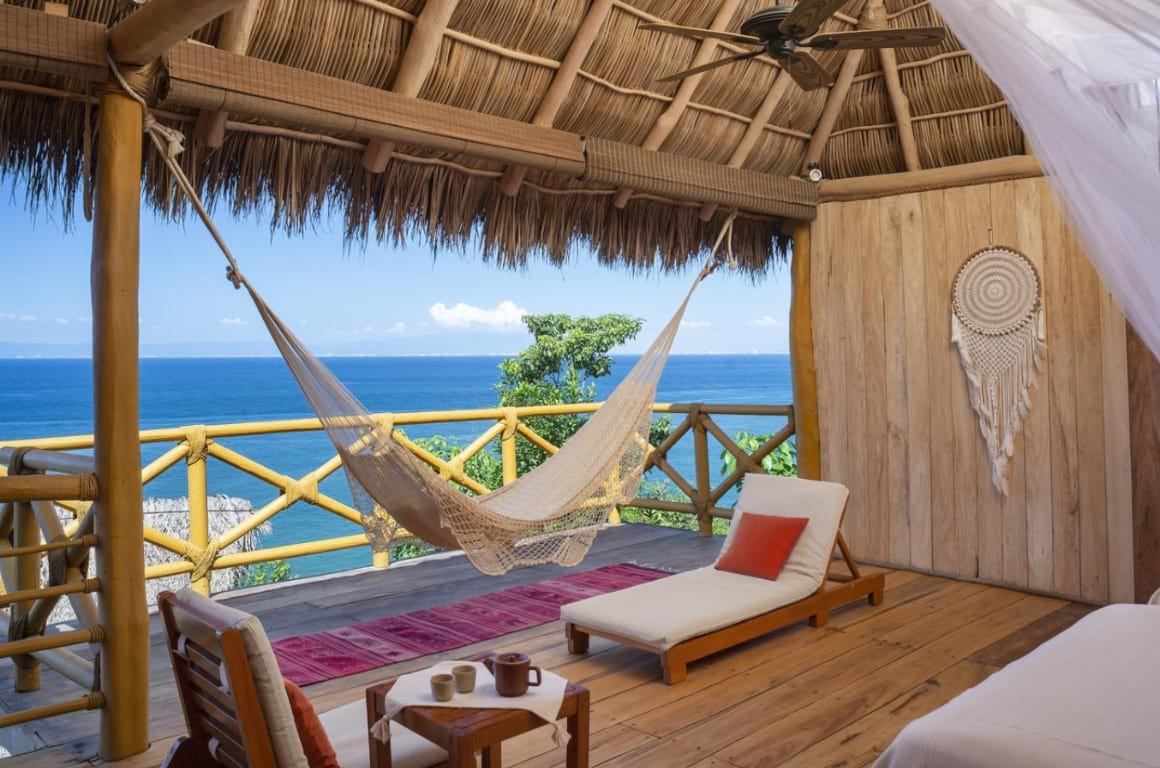 $$$
2 guests 
Private beach area 
Spa and Temazcal onsite 
For the ultimate relaxing beach vacation in Mexico, the Xinalani Yoga Retreat is an excellent choice. This all-inclusive resort includes 3 meals and 2 yoga classes per day in the room price. Plus there's a swimming pool and private beach area, so you can spend as much time as you want relaxing on the sand. 
The resort has excellent modern comforts like Wi-fi, fans or AC, but it also maintains a simplistic charm. Here, you can reconnect with nature and be undisturbed by the rush and traffic of daily life. 
Best Eco Hotel for Solo Travelers – Tubohotel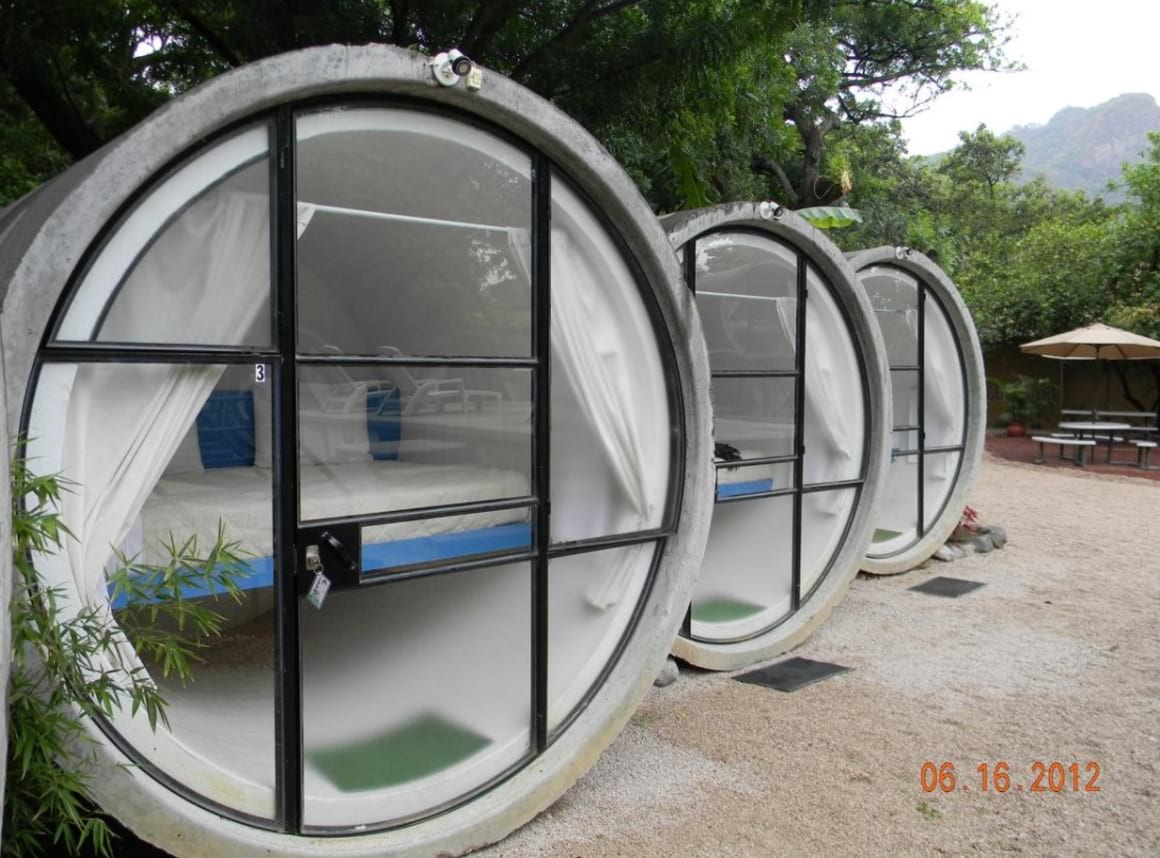 $$
1-2 guests 
Swimming pool 
Beautiful garden 
This unique eco hotel takes sustainability to the next level, by converting old concrete tubes into fun and classy accommodation. The large glass windows let in plenty of natural light and a view of the pool and garden, but the curtains provide full privacy when you're inside.
Tepoztlán's local markets and natural parks are pretty close by. If you just want to relax, get comofrtable in one of the beach loungers by the pool for a break. Each tube is perfect for solo travelers, but can also accommodate couples who don't mind getting cozy.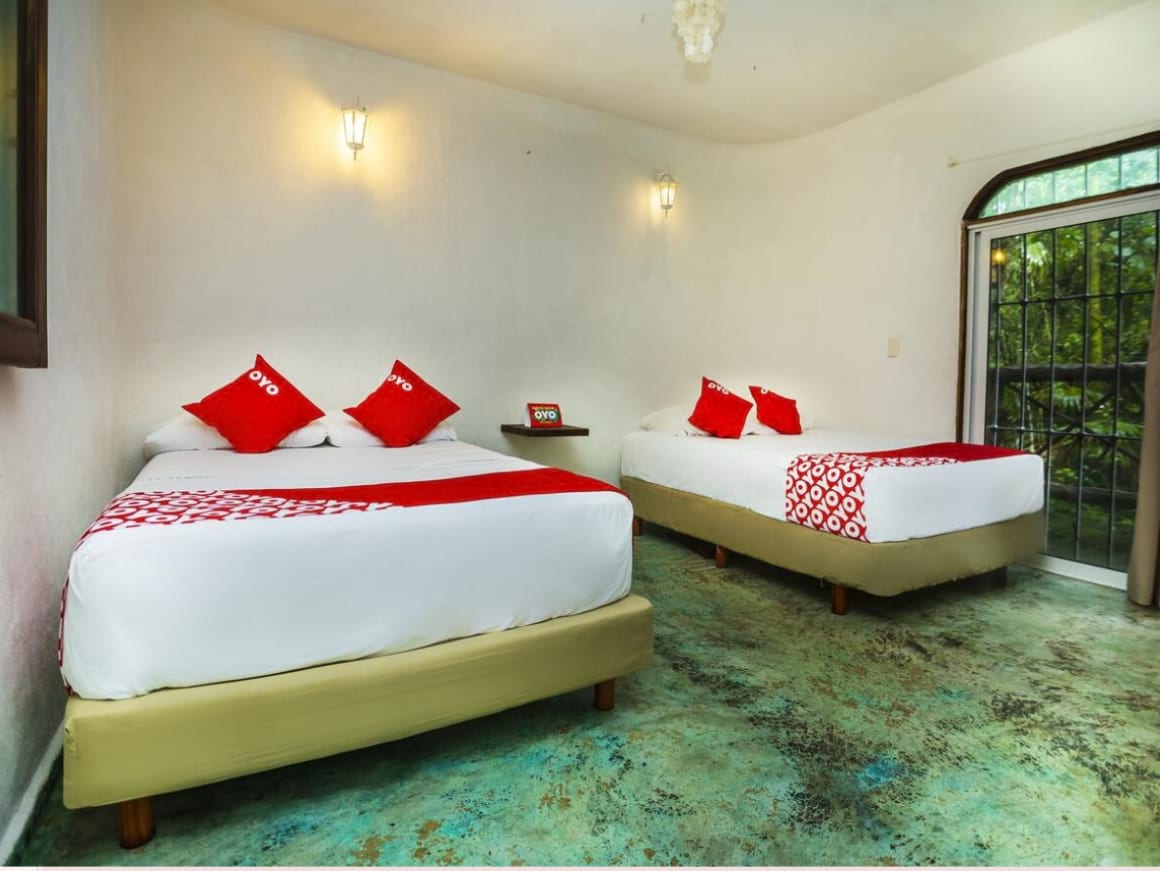 $$
2-8 guests 
Swimming pool 
Restaurant onsite 
If you only have a weekend to spend in Mexico, then the Jolie Jungle Eco Hotel is the perfect place to stay. Whether you're flying solo or traveling with a large family, the bungalow has rooms of various sizes to accommodate all parties. 
The eco design of the hotel makes it a perfect place to relax and reconnect with nature. Watch jungle birds out of your window, take a dip in one of the swimming pools, or relax in the traditional Temazcal steam bath. There are also bikes which are free to use, and nature trails on the property so you can appreciate the jungle scenery. 
Best Eco Resort for Honeymooners – Cabaña Areca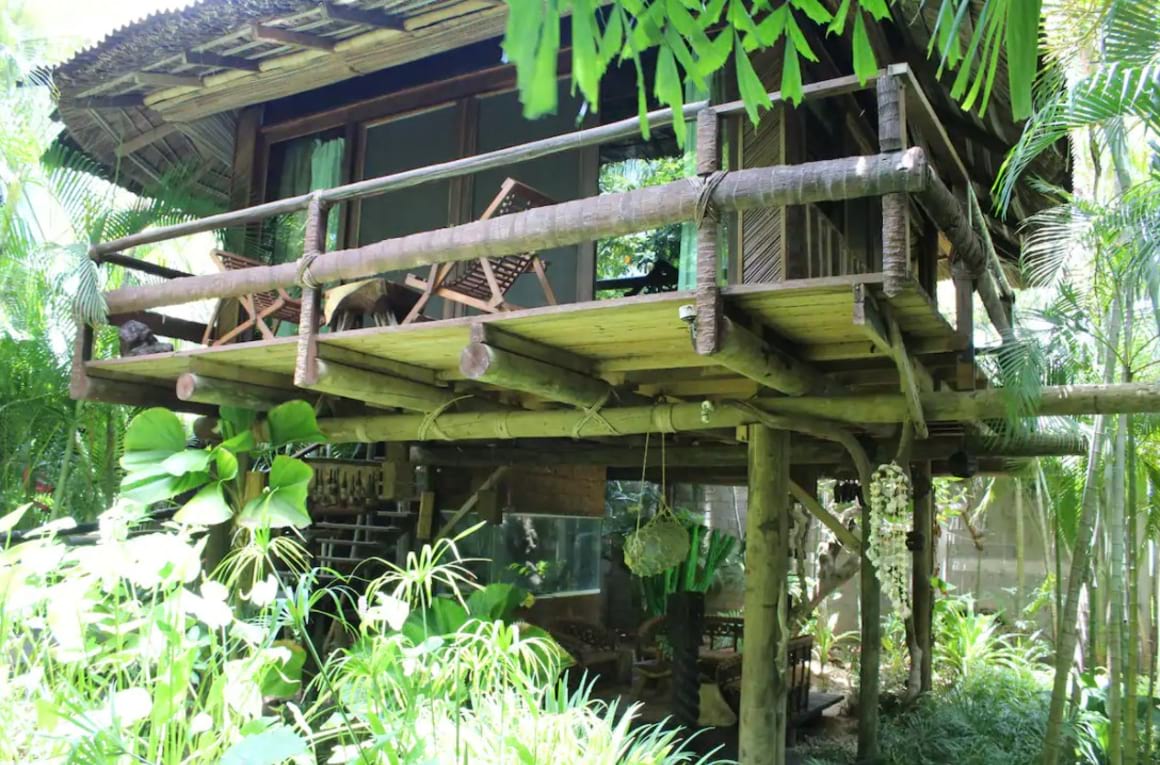 $$
2 guests 
King size bed 
Swimming pool and hammocks
If you're planning a honeymoon in Mexico, the Cabaña Areca offers a beautiful, private eco retreat for a romantic vacation. There's no hot water or air conditioning, but the mild climate and open architectural design allows for natural air flow to keep the cabin perfectly comfortable. 
You'll be peacefully secluded in the jungle and surrounded by nature, but if you do want to venture out there are shopping centers, beaches, and restaurants nearby. You can also sign up for additional activities like yoga classes, massages, Temazcal steam baths, or the breakfast service.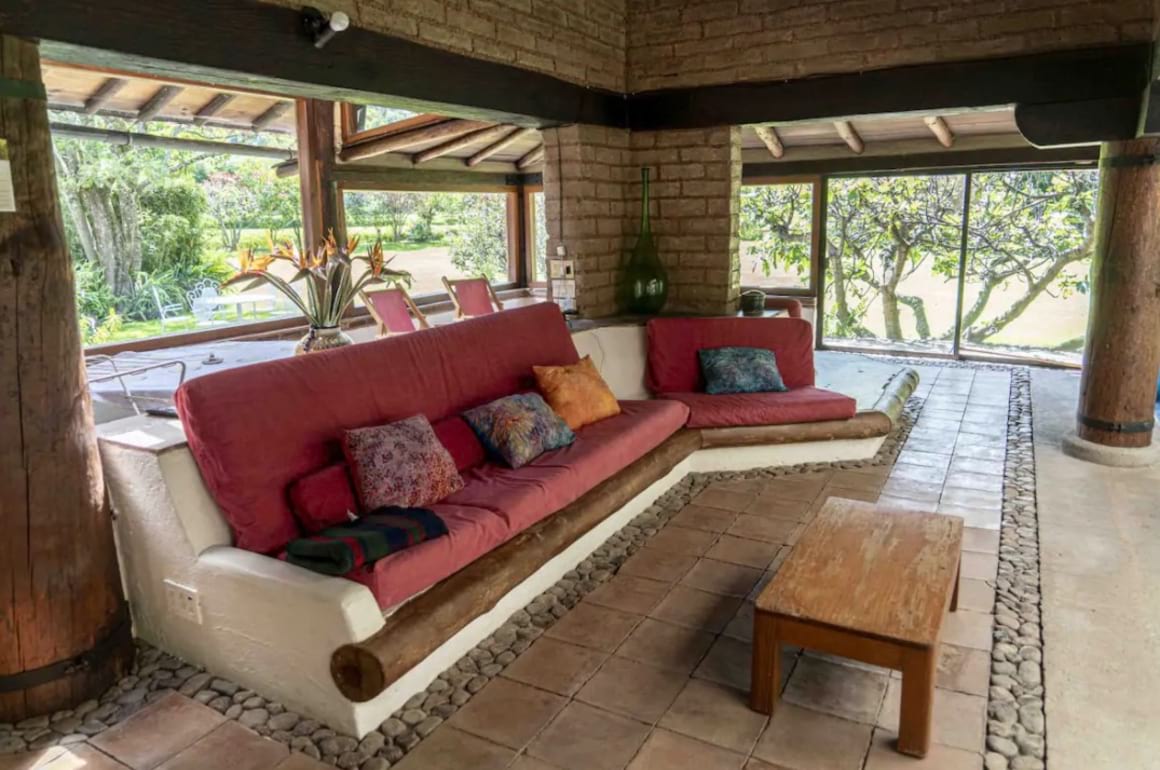 $$$
10 guests 
Swimming pool
Expansive private gardens 
Imagine having your own private eco ranch in Mexico for an unforgettable vacation! This eco-friendly retreat is perfect for groups, families, or couples who want a special and private place to relax and reconnect with nature. 
You'll be surrounded by rolling green hills with views of mountains and rivers, plus a traditional Mexican ranch all to yourself. The space is well equipped with modern amenities like a grill, solar heating for the pool, and large comfortable living and dining spaces. 
Most Traditional Eco Hostel in Mexico – Cenote Encantado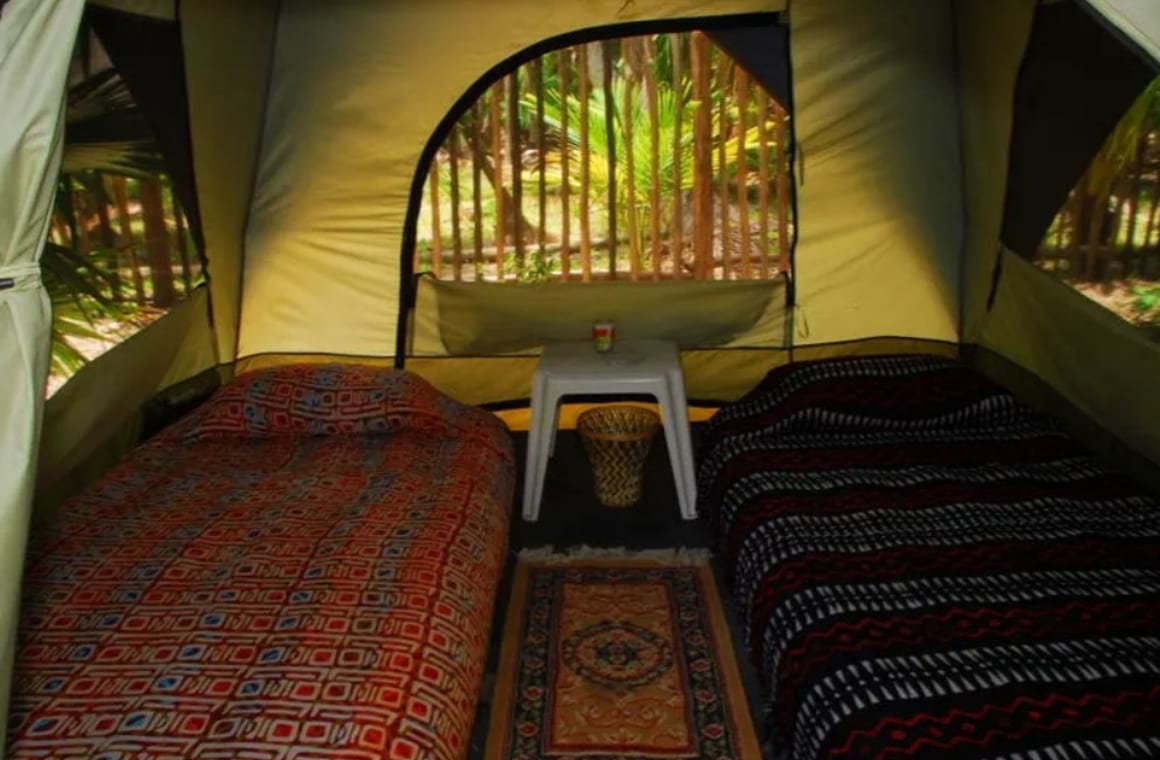 $
2 guests 
Shared kitchen 
Yoga classes 
This eco hostel is a great spot for adventurers and people looking for a more holistic retreat experience. Located in a popular eco-tourist location, this hostel in Tulum features camping-style accommodation with a shared kitchen. You'll also have opportunities to take yoga classes and learn about permaculture.
You can take part in fun adventure sports like swimming, snorkelling, boating, and hiking thanks to the 100+ cenotes (aka sinkholes) located close to the property. The hostel has kayaks and snorkelling gear available for rent, and there's also a Temazcal steam bath onsite.
FAQ about Eco Resorts in Mexico
Here's what people usually ask us when they look for vacation homes in Mexico.
Don't Forget Your Mexico Travel Insurance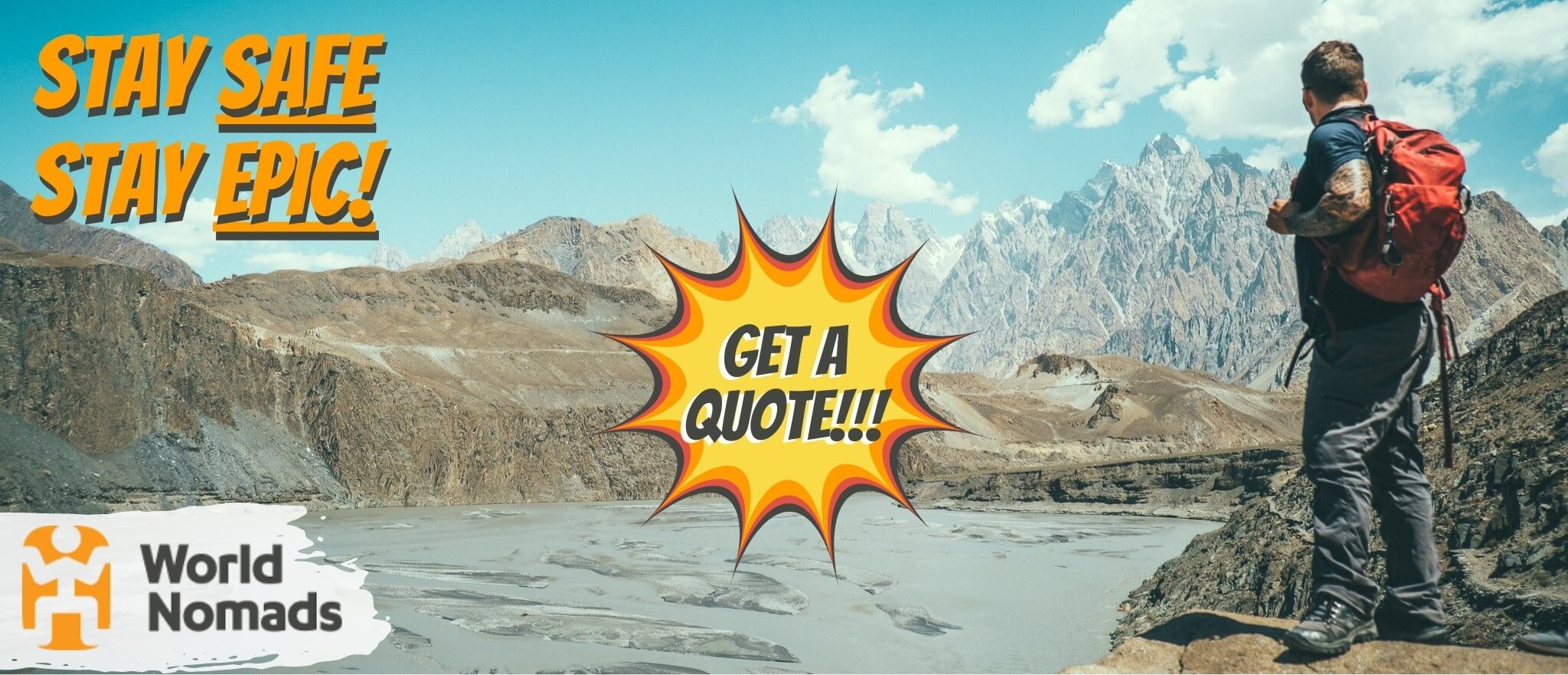 It's good to get lost sometimes, but it's also good not to get too lost. There are people that want you home in one piece.
There's one travel insurance provider The Broke Backpacker trusts for all his wildest shenanigans… World Nomads!
Click the button below to get a quote on your insurance or read our in-depth review of World Nomads' coverage. And then… let the shenanigans begin. 😉
Final Thoughts on the Best Eco Resorts in Mexico 
Whether you're interested in historic ruins or simply looking for a spot to relax on the beach, Mexico offers the dream vacation destination for many travelers. Instead of booking into your regular Mexican backpackers, try out an eco resort! It's the perfect opportunity to turn your trip into a more unique and sustainable experience. 
Hopefully after reading through this list of the top eco hotels and eco hostels in Mexico you'll have found a spot that's perfect for you. From luxury travel to simple and rustic accommodation, there's a lot of variation so everyone can find something to fit their preferences and budget. 
---
Bye for now, but not forever!
If you want MORE top-tier Broke Backpacker content like this, then sign up for our weekly newsletter below to get the latest and greatest!
And for transparency's sake, please know that some of the links in our content are affiliate links. That means that if you book your accommodation, buy your gear, or sort your insurance through our link, we earn a small commission (at no extra cost to you). That said, we only link to the gear we trust and never recommend services we don't believe are up to scratch. Again, thank you!