If you are coming to check out Mexico's Yucatan Peninsula, you will certainly have a stopover in Tulum.
Tulum is the most backpacker friendly town in the Yucatan. It is worlds away from the cheesy, over-priced spring break vibes of Cancun.
Perfect turquoise beaches, ancient ruins, and of course the mystical cenotes (sinkholes/freshwater caves) all come together to make Tulum, Mexico a special destination.
As I can personally attest, some hostels in Tulum are far better than others.
After a night in a totally unacceptable hostel, I decided to seek out the very best.
That is exactly why I wrote this guide to the best hostels in Tulum for 2020.
This hostel guide will be your compass to only the very best accommodation options for backpackers in Tulum.
By the end of this guide you will be filled with the knowledge and confidence you need to crush your travels.
I have organized each hostel into different categories so that you can be sure to find the perfect spot for yourself.
Let's get to it… Vamos!
Quick Answer: The Best Hostels in Tulum
The 10 Best Hostels in Tulum
Deciding where to stay in Tulum can be a real struggle. But we're here to help! Instead of just blindly booking your accommodation, do some research and find out what you want to see and choose your hostel according to the location. You don't want to end up miles away from the cool hotspots you wanted to explore. Trust us, your feet will thank you!
Overall Best Hostel in Tulum – Lum
– $$
– Free Bicycles
– Bar
– Self Catering Facilities
The simply named Lum is super, super nice. Modern and design-focused (think potted plants set against grey polished plaster walls and you won't be far off), this is the overall best hostel in Tulum not only because it's possibly the coolest hostel in Tulum, but also because the facilities – including indoors and outdoors chill-out areas complete with TV and ping-pong table – are great and SUPER clean, and because the staff here are legends. They get to know everyone by name, which really is a nice touch! Easily the best hostel in Tulum 2020 – I mean, it even offers free bicycles for you to pedal around town. PLUS: location is amazing.
Best Hostel for Solo Travellers in Tulum – Mama's Home
– $$
– Free Breakfast
– Outdoor Terrace
– Bicycle Hire
The staff are really friendly at this chilled Tulum backpackers hostel, which really helps you feel welcome pretty quickly – always good, especially if you're not planning to stay for very long. They also put on a lot of activities; in fact, there's usually something going on nightly at Mama's House, really helping guests to get together, meet, make friends, all of that social stuff. And for that reason we say it's the best hostel for solo travellers in Tulum – the atmosphere is just perfect for meeting people. Sure, it's a little basic, but here the vibe more than makes up for that.
Best Cheap Hostel in Tulum #1 – Hostal Chalupa
– $
– Free Breakfast
– Swimming Pool
– 24-Hour Reception
This recommended hostel in Tulum is just on the outskirts of town, but it's easy to walk to the centre; however, that location means that it ends up being quite a chilled hostel, quiet and relaxed, perfect for a tranquil week's stay. It's also a proper bargain, being one of the most value-for-money places to stay in town, easily making its way to its position of the best cheap hostel in Tulum. Hostal Chalupa offers double bed-sized bunks in the dorms, meaning loads of room (V much appreciated), hammocks in its outdoor space, plus a pool to cool off in. Nice selection of stuff for a great price.
– $
– Garden
– Free Breakfast (Crepes!)
– Towels Included
No bunk beds! Hooray! The dorms here are just normal beds, which is just a world of difference when it comes to comfort. Top bunks are always HOT. Well, thank goodness for that. It's a 15 min walk from the centre of Tulum, but El Jardin de Frida is more like the place you wanna unwind and chill in, not walk out and be right in the action straight away. As such you can probably tell that it's not a party hostel. So if you wanna meet people and drink your weight in mojitos, this ain't the place. If you wanna chill and relax, then come here: it's super cute (especially the cafe area)! Be prepared for mosquitoes though.
Best Cheap Hostel in Tulum #3 – Hostel Sheck
– $
– Free Breakfast
– Self Catering Facilities
– Bar
This is basically a good hostel that's close to everything – location-wise, of course. We all know that's a good thing. At Hostel Sheck they also have a fully equipped industrial kitchen which makes cooking a lot nicer than doing it a crumbly half-decrepit outhouse of a kitchen – trust us, they exist. Hmm, overall this youth hostel in Tulum has a decent atmosphere, a decent bar, a decent garden to chill in. It's not THE best hostel in Tulum, but with its helpful staff and WONDERFUL (really) free breakfast, it's definitely a recommended hostel in Tulum.
– $
– BBQ
– Swimming Pool
– Free Breakfast
Very much so the best party hostel in Tulum, Hostel Che is ALL BOUT that party vibe. The music doesn't stop till 1am, so if you're not prepared for partying then we wouldn't recommend coming here. However, if you are also all about that party vibe, then you'll probably love it here. There's a pool and swish little outdoorsy garden area which is great to chill in after a heavy night of drinking and dancing. They also put on live music, BBQ nights, pizza nights, as well as free tours, yoga and salsa classes. Deffo a top hostel in Tulum.
.
– $$$
– It's All-Inclusive
No wonder this place is called Lucky Traveler: IT'S ALL INCLUSIVE. An all-inclusive hostel – what? Right? But you are reading this correctly. It IS all-inclusive. That means FOOD. That means BICYCLE HIRE. And yes, that even means DRINKS. Of course, it's much more expensive than other offerings, but for this kind of thing it's the best hostel for couples in Tulum – the private rooms are pretty much backpacking luxury, complete with own WiFi, Netflix, and en-suite bathroom (cleaned daily). Perfect as a getaway for a couple who doesn't wanna do the normal boring couple stuff. Don't worry: there are dorms here, too.
– $$
– Free Breakfast
– No Curfew
– 24-Hour Reception
Cute and not-badly-priced private rooms at Amorcito Corazon Hotel y Hostel make it feel even more boutique than it already looks – it's nicely laid out and decorated, which is a win in our books. But really, it's the best hostel with a private room in Tulum because of its amazingly comfy beds, incredible service (the staff are just great here), tasty free breakfast – and, oh, did we mention the rooftop pool? No? Well, there's one of those here too. If you need any further convincing of this recommended hostel in Tulum, the location is also tip-top.
Psst!
Heading to a hostel? Don't forget to pack a
padlock
! It's well worth having one so you can secure your locker and protect your stuff!
More Best Hostels in Tulum
– $
– Swimming Pool
– Bicycle Hire
– Cafe
Not a party hostel at all, the chilled vibe of La Negrita makes it a nice little oasis right in the heart of Tulum. From here you can rent a bike (from the hostel, of course) and pedal around town at your leisure. Sounds nice to us. The swimming pool, yoga space, and the wild abundance of hammocks make this an even more chilled hostel than it already seems. And since it's so very hot for us delicate travellers, the staff here kindly leave the AC on all day, which is quite unique in this town. Plus it's really cheap here, making it a great budget hostel in Tulum. Shout out all you penny-pinchers.
– $$
– Free Breakfast
– No Curfew
– 24-Hour Reception
Not the cheapest – but is it the most tranquilo? Hmm. Well, the garden is pretty beautiful, we have to admit that much, making it a really nice place to relax in – the library (or book exchange, let's be honest) + loads of hammocks = chill afternoons spent reading. An American family runs this place, and they're really friendly people, which adds up to a nice, warm and welcoming atmosphere. There is no AC in the dorms, and fans don't reach the top bunks, so, yeah, it can get pretty sweltering up there. 10/10 breakfast though- waffles, pancakes, fruit, juice, tea/coffee – good stuff. Also it is close enough to town and the surrounding fun things to do in Tulum.
The Best Travel Backpack?!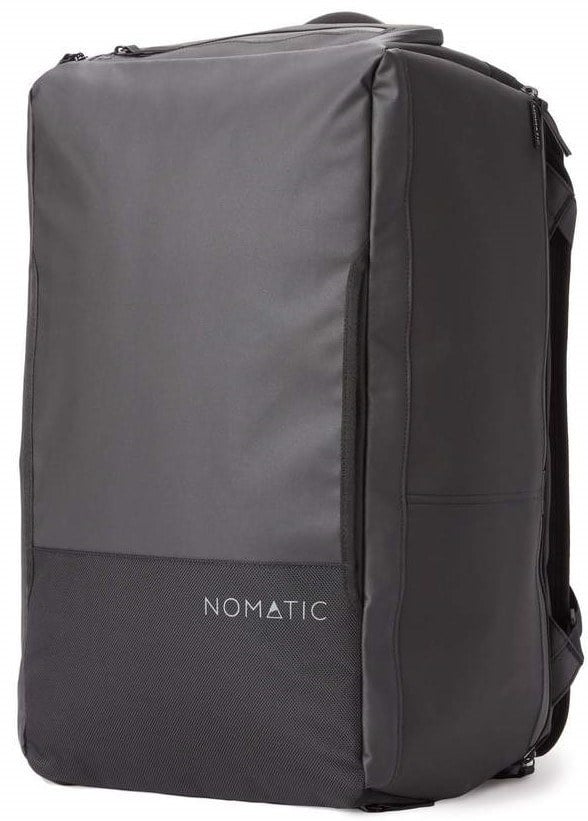 Pssssst! Not picked the perfect travel backpack yet? The Broke Backpacker team has tried out over thirty backpacks this year! Our favourite carry on backpack is the Nomatic Travel Bag.
Read our full review!
What to Pack for your Tulum Hostel
Pants, socks, underwear… Here are some other items you might not have thought to pack.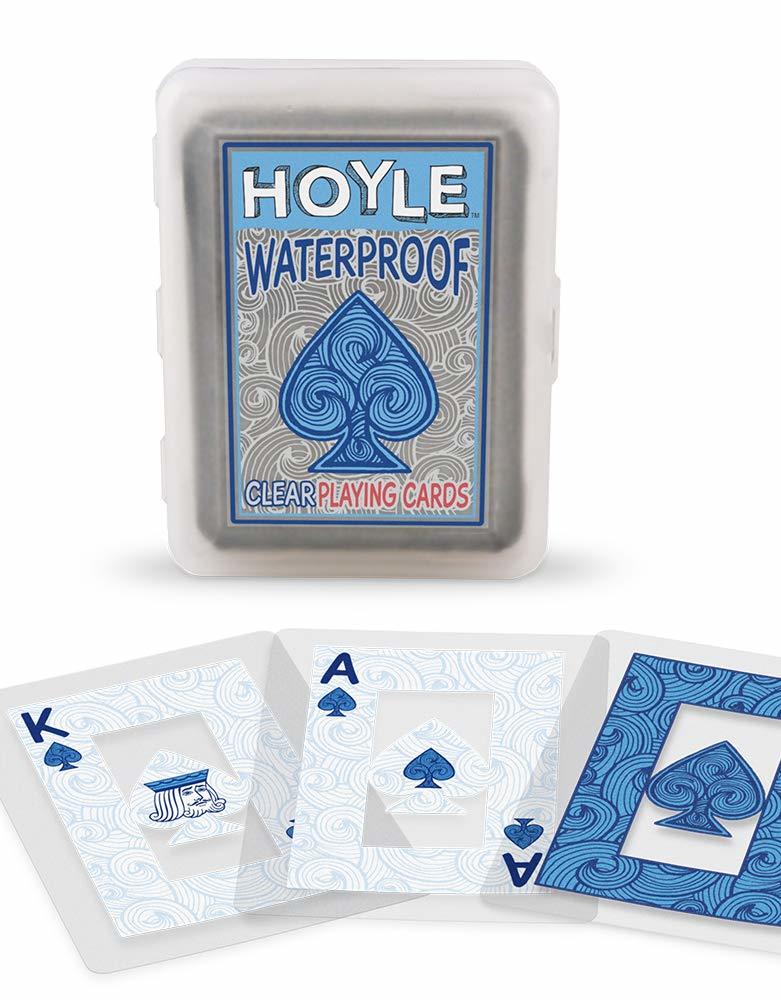 1. Playing Cards: These waterproof cards are essential kit for every backpacker. Play by the pool, beach or at your hostel after a long day with travel buds, without your cards breaking or getting soaked. And once you pull out those cards, the chance that you'll be the hero of the night is pretty high (no promises though).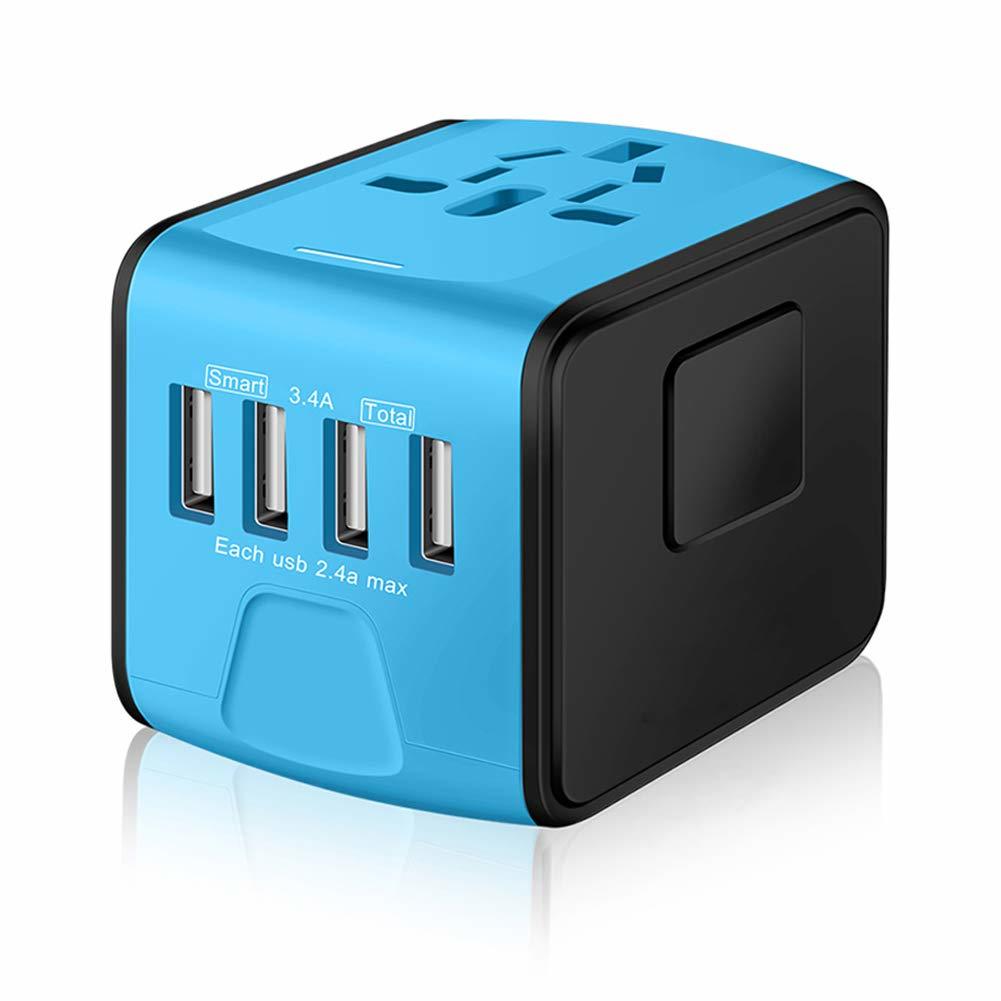 2. Universal Travel Adapter: Not every country has the same electrical plug style, so carry along a universal travel adapter. You'll want one that covers varying voltage levels, has protection from power surges, a fried laptop is not fun, and enough ports so you don't have to spend all day individually charging your devices.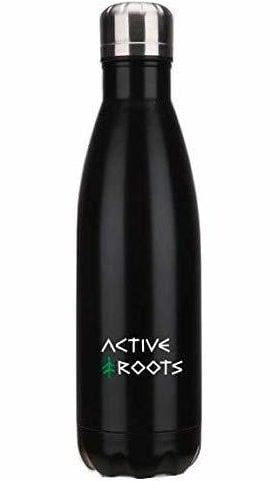 3. Active Roots Water Bottle: Sturdy and durable, the Active Roots water bottle survives the roughest adventures while keeping your drink cold or hot for at least 24 hours. Vacuum-sealed and made from stainless steel, the bottle can fit 25oz, which is plenty to keep you hydrated. Super cool bonus: the bottle isn't just super useful, it helps to reduce the single-use plastic waste – save the planet by filling up your bottle.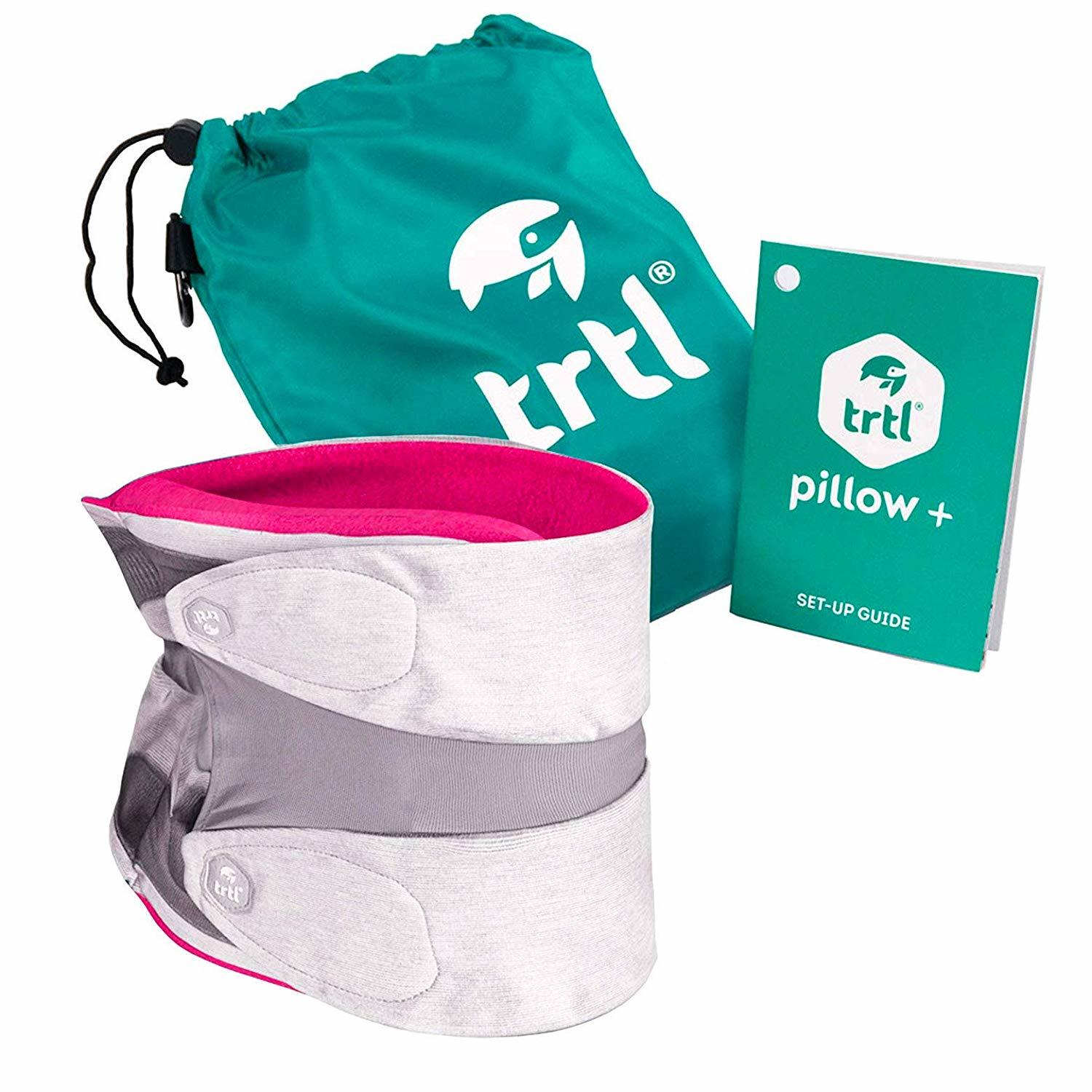 4. TRTL Travel Pillow: Long flights and bus rides are quite uncomfortable (most obvious statement of the day). Most travel pillows… Well, you know how they are. TRTL travel pillow is different. I mean, look at it! It'll cuddle you to sleep every ride and it does a pretty damn good job of supporting your neck so you don't get that stiffness or legendary popping when you stir.
5. Power Bank: Everyone knows the mini heart attack when your phone is about to run out of power. Surviving long bus rides without charging stations can be agonizing, which is why every backpacker should have this Anker Power Bank. You can charge your phone up to 5 times, or plug in two devices simultaneously. With high-speed charging and enough power to keep you going for days, you can conquer even the biggest adventures without a problem.
6. Active Roots Toiletry Bag: The Active Roots Toiletry bag keeps all of your bathroom essential items organized instead of flowing around your backpack. Having everything handy and accessible in one water-resistant bag is a bathroom lifesaver. This toiletry bag also helps from being that embarrassed person walking back to the dorm room, in a towel, to grab forgotten shampoo.
Why you should travel to Tulum
All good things must end amigos: that's right, you have made it to the finish line of my best hostels in Tulum 2020 list.
Now that you're in the know, there is no reason for you to end up at one of Tulum's shadier hostels (as I once did).
Tulum is truly a magical place (well truth be told the gems are really in the surrounding area) full of exploration potential and adventures to get into. Where you stay clearly matters. The last thing I want is for a fellow backpacker to experience the same disappointment I did in Tulum. Now that you have read my hostel guide, booking a great hostel is now all sorted.
You are now in firm possession of all of the best hostels in Tulum. Making the choice of where to book is now in your hands.
Still undecided? Feeling overwhelmed as if you were trying to pick out the best taco fixings at a street food cart? I know the feeling.
In times of uncertainty, I typically recommend that you just book my top overall hostel in Tulum: Lum. Happy Travels!
Travel Safety Tips for Tulum
And don't forget to sort your travel insurance before heading to Tulum! We've put together a roundup of the best travel insurance for backpackers – check it out here, or if you're low on time, get a quote from World Nomads, our favorite travel insurance provider.
Getting an estimate from World Nomads is simple – just click the button or image below, fill out the necessary info, and you're on your way!

More Epic Hostels in Mexico and Central America
Hopefully by now you've found the perfect hostel for your upcoming trip to Tulum.
Planning an epic trip all across Mexico or even Central America itself?
Don't worry – we've got you covered!
For more cool hostel guides around Central America, check out:
Over to you
By now I hope our epic guide to the best hostels in Tulum has helped you choose the perfect hostel for your adventure!
If you think we've missed anything or have any further thoughts, hit us up in the comments!
Yay for transparency! Some of the links in this post are affiliate links. This means that if you book your accommodation through the site, The Broke Backpacker will earn a small commission at no extra cost to you. Your support helps keep the site going.
---
Need More Inspiration?
Like this Post? PIN ME!!
Noodle addict. City dweller. Aaron Radcliffe is the marketing ninja for The Broke Backpacker, founder of Nomads Nation and Co-Founder of Ditch Your Desk.