Mexico's Pacific coastal town of Puerto Vallarta is defined by its beautiful beaches, surrounding wild jungles, and delicious cuisine. Unlike its more commercialized neighbors of Cabo and Cancun, this resort town evolved naturally from a small local fishing village into the popular destination it is today.
There is so much to see and do in Puerto Vallarta that you would need at least a week to experience it all. That's why I would always recommend staying in a vacation rental like VRBO so you can have more homely comforts that you don't get from a hotel.
The cobblestone streets of Old Vallarta or El Centro are great places to stay if you want to be in the hustle and bustle of the tourist district. Here, you'll find small studios and cozy hacienda-style homes on the VRBO market. Zona Romantica is another central neighborhood near the beach and boardwalk dotted with charming bars and eateries.
Alternatively, if you're wanting to see the beaches, head to the Conchas Chinas hills, which overlook one of the best beaches in town. Playa de Los Muertos is the other most famous beach and is scattered with modern luxury condos.
For privacy and opulence, you won't struggle to find an extravagant VRBO in Puerto Vallarta's jungle hills overlooking these beaches.
As you might have guessed by now, there are a ton of VRBOs to rent in Puerto Vallarta, so to help you decide on which is the best one for your trip, I've curated this list on the top 20 VRBOs so you can concentrate on putting your itinerary together.
So, let's get stuck in.
Quick Answer: These are the Top 5 VRBOs in Puerto Vallarta
Overall Best Value VRBO in Puerto Vallarta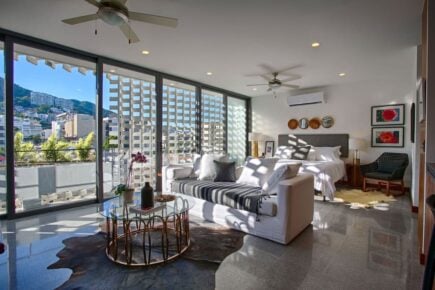 Overall Best Value VRBO in Puerto Vallarta
Contemporary Studio with Rooftop Pool
> $
> 2 Guests
> Brand new modern interiors
> Mountain views in Emiliano Zapata
Best Budget VRBO in Puerto Vallarta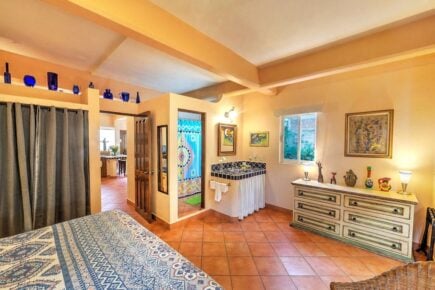 Best Budget VRBO in Puerto Vallarta
Spacious 1 Bed Casa with Pool Access
> $
> 2 Guests
> Access to a rooftop deck and plunge pool
> In the trendy Zona Romantica
Best VRBO for Couples in Puerto Vallarta
Best VRBO for Couples in Puerto Vallarta
Gorgeous 1 Bed Condo with Pool Access
> $$
> 2 Guests
> Spacious home with walk-in closet
> In Old Town Puerto Vallarta
Best VRBO for Families in Puerto Vallarta
Best VRBO for Families in Puerto Vallarta
Authentic 3 Bed Hillside Hacienda with Pool Deck
> $$$
> 8 Guests
> Colorful home with natural light
> In the hills overlooking Conchas Chinas Beach
Over-the-Top Luxury VRBO in Puerto Vallarta
Over-the-Top Luxury VRBO in Puerto Vallarta
Luxurious 11 Bed Villa with Outdoor Living Space
> $$$$
> 22 Guests
> Pool area overlooking the ocean
> In the hills a few miles from the center

Unlock Our GREATEST Travel Secrets!
Sign up for our newsletter and get the best travel tips delivered right to your inbox.
What to Expect from VRBOs in Puerto Vallarta
As one of Mexico's most popular resort towns, it shouldn't come as a surprise that Puerto Vallarta has a busy beachfront scene dotted with condos, apartments, and studios. Most of these rentals were specifically built and designed for the flurry of tourists that visit the city each year.
In fact, there are some seriously bourgeois apartment blocks along the Malecon Boardwalk, Puerto Vallarta's main beachfront boulevard. With rooftop pool decks and shared gyms and lobbies, these rentals are ideally located for a quick visit.
For the more adventurous travelers, the city is surrounded by dense jungle mountains scattered with hillside homes, haciendas, and Casas. Depending on your budget and the number of travelers you're bringing along with you, you could find a super affordable beachside casa or pick out a fully-staffed luxurious hacienda in the hills.
Before you look at the types of homes available to rent, it's a good idea to get familiar with the neighborhoods of Puerto Vallarta so you can be sure to be close to all the attractions you want to see.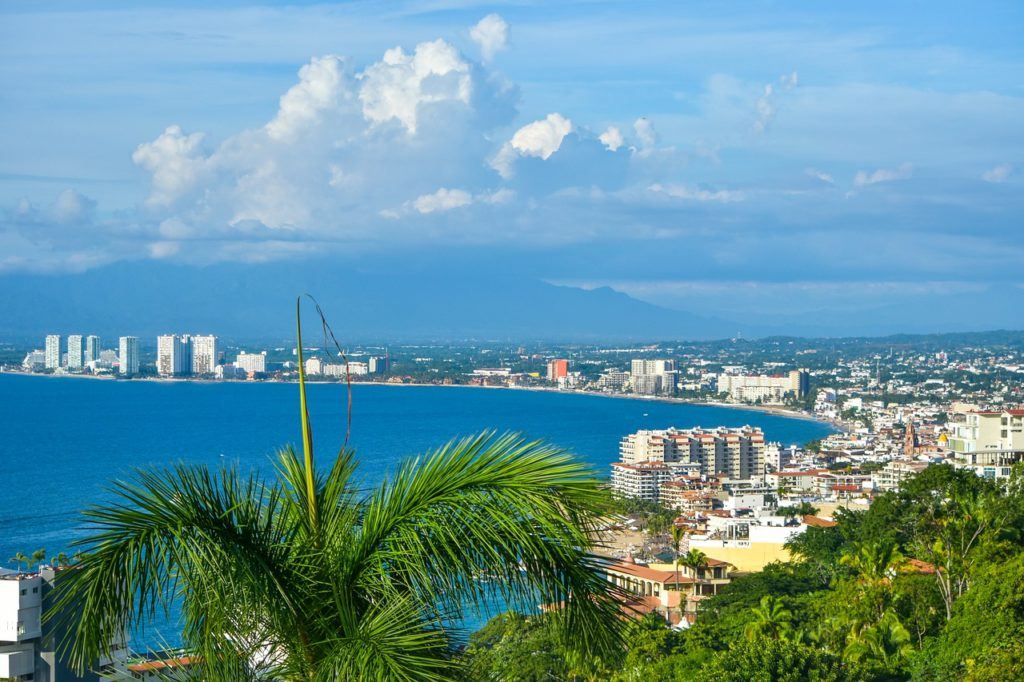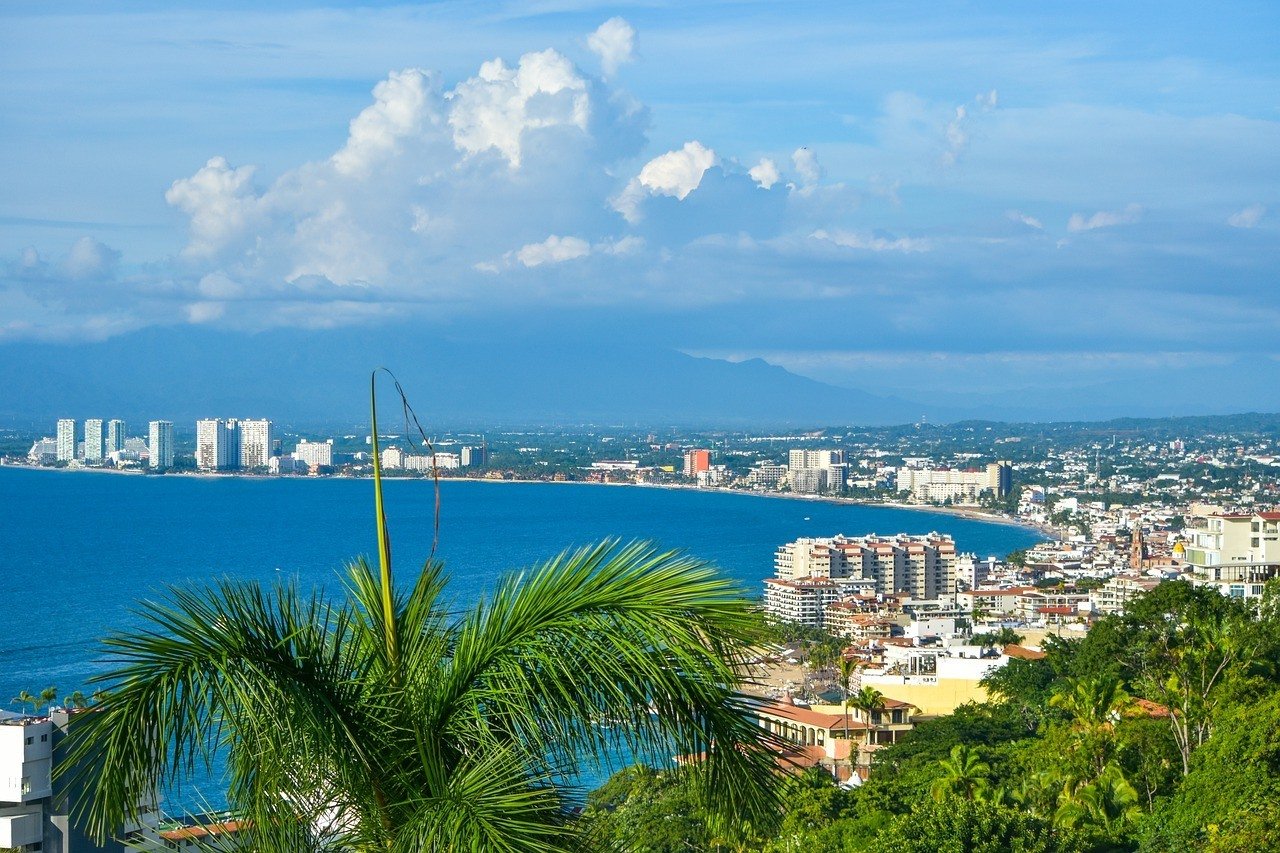 Haciendas
Traditional hacienda-style homes are a great shout for anyone who wishes to experience authentic Mexico. These classic homes typically have white stucco walls, red clay roof tiles and make use of dramatic dark wooden beams, doors, and other accents.
Hacienda windows are generally small to allow airflow but reduce direct sunlight and heat. Courtyards are another interesting architectural feature that is typical of haciendas. Whether in the center of the home or on the side, these were traditionally used to eliminate cooking heat created in the kitchen.
When it comes to the interior of a home, haciendas usually have open-plan living spaces and are fitted with carved wooden furniture, hand-painted kitchen tiles, and local art. These elements add a warm and inviting feel to haciendas.
In Puerto Vallarta, haciendas are commonly located in the beautiful hills outside the city's hustle. Many have pool decks that overlook exquisite ocean views. They are usually built for large families, with between three to six bedrooms, making them an ideal rental in Puerto Vallarta for families and friends.
Modern Condos and Apartments
Like many popular resort towns, Puerto Vallarta has many high-rise condos, apartments, and studios along its most famous Malecon Boardwalk. While these were built to accommodate tourists, they have since become an architectural feature of the city's skyline (if you could even call it that).
Many of these buildings have been built with trendy and modern interiors. Floor-to-ceiling windows overlooking ocean views, shared pool and BBQ rooftop decks, and common lobby areas can be expected in these luxurious buildings.
If you're on a budget, you could easily find an affordable studio or one-bedroom apartment in a highly-rated location. There are also a bunch of exquisite luxury penthouses on offer for bigger travel parties with a higher budget.
Condos and apartments are ideal for couples, small families, and small groups of friends. They're also a convenient lock-up-and-go option for anyone popping into Puerto Vallarta for a quick visit, as they are usually located in the most central neighborhoods, including Zona Romantica and El Centro.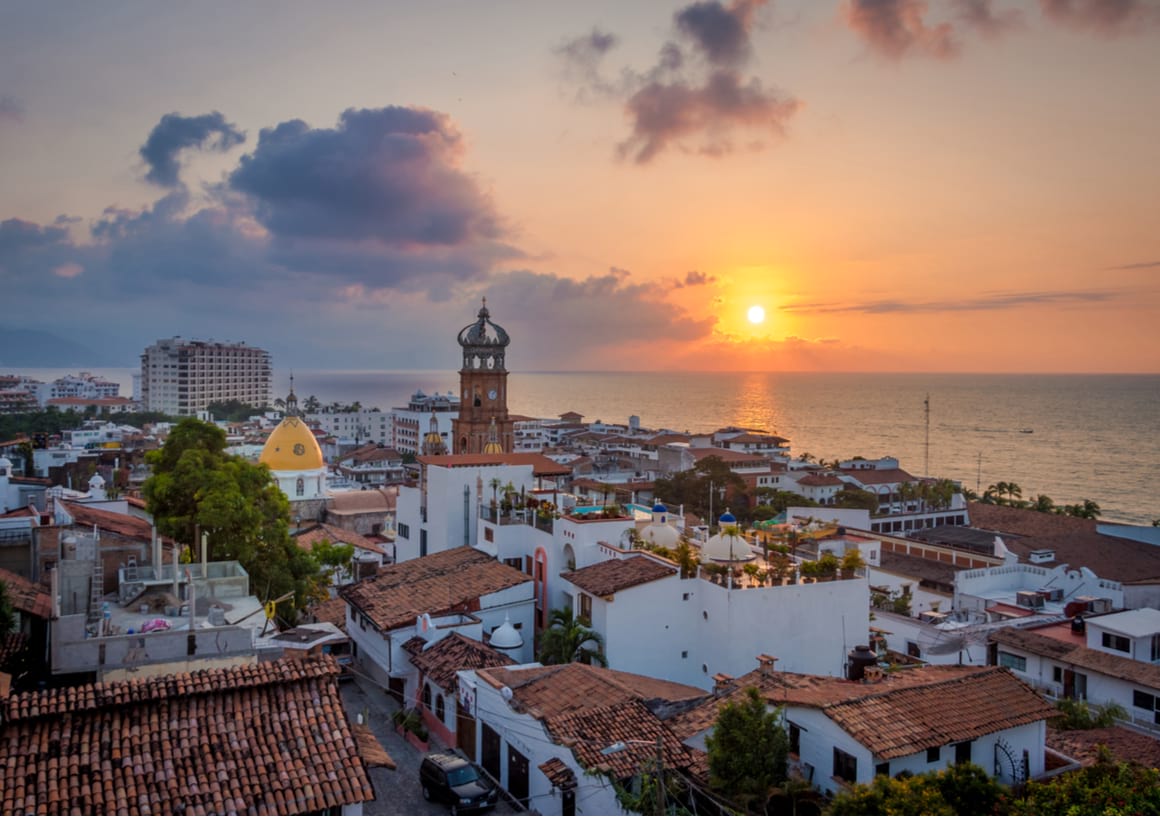 Beach Casas
If you're visiting Puerto Vallarta, I can almost guarantee one of the reasons you're coming is for the beautiful beaches. While the central city beachfront is lined with condos and apartments, feel free to head north or south of the city for some lesser-known beach rentals in Puerto Vallarta.
While many of these homes are extravagant beach villas designed for luxury-loving travelers, there are certainly a few low-key beach house gems along this coastline.
You'll also find some beautiful beach casa's along the hip-and-happening Conchas Chinas and Playa de Los Muertos beaches.
Naturally, their prime location on the most desirable beaches in the area makes them a bit more expensive. Whether they accommodate two or twenty guests, Beach casa's are the best bet for anyone after a relaxing holiday by the sea.
Why Stay in a VRBO
Unique Properties – Renting a local hacienda in Puerto Vallarta will guarantee a more local and authentic Mexican experience. You'll also be able to ask your hosts for insider advice on the area.
Affordability – When compared with luxury hotels and resorts, you're likely to receive much more value for your money when you rent from VRBO.
Safety – VRBO does background checks on both the host and the guest, so if you're worried about safety in Puerto Vallarta, VRBO has your back. Customer support is available 24/7 to help resolve any issues.
Staying Long-Term – Those who want to stay longer than seven days or thirty days can benefit from special offers on specific properties when booking through VRBO.
Last-Minute Booking – Guests can set their final available time to book for the current night. If you arrive in Puerto Vallarta late with nowhere to stay, VRBO will let you know what properties are still available.
Top 20 Vacation Rentals in Puerto Vallarta
From modern studio apartments to traditional haciendas overlooking the ocean, I've hand-selected some of the best VRBOs in Puerto Vallarta for a range of visitors. Take a look!
$
Contemporary, modern interiors
2 Guests
Mountain views in Emiliano Zapata
I chose this spot as the best value accommodation in Puerto Vallarta because of its unique combination of style, views, location, and shared amenities.
This studio apartment is located in the heart of Emiliano Zapata, one of the city's most desirable neighborhoods. The building has a shared pool and BBQ rooftop deck with panoramic mountain and city views.
The studio has been completely remodeled using modern interiors and materials. Think stone floors, sleek wooden cabinetry, and organic-inspired balcony shade covers. Although small, the studio is overflowing with natural light, giving it a spacious feel. Not to mention, it has a fully-equipped kitchen and a large balcony and living space.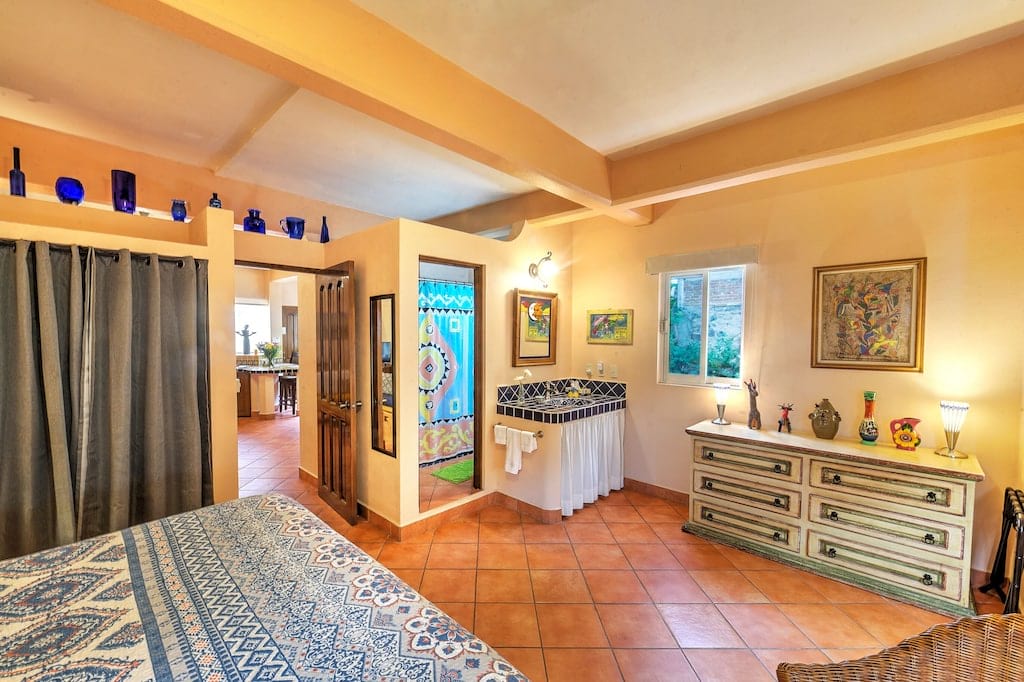 $
Access to a rooftop deck and plunge pool
2 Guests
In the trendy Zona Romantica
Mexico is well known for its high-quality, affordable accommodation, but if you're backpacking, the good news is you don't have to suffer a cheap hostel in Puerto Vallarta.
This VRBO in Puerto Vallarta sits in the hills overlooking Old Town and is only a few minutes' walk from central Zona Romantica. The home is super spacious, with a large bedroom, en-suite bathroom, and an open-plan kitchen, living, and dining room. In fact, you could easily squeeze an additional two guests on the queen-sized sleeper couch.
Designed with authentic Mexican interiors and decorations, this spot offers guests a unique local ambiance. You'll also have access to a rooftop pool deck with panoramic city views, shared with four other units.
VRBO in Puerto Vallarta for Solo Travelers | Loft in Family Home
$
Access to pool, garden, and rooftop deck
2 Guests
Beautiful golf course views and daily cleaning
Like many resort towns, Puerto Vallarta is a super-friendly city for solo travelers. I picked this spot as the best place for solo travelers because of its low price, safe location on a golf course, and convenient features.
In fact, the loft is part of a large home that has been split into eight separate units. Choose to lounge by the shared pool, spend some time exploring the golf course grounds, or simply enjoy your own spacious loft space.
The loft has been beautifully remodeled using warm wooden touches and includes private office space and a basic kitchenette.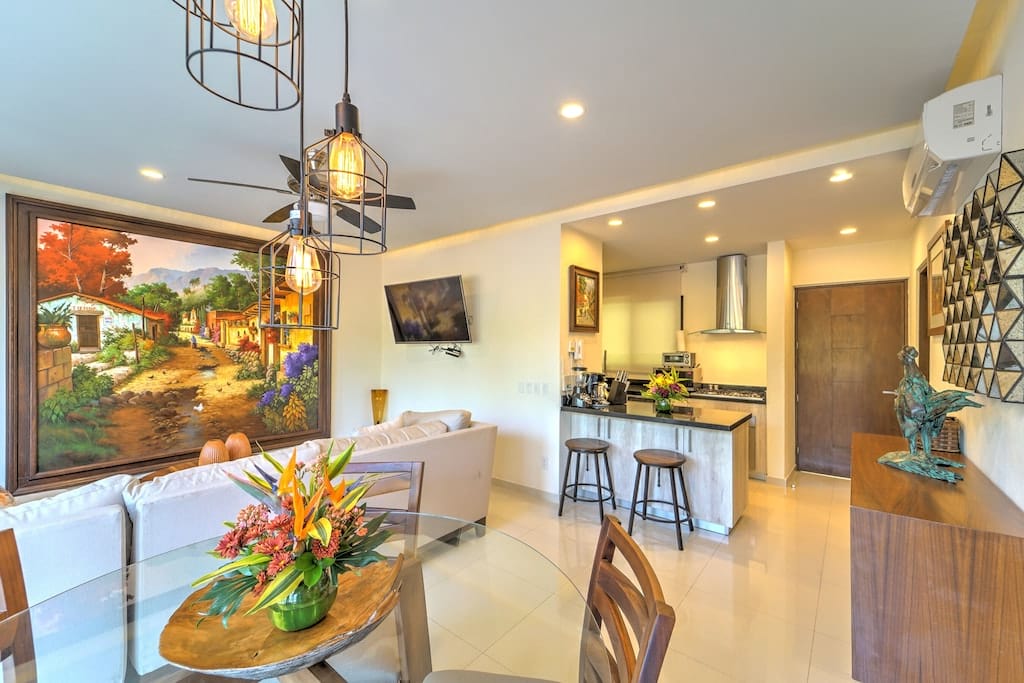 $$
Spacious home with walk-in closet
2 Guests
In Old Town Puerto Vallarta
Resort towns are best experienced with a loved one, and this one-bedroom rental in Puerto Vallarta is the perfect spot for couples.
The apartment is located in an upscale building with a rooftop pool deck overlooking the ocean, a gym, and many shared lobby living areas.
The apartment is beautifully decorated and has a cozy vibe, with natural wooden tones, floor-to-ceiling windows, and modern fittings. Enjoy the sunset from your balcony and cook up a storm in the kitchen, or explore the local Old Town neighborhood for some of the best spots to eat in town.
Is This the Best Travel Pack EVER???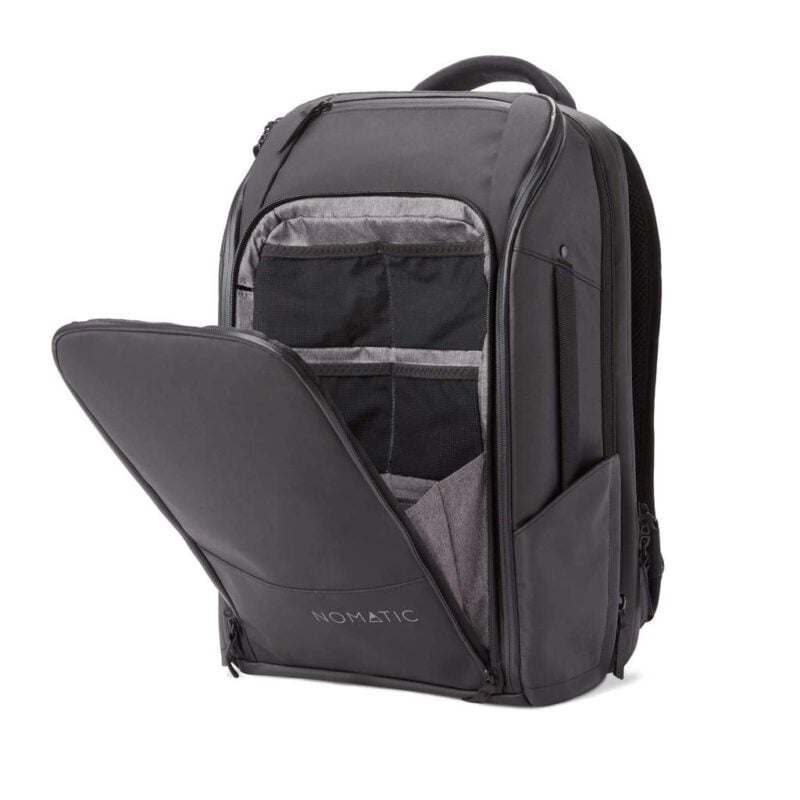 $$$
Colorful home with natural light
8 Guests
In the hills overlooking Conchas Chinas Beach
This hacienda is the perfect spot for families. It's large enough to enjoy your own personal space yet cozy enough for some great family bonding.
The best part about the home is the traditional red stone deck which overlooks stunning ocean views. Not only does this deck have a plunge pool, but it also includes outdoor loungers and an alfresco dining area.
Inside the three-bedroom villa, you'll be treated to earthy-toned authentic hacienda interiors, art, and decorations. With a vast kitchen and central island, it's the perfect home for families who enjoy cooking together.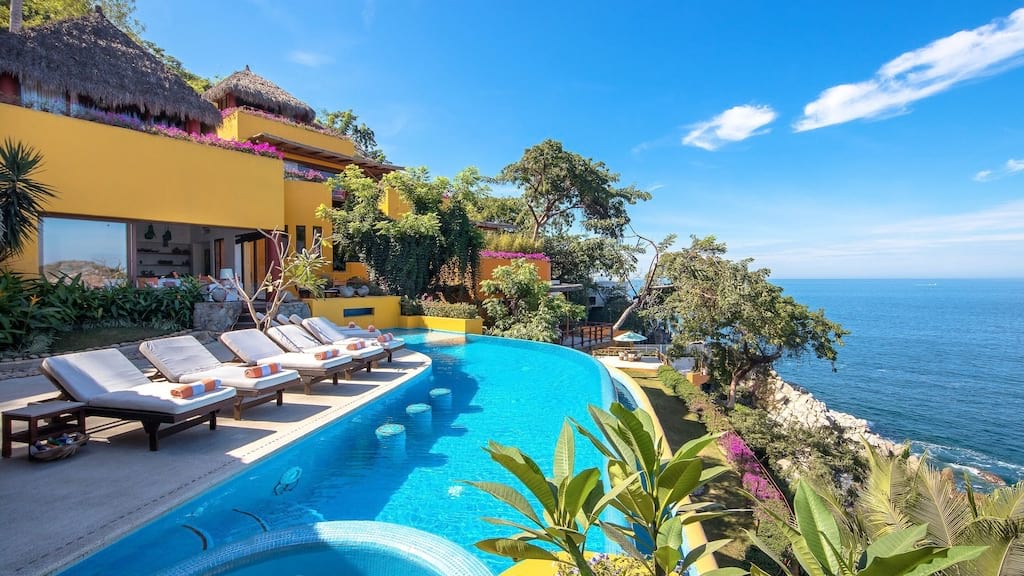 $$$$
Pool area overlooking the ocean
22 Guests
In the hills a few miles from the center
This luxurious villa is even more over-the-top than your wildest dreams. The massive home has eleven bedrooms and is located on a private beach with a jetty and a tidal rockpool.
It boasts not one, but two infinity pools and has a massive outdoor living area where you can dine in style under the stars.
Impeccably decorated with classy interiors and pops of color, the home even has an open-air yoga shala and games lounge.
The most lavish feature of this rental in Puerto Vallarta is no doubt the staff it comes with, including a 24-hour night manager, chef, waiter, manager, and cleaning staff.
2 Guests
Balcony overlooking the marina
With so much to choose from, it's hard to pick the best condo in this city. I chose this one for its incredibly reasonable price.
For a budget VRBO, this condo is beautifully designed with modern features and top-of-the-range appliances. The overall feel throughout the space is minimalistic modern, which is all you need when you have such stunning views through the floor-to-ceiling windows.
The fully-equipped kitchen boasts marble counters, a waterfall center island, and stainless steel appliances. Best of all, the space has a balcony which overlooks the local Marina and out across the mountains.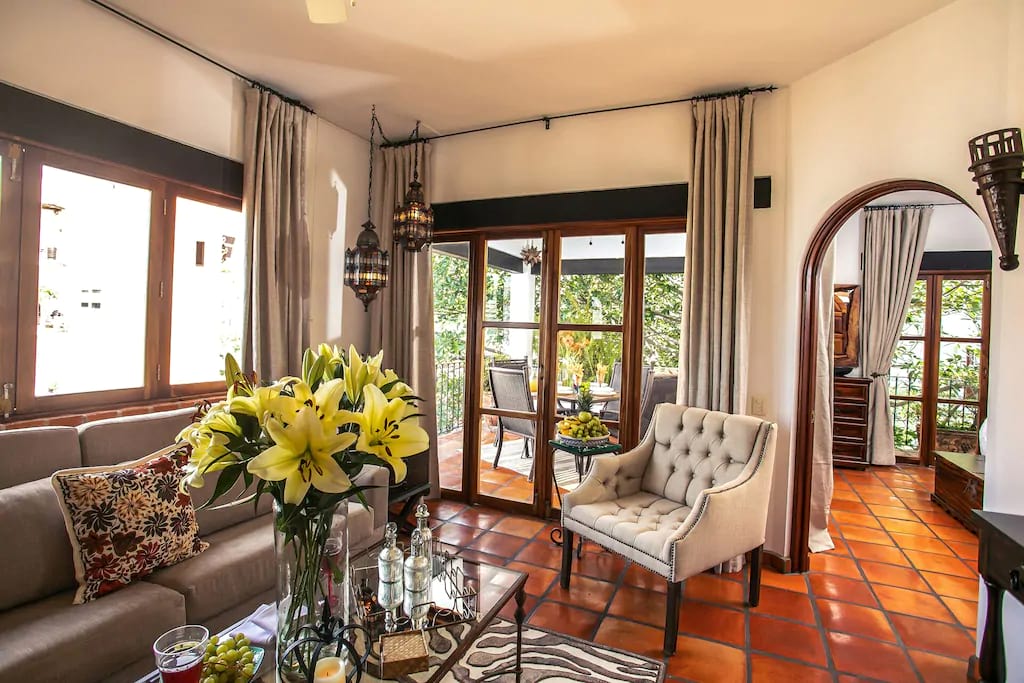 $$
Authentic Mexican interiors
2 Guests
A few minutes from Playa de Los Muertos
Spending a few nights in a Hacienda VRBO in Puerto Vallarta is for sure the best way to experience the city like a local.
This traditional home has all the standard features of hacienda-style architecture, including terracotta floors, wooden beam accents, and arched doorways.
This home is more than spacious enough for a couple, with one bedroom, two bathrooms, and a full laundry room. It's located on the edge of Zona Romantica, a few steps from a busy street lined with trendy cafes.
Guests can also enjoy access to the shared swimming pool deck which overlooks the city, as well as a gym.
$$$$
Swimming pool overlooking the ocean
20 Guests
On the beach in Playa de Los Muertos
This luxurious beach casa takes resort living to another level. Perched above the beach in Playa de Los Muertos, this spot is well suited for hosting events and large family gatherings.
The rental has a chef-sized kitchen that, of course, comes with a team of staff. There is a pool bar and outdoor dining area overlooking the beach, making sure you feel like you're on vacation every second of the day.
My favorite feature of this home is its jungle setting. Set against a lush backdrop, there are tons of small garden nooks and courtyards to explore. It's basically a tiny resort VRBO in Puerto Vallarta, that can be privately rented, but with a much more local vibe!
$$
Bright and modern interiors
3 Guests
Minutes walk from Playa de Los Muertos
The hilly town of Puerto Vallarta might not be the most suitable location for wheelchair users. With lots of cobblestone streets and small steps, it's essential you do your research before visiting. However, this stunning modern condo is the perfect place for those with limited mobility.
The building has an elevator and the condo itself is super spacious with lots of room to move about. Floor-to-ceiling glass windows open onto a balcony that looks across the Pacific Ocean. The fully equipped kitchen even has a wheelchair-friendly low countertop for food preparation.
The building includes access to a shared pool, gym, and even a sauna and steam room! Talk about luxury!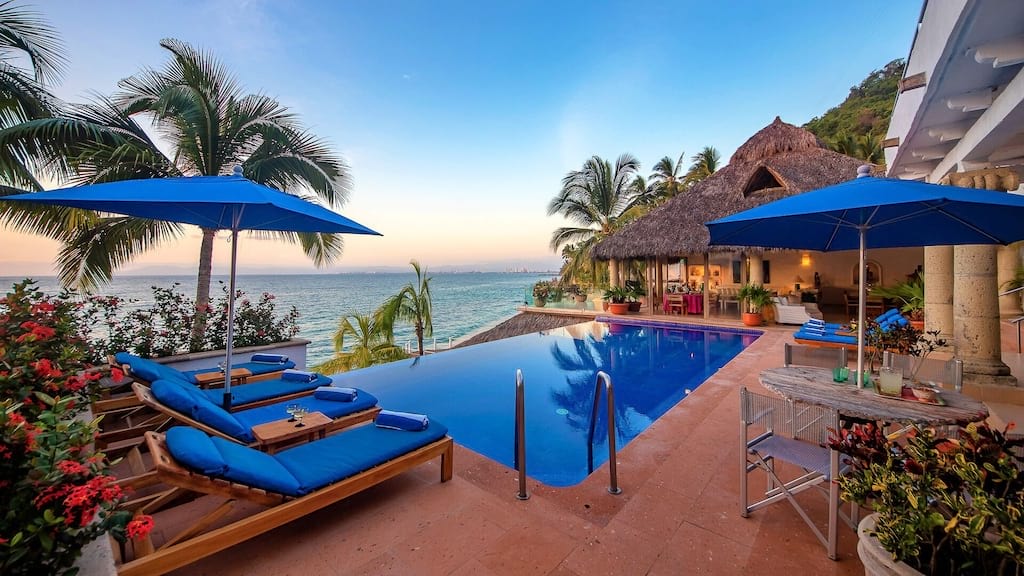 $$$$
Modern home with an island-style feel
18 Guests
Private chef and direct beach access
This might just be the most beautiful tropical vacation rental in Puerto Vallarta. The villa sits directly on its own private beach and offers exquisite ocean views from every window and balcony. With nine bedrooms, the home is suitable for large families or groups of friends.
The villa comes fully staffed, allowing you to completely relax and unwind without having to deal with any housework. The star feature of this home is definitely the pool area.
Order a drink at the private palapa bar and cool off in the crystal clear pool before heading to the private sand beach to sunbathe.
Best VRBO Party House in Puerto Vallarta | 11 BR Mansion W/ Bar
$$$$
Pool and 24-seater palapa bar
22 Guests
Includes attentive staff and ocean views
This house was designed for hosting events. It's the ultimate Puerto Vallarta party house and is equipped with an entire team of staff ready to help make your party dreams come true.
The villa sits on a private beach and has a beautiful pool, a palapa bar for twenty-four guests, and an alfresco dining table for fourteen. There's even a perfect spot to set up a wedding ceremony by the ocean and host a reception in the garden.
Each of the eleven bedrooms has its own marble bathroom. The lush landscaped gardens and jungle plants will make you feel like you're the only people in the city.
Best VRBO in Puerto Vallarta near Nightlife | Studio with Pool
$
Warm space with floor-to-ceiling windows
2 Guests
In the heard of Zona Romantica
While you might think Cabo and Cancun are better for nightlife, Puerto Vallarta has a booming night scene with a much more local vibe. From beach bars to rooftop terraces, there's a spot for every party-goer in this city.
This rental in Puerto Vallarta is located in the most walkable area for nightlife – Zona Romantica. There's pretty much a bar on every corner here, making it super convenient for a night out.
The condo is clean and spacious, boasting a top-of-the-range kitchen and in-facing balcony. The building includes a rooftop deck with various swimming pools, lounges, and dining spaces.
With panoramic views of the surrounding city and mountains, this deck is the perfect spot to catch a drink with some friendly tourists before heading out for the night.
$$
Traditional Mexican hacienda
4 Guests
On the historic South Shore
Not only does this VRBO have some of the best views in the city, but it's also one of the homiest rentals on the market. From the moment you walk through the wooden front doors, you'll feel like you've arrived at your Mexican home-away-from-home.
Perched above the tropical treetops overlooking the city, ocean, and mountain, the best views in the house are from the pool deck. That being said, you'll be greeted by lush greenery and mountain views from almost every window in the place.
VRBO in Puerto Vallarta for Digital Nomads | Studio W/ Office Space
$
Private desk space and modern kitchen
2 Guests
In Zona Romantica, near great eateries
I chose this rental in Puerto Vallarta as the best for digital nomads for two main reasons. First, it's located in the central Zona Romantica neighborhood, making it super convenient for walking around town.
Second, it's really affordable for what it offers. The apartment has been refurbished and fitted with stainless steel appliances and includes a personal workspace to set up your PC.
However, it's the building that provides the best features, including a shared gym and a rooftop deck with a pool, firepit, BBQ, bar, and games area. These communal zones are an excellent place for digital nomads to meet like-minded travelers and locals.
$$
Sleek home with new fittings
4 Guests
In the heart of Zona Romantica neighborhood
If I had to describe this condo in three words, they would be sleek, simple, and edgy. An ultra-modern design makes excellent use of the small space, fitting in a fully-equipped kitchen with a granite center island, tons of hidden cupboard space, a six-seater dining area, and a spacious lounge.
Upstairs, there are two bedrooms, each with its own bathroom. Best of all, the condo has its own ground floor patio outside the kitchen, as well as a rooftop pool deck shaded by an iconic rubber tree.
With an outdoor kitchenette, seating, and a plunge pool, this is the perfect spot to spend a warm summer's evening.
$$
Authentic Mexican home with pool deck
2 Guests
On Conchas Chinas Hill, walk to the beach
If you're hoping to spend an extended period of time in this paradise city, it isn't too difficult to find an affordable VRBO in Puerto Vallarta that offers weekly and monthly discounts.
This classic hacienda studio is a great example. It's well located in the hills overlooking Conchas Chinas Hill and has its own rooftop pool deck with beautiful ocean views.
The condo is designed with local timber details and hacienda-style interiors. Colorful hand-painted bathroom tiles, carved wooden decorations, and arched doorways and windows give it an authentic Mexican feel.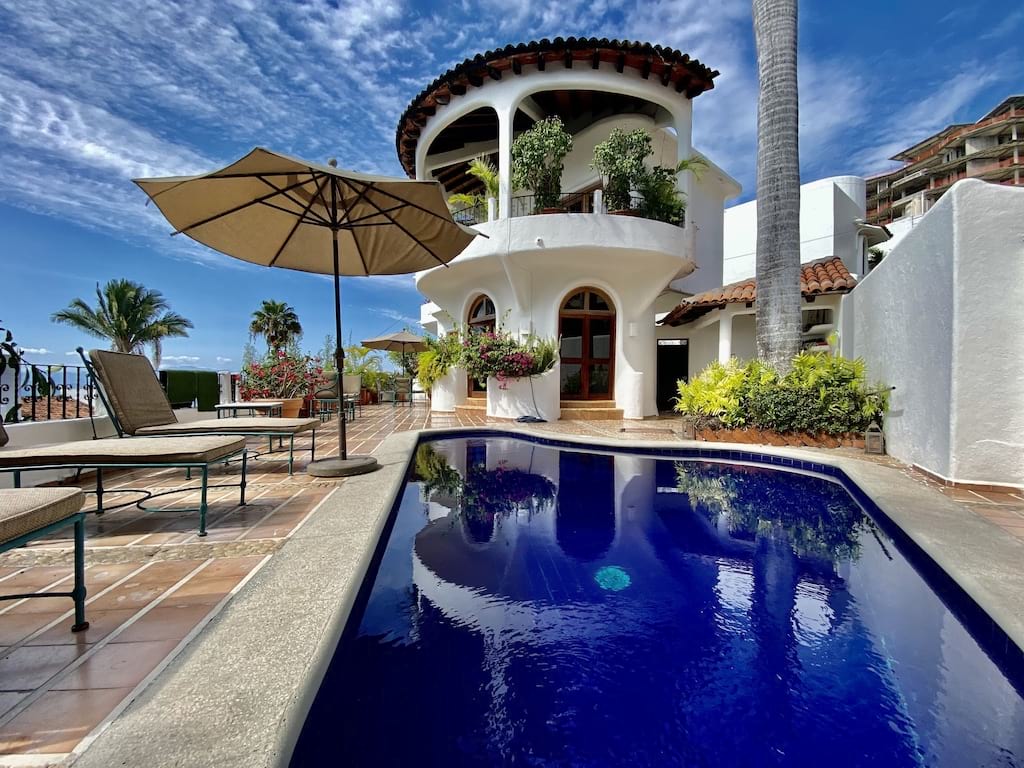 $$
Includes an on-site chef
4 Guests
Steps away from Conchas Chinas Beach
Because of its size, Puerto Vallarta can easily be explored over a short weekend visit. If you're popping into the city with your family for a weekend, this beautiful hacienda will exceed all your expectations.
Located in the prestigious Conchas Chinas Beach area, you'll be within walking distance to the beach and various local eateries.
The classic two-bedroom hacienda has a pool, balcony, and deck and even includes an on-site chef. This means less time cooking meals and more time exploring the beautiful beaches!
$$$
Open-plan living space with natural light
12 Guests
In the Real Amapas Hills, overlooking the beach
Puerto Vallarta is, without a doubt, one of the most exciting resort towns to visit with a group of friends. Gather your best friends and rent out this modern five-bedroom villa overlooking the ocean.
The villa is decorated using white and neutral tones and is overflowing with natural light. Spend some time cooking up a family-style meal with your friends in the kitchen, which is equipped with everything you might need from a self-catering vacation rental in Puerto Vallarta.
Feel free to eat your meal at the outdoor alfresco dining table with ocean views or enjoy it in the cozy courtyard filled with greenery.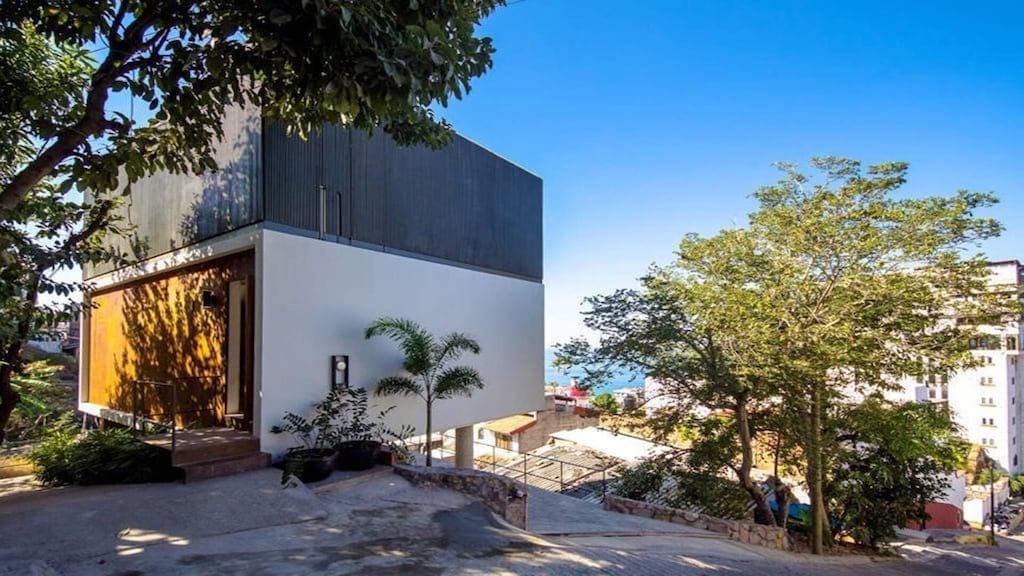 $$
Unique contemporary building with trendy furniture
4 Guests
In the heart of El Centro
Ever wanted to sleep in a modern cube on a steep mountainside? Well, now you can! Every detail across this modern house has been designed with care. From the marble floors to the floor-to-ceiling windows to the wooden walls, you'll feel as if you've teleported into the future in this abstract home.
Located at the top of downtown in the art gallery district, the house overlooks the magnificent city and ocean views. It has two bedrooms, each with city views and a private bathroom.
However, it's the rooftop deck that I love the most. There's nothing better than an evening lounging about on comfortable outdoor furniture while admiring panoramic views of the ocean, city, and mountain.
Don't Forget Your Puerto Vallarta Travel Insurance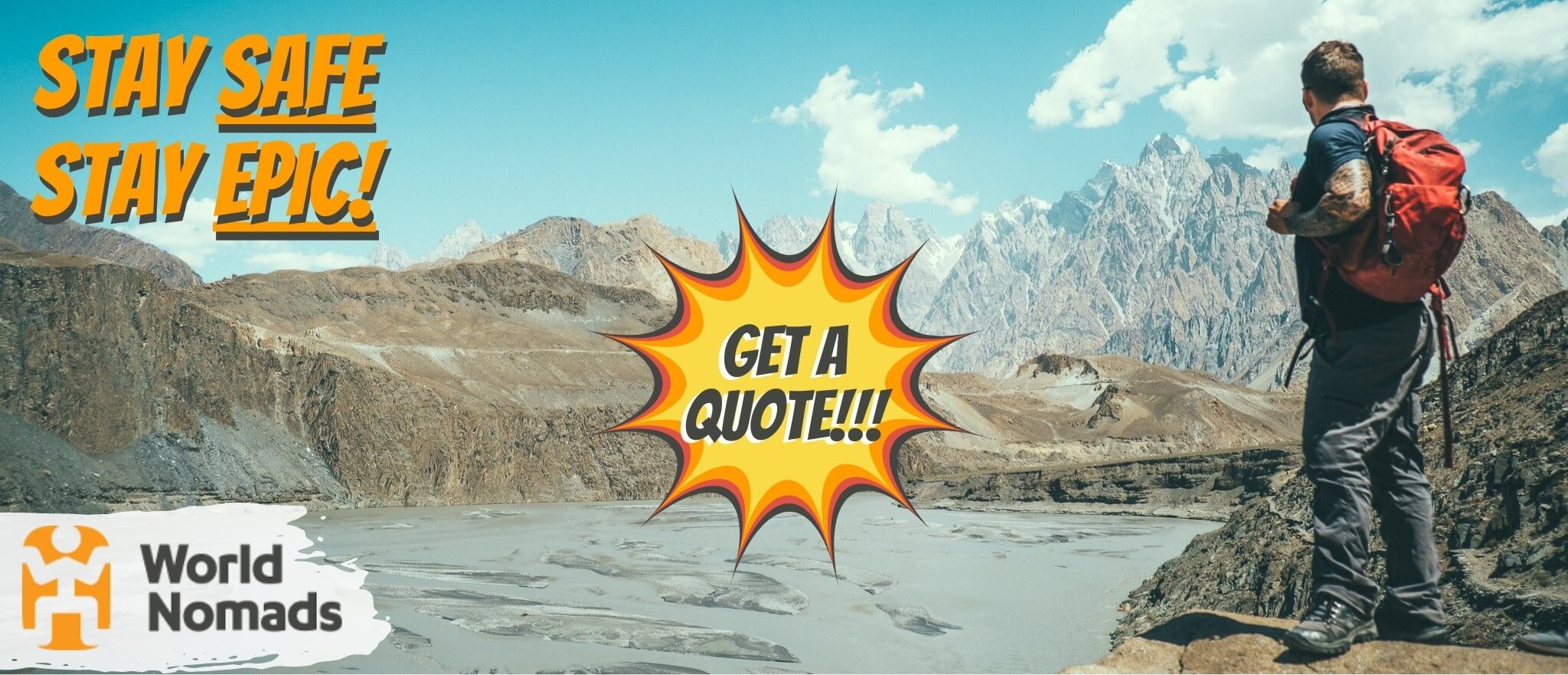 World Nomads' mission is to support and encourage travellers to explore their boundaries. They offer simple & flexible travel insurance, and safety advice to help you travel confidently.
They've been doing it since 2002 – protecting, connecting, and inspiring independent travellers just like you.
Get a quote below or read our in-depth review!
World Nomads provides travel insurance for travelers in over 100 countries. As an affiliate, we receive a fee when you get a quote from World Nomads using this link. We do not represent World Nomads. This is information only and not a recommendation to buy travel insurance.
Final Thoughts
Puerto Vallarta is one of those places you'll visit for a holiday and want to stay forever, and many expats end up doing this for a good reason! The beautiful city offers an authentic taste of Mexican culture yet is easy to get to from America.
Surrounded by the Sierra Madre mountains on the one side and the Pacific Ocean on the other, it's no surprise this is such a desired resort destination.
Whether you're an outgoing adventurer keen on hiking and river rafting or prefer lounging on a sunbed on the beach with a margarita in hand, you'll be sure to find the perfect VRBO in Puerto Vallarta for your needs.
Not only is it an excellent destination for families, solo travelers, digital nomads, and couples, but this town is highly rated for its nightlife and is a great spot to gather with a bunch of your best friends for a special event.
Do you have a favourite VRBO from my list? Let me know in the comments.
---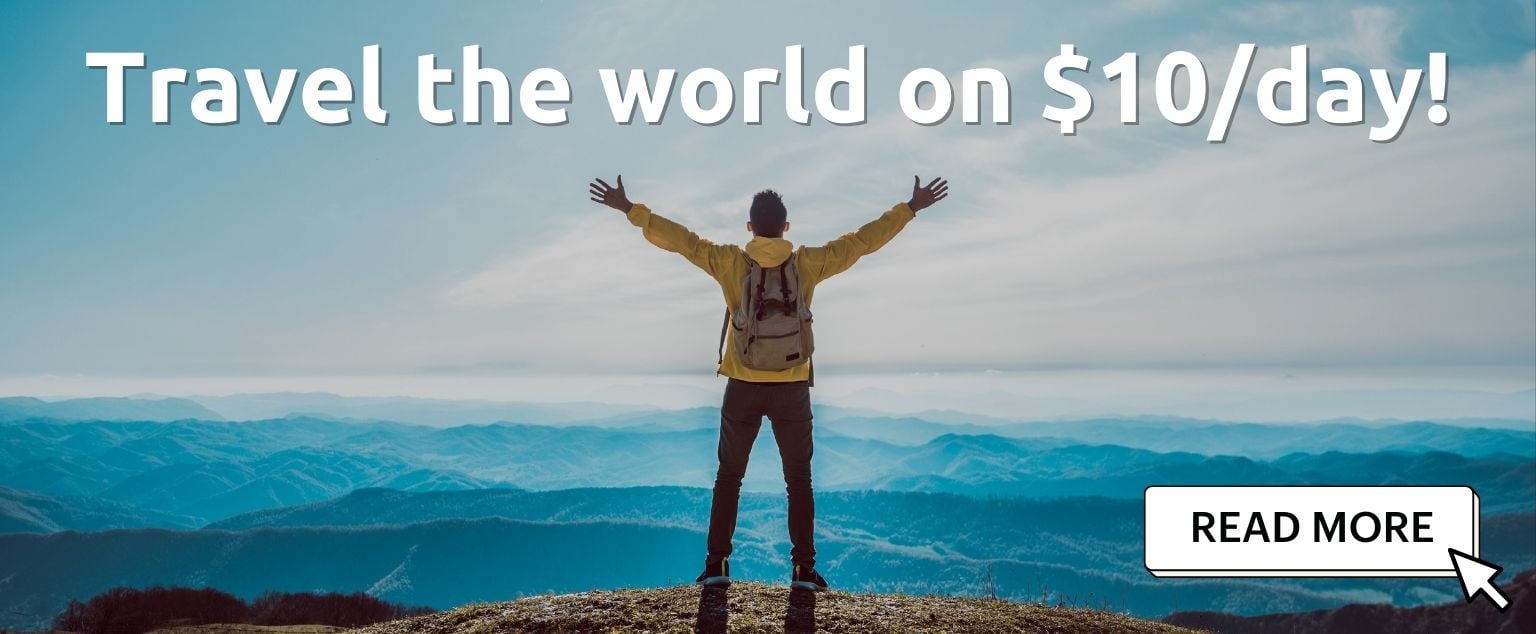 And for transparency's sake, please know that some of the links in our content are affiliate links. That means that if you book your accommodation, buy your gear, or sort your insurance through our link, we earn a small commission (at no extra cost to you). That said, we only link to the gear we trust and never recommend services we don't believe are up to scratch. Again, thank you!