One of the coolest coastal destinations in Mexico, there are plenty of reasons to enjoy Puerto Vallarta. With golden sand beaches, turquoise waters, and a great nightlife scene, there's just so much to get excited about! Enjoy the historic centre, the gorgeous beaches, and a stroll along the Malecón. LGBT travellers will fall in love with Puerto Vallarta, as it's one of the most inclusive destinations in Central America!
But where is the best place to stay? Yes, there's a Zona Hotelera with lots of options, but for somewhere with a little more individuality and personality, check out Puerto Vallarta Airbnbs. Whether you want a lovenest in the Romantic Zone, a penthouse with incredible views, or just a private room in a local's home, this place has got it all. Rather than let you trawl through Airbnb, we've decided to help you in your search!
Yep, in this post, we've put together 15 of the best Airbnbs in Puerto Vallarta. We've taken budget, travel style, and personality into consideration so that you can really make the most of your vacation! So, let's jump right in and take a closer look at the hottest short term rentals in Puerto Vallarta!
In a Hurry? Here's Where to Stay in Puerto Vallarta for One Night
First Time in Puerto Vallarta
Studio in Historic Centre
This is among the best Airbnbs in Puerto Vallarta. It's situated in the historic centre near to the coolest museums and best places to eat & drink. However, you might want to set aside some time for the apartment itself. After all, it comes equipped with a lot of facilities!
Places to Visit:
Take a stroll along the Malecon.

Browse the markets at Isla Cuale.

The Our Lady of Guadalupe cannot be missed!
Is this amazing Puerto Vallarta Airbnb booked for your dates? We've got your back with our other favorite properties below!
Quick Answer: These are the Top 5 Airbnbs in Puerto Vallarta
Overall Best Value Airbnb in Puerto Vallarta

Overall Best Value Airbnb in Puerto Vallarta

Studio in Historic Centre

>

$$

>

3 Guests

>

Incredible location

>

Watch the beautiful sunsets!

>

$$

>

3 Guests

>

Incredible location

>

Watch the beautiful sunsets!

VIEW ON AIRBNB

Best Homestay in Puerto Vallarta

Best Homestay in Puerto Vallarta

Relaxing flat minutes from beach

>

$

>

2 Guests

>

Great location

>

Free Mexican cooking class for long stays!

>

$

>

2 Guests

>

Great location

>

Free Mexican cooking class for long stays!

VIEW ON AIRBNB

Best Airbnb for Couples in Puerto Vallarta

Best Airbnb for Couples in Puerto Vallarta

Buddha Loft in Romantic Zone

>

$$$

>

2 Guests

>

Shared rooftop pool

>

Zen like atmosphere

>

$$$

>

2 Guests

>

Shared rooftop pool

>

Zen like atmosphere

VIEW ON AIRBNB

Best Airbnb for Families in Puerto Vallarta

Best Airbnb for Families in Puerto Vallarta

Beach House on the Hill

>

$$

>

6 Guests

>

Great location

>

Amazing Views

>

$$

>

6 Guests

>

Great location

>

Amazing Views

VIEW ON AIRBNB

Best Luxury Airbnb in Puerto Vallarta

Best Luxury Airbnb in Puerto Vallarta

Vacation like a Rockstar!

>

$$$$$$

>

5 Guests

>

Rooftop infinity pool

>

Two jacuzzis!

>

$$$$$$

>

5 Guests

>

Rooftop infinity pool

>

Two jacuzzis!

VIEW ON AIRBNB
Why Stay in an Airbnb?
Local Experience
Airbnb gives travellers the unique opportunity to live "like a local." If you decide to book a shared home with your host, you get to look inside a local's daily life, learn about their culture and you might even be able to taste some traditional home-cooked meals.
There are few other ways short-term travellers can get into the homes and lives of locals, so this is a great way to create new connections. As an added bonus, you'll contribute to the local economy and build relationships.
Reach out to your host with questions about things to do or where to eat and they will be happy to help out and give you the best spots and tips. Don't be shy, Airbnb hosts are known for their caring and open hospitality.
And who knows? Next time you might be staying as a friend and not as a paying guest! (No promises though.)
Affordability
No matter your budget, Airbnb has a place for you to stay – from entire apartments to single rooms, houseboats and even castles. There are over six million places worldwide to choose from.
Don't split up into two to three hotel rooms! The Airbnb platform accommodates any size, from single travellers to large groups. Everyone gets to stay together, which makes the travelling experience much more comfortable and at the same time way more affordable. Save your money by paying per night, rather than per person.
A lot of rentals have more than one bedroom or an extra pull-out couch, futon or trundle bed. Hosts also provide a nice set of clean sheets, a good quality comforter and extra pillows and blankets.
You don't want to spend a lot of money on having to eat out every night either? Just add the filter "kitchen" into your search and you can choose any home that lets you cook at home with all the cutlery, glasses, pots and pans provided.
Safety
Are Airbnb reviews legit? Airbnb wants every guest to be safe so they created a world-class review system where tenants are encouraged to be honest about their experience because it stays invisible until the reviewing period has locked.
Guests are given the power to tell the truth and "make or break" the place they stayed at since the platform forbids the owner to change or remove the review. Every comment you can read on Airbnb is based on finished stays and experiences. Plus, some hosts often depend on the money they earn renting their property and one bad experience from any guest would devastate their income. It might be a bleak perspective, but hey, that's something of a guarantee you'll be cared for!
Airbnb also has a 24/7 emergency line with someone ready to assist you. In the worst case, Airbnb will provide a driver or make sure you find a safe place. If you choose this booking platform, you will always be in good hands, without any doubt.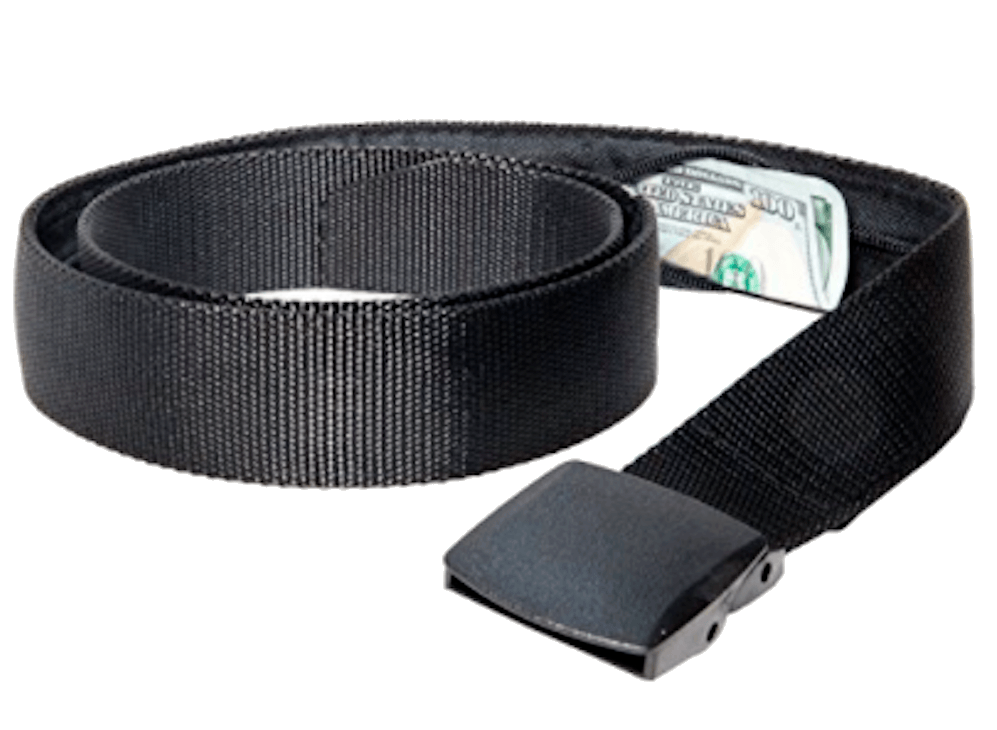 You should always have emergency cash hidden on you - pick up this awesome security belt with its hidden pocket before your next trip. It's perfect for hiding cash, card and a passport photocopy.
The Top 15 Airbnbs in Puerto Vallarta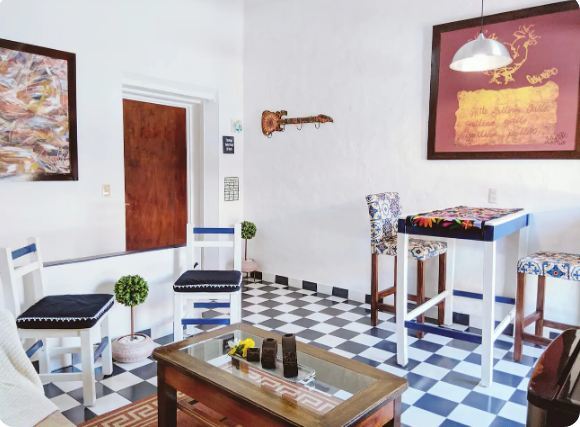 $$
3 Guests
Incredible location
Watch the beautiful sunsets!
Let's start our list of the best Airbnbs in Puerto Vallarta with this awesome option in the historic centre. For the coolest museums, best places to eat, drink, and be merry, and just to learn more about Mexican culture, you really couldn't find a better location. However, you might want to set aside some time for the apartment itself. After all, it comes equipped with a lot of facilities! You've got a smart TV with Chromecast, a minibar, and even a chess set! None of those match the sunset view though!
$
2 Guests
Great location
Fully equipped kitchen
Puerto Vallarta can seem a little expensive sometimes. And, if you can save money on your accommodation it means more exploring, eating out, and cocktails! It's just 15 minutes from downtown and ten minutes from the beach on foot. If you want to save yourself more money, you'll be happy to know that there's a fully equipped kitchen. So, you can just head to the nearby Walmart and pick up some groceries to make a delicious meal. And your host has kindly made some space for your stuff in the fridge!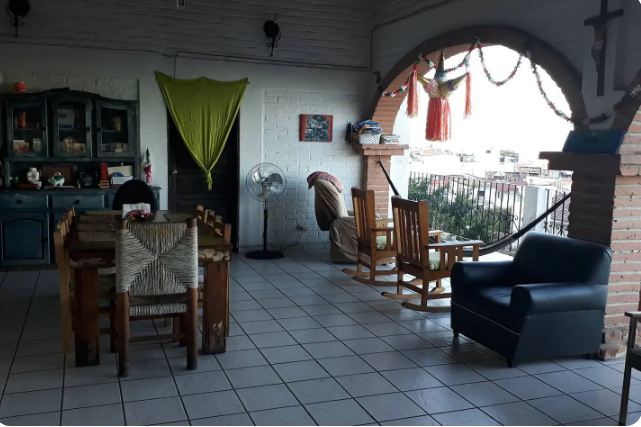 $
2 Guests
Complimentary Mexican Breakfast
Ocean Views
For digital nomads, there's nothing more important than Wi-Fi (ideally high speed) and a laptop-friendly workspace. It goes without saying that this place comes with both of them, but there are some other awesome perks at this penthouse room too. In fact, this Puerto Vallarta Airbnb comes with a complimentary Mexican breakfast. Can you think of anything that sounds more delicious?! Working at your laptop on the balcony is a treat by the way – those ocean views are truly awesome!
$
3 Guests
Two large terraces
Bright and colourful
If you tell people you're travelling solo, they'll probably point you towards a hostel. However, we understand that's not for everyone, which is why we've found this amazing Puerto Vallarta Airbnb for you! It's just 5 minutes from the Malecón and the Beach, so it won't be hard to find new friends in either of those places. However, if you want some truly alone time, this is the perfect place for it. You can enjoy two large terraces where you can read your favourite book or just sit and contemplate how pretty this part of the world is!
The Best Travel Backpack?!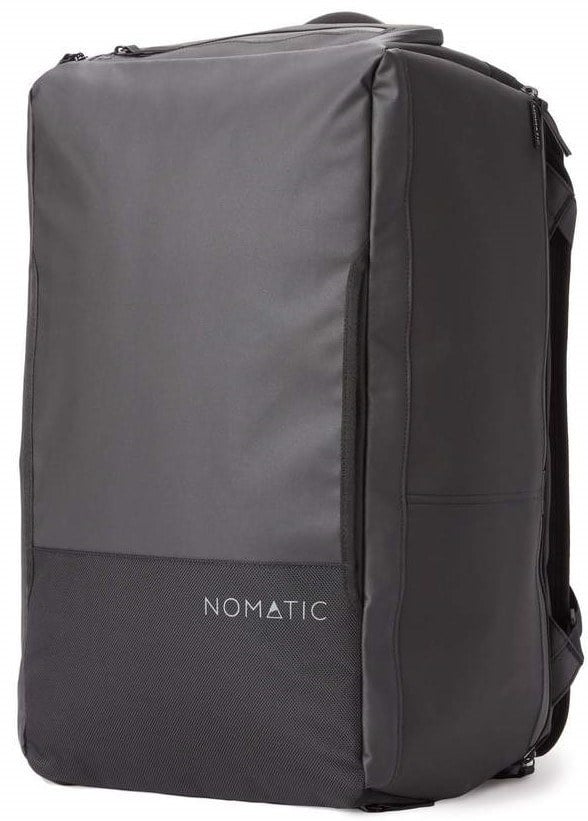 Pssssst! Not picked the perfect travel backpack yet? The Broke Backpacker team has tried out over thirty backpacks this year! Our favourite carry on backpack is the Nomatic Travel Bag.
Read our full review!
Best Airbnb in Puerto Vallarta for Nightlife – Apartment on the Beach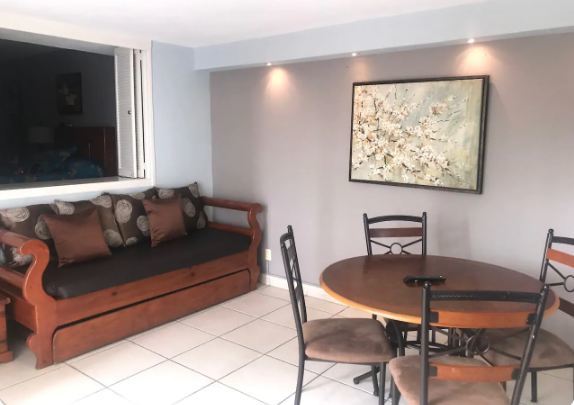 $$
6 Guests
Swimming pool
Air conditioning
Close to the Zona Hotelera and Downtown, you'll find some of Puerto Vallarta's best nightlife. So, it makes sense to stay near there. This Puerto Vallarta apartment on the beach means that you and 5 of your best mates have a comfy place to stay before descending on the town's legendary nightlife! The Airbnb is actually part of a hotel complex, so you have the option of using the hotel's facilities during your stay too! The best part of that is probably being able to get food packages – a big bonus if you're hungover!
$$$
2 Guests
Shared rooftop pool
Zen like atmosphere
Travelling with your other half? Well, for a start, you can't stay anywhere other than the Romantic Zone. It's just… so romantic! This awesome short term rental in Puerto Vallarta is just for you and the one you love the most – you've got a king bed, of course! Once you manage to make it out of bed, there are a couple of cool aspects to enjoy.
The rooftop pool is one, a communal lounge with a pool table is another! To be honest, the zen like atmosphere is just what you and your partner need to have a memorable and romantic trip!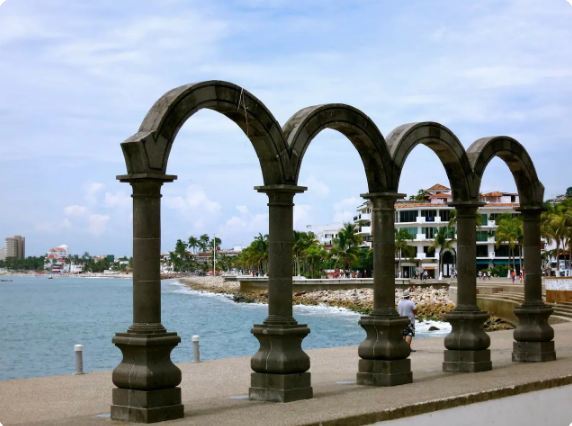 $
2 Guests
Great location
Free Mexican cooking class for long stays!
If you're looking to save money and get an authentic experience when you travel, then there's nothing better than staying with a local. This awesome Puerto Vallarta homestay gives you just the opportunity to do that. It's especially useful for digital nomads, as there's high speed Wi-Fi throughout the apartment – and who doesn't want to work in a hammock with awesome views of the beach? If you're looking at a longer term stay, then you can enjoy a free Mexican cooking class from your hosts!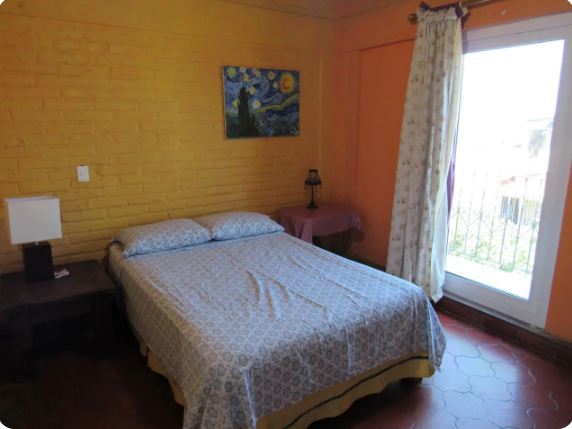 $
2 Guests
Complimentary Mexican Breakfast
Ocean Views
There are quite a few cool homestays in Puerto Vallarta, so we wanted to give you the choice of more than just one. That's where this bedroom with incredible ocean views comes in! You'll get a complimentary breakfast from staying here, which will give you a real authentic taste that you'll find harder to come by in the international restaurants of the hotel zone! You've got access to all the communal areas of the house, but you might not want to use them. That's because you have your own private balcony!
$$$$
4 Guests
Fully equipped kitchen
Infinity pool
Got a bit of cash to splash and looking for a memorable experience during your trip? Then check out this luxurious Puerto Vallarta apartment! The rooftop infinity pool is the place to head to, so that you can enjoy those amazing Mexican sunsets! Perhaps with a margarita? You can certainly have a go at preparing one in the fully equipped kitchen! You've got an entertainment lounge too, so you can head there to enjoy a game of pool or two. This apartment really does have it all!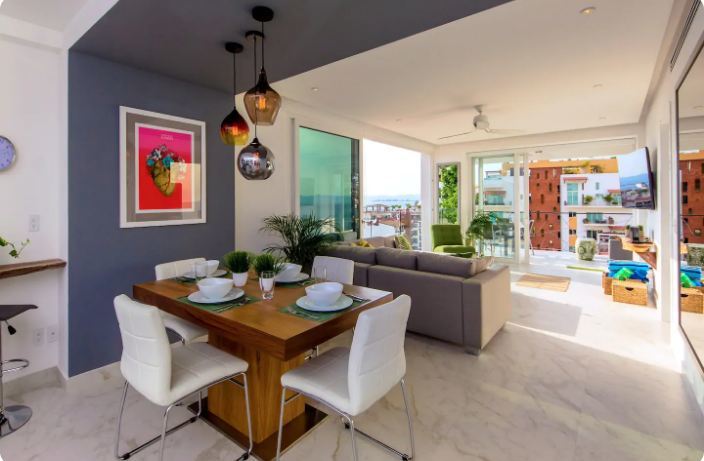 $$$$$$
5 Guests
Rooftop infinity pool
Two jacuzzis!
If there's one thing that screams luxury, it's a 65 foot infinity pool. You don't agree? How about 2 jacuzzis on top of that? Now we're talking, right? And yep, you guessed this, this totally awesome incredible Puerto Vallarta Airbnb has all of that and more! If you don't want to get wet, just lie back on the sun loungers and take in those panoramic views of the Romantic Zone and the ocean. Best time to head up here is sunset! We almost forgot to mention that there are not one, but two super king beds in the apartment!
$$
6 Guests
Great location
Amazing Views
If you're travelling with the family, you'll want to make sure that everyone's anything but bored. And this is the perfect place for that, thanks to its location! Nearby, you've got great restaurants and bars, art galleries, and entertainment. Oh, and did we mention it's near some of the best beaches too?! In the beach house itself, you can enjoy some gorgeous interior design as well as a fully equipped kitchen and terrace with unbelievable views. It's safe to say that the whole family will adore this Puerto Vallarta Airbnb!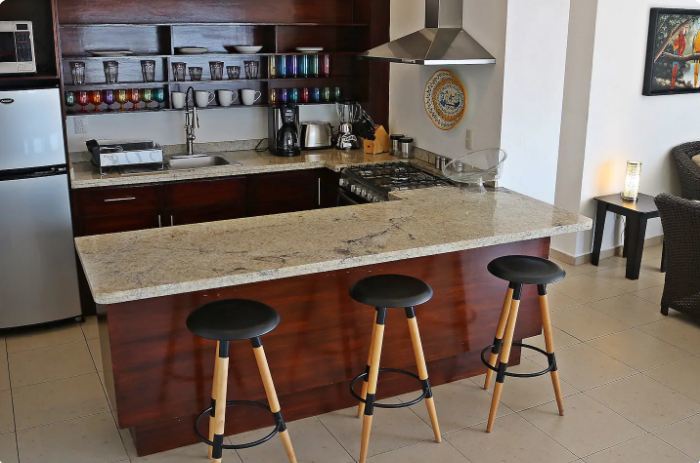 $$$
4 Guests
Pool on the terrace
Incredible bay views
Staying with friends? Why not pool your cash together and get a totally awesome penthouse with views of the bay and a pool on the terrace? Sounds like a good idea to us! You could even turn that breakfast bar into a spot for pre-drinks or cocktails before hitting the town together… It's just moments away from the best restaurants and nightlife in Puerto Vallarta. Of course, if you'd rather save on food, you can always prepare something in the fully equipped kitchen!
$$$
3 Guests
Exterior Terrace
Contemporary Mexican decor
So, we know you've already seen a couple of places in the Romantic Zone, but we couldn't resist showing you a couple more. This awesome penthouse is one of the best places to stay especially if you're travelling as a couple. That roof terrace packs quite a punch – you can enjoy a heated swimming pool, a BBQ area, and sumptuous views of the mountains. Once you're back in your room, enjoy contemporary Mexican decor and a comfy bed. Or, just chill out on your own private terrace!
$$$
2 Guests
Jacuzzi and pool
Free parking
Okay, we promise this is the last Puerto Vallarta apartment we're going to show you in the Romantic Zone. But you can see why we had to include it, just look at that pool and the sun loungers surrounding it! Another studio for two guests, it's perfect for a couple. You'd almost think the Romantic Zone was aimed at them, huh?! If you want to get a better view of the awesome sunset, you can head to a rooftop terrace. Then, end the day in bed with the one you love in that super king bed!
$$
4 Guests
Fully equipped kitchen
Free parking
Last but certainly not least, rounding off our list of the best Airbnbs in Puerto Vallarta is this cool downtown condo. This place is about more than just the indoor space, as it's situated in a tropical garden! Travelling with your own car? The good news is that this place offers free parking on site. Not only that, there's a fully equipped kitchen. Although why would you need that with so many great places to eat on your doorstep?!
What to Pack for your Puerto Vallarta Airbnb
These essentials will make your Airbnb stay easier and maybe loads nicer.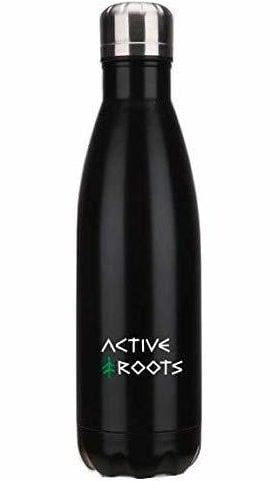 1. Active Roots Water Bottle: Most Airbnbs provide potable (drinkable) water. Have a bottle to fill up so you can take that water on your rambles instead of buying disposable plastic bottles. The Active Roots Water Bottle is great for travellers who are aware of plastic pollution and want to reduce their single-use plastic consumption – no need to buy drinks from the supermarket anymore. The stainless-steel material will keep your drinks cold or hot for up to 24 hours. Stay hydrated throughout your entire holiday with this cool bottle!
2. Bluetooth Speaker: Music always brightens up the mood, which is why a Bluetooth speaker has to be one of the essentials in your suitcase or backpack. Whether you're at the beach, alone at your Airbnb or with friends, having something playing in the background makes the whole experience more comfortable. This waterproof speaker is perfect for any kind of holiday, with a battery that can last up to 15 hours and a sound quality that is more than amazing.
3. Active Roots Microfiber Towel: To prevent the loss of your toothpaste in the depths of your bag, you should get a hold of the Active Roots Toiletry Bag. With large compartments, see-through and enclosed sections, you can have all of your stuff in the right spot, easy to find and accessible at all times.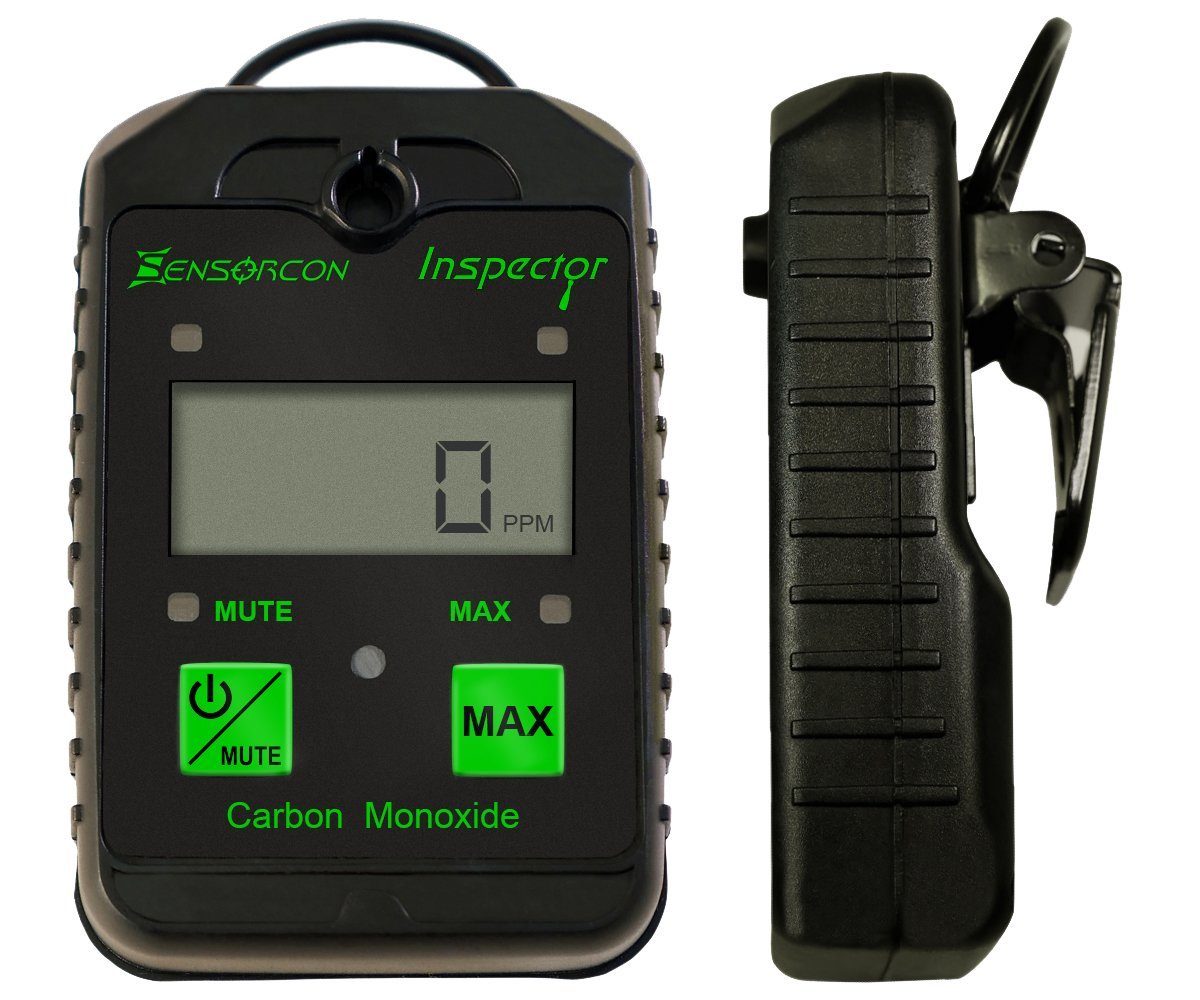 4. Carbon Monoxide Detector: If you're from the U.S. or the E.U., you probably have a CM detector in your home. A lot of accommodations elsewhere don't have any protection installed, since there are no fixed regulations for CM monitors. Pack one of these guys for some extra peace of mind.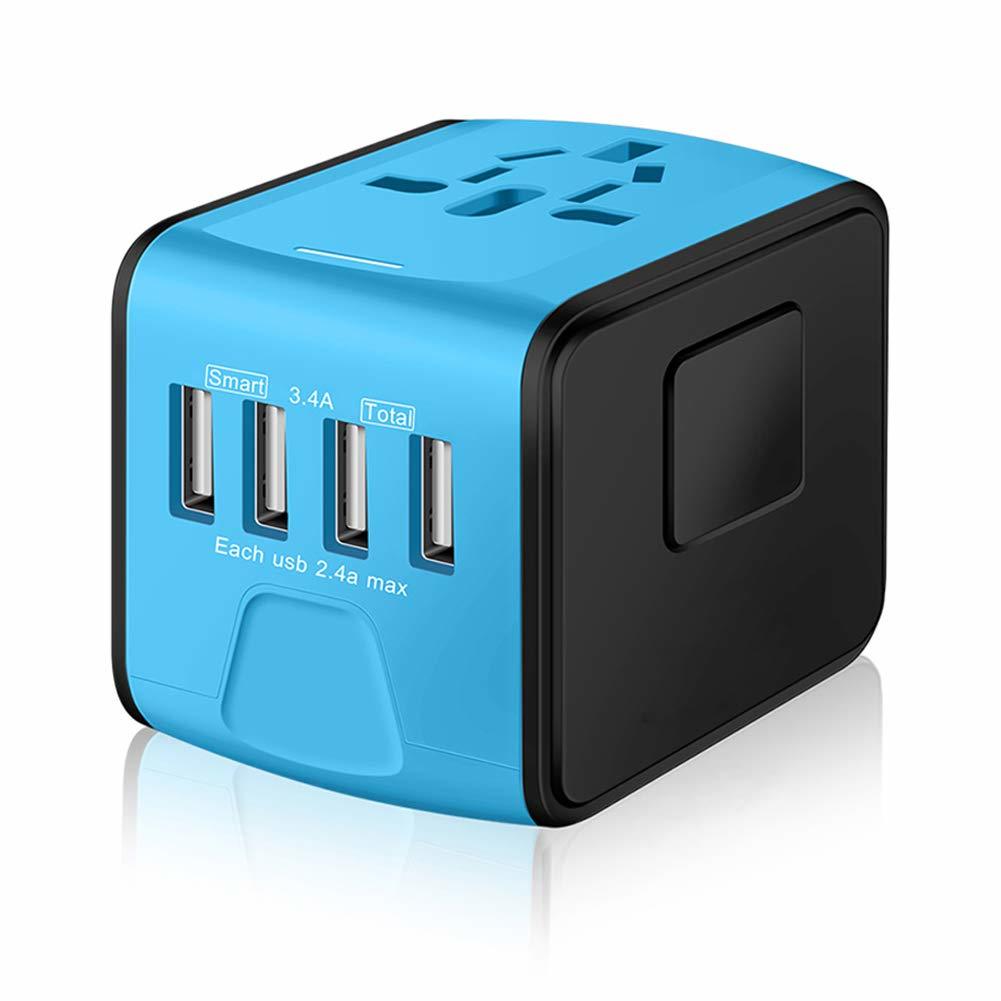 5. Universal Travel Adapter: If you're headed abroad, figure out the electricity situation beforehand. A universal travel adapter alleviates the headache of trying to remember what type of plug you will need. This one is good for 150 countries. The adapter has 5 USB ports, meaning that you can charge lots of devices at the same time – definitely a must-have.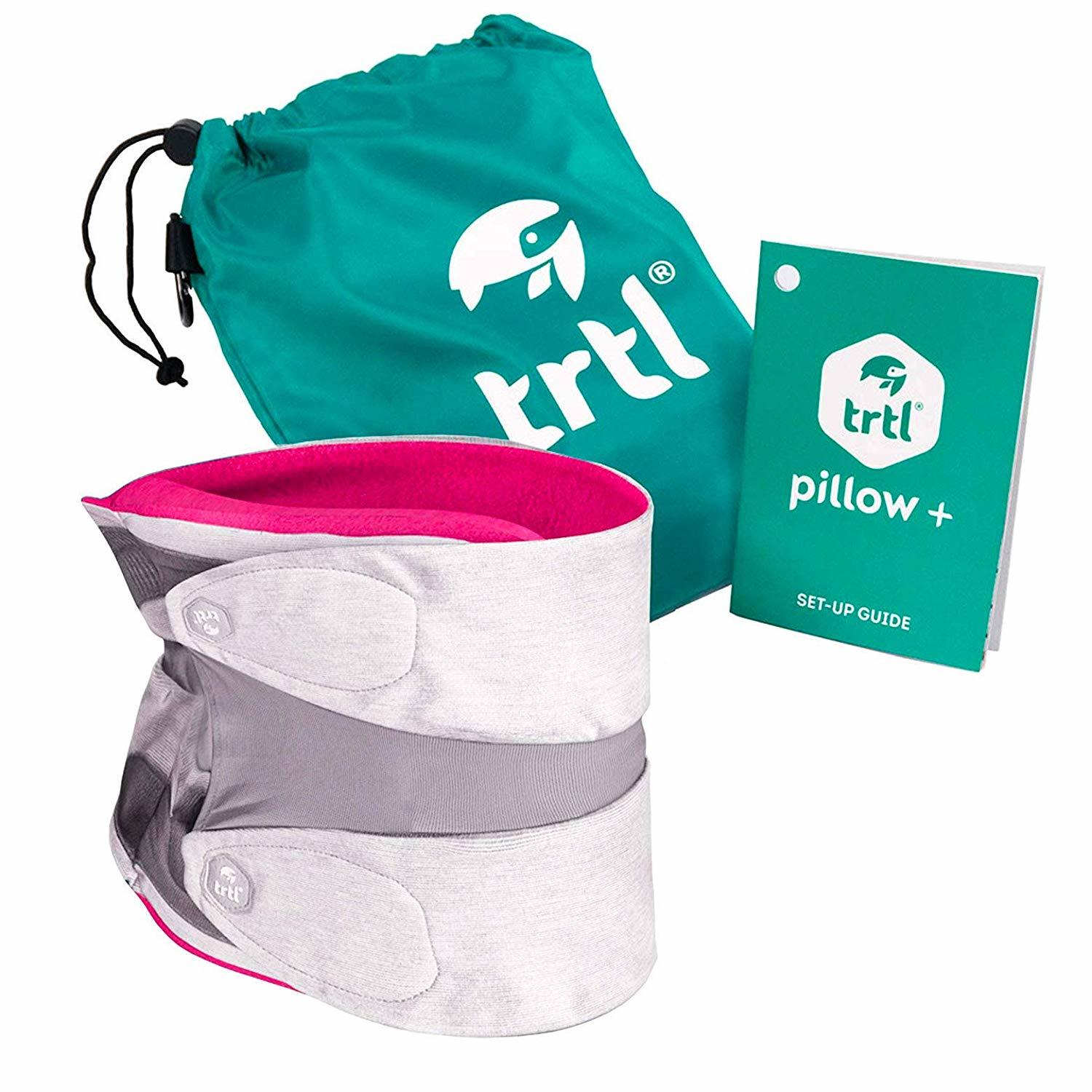 6. TRTL Travel Pillow: I don't have anything to make long-haul flights or bus rides any shorter. But…. The TRTL Travel Pillow will give your neck and head so much support that you'll actually be able to get some proper rest. The ergonomic design, with its adjustable interior support, is absolutely unique and was scientifically engineered to keep you comfy and safe. Including a step-by-step guide and a waterproof bag, you'll never travel without this pillow again.
Check out these other great resources
We have loads more information to help you plan your trip.
Final Thoughts on Puerto Vallarta Airbnbs
So, that concludes the best Airbnbs in Puerto Vallarta. We hope you've found the perfect match for your budget, travel style, and personality – after all, there's an awful lot of choice on our extensive list!
From an incredible apartment in a tropical garden, to a homestay with views of the beaches, to simply a room to crash in after a night out on the town, Puerto Vallarta has it all. We just hope you don't feel too overwhelmed by the amount of choice on our list!
If that's the case, there's no need to worry. Just sit down, take a deep breath, and have a cup of tea. Then, book our favourite Airbnb in Puerto Vallarta, Studio in Historic Centre. It's the perfect combination of good value for money, a great location, and an all-round lovely place to stay!
Now that you have a better idea of the awesome Airbnbs in Puerto Vallarta available to you, it's time we leave you and wish you an awesome vacation!
And don't forget to sort your travel insurance before heading to Puerto Vallarta! We've put together a roundup of the best travel insurance for backpackers – check it out here, or if you're low on time, get a quote from World Nomads, our favorite travel insurance provider.
Getting an estimate from World Nomads is simple – just click the button or image below, fill out the necessary info, and you're on your way!

Yay for transparency! Some of the links in this post are affiliate links. This means that if you book your accommodation, buy a book or sort your insurance, I'll earn a small commission at no extra cost to you. I only link to stuff I've actually used and never endorse crap. Your support helps me keep the site going.
---
Need More Inspiration?
Like this post? PIN ME!!!