For decades, Cuba has been a reserved communist island nation very much cut off from the majority of the outside world. In recent years, Cuba has began to slowly open its doors to foreign visitors—which is awesome. The result is that backpacking Cuba has become a must-visit destination for travelers looking to experience a truly unique country in its tourism infancy.
Backpacking in Cuba offers up the amazing opportunity to discover the island's famous beaches, delicious rum, friendly locals, off the beaten path adventure, complex history, beautiful cities, and fascinating Cuban culture.
Cuba is one of the least explored Caribbean nations and there are many opportunities for budget backpackers to go on pretty epic adventures. Point being… backpacking in Cuba is a ton of fun!
In this guide, I break down everything you need to know to have a truly rewarding backpacking experience in Cuba.
This Cuba travel guide will help you get to grips with this fascinating country. Together, we will explore Cuba's best places to visit, the top things to do in Cuba, where to stay, Cuba backpacking itineraries, travel costs, travel tips, and much more.
No matter what kind of travel adventure you are after, you can be sure that backpacking Cuba will be a truly epic life-experience. There is something for every backpacker to discover!
Vamos Pues…
Where to Go Backpacking in Cuba
As the Caribbean's largest island, Cuba has plenty of cool places and areas to explore. Cuba is made up of several distinct geographical regions and landscapes (and many more sub-cultural regions). The amount of things to do and places to visit in Cuba is incredible – to the point where you'll struggle to fit everything.
Cities like Havana and Santiago de Cuba make up the most populous urban centers. Of course, Cuba is an island so there are world-class beaches and coastal stretches too. Then you have the Sierra Maestra and the other the mountainous/jungle regions of the largely rural interior.
The main highways of the country determine what is accessible and what is not. Large sections of the north coast of Cuba are not developed and there the main continuous highway does not run along that portion of the country.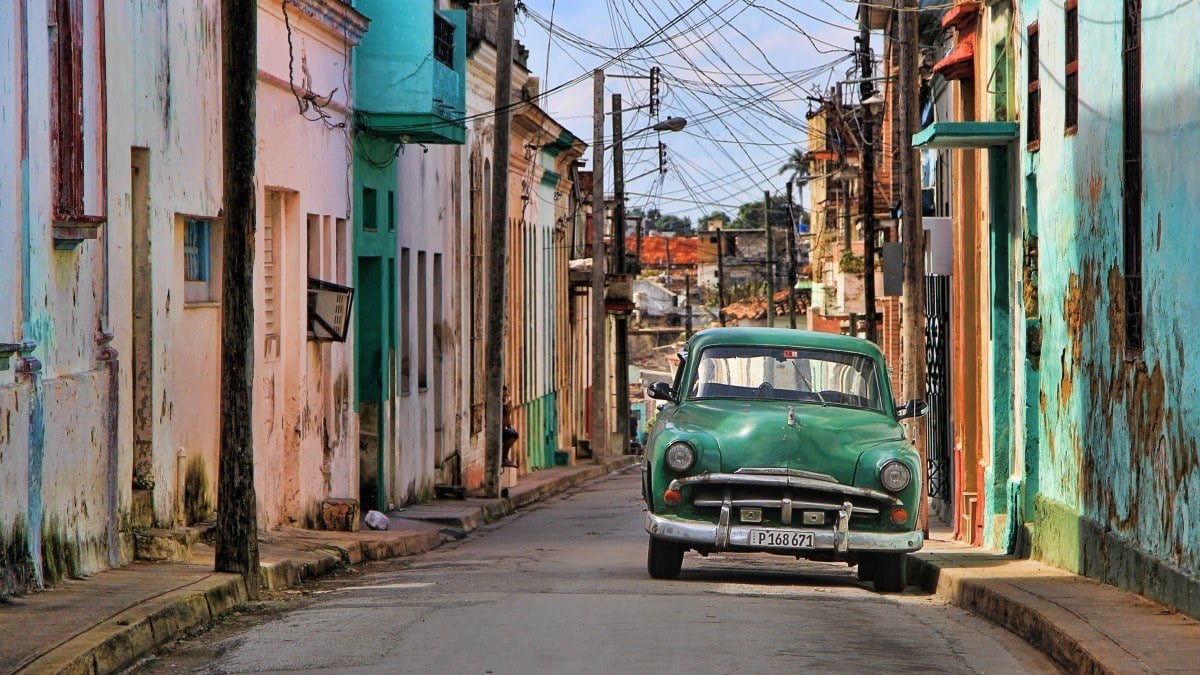 Cuban cities offer up the biggest dose of Cuban culture. Colonial architecture, cobblestone streets, salsa clubs, retro cars, and the appearance of an emerging "modern Cuba" define the country's urban centers.
Cuba's beaches have been popular with foreigners for at least a century. Some classic white-sand beaches like Cayo Levisa are touristy, whilst many other beaches are virtually off the radar.
There are at least 10 major biospheres, nature reserves, and national parks in Cuba. Each one has something unique and interesting for backpackers. All of Cuba's great diversity is showcased in its national park system. In fact, the diversity of Cuban landscapes make up a large part of what makes Cuba such an awesome place to visit.
Now, let us take a look at some of your itinerary options for your backpacking Cuba adventure…
Best Travel Itineraries for Backpacking Cuba
Looking for a Cuba backpacking itinerary? Whether you have 2 weeks in Cuba or a month to really explore, I have assembled several Cuba backpacking itineraries to help you make the most of your time in this epic country.
These Cuba backpacking routes can easily be combined or customized!
7 Day Cuba Itinerary #1: Highlights and Nature
Only have one week to travel around Cuba? No problem. There is PLENTY of to do in just 7 days.
For this Cuba itinerary, as well as the others, I will assume that you will be starting your journey in Havana, Cuba's capital.
Cuba is a surprisingly big place. Because of that, I recommend that you don't try to plan too many things at once. A realistic 7 day itinerary for Cuba does keep you moving, though with some restraint so that you can actually enjoy and experience the places you are visiting!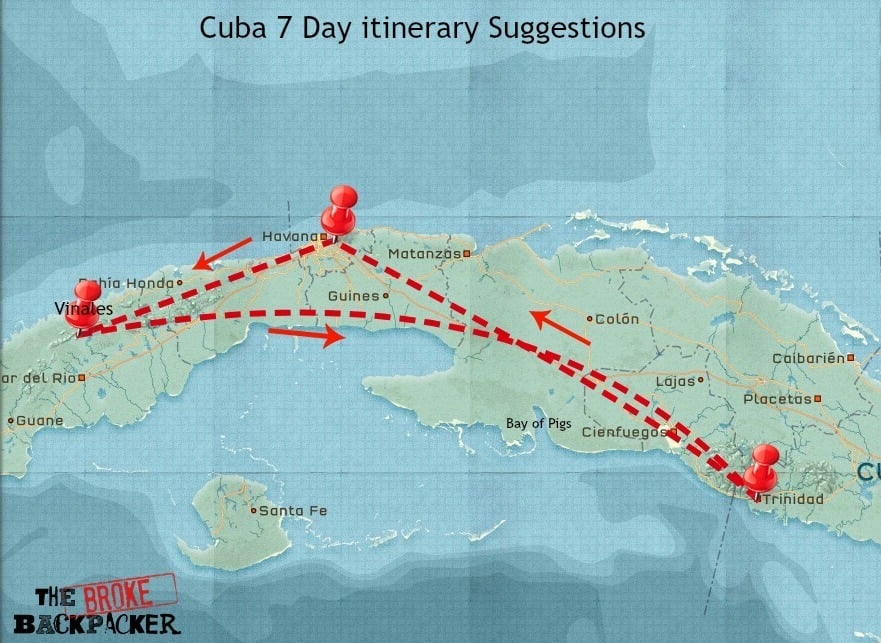 Cuba in 7 Days: Havana, Cigars, and Beaches
Havana -> Vinales -> Trinidad
To get to grips with Cuba, you are going to need a few days getting to know the great time machine that is Havana. I recommend spending at least three days in Havana.
Over the course of your three days in Havana, you will start to picture what modern life is like in a country slowly stepping into the modern world (through a communist filter). Here is what you should do with your time in Havana:
Visit Old Havana
Listen to live music, i.e Salsa
Visit Plaza de la Revolución
Explore the Callejón de Hamel neighborhood
Take a tour of a cigar factory
Visit a museum or two: Museo Nacional de Bellas Artes and Museo de la Revolución (are my top picks)
You'll find that Havana is a really awesome place to wander around and soak up the vibes. There is always something interesting happening in Havana and if you are looking to party…well, weekends at the legendary clubs of Havana are where it's at.
After Havana, head a few hours down the road to Vinales. Vinales is one of my favorite places in Cuba. Spend a day or two exploring the beautiful green limestone mountains. Check out a tobacco farm. You can hire horses to visit a far-flung farm in the valley.
Next stop is Trinidad. Spend your final days in Cuba learning about the history of Trinidad, and, of course, enjoying the beautiful beach at nearby Playa Ancón.
14 Day Cuba Itinerary #2: Culture, National Parks, Highlights
This 14-day itinerary allows for a bit more in-depth exploration of a few places mentioned in the 7 day itinerary above. The same thing applies though: don't try to do too much when backpacking Cuba.
Choose between 5-7 places and really experience those places. Backpacking Cuba is all about taking things slow, so embrace it!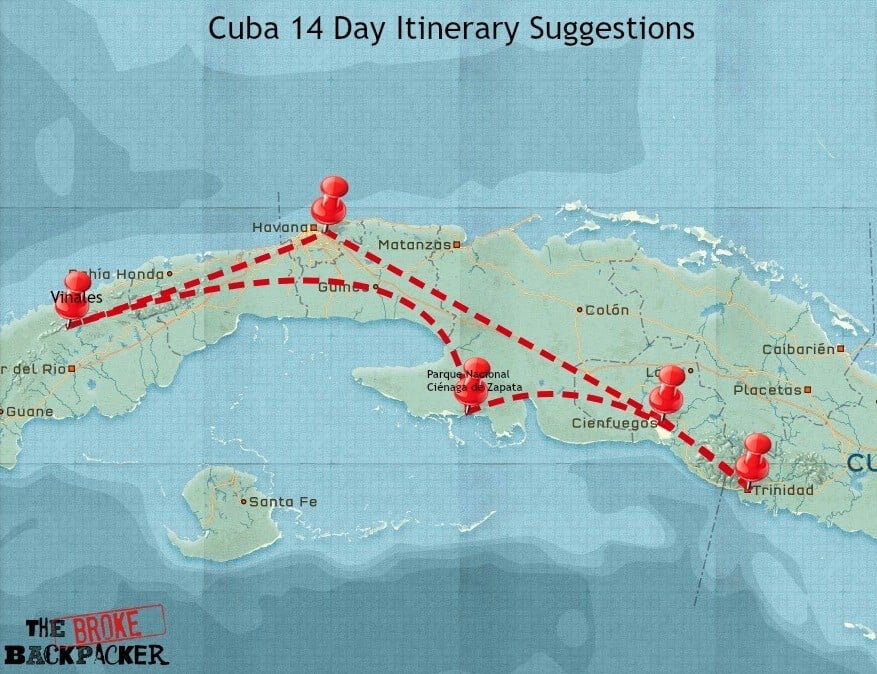 Cuba in 14 Days: Beaches, Mountains, Cities
Havana -> Cienfuegos -> Trinidad -> Parque Nacional Ciénaga de Zapata -> Vinales
For this 14 day Cuba itinerary, you will be taking another route out of Havana, saving Vinales for the end.
After exploring Havana for a couple of days, head to Cienfuegos. Cienfuegos is the "real Cuba" experience and you won't find many other backpackers here normally (though this is changing). Check out the impressive Teatro Tomás Terry and the nearly two-century-old Cementerio la Reina.
On your second day in Cienfuegos, you can cross the bay on the ferry to Castillo de Jagua, an 18th-century fortress.
After Cienfuegos, take between 3-5 days to really settle into Trinidad. Waterfall hikes, gorgeous beaches, tobacco farm tours, and horseback riding adventures are all on offer here. Certainly, dedicate a full day to exploring Parque Natural Topes de Collantes, which is best experienced if you hire a guide and some horses.
Now it's time to head back west en route to Vinales. From Trinidad to Vinales you are looking at at least a 7-hour bus ride, so it is best to break up the journey with a stop at Parque Nacional Ciénaga de Zapata or Playa Large near the Bay of Pigs.
You can spend your final few days in Cuba falling in love with beautiful Vinales.
1 Month+ Cuba Itinerary #3: The Whole Damn Thing
If you have a month or more to explore Cuba you can really see a good chunk of the country. This Cuba itinerary will take you off the beaten path and allow you to get to know a part of Cuba that few travelers ever get to see.
Cuba in 1 Month: See the Whole Country!
Havana -> Vinales -> Parque Nacional Ciénaga de Zapata -> Bay of Pigs -> Cienfuegos -> Rancho Luna -> Trinidad -> Santa Clara -> Parque Nacional de Turquino -> Santiago de Cuba -> ?
With so much time on your hands, there is no need to rush. Really like Havana? Spend a week there. Fall in love with Vinales? Stay a little longer. Another benefit of having a month to backpack Cuba is that you can make it to the less visited eastern part of Cuba.
You can base yourself in Cuba's 2nd biggest city, Santiago de Cuba, and explore the nearby Parque Nacional de Turquino. There are countless adventures to be had in eastern Cuba and the fact is many people who visit Cuba don't make it beyond Santa Clara!
Point being, there is no real time pressure on you so you can take the opportunity to be spontaneous, explore the national parks, go scuba diving, learn Spanish, etc.
If you manage to extend your visa for another 30 days, I recommend volunteering on a farm or in a school during your Cuba backpacking adventure.
Remember, you can always fly or take the train from Havana to Santiago de Cuba and start your 1 month itinerary from there. You should note that internal flights within Cuba are expensive. Since you are in no hurry, a combination of bus, train, and hitchhiking is the way to go.
Places to Visit in Cuba
Backpacking Havana
Havana is without a doubt the beating heart and vibrant soul of Cuba. One's first impression of Havana is indeed that of a time warp. 1950s era classic cars blend with rows of pastel-colored houses. Cuban music wafts out of open windows. Street vendors sell tasty treats from carts sometimes drawn by horses.
As much as Havana conjures up nostalgia, it is certainly a city on the move. With its different neighborhoods, you'll have a lot of choices for where to stay in Havana.
To start, head directly to Old Town Havana to walk the cobblestone streets and soak in the colonial architecture from the Spanish era. Whilst Old Town is charming as hell, Havana Centro is where the real action is. This is where you'll find most of Havana's hostels and backpacker accommodations.
For lunch, eating at a paladar is a quintessential Havana experience. A paladar is a sort of in-house restaurant run by a small family. They often offer cheap, delicious eats.
Take the walk from La Rampa in the Vedado neighborhood to the Malecón and beyond, The Malecón is a seawall skirting along the coast for a few kilometers, and sunset walks here are best.
For a slightly cliche yet thoroughly entertaining activity, rent an old car to transport yourself back in time in style. You can always visit the rum museum if you want to learn about Cuba's national drink.
See my Cuba 7 -day itinerary above for even more awesome things to do in Havana.
Book Your Havana Hostel Here
Backpacking Vinales
The small town of Vinales and the surrounding Vinales Valley are blessed with some of the most stunning natural scenery in the whole county. Rolling green tobacco farms and impressive rocky outcroppings make a big first impression.
Rent a bike in town and head to the Mural de la Prehistoria (4 km from Vinales). The mural itself took 18 artists a staggering 4 years to complete! Very impressive indeed. In the hills above the mural, you can undertake a hike to the tiny community of Los Aquaticos. Be aware of scammers offering fake tours. You really don't need a guide to walk.
For one of the best sunsets of your life, you can head to the Valle Del Silencio. You can find some reasonably priced real tours in town, but a sure way not to get scammed is to go through the Villa Los Reyes hotel.
They take you to visit a tobacco plantation en route to an epic sunset spot where you can soak in the day's final lights with a cold mojito in hand. Not bad, right?
Other fun activities in Vinales included cigar-rolling, horseback riding (as is an option in most of Cuba), and rock climbing if you're keen. I'll add that the rock climbing around Vinales is some of the best climbing to be had anywhere in Cuba. Cueva de la Vaca is one of the best climbing spots!
Book Your Vinales Hostel Here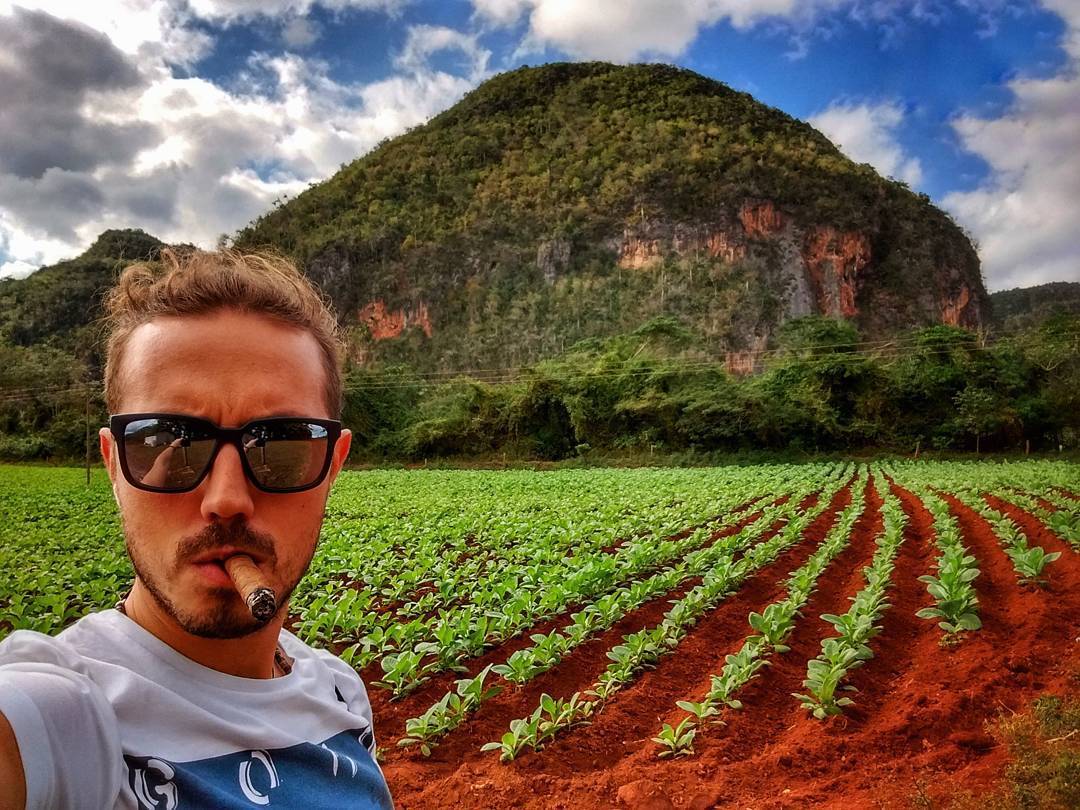 Backpacking Cayo Jutías
For some reason, few backpackers head further west to the coast after visiting Vinales. If you travel on deeper into the Pinar del Río province, you'll find perfect white sand beaches, ample diving and snorkeling opportunities, and far more local Cubans than tourists.
To reach Cayo Jutías you can hire a shared taxi. Be sure to negotiate heavily for a fair return price. Also, confirm the exact time you want to head back as many drivers will not make the journey after dark.
As of now, there are no places to sleep on Cayo Jutías (it's rather small) though if you have a good tent, you can sleep there for free!
Cayo Jutías is a true, gorgeous Cuban beach paradise. That said, the mosquitoes are ruthless and will eat you alive if you don't cover up (especially around sunset.) The alternative to camping in Cayo Jutías is to sleep back in Vinales.
Book Your Vinales Hostel Here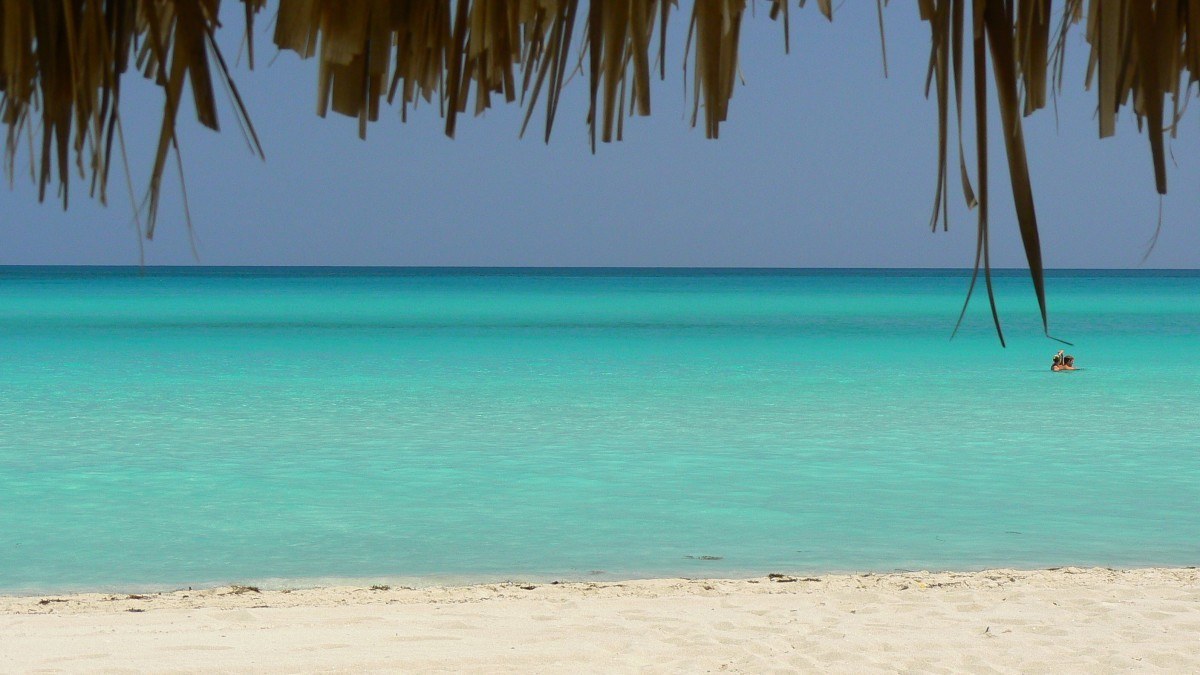 Backpacking Cienfuegos
The French colonial town of Cienfuegos is a charming Cuban town on the south-central coast. The city center is the natural place to begin your exploration of Cienfuegos.
Blessed with beautiful French colonial architecture and attractive streets, the city center of Cienfuegos has been a UNESCO world heritage site since 2005. One of the best (and most attractive) parts of the city is in and around Jose Marti Square.
From there, you can take a stroll down one of Cuba's longest boulevards, simply named the Cienfuegos Boulevard. It is interesting as you start getting to know Cienfuegos, it really doesn't look or feel like any other city in Cuba.
The impressive Arco de los Trabajadores is another classic Cienfuegos landmark to be on the lookout for.
The beaches around the city have the reputation of being polluted and dirty, but certainly, the severity of this depends on the season. In the dry season, it might not be so bad.
Apart from strolling along the seawall near Punta Gorda and taking in the architecture in the city center, Cienfuegos is a great place to go out partying/dancing. Bring your A-game. Cubans really know how to cut a rug.
Book Your Cienfuegos Hostel Here
Backpacking Trinidad
Trinidad is another Cuban city that makes you feel like you woke up in a different decade: classic cars and stunning colonial architecture abound. Trinidad's history has a lot to do with how nice it currently looks.
In the boom years of sugar cane, tobacco, and cattle production (often worked by African slaves in the past), the town became very wealthy indeed. The extravagant plazas and brightly painted houses are a reflection of that economic period.
A refreshing must-try local beverage (that isn't rum) is sugar cane juice. Don't forget to mix in a little rum though in the evenings ;). Trinidad is an excellent place to keep it simple. One could easily spend 3-5 days in Trinidad, walking the cobblestone streets, catching live music shows, partying when the sun goes down, or just relaxing in a cafe after hitting up a museum or two.
Highlights of the city include the Plaza Mayor (avoid the touts by going in the early evening), a climb up the Bell Tower for epic views, and eating delicious Cuban food (anytime). The Cave Disco Club is a pretty happening spot to catch some nightlife.
When the urge arrives to hit the beach, head down the road to Playa Ancon. The taxi ride shouldn't be more than a few bucks. Be aware that at certain times of the year, the mosquitoes can be fucking terrible at Playa Ancon. I itch just thinking about it.
Book Your Trinidad Hostel Here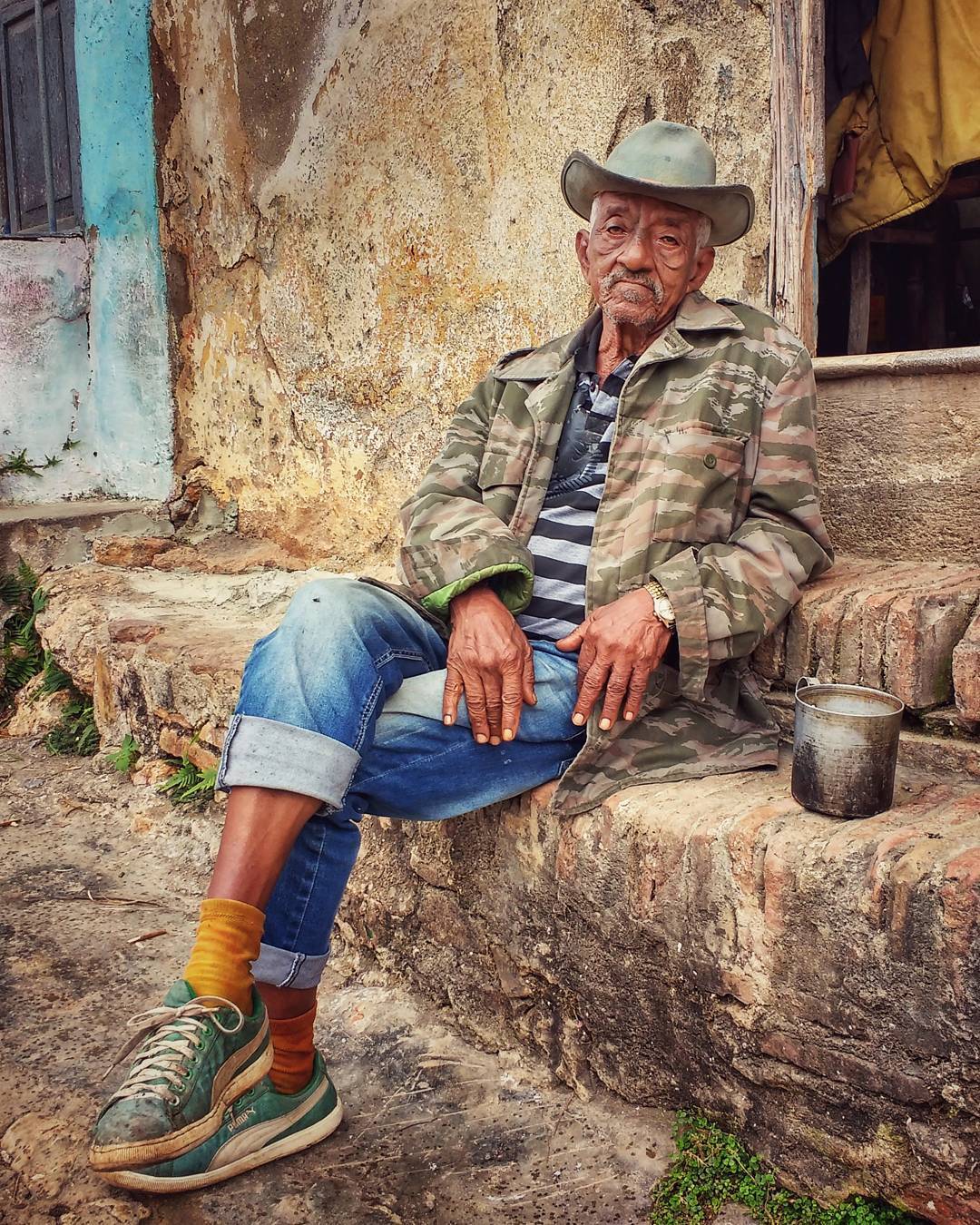 Backpacking Playa Larga/Bay of Pigs
Well, thankfully the days of the CIA-backed invasion of the Bay of Pigs are long over. Shady history aside, Playa Larga is a must-visit beach if you are in the area.
I will say that Playa Larga can feel quite touristy, but in Cuba, touristy doesn't necessarily mean tacky, overrated, and exploding with foreigners.
Playa Larga is one of the best places in Cuba to go diving. If you're like me and need to get a scuba fix on any given backpacking trip, you're going to really dig Playa Larga. Some of the best diving can be found around Punta Perdiz, though there are quite a few badass dive sites in the Playa Larga area.
In between dives be sure to check out the Cueva de Los Peces (fish cave).
Another fun option for the afternoon is to rent a bike. With a bike, you can easily get to Criadero de Cocodrilos, which I have mixed opinions about. On one hand, this crocodile farm essentially saved a nearly extinct species of Cuban crocodile. On the other hand though, some are eaten or made into leather handbags. Individual judgment is for you to decide.
Book Your Playa Larga Hostel Here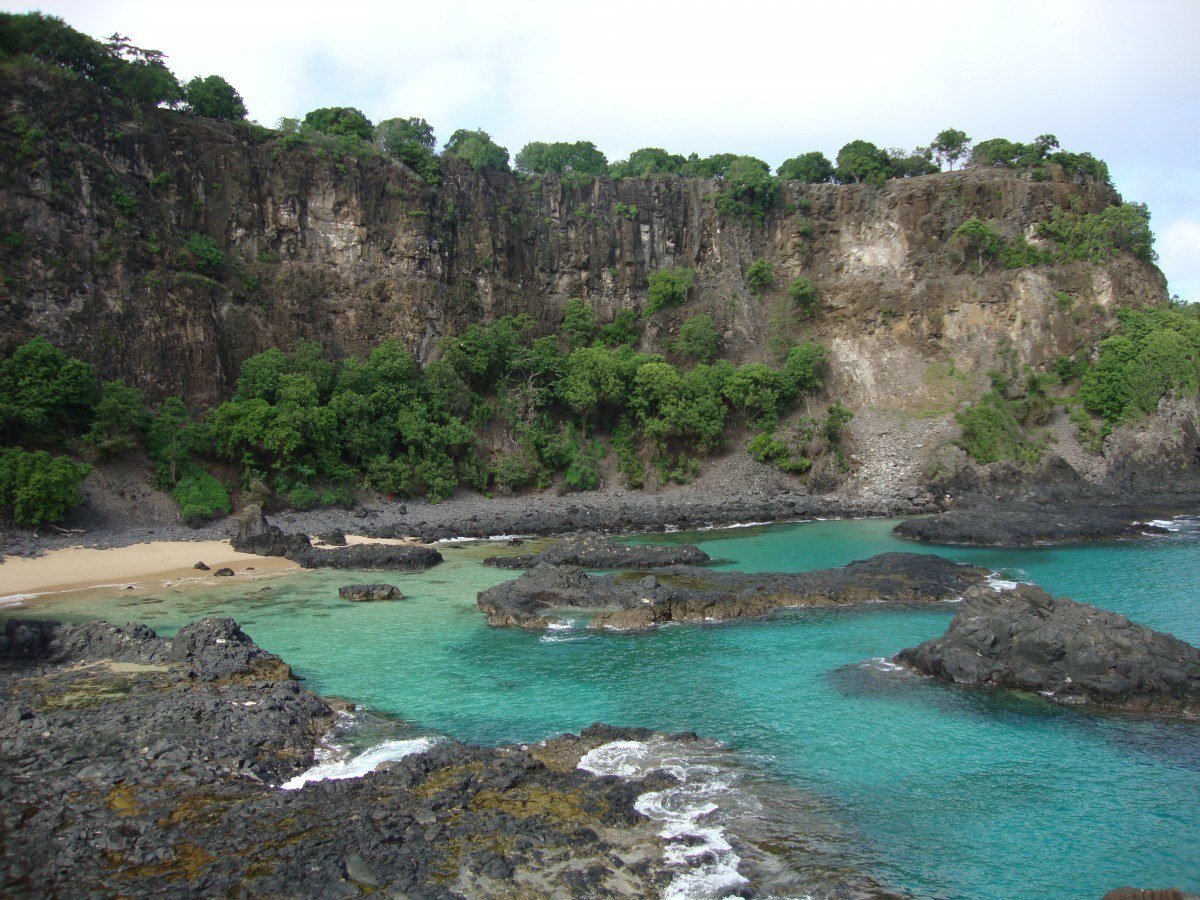 Backpacking Santa Clara
If you have even the slightest interest in learning about Che Guevara or the Cuban revolution, you will find Santa Clara to be a fascinating place. Really, it seems like you can't go anywhere in Santa Clara without seeing Che's face.
When in Santa Clara, you must visit Conjunto Escultorico Comandante Ernesto Che Guevara (Che Museum). In addition to being a great museum for all things Che, it is also where Che is buried and home to his mausoleum.
If you didn't go to a cigar factory back in Havana, check out the cool Fabrica de Tabacos Constantino Perez Carrodegua factory. You can take a laid-back tour of the factory and sip locally roasted coffee—cigar in hand— at tours end.
Take in the pulse of modern life in Santa Clara at Club Mejunje. Any given night of the week there is something interesting on here. Art shows, salsa night, and even Cuba's only drag show…
For an even more locals-only type spot, head to Parque Leoncio Vidal. Bring a takeaway dinner (or a bottle of rum) and hang out with locals enjoying family/friend time in the park. This place gets pretty rockin' on the weekends FYI.
Book Your Santa Clara Hostel Here
Backpacking Parque Nacional de Turquino
The mountains and dense jungle that make up Parque Nacional de Turquino also include an area known as the Sierra Maestra. Why is the Siera Maestra important? For one, it was the base of Fidel Castro's rebel army for a majority of the Cuban revolution.
It's easy to see why Fidel chose this part of Cuba. The high mountains (averaging 4,500 feet) are draped in thick tropical vegetation, mist, and well, plenty of places to hide.
To familiarize yourself with the park, you can climb Pico Turquino. It is the tallest mountain in Cuba at 6476 feet. A hell of an adventure and epic views of sprawling tropical forest await. There are various routes to choose from to get to the summit—each of which will take you at least 2-3 days round trip.
Unfortunately, guides are mandatory in order to tackle this hike. I do not have any information about doing this hike independently, other than it is technically forbidden. The police may or may not enforce this. Definitely hike Pico Turquino in the dry season.
Since guides are mandatory, they can be arranged through Flora y Fauna employees at Villa Santo Domingo or at the small hut at Las Cuevas.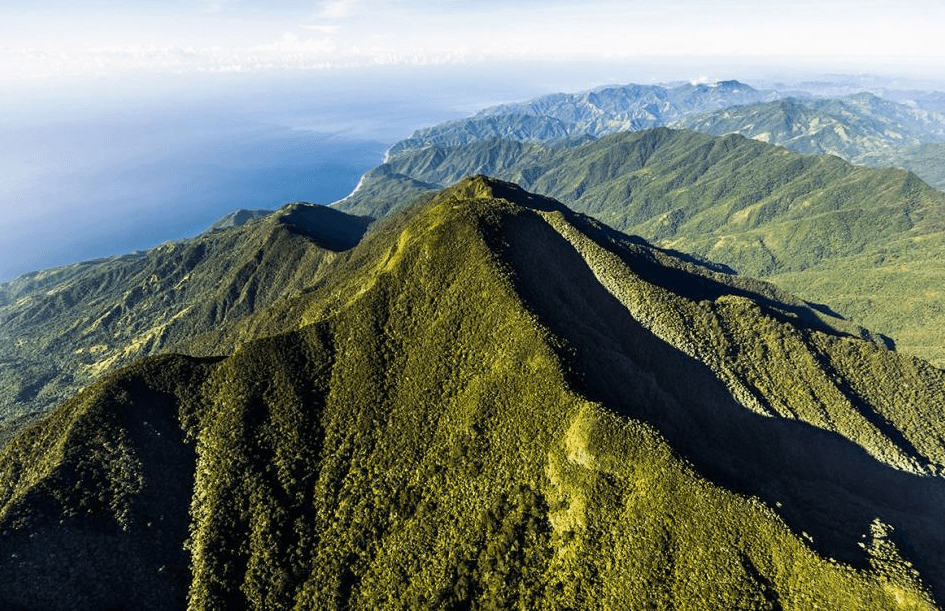 Backpacking Santiago de Cuba
Located on a bay in Cuba's far southeastern corner is Santiago de Cuba. Cuba's second largest city is known for its distinctive Afro-Cuban cultural influences, revolutionary history, and stunning colonial architecture (most of Cuba's urban architecture is pretty alright).
The Castillo de San Pedro de la Roca del Morro is a wonderfully positioned 17th-century UNESCO world heritage site. It's a bit out of the city (10 km southwest), but the views of the sea and the surrounding Sierra Maestra make it well worth the effort to get here.
For music lovers, a night at the Casa de las Tradiciones will be one for the ages. There are many hidden gem and hole-in-the-wall music venues in Cuba, and Casa de las Tradiciones is one of them. Spend a few hours taking in the scene at the often crowded, smoke-filled bar, and get the essence of what backpacking Cuba is all about.
Carnival in Santiago de Cuba (July) is a real treat. If you happen to be in Cuba during July, plan on spending 10 days in Santiago de Cuba for a marathon period of parades, music, rum, and dancing.
Book Your Santiago Hostel Here
Backpacking Baracoa
Cuba's oldest colonized city is Baracoa. Located on the eastern tip of the island, Baracoa receives a fair bit more rainfall than other parts of Cuba, and the result is a lush green, dazzling subtropical landscape. Baracoa isn't super easy to reach due to it being in the far corner of Eastern Cuba, but I'd say it's worth the effort to get there.
It is possible to visit some of the awesome cocoa and coconut plantations that dot the rural interior around Baraco, though the main attraction in Baracoa is the canyon of the Yumuri River. That said, if you just want to hang out in the town center, play some dominoes, and relax on the beach, I understand.
The Yumuri Canyon looks like something out of the Lost World. In my opinion, you can't visit Baracoa without seeing the canyon and the river. The water is a clear turquoise-blue and the vegetation snakes its way up the steep canyon walls in a sea of green and tangled vines. Hiring a boat is the best way to see the canyon and all it has to offer.
From Baracoa, Playa Manglito beach is just a short taxi ride (or hitchhike ride) away.
Book Your Baracoa Hostel Here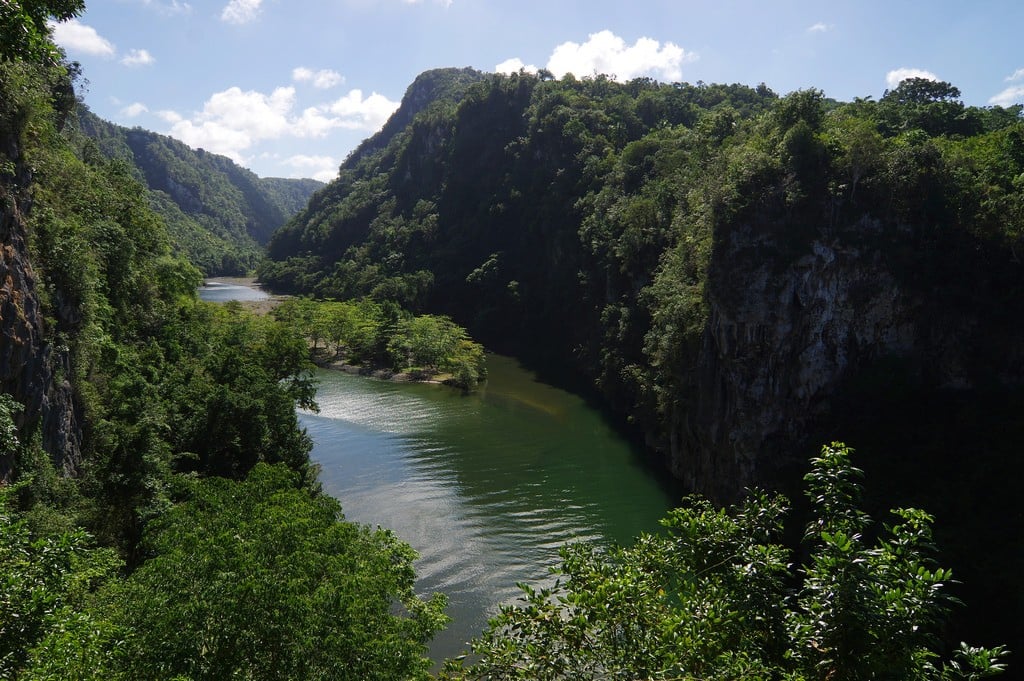 Backpacking Sancti Spíritus
For an authentic, small-town experience in Cuba, head to colorful Sancti Spíritus. There is definitely a gringo route in Cuba and Sancti Spíritus is not on it.
You'll find that tourism is not booming here like it is in Trinidad or Vinales. If you want an honest glimpse into what life is like in a Cuban town far from the influences of tourism, Sancti Spíritus is a sure bet for that.
The Taberna Yayabo down by the river is a fine place to grab a drink and hang out with locals. For live music, head to the Uneac Club.
There aren't a ton of "must see" attractions in Sancti Spíritus and that is what makes it so special. If you're looking to improve your Spanish and get off the beaten path, you'll feel right at home here.
Book Your Sancti Spíritus Hostel Here
Off the Beaten Path in Cuba
Perhaps more so than in any other Caribbean nation, getting off the beaten path in Cuba isn't difficult. For one, the island is fairly big and large-scale, wide-spread tourism infrastructure does not exist (yet).
To get the most out of your backpacking Cuba adventure, getting off the beaten path will allow you to experience life like the locals, which is crucial to understanding and capturing the magic that is Cuba.
The wild north coast of Cuba is not heavily trafficked by foreigners, making it a prime candidate for exploration.
The small towns and villages in the rugged and remote interior are full of untapped cultural gems and beautiful natural landscapes.
Like I said, there are also a handful of beaches that are the "known, famous" beaches. Some of the best beaches in Cuba are not famous and do not see the same tourist hordes as the others.
Because tourism in Cuba is a relatively new phenomenon, backpacking Cuba independently isn't always easy for certain activities.
Camping and doing a bit of cooking for yourself is also very crucial to getting off the beaten path in Cuba. If you are self-reliant, you can really discover a whole other side of Cuba.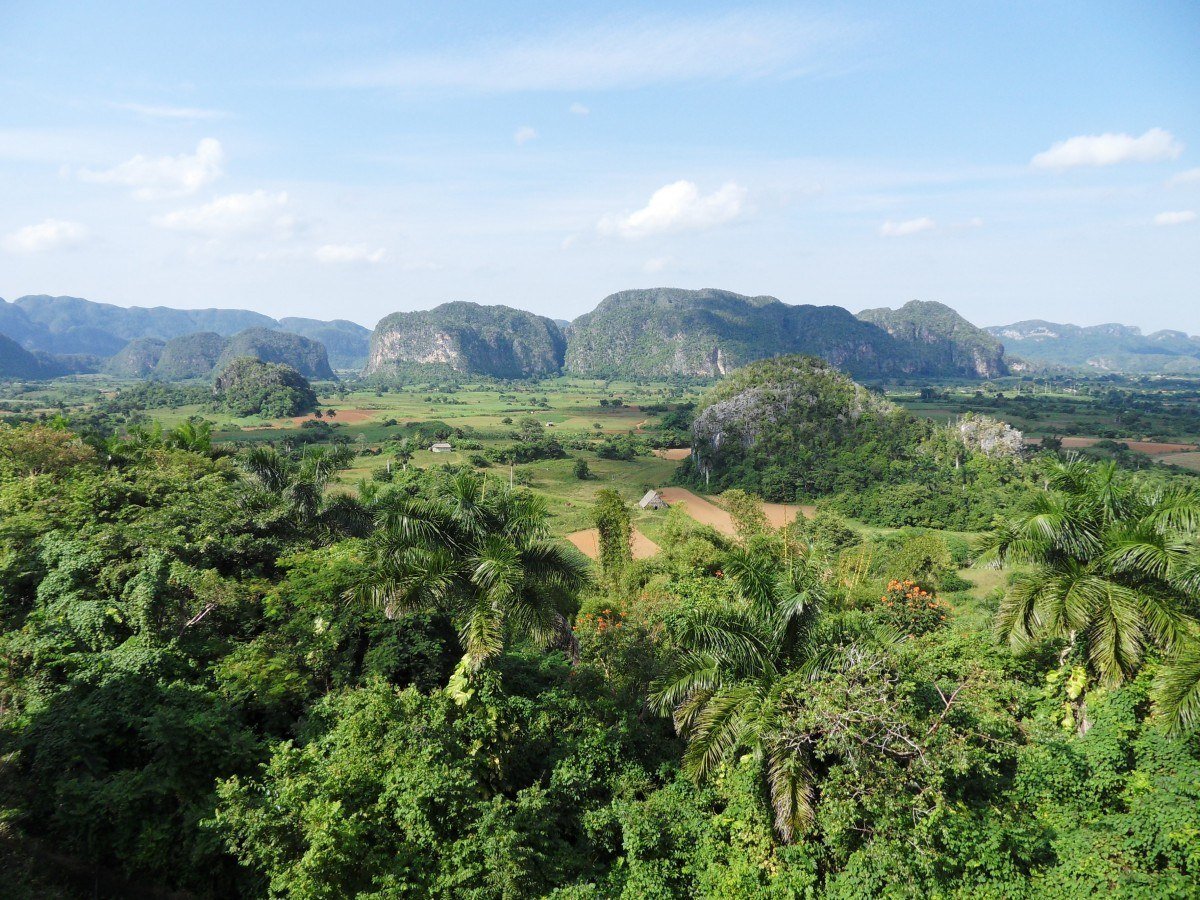 Backpacker Accommodation in Cuba
Finding backpacker accommodation in Cuba is not always easy. There are just a handful of hostels on the island as of now. Though luckily, the hostels that do exist are often found right where you need them, along the Cuba backpacking route.
Surprisingly, Havana alone has over 100 hostels! I'm sure in the years to come, there will be an explosion of hostel development throughout the rest of Cuba.
When hostels are not available, the next best thing is casas particulares. Casas Particulares are basically glorified homestays of typically solid and dependable quality (and less expensive than hotels). There are TONS of casas particulares throughout Cuba. Whilst you don't get the same vibe as you do at backpacker hostels, I would argue that the overall experience (especially from a cultural perspective) is better.
Many casas particulares do not have websites (another new phenomenon in Cuba is business marketing). If you want to book a night in another casa particular, simply ask your host to phone a friend in the next town over and you'll be sorted.
Hotels are without a doubt the most expensive option in Cuba, and a great way to eat a huge hole in your budget. Also, I'd avoid all-inclusive resorts like the plague.
One of my favorite ways to meet locals and save some cash is to Couchsurf. Couchsurfing is one of the best tools for traveling on a budget. Plus, you are always bound to meet interesting people! More on CS later in the article.
Wild Camping in Cuba
Wild camping is legal in Cuba; I never heard otherwise. There are plenty of awesome places to pitch your tent. Obviously, the mountains and the Sierra Maestra are ideal camping candidates (if you want to follow in the revolutionary soldiers' footsteps).
You might find camping to be rather uncomfortable at low elevations on the coast. Cuba is hot and humid and the mosquitoes can be insane! Coastal camping might prove to be more trouble than it is worth. Pray for a breeze if you wind up camping at the beach!
If you are unsure if a potential campsite is on private land, at least make an effort to ask the owner, if you can get by the language barrier that is—Spanish isn't too hard, you can do it!
In general, if you pitch your tent around dusk and are gone by 7 am or so, no one should hassle you.
Get familiar with "leave no trace principles" and put them into practice.
If you are in the market for a solid, lightweight, and reliable tent, I highly recommend the MSR Hubba Hubba 2-person tent. This compact tent is up to the challenge of battling Cuba's subtropical weather. To get to know this tent better, check out my in-depth MSR Hubba Hubba Review.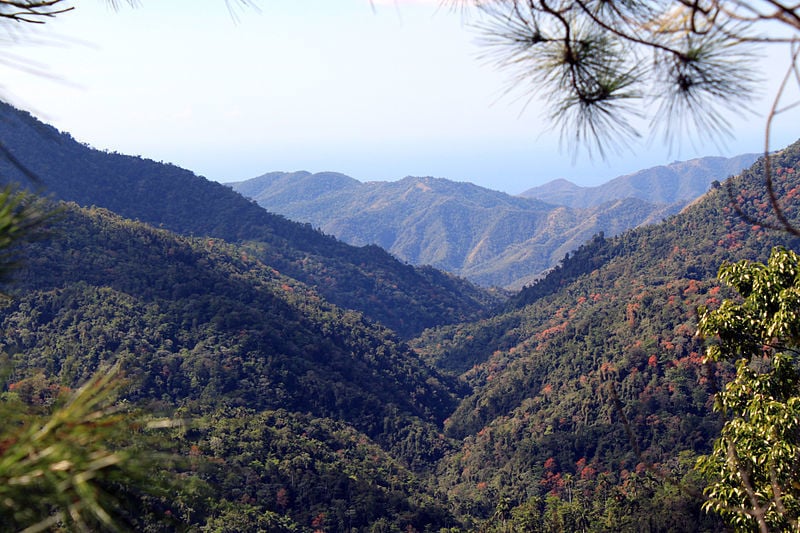 Top Things to Do in Cuba
Below I have listed the 10 best things to do in Cuba:
1. Explore Old Town Havana
Cobblestone streets, classic cars, and beautiful brightly-painted townhouses that transport you back in time? That is La Havana Vieja.
2. Go to a Baseball Game in Cuba
Cubans are mad about baseball, their national sport. Catch a game at the Estadio Latinoamericano, or at another one of Cuba's fine baseball parks.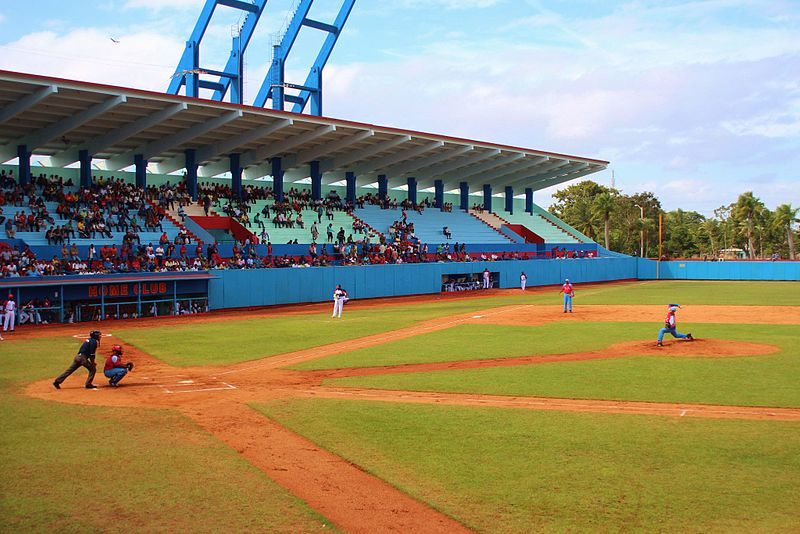 3. Go Scuba Diving
Cuba is blessed with some truly excellent scuba diving opportunities. The best part? Diving is affordable in most places!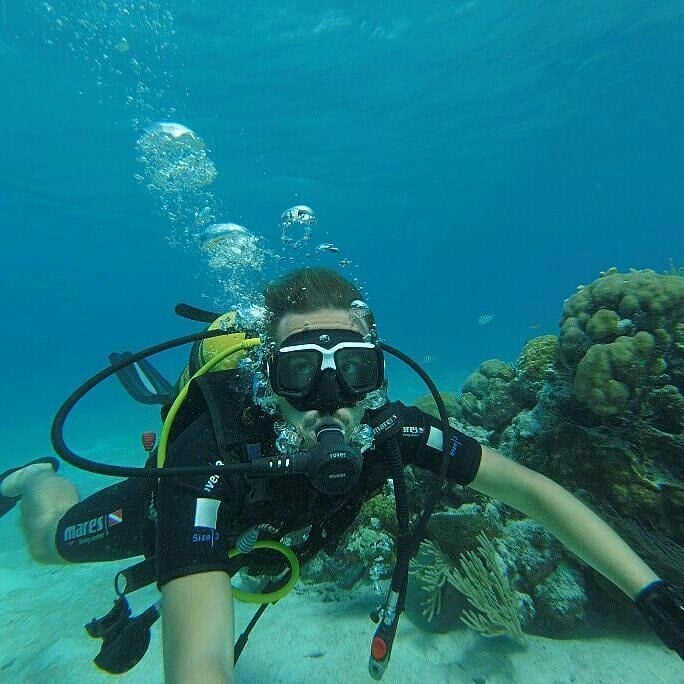 4. Visit a Tobacco Plantation
Visit the plantations where the island's legendary tobacco is grown.
5. Listen to Live Music in Santiago de Cuba
Santiago de Cuba is famous for producing some of the country's most talented and prolific musicians. Its musical traditions go back centuries. Watch a live show in Cuba, whether it's on the street or in a club, and you won't be disappointed.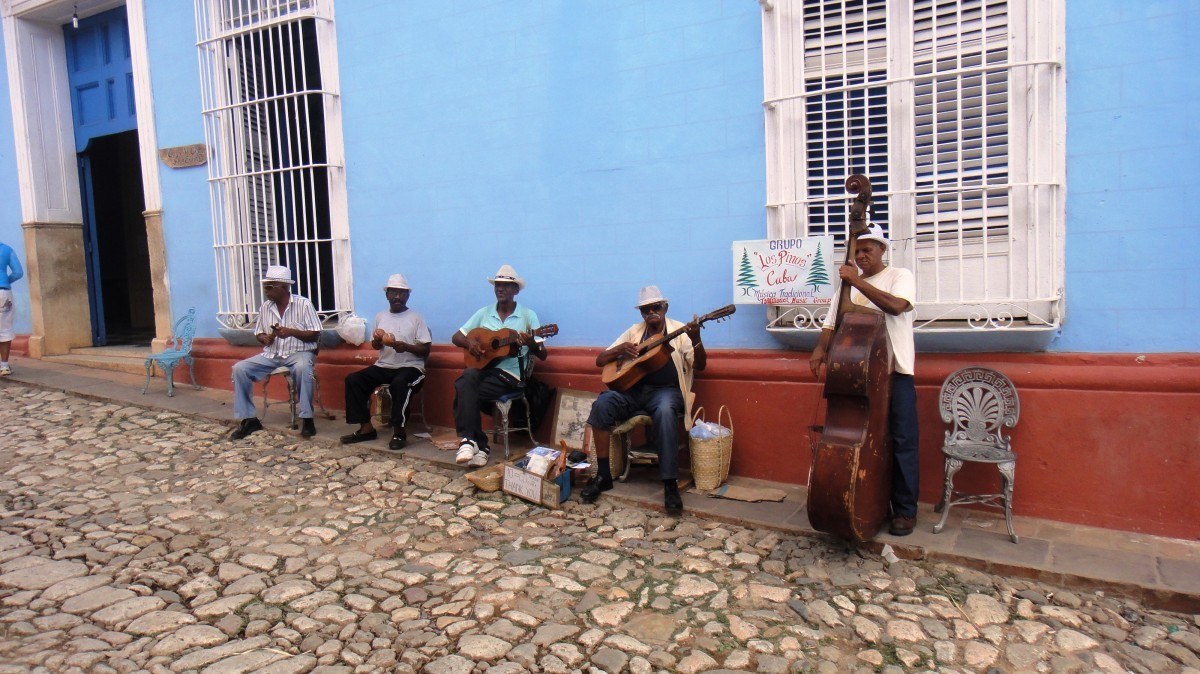 6. Visit the Che Guevara Moslouem and Museum in Santa Clara
Che Guevara is one of the most important and iconic revolutionary figures from the 20th century. His legacy in Cuba is forever enshrined in his museum in Santa Clara.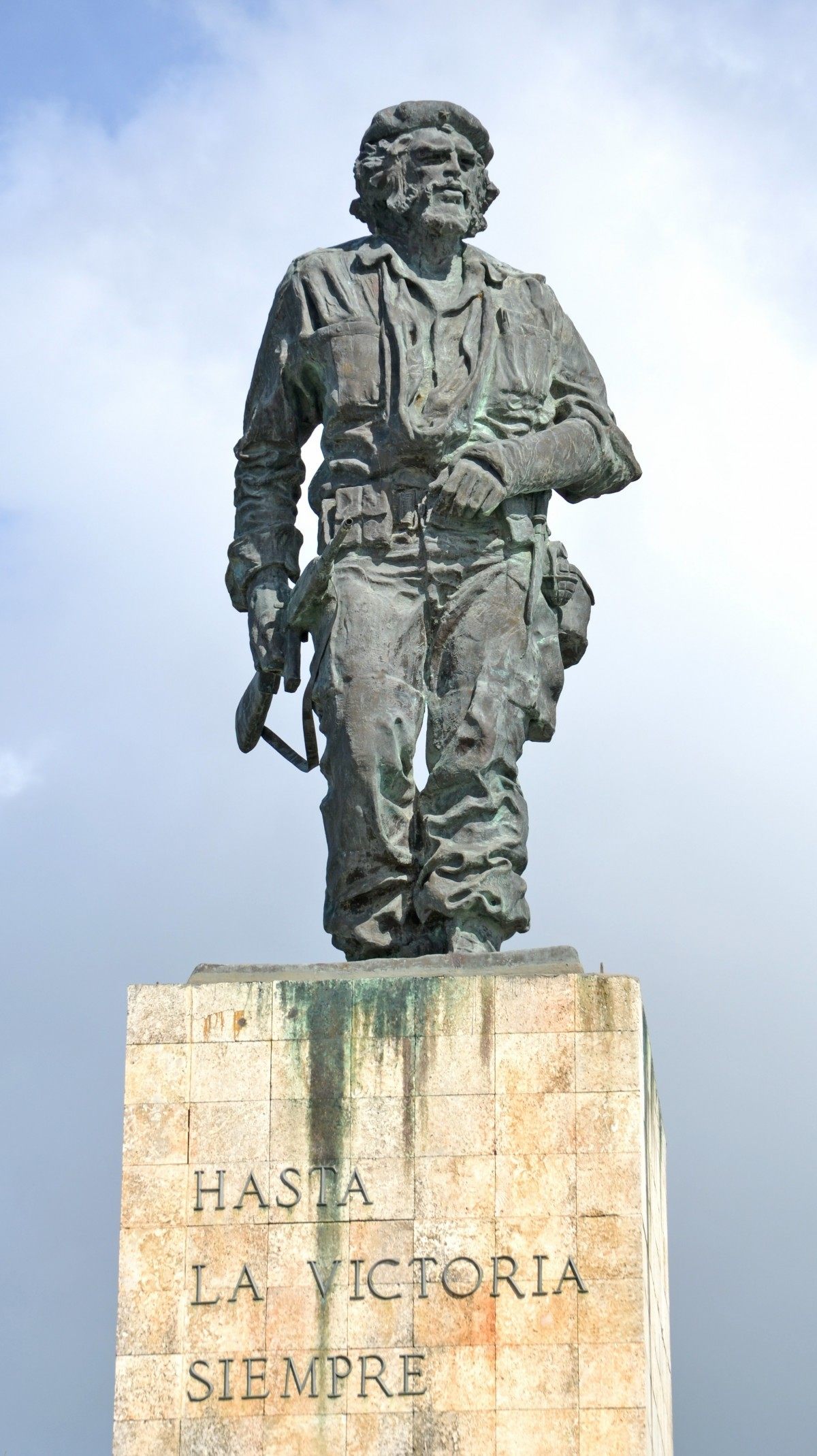 7. Climb Pico Turquino
Scale Cuba's highest mountain for an epic multi-day Cuban adventure.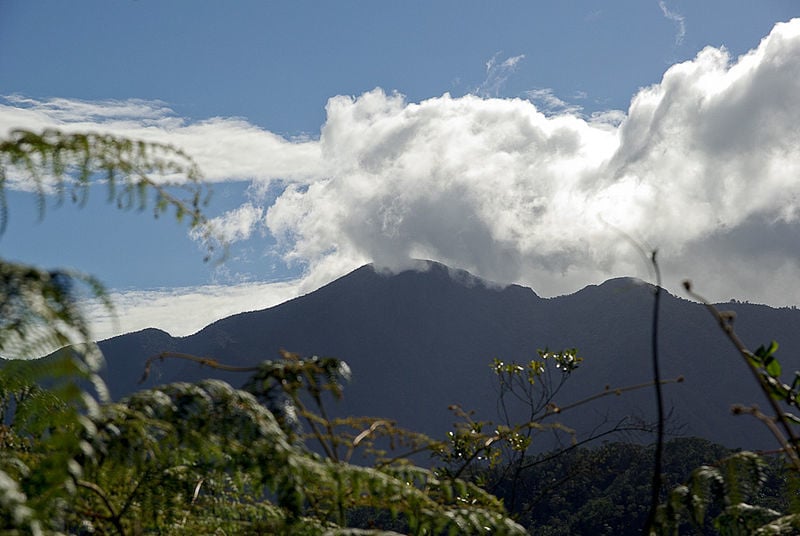 8. Explore the Vinales Valley by Bike
Vinales and the surrounding area offers up some of the most beautiful scenery in all of Cuba. The beaches nearby aren't so bad either.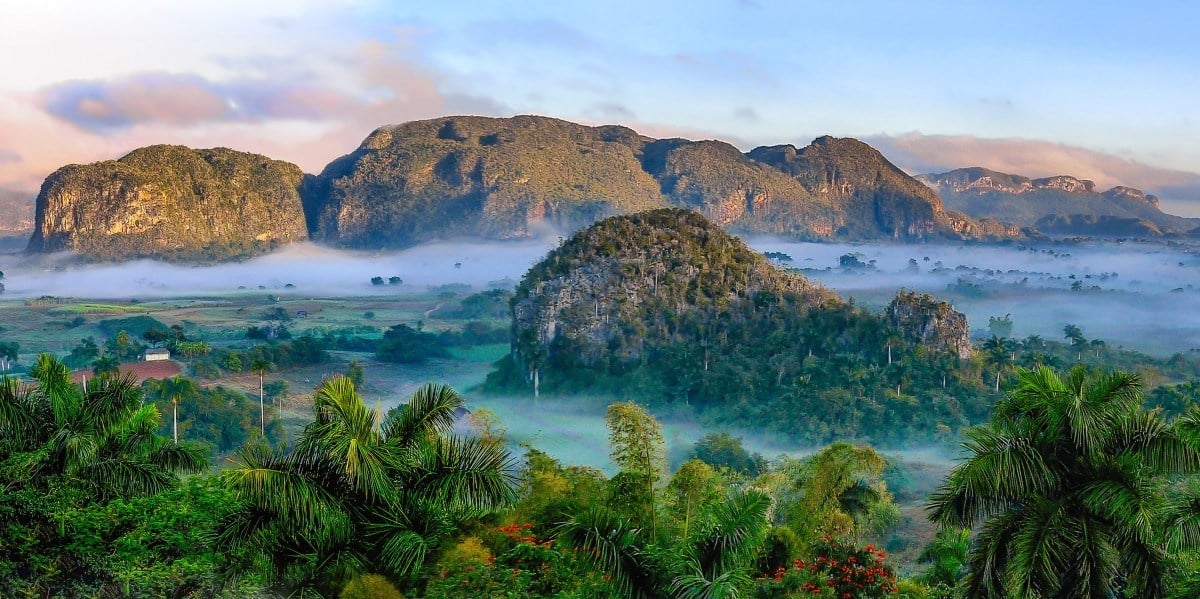 9. Hire a Classic Car
You'll find classic cars all over Cuba. There is perhaps no better way to see the island than from behind the wheel of a '62 Bel Air.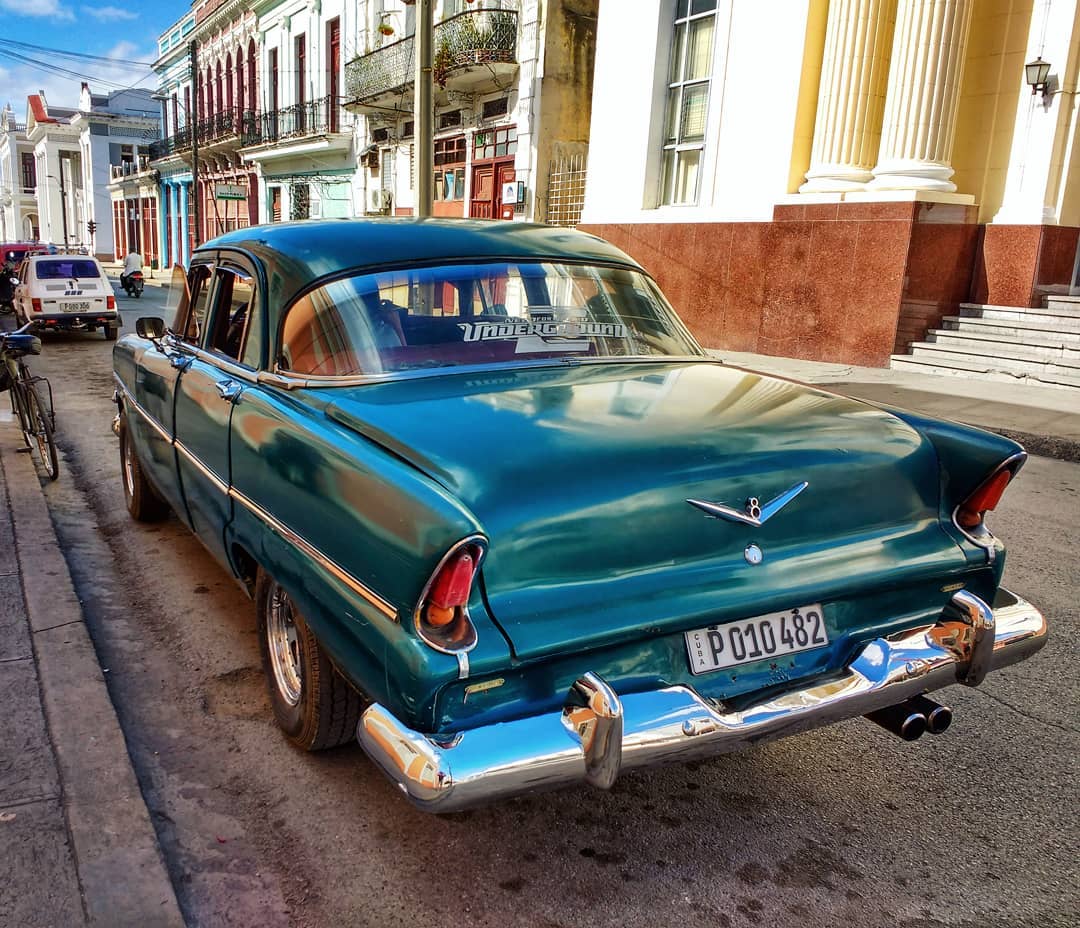 10. Experience Carnival in Santiago de Cuba
Like in most Latin American countries, Carnival is a big deal. Cuba is no different. Come and experience the biggest festival on the island, and remember to pace yourself… it is indeed a marathon.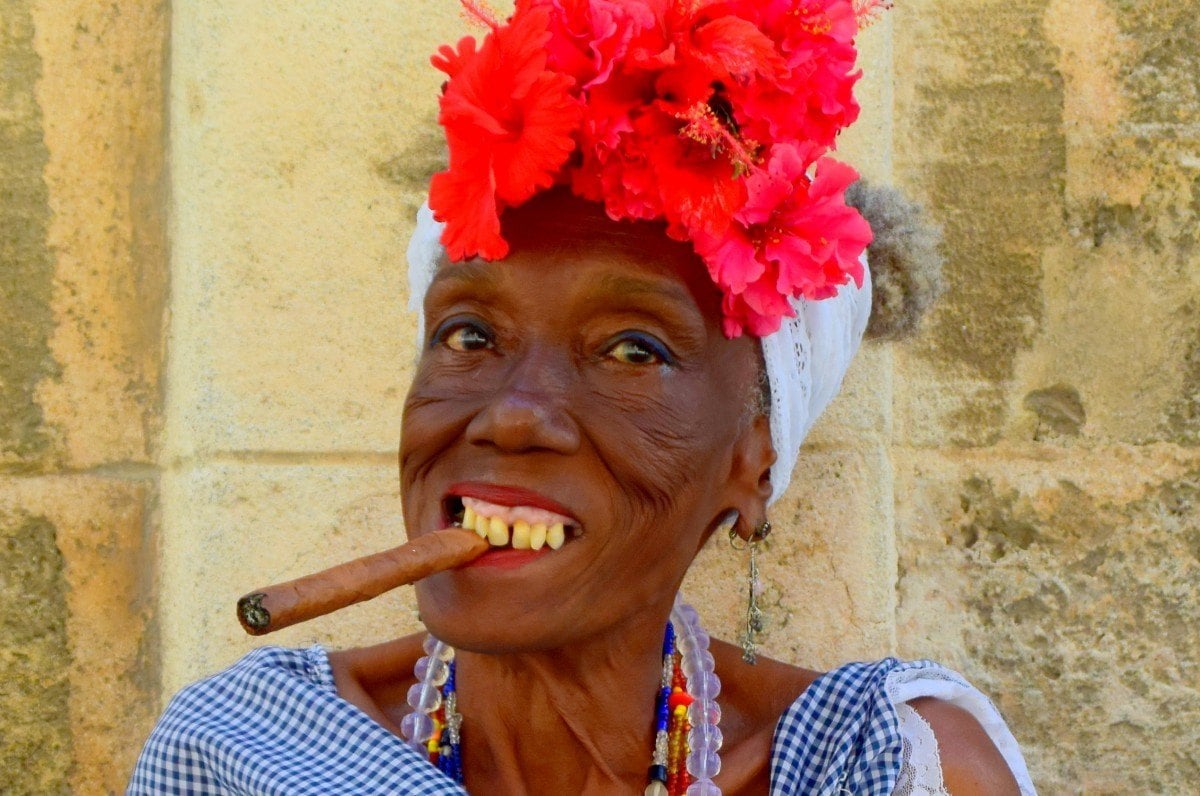 Backpacking Cuba Travel Tips
Below I have covered a ton of essential information on backpacking Cuba, including books to read, what to wear, backpacking travel costs, and how to travel around Cuba…
Books to Read While Backpacking in Cuba
Here are some of my favorite books set in Cuba:
The Backpacker Bible – Get it for free! Learn how to ditch your desk and travel the world on just $10 a day whilst building a life of long-term travel with an online income. To inspire and help the next generation of Broke Backpackers, you can now grab 'How to Travel the World on $10 a Day' for free!
The Old Man and the Sea — The Old Man and the Sea is one of Hemingway's most enduring works. Told in a language of great simplicity and power, it is the story of an old Cuban fisherman, down on his luck, and his supreme ordeal — a relentless, agonizing battle with a giant marlin far out in the Gulf Stream.
Our Man in Havana — First published in 1959 against the backdrop of the Cold War, "Our Man in Havana" remains one of Graham Greene's most widely read novels. It is an espionage thriller, a penetrating character study, and a political satire of government intelligence that still resonates today.
Waiting for Snow in Havana — "Have mercy on me, Lord, I am Cuban." In 1962, Carlos Eire was one of 14,000 children airlifted out of Havana—exiled from his family, his country, and his own childhood by Fidel Castro's revolution. Winner of the National Book Award, this stunning memoir is a vibrant and evocative look at Latin America from a child's unforgettable experience.
Explosions in a Cathedral — This swashbuckling tale set in the Caribbean during the French Revolution focuses on Victor Hugues, a historical figure who led the naval assault to take back the island of Guadeloupe from the English at the beginning of the nineteenth century.
Guerrilla Warfare —"Guerrilla Warfare" by the revolutionary Che Guevara has become the guidebook for thousands of guerrilla fighters in various countries around the world. Very interesting even if you do not intend on fighting in a revolution. I have read it twice lol.
Lonely Planet Cuba — It's always handy to have a Lonely Planet in your backpack.
Cuba Travel Phrases
Learning a bit of Spanish is a great way to get the most out of your trip. When I became fluent in Spanish, it really changed the way I was able to travel in Cuba and beyond. It is such a useful language to know! You can speak it in over 20 countries!
Here are a few helpful/basic Cuba travel phrases with English translations for your backpacking Cuba adventure:
Hello – Hola
How are you? – Como estas?
Good Morning – Buenos dias
I don't understand – No entiendo
How much? – Cuánto cuesta?
Stop here – Te detienes aquí
Where is the toilet? – Donde esta el baño?
What is this? – Que es esto?
No plastic bag - Sin bolsa de plastico
No straw please - No paja por favor
No plastic cutlery please - No hay cubiertos de plástico por favor
Sorry – Lo siento
Help! – Ayudame!
Cheers! – Salud!
Dick head! – Cabron!
Safety in Cuba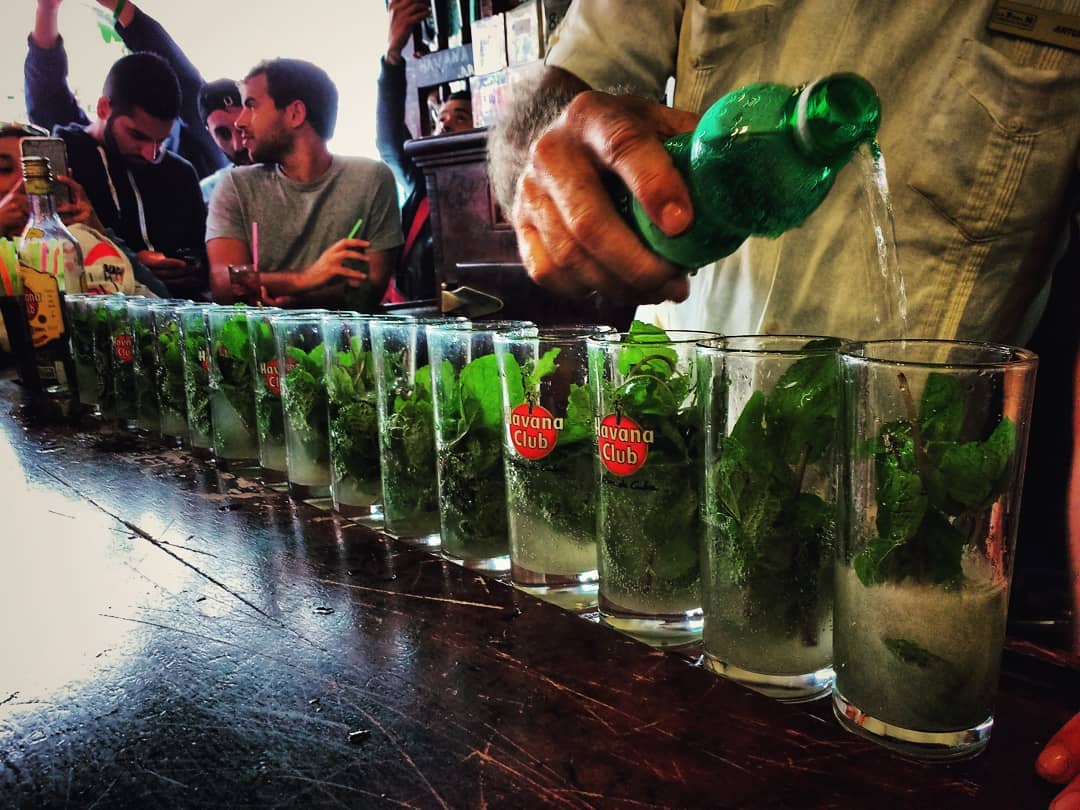 I am pleased to report that Cuba is one of the safest countries to visit in all of Latin America. Certainly, in terms of other Caribbean nations (like Jamaica for example), Cuba is super safe. I have heard very little about backpackers being the targets of pick pockets, and even less so of violent crime (pretty much unheard of).
Maybe this safety situation is partly due to the extreme and authoritarian nature of the Castro regime spanning the last 50 years. Cubans don't want the police (and especially the army) to visit them!
If you are planning to rent a motorbike, always wear a helmet!
Though one thing to watch for are jineteros. Jineteros are dudes that will offer to take you to the closest casa particular…with a catch. What they don't tell you is that upon arrival they expect (and will demand) a small payment from you.
Though Cuba is super safe it never hurts to take extra steps to protect your valuables.
Check out Backpacker Safety 101 for tips and tricks to stay safe whilst backpacking in Cuba. For even more inspiration have a look at my in-depth review of the best travel money belts for backpackers.
I strongly recommend traveling with a headlamp whilst in Cuba (or anywhere really – every backpacker should have a good headtorch!) – check out my post for a breakdown of the best value headlamps to take backpacking.
Want to save the world? Single-use plastic bottles are a huge threat to Marine Life - Be a part of the solution and travel with a
filter water bottle
.
The GRAYL GEOPRESS water bottle is the ONLY all-in-one filter water bottle setup you'll need. Whether you need to purify the water from a hostel sink in Kathmandu or a stream trickle in the Andes, the Geopress has got you covered.
Sex, Drugs and Rock 'n' Roll in Cuba
Drug laws in Cuba are severe. Whilst you can get a way with smoking a joint or two, even buying weed can be risky. You also never know what you're going to get. People may try to sell you cocaine that actually ends up being laundry powder!
The obvious drug of choice in Cuba is alcohol. You can buy it literally everywhere…and it's pretty cheap too (you can find shots for as little as 12 cents!).
Maybe I am overreacting to the drug laws in Cuba, but seriously, you don't want to end up in a fucking Cuban prison full of gnarly, hardened criminals/enemies of the state.
I suggest that if you Couchsurf or befriend a local whom you TRUST, inquire where you might be able to discreetly buy a little pot. Certainly "where can I buy some weed?" should not be the first question you ask any new Cuban friend.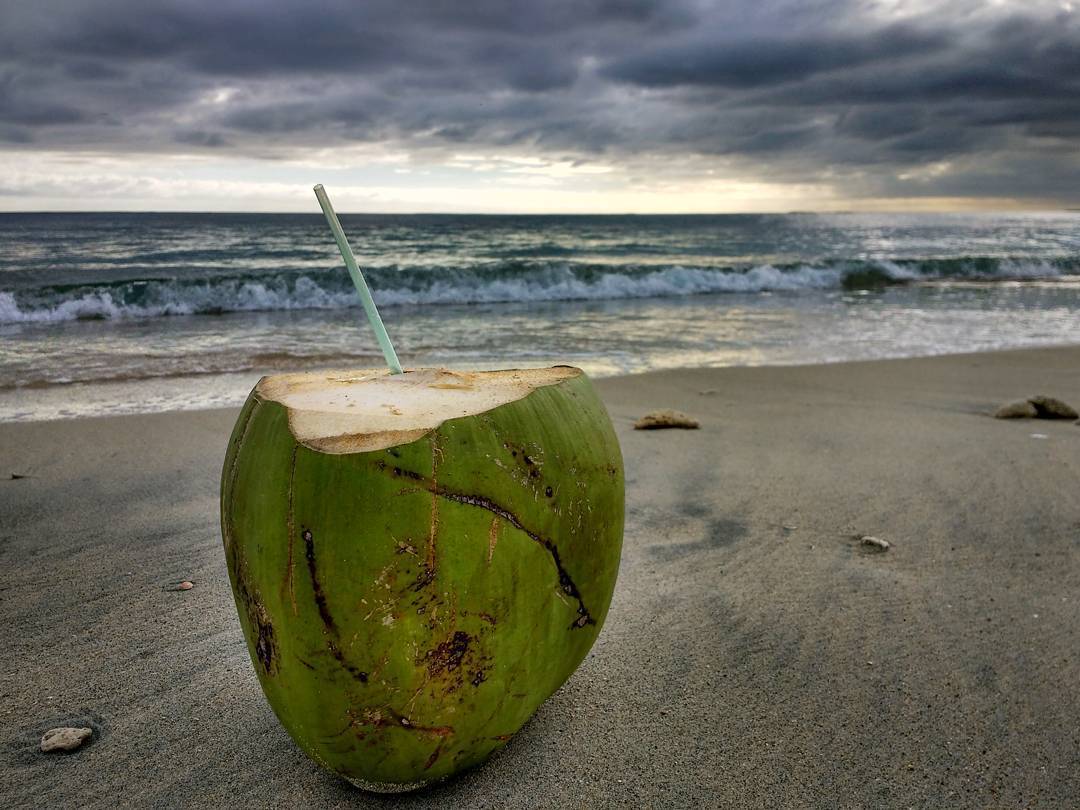 Travel Insurance for Cuba
A wise man once said that if you can't afford travel insurance, you can't really afford to travel – so do consider backpacker insurance sorted before you head off on an adventure! Traveling without insurance would be risky. I highly recommend World Nomads.
I have been using World Nomads for some time now and made a few claims over the years. They're easy to use, offer the widest coverage, and are affordable. Also, this is the only company I know of that lets you buy travel insurance after leaving on a trip.
If there's one insurance company I trust, it's World Nomads. Find out why I recommend World Nomads, check out my World Nomads Insurance review.
Getting an estimate from World Nomads is simple – just click the button or image below, fill out the necessary info, and you're on your way!

What to Pack for Cuba
Properly packing for Cuba os the first step to having a successful trip. On every adventure, there are six things I never go traveling without:
1. Security Belt with Hidden Pocket: I never hit the road without my security belt. This is a regular looking belt with a concealed pocket on the inside – you can hide up to twenty notes inside and wear it through airport scanners without it setting them off. This is hands down the best way to hide your cash.
2. Pocket Blanket: This lightweight, waterproof, super compact pocket blanket is a must for all adventures. Doubling up as an emergency poncho, this picnic blanket is worth its weight in gold when chilling, or camping, on the beach. It comes with a carabiner, a secret zipped pocket where you can hide stuff and pocket loops which you can weigh down using stones.
3. Microfibre Towel: It's always worth packing a proper towel. Hostel towels are scummy and take forever to dry. Microfibre towels dry quickly, are compact, lightweight and can be used as a blanket or yoga mat if need be.

4. Headtorch: Every backpacker should have a head torch! A decent head torch could save your life. If you want to explore caves, unlit temples, or simply find your way to the bathroom during a blackout, a headtorch is a must. Currently, I'm using the Petzl Actik Core rechargeable headlamp – an awesome piece of kit! Because it's USB chargeable I never have to buy earth polluting batteries.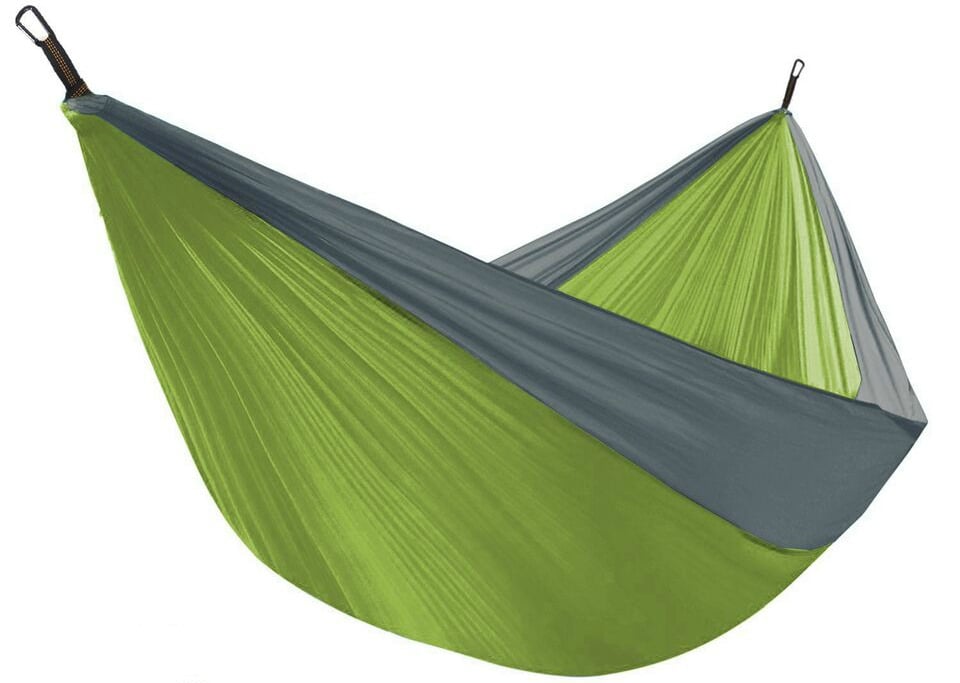 5.Hammock: Taking a tent backpacking is not always practical but hammocks are lightweight, cheap, strong, sexy (chicks dig hammocks) and allow you to pitch up for the night pretty much anywhere. Right now, I'm rocking an Active Roots parachute hammock – it's light, colourful and tough.
6. Toiletry Bag: I always travel with a hanging toiletry bag as it's a super efficient way to organise your bathroom stuff. Well worth having, whether you are hanging it from a tree whilst camping, or a hook in a wall, it helps to have quick access to all your stuff.
For plenty more inspiration on what to pack, check out my full backpacking packing list and Cuba packing list!
Look Awesome, Do Awesome!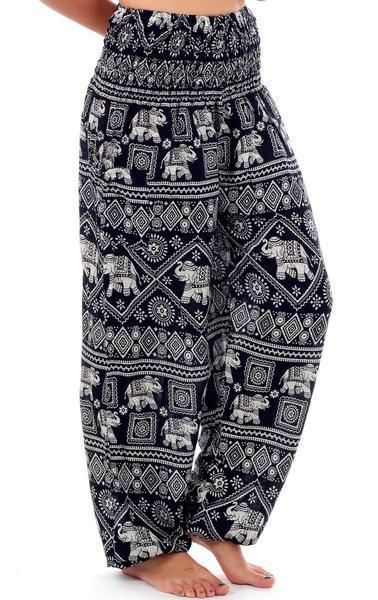 Want to embrace the hippy backpacker style and look?
Active Roots hippy trousers
are chic, comfortable and perfect for yogis, backpackers and adventurers alike. Help us
support the elephant conservation centre in Laos!
10% of your purchase goes towards saving the Asian elephant population so you can look awesome, feel awesome and do awesome - all at once. Pretty fucking awesome right?
Use the code ' TBB10 ' for 10% off your order.
Best Time to Travel to Cuba
As Cuba is a Caribbean island, it enjoys fairly mild weather year round…with a few exceptions.
The best time to visit is from December to May, when you can expect dry, sunny days and plenty of blue skies. For trekking and scuba diving in Cuba, dry season makes outdoor activities more enjoyable and/or doable.
The wet season begins in June and, usually, tourists avoid travel in Cuba entirely between August and October, when there is also a risk of hurricanes. Hurricane season in Cuba is NOT to be underestimated. I would avoid coming to Cuba in Late September/ October all together, mostly because I love to dive.
That said, you will find lower prices and fewer tourists in September and October. Also you could be lucky and have long stretches of fine weather (save for a little bit of rain). Get your haggle game ready and you can score some seriously good deals on things like car rentals, accommodation, and food.
Pick up a good rain jacket, especially if you plan on visiting during the hurricane season. Check out my list of the 7 best jackets to take traveling here. Having a waterproof backpack does have its advantages as well.
Prices in Cuba are at their highest from December—March FYI.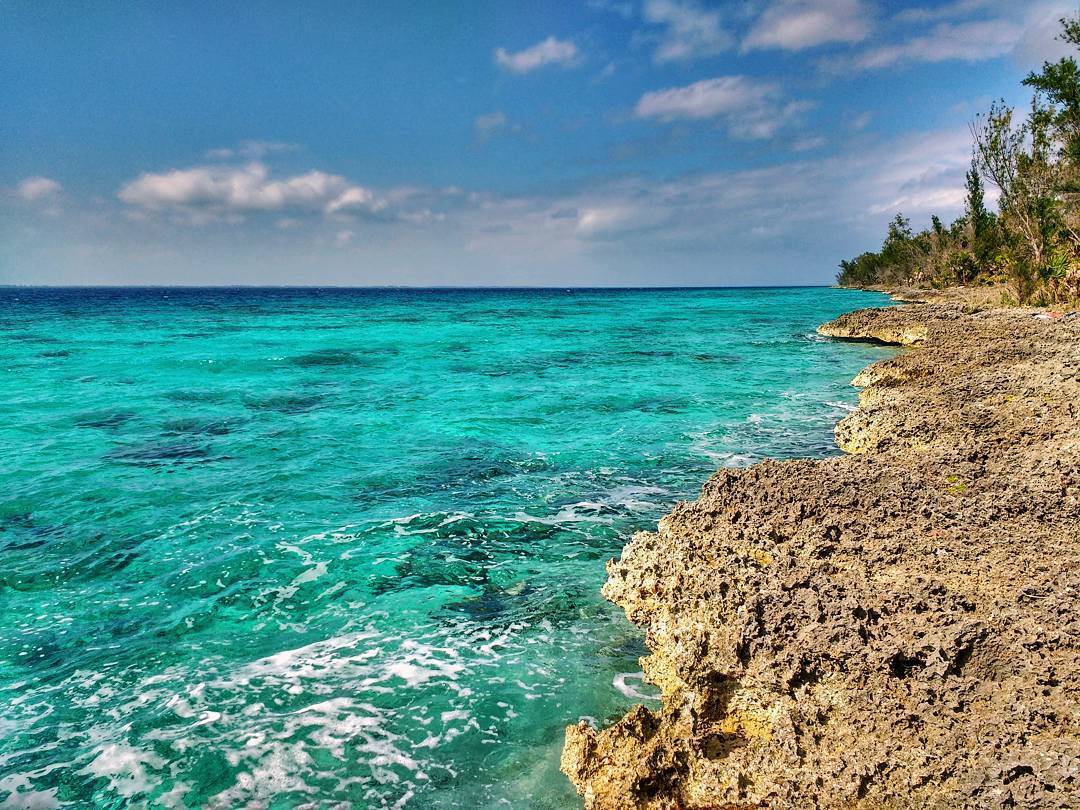 Apps to Download before Backpacking Cuba
Maps.Me – Prone to getting lost or taking that 'shortcut' that adds another few hours onto a simple walk? This app is definitely for you. My favorite offline maps app, download your map and route before you venture out to keep you on track while backpacking Cuba.
XE Currency – I used this a lot when backpacking abroad. It is a great help while calculating expenses. You'll need to switch between the Pound and Euro depending on which part of Cuba you are in and this app helps you stay on top of exchange rates.
HIDE.ME – I always have a VPN ready to go on both my phone and laptop, I personally use Hide Me which is one of the fastest and most reliable options out there. This particular VPN allows for up to five connections which is handy for keeping all your devices connected without having to purchase multiple VPN packages.
Cuba Travel Guide to Getting Around
The main international airport for Cuba is the José Martí International Airport in Havana.
Surprisingly though, there are 10 international airport in Cuba! That said, flying into Havana will be the cheapest option. If you are arriving to Cuba from Mexico, you can find budget flights under $100 one-way through Interjet Airlines.
Entry Requirements for Cuba
Ah the Cuban tourist visa…
Don't worry, these days getting a tourist visa is pretty straight forward (at least as long as you're not American). All travelers to Cuba must possess a valid passport, a return ticket, travel insurance policy with medical coverage, and a visa or tourist visa. They might ask you to present all or none of these things when you go through customs in Havana. Print all the documents needed just in case.
When you buy your flight to Cuba you may receive a 30-day tourist card along with your ticket. Some airlines sell/give them to you at the airport. In any case, the price for the tourist card can range from $20-$100 depending on your nationality and the airline company. As far as I know, there is not a streamlined rate for tourist cards.
Once in Cuba, you'll need to present your tourist card. If, for some reason, you didn't get the tourist card in advance, you can purchase one in the airport in Havana upon arrival. Whatever you do, don't lose your tourist card!
Also, once you are inside the country you can extend your 30-day visa/tourist card for another 30 days (90 days for Canadians!).
Cuba Tourist Visas for Americans
For American backpackers traveling to Cuba, things are not as easy as they are for Europeans or other nationalities.
Now is the time I get to thoroughly confuse you, but I'll do my best to make things clear!
America and Cuba have not had diplomatic relations essentially since the time Fidel Castro seized power in 1959. In March 2016, President Obama announced the beginning of a process of normalizing relations between Cuba and the United States. Since then, Trump has done his best to fuck up the US-Cuba relations progress Obama opened up just like he is doing with every other aspect of the county.
So… what does all of this mean for American backpackers?
This is the official word from the US Department of State: "Tourist travel to Cuba remains prohibited. You must obtain a license from the Department of Treasury or your travel must fall into one of 12 categories of authorized travel."
The 12 categories of authorized travel to Cuba are: family visits; official business of the U.S. government, foreign governments, and certain intergovernmental organizations; journalistic activity; professional research and professional meetings; educational activities; religious activities; public performances, clinics, workshops, athletic and other competitions, and exhibitions.
To apply for a Cuban visa or for any questions regarding Cuban consular services you'll need to contact the Cuban Embassy in Washington D.C. For more information, you can visit the US State Department website.
Many backpackers just say they are Catholics going to Cuba to visit its impressive churches and cathedrals and get a tourist visa based on religious grounds, with little to no proof required (praise the lord). If you go through a visa service all of this shit is far easier than it sounds, don't worry.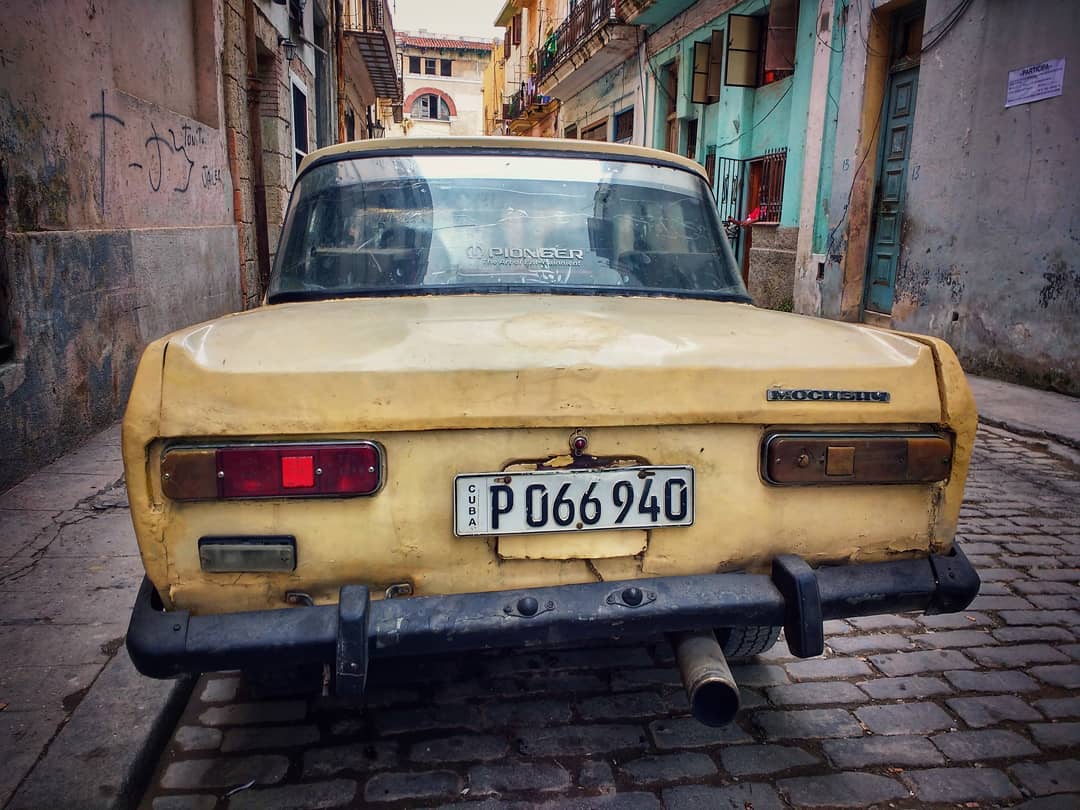 How to Travel in Cuba
The three main transportation options in Cuba are bus, taxi, and renting a car. You can opt to take internal flights within Cuba but these are very expensive as I mentioned before.
When it comes to taxis it is all about the negotiation process. Taxi drivers will ALWAYS charge you more than a Cuban person. Note: taxi companies do not allow Cubans and foreigners to ride in the same taxi, so you can't opt to share a taxi (unless maybe you speak perfect Spanish and/or look Latino).
Viazul bus is the top bus company in Cuba for backpackers. Their prices are not super cheap but they make up for that by having very comfortable buses. The distances in Cuba can be huge, especially if you are traversing the entire island. Sometimes the prices of the bus and the taxi are the same (or less0, so if you have time to check both and compare, there might be an opportunity to save some money.
Renting a car or a motor bike will certainly give you the freedom to roam and go where you want. Each car rental company has different rules regarding how far you can travel in your rental car. Car rentals can also be expensive so shop around to find the best deal. We recommend purchasing the rental insurance with RentalCover.com to cover your vehicle against any common damages such as tires, windscreens, theft, and more at a fraction of the price you would pay at the rental desk.
The other main option is the train. Cuban trains are generally in poor condition, never run on time, and make for a pretty rude journey no matter how far you are going.
The way nicer (and way more expensive) overnight Tren Francés can get you from Havana to Santiago de Cuba quicker than any other public transport.
Visiting Cuba? Don't risk having to sit on the floor or change your itinerary because you missed the last ticket at the station! Find the best transport, best time and the best fare with Bookaway. And why not use what you've saved to treat yourself to a cerveza helada on arrival?
It only takes 2 minutes! Book your transport on Bookaway now and guarantee your seat easily.
Hitchhiking in Cuba
There are conflicting opinions regarding hitchhiking in Cuba. On one hand it may be illegal for Cubans to have foreigners in their cars without the proper bullshit paper work.
Other folks have told me that by law, drivers are required to pick up hitchhikers! Polar opposite information, I know, but I have not come across anything from the Cuban government specifically speaking to this.
I have also heard that in Cuba, picking up hitchhikers is mandatory by government vehicles, if passenger space is available. Hitchhiking is encouraged, as there are few cars in some areas, and designated hitchhiking spots are used. Waiting riders are picked up on a first come first go basis.
In any case, you should not find it too difficult to hitch a ride in the rural areas of Cuba (and there are many of them).
For the record, I have not personally hitchhiked in Cuba, otherwise I might have a more informed opinion on all of this.
My advice for hitchhiking whilst backpacking Cuba: go for it!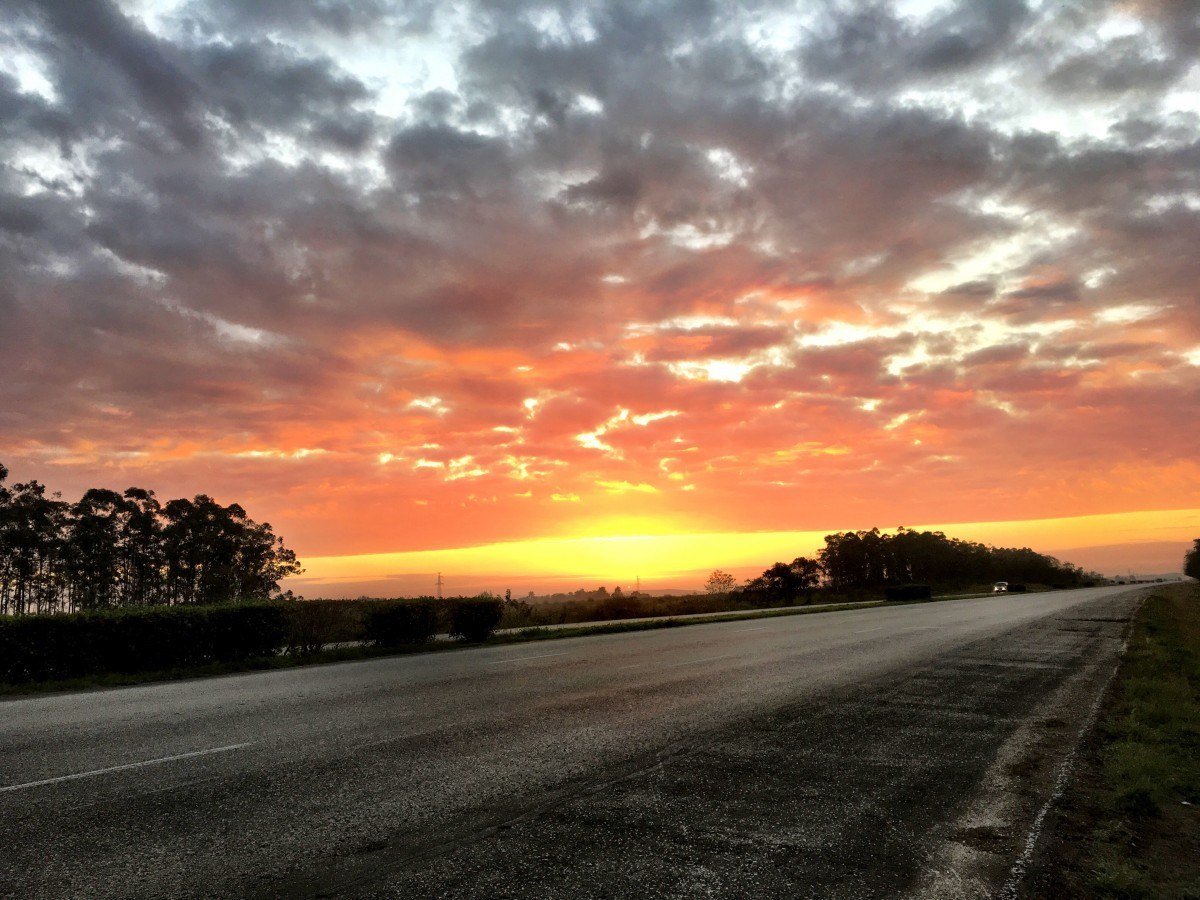 Onward Travel from Cuba
Since Cuba is an island, you will certainly be flying out when the time comes to wrap up your backpacking trip.
There are cheap daily flights running between Havana and Cancun, Mexico if your journey is taking you to Mexico and beyond Central America.
For flights to the US, the cheapest option will probably be to fly into Miami and catch another flight from there. I recommend checking out Skyscanner for the best prices on cheap flights from Cuba.
Cuba Travel Costs
Backpacking in Cuba is neither super cheap nor crazy expensive. Your biggest costs for backpacking in Cuba will be your accommodation and food.
Solo travel in Cuba is a bit of a bitch in regards to the cost of accommodation and transportation. If you are a couple or a group of several friends, splitting the cost of rooms and taxis will save you cash.
A reasonable daily budget for backpacking Cuba is between $40-70 USD/day. With this amount, you can eat well, do fun stuff, take a few cab rides, split a private room, and knock back a few mojitos.
Certainly, Cuba can be done on a barebones broke backpacker style budget, but that would require cooking for yourself and using Couchsurfing/camping out (for free).
As I mentioned before, having a good tent and sleeping bag are crucial to budget backpacking. Both will save you a ton of money on accommodation. Due to the climate you may not want to be camping all the time. I get that. But it is still great to have the option.
Here is what you can expect to spend on a daily basis whilst backpacking Cuba:
Dorm Bed in a Hostel: $10-15
Small Basic Room in a Casa Particular: $20-30
Local Bus: $2/hour traveled
Long distance bus: $4/hour traveled
Set meal in a local restaurant: $4-7
Museum of the Revolution in Havana: $8
Rice and Meat from a food stall: $2
Mojito in a Bar: $2-3
Shot of Cheap Booze: >$1
1 Tank Scuba Dive: $25-35
Money in Cuba
Another strange, important, and frustrating aspect about backpacking in Cuba is the money situation.
There are two official currencies in Cuba:
Local Currency: Cuban peso (also known as moneda nacional, MN, or CUP)
Tourist Currency: Convertible peso (also known as CUC)
That's right! There are two different currencies for locals and foreigners. For the local Cuban peso, there are 25 MN per convertible peso (tourist money). The convertible peso is roughly 1:1 with the US dollar.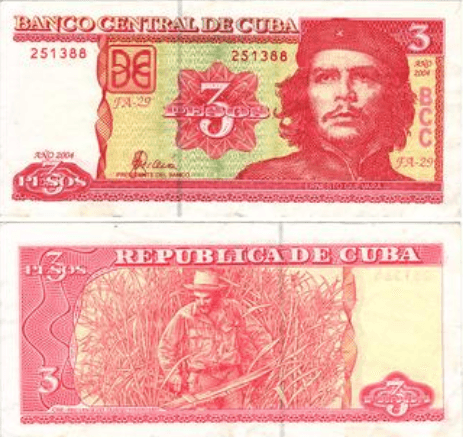 This money system can be a real pain in the ass sometimes. I recommend trying to get your hands on both, as you will need the local Cuban peso to buy things like street food, and other small local everyday items.
Honestly, the more you can use MN (local $) the less you will (in theory) end up paying for things. Thanks, Cuba for making things complicated! Jesus. Keep in mind that if you bring plenty of cash into Cuba you might loose as much as 10% when you convert it to Cuban money.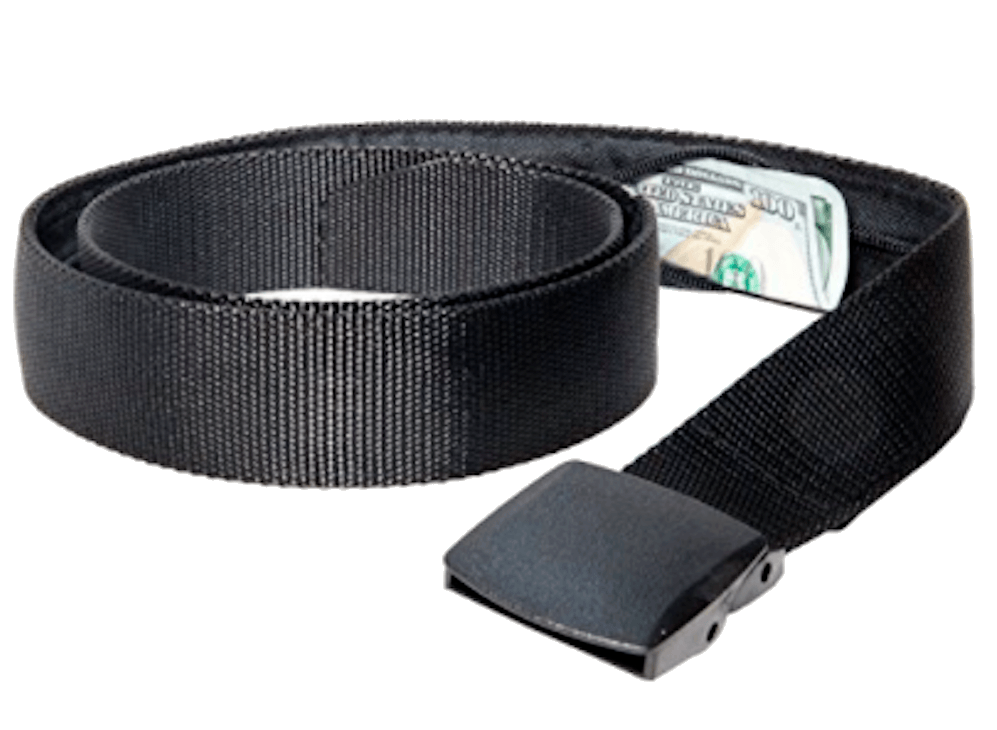 You should always have emergency cash hidden on you - pick up this awesome security belt with its hidden pocket before you travel, it's perfect for hiding money, a passport photocopy.
Top Tips For Broke Backpackers
Camp: With plenty of gorgeous places to sleep out, Cuba can be a great place to camp in the rural areas or in the mountains. Check out this post for a breakdown of the best tents to take backpacking. Or, if you're feeling really adventurous and want to save some cash, consider picking up a camping hammock.
Cooking: If you are camping a lot or really want to save some cash, it could be worth bringing a portable backpacking stove so you can do some of your own cooking.
Couchsurf: Cubans are awesome; get to know some! Check out Couchsurfing to make some real friendships and see this country from the perspective of locals.
Volunteer: If done properly, volunteering is an excellent way to cut down your costs on the road. I strongly recommend Workaway – you pay just $29 for the year and then have access to literally thousands of projects all around the world where you can help out in exchange for food and board.
Hitchhike: Where appropriate, hitchhiking is a great way to save money on transportation costs.
Joining an Organized Tour in Cuba
For most countries, Cuba included, solo travel is the name of the game. That said, if you are short on time, energy, or just want to be part of an awesome group of travelers you can opt to join an organized tour. Joining a tour is a great way to see a majority of the country quickly and without the effort that goes into planning a backpacking trip. However—not all tour operators are created equal—that is for sure.
G Adventures is a solid down-to-earth tour company catering to backpackers just like you, and their prices and itineraries reflect the interests of the backpacker crowd. You can score some pretty sweet deals on epic trips in Cuba for a fraction of the price of what other tour operators charge.
Check out some of their awesome itineraries for Cuba here…
Travel Cuba For Free
Are you a native English speaker looking to earn cash whilst traveling the world? Teaching English online is a great way to earn a consistent income—from anywhere in the world with a good internet connection. Depending on your qualifications (or your motivation to obtain qualifications like a TEFL certificate) you can teach English remotely from your laptop, save some cash for your next adventure, and make a positive impact on the world by improving another person's language skills! It's a win-win! Check out this detailed article for everything you need to know to start teaching English online.
In addition to giving you the qualifications to teach English online, TEFL courses open up a huge range of opportunities and you can find teaching work all over the world. To find out more about TEFL courses and how you can teach English around the world, read my in-depth report on teaching English abroad.
Broke Backpacker readers get a 35% discount on TEFL courses with MyTEFL (simply enter the code BACKPKR), to find out more, please read my in-depth report on teaching English abroad.
Whether you are keen to teach English online or looking to take your teaching game a step further by finding a job teaching English in a foreign country, getting your TEFL certificate is absolutely a step in the right direction.
Internet in Cuba
Long story short, the internet situation in Cuba is not good.
There is virtually no broadband internet access in Cuba. Cuba's mobile network is limited in its coverage, and uses "second generation" technology, suited to voice conversations and text messaging, but not Internet applications.
Honestly, when compared to neighboring countries, Cuba has made very slow progress in terms of getting itself "connected".
If you are a digital nomad and/or need internet for work like I do, Cuba is is definitely not the best place to get some remote work done, but internet connectivity is slowly improving in Cuba. In five years, I expect it to be much better.
Whilst backpacking Cuba, take the time for a digital detox. Connect more with the country, and spend less time hunting down internet. It will mostly prove to be a waste of time anyway.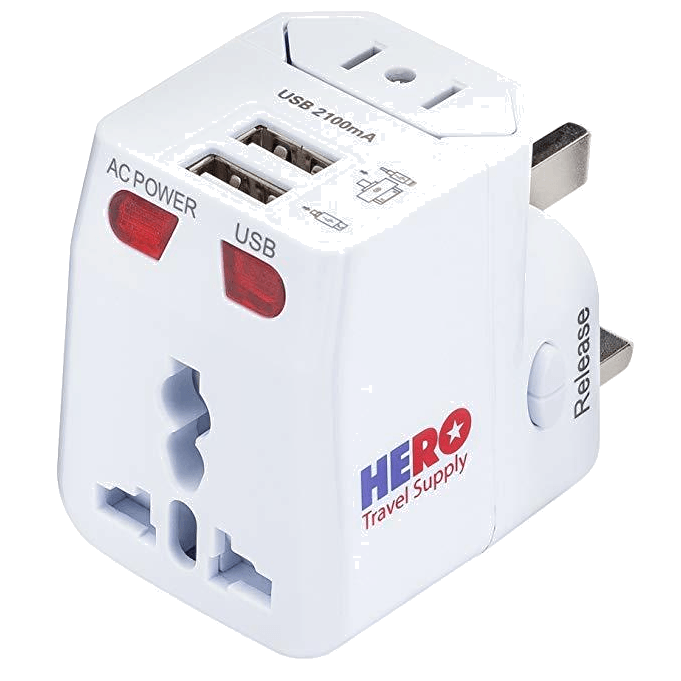 One of the best investments you can make is a
worldwide travel adapter
that will work anywhere! The one featured here is tough, reliable and a solid buy - Don't leave home without one.
GET IT HERE
Must Try Experiences in Cuba
For many backpackers, coming to Cuba opens up a whole new world of exciting life experiences. Backpacking Cuba offers up the unique opportunity to dive into one of Latin America's most interesting cultures.
Between the friendly locals, beautiful natural landscapes, nightlife, and great food, backpacking Cuba is a never ending feast of awesome experiences.
Meet the People
Cuba's population is an obvious reflection of its complex history. Cuba is a multi-ethnic nation, home to people of different backgrounds. As a result, some Cubans do not treat their nationality as a citizenship with various ethnicities and national origins comprising the "Cuban people." The majority of Cubans descend from Spaniards, or so they claim.
There is a West African cultural component (West Africans were brought to Cuba to work on plantations as slaves) which has been somewhat influential, with many Afro-Cubans also being of Jamaican or other Afro-Caribbean origin.
After years of being closed off from the world under a rather harsh dictator, I believe Cubans are genuinely happy to have more travelers visit their island paradise. If you can speak some Spanish, many are keen to open up for a good conversation.
Certainly, Cubans are very hospitable and welcoming people. Don't be surprised if you make some new friends!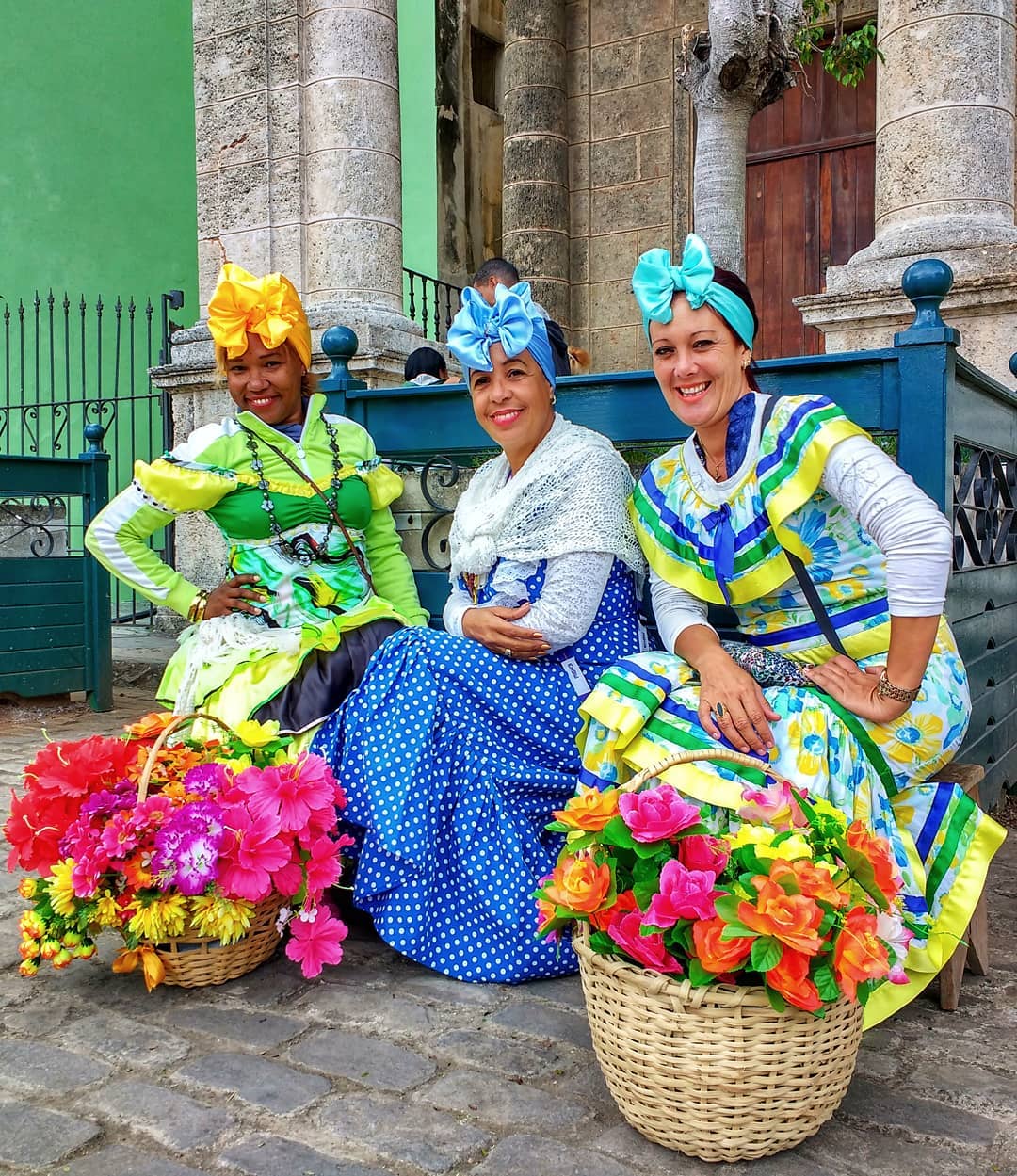 Dating in Cuba
Dating and sex in Cuba are just as complicated as every other unique-to-Cuba aspect.
One should consider that prostitution in Cuba for both men and women is very wide-spread…some would say rampant. Because of this, it is hard to know when someone is actually interested in a romantic relationship with you vs trying to seduce you into paying them for sex.
Another factor to consider is that technically local Cubans are not allowed to hang out with foreigners. The police in Havana—should they see a Cuban person actively spending time with you on the street—will come and make sure the person leaves or worse.
Basically, if you have any hope of having a relationship with a Cuban beyond "hola" you'll need to be in a situation where they feel comfortable to talk to you, which might be inside of a music club, bar, or on some remote section of beach.
Dating in Cuba is all weird and shrouded in a ton of mystery.
Cuba almost feels like a country under some kind of strange conservative Sharia law… except when you go out and see what the people are wearing it actually has nothing to do with conservative law. Cuba just actively enforces tourist-Cuban segregation. Which feels equally bizarre.
Good luck to you if you try to crack the Cuban dating code.
Food in Cuba
Onto one of my favorite subjects! There are plenty of tasty Cuban dishes to try in Cuba. The various origins that make up the Cuban population greatly add to the diversity of flavors found in their cuisine. Let's take a look at some of my favorite Cuban dishes to try…
Tamales: Similar to the Mexican tamales. In Cuba, however, the meat is actually mixed with the dough and not used as a filling.
Medianoche: The classic, late night (or literally "midnight") sandwich found all over Cuban cities. In the States, you will find versions of the sandwich simply called a "Cuban" or "Cubano." Ham, pulled pork, cheese, and pickles galore.
Pernil Relleno de Moros y Cristianos: This Cuban dish is made more interesting as it is filled with another Cuban dish! A pork shoulder is marinated in orange juice, garlic, oregano and pepper and then filled with rice and beans and cooked in the oven.
Rice with Chicken: Classic, tasty, and often cheap as hell.
Ropa Vieja: The national dish of Cuba. A tasty blend of slow cooked tender beef, beans, tomatoes, and spices.
Ajiaco: This stew contains a little bit of everything: potatoes, pumpkin, malanga (a vegetable similar to topinambur), plantain, corn, meat, tomato paste, spices, beers, lemon juice and pretty much any other ingredient available.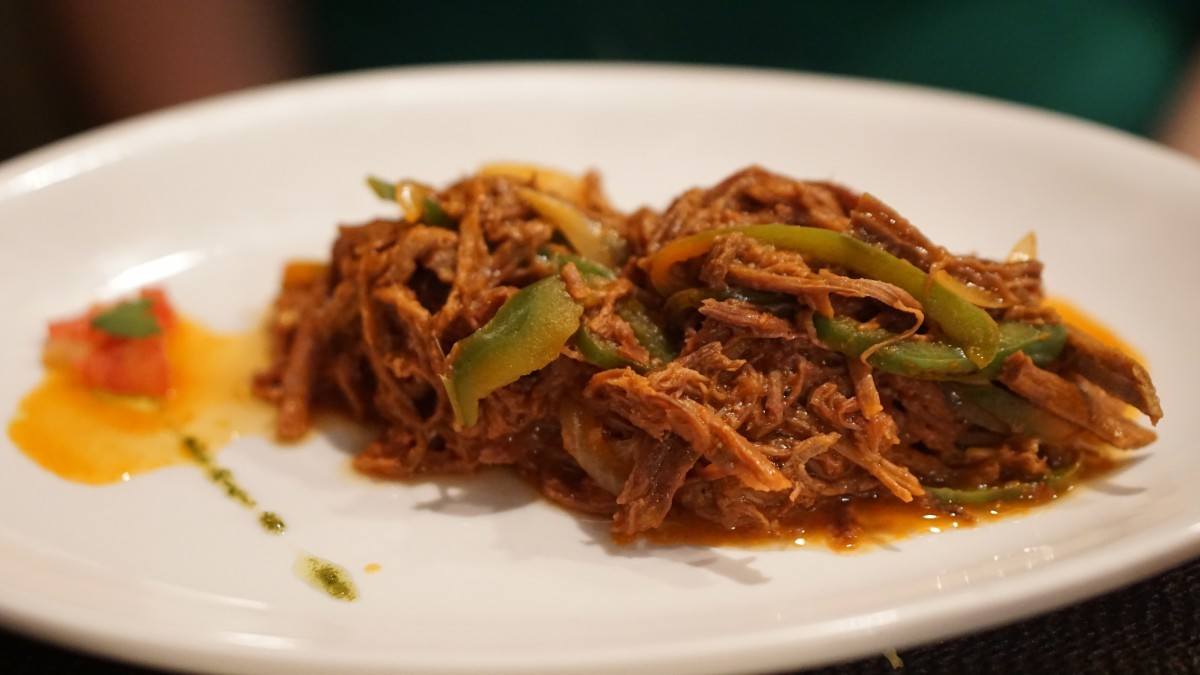 Festivals in Cuba
There is always something fun to get into in Cuba. Depending on the time of year you find yourself backpacking in Cuba, there are many cool festivals to check out. Here are a few of the top festivals in Cuba:
Havana International Book Fair – February: Actually this event is held all over Cuba. The book fair is attended by book lovers, publishers, writers and celebrities. Apart from book sales, the event includes lectures from some of the authors, theatre and dance performances, and film sessions.
Festival Del Habano – March: The is Cuba's most important festival for cigars. It attracts cigar lovers from all over the planet.
May Day Celebrations – May: The 1st of May is a special day in Cuba. It's when Cuba honors workers of all classes and occupations celebrate national pride.
International Electroacoustic Music Festival – March: Previously known as the Varadero Spring Festival, the Electroacoustic Music Festival is now held at different venues in Old Havana. It is an international event that attracts prominent composers and personalities of this genre from around the world.
International Ernest Hemingway Needlefish Tournament – June: This is a fishing tournament held off the coast from Havana for the big needlefish species, such as wahoo, marlin, and tuna, whose natural habitat is in these nutrient rich waters. Catching these fish was one of Ernest Hemingway's most passionate pastimes.
Carnival in Santiago de Cuba – July: Come on out for one of the biggest parties to be found in the whole Caribbean.
Trekking in Cuba
After years of government restriction, the wild landscapes of Cuba have opened up to trekkers for the first time. Here are the 5 best hikes in Cuba:
1. El Yunque: The approximately four-hour hike is a challenging one, especially if the trail is wet. Wildlife is abundant along the trail and the view of Baracoa and the Rio Yumuri from the top is breathtaking.
2. Altura de Banao: Che set up a command post in the rugged mountains. Your homebase in Altura de Banao will be at Planta Cantú where you can either set a tent or rent a cabin. From here make your way to Cascada Bella for a swim in a waterfall pool.
3. Pico Turquino: Located in the Gran Parque Nacional Sierra Maestra, this trek to the peak is a challenging two to three day adventure to the top of Cuba's highest mountain.
4. Revolutionary Hikes: There are a number of old hiking trails formerly used by rebel soldiers during the Cuban Revolution. Their main hideout— Comandancia de la Plata located in Granma Province's Gran Parque Nacional Sierra Maestra – was never discovered by Batista's forces. You can now make the 4 km hike to see the site of the old camp. Pretty awesome if you like a mix of history and beautiful scenery.
5. Parque Nacional Alejandro Humboldt Hike from Moa: You can hire a guide for a short, but epic 7 km hike through one of the most biodiverse wildlife habitats in Cuba. The night hike is awesome because you can see the world's smallest frog species (if you look closely).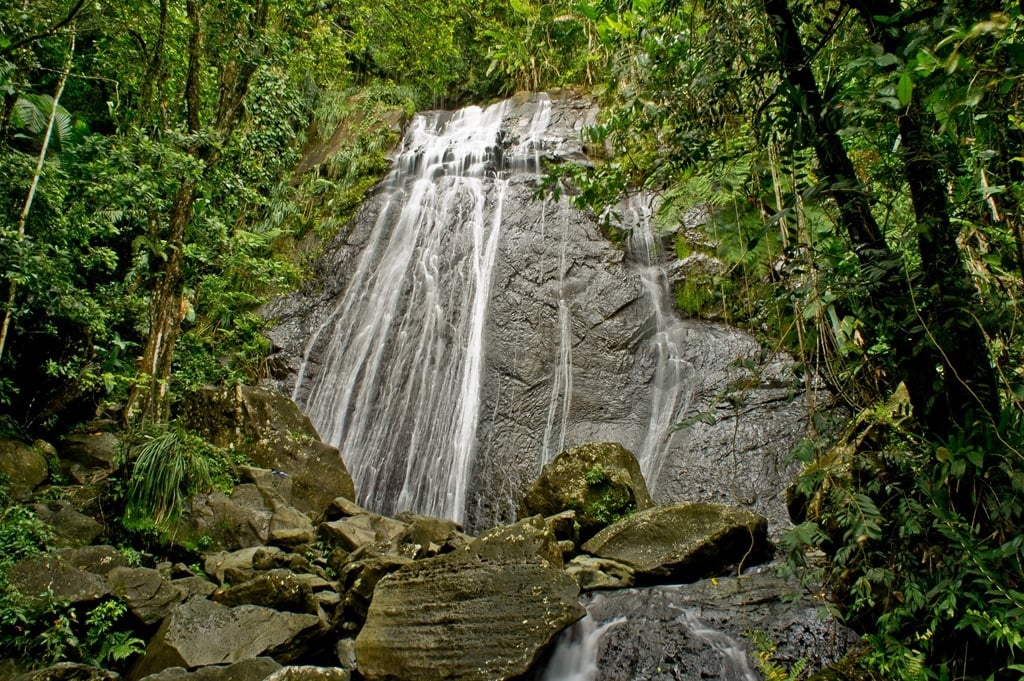 Scuba Diving in Cuba
Scuba diving in Cuba can be excellent, depending on the time of year. Thanks to strict environmental protection laws and the resulting crystal clear waters, scuba diving in Cuba is world-class.
I recommend that you come to Cuba as a certified open water diver. If you are not a certified diver already, you can get your certification in Cuba, it is just more expensive than getting it in say Thailand, for example. Here are some of the best scuba dive sites in Cuba to get you stoked on some prime Cuban diving:
Punta Frances: Off the Isla de la Juventud.
Jardines de la Reina: South Coast.
Cayo Largo: Another fine south coast site.
Punta Perdiz: Right next to Cayo Largo, but located near the coast.
Bay of Pigs: Cool ship wrecks and fish spotting around the Bay of Pigs.
Cayo Coco: West coast, popular, though very good diving.
Cuba has done a great job protecting its coastal ecosystems. When diving in Cuba, don't touch any of the coral or remove any shells.
Humans have a great impact all over the world, and with a little effort and thoughtfulness, we can at the very least prevent unnecessary impacts on the reef systems.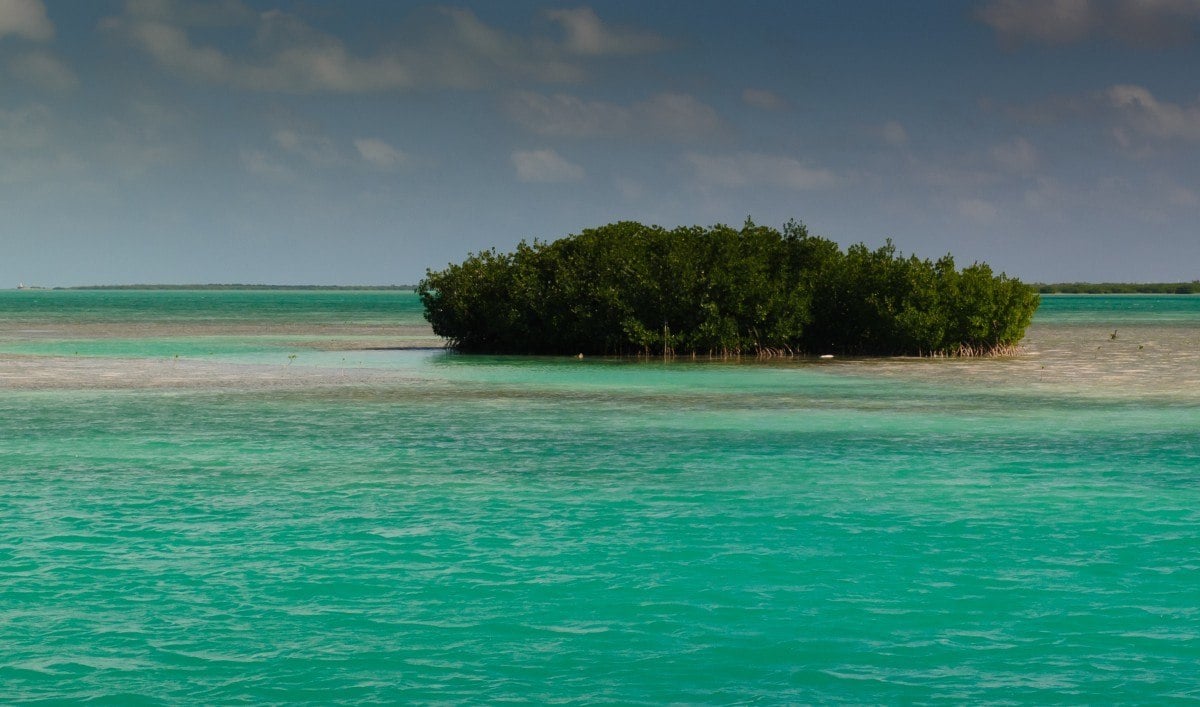 Brief History of Cuba
Over the course of the last 500+ years, the fate of Cuba has taken many different twists and turns.
Here is a short but important timeline to consider when trying to understand a bit of the history of Cuba:
1492 – The navigator Christopher Columbus claims Cuba for Spain.
1511 – Spanish conquest begins under the leadership of Diego de Velazquez, who establishes Baracoa and other settlements. 15 years later, the African slave trade begins.
1763 – After a year of capture by the British, Havana returned to Spain by the Treaty of Paris.
Fast forward nearly 200 years.. and plenty of really important stuff happened including the abolition of slavery (1886)… though we will focus on more recent events.
1959 – Castro leads a 9,000-strong guerrilla army into Havana, forcing Batista to flee. Castro becomes prime minister, and his brother, Raul, becomes his deputy. Che Guevara becomes third in command. A year later, all US businesses in Cuba are nationalized without compensation.
1961 – The US sponsors an abortive invasion by Cuban exiles at the Bay of Pigs; Castro proclaims Cuba a communist state and begins to ally it with the USSR.
Basically, from 1959 until the present day, Fidel Castro (until his death in 2016), and now his brother Raul in 2018 have governed Cuba under communist rule continuously. Recently, Raul Castro announced he will be stepping down as Cuba's leader, which will mark the first time since 1959 that Cuba will exist not under a Castro individual.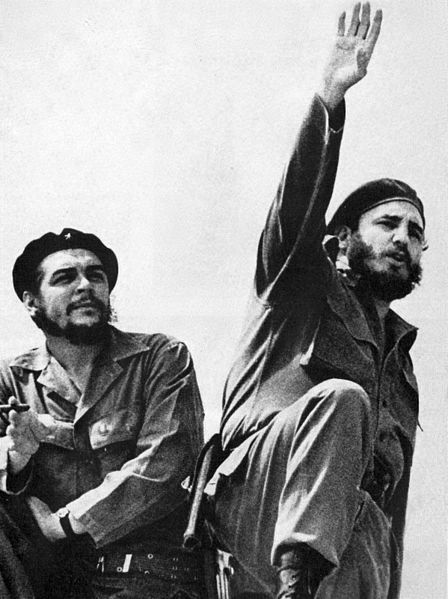 Being a Responsible Backpacker in Cuba
Reduce your plastic footprint: Perhaps the best thing you can do for our planet is to make sure you do NOT add to the plastic problem all over the world. Don't buy one-use water bottles, the plastic ends up in landfill or in the ocean. Instead, pack a tough travel water bottle.
Go and watch A Plastic Ocean on Netflix – it'll change how you view the plastic problem in the world; you need to understand what we are up against. If you think it doesn't matter, get off my fucking site.
Don't pick up single use plastic bags, you're a backpacker – take your daypack if you need to go to the shop or run errands.
Bear in mind, that many animal products in countries you travel through will not be ethically farmed and won't be of the highest quality. I'm a carnivore but when I'm on the road, I only eat chicken. Mass-farming of cows etc leads to the rainforest being cut down – which is obviously a huge problem.
Recently, my gear-venture, Active Roots has started to sell water bottles. For every Active Roots water bottle sold, we donate 10% to PlasticOceans.org – an awesome initiative aimed at educating people on the risk of single use plastic and helping to clean up our oceans. Help save the planet, whether you take an Active Roots bottle or not – TAKE RESPONSIBILITY for your plastic footprint, don't be a dick.
Need more guidance? – Check out our post on how to be a responsible backpacker.
In Cuba, there is no shortage of occasions or opportunities in which to get down. So. Much. Rum. I am all for people having a good time and letting loose. That said, don't drink so much that you embarrass yourself, your country, and everyone within 100 feet of you.
I am far from innocent. There have been many times during my travels where I let myself and the situation get out of hand. It's easy to do! With all the booze in Cuba, it doesn't take much before you do something that you will later regret.
Go to Cuba and have the time of your life; do the things you've dreamed of, but be respectful along the way. Traveling the world makes you an ambassador for your country, which is awesome.
Try to limit or eliminate your consumption of plastic and single-use containers as much as possible. When I travel now, I simply pick up a cheap bowl and just have street vendors fill it.
Plastic shit is one of the biggest threats to our planet. Avoiding plastic isn't too hard if you set the intention from the outset of your trip. Traveling with a refillable water bottle is a good start. Check out this article on responsible travel for more ideas on how to travel green.
Climbing on ancient fort walls, revolutionary monuments, or other historical artifacts should be avoided. Duh! Learn to appreciate the cultural treasures of Cuba and don't be that asshole who adds to their demise.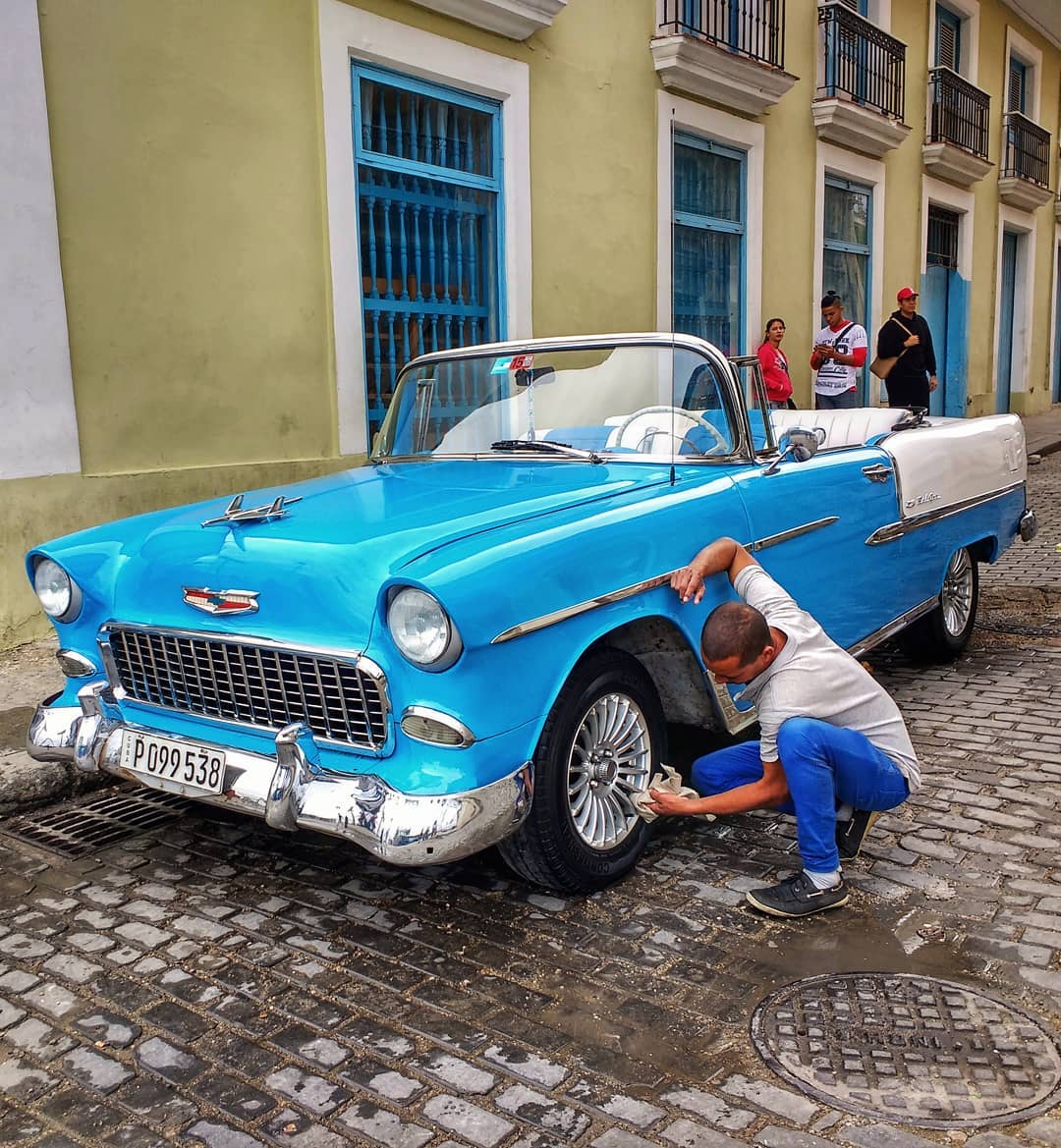 Final Thoughts on Backpacking Cuba
You are now fully armed with the important information you need to have an awesome time backpacking Cuba.
Cuba is one of the most untouched gems in the Caribbean, and all of Latin America for that matter. I won't tell you that you have to hurry up and get there, otherwise it will change for the worst, but, honestly, that sentiment is probably true.
The entire world is changing a little every day and Cuba is no different. Sure, in 20 years Cuba will no longer be a off the beaten path destination, but such is life in the 21st century.
Whenever you do indeed make it to Cuba, I hope your time there is magical and rewarding. Cuba has a lot to offer backpackers, and it is my hope that you take the time to enjoy it thoroughly.
Have a great time backpacking in this truly epic island paradise.
Adiós amigos…
*Special thanks to my good mate Andrea Cacciatori for his thoughtful contributions to this Cuba travel guide and especially his stunning photography skills! In fact, Andrea is one of the best up-and-coming travel photographers and drone operators around. You can check out more of his awesome photos/drone work on Instagram @keshph.
"Yay for transparency!Some of the links in this post are affiliate links. This means that if you book your accommodation, buy a book or sort your insurance, I'll earn a small commission at no extra cost to you. I only link to stuff I've actually used and never endorse crap. Your support helps me keep the site going."
---
Need More Inspiration?
Like this post? Pin below!
> Epic tineraries >> Places to visit >> Cutting costs >> Travel tips, and more!" width="250″ height="375″>