Monterrey is one of Mexico's top cities to visit. Period.
The capital of the northeastern state of Nuevo Leon, Monterrey is nestled in a valley and has some impressive scenery right on the doorstep – not least in the form of the iconic, 5,970-foot Cerro de la Silla, which towers over the city. The surrounding area is known for its natural beauty, especially its many waterfalls.
Combine its nature credentials with its relative safety, historic centre, and cluster of high-rises and skyscrapers, and Monterrey is definitely an amazing place to visit. But forget about hotels – we think it's all about staying in an Airbnb.
With plenty of them to choose from, it can be tricky to get to grips with it all, let alone find the right one for you; that's where we come in.
We've crafted this super handy guide to Airbnbs in Monterrey to give you an insight into what you can expect in this Mexican city. We have literally scoured Airbnb and found all kinds of great places to stay, perfect for all kinds of travellers.
So without further ado, let's see what lies in store for you in this city's Airbnb scene!
Quick Answer: These are the Top 5 Airbnbs in Monterrey
Overall Best Value Airbnb in Monterrey
Overall Best Value Airbnb in Monterrey
Elegant Loft with Beautiful Views
> $
> 6 Guests
> 10 minutes from downtown Monterrey
> Great views of mountains
Best Budget Airbnb in Monterrey
Best Budget Airbnb in Monterrey
Modern Loft in Downtown Monterrey
> $
> 2 Guests
> Downtown Monterrey
> Shared rooftop terrace
Best Airbnb for Couples in Monterrey
Best Airbnb for Couples in Monterrey
Fashionable Cozy Apartment
> $
> 4 Guests
> La Purisima
> Outdoor terrace
Best Airbnb for Families in Monterrey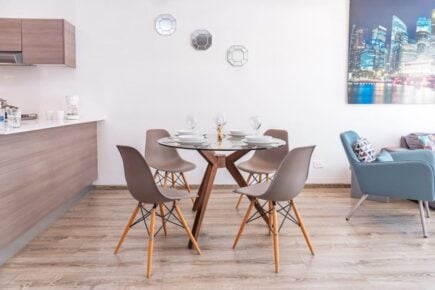 Best Airbnb for Families in Monterrey
Clean Residential Apartment
> $$
> 6 Guests
> Nuevo Sur
> Includes access to children's playground
Over-the-Top Luxury Airbnb in Monterrey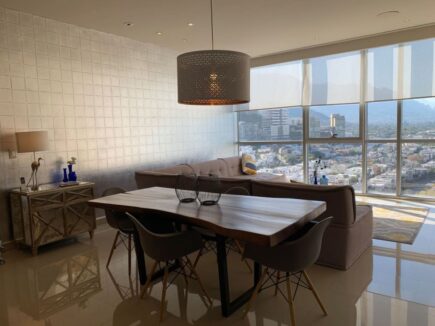 Over-the-Top Luxury Airbnb in Monterrey
Trendy Apartment with Amazing Views
> $$
> 5 Guests
> Valle Oriente
> Access to movie room and game rooms

Unlock Our GREATEST Travel Secrets!
Sign up for our newsletter and get the best travel tips delivered right to your inbox.
What to Expect from Airbnbs in Monterrey
At first glance, Airbnbs in Monterrey could seem more about value for money and affordability than anything else. And there are a lot of places to stay in Monterrey that make for great budget options.
But scouring Airbnb as we've done, you'll find there are so many stylish and chic apartments on offer. These are often high-rise and situated in complexes where you'll have access to communal pools, gyms, and games rooms – some even have malls and restaurants on the lower floors of the building. Crazy!
These come in different shapes and sizes, obviously – from compact condos perfect for a couple or a quick weekend in the city all the way to upscale multi-room apartments with insane views.
At the other end of the spectrum, there are houses. These are situated in safe areas and can be historic or more modern, but are always decked out with seemingly effortless style.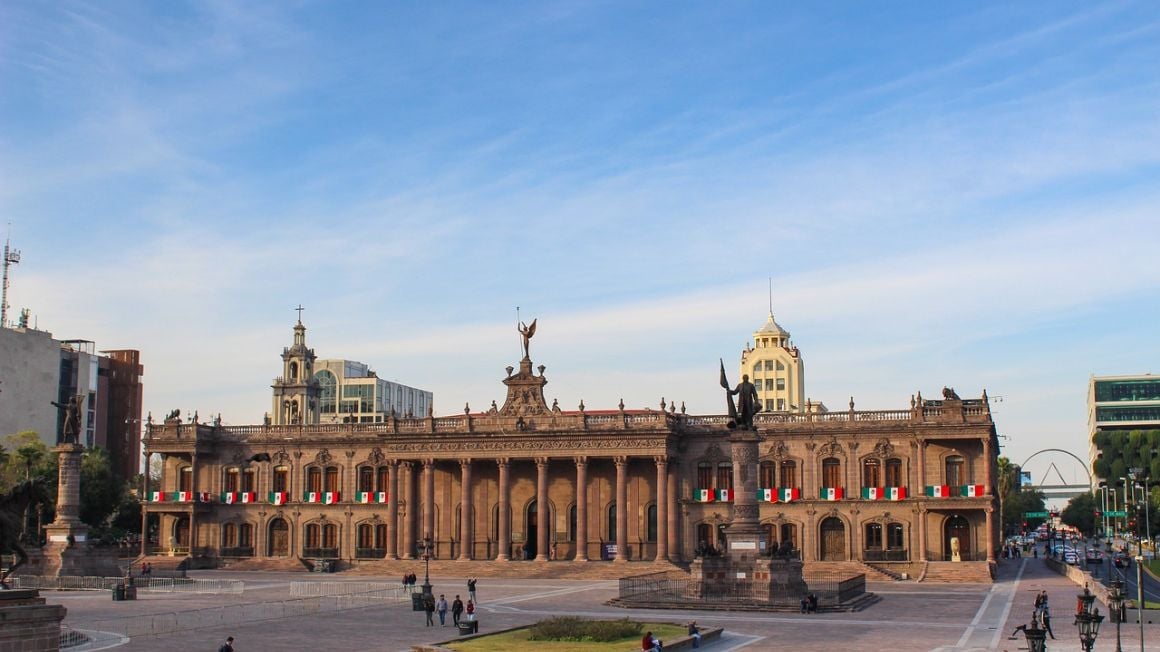 Compact Condos
There are a lot of apartments and condos in Monterrey, so we've decided to split them up by size. At one end, there are the compact condos.
These places, like their larger cousins, can be situated in high-rise apartment blocks and usually have pretty great views of the city. Being fairly modern, they're not only stylish, nicely designed, and laid out, but they also come with all the conveniences you'll need for your stay.
These more compact Airbnbs in Monterrey are ideal for various travellers. Their size means they're suited to couples and solo travellers, while their price definitely suits the more budget-conscious travellers out there looking to save money on their Monterrey accommodation.
Then again, if you're only in town for the weekend or are swinging by for a night mid-road trip, it doesn't make sense to stay somewhere with tons of space, which is where these more compact offerings come into their own.
Large Apartments
Then there are the larger apartments. Though smaller condos and apartments may be located in apartment blocks and complexes that don't have a load of perks on offer, larger condos pretty much always have them.
That means staying in one of these Airbnbs in Monterrey gives you access to some really cool stuff – shared terraces, games rooms, BBQ areas, gyms and fitness centres, swimming pools, to name just a few.
In the lower floors of these buildings, you'll find restaurants, shops, and sometimes full-on malls to make things safe and convenient.
This fact means that larger apartments in Monterrey are well suited to families and groups of friends. The space is one factor, obviously, but the fact that you'll have everything at your fingertips is great for those with children (especially young children) who just want an easy life!
Then again, if you feel like living it up, large apartments can be pretty deluxe, too!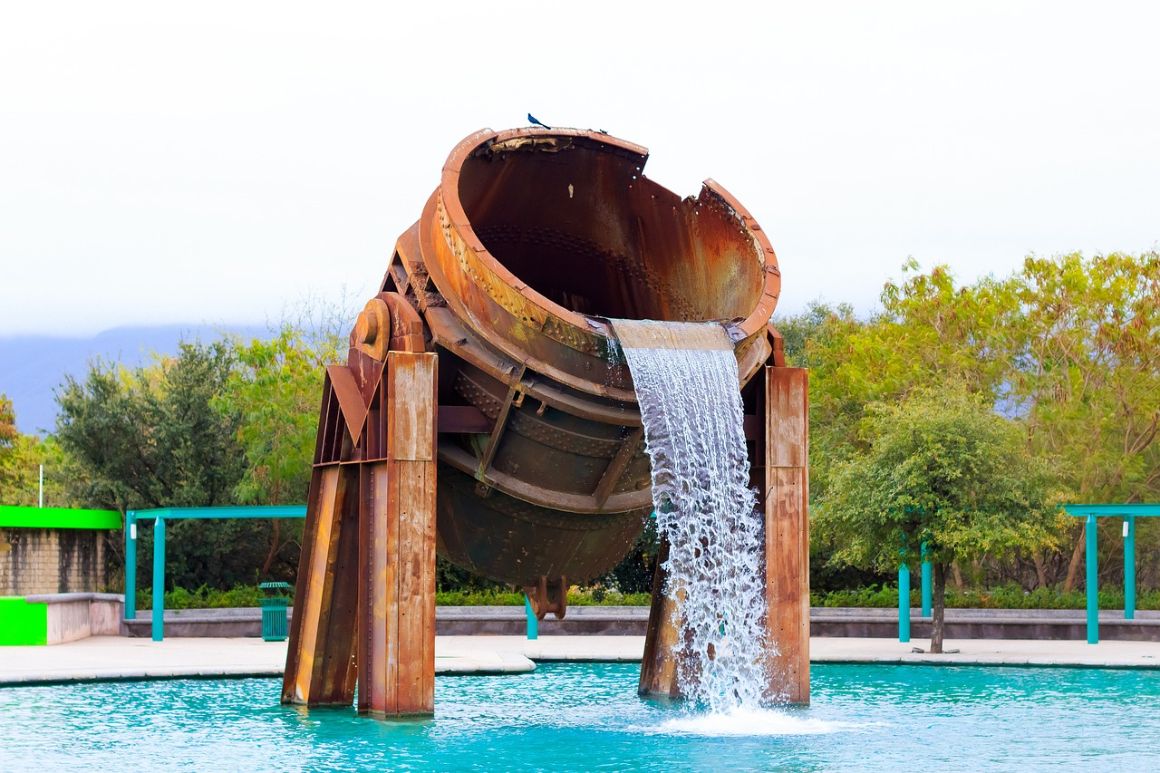 Entire Houses
Apartments and condos, high-rises and complexes – these pretty much make up the bulk of what's on offer on the Monterrey Airbnb scene. So if you're looking for something modern, with a view, and with onsite conveniences, these kinds of places are great.
But what if you're looking for a more grounded (excuse the pun) experience? Something with a little more heart and soul than an apartment high in the sky?
Well, there aren't many of them, but you can find houses in Monterrey on Airbnb. These aren't always central, but not being so central means they can be situated in quite upscale – and therefore (usually) safe and secure – neighbourhoods.
While apartments tend to stick to similar designs, houses can break the mould a little more. Design-lovers will enjoy the options here, from concrete marvels and swish little pads to historic homes.
Digital nomads, those looking for a more local experience, and even people who have been to Monterrey before will appreciate the benefits of having their own house to stay in here.
Why Stay in an Airbnb in Monterrey
There are multiple reasons why an Airbnb in Monterrey is a great choice: one of the main ones is cost. Airbnbs, for the most part, don't cost as much as hotels do per night. That's pretty much a given.
It's not just the per night cost of Airbnbs, but what they offer that make them such value for money. You'll have your own kitchen, meaning you can cook meals and not have to eat at the hotel restaurant the whole time. There's also other stuff like washing machines, meaning you don't have to pay to do any laundry.
Airbnbs also give you freedom. Check-in and check out is usually pretty flexible, which is always a plus. They'll help make you feel like part of the city. Airbnbs are in areas and buildings where local people live, so after a few nights, you'll begin to feel like you fit right alongside them!
The 15 Top Airbnbs in Monterrey
If you were wise enough to put Monterrey on your backpacking Mexico list, you'll definitely be in for a treat! However, your trip can only be a success if you've got the right place to stay. Without making you wait much longer, here are the top Airbnbs in Monterrey.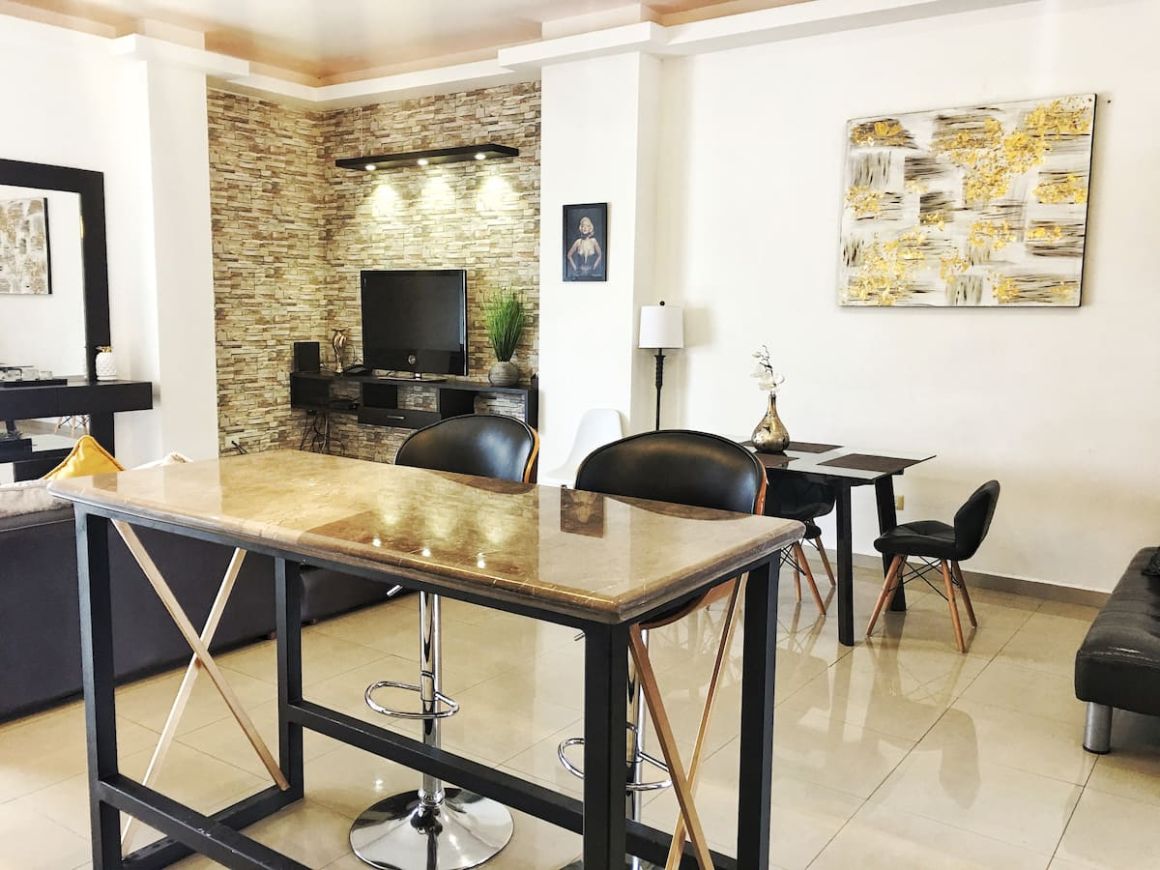 $
10 minutes from downtown Monterrey
6 Guests
Great views of mountains
This fresh, modern loft with exposed brick and cool design ticks all the boxes. We're talking layout, location, vibe – it's easily the best Airbnb in Monterrey. Situated in a gated community, you'll feel safe and secure in this cosy home.
It also comes with two balconies that boast awesome views of the epic Cerro de la Silla looking over the city. The bonus is that it's great value for money, too.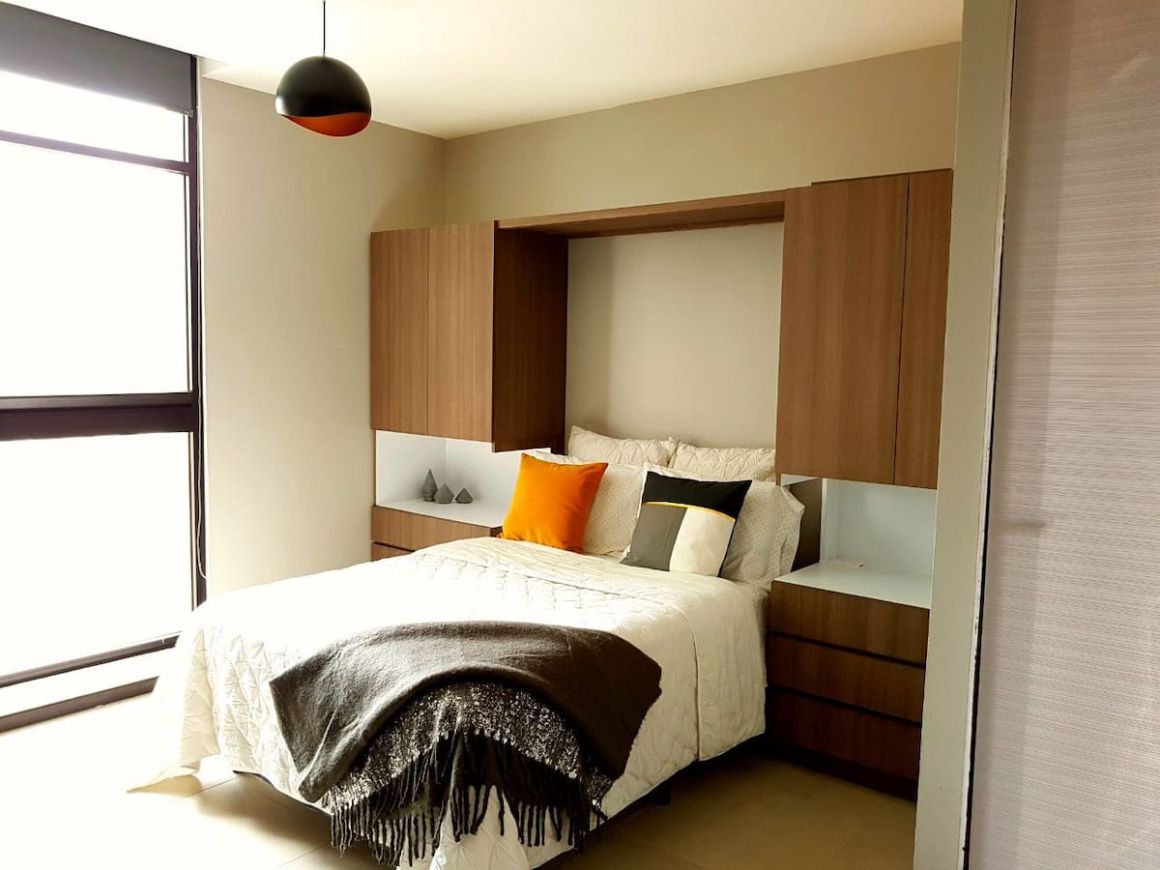 2 Guests
Shared rooftop terrace
If you're looking to save those pennies, then check this loft out. It's super well maintained, clean, and up to date. There's a well-equipped kitchen, a powerful shower, and very good air-con for those mega hot days.
Everything in town basically within ten minutes on the subway, plus the loft itself has great security. All in all, a great budget Airbnb in Monterrey!
Perfect Airbnb in Monterrey for Solo Travelers | Luxurious New Apartment
2 Guests
Building has private security, access via a controlled lobby
If you're in town by yourself, you're going to want somewhere that not only feels secure but also somewhere you're going to feel right at home. That's why we've picked this one as the best Airbnb for solo travellers in Monterrey.
It's totally new and comes well equipped with everything you need for your stay – including 24-hour security. There are even restaurants and shops on the lower floors of this building, making things super easy.
Is This the Best Backpack EVER???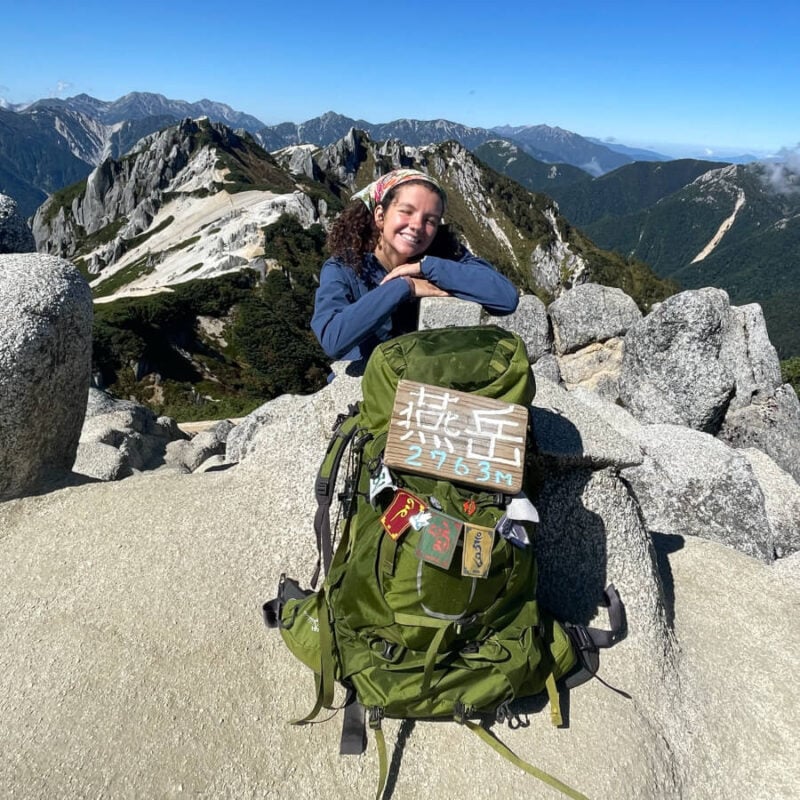 6 Guests
Includes access to children's playground
A great place to stay if you're in Monterrey with kids, this place is totally perfect for families. The clean and well-equipped apartment is set in a high-rise condo building (meaning incredible views) and includes access to a swimming pool, gym, park, and even a playroom.
Within the apartment complex, there are also restaurants, which makes life a whole lot more convenient if you've got young children with you.
5 Guests
Access to movie room and game rooms
Looking to splurge on your vacation? Look no further than this awesome Airbnb in Monterrey. This place seriously looks the part, with a lot of chic design and attention to detail – plus those immense views out over the city. The apartment boasts gleaming surfaces and a fully equipped kitchen, among other beautifully curated conveniences.
There are three bedrooms, too, meaning there's plenty of space. Add in those apartment perks – games room, movie room, and more – and it's a winner.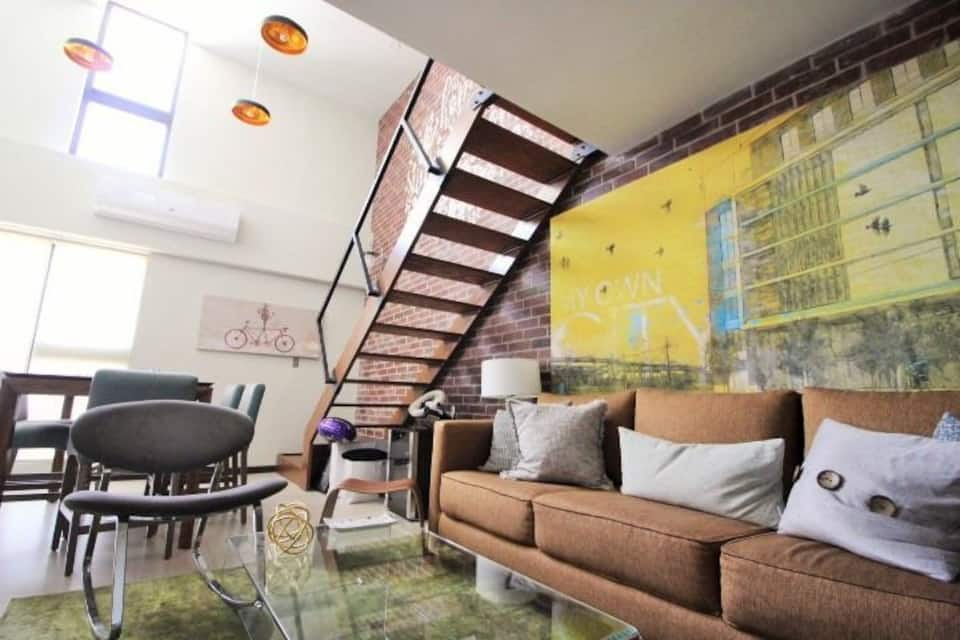 $$
Two blocks from the Plaza de La Purísima
4 Guests
Terrace with city views
Hip and spacious, this cool two-storey apartment in Monterrey is a great option if you want to get your friends together to spend some time exploring the city. There's a huge living space here, where you can chill, eat, cook, watch Netflix, and generally have a ball with your buddies.
Combine with awesome views and cool design and this 16th-floor apartment (complete with terrace) is easily one of the best Airbnbs in Monterrey.
6 Guests
Access to a pool and gym
If you're only in Monterrey for a short time, you're going to want somewhere convenient and comfortable – and this beautiful apartment is just the ticket. It's modern, well equipped, and there's basically nothing missing.
Think terrace overlooking the city, well-equipped kitchen, dining area, seating area, and all the conveniences that living in an apartment complex can offer. A relaxing place to return to after a whirlwind tour of the city.
$
Next to Fundidora Park and Paseo San Lucia
4 Guests
Access to swimming pool and gym
There's nothing better than cooling off in a swimming pool with great views after a hot day exploring a city, right? This highrise Airbnb in Monterrey – complete with shared pool – is a great option if you want that luxury of chilling the heck out in a pool.
Situated right near the Santa Lucia Promenade, this amazing apartment is also super stylish and comfortable. Nothing not to like here!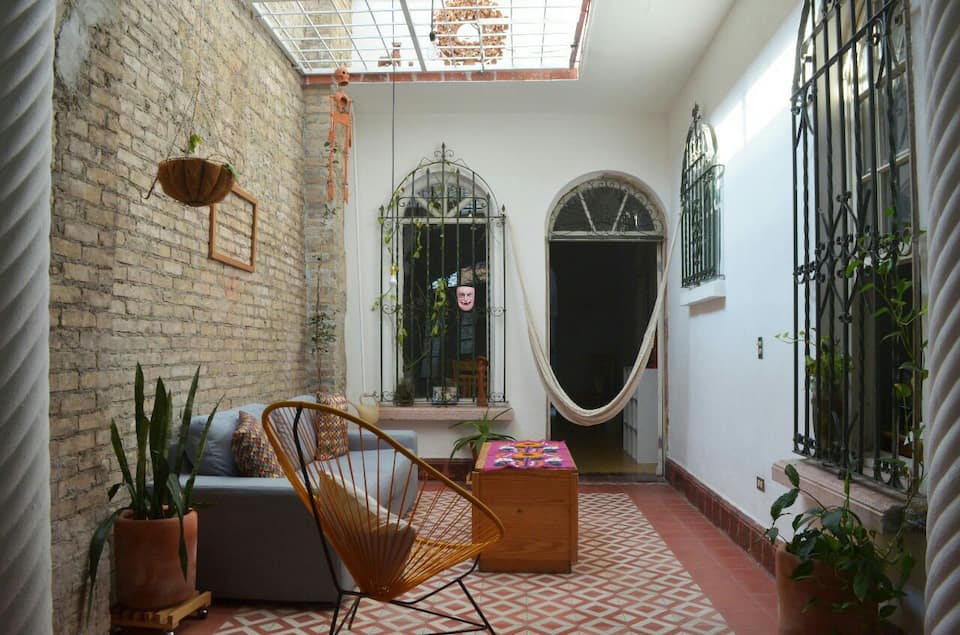 $
Close to Downtown Monterrey
6 Guests
Private patio with garden
While there are a whole lot of chic apartments in Monterrey, that vibe might not be for everyone. If what you're looking for is more on the classic end of the spectrum, this charming 1930s house in Downtown Monterrey should do the trick.
The location is ace, there's tons of character, and it's super spacious. You even get a garden. It's totally the most beautiful Airbnb in Monterrey.
2 Guests
Parking space located in a garage
This Airbnb in Monterrey is a cool place to be: think polished concrete and minimalist furnishings, accented by clean lines and plenty of houseplants, and all set in a safe neighbourhood.
It's not an apartment block with crazy views, but this house is perfect for design-lovers, and – with its onsite parking – it's perfecto if you're stopping by Monterrey on a road trip.
Affordable, stylish, and set in a safe area, this Airbnb in Monterrey is great if you're in town with your partner. It's just the right size for a couple and has a huge comfy bed and places to chill, feeling pretty homely and cosy.
It's basically in the centre of the city, so getting around from here is a breeze. You also get access to a terrace – sunset drinks, anyone?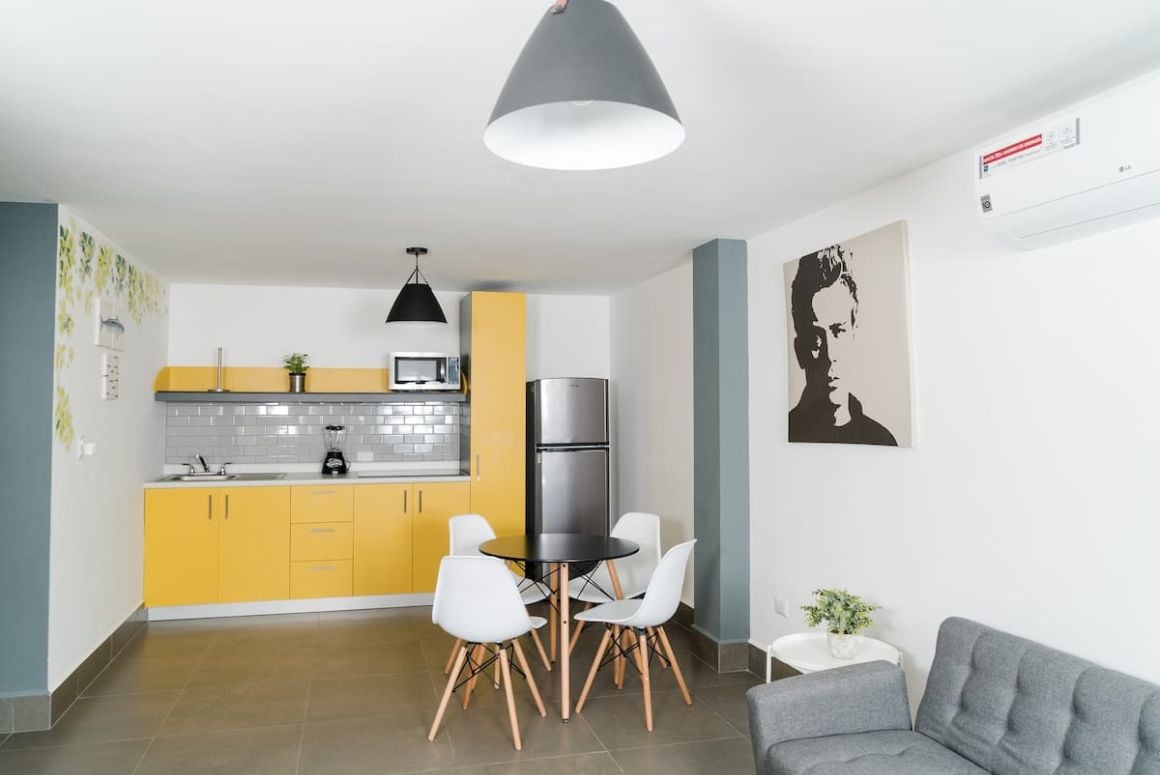 If you're in town for just one weekend, this cool place makes the perfect little weekend pad in Monterrey. It's the sort of place where you can just throw down your bags and get on with enjoying the city.
The apartment is conveniently located, with easy access to parks, public transport, and shopping malls, so you won't have to spend your holiday travelling around for hours.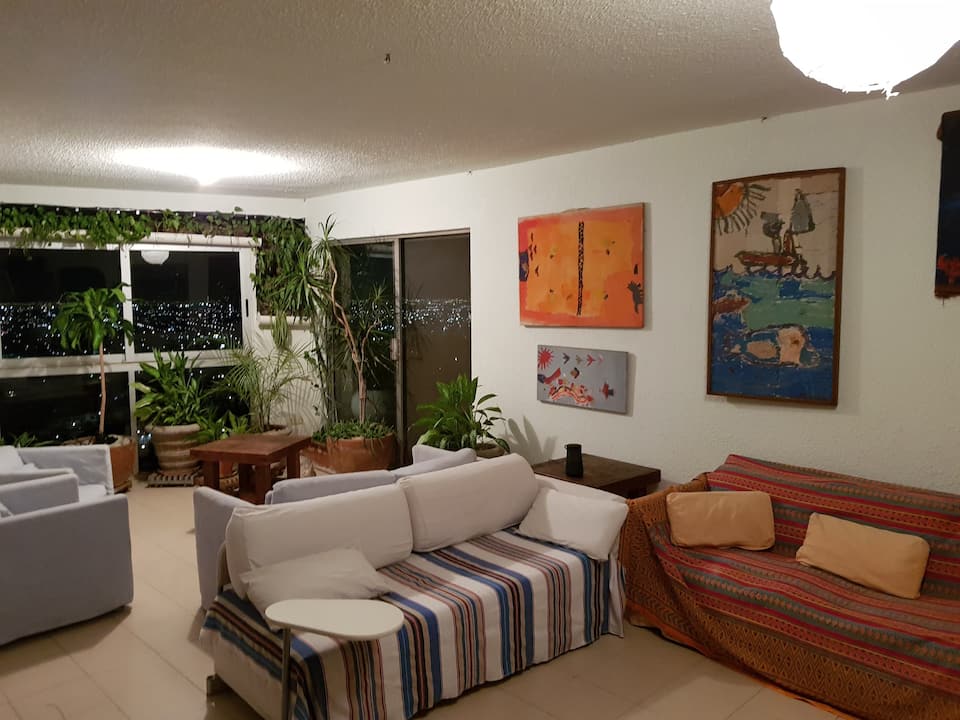 $
Vista Hermosa neighbourhood
4 Guests
Well equipped kitchen
Definitely more on the boho side of things, and set in a residential area, this cool Airbnb in Monterrey is full of creative character. Eclectic furnishings mingle with patterned throws and rugs, with houseplants dotted around everywhere.
It's the sort of place where you wake up to the sounds of nature, and where you can get amazing views of the city. And there's a pool, which is a bonus!
Set in an upscale area of the city, this chic Airbnb in Monterrey is a great option for digital nomads. It's honestly one of the most well-designed Airbnbs ever, with tons of cool design credentials making it feel like you're staying in an Instagram shoot.
There are multiple desks to get work done at, a courtyard with a hammock, and it comes with a bicycle to use. An awesome spot to get stuff done.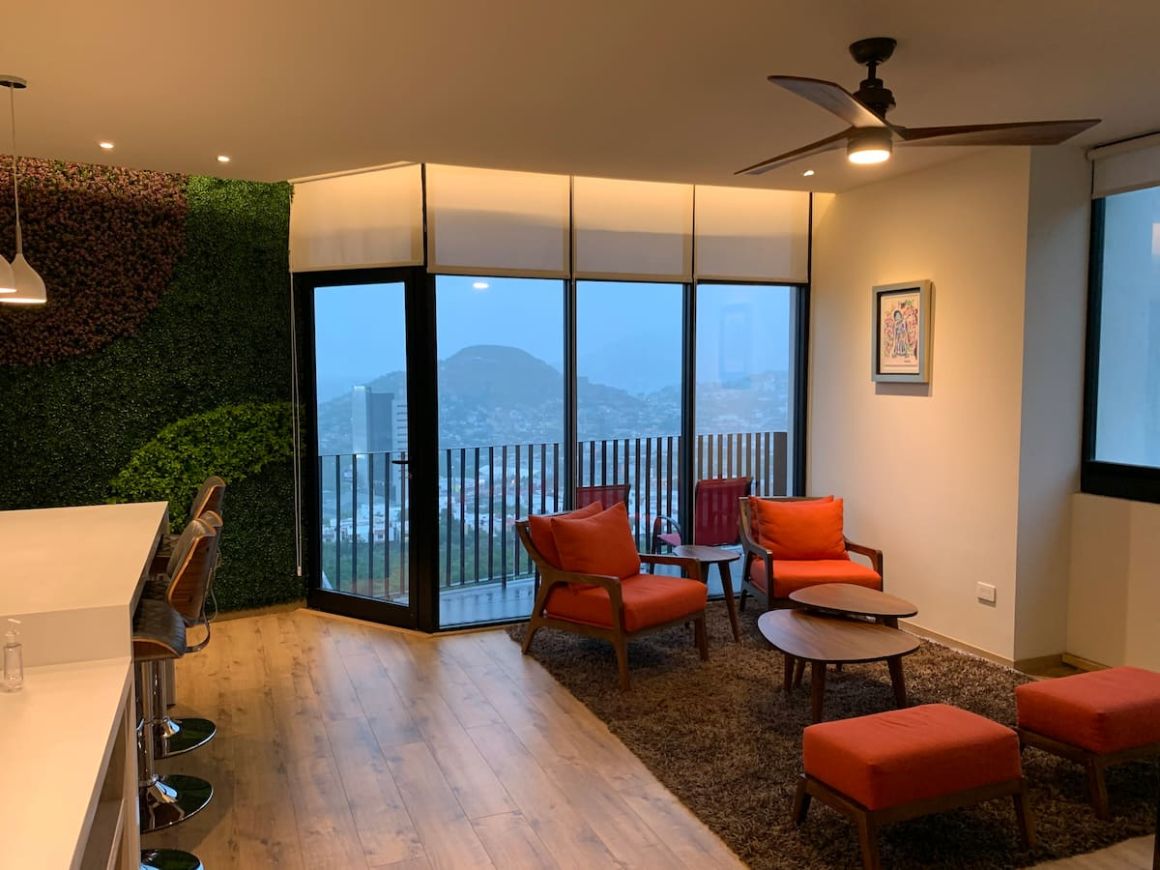 $$
Close to the city centre
4 Guests
Access to an outdoor pool and gym
Naturally, honeymooners are going to be looking for something a little extra special on their trip to Monterrey. So that's why we've chosen this sophisticated place to fit the bill.
Spacious, stylish and with views of the mountainside, staying at this Airbnb feels more like staying at an upscale hotel than in an apartment. There's also an onsite games room, BBQ area, gym, and deluxe pool to use.
Top 5 Airbnb Experiences in Monterrey
So, now you've seen the very best Airbnbs Monterrey has to offer, and you're already imagining yourself in some of them, it's time to figure out just what you're going to get up to when you're there.
While taking yourself on day trips and exploring the city by yourself is cool and all, it's just not the same as having a local person walk you through it. Luckily for you, there are some cool Airbnb Experiences in Monterrey that pair you with local guides and experts to make sure you have a suitably awesome time.
Here are the best ones going…
$8/person
Three hours
Up to eight guests
Although staying in an Airbnb in Monterrey can often mean a highrise apartment – and great views – it's not quite the same as seeing the city from way, way up high.
With this Airbnb Experience, you'll get to ride the cable car that first sweeps over the city then whisks you 700 metres above ground on the side of the Cerro de la Silla, which you've probably been gawping at this whole time. Great if you're a big view fan.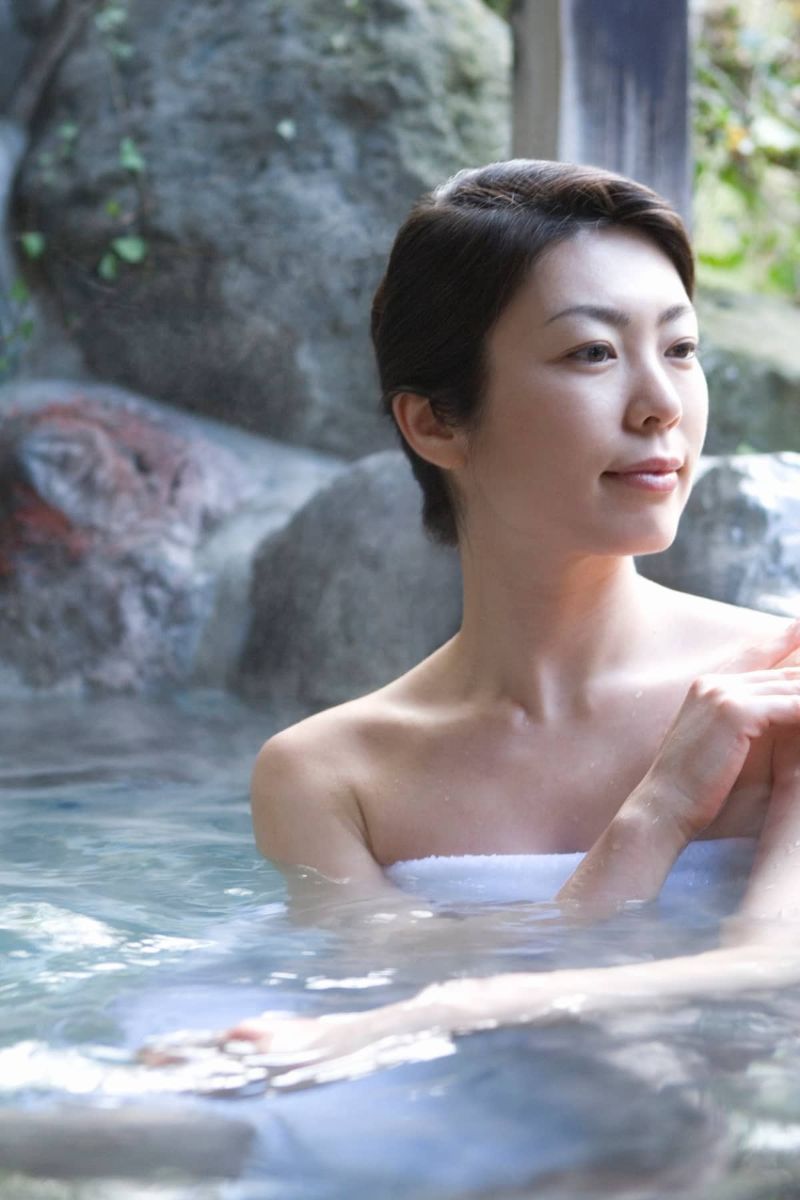 $49/person
Eight hours
Up to four guests
Staying in Monterrey could easily mean you just spend your time exploring the city itself, but locals know there's much more to the area. This particular experience has you travelling northwest to Mina, where you'll visit the stark beauty that is abandoned Hacienda del Muerto, complete with a mountain backdrop. Super eerie.
Then you'll top it all off with a visit to a hot spring for a healing soak. Sounds dreamy!
$15/person
Three and a half
Up to ten guests
Monterrey gets hot. Really hot. So, for one of the best Airbnb Experiences in Monterrey, head out on your bike with a local and cruise along to see the sights instead of pavement pounding all day long.
Your local guide will be friendly and knowledgeable and will tell you all about the Old Quarter of the city. There's nothing like seeing the city in a fun way with someone who knows what they're talking about.
$116/person
Three hours
Up to six guests
For a little bit of romantic Airbnb Experience in Monterrey, how about a hot air balloon ride? Starting at 6:45 with coffee in the Montemorales area (45 minutes from Downtown Monterrey), you'll then float up and away.
You'll have views of orange groves, the skyscrapers of the city, and mountain peaks. It's a super special way to take in the city – even if it does start very early!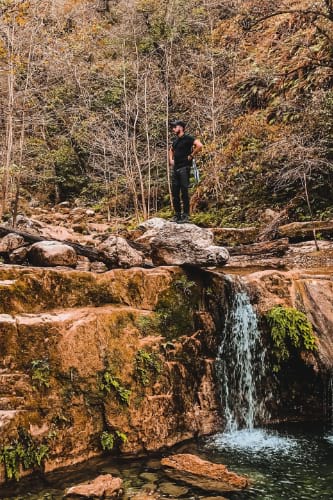 $25/person
Six hours
Up to eight guests
Visiting Monterrey without checking out La Estanzuela Natural Park would mean you're totally missing out. And the best way to see this super scenic place is with a local who knows their stuff.
They'll take you through the park along a river and lead you to pretty stunning waterfalls – you'll even get to swim if the weather's good. A great Experience for nature-lovers, that's for sure.
Don't Forget Your Monterrey Travel Insurance
ALWAYS sort out your backpacker insurance before your trip. There's plenty to choose from in that department, but a good place to start is Safety Wing.
They offer month-to-month payments, no lock-in contracts, and require absolutely no itineraries: that's the exact kind of insurance long-term travellers and digital nomads need.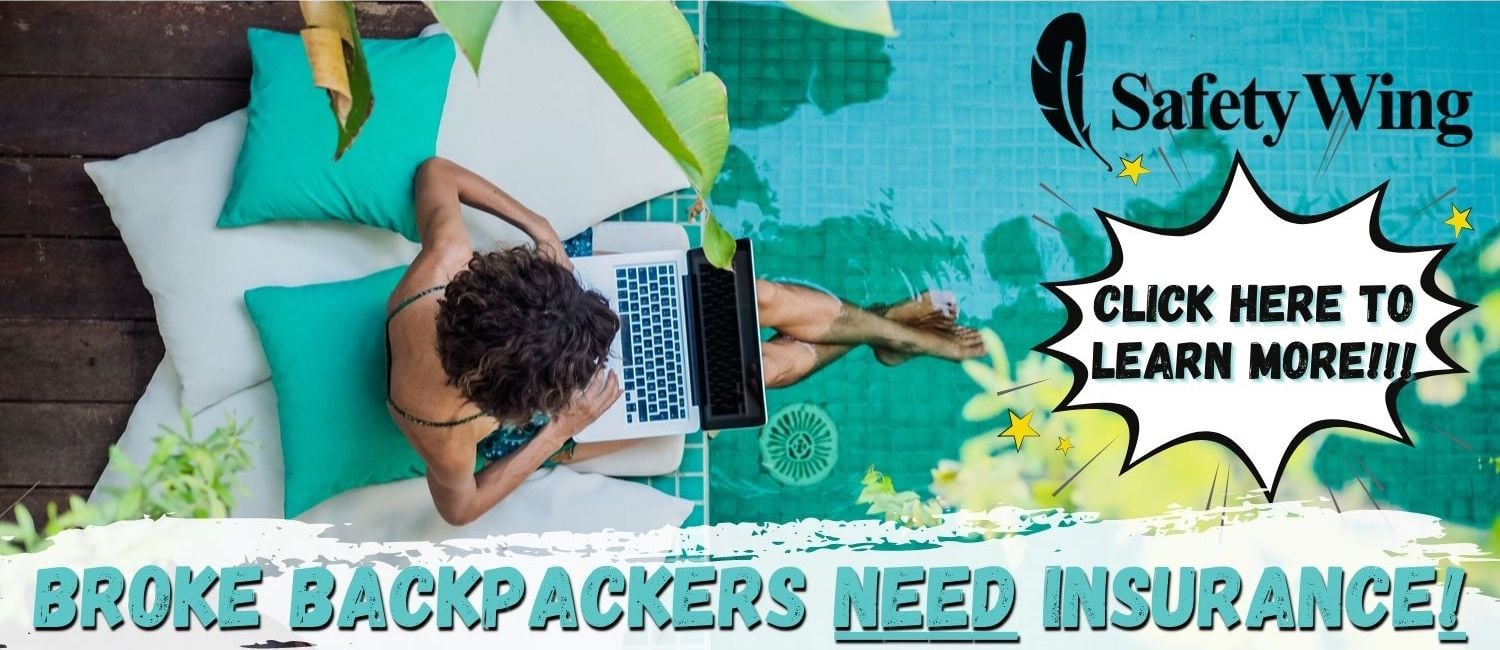 SafetyWing is cheap, easy, and admin-free: just sign up lickety-split so you can get back to it!
Click the button below to learn more about SafetyWing's setup or read our insider review for the full tasty scoop.
Final Thoughts on Monterrey Airbnbs
There you have it, people: this is the end of our guide to Airbnbs in Monterrey.
We've gone through what sort of Airbnbs are on offer, why you should book an Airbnb in the first place, clued you up on some cool Experiences, and – of course – given you some food for thought with a list of the best properties going.
You might be in town as a digital nomad in serious need of desk space and some peace, or you might be in town with your kids. Either way, there's definitely something on our list that will totally suit you and what you want out of your Monterrey vacation.
If you do end up heading that way, don't forget travel insurance! We can tell you from experience that it is a crucial part of any trip, anywhere in the world. So if you're not from Mexico, get insurance.
---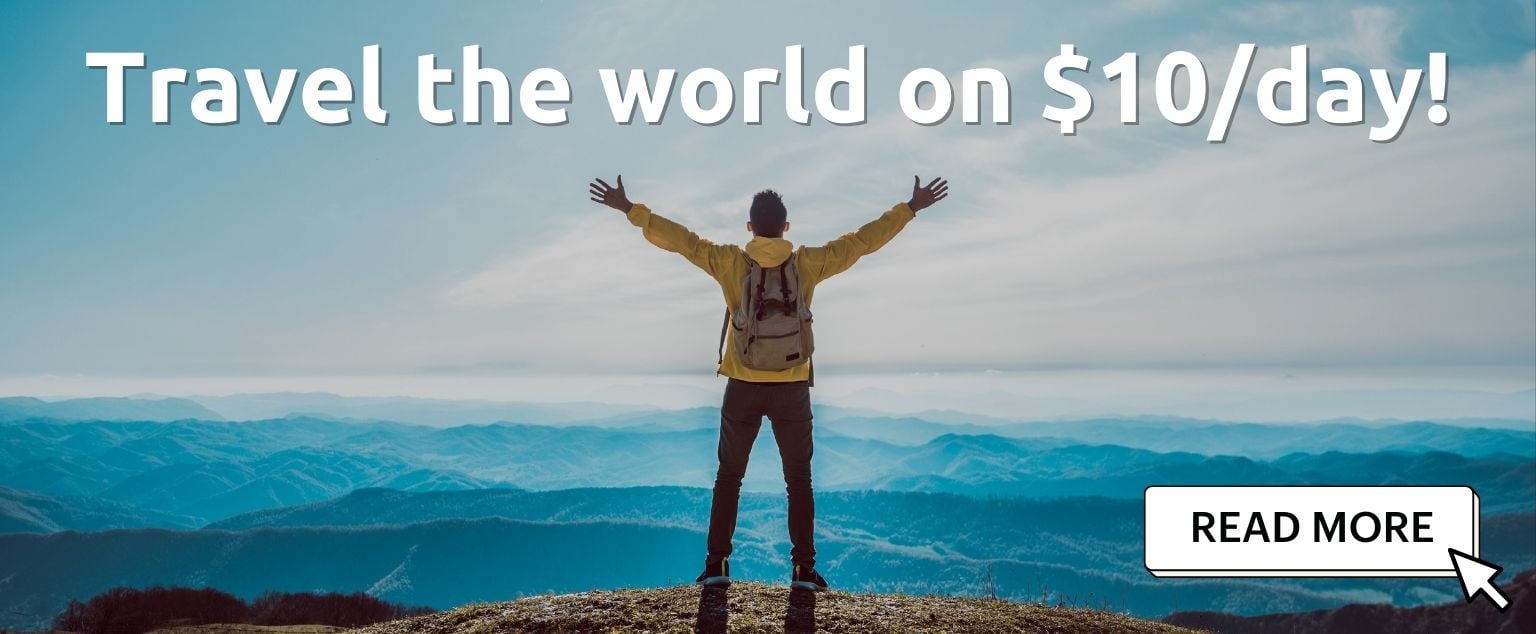 And for transparency's sake, please know that some of the links in our content are affiliate links. That means that if you book your accommodation, buy your gear, or sort your insurance through our link, we earn a small commission (at no extra cost to you). That said, we only link to the gear we trust and never recommend services we don't believe are up to scratch. Again, thank you!