Camping hammocks are a backpacker's best friend when traveling. Trust me, I'm speaking from experience. They're super comfortable, easy to set up and much lighter than a tent. Best of all, they are affordable. 
Camping hammocks are pretty damn versatile and can be used as a rain cover, to hang out in, as a makeshift picnic blanket and, of course, as a comfortable bed in which to sleep. They even look cool and there ain't nothing like inviting somebody attractive to spend a night in a hammock with you. It's bound to be filled with LOLs.
There are many different types of camping hammocks on the market, so many that it can be a nightmare to sort through all of them. We've made it a little easier by only including the best hammocks on the market right now. We've even added in categories for things like best affordable hammocks as well as the best ultralight hammocks.
Allow me to make your life easy and to introduce you to the best camping hammocks for all-around use! These bad boys can be used for anything, from lounging around in, surviving in the jungle, even for mountain climbing!
Nowadays, camping with hammocks is all the rage among travelers who are on a broke backpacker's budget. So let's find the best backpacking hammocks on the market!
Is there anything better than sleeping under the stars? Stargazing whilst on beaches, in the mountains or on a hostel roof is one of my favorite ways to drift off. And yes camping in a hammock allows me to do just that!
It can be hard to find the right camping hammock when the market is flooded with different brands and styles and oh boy, there are tons of options out there. I've tried out close to a dozen hammocks over the last few years, and they all have their pros and cons for sure.
The list below is the ultimate breakdown of the best backpacking hammocks around–you're sure to find something to suit your travel plans!
Best Overall Camping Hammock
Packing down ridiculously small (in part thanks to the included compression sack) the Sea to Summit Pro Hammock is an excellent value, ultralight hammock from a brand you can trust.
Despite being an ultralight, it's incredibly strong with a high max weight capacity of 400 lbs which is frankly remarkable. The buckle suspension system does take some getting used to, but you'll get your head around it we're sure.
The Pro Hammock is hard and durable. It's great for camping and it's also light and compact enough for backpacking. It might not be the most affordable hammock out there but packing light is worth the money!
When our team gave it a test run they were blown away by the packability of this hammock. It packs down so small it even fits easily inside a day pack and you hardly feel it inside of your big bag.
Most Spacious Hammock
For many people sleeping in a hammock is a challenge. Your back is never fully straightened, it's hard to sleep on your side and then you wake up the next morn with a stiff neck. Let's face it, traditional cocoon hammocks aren't made for everyone.
In comes the ENO SkyLite Hammock. This product is 7 (Just over 2m) feet long and comes with spreader bars that keep the "floor" of the hammock flat and supportive. Add the sleeping pad for additional comfort but not necessary like most cocoon-style hammocks.
The traditional 'backyard weave style', and the synthetic lightweight and durable materials make this the ultimate camping hammock. Our testers really loved the fact that the flat design of this hammock meant that slide sleeping and turning in the night without falling out was easy and entirely possible.
Best 3-Season Camping Hammock
So you and your homies are planning your next camping trip, you had to loan your tent to friends since they don't have one. You're down to hammock camp but don't want to be vulnerable to the elements and/or insects. What's your plan?
The Kammok Mantis Ultralight All-in-one Hammock is your best bet. This product is all-inclusive, the single-nest hammock, rainfly, and bug net. With the whole setup clocking in at 1lb 2oz (About .5 kg), you have the comfort and convenience without overloading your pack.
More stuff means longer setup/take-down time, right? Not with the Kammok Mantis. You and your friends get to camp and you're set up in no time. Take those extra minutes to get dinner started. Or if you're not in a rush, crack open a beer and watch your homies struggle to figure out their borrowed tent setup. Backcountry entertainment at its finest.
This hammock is NOT for fair-weather adventurers. This one is for the folks who aren't afraid to encounter the elements on their next camping trip. Our testers also agreed with this and really put it through its paces in some extreme conditions. They remarked just how well it stood up to storms and freezing weather whilst remaining dry and comfortable.
Most Durable Hammock
If you plan on doing some hard chillin' on your next camping trip, then look no further than the ENO SuperNest Hammock. This thing is as cool and as crazy as it looks.
Durability is the name of the game here. Ripstop fabric reinforced with 25mm webbing means this thing can stretch without losing its strength. This 2-person double-nest can handle up to 485 lbs (220 kg). One thing that comes to mind with this unique product: strength.
Find yourself a shady spot beneath a few trees, bust out those ratchet straps, and fix yourself a double nest for you and a homie. Set up for just some good old-fashioned hanging out (pun intended).
Our team loved this hammock and one of the things that stood out was just how fun it was, especially on a campsite with some mates. It makes for the perfect spot to chill after a day of adventures. Although the only downside they found was having to fit 3 perfectly placed trees rather than two.
Classic Double Nest Camping Hammock
ENO Doublenest hammocks across the board are compact, durable, and lightweight. Weighing only 1 lb 3 oz (.5kg), this 2-person hammock can hold up to 400 lbs (181 kg).
ENO products are compatible with many accessories and set the standard across the board. This company supports loads of environmental groups, trail conservancies, and social justice organizations. With each product sold, a small percentage goes to support a number of different social and environmental causes.
Since we see traffic to loads of thru-hikers out there on the internet, this particular product directly supports the Appalachian Trail Conservancy with $10 from EACH hammock sold.
Quality, durability, and compactness make this purchase a home run. Plus support for a good cause will make you feel warm and fuzzy inside.
Our testers loved how cool and breezy this hammock was especially in warmer camping temperatures. For how much quality it offers it's the best cheap camping hammock for couples for sure.
When buying a hammock for camping, ask yourself a couple questions: Where will I setup my hammock? How will I be carrying my hammock? Am I going to pack it in a checked bag before a flight?
Pondering these questions and taking the points into consideration (below) will help you with your research. And just remember, the best cheap hammock isn't necessarily the best backpacking hammock! There's a lot more to take into consideration!
Hammock Weight
If you are hiking and don't want to carry a heavy tent, a lightweight camping hammock saves you some serious kilos and space in your pack and as long as you get a hammock rain fly you can camp out in pretty much any conditions.
The weight of your camping hammock will vary depending on the fabric and accessories included. Usually, the jungle hammocks weigh a fair bit extra as they include a hammock tarp and mosquito net and are made for long term use.
If you're trekking, climbing or hiking, you'll want to keep your pack weight down, so consider investing in a lightweight, portable hammock. A few hundred grams may not seem like a lot, but every little bit adds up.
Hammock Dimensions
Typically the longer and wider your camping hammock is, the comfier it'll be. When choosing the length of your camping hammock, take into consideration how tall you are and be sure to leave a little excess room at either end.
I strongly recommend picking out a double, two person, hammock even if it's only going to be just you sleeping in it. This is why most of our best hammocks are doubles. A double sleeping hammock is just that much more comfortable. If you are wondering what is of our list is the best hammock for two people, then just let the dimensions guide you.
The width of your camping hammock is more of a personal preference. I love having excess room on either side of my hammock so I can wrap myself up like a cocoon. However, you may want to invest in a backpacking hammock that isn't too wide if you get a little claustrophobic.
Hammock Suspension system
The suspension system for camping hammocks generally consists of straps and carabiners. Most camping hammocks include the suspension system, however, some do not.
If you want the flexibility to set up your camping hammock wherever you want, be sure to invest in longer straps. That way you have more options with your attachment points and can stretch to reach that perfect spot between those two generously spaced trees.
Hammock Strength
When determining the desired strength of your camping hammock, you must take into consideration your own weight and the maximum weight capacity of your chosen backpacking hammock.
Overloading your backpacking hammock can significantly reduce the product's lifespan. Be sure to take note of its maximum weight capacity before inviting someone back for hammock snuggles. Make sure you use a two person hammock or a four person hammock for that! #hammockorgy
The best hammock isn't always the most expensive, but if you want a strong, long lasting camping hammock, make sure it consists of high-quality materials. A surprise fall is the last thing you want when you're sleeping, especially if you've suspended your camping hammock high off the ground (like these people!).
Hammock Accessories
Many camping hammock setups include a mosquito net, rain fly, hammock and straps and will weigh and cost far less than most tents. If you want an all round, weather resistant, camping hammock, then a mosquito net and rain tarp are essential.
Some hammocks are waterproof – keep an eye out for those as a waterproof hammock is a Godsend in a rain storm or a biblical flood type scenario.
Most jungle camping hammocks come with these multiple add-ons included. However jungle hammocks do come with a hefty price tag, so take into consideration the added costs of extras if you opt to purchase these accessories separately from your camping hammock.
If you are planning on really embracing the hammock camping lifestyle, you will need to make sure you have the right gear. A mosquito net and rain fly are pretty essential, more on that in a moment…
There are many different types of camping hammocks, utilizing various blends of different materials and styles. Overall, you get what you pay for but there are some very competitively priced hammocks available on the market which still use superior quality materials. And the best hammock for you is the one that fits your intended use, so read on!
Parachute Hammocks
These type of camping hammocks, also referred to as parachute hammocks, are shaped like a boat and can accommodate either one or two people. Although some camping hammocks claim that they can fit two people, it's often a pretty uncomfortable fit. You're supposed to sleep diagonally in your camping hammock and this can be tricky with two people.
Two person, double, parachute hammocks are longer and wider than standard camping hammocks so even when it's just me sleeping in a hammock, I always travel with a double – it's more spacious and comfortable and the increased weight and bulk is almost unnoticeable.
Because parachute hammocks are bigger, they are the obvious choice for a 2 person camping hammock setup and parachute hammocks are definitely the most comfortable hammocks on the market because of the extra space.
Parachute hammocks tend to be quite cheap, durable and fairly lightweight. However, they do not usually include a mosquito net. So keep in mind the potential extra costs associated with purchasing a parachute hammock as you may want to buy a mossie net or a camping hammock cover as well.
Jungle hammocks, and some hiking hammocks, which are specifically designed for hikers and adventurers who want to camp in their hammock regularly, will come with a mosquito net and a rain tarp to keep insects out and keep you dry.
If you just want a hammock to hang out with, jungle hammocks are not a good choice as it's not enjoyable being under a mosquito net all the time. A parachute hammock, like the one pictured, should be your first choice if you are a casual hammocker wanting something to hang out in at the beach, at a festival, at home or in the woods.
I hasten to add – if you will be camping out a lot in your hammock then you definitely do want a hammock with a mosquito net and matching hammock rain fly, but otherwise, it isn't necessary.
Ultra Lightweight Hiking Hammocks
Lightweight camping hammocks are great for backpacking, hiking, climbing, and trekking as they add hardly any weight to your travel pack but, in all honesty, hammocks are not heavy to start with so the premium pricing you have to pay for a 'hiking hammock' may not be worth it. The best lightweight backpacking hammock on this list is perhaps the
If you forego weight on your camping hammock, you might also forego comfort. Although ultra lightweight hiking hammocks are light as a feather they are typically less durable and less comfortable than parachute hammocks or jungle hammocks.
If you only need it for a couple of nights sleep here and there, or weight and space is the most important factor to you, then an ultra lightweight hiking hammock is a good choice but personally, it isn't my choice.
Thru-Hiker Hammocks
Thru-hiker camping hammocks are without a doubt the most durable camping hammocks, regardless of the weather. They're designed for long-term use on long-term trekking adventures or for those who want to live in the woods or out back for a while, so they're super comfortable and tough. Thru-hiker camping hammocks can withstand a variety of conditions and have an asymmetrical design.
Many thru-hiker hammocks include a ton of extras like guy-lines, hammock rain fly, and bug nets. These hammocks are made to last – the whole point here is that you can sleep in this thing multiple nights of the year if you need to.
The main drawback with thru-hiker camping hammocks is that they are typically much heavier and pricier than parachute hammocks, but if you plan on sleeping in your hammock for more than 100 nights a year, this is the one to go for. If you want something for just a night or two, go with a parachute hammock.
Camping Hammock Tents
If you have money to spend, you could consider splashing out on a purpose-designed hammock tent. These are not cheap but oh boy – they sure do look incredible and would provide for an epic night's sleep!
The Lawson Hammock Blue Ridge Camping Hammock has won a ton of awards and is widely accepted as the leader in the field of hammock tents. Traditional hammocks work by cocooning to accommodate your weight – the Lawson is very different, the whole bottom of the hammock tent is stretched taut, providing you with a flat surface to sleep on.
Best of all, the Lawson can be pitched on the ground like a normal tent, so you are buying a kick-ass hammock, which is more comfortable than most hammocks out there, and a tent all in one.
The disadvantage is that proper hammock tents weigh and cost significantly more than cheaper parachute hammocks.
Hammock camping is easy! That's why it's so much fun. You can set up your camping hammock quickly and easily and if you have the right gear for the job you will spend the night bug-free, rain-free and suspended above the ground in perfect bliss.
I prefer sleeping in a camping hammock over a backpacking tent when I am in a hot country. Wherever you can find two trees or poles, you are sorted and can set up your backpacking hammock and catch some Zs for free.
Sleeping above the ground in a camping hammock prevents most creepy crawly insects from jumping into bed with you, especially if your camping hammock includes a mosquito net. There have been many times where I've been totally shredded whilst sleeping in a tent that had unwittingly caught a dozen mosquitos.
Here are some things to keep in mind…
Tips for Hammock Camping
Accessories
For the ideal hammock camping setup, you definitely want a hammock and a mosquito net and rainfly. Some of the best hammocks on the market include an integrated mosquito net and rainfly, if you go for a cheaper hammock you may have to buy these items separately.
Weather Considerations
If you're sleeping in your camping hammock in an area with a lot of rain, then a hammock rain fly is crucial. You're better off investing in a rain fly that's much bigger, to protect you from the wind and rain. This way you can attach it to the ground, keeping you dry if the rain comes with a gust of side winds.
Be Proactive
It's definitely not fun waking up in a pool of water because you thought it wouldn't rain during the night. If it looks especially likely to rain and you have stored your backpack and gear below your hammock, I strongly recommend digging drainage ditches flowing away from your gear.
If you are camping in a buddy spot without a bug net, especially near water, between mosquitos, sandflies, and no-see-ums you can go ahead and just accept the fact you're never gonna sleep on your trip.
Here are a couple things you should take into consideration:
Price
The average price for hammocks that includes bug nets is around $175 (give or take). For accessory bug nets, the average price ranges between $45-$75.
Normally, it would be safe to assume that hammocks with bug nets included are less expensive… Not always the case. Keep this in mind while doing your research and pick out some different combinations so you don't break the bank.
To Spray or Not to Spray?
To spray or not to spray? That is the question.
By spray we refer to permethrin (or similar chemical) that you spray on your material directly. It can be sprayed on clothes, bug nets, backpacks etc. Think of it as long term bug spray that lasts for weeks on end. Pro-tip: Do NOT spray it directly on your skin, that's a bad idea.
If applied properly, it will stay on most materials for around 6+ washings and will do very little wear on the synthetic material.
Ask yourself this: will you be traveling to any places where there is a high probability that a bug or insect will make you ill? Think of deer ticks and Lyme disease, or mosquitos that carry malaria or the West Nile virus. Your likelihood of contracting these illnesses depends on where you plan to travel.
If you are likely to become exposed to these illnesses, then the permethrin spray is definitely worth it.
Final Thoughts on Insect Protection
Many of the products we select in this article come with bug protection already, usually, the included accessory comes at a higher cost. But if already own a hammock without any accessories or you're a baller on a budget trying to camp in style, we have solutions for you:
To test these hammocks out, we basically got our filthy paws on them, strapped them around the nearest solid upright object (oi, keep your mind out of the gutter you lot!) and went for a nap! Not a bad day's work right?
Of course, there was a bit more to it than that (or so I'm telling the boss!). We paid attention to how heavy they felt when carried, if they fit into a backpack easily and how easy they were to erect (stop giggling at the back!) and take down again.
We got 2 of our heaviest team members to sit on them, putting themselves in mortal peril, to see how much weight they could take! What can I say, we do all our own stunts here!
Still have some questions? No problem! We've listed and answered the most commonly asked questions below. Here's what people usually want to know:
Camping hammocks are a backpacker's best friend when traveling. A hammock will come in handy in so many situations, plus they look cool. Choosing the best camping hammock isn't easy, but our guide will hopefully have given you some direction.
There's a ton of top camping hammocks out there. Make sure you consider the style, weight, dimensions, strength, suspension system, fabric, price, and accessories when determining what is the best camping hammock setup for you!
It's ideal to pick a reputable brand; that way you know the quality is good and you're investing in a product that's long lasting rather than picking up a cheap hammock and regretting it.
If there is a camping hammock that you love more than these, we'd love to hear about it then in the comment section below!
---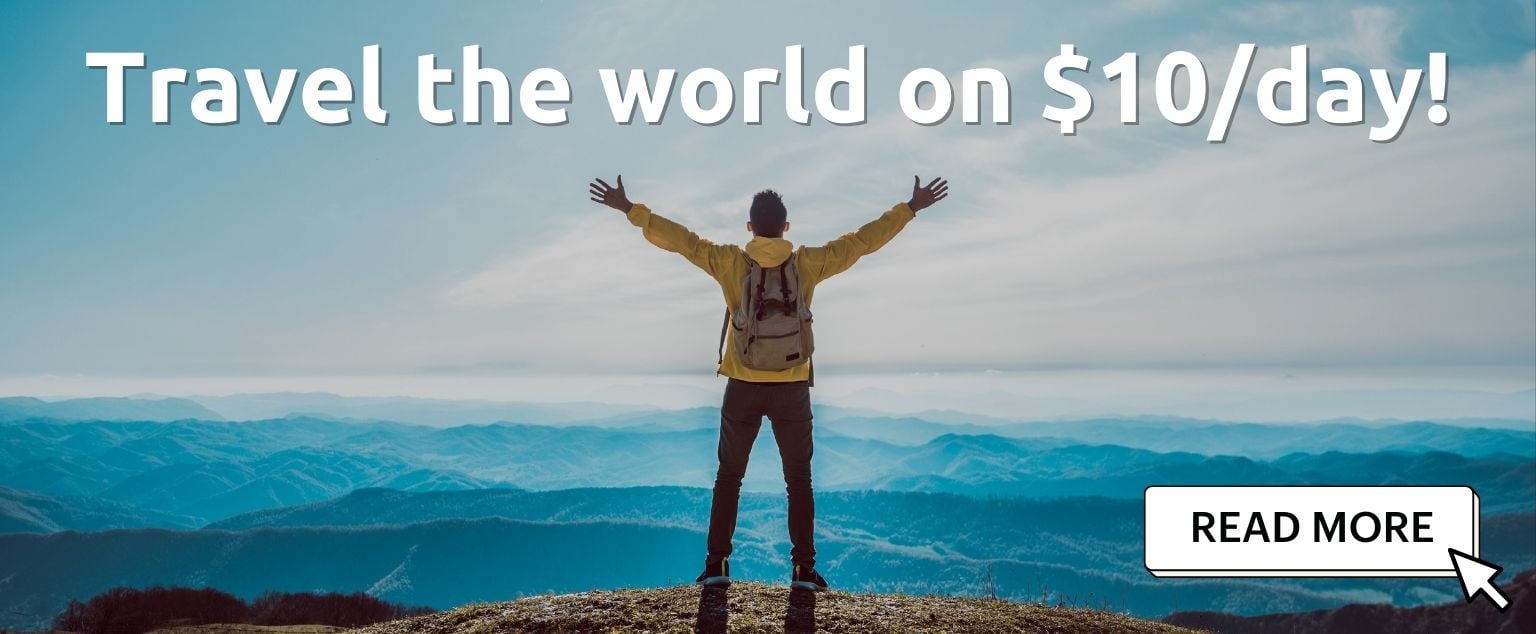 And for transparency's sake, please know that some of the links in our content are affiliate links. That means that if you book your accommodation, buy your gear, or sort your insurance through our link, we earn a small commission (at no extra cost to you). That said, we only link to the gear we trust and never recommend services we don't believe are up to scratch. Again, thank you!